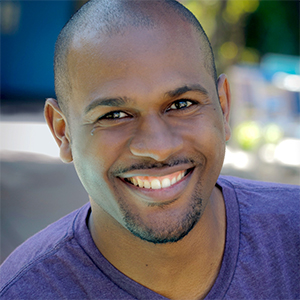 I first heard of Billy Almon at last year's Black in Design Conference, and I was so energized by his talk that I knew I would have to have him on the podcast to share his story with you all. Being a biology-inspired storyteller and designer might sound a bit peculiar, but wait until you hear how vital and important his work is to all of us.
Billy started off with a primer on biomimicry, and then shared how his experience with Hurricane Katrina changed the course of his life forever. We also talked about the value of exposure, and the creation of Billy Biology, his way of giving back to the world and inspiring generations to come about how biomimicry and design are so important. According to Billy, "the answers are all around us." And I think after this interview, we should be ready for them!
Transcript
Full Transcript
Maurice Cherry:
All right, so tell us who you are, and what you do?
Billy Almon:
My name is Billy Almon, and I am a biology inspired storyteller and designer. So, I look at organisms in nature, I get an understanding of how they innovate, how they have been innovative, and I look for opportunities to apply that to challenges at the human scale.
Maurice Cherry:
Wow. Now, I regret to say, I first heard about you last year, at the Black and design conference that goes on at Harvard Graduate School of Design. You were on this panel, actually, with two other people who've been on the show, Ari Melenciano and Jerome Harris. Yeah, I know the panel was about equity and justice in technology and media. I remember you gave this example about a slime mold that I thought … I was sitting in the back like, "Wow, that is really dope."
Maurice Cherry:
How had you heard about the event before you spoke there?
Billy Almon:
I'd been trying to go to the event, I'd been trying to attend the event since the first conference. My wife actually told me about an opportunity when they started looking for speakers for the last conference, so she actually reached out to them and said, "Hey, you might want to check out this guy named Billy Almon, he might be good for your conference." Then, they reached out to me with an inquiry about participating.
Maurice Cherry:
Nice. Yeah, I mentioned before we started recording how your wife, she reached out to me too, years and years ago, about starting a podcast. That's dope that she's been proactive in helping out like that.
Billy Almon:
Man, she's the most self actualized person I've ever met. It does wonders for my career.
Maurice Cherry:
I read where you refer to yourself as a biomimicry advocate and practitioner. Of course, I have to ask, I feel like you probably get asked this on every podcast but, what is biomimicry, and how do you use it in your life?
Billy Almon:
Biomimicry comes from this term called biomimesis, which translates to imitate life. Essentially, it's the idea of turning to nature for inspiration on how to solve problems. If you think about the world in which we live in, every single organism on this planet, whether it be human, or bacteria, or mammals, all of us have to deal with the same conditions. Sunlight, cyclical processes, ebbs and flows in resources, competition, environmental factors that play into how we live our lives.
Billy Almon:
So, when you think about the fact that we all experience these things, and when you think about the fact that a lot of these organisms have been around longer than we have, you start to see that there's all of these existing methods and strategies for solving problems, that exist in the natural world. What biomimicry does is we study these organisms, and then we find the underlying tactic, or strategy, or function that's at play, at how these organisms are solving their problems, and then we apply that to parallel problems that humans face.
Billy Almon:
To give you an example, Velcro is an example of the biomemetic process at play. The designer of Velcro, he was a Swiss gentleman who would take his dog for walks. Every time that he would come home, he would find these little spherical seeds attached to the fur of his dog. So, he took these seeds under his microscope, and saw that there was these curly little hooks on the end of each strand of this seed, and he realized that this is a great way that this seeds attaches to animals, these curly little hooks. That became the inspiration for Velcro. So, if you think about how Velcro looks, when you look at it up close, it's all of these little strands, and curly strings on one side, with fur-ish counterpart on the other, so Velcro came from the strategy of this seed, which is called a burr seed, to attach to animals, in order to have the animals carry the seeds to locations where they might potentially grow.
Maurice Cherry:
Oh, interesting. Yeah, I've heard something about that, with Velcro and how now, I guess there's different types of Velcro, where the matting isn't as plush, or the hooks aren't as deep, but it is still based off of that same premise, of what you've seen in nature. You're now able to recreate that, in an industrial setting.
Billy Almon:
Exactly.
Maurice Cherry:
Given that example, I feel like that's something we probably, as kids just running around in fields and stuff, have instinctively picked up. You run around, and you've got grass and all kind of stuff stuck to your pants, and your shirt, your hair, or anything like that.
Maurice Cherry:
When did you first learn about biomimicry? When did you first know that this was something that you were into?
Billy Almon:
I actually came across biomimicry as a result of Hurricane Katrina. By that, I mean after Hurricane Katrina hit New Orleans, I was an architecture student at Howard University at the time. After the storm hit, and after the manmade disaster that followed, there was a lot of students, obviously not only at Howard, but around the world … At Howard, there were a lot of students who wanted to do something. How can we help?
Billy Almon:
About 500 students from Howard University drove down to New Orleans, and to the Gulf Coast, to just find ways to volunteer to help during our Spring Break. Seeing what took place up close, I had the most transformative experience. It was the most transformative experience I've ever had, just witnessing people who look like you, people who look like me, in the conditions that that disaster left that community. As an architecture student I was curious, how do we avoid this from happening? How do we create spaces in communities where this event is not taking place? Especially knowing that climate change is not going way, especially coastal cities, and people in low income neighborhoods are going to be the most affected, and are the most affected by climate change, how do we prevent these kinds of things from happening again?
Billy Almon:
In trying to find answers to that question, I came across this book called Biomimicry: Innovation Inspired by Nature, which was written by a woman named Janine Benyus. After I read that, everything for me changed, it became my design philosophy.
Maurice Cherry:
Nice. So, once you learned … Well, hold on. Actually, let me switch gears for a little bit. You mentioned climate change. Here in Atlanta, we have a Museum of Design here, and 2020 the theme that they have for this year is that it's the year of climate and change. Actually, by the time this episode airs, there will actually be an exhibit there, about biomimicry. It's titled Learning from Nature: The Future of Design, it was developed in collaboration with the Biomimicry Institute.
Maurice Cherry:
I'm really interested in checking that out, because I heard about that right around the same time that I was at Black and Design. I was like, "I need to learn more about this," because the examples that you were giving during that panel talk really inspired me to think about, what are ways that designers could possibly use nature for design, for technology, for creating more equitable futures? Which we'll get to, later on in the conversation, but I wanted to mention that.
Maurice Cherry:
So, let's switch gears here a bit, because you talked about Howard University. I want to go back, a little bit further than that. Where did you grow up?
Billy Almon:
I was a military brat growing up. My dad was in the Army, and my mom worked for the Department of Defense. So, I was born in Germany, I think we moved back to the States when I was, I want to say, one? Maybe two. Bounced around several states, Texas, lived in Georgia a little bit, lived in Maryland, before I went to Howard. Lived in South Korea, and then back to Germany. So, just all over the place, which was a fun experience, especially when you get to come across kids who have friends that they've known since they were in diapers. I have a new best friend every two years, so that was always a fun experience, growing up.
Maurice Cherry:
With all of that traveling, and seeing the country, seeing the world, how did that shape you, creatively?
Billy Almon:
Oh man, it made everything possible. It told me that there's more options than I think, right away. It added all these different flavors to the mix of how you can create something new, by just introducing a new, or a different perspective, on what you're trying to do. Does that make sense?
Maurice Cherry:
Yeah, that makes sense because it's sort of like that adage, "You can't be what you don't see."
Billy Almon:
Yeah.
Maurice Cherry:
So, the fact that you're able to see all of these different experiences, different people, different cultures, et cetera, that all feeds into who you are.
Billy Almon:
Yeah. I've got to tell you, if there was one thing that really stuck out to me, about the experience of all that traveling as a young kid, was just the value of exposure. I mean, like you say, you don't know what you don't know. Once you're exposed to something, it just reintroduces you to another level of possibilities, right? I can't emphasize enough how much exposure, even in a lot of the work that I'm doing now, how big of a role that plays.
Maurice Cherry:
When did you first know that design, in general, was something that you were really interested in? Were you just prone to it as a kid, or how'd you find out about it?
Billy Almon:
When I was a kid, these are the stories my mom would tell me, about me being in my room, building contraptions, building booby traps in my room, and building cities out of construction paper and Legos. So, my mom would always tell me when I was a kid that I was going to be either an engineer, or an inventor when I grew up. Just her telling me that I was like, "Okay, that's the name of it," and I'd just go back to playing in my room.
Billy Almon:
Finding ways to explore my imagination, I think that was really it. Then, her just feeding that was a big part of it.
Maurice Cherry:
I remember when I was a kid, they used to have this, I think it was a contest, called Invent America. Do you remember this?
Billy Almon:
No. What was that?
Maurice Cherry:
I might be showing my age. When I was in school in the '80s, Jesus Christ, there was this nationwide competition called Invent America, and it was for K through eight students to, basically, creative thinking skills, critical thinking skills, et cetera. You just basically made stuff, and it was a nationwide competition, they judged it. I don't know if Invent America is still a thing, anymore? I want to say, given the state that America is now, not to be political, but I don't know if that's still a thing that kids do?
Billy Almon:
Was that at a public school they did that?
Maurice Cherry:
Yeah, it was a public school. Yeah.
Billy Almon:
Oh man, maybe I was in Korea.
Maurice Cherry:
This is a public school in rural Alabama.
Billy Almon:
Oh, man.
Maurice Cherry:
Yeah, I figured it was a nationwide thing, I thought it was nationwide. I'm going to have to look into that.
Billy Almon:
You know what's funny? When you said Invent for America, my mind went to us. What was it, reach for-
Maurice Cherry:
Hands Across America. Yeah.
Billy Almon:
I was like, "Wait, you did what?"
Maurice Cherry:
I need to see if Invent America's still a thing, because … It's funny, I think about the stuff that I did when I was younger in school, and how completely unorthodox I think it is, right now. We had a critical thinking … Not a class, really, but they would give us critical thinking exercises. They'd give us an odd scrap of construction paper, or something, and everyone gets the same shape of construction paper, and you have to basically make something out of it. Some people would glue it to a piece of paper, and draw around it to make art around it. Or, someone would take it, and fold it into something, or things like that. I don't know if kids have that kind of stuff, now?
Billy Almon:
You know what's crazy about that? Now, to do that, you'd have to pay $20,000 a semester at college, to do the exact same thing. Take this piece of paper.
Billy Almon:
I remember, one of our projects was we had to take one piece of cardboard, and turn it into a chair, and be able to sit in the chair. It was basically just a thicker piece of paper, I could have just went to public school in Alabama, and checked that box.
Maurice Cherry:
So, you have this, I guess, childhood curiosity for creating these traps, and buildings, and everything, so your parents saw that as something that, clearly, you were into. Was that what influenced you to go into architecture?
Billy Almon:
Yes, when it came time-
Maurice Cherry:
Was that what influenced you to go into architecture?
Billy Almon:
Yes. When it came time for me to start looking at schools and start thinking about my major, the closest thing, at that time, that I came across was architecture. I was looking at it like, "What is something that has to deal with psychology, has to deal with politics, has to deal with science and art?" This is 2004, so this is before everyone just was Googling stuff. Before that was a trend, it was… What was it? Hotmail and looking stuff up on that internet. Architecture was the first thing that I came across and understanding, researching about Egyptian architecture and how the architect was treated in society during that time period really kind of romanticized it in a way where I was like, "Okay. This feels like the right thing."
Maurice Cherry:
How was your time at Howard?
Billy Almon:
I wouldn't trade my Howard experience for anything. It was the best in so many different ways. One, because that was my first taste of Wakanda, and if you recall from the talk, but I just love black Panther. In part, because you can see biomemetic elements in the design. It was the first time, I remember stepping on campus like it was yesterday, stepping on campus and just seeing beautiful, intelligent people having diverse conversations and they all look like you, right? Just not getting that flavor, again, having traveled the world and primarily being the minority everywhere I went, it was just such a unique and special experience that, I just… Yeah.
Maurice Cherry:
Was it your choice to go through an HBCU or was that something your parents were pushing?
Billy Almon:
No, it's interesting. I had actually planned to go to the University of Maryland and then I got accepted into Howard. I remember, I don't know how not political or spiritual to not get, but this is literally what happened. I was praying about the decision like what do I do? And literally, I heard the clearest, as clear as I'm talking to you, something was just telling me, "Go to Howard." Now, literally talking to you, I can totally see how just following that voice just turned into the beautiful life that I have now, especially because I got to meet my wife there. I think that's probably the main reason anyone should go to Howard. I'm kidding. But so many great blessings came out of that just, I will always cherish it.
Maurice Cherry:
Yeah. We've had several Howard alums here on the show too. I'm sure they would all agree as well. It's a great school.
Billy Almon:
Yeah.
Maurice Cherry:
I'm curious though about this connection between architecture and what you're doing now. So you go through Howard, you're studying architecture, you graduate with your degree, and now this is 10 plus years later, the work that you're doing is in biology and design? That's quite a path to take.
Billy Almon:
Yeah. Coming out of school, I got an opportunity to participate in a competition that Disney has called the Imaginations Competition. Out of that, I got an internship. Myself and four other Howard students, we entered this competition, submitted a design proposal for something we thought Disney should create, something we thought would be a cool Disney experience. Out of that, I got an internship and my first internship was literally, we were given a stack of things that were being worked on in the R&D department. They said, "Come up with new experiences for the future based on these cool cutting edge things we're working on." That was literally my first internship.
Billy Almon:
Long story short, after that, for 10 years after that, I worked at Disney in a lot of different capacities. My roles and responsibilities kind of changed to more, not just architectural design, but design of experiences and products and kind of a lot of really kind of forward future thinking. When you're studying these things and when you're looking at the future and all of that, you're very often looking at the past. Again, for me, the natural world was full of all of these amazing innovative strategies. It naturally became something that I kind of just applied to everything that I was working on.
Billy Almon:
The other thing was my mother growing up, she loved animals and my mom is, God rest her soul, my hero. She'd always have stuffed animals on her desk at work and we always loved to be outdoors. That's another thing that kind of just really stuck with me over time. Then when I got the chance to kind of dive deeper into biology and kind of studying how all these amazing creatures do things, it just blew my mind and really opened up this whole new avenue of resources for looking at innovation and design.
Maurice Cherry:
So then later on, you end up going to grad school. You went to Arizona State to study this kind of further. You studied biomimicry there.
Billy Almon:
Yeah, yeah. I was like, "Man," as much as I loved Howard, I was like, "I'm never doing college again. I'm good." Then over time, I was just kind of thinking like, "Okay, if I wanted to continue my education, it'd either be an MBA or be something else." Then I realized that there was an opportunity to get a master's of science degree in biomimicry. And I was like, "Okay, I have to keep going with this," and that just further blew my mind and really kind of just opened up the natural world to."
Maurice Cherry:
What was your time like there studying this now professionally? I would imagine that probably was a big shock in a way, right?
Billy Almon:
Yeah. One of the cool things about the program was I was also participating in an additional smaller cohort program where we traveled around the world to six different locations where we were immersed for a week in all these different ecosystems. We were literally in these amazing environments; costa Rica, Hawaii, the Sonoran desert in Arizona, the Colorado Rockies. We're in these environments. We're camping out. We're looking at slug and you know, lichen and mushrooms and, and we're understanding how, not only do they solve problems within their context and within the kind of operating conditions that they have to thrive within, but we're also seeing how they relate to each other and how there's so much cooperation in the natural world when most people just think it's all about competition.
Maurice Cherry:
Yeah, survival of the fittest.
Billy Almon:
Yeah. So the interesting thing about that to me is how out of context that phrase is thrown around when that whole idea of survival of the fittest is really not necessarily the strongest organism or animal, but the one that's most fit to the conditions to really thrive within that niche. It just completely reframes it in a different way.
Maurice Cherry:
It makes it then, more relational and environmental and not necessarily strength-based or some sort of adversarial kind of concept?
Billy Almon:
Yeah. Yeah. It makes it more about there's a place where everything has its most optimal self.
Maurice Cherry:
Yeah.
Billy Almon:
You don't have to be the strongest. Sometimes you need to be the weakest and the smallest because in this environment, to be small is to be optimal. Right? So it's more about context than it is some sense of bravado, for lack of a better word.
Maurice Cherry:
Yeah. How did Billy Biology come about?
Billy Almon:
Oh man, so it's funny. It started kind of, I don't want to say as a joke, but my background wasn't in biology, but I would be around a lot of biologists. For me, again, a brother in an environment where I'm the only one, when we're hearing our teachers and our professors talk about these big biological, complex terms, I would kind of break it down for myself to understand, but kind of just blurt it out to the class. Basically, that's where the poop comes out, right? They have all of these kind of like really, really complex terms about stuff and I would just kind of like break it down like that. It made it that much more digestible for my classmates. One day, we were in British Columbia and I had time to talk to my nephew, he was 10 at the time, and I was just asking him like, "So what do you want to do when you grow up?" His answer was, "Oh, I'm still thinking about it, but either a basketball player or a rapper."
Billy Almon:
For me, I'm like, "Okay. As your uncle, I support you if that's really what you want to do," but as a person who had the opportunity to work among the most creative, talented people at Disney and then travel the world and see all these amazing places, that showed me that this is more about me exposing him to the world that I get to have access to than it is about that potentially really being what he wanted to do. What I would start to do is every time that we would travel to these different places, I would shoot a little video of what I was learning and kind of in that vernacular that I use with my classmates of kind of understanding these biological principles. I would just upload it to Facebook so that he could see it and other people could see it.
Billy Almon:
I got so much great feedback from not only from him, but also from like other people who saw the videos about how they were sharing it with their kids and how much it meant for them to see a person of color talking about science and technology and design. So it became a thing where I was like, "Okay, there's something here and it's resonating with people and there's a need for it. So let me just keep going," and it's just kind of blossomed into other opportunities since.
Maurice Cherry:
And one of those opportunities being a television show.
Billy Almon:
Yeah.
Maurice Cherry:
You have a TV show called, "Little Giants." Talk about that.
Billy Almon:
Yeah. So that's crazy. It's crazy how it happened. A good friend of mine named Bradley Trevor Greive, who I had the opportunity to work with at Disney, he saw a lot of the videos and he and I, every now and then we get together and we'd go and watch bad movies and kind of complain about how bad they were and kind of put our cinephile hats on. He's a wildlife author and just a really dope human being. So he hit me up one day and he's like, "Hey, so I'm pitching a show to Animal Planet and I think it would be hilarious if you and I were the host of this thing." He's like, "So I want to see if you're interested in me throwing your name into the mix." He's like, "Just want to be honest, it's a long shot. We don't know what'll happened, but I just wanted to see if you're interested." I'm like, "Oh, well, you know, it's a long shot," which means it'll never happen. So I'm like, "Yeah, go ahead. Tell them all about me."
Billy Almon:
So he hit me up maybe six months later and he's like, "Hey. So yeah, we're doing this thing, man. The show got picked up. Are you still interested?" And I jumped at the opportunity. So the show, "Little Giants," is myself and Bradley going out into remote places in the world around the world and finding tiny little creatures and highlighting some of the amazing adaptations and the amazing abilities, the amazing kind of super powers of these little creatures and then exploring, if we were to scale up this frog to the size of a beetle car… What are those cars called? Bug? [crosstalk 00:27:15]
Maurice Cherry:
A VW bugs. Yeah.
Billy Almon:
Yeah, yeah. If we scale this frog up to the size of a bug, a VW bug, how strong would it actually be then? Or how high could it leap? And you get to see that transformation. So it's really fun. It was an amazing opportunity and experience.
Maurice Cherry:
I was going to say, that's also like a huge platform to be able to talk about biomimicry and about your love for biology and everything. That's truly something. The show is still… There's still episodes on and everything, right? It's still airing?
Billy Almon:
Yeah. So I think six episodes have aired so far. You can find it on Animal Planet Go. I think more supposed to be rolling out. I can't say the date, but I think there's more on the way. I know we show more.
Maurice Cherry:
Okay.
Billy Almon:
So hopefully, you guys will get a chance to see that soon.
Maurice Cherry:
Yeah, I'll make sure that we link to those episodes that you mentioned, link to them in the show notes. That's really something to be able to take this love that you have to television that way. I feel like sort of what you're saying about exposure, television feels like the ultimate exposure mechanism for people when they see like, "Oh, you've got to show?" All the other work that you've done leading up to that of course is great, but you have a TV show [crosstalk 00:28:27] people get to watch. That means that it really spread your message far and wide. That's great.
Billy Almon:
Yeah, it was amazing. I consider myself a science communicator and it's one thing to think that you're doing a good job of briefly communicating a scientific or biological process, it's a completely different thing when you're doing it for television. Again, with my background in storytelling and the work that I did for Disney, I see myself as a storyteller too, but TV it's such a different medium that having exposure to tell stories in that way was just another really cool thing that I'm hoping to expand on going forward.
Maurice Cherry:
So I want to kind of change the topic here a little bit. I want to talk more about biomimicry kind of as it relates to design and creativity because you mentioned being a biology inspired storyteller and designer. For those that are listing, that are kind of interested in these examples that you're mentioning, can you talk about what the benefit is of using biomimicry?
Billy Almon:
Yeah, so if you think about it, there's nothing that's actually wasted in the natural world; the way that humans, the way that our design creates waste. The thing I love about the natural world and why I love studying biomimicry is nature is very entrepreneurial, meaning that things that live in nature, their goal is to thrive, grow, develop their community, protect their families while also expending as little energy as…
Billy Almon:
– while also expending as little energy as possible, and so energy in the natural world is a primary resource. So organisms, whether it's a vulture eating the scraps left from another animal hunting it, things are very entrepreneurial. They're very much about how can I be as opportunistic as possible, and because of that, there's no waste. You have decomposers, you have producers, you have this kind of cycle of organisms that find their niche and are also very resource efficient, and so because of that, you have a lot of sustainable strategies that you see in the natural world. So I can give you a couple of examples. There's this one company called Sharklet and they produce … they've invented this kind of film that mimics the texture of sharkskin. The reason that they do that is because shark skin is covered in these very tiny, sharp little triangular looking teeth.
Billy Almon:
And these teeth on the surface of a shark actually prevent microbes from collecting on the skin and the sharks getting bacteria and infections, and it's antimicrobial, and so this company developed this film that replicates and imitates that pattern and it's an antimicrobial surface. So now you have an invention that doesn't require harsh chemicals for cleaning.
Maurice Cherry:
Interesting.
Billy Almon:
And I think that's the real appeal of biomimicry is there's so many different ways to derive inspiration from nature when you look at the process, because you're studying the functions. So you're studying, why does this form allow this beetle to fly at this rate and be that aerodynamic, but not only just the forms, you're also studying the process of how these organisms solve problems, and you're also looking at how, from a systems level, how all of these different organisms might be interacting with each other to develop more efficient and innovative processes.
Billy Almon:
So just to give you another example, one of the things that I'm studying now is how super organisms, things like ants, colonies of ants or bees or schools of fish. How these individual organisms work together as a collective to accomplish a task and what their strategy and how they approach accomplishing a task can be applied to a business organization. So there's all of these really, really cool, amazing things that when you break down nature to its kind of its most basic principles. There's design principles at play in the tactics and the strategies that animals use and that their biology use that we can apply as designers to architecture, to engineering, to manufacturing, to sustainability, and with the talk that I was giving even to social challenges, I believe there's potential for that as well.
Maurice Cherry:
Yeah, we're definitely hearing a lot about sustainability in the design world. I mean I feel like it's more so from a conservation/climate change kind of angle, but you hear about plant inspired materials or even … I think I was reading something about how they're trying to change how computer storage is more like DNA storage or something like that, looking at DNA and seeing how it stores data to see how they could do it for hard drives or something like that, which I thought was really interesting.
Billy Almon:
Yeah, I mean all of that stuff. I mean the more that you look at nature from … and I'm not saying from a … I'm not getting into the conversation around design versus evolution, not that kind of design, but when you look at what is actually the underlying mechanism that is allowing this organism to accomplish this task, what are the dynamics at play. When you break it down to almost a physics level, you really start to see all of these patterns and connections that just show you there's some innovation at play.
Maurice Cherry:
Yeah. So how can designers … I would even say probably developers that are listening to, how can they start to use biomimicry and biology in their work? How would you tell someone to go about doing that?
Billy Almon:
So there's several different resources that you can tap into. The organization, Biomimicry 3.8, that's actually the organization that Janine, the author of the book on biomimicry, she started, and they do a lot of training and classes and workshops. No shameless plug, or shameless plug. Workshops are a great way to understand how biomimicry works and how … I might even be over-complicating how approachable it is to get into this, but one of the things that I always recommend is talking to a biologist about a challenge that you have, because they have the understanding of the biology, and that's one thing that we always advocate for is this idea of having a biologist at the design table, because they can serve as kind of a translator of the phenomena that's happening with the organism and how that might actually translate to the challenge that you as a designer are trying to solve.
Maurice Cherry:
A biologist at the design table. I'm actually going to use that, because my mother is a biologist.
Billy Almon:
Nice.
Maurice Cherry:
She's a biologist, so I grew up in labs and around all kinds of biological stuff like that.
Billy Almon:
That's what up.
Maurice Cherry:
So when you mention that, it's funny because I mean I went to school for math and I graduated with a math degree and I was selling tickets at the symphony. For a few years after I had no plan at all. What are you doing with your life? My mom would be like, "What are you doing?" And I ended up … I was always doing design as a hobby and then I sort of fell into doing design as a job and then I started my studio, but I kind of always feel like … I mean I know she's proud of me, but I feel like in the back of her head she was like, "What are you doing? This isn't science. This isn't math. This isn't what you went to school for." It would blow her away to let her know that there are these biological connections to design. I'm definitely going to use that. You think I'm joking? I'm going to. I'm definitely going to use them when I talked to her this week.
Billy Almon:
No, yeah. Go for it. Go for it. She should be proud of you because you're looking to expand your horizons as a problem solver, which is what we are as designers, and you're using the natural world that she exposed you to to do that.
Maurice Cherry:
Yeah.
Billy Almon:
That's a good upsell.
Maurice Cherry:
And I mean I grew up in the sticks, so all kinds of animals and running around in fields and all that stuff. So when you're mentioning that about the little burrs sticking on things, I'm just thinking of … I'm thinking now of things that I've seen as a kid that would remind me of applications that people could use now. For example, the little roly poly bugs. I'm pretty sure there's a way someone is using a similar type of technology now for armor or something like that. It isn't totally how that stuff is being used, but that's amazing. You mentioned these workshops. You have your own workshop, BESA lab. Talk to me about that.
Billy Almon:
So there's two components to it. One is more kind of professionally design oriented for older kids and adults, and then there's a second component which is more younger kid oriented that is really around kind of looking at nature through the lens of STEM and kind of having a fun exploration of the outdoors through kind of an inventor's perspective.
Maurice Cherry:
Interesting thing about STEM. I feel like it's something when I was growing up, it wasn't a big huge deal. Well, let me take that back. It was a huge deal in that they wanted to make sure that black people were going into these fields. I remember starting college. I started in a dual degree program. I got into that program because I had high scores in math and stuff when I was in school, and so I initially wanted to do computer engineering because I want it to be like Dwayne Wayne. That didn't work out. After first semester I was like, "This is not going to work," and I switched over to math, but it's been interesting, I'd say within the past 10 years seeing how STEM is represented, I think particularly in black culture. I might be stepping on a hot potato here.
Billy Almon:
No, keep going.
Maurice Cherry:
So I hear a lot about STEM, but I feel like the focus is more so on the T and the E in STEM, not so much the S, definitely not the M. Let me tell you, everybody hates math. Nobody wants to touch math with a ten foot pole.
Billy Almon:
Man, you are not wrong.
Maurice Cherry:
Do you find that with what you're doing with this sort of STEM education that people are trying to steer it towards more technical or more engineering disciplines?
Billy Almon:
I think part of that is if you think about where our society is, the iPhone is still the sexy mobile device. I think that whole Steve Jobs era of introducing the iPhone and programs and apps, I think that with that you have a better sales pitch for technology and engineering than you do science and math.
Maurice Cherry:
Yeah.
Billy Almon:
And I think that's part of it. I think those are things that you can easily point to and they get the most buzz, they get the most shine, but all of the stuff that underlies that, like the math behind all of that, the physics of that, the science, those are really the two pillars behind the technology and the engineering part, which is kind of ironic about that whole thing.
Maurice Cherry:
Right.
Billy Almon:
But yeah, I think you're totally right. They definitely get a lot more of the shine, but just taking it back to biomimicry, that's also another reason why I love it, because you get the opportunity to go outside and then just completely kind of deconstruct a leaf, and you get to see a leaf as this power plant, you know what I mean? It's this chemical, there's all these kind of chemical exchanges and dynamics at play. There's structural integrity, there's fluid dynamics, there's all of these things built into a leaf, you know what I mean? And so just kind of taking it back to biomimicry, that's why I love using it as a platform to talk about STEM, because I think the natural world is such an easy way to contextualize some concepts in science and math in a very kind of present way.
Maurice Cherry:
Yeah, because then you can just tell people just go outside, look at the world around you and see how that inspires you. I've mentioned recently being in LA and one of the things that struck me as interesting was how plants were used as divisions in certain parts of the city. So if you go into Hancock Park or even further North to Beverly Hills or right around in that area, you'll see a lot of houses that have these sort of protective hedges and topiary, but then if I went downtown, I just saw nothing but iron gates, iron gates, iron bars on windows, and it's interesting because you see a gate like that and you think, "Okay, I need to stay out. This is clearly for staying out," whereas the hedges felt more … I don't know, almost like a privacy screen in a way. It was a really interesting thing. I noticed a lot of interesting kind of architectural stuff in LA, like all the arches and even a lot of the older buildings, although I heard that LA doesn't really have that great of a culture for conserving old buildings, which was kind of sad, going down Broadway and seeing all the like burnt out marquees and stuff. It reminds me of New York, I guess that's why they call it Broadway.
Billy Almon:
Yeah, I get that. That's one of the things, LA's … I think part of it's like cultural, which is a huge part of architecture. Architecture in a lot of ways is this kind of preservation of cultural philosophies and ideas of a certain time, and so when you have a place like LA where by and large, a lot of it's about like what's the latest and greatest, hottest thing? What's the latest trend? And all that kind of stuff. I can see how there not necessarily is a great affinity for preserving a lot of the history, even though there's a lot of really great history. I have a friend of mine who has this company called Mojo, and what they do is they essentially take you on a tour throughout LA and kind of tell you the stories in this really kind of compelling way of the history of these places, so you really get this really immersive flavor for the city and it's kind of culture throughout time, but yeah, I'm with you. LA is such an interesting place.
Maurice Cherry:
Do you feel like it's a good place for what you do? I mean aside from, like I mentioned earlier, the proximity to television studios and execs and stuff, but being around the nature that's in and around the city, is it good for you?
Billy Almon:
Oh, absolutely. I mean one of the great things about living here, and you hear people say this all the time, is having the opportunity to go to the beach and then go skiing in the same day is one of those unique things about this place, and so for me, that also means that there's all of these different ecosystems that I get to explore. The weather is awesome, but it's such a great place to kind of just understand … again, going back to what we were first talking about with niches and kind of this diversity of life that you find here, not only just in terms of the people that live here, but also the biota, the natural life of this place. That's one of the things I love here. I can go to the aquarium and I can talk about octopus with my daughter and then we can go to Descanso Gardens and get all of these different flavors for different ecosystems of our local area. It's awesome for a lot of the stuff that I'm doing.
Maurice Cherry:
Now speaking of your daughter, do you find that she kind of wants to follow in your footsteps?
Billy Almon:
Yeah, yeah. I'm seeing … she's got the bug. So it's funny. She'll be turning five soon, and –
Billy Almon:
She'll be turning five soon, and I'm a comic book nerd and I didn't force this on her, but she took a liking to Spider-Man, so her whole room is decked out in Spider-Man stuff. It's like our favorite movie and she loves spiders. She has no fear of bugs, or we were on vacation recently and we saw a gecko, I picked the gecko up and I had it in my hand and then I gave it to her and she was handling it gently and she was telling me how to handle it gently. So I was just like, "Oh, my baby. She's got the bug." Yeah, it was great.
Maurice Cherry:
Nice. That's nice. What advice would you give to people that are listening that they're inspired by your story, they're hearing about your work. What advice would you give to any designers or techies out there that want to do what you do?
Billy Almon:
I would say this is kind of a big theme and rooted again… Sorry. So, for me it goes back again to exposure, right? The more that you expose yourself to new things, things that maybe even make you uncomfortable to explore, the more resilient, the more versatile you become as a designer, the more innovative you become. It's going left when you usually make a right. It's simple things like that. Like challenge yourself to get out of your comfort zone and learn something new.
Billy Almon:
For me, it starts like take a walk outside. Take a walk outside, and as a designer, breakdown when you see a squirrel climbing up a tree, what is actually happening, right? Or again, when you see a leaf falling to the ground, go and Google anthocyanins and understand how chlorophyll plays a huge role in the cyclical process of trees. I think I'm getting too out there, but there's…
Maurice Cherry:
Not for me. Remember, my mom's a biologist. So I'm like, "Yep. I got you."
Billy Almon:
There's this poetry to the way that life works. And actually that's a great book too, The Way That Life Works. It's like a biology 101 kind of book. But just go outside, start there. That's the first thing. Go outside, take your curiosity with you and just look around in your backyard and just try to find some connections that you didn't see before. Just start there.
Maurice Cherry:
It's funny, I'm thinking back now, like my old days in science classes and stuff, and I used to be obsessed with the Krebs cycle. I was obsessed with it.
Billy Almon:
Oh.
Maurice Cherry:
For people that are listening, the Krebs cycle, it's basically, I mean to dumb it down very, very dumbly, basically we breathe in oxygen, we consume oxygen and then we exhale carbon dioxide and water and that is converted into energy, like ourselves converting the energy. So we can get what we need for energy just by breathing, and I don't know if that's the whole concept behind breatharians, or whatever those people are that all they do is breathe to eat or whatever.
Billy Almon:
Oh, trying to eat. Yeah.
Maurice Cherry:
But I used to be obsessed with that in high school because I was into comic books and stuff too, and I'm like that's like some mutant power shit. We just breathe in oxygen and get energy from it. Oxygen is everywhere. It's in full supply. How is this possible? You know?
Billy Almon:
That's the thing, right? Going back to your last question, I want to share with people, yes, my background is in biomimicry and yes I studied biology, but I don't know everything about biology. As a designer, that was one of the things that made biomimicry approachable for me, was I didn't have to right away know everything about biology. When you brought up that term, I didn't know the term, but I understand the process, you know what I mean? The fact that that's a chemical process, you know what I mean? There's alchemy at play in the natural world and our bodies are a part of that alchemy.
Maurice Cherry:
Absolutely. So where do you see yourself in the next five years? I mean, with the work you're doing with the television show and Billy Biology and E-Slap, it's 2025, what do you want to be working on?
Billy Almon:
Man, oh, there's so many different things. One thing that I'm working on as a longterm thing is I really want to do more workshops in different locations, so I'm currently writing a proposal to different aquariums for being a designer in residence, a biomimetic designer in residence and having workshops at aquariums. That's something that I'm hoping to do, especially getting a chance to go back to the aquarium in Atlanta. I love that place.
Maurice Cherry:
Yeah, I remember when they broke ground on that too. I was working downtown at the time and initially they were doing it because honestly they were trying to keep tourism dollars in the city, but they also were competing with Chattanooga, because Chattanooga has a really great aquarium and we wanted to have something that was a similar draw in the city. I mean, I've been several times since it's opened. For someone that lives in the city, it feels like a hidden retreat. It's right downtown in the middle of the city. I don't know. It's a really great aquarium. It's a great place to just go and just spend an afternoon.
Billy Almon:
It is, man, it's so magical. Seeing that whale shark fly over your head in the tunnel and just that huge wall. I mean I just, I love getting lost. You can just fade away, in a way, you know what I mean? Just staring into the aquariums. That's one thing that I'm hoping to do more of, and then I would love to do another TV show. There's a couple of, now that I understand the way that wildlife filmmaking works from this perspective, I've been working on a couple of different additional show pitches for ways to extend that, that I'm hoping will be picked up in the next couple of years as I work on them.
Maurice Cherry:
I'm curious, what do you think about the, so there's like these, I don't know if I would call them up and coming, but there are these sort of, we'll call them aficionados because I don't know necessarily how professional they are, but there are these nature aficionados on YouTube and social media. Do you see yourself in the same realm as them or is the work that you're doing on a different level?
Billy Almon:
It depends on which nature aficionados you're talking about.
Maurice Cherry:
I was thinking of two people off the top of my head. The first person I was thinking of was Brother Nature, and the second person is this guy named, I think his name is Coyote Peterson, I think.
Billy Almon:
Yeah, yeah.
Maurice Cherry:
Yeah, yeah. I saw some video where he was getting stung by a bullet ant, and I was just like, why?
Billy Almon:
Yeah, yeah. He's next level. The cool thing about him was he started on YouTube and he wound up actually getting his own show on Animal Planet as well.
Maurice Cherry:
Oh, okay.
Billy Almon:
So you know, props to him. I couldn't do what he does. I like to tell people my perspective is as an African American male coming into the world of biology, but my primary lens and my primary approach is that of a designer, right? So for me, my design philosophy is where nature, science and design intersect. When I'm communicating biology, the biomimicry background and my background as a designer and storyteller is what I think is my distinction. Brother Nature, shout out to him, and The Real Tarzann and all of those guys who are bringing people and making nature less intimidating. I think that's great that they do that.
Billy Almon:
I think depending on your understanding of some of the more technical and academic debates around how you interact with wild animals, that's a separate topic. But again, for me exposing Latino kids or Latin X kids and African American kids to nature in a way that they wouldn't before because of them, I'm all for it.
Maurice Cherry:
Yeah.
Billy Almon:
I don't know about Coyote getting bit by the bullet ant. I'm passing on that one. I got the chance to be in Costa Rica and see bullet ants up close, and, nah.
Maurice Cherry:
Yeah, you're like, I'm good, I'm good.
Billy Almon:
Yeah. What I say when I come across things like that is I'm not there in my biology yet.
Maurice Cherry:
Gotcha, gotcha. I hear you. All right. Well, just to wrap things up here, where can our audience find out more about you and about your work online?
Billy Almon:
Billybiology.com is the website where I have everything, and you can also find me primarily on Instagram at Billy_Biology, is the handle and yeah, hit me up and look out for a podcast called Nature Be Wildin'.
Maurice Cherry:
Nature Be Wildin', I like that name. That's a good name. That's good.
Billy Almon:
Thank you.
Maurice Cherry:
Man, Billy Almon, thank you so much for coming on the show. It's very clear to me just based on the conversation we've had and the work that you've done that you sit at this really interesting intersection of nature and design, and I guess technology in a way too. You sit at this intersection, and it's something that we need to see I think on multiple levels. One, because there's always talk about there's not enough black people in tech, black people are underrepresented in technology and design. So it's good to see someone doing that. But then also, there's all these stereotypes around black people in nature, like black people don't hike, black people don't camp.
Maurice Cherry:
Granted, I'm pretty sure there's probably some, well, I know that there's racial bias in it because there's laws that said we couldn't, back in the day that we couldn't camp out in national parks or things of that nature.
Billy Almon:
Right.
Maurice Cherry:
So I think some of that is certainly an inherited kind of trauma, I guess in a way. But you're also bucking that stereotype and bucking that trend too. It's like I'm a black man in nature, showing you how nature works and how you can use it to have a more sustainable future or to use it for greater things. I mean, you're a visionary. You really are. I'm really glad to have been able to talk to you and to talk about the work that you're doing, and I'm really excited to see what you do next, so thank you for coming on the show. I appreciate it.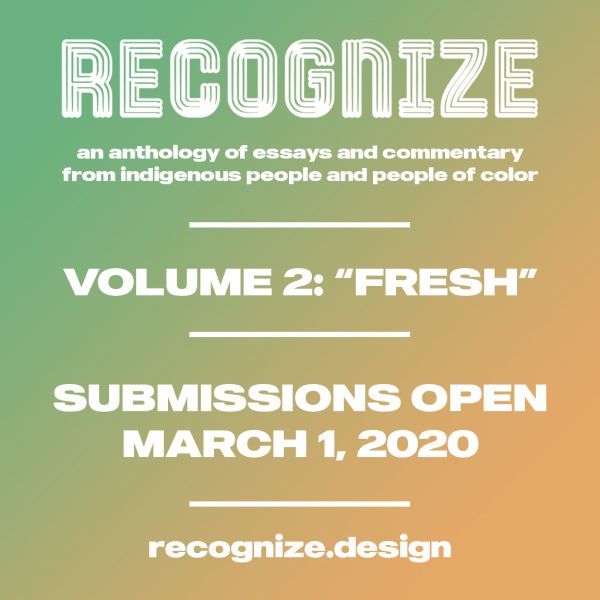 RECOGNIZE is open for essay submissions for Volume 2! The deadline is April 30 – enter today!

Sponsors
Facebook Design is a proud sponsor of Revision Path. The Facebook Design community is designing for human needs at unprecedented scale. Across Facebook's family of apps and new product platforms, multi-disciplinary teams come together to create, build and shape communication experiences in service of the essential, universal human need for connection. To learn more, please visit facebook.design.
This episode is brought to you by Abstract: design workflow management for modern design teams. Spend less time searching for design files and tracking down feedback, and spend more time focusing on innovation and collaboration. Like Glitch, but for designers, Abstract is your team's version-controlled source of truth for design work. With Abstract, you can version design files, present work, request reviews, collect feedback, and give developers direct access to all specs—all from one place. Sign your team up for a free, 30-day trial today by heading over to www.abstract.com.