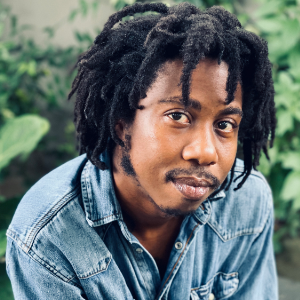 When I tell you I have wanted to have this week's guest on the show for years? LISTEN. I'm so glad to bring you this conversation with the one and only Agyei Archer — typographer, design director, and all-around creative powerhouse.
We touched on a number of different topics, including his brilliant type design work, and how he built two businesses during the pandemic. He also shared how his motivation to succeed comes from his connection to the Caribbean, and talked about how he balances design, tech, his work with Unqueue, and exploring new type design projects. There are a lot of things to fix in this world, but if you've got skills like Agyei, then that just means your next project is right around the corner. Get on it!
Transcript
Full Transcript
Maurice Cherry:
All right. So tell us who you are and what you do.
Agyei Archer:
My name is Agyei Archer. I am a designer and entrepreneur currently based in Trinidad. My work extends in a few different branches, one of them is in making typefaces. So I work on typeface design, but primarily with a focus on typeface design, to support the cultures and spaces of the post-colonial slash new world and the global south. And I also, I'm an entrepreneur in my home country of Trinidad, where I run a design company called Unqueue, where we help small businesses sell online. And we also have a studio called the Unqueue Studio, where we help other startups and institutions, such as government bodies and large corporate entities build their own digital products, to move towards Trinidad's digital transformation.
Maurice Cherry:
I believe your type design was how I first heard about you, like years and years ago. How's the summer been going for you so far?
Agyei Archer:
In the type design world or just in general?
Maurice Cherry:
Just in general.
Agyei Archer:
It's been good for me, I started off. I mean, I think it would've been probably in the start of the American summer at Facebook. So I did a talk for Meta's OpenArts team. So I gave a talk as part of their visionary series and that was really good, but I think that kicked off my summer. And then I also gave another talk at a conference, called the Eyeo Festival in Minneapolis, that's long ago. And those have been really good, I've been really enjoying this particular summer, because I've been so face down in dealing with Unqueue stuff, especially because Trinidad was so locked down for as long as it was. This summer feels like that I'm becoming an international person again.
Maurice Cherry:
Oh, nice. So with that in mind, what's coming up for you for the next few months?
Agyei Archer:
Right now we have at Unqueue, which is my startup at home we are working, pretty hard and growing. So we've just started working on connecting a lot of our local population with our local farmers. So we have a massive food import bill in Trinidad, which is wild because we're a tropical country that can grow fruits all year round. But we have a massive challenge with people on the ground in Trinidad, purchasing produce from people who are making it in Trinidad. And we have recently built in an addition to our software, that allows local farmers to connect with the general public. So we are currently helping people sell vegetables, and helping farmers direct more organic produce to their shoppers.
And that for me has been my hugest kick, it's not as great as writing a massive Python script or anything. But I think that I've been really appreciating recently, especially with Unqueue how much technology can help people on the ground. So that's been what I've been mostly excited about, I've been working on that, and I've been working on a new typeface project with Darden Studio.
Maurice Cherry:
Oh, nice. Can you talk about that typeface project?
Agyei Archer:
Sure. Oh, I forgot, it's not recent anymore. So a few years ago, I started working on a typeface that was based on and inspired by the writing styles, that signed to be pervasive across post-colonial spaces. So there was this energy that sign painting and post-colonial spaces came with, that I was trying to see if I could capture into a typeface. And when I say post-colonial spaces, I'm not just talking about the Caribbean, but I'm also talking about post-colonial spaces like Ghana, and Nigeria, and India. And the really ferocious energy that a lot of those sign painting designs have come with, have been really inspiring to me for a lot of years. I've been obsessed with sign painting in Trinidad, and then beyond Trinidad for a lot of my life.
And I think that the project that I'm working on with Darden Studio right now is, trying to distill that hand painted sign energy into something that we could use for text, which has been a really interesting, challenging, not interesting challenge, but also really fulfilling. I've been really enjoying it, I'm working with Darden Studios designer [inaudible 00:07:59] on creating it, but it's been really nice. It's also frankly, nice to be building work for a studio that was founded by a Black typeface designer of whom there are so few.
Maurice Cherry:
That's true. I mean, I know that you were known as Trinidad's first typeface designer.
Agyei Archer:
Yeah. I mean, I'm not even sure that I'm… I think that there was a typeface that was designed before me in Trinidad. I think, that what I meant was that I am Trinidad first typeface designer, who is doing it for a living. But I think that even the idea of being the first, for me, is a lot less important, than it is the idea of being somebody who is making things that are culturally specific. I do think that there is a distance between who is making the work and who is the work for. And I think that who is the work for, is always a more interesting question, but who is making the work tends to be the question we ask. Which is something that I'm navigating, because I think that as a Black person who is making type in the world, I feel like that's, yes, that's a momentous occasion. Because up to 20 years ago, Black people were not making type.
But I also think that the reality is that, it's far more about for whom the type that I'm making is than it is what I look like. Because to be frank, if there were a white man who were making typefaces that was inspired by post-colonial creativity, I would be as excited. But I do think that, that's also because a lot of the work that I'm making right now, I am hoping that it does well commercially, but it's not that it's not for commercial consumption. But for example, with the typeface that we're working on at Darden Studio, that typeface has a language support that is relatively rare among the type world. So it supports every single African tribal language in Latin, which is a rarity. But for me it was a little bit weird or inappropriate, to be developing a typeface that was inspired by these spaces, and not let that type face support the languages of the people by whom it was inspired.
Maurice Cherry:
I had Tré Seals on the show, goodness, that was years. I think there might have been 2017, 2018 before his typeface design, really started blowing up. And I see his typefaces everywhere, and it's interesting that you say like, "Who it's for." Because granted, there's a historical context in which Tré bases all of his designs, but I've seen them used in movie trailers, in yogurt commercials, I've seen them used everywhere.
Agyei Archer:
Yeah, for sure. I think that Tré's work is really important, and I mean, I'm saying this as a non-American, right? So I don't have the same relationships that Americans may have even to oppression. But I do think that Tré's work is, I feel like you can make work that is really on the pulse of the moment that you're in, and his work feels really responsive to the moments that we're living through. And I feel like there's a particular beauty to that for sure.
Maurice Cherry:
Yeah. Totally. Let's talk about Unqueue, which you started a little over two years ago. Tell me about that.
Agyei Archer:
Well, I had just come back home from, I think maybe New York, and I had in a way closed my design studio. So I had a design studio for about 10 years in Trinidad, and we were doing a lot of work in the web, we were doing a lot of work in the branding space. But it wasn't that I didn't love that work, but it was that I loved making type a lot more. And I was starting to phase that phasing, branding, and web work out of my career, and basically trending toward being a full-time typeface designer. But when COVID hit in New York, I had just left New York, and then I came to Trinidad. And when I was in Trinidad, because we used to have this studio that provided design services, we ended up in this place where a lot of my old clients would call and say, "Hey, Agyei, are you still working. We need a website, we need to sell stuff online. We can't keep the business open, we can't have people in the store or whatever." And this was a massive influx for me.
And there was this decision that I had to make of, okay, well I can take on this business, and it'll be probably good money or whatever, but it's not necessarily scalable. And also there was this problem that was really clear to me. Because I grew up as a very, I would say, proudly working class person from a working class background. And the amount of money that it would've taken people to get online, in that time would've been prohibitive to the working class. And I wanted to be part of making something that can help people who didn't have the, how much of a thousands of dollars it was going to cost to hire us.
I wanted to give them the same ability to get online, do business, sell their stuff, as my other clients who would've been supporting my career however long, and I felt like the pandemic was a good opportunity. So I was working then with my studios lead developer, his name is Andal. And I called Andal, what do you think? And I was like, "Andal, do you want to make an app?" And he thought I was joking, and three months later we released Unqueue's first version to the App Store. And since then it's been something that has changed a lot, about how I see the value of the work that I'm making. But it's also something that I'm really quite proud of it, because in a space with relatively low tech adoption, in which it's a big circumstance in Trinidad, that we don't have a huge amount of trust in technology.
So we do have one of the highest mobile penetrations probably globally, like relatively. So in the Americas, we have 110% mobile penetration, in Trinidad we have 142%. So we're very online, very mobile society, but that transition of doing business digitally, didn't really happen until we got forced into it by the pandemic. And something that I've been really happy about, is being able to be part of that transition and part of that change. So a lot of the work that I'm looking at with NQ is, not just about helping people sell things online, but there's this movement of digital transformation that's happening throughout the Caribbean. Yes, triggered by COVID, but also very necessary to help meet our sustainable development goals, necessary to reduce food import bills, et cetera. And as soon as I was able to realize, wow, we are building this thing, and not only is it's a cool product to work on sure.
And I think that there aren't product development studios in the Caribbean. So it's not I think that a lot of the methodologies that we would've been importing, maybe even from Silicon Valley, we had to retrofit to work in our space, et cetera. So it was really exciting, but I think that for me, when Unqueue got kicked off, I started it as this thing that I thought would be able to help some people. And now I think that there's this larger vision around, being able to guide the direction of the Caribbean. Because a lot of technology in the Caribbean isn't made here, a lot of it is made for example, in Russia or in China. And angel investors bring software into the country, and try to retrofit it to the cultures. And we are the only people that are making the software that we're using on the ground.
And there's a particular magic to that because we are able to be responsive, but we're also able to develop solutions that are tailored to our experiences. We have 80% cash dependency in our country, where 80% of the transactions happen on cash, and that's not going to change anytime soon, our banks aren't going to facilitate that. So we, for example, had to build an e-commerce software that was also able to facilitate cash payments. But things like that I've been really, really exciting, and I think that Unqueue has probably been one of the most fulfilling professional experiences on my life. But it's also been something that in a material way, we're able to help 200 plus vendors, we've connected them with 20,000 plus shoppers. And I mean, it's a small country, so that's like those actually important numbers. But I think that for us, and I say us now, because Unqueue is way more than just me. But for us Unqueue has been this very transformative project that we've all worked on, and discovered a lot more value than we initially wanted. Well, initially we're expecting to.
Maurice Cherry:
I mean, it sounds like it really came about at a very opportune time. I mean, you have this quote unquote perfect storm of a pandemic and things getting locked down, and people not being able to have that regular access to places that they usually had. And now you've got this app, that now facilitates a lot of that.
Agyei Archer:
100%. Yeah. That was really huge for us. So because that looked in people's eyes of, I didn't know we could do this. I feel it's part of that mentality, has a lot to do with being from a traditionally disadvantaged post-colonial space like the Caribbean, and not really not seeing a potential for yourself that is better. And I think that, what our work has been able to do is to show people, "Hey, you deserve technology." This idea of design and technology, have been classically relegated to large business in the Caribbean. And what I have been able or wanted to be able to do, is to create something that could be democratizing and something that could be accessible across the board.
So I mean, Unqueue Studio, our tagline or motto or pedal driving principle is, design and technology for everybody. But that for everybody really is our big key thing, because the amount of change that we can make in one particular sliver or society, maybe a lot. But the reality is that if all I'm doing is helping rich people get richer, I probably would just go to work on Apple or something.
Maurice Cherry:
Fair enough. That makes sense. So let's talk about Unqueue Studio, because that is something different from the app itself, right?
Agyei Archer:
It was. Yeah. So I started on Unqueue two years or two years plus ago. And something that really stood out to us maybe about, I would say less than a year ago, was the fact that we had won a bunch of awards. So that's one thing, so we've won awards every year for design and user experience since we've launched. So we've won a total of five Addy Awards, which are the American Advertising Association Awards, we've won five of those over the past two years. And the reason that we've won them is, largely because we've been making good design. But I think that's something that we had to acknowledge is that, we are one of the few providers that are able to do this in the space that we're in, but we're also the only people that are building the products that we design as well.
So I saw it as an opportunity for us to not just, yes, diversify how we build income at the company. But I also saw it as a real need, because this idea of design and tech being for everybody and this idea of design, I feel like it's almost technology should be a fundamental, right? Just the ability to write or access to water. And I feel like companies like Unqueue Studio are there to help facilitate that, because there needs to be somebody between the general public and business interest. That can rip business interests, and their objectives into something that the public wants. And I think that I started the Unqueue Studio so that we could address that, but also so that we can make our contribution to the Caribbean technology sector and industry. Because we have so much in our tech world and industry, that is really good business man like a lot of pitch decks, hell of pitch decks.
But the reality is that, when it comes to materials substances products, getting made products, getting put into the world, we actually don't have a huge legacy of doing that well. And I wanted to create a company that could change that narrative, among people in power in the Caribbean but also on the ground. And I do think that it has to do with a lot of post-colonial self hate. But I do think that there is this belief that we can't do things properly on our own. So it has to get imported if it's good, and I'm trying to make this case that actually it can be just as good as the imported stuff, if not better, if you make it here.
Maurice Cherry:
Yeah. Walk me through what a typical day is like. Because I mean, it sounds like a lot to balance between the app work and the studio.
Agyei Archer:
It's a lot. Yeah. But I mean, unfortunately they have a synergistic relationship, or they can because it's the same teams. So the app for us is our social impact project and, yes, we do work with larger businesses to help facilitate their e-commerce. But the large part of our business is this idea of small entrepreneurs, and say small in terms of following of money that they're making, but small businesses moving through and helping their businesses grow. But the studio is doing that, but for other businesses essentially. So I think that in a day typically, I try to wake up and start work by 8:00, 9:00. And I would say, I spend about, let's say 40% of my day Unqueue App, and then another 40% of my day on the Unqueue studio, and then another 20% of my day working on type stuff.
But the Unqueue App and the Unqueue Studio work are really synergistic, because a lot of the methodologies that we've developed at the studio, are the things that we use to run the app. But also a lot of the success that we've been able to have professionally, is because of how well the app has done. And also because we've spent so much time and money building this app, we also now have a lot of software infrastructure that other startups are using. So a lot of the work that we're doing now is in diversifying the work that we're doing. So a lot of my days are half entrepreneur, where I'm writing a pitch deck for somebody. And then I stopped doing that and I'm reviewing someone's design. And then I stopped doing that and I'm reviewing someone's performance for example. But I think that in a way I feel more comfortable doing as much as I can, than I would feel like I'm not doing enough, which is probably something to talk about with my therapist.
But for me, that is a really huge thing. I think, that I have spent a lot of time wanting my work to be meaningful and purpose driven, and the Unqueue Studio and the Unqueue App have given me that capacity to do it here. Because I do think that the work that I do in typography and in language support, especially since a lot of the work that I'm doing, is for people who have classically been ignored by the type world. A lot of that work is really important, but they are all along the same vein of, I want to use the abilities that I have to make an effective positive change in the world.
Maurice Cherry:
Yeah. It sounds like that's been a new discovery for you. Would that be accurate to say?
Agyei Archer:
I think so. Yeah. I think that when I got into type, and maybe it was just I had finally become a real adult or something. But I do think that there was this realization that I had, because getting into type can be a really, really fun experience, maybe if you're not Black. But I think 10 minutes and when you're Black, you start realizing, hold up, firstly, nobody here looks like me. Secondly, every single language that I am being taught to value, and all of the little accents that I'm taught to pay super close attention to. And respect everybody's language, only language respect that are being taught is about European languages, right? So they'll tell me, "Hey, you need to make sure if you're supporting Polish, you need to have Polish diacritics." Or maybe you should just lean on the side of drawing a diacritics to support Polish, but it's like, "Okay, I get it. I get it. I get it. But who's going to be supporting Twi or Fante, right?"
And the reality is that those languages aren't thought of, and it's not because of their population sizes, it's just because the people who are making type are from Europe. And I think for as unfortunate as it is, it's understandable to be able to see why you won't want to look past these spaces that you're in, when you're meeting the work that you're making. But I do think that if I'm not from these spaces that you're in and I can see a gap, then I can either rail against the system and get mad at you for not doing something about it, which I have done to relatively negligible effect. Or I can choose to acknowledge that, "Hey, your limitations are around, how much you can see in the world, and your whiteness your privilege insulates you, from having to see a certain side of the world that may not be as comfortable to you."
But the reality is that I don't have a choice. People in Africa look like me, how could I be making type and not supporting their languages, it's really basic stuff. And in the same way, I grew up really working class, people like me after the pandemic were mostly unable to make a living. Like this service industries were shutdown, hospitality industries are shutdown. There were a lot of people who looked like me that couldn't do anything, but a lot of them probably had the little side hustle, that they could have advanced to a full-time hustle if they had the right infrastructure. So for me it was, well, let's see if we can make the infrastructure, but it's really about what can I do? And if I can do it, I should do it.
And I'll figure out how I'll get paid for it, getting paid has been always a thing that I think about secondly, but fortunately I've always made that work. But I think that for me, I think maybe for the past few years, a lot of the work that I've been making has been around, not necessarily a settlement or writing of any wrong. But I do think that the work is about seeing where I can fill a gap, and placing my energy there instead of wherever else. Because I don't not acknowledge, that I could probably go and make type for a large company somewhere. Or I also don't acknowledge that I could spend most of my type design work building brands, for example.
But I do think that if we think about what people need in the type world right now, it's probably greater accessibility. Africa is one of the most exploding economies in the world, in 10 years that's actually going to be really necessary that you support continental African managers. And while that opportunity is there, I also would be doing the work, if that wasn't the case. Because I feel like there is a certain amount of accessibility, that people will get written out of in the design can, just because of how white it is.
Maurice Cherry:
You know, even as you say that they're reminds me of some conversations I've had, over the years on revision path with other type designers. I think one of the first type designers I had on was episode 24, was this young guy named Kevin Karanja out of Nairobi, who had designed a typeface called Charvet. I don't know if he kept it up, I remember when he designed it, I remember he got a good bit of international news for it. I don't recall if he had kept it up, because he really was, I mean, when I was talking to him, he was 21. He was like, "I was just messing around and made this typeface." And it wasn't really, I guess, for a utility, he just did it to see if he could do it. But also I think he was leaning more into doing fine art, so I don't know if Kevin is still even doing type design.
Agyei Archer:
Yeah. I have not actually heard of him. You said, episode 24?
Maurice Cherry:
Yeah.
Agyei Archer:
Have to check that out.
Maurice Cherry:
Yeah. The other person and I haven't had him on the show yet, I would love to. But he's got me thinking about the work of [inaudible 00:26:22] out of Zimbabwe.
Agyei Archer:
Yeah. He's a huge influence. But yeah.
Maurice Cherry:
Yeah. His book African alphabets, which took me forever to try to find.
Agyei Archer:
Yeah. It's like [inaudible 00:26:35].
Maurice Cherry:
It is. Because it's out of print and everything. But it's such a great work in terms of just the anthropological, just meaning of showing what African alphabets are. And how different that is from what we would know as Roman alphabets or something.
Agyei Archer:
Yeah. One of my first type design projects on the project, that I gave my pep talk on was Surinamese language, that he had actually documented in his book. And if he hadn't documented that I wouldn't have found it.
Maurice Cherry:
Yeah. So you talked a little bit about growing up. Tell me more about your origin story, you were born and raised in Trinidad?
Agyei Archer:
Yeah. I was born in Trinidad, I grew up with my dad alone. And I think I had a relatively traditional growing up experience, which is that my father wanted me to be something, I'm not an artist. And what that means, is that I think I was quite good at all of these things in school, but I was just really unfulfilled. So I was a good student but a bad teenager, if that makes any sense. And I think that by the time I was ready to graduate out of what Americans would call high school. By that time I was so determined to do my own thing, that I already decided this is going to be tough but I'll do it. When I got out of school, I had walked away from engineering path that I was focusing on, and I decided to be a bartender.
And while I was a bartender, I was also making software. I had learned a few programming languages in school, and my first job was actually as a software developer. And while I was making software, I learned I like making these layouts for these interfaces a lot. And I started getting into interface design, and this would've been old school, this is pre-cloud, pre-material. And I realized, I quite liked that, and then I realized, "Oh wow." I was looking on a website one day and it needed a logo, and I just told the client, "Look, let me just take a stab at that for few you birds." And I did. And as soon as it was done, I was like, "Oh my fucking God, I love this shit." And I decided to be a graphic designer essentially.
So I got out of software and became a graphic designer. And I think that I basically got into software, became a graphic designer and was freelancing for a couple years, and then decided to go to school at the University of Trinidad and Tobago, because I wanted to get better. And I did okay slash great in school, but I was living with parents, who just didn't understand a lot around why anybody would want to do design, which he would call art. And in his head it's like, "I don't want my child to be an artist, they stop." So there was a relatively unsupportive environment at home then. And during that I decided, well, I want to be a designer and I don't want to have to quit studying design. So I'm just going to move out and I moved out, and studying and living on my own was a difficult thing to navigate. So I just decided I would just start working, and I was always working while I was in school, just because I had a culture of getting classwork before.
Maurice Cherry:
Mm-hmm. And so, I mean, going to the University of Trinidad and you're studying and working at the same time, did you end up finishing up or no?
Agyei Archer:
I didn't graduate out of UTT, I got into the program and dropped out almost at the end twice.
Maurice Cherry:
Twice?
Agyei Archer:
Yeah. The first time was really just because I didn't have a choice. And then the second time was because I went to school to finish my associates, and my lecturer at the time was like, "Hey Agyei, happy you want to be in school, love that for you. But you're working toward where you already are." Not necessarily in terms of my skill but in terms of professionally. And a lot of these schools in Trinidad are there to help you get a job, far less than they are to actually educate. And I think that it just felt like a right time for me to get out on my own. And I started working at an agency after, which I was fired from that agency a couple months after, but that was where I got my start, basically. That was when I decided I was really going to do this for the rest of my life.
Because when I dropped out to school the second time I decided… Well, but I could do a bunch of things, I could probably go learn how to do math or something. But I think that for me, it was way more important than at the time, that I do something that was passion driven. And all of the things around my life had coalesced around me doing design for a living. And it was the first time that I did something and, yes, it paid my bills, but it was also the first time that I was able to do something. And look at the effects of it, and look at the effects that it had on other people and be like, "This is a good thing that I'm doing."
And I feel like that feeling has been in a way, what I've been chasing, but chasing is the wrong thing, because it implies more satisfaction than there is. But I do think that what I've been doing is working toward working, in pursuit of my understanding of the fact that design can actually positively affect people's lives. And if you know that it can then let it, and the only way to let it is to do design.
Maurice Cherry:
Yeah. And I would say that your points, if you were already working, I mean, why stay in school? And I'm not saying this for people listening is like, you should drop out, but-
Agyei Archer:
Yeah. No, stay in school kids.
Maurice Cherry:
… based on the environment that you said you were in, if you were already working, what is the degree really helping you for at this point, you're already making a living?
Agyei Archer:
That was it like, I was paying my rent, but I was paying my rent and barely sleeping, because I have a career where I'm on the laptop and I'm building identities, and then I'm going to school. And I'm having to cut out pay stops.
Maurice Cherry:
Right.
Agyei Archer:
It was something where it is like dissonant. I feel like I'm getting prepared for the thing I'm doing.
Maurice Cherry:
So what was your early career like, you mentioned this agency, was that Abovegroup that you were working at?
Agyei Archer:
It wasn't, it was not Abovegroup at first, Abovegroup was my dream agency. I applied to work at Abovegroup six times.
Maurice Cherry:
Oh, wow.
Agyei Archer:
Yeah. They will admit for me being in the Caribbean and being a lover of design, and seeing the work that they put out for me was massively influential. Because Abovegroup it was founded by these two men, Alex Mills and Gareth Jenkins. Well, both had Trinidadian roots, but weren't necessarily squarely based in Trinidad, but they were in Trinidad during the Abovegroup era. And something that really stood out to me was this, I mean, I don't like this term, but it's the best one that I have right now. But this internationalized approach to making design, which felt like it could stand up anywhere in the world. And for me, I was so inspired by that work that I told myself, I'm going to make work this for a company, or I'm going to make work this on my own, or I'm going to starve to death. But I'm not doing bullshit, you know what I mean?
And I think that after school, a lot of the work was struggling, but struggling, not necessarily because of any reason other than not wanting to produce, what felt to me the role to mechanicalized output that people are. I think in Trinidad, we have a culture of advertising is all big thing, so that's what designers make most of their money doing. But the advertising culture in Trinidad has really flattened expression, and I think that for me, looking at that work was always really demoralizing. So I was telling myself, I don't want to work for these people, while also needed to make a living. So my employment history has been shaky at best, I think I maybe was employed for my longest stint, my longest job lasted eight months. Everything else was freelance in the middle of that.
But I worked at a few agencies in Trinidad, and I think I would say that unhappy is a good way to describe how I felt. Just because I unhappy not necessarily because, I mean, the bosses were assholes, but bosses could be assholes everywhere. But it was more so I know that I'm not doing what I want to do, you know what I mean? I'm getting up, I'm making this artwork for these people, but I know that at the end of the day this isn't how I want to… I don't want to be known for this, I don't wanted this to be what I'm carrying through in the future. So it was always in the back of my head, and then after many attempts I actually just got a job offer from it from Abovegroup. And Abovegroup was the first time that I was able to work as part of a team, and make the work that I wanted to make.
And I worked on Abovegroup for, I would say maybe a year or a little bit less than a year, but it was the most formative job experience that I've had, because here I was on a team of people attempting to make world class work, with world class, in my opinion, intentions and objectives. And eventually the company like design as a business internal that is hard to do, and it's hard to make sustainable. And at some point in time, they had to realize that, "Hey, this isn't going to work." And they had to shutter their doors.
And when Abovegroup closed down for me, it was really demoralizing because I know I could have my own freelance career and stuff like that. But I think that what I learned from Abovegroup, is one how much you can do with people, as opposed to just yourself. But also I learned how much I enjoyed being part of a thing. And it's only now that I'm able to look at the empty studio, and reflect on how much of the Unqueue Studio experience that I'm having, I took away from Abovegroup.
Maurice Cherry:
I know exactly what you mean about working at a place, and feeling like you know that you're… And maybe I'm saying this wrong, but you feel like the work that you can do is better than this, like I'm better than this place in terms of-
Agyei Archer:
Yeah. [inaudible 00:35:59].
Maurice Cherry:
… the work that you know that you can do, but you're still stuck in this. I know what you mean, I know exactly what you mean.
Agyei Archer:
Yeah. And I feel like it's also… And I don't say from a place of ego either, it's almost from a place of desperate frustration. It's like, "Guys, why don't we care about our clients?" Those kinds of things are those were always questions that remained so unanswered, that it was hard to feel comfortable in a space, where I shouldn't feel more concerned about my clients than my boss did, you know what I mean?
Maurice Cherry:
Yeah.
Agyei Archer:
And it felt like a lot of the timely work was this act of compromise, and lot of active compromise because we have to get it out, or because the clients is on a deadline. It's always the compromise comes from, well, we don't want to have another conversation with our client. And I was always in my head, well, okay, clients actually hire us to be the experts, they hiring us because they need somebody to tell them, when they're fancy full ideas might not work.
And I think that the culture that we've had in Trinidad around business in general, and around the customer is always right quote, unquote, just didn't allow for that kind of thinking. So when I wasn't about group, it was the first time that I heard my boss say, "Yeah, I told our client, they could go fuck themselves, dude, they asked us to do some bullshit." And for me that was huge because I didn't even know we had that power in Trinidad. I knew we had that power elsewhere and it was nice to look at designers elsewhere, but at home it was wild for me to see that. So now even at the studio, we are probably one of the few studios that tells clients, "Hey, we're not sure that your business model is really aligned, to what the kind of work that we're trying to make."
Maurice Cherry:
Yeah. It's a more gentle way of saying that.
Agyei Archer:
Yeah. I had to think that they may have not been able to.
Maurice Cherry:
Yeah. I know for me, I mean, I'm not going to lie, there was some ego in it. I was working at AT&T, essentially a production designer, just working on an assembly line with a team of other designers, just cranking out these boring websites for small businesses. And I just knew that I was better than this, I was like, "I can do better than this." And it pained me how the other designers who I worked with, a lot of them who happened to be Black designers were just okay with this very sort of… To me, it felt like this is boring pedestrian station in life. I'm like, "You like this. You like these 15 minute lunch breaks, and then we have to go back to work for six hours, don't you want better for yourself than this?" And for me, it was 100% ego. I get what you're saying about kind of, especially with an agency, you would think that agencies would hopefully be more, I guess, appreciative of clients. And maybe, I mean, it sounds like this was your first agency type experience, and maybe that's why it was so jarring.
Agyei Archer:
Well, I've had a few agency experience, and I think that one of the realities in Trinidad, is that we have what you would call like franchised ad agencies. So a local business interest would get into a partnership with, let's say Saatchi & Saatchi, and they would bring a Saatchi & Saatchi to Trinidad, but the only parts of the Saatchi & Saatchi brand that they're using on the name. So there's nothing that's going to be reflected in terms of the work ethos, or the creativity or anything like that. And that industry of design being production, and I think maybe just how they built the industry in Trinidad. I think it's way more about getting the work done, so that we can get a new client in than it is about making work that gets us our next client.
So a lot of these agencies have 10 year, 15 year relationships with clients. And yes, they're making underwhelming work every year, but they're making underwhelming work at a understandable unexpected budget. So it's not going to be a huge problem for the client. And I think that I was always really wary of ending up in that trap, because I felt like the reason that those companies were successful, is that same post-colonial shame of where from. So we'll work with the Saatchi & Saatchi because they can guarantee that it won't be shipped, because it says Saatchi & Saatchi in their name.
Maurice Cherry:
Oh, okay. I see what you're saying.
Agyei Archer:
But that doesn't necessarily mean that the work is going to be good, it just means that there's a implied client confidence. And I think that I knew that, I mean, in Trinidad we may have white people are a minority here, but they're still the powerful group. So I was never under this illusion that I could start my own company, and just run it on the name of it, it would have to be about work.
Maurice Cherry:
Yeah. I mean, it sounds like you've always done your own thing, whether it's Unqueue, whether it's your earlier entrepreneurial ventures that you touched on. For you, what have been some of the pros and cons of working like this?
Agyei Archer:
Yes, I have done my own thing for better always, but I think that as far as pros, I can really settle on the biggest pro of being. This idea of working on what you want to work on, is huge because if you can work on what you want to work on, and you can get paid doing it, and you can get paid enough to pay your bills. And buy some Prosecco on the weekend, in my world, that's the literal best your life can be, right? So for me, my biggest pros is that I get to live a purpose driven life. And that doesn't mean that my work is my life, but that does mean that if I am going to be spending eight to 10 hours a day doing something. That it doesn't feel like I'm just doing something to help someone else achieve some random goal around the money.
So in terms of, I think that I can make a way bigger impact way things by myself, because are the obvious cons, but not just security, huge fucking terrible, like now I'm fine until recently it was tricky. I think also in these spaces that I live in, there is a particular challenge with going on your own when you look like I do, even though most of the people from Trinidad Black or extended descent. I think that the challenge comes with believability. So I walk into my room, I have free-form dreadlocks, I don't wear socks, I walk into the room and I'm like, "Hey guys, this is the design." And while I'm saying that, I know I need to fight against all of the perceptions that are coming with me in the room. And in a way, the career that I was able to establish for myself in the states, was the thing that helped me to get past that here. Because when I tell people, "Oh, Google is one of my clients." There's a lot of shit that gets smoothed over, you know what I mean?
A lot of skepticism that leaves you room, they're like, "Oh, okay, cool. We thought you were a fraud because of the hair, but you said Google so it's fine." And I think that for me, one of the biggest cons is that idea of, for me, and I mean, I'm seeing specifically, if you are a sole trader Black entrepreneur. Doing the things that I do in Trinidad, one of the cons is definitely going to be, walking around and through that pervasive doubt that your potential clients and payers will have of you. Just because they are in a way programmed to doubt you and to doubt your capacity to do things, I think that's one of the hugest challenges.
One of the huge challenges is just, having the best product in the room, but screaming, please somebody, listen to me. And in this invisibility, just because of where I'm from and what I look like, that again, I'm being really clear about, is way less now than it was back then. But I think that you're a young Black boy in a Caribbean, and you want to start to design business. One of your biggest challenges is going to be credibility, and how do you get people convinced of your talent. Because it's not going to be on how good your layouts are, it's going to be about something else.
Maurice Cherry:
I feel that, I mean that respectability politics kind of thing is so pervasive. I mean, it's something that I've had to deal with. Also I mean, I'm a big dark skinned Black dude with an Afro from the south, I walk in the most places, especially with some of the places that I've spoken at, some of the places I've done work for and everything. And I know how unassuming I come off and I play into that a little bit, like I went to Morehouse College.
And so Morehouse has its own reputation of suit and tie, and you're this well red, well traveled person, blah, blah, blah, all this kind of stuff, that actively buck against. I'm not a suit and tie wearing person at all. And so I come up in most spaces and I tend to be pretty unassuming and I play into that a little bit, because I like people to be surprised like, "Oh, wow." But I know what you mean about having to fight against that. Because oftentimes those perceptions will come from people who look just like you.
Agyei Archer:
Yeah. It's mostly to be honest, most of the middle management is people who look like me, and middle management is who I need to get through. But I think that a lot of the people who look like me are really wanting to hire, and make connections, and relationships with a white man with an accent.
Maurice Cherry:
Yeah. Absolutely.
Agyei Archer:
And I am not like, I don't provide them the opportunity for growth that they're looking for, because you can't grow unless you have connections with white businessmen.
Maurice Cherry:
Whoo man. That's…
Agyei Archer:
That's heavy.
Maurice Cherry:
No, that's real. I want to shift a little bit, and talk more a little bit about your type design work. We touched on a little bit earlier, but in 2017 you were part of the Type@Cooper Design program. Tell me how that experience was.
Agyei Archer:
It was well. Because I didn't know I was going to get in, and I sent my application and then I got in, and then I had to take a loan, because I didn't know I was going to pay for it and I got. And I remember really clearly, I'm saying all of this because I remember on my first day, I got into class and I got in there, and there were like three white kids, and I got into the class and none of them said anything to me. And then another white kid came into the class, and then a couple Asian kids came into the class. And at some point in time we were getting close to 9:00, and I had to acknowledge, okay, it's not going to be another Black people here and that's fine. That's okay, don't trip out, it's fine, you're in a place where Black people are minority, that's, okay, right?
And then my professor at the time whose name is Hannes Famira, one of my biggest influences as a designer. Came into the room and he looked at me, and I knew he looked at me with this look of, huh, all right. And I looked at him for the same look of, okay, this is what we're going to do, huh. And for me, a lot of it was on one hand being in a classroom of people, who were from a space, and I'm saying a space, not necessarily America.
But they're all from what I would say, larger more cosmopolitan spaces, that actually have some history around type design, or some understanding around type design, or some typographic history. And here I'm from the Caribbean where we don't have any of that. And I'm staying, I think that for me, my type of group journey academically was a struggle, because I just wasn't as quote unquote good as a lot of my peers, but I was a hard worker. So moving through the program for me was really fulfilling, because I mean, I would basically go to class, I would spend 12 hours a day at the Cooper Union, and then I would go to my shitty Brooklyn Airbnb and spend three hours of drawing again.
And I think that one of the things that I had to leave with was, I kept waiting for the experience that would help me validate my Blackness inside of all of that, and that never happened. And I had to acknowledge that the reason that it didn't happen and wasn't going to happen was, because I was getting ready to work in a space where there weren't any other Black people. Because it was only when I was at the Cooper Union and I asked, "Wait, where the fucking, where the Black guys at, where's somebody Black at." And they had to be like, "Okay, sorry to break this to you, but we have one guy, Josh Darden, that's it." That's the whole type industry Black people is Josh Darden. And I don't know how much you know about Josh, but he's a massive recruit. So while I was at Type@Cooper, I'm emailing Josh and Josh is like, obviously not fucking replied to my email. And I'm like…
Maurice Cherry:
I'm only laughing because I have tried to get Josh on the show for a while. And I think one of his white business partners stepped in, and just put the stop sign down, like "stop messaging us." And I was like, "Okay."
Agyei Archer:
Yeah, that sounds about right. I mean to all of their credit, that's Josh's instruction and Josh's desire. But, but Darden Studio is currently now run by a white woman. Her name is Joyce. I mean, great, she's one of Josh's best friends, but on…
Maurice Cherry:
That's the person who told me that.
Agyei Archer:
Probably, yeah. She told me the same thing, [inaudible 00:48:37] we're friends though I love her. So I can say that, I emailed and I was like, "Hey," with so much milk in my fucking eyes like, "Hey, [inaudible 00:48:44]." I'm really hoping to get to this [inaudible 00:48:48], she's like, "Listen, she's not seeing anyone, good luck." She's like good luck with Type@Cooper, that's it. But, no, we're good friends now and, unfortunately publishing with them. But a lot of the experience for me was jarring, because I had to acknowledge where Black people were any type design spectrum. But I also had to acknowledge that gentle Eurasia of your experiences so that can happen, when you're in white dominated spaces. It is an active thing, it isn't like there's normal malice, but there's just a casual, not understanding, not relating to your circumstances that can feel really targeted after enough time.
That was how I would probably summarize my experience. I would summarize my experience as one that was really fulfilling in terms of how much I got to learn. But one that was also in a way, a little traumatizing in terms of how much I learned about the rest of it. So not the drawing part, not the Python part, not the understanding white space part, but just the cultural implication. And who's making type, and who's making type for whom, and where the type come from, type the whole. Like type design is the thing that facilitated commerce in the 15th, 16th, 17th century, that means slavery you know what I mean? So I think about that and I was like, okay, I'm also learning type in the Dutch fashion, from people who learned Dutch style type design. Which would've also been exploding in terms of its theoretical output, as a offshoot of the Dutch benefit from slavery.
Because I think that one of the greatest markers of a society's progress, is if they started drawing type of art. You can tell a society's appetite for conquest when they start printing their own letters, because you need to print their own letters to take over a space. And I feel like those things are the things that really… I think I could have learned a lot about drawing type on the internet, but I could never have learned about types place in the world and cultural context if I didn't go to a school for it, because part of the curriculum was also learning about types history. So there was a lecturer called [inaudible 00:50:51], and he was exceptional in terms of his understanding of type and the evolution of type, obviously in a European context. But I learned so much about how… Because you go to enough history classes and you realize, okay, we're not talking about Black people ever, that make you ask other questions around why we're not talking about Black people.
So for me, Type@Cooper was culture shocking, but it was also really necessary because I learned a lot theoretically about making type, but I also was able to make amazing connections. I mean, Hannes who was my lecturers, one of my favorite people in the world, I was also able to from that lecture, or from that education experience, get in touch with people like my mentor DJR or my mentor Darden. Those were the entry points to get into a lot of where my life is right now with type. So I'm not mad at it, but it was really traumatizing.
Maurice Cherry:
Yikes. I hate to hear that. I mean, but it sounds like you were able to at least extract some good things from it.
Agyei Archer:
Yeah. I mean, good traumatizing is weird, but what I do mean it was, is not traumatizing because anybody was out to get me or anything like that. I think it was traumatizing because everybody they've been building this curriculum and I don't mean just type of group. I mean, white people have been building type design curriculum for a hundred years now. And this idea of, "Hey, Black people use language too." Like that question didn't come up. And I think that's not the fault of your school, that's the fault of the society that we're in. And in a way, the education system can only ever be a strong reflection of the society that you're in. And I think that you can learn a lot about the society and the culture, around type design might be part of its education system.
Maurice Cherry:
So knowing all of this, and I guess also the fact that you really pull a lot of inspiration from the Caribbean as a whole, how do you bring all of this to your work?
Agyei Archer:
Well, I mean, I think that a lot of the work now for me is, I think that I've given up on making beautiful typefaces, and I don't mean aesthetically beautiful, I mean, the idea of aesthetically beautiful. I think that there are things that be dominant culture has taught us that type design needs to have, we need to have super tight joins. And a lot of the trendiness is left my palette in terms of what I want to make, I want to make work that is so deeply accessible and utilitarian and basic, because we're not in a space where if we're supporting Pan-African Latin languages, that we have expressionism.
The languages that support these… Sorry, the sponsor support these languages are what you would call the most white bread, boring, vanilla, Arial, Helvetica, type things. And that's because most of the time you've needed supporters languages, is because you're releasing it on a OS, or you're releasing it on a… There's these context where you almost have to support everybody, and that's when it gets done. But it's not getting done by the commercial types of the world or shop types of the world. And again, that's not a hit out against either Christian, or Lucas who run commercial and shop type perspectively, but that is a reflection of the industry that we're in.
Maurice Cherry:
Mm-hmm. Let's talk about Design Objectives. That's something that you co-founded, I should say, with one of our past guests, Ayrïd Chandler, who we had on a couple of months back. Talk to me about that.
Agyei Archer:
Well, Design Objectives started off as, it was this plan that we had while I was working at Abovegroup. So I was working at Abovegroup at the time, and myself, Ayrïd Chandler, and another designer, to whom I'm not related, but I'm good friends with named Melanie Archer. We started Design Objectives because there's that same idea of not being a very nutrient culture, or not having a very nutrient culture around design was there. So we didn't feel facilitated, we didn't feel like designers were encouraged to do anything other than make ads. And I think that for all of us, it was the same deep desire to affect a positive change. So for us design objective was helping designers be better, but not necessarily from new perspective of giving them lessons about the stout or about color competition. Because you can make your way through that, but we wanted to give designers empowerment tools. So we wanted to show you how to make a contract, here's how negotiation should work, this is how you should probably price your work.
So a lot of the efforts that we were putting in were around, empowering designers to do their jobs better. Unfortunately, the pandemic pushed, because so much of Design Objectives was meeting oriented and socially rooted. We lost a lot of our traction during the pandemic, and I think since then we've released a slowed down the operation. For as much as we're still doing things to connect design to people, I think that for each of us individually, we've moved past Design Objective as a nonprofit that we were founding, that we were running ourselves on.
I'm hoping that there's a future evolution of that, that can probably be in the same space that we started it, in terms of supporting people and allowing them to really improve their practices. And again, not from the perspective of the aesthetics of the work that they're making, because Caribbean people are very creative and very talented. But I think that there has been a culture of designers not being respected, and then thus not respecting themselves that we start to Design Objectives to try to fix for. I don't think we've met up in a couple of years now, even though Melanie is also one of Unqueue's showrunners by the way.
Maurice Cherry:
Oh.
Agyei Archer:
Yeah. I mean you should probably interview her off the record. But she's one of the more influential designers, not just in our space, but in terms of the contemporary art world in the Caribbean as well.
Maurice Cherry:
Okay. I mean, it's pretty clear to me that you like to stay busy. You're doing a lot between the studio, the app, and other things like, what are you doing for you? What are you doing for self-care with all of this?
Agyei Archer:
Unfortunately, I used to party really hard when I was younger. So I would say maybe between 17 and 25, I was just piles of drugs, just a lots of booze, I'm saying that all of those things are now boring to me. And what I do now for fun is I have an orchid collection, so I take care of about a hundred plus orchids at my apartment. Wow, I can't believe I said that out loud. I do a lot of baking and cooking, I'm such a Saturday stay at home guy, I am Mr. Yogurt on a Saturday morning. And that's what [inaudible 00:57:13], I try my best to just enjoy the life that I built for myself, because I think that there is so much in the work that I'm doing now, that can be in a way I'm busier than I've ever been. And if I don't make sure to separate myself, my whole life can be about the work that I'm doing.
And I think that there was a period in time when I was really comfortable with that, with making my life about what I'm doing. But I think that now I want to make my life about how much I'm enjoying my life, and I do enjoy my life in making the work that I'm doing. So there's that, but that's just part of my enjoyment. So I take care of my plants, I have a beautiful dog, his name is Baxter and I spend as much time with him as I can. And I'm trying new fried chicken recipes, I'm trying new bread recipes. I wish I would say that ice skating or going surfing and stuff, but I'm not, I am a bridge to the water, I live in the Caribbean, but I'll go look at the beach.
But I just feel like, a lot of what I'm doing for myself right now, is stepping away from work being my everything. Because it was my everything for a serious period of time, and I think that a lot of my substance abuse was driven by mitigating against that. So work is taken over my life, I'm just do some drugs so I can make it through, and now work is taken over my life, I need this weekend.
Maurice Cherry:
Do you have a dream project or something that you would love to do one day?
Agyei Archer:
I think that if I think about dream projects, I think about… A lot of my current drive is around the Caribbean and facilitating entrepreneurship, and development in the Caribbean using the software that we made, but also the methodologies that we developed. So if I think of dream project, we are currently right now working with the government at Trinidad and Tobago, to help with the same farming project. We're trying to scale it across the nation, but we're also working with them on building software tools for financial inclusion. In my opinion, being able to help people on the ground in that way from the space that I'm in. It couldn't get more dreamy than that.
Maurice Cherry:
Who are some of the mentors that have really helped you out throughout your career?
Agyei Archer:
Definitely Gareth Jenkins and Alex Mills from Abovegroup, huge influences. I think that they were the first people to teach me that, you could stand up for design and people won't hate you as much as you think. DJR, David Jonathan Ross, who is a American typeface designer has been one of my rocks, and one of the most encouraging designers that I've ever met. He was the first person that I sent my work, who didn't just tell me something patronizing. So I would share work with people and they'd be like, "Oh, this is amazing." But he was the first person to be like, "Hey, got your font, here's a PDF for all of the mistakes." It sent it back to me, which I think it was one of the best things from my career as a designer, because I think that there is a lot of white guilt that can get in the way of productivity, when it comes to giving people feedback on my work.
Especially, you see a young Black guy making type and its like, "Well, I don't want to break a spur." But actually I was far more concerned in positive feedback than I was in validation, and he was really good. I think he saw that and he was really good at that. And I think I feel the same way, what Eben Sorkin, who is a designer, who works for Darden Studio, and has also made the Merriweather font, which is pretty popular on the internet. But I think that those two typeface designers have been really influential to me. There's also Hannes Famira and Just van Rossum, who are German and Dutch type designers, respectively, and used to work in programming really changed my outlook on whether or not programming had a place in my design practice.
And Hannes outlook on typeface design, really helped me and still helps me now when I'm making work, remind myself that it's as good as you want it to be and you can make it better, but the reality is that some of the decisions that you make will have to be personal ones. And I think that in a world that has so much rigidity like typeface design, those two people who are… I would say typeface designers with a very strong [traditional 01:01:15] sense of output, the ethos that they've been making that work with has been in a way radical, and I am really inspired by that.
Maurice Cherry:
Where do you see yourself in the next five years? What do you want the next chapter of your legacy to be?
Agyei Archer:
Oof, legacy, yikes. I think that in five years I hope that Unqueue's infrastructure is more pervasive in Caribbean, and we're helping facilitate even more lives being built and transformed. I'm hoping that for my type design practice, that I'm able to find even more time to draw and even more time to produce. And I'm hoping that by in five years my first font with Darden Studio would've done relatively well, because it would've been out for a few years. But I think that what I want for myself, I mean this is not just in five years but also in five years, I would like the work that I'm making to see its potential through in terms of the impact that it can make in other people's lives.
Maurice Cherry:
Well, just to wrap things up here, where can our audience find out more information about you, and your work, and everything online?
Agyei Archer:
My best place to find me online is on Twitter. But I also have a website at agyei.design. The Unqueue Studio has a website, it's unqueue.studio check that out for sure, especially if you're interested in tech in the Caribbean. And we have the Unqueue marketplace, which is unqueue.app, which is what we use to help small businesses right now. If you can get on any of those platforms and you can't find me, then I just didn't want to be found.
Maurice Cherry:
All right. Sounds good. Agyei Archer, I want to thank you just so much for coming on the show. Like I said, this is been a long time coming, I really wanted to have you on the show for a while and you didn't disappoint. I mean, I think first of all, just hearing about your work ethic and how you've built Unqueue I think is super inspiring, particularly in this weird flux state we've all been in since the beginning of 2020. But I think also just the fact that you are someone who looked and found a void in the market or a void in the world, and you've actively worked to use your skills and your talents to fix that. I think that's something that all of us can walk away from learning just about you, but also just about the best ways that we can use the skills that we have to create a more equitable world. So thank you so much for coming on the show, I appreciate it.
Agyei Archer:
Thank you, Maurice. I'm really grateful as well for your patience, and waiting as long as you have to get me on. But also I feel like the work that you're doing is really valuable, and I hope you get to keep it up.
Sponsored by Hover
Building your online brand has never been more important and that begins with your domain name. Show the online community who you are and what you're passionate about with Hover. With over 400+ domain name extensions to choose from, including all the classics and fun niche extensions, Hover is the only domain provider we use and trust.
Ready to get your own domain name? Go to hover.com/revisionpath and get 10% off your first purchase.