Maintaining a creative career these days can be tough, but Terry Biddle makes it look easy. As product design director at DC-based edtech company EVERFI, he helps oversee a lot of UX work while also collaborating with his team to help create lasting social impact for millions of learners every day.
Terry talked about how his love of design came from film and animation, and recalled his time at Howard as an undergrad before continuing at Pratt Institute while holding down a full-time gig. He also spoke on his first design gig once he graduated, his side project The Knell, and how he created his own typeface under the teaching of the legendary Tony DiSpigna! Terry says he started his design career in a world with no undos, and that kind of determination is what has helped make him a success today!
Links
Transcript
Full Transcript
Maurice Cherry:
All right, so tell us who you are and what you do.
Terry Biddle:
My name is Terry Biddle, I'm a product design director, and I live in Washington DC.
Maurice Cherry:
Now, you work for a company called EVERFI, can you tell me a little bit about that?
Terry Biddle:
Yeah, EVERFI is an education technology company, just to put it in a nutshell. We make education technology products, so anything that you can think of, as far as online courses, we make them. We make them from kindergarten through 12th grade, for adult learning, for technology companies, for schools, for banks, you name it. That's what I do, in a nutshell. I make online courses for all types of learners.
Maurice Cherry:
Nice. How did you get started there?
Terry Biddle:
It's kind of an interesting tale. So, before I worked at EVERFI, I had my own company, called The Knell, and I sort of got my feet involved in the tech community in Washington DC. And we may get into this a little bit later, but shortly before I was getting ready to start launching The Knell, my CTO left the company, and so, I was left with making a decision that a lot of tech companies have at the time, it's , "All right, now what do I do while we're right before launch? Do I keep this going, do I stay active, or do I find myself another job in the tech industry?" So, I found myself another job in the tech industry, basically, and one of my really good friends in the tech community ended up working at EVERFI, and he said, "Hey, they have some positions that are open for designers, maybe you should check it out." And so, I did, and now I work at EVERFI, and it's been a pretty good experience so far.
Maurice Cherry:
Nice. What kind of projects are you working on now? You mentioned these courses, but in general, what kind of stuff are you working on?
Terry Biddle:
Just to make it really easy for folks to understand, I basically make web applications. I design web applications. We make them for responsive design, of course, so it's going to be [inaudible 00:05:41] on web, all in a web platform, like tablet, desktop, mobile phones. So, I lead a small team of designers, international designers. Actually, a lot of the designers that are part of the team that [inaudible 00:05:58] the courses that I help build are based in Argentina, mainly Buenos Ares, Argentina, and we have quite a few designers in the DC office as well. And we also do a lot of communication with our development team, also, just to make sure everything works the way we intend it to work. It's really collaborative. UX is really involved, UI design is really involved in the process too. So, it's a lot of trial and error, a lot of communication, also, with our content team. We work really closely with our content writers and our instructional designers and our learning experience designers, as well, to craft courses that are going to make sense to learners. So, it's really a lot of, "Okay, does this make sense on this page? All right, now, does this make sense to navigate to that page?" It's really, actually, a good deal of science that goes into it, it's not just visual. So, that's a lot of what my day to day is.
Maurice Cherry:
What's the best thing about what you do?
Terry Biddle:
The best thing about what I do. I don't know if I've thought about it in that way before. I really like collaboration. I would say the best thing about what I do is working with a team of people across all different parts of the product team, that are just… I work with a lot of really, really smart, super sharp people. I really enjoy, just, the comradery and the communication and just really coming together and solving a problem as a group. I really love that. So, for me, collaboration is a thing that I really take the most enjoyment out of, for sure.
Maurice Cherry:
Now, I want to get more into your career, including The Knell, that you just mentioned recently, but first, let's take it back a little bit. You grew up in Ohio, is that right?
Terry Biddle:
That's correct. Cincinnati, Ohio, born and raised.
Maurice Cherry:
Cincinnati, Ohio, tell me about that.
Terry Biddle:
Well, it's a city on the river. It's right across the border from Kentucky on the Ohio river. I like to let folks know that Cincinnati, even though it's considered a Northern state, it's right on the border of the South, so it's the last Southern state in the North, basically, is what I consider Cincinnati to be a lot like. So, you can go to Cincinnati and get good barbecue is what I'm trying to say.
Maurice Cherry:
Uh-huh (affirmative).
Terry Biddle:
That surprise you? And what was it to live in Cincinnati? So, growing up in Cincinnati, I lived in Cincinnati proper for the first part of my childhood, and then I ended up moving to the suburbs. My parents are both college educated. My mom was a teacher, so for her, education was super, super, super important. She wanted us to go to school in a district that had higher education standards, so we ended up moving to the suburbs, and now, went from living in an all black neighborhood in Cincinnati, Ohio, to moving to a suburb called Evendale, Ohio. And it was a bit of a culture shock for me, living in an all black neighborhood and then moving to a majority white suburb. It was cool, as far as finding friends. I was a kid, I was eight or nine years old, so finding friends and playing was no big deal to me.
Terry Biddle:
This was about fourth grade, and in fourth grade, the first school that I went to, it was majority white. I think there were two black children in the entire school that I was going to. It felt a bit out of place. In retrospect, I remember a couple of instances of people saying things that we would definitely consider to be racist now, but it was something that was not considered that back then. And I remember, I had a best friend that I used to play with all the time, and then one day, we stopped playing, and then I found out, later, it was because his parents were racist and they forbid him to play with me anymore.
Maurice Cherry:
Oh, damn.
Terry Biddle:
This was when I was eight years old, so that was probably my first experience with racism and sort of coming to grips with understanding what that was. So, it was a big shock to me, actually, just to experience that because before that, I wasn't really aware of… I mean, you know people look different, but you're not really aware that people… It was my first understanding that, "Oh, people can just hate me for any reason they want to." So, that was my first… really coming to terms with it.
Maurice Cherry:
Yeah. I grew up in Selma, Alabama, so I know all too well, that feeling of people just not liking you, hating you, for whatever reason. I mean, they have a reason, it's because they're racist, but unfortunately, I know exactly what it is that you're talking about.
Terry Biddle:
Yeah, and it's really weird. I didn't even have the faculties to even understand what that was or how to navigate that at the time. Thankfully, it wasn't a period that really persisted. I had that happened, and then there are things that happened over the course of it, but I will say that as I was growing up in Cincinnati, I always felt like something wasn't… I didn't feel like I belonged. I felt, a lot, I wasn't able to be myself. I felt like being myself was seen as being rebellious. And it wasn't until I got older and I went to college in Washington DC, and then, eventually, I went to grad school in New York City. It wasn't until I was in those places, where I can be myself, anonymous, and nobody cared. It made me realize, "Oh my God, I can actually be myself and nobody is looking at me, nobody's staring at me, nobody's making me feel I'm an outsider."
Terry Biddle:
I used to dye my hair and stuff when I was in Ohio, I think I dyed my hair red, I used to dye my hair red, and I've bleached it before. I used to have my ears pierced a while, I used to have my ears double-pierced. I had nose ring, I had a labret piercing. I used to do the stuff that a kid does, but me doing it, being a black guy doing it, it was like, "What is this guy? What is this guy? Is he a freak?" People would look at me funny, people would assume I was gay. Why would it matter if I was? I wanted to be someplace where I wasn't made to feel like I was an other. So, being in DC and being in New York really made me realize like, "All right, I think I need to move someplace where I can be myself without feeling like I'm made to feel like another person.
Maurice Cherry:
And when you moved to DC, I mean, you went to Howard University for undergrad, which is, I think, probably a great place to find yourself.
Terry Biddle:
Yeah, so there's a bit of a story about that too. So, my freshman year of college, I actually went to Columbus College of Art and Design. I got a $20,000 scholarship to Columbus College of Art and Design because I originally wanted to be an animator for Disney, that's what I wanted to do. When I graduated from high school. I was like, "I'm going to be an animator for Disney." The Columbus College of Art and Design recruited students from Disney to become animators there, so that's why I originally went to the Columbus College of Art and Design. When I went to that school, I found myself in a similar situation that I felt when I had moved from Cincinnati proper to Evendale when I was about eight years old, when I was in fourth grade. I was one of the few black kids there, and it was a really small school. I think it was smaller than my high school. And I felt, again, like I was an other, and it made me feel uncomfortable again, and I wanted to experience what it was like to not feel like an other, to not have no reason… not to have the most obvious reason for people to segregate themselves from me.
Terry Biddle:
So, that was why I went to Howard. I applied to Howard and CCAD and got into both. And after I went through my freshman year, I was like, "All right, let me go to Howard." And also, the other part of it was, aside from Disney animation, I wanted to study film a little bit more broadly, so I went to Howard to study radio, TV, film in a more broad fashion, and not just focus on the animation part of it. So, that's how I ended up in Washington DC.
Maurice Cherry:
Okay. So, what was your time like at Howard?
Terry Biddle:
Oh man, it was great. I don't want to say it was the best years of my life. I don't want to say that because every year brings something different. I loved going to Howard. I look fondly on the years that I spent there. I had a lot of good friends, a lot of them I still stay in contact with to this day. It was just a really good experience. It's really fortunate, I think, that we live in a time that I think what it means to be black is very different than what it was then. I think a lot of us, we're coming into our own with it. I started wearing dreadlocks when I was at Howard, I had dreads all through Howard. I'm trying to think how many years I had dreads. I had them for a long time. I had them for five or six years straight, then I grew them again for another seven years after that, I-
Maurice Cherry:
And what years were this?
Terry Biddle:
So, Howard was 97 to 2000.
Maurice Cherry:
Okay, all right.
Terry Biddle:
Yeah, I forgot I have to say the year because-
Maurice Cherry:
No, no, I'm thinking this is post-
Terry Biddle:
[crosstalk 00:15:47] listeners, yeah.
Maurice Cherry:
No, no, no, I'm also thinking this is… when you talked about, sort of, the different ideas of blacks, I'm kind of also trying to quantify it within what else is going on in history and pop culture then, so this is post A Different World.
Terry Biddle:
Post A Different World.
Maurice Cherry:
L.A. Riots, that sort of thing, Million Man March, et cetera.
Terry Biddle:
Yeah.
Maurice Cherry:
Yeah.
Terry Biddle:
Yeah, in fact, I should probably talk a bit about that because… So, one of the big thoughts about going to Howard, then, was… this is when we didn't really have any black directors that were mainstream successful at that time. And John Singleton, this was a few years after Boyz n the Hood came out. So, Boyz n the Hood came out and it just blew up the mainstream. Spike Lee was on the scene at the time as well. I should also say John Singleton and I actually had the exact same birthday on January sixth. His death really, really got to me because he was one of the people that I looked up to coming up, in addition to us sharing the same birthday. So, it was really shocking when he passed away.
Terry Biddle:
But yeah, I mean, this was what pop culture was like. And this is a pre-YouTube world, so when I came to this school… Google didn't exist yet when I started college. Google didn't exist, we had a couple of web search engines, I think, at the time. So, this is how far back. So, we had Lycos, WebCrawler, Yoohoo was the most popular at the time, Ask Jeeves. This is what was out at the time, this was a pre-Google world, and we couldn't even write papers… You couldn't even use the internet to write papers back then. To do research for papers, we had to go to the library, we had to use floppy disks. This is an area that a lot of folks don't even know anything about. Dial up internet, having to download music with dial up internet. Man, I remember sitting in my dorm room, waiting 15 minutes to find tracks on Napster. It's like, "All right, aw man, this track. It's only going to be 15 minutes, cool, cool, cool." And 15 minutes was an acceptable time to download one song.
Maurice Cherry:
Mm-hmm (affirmative).
Terry Biddle:
It's crazy. Just leave that stuff playing overnight to download an album. Oh my goodness, take me back, take me back now.
Maurice Cherry:
Yeah, Napster, Kazaa, I think there was one called Audioscrobbler.
Terry Biddle:
Limewire.
Maurice Cherry:
Oh, Limewire, all of those. Yeah, I remember that very, very fondly.
Terry Biddle:
Oh my gosh, man. That was the era.
Maurice Cherry:
Uh-huh (affirmative). So, you're studying at Howard, you graduated in what, 2000, you said?
Terry Biddle:
Graduated in 2000, yeah. I got my undergrad degree in 2000. That was in the School of Communication, shout out to School of C, radio, TV and film. So, my emphasis was mainly in TV and film. That was where the primary area of my study, so there was a lot of screenwriting and TV and film production. And this was back in the day, so we did video editing on Super VHS and Beta video.
Maurice Cherry:
So, what was your next step after…
Terry Biddle:
S and beta videos.
Maurice Cherry:
So what was your next step after Howard?
Terry Biddle:
Well, my next step after Howard I thought was going to be going into film industry and I couldn't quite find a linear path into the film industry back then, the only way to get into the film industry. This was, again this was, everything was analog. I think when I came out of school there was only one mainstream motion picture that was shot on digital video and that was the Phantom Menace. George Lucas' Star Wars movie was the first, I think, one of the first mainstream movies that were shot on digital video. So it wasn't… Digital video wasn't even mainstream at the time. Like now, most things are probably shot with Arri Alexas and Red cameras, that wasn't even a thing then. So think back when, what you had to do to break into the mainstream to do filmmaking, you had to shoot on 16 millimeters.
Terry Biddle:
That was the only way to do it. So it was… And it was incredibly expensive, I want to say it was about $10,000 a reel to get 60 millimeter film. So it was incredibly expensive and you had to try to get funds like that. So if you were going to try to break into the film industry then, the only way to do it was to be a production assistant, and you really had to be a P.A in New York or LA to do it. I mean from Cincinnati, Ohio, not having any connections in New York city or in LA, I couldn't really find a path to do that, I mean it was really difficult. Like they'd kind of walled you out so you would have crash on buddy's couch basically and work for minimum wage or so to do it in New York.
Terry Biddle:
I didn't see that path there. So what I ended up doing after that was, I was always a visual artist. That was the main reason why I went to school in the first place was to be a visual artist, to be an animator. So I was like, all right, so I know how to draw, I knew how to paint, so I should probably go back to school and do something creative as a profession. I need to find some way to use my creativity as profession. And I wasn't actually familiar with graphic design at the time, so it was something that I sort of researched and I ultimately, decided to go into studying graphic design as a major for my graduate school. Some crazy stuff go out in between them. This was around 2001 too. Just to give, give your listeners a time frame and this was during, this was around 9/11 so there were quite a lot of stuff that was going on at the time.
Terry Biddle:
I had sort of made it, I made, I was making a decision. It was… What do you call it? Where you like… I was like flipping a coin basically to decide what was the right choice for me to do. So, I had applied for, I had asked for some recommendations from some professors at the time to apply to film school for my master's program. But I also was thinking about doing graphic design as my master's program.
Terry Biddle:
And this was right after 9/11 there was I don't know if you, if you will remember this or listeners will remember this, but there was Anthrax, there was an Anthrax, a mail scare that happened right after that. And a lot of things were put in the mail and people weren't getting their mail in. And I had some packages that were sent out that were supposed to go to schools that just completely got lost in the mail and I never got them. So I wasn't able to complete my process. And the other side of the coin was graphic design. So I decided to go back to school to Pratt and studied graphic design there and their grad comd department that was based in Manhattan. So that's kind of like a crazy, crazy way. And I ended up at graphic design.
Maurice Cherry:
You know, it's interesting, there's like a… And maybe it's because I've had so many people on the show that I sort of followed a similar path but, there's like this pipeline between Howard and Hampton to Pratt university or Pratt Institute, I should say, sorry, Pratt Institute. There's like this pipeline where people will start out at one of those two schools for undergrad for design and then ended up going to Pratt. Did you find that there were a lot of Howard folks when you were there?
Terry Biddle:
There were a couple of Howard folks and there were some Hampton folks too. One of my best buddies at Howard as I was a, I'm sorry, one of my best buddies at Pratt was, it was a Hampton grad. I think they need to stop the Hampton pipeline. You don't need any more people from Hampton going to Pratt. That's a Hampton joke for folks that don't know. And just to be clear on air, Howard university is a real H.U. I don't care what anybody tells you. Howard university is the real H.U. just got to be clear about that.
Maurice Cherry:
I mean, I went to Morehouse, so I don't know if I really have anything to say in this whole conversation, but I'll let you have that one. Okay.
Terry Biddle:
You probably witnessed the turf Wars.
Maurice Cherry:
Oh yeah. So how was Pratt different from Howard, aside from it being, graduate to undergrad? How was it different?
Terry Biddle:
Oh man. I mean it's, I don't even know how to explain it. There were so completely different experiences. I mean, first I lived in the dorms at Howard, so it was a very, very different at Pratt, I lived in an apartment. I worked a lot while I was in school, so I didn't really work full time when I was in undergrad, but I worked almost full time when I was in my Master's program. So it was a very, very, very different experience like working in, I lived in Brooklyn when I was at Pratt and I would commute to Manhattan to go to class. So, it was a very, very different, very, very different experience as far as the classroom makeup was of course very different obviously. But there were a lot of international students that at Pratt too, which was really cool.
Terry Biddle:
It was nice to have different perspectives. We had a lot of students from South Korea that were in our classes, which was really cool to have some international perspective on things where we're in class and I don't know if I can really talk to the differences because my schooling was so different. I was really doing a lot of TV production and video editing when I was an undergrad. And then I, Pratt was very like, design focused design. I will say that Pratt's program was really intense. It was really, really intense. And there were a lot of the big difference I would say that the grad comd department at Pratt, the professors were working full time, so a lot of them were there. They were doing it, they were in involved in the process, like they were actively working in the field. So I think the perspective that we were getting was a very, very different than what you can see sometimes at universities where you know folks are lifelong professors and that's what they do full time.
Terry Biddle:
But having the perspective of being a designer that's working is really, really helpful too, for students to understand what market, what the market is and not just, understand what the design principles are. because I mean I'm just going to be honest, a lot of what we learned in design school, it goes completely out the window when you are working at a big company. It just doesn't compute and you're going to make, you're going to have to make choices that are completely like counter to what you think you learned in design school. And it's good to have the perspective of folks that you know that are working to put food on the table that are working to employ other people because they have a different, they're going to come at it with a little bit more reality I think sometimes then than what we can learn in a university system.
Maurice Cherry:
That actually is good to know. I mean, I didn't go to art school at all, so I was always curious about sort of how much of that transference happens once you graduate and you get out there in the working world, do you feel like it's equipped you with the basics or not? So that's interesting to know. So right after Pratt, you got your master's degree. What was your first design gig after that?
Terry Biddle:
My first full time design gig was at Reader's Digest. I worked at Reader's Digest for almost a year. It was, they send a Midtown Manhattan and DC and sorry, Midtown Manhattan in New York city on your Bryant park, which is, I think we're good morning America puts on their little music show on the summertime there's summer stage. So that was kind of fun walking past there sometimes in the summertime, seeing the shows. Yeah, that was my first gig working in publishing and in Reader's Digest, which is really big company, but it was, I really learned a great deal from working there. I got a lot of good jobs. We're talking about a lot of back in a day stuff. So let me just let your listeners know what the deal was then.
Terry Biddle:
So the first program I used Quark 4, to get started and Quark 4 for folks that don't know had no undo's, zero undo's. This is, I started my design career in a world of no undo's. So just so folks and understand that Adobe distiller, you had to make a postscript file and then you had to convert that to a PDF. So,that was like the workload back in the day. Adobe distiller, Quark 4 no undo's. That's how I started my design career.
Maurice Cherry:
I remember Quark 4 not fondly for that reason. I do remember it though because we used, we used Quark and I think we ended up switching to, maybe it was Adobe PageMaker or something. This one I was, I was probably still in high school at this point. No wait. You said… What year was this when you were doing this?
Terry Biddle:
This was 2005
Maurice Cherry:
Oh no. I was out of high school by then. We did use Quark in high school, but it was a previous version that also did not have undo's. So I feel your pain there. Absolutely.
Terry Biddle:
Yeah. It was crazy. I mean, you learn, you learn really, really quickly how to, how to make it work.
Maurice Cherry:
Oh, absolutely. You end up adapting to the situation for sure. Now let's talk about The Knell, where did the idea come from to create that?
Terry Biddle:
It's interesting, so like we have, it came from a lot of, we were just talking about, so I came out of school as an undergrad and a pre YouTube world. There wasn't any way for the creators of color really to get their work out into the world at the time. When I came out of school and it wasn't really easy. But now, I mean, I think when I thought of this idea, vine was still kicking around, YouTube exists or Vimeo exists, but there still wasn't quite the pipeline to get creators of color. You know, a moment to shine.I don't want to get on a soapbox here, but social media is completely broken in the United States. The way Twitter and Facebook have sort of, so I'm looking for amplified the loudest voices and it's really difficult to be heard outside of the noise and outside and some of that negativity.
Terry Biddle:
I wanted to try to find a way to create a platform where, marginalized voices would feel like they had a place to showcase their work, but also a place where they could feel safe online without dealing with the idea of harassment. So I wanted to create sort of a video. I wanted to create a video platform that was for marginalized voices and that's really what I, how I thought of the idea for The Knell. I wanted to create the platform that I wish existed when I was, coming out of school at Howard. That [inaudible 00:31:02] idea came about.
Maurice Cherry:
Yeah, I checked out the website and looked at the video. I really liked that kind of bell animation kind of reminds me of almost like afterschool special when they have the little rotating texts or whatever. Like this is a specialist afterschool special announcement or something. I really liked the branding with that. How has it been going so far?
Terry Biddle:
Well, I'm going to be real. I'm probably going to wrap it up and in the near future it's really, really difficult out here for black entrepreneurs to sort of get the key behind, stuff like this. It's really hard to find, the funding and to find the people and the manpower to really get your thing off the ground. And I will say that I learned so much from it. I learned a great deal in the tech space from doing it, but it's been really, really difficult to get off the ground. And I think it might be a time to put it on the back burner for a while until I can come back to it at another time. Now they've got a full time job and I just, I'm actually, I have a one year old daughter who just turned one a few days ago. As a matter of fact, being a dad, being a dad man, having a full time job, I'm going to have to let my other baby chill out for a little bit until I can come back to it in a better, in a better spot.
Maurice Cherry:
Yeah. You have a whole new, a whole new life to take care of though.
Terry Biddle:
Yeah, definitely. She definitely keeps me busy.
Maurice Cherry:
With everything that you're doing, I mean with work and everything. One thing that really sort of stuck out to me as I was doing my research, and we talked about this a little bit before recording, is that you've created your own typeface. we've had a few typo…Well, I think we've only had two, two typographers on the site, on the podcast before, but tell me about your typeface and how you came about creating it.
Terry Biddle:
Oh man. Let's see. How did I come about this? I'm like a type geek. Like I was obsessed with typography, when I went to grad school at Pratt. One of my professors was this a gentleman named Tony DiSpigna and I don't know if folks know who Tony DiSpigna is, but I Shall let people know that he's like one of the, he is a kind of a design legend. He worked for Herb Lubalin, a lot of the type faces that are really popular now, he helped design like ITC lubalin graph, avant garde, Serif Gothic. Those are, I think he's credited with creating Serif Gothic. It's for, folks, that was one of the type typefaces. I think that was used a lot in the 80's I believe even the [inaudible 00:34:01] it and its titles as well.
Terry Biddle:
Hand lettering. So I learned a lot of typographic techniques from Tony DiSpigna and I for my grad school thesis. I did like a really like a type-based thing where I sort of, I did a re-design of the New York city subway system and where I designed a typeface but I studied, it was pre UX. It was like, I did all the legibility tests and all that, all that. So I was really, really into the geekery and the like the science behind legibility and understanding cognition and things like that. And after, having my hands and my getting into really, really nitty gritty type design, I kind of want to do something that was a little bit more fun, more free. I really loved hand lettering. Hand lettering was something I pretty much always did growing up.
Terry Biddle:
It wasn't until I went to Pratt that I found an actual application for understanding how to make typography legible. So I was like, all right, let me just play around with some letters. And I just started drawing these letters, and inking them with an ink brush. And I was like, I really like looks I think my initial ones where I was making a new website for myself and I was just drawing a bunch of type and one of the treatments that I had done with Hamlet or type I really liked and I wanted to take it further. So I just drew it all by hand. I drew every single individual letter out by hand and then I started scanning it in and decided to make a typeface out of it. Now little did I know when I started doing that, how difficult it was going to be from start to finish because it took me several years to actually get it going.
Terry Biddle:
If I were to put it all together, I would say from start to finish, it probably took about 2 years total to do it. But I sort of stopped in between on the way and then came back to it later on. But it was fun. I mean it was a lot of fun. But then it gets really, really super, super technical after a while and because it's a layered typeface. So folks who can't see it, the typeface that we're talking about is called Bizzle Chizzle. It's actually like a series of 4 fonts, but you layer 3 of them on top of each other and they make a dimensional typeface. So it looks like it's chiseled out of stone. And when you do that, you have to make sure that each layer lines up exactly perfectly. There was… After I had designed it and then could submit it to MyFonts for fonts creation and after you submit they give you pointers.
Terry Biddle:
I'm like, all right, your [inaudible 00:36:21] off and like, yeah, you need to work on this. And your tracking and all they, they give you all these details about how to get your font ready for commercial release. So did some more tweaking after that. And then low and behold they accepted. It was pretty cool. It was a pretty fun experience. So come back to it and then like I have some typefaces for sale on MyFonts, so that's something I can say I did. Oh, that's cool.
Maurice Cherry:
Would you ever make another typeface one day?
Terry Biddle:
Oh would make another typeface someday I've made other typefaces. I just haven't released them yet. I keep like I have some type of basis that I just use for my own personal use. I made a handwriting typeface that I keep on my computer that I just use from time to time whenever I'm making a comic type treatment, things like that.
Terry Biddle:
I might someday expand this set and release it. But it's a lot of work to do a typeface. There's just so much work and it's, it can be a really tedious process. It's typical sometimes to find the time to do it, but yeah, I mean I think, I think one day when I'm like retired on my Island or, or at the beach or something, I might just like crack open, some font software and just like start making some typeface again, when I have some more free time, I can see myself too.
Maurice Cherry:
Yeah. There's a typographer we've had on the show. You may have heard of him. His name is Trey Seals. He's out there in the D.M.V area. He's made a number of different typefaces, mostly centered around, I think like protest signs and protest imagery from the 60's and before, but he's made a number of different typefaces. I remember when I had him on the show, he talked about how it's, it's really, it's a very painstaking process that goes into it even.
Maurice Cherry:
It's a very painstaking process that goes into it, even for something that you would think, oh, there's like 26 letters and you know, upper case, lower case, maybe throwing some numbers, some punctuation. There are these glyphs that we see all the time, but we'd never really think about construction of them because especially in a unified family sort of way, like a typeface.
Terry Biddle:
Yeah, it is painstaking. It's a lot of detail that goes into it. It's not as easy. Like if you're doing something hand handwritten, it's not as easy as just like, "Oh you draw it and you scan it in." Well, when you scan it in you're going to bring in a lot of artifacts that you have to really clean up for the font software because you have to make it readable by the software that you're going to use, so you have to simplify the line work a bit. So it's quite a lot that goes into it. I mean some of that nitty gritty stuff though can be the fun part of it once you get into it. The next thing that I want to do is I want to take a crack at making a super family.
Terry Biddle:
I really love like a type of super families. So I would love to take a crack at doing that at some point. But that's, of course, a lot of pains staking work, but one of these days I would love to have a bit of time to really sit down and do it. I love sans serif faces with true italics, man. I want to make a super family. I want to make a sans serif super family with a true italics. So that's like one of those things that I'm going to do on my wishlist.
Maurice Cherry:
Alright, and now also as I was doing my research, I saw that you have also been a design educator at an HBCU. You taught at University of District of Columbia. Tell me a little bit about that experience.
Terry Biddle:
Yeah, I mean, I really like teaching, and one of the things that I told myself before I went to grad school, it was one of the big reasons I wanted to go to grad school is that I wanted to be able to teach other students. I think it's important to me in particular to sort of give back in a way, to pass knowledge on, to give people insight, and to help them grow in a way that may not have been available to you at the time. I want to be able to do that for other people. So that to me, was one of the main reasons that I really wanted to be a professor. I really love talking about something in class and sort of seeing their eyes light up when you can tell that you've completely blown their mind.
Terry Biddle:
There's just nothing like that, when you see them have this aha moment where you're like, "Oh man!" Where you can tell that they really got something that you said. And it may not even be something big or something grand, but it's something you say and you see them take it in. That's really rewarding. It's really rewarding to see a student learn. I just love being able to pass that on and really helping folks know their path in the future. So that's one of the main drives for me to teach. I really wanted to do that, to give back some of that knowledge and to make a path easier for others.
Maurice Cherry:
What do you think your students teach you?
Terry Biddle:
Everything. I mean, it's funny you say that because one of the things that I always say to my students is, "It doesn't matter how old you are, you can always learn something from somebody else," and say, "As much as I would like you to learn from me, I'm learning from you as well."
Terry Biddle:
I don't think it matters what age you are. You can always learn something new. That was something that I learned from my grandma. My grandma was a voracious reader. She would read always, always, always until the day she died. She was reading, absorbing books and was always up-to-date on what's happening in the political environment. I would remember calling my grandma. We talk about politics all the time. She used to watch C-SPAN. I mean my grandma watched C-SPAN 24/7. I think what I love learning from people that are younger than me is just a new way of thinking. There's always a new way of thinking, a new way of doing things, and I like to be open to learning something new. You know I don't think there's ever going to be a point in my life where there's not something I can learn from someone else.
Terry Biddle:
I mean, I learn from my daughter every day. Actually, one of the things I learned from my daughter is just what it's like to find out what's new in the world or just be exposed to what's new in the world. That was the coolest thing about now having a really young child is you actually get to witness someone learning something for the first time. Everything to them is new. So it really sort of makes you… I learned how not to take things for granted in a way by seeing people learn something new every day. It just really keeps you open and makes you really grateful and thankful for what you have.
Terry Biddle:
When you see how amazing things can be, like when you see the kids' eyes light up when they see something for the first time, you're just like, "You know what? That is really neat, right? That's really cool." It is amazing that this sunset is amazing. Those colors are amazing. Like, look at that rainbow. You know, just stuff like that that we're just like, "Alright, keep it moving. Yeah. I've seen that sunset 20,000 times." But, you know, if you spend a little extra time looking at that sunset it's amazing. There's just so much beauty I think that we take for granted, and that's something that I think of that I learned from everyone is just how they experienced something… can always learn something from another person's experience with something.
Maurice Cherry:
What keeps you motivated and inspired these days to create?
Terry Biddle:
What keeps me motivated and inspired these days to create? I don't know if I have one particular source. One thing that I usually do is.. What I usually get inspired is something that's completely opposite of the thing that I'm doing. I find that it's best to have your head outside of the realm that you're in to find something new. Like I don't read a lot of design blogs. Back in my younger early career, I used to read all the design blogs. I used to read all about design. I don't do that as much anymore. I like to read about tech and science and math, sometimes everything, art, music. That's what I do. I read a lot. I love reading. I mean there's so many things that you can learn. The reason I like looking at something that's completely opposite of what the creative thing is that I'm doing is that it frees your mind from the thing that you're actively trying or problem that you're trying to solve.
Terry Biddle:
And you may find an answer to the problem that you're solving in something else. Cause we are all part of… I mean the world is more interconnected than we often like to think. You know, the golden, I'm about to throw a design term out, but you know, like the golden ratio. I think about that all the time actually. How many times is that shape replicated throughout the world? You know, in the things that we make, in patterns outside. Everything is connected in some way. So I think a lot of times finding a solution to something or finding inspiration in something comes from outside of the thing and outside of the realm that you're in. I think that also keeps your mind open and it keeps your mind open. It doesn't block you in to thinking that the answer to what you're looking for exists only within your particular realm or only your particular avenue. So for me, it can be anything that's not design is really where I look for inspiration. Anything that is not specifically in the design world, I look for inspiration.
Maurice Cherry:
What do you appreciate most about your life right now?
Terry Biddle:
This one's easy for me. Being a new dad is the thing I most appreciate about life right now. There's nothing like being a dad. I'm a first time parent, so I'm probably gushing more. I'm sure folks who have more kids who might be listening to this are like, "Mmhmm, wait till you get to the third one." But you know, right now I'm still in that little baby bliss period. So it's really cool to me… It's just nothing like it. It's really changed my perspective, being a dad. A lot of the things that I would do, before I had a child or not, the things that I would do now to me my main priority is getting home and seeing my daughter, getting home and having dinner with my daughter and seeing her off the bed or like giving her a bath and things like that. That's hands down pretty easy for me right now is spending time with my daughter.
Maurice Cherry:
So one of the themes that we kind of have for the year here, you know it's 2020, the whole future is now sort of thing, is like how are you using the skills that you have now to basically do good in the future. So I'll ask you this question, how are you helping to build a more equitable future?
Terry Biddle:
Well, I spent a good amount of my life post 2016 with The Knell doing that. That was really my big driver for quite a while. Right now what I'm doing is I am participating in some groups, company I work for at EVERFI actually, we're about to start a mentorship program. So right now I think I am going to be helping the next generation of kids coming up to help them get a foothold in the design and really in the professional world. So mentorship is my next step, I think. I did a little bit of that as professor, but now I'm going to be able to do a bit of that now where I work and I think that's what I'm going to be doing for 2020 for sure.
Maurice Cherry:
Nice. What did you think you were going to be doing five years ago? Like in 2015, what were you thinking you'd be doing now in 2020?
Terry Biddle:
Man, oh man, that's a really interesting question because 2015 was sort of a pivotal year where I was sort of making decisions. What did I think I would be doing right now? I think that I thought that I'd be doing pretty close to what I'm doing now, or I'd be doing something in the entertainment realm. I had another little detour where I did some stand-up comedy, and actually 2015 was interesting because I helped do Washington DC's first Comedy Hack Day where I sort of got into or sort of like made a connection to tech. But I'd also had some connection to the comedy world because I started doing stand-up comedy during that time, so it was sort of like an intersection between my entertainment background and tech. So I would say that I would probably be doing something pretty similar or The Knell in some way right about now. So I think I'm surprisingly pretty much where I thought I'd be in 2020.
Maurice Cherry:
Okay. Now to look forward, where do you see yourself in the next five years?
Terry Biddle:
Well, I'm about to get woo-woo on you. As one of the big changes I had in my life was that I really started to embrace more living in the moment and living in time, so I try not to think too much about what's going to happen in the future. But, since you asked the question, there's two paths I could see for myself. I love entertainment. I love script writing. One of the reasons I got into comedy back in the day, it wasn't back in the day, actually it wasn't that long ago, but one of the reasons I got into stand-up was because I love writing and I would love to be as part of a comedy writer's room or a TV writer's room. So I could see myself back in entertainment doing that.
Terry Biddle:
Or I would love to either have my own company and/or work in the VC realm. I think what's most needed in tech right now is a really diverse representation in the VC industry. I'm saying in order for the tech industry to change more broadly, we need to have more representation in the VC realm, and I would love to see a more even representation amongst women, minorities, LGBTQIA tech folks to really start driving broader change in the tech industry. So I would love to be part of that movement if that movement were to come in the VC realm.
Maurice Cherry:
Well, just to kind of wrap things up here, where can our audience find out more about you and about your work online?
Terry Biddle:
Well, you can find me on TerryBiddle.com and you can also find me on Twitter at TBiddy.com. Not TBiddy.com. TBiddy is my handle on Twitter. You can find me there. I do own TBiddy.com, which I used to use as a URL shortener for Twitter, but you can find me on TerryBiddle.com and on Twitter handle TBiddy.
Maurice Cherry:
Alright, sounds good. Well, Terry Biddle, I want to thank you so much for coming on the show. It's funny when we talked about this before, you were saying like, "Oh there's not really something in particular I sort of wanted to discuss," but I think as we've heard your story and definitely as we've seen you kind of grow throughout the years just based on what you've told us, it's clear that forging your own path to be a creative is not an easy task. And I think that's something that a lot of people may forget because creativity from the outside looking in can often look like a very easy thing. Like, "Oh you just sit around and just come up with ideas all day or you draw all day." The things that are attributed to creativity when you're a child tend to be discarded as frivolity when you're an adult, which I think is really odd.
Maurice Cherry:
But certainly I think what I can draw, and hopefully what others draw from your story, is that carving out a career like this is something that takes time. It's not necessarily an easy thing, but I think as long as you have this sort of underlying goal of what it is that you want to put out there in the world that you can really sort of make a name for yourself. And I think certainly you're on your way. I mean, even with the typeface, I am blown away by the typeface because I want to make a typeface. I don't know how to make typefaces. I too am a type nerd. So you got props from me just for the typeface.
Maurice Cherry:
But overall I think with your startup work with The Knell, your education work, and even the work you're doing now through EVERFI, you're on your way man. I mean we profiled you for 28 days of the web, so clearly you're out here making an impact. So thank you so much for coming on the show. I really do appreciate it.
Terry Biddle:
Yeah, thanks for having me. I appreciate it.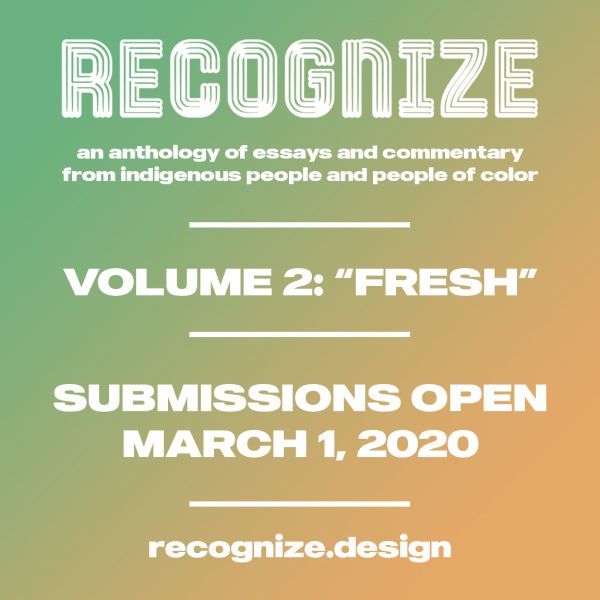 RECOGNIZE is open for essay submissions for Volume 2! The deadline is April 30 – enter today!
MODA and Revision Path present Creative Atlanta 2020, an interview series highlighting Black creatives in Atlanta ranging from an award-winning cellist to a Harvard GSD Loeb Fellow.
Tickets are free with regular admission to MODA and include access to our exhibition. Space is limited, so grab your ticket today!

Sponsors
Facebook Design is a proud sponsor of Revision Path. The Facebook Design community is designing for human needs at unprecedented scale. Across Facebook's family of apps and new product platforms, multi-disciplinary teams come together to create, build and shape communication experiences in service of the essential, universal human need for connection. To learn more, please visit facebook.design.
This episode is brought to you by Abstract: design workflow management for modern design teams. Spend less time searching for design files and tracking down feedback, and spend more time focusing on innovation and collaboration. Like Glitch, but for designers, Abstract is your team's version-controlled source of truth for design work. With Abstract, you can version design files, present work, request reviews, collect feedback, and give developers direct access to all specs—all from one place. Sign your team up for a free, 30-day trial today by heading over to www.abstract.com.