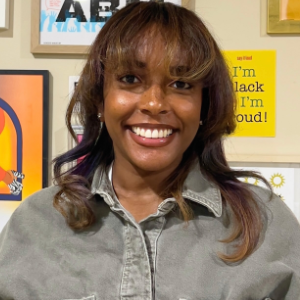 Revision Path is all about inspiring Black designers, and my conversation with Ashley Fletcher is a brilliant example of why that inspiration matters. Ashley drops some serious knowledge on finding your creative community, pushing boundaries, but also the importance of taking care of your well-being.
Ashley talked about her current work, including her business Goods Made By Digitrillnana, and she shared how her educational journey helped her growth in understanding design. We also talked shop on a few topics, including the role of design organizations in 2023, AI and intellectual property, and more.
Ashley's story will leave you feeling inspired and ready to take your design career to new heights!
Interview Transcript
Maurice Cherry:
All right, so tell us who you are and what you do.
Ashley Fletcher:
Hey, everyone. I'm Ashley Fletcher. I'm a graphic designer and illustrator based in Washington, DC. by way of Prince George's County, Maryland. I have a passion for visual storytelling and designing with intention and alignment. I'm also the owner of Goods Made by Digitrillnana, an art shop dedicated to celebrating culture and art through greeting cards, art prints, and more. Maurice, thank you so much for having me. Listening to this podcast has been a beacon of light for my career.
Maurice Cherry:
Oh, wow. Well, thank you. I love to start off the interview that way. Wow. How's your year been going so far? How's 2023 been?
Ashley Fletcher:
My year has been great. 2023 has been a year of really Repivoting, I think, my creative journey. So I'm excited to see what this new process has in store. I feel like I've checked off a lot of boxes. Sometimes when you're always working and just grinding things out, you don't really realize, hey, I accomplished all of these things. Also, this is my first year. I'm a breast cancer survivor, so this is my first year without any surgeries. So I am looking forward to what 2023 has to offer as far as my overall healing and well being as well.
Maurice Cherry:
Oh, wow. Well, congratulations on beating breast cancer.
Ashley Fletcher:
Thank you. Thank you.
Maurice Cherry:
What plans do you have for the summer?
Ashley Fletcher:
This summer I am going to be working just a few more events. I'm trying to add a few more events for my art shop. So I'll be at Broccoli City Festival in July. Super excited because the past years I applied and I wasn't accepted. So it's always beautiful to see when things start to align and check that off. And I don't have any vacations planned, but I'm sure I'll go to New York for one of these amazing, like, Brooklyn Museum art nights and some little local travel as well.
Maurice Cherry:
If you make it up to New York, you should definitely check out the Poster House Museum.
Ashley Fletcher:
Yes. Okay.
Maurice Cherry:
Yeah, I get their emails. I've done some events with them as well, but they always have really great exhibitions. I haven't been to the museum itself yet, but I always recommend people to go there. So if you get a chance to check it out, you should.
Ashley Fletcher:
Yeah, I definitely will.
Maurice Cherry:
Yeah. Let's talk a little bit about your current job. You're a graphic designer at Brookfield Properties. Tell me about that.
Ashley Fletcher:
Yeah, so they are kind of a real estate house. They work with everything from logistics warehouses to residential commercials to commercial property. So I am a part of their in house team. It's a fairly small design team in DC. They have about three designers in New York, I believe it's four or five. And then we also have designers that are working remotely and all over the world as well. It's an international company, so yeah, it's been really cool. They have a beautiful office. They received some awards for the best eco friendly, sustainable office. So very beautiful space to be working in and really inspiring. Lots of windows that I love because working at my when I was freelancing, I was in the house all the time, not a lot of suntime. So it's been a beautiful shift. And I create a variety of things from eblast variety of I just did some graphics for a Summer Sounds event that they have at their properties in Denver. So really wide variety of designer projects that I've worked on.
Maurice Cherry:
Oh, very nice. And so it sounds like you're in the office then working. It's not like a remote or hybrid thing.
Ashley Fletcher:
Actually, it's hybrid. So I'm three days in the office and two days at home. Okay.
Maurice Cherry:
How's that been for you?
Ashley Fletcher:
It's lovely. I love it. After freelancing again, stepping back into the corporate world, I realized how much I miss being around people on a regular basis. So having that balance has been really beneficial to me, I think. And then also the balance of not having to worry about commute for work for those two days because commuting can also be pretty draining depending on how far you are from your job and things like that. So it's a really great balance.
Maurice Cherry:
Yeah, that's something I'm sort of weighing now that I'm back on the job market and looking because I've done remote work for so long and this is like before the pandemic. I've been working remotely since 2008. So it's not that I am averse to going back into an office, but Atlanta traffic is no joke. I'm really trying to think of like, if I work somewhere in the office, is it going to be somewhere that I can not have like an hour long commute and that's even if I take the train as opposed to driving or something like that. But it sounds like you've got a good set up, though, with the hybrid.
Ashley Fletcher:
I do. And thankfully my commute is very beautiful. It depends on the day, of course. Traffic in DC is pretty tough, but it usually doesn't take me longer than maybe 45 minutes. On a rough day, maybe an hour, it's really nice. And when traffic is sweet, it's like 20 minutes it might take me to get home. So it's very nice commute. I remember when I was working way back when I worked for the government and I was traveling, I think like 2 hours away and oh my gosh, I don't know how I did it. I don't know how I did it. I commend all the people that have to commute whether driving or taking public transportation. It's tough.
Maurice Cherry:
Yeah. I'm right across the street from a train station, so it will be easy for me to get on the train. But everyone knows Atlanta's mass transit is not the best. I'd say it's probably gotten a lot better, at least in terms of the trains. I can't say for the buses though. But I want to make sure if I do get back to a hybrid thing that it's in a situation where I don't have a long commute. It's not going to take me forever to get to and from work because like you said, that part can be draining, especially if it's not a good commute to get there, like, if you're passing through a certain part of town or anything like that.
Ashley Fletcher:
Yeah, I had an interesting experience a couple of years ago when I was taking public transportation, and ever since then, I was like, I have to be able to drive to work because it's so draining. You don't know what kind of experience you might have that day on or off the train. And also for me, I absorb a lot of people's energy. So having all of that various energy around me, sometimes it's like, wait a minute. By the time I get to work, I'm like, okay, I need to decompress. I need some sage going on, maybe a little nap. So, yeah, definitely grateful. I think this job came at a time where a lot of things aligned for me. So if you are on the job hunt and you're having a tough time, I just say manifest, write those things down that you want, that you're looking for those qualities in that space, because those were deal breakers for me. So, yeah, definitely grateful to have this job come across. And the team is really awesome. Everyone is super helpful, friendly. My first day, like, the welcome, it was just so beautiful. So really grateful.
Maurice Cherry:
Nice. What does I guess, like, a regular day look like? Because it sounds like you're working on a lot of different type of design things for the company. You mentioned e-blasts and a number of other things.
Ashley Fletcher:
Yeah. So we utilize Monday as a software for a lot of our projects. So I'll come in most times, I know have an idea of what I'll be working on, so just prioritizing those projects based on their deadlines. Sometimes I'm checking in with the marketing team, so our design team is kind of underneath the marketing team, so checking in with those requests, asking any questions that I need, kind of gathering that designer brief of, okay, here's all the components to what I'll be creating and what I need. And then I'll just go in from there. A lot of our materials, because book build is pretty established, some things have been created already. So I might be going in and tweaking an already existing design. I might be creating something from scratch. Like, I designed some exterior and interior graphics for the Highlight Center in Houston. If you're in Houston, check it out. It's very nice. Lovely work. I'm really proud of myself for that. So I spent a lot of time sketching, carving out time in the day for research. Also, again, asking those different questions with the marketing team of things that they needed that I may not have gotten in the brief in ideation sharing that with my creative director and that process of ideation and revisions. So that's usually what it's like. They also have something called activated. And so they have various events throughout the office. One day we had, like, boba tea. They may have I think they have a Pride event. Actually, today they have a Pride event. So different various different events to get you engaged with other people in the office and the other tenants that are in the office. And Google is in their office as well. So it's a cool way to engage and break up the work day. So, yeah, that's usually what I'm doing, attending some of those events during lunchtime, getting some free ice cream, some free boba tea, and going back to the office and zoning into some of the deadlines that I have.
Maurice Cherry:
I mean, honestly, as you describe it, it sounds like the ideal type of sort of design position for where you're at in your career. It's open to the point that you can sort of work hybrid, but then you're also working on all of these different types of things, so you're stretching your skills in other ways. And the team is nice and there's like, fun, engaging activities for you all to do. That's good. That's great. Actually, I wish a lot of designers kind of had that type of set up because it's really fun. I mean, it makes work fun in that aspect because you're not so keyed into the work that you can't sort of know what else is going on in the company with other people and stuff like that.
Ashley Fletcher:
Right. And I think sometimes for people, that can be the difference from in house or being at an agency. One of my coworkers had shared agency life. It can be a lot more hectic depending on where you are. So definitely want to consider that when you're looking for places to work.
Maurice Cherry:
Yeah. Now, before Brookfield, you were doing freelance design. Actually, you're still doing freelance design. You mentioned that a bit earlier. Talk to me about that. Like, how do you juggle that freelance work with doing your nine to five work?
Ashley Fletcher:
Yeah, so when I first started at Brookfield, I had a freelance project that I was doing. And honestly, it was a little hectic because I was adjusting so much to being back in the office. I went from grad school right into freelance, and that was also during COVID So I graduated in 2020 in the height of COVID So it was a lot of different things were happening within the work industry. So now I'm able to kind of set some time aside and really just being intentional about my timing. Weekends, I'm usually working, and that's okay. Sometimes I take a break, I'll spend one day kind of doing letting things fly. So if I want to go hang out with my family or get pizza, whatever, just go outside and take a break. I definitely do that. I prioritize that, especially nowadays, that's kind of priority of getting that break. But definitely timing. Like, I'll come home some days if I have my art shop. So I'm doing a lot of work for that. I'll take a little nap, maybe I'll get home maybe around seven or something like that, take a nap, get things back started, maybe around ten. And depending on how my creative flow goes, I'll end around one. Or I might keep going until I'm like, okay, you need to take a little nap before work. So it definitely depends on the project. It depends on how I'm feeling, my well being and everything. So if I'm tired, I'll try to push myself just a little, but I got to get my rest because you create much better when you're rested. So it's been an interesting time. I'll say adjusting with nine to five in freelance, but again, scheduling and being intentional with my time. So if that means I have to put my phone in a drawer so I'm not checking social media or being distracted by notifications, I'll do that. Yeah, it's very helpful.
Maurice Cherry:
Yeah. One thing with trying to make that balance is, I mean, of course you have your regular nine to five work. That's the stuff you know you're going to do, because that's probably the most money that you're making. You have your health benefits tied to that, so you don't want to lose that. But I remember those days of trying to balance freelance at nine to five, and it's not an easy thing to do, especially if your freelance work starts to outpace your nine to five work. Yeah, I remember when I was starting to do that, honestly, back then they called it teleworking, this was like 2007 or something. And they would say, oh yeah, you could work three days in the office, two days out. But then the two days that I wasn't in the office, I never did work. I only did freelance work because when I'm at home, I'm thinking, okay, I can sort of juggle doing both. Because your mindset is just different in an office, I find, than when you're doing it at home. At home, and this is pre-pandemic, of course, but at home you're around your creature comforts: your bed, your couch, all this sort of stuff. And it's tougher to kind of get into that work mindset. I remember even at the beginning of the pandemic when I interviewed folks just kind of asking them, how are you getting into work mode at home? Because it can be so difficult to do that. It took me quite a while to be able to juggle that, to be able to switch off work brain and go to freelance brain and try to balance those things. It can be pretty tough.
Ashley Fletcher:
Yeah, it can. And I think as designers, we're constantly creating, we're constantly problem solving. And I don't think we give ourselves enough grace sometimes of multitasking with that. When you're always problem solving, it can definitely create burnout. That's why, again, for me, I'm going to take a nap. If it's one thing that I'm going to do, I'm going to take a nap. And sometimes that helps and sometimes it doesn't. In between working and starting with all my freelance projects, I think too, being honest with yourself about your time and also with the client. For me, I was working on a project, I started a project right before I found out that I was going to be hired for this new position. So I had to let the client know, hey, my schedule is definitely going to change. Some days I wasn't able to check my email at all and having to pace that time, or some days I would be working really late and so I'm scheduling emails and check ins with clients to go out the next morning. And then not to mention for me, I had a lot of family stuff happening at that time too, like dealing with aging grandparents and family members that can also wait into your time. So I just had to be honest with myself and say, hey, okay, this is where we are. And also therapy. I have an amazing therapist. She's like, you should spend some time not freelancing and take a break. This month I think is like the first month that I'm not actively seeking freelance work and hopefully that I'll be able to shift a little bit back because there's definitely a lot of projects that I'm interested in doing. But yeah, she told me, she said you need to take a break. You need to go ahead and just enjoy this new chapter a little bit before you continue and get back into work.
Maurice Cherry:
If I can give just a tiny bit of advice there. If you get to the point where you can sort of see that you have enough money to hire an assistant, like a virtual assistant, do it. Do it and just have them do basic tasks like responding back to messages. Like for me, responding back to emails timely was always the thing that kind of caught me up. It was like, oh, I forgot to send this. And I sent maybe something a little too late. If you can afford it, do that to handle the smaller mundane tasks that you can sort of take off your plate so you can then focus on the creative work.
Ashley Fletcher:
Yeah, I suck at that. I definitely agree. And I can't wait until I have evolved. The practice has evolved and I can do that as well.
Maurice Cherry:
So I want to learn more about you and about your journey as a designer. So we're going to kind of take things back to the beginning. Are you originally from the DC area?
Ashley Fletcher:
Yes, so I've lived in Maryland pretty much all of my life. So yeah, I'm Maryland through and through. Went to high school in Maryland, went to college two times in Maryland, so yeah, Maryland, DC native.
Maurice Cherry:
Did you grow up around a lot of design and everything as a kid?
Ashley Fletcher:
No, I didn't. But I grew up around a lot of entrepreneurs and creatives. So my mom is a hairstylist, and I think sometimes we don't give our hairstylists the credit they deserve as far as being creative. What she does and creates with hair is amazing, from cuts to color. So seeing her seeing her as an entrepreneur, navigating having owning her own salon. My father also was in the carpentry industry when seeing him navigate and just creating things with his hands. My grandfather is a fine artist. He's also a jack of all trades from cooking. There's so many paintings in my grandparents house that he's created. He's upholstered chairs. So I've been surrounded by creatives without really knowing. And a lot of the times that I spent in my mom's hair salon was looking through Black hair magazines and publications. So I spent a lot of time unknowingly around ingesting design without really knowing.
Maurice Cherry:
Yeah, hairstylist. And I would say also, like, seamstresses. I'm gendering it by saying that, but, like, people that can sew and everything. Yeah, top tier people really like underestimate, I think especially probably hair more than than sewing. But, like, yeah, everyone's got to get a cut. Everybody has to get their hair done at some point for something that's a very lucrative I mean, it's a lucrative thing, but it is something I think we can kind of in our community probably take for granted a little bit.
Ashley Fletcher:
And the community that they bring, especially Black hair salons and barbershops like, it's a sense of community there. They're using our hair in a sense, it's like a bleak canvas. You might have some different scalp situations going on or different things with hair loss and all types of things, and they're supposed to create something out of that. You can't get much more creative than that. And it's a lot of risk with what they do. They cut your hair wrong or you don't like what they do, you might lose a client. It might create a tough relationship. So my hats are off to what they're able to do day in and day out, using their hands.
Maurice Cherry:
Now, you mentioned going to college in Maryland. You went to Salisbury University, and you majored in graphic design. Since you kind of grew up around all these creatives and entrepreneurs, did you already sort of have a sense like, this is what I want to study, or did you kind of fall into that once you got to Salisbury?
Ashley Fletcher:
So I fell into that after I got to Salisbury. So in high school, I took a yearbook course for juniors my junior and senior year. And my junior year, I went to yearbook camp, and I was introduced to the process of design thinking again, I was collaging and really looking into fashion magazines. Like, I loved Vogue, all of those magazines, the models, just the visual storytelling from that. And so your book introduced me to this thing, like, oh, you can create a design and a publication on this program, and it's printed and what the print process looks like. And I really loved it, and I thrived in it from the interviewing, interviewing different people from high school, and photography. I really loved photography. I took a photography course in high school, so by the time I got to college, I didn't really know what I wanted to do. I was like, well, I kind of like marketing, so I'll just do business administration with the track in marketing, I realized there's a bunch of accounting courses and a lot of math involved. I said, okay, let's be real with yourself here about what you really want to do. And so I started to think about how much joy your book brought me, like being able to wear these multiple hats of one day you're shooting and take capturing moments, and then the other day you're dabbling in copywriting and creating captions, and then you're dabbling in creative layout and design. And I called my mom and I said, I think I want to design magazines. I don't know what it is who does that, but I think that's what I want to do. And so I looked through the mass head of some magazine, I don't remember which one, and I found the title graphic designer, and I had a title to put with the thing. I checked if my school was offering any art or graphic design, and they did. That's some alignment right there, because it could have been a whole different situation. And I switched. I was like, if I'm going to spend four years learning, I want to learn something that I'm interested in. So I switched to graphic design with the minor in marketing.
Maurice Cherry:
Nice. How was your time in general there at Salisbury? Like, once you switched over, do you find that they really kind of prepared you as a designer?
Ashley Fletcher:
I don't think…so. I went to Salisbury — it's a PWI — and their population at the university of Black students was pretty small at the time. So of course you have the nuances with that. And then I started in 2010. For me, the design industry was completely different than where it grew. By 2014, in graphic design one, we were sketching things on paper. Then we had to color it with colored pencil, then put it into using the light box, and then putting it into design software. So curriculum was very early on of those kind of foundational processes. So by the time I graduated, because for me, I felt like there was a lack of mentorship in the curriculum and preparedness. I don't think I was prepared at all. I think sometimes with certain schools and structure and curriculum, if you're not a stellar designer off the bat, some people might not nurture their skill set or say, hey, let me help you find your way. And there was actually an incident that I had with an instructor that he had said something really racist towards another student for a design. We had a design critique and it was just like really off putting. And so when you have those different nuances and situations and you can't connect necessarily with your instructors, it's very hard then to rely on them for help and for them to see you as just a student that is trying to just make a living out of this. And also, I think that the pace of Salisbury is a different pace from DC that I've experienced. And so people are enjoying life out there. It's not too far from the beach, they're chilling. It's a very chill vibe there compared to how the design industry is now. So all of those things I left school not really knowing where to go, what I wanted to do in design. Again, at that time, there were a lot of traditional forms of design. Digital design wasn't really a thing. Yeah, so I graduated and I worked at a beauty shop cosmopros that my mom frequented for all of her hair supply needs. I worked there for a few months. I was a winter graduate, so I worked there for a few months, and then I got a job as an administrative assistant at a medical association. So, yeah, definitely didn't get a job right off the bat or really know what design looked for me outside of what I was learning in undergrad. I will say though, I did gain a lot of experience. I did designer for a lot of the organizations on campus, like MPHC and some of the other organizations that I was a part of. So I was able to create and explore what my design practice looked like, what I wanted to create outside of classroom assignments. And I think that was really beneficial to where I am now.
Maurice Cherry:
I was just talking for the last episode I did was with Kevin Tufts. He's a product designer at Facebook. And we were sort of talking about kind of the time period that you were in school, like early two thousand and ten s and how it felt like design really took this abrupt shift into digital and product at a time when I think a lot of us prior to that were learning about more traditional design, like graphic design, visual design, web design. And then overnight that became product designer, UX designer. And you're like, wait a minute, what? You thought you knew one thing and now your title is different and sometimes it's the same skills, sometimes it's not. Like, I can imagine. Certainly if you're in school at that time, like, yeah, you get out and you thought you were learning one thing, and then you try to look for jobs and everything is different than what you thought it would be from what you learned. Yeah, I can certainly empathize with that. That whole time period was I'd. Say probably from 2006 to 2012. There were so many changes happening in design because of technology. Also, the browser was becoming more of a tool that you could use for design and less of just a presentation for a design. Right. Like, you could now do things in the browser and you have new tools coming out. I think this was around the time I want to say this was around the time, like Sketch or maybe like another web based tool really started to come about. I don't know if Figma was around.
Ashley Fletcher:
Back then, but yeah, I think Envision was one.
Maurice Cherry:
Oh, yeah, InVision. Yeah. So you had this kind of shift from the Adobe style of these extremely expensive, extremely complicated pieces of software because they started to go subscription based. And then in response to that, people are like, well, we're just going to make something that you can do in the browser. I don't know if Sketch was in the browser, but it was just such an interesting time because the tools were changing from what industry standards used to be to these new things. And again, the titles were also changing. I feel like when I look back at that, that was a very tumultuous time in design that it was hard to keep up with what was going on because innovation was happening so quickly.
Ashley Fletcher:
Yeah, and graduating in the midst of that when you still are trying to learn this new thing, like four years, learning something that goes by really fast, and depending on your curriculum, depending on who your professors are and their skill set, their skill set could still be in a certain decade of design. And now they're like, okay, everybody, let's rush. I remember buying my first Adobe software when you had to buy the CDs and you couldn't share the CD code or whatever the little access code was to now, like subscription. I remember how much of a big deal that was and just the shift that was coming. It was really tough. By the time I got to MICA, it kind of advanced, too. And so I was with a whole new cohort of people that were ready to create design in this new way. And so I feel like Salisbury was really an exploration of what design is like, a really rough exploration of, okay, these are these different tools. This is layout. But MICA really set the foundation and kind of solidified it for me. Yeah, that 2010 period. Now, even now, we have content creation now, which also shifts the media in which we're designing for. And so, I mean, Apple is going to come out. They just dropped their latest thing, and that's going to shift the medium in which we're creating and the scale and the size and the resolution, all of that matters when you're thinking about and understanding the tools that you have now.
Maurice Cherry:
During that time that you were like you said, you're working in this beauty supply shop. You were working as an admin assistant. How were you feeling about doing that kind of work? Like you mentioned before, going to Salisbury, and you spend all this time studying for your craft, and then you get out and you're not working in what you studied. How did that time make you feel?
Ashley Fletcher:
It was definitely an adjustment process. I think also dealing with I talk about this a lot amongst my friends and family, like post grad depression as an undergrad, when you go from being in this community of people and then you move away from that community of people, that's such a shift. Like your friends. Like, I had a best friend, she lived in New York, so I didn't get to see her unless we came to see each other. So that sense of community for me, shifting in who you are when you grow and you're living on your own in a town or in college, that's a completely different person from when you were living with your mom in high school. And so going back to that, there's all these different changes. But I think I knew that what I was doing was just a placement of like I knew that my career was going to be bigger than what it currently was. So having that administrative assistant role, I used to always when computers first came out, my grandma, she had a computer, I would always play like, oh, I'm working at an office, or things like that. And I think it works for the logical I'm a Virgo, so really scheduling, organizing those things I love, I kind of thrive in. So it wasn't a miserable place. It was also a great company to work for. Again, it was a small organization, but they had just a lot of different things to cultivate community there. And I was able to I was in that role for a year, and then I moved to their meetings department because I guess I was doing so well in assisting with the events that they did. It wasn't miserable. I always knew even before graduating Salisbury, I was like, okay, I'm graduating. Here are my options. I could go back to school and go to grad school, and I kind of knew a little bit about Mica. And so by the time I had that full time administrative assistant position and then into meetings, I was like, okay, you've been here for I think it might have been year two. Now, what are we doing next? Because you can get complacent here or you can take that leap. Just like you took the leap from business administration, which felt comfortable, to going for design. I told myself, you didn't take that leap just to give up or to just kind of settle for this current position. So I applied to go to MICA and I got accepted.
Maurice Cherry:
Nice. Tell me about what that was like. I'm pretty sure that was much different from Salisbury?
Ashley Fletcher:
Yes, it was much different. First of all, I must say that my love for Baltimore, oh, my goodness, it's such a beautiful place to be, a beautiful community to grow. Of course, part of my time was spent in what they call like the MICA bubble. So the bubble of the art community in school there, but during, just constantly inspired by other creatives. That was something that I loved and really propelled my understanding of what a creative practice looks like and how other people are creating. So it was beautiful. I did a post Baccular program, and then I did the MFA program. So when I first applied, I applied to both, but I was accepted into the post baccalaureate. That program was phenomenal. I grew so much. It was just one year, but I grew so much in that one year of my understanding for design. I think by that time, I was a much different person than when I first graduated. I had started to really focus on mindfulness practices, and I was being mindful of the soaps that I was using and the food that I was putting in my body, and also having this awakening of learning about African American and Black artists and designer. And so I learned about Emory Douglas there. He spoke at Bowie [State] University. And I got to meet him and just really teaching myself the history that I wanted to learn, because I was, again, very intentional about that. It's like, okay, I have this skill set. I know what this is. I've looked through Meggs Book of Graphic Design history, and I don't see any Black people, but I know we're here. I know I'm not the first graphic designer, so let me do the work to teach myself. And I think a lot of us do that. We have to teach ourselves a lot of our own history. Thankfully, now things are very different. You could pull up TikTok and you have a whole video on designers, fashion designers, whatever you want to learn, you can learn. So, yeah, it was a beautiful time of exploration, being around other designers that had different backgrounds, like a lot of people had. They were science majors. Not everyone had a design background. And so we all brought different perspectives to what we were creating, and it was really good. The curriculum also was just it's a night and day from my time at Salisbury and my time at MICA. Again, the design industry was very different at that time, too. I started MICA in 2017. So again, two different eras of design. I'm forever grateful for that experience. I've blossomed so much and added so many things like motion graphic to my skill set. I remember there was a workshop that we would have different workshops throughout the year. And we had a workshop on after Effects. And I was like, what is this? I thought I got away from math. What are all these numbers. What is this interface? I was completely intimidated. But by the time I started the MFA program, I took a motion graphics class because I realized these target commercials. This is motion graphics. This is how you can use design as a tool in a different medium. It doesn't have to be traditional print or anything like that. So I wanted to learn how to do that. I wanted to add that to my toolkit and my skill set. I spent a lot of time that first year learning about publication design and these methods that I was drawn to that drew me to design in the first place. Salisbury, at the time that I was there, I don't think that we learned a lot about the foundation of layout design. And so I was able to get that at MICA. So I spent a lot of that first year exploring that.
Maurice Cherry:
Yeah, I mean, it really sounds like MICA just kind of re energized you as a designer and kind of put you on the track that you needed to be on to get to where you're at now.
Ashley Fletcher:
Yeah, it definitely did. And also the amount of resources that they have. Their career development. Yeah, the career development department, they are super helpful. They help you find jobs, they help you cultivate your portfolio, build your portfolio. They have so many tools of here's how to interview that they update and keep updated. And so having access to those resources as a student and as a graduate and an alumni, it's so beneficial. We need those tools, especially, again, as Black designers, where we may not have representation or we may not see ourselves in certain industries. And I think we deserve mentors. We need mentors at every step of the journey. And so they were really a lifeline for a lot of those things of preparing for your portfolio, your resume. They have full templates that they update in different scenarios. And those things I didn't receive from Salisbury at the time, from my program or the university. I can't say that those things are whether they've improved or not, but yet having access to those various resources. Baltimore is also just a great community for artists. There's so many different resources and grants. And I had exhibited my work at my first art exhibition. I never would have thought, like, oh, I can show my work here. I don't have to create art. It doesn't have to be on a canvas. I don't have to pull out a paintbrush, but I can actually showcase my work. That was also the first time I ever sold artwork. So I was introduced to new forms of art and showcase my art in different ways. They have something called the Is. It the art market? Mica art market every year. And so this big thing around holiday season, the Illustrator department, they have this big set up so students can sell their artwork. There's different vendors from the community as well as alumni. So I created and sold my first art print and stickers there. And so that was kind of the birth of the art shop that I have today. So, yeah, getting introduced to all of these different means of showcasing your design and your art, it was really a great time.
Maurice Cherry:
Wow. Yeah. Sounds like MICA was transformative in many ways for you.
Ashley Fletcher:
Yeah, it definitely was.
Maurice Cherry:
You mentioned resources, and we sort of had this conversation a bit before we started recording, and I was like, let's save it for the show. Another resource that is available to us as designers are design organizations. There's AIGA. There's the Graphic Artists Guild, IDSA, et cetera. What are your thoughts on sort of design organizations now? Because you've said before again, this is before we started recording, but AIGA DC, for example, was a big help for you.
Ashley Fletcher:
Yeah. So in between kind of that shift before MICA and while working as an administrative assistant, the meetings, I was like, okay, I need to be around the people. Where are the designers? I will say give credit to Salisbury. One of my professors was like, you guys need to join this. You need to join AIGA. It's only however the membership was, it's only $5. You need to join. You need to join. And in my mind, I'm like, well, I don't see Black people in this class. I don't even know if I want to enter another space where I'm like, okay, here we go. That kind of thing also very much an introvert, so maybe my introvert self was like, speaking of, oh, no, I have to go talk to more people or join a group with other people. But that later came back because I listened to revision podcast. Thank you very much. Thank you. Because you guys definitely found me and helped me to just figure out where to go. And I think one episode you were talking about AIGA, and that is a resource. And so I was like, okay, let me look this up. And so I went to one of their events, and I think AIGA DC has been a great resource for me. I was able to apply for a scholarship while at Mica. They also have various events like DC Design Week. And so I was able to do a pop up shop with them, with my art shop. So I think depending on where you are, the different chapters might be a little different. But AIGA DC has definitely been an amazing resource for me to find my way, figure out what places I could work, what different career paths other people had and their journey, and just connecting with other designers. Also, more recently, I was a part of Designers Ignite, and so that was during COVID but it was an opportunity for designers to Black Designers Ignite. It was an opportunity for us to talk about our work, our progress, where we are, and for us to get paid for speaking. So that was an amazing resource. I think COVID and post COVID brought about a lot of different design organizations that I found that I could connect with versus before, it was just AIGA. DC, or AIGA in general, not even DC. And that felt a little bit more corporate for me at the time. Again, the design industry had a major shift early on. Some of the things and practices, they seemed a little, to me, outdated, a little closed off. But as time has progressed, I think AIGA has been a great resource also. It's an online resource, but brand new website by under consideration. I think that's the proper umbrella, but they're a great resource for anything branding, branding, identity, visual identity. So different online resources and communities I've been able to connect with. So if I didn't get it from one organization, then I was able to kind of navigate to some of these other organizations to find the resources and just to connect with the people that I felt that represented me.
Maurice Cherry:
For people that have listened to the show, I've kind of mentioned AIGA a lot over the years. I've volunteered for them, things of that nature. I really do wonder in general, about the role of design organizations for the modern designer. I remember this might have been, I guess, maybe about right before the pandemic. I know that there was a lot of talk with AIGA about them not really considering UX designers as designers, and I feel like I think the organization started to come around on that. But there have been a lot of topics recently regarding AI art and sort of the encroachment of technology into the creative space and what that means for creatives in general. And I've seen honestly, a lot of our modern design organizations have been kind of silent about it. I think I might have heard the most from the graphic artist guild. I know that they do some regular events, but, like, AIGA has been silent. I don't know if IDSA has said anything or any other types of organizations. I would love to see our designer orgs in general, just be more proactive and talk about the things that are happening in the industry instead of just taking dues and maybe having a monthly webinar. And this is no shade to anyone in particular, but I would love to see them just be more in the community and proactive in that way, because it sort of feels like, especially with AIGA now, them I will single out. I remember when I was volunteering with them and there was this big push for us to get more Black students, really more HBCUs involved with student groups. And it's like, yeah, but the parameters around a student group might not apply for HBCU, because for a student group, you have to, I think, be within 50 miles of a regular chapter. You have to have at least ten students that are studying design. And then I think a professor has to be or had to be, like, a sustaining member, like one of the top membership levels. If you did those three things, then you could have a student chapter. And I'm like, well, that might be prohibitive for an HBCU that's like, not near a city or there's not ten students in the program.
Ashley Fletcher:
There might be two, right?
Maurice Cherry:
Like, it's prohibitive. And so we were trying to talk about getting them to sort of lessen that for HBCUs, and then they were like, well, if we do it for them, we have to do it for everybody. And I'm like, well, do it for everybody. But I mean, the reason that they didn't want to do that is because it boils down to finance. If they know each student group is getting at least a minimum amount of money that goes back into the organization, all of that stuff, it's all somewhat self sustaining in that way. So in that respect, I don't know if our design orgs are equipped at the moment to really do that. I would love to just see more of that in general, because I don't really see a lot of it now. I feel like they're being pretty quiet and reactionary instead of really like, speaking up about how this affects our industry, how sort of these things affect our industry.
Ashley Fletcher:
Yeah, I think we definitely because they hold this title of being a guild for graphic designers and artists, we also expect them to lead some of the different changes and to kind of push to the conversation, to push the changes to advocate for us, especially when it comes to AI. I would have thought with Photoshop releasing this new AI feature that's going crazy, that they would connect, the two organizations would come together and say, okay, here's what we have on this. Here's what this tool is doing, here's the information, or here's the discussion that we can have around this. Maybe they are having it. And I don't know, because, again, I'm not within these organizations, but we definitely want and we talked a lot about the shift that happened in design from 2010 to 2017 or even 2014. I think being in the midst of that and helping designers, maybe it's a thing of understanding the core audience. A lot of young designers rely on them or may go to them to help them in these different moments of their career. And so if these practices and things are outdated, you're going to lose those people that really do at the core need your assistance. Like, HBCUs should for sure be supported, especially given how eager a lot of the companies were to highlight Black stories and Black voices and oh, now we have all of these different initiatives to support HBCUs. Well, we want to see that applied across the board, and not just for a short period of time, because we already know that we're dealing with so many barriers and checklist, stipulations, whatever when it comes to even getting hired for a job. Because let's be real. Like, the hiring process and those practices are still very challenging. And so if our own organizations that are for us aren't helping us get over that hump, aren't leading the conversation, aren't pushing and encouraging these companies and HR hiring practices to change and shift as design is changing and shifting, what's really the purpose? What's going on? I think COVID thankfully shook a lot of organizations and things and practices up. And I think companies need to be doing those checks and balances on a regular basis, not just every decade or natural disaster. We need to be doing these things on a regular basis and having these conversations so that your organization can sustain itself and the culture of design and where it's headed. Yeah. AI. I don't even want to talk about it. Don't understand just the overall checks and balances. I have not used the Photoshop tool. I will use the Lasso and the pencil tool till I can't no more before I begin swapping out backgrounds with different stuff, until I don't know. I don't fully trust it right now. But just like with other things, we evolve and we grow. So I'll look forward to the day that I actually test out that tool.
Maurice Cherry:
Yeah, I haven't downloaded I think it's like a beta version of Photoshop that allows you to kind of it's similar, I guess, to content aware fill, where it will automatically generate part of an image or something. I haven't done that yet, but we're certainly seeing AI filters being a big thing if you're on TikTok, if you're on Instagram. I mean, even augmented reality stuff, I guess, kind of maybe ties into this a little bit, like stuff that Snap has done with filters and lenses and stuff. But it would be good to hear from our design organizations. They're just kind of thoughts about this, even if it's like drawing a line in the sand or something. Because I know that it's only going to be a matter of time where people who are not designers will generate AI art things and then try to take them to designers for edits or changes or something. And I feel like there needs to be an industry wide line in the sand that says, we are not doing this. Absolutely not. Like, it needs to be something that is across the board. Yeah.
Ashley Fletcher:
In a way to protect your intellectual property as a designer. I think there was one app that everyone was using and it was putting together all these really cool pictures on Instagram. It's like, okay, but where are these images being pulled from? It's being pulled from the Internet. Somebody had to create bits and pieces and is now creating this beautiful picture of you. So I think the music industry has started to set some parameters around AI because they're using Drake's voice on a Kanye beat.
Maurice Cherry:
Oh, yeah, I remember that.
Ashley Fletcher:
Things like that are happening. So, yeah, we also, as designers, want to need to start having those conversations too, especially when it comes to our intellectual property and how our work can be protected and what our new design process will look like when we are working within AI generated art.
Maurice Cherry:
Well said. Well said. What advice would you give to someone out there who's kind of hearing your story and they want to kind of follow in your footsteps? What would you tell them first?
Ashley Fletcher:
I definitely say take the risk. I think through these different moments of my journey, it really resulted in me taking a risk. Like just going with it, going with what I wanted. Sometimes I would say, oh, no, let's play safe and let's try this. No, go for what you want if you want to, especially in the age that we are in now where you can directly reach people. I know people say this all the time, but it really does matter. Your moment can change from night and day just by you sharing your work, sharing your design process. It can be an ugly design process. It doesn't have to be the final product. But sharing how you think through creatively different works and things like that can be the next step that you need to elevate and pivot your career and your dream career, or your dream creative journey. Not even just a career, but your dream creative practice. So I think definitely go for it. If there's something that you want to do, if it's something in your heart that you're like, oh, I don't know how you're putting all these limitations, just do it. Just take the first step, because I promise you, everything else is going to fall in line. I would have never thought that by me switching my major and being in love with yearbook and magazines would now lead to where my career is now. Everything that I do is fulfilling it's in alignment with who I am. So really just take that risk. And also knowing again what your values are and what kind of work you want to be creating, what type of clients you want to work with, and manifesting that. Speaking of into existence also, I think trusting that journey and process and being okay, that it can get a little messy. It can not be like, for me, I was out of work for a very long time when this just this past year, to the point where I was like, I don't know, I was kind of burnt out a little bit from freelance. I don't know what I'm doing. I really don't want to work full time, but just not really knowing what that next step was. But it's working out for me. Things aligned. I got a job that I really loved. I love there's so many different things that I prayed on and manifested on and just really started to be intentional about the things that I was asking for and not playing. Don't play yourself small. You got to think big. You really do. Like, whatever you want to achieve in this lifetime, if it's aligned, it'll definitely work out. So just really take those steps. I think also asking not being too afraid to ask for help, sometimes I forget that, hey, it's okay to go and reach out to this person. If you don't know how to do this thing, like using that network and community that you have because you have it for a reason, whether it's an old teacher or an old classmate, you just never know. Don't be afraid to ask for that help, especially with someone who didn't necessarily have mentors or someone consistently guiding me through this creative process. I've just been like, okay, I want to do this. Let me try it. Let's see how it works. Like, I want to create an art shop. I don't know what's going to happen, what's going to come of it. Well, now I'm in four stores and I've sold my artwork internationally. There's so many different things of taking that leap, but also asking for help along that journey, like, don't be afraid to do it. The worst that anybody can say is, no, can't help you, or I don't know the answer. That's it, I think. Yeah, just really taking that leap. Also getting your creative practice in order in your creative process, I think that's something that I didn't realize until later on down the line, especially after being in Mica and the rigor that is grad school and being diagnosed with breast cancer. I think I was like, oh my gosh, did I work myself to the bone? What is going on? How was I not paying attention to my body during this time? And so really figuring out what creative practice works for you, what that looks like. Fletcher it's taking a day off throughout the week to go explore, to go be in nature, to go on a road trip or a trip somewhere, if you can just invigorate your creativity, taking rest from working in general just so that you can take care of your well being and your health. The nature in which graphic design lives in, it's a fast paced environment where people essentially want you to be robots of just working around the clock and churning out these designs. And not everybody can work in that type of creative environment. So really figuring out how you thrive creatively, what things work for you, whether it be your meal prepping to your intake of media and content, what things are really going to get you in a good space to create and inspire you. That's something that I think is really important for us to have. We can be burnt out so quickly of just always consuming media, content, everything. And then we do that. Within our own practice. Sometimes you don't need to research for 3 hours with design. Sometimes just give yourself ten minutes to find what you need and be intentional and then go and create. Go and sketch it out. Yeah, I think that it's really important. Design School doesn't teach you about the business of design. So if you want to be your own boss, if you want to dabble in different things, you might not get that from Design School. So you're definitely going to have to teach yourself some of those practices. And so again, having a creative process in place that keeps you a little structured, having the schedule that, you know, okay, today I'm just going to do administrative task. I'm just going to dedicate this day to responding to emails and then you have the rest of the week to create. Coming up with that kind of structure I think really helps. I found myself during my freelance journey getting off the rails a little bit, like I was spending too much time at home. I was burnt out because I was working around the clock, then trying to find more work and trying to update my portfolio, all these things. So it really helps to have that structure a little bit.
Maurice Cherry:
Wow, that's tremendous advice. I almost feel like we can sort of wrap it up here. I don't feel like there's anything I can say that can trump that, but I mean…just to wrap it up here, where can our audience find out more information about you, about your work? Like, where can they follow you online?
Ashley Fletcher:
Yeah. So I'm online. If you want to follow me on social media, you can follow me on Instagram and TikTok and Twitter at @digitrillnana. It should be linked in the podcast. But that's D-I-G-I-T-R-I-L-L-N-A-N-A. Think Foxy Brown "Ill Na Na" and digital design. That's what that is. Okay, of course, online. My portfolio is ashley-fletcher.com, and then my art shop is digitrillnana.com. If you are in the DMV area, you can find me in local shops. I'm at the MICA Bookstore in Baltimore, Maryland. I'm also at Sankofa. You can find some of my art goods in Sankofa in DC on Georgia Avenue.
Maurice Cherry:
Wow. Ashley Fletcher, thank you so much for coming on the show. You don't know this. You kind of inadvertently spoke a word into me with all that advice. That was some stuff I personally also needed to hear, and I hope that certainly the listeners will get that too. But your whole story of kind of persevering through not just kind of getting sidetracked in terms of your path to being a designer, but your perseverance and your creativity and your drive and your passion for this just completely shines through in everything that you've said. And I'm so excited to see where you go next in the future. It's always exciting for me when I do this show and I talk to people that are so energetic and dynamic about the field of design and the work that they do, and I really feel like you're an excellent representation for that. Keep shining, keep doing what you're doing. And thank you so much for coming on the show. I appreciate it.
Ashley Fletcher:
Thank you so much. You just spoke life into me, so I appreciate it if you are listening to this podcast. Keep going, guys. Like, we got this. I'm so grateful to just have this opportunity to connect and just share some wisdom in a space that once inspired me. So Maurice, thank you so much for all that you do. Yeah, thank you.
Brevity & Wit is a strategy and design firm committed to designing a more inclusive and equitable world. They are always looking to expand their roster of freelance design consultants in the U.S., particularly brand strategists, copywriters, graphic designers and Web developers.
If you know how to deliver excellent creative work reliably, and enjoy the autonomy of a virtual-based, freelance life (with no non-competes), check them out at brevityandwit.com.