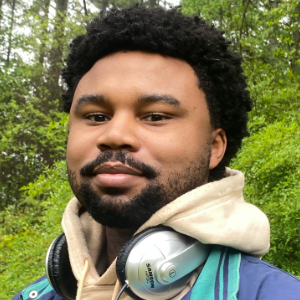 If I had to give an award for "Most Chill Revision Path Guest", Jordan Taylor would win the prize with no competition. But don't let the relaxed vibes fool you, because his skills as a designer and creator are anything but laid-back. And even better, he has roots here in Atlanta. Keep listening to learn more about this hometown hero!
We started off talking about his recent move to NYC, and he gave a peek behind the curtain of being a designer at the world-famous design firm Pentagram. From there, Jordan talked about growing up and attending college in Atlanta (taught by past Revision Path guest Nakita M. Pope!) We also touched on a few other topics, including Atlanta's design scene, and what Jordan wants to see more of from the larger design community. Jordan is a uniquely talented, and I think we're going to see a lot more of his work in the future!
Transcript
Full Transcript
Maurice Cherry:
All right. So tell us who you are and what you do.
Jordan Taylor:
I'm Jordan Taylor. I'm a graphic designer at Pentagram. I work on a lot of different projects, mostly branding, but a fair share of editorial and motion design, a few websites here and there.
Maurice Cherry:
How has the year been going so far?
Jordan Taylor:
My year has been pretty great. I recently moved to a new place for the first time. I'm now living out in Brooklyn, New York. I moved up here for work and it's been a chance to go on new adventures, see different things, meet new people. It's been pretty interesting. A lot of changes.
Maurice Cherry:
When you sort of look at the year in general where we're at now, we're recording this right now in mid August. Is there anything that you want to accomplish before the year ends?
Jordan Taylor:
Oh, I'd say that right now I'm in a place where I'm trying to figure out what my next thing is. One of the things I really want to accomplish for the years over is starting to make those steps toward whatever that looks like, whether it's an expression of self or new business endeavors. Just starting to really get back into more self-activated things. You know how they say you are always going to need to fall a couple times when you're on your journey somewhere. I'm ready to start taking those baby's first steps toward whatever new horizon I'm heading toward. I feel like I'm in that kind of place.
Maurice Cherry:
Okay. Now, you're at Pentagram, which is a extremely, extremely well known design consultancy. Talk to me about that.
Jordan Taylor:
Yeah. Pentagram is so many things. I'm there now. I've been working there coming up on two years in September. When I started, it was as a remote position. I started as an intern, but I was working from home still down in Atlanta. The journey there was just so unexpected. I just didn't think that it was a place I was going to get to. When I started really diving into design, you get introduced to different ways of doing things and what brand design looks like and who the kind of designers to know are. You find out about different names and you end up finding out about Pentagram.
It just is a crazy experience to walk in there and actually see these people in person and not from even a crowd for some sort of forum that they're putting on. It's been really interesting just even beyond the partners, you have all the people working there on the different teams and you find out how a team works and how they approach projects and different ways that people think. It's like a big incubator. It is really been… The way I got there was so much so of just putting my head down because it was the middle of the pandemic and just trying to get to the best place I could after leaving school.
So in a way, I don't always fully take it in, but in those moments that I do, it just really hits me and it's like, "Oh, I'm actually in here every day," if that makes sense. It's a lot of work, but it's also a lot of just like air of ridiculousness to me. It's actually worked out to this level.
Maurice Cherry:
It sounds like it's hard to put into words. I mean, I'm listening to you stabber to talk about it. But I mean, I can imagine you've got such design heavyweights like Michael Beirut and Paula Scher and Eddie Opara whom we've had on the show episode 234 if people want to check that out. But I can imagine having that much, I guess, the weight of it all is probably a lot to think about from your perspective.
Jordan Taylor:
And then at the same time I still have work to do every day. I still have four or five projects to work on. So it's a balancing act. You try to make yourself known and get to know people. But at the same time, you're still trying to keep the main thing, the main thing, and I guess do the work that got you there.
Maurice Cherry:
And you've done that. I mean, you've done the work that got you there. It's not like you just walked in off the street into Pentagram. Like you said, you had your head down working and we'll get more into your background or your story, but you deserve to be there.
Jordan Taylor:
Absolutely. Yeah. I say all these things about how it feels to be there, but I don't think I ever really felt I didn't belong, maybe just that I didn't expect for anybody to actually figure that out, if that makes sense.
Maurice Cherry:
What does a typical day look like for you at Pentagram?
Jordan Taylor:
A typical day for me when I first started there as an intern, one of the big things that I was really aware of was that I was probably not going to understand how anything worked. So I would reach out to my mentors, one of which was Louis Mikolay. He used to work at Collins. Now he's at Apple. I reached out to John Ferguson and McCoy Smith. I just asked them, "You all are professionals. You all are in this design world. How do you actually keep track of all the things that you're supposed to do in the day? How do you know how much time to allocate to a project? If you got multiple projects going on, how do you know when to start the day or when to end the day?" Because it was working from home and starting out. Everything was a little too soft for me.
Long story short, I got into making to-do list to start the day or sometimes I make one to fill out the whole week. If I knew what the week had, coming ahead of me. After that, it really depends on the day to day what point I'm at in the week. But I'll usually try and get the smaller projects out of the way or the little things, or just check my emails and make sure that nobody is kind of hitting me with a curve ball before I really get my day started.
And from there, I collaborate with my team to make sure that I know what their expectations are for the day. And then it's working things out. If I am on a magazine project like Netflix Queue, it may be a lot of concept. And so it'll be like, "We're building a deck to introduce to the client. And then from there you might break away from that side of it and go to the print side and you're coming up with different concepts and directions."
So you're doing a lot of art directing, but then right after that, I might have to create animation assets for a branding project where we're trying to activate the brand for a presentation. So it's a lot of flipping switches is what I call it. It's a lot of flip this on, flip that off, go over here, do this. And then you just end up at 6:00.
Maurice Cherry:
And that's the day.
Jordan Taylor:
Yeah.
Maurice Cherry:
You, I guess, touched on some of the projects you're working on. You mentioned this magazine, Netflix Queue. What kind of other projects and stuff are you working on?
Jordan Taylor:
The projects I'm working on right now, I can't really speak about. Some other projects I have worked on before, we did a wonderful rebrand for a college out in Pennsylvania who that was transitioning into university status called Moravian university. I worked on tech brand who was building out a whole kind of workspace system along the blockchain. So you really had ownership of your information called Skiff. I also work on the ACLU magazine that comes out twice a year. So it's a wide range. And then there's things that I help out with in spots here or there.
Maurice Cherry:
So you're doing print projects, digital projects, kind of a little bit of everything, it sounds like.
Jordan Taylor:
Yeah. A lot of flipping those switches and within those, the Netflix magazine has a digital arm and a print arm. So I'm on both of those.
Maurice Cherry:
Nice. Sometimes we might have to create a cover animation for the website and then you also have to create print stories. I mean, build out those assets. So your vision for the brand in all these different formats and it's all happening at the same time. Whereas with the ACLU magazine is strictly print, but it involves a lot of art directions.
So I'm commissioning illustrators. I'm commissioning photographers. I mean, we're like staying on the pulse of what's going on with the Supreme Court to find out what their rulings are going to be before the next issue. And then with something like Moravian, you just got old fashioned branding. So you're building out color systems and typography and things like that.
I mean, it sounds exciting to be able to use your skills to bounce from project to project in that way. One of the last big creative projects I worked on actually was also a print and digital magazine for my former employer, because I just got laid off. But for my former employer, I was putting together a print and digital magazine. The first issue is out. Actually the second issue was ready the day they laid our whole team off. So I don't know if the second issue will even see the light of day, even though it's literally at the printer on the shelf. Don't know if anyone's ever going to see it.
Jordan Taylor:
Sounds like Limited edition.
Maurice Cherry:
Right. And the third issue we were in the middle of working on, which was actually going to be on Web3 stuff. We commissioned illustrators. We had all the same things you were mentioning, writers, all that kind of stuff. Don't know if that one is ever going to happen. I love the magazine thing because it was my first time ever working on something like that. I would love to do more things like that.
It just seems like two things with Pentagram. One, you get to work on so many different types of projects. And two, I guess, because Pentagram just has this like… To me, maybe not to other people, but to me it has this untouchable… I don't want to say cult status because its name happens to be Pentagram, but it's one of those things like, "No, don't apply to us. We will choose you to work for us." Like that sort of thing. I don't know if that's just part of the mystique of Pentagram, but I like that.
Jordan Taylor:
Yeah. I mean, I conflict on that. So a bit of how I actually ended up finding the position, I had joined Where are the Black Designers slack channel. [inaudible 00:14:28]
Maurice Cherry:
Yeah, Mitzi.
Jordan Taylor:
Yeah. One of the project managers at Pentagram posted the opening and I was like, "Oh, this is crazy. I don't even know they did this." And the week went along and I was like, "Oh, should I do it, should I not?" I applied through there, but that's not usually how it happens and it's something that Pentagram is trying to get better about is like casting a wider net and bringing in more perspectives.
I don't know. The idea of that exclusivity, it creates the mystique you know, but I feel like in a world where we're starting to just keep reconsidering these ideas of diversity and inclusion, when you're at the top and you think you know what's best, you don't really allow anyone else to come in from the outside and influence and keep you there, you're just moving off of… I don't know. I feel like it makes it easier for you to lose sight of what's actually going on around you if you're not actually interacting with the people, so to speak.
Maurice Cherry:
I get what you're saying. I totally get that because I think a lot of agencies probably have that same sort of problem. Yes, they want to have a level of exclusivity with the work, but I guess they don't want to appear like they're for everybody I suppose.
Jordan Taylor:
Yeah. It's a tough balance, which I get. Look, just as a person who felt like they were on the outside, looking in and very much based on what I have come to find out just being in the workplace is not a common way of finding out about openings there. I just would hate to for the other person who's in that same position and just wasn't on the slack channel that day or that week.
Maurice Cherry:
Right. They just missed out.
Jordan Taylor:
And they're just as good as I am. I just think about stuff like that and I'm like, "Oh, it conflicts me a lot."
Maurice Cherry:
Well, let's switch gears here a little bit. I want you to remain conflicted in the interview, but because this is about you and about your skill. Like I said, you deserve to be there certainly. Let's switch gears here. Let's talk about you. Tell me where you grew up.
Jordan Taylor:
I grew up 30 miles east straight down Act 20 from Atlanta, Georgia in Lithonia. It's a Black suburb. It's a pretty decent place to live. It was a lot quieter until Atlanta's always constantly growing and expanding. So people started moving out there a lot more. But I was out there since I was two years old, like '96 and then I moved out of the Atlanta area last October.
I spent a long time out there, just deep in that culture, moving around town, making friends. I was a part of the Atlanta public schools system throughout with a little bit of DeKalb County Schools in elementary. I feel like a country bumpkin sometimes being in New York now. But I feel like my experience in my kind of neck of the woods was just so interesting. I just got to see so many different things and so many different ways to live out my Blackness, I guess. My whole family is from the Atlanta area. So it just was a really warm, just loving experience the whole time. I miss it a lot. I think about it every day.
Maurice Cherry:
I mean, you grew up in Atlanta during a time. I mean that to me feels like peak Atlanta like the Olympics Freaknik '96, that whole time. I came to Atlanta in '99. So right after that. But I'm from Alabama, I'm from Selma, so I'm not that far from Atlanta. I'm roughly about three hours. We would always come to Atlanta, honestly, every summer or every time, I don't know, our class did well on the SATs or something. It was always like, "We're going to Six Flags. We're going to Six Flags."
So I've always been in and around Atlanta and then finally moved here when I was 18. But I know exactly that feeling that you're talking about. And it's something that I'm sort of exploring a little bit, because I'm working on a book proposal. And as I'm working through it, there's such a positive thread of Blackness throughout Atlanta that I don't think a lot of people really get.
I think people see Atlanta, they see the entertainments, they see the music. They see, "Oh, it's a really Black city." But it's a warmth, I think that a lot of people don't really understand unless you're either from there or you've really lived there for a long time. I mean, I feel like I got it a little bit just from visiting so much, but certainly my formative years and my teens… Not even my teens, but really my late teens and my 20s in Atlanta is just irreplaceable. It's hard to put that feeling into words about the… It's not even so much of a positive Blackness, but as much as every example of excellence that you see around you is Black.
Jordan Taylor:
Right.
Maurice Cherry:
I think sometimes that can be hard even for other Black people to see depending on where they grew up. But Atlanta really sort fosters that and it's not in any sort of weird supernatural extraordinary way. It's like excellence is just all around you.
Jordan Taylor:
Yeah. A very casual Blackness.
Maurice Cherry:
Yeah. That's such a good way to put it, a very casual Blackness. That's such a good way to put it.
Jordan Taylor:
Yeah. For me, people are constantly on this notion of Blackness is not a monolith. That's what I mean, what we're both talking about with that casual Blackness. I wouldn't put myself in a certain frame. I always talk to my friends like we all played sports, but we all like anime. We all ended up doing different jobs. I have friends who were in the arts, but I also have friends who are paramedics, and I also have friends who are party promoters.
Maurice Cherry:
There's no division.
Jordan Taylor:
Yeah, there's no division.
Maurice Cherry:
I a hundred percent know exactly what you mean. I mean, I went to Morehouse, so I absolutely know of what that division can definitely look like. But yeah, man, I mean, you grew up here in a great, great [inaudible 00:20:49]. I can tell why you miss it. I can definitely tell why. Was art and design kind of a big part of you growing up here?
Jordan Taylor:
I would say it was, but it was more from a sense of… It was something that I was just always interested in. You get older and you look back on your life and you realize you were doing things the whole time that were preparing you for something you didn't even know you were preparing yourself for. So it wasn't more so that design or the arts was constantly around me.
Nobody in my family is like a designer. My mom is a school counselor. My dad works at the EPA. It was just constantly something that I was interested in. I watched a lot of TV, a lot of Cartoon Network, a lot of Nickelodeon, a lot of Disney, a lot of anime, a lot of Toonami. Those kind of things are what introduced me into the arts and made me appreciate art a lot more.
So I think the first thing I ever tried to draw was Goku on one of my school notepads. And from there, I kept drawing and drawing and doodling. But it wasn't something that I really embraced as something that would ever be a part of my future. It was more so just something that I enjoyed and it was an outlet for me. It helped me express something that I really cared about. And then I got opportunities later on in high school to express those things in different ways. I knew I had that drawing talent and my mom would put me into these art programs over the summer to learn more about the technical side.
I did one in old Fort Worth at this summer camp where we had to choose a discipline. So I went with the drawing one, because it was the one that I was the best at. I got those things, but it was never something that I thought that I was actually ever going to be doing with my life. When I was about to graduate high school, I planned on doing engineering. Focusing on that is part of my college curriculum. Because like I said, I was preparing myself for things that I didn't actually know were available to me. I was like, "Okay, well I'm good at math and science, but I also want to create things."
I didn't know how to express that completely. So my dad was working at the EPA. I was like, "Oh, he's an engineer. Maybe I'll be an engineer and maybe I'll get to tinker on things or build something one day. But it wasn't something that I was fully embracing. I definitely went to the high museum way more during my college days than I ever did during grade school.
Maurice Cherry:
But it sounds like your parents though, at least supported you in that, I guess you could say at that point was a hobby, was you really liking art and drawing. They didn't try to dissuade you from it.
Jordan Taylor:
No, they never dissuade me from anything. I think I get a lot of my laid back kind of attitude from them because they're very much… They were very much always, as long as I handled what I was supposed to be doing at school or whatever, then they would let me do whatever I wanted to in the peripheries. They never really tried to shut me down from anything and I always appreciate them for that.
Maurice Cherry:
So you ended up going to Georgia State University. And Atlanta's got some well known design schools here. I mean, let's see. If you were… I'm trying to think was it… No, Atlanta College of Art wasn't around during that time. But I mean, we had Art Institute of Atlanta. I think SCAD was just maybe starting to have their campus here. I don't recall. But there's also things like the Portfolio Center, et cetera. I don't know if Georgia State really is ever in that conversation of great design schools or curriculums in the city. How was your time there?
Jordan Taylor:
I really enjoyed my time there. So my introduction to Georgia State came a bit later in college. I transferred there. I first off went to Fort Valley State University. It's a HBCU like an hour south of Macon, I think, near Warner Robins.
Maurice Cherry:
Yep, I'm familiar.
Jordan Taylor:
Yeah. Oh, you know about Fort valley?
Maurice Cherry:
I know about Fort Valley.
Jordan Taylor:
That was where I went because I thought I was going to be engineers. My mom was like, "Okay, go to this agricultural school. They have an engineering program. You can do that." And while I was there, I found out more about graphic design. I would hear about it here and there on the internet, but I didn't know how it worked. I found out what Adobe was. I was like, "Okay. Well, my laptop is not good enough to do any of that kind of stuff."
But I ended up taking an elective my second year there and it was for graphic design. I think our first project was that we had to create a fake brand and then we had to make envelopes for the brand. Our teacher taught us how to use the blend tool. We could use the blend tool if we wanted to, but otherwise we had to just come up with something else. Long story short, I got an A in the class and I was like, "Wait a minute. I just made something and it felt like art." I got an A and I don't really want to be an electrical engineer. That's fourth floor.
I called my mom right before I was about to go back home because the semester ended and I was like, "Hey, I looked it up. Georgia State has graphic design program." Because I think I looked into all those other schools, but like I said, my mom never stifled me from anything, but she always made me very aware of what she could and couldn't do. So I knew she wasn't about to pay for me to go to SCAD.
I called her, I was like, "Hey, I got an A in this graphic design class. I want to transfer up to Georgia State." I'm going to major in it. They have a program up there. She was like, "Wait a second. It is the first semester. Could you at least finish the next semester and make sure you want to do this?" I was like, "No, I got to go."
But she made me finish that next semester. I spent that whole semester in my free time learning how to use illustrator. When I finally started, I was so eager. I started taking classes at Georgia State over the summer because I wanted to get in there because I couldn't use my laptop. I was using the school stuff at Fort Valley to design. I was like, "Okay, I don't want to spend a whole summer not working on this because I don't know what I'm doing and I don't know how good any of these people in these classes are about to be when I start."
So I spent that whole summer in the Georgia State computer lab, just working on Illustrator. Photoshop, I was kind of like, "Ah, there's kind of too many different ways to do things on there. I'm just going to keep doing Illustrator." I mean, I had a great time in Georgia State's graphic design program. I would say to anyone that's thinking about it based on our conversation right now that it really helped cement a lot of the basics and a lot of the fundamentals of what design is, how do you approach it? What does it mean to create a creative identity?
I took a lot of the introductory classes because it's broken up into two different sections. So you take the intro classes and then you have to go through a portfolio review to get to the final stage and actually graduate with a design degree.
I didn't make it to that second part because I was missing a project. I learned so much from the experience that I knew I could design. They even said it. They were like, "Some people might not make it. That doesn't mean you're not good." There's plenty of people that don't make it. Because there's so particular and they have such a hard cutoff in terms of the numbers because of the size of the program right now.
They really encouraged you to keep going and that's what I did. I was like, "I know what I'm doing. I know how to build a brand. I know how to use Illustrator and Photoshop. I made all these projects. I didn't do all this for no reason." So I just stuck to it after that and stayed in contact with all my teachers from all my introductory classes because they continued to keep their doors open for me. I would definitely recommend it.
Anybody thinking about going to SCAD or those other art schools, I would say to look into Georgia State because their program is really great and they really supported me the entire time.
Maurice Cherry:
I was going to say, it sounds like they really kind of helped prepare you to get out there and be a designer. Even though, as you said, you didn't go through and do the project portion of it, but you still came out with enough know-how to know how to be a designer.
Jordan Taylor:
Yeah, absolutely.
Maurice Cherry:
Now, you enrolled at The Creative Circus a couple of years after you graduated from Georgia State. What made you do that?
Jordan Taylor:
I enrolled there because after I didn't make it to the second portion of the design program, I continued to work. I started trying to find different outlets for what I could do. So I was like, "Okay. I'm not in the program." So I would do things for people here and there. I got a intern position at the APEX Museum, which was right down the street from the Georgia State campus. It's a Black history museum. They really gave me a great chance to try and do my things in actual application and step with their own identity.
There was just something in the back of my head, as I kept learning about design and learning about Eddie Opara, and Michael Beirut, and Paula Scher and those kind of people. There was something beyond that, that I didn't really know how to do yet. So along with those other things that I was doing in terms of working, I was also trying to meet more people that were also designing.
So I joined the AIGA student chapter in Atlanta and I ended up meeting one of the teachers at The Creative Circus because the meeting I went to was at The Creative Circus. So I got to see little bits and pieces before I walked into our meeting space. I was like, "Hey, is this an art school?" Because I didn't even know what it was. It was like off a Cheshire Bridge off of a back street.
She was like, "Yeah, this is an art school." I was like, "Do you all have a design program?" And she was like, "Yeah, we have a design program." It was a Nakita Pope.
Maurice Cherry:
Yeah, Nakita. Love Nakita. She's been on the show before.
Jordan Taylor:
She's like, "Yeah, we have a design program. I'm actually one of the instructors for it. If you ever want to come back, I'll give you a tour. You can sit in on one of my classes." She let me walk around for a bit before I had to leave. And they have all the work on the walls from previous students' projects. I saw that stuff and I was like, "I don't know how to do any of this." I was like, "I thought I was good at it and I don't know how to do any of this. But if they know how to do this, I think I can figure it out."
Long story short, I talked to my mom. I was like, "Hey, thinking about going back to school. It's going to cost yada, yada, yada." She's like, "Wait a minute. [inaudible 00:32:11] stick with me." That took some discussing because my parents had already paid for four years of school. So I went there. It did what I expected it to… It took me to a whole nother level in terms of understanding. What it really helped me with was concepting, being able to build an idea and then flush it out graphically in a multitude of ways.
So what I learned from Georgia State in my introductory classes was that what makes a good logo, how to pick out typography, things like that like the building blocks. And then when I got to The Creative Circus, they really pushed those different levels of self expression and leaving no stone unturned when you're trying to tell the story of something. So it all came together to put together the picture.
Maurice Cherry:
And for folks that don't know or haven't heard of The Creative Circus, it's this private for-profit college recently closed its doors, which is such a big loss to the Atlanta design community. I hope they come back one day, but The Creative Circus and Nakita Pope who you mentioned as an instructor there. I think I've been there a couple of times. I know, I remember seeing, I think it was Douglas Davis had given a talk there when he was doing his book tour for his book about creative strategy and the business of design.
Nakita and Douglas knew each other because they both went to Hampton. Although, I don't know if they went at the same time or not, but yeah, The Creative Circus, great, great resource to the city. Sad that it's closed. But no, it sounds like you got what you needed from there. And you also have interned at a few places in Atlanta. You mentioned Apex over on Auburn Avenue. You interned at the Mammal Gallery, which is downtown Atlanta. You interned at MetroFresh Uptown. These are three somewhat different types of design experiences, it seems like. What did each of those places really teach you?
Jordan Taylor:
Yeah, they were so interesting looking back on them. It was very much, I was still in that phase of trying to scrounge together different experiences any way I could. I was out of college and I just had to dive into things that I was interested in. I was like, "I love my people. Let's go to the Apex." I was like the Mammal Gallery back then. I'm not even sure if the Mammal Gallery is still open, but they used to put on concerts where they would bring in these underground performers or these emerging artists. I was really into that because that was the mix tape era and SoundCloud era.
So I was like, "Hey, I love this place. Let me ask if they need a graphic designer." Because everybody needs a graphic designer. And then with MetroFresh Uptown, that was taking something that I needed and trying to bring something that I wanted into it.
So I got the job because I needed a job because I was working. At The Creative Circus, I made it past the first quarter and it was time for me to try and figure out how to keep paying to be there. I'd done a lot of food service jobs. I picked that one up because I had heard about… I don't even remember how I heard about the opening, but I'm not going to dwell on that. And because I was working at a new location for them, I was like, "Hey, do you all need signage? Do you need somebody to draw murals? Do you need somebody to make pamphlets for you to pass out in this office building? I could do all that stuff." And it worked out from there.
But it prepared me for what I would do like the next internship that I was in for a really long time because it gave me a chance to be a part of something and know what the identity was and how to bring that out in that graphic language.
Maurice Cherry:
Yeah. And that other place that you're talking about, that's Atlanta Contemporary. You were there for pretty much, almost five years. That's a really long time. Talk to me about what that experience was like.
Jordan Taylor:
I love the Atlantic contemporary. I talk about the place all the time. For anybody who's listening and is in the Atlanta area, it's free every day. I think they're only closed on Sundays. They might be closed on Mondays now, but they're definitely closed on Sundays. It's a contemporary art space, but it's also an art center. So they do a lot of events where they bring in the community and they have children's events. They do weddings, all that kind of stuff.
But it was that kind of last step in finding things that I was interested in. I was like, okay. So I worked at a Black history museum. I've done things for music space. I've done things for restaurants. What else am I interested in? If I could ever get a job at a museum, that would be really cool. I was like if I could ever actually make graphics for something based in the arts, that would be incredible.
So I went around to all the spots that you can think of. I went to the High Museum, I went to MOCA, I went to the Atlanta History Center. I was just Googling these places and then I would spend the day and go to them. And eventually, I went to the Atlanta contemporary. I was like, "Oh, do you all have any openings?" They were like, "No, we already have a graphic design." I was like, "Oh well, okay. Do you do internships?" They were like, "Yeah." I was like, "Do the interns do any graphic design?" They said, "No." I was like, "Well, if I intern, could I do some graphic design?" And they were like-
Maurice Cherry:
You were trying. You were trying to get in there.
Jordan Taylor:
Yeah. And they were like, "I mean, maybe. Sure." So I just took those opportunities wherever I could get them. It was a chance for me to interact with the community because people would come in for different exhibit exhibition openings and people would have the artist talks there and things. They had a whole pavilion in the back where they housed certain artists within their studios. So I got to interact with there. That was cool.
But then here and there, if they had an event, they were like, "Hey, Jordan. Could you make some signage? Hey, Jordan, could you make a flyer? Hey Jordan, could you do the vinyl descriptions for the artwork this month?" It would trickle in slowly. I built up a rapport with everybody that I was capable of doing these things. And then it turned into a full time position after that. When I got that chance to do that because the previous graphic designer had actually moved to New York because I had been there so long, I recommended different ways of going about how they express themselves with their social assets and things like that.
I was like, "Hey, I feel like this could speak a lot more clearly to what you all actually have going on here." It's so interesting and fun here. I think that this could be expressed a different way. So it was a chance for me to build a proposal. And then from there, it really bled into a lot of things. I was creating their monthly social posts. I was creating special animated assets whenever they had a special event going on.
I was doing their event graphics. I was doing the way finding within the museum, or within the art space, excuse me. And then I was also still doing the vinyl descriptors for the exhibitions also. And then I even got to help with one of the art pieces one time. They had this mantra that they wanted to put on the wall, but the guy walked in with just… It typed out from a typewriter on a piece of paper and he was like, "I wanted to look exactly like this, but on the wall."
I was like, "Well, aren't you the artist? You don't know how to do that? But that was a chance to really collaborate with the artist and get their vision across, but then also I had to collaborate with the more practical people, the vinyl makers and figure out how I could create his vision and make it sense to them as the go between. So it was a lot.
I mean, I met a lot of incredible people. Just an invaluable experience. It pops back up every time I'm trying to do something. Earlier when I talked about flipping those switches, that was the first place where I really had to flip switches. I might animate, but I might be doing social stuff, but I might be making a visitor's brochure.
Maurice Cherry:
Sounds like you really spread your wings there creatively. You got to do a lot of different things.
Jordan Taylor:
Yeah, because of the nature of the space as a contemporary art space, it was very open to new ways of doing things or new approaches. They had their shareholders or their investors that you had to run things by in the final round. But all in all, it was very, like you said, a great experience to spread my wings and figure things out on the fly.
Maurice Cherry:
Now, you're currently in New York. Of course, that's for work for Pentagram. But I'm curious when you think of your time here as a designer in Atlanta, what was the design community and scene for you? How would you describe it maybe to someone outside of Atlanta?
Jordan Taylor:
I would say the design scene here… Or in Atlanta. I'm not there anymore. It's a lot broader than you think it is. There's a lot of incredible people just kind of like… You got to get in there, but once you get in there, there's a lot of amazing people out there doing their thing, making their way. What makes it different from what I've encountered so far up here in New York, New York is very much a design city. It's like, "Oh, the subway system and this and that."
But in Atlanta, what I really liked about the community out there is everyone was very much so making a way for themselves and finding their pocket or their niche and figuring things out. And the community comes together for different things like AIGA events and stuff. I would say the a G is a good way to find out what people are doing and find your group or what you're most interested in. But everyone out there was being really resourceful or everyone out there had found their groove. They knew how to work it through all the ups and downs. One of my mentors, his name was Joe Price.
Maurice Cherry:
Oh, I know Joe.
Jordan Taylor:
You know Joe?
Maurice Cherry:
Yeah.
Jordan Taylor:
Great. He was freelance, but he had been freelancing for so long when I met him. He just was constantly like… He's so good at rolling with the punches. Even during the pandemic, he just knew how to figure things out. But at the same time, because it's such a more kind of non-mainstream thing to be a designer, I guess, he's so quirky. I don't think he thinks he is. Joe has pet squirrels in his workspace. It's a little nook in his backyard. Just full of different design ephemera just all over the place. Just stacks of books on books, on books. It's really incredible. I think it's pretty great, but you got to get in there.
Maurice Cherry:
Yeah.
Jordan Taylor:
You're not just going to get swept up in it, you got to get into it.
Maurice Cherry:
Yeah. Joe gave me the coolest piece of, I guess, design swag or ephemera that I've ever gotten from anyone. But I mean, I've been to conferences and I've talked to people all around the world. This was years and years ago. No one else has ever given me anything this cool. You're going to laugh at this. It's a beverage koozie like you put on cans.
Jordan Taylor:
Yeah. But it's a paper bag. You see folks on the corner get a 40 or whatever and they're drinking it right out the paper bag, it's a paper bag koozie. And it's actually a bag like you put the can like a regular 12-ounce can. You put it in the bag, and it's got his logo on it. It is the coolest thing I have ever gotten from any designer anywhere. And I've gotten posters, books, figurines.
And the thing is, I can't find it anywhere. I don't know where Joe got those from. I don't know where he got those printed, the website of the bottom of it no longer exists, but I still have it. It's in my silverware drawer, in my kitchen. It is the one coolest piece of design thing I ever got. It's just a paper bag koozie. It's paper bag on the outside, but it's insulated on the inside. You just put a drink in it and then you feel like you're drinking out of a paper bag. It's the coolest thing.
No, that sounds amazing. I never heard that. I'm going to have to ask him about it because that sounds incredible. It's all crinkled and you put a paper bag and it's like… All that.
Maurice Cherry:
And from a distance, someone will think you're just drinking out a small paper bag or something, but no, it's a beverage koozie. It's so cool. It's so cool. Did you feel like there were any sort of particular challenges that you had to face here as a designer that you might not be facing in New York?
Jordan Taylor:
I think the main one is just that… Like I said, it's not a super… It's just not as popular of a career path, I guess in Atlanta. So when it came time for me to find a career path or find a job or a gig, it was a little difficult. I found myself ending up at the same spots whenever I would try and find different avenues. The amount of times that I applied to Turner Broadcasting, it would shock and appall you. I applied to play so many times throughout college.
After college, I was constantly Adult Swim, Cartoon Network, TNT, blah, blah, blah. It was so many times. And then as I got more into the design community, I found out more about different places that were available or even design shops like Matchstick and so forth. But I just think that there just aren't as many options as there might be up in New York.
But like I said, when you meet more people in the community, everyone has figured out their way and found their kind of niche and how to move and the space. But for me starting out, it was a little… There wasn't as much of a depth of options as I thought they were going to be.
Maurice Cherry:
Did you ever get an interview with Turner?
Jordan Taylor:
No. I never got past the video interview part. I did the submitted questionnaire and then one time I got to do a video interview, but never actually got to go there in person and sit down with anybody.
Maurice Cherry:
You've got a line in your bio that says your approach to design is similar to one of your patented long walks around town. What does that mean?
Jordan Taylor:
Okay. It's not like long walks on the beach type of thing. It's actually a connection.
Maurice Cherry:
Okay. Yeah, unpack that for me.
Jordan Taylor:
Like I said, when I moved back to Atlanta after Fort Valley and I decided to become a designer, I would have to go into the city. So for five years I was going into the city every day from my house in Lithonia. So I was taking public transit. I was taking MARTA every day. I would get on the bus. This might be too granular for your wide audience, but I would go to Indian Creek and then I would take the train into the city. And then I would either have to walk or take another bus wherever else I was going.
So doing that constantly is what I mean by those patented long walks. And what I mean when I say that my design is similar to those is that if you spend enough time on the ground, just walking everywhere, you're going to see some interesting things. You're going to appreciate more of what's going on around you because you're transitioning from a more forest area because there's so many trees in the Atlanta area to like you go through the urban areas and you're passing by restaurants, you're passing by clubs, you're passing by all these different things.
You see a lot of weird stuff. You see a lot of interesting things. You might see some not so great things. But it all leaves an impact. I think that's what I mean when I say it's my patented long walks on the beach. So things might get a little weird. I might try and take some interesting left turns here or there, but it's all for the sake of giving that impact.
I want you to feel like you're actually a part of the journey. I want you to feel like a story is being told to you. I want you to feel like there's a lot of meaning and purpose behind what's going on here. Because I wouldn't be here right now if I didn't have that sense of purpose to get up, leave my house and go do all these different things every day.
When I was going to find my different internships, I walked there. When I was going to school at The Creative Circus, I walked there. And by walking, I mean it included public transit, but my feet were on the ground. I was like-
Maurice Cherry:
I hear you.
Jordan Taylor:
… back and forth. It's weird. It's fun. It's got a lot of purpose behind it. I feel like that's how I design.
Maurice Cherry:
As you started saying that, for some reason that just reminded me of the first verse of Elevators from Outkast where you're talking about taking MARTA through the hood, trying to find the hookup caught the 86 Lithonia headed to Decatur.
Jordan Taylor:
I rode to 86. That was my bus.
Maurice Cherry:
My bus was the 13 because I went to Morehouse and I was living in the west… Oh, well, I wasn't living in the west end when I was at Morehouse, unless it was on campus. But I used to live in Buckhead in the Darlington before the Darlington got run down and now it's like multimillion dollar condos or whatever. It used to be the 23, now it's the 110. But I take the 23 to Art Center. I take Art Center to Five Points. I take the 13 from there. And it puts you off at the strip of Fair Street and Brawley, James P Brawley, which is the Clark Atlanta strip. That was class every day. I remember it finally. I have not ridden the 13 in years, but I remember that very fondly.
Jordan Taylor:
Yeah. I feel same way. Whenever I go back home and I see that bus when I go visit my mom or whatever, it's a very funny feeling. Just like, oh, that used to be my life. I spent plenty of days running that thing down.
Maurice Cherry:
Oh, me too. Running down to 13. People that are not in Atlanta don't know this, but the buses are terrible. There's only a few that are fairly reliable. The 13 is pretty reliable. The 23, which is now the 110. The six to Emory is pretty reliable. I would imagine the 86 is probably pretty reliable too, but a lot of in-town buses, good luck. If you miss it, you're waiting 30, 40 minutes for the next bus. It's ridiculous.
Jordan Taylor:
No, absolutely. I mean, the 86, it came, but I wouldn't say it's super reliable because I would have to show up 10 minutes early or I'm going to be an hour late because like you said, it might show up on time. It might show up 10 minutes early. It might show up 10 minutes late. But either way, if you miss it, you're waiting another 40 minutes until the next one. No, definitely.
Maurice Cherry:
I remember taking the 23 and sometimes what happened is… I don't know if this happened on the 86, but the driver would get out and go into McDonald's and get something to eat. Just leave the bus, people on the bus waiting to get where they got to go, but they got to get a McGriddle. They got to get their food and come… You better not be mad about it either because they'll put you out.
Jordan Taylor:
No, thanks. But my bus driver would always… Well, it didn't happen all the time, but he stopped. I had a few bus drivers stop and get out and walk and go get some chicken wings and they come back. They would walk to the gas station.
Maurice Cherry:
Yep. Oh, man. That's a very particular just Atlanta transit thing that, that's funny. I think about that and I just get a warm feeling like nostalgia.
Jordan Taylor:
But like I said, it's ridiculous. It just is Atlanta. It just is that journey.
Maurice Cherry:
Yeah. What's the best advice you've ever been given about design?
Jordan Taylor:
I would say for where I'm at right now, the best advice I was given was not too long ago. I was talking to Eddie Opara, just trying to take advantage of the situation I'm in. I'm like, "Okay, I've got to meet this man." I was like, "Okay." We just had a conversation. I told him where I was at like where I was talking about earlier, how I feel like I'm just in this space where I'm trying to figure out what's next. What do I want to keep doing? Or how do I keep moving forward? What he told me was that what you got to do as a designer is kind of figure out what your voice.
You spend all this time learning the building blocks, learning the technical things like, "Oh, how do I use After Effects? How do I use InDesign?" And all this kind of stuff. But sometimes you can get lost in that and not realize that you have a way of expressing yourself. You have a voice. I feel like I do those things, but I don't have my own world that I built out a vision for how people just immediately are like, "Oh, Jordan made this. This speaks to his sensibilities." I'm very much more so in the production stage of where I'm at right now.
So I think that was something that, "Oh, was really helpful to me." He was talking about how you have to pick what means the most to you. Is it about paying it forward in which case maybe you do a lot more kind of teaching or instructing? Or is it about expressing the essence of what we do. In that case, you might do a lot more forums and TED talk type things.
But it was really helpful just figuring out what means the most to you and how do you make that known to people? What is your identity as a designer?
Maurice Cherry:
That's really good advice.
Jordan Taylor:
Yeah.
Maurice Cherry:
Next time you talk to Eddie, tell him I said what's up.
Jordan Taylor:
Okay. Yeah. I should see him soon, so I'll tell him.
Maurice Cherry:
Yeah. What is it that keeps you motivated and inspired these days?
Jordan Taylor:
I think what keeps me the most motivated is just… I know there's so much more coming. There are a myriad of things that have gotten me to this point like the music I love, the artwork I love. I'm constantly making mood boards on Are.na or Pinterest of things that I think other people are doing and that are cool and they push me forward. But I think the things that keeps me the most hopeful for what's coming in the future is that I know I have a place and I know that I'm in control of it ultimately. I just have to keep going forward and seeing what's next, looking for those new opportunities.
Maurice Cherry:
What more do you want to see from the design community? I feel like you are at this very unique place as not only just a young designer, but also a young designer at a place that has such a storied reputation, I would say. What do you want to see more of from the design community?
Jordan Taylor:
I want to see more of Black people. I want to see more of me, more of us. I just want to see more of it. I think that we're such a creative people. Our influence is so ridiculous. I think that when you think about that in the grand scope, the statistics around how many people of color are like, or how many Black people are designing is so disproportionately low when I'm thinking about the kind of impact we have on the sway of things in the American culture.
I think that also something that I want to see more of is just based on my background and I guess a little bit of just being around my mom all the time. I want to see more people designing at earlier ages. I want that kind of stuff introduced to kids earlier and earlier. I think with the onset of the internet and TikTok and all those kind of things, I think it's becoming a little more standardized at earlier ages and younger and younger kids are getting into it.
But I did a talk for my mom's elementary school a few months ago, just introducing them to what design is and the amount of feedback I got from not only the kids, but the teachers that didn't know that it was an option and were just so blown away about the possibility of what design is and what it can do. I think that just needs to continue happening.
Maurice Cherry:
Where do you see yourself in the next five years? What kind of work do you want to be doing?
Jordan Taylor:
In the next five years, I want to be doing more work that speaks to who I am. I wanted to speak to my interests. I wanted to impact the people that I care about the most. I wanted to continue to be as proud of my work as I am right now. I feel like I'm really proud of what I do, but it also isn't a hundred percent mine. So I think that's where I see myself in five years. Just really taking more ownership of my designs and applying them to what means most to me.
Maurice Cherry:
Well, just to wrap things up here, where can our audience find out more information about you and about your work and everything online?
Jordan Taylor:
You can find me on Instagram, @jiggyjordan. It's J-I-G-G-Y-J-O-R-D. I have a website. It's a keywordjord. K-E-Y-W-O-R-D-J-O-R-D. Other than that… I mean, I have an Are.na page. I enjoy that a lot. I've been really getting into that. Do you use Are.na at all?
Maurice Cherry:
This was back in 2019, 2020, I worked with a designer, this really cool student named Perjohn. We used to work at Glitch together. He kind of turned me on to Are.na at first, because he was using it kind of as a sketchbook of sorts. I've never used it outside of that though. What is it like?
Jordan Taylor:
So to me it's a cooler Pinterest. I find a lot of design inspiration on there visually, but I see all kind of people doing different things on here. I've seen entire mood boards that are just full of random ideas. I've seen tons of people making video references, motion references, entire mood boards that are just free type faces. I mean, I enjoy it a lot. It's a little grungy and underground, but that speaks to the stuff I like.
Maurice Cherry:
I'll have to check it out. What's your name on Are.na?
Jordan Taylor:
It's just Jordan Taylor. I think that's the best way to find me on here. That's the other thing. It's a little hard to discover people on this thing, but I'll message you. And if anybody else has any trouble finding me, they can let me know, I guess, on Instagram or something.
Maurice Cherry:
All right. Sounds good. Jordan Taylor, I want to thank you so so much for coming on the show. I really wanted to have a young Atlanta designer on the show. I know you're not in Atlanta anymore, but I think just your story of quiet perseverance and drive from growing up to going to school and even pursuing these internships, I think that's something that a lot of people out here need to see, because I think we see enough of the alternative, which is I went to this fancy art school and now I went to this fancy agency or whatever.
I think people see enough of the alternative and don't see the folks out here that they're quietly grinding. And I get the sense that you've really been quietly grinding, building your portfolio, improving your skills. And that's gotten to where you are now at Pentagram of all places.
I can't wait to see what you do in five years, man. I'm really going to be keeping an eye out for you. So thank you so much for coming on the show. I appreciate it.
Jordan Taylor:
Oh yeah. Thank you so much. I mean, this has been incredible. I appreciate it.
Sponsored by Hover
Building your online brand has never been more important and that begins with your domain name. Show the online community who you are and what you're passionate about with Hover. With over 400+ domain name extensions to choose from, including all the classics and fun niche extensions, Hover is the only domain provider we use and trust.
Ready to get your own domain name? Go to hover.com/revisionpath and get 10% off your first purchase.