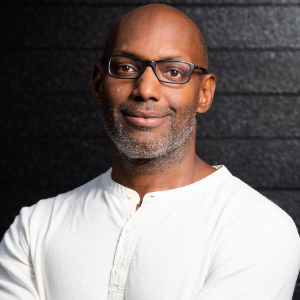 It takes a lot of drive and determination to chart your own course, and no one embodies those qualities better than this week's guest. As the creative director (and founder) of Curve Theory, Reggie Tidwell has provided beautiful and effective design, branding, photography, and videography work to clients for over 20 years.
We talked about the secret to Reggie's longevity as a creative entrepreneur, and he shared his story about growing up in St. Louis, studying graphic design, and his early post-grad career as a Flash designer in the beginning days of the World Wide Web. Reggie also spoke about what brought him to North Carolina, and about his work in bringing an AIGA chapter to Asheville. Reggie is a prime example of what being a steward of design and giving back to your community looks like!
Transcript
Full Transcript
Maurice Cherry:
All right, so tell us who you are and what you do.
Reggie Tidwell:
Hey, I'm Reggie Tidwell and I am a graphic designer and a professional photographer as well as a videographer, which I do on occasion as well. I tell stories.
Maurice Cherry:
How's the year been going for you so far?
Reggie Tidwell:
Wow, it has been a great year. Bought a house.
Maurice Cherry:
Congratulations.
Reggie Tidwell:
Thank you. I also have had my best financial career last year. Everything has culminated to that, and this year seems to be on track to even beat that, so that's super exciting.
Maurice Cherry:
Oh, that's real good. That's real good. I mean, even with all of that, is there anything in particular that you want to try to accomplish before the year ends?
Reggie Tidwell:
Yeah, I mean, once you own a house, there's always house stuff that you want to accomplish, but professionally, man, things have just been falling into place and sort of a beautiful way that I feel just very excited. I'm going to be doing all of the photography for… So I'm a huge fan of the outdoors and nature landscape photography. I do a lot of that for Explore Asheville, which is our big tourism division here in Asheville, and the Gray Smoking Mountain Association has reached out and they're going to have me do all the photography for their new book on Cade's Cove, which is a really beautiful spot in the Smokies. So if you've ever been to Great Smokey Mountain National Park, it's our biggest and most visited national park in the country and it's absolutely gorgeous. But I'm super excited. I'm going to be doing all the photos for the book, so I'll get a book cred.
Maurice Cherry:
Oh, nice. Congratulations on that.
Reggie Tidwell:
Thank you, sir.
Maurice Cherry:
Let's talk about your company Curve Theory. Now, Curve Theory has been around for over 20 years, which I definitely have to tip my hat to you. I ran a studio for nine years and I know how much goes into that. So 20, over 20 years, I think. What, 21 now, right?
Reggie Tidwell:
21 years. 21. I'm in my 21st year. Yeah.
Maurice Cherry:
Yeah. What's been the key to your longevity?
Reggie Tidwell:
Quite honestly, it's building relationships. I've never advertised. It really is a combination of building relationships and being passionate about the work that I do. I love designing photography, I love being a creative, I love people. And so it just makes sense that I would be able to maintain this business because it's all the things that I love and things that I would be doing anyway. I'm always building relationships. I always tell people, and I always think it's a funny little bit of a factoid about me. I don't typically just add people on Facebook that I don't know, and I've got 3000 plus connections on Facebook and every single one of them is someone that I know. I had either a meaningful conversation with and align somewhere, or they're friends in real life or I served on the board with them, or whatever the case may be. They're all real connections and when you think about that, that's a lot of… Exponentially the more people, the sort of more you can grow your network. This business for me is really about being present and available.
Maurice Cherry:
That's really good for Facebook. I think Facebook and probably a lot of social media networks now have really enabled this way to just collect friends, almost like you're, I don't know, collecting trading cards or something like that without really having any intentionality behind it. The way that you're about connections on Facebook. That's how I am on LinkedIn. I'm really, unless I've worked with you or I know you personally or something like that, we met at a conference or something, we've had a conversation. That's usually the only way that I'll add people. Although now, lately I have gotten a little lax and well, partly because I let them stack up. So I'll go months without adding anyone on LinkedIn and all of a sudden I've got a hundred connections. I'm like, "Oh, I should probably go through these and see who I know." And I tell people, write a note to let me know how we know each other. And I mean some of them are just sales calls and what have you, but…
Reggie Tidwell:
So many of those.
Maurice Cherry:
But in terms of the power of the network, I got laid off recently and I posted I think two posts on LinkedIn about it and I was flabbergasted by how my network showed up and spread the word and put me in connection with other people. And I've had some great conversations and such, so…
Reggie Tidwell:
That's amazing.
Maurice Cherry:
Yeah, there's this author Porter Gale who says your network is your net worth. I totally believe that. Absolutely.
Reggie Tidwell:
Totally. Yeah. I get so much business from those connections on Facebook. I mean, quite honestly, it's just doing stuff, especially from the photography side of my business. I'll post a photo and I'm constantly posting photos and I do also on LinkedIn. Ultimately what ends up happening is because you're constantly putting content out when someone thinks a photography and someone says, "Hey, do you know a great photographer?" You should be in someone's very short list of their mental Rolodex. And that's what happened. I get calls all the time. Hey, so and so… I mentioned on Facebook that I was looking for a drone photographer or a lifestyle photographer, a commercial photographer, whatever, and they mention you.
Maurice Cherry:
Yeah. What's a typical day look like for you?
Reggie Tidwell:
So for me, it's nice being a designer and a photographer because on any given day, I never know it could bring me being out in a field on a photo shoot, it could bring me in a brand strategy session with a client, or a discovery session with a new branding client, whatever it is. It's nice because my days aren't always the same. I get to travel, I get to, for instance tomorrow I'm going to be in another area of North Carolina for a commercial shoot for pretty much much of the day, starting at Golden Color. And it's nice. And then Friday I'm in the studio all day, probably editing photos from that shoot and rounding out a logo for another client.
Maurice Cherry:
So you include your photography as part of your design service, so I guess company services, I should say?
Reggie Tidwell:
Kind of. Occasionally the two will intertwine, usually the two intertwine when I'm doing web designing. So if I'm designing a website for a client, a lot of times because I know exactly what kind of images the client needs, I can add it as part of my service to do a lifestyle shoot of their company or their clientele, and then that can get baked into their website. And I'm working with my own images. I can control a lot more effort that way. But yeah, it happens. It doesn't happen as much because I don't do as much web design as I used to. I'm probably doing about two or three sites a year where I used to do quite a bit.
Maurice Cherry:
Yeah. Back when I had my studio, I wound things down from the design end, I'd say roughly around in the mid 2010s because there was certainly a market for bespoke web design. They want, people wanted a particular website theme or something like that. But now with all these website builders out here, people are taking the design element, or at least the modular parts or the design process into their own hands. And it's like, yeah, I don't really need bespoke anymore. And so I ended up doing more consulting because you were able to shift like that. So it's interesting now because I'm looking for work at the moment and people are like, "Oh, okay, you redesign a website?" I'm like, Ah. I mean I haven't done it in a long time maybe.
Reggie Tidwell:
Right.
Maurice Cherry:
I mean, I'm probably not your first choice for that, but I get what you mean. People, they hear design and of course if you have an online presence and a website, that's the first thing they think about is, "Oh, can you design a website or can you redesign a website?"
Reggie Tidwell:
I think depending on the client, I do still see value in bespoke. I feel like ultimately I'll end up doing a completely custom website where I'll get to work with a developer and I'll design the front end and we can work beautifully and make something really amazing. But that doesn't happen as often as I would like. But I do find the builders have actually worked for me because especially if you know them, there's Divi and Elementor, there's a handful of other ones I've been using Divi for a while, and though it can be a little bit verbose in it's code, I find that the flexibility of me being able to do something completely custom using mostly you doing custom CSS to some of their built in modules.
So I can build the content and lay out the content really quickly, then go in with CSS and really start to fine tune and make it exactly what I want it to be. That's a nice, because I do work with very large clients and also small clients, that's a really nice option for clients that don't have six to 10 grand in their pocket to do a website. It's just nice to have that as an option and for them to still get something that's custom.
Maurice Cherry:
Speaking of which, what are the best types of clients for you to work with?
Reggie Tidwell:
Quite honestly, I've got a soft spot for the mom and pop shops, either they're startups or they've been around for a while and it's time to change things up. I love that transition of being able to help them renew their own passion in their business through that process. I'm working on the branding right now for an auction house that's been around for decades. They've been on Antique Roadshow, so they've got a presence, but their brand look is a bit dated and they've started resting on their laurels a little bit because everything is just so tried and true. It is what it is. It's been what it's been. And they realize this time to shake things up a little bit. They want to expand their market a little bit, they want to… And so going through that process with them, it's so rewarding because they've been living with the same logo for 20 years, or longer.
And to be able to see them embrace something that's different, and it's a fun process too with this particular client because they were like, "Yeah, we want some completely modern and avant garde." And I went there, they were like, "Oh no. We love it, but we're not ready yet." And so, okay, that's good. At least I know what your comfort level is. And so now I can dial it back and land exactly where we need to be. And then feeling them working through the resistance but then initially, not only acceptance, but oh my God, this is amazing. This is going to be really great for our company. We're excited. That's a great feeling.
Maurice Cherry:
So when a project, let's say, comes in your inbox or something like that, what does your process look like when it comes to starting on new work?
Reggie Tidwell:
So I usually have a quick little meeting with the client just qualify whether or not we're going to work well together and whether I'm the guy for the job. But then once that decision is made, I set up a discovery session where we really actually start to dig deep into the typical discovery questionnaire where you learn a little bit more about their business, their aspirations, what's working, what's not working, so I can better provide exactly what they're looking for. I feel like, for me anyway, I feel like the key to being a good designer that makes happy clients and solves the right problems or solves problems in the right way is asking the right questions at the very beginning. So I'm all about being inquisitive. I want to know everything. And if you feel like it's too much, it's not.
Because at the end of the day when I'm digging into sketching out logo concepts or I'm coming up with a tagline or whatever that information that I'm going to be so thankful that I have it because I can go through and dig in for inspiration to recheck the direction that I'm going to make sure I'm headed in the right way. But yeah, it's all about the Q and A, at the beginning.
Maurice Cherry:
So I see here on your website that you do a lot of volunteer work. You worked also with Leaf Community Arts. Can you talk to me a little bit about that?
Reggie Tidwell:
Yeah, yeah. Absolutely. So, Leaf Community Arts for me was a big part of, I did service work before that, but it probably to date was probably one of the biggest chapters in my life in terms of giving back. Leaf Community Arts is a nonprofit here in the Asheville area that they have teaching artists that go into the public school system and the neighborhood centers and basically recreation centers and they work with youth, teaching them poetry, dance, how to play the Djembe, how to do different types of art, visual art. It's pretty amazing. And it gives kids this sense of ownership of something which I think is quite necessary, especially for the age range of students that they work with. But then they also have this other part that I was actually more aligned with was they do cultural preservation in First Nations, third world countries like [inaudible 00:16:38], and Uganda, and Rwanda, and Cuba, all these different places where there are cultures that have been around for ages and First Nations tribes that as the youth are becoming more westernized and the elders are dying off, these cultures are just vanishing.
There's no evidence of their songs, or instrument making, or costumes, or any of it. And so what Leaf Community Arts did what they were partnering with an agency on the ground that was trying to do that cultural preservation and help raise money to do things like build recording studios, or hire artisans that know the native language to native songs, the instrument making, the dances. And they actually make it really cool for the youth where they're putting their phones down, and totally engaging, and dancing, and singing. And I found that particularly interesting. I love the beauty of cultures, and how different cultures are, and how you can learn something completely and different from a culture that you never had experienced before.
Maurice Cherry:
And now are you still doing work with them? I know that now you're also the new president of AIGA Asheville, the founding president, but have you waned your work with Leaf Community Arts?
Reggie Tidwell:
I have still a supporter of it. I worked all the way up to my presidency in 2017 and then my term ended. So I'm now board president emeritus. I'm still, the Leaf Community Arts people are family, they actually put on a huge music festival three times a year. I've met Arrested Development, Speech. Now we know each other by name. I've met, gosh, we've had Angelique Kidjo, and Mavis Staples, and Indigo Girls, and all these amazing bands that have come played. The Family Stone. But they put on this music festival in the spring and in the fall and this really beautiful place out in Black Mountain called, Black Mountain, North Carolina, called Lake Eden. And then they do one in downtown Asheville in the summer. And that basically raises money for all of the work that I mentioned before that they do with cultures and with the youth.
Maurice Cherry:
Oh, nice. Nice. And we'll talk more about your AIGA Asheville work a little bit later on in the interview. With everything that you do through Curve Theory, what gets you truly excited about your work?
Reggie Tidwell:
Man, I love to solve problems. Quite honestly. I love working with clients and trying to find out exactly what's not working with them and helping come up with solutions that one, inspire and excite them. But then also they continue to propel me forward in my love of the work that I'm doing.
Maurice Cherry:
Now let's dive a little bit into your personal story. You talk about this I think a bit on your website, but you grew up in St. Louis. Is that right?
Reggie Tidwell:
Born and raised?
Maurice Cherry:
Yeah. Tell me about that.
Reggie Tidwell:
So I grew up in St. Louis, Missouri. I was raised mostly by my grandmother, an amazing dad too, that was also in the picture. But most of my time was spent with my grandmother, who was an educator. She taught for 36 years and she was a huge supporter of education. And so in the summers where all my friends were out playing and running around, I had to do homework before I could go out and join them.
And of course I hated it then, but on some level I understood the importance of it and it would come into play in many periods throughout my life, just being someone that is studious. I ended up testing the highest in the seventh grade in language and math in the entire school that I was in seventh.
Maurice Cherry:
Wow.
Reggie Tidwell:
In seventh grade. Which that said a lot about my grandmother's dedication and how she worked it with me, but it wasn't with a heavy hand. She just understood that she wanted me… I grew up in a very, I would say mean, just put it bluntly. It was a poor neighborhood, lot of gang violence, a lot of break-ins and theft. And I saw some pretty horrific things in my own neighborhood, just in my own alley. It wasn't a place that I wanted to definitely grow up and grow old.
And so education for me was the key of being able to get to a more ideal situation. So I wouldn't say I was a first generation college student. My mother had a degree music, actually two. She had wanted music and art, possibly three maybe in education. But my grandmother, of course was educated. And so it set me on my path to discover who I really wanted to be in the world. I think you had mentioned very briefly what was it that made me choose this path of design? But all that didn't come quite easily.
I ended up pretty much blowing away my first couple years in St. Louis at a junior college called Florissant Valley. I think I had a 1.9 GPA because I wasn't inspired. I picked business administration because I knew I wanted to be an entrepreneur. But you're asking a 18 year old, 17 year old, 18 year old kid to decide what they want to do for the rest of their life. And yeah, of course I want to run a business. Oh yeah, business administration, that's what you should do. But that's such a broad topic. I wasn't inspired.
I actually went from that student, at one point I was the student in the back of the class nodding off, not very inspired. The teacher would call on me and not only did I not know the answer to the question, I wouldn't even know what the question was because I was probably asleep. So I ended up taking a break after four semesters of that, I said I got to do better. This isn't going the way I wanted to go. So I ended up taking a semester off and really doing some deep diving and soul searching. I talked to my counselor at the school. I really thought long and heavy about what I liked and the things that I knew I liked were being creative. I was always drawing from the time I could hold a pencil, I was sketching and doodling. And so I always loved art. My mom was an artist, is an artist. And so that was an inspiration.
And so I went back to school. I decided at the time that I wanted to be an interior designer or a architect. And the path to both of those were mechanical drawing and a lot of drafting. And so that was all I needed to be inspired. I went from that student that I mentioned before to the student making the top score on every test in every class until I graduated. I went from a 1.9 GPA to a 3.2 GPA, graduated with honors and got my general transfer studies to go on to a four year college.
Maurice Cherry:
I know there's that saying that goes, sometimes you have to do things that you don't necessarily want to do to try to get to do the things that you do want to do. But I think also to that end, just from what you're mentioning, that whole period of high school going into college, there's so much pressure to try to decide exactly what it is you're going to do. And I mean we also, I think have to put this in the context of just where the world was at this time. Because I'm guessing this is around early nineties. Early nineties.
And there was just this push, and I was mean I was in elementary school then, but I mean still there was this push to know exactly what it is that you're going to do with your life at fairly early age. Look at the state of the world with what's going on, what is it that you want to do? And for a lot of people it's tough. I mean, even when I started out in college, I ended up switching majors because I thought I wanted to do one thing just based on societal norms and such. And then I was like, eh, I don't really like it.
Reggie Tidwell:
I know. That's a big part of it. I mean, thinking about it nowadays students take what they call a gap year. I am a firm supporter of that because I do feel like somebody that young needs to go out into the world a little bit and understand who they are. I mean, up to that point, they've just been a student studying all the basic electives. There's nothing in that that would potentially produce career inspirations. Maybe you like math and maybe you like biology, but that doesn't necessarily mean you want to be a mathematician, or a scientist, or a biologist.
Maurice Cherry:
Right.
Reggie Tidwell:
So yeah, I feel like that would've served me well. But thankfully I was able to make that comeback and find that inspiration.
Maurice Cherry:
You ended up going to Maryville, University of St. Louis and there you studied graphic design. Talk to me about that time.
Reggie Tidwell:
So yeah, actually Maurice, I started, remember I said I was interested in just interior design or architecture. That's what got me to Maryville because they actually had a nice interior design program. And I got there in those first two years I thrived. I was still inspired and I was still being a great student and loving the experience. But at one point I got, so the way Maryville's program was set up at the time was you did all your art electives and got all those out of the way, and your art electives as well. You got those out of the way the first two years and then you dove into your concentration.
Right as I was about to make that transition, I talked to my counselor, Nancy Rice, at the time and I was like, I don't know if I want to do interior design. I like the sketching part, I like the conceptualizing, but then it's all floor plans and elevations and it gets super technical and that's the part that's where I get lost. And this particular teacher who, it is funny because I'll tell you this in a second. She basically told me, Reggie, you're great at computers. You love computers. I've been working on computers since I was 15. My grandmother bought me a Commodore 64 and I was programming in basic, I was playing games. I became very comfortable in that computer world. The nerd, the invention of the nerd. I took that as a compliment. She's like, yeah, you're big in the computers. And then she said, and you also love art, so you should consider graphic design.
And for me that was a new term. I hadn't thought about it. And once I did the exploration and thought about it and understood what graphic design was and understood that I'd already seen it all around me all the time already and thought about how I could be someone contributing to that. Yeah, I was like, you're exactly right. This is exactly what I want to do. And that's where it started. I feel, I feel really fortunate that I'm someone who got a degree in something that I'm actually still doing.
I guess it was a few years ago, I reached out to her because we're friends on Facebook. I thanked her. I didn't remember if I'd ever thanked her, but my whole career came from that decisive moment where she told me about something I didn't know about. And then I ran with it.
Maurice Cherry:
And I'm trying to think, I'm trying to place this in time because we talked earlier about early nineties. So this is mid nineties or so.
Reggie Tidwell:
So this is mid nineties. Yep. Mid nineties. Actually…
Maurice Cherry:
Yeah. When you said…
Reggie Tidwell:
…ended up graduating with my BFA in graphic design and December of '97.
Maurice Cherry:
Okay. Tell me what it was studying design back then, because you also have the big advent of the personal computer. You've got the coming of the internet as we know it. What was it studying design during that time?
Reggie Tidwell:
Man, it was wild. I mean, first and foremost, we're working on Apple Performs 4500s I think was the model number.
Maurice Cherry:
Wow.
Reggie Tidwell:
And I mean these things were tanks and dinosaurs. You could have Photoshop open, only, or Illustrator, but not both. And if, we're talking 32 megabytes of RAM and I mean lots of crashes, so you had to frequently save your work. We definitely did some cut and paste stuff because that was just not too far out of the rear view mirror that people were still making the migration to computer. So there was still a lot of manual cut and copy and paste, cut and paste design, lot of assemblage, a lot of that stuff was still going on. So of course it was part of our curriculum.
And I'll tap into my photography side as well. I always find it a little bit of a, for me, I paid my dues. It was a rite of passage that I actually got to do photography. I got to take photos using film and understand the value of the frame and not just take in 450 shots and hoping there's a good one in there. And then actually developing my film in the dark room, all that stuff was happening around the same time, which all feels of course very archaic now. But that was the start. That was what it was like back then.
Maurice Cherry:
I mean it sounds like it was just really hands on because the computer couldn't do everything. I mean, it could do some things, but you still, like you said, have to do copy and paste, or cut and paste, or you still have to take photos and develop them yourself. It's so wild now when I think about digital cameras, because I remember in high school having Fun Saver cameras. You go to the party, you have your Fun Saver camera, you take all kind of shots, you don't know what you're going to get back until you get it back from Eckerd or wherever that you got them developed at. But yeah, and I took a photography course back then too, so I know about developing in the dark room and stuff, which now seems… It's funny. I'll watch a movie or something and they always paint it as this, I don't know, old school way of doing things. Developing. And it's not that far away from now.
Reggie Tidwell:
No. No. And honestly it's become of a niche for some people. I know a lot of people that actually I say a lot, but a handful of people that are still shooting film and still developing in that handful of dark rooms that are left. And it's something, I think maybe they embrace it, not because they're too stubborn to switch to digital, but it's a craft for them. Some of them are people that have embraced digital, but they also still really love film. I admire that. I think it's great. I don't miss it. I don't miss the smelling the smell of fixer and then and not knowing what you're going to get until you are dropping it into the developer and hoping that you nailed it.
Maurice Cherry:
Yeah, I could imagine even doing design back then because computers were changing and software was changing and everything. Were there trends back then? I'm just curious because I feel like a lot of stuff still carried over from print, but were there specific graphic design trends that you remember from back then?
Reggie Tidwell:
Yeah, I mean I think there was a time where decorative fonts were really starting to become prevalent. And you started, I mean this was quite honestly, I think this was when fonts like Hobo were actually still being used.
Maurice Cherry:
Oh wow.
Reggie Tidwell:
Oh yeah, yeah. Papyrus. Yeah, I feel like there was a exploration… Fonts just exploded. And with the advent of the computer, fonts started off trickling in and then they exploded. And I think designers had to be really disciplined to not, I feel like most designers were going really far out and using all these crazy decorative fonts and still having their design disciplines about them. So they may only use one decorative font and a nice San Serif that balanced it. But those fonts were not elegant, at all. And it of course, depending on what you were trying to do with it. And I think what has happened, we've seen from a time where people were trying to get away from using the tried and true fonts, the Adobe Garamond, the Futura. People were feeling like those were overused or they were too basic and so they had to expand their typeface horizons. And then I find these days, man, some of the best brands go back to basics and are going back to some of those tried and true fonts and looking for things that are a little more elegant.
Maurice Cherry:
I didn't even think about the proliferation of typefaces as something that was part of design back then, but it was. I mean really because you had, of course, greater displays that were coming out and you could just do more than what you could do with print in terms of the types of typefaces. You just had different things.
Reggie Tidwell:
I think that was it. I think it was so many people were used to doing manual print design and then all of a sudden you've got access to 3000 fonts. Hold me back.
Maurice Cherry:
Yeah.
Reggie Tidwell:
That's exactly what it was.
Maurice Cherry:
So you graduate from Maryville. You're out there in the real world as a designer. What was that early postgrad career like? Talk to me about that.
Reggie Tidwell:
So the first thing I did, so going back to that whole wanting to be an entrepreneur thing, that still was in me. I still definitely wanted to have my own business and I started actually working with clients before I graduated. I worked at Office Depot, so I met a lot of people and there were people coming in that needed business cards, but they were really awful designs that they had or they didn't have one at all. And I said, "Well this is what I do." So I started developing a clientele before I even graduated and then spent the first year postgrad being an entrepreneur, working in the basement of the apartment that I lived at in at the time, it was actually a townhome, doing branding work. And it was mostly just branding and identity systems that I was doing early on. But about a year into that, being someone that's super social, I started to get that cabin fever and wasn't around people as much as I'd like to be.
And so I had a side job working at Circuit City. On one particular day I was venting about, man, I really think I want to work in an agency or a company. And there was a guy by the name of Mike whose dad headed up a division of Lid Industries, which Lid is a Fortune 500 company and they had a division in St. Louis called PRC. The acronym got dissolved, so I don't know what it ever originally meant, but it was in PRC. Anyway, they were hiring a resident graphic designer and at the time, you'll appreciate this, in terms of historical relevance in the design and web design world. They had a Macromedia authorized training facility and I got the interview, got the job. They wanted me to teach Flash and Fireworks.
Maurice Cherry:
Oh wow.
Reggie Tidwell:
So I ended up being the only guy in St. Louis teaching Flash through a Macromedia authorized program. And so that really just kicked off all kinds of just awesome awesomeness in my career.
Maurice Cherry:
Oh, I know you were in high demand back then. Cause Flash was everywhere. Everywhere.
Reggie Tidwell:
Everywhere and everything. And that was right at the onset of its popularity. So I stayed with that company for about a year, ended up, gosh, being in a big metropolitan area, teaching Flash was awesome. So I ended up getting hired away by a information graphics company called Xplain. And I ended up being their interactive team leader. That was pretty exciting. Did that, ended up teaching at Washington University while I was there because the Art and Design faculty at Washington University wanted to learn Flash. I did a summer workshop for the Art and Design faculty. They loved it so much they invited me to create a multimedia class as part of their visual communications curriculum based on Flash and other video and other multimedia applications. And that was amazing. And I ended up partnering with a lot of design agencies in the St. Louis area, fairly large agencies because they didn't have a web team or division.
So that was cool. I ultimately got laid off from Xplain. They went through four rounds of layoffs. I went in the last round and because they still needed the work that I did, they became my first client. So that's how I started Curve Theory in 2000, and or in 2001. It was just one of those things. I was still popular, the work was still necessary, the company was needing to make some pivots. And that was a blessing on my end because I always wanted to have my own business business. And that's how it happened. I started, I launched Curve Theory with them as my first client 21 years ago.
Maurice Cherry:
Nice. I mean, I can't think of a better way to roll into entrepreneurship like that. You were already super highly sought out for your design work in another medium. The company you're working with goes out of business. You start your own business. That's perfect. That's a perfect handoff.
Reggie Tidwell:
Yeah, it was. And they didn't go out of business, thankfully. They did go back to their original, I think they grew to like 45 employees at one point, but they went back to the original 13 and they're still around a day and they're still thriving. But yeah, it's getting kicked out of the nest but then given a nice little mattress to land on.
Maurice Cherry:
Yeah.
Reggie Tidwell:
It was great. And I really love St. Louis, but I definitely knew that at some point I was going to want to leave St. Louis.
Maurice Cherry:
So what brought you to North Carolina?
Reggie Tidwell:
So at the time, the woman that I was dating was also in that same head space that she was ready to leave St. Louis. I was still teaching in Washington University and then actually had just been encouraged by the design chair, the Art and Design faculty chair to apply for this tenure track position that was opening up in the Art and Design department. And so I was at this crossroads where in my heart I knew I really didn't want to stay in St. Louis that much longer. Things… I had envisioned leaving St. Louis almost as soon as I graduated but things kept falling into place career wise, which was great because those things were setting me up. But at one point my partner and I, ex-partner and I, were having these frequent conversations about where we would ever relocate to and at one point I mentioned that a good buddy of mine had in passing talked about moving to North Carolina.
And so I asked her, "What do you know about North Carolina?" And she said, "Oh my god, Asheville. Asheville is absolutely amazing. You would love it. Check it out." And of course, since we had the web then, I looked it up and I mean, I think within 20 minutes I knew it's where I wanted to be. It wasn't landlocked. There's a four hour drive to the ocean. Mountains, waterfalls, streams everywhere. Hiking trails, mountain bike trails, you name it. That's the kind of guy that I was. I mean, thankfully had a father who raised me. In the time I spent with him, we would go camping and hiking. And so early on I garnered a love or appreciation of the outdoors.
Maurice Cherry:
And so you had the job that allowed you to do this work from anywhere. So why not go to a place you really want to go?
Reggie Tidwell:
Absolutely. I actually, I had to finish that first semester at Washington University and then I had the whole spring semester. So this was in 2023. Loved that semester, loved my students. Finished that semester, turned in my grades in May and the following weekend was Memorial Day weekend. I'd literally moved a week after I turned in my grades and never looked back.
Maurice Cherry:
Wow. And you've been there ever since.
Reggie Tidwell:
And been here ever since.
Maurice Cherry:
Yeah. You've been a part of the Asheville design community now for such a long time. You mentioned your community work earlier and you're the founding president of AIGA Asheville, a new chapter. What was behind bringing an AIGA chapter to Asheville?
Reggie Tidwell:
That's a great question, Maurice. So for me, one of the things I did mention that I was on the board for the St. Louis chapter in the mix there. I think I joined the chapter while I was, might have been while I was still at Lid in PRC, but I know I did two or three years on the board as their web chair for the St. Louis chapter. And I really love that community of design, the comradery, the people that you surround yourself with understand your day to day trials and tribulations, they get it. So that was, I really appreciated that as it pertained to the design community in St. Louis. And I got to Asheville and we didn't have that. As a matter of fact, I was trying to find designers just to connect with, just to network with and they just weren't around.
I think I had maybe three or four design friends at the time, but we knew there were more designers in and around the area, there just wasn't anything in place to help bring them out. Out of the woodwork. And so we had a lot of early conversations about, I would reach out to these other designers that I knew in the area and tell them how much I wanted to have a chapter in Asheville, because the closest chapters were in Knoxville and Charlotte. It's a couple hour drive each way in either direction. And so for me, just selfishly, I'm like, God, I want that here. I don't want to drive two hours to have community. It took a while. Originally you had to have 40 sustaining members just to even be considered to have a chapter. And I think given the fact that we were having a hard time finding 20 designers in Asheville at the time, that was a tall order.
So we ended up creating this thing called Design Salon, which ended up being a hang for designers in the area. And the more people gathered, the more the work got spread out, and the more designers you realized were here. The more you understood that there were some really talented people that were in Asheville. And because Asheville is such a draw for people all over the world, somebody that's here now probably wasn't here two weeks ago. That's how's how it works. There was a woman named Jamie Farris who's also a really good friend of mine that took Design Salon and started adding programming to it, and that made it even better. And so the more program she added, the better. The more it had an actual format instead of just being a creative hangout, the more I saw that we were there, it was time.
And so 2019 was when I had a feasibility meeting. I just called a bunch of people that I knew and they invited other people and I said, "Hey, I think it's time to finally start a chapter." I didn't actually know the requirements had changed in my mind. I was still thinking 40 sustaining members. So half the way through, we learned that it was only 20 sustaining members, but we actually turned in our petition to become a chapter with 43 sustaining members, I think.
Maurice Cherry:
Oh nice.
Reggie Tidwell:
Just because we are a little bit of a smaller city and I wanted to show how bad we really wanted to be a chapter.
Maurice Cherry:
Yeah.
Reggie Tidwell:
And from that first meeting I was able to build our first board of really awesome and engaged founding board members. So yeah, we started literally the year before the pandemic and have thrived through the pandemic and we're still kicking it.
Maurice Cherry:
That is amazing. That's amazing to hear that. And now when you say sustaining members, is that members at a particular membership tier? Because I feel like they had that at one… I feel like sustaining was one of the, if not the top, but one of the top tiers you have to have.
Reggie Tidwell:
Yeah, I think Design Leader was the one after that. I think the sustaining member was at the $250 giving level and then it went to Design Leader, which doubled to 500.
Maurice Cherry:
Yeah.
Reggie Tidwell:
And so that is, especially for a professional association, that was a lot to ask, but I was just elated that many people wanted it to and believed in us having a chapter that much that they signed up. We still have a tremendous amount of sustaining members. We probably have more sustaining members than we have in any other giving level. And they have changed the price structure and the names of the giving levels a bit. And so it's, I think easier now than ever to join the AIGA and I feel like that was part of the reason behind just sort making it a little simpler, especially after the pandemic. But yeah, it's quite wonderful to be in a city that now has a chapter. We have great programming. We're putting on our first design weekend, which is a mini design week that's coming up at the end of the month.
Maurice Cherry:
Oh. Very nice.
Reggie Tidwell:
Yeah, first weekend of October, so it's September 30th through October 2nd. Super excited about that. We got David Carson coming to speak at our annual meeting in November. That's going to be pretty cool, Mr. Masterclass himself. So yeah, we're happy to have a chapter and we're happy to be able to have such a positive impact on our design community and that means everything for me.
Maurice Cherry:
When you look back at your career and all your experiences, is this how you imagine yourself when you were a kid in St. Louis?
Reggie Tidwell:
No, not at all. And it's funny because I think being a kid in St. Louis and growing up where I grew up, I feel like my grandmother knew and saw my potential, but I didn't see it because it's hard. I'm surrounded by the things that I was surrounded by. And I think it's hard to see the forest through the trees when you're in that scenario. And for me, I don't think, honestly, I still get surprised. I think at some point in your life, Maurice, when you've accomplished a lot, when you've done a lot, when you've had this longevity of experiences and learning, at some point you start to realize that people see that in you and they see all the experience and all the leadership and the guidance and they start to seek it out.
I get called to be on boards, I turned down probably seven board positions last year. I'm publicly a leader. And so I think it still surprises me sometimes where, and I think it also surprises me that sometimes somebody asks me a question and I think I'm still that 25 year old in school and still on his path figuring things out, and learning, and discovering. But then I start to answer, I hear the question and then my head just gets filled with all of this relevant information that you don't even really think about. You're not just sitting around thinking about all the stuff, but when someone calls and asks for mentoring or it's a colleague you're just shooting a breeze with. You start to realize how much of that stuff is in there and it's quite amazing.
Maurice Cherry:
What gives you purpose to keep doing the work that you do now?
Reggie Tidwell:
I think for me it's those relationships and experiences. I've always said that if I won the lottery and had all the money that I would ever need, I would still be a designer. I would still do design, I would just do mostly nonprofit work, and do it pro bono, and just take a select number of projects a year. I love the work, I'm passionate about the work, and I'm passionate about the people that I get to work with. I'm very particular about the clients. If a client doesn't seem like they're the right fit or I'm not going to have a mutually enjoyable experience, then I'll pass on a project. And I'm pretty thankful to be in a place in my career where I can do that.
Maurice Cherry:
What advice would you give for someone who, they're listening to this interview, they're hearing how you've come up throughout your career. What advice would you give somebody that wants to follow in your footsteps?
Reggie Tidwell:
I would say, and I talk to young people all the time, I actually mentor. And the thing that I feel like is the most important is to really keep exploring who you are and what you like, and don't follow the money. I feel like it's very easy to, I'll talk back to a time in my life when I worked at Office Depot when I was Florissant Valley in Junior College, I was asked to get into the managerial track at Office Depot where at the time I might have made, once becoming a manager, I may have made $35,000 or $30,000, which at the time seemed like a lot of money. And that's a very easy distraction. That's a very easy temptation. And I had a friend at the time who also was a really, really talented artist. He also was wanting to go to design school.
He ended up getting in that track and hated it. It just completely dominated his life. He wasn't fulfilled. The money at some point wasn't even relevant because he never had time to spend any of it because he worked so much. I turned it down because I knew, I think at this point I was already at Maryville University, so I was already in the graphic design program. I knew that that's what I wanted to do. So in order to get to that point, you have to do some self exploration. You have to understand who you are, what it is that you really value and set your sites on being able to do that for a living. And don't waiver.
Maurice Cherry:
Where do you see yourself in the next five years? What sort of work would you like to be doing?
Reggie Tidwell:
Man, I would love to retire in five years. I'm 51. So that's definitely a tall order, but in a perfect world, I might completely crush it for the next five, six years or so and retire early, or at least partially retire. But I do see myself in leadership. I do see myself still trying to bring positive change to communities in whatever way I can. Through social justice, through design leadership, through, I've hinted at the thought of being, it's been mentioned and it's been a internal conversation and conversation I've had with colleagues about the AIGA trajectory, and perhaps maybe serving on a national board at some point. I have friends on the national board. I love the organization and I love what the organization provides to the design community. And I always see its potential is limitless and to be able to serve in that world at a higher level, definitely. But yeah, that's probably something that I would look to within my five year trajectory. And more than anything, I always want to make sure that the work that I'm doing continues to be meaningful.
Maurice Cherry:
I think you should definitely consider it. I mean, I've done work at the volunteer level, at the national level, and it's great. It's been great. I highly think you should do it. And I'm sure other people have probably mentioned this to you as well, but there's a book in your story. There's a hundred percent a book in your story.
Reggie Tidwell:
Yeah, I don't know if anyone's outright said that, but I definitely know there's stuff in there that I always find it intriguing to look back in my past and see where I've been, and where I am, and how I've been inspired, and how I'm now able to inspire. That all is important to me. But yeah, thanks for saying that.
Maurice Cherry:
Yeah, no, there's a hundred percent a book in your story. I mean, one, I think just because of how you have managed yourself through how design and technology have changed, but then also I think your personal story added in as a layer on top of that. And with the work that you're doing now through volunteering and giving back, that's the best seller. You might want to think about it. You might want to think about it. I'm just saying I'm putting it out there.
Reggie Tidwell:
Thanks. You'll get their first copy for sure.
Maurice Cherry:
Well, just to wrap things up here, where can our audience find out more information about you and about your work online?
Reggie Tidwell:
Absolutely. So curvetheory.com. C-U-R-V-E-T-H-E-O-R-Y dot com is my commercial website. There is a link to my print work on there, which yeah, prints are great, but if you want to see the bulk of my commercial photography, landscape stuff, nature, and cityscapes, that's a good place to go. I also am on Instagram Curve Theory on Instagram. And there I don't really put a whole lot of design work on. I do have a separate account that I'm hoping to start building up my, putting all my design work on, but really photography… Years ago I had a mix of photography and design and it always just felt all over the place for me. And one of the things I always noticed when I go to other Instagram accounts and I see these really nicely curated feeds that everything just, there's something nice about the continuity and you're like beautiful landscapes, and then there's a logo. It just feels odd placed. And so I took all my design stuff off of there and it's just my photography on my Instagram account. But those are the best places to find me. And I'm also on LinkedIn. Reggie Tidwell on LinkedIn.
Maurice Cherry:
All right, Sounds good. Well, Reggie Tidwell, I want to thank you so much for coming on the show. I mean, of course, like I just mentioned about there's a book in you, your story and the passion and the service that you've given back to the design community is something that I think is really inspiring for a lot of people. Certainly your local community. But I hope that people that listen to this interview also pick up on that as well, because you mentioned being raised by your grandmother and her being a teacher, those values that she instilled in you, you're continuing to give those back out to the community, which are really the basis of your success. So thank you so much for coming on the show. I appreciate it.
Reggie Tidwell:
Hundred percent agree about my grandmother, and thank you so much for having me on, Maurice. It's been a pleasure talking with you.
Sponsored by Hover
Building your online brand has never been more important and that begins with your domain name. Show the online community who you are and what you're passionate about with Hover. With over 400+ domain name extensions to choose from, including all the classics and fun niche extensions, Hover is the only domain provider we use and trust.
Ready to get your own domain name? Go to hover.com/revisionpath and get 10% off your first purchase.