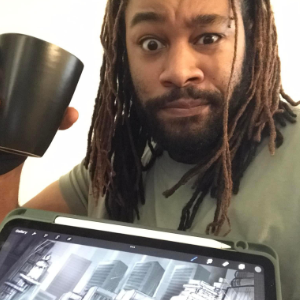 Isiah Xavier Bradley was born to be an artist, and you can really feel his love for the craft just from spending a few minutes chatting with him. The Seattle-based illustrator loves all things comics related, and his body of work is filled with superheroes, aliens, mages, and all kinds of other fantasy figures.
We talked about some of his creative projects, and we spoke for a bit about diversity in the fantasy illustration space, as well as how he approaches storytelling through his art. Isiah also shared his story of growing up in Philly, getting inspired by his father (a painter!), and finding creative community both online and offline. Isiah is looking to achieve great things and grow as a professional illustrator, and with his enthusiasm and talent, he's well on his way of making that happen!
Interview Transcript
Maurice Cherry:
All right, so tell us who you are and what you do.
Isiah Xavier Bradley:
Hi, I am Isiah Xavier Bradley and I'm a freelance illustrator and comic book artist.
Maurice Cherry:
How has the year been going for you so far?
Isiah Xavier Bradley:
It's been going wonderful. It's been wonderful. It's been unsuspected, but just wonderful accomplishments have been happening. Recently, I was at the Western Hotel and was doing an event with two other artists and we were hired to do a 10-minute painting of Seattle's like landscape of the space needle and the mountains, and of course, we had to include someone drinking coffee in there because there's nothing but coffee around in Seattle everywhere, but yeah, that was one of the events that I recently did about maybe two months ago, and that was just amazing fun. I didn't think that was going to happen. It was like I get caught off guard about like how many wonderful things just happen out of the blue. It's like you don't know when it's going to happen or what's going to happen, but with all the work, just paying off and networking and pursuing, it's just this year has been a wonderful surprise of many things I got a chance to experience and to do and people to meet. It's been awesome. It's been an adventure-
Maurice Cherry:
Nice.
Isiah Xavier Bradley:
… seriously. Yeah.
Maurice Cherry:
Do you have any plans for the summer?
Isiah Xavier Bradley:
Oh, goodness. Well, right now, I'm going to be going to see my friend later in this month to Las Vegas. I mean, I know it's not exactly summertime, but it's close enough. So, I'm going to go see her. We're going to work on some storyboards together. Besides that, I plan on spending as much time as I can outside painting and enjoying the fresh air because in Seattle, it was just way too cloudy and I needed some sunlight, but that's it so far for now.
Maurice Cherry:
When you look back at this time last year, how would you say you've changed or how have things changed for you over the year? What's different? What's new? Anything like that?
Isiah Xavier Bradley:
I would say my mindset has definitely been changing. Last year it was like my art was still, like my career was still growing and I was getting more people and more companies to hire me, which felt really good, but also I had to work on my mindset about what success was and about how my career is growing. For being an artist, there's no chart to show you. Like when you meet a goal, there's like no reward or some outside source, especially when you're a freelancer, to say, "Hey, yes, you made it. Yes, you did it," and everything and that was something I had to get used to because it was like I'm my own boss. I have to be the one to do that for myself. So, that way, I can acknowledge the work. I was doing the hours, the hard projects, the tight deadlines, or I had to change my mindset to recognize the accomplishments I was doing and also to be completely self-aware and present.
That's another thing. I was working out more and I'm working out more now this year. I was realizing that physically, like they always wanted to make characters like toned and skinny and muscled, and realizing how that had a negative effect on people and it's including myself because I was like, "I need to show that beautiful is all different types of shapes and sizes." Beauty is diversity. That's like with my character, Sandra. Actually, I was inspired by Lizzo because I was watching Lizzo and Lizzo was just this beautiful, powerful, thick queen and I wanted to create a character that was like that. So, I created a character called Sandra. She has this huge ice ax and she's just around this really cool character that just doesn't take nothing from nobody and it's her own person and as I'm talking to you now, I'm looking at the poster above my desk and it's like all my diverse characters. I have Native American. I have Mexican. I have Black, Afro-Latina, and different types of body types, and I just feel like that definitely contributed to how I was thinking differently last year and this year and how it affects my artwork now.
With that experience, it definitely helped me become more of a better artist and more in touch with myself too, about finding that beauty about myself too. So, now I'm able to take that and put it into my art.
Maurice Cherry:
You touched on something now that I actually wanted to discuss a little later, but we can jump into it right now. Is representation, and I'm using air quotes over representation because that's such a broad spectrum of what that could mean, but is that something that you feel like has to be a part of your work? When you think about your individual identities, do you feel like I need to put that into my work in some way?
Isiah Xavier Bradley:
Absolutely. I think it's important. For example, Ariel, that was a huge debate just because of the color of her skin, but the people that I saw, like Black little girls and Black women seeing Ariel being a Black mermaid and having that such powerful, positive enforcement, I'm like, "Yeah, we need to have more of that. People need to feel like they can do that too," and sometimes people just need to see that like I did. Like for X-Men, Storm, that beautiful Black queen goddess. I love her so much of the X-Men. She's great. She definitely was an icon for me and diversity and acknowledging that I was like, "I have to make sure that I represent more of that, bring that out more into the world so that way people of color can feel beautiful too and people with different body types can feel beautiful too." It's just like diversity is absolutely needed because it's all around us and it needs to be accepted.
It's something that's so natural and for it to not to be celebrated as such, it hurts and especially towards our younger community, our younger community needs to know that, yes, you can do this. Yes, you can be that. I dream of a future where everyone is just represented equally and accepted and loved. So, we can all just create beautiful things because imagine what we could create if all of us were just getting along together and just sharing our beliefs and whatnot, but we don't have to agree on it, but it's just something that could be so beautiful. So, absolutely diversity needs to be in my work. Absolutely. The more weirder, the more unique, the better. I just want that. I yearn for it.
Maurice Cherry:
Yeah, there's that adage that goes like, "You can't be what you don't see," or something like that and I think certainly along the lines of illustration, animation even, there's been such an explosion at least over the past decade or so where we've seen Black and brown artists, queer artists, et cetera, that are creating works in those images and putting it out there in a way that… I mean, some stuff has even been on streaming series and things of that nature. You started to see such a huge explosion of this diversity through the medium of illustration or animation over the past 10 years and it's really been something to see because along with that, there's also all these other stories that can be told because it's coming from people with these different perspectives or because the characters are not the average white character, et cetera. There's just more opportunities and possibilities for storytelling.
Isiah Xavier Bradley:
Absolutely, absolutely, and I feel like some companies or people would just be nervous about tapping into it too, because it's change and people can be very scared of change, but it's like we need that change. We need it. Even though it's scary, it's like we need it because it's like we can't keep repeating ourselves over the years over and over and over. No, we need to have that change right here, right now, so that way in the future we can have a better opportunity for everyone and then everyone can just feel that self-love more and capable. Absolutely.
Maurice Cherry:
Let's talk about your work as a freelance illustrator. What does a typical day look like for you?
Isiah Xavier Bradley:
Oh, actually, it's weird. My mind likes to play tricks on me and what I mean by that is sometimes I'll wake up in the morning and I will be ready to go. I'll just jump right into it. I'll just get up and brush my teeth, maybe splash some water on my face or take a shower, or I'll just wake up and I'll just go to my art desk and start painting out of nowhere. I feel like those are my go-get-it days. Today is definitely one of those days where it's like, "Okay, I'm going to go ahead and do my work and be focused," which is like I made that conscious decision to go into that. So, I would wake up, make a list because for me, I can't think of things in my head of what to do. If I do that, I easily get overwhelmed.
So, I have to make a list and that list keeps me organized and not only that, but checking it off actually makes me feel like, "Oh crap. I'm actually getting stuff done. I'm actually doing it," and it's like, "I'm not going to focus on how long it takes me. I'm going to focus on getting the goal done," because once I get that done, it's going to feel really good. Then I can go on to the next one and then I'm just like, "Yes, I'm doing it." On off days, I wake up and I have no energy in the morning and I have to wait till 12 o'clock for my whole body to feel that full awareness. It's like, okay, I'm ready to make art and I think that's why it's so important to be self-aware because if you can be completely self-aware and present about how you're feeling physically, emotionally, mentally and spiritually, that you will be able to conquer yourself.
You'll be able to be like "I know what you're thinking," and be like, "I know what to do." It's like if I'm at home and I'm trying to work and I can't focus, I know to remove myself from that space into an outside space or a completely public space where I can focus and get things done. So, it's about doing that work and realizing what works best for you and for me, it can just flip. It can be vice versa, but I'm working with it. It's been doing wonders for me. I've been able to get more work done, especially from working from home because you could get so easily distracted, distracted by video games, distracted by cooking food.
I mean, I love food, but also I got to do my work or movies and whatnot and I think as long as you're completely self fully aware, you're good and breaks. I always try to take a break after probably between hours or every other three hours perhaps. So, I'll take a small break or I'll just get up after 15 minutes, after I realize that, "Hey, my focus is slipping. I'll just get up and walk around, stretch my body out, just get it physically active, walk away from the project and maybe go for a walk outside," and then I'll come back and my mind is refreshed and I might be able to point out some things I didn't notice before. So, yeah, it's all about just knowing how your body and your mind think and just utilizing that for your advantage. That's how pretty much my take goes. Natural chaos. I like to call it natural chaos.
Maurice Cherry:
I mean, I think you touched on something that a lot of people probably like at the start of the pandemic had to come to grips with when working from home is that it's tough to work from home. It takes a lot of discipline to not fall into just doing something else. Like you mentioned, I could play video games. I could eat. I could do whatever. I could watch TV, whatever, but knowing that you have to get the work done is it's a challenge. It's a challenge and I think for a lot of people when the pandemic started, that was something they had to come to terms with. One, I think it's just outfitting their place to be a place to work because the office is the office. Home is home.
Now, you're bringing the office to your home. How do you make that happen? It's a process to get to that level where you can feel like you can really wake up in the morning and get into a flow state and get work done at home. It's harder than I think a lot of people realize.
Isiah Xavier Bradley:
Especially when you're own, you're your own boss too. You have no one looking over your shoulder. You are completely free. You get to decide exactly what you do and how you do it and it's a blessing and a curse because you're like, "Dang it. I need to focus." So, that's why it's always good to know yourself, to be like, "How do I function? What can I do to make sure that I am actually getting work done?" It's so easy to fall into that trap and being a freelancer is more than just one job. You have multiple jobs. You're the manufacturer. You're the producer. You're the advertiser. You're the financial budget person. You're the stock person organizing your area, make sure you have enough materials and whatnot and all that.
It's like you're playing multiple roles. I don't think many people realize when you're playing freelancing, you're literally your own army unless you are hiring somebody else to help you, but it's hard times. Not everyone can be affording that, but if you also have that capability to do that stuff by yourself, then go for it. Just make sure you're giving yourself breaks and affirmations. Affirmations are really important for sure.
Maurice Cherry:
Now, you do a little bit of everything from comic books to trading cards. What does your process look like when it comes to approaching a new piece of work? What does that look like?
Isiah Xavier Bradley:
I usually like to feel it out. Like what is this image going to convey? What is the vibe I'm trying to give it? Because doing illustrations, and any kind of illustration, sketch cards, book covers. It all leads down to storytelling and it's so important that you recognize body language, colors to evoke mood, the perspective, the layout of the image. Everything adds to the story. So, I try to keep that in mind while I'm looking for references and I try not to spend too much time on references because I find that you could spend a lot of time looking up references and then you lose too much time that you could have used for the project.
So, I try to do at least an hour of references, or under, and then I just go in there and do really quick, bold sketches. I think that doing bold sketches allows you to develop your idea much quicker and gives you a bit more of a confidence booster. It's like I know what I'm doing. I know what I want to go for and it just helps you move things along in a much more progressive kind of way and afterwards, after thumbnail is chosen or making a discussion, depending on the client, sometimes clients have notes about something they would like to have changed, or sometimes you'll just get lucky, which thankfully I've been very lucky where I've had customers where they're like, "Oh, it's perfect. Keep going." I'm like, "Great." So, I'll just go onto the next step and I'll do a loose sketch.
Back then I used to do sketches where I would just go from very loose sketch to a very, very tight sketch, but nowadays, I go from a loose sketch to half tight sketch because I like to add more details with the color. So, after I'm done doing a tight, but not full-on sketch, I like to do a quick color filling, and that quick color filling allows me to play with the color and see what works, what's more powerful that serves the image in the story and then after I get approval for that, I just go in there and start painting it like I would traditional art. I don't know if many people would do it this way, but I like to stick to three, four layers max only because I was raised by my father to do traditional art and when I went to art school, I learned digital art and then it took me a while to feel comfortable with digital.
So, I took that mindset and the way I used traditional paintings, I took that method and applied it to digital and now that I have less layers and I'm working on it like I would traditional, it actually turns out much more the way I would want it to. Yeah, it is weird. I think it's just because I was just so trained for so many years. I was doing traditional art way longer than digital. So, that's programmed in my head, but it worked nicely for me. I really like how my digital artwork comes up now. I still do traditional, of course, because I can't let that old-fashioned love go. That's my first love, traditional watercolor, acrylic color, pencil, love all that. I would just apply that method and it would just work nicely for me and that's pretty much my process right there. Just remembering what you're trying to tell, what the story you're trying to tell, and long as you keep that in mind along with the body language and the color and the way that they're just presenting themselves, the character or the environment, that's the best way to create that image you're trying to make.
Maurice Cherry:
Now. You mentioned storytelling. How do you approach storytelling through your art? Is that a separate process?
Isiah Xavier Bradley:
Oh, well, first thing I did was I did some research. I actually had a friend, Tony Atkins. He's a DC comic artist, and I think he's the one that recommended me to look at this. I'm not 100% sure, but I have this book here called Framed Ink, and it's called Drawing and Composition for Visual Storytellers. It's so such a good book. I recommend this book for any artist who's trying to do illustration or comic book art. Technically, it's for comic book artists, but after reading this book, it allowed me to take that method and apply it to illustrations and it talks about everything. It talks about what direction the trees are going in. If the trees are somewhat bending towards the focus point of the piece, it actually creates more of a focus point. If you're looking downwards or upwards at a person, let's say upwards, it gives more of a towering kind of vibe where you feel small and they're big and threatening and whatnot.
Even the dramatic lighting, when I was doing comic books, I was working on some stories where sometimes I wouldn't even go in full detail. In the area, I would just put a Black background and add dramatic lighting to their face because sometimes the character would be sad or upset and I really wanted to capture that and it gave it a traumatic effect. There are so many little things you can do, and even hands. Hands are a big thing too that give a big personality in storytelling. So, if someone's more gentle and calm, maybe their fingers look more elegant and soft and not so stiff and someone's mad or trying to cast an aggressive spell or something like that. Maybe their hands are a bit more provocative or a little bit more like gnarly or something like that. There's so many aspects to storytelling.
And also another thing I loved to do. I haven't done it in a hot minute because I've just been painting crazy, which is look at movies and notice how they have the camera set, what kind of colors they're choosing. It's just like watching movies can teach you a lot about how to do storytelling and I'm trying to think of what was like a good movie I think that was pretty good. I would say I liked Ultraviolet with Milla Jovovich. That was a good one for how the perspectives were. They did the crazy camera angles and the way they showed scenes through someone's shade. They're wearing shades and then you could just see a picture within their shades. It's just so many interesting ways for you to do storytelling. Maybe the person's drinking a cup of coffee and you see them talking, but you're not focused on them, the reflections in the cup of coffee. It's just so many fascinating ways to do storytelling.
So, I would say for sure, just also pay attention to people out in public, just like we're not having a conversation. They're not all standstill and stiff like some action figure. No. They're either hunched over or they're leaning one way or the other, or it's all about just pay attention to those small details and if you gather all those, those things to come together. You can come up with some really cool images. So, I would just say people watching, movie watching, sometimes even video games, but it depends on the video game. Like God of War, that's a good storytelling for sure. If you've seen God of War, the video game, you would definitely see what I mean because it's so well done and put well together, but that's why I would say that and this book called Framed Ink for sure. It's so good.
Maurice Cherry:
Speaking of video games, as I'm looking through your portfolio and seeing your work and everything, a lot of it is based on fantasy, science fiction. You've mentioned comic books being influenced by that. What really draws you to those as genres? What draws you to all that?
Isiah Xavier Bradley:
Oh, goodness. I fell in love with comics and fantasy, sci-fi stuff when I was a kid. I was so obsessed with it. I wanted to submerge my mind into that world. Something about it just seemed like so much fun and it seemed bright and exciting and just something that just reached out to me. It all started with the '90s, those beautiful colored costumes and Storm making her speeches and you didn't see, but my hands just reached out to the sky like her. Just like what else was fantasy like Yu-Gi-Oh!, the monster designs. I was just fascinated by all this. I was watching cartoons absorbing it like a sponge and I was so into it and I had so many action figures. I still do, and honestly, it was like my dad introduced me into fantasy art as well, because he's an artist and he would do a lot of these paintings at home where they were just fantasy-based, abstract kind of fantasy combination.
I just grew really fascinated with it and to be honest, I was like, when I was a kid, I was bullied and that world of fantasy and superheroes honestly helped me with my day-by-day life. It just brought so much happiness for me and honestly, I think that's one of the main reasons why I became an artist in the first place. So, anyone else who was different like I was, they could look towards that and maybe get inspired by a character because it was like I was just so inspired by so many other characters too that made me just feel like I was capable. Like being different was great and awesome, and I just think that that's definitely what drew me in. It's just that entire world is something that made me happy, really, really happy and it still does.
Maurice Cherry:
Is there a lot of diversity in that space? I mean, of course, there's the different stories that are being told, but in terms of other artists and things like that, is there a lot of diversity in that fantasy space?
Isiah Xavier Bradley:
In terms of other artists?
Maurice Cherry:
Yeah.
Isiah Xavier Bradley:
I feel like for sure, like back then, when it came to it, like at the time I wasn't aware, but Larry… I forgot his last name. But Larry is the producer and artist for the '90s X-Men and it wasn't until maybe five years ago I found out that it was a Black man and I was just astounded and so inspired. I was already inspired by the X-Men. The fact that it was created by a Black man, I was about to burst in tears happy because it just made me so ecstatic and I was like, "Holy crap. Someone who made something that inspired me and that just touched me in so many ways," and oh, it was empowering. It was just amazing. I would say for sure that was just an important part of my art journey.
And now, since him, I didn't notice too many. Even before I met him, I didn't even notice too many Black artists, or at least they weren't acknowledged at least because I feel like when it came to especially the comic book industry, that a lot more artists were not being acknowledged for their work. I mean, thankfully now it's becoming more of a thing, but it should have been a thing already. It should have been like they should have been recognized for their hard work for sure. I didn't know that many. I know a couple now. I follow a couple now on social media, which is great, but I just feel like we need more because especially for big projects like Dungeons and Dragons and Marvel, like thankfully Marvel's now definitely for short, like not even artist-wise, but actor/artist-wise, we're getting more people like Monica, Miss Marvel. It's just having more people of color. It's just awesome and I feel like now we're getting more people of color who are artists arising more, especially during the pandemic because… Well, I think the pandemic's over now-ish, but I think a lot of people realize that you can make your own business. You can be a freelancer. You can do this.
And them realizing that really did reveal more to social media. Like, "Hey, we're here. I'm queer and I'm a person of color and I'm here," and because of that I am happy that that happened, that people were able to put their stuff out there more. So, now I can actually see more and honestly, I'm just really happy about that. I think that would be the only good thing that came out of the pandemic. The only good thing was people realized, hey, I can start my own business. Hey, I can do this. I can make art and people can buy it, and with that, I would just have more rising, more rising and I just want that for everybody. More people to bring their voices forward because I didn't have enough of that when I was a kid. I didn't and that's why I don't know many people by name, which is unfortunate, but now it's happening. So, yeah. Now, I can full on support.
Maurice Cherry:
I just looked up who you were talking about. I think it's Larry Houston.
Isiah Xavier Bradley:
Yeah, I was looking at his last name on the Storm piece he signed for me, but I couldn't make out… I was like, "Darn it. That's too many swirls. I can't read it."
Maurice Cherry:
Yeah, Larry Houston was the producer and director of X-Men, the second season. I'm looking at his Twitter bio, but he's like Fantastic Four, second season, Captain Planet, Johnny Quest, GI Joe, GI Joe movie, The Karate Kid, Care Bear. I had no idea. I had no idea he had such a impressive resume.
Isiah Xavier Bradley:
I only knew he did the X-Men. I didn't know the other stuff. My goodness.
Maurice Cherry:
And actually speaking of X-Men, like I know there's the new… I think it's like the reboot of the '90s Cartoon is supposed to be coming out I think this year, maybe next year, but that has a Black director at the helm too, Beau DeMayo.
Isiah Xavier Bradley:
Yeah. Yeah, I've been following it too. I was like, "Yes, I need to see this." It's like it's supposed to be a continuation off the '90s, which I'm very curious about how that's going to go because first off, that show was just… It was ahead of its time. It tackled racism. It tackled speciesism. I think that's how you say. You know what I'm talking about? I forget the correct terminology, but anybody who was different, that was not normal. Anybody who was different, they were just looked upon as a freak of nature or something like that and just to have a show that was empowering people who were different, it was a huge gift. I don't know honestly if I would've been an artist if X-Men didn't exist at that time for me when I was a kid. I don't know because that was just a huge motivator, huge inspiration for me.
Maurice Cherry:
Let's switch gears here a little bit. I know we've talked a lot about your work and you've led us into your process, but you've also given us, I think, a bit of a window into where you came from and where this love comes from. So, let's talk more about you. Let's talk about you. Are you originally from Seattle?
Isiah Xavier Bradley:
No, I am from Philadelphia.
Maurice Cherry:
Okay.
Isiah Xavier Bradley:
Most of my life, I've been an Philadelphian.
Maurice Cherry:
All right. What was it like growing up in Philly?
Isiah Xavier Bradley:
Oh goodness. First off, concrete jungle. No trees around. Some trees around, but not that much. Going from Philly to Seattle was definitely an adjustment. Goodness gracious. In Philly, I'm just remembering, like I was living with my parents. I went to art school. I went to Northeast High and that was in the Northeast Philadelphia and that was definitely a school I enjoyed for sure because I had so many good friends there. I was a part of the choir, so that was another creative thing, another creative outlet for me and I was working on comics and this is before I was overthinking some of this stuff. So, I was able just to draw without overthinking it and actually made a little bit of profit there too.
So, it was super fun just to draw my own comic book, make copies, and my classmates were like, "Ooh, we want to buy one. We want to buy one," and it was just super, super fun, but the area I was in definitely was more concrete jungle. I don't think I got inspired by the area I was in, more by the people I was hanging around with and my dad when he was working on this art and my brother too, and it was just like I had a good community over there. I'm very grateful for having so many awesome people there that inspired me to continue making art and going hushing over there in Philadelphia was great. Was there for four years. I met some very good friends of mine and they're still friends of mine, which is a blessing because it's hard to find some true friends and it was just a wonderful experience, and honestly, it also helped me find more of myself too, just like people there who knew me through and through.
Before even I knew me, it was weird. It was like, "Where are you, in my head or something?" No, it was just an awesome experience. Plus the food was way cheaper than Seattle. It was also dangerous because I could get me a plain pizza at large for 11 bucks and I would go for it, but over here in Seattle, it's like a large plain pizza is like 26. So, it's like, "Okay, maybe that shouldn't be ordering so much over here. Maybe I should learn how to cook." So, when I came up here to Seattle, it was definitely more of a, okay, let's step up this adulthood more. Let's learn how to cook. So, I did that and goodness gracious, I had to build my entire art studio again because I had no scanner. I had no art desk. So, it was just starting all over and fresh, but being in Seattle, I love the nature. Nature is gorgeous.
If you ever wanted to get away, obviously, you could just take a bus to a park somewhere and just chill there. It's like nature is right there and it was just so nice to have that accessibility. There is definitely a Seattle freeze for a couple, maybe a handful or two. Over here where it's like some people are just like they'll pretend you're not there or if they need to reach for something, they'll just reach right in front of you and I'm not used to that. I'm used to Philly kind of interaction which is like, okay, if you need something, I'm going to say excuse me and then get together, but thankfully, a lot of people weren't born here and moved here and you can always tell because those are the people that are just like, "Oh, hello. How you doing?" They actually will have a conversation with you or have eye contact with you, but thankfully I've had the pleasure to make friends with a lot of people who weren't having the Seattle freeze symptoms.
They wouldn't have the Seattle freeze symptoms. They would just be completely themselves and open and nice and kind. Yeah. So, be over here in Seattle and Philly, I could tell you that the difference is that for sure is like, "Philly, you just need more green. You need a lot more green," and then Seattle's like, "Seattle, you just need to look more fun. You need to have a little bit more fun." Yeah, it was definitely like a process and adjustment for me to go from East Coast to West Coast. Such a huge adjustment, but I'm still me. I'm still a Philadelphian. I even consider myself to be a little bit of Seattleite, but Philly come first because I was there most of my adult life. So, yeah.
Maurice Cherry:
What made you decide to move to Seattle from Philly?
Isiah Xavier Bradley:
I wanted to be with my ex at the time. So, me and him both moved to Seattle and at that time, I was going through a lot of struggle, a lot of inner struggle, inner demons, what's that? Imposter syndrome. My friends were trying to help me and my family were trying to help me and they were all so wonderfully attending and want to make sure I was okay, but I was not going to be okay until I was going to want to be okay or figure out some stuff. So, when I moved over to Seattle, it gave me that breathing space for me to figure out what's going on with me and it took a hot minute too, but thanks to therapy, thanks to journaling, thanks to working out, thanks to being self-aware and giving myself those self-love affirmations, all that helped me become much more of a happier person to get in touch with that inner child that was suffering from all the seriousness of adulthood.
It's like I know we got responsibilities, but also we are supposed to live our life and have fun. I can't lose that part of myself because that part of myself is a huge part of why I'm an artist. So, I have to make sure that I'm taking care of myself and giving myself that time and space I need to do what I need to do to make sure I am in a better place, and when I'm like that, I'm actually able to be there for other people more. I'm able to handle more. It's just something that I think that everyone needs to take into consideration. It's about like self-care, self-love, self-expression for sure. Self-expression because too many people hold things in and it builds up like a volcano and it explodes and it's not fun. That was one of the things.
I was just like, "I can't be living my life like that. I want to be happy. I want to make my work and be proud of the work I make and I want to be there for my friends and not feel exhausted or forced and doing all that work. That self-work allowed me to become much better." That's what I would say.
Maurice Cherry:
Have you been able to tap into an artist community or a design community in Seattle?
Isiah Xavier Bradley:
Took me a hot minute, but I find it a little hilarious because I didn't think it was going to work, but I went to a comic book store, Phoenix Comics & Games, in Capitol Hill, and I went there, and I was looking at the local artists and they had local artists putting their comic books on the rack and I was like, "Oh, let me see if I could find somebody," and thankfully I found my friend Tim, and his book, I think it's called Enter the Wolves. He had his phone number and contact information in there, or was it just his email? Either way I contacted him and he responded and we met up. This is before I had any of our friends at all here on the West Coast. So, I went to go meet up with him. We hung out, had a cup of coffee, talked, and it was like later we decided to start making it a thing.
Let's get together and draw and then we would do that and then we started to bring more people into the forward people. He knew people I would probably meet that were interested in meeting for the art meetup and it's just now a regular thing and we've been doing it for years now, just doing our art meetup and drawing and just having a blast because one of the huge things I missed in Philly was my art community, was hang out with my friend Laurie and Kat and we would just hang out together and I loved that. I didn't realize how much I would've miss that until I moved to Seattle and it was no longer accessible and I needed that back in my life or at least closest to as I could get. So, having that art community is a huge blessing and it's awesome and it also helps me focus too.
It's like, "Ooh, if I'm going to be home I'm going to have to adjust myself, but if I go out and meet with my art friends, then I have no excuse. I can just go in there and start drawing because I'll be fine and chill with my folks." So, absolutely worth it of trying that, just emailing random artists like, "Hey, you want to meet up and such like that?" I'm just glad that I did that because usually I get social anxiety and I get nervous about talking to people, but it was like, no, I'm not going to let that stop me from making new friends. I'm going to go out there and I'm going to do it. Yeah, I'm just very grateful for that. Absolutely.
Maurice Cherry:
Now you spoke earlier about Larry Houston, but I'm curious, are there other artists or illustrators that have influenced your work the most?
Isiah Xavier Bradley:
Jim Lee.
Maurice Cherry:
Okay.
Isiah Xavier Bradley:
Because he was drawing the X-Men back in, I think, the '80s, '90s-ish. Like I said, I'm a huge X-Men fan. You just don't know. I have so much X-men on my wall about besides that. No, Jim Lee, it was definitely for sure because I loved the intensity he will put into his ink work. It was just so comic bookish style and it really made the X-Men look really cool and I was just like, "Oh my God, I could just read this all day." Another artist I would say is Ross Straus. Him, I enjoy because of a lot of his potent color. Like my art teacher back in Hussain would talk about how juicy the colors are, you know? When we're painting, she's like, "Get the juice in there," and I'm just like… ever since then when it comes to my art, I just have to put juice into my color.
It's like I need to make this a little bit more pow in your face. So, yes, that was definitely another one. Alex Ross is another one. He is much more of a traditional. He does works in, like I think traditional acrylics or oils. I'm not exactly sure, but he does work with traditional mediums and his work is taking the comic book world and making it more into a realistic kind of vibe and he does a lot of dramatic lighting too. So, I just loved it. I just love how he was able to take that world that was fiction and bring it so close to reality. So, sometimes I'm doing my work. If I'm working on a cover or something like that, I'll step on comic book style. I'll probably go for an illustration style just because it gives it a completely different vibe. It gives the character more of a breath of life kind of scenario.
I mean, I love the graphic feel, but something about just seeing a character that looks almost realistic. You're like, "Oh crap." You're just like, "That looks great," and one more is Simon Bianchi. I hope I pronounced his last name right, but I believe he is a French artist who works for Marvel and he does a lot of acrylic watercolor kind of techniques where it's a combination of realistic and comic book style and I just loved how he would illustrate such a dramatic use of colors and his hair detail. He would draw a lot of detail in the hair, but it would just look so beautifully well planned. I can't even get into full detail about how his stuff works, but Simon Bianchi is definitely an artist I studied especially back in art school. When I was learning watercolor, I would just look at his pictures and I would just paint what I saw.
I would just paint up a panel I saw of his I really enjoyed and because of that, I actually got much better with watercolor the next year because watercolor was literally the first medium I was trying to get really good at and it took a hot minute for me to understand how to manipulate watercolor, but now it's like after all those years of studying and investing time and studying that medium, watercolor, I just was excited to actually be able to utilize it to make an image the way I wanted to because watercolor is very, very tricky. So, thank you, Simon, for doing that for me because now I know how to paint.
Maurice Cherry:
Now you mentioned that your father was a traditional artist. Was he an illustrator also?
Isiah Xavier Bradley:
He definitely did his own paintings. He didn't do it professionally, but he wanted to, but unfortunately he didn't have the support of his family, like not the way that I do and I'm just grateful for him to give me that support because he knows how hard it is out here in the creative field because so many people want to jump in and do it, but my dad still does make art till this day. Like I was talking to him and my mother for Mother's Day and he showed me these pieces he was working on. It was so beautiful, abstract, gorgeous, surreal kind of fantasy and it just makes me so happy that he's still making his art because this is a part of who he is. He might not be doing it professionally, but at least he's still doing it and I'm just happy and proud of him for that.
Maurice Cherry:
Nice. What advice would you give to any aspiring artist? They're hearing you talk about your work and your process and they want to follow in your footsteps. What advice would you give to them about just starting out in the industry?
Isiah Xavier Bradley:
Number one I think is patience. Patience with yourself, patience with the process of making art and patience with the process of getting work if you want to pursue it professionally. It took me a hot minute before I started to get more commissions coming in manually, and it took a while for me to get to that point where, hey, I don't have to look for commissions. People just come to me and asked me, "Hey, can you do this for me?" All that took a while and like I said, without that actual chart to show you, hey, you're on step two now. You're on step three. Woo. Without that, it's so easy for you to feel like you're not moving. You're standing still, like your career's not going anywhere, and especially if you are starting off with illustrate, like you're starting off by making art and you're not at the level you want to be, it's so hard to be patient with yourself, especially when you're comparing yourself to other artists.
I think people need to have much more patience with themselves and understand that what's going to get you there is consistency, to keep trying, to keep painting, to try new things, to share your work. Don't be afraid to share your work. That's something that I still struggle with sometime. I mean, I know I have a lot of content on my social media. Yes, I do, but there are moments where my partner will catch me. He's like, "Don't overthink it. Just write out your stuff and post it on there," and I'm just like, "You're right. I just wanted to be perfect," but there's no such thing as perfect. The best way to be perfect is to be yourself authentically and then there you go. Just be your genuine self. That is perfection.
I would definitely say that that's something that that's needed is patience. No one's going to give you a timeline of when you're going to get that job either and that's frustrating. I could totally get that, but you also just got to… Like I said, you got to be patient with that process. You won't know until it actually happens in that moment. Like this podcast, I didn't think I was going to get interviewed for a podcast and next thing you know, it just pops out in a moment. I'm like, "Oh, wow. Okay." I'm like, "Fine." Even the Western Hotel thing, that was another random thing, and I'm like, "Oh my goodness."
Another thing I would say for sure is give yourself affirmations for sure. If you had to make yourself that list and cross something off that you got done to get that pat on the back kind of feel, then do it. I would say go for it. That's absolutely necessary because it's so easy for you to do things and then forget what you do because this happened to me before and still does sometimes. You forget what you do in the day and then you feel like you're like, "Oh, I could have done more." It's like, "No, no, you're doing pretty darn good. Look at that list." I think it's definitely important to give yourself that affirmation and also to sometimes take a look back at your old art and look at your art the way it is now so that way you can give yourself that affirmation of, oh, I did grow. You know? Because it's like it's so… Being an artist is a marathon. It's not a race. It's a marathon. That's what I'm saying to be consistent and with that marathon you're running, it's so easy for you to feel like, "Oh, I'm not growing as an artist." My skill level's not improving or whatnot and it's always good to look back at your old art pieces and don't compare to other artists.
That other artist is on a completely different path than you. Not every artist is going to get a job the exact same way. Not every artist is going to get noticed the exact same way. It's so different from each other, it's frustrating because you wish that there was a book to go ahead and tell you like, "This is exactly how you do it." Oh no, there's no book. You just got to put your stuff out there and be consistent and don't be a butt hole. That's another thing. When you're talking to people, always want to be a genuine person, but also treat that person with fellow respect. No one likes to work with somebody who's mean or nasty or comes off as aggressive. No, like this is networking and building a relationship, a friendship. You want to make sure that you are presenting yourself the best way you can be that is genuine and true, and I think that's just something to absolutely consider as well and another thing I think that's beneficial is trying out new things.
Like I've done watercolor, acrylics, used acrylics as watercolor and on canvas, digital painting. Now, I'm starting to get into story boarding and sculpting. Sculpting too. It's like you are an artist and yes, you have a preference, but it's always refreshing just to get into something just a little bit new and it keeps your excitement up. It keeps you like, ooh, I'm so excited just to try that out. You'll see what comes out and everything. I'm painting on canvas now, and usually I don't paint on canvas. I usually leave that alone, but with that 10-minute piece painting I was doing at the Western Hotel, that was something that really brought that out on me that I was like, "I want to paint on canvas. I want to try that out." I feel something that's pulling me towards that and it was like that kid-like spark that was like, "Ooh, I need that."
So, now doing that and looking at the canvas, I'm like, "I am happy," and I think that's definitely something important to do is don't be afraid to challenge yourself and don't be afraid to show your art, self-affirmations and patience with yourself, and one more I think is self-awareness, and self-awareness, I mean by that is just acknowledging if you are upset about something because being an artist isn't just drawing pictures. It's you're putting your energy into that piece. You're giving parts or you're putting parts of yourself into that piece, and if you're upset or going through something, it's going to show up, or you might not be able to draw as well. You might not be able to think as well. That's why it's so important to be self-aware about what state of mind you're in, and it's all about just giving yourself that attention, acknowledging that you're not okay or you're upset, or maybe you're just tired and burnt out.
It's good for you to acknowledge this and to know this so that way you can just take care of yourself, give yourself a hug, or get a hug from a friend or talk to somebody you trust, and this is definitely something that will help you out for sure because being an artist, and especially in a world like this, it's stressful. It can be very stressful, but it's also very, very rewarding, especially when you are just giving it your all and you see it pay off. It's something absolutely worth it, and long as you are just making sure that you're your own best friend, you're going to get there just like you got to make sure you give yourself some loving and you got to make sure that you just acknowledge when you need something, and I think that's important too. That's my advice.
Maurice Cherry:
Do you have a dream project you'd love to do one day?
Isiah Xavier Bradley:
Oh, okay. It's on my list. It's on top of my list. I want to be a cover artist for Marvel, because I just like doing illustrations. I just love doing the storytelling. I want to be a cover artist. I want to do full-on paintings and do stuff for them. I want to do stuff for Wizards of the Coast because I love the overall style of their world. They're just this beautiful like… It's like Renaissance paintings. I don't know if you know what I'm talking about, but it's like they have that soft glow. It's like the way they paint them. I was going to the Seattle Art Museum, and I was noticing these pieces that were back in the day Renaissance Times where I have no clue how they did it, but the way they painted, it's almost looked like they were computers themselves, but you could still tell it was by an artist, of course. The way they just captured a glow or the texture or the way the person was, like the way they were standing. It's just like their bodies weren't even stiff. Something like that. It's just like, "Oh God. Yes. That is exactly what I need."
Maurice Cherry:
We had someone on the show a couple of months ago, Lauren Brown. I think she's an art director at Wizards of the Coast. I'm looking now. Yeah, Emmy Award-winning illustrator and art director at Wizards of the Coast. She's here in Atlanta too. Yeah.
Isiah Xavier Bradley:
Oh, nice. I'm going to look them up.
Maurice Cherry:
Yes. Yeah, so there's a lot. I mean, there's certainly, I think as you sort of mentioned that, I think that opportunity is definitely going to be out there for you because as I talked about earlier, it just seems like there's more and more Black people, really people of color, but I'd say Black people specifically that are really being out there, especially with the major titles. I'm really surprised to see how many are doing things for Marvel. We've had a few motion graphics designers that have done work for some of the movies, like Black Panther or into the Spider-Verse. It's amazing how we are starting to get out there more. I mean, granted, it's still not super diverse like in the grand scheme of things, but I feel like that's going to happen for you sooner rather than later. I really think that.
Isiah Xavier Bradley:
Oh, thank you. Yes, please. I want that as like I can feel my spirit trying to grab it with its hands. It's like I want it. It's like I need that because in the future, I want to have my own company, like Marvel or Wizards of the Coast where it's like I'm able to give those same opportunities for other people of color and especially Black people. It's like there's so much talent there and it's like it's so untapped and now we're just tapping into it. It's so much more like Woman King. Oh my God. [The] Woman King, Viola Davis, like oh my God. Thank you for doing that movie because that was amazing. Michelle Yeoh about… What's it? Everything In Our Place. That's a long title.
Maurice Cherry:
Everything Everywhere All at Once.
Isiah Xavier Bradley:
Yes, that's another one. It's like see what happens when people of color and diversity is represented. You get awesomeness. You get wonderful stories. It's just something that is needed and in the future, if I can provide that opportunity for more people, I will. If I can reach back and grab my fellow artists and be like, "Hey, I did not forget about you. Come here. I got something for you." I want to do that and I feel like that's something that a lot of people of the community should be doing. It's the only way for us to excel and expose ourselves to more and get our names out there because there's so much that haven't been shown yet and we're just tapping the tip of the iceberg for all this. I just think it's going to be amazing and I just can't wait to be a part of it.
I just want to be a part of it, and I just want to be there with my fellow nerds, my fellow awesome nerds and yes, just being in a convention surrounded by people who are raised in the same world that you were raised in. You know, just like anything, like fantasy, sci-fi, comics, movies, games, all that. It's such a beautiful way to bond with people and to share that. It's so much fun and I feel like one of the biggest things, adults forget to have fun and to be a kid again, and honestly being an adult, you're just older and you forget to tend to that inner child and it's like, no, no, no, no, no. So, it's when adults go to conventions and it's like someone who's like 50 and they're still buying action figures and whatnot, go for it. Do it.
You work so hard. You get that action figure. You get it and you flaunt it like seriously. It's just like we need to make sure we're balancing out that fun and I feel like that's what my work and the industry of creativity gives to people, gives you that permission. Even though you don't need permission, you should be having fun. It gives you that childhood like happiness, and I think that that's why the reasons why it's so important to be an artist is to bring that out of people so people can still feel that. I think it's still so important for it. I think it's very important.
Maurice Cherry:
Where do you see yourself in the next five years? I mean, I feel like you've already spoken some of that into the universe now, but what do you want the next chapter of your story to look like?
Isiah Xavier Bradley:
Oh, goodness. I have visions of how I want things to look like. As I say this to you, I'm actually looking at my manifestation board. It's something that I've come to really enjoy doing because I'm looking at my manifestation board and some of it's already come true, which is great, but in the future, I would like to go to more conventions for sure. That's something I love doing, just to be in that world full of people who enjoy the same things I do and to interact with them and to show them my work. It's one of the greatest gifts to create art and someone comes along and they're just entranced by it or they are feeling things because of it, that the art has moved to some kind of way, and I think that is awesome. So, I definitely will want more of that.
I haven't had my work in galleries before, so I am focusing on getting my work in galleries too, because now painting on Canvas, it's like I want to develop so much art on canvas, bigger size, small size, all the size. So, I definitely want to have more of my work in the galleries and I want to have my comic book up and have it out there because it's like my own stories I've had on my mind for a while. I started to give it some more work recently, so I was like, "I'm grateful that I'm starting to get back into that," and in the future, I would definitely love to have a comic book made officially, have a shiny cover, and maybe a 3D model made of a character.
Five years from now, I just want to be making art like crazy and I want to be a part of those teams that make fun projects like people at Marvel, like the people who get to be a part of the whole process of the movie and whatnot. I would love to be a part of that. I would love to be part of a company like Wizards of the Coast where it's like I can give contributions to like, hey, let's make this character, whatnot, and just design new stories and characters and whatnot. I would love to do that just to be fully submerged more into my craft, and I think that's something that I have recently come to full-on terms, which is like acknowledging that this is not only my career, but being an artist is my life and I love being an artist. So, it's like I just want more of all of that. I am greedy and I want all of that.
Maurice Cherry:
Well, just to wrap things up here, where can our audience find out more information about you, about your work and everything? Where can they find that online?
Isiah Xavier Bradley:
Well, I do have my own personal website. It is my full name, www.isiahxavierbradley.com. You do have to include the Xavier in there because otherwise you're going to get the Black Captain America, which-
Maurice Cherry:
Oh, yeah, that was his name from… I remember that from the show, from Falcon, Winter Soldier. Yeah, yeah, yeah.
Isiah Xavier Bradley:
Yes. Yeah. I've always found that hilarious. I was like named Dr. Superheroes, even my middle name. I'm like, "Oh my goodness." I'm like, "I think I was born to do this."
Maurice Cherry:
It's destiny. Yeah, it's what it sounds like.
Isiah Xavier Bradley:
Yeah, like universe, you have a heck of a personality, don't you? Also, I do have Instagram and Twitter and TikTok, which all you can find under my handle, Isiah_XB, and then there's my Facebook as well. You can always go under my full name, Isiah Xavier Bradley and my page would show up. Just include that Xavier part, and we're all good, and most people get confused with how to spell my name, so I am going to say it's spelled I-S-I-A-H, and then underscore XB. Most people spell Isiah with two As. For some reason, mine is just with one A. I don't know why, but okay.
Maurice Cherry:
All right. There you go. Well, Isiah Xavier Bradley, I want to thank you so, so much for coming on this show. I think if there's anything that people will get from this interview is that you have this joy. It's not even passion. I mean, I will say passion is probably there too, but you have this joy about just the fact that you're doing exactly what it is that you want to do that is infectious. You're excited about the genre. You're excited about your work. You're excited about all these things, but you've also taken the time to make sure that your own self is prospering and well throughout all of this.
I mean, the world is changing at such a rapid rate. I mean, you talked about self-care and rituals and things of this nature, so I really get a feeling that people will listen to this and they'll get a really good sense of you as an artist, as a creative, and hopefully we'll follow your work and we'll see that Marvel cover one day. I'm putting it out there. We're going to see you one day, but yeah, thank you again so much for coming on the show, man. I appreciate it.
Isiah Xavier Bradley:
Well, thank you so much for your time, Maurice. I really do appreciate it. This has been awesome. You really made up my day. I can't stop smiling right now. I'm just excited, just like I'm going to start painting all day today, like I was already drawing and I'm like, "Oh, I'm going to get into it real good." So, thank you so much for your time and this opportunity. I'm really grateful, Maurice. Thank you so much.
Brevity & Wit is a strategy and design firm committed to designing a more inclusive and equitable world. They are always looking to expand their roster of freelance design consultants in the U.S., particularly brand strategists, copywriters, graphic designers and Web developers.
If you know how to deliver excellent creative work reliably, and enjoy the autonomy of a virtual-based, freelance life (with no non-competes), check them out at brevityandwit.com.