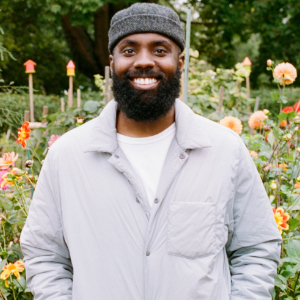 "If you have a vision for yourself, go for it." When Maxwell VanHook told me that before our interview, I knew that he was about to drop some serious knowledge. And he did not disappoint!
We started off in an interesting place — the home — and he talked about how newlywed life and how he's been re-evaluating the concept of work and code switching in this current age. He also shared a bit about his work as an associate creative director for Amazon Devices, and his role as co-host of the weekly IG Live show Designing While Black. For Maxwell, trusting your voice and values has been key to his success…and I definitely agree with that!
Transcript
Full Transcript
Maurice Cherry:
All right. Tell us who you are and what you do.
Maxwell VanHook:
I am Maxwell VanHook. I am from Baltimore, Maryland, currently. In my professional life, I am an associate creative director on the Amazon devices team. That basically entails anything that has Alexa in it, but it also involves the devices that Amazon makes. You can think about your Echo Dots, Echo Shows, Kindles, emerging platforms like Amazon Luna, which is cloud gaming. Outside of my professional life, I am a music lover. I'm also the co-host of Designing While Black along with Bekah Marcum. That comprises who I am. First and foremost, I would say with all of those things, I like to show up as a friend. I'm just a friend, support system and a champion of other people's dreams. I like to see people succeed. I'd like to see people win.
Maurice Cherry:
How's the year been going so far?
Maxwell VanHook:
The year's been good. I'm not going to lie to you. When COVID hit, I think that I had some psychological and emotional barriers. No, just in terms of shifting my schedule. I had a routine. I would get up every day, probably around 6:37 o'clock, do whatever I need to do for the morning, get dressed, go to work, probably get coffee when I went to work. And so it gets monotonous. All of that broke down once COVID hit. And so now, I'm at home. Now, I'm with my wife and I'm with my cat. Nobody's really going outside. And so I had to create new routines for myself. I had to learn how to work out within at home, I had to learn how to run within my home, I had to learn how to make sure that I was keeping my mind active outside of my day-to-day work. I also need to figure out how to keep myself emotionally and mentally stable.
Maxwell VanHook:
And so it's been good because I learned a lot about myself. I really had to scrutinize what I wanted from life and it allowed me to be still. I know that there were a lot of things that came along with the pandemic. But now that we're somewhat out of it, I actually appreciate it because it allowed me to sit with myself and really be introspective about how I wanted to move forward in this next phase of life. I just turned 31 not too long ago. And so I feel like I'm at a crossroads in terms of who I want to be. This has been good for me.
Maurice Cherry:
Yeah, I think a lot of people now, especially peer in the states who have hopefully gotten their vaccines or they're seeing now that just restrictions are being lifted like nationwide and in many places, I think a lot of people are at that point of reexamining and reevaluating where they're at now that they've come out of this and trying to figure out what moving forward looks like, because I think there's been this big push to get back to normal. You got to get back to normal. But it's almost impossible in many ways because the world is just a different place. We're different people now that we have all collectively went through this extended trauma. It's hard to just snap back into what you used to do before all of this.
Maxwell VanHook:
Now, it was important for me… I realized, especially like on a work-front, there are certain conditioning that you go through in terms of how you show up that especially in physical spaces, like when you walk into a corporate office and you're not the dominant culture. And so things like code switching, dialect altering, I was with… not too long ago, we had someone that we interviewed and they used the phrase telephone voice. These are things that I feel black and brown people use every day to survive in these spaces. I just had to do a deep conditioning because when I was at home, I was way more relaxed. And then I realized that I'm not in the physical space with you and I'm not going to become someone different when I'm outside of my home.
Maxwell VanHook:
And so I had a conflict with myself, like internal conflict. This is the space where I am authentically myself, this is the space where I can be free and open and now I'm bringing work into that space. And so I like, "No, I flipped that on its head. Anywhere that I show up, that's how I'm going to be." And so working at home actually allowed me to do that, getting on the phone and not really caring how I'm phrasing things, not really caring on what type of vernacular I'll use because I was just embracing fully who I am. Especially when you put it in the context of the pandemic, you realize, "Hey, life can be snatched at any moment. It's up to us to live use the agency to own your life."
Maurice Cherry:
That's interesting. You're like reevaluating… it's funny… well, not funny, but I like that you said that you're looking at home and how you bring work into it, because certainly for a lot of folks, having to work from home, it's been tough, I think, for many people to really make that delineation between like, "This is work, this is home." Even if you've got a dedicated space, you're still bringing a totally foreign thing into your sanctuary. Home is where you… That's where you sleep, that's where you let your hair down, that's where you let your defenses down. But now, it's also your workplace and your gym and your daycare and all these other things now. Yeah.
Maxwell VanHook:
Yeah, all those things converged. When they converged in that manner, I just started to look at how I was showing up and then also how I was relating to people. I think you discover things about yourself throughout life because I believe that we're fluid beings in that way. And just being able to sit at home, knowing that this is my space and I own it, I couldn't even access any form of code switching or altering, if I wanted to, because it just wouldn't sit right with me. And that just ultimately led me to say like, "Why was I doing it in the first place? Also, who told me to do this?" And that was another thing like, "Who told me to do this?" I was like, "No one told me to do this? This is a decision you made and you have to break and work to get out of this."
Maxwell VanHook:
And so if there is a danger and not code switching, that's just something that I'm going to have to deal with, but I would rather live my truth. I feel like most people should live their truth in that sense. There's so many people who stay away from their unique sensibilities or their unique form of expression because of how other people will perceive it and that stops you from that expansion. That's the goal. I'm trying to expand, I'm trying to try as many things as I possibly can. With curiosity comes failures sometimes. I don't even look at failure as failure. I look at that as a lesson, a learning lesson. I want to fall as many times as I can. I want to show up in any form that I want to show up in. Yeah, I just want to own my space. I'm trying to walk away from conditioning that may have happened beforehand.
Maurice Cherry:
Does Amazon foster that kind of exploration for you as an employee?
Maxwell VanHook:
I don't necessarily know if Amazon fosters it. But I will say that when I came to Amazon, I was met with some very real confrontational energy in terms of the people that I was interacting with. I know there are horror stories about Amazon. I do not believe that the majority of them are true, just not in my case. But there was this presence of trying to be A type, trying to be the best, trying to always be on. And for me, there was the double whammy of walking into a social environment inside the building where nobody looked like me, and then also outside of the building, nobody looked like me. And so I don't necessarily know if there was a support system there. I'd argue that there wasn't and they're trying to build it now to foster that individuality and that freedom of expression, but it forced me to build my own.
Maxwell VanHook:
And so in that way, I would appreciate the experience of coming to Amazon, being able to live in Seattle, because it put me directly in line and maybe come face-to-face with who I am as a person, as a designer, especially as a man. And so it was like a forcing function. If I was half stepping in in who I wanted to be and how I wanted to show up, I couldn't really do that there. And so there were a lot of things that I just started to think about differently life-wise once I started working at Amazon. More specifically, like my wellness, like self-care. I didn't even get a therapist until I came to Amazon, which is odd, it's super odd. That shouldn't have been the case. I probably should have always had a sense of reflection or someone to help me process, but that stuff did not happen until I came to Seattle.
Maurice Cherry:
Interesting. We'll talk about what brought you to Seattle and everything later, but I want to focus now on the work that you're doing at Amazon. You said you're an associate creative director when you're working on Amazon products, devices I should say, Amazon devices. Amazon has been in the device game for a minute. I think everyone knows about the Kindle, but now there's Echo, like you mentioned, there's the Fire TV, there's the Fire tablet. Amazon has also acquired other electronics companies. And so there's wearables, there's the ring security system, all this sort of stuff. There's a lot that goes into devices at Amazon. Just like as broad as you can, and if you want to go into specifics, that's fine, what are some creative considerations that you have to think about when it comes to Amazon devices because you're really working with an entire ecosystem of tech here?
Maxwell VanHook:
Yeah. I would say at the center, there's a leadership principle called customer obsession. Really without getting into too much jargon, essentially at the epicenter of any Amazon product or any Amazon device is this human focused, this human lens. Always creating product and always creating innovation with your audience in mind. And so anytime that I am getting ready to create a campaign or I'm getting ready to market a product, I always think about the audience that I'm trying to serve, because if I'm not thinking about that, then I'm probably being a terrible designer.
Maxwell VanHook:
And so I would say that one is that audience, but then also balancing that as you go through and you're innovating from device to device, realizing how these technologies may create tension points. You want to look at like Echo Dot, for instance, the way that it functions is it very much so has to record. And so it's constantly listening. It's pinging to see if it's being called every so often. And that's why when you say the key phrase, Alexa, it'll activate. And so how do I humanize technology like that? How do I humanize emerging technology to show people like, "Hey, this is new, this is novel, but it can fit within your day-to-day lifestyle and it can be a benefit to you"? And so that's how I think about marketing any product with Amazon. What is the human entry point? What is the human lens? How does this product help serve the customer base and how does it help enhance their lifestyle?
Maxwell VanHook:
I worked on a product, a service within the Alexa app not too long ago, which is probably one of my proudest projects. It's called Alexa Care. Essentially, it's for the more senior, elder loved ones in your life. It allows people to stay in touch with those loved ones without infringing on their day-to-day lifestyle. Imagine you have a grandmother who's 75, 80 years old. She lives by herself at home and you live maybe in another country or another state. How do you stay in touch with her? And so those are the types of products and that's essentially how we would want any of the Amazon devices to show up. It needs to be a benefit, it needs to enhance, it needs to be brought into the life of our everyday customer and improve. If it's not doing that, then we probably won't make it.
Maurice Cherry:
Now that you mentioned, I'm thinking of other kind of Amazon devices. I think these might've been some that were discontinued. I remember at one point there was a… I think one was like a camera or a camera wand or something that went with Amazon wardrobe that would analyze your outfit. It reminded me of Clueless, like the opening scene in Clueless, where Cher is picking out her outfit on the computer and the closets got the dual conveyor belt curtains, or whatever, or the rods, or whatever, but thinking about like, "Is that really a benefit? Do I need to do all of that if I'm getting ready in the morning?" Probably not. I think Amazon discontinued it fairly shortly. But when you put it in that way of like the devices need to be a benefit, then I see why Amazon has made such a, I think, deep strides into the home with their devices.
Maurice Cherry:
The Echo is something that easily can blend in with your decor. The Fire TV it sits behind your TV, it's out of sight. The ring it's literally outside the house. You don't really even see it. But the benefits that it adds, whether that's security or extensibility or smart home functionality, stuff like that, it's interesting how all of that still works together under the Amazon brand because now it, of course, ties into the services, it ties into Alexa, it ties into purchasing, or whatever that you want to do on the website.
Maxwell VanHook:
Yeah. It's really important to look at the ecosystem of devices that we have. I don't even think there's a lot of things that Amazon tries. I would say a year-over-year, we've increased our device output like 10 fold. I expect it to continue to grow and grow. Really, I think the goal is to provide through Alexa a service that can be personalized to the end user and can function in a way that benefits them specifically. I imagine a world… And these are not conversations that I've had with anyone in terms of how Alexa functions. But I imagine a world where there are no devices and potentially Alexa is integrated into the home itself.
Maxwell VanHook:
I could imagine like seeing a tiny home, it could start off there and it could just have Alexa integrated into. You don't need to have these one-off devices in order to have it function. Imagine it already being built into the smart appliances, imagine it already being able to interface with your computer. You don't need to have a suite of devices that ties into the Internet of things in order to function efficiently. That's what I think is going on with most AIs. I think the overall goal is to arrive there and the device is just to open up new spaces and open up how customers relate to the voice assistance.
Maurice Cherry:
Yeah, because I imagine you get a ton of data with just seeing how people talk to Alexa, how they interact with the different devices, and then you can use that, of course, to upgrade the experience. But then as you said, you can venture off into greater implementations. Like I know there's the Amazon Go store, which I think started in Seattle. I'm not sure if it's started to spread nationwide yet, but it's almost like a person list convenience store. You can go in, pick up what you need and walk out. As you're doing this, you're automatically being rung up, like the things that you're buying are being tabulated, you're charged when you walk out the door, and you don't have to interact with a person. You just go in, do what you have to do, walk out.
Maxwell VanHook:
Yeah. I think, if I'm not mistaken, not too long ago, and you probably find this online, they just opened up a full fledged grocery store here in Washington.
Maurice Cherry:
Oh, wow.
Maxwell VanHook:
Yeah. I'm going to have to go check that out. Even like that concept, it's interesting because it's not like we haven't tried that in history before. I look at the, on a smaller scale, like a lot of the grocery stores already have some form of self-checkout. But even the human psychology behind self-checkout, you look at it, realistically, if you were to assess how long it takes you to go into a store, get what you need and then go through the checkout line by yourself, it probably on average takes you a lot longer rather than having else. But it's the thought that you are going to be a lot faster than that person who may be checking you out in line, which is interesting. But also even seeing Amazon try something like this and be relatively successful has a lot to do with studying the human behavior. But yeah, that's not the first time in human history that we've we tried that before. [crosstalk 00:21:10].
Maurice Cherry:
Yeah, no, no, I'm thinking specifically of the automat, which has been around since like the late 1800s. When Amazon is doing at least in… if you look at from the automat to the Amazon Go store is essentially taking that same concept and almost treating the store like a vending machine and just having this layer of technology that handles interactions throughout the entire process.
Maxwell VanHook:
Yeah, no, it's crazy to see. I remember the first time that I actually went into… because I work in Day 1, and for anyone who doesn't know what Day 1, it's one of the buildings. I believe it's actually the building that Jeff Bezos is. And so within the verticals and the business orders that he cares about, they all exist in that building, with the exception of AWS, Amazon Web Services. I remember when I first went into that store and it was such a weird thing. It was like coming from where I come from, just be able to use an app, walk in and walk out, and I stopped myself and I was like, "Am I like really…" It's almost like you feel like you're about to steal something like, "Am I really allowed to walk out with this?" Yeah, but it's interesting in that I think as they become more successful with the rollout of the stores, yeah, you're going to see a lot more of it.
Maurice Cherry:
I can see Amazon coming out with like the Amazon house of tomorrow. You know what I mean? It's almost like those old Tex Avery cartoons where you got all the machines and robots doing stuff. It's so interesting because these are concepts… Just this whole thing about home automation, for example, we've been fed that for like 50 years now. The Flintstones and all those little animals and shit doing stuff for them in the cave, we've been fed this whole thing about having the house work for us instead of us working in the house for such a long time. And so now you've got a company like Amazon that's able to really do that through their devices. Other companies have gotten on this too, but I feel like Amazon was really one of the first to really do deep penetration into the home largely because I think it was tied to commerce.
Maxwell VanHook:
Yeah, no, I also think it's so interesting to see the exponential growth of technology and the rate of change and the rate of innovation and technology. I'm sure that you've watched Black Mirror.
Maurice Cherry:
Mm-hmm (affirmative).
Maxwell VanHook:
Yeah. And so I remember the first season and I was like, "Oh, some of the things that are happening in this series, like the grain, the grain where you can run back all your memories, that's super far away." And then season-by-season, I think I realized by the third season, I'm like, "No, these are things that can happen now." And so I'm looking back because I always feel as though like art imitates life. I think we seed ideas within the consciousness of society and then some person out there will have the goal or have the genius to make it. And now, I think we're at a crossroads where it's like, "All right, you put that into the world, I can make that tomorrow."
Maxwell VanHook:
And so yeah, I think you're 100% right. We're going to look probably within the next few years, there will probably be some sort of smart home that will have all this integrated tech. I think we're at a stage where that next technological revolution, if it's not already here, it's getting ready to come underway. It's pushing up against our beliefs about identity in how we think about ourselves. Going back to Black Mirror, that episode about VR and video games, I forget the actors that were in it, but…
Maurice Cherry:
Is this from the latest season, the Striking Vipers?
Maxwell VanHook:
Yes, Striking Vipers.
Maurice Cherry:
Yeah, yeah.
Maxwell VanHook:
That was so interesting to me because it introduced a new topic, because that technology is not far away. It's right around the corner. I want to say not to get too graphic, but there are streaming websites that people probably sit or shouldn't be going to that get a lot of data and they have invested and have given seed money to companies who are creating bodysuits that can sense like AR/VR touchpoints and mimic haptic feelings throughout the body if you're wearing these suits. And so, yeah, like seeing an episode like that and knowing… because I pay attention to angel investors, I'll pay attention to what people are doing in the market, knowing that there are websites who want that technology and are spending money in order to make it happen means that that conversation may not be that far down the line. And that to me, it's somewhat terrifying, but it's also really interesting.
Maurice Cherry:
No, no, I totally get what you're saying. I didn't even think you were going to go that way with it. But now that you've mentioned it, I can see that. I was thinking more so about like now how… A couple of weeks ago I had this guy on the show, Brandon Groce, and we were talking about the metaverse and about how there are online personalities, YouTubers, podcasters, et cetera, that have a virtual realish avatar, like a VTuber or something like that. We're starting to see it on YouTube, for example, people that have these online-ish identities that are getting some level of fame. There's Dream, there's Corpse Husband, there's probably a few other folks. It's like these are real people. No one knows who they are, what they look like, but they've presented this digital 3D avatar of themselves. They're able to use that to, I guess, be themselves online in some sort of way. But to go back to what you said with the Black Mirror portion, I do see how that's not too far away at all. Between augmented reality and things of that nature, it's pretty close.
Maxwell VanHook:
Yeah. Even what you just said, I love to unpack that even more, because in a sense, it's the most ideal version of yourself. That's what I think in a real way because I'm conflicted about social media and how it's used, but you curated. A lot of people do not give this holistic presentation. It's not like a direct one-to-one to your everyday life experiences. Yeah, you just amplify that and then now I can actually physically choose what I look like. If I want to be part animal, part human, or if I want to be a cyborg, I can do that. And now, we're all in ready player one.
Maurice Cherry:
Yeah, absolutely.
Maxwell VanHook:
I can imagine that that'll happen. Yeah, not too long from now. I feel like I'm watching kids now and at least my… I have a godson and he constantly in his video games. If he's not in his video games, he's watching streamers. I hear you on that one.
Maurice Cherry:
Yeah. Let's switch gears here a little bit. I know we've been talking about your work at Amazon. One of the other things that you do is that you are a co-host of a show on Instagram called Designing While Black. Tell me about that.
Maxwell VanHook:
Yeah. I think Bekah and I met in my first year at Amazon. And so Bekah is my co-host. What we realized is that internally there were no spaces for designers to come together, meet politic, learn from one another, and generally just have a social bond that feels like support. We wanted to change that. And so we got together. I want to say one day, we went to a mini golf session and we sent out a blast. We expected like five people to show up. I think like over 30 people showed up. So now, we realize like, "Oh, there's a community within Seattle that we really, really need to access." That's where black designers of Seattle came from, just trying to create a space where black designers who may feel other, who may feel like there's no one who shares the same interest or even walks in the same spaces that they do. There is a social circle out there that they can access.
Maxwell VanHook:
And so a lot of the times like when we were starting to have these gatherings, we weren't talking about design at all. We were just having fun. We would go, pick a place, we would eat, and we would just fellowship. And then we slowly started to shift that and it became a little bit more educational. We started to bring people in like Tim Allen, I believe you had Tim Allen on your show.
Maurice Cherry:
Mm-hmm (affirmative), from Airbnb, yup.
Maxwell VanHook:
Mm-hmm (affirmative). We brought in Jessica Rochelle, Timothy Bardlavens. And so we were bringing in these different people who were really able to share knowledge, share their experience, and uplift the designers within our community. And then we were getting reached out to from agencies or other bigger tech companies because they wanted to host us in the space and then the pandemic hit and then things started to take a bit of a low. We try to figure out how to navigate the new world and the new situation that COVID presented to us.
Maxwell VanHook:
One of the things that we thought about was having a Zoom. But then outside of that Zoom, because we were specifically talking to designers within Seattle, we were really, really interested in being able to reach a larger audience. And within that larger audience, really speak to emerging designers. People who are either in middle school, high school, college, and wanting to walk in the same spaces that we're currently walking. And it's like, "How can we reach out to them? How can we give them content that can encourage them and allow them to know that there are people out here who look like them and are doing this work?" Because I firmly believe like if you don't see yourself, then you may not believe it's possible.
Maxwell VanHook:
And so that's where Designing While Black came from. We spent a lot of time thinking about it, scrutinizing it, trying to design out the materials in the brand and a bunch of different ways. One day, Bekah and I just sat down and like, "We're just going to do it, do it. We're going to get out within a week, we're going to bring on…" I think our first guest was Alyssa Johnson, "and we're just going to keep going every week, short form content, bringing the people that we know and make sure that this gets in the hands of the right people." And so uplifting those stories and disseminating them to the people that can access those younger folk who want to be creative and want to do design professionally, that's our main goal.
Maxwell VanHook:
As COVID restrictions start to lessen and we get back to peopling again, our goal is to get right back into those physical spaces and those physical venues, and then maybe we can start to do those shows in a more brand way. But that's where it started. I think her and I really, really believe in education and we both stand on the shoulders of the people that came before us. Like I specifically, one of my design mentors was in my church. I know that that's not like a common story to have a professional graphic designer who can talk to you at the age of 14, 15 and guide you. But I want to give back to other people what he gave to me. That was the overall goal of just doing the IG Live show.
Maurice Cherry:
What have you learned since starting the series?
Maxwell VanHook:
One, I've learned that there are some magical black folk out there, real like, "You start to like." You'll sit down with some people and you think that you have a full understanding of everything that they've done. And when you sit down and you have a conversation with them and you really have to assess and dive deep into their life and their work, you start to realize like, "Yo, there are black people who are innovators in every single type of design that you could think of." And that's really encouraging to me, especially in the spaces that I travel. But I think the biggest thing is that like, "Yo, we're killing it out here. We're killing it out here, and not just when it comes to being like a director or a VP or an executive."
Maxwell VanHook:
I met a young woman the other day, her name was Kiwi. She's currently in school. But she was a producer on MasterClass. Yeah, and she has spent time producing for films. She just completely shifted and decided that she wanted to become an instructional, or she wanted to become not only like an instructional designer, but industrial designer more so. That's probably like the most amazing thing like being able to meet people who have had just so many different types of experiences in life and aren't afraid to try new things. That probably is the biggest thing that I've learned. I do want to ask you, as you were building out your platform, what probably is the biggest roadblock that you faced just in terms of making sure that, one, it was reaching the people that you wanted it to reach?
Maurice Cherry:
It's a good question. I think it was two things. One was really me trying to get out of my own way. I think I certainly was trying to do, especially early on, a lot of partnering up with other entities to try to reach an audience that I just didn't have yet. I should have been spending that time really cultivating the audience that I did have, like the ones that I knew were listening and were leaving reviews and stuff. Instead, I would try to talk to another design podcast or another design organization and see if there's ways that we could work together and do some stuff. Oftentimes the answer to that would be no answer. It just wouldn't go anywhere, even though I'm reaching out.
Maurice Cherry:
I think that's probably been a big roadblock. To be fair, I'd say money is a continual roadblock. But in those early days, there wasn't really a whole lot that I really needed that money for in terms of I think I wanted to have it as a status symbol to myself that I've created something that companies will pay me for. And of course, I would use it for operational resources and stuff like that. But I spent way too much time trying to chase sponsors and chasing audience I didn't have and I should have been really focusing inward on cultivating the audience I do have and making them really rabid fans of what I'm trying to do that can see the vision that I see. I would have done that. Because yeah, in those early days, there was… I'll say this, it was certainly not as progressive as it is now, not by a long shot.
Maurice Cherry:
When I was reaching out to people in 2013 and 2014 there was a lot of, "Oh, we're post-racial, we don't do this sort of stuff anymore, et cetera, blah, blah, blah," which then just made it difficult when people ideologically feel that the work that you're doing for some reason is racist and it's not. It's like, "Oh, well, I don't see why you would think that." The tenor of the design community was not as open and accepting and as, I'd love to say the word woke, but it was not as woke now as it was back. Back then, people were really closed off to like, "No." Now, it's a lot more open. I think there's a greater consideration and a greater perspective for what black designers are doing and what they can bring to the table and their voices and such.
Maxwell VanHook:
Yeah. I want to think back to when I first discovered your podcasts. I think, for me, especially I was young. I was fresh in the design game. And so you don't see a lot of examples of people have had robust careers. I probably didn't meet too many people outside of my actual mentor who had decades worth of experience in design. And so being able to access your podcast reassured me that like, "Not only can I have a long career in this, but I can aspire to do great things."
Maxwell VanHook:
And so, yeah, I just wanted to I appreciate the platform that you built in that sense because it does not only spread knowledge, but it also reinforces some things identity-wise within a young designer to know like, "Hey, there are people who are out there and there are people who are great and they're killing it." And so, yeah, I was really, really, really excited when I found the show. I don't even remember how I found it. I can't even remember how I found it. I may have been searching online. It probably was like Facebook back then. Yeah, I would just check in, listen and use it to build not only my knowledge of self and what was happening in these different spaces, but also to explore new territories.
Maurice Cherry:
Well, I'm certainly glad that you found it. It's interesting because like I said, I've been doing this for such a long time. And oftentimes, it's probably different with what you're doing with Instagram because you have a live audience. But with podcasting, a lot of this is pretty solitary. I don't really know how it's being received unless someone leaves a review, or they write me an email, or they send a tweet, or send a DM on Instagram. Other than that, I'm just pushing episodes out into the void. I can see that they're getting listened to and downloaded, but I don't get that direct feedback. And that could just be honestly because of the medium. But yeah, no, I'm glad that you found Revision Path and that it was able to serve as an inspiration for you.
Maxwell VanHook:
Yeah. I feel like we should give people flowers again maybe on the internet. We don't do the best job of that, especially when you look good like the vacuum that is Instagram in the light system. But as I live and breathe, I just wanted to let you know that… And I definitely share your podcast with young designers and people that I mentor because I don't want people to think it's just me out here. I'm tired of that narrative. I'm tired of the narrative of being like, "Oh, I was the only one. I'm the only black designer that I know, I'm the only black designer for 100 miles." Is exhausting. I don't subscribe to it. I don't want to hear it anymore.
Maxwell VanHook:
I also want to change the narrative in terms of how people of color relate to design because I tend to think that the way that you think about something has to be vastly different than the way that another person thinks about something. And the way that you will build something is going to be vastly different than the way that someone else will build it. I think inherently, black people are designers. Even thinking about systems that were placed on us and how we've navigated around them, we've organized. We have created structures, we have created innovation and process to be able to by step roadblocks that have been placed in front of us.
Maxwell VanHook:
And so I think that that's a part of your heritage, that's a part of your legacy. I think if you want to be a designer, you can do that. It's just a matter of sending your mind to it. And so I tell people that all the time, especially younger folks like, "This is a part of your ancestry, bro, you've been creating long before you were in existence. It's in your blood. Don't let anybody tell you that it's not."
Maurice Cherry:
Yeah. Speaking of ancestry and going back, I want to go back to where you grew up. You're originally from Baltimore, born and raised. Tell me about what it was like growing up there. Did you feel like you got a lot of exposure to art and design as a kid?
Maxwell VanHook:
Yeah. Both my parents are like… We're really supportive of the arts. My dad, he forced me to take drama classes oddly enough. He came to me one day after school and was like, "You're signing up for You're a Good Man, Charlie Brown. You have an audition two days from now." And then my mom would make sure that during the summers and after school, I was doing some sort of arts and crafts. Baltimore has this program called TWIGS. It's attached to this high school called Baltimore School of the Arts. And so when I would leave my middle school, I would just take a bus there. And so I'm learning foundational principles of traditional art. And also from year-to-year, I'm switching off. Maybe one year I'm doing more traditional art practices and then the next year I'm learning how to act.
Maxwell VanHook:
And then that evolved. As I started getting a little bit more focused, my mom would take me to MICA. Even in middle school, I was able to get a lot of exposure to institutions that existed within Baltimore that solely focused on art. And then when I went to city, city is… I'll say it's the best high school that exists within Baltimore, but they have a program called International Baccalaureate. That allowed me to get a little bit more focused when it came to how I was telling my stories through art.
Maxwell VanHook:
I had some teachers who were just really, really helpful and set the foundation for how I wanted to express myself. And one day, one of those teachers came up to me and was like, "You know that you could do this as a career." I was like, "Huh, I didn't really think about that." This was just something I would do when I was just chilling or late at night or when I have free time. And so once he expressed that to me… because I was going to go to school for communications, which would have been really, really bad. But I had made the connection that what you're probably passionate about, you should follow that. You should figure out how to do that as much as you can.
Maxwell VanHook:
And so what they saw in me, they really, really poured into me. And then I talked to my mentor and he opened up that lens a little bit more and he was like, "Hey, you could go to school for graphic design. But I see something different happening in the space. And so you're going to need more than one skill when you graduate from school. He's like, "Don't do graphic design." He's like, "There are programs out there now that will teach you those principles, but you need to be more in the digital space." That's how I ended up majoring in multimedia and I got crazy amount of exposure to different things.
Maxwell VanHook:
I want to say we were doing physical computing. I was messing with Arduino boards, trying to figure out how I could trigger light within a physical space, doing sound production, messing with middies, a bunch of stuff like video production, pretty much all the different types of design and art forms that you could think of. I just had so much freedom, I think. Out of all the majors in that school, we had the most electives. It was wonky. I want to say like three to four years after I left, they shut it down. Yeah, they just rolled it into graphic design.
Maxwell VanHook:
But even that was indicative of the fact that graphic design as a major or as an industry had changed, and we were using new terms and I had no idea what a user experience designer was, but also those lines hadn't been defined yet. But to go back to Baltimore, that's my heart and soul. Even though I'm in Seattle right now, the goal is to always return back to it. It's taught me a lot, is where I get my grip from, is where I get my perseverance from. It's the place where I learned to be me. And so me and my wife, we're here in Seattle now, but the goal is always to go back home.
Maurice Cherry:
Now growing up in Baltimore and everything and with what you've just described, when did you know that this was something you really wanted to do for a living? Did it click at any point growing up?
Maxwell VanHook:
When did I know that this was something I wanted to do for a living? It's really odd, but it was probably my senior year of college because I wasn't really sure how viable a design career was. I was going back and forth and as I was starting to get closer to graduation, I was having some apprehension. It was like, "Do I just go get a master's degree?" Both of my parents have master's degrees and they're both educators. I just thought that that was the path. And then my senior year, I had a teacher… It's interesting. He led our whole program. I had him like freshman year and he leaned on me. He's like, "You don't understand any of these programs." He's like, "You have great vision, but you can't execute on any of your visions because you don't have the technical knowledge."
Maxwell VanHook:
And then I had him again in my senior year and he did the exact same thing, except it was a different message. He was like, "You could be so great." He was like, "You could be so, so great." He was just yelling at me. I could see this passion in his eyes. I'm seeing all my other classmates and they're walking in with projects that are half thought out, or they did the night before. He's just letting them come in and out, come in and out. What you said to me is like, "You're not the same as them."
Maurice Cherry:
In a good way or a bad way?
Maxwell VanHook:
In a good way, in a good way. He's like, "That's why I'm yelling at you." He's like, "I can see you doing this for the rest of your life."
Maurice Cherry:
And so that really set you on that path. Yeah.
Maxwell VanHook:
It set me on that path because I woke up and was like, "Oh, do I need to get a master's? Why am I going to get a master's degree?" I lit fire within me because I didn't have that confidence yet. There was nothing saying that I was meant to do design full-time, there was nothing saying that I was going to work at Under Armour, there was nothing saying I was going to be where I am now. And that teacher, yeah, it came full circle. Like first year, lit a fires like, "Oh, you got to learn these programs."
Maxwell VanHook:
And then it was like my last year. I still remember this man. His name's Chris Garvin. Yeah, just leaned on like… just yelled at me and would not do it to anyone else at all. But I think I saw him maybe like five or six years after that because my brother ended up going to that school and I thanked him, because there's a level of care. You need a support system of people who are going to hold you accountable, but also people who see you as greater than what you see yourself as. That was important for me. But yeah, that's when the switch turned. That's when it turned and I was like, "Oh, I can do this, I can do this. I can see myself as a designer professionally."
Maurice Cherry:
Yeah. And speaking of which right after you graduated, you ended up working at Under Armour and you stayed there for what? Six years pretty much?
Maxwell VanHook:
Yeah. That's an interesting story. I want to say I was up late at night once Saturday evening, probably like Sunday morning, around twelve o'clock in the morning. I'm on Craigslist. I'm just applying for anything. I have my busboy job. I'm like, "I got to pay off these loans quick as possible. I'm working as many shifts as I can. I'm not trying to live in my parents' house forever." And so I'm like come across this ad that says, "Oh, we have a contract position for a designer working with a sports organization within Baltimore." I'm like, "Hmm, what could that be?" I was like, "Could it be the Orioles? Probably not. Could it be Baltimore Blasts? I don't know." I was like, "It's not going to be Under Armour. They would just have it posted on their site."
Maxwell VanHook:
Got a call probably… I'm in church. I got call around nine o'clock. Someone leaves a voicemail. It's like, "Hey, we want you to come in tomorrow, take a test." Still don't know what it is. Go in, fail the test. Yeah, failed the test. There's an old version of Photoshop that I've never used before. Completely different set up. I think around that time it was like CS3. There might be like CS1 or something like that and they still send me in. They send me in. I'm at the door. At this point in time, my parents are telling me like, "No, the only way you get the job, dress up suit and tie, blah, blah, blah."
Maxwell VanHook:
I have a suitcase on, I have a suitcase, Maurice. I have a suitcase. I pull my portfolio out of a suitcase. This a woman, she comes and she gets me. The first thing that she says to me, she was like, "Don't worry, you got this." The person interviewing me, comes like, "You got this." I don't know what she saw in me. She was like, "You got this. This is yours." This is as someone else's walking out. I know that they're interviewing other people. But yeah, I ended up getting the job. I walk away from that interview, by the time I catch the boat back across the harbor in order to go home, I get a call and saying, "Hey, they want to bring you in."
Maxwell VanHook:
What started as a contract position evolved into a six-year career with Under Armour. They were a fledgling team. I worked on the e-commerce team there, really supportive people. It was a blessing because I got a lot of experience that typically contractors don't get. I was able to work in their custom CMS. I got to see how you grow a business, how you grow a platform. We essentially went from just supporting ua.com to looking at the whole digital consumer journey. It was like ua.com and then now all of a sudden it's emails, it's social paid and organic, it's apps. I'm looking even at designing for touchscreens within retail stores.
Maxwell VanHook:
I was only like 23 years old. And then we go from there and then all of a sudden it's like, "Hey, we got all these different channels that we need to marketing now. The brand team can't support all of these. You all need to figure out how to extend these stories." That's when the art direction experience comes in. And so now I'm in studio and I'm internalizing these products and figuring out how to craft stories and narratives around them that are compelling, and not only tell the technology story, but then also give that emotional and aspirational lens to the product.
Maxwell VanHook:
And so I'm started off in studio and that was a really good experience, and then now all of a sudden it's like, "Hey, can you go on location? Can you scout places? Can you work with athletes? Can you put them through training regiments?" I got a lot of crazy experiences from that. I got to meet Steph Curry while I was working at Under Armour. I got to work with him on set. That was key for me. I wouldn't trade that experience for anything because that's where I learned how to really fly in, like really be a leader. They allow me to pitch ideas. No, they didn't accept all my ideas, but they allowed me to take chances there. I really appreciated that.
Maxwell VanHook:
No matter how many times things may have not gone perfectly, they always gave me another chance to push my ideas. And that also gave me a lot of confidence. I probably wouldn't do what I do now if I hadn't worked there and worked around the people that I worked around. There was a lot of black leadership. When I was there, there was a lot of black leadership at Under Armour. Like Adrienne Lofton, she's a black CMO, Julian Duncan, he now works with the Jacksonville Jaguars as a CMO, but he was a director, Thomas Harden, Ernie Talbert, he works here at Amazon with me, Tai Foster. These were the people giving me the opportunities. These are all black people. Like that, that matters. Looking back on it, that was a blessing for me. That was really, really key because I would say the majority of designers who enter into professional workplace don't get that level of support.
Maurice Cherry:
No, absolutely not. I've had a number of folks here on the show and like… There are some that will go into agencies and agencies may have some kind of apprenticeship type setup or something like that. But it's rare to go into a real corporate design space, like I'm sure Under Armour was, and still feel not just that supportive, but then also to have that many black creatives around you supporting you as well.
Maxwell VanHook:
Mm-hmm (affirmative), and opening up the budget for you to fully realize your idea. It wasn't until I left Under Armour that I realized how special that environment was, kind of like when we were talking about like, "Yeah, I hold that near and dear to my heart," because I realized that that's not the case for everyone. I cherish that moment. I still have relationships with those people now.
Maurice Cherry:
I was going to ask what prompted you to move out to the West Coast because you went to school at the university of arts in Philly and it sounds like this opportunity was it, like this was the reason you moved out there?
Maxwell VanHook:
Yeah. I had always wanted to live on the West Coast. Nothing's like Baltimore. Baltimore is always… will be my home. I love it like I said earlier. But I feel like when you put yourself in new spaces, that's when you learn new things about yourself. And so I like being uncomfortable because I firmly believe that it leads to expansion. And so a part of going to the West Coast was about not falling into this sense of like comfort and familiarity with my environment. I just knew I got to a point probably when I was like around 26 where I was like, "This feels amazing. I feel like I know everything. I'm starting to feel like at work. I don't have to try as hard. I don't have to exert myself as much." And that's when I knew I had to go.
Maxwell VanHook:
I was like, "I made a plan." I was like, "I have to go. Because if I stay here, there's the potential that I plateau." And so I set up a plan for myself. West Coast was the ultimate goal, but I teared it out. It was like, "Getting to California, number one. Number two, we stay at Under Armour and then we go to Amsterdam." I lined that up. Number three was going to be like even moving to Virginia. Yeah, because I was just like, "I need to have some new experiences." That's really what drove it, having new experiences, being in new environments. Living in Philly gave me a little bit of a taste, but also both of my parents are from Pennsylvania. My dad is from North Philly. Then Philly was like a second home to me.
Maxwell VanHook:
And so even though I was away, I wasn't ever really away. I wanted that experience, I wanted that moment. That's ultimately like it landed me in the bay with Athleta, which is a part of Gap. But yeah, I didn't even stay… I loved Athleta. They had a wonderful environment, completely different than Under Armour. They were way more focused on empowering women. And then also it was more so from like a wellness lens, but then I got that opportunity you with Amazon. Once again, it was someone who believed in me so much so that a position that I did not even apply for, they wanted me to come and work with them.
Maxwell VanHook:
And so I got a call from… He's not my hiring manager anymore, but I got a call from a man named Kay Tran, a Vietnamese man. He's like, "I know that you exist as a designer right now, but I think that you could be way bigger than that." It was like a costume theme within the experiences and the interactions that I'm having. He was like, "I think you can be an art director." He was like, "I think you can lead these projects. I know that you have no experience in tech, but I'll support you and I'll work with you."
Maxwell VanHook:
He held true to that. He held true to that. I owe a lot of my success here to the support that he provided me initially at Amazon. And that also set the foundation for me wanting to create the spaces with Bekah that we've created so far. But yeah, and he reached out to me, called me, told me to come up here, gave me the lowdown on how it would be. I remember that one of the first calls that we had, he was like, "I used to live in the Bay." He's like, "Seattle is not the Bay at all. So be prepared for that." I think it's worked out for me, it's worked out for me, for sure.
Maurice Cherry:
It certainly sounds like it has. I can tell. When you look back at your career and you've dropped a few names throughout this interview, but who are some of the people that have inspired you? Any mentors or colleagues?
Maxwell VanHook:
Yeah. First and foremost, one of the people that inspires me the most, I'll go to my first mentor, that Sean Cunningham, the man that I met at my church, a professional graphic designer over 20 years. He worked in agency life and he really, really took me aside. He would spend time with me on Sundays, on the weekends showing me how you craft a portfolio. Because I think a lot of times, kids can think that they're putting their work together and they have a bunch of pretty pictures, but they don't have any story behind it. There may not be any depth. And me having access to him, he started to mold me and shape me and pull back the curtain. He was one of the people that really blocked down field for me, because if he wouldn't have spent that time with me, who knows if I'm in the same space that I'm in? Sean Cunningham would definitely be a really, really big one for me.
Maxwell VanHook:
In terms of other mentors, definitely I have to give… My parents are really, really keen and influential in my life. And so a lot of the principles that I have… I do think that this relates to the design as well. My parents are extremely empathetic. I don't believe that you can be a good designer if you do not have empathy. If you're just out here making decisions and building products and doing work solely because you think it looks good or solely because you think you're making the right decision and you're not considering the people that you are doing it for, then it's all for nothing.
Maxwell VanHook:
And so one of the sayings that exists within my church is, "It's all about relationship or ain't about nothing." My parents are the embodiment of that. And so they pass that empathy along to me and that's how I like to show up. And not just in how I think about my work, but also how I relate to people. Those would probably be my key mentors. Of course, like all the people that I currently fellowship with now, even though back in [inaudible 01:04:11] like relatively like the same age, I think being in contact with her has been a form of mentorship for me. John as well. John has been huge for me, especially in these past couple of months, just in like owning your agency and owning how you want to show up for people and making sure that you do it with a spirit of service. Those would be my mentors, for sure.
Maurice Cherry:
What are you obsessed with right now?
Maxwell VanHook:
Okay, this is a side thing. I'm absolutely obsessed with how the market is changing currently, like how it's peered into the social conscious of millennials specifically. I'm seeing this stuff that's going on with AMC and hedge funds and Citadel. And for whatever reason, that really interests me. It's like this story of fighting against the man and government agencies and little people banding together. Outside of that, I'm really, really, really into vinyls. I'm copying a different vinyl every other week. I'm searching, going in different spaces. That probably consumes a lot of my time. I'm trying to look to see if I can get a new credenza soon. We were just talking about getting rid of furniture. That's going to be a big purchase for me. I don't even know if it's like 350 anymore. We're probably approaching over 400.
Maurice Cherry:
Wow.
Maxwell VanHook:
Yeah, I got more [crosstalk 01:06:01].
Maurice Cherry:
You got storage for it and everything?
Maxwell VanHook:
No, man, I don't even know. Yeah, I had a credenza and I thought it'd be big enough and then I filled it up. So there's probably about 150 of the vinyls that are either in the crate or they're on a shelf. I need to create a storage space specifically for it. But even past that, I have to go home and probably grab like another 500 or 600. My dad called me because I think it was a little bit of a test. They allowed me to go into the storage and grab my uncle's records because that's really why it's important to me. It's kind of twofold. It serves as this design inspiration. You look at these covers and the sleeves and how they put everything together, is like a master's class in design.
Maxwell VanHook:
You look at some of the type, the color palettes, the photography, and the composition, it boggles my brain. You don't know all the people who have done these things. Some of these people are hard to find, they're dead. You can have someone in present day who can say like, "Oh, that was my great grandfather who did this cover for The Spinners." That's really interesting to me because you're actively discovering things with a sense of duality. Not only from this perspective of looking at it as a creative, but then also musically. Not just like discovering new sounds, but like, "I am learning things about my family and my uncle Candy, specifically, in terms of his tastes." I've never met the man, almost like him and I are having a conversation through the music and I can take that to my dad.
Maxwell VanHook:
For me, it's been really good, especially in contrast to what you get with streaming services because this is way more passive with streaming services. They serve it up to you, they give it to you and you just consume it. I know that you have to be active. You got to look through it, you have to touch it, you got to look at those songs, you got to look at their artists and then you have to put it on the turntable. And then once that side A is done, you got to flip it over to that side B. There've been fascinating things that have shown up in that vinyl collection. I'm like, "I got an original test pressing of a snake fundraiser concert."
Maxwell VanHook:
Yeah, it's wild. I got to figure out how to… Yeah, I got to figure out how to get that into the right hands because I feel like I personally shouldn't own it. I feel like it should be in a museum somewhere. But yeah, it's a part of my family history and I want to keep it intact and establish a library around it where I can give it to my kids, God willing.
Maurice Cherry:
Something like that ends up being really like a family heirloom, but it's something that you keep continually adding to and diversifying and curating and everything. That sounds amazing.
Maxwell VanHook:
It's been a good discussion starter, or just catalyst for how I talk to different family members because a lot of them have at some point in time come across this collection or have contributed to it in some way, shape or form, like even the snake record that I have, which has a speech from Jesse Lewis on it, and that original test pressing came by way of my aunt's old boyfriend because he used to help him disseminate those vinyls and sell them for the fundraiser. I can talk to her and then get the background and the story behind that and then also get her other stories. She used to work for the Schomburg Center. She used to be a part of Freedom Rides citizens. And so that's what these vinyls have done for me, where it was like, "All right, this is a really, really interesting piece. Where did this come from?" And then all of a sudden I'm getting a story around like how it was made and then all the experiences that are connected to it. And now, I'm learning more about my aunt, Roberta.
Maurice Cherry:
Where do you want to see yourself in the next five years? What kind of work do you want to be doing?
Maxwell VanHook:
I think in the short-term, I've leaned more into the visual side of design. There's a people focused in that, especially working for Amazon. Data is super key. But I want to get more into the product side. Especially with what I'm seeing in a lot of the technology that's being created, there are inherent biases that exists. And so when you're designing, you have to design with those problems in mind. If the room of designers that you have are largely white, the same issues that exist within society and exists within the world, probably going to exist within that product.
Maxwell VanHook:
And so I'm like, "Hey, maybe we need to take a step back from visual design and get more into product and user experience. And with that, get a better understanding of how people are interacting with the products and how these systems are set up, how we can decolonize those, in a sense." I have a lot of different thoughts about how we think about accessibility. All right. Traditionally, accessibility is like people who may be hard of hearing, people who may not be able body. But I also think that race may be a component of accessibility as well. And so I don't fully understand why we divorce those things. And so I just want to do more of a foray into that space so I can figure out how to set up structures that will be more encompassing of people who look like me.
Maurice Cherry:
Well, just to wrap things up here, where can our audience find out more about you and your work and everything online?
Maxwell VanHook:
Yeah. You can find me on Instagram @maxwellvanhook, and you can also find me on Instagram as well @designingwhileblack. Either of those, feel free to follow me, feel free to reach out to me also. If you are looking to get into design, if you want to politic, or if you just want to share your passion about design and your experience, I'd love to connect with people.
Maurice Cherry:
Sounds good. Well, Maxwell VanHook, I want to thank you so much, one, for coming on the show, but two, I think it's obvious from anyone that's listening up to this point that you bring such a deep level of passion and introspection to your work. You're a very thoughtful designer that really takes a lot of considerations into account when it's not just about the work that you're doing, but also the impact that it's going to have on people and on communities and such. I think this was just such a great interview, such a great introduction of you to the Revision Path audience. Thank you so much for coming on the show. I appreciate it.
Maxwell VanHook:
No, thank you for having me. It was great actually being able to talk with you and, yeah, meeting you. I feel like I've listened to you so much over the years. Finally getting down to talking with you has been somewhat surreal. Thank you. Thank you for allowing me to share this space with you.
Brevity & Wit is a strategy and design firm committed to designing a more inclusive and equitable world.
We accomplish this through graphic design, presentations and workshops around I-D-E-A: inclusion, diversity, equity, and accessibility.
If you're curious to learn how to combine a passion for I-D-E-A with design, check us out at brevityandwit.com.
Brevity & Wit — creative excellence without the grind.