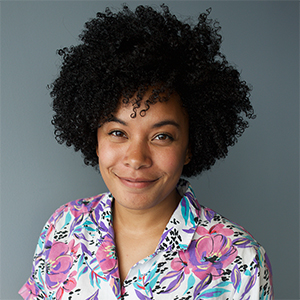 I first heard of Bekah Marcum when I talked with Tim Allen a few weeks ago, and I'm so glad I had the chance to connect with her for this interview! Along with being a product designer for Zillow, Bekah is a community organizer and the founder of Black Designers of Seattle.
We talked about how she's adjusting to working from home and self-isolation due to the coronavirus pandemic, and she shared the differences and similarities working at Zillow versus her previous role as an art director at Amazon. Bekah also spoke about growing up between the United States and Brazil, attending college in Washington DC and getting into design, and adjusting to life in Seattle and attending graduate school. Bekah is all about building authentic community, and I can't wait to see how her work makes an impact in the world!
Transcript
Full Transcript
Maurice Cherry:
All right, so tell us who you are and what you do.
Bekah Marcum:
I am Bekah Marcum. I am a product designer at Zillow currently and also the community organizer for the Black Designers of Seattle Network.
Maurice Cherry:
Nice. Talk to me about working at Zillow. What's a regular day like for you there?
Bekah Marcum:
Totally. It was a little bit more different than the environment that I'd been in before. It's hyper, hyper collaborative in a lot of ways, so whether I'm working straight up with another designer or if I'm really collaborating with my content strategist and PM partners, everyone's in the same space here in the same building, same floor together, so it's a lot of walking around and chatting with people. But essentially, a day in of a designer at Zillow is, you get in, you have a fantastic view of the water in Seattle and then whether it's going to a stand-up or any of those other type meetings, you grab a project. You might have some design critiques throughout the day with partners or other leadership. And, honestly, really just start collaborating on some pretty fun projects.
Maurice Cherry:
Now I have to couch this in our current reality of when we're recording this for people that are listening, we're recording this on March 19th and you mentioned at Zillow the view and it's hyper collaborative and you're working together. Seattle is, or at least you know a couple of weeks ago was one of the big hotspots for COVID-19. I'm pretty sure as other cities have taken suit with this now they're forcing people to work from home, to socially isolate themselves. What is the vibe like in the city right now?
Bekah Marcum:
It's been pretty weird. I think especially Zillow because although we do have people who work remotely, it's not really a remote culture. And so it's been a complete change from seeing each other and being in the office every day with each other to having to change everything into a online experience. So it's definitely been crazy that restaurants and bars and other places were closed down. They're only doing takeout right now. For us, we've been, along with a lot of the other tech companies in the area like Facebook and Amazon, we've all been working remotely for the last two, two and a half weeks. And so it's definitely been, I think there's a level of just stress that is definitely permeating everyone. We're in such a lucky position to be able to work from home. But you have people who are small business owners here, you have people who can't work from home and almost like the collective worry for our community has definitely been present.
Maurice Cherry:
Yeah. How are you feeling with all this going on?
Bekah Marcum:
I feel that I was super lucky. I live a little bit outside the city. So for me, I have a yard I can just go out and escape to without having to worry about social distancing. There's a bunch of stress again, from the small business owners and community. For me, I am so addicted to coffee and so I've made best friends with a lot of the different coffee shops and restaurants in the area and the baristas and so, just worrying about them and worrying about how this is going to affect not only the individuals but then also the small companies economically. For me, I was used to working remotely before in a prior job and so I had a space ready to flip the switch in that way. But it's definitely taken a lot of, or I'll just say it's definitely been a transition into trying to work remote with all the stresses that are added onto it.
Maurice Cherry:
How has the team handling it, coming from this very hyper-collaborative environment and now being distanced in this way? How are they handling it?
Bekah Marcum:
I think a lot of people are handling it pretty well. We have a massive amount of Slack channels over random things. The other day we were sending weird childhood photos to each other just to bring some of that community online. In in other ways, I think it's been really great to see the team give each other a lot of grace because other folks… I don't have kids, but a lot of people are at home with their young children. Zillow is a very family-oriented company and we've had many a kid come and do a cameo. Sometimes it was someone's puppy and so it's been fun to almost see each other in their home environments. But even my husband, who's over at Amazon, one of their senior leadership sent out an email that just said, "You know what, guys? We'll be fine. Let's just make sure that we give each other grace in this time because we know things might take longer because there's so much other stuff happening, so let's just be patient with each other and just get through it together."
Maurice Cherry:
Yeah, I definitely think that grace is needed for many of the reasons that you mentioned, going from working in an office to suddenly having to work from home and also not really being able to leave the house. That's a big, drastic change for a lot of people that shakes up their routine, it affects them mentally, it affects the output of work that they're able to do. So it's good that the companies are empathetic enough to say, "We know this is a tough situation." Not being completely hands off, but certainly exhibiting some grace in what is a very stressful time.
Bekah Marcum:
Totally. Yeah, it's definitely been very, very nice to feel like we have that type of support and understanding.
Maurice Cherry:
Yeah. What sorts of projects are you working on at Zillow?
Bekah Marcum:
Totally. I work in the growth and acquisition space for a product called Zillow Offers. Zillow Offers is essentially only really available in a few different cities right now, but it's a new product to Zillow and it's a program where we'll actually buy houses from customers and then also sell them. The goal, the overarching goal in Zillow, is to help movers get to where they want to be. However, we can make that process easier for them, let's do it. The whole premise of our program is that you don't have to do any home showings, you don't have to do repairs, you can essentially just pack up and leave. Some of our customers have given a lot of feedback where people who, some of them might have been in the military, some were moving for a job and they just really needed to get to the next place sooner. By not having to go through that whole traditional selling process, it removed all those different barriers for them and they were able to move faster. That's essentially my product that I work on.
Maurice Cherry:
Nice. Prior to Zillow, I know you mentioned your husband working at Amazon, but you worked there as well.
Bekah Marcum:
I did. I was at Amazon for four years or right around four years, first as a contractor the first few months and then I went in as a designer, then left as an art director. Funny thing, my husband came in a few years after I did and when he was interviewing I was like, "Hey hon, why does it say that your hiring manager is on the same floor as me?" And he's like, "Oh, don't worry, I'll be on a different floor." And we ended up being on two very different teams but being on the same floor for about six months. So we're also pretty used to working in a similar space together.
Maurice Cherry:
What's it like working at Zillow and how is it different from Amazon? Zillow is more of a startup, I would imagine. And Amazon is this big corporate behemoth.
Bekah Marcum:
It's very different. The cultures, if you even look at the leadership principles of the two companies, they're very, very different. It shows up starkly. For Amazon, it was this huge, huge, huge company and sometimes you may not feel like you have full ownership over a certain product. I guess scope is a big thing for Zillow Offers. I essentially own a whole section of the product and so what I decide, what I really work and help to create just goes up and is the entire thing versus a small piece of it.
Bekah Marcum:
Another thing is Zillow… If you're talking about workplace things, Zillow is much more of a nine to five and so there is a great work balance there. It's been listed on different lists as a top place to work for families. I was really weirded out that people left their computers on their desks and went away for the evening. I felt like the first times I did that I was like, "Oh, I'll hide it in my little desk drawer." And people were like, "No, you just leave it." Have that work-life balance versus different times for Amazon it was very dependent on the manager that you had, on the project you were working on. So it definitely had a lot more creeping as far as your off time.
Maurice Cherry:
Yeah. That work-life balance is… I've found certainly as I've gotten older it's more and more important to be able to really have that split and that separation and it feels like now, to go back, unfortunately, to talking about the coronavirus, I feel like everyone's work-life balance is thrown off now.
Bekah Marcum:
Oh, absolutely.
Maurice Cherry:
So it's a weird thing because it's now all in the same place and you don't really have a way to separate it. I've found a way to try to separate it. I told you before you started recording, I've been working from home since 2008 so I kind of have a pretty good way of compartmentalizing it. But then you just have all the added stress about everything that's happening outside of your home and you're like, "Oh, how do I focus? How do I try to concentrate on the task at hand?" So it's, yeah, it's…
Bekah Marcum:
Totally, I feel like, yes. Right. At home, you have the dirty dishes, you have the laundry that hasn't been folded in a week. Or at least I do. You have the animals and everything else. For my husband and I, it's like, "All right, who's going to use the office for a meeting. If you're having a meeting out there and I'm having a meeting in here, how are we keeping the animals quiet?" It's a whole collection of stuff also. I find it super hard because it'll get to 5:00, 6:00 and I'm like, all right, when am I actually going to close my computer because I'm not at work and I don't have to leave work on time to be able to hit the commute right and get home. You're already home. So I definitely have had to, for my own sanity, just shut everything down. Put "do not disturb" on my Slack so that after a certain time in the evening, I'm just not getting those messages.
Maurice Cherry:
Yeah, that's the best way to do it. Just shut it all down and physically try to go somewhere else, a different place, a different spot. That really does help out.
Bekah Marcum:
As long as you're in your home because there's still social distancing.
Maurice Cherry:
Exactly. So where did you grow up?
Bekah Marcum:
I actually grew up in two very different places. My parents had a nonprofit that really focused on just community good. And so I was born in California and spent the first nine years fully there. But then I ended up going back and forth to Brazil for a month or two out of the year when I was nine. And then when I was 16 I actually moved permanently there for the last two years of high school. So, for me, my childhood was very much made up of two very different places, very different cultures.
Maurice Cherry:
Wow. High school in Brazil, what was that like?
Bekah Marcum:
Oh, goodness. It was very interesting. When I first moved down there, I homeschooled for the first year because it's very like a transitional year. Senior year I went to a high school that my mom taught at. For me, it was really, really interesting because my parents again were in the nonprofit space. And so my whole life there was working with kids in the slums. Some of my best friends were ex-street kids. That was what I was used to. But then when my mom started working at the high school because she's a teacher, my sister and I went there for free. I think my graduating class was 17 people and those kids were essentially the richest kids of the area because I went to a "international" or American school. And so for me it also felt like I was straddling two very different worlds when I went to school, then when I went to the afterschool program that I would help run with my parents in the evening. So it was definitely a very, very interesting, interesting experience.
Maurice Cherry:
When you graduated high school, did you move back to the States or did you stay in Brazil for a while?
Bekah Marcum:
I pretty much went straight back to the States. I ended up going to DC for school, so I….
Bekah Marcum:
… dates. I ended up going to DC for school, so I was at American university for undergrad where I studied film and anthropology. Essentially I wanted to find a way to tell a story, but then I also wanted to tell it correctly and know how to do the research in order to portray it in the most unbiased way possible. And so I did that double major. So I was in DC for that and then stayed about a year after I graduated, and that's when I eventually moved to Seattle.
Maurice Cherry:
Now I'm curious about the storytelling. Being someone that was going between two different countries growing up, were you kind of exposed to a lot of art and design that made you want to go into doing film?
Bekah Marcum:
So it actually wasn't really the art, it was just the stories of the people who I met. I just fell in love with hearing different people's stories and hearing the way that they saw the world. And so I think straddling those two very different socioeconomic classes made it so that I realized that the other one just had no idea how the other one lived. And I think especially in Brazil, that stratification is so great and also exists not only socioeconomically, but also racially. And so for me, I just wanted to kind of tell a story to demystify and de-other a whole group of the population.
Bekah Marcum:
And so it was actually a project I did it my senior year in high school where in art class we had to do a video project, where we'd film it, we'd edit, it and do all this other stuff. And so it was a group thing, but I asked the teacher if I could just do a solo project. And I ended up going and featuring one of … Essentially he was kind of like a sibling at that point. I'd met him the first year I'd gone to Brazil when I was nine, he was 10 or 11, and we've basically been friends since then. And he had been a street kid or lived on the streets from the time he was six to nine, by himself with other kids his age. And then he ended up at this home for ex-street kids.
Bekah Marcum:
And so for me I was like, "You know what, I just really want to tell this story. I just really want to tell where he came from, the amazing trajectory and this amazing change that he's actually brought to his life." He started in the slums and living on the streets when he was so young, but now he had been a part of a college prep program. There was so much, and it was just such an amazing story.
Bekah Marcum:
So I took my really, really crappy little point-and-shoot camera and I went and I just interviewed him. We went to the favela where he grew up, and he brought us to his mom's house, and we met a siblings, he showed us where he had actually lived essentially in front of a shop, where he slept at night for the three years he was on streets.
Bekah Marcum:
He told stories over … He is kind of a hardcore-looking kid. He has this Nike scar, it looks like a Nike symbol on the side of his cheek. It's huge. So he looked pretty hardcore. And when you actually talk to him you realize that no, he only got that from falling out of a tree when he was playing. And the only thing he actually stole ever was a Hershey's bar, but he felt so guilty that he actually left money for them later on. So someone looking at him might think and really stereotype him in a certain space. But then the real story was just totally and completely different.
Bekah Marcum:
So that's one thing I really, really loved. And I actually showed it at a little coffee house presentation thing with parents and stuff when I was in high school. And for me I was terrified because I was really showing this group of the richest people in the city, I was essentially throwing the socioeconomic differences and the racial differences in their face. But then it showed, I was in a cold sweat. But then afterwards people started coming up to me and they were like, "How can we help? How can we do things for him?"
Bekah Marcum:
And so it actually ended up helping him raise money for an English language trip over the summer in the US. And so it definitely made a huge impact even though it was really bad video, the audio was terrible. But the story really came forward and I just saw the impact that this could have.
Maurice Cherry:
Wow. That's quite a story. Do you still keep in contact with that kid?
Bekah Marcum:
I do. I do, yes. He's definitely one of those folks who just became very much like siblings. And so now he's living in Brazil again, him and a few others. It's been really great to see how they kind of grew up and then are helping people who are in a similar situation. And so another person who I knew around the same time, all that he does is really go to the streets and really try to build relationships with other kids who live on the streets, or in the favelas, to essentially try and be a catalyst for some change in their lives.
Maurice Cherry:
Nice. So let's go back to the time when you're leaving American university and you're about to head out to Washington. Was that a big change in terms of time? Or did you have a few design gigs between there, before you made the move?
Bekah Marcum:
So in DC, I didn't get into design until a lot later on. I think it was the last two or three quarters of school. I essentially realized that if I was going to be some starving documentary filmmaker, I'd have to learn how to make my own poster. And so I took a design class, ended up really liking it, and then went from there. So at first I was able to mix it up with some of the storytelling internships I had. I had actually ended up doing a small animation and putting it up for, it was some type of awards thing at my school and actually won Best in New Media. And the prize of that was an internship at a design company.
Bekah Marcum:
So that was my first kind of design gig was me in a small basement making a lot of different illustrations for one of the Smithsonian's. And so I don't even think they actually ended up using it, I think they went a totally different direction after I left. But that was, I think for me a great experience. Just learning from the designers there, but then also learning a new program. I basically tried to do as many kind of small contracting stuff or freelance gigs. It was very nice having parents who were in the nonprofit sector because they always needed marketing work. So a lot of the early things I had was just making some marketing materials or teaching materials for them. So that definitely gave me a lot of practice.
Bekah Marcum:
And then for me it was a lot of, because I really didn't know what a good designer was, especially what a good junior designer was, I really was just looking at different people's portfolios online. I was going on Design Inspiration and also Pinterest, trying to find designs I really liked. And so I just gave myself projects that I could just try and emulate the style or something of, just to try and build that portfolio out.
Maurice Cherry:
That's a really good idea. I tell people that a lot in terms of how do they find some kind of project or thing to work on that lets them do a lot of different skills. I'll tell people, "You kind of have to make it yourself. A lot of those opportunities don't just come to you pre-made. So if there's something that you're really passionate about, turn that into a project and work on it. And let that be the thing that you help kind of build your skills up for."
Bekah Marcum:
Yeah, totally. For my parents, they would want, I don't know, a presentation slide. And I was like, "You know what, it might be better as an animated video." So I would just work through animation skills and learn animation while making them a video. Or I know there was a big wave of popularity for minimalist movie posters and stuff. And so I was like, "You know what, what are my favorite movie posters? Or what are my favorite movies? Let me just make a few posters for these different TV shows. How would I take this concept and then do it in my style? Or really, anything else."
Bekah Marcum:
So it definitely helped to build that out. And people actually loved seeing all these little passion projects when I first got started. So at first I was worried that it wasn't showing professional work, but people really, really tended to enjoy just seeing that I had that excitement for what I was doing and the passion to actually just go off and do it on my own.
Maurice Cherry:
Yeah, absolutely. Those are skills that employers, and I would say even people that just want to work with you on a collaborative basis, they want to see that passion. Because honestly the skills are, I hate to say transferable, but they kind of are. There's a lot of people that can work in Photoshop or Sketch or what have you and make something that looks really nice, but is this something they're passionate about? Or are they kind of just an adequate set of hands that are able to put something together?
Bekah Marcum:
No, totally. Yeah.
Maurice Cherry:
So we've had a couple of people on the show who have moved to Seattle, and they've often talked about the "Seattle Freeze". Which for those that are listening it's kind of this, I don't know, I guess you could call it a-
Bekah Marcum:
Constant social distancing?
Maurice Cherry:
Yeah, constant social distancing. We'll say that. When you first moved to Washington, did you experience any of that?
Bekah Marcum:
Oh, totally, totally. I'm from California where you just call someone up when you're on the way to their house. Or like, "Hey, let's go grab something to eat right now." And then in Brazil it's a very kind of warm culture, you're always hugging people, doing kisses on the cheek, all that stuff. And then in DC there's still that environment if you're heading to the Southeast where there are mostly black people. And so people are always talking to each other in the grocery stores and everything else. And then you come here and it's like crickets.
Bekah Marcum:
It was definitely hard in the beginning just trying to break into a field that I had no idea how to break into while also trying to deal with, what is networking? How is everything not awkward? Also, how do I actually build both connections and friendships in a place that is known for being very cold? So I would say that Seattle has been practicing for the social distancing for awhile, I swear. In some ways we're a little ahead of the curve on that.
Maurice Cherry:
Now, you did a recent interview with another podcast called Designer&Designer, and you were talking about your experiences working as a black designer, working on designing things, but often being the only one. I can only imagine, one, you're coming to this new city where people may not be super hospitable, and then you're also working in a place where you're the only black person there or the only minority there. What did that feel like in those first few, I guess months or so when you were in Seattle? Did you feel like you had a community that you could turn to?
Bekah Marcum:
Honestly, no. For my husband and I, we moved to Seattle without really knowing anyone. And so it was a very, very isolating experience. And also to add insult to injury, I was freelancing when I first came here and still trying to build that portfolio and find a job. Because we were able to move with his job, but I was still looking one.
Bekah Marcum:
And so it was absolutely isolating. I would go to networking events and there would be no one who looked like me there. I would go to like open houses at different design firms or anything else, and I would be the only me in the space. And I would like to say that that changed a lot. But throughout the first job I got as a marketing assistant or a production designer to the time that I spent at Amazon, I had not worked with another black designer in that entire time.
Maurice Cherry:
Wow. And this was the impetus behind you starting Black Designers of Seattle?
Bekah Marcum:
Yes, in a lot of ways. So as a designer I kind of had always heard of the other elusive black designer somewhere in the company. There was always another one, you just didn't know them. "I know that they're out there somewhere." But then I ended up getting promoted to art director, and then I started looking around, and I was like, "Wait a second. Where are the other black art directors?" And no one really knew where they were. And so I did some digging and I was like, all right. I was able to find one other black designer in the entire company.
Bekah Marcum:
And so I think I started to realize at that point that the thing that I was experiencing wasn't just my story, but it was evidence of a larger trend. And so from there, before starting the group, I actually had only known two black designers. One of them was my little brother, and so he barely counts. And so I essentially just started to reach out to other black designers that I knew or could find technically, within the company. I was like, "All right, I think there's a few of us because I've heard about you, but I'm actually going to make the effort and reach out now." And then I just started doing that on the larger, LinkedIn scale, going through many pages of designers in Seattle being the filter and trying to find other folks in other companies.
Maurice Cherry:
See, I'm so glad you mentioned LinkedIn. Because people will often ask me how I find people for Revision Path, and they're always surprised when I tell them I look on LinkedIn first.
Bekah Marcum:
Oh yeah, totally.
Maurice Cherry:
I go look at someone's connections and look at their connections, and try to find who I think might be a good fit or who might be a good guest and reach out to them. People sleep on LinkedIn … I've long since the deactivated Facebook, LinkedIn is kind of where I am now these days in terms of social stuff. But how is the group going so far?
Bekah Marcum:
It has been insane. It's grown so much. Like I mentioned, at first it was just me. I had a Google Sheet of all the different bios of people I was finding who are black designers in the city. So I just called it my "black designers black book". And so I've essentially just been reaching out to people. It's like, "You know what? We just need to have a happy hour." So a year and a quarter ago or so, I just reached out to 35 people that I was able to-
Bekah Marcum:
… they just reached out to 35 people that I was able to find. I was lik, "Hey, I'm Bekah, we're going to meet up. Let's all meet up at this date, this time, this place." And I was expecting for it to only be me and one other black designer that I had gotten to know over the course of me finding people. But then 25-ish people showed up and all of us were shocked. All of us were like, "Wait, there is this many black designers in Seattle? Period. What?"
Bekah Marcum:
And so, that was amazing. And then, since then we're actually, so we have a LinkedIn group and I think we're around 75 strong at this point.
Maurice Cherry:
Nice. Congratulations.
Bekah Marcum:
Yeah, thank you. It's definitely been a very crazy, exciting thing to actually start to find and build that community.
Maurice Cherry:
Have you heard of the Bay Area Black Designers group?
Bekah Marcum:
I have. I have. I've actually been really bad and not reached out too much to them, but it's definitely on my to do list, maybe with all this extra time.
Maurice Cherry:
Yeah. So I know the woman who started it, Kat Vellos, she's been here on the show before, and then also Kendall House, who is, I think he now heads up the group, but he's also been on the show as well. And just recently, I'd say maybe a few weeks ago, we had Fonz Morris, who's a growth design lead at Coursera, who also spoke really super passionately about the group and how helpful it was and everything.
Maurice Cherry:
But I've also spoken to some Seattle designers who honestly spoke super highly of you.
Bekah Marcum:
Oh, wait. What?
Maurice Cherry:
Just a few weeks ago we had Tim Allen on the show who's VP of design at Airbnb, and then Timothy Bard Levins, who's at Microsoft was like, "Oh, you've got to be interviewing and talking to Bekah. Oh, my God." So the work that you're doing is definitely being seen by people and being congratulated out there in the community. So that's great.
Bekah Marcum:
Oh, that's funny. Well, okay, funny story abut Tim. He's actually now at Facebook, and between that, between Microsoft and Facebook, he was at Zillow. So he actually was the one who pulled me over to Zillow.
Maurice Cherry:
Oh really?
Bekah Marcum:
Yeah.
Maurice Cherry:
Look at that. Small world.
Bekah Marcum:
It's a very small world.
Maurice Cherry:
So, how long has the group been going on now?
Bekah Marcum:
Just about a year and three months, honestly. So it's been the first year we were really focusing on just getting each other together and having sporadic happy hours. We had one big event the first year, and then this year we're focusing on how we can actually start to bring some order to the madness and have consistent events. But yeah, we're definitely still in infancy.
Maurice Cherry:
Wow. I know there's a group in Seattle, you may have heard of it, called HERE Seattle. Have you heard of them?
Bekah Marcum:
I don't think I have. I do not think I have.
Maurice Cherry:
So HERE Seattle is a, I guess it's more geared towards tech, I'm not 100% sure, but I know that four guys run it. Seth Stell, Todd, Todd Bennings and two other people who I can't recall, but I know that they do something not necessarily similar to what you're doing with Black Designers of Seattle because you're focusing more on design. I think for them they focus more on DNI and tech in general. And so, design sometimes ends up being a subset of that, but that might be a group worth reaching out to connect with, HERE Seattle.
Bekah Marcum:
Totally. Yeah, it's been a really amazing, I feel this year I've really started to connect with other groups like that. There's a few other ones who are doing similar things and so, as we are upping our cadence on events, it's been fun to see who we can partner with, who have similar initiatives, and then also how we can then go back and reach out to the community.
Bekah Marcum:
There's a few arts-based organizations that work with K through 12 schools in the area, and so it's, how can we actually come together as a community, as a group, and then start to help out these other organizations as they do stuff?
Maurice Cherry:
I really want to make it back up there to Seattle one of these days.
Bekah Marcum:
You should.
Maurice Cherry:
Well, hey, once this global pandemic thing blows over.
Bekah Marcum:
Don't come now. I will not come and see you.
Maurice Cherry:
Yeah, I do want to try to make it back up there. I was talking to some people at AIGA Seattle, right before all of this COVID-19 stuff broke out about possibly coming up there and doing a live show. But I feel like now everything is canceled until further notice.
Bekah Marcum:
Yeah.
Maurice Cherry:
In the future I definitely do want to make it back up there. I've been to Seattle only once. I was in college, and this is actually a funny story. So I was in college studying math and my junior year was when 91-1 happened, and when that happened I had zero prospects lined up for jobs because the scholarship program that I was in, I was interning at NASA.
Maurice Cherry:
And so, I was thinking as soon as I graduate I'm going to go work for a NASA facility and that's what life is going to be. But then 9-11 happened, they pulled the funding from the program and now all of a sudden it's my junior year of college. I have no job prospects lined up.
Maurice Cherry:
So I started worming my way into these different interview books, which different departments would have books that you could sign up for, put your resume in and you would interview with certain companies, but it has to apply to whatever your major was. And for math they didn't have that. They were just lik, "Oh, you should go to graduate school." And I'm like, "I don't really want to go to grad school right now. I've been going to school for 15 years in a row. I don't really want to continue to do that."
Maurice Cherry:
And they're like, "Oh well, I don't know what to tell you." So I snuck my way into the computer science department, got in good with people there and managed to get into an interview book there. And I did an interview at Microsoft, and I remember that being, they talk about these techie interviews always being something that throw you for a loop? Like Google, I think at one point in time there was a rumor about there being this infamous one question, one interview question that they asked you.
Bekah Marcum:
Oh gosh.
Maurice Cherry:
And when I interviewed with Microsoft, they did that. So I remember, Oh God, I don't know if she's still there. I remember her name was Chesca. That's all I remember is that her name was Chesca. And we did the interview and she asked me only one question which was, "How would you design an alarm clock for a blind person?"
Bekah Marcum:
Oh my goodness. Tim asked me the same question.
Maurice Cherry:
Are you serious? Wow, okay. Wow, that's a big coincidence. But yeah, she asked me that question and I'm like, "Huh.", and she slides over a piece of paper and a pen. Just talk through it. Talk through how you would do it, and keep it mind, this is, what year was this? This was 2001, maybe 2002 I think. It was 202 because it was right before I graduated.
Maurice Cherry:
So this was 2002 and I'm like, "Oh my God." This is way before Siri and Alexa, and what have you. So I'm trying to think about voice this and you could do the commands, and all this stuff. And I write it out, sketch it out and she's recording all this and so she's like, "Oh, okay, thank you so much for coming in. We'll be back to you."
Maurice Cherry:
I'm like, "Wait, is that it? That was the only question?", but I did get an interview at Microsoft based off that question. So they flew me up to Seattle.
Bekah Marcum:
Wow.
Maurice Cherry:
And I remember the way that they did it was this almost like a game show. You did the first interview and if you passed the first interview, you went to the second one, and then the second to the third, third to the fourth, or whatever. And it was all day.
Bekah Marcum:
Yeah, totally.
Maurice Cherry:
Maybe nine a.m. to seven p.m., or something. And I was losing steam somewhere in the sixth interview. I remember they were asking me about Notepad and how would you change Notepad if you were someone that wrote in a language that went right to left instead of left to right. And I don't know what my answer was, but it clearly was not the right answer because I didn't make it to the next interview.
Bekah Marcum:
Oh no. Oh no. Yes. Oh my goodness. Yeah. Tech interviews are definitely, they're very legendary as far as being an incredibly long day. So I've done interviews at, I went through the process at Facebook, I was at Amazon, Zillow, and it was all pretty much the same in a lot of ways. But with Amazon I was actually, after I contracted, I was thinking that my team who I was contracting with wasn't going to hire full time.
Bekah Marcum:
So I actually started talking to another team at Amazon, and so they decided to put me through the loop, and then my team found out, I was like, "Hey, just FYI. They'll reach out to you to see about my performance and stuff." And so, they actually hurried up their hiring process, then joined my loop. So I was actually interviewing with two different teams on the same day in the same room. And so, that just made my interview process even longer. I think I had seven back-to-back interviews or something crazy.
Maurice Cherry:
Oh wow.
Bekah Marcum:
It was so much information too, the portfolio review at the beginning. It was, in the same way, a very, very long day.
Maurice Cherry:
Wow. I didn't know that that interview question is something that was still being thrown around in that way. That's wild.
Bekah Marcum:
Yeah. Yeah. Tim actually, when I went over to Zillow, he handled the white boarding and product thinking session, or part of the interview. And he did ask me, he was like, "You need to," I think he added complexity. He's like, "All right, you need to design an alarm clock for a blind person that only has one button." And so, I couldn't do boys, I couldn't do, oh there's a tactile interface. It was supposed to be an analog alarm clock.
Bekah Marcum:
So part of the beginning of that conversation was like, "Wait, what? It's just an old one that you your grandparents would have with red numbers." And he's like, "Yes." And then, I had to essentially just whiteboard that out. But I find it so hilarious that you also got that.
Maurice Cherry:
Yeah, and I'm trying to remember how I answered the question. I think I was saying something about eye tracking because the person is… No wait, no wait, not eye tracking, because the person is blind. I said something about doing a lot of voice prompts. I remember that.
Maurice Cherry:
Something about voice prompts and being able to talk through how this would go. So you'd have to have some conversation flow chart of how to set the clock and all this stuff, and then maybe it would have some type of a haptic feedback because you would be able to touch it.
Maurice Cherry:
So maybe not necessarily braille but a series of vibrations or something like that to let you know that commands are being done properly, or things like that. And this was so long ago up here. I mean they liked it, but it wasn't enough for me to actually get a job there.
Maurice Cherry:
But that was years and years ago, 2002. I also interviewed for Real Player that year.
Bekah Marcum:
Okay.
Maurice Cherry:
And no one uses Real Player anymore. So that let's you know how far back that was.
Bekah Marcum:
Oh, I love that they're using it 18 years later though. Or at least Tim is using 13 years.
Maurice Cherry:
Wow.
Bekah Marcum:
So much later.
Maurice Cherry:
So now you're also in grad school, is that right? At the University of Washington?
Bekah Marcum:
Yes I am.
Maurice Cherry:
How's that going?
Bekah Marcum:
It is going well. I actually took this quarter off just to, there was a lot of changes at work so I decided to really try and focus in on that. And so, it's been going really well. I essentially went back to grad school because I saw the lack of black designers and I was like, "All right, can I not only build a community but also do some research to actually find out why that's the case."
Bekah Marcum:
And so, I also was thinking that people are also a lot more willing to open up to someone as a grad student, if I'm a grad student versus, "Hey, I'm an art director at Amazon asking you these questions." And so, I was also very aware of my own positioning, actually going to folks in different companies and asking what their experience was.
Bekah Marcum:
Being a student definitely helped me maintain a certain level of, I know. They just weren't scared of me, and so, but also it gave me that space to do that research, and then to start exploring things, and then also have it not directly associated with my day-to-day job.
Bekah Marcum:
So it's gone great. For one of the first projects that I did was a quick and dirty research over why there is no black designers, where they are. And then, I was actually like, "Okay, if there's no black designers, whether it's because of culture, socioeconomics, just our racial history here in the US, what can we actually do to start to change that and change that story?"
Bekah Marcum:
And so, part of that solution was building a community, because I feel like there's a lot of people who were super excited about giving back to the community as far as like, "Oh, I went to go volunteer for an arts-based organization." or, "Oh, I want to go be a mentor for folks.", but people don't know where to go for it.
Bekah Marcum:
And so, my thinking was, if I build a community then I'll bring a lot of passions into a certain space and from there, people can then organize and start to have these larger conversations. And so, really the first event that I ended up doing over at Amazon last August was a direct result of some of the research and solutioning that I did as part of one of those classes.
Maurice Cherry:
Hmm. That's interesting that the work that you're doing with Black Designers of Seattle in a way came out of the research that you're doing at grad school.
Bekah Marcum:
Yeah, no, it definitely, definitely did. I mean, that was the whole reason I wanted to go back. I think a lot of times I just wanted the accountability of actually doing the research and the actually having time set aside to really focus on this design, and diversity and inclusion, and so really going to school, having classes. I would essentially pick to really fit a need that I saw in my own journey as I explore diversity in design, and all that stuff.
Bekah Marcum:
And so, as I went I was like, "All right, this will really be good for this, that will be good for that." And so, I really tried to pair up what I needed in the real world with the classes I was taking so those projects and those outputs from those classes would be immediately applicable.
Maurice Cherry:
Hmm. Can you talk a little bit about, I guess some of your research? I'm curious to know what you do have found from researching the lack of black designers in the industry.
Bekah Marcum:
Totally. So a big part of what I was doing was just trying to capture and just hear the stories of current black designers, and then how they got to design-
Bekah Marcum:
Stories of current black designers and then how they got to design and all that stuff, and so a lot of designers I found didn't go to school for design. And that pretty much corresponded with a lot of my research where a huge percentage of African Americans, blacks in the US, when they go to college, right now in our generation, they're first generation. And so their parents didn't go to college, and so if you have 40% of those folks were in college, they're probably not going to go for an arts degree. If their parents, their community are really sacrificing to get them to college, they're not like, "Oh, yeah, I'm going to go for an arts degree." It was like I'm going for finance or business or something along those lines because there's the larger kind of view of design is that a business degree will get you where you want to go economically.
Bekah Marcum:
Whereas, like an arts degree historically, it's like, "Oh, you're doing an arts degree, so you're going to wait tables or something." When I even went to film school, I got some side eyes from some people be like, oh, really? Are you sure you want to go to film school? Really? You're not going to make any money. But it's the perception of design just even within our community can be so different. Whereas now, because I did get an arts degree and then I am also in the position I am now, I'll go home, and then I've aunts, uncles who are like, "Oh, my gosh, you should really talk to your little cousin who draws abstractly because like they could be a designer, too." So their perception of success has definitely changed just by seeing someone go through it.
Maurice Cherry:
Yeah. I always will say on here you can't be what you don't see. So being able to kind of see someone else that looks like you in a position like that really makes such a big difference in knowing whether or not this is something that you can actually do for yourself. So yeah, I feel where you're coming from. Tell me, what lessons did you learn this past year? How do you feel you've grown and improved?
Bekah Marcum:
I feel like even though I started a community of black designers, I feel like I didn't really realize the benefits of it. And right now just seeing how there's subgroups that have come off of the Black Designers of Seattle community, I think I've seen and really just loved and been built up by a huge group of people. Even in this social distancing time, I was just texting a group of folks who I've met through the Black Designers of Seattle network because on Monday we're all going to get together and drink wine over FaceTime. And so, it's just I think the importance of community is one thing I've really realized, and also it doesn't take much to have an impact. You just got to do something. You just have to give life whatever, just like something to work with.
Bekah Marcum:
When I first started the community, I was like I can't organize a bunch of stuff but I can tell people to show up at a restaurant or at a bar where I'll make a reservation. And so that was, honestly, the bare minimum that anyone could really do, and that small thing had a huge impact. And so I think just doing something has really been big. Even when I was first trying to get into design, I was so paralyzed by the amount that had to be done. But just by doing little things like finding a design I really liked then emulating it, I was able to take small steps into the place that I wanted to be.
Bekah Marcum:
I guess other than that I was at Amazon for four years, and I've been at Zillow for around, I think, six or seven months now. And I have definitely just enjoyed being in a different space, learning fully different things, kind of being out of my element. I think I've kind of forgotten, because I was on the same team for about four years, what that was like. But I definitely see huge benefits because of it. So I think that was more a reminder.
Maurice Cherry:
What do you spend time on when you're not working?
Bekah Marcum:
Yeah, my husband and I, we actually recently bought a Sprinter van that we're tricking out. It's kind of like pit my ride for vans, to make it more adventure vanny. So I'm like, not only the only one, sometimes of my being black at work, not so much anymore at Zillow, but I'm also the only black chick in the forest usually. So I do a lot of rock climbing, mountain biking, camping and all that stuff. And so right now, we've been using the time that we would normally be commuting just trying to build out our van. So a bed's going in there, a kitchen's going in there, well, bathroom's going in there. And so we've just been doing a lot of woodworking and all that stuff to get that together.
Maurice Cherry:
Nice. That sounds like a really cool project to work on.
Bekah Marcum:
It's really fun because being a digital designer, I can build out like a CAD model of what I want the van to be, what I want a small house project to be. But then actually getting wood, getting metal, whatever else and actually just physically building it is a whole other level of fun.
Maurice Cherry:
And also with everything that's happening now, great timing.
Bekah Marcum:
I know, right?
Maurice Cherry:
Great timing because… I mean it's one thing to be socially distanced in your own home, but if you have a van now that you can at least kind of go around to other places, get some fresh air and stuff, that's a benefit.
Bekah Marcum:
Yeah, I know. It definitely is. It's a little kind of rugged RV is what it essentially will be. And so there's a lot of places where it's like, well, we have a full kitchen. We don't need to go say hi to anyone. I can get my coffee here, my lunch here, everything else. So we've definitely been scoping out different state parks, national parks in the area and trying to find what's open. Because it's like, oh, yeah we could go to, I don't know, Yosemite and social distance or something and just be in our own space. We wouldn't drive that far because that's 18 hours. But being able to have or feel like that freedom is possible, it's been nice.
Maurice Cherry:
Nice. So one of the kind of ongoing themes that we have here on Revision Path for this year is equitable futures. I got this idea, actually, last year. I went to a conference at Harvard called Black and Design, and one of the sort of things that they were talking about a lot was black people in the future. Where do we see ourselves, et cetera? We're coming up on 2020 that's a very kind of big futuristic year as people think about that with pop culture, et cetera. So how are you helping to build a more equitable future through the work that you're doing?
Bekah Marcum:
I think a big thing facing Black Designers of Seattle, or just in general, is awareness. And so a lot of, in building community, is just increasing that awareness both of each other, but then also have different jobs. It's been really great to be able to connect someone who is just trying to get into design, or they're super young just out of college trying to find a mentor, and connect them with someone who is very established in that field. And to build that relationship there, to start kind of helping each other get to the places that we want to be. So I think just providing opportunity is a big part of what I've been focusing on.
Bekah Marcum:
But then also a lot of my role with the group has not only been the community organizing, but also the event organizing. And that's been mostly on kind of the community plus allies or community plus conspirators is what I like to call it, where we not only have the Black Designers of Seattle community, but we also have other folks from the diversity inclusion space and then also the wider community in some ways. And so I think just having discussions around being the only black designer and all that stuff in that space is super, super important. So I think just having that discussion on a larger level and just building awareness of this is a problem. If you only have one black designer, that is an issue. You should be focusing on having a diverse workplace, not just racially but age-wise, socioeconomically, everything. And so I think just creating spaces for those conversations to happen is one of the other ways I'm trying to help contribute to more equitable future.
Maurice Cherry:
Nice. Well, it's 2025. Where do you see yourself in the next five years?
Bekah Marcum:
Oh, that's so hard. There's a lot. I'm not sure. I feel like so much of my life has… If you asked me five years ago where I would see myself now, it's so completely different. It's so very different, and I've just been really enjoying that journey. I really hope that five years in the future our community is not just larger, but it also has greater impact. I hope that I'm in a place where I'm able to see the community be a space where people are going to find mentors or mentees, and finding different ways to get involved with schools and stuff, or just having awesome conversation.
Bekah Marcum:
I think for me, personally, I don't know. I definitely love being a designer. I don't think I want to be a manager, so that's definitely not in there. But just having a larger scope on projects and just really being able to have a position where I'm able to strategically really kind of look at the future of a project would be super exciting. And hopefully, by then my van is done and I'm just traveling around in some ways working from the van from a lot of awesome locations.
Maurice Cherry:
Nice. Well, just to kind of wrap things up here, where can our audience find out more about you and about your work online?
Bekah Marcum:
Totally. So my website is rebeccamarkham.com, and I'm on LinkedIn, Instagram@Bec's. Yeah. And also there's a Black Designers of Seattle group, both on Facebook and LinkedIn. It's just Black Designers of Seattle, so it should be super searchable.
Maurice Cherry:
Nice. Well, Becca Markham, I want to thank you so much for coming on the show. When I first heard about you, it was, actually, I mentioned this during the designer and designer interview, I first heard about you when I heard about the group, and I was like, I got to have her on the show because I feel like there's more of a story there. And so getting to learn more about how you grew up and the work that you're doing right now. And even with the work that you're doing through the group that you started at Black Designers of Seattle, there's two things that really stick out to me. One is that building authentic community is something that is super important for you, but I think also just super important for all of us. But also really kind of owning your identity is what has made you such a unique person and has made you someone that people are kind of flocking to.
Maurice Cherry:
So I really applaud the work that you're doing behind BDS. If there's anything that I can do or anything that Revision Path can do, definitely let us know. This is more of the kind of community stuff that we really need to see. I mean, even in the midst of coronavirus, take us from online to offline, but being able to foster that community is something that's really important, and I'm glad that you're really kind of able to shepherd the cause. So thank you so much for coming on the show. I appreciate it.
Bekah Marcum:
Absolutely. Thank you so much for having me.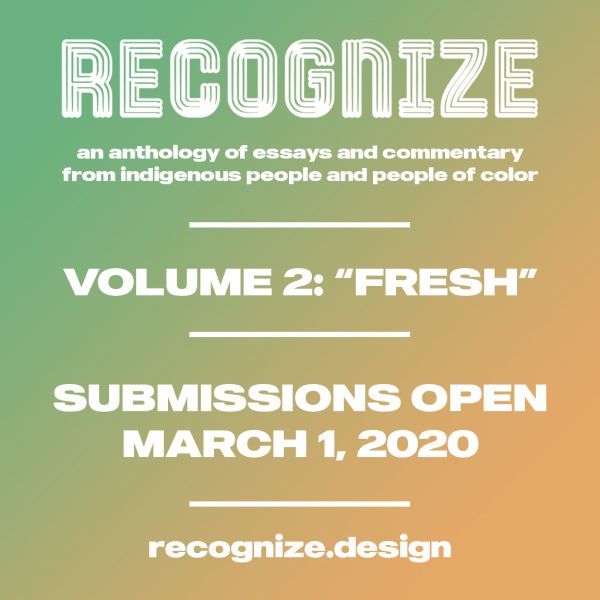 RECOGNIZE is open for essay submissions for Volume 2! The deadline is April 30 – enter today!

Sponsors
Facebook Design is a proud sponsor of Revision Path. The Facebook Design community is designing for human needs at unprecedented scale. Across Facebook's family of apps and new product platforms, multi-disciplinary teams come together to create, build and shape communication experiences in service of the essential, universal human need for connection. To learn more, please visit facebook.design.
This episode is brought to you by Abstract: design workflow management for modern design teams. Spend less time searching for design files and tracking down feedback, and spend more time focusing on innovation and collaboration. Like Glitch, but for designers, Abstract is your team's version-controlled source of truth for design work. With Abstract, you can version design files, present work, request reviews, collect feedback, and give developers direct access to all specs—all from one place. Sign your team up for a free, 30-day trial today by heading over to www.abstract.com.