Desiree Gibbs is laser-focused on who she wants to be and how she expresses herself. Those skills come in handy not just in her work as a UI designer, but through the projects she oversees and clients she serves as the proprietor of Nü Bläc Studio.
We spoke on St. Patrick's Day, so our conversation actually started off with both of us discussing how to navigate this new social distancing reality due to the COVID-19 public health crisis. Desiree also talked about growing up between Japan and the United States, attending the University of Texas at Arlington for design, and even how former guests Gus Granger and Jacinda Walker helped show her the importance of seeing more Black designers in this industry. Desiree says she wants to ultimately become the most solidified version of herself, and with her skills and drive, she's well on her way to making that happen!
Transcript
Full Transcript
Maurice Cherry:
All right, so tell us who you are and what you do.
Desiree Gibbs:
So I'm Desiree Gibbs. I am a UI designer located in Dallas, Texas.
Maurice Cherry:
What is the Dallas design seem like, I'm curious?
Desiree Gibbs:
In some ways, it's very large. In some ways it's very small. I would say that it's innovative when you meet the right people, very inspirational, again, when you meet the right people, but otherwise, they do a lot of different work, sometimes in behind the scenes, sometimes at the forefront. It's pretty much a huge mixture depending on your immediate circle.
Maurice Cherry:
Do you find that it's more like tech-oriented or more like artsy?
Desiree Gibbs:
I would say a little more artsy.
Maurice Cherry:
Okay.
Desiree Gibbs:
But now that tech is pretty much booming there are a lot of large companies that are trying to add their headquarters to Dallas. It's starting to turn a little more tech now that those companies are relocating and adding new offices out here. I haven't seen that change much yet, but that's definitely something on the agenda that's in the near future.
Maurice Cherry:
Okay, and now currently you're working at Citi, is that right?
Desiree Gibbs:
Yeah.
Maurice Cherry:
Tell me what it's like, what's your regular day to day like there? I'll mention that we are recording this, it's March 17th and we're recording this. So we are in the midst of a global pandemic, which is causing a lot of companies to have to now shift to working from home for a lot of their workforce. But as much as you can talk about, tell me like what it's like working at Citi?
Desiree Gibbs:
So before this all happened, Citi was really interesting to me because a bunch of us were hired at the same time. So there was a lot of newbs hanging out together, which is awesome because then you're all on the same page, you don't know anything.
Desiree Gibbs:
So in the beginning, it was a really cool mashup of getting on board with how their culture is, as well as like kind of forming our own little groups and getting to know each other since everyone's new. From there, once we've split up into our teams or our lines of business, they like to call them domains, we really just learn our team really well.
Desiree Gibbs:
Luckily, I'm on a team full of nerds and being a nerd, it's awesome. All pretty artsy nerds. Pretty like Star Wars, sci-fi, some sort of tech nerds. So we all really get along really well. I never would have thought I'd find a team like that in a place as corporate as Citi, but alas, it does exist.
Desiree Gibbs:
So for me that was a really happy thing that kind of blew my eyes open about Citi, especially since I used to work at The Beck Group. The Beck Group was a really corporate based company. They built half a Dallas, so it's a very old company as well. So I kind of was expecting Citi to be just as corporate-like, very straight forward. But they are quite the opposite in all the good ways.
Maurice Cherry:
Nice. What kind of projects are you working on?
Desiree Gibbs:
So currently I work with some of our partner work. I think like companies that everybody knows about, like American Airlines and we have a card with them, and then newer partners as well. So that I'm pretty much excited for.
Desiree Gibbs:
I don't know if I'm allowed to mention them, so I'm not going to mention them, but there's some small hosting type companies that I'm really excited to work on, as well as internally we have some products that we're opening up, some new things, some old things.
Desiree Gibbs:
A lot of what I'm doing right now is like updating new products to match a new look really. Citi's been around for quite a while and they're looking to revamp their look. So it's an exciting moment to get to be on a team that kind of just pulls open the curtain for a new design for an entire company. So that's pretty much where we're at right now.
Maurice Cherry:
Nice. Now, as I did mention we're recording this during this time where a lot of companies are now basically mandating that their employees now work from home because of COVID-19/the coronavirus. It's caused, I mean what I can really only describe as massive social, political, commercial and financial upheaval in general. How are you feeling?
Desiree Gibbs:
It's kind of weird for me and I would say even though I'm an ambivert, when I'm working, I like to work physically where I need to work because of the environment. The environment is really important for me to make sure my mindset changes and the people I'm working around, like my team is really cool. And so, you kind of miss those like small conversations that happen, that kind of add a touch to whatever you're working on, or even just your mood in that specific moment.
Desiree Gibbs:
And so, now that we're digital, we completely miss that, that just so happen to walk by moment or that random foosball game that helps you distress. And so, now it's like I'm sitting in my room on my couch because I don't have a desk. Thankfully I have wifi and a TV table I can pull out and kind of get settled into a workspace, but it's a little odd.
Maurice Cherry:
Yeah.
Desiree Gibbs:
It's definitely different in that … Like I said, I mentioned to a couple of people outside of work too that it's different even when I'm off work, like I'm used to a routine and routine is very important for me. I'm a very methodical person when it comes to things like that.
Desiree Gibbs:
And so, when I get in a routine for work, that's how I know what to expect every day. And so, now it's kind of an adjustment to create a new routine to get my head into the work mode as well as my surroundings as work mode as possible to make sure that I'm productive and still be able to reach out to my peers and my coworkers to get feedback and check-ins. So it's a little weird.
Maurice Cherry:
Are you finding that the team is also kind of going through I guess, that same change where it's like, "Now we're working in an office together." I mean you mentioned this is a group of people that you really like and now you're all at home, working. How is the team kind of been doing?
Desiree Gibbs:
I don't think any of them like it really, and I'll say this because, so Citi actually implemented a alternate work routine to where one team … they split the company in half much and split certain teams in half and Team A would come on one week, Team B would be working from home, and it would switch every week.
Desiree Gibbs:
So we had only gotten about two weeks into that before everybody was just like, "Let's just stay home." I mean, even during that week people were like, "I don't know how to handle this. This is weird. The building feels like a ghost town."
Desiree Gibbs:
Some of the people on my team they're socializers so they need that people on people interaction and it's hard to work at home in an environment you're not used to working in and being either distracted by other people who sound like they're having fun outside.
Desiree Gibbs:
Because here sometimes some kids, some families, their kids are on spring break and those spring breaks are actually being extended because of to prevent the spread of the virus. So it's actually going to be two weeks of kids' spring breaking. So it's very odd. I don't think any of us really like it all that much.
Maurice Cherry:
Yeah, they've closed the schools here and I've heard, I don't know, it hasn't been super noisy. My apartment overlooks the pool in my complex so it's usually only noisy in the summer because like kids are at the pool. Right now, the pool is not open so it hasn't been super bad. The play area in my complex is a little bit further away from where my window is, but it's a big shift. It's a big change.
Maurice Cherry:
I mean one like you said for the fact that there's kids around because school is being extended for spring break, in some places schools are closed. But then also just the adjustment of now taking what is your living space, which was not a workspace and now having to not only sort of convert it into a workspace, but then you have to still be expected to keep the same work output as if you were in the office.
Desiree Gibbs:
Exactly.
Maurice Cherry:
It's a lot.
Desiree Gibbs:
It's a lot. I will say too that in the design world, it's normal to work on more than one screen. So while we're there, we're working on three screens and it's easy to be a little more productive because you can easily switch between screens really well.
Desiree Gibbs:
Now that I'm on a laptop, it's a little bit harder to navigate, and since I'm doing design, it's sketch. So sketch, you're working on multiple screens at multiple times. You have all these layers and artboards. It's very easy to switch between that on multiple screens or even just two screens. So I will say that that's another thing that I know a lot of my coworkers are having … it takes a minute for them to adjust to that as well.
Maurice Cherry:
Yeah. Are you finding that your employer is at least sympathetic to the situation? Do they know that this is something everyone's going through and so we're all kind of in this adjustment period?
Desiree Gibbs:
Definitely. One thing I really appreciate is that we've actually been having weekly call-ins, like all-hands call in to where our lead update us on what's going because one of our locations, our main locations is in New York.
Desiree Gibbs:
And so, New York has been one of the top states really that have been on the news about the breakout. So from there, they're really sympathetic to people who want to work from home to be more cautious and people who have kids who are out early because of it.
Desiree Gibbs:
So they're able to work from home and this is in the beginning stages. Now, one thing I appreciate because I also practice it, is meditation. So one week for one of these calls, we opened up the call with just a few minutes of meditation, whether you're into it or not, or if you want to try it, you can, if you don't, that's fine.
Desiree Gibbs:
But a lot of people are experiencing a lot of anxiety from other people, and even if they're not watching the news, they're experiencing some panic or some negative emotion that affects them. So that's one thing I definitely noticed about them off the back, is that they're definitely empathetic to the whole situation.
Maurice Cherry:
That's great. I think that meditation idea is really, really good too, because like you said, there's multiple stressors that are at play. The thing about working from home, and I mentioned this to you before we started …
Maurice Cherry:
… at play. The thing about working from home and I mentioned this before we started recording, I've been working at home for a long time is that it takes a good while to get set up into a work from home routine. And that companies really should not expect employees to just fall right into line I would say within the first month of doing it. It takes a while, because it's not only a behavioral change in terms of just being able to focus while you're there. But in many times it's also a change of your physical surroundings. Like you said, you don't have a desk, you may have to get a desk if this is an extended thing.
Desiree Gibbs:
That's true.
Maurice Cherry:
If you're doing something where you're transferring a lot of files, you may have to get a larger internet package. If you have roommates or you live with elderly parents or something. That's another stressor that you have to deal with now on top of work. Work is now not the escape from that. It's right there. And if you have kids too, your kids are going to be there with you all day in the house while you're working.
Desiree Gibbs:
Got to feed them.
Maurice Cherry:
Yeah, got to feed them, got to tend to them. They're going to want to see what mom and dad is doing and everything. And also some places just don't have great wifi.
Desiree Gibbs:
True.
Maurice Cherry:
So there's a lot of things that have to go into working from home and it really takes time to get a setup. The fact that so many companies I think moved to it quickly is good because it did show that people are taking this seriously. But it's a big shift. You can't just go from in the office on Monday to now being on Zoom on Tuesday and think everything's going to be the same. It's not. And I think what we're seeing now, especially if you look on Twitter and stuff, is that people are, I guess they're dealing with it in their own way. Finding whatever stack of books they can make so they can have a standing desk or doing something where they're drinking during the day.
Maurice Cherry:
I don't know, people are coping in very interesting ways. Because again, it's not just that you're working, but also the other stress of just being in the situation is, it's a lot. It's a lot and I don't want to dwell on it for this because this is about you, but this is something that is going on right now and I did want to make sure that we kind of give at least some space for it.
Desiree Gibbs:
Definitely, it gives some context as well.
Maurice Cherry:
Yeah, absolutely.
Desiree Gibbs:
I wouldn't be working from home. Some of the things I have to do now are definitely dependent on the fact that we're in this situation right now. So I definitely agree with that.
Maurice Cherry:
Yeah, absolutely. So I want to go more into your career, because you mentioned the Beck Group, but before that I want to just go back to the beginning. Where did you grow up?
Desiree Gibbs:
That is a tricky question and it always is for military brat.
Maurice Cherry:
Oh, okay.
Desiree Gibbs:
I grew up in multiple places. I spent most of my childhood split between Japan, Virginia, and Texas.
Maurice Cherry:
Oh?
Desiree Gibbs:
My dad was in the air force and so my family moved around to wherever he was stationed.
Maurice Cherry:
When did you first feel like you were exposed to design in a way that you understood it?
Desiree Gibbs:
Man, I've been drawn since I was a little kid. I was a artsy little freak. I still have drawings from when I was in man, probably like first grade, second grade, somewhere in my mom's storage attic, wherever. Of me drawing sailor moon with color pastels, I've always been the artsy-fartsy child or the family. Everybody else was way over there. But as far as design, I knew that design was a little bit different for me though. Because when I was in middle school, I used to think about doing code. So where I'm at is very much a marriage between the analytical side of design as well as the artsy-fartsy part to where everything's … Looks pretty or it's coordinated, things like that.
Maurice Cherry:
And so when you were in school, I guess in high school you decided you wanted to go to college also for design. Is that right?
Desiree Gibbs:
So-so. Now I think about it, it wasn't really a decision I made. I just expected that that's where I'd be going anyway.
Maurice Cherry:
Oh, okay.
Desiree Gibbs:
So I actually did architecture first for a couple of years and then actually switched to graphic design at the same school. I wanted to graduate on time was one of the reasons, and I found that I really like architecture, but I wanted to be a little more artsy as well. And with design, I actually got to take more of the classes that I wanted to take on top of being a little more creative from the front end of it than I would have an architecture.
Maurice Cherry:
You would not be the first person that has been on the show that started in college in architecture and then veered sort of towards design. So that's an interesting kind of a, I don't know, maybe there's something about. Maybe you tell me, is there something about architecture that just doesn't lend itself to that kind of more creative design that you do now?
Desiree Gibbs:
I would say in the beginning I definitely thought that it was too analytical for me with … I mentioned that I'm ambivert, which is someone who's pretty much 50% introvert, 50% extrovert. Our brain is also the same way. I use pretty much both my left side and my right side of the brain equally. So I'm complicated in the fact that I need something to stimulate both, no matter what I'm doing. So with architecture it was a little too analytical for me. In the stages I was in, it was too far on that side of the brain. So when I switched over to design, I was able to really more or less choose the balance between the two. So, that I think definitely architecture was that thing. But I will say architecture did help me realize that I do love rules and the rule-based structure organization of UX design is really, that's where that marriage is for me. That's that connection from architecture definitely led me to UX design for sure.
Maurice Cherry:
I was just about to ask if you saw any kind of parallels between UI and architecture, but it sounds like that rule based kind of methodology is what really works for you.
Desiree Gibbs:
Definitely. I mean, for me a lot of the way they teach art now in college and in schools, they teach you the rules first and then you learn how to break them.
Maurice Cherry:
Yeah.
Desiree Gibbs:
That's pretty much, before I was like, "That's BS. That doesn't make any sense." But now as I kind of think about design, specifically UX design as well as architecture is that once you do know the rules. Once you know how to build a building that's not going to collapse on people, then you can lend yourself to doing the creative crazy stuff that you want to do. Whether it's the interior or the exterior to be able to do that, pull out that creative side.
Maurice Cherry:
So at the time you're at the University of Texas at Arlington, what was going on in your life? What was that time in your life like?
Desiree Gibbs:
Wow, that was a tricky time for me. So college they say is the best time of your life. Me, I stressed myself out, so it wasn't really great for me. But it did help me see things in it from a different perspective. I think one thing that I learned from going to school is that not everyone's there to help you, which is a really, really tough thing to learn as you're trying to figure out who you are and what you want to do. And that goes from people I meet, from students to teachers. The way college is portrayed is that it's this perfect thing that it'll teach you all the things and you'll get a degree and you'll get a banging job right after. And that just wasn't the case for me. It wasn't easy. It was very tough. I also wasn't the kind of person to ask for help. And then when the time came that I did ask for help, it was I asked the wrong person.
Maurice Cherry:
Oh.
Desiree Gibbs:
So for me it was tough. There were some great things. I do love learning. So for me learning things from different perspectives and learning about different cultures, which is where that military brat part of me comes in, that I loved. I actually took an archeology class, which has nothing to do with architecture and nothing to do with design, but in some ways it really does. So it was kind of interesting to see and learn all these different things from these different classes and be able to kind of cross them over sort of like the UX design. Like I say, I'm going to keep coming back to that. The crossover of information. I love reading about that. I love learning about that. So that was the pro of college for me, meeting all the different people, and learning all the different things. The cons was learning my weaknesses really in the hardest way possible.
Maurice Cherry:
I gotcha, yeah. So what was your kind of first design gig after you graduated?
Desiree Gibbs:
Actually, if we want to count when I wasn't in college, because while I was … My last couple semesters actually worked in the art history office of my school and I was actually redesigning their new website and updating their old one for the museum. And doing various other art projects within the department. That was very diverse actually as far as projects. So loving that I found the next job I went to, which was more of a startup. From there I did a bunch of different projects. I can't even, and this is actually after my apprenticeship with the Beck Group. The Beck Group was really, like I said corporate. There's a lot of corporate material, small stuff.
Desiree Gibbs:
I did a lot of production design as well, so that's kind of why I skipped over it just a little bit because the [inaudible 00:23:02] from graphic design at my school and how diverse those projects were pushed me into Codestream Studios, which is where I was also an instructor. I actually taught web code on top of graphic design and design thinking. So whenever I got to do the artsy part of it, I was able to do that and teach that at the same time of teaching web. I would say that was my official first gig outside of UT Arlington, because that was something I did for pretty much full time as much as I could on top of the other job I had on top of that.
Maurice Cherry:
And what did that experience really teach you at Codestream Studios? What did that experience teach you?
Desiree Gibbs:
Since I was the only graphic designer there, I definitely learned a lot about what other people think graphic design is. A lot of people think it's marketing, social media, anything that you can think of that's artsy, they think it's graphic design. So I learned that not only was it my job to do some of these things, but also to educate the people around me about what it really was. I'm not an expert at social media. I can create graphics for that and create a concept, but as far as campaigns that I might need some help on.
Desiree Gibbs:
So it was really interesting to learn that I can create all these things, but a lot of people think that I'm doing 10 times more. Like you're wearing these 10 different hats for sure. But the depth and how tall these hats are, how much information these hats are full of. I think that's where there's a disconnect, so that was definitely the main thing I learned while I was there. Also, kids are great. I think it's very strange how much we like to put them in a box when it comes to certain things. So teaching kids, like K-12 it wasn't just one grade, it was K-12. Teaching them really reminded me how much I like learning and how much learning could be fun if it's taught the right way.
Maurice Cherry:
Yeah, there's really something about seeing how kids learn that really kind of brings that out I think. Because however you've learned your knowledge, whether it's self-taught or if you've learned it through a formal program. Being able to distill that and then teach someone else, especially someone much younger. That's a skill in and of itself. But it also I think requires a lot of hindsight to be able to kind of tie those two things together. Because once upon a time you were that student that was learning. And so-
Desiree Gibbs:
Exactly.
Maurice Cherry:
… how would you have wanted to be taught in that kind of way?
Desiree Gibbs:
I think a lot of it has to do with how you want them to see you, but how you want to show them that you see them. Because a lot of kids get ignored in the classroom too. And even at this job, it's easy to forget about experiences and people that you're not living their everyday life. So while I was at this job, I also thought about …
Desiree Gibbs:
… life. So, while I was at this job I also thought about ADA compliance. It's not really talked about when it comes to design. In school, they don't talk about that at all. And when I say school, I mean college. They didn't talk about that at all. They say contrast and the colors that go together, color theory, blah blah blah. But they don't talk about who you're designing for past the normal, quote "normal." Don't think about just the normal people. Think about past that. So that's another thing that I thought was really not necessarily annoying, but it definitely opened my eyes up more to learning past just what they want me to learn. Learning past just what they want to have at the forefront. Because there's more diversity than the person who has two legs, who can see all colors, and has a stable job and two and a half kids and a dog, and a white picket fence. I think learning in that job, it definitely reminded me of that, which a lot of people don't get.
Maurice Cherry:
You also worked for a group called the Brass Tacks Collective. Can you talk about that?
Desiree Gibbs:
This was a really great experience. The Brass Tacks Collective, which is the first company of its kind, it's described as a design experience agency. We used to call it a teaching agency as well. But you go in with the concept of learning as an apprentice. You get to explore the different roles within the design industry while working on real client work, but also figuring out what you like to do at the same time. We had a bunch, [inaudible 00:27:41] people from different backgrounds, different age groups, different experiences, and so it was a really great opportunity to meet people who are not the same as you, and learning from them and them learning from you. Additionally, learning skills you wouldn't think you would need to learn as well.
Desiree Gibbs:
So we actually had a lot besides the design aspect of it. We had a lot of classes that met outside of whatever we were learning. So if we had a videographer, she would also be learning about graphic design and sketch, and how do you sketch, and all the other Adobe products that they may or may not use on top of what is service design, or how do you run a business? And a lot of range of workshops and topics to touch that you can ever think of. It was really great. It's one thing that I wish we had more often.
Maurice Cherry:
Yeah, I agree. This is something that I've covered on the show before, just talking about how people find their way into the design industry. And so for you, it sounds like you, well one, you went to school for design, but then also you had these internships and apprenticeships that have given you the space to fail in a way. And I hate to say it that way, but I do feel like it's important though.
Desiree Gibbs:
Definitely.
Maurice Cherry:
Because if you come out of school and you get your first job, of course the expectation is that you're going to kill it, you're going to crush it. But as you've also just stated, the school design environment and the work design environment are two totally different things. And so it takes time to I guess steel yourself to what it means to be a working designer and what all that comes with.
Desiree Gibbs:
Definitely agree.
Maurice Cherry:
So who are some of the people that have really helped motivate and inspire you throughout the years?
Desiree Gibbs:
That is a fairly long list. For me, one issue that I ran into a lot in both architecture and in design at my particular school, is that they didn't really teach about people of color really. So I was very blind to the representation of people who look like me who do architecture or design. So I was kind of lost, really. I couldn't figure out how to find my design voice without help or without trying to figure out… Even other classmates. One architecture class, someone pointed out that I was the only black person in there and I didn't even notice that. And this was in 2000 and, what, 2012, 2013. So you would think it wouldn't be that bad but-
Maurice Cherry:
I would actually, I would think it would be that bad. Unfortunately I would. That's still one of the bad things about the industry is, even in this modern state, it's still very, very white.
Desiree Gibbs:
Yeah. So I had that issue. But then one of my teachers, Pauline, she had this idea to have a diversity inclusion panel event. And she had, Jacinda Walker and Gus Granger were my two main levels of inspiration. Because I had no idea… Actually I think Jacinda flew in out-of-state because she's, I think right now she's in Cleveland, Ohio. Gus Granger is actually in Dallas. And I hadn't heard of him until the panel.
Desiree Gibbs:
So, first experience, first level of definitely inspiration is seeing the differences in how they move in the design world. She's really a huge educator and advocate, which I am passionate about that and I'm still learning more about that. And while Gus does a lot of design, he's a chief creative officer. So first two levels. And now today I would say inspiration, pretty-much every black person I meet who's a designer because we all have very different experiences, but also similar experiences.
Desiree Gibbs:
And I've been meeting a lot of people at Dallas Black UX, which is a new group that we have here. I think it's only two years old actually. And [inaudible 00:32:01] that I met a few of other people who all, a couple of them flew out of state as well, but Adrian Guillory and Mike Tinglin, I believe they both founded that. And that's something that I frequent now because that's my current inspiration, is meeting people like me, younger than me, older than me, because I don't see that anywhere in any of the jobs that I've ever done. I don't see black people and it bothers me. It makes me feel a little lost. So I had to go out and find them. I don't even know how I found Dallas Black UX, but that continuously has been my inspiration really within the past six months as well.
Maurice Cherry:
You mentioned Gus and Jacinda, both of whom have also been guests here on Revision Path. And it's interesting that you mentioned those two because I do feel like they operate at very different ends I guess of how the design community is. Gus, like you mentioned is professional chief creative officer. He helmed an agency in Dallas called 70kft. I think now he works for a different company called Cyxtera I think. Something like that. I don't remember the actual name of it.
Maurice Cherry:
I just saw Jacinda last month actually. We had our live show in Los Angeles and I hadn't seen her, I don't know, God, maybe in about almost a year since then. But yeah, Jacinda's someone who is always super outspoken and really is an educator and a teacher. And she's doing a lot of great work now with, I don't know if I can mention it, well I guess I can mention it. She's doing a lot of work with the Smithsonian actually, with the National Museum of African American History and Culture, helping them with different design programs and things of that nature. So it's interesting to see how folks can navigate in this space, and it's good that you looked at both of them as inspirations because they're both very inspiring, so good job with that.
Desiree Gibbs:
And kudos to them. Thanks for coming down.
Maurice Cherry:
Do you have a dream project that you would love to do one day?
Desiree Gibbs:
Oh man. I come from a family who's all about service and philanthropy. My grandmother's a teacher, or she retired a while ago, but she was a teacher. My dad was in the Air Force. He actually won an award for most volunteer hours. I didn't even know that was an award in the military, but he did it. So for me, my dream project would have to be something very, very giving. I haven't figured it out yet, but it would have to be so punch-in-the-face awesome with that level, that I would quit my job. It would to be that good. As far as the company, I haven't found it yet. Maybe a B Corporation company might be something close. But that's my life goal right there, is to work on a project that helps a lot of people. Cliche and corny but-
Maurice Cherry:
Honestly, not in this day and age it doesn't, it really doesn't. Because I think what a lot of designers are starting to see is that the skills that they have can have a lot more use in the world than just an ad campaign or something like that.
Desiree Gibbs:
Yep. A lot of people think that's all it's worth, is to make something look nice. Get me more views, get me more impressions, make me more money. And to me that falls flat on humanity. There's so much more you can do with art than people ever mentioned, that, like I said, I want to punch people in the face so that they know that art is not just, you don't have to be a starving artist. People still say that and I think it's a huge misconception. And with my rebellious nature, I want to lend my argument to the fact that it can do so much more than that.
Maurice Cherry:
What do you wish you would have been told about working in the design industry before you started?
Desiree Gibbs:
There are a lot of things. One thing I learned recently from Terell Cobbs, he was one of the speakers, Terell Cobb, sorry. He was one of the speakers at our most recent Dallas Black UX event. He mentioned having a tribe, well not necessarily a tribe, he called them, oh, a board of directors, people around him that he can go to for accountability, advice, suggestions. Someone who's going to give him the real truth no matter what it is. I've never really experienced that. So for most people it kind of comes easily if they have a lot of friends, or if they have family who are very outspoken, who are very straightforward with them. I come from a family of introverts for the most part so that doesn't come naturally. And so I had to learn to, I wish someone had told me to learn to find that, to learn that skill of reaching out to people a little earlier just to get their feedback, and really finding a group of people that support you.
Maurice Cherry:
Are you finding that now through work?
Desiree Gibbs:
Definitely. It's taken some time to get used to because I don't like selling myself. It feels strange to put myself on the spot and brag. But if I'm not my own number one fan, who's going to be my number one fan?
Maurice Cherry:
True. That's true. And I'll tell you a little secret too, because I used to be the same way. I hated, well I guess you could say putting yourself out there, but I hated going to events where you have to network because it always felt like I was schmoozing and that it felt inauthentic. But what I've come to realize now is that as long as I'm talking about something I'm very passionate about, or if I'm working on a project or doing a project that I'm very passionate about, that sells itself, and that in turn sells you. I hate to say sells, but being able to exhibit the passion through the work lets people in, in a way. It's a good proxy for that.
Desiree Gibbs:
[inaudible 00:12:17]. I never thought of it like that.
Maurice Cherry:
What do you do to get your creativity back if you're feeling uninspired? Do you watch a certain thing, listen to music? What's your routine there?
Desiree Gibbs:
Definitely both of those things. I'm a movie nut. I love watching different things. Korean dramas are pretty-much my favorite right now. Actually, really Asian dramas in general. There's a very cliche, very standard way of doing movies in Hollywood, that I like to divert from that. And Korean dramas, they're crazy on another level. So watching things that are of different countries or different, really, really my number one go-to. Also music as well.
Desiree Gibbs:
… really, really my number one go to. Also music as well. Apparently I listened to 55 different countries last year on Spotify. I don't know what those countries are.
Maurice Cherry:
Wow.
Desiree Gibbs:
I thought it was just five. But, apparently that's also my go to. Another thing I like to do is just to read online. There are a lot of random things you can find online from Manga. I like reading different Manga from different countries as well. There are some good Chinese ones out there. Additionally, recently I've been into Mindvalley. And so part of my creative process is thinking about what's under the creative aspect of it. And maybe it's not the creative that's lacking, maybe it's the structure behind it sometimes. So, additionally I'll look for different techniques to do different things to get out of my vision bubble to see someone from a different perspective, how would they look at it as well. And sometimes that can change the creative aspect to better match multiple views or perspectives, if that makes sense.
Maurice Cherry:
No, that makes sense. What do you think you would have been if you weren't a designer?
Desiree Gibbs:
Definitely a fine artist.
Maurice Cherry:
Okay, so still doing something in the creative realm then?
Desiree Gibbs:
Yeah, I think I would also probably be some sort of musician as well. It'd probably be like some weird mashup of both. Art can be crazy and non methodical, while learning how to play an instrument is structured and very pinpointed to certain movements. Right? So, definitely one of those two.
Maurice Cherry:
What instrument do you play?
Desiree Gibbs:
I also have a violin.
Maurice Cherry:
Okay.
Desiree Gibbs:
I'd probably play the string instrument, some sort of string instrument for sure. There's something beautiful about a violin that just irks me in the good way. Very beautiful sound. It can be high. It can be very low. It can be vibrating. So, probably some sort of string instrument for sure.
Maurice Cherry:
Earlier we talked about interning, and I mentioned about how internships and apprenticeships can be these spaces to fail when you're just starting out, which most designers don't really have in the corporate workplace. But if you knew that you couldn't fail in your professional life, what would you try to do?
Desiree Gibbs:
Ooh, as far as job wise or-
Maurice Cherry:
Anything.
Desiree Gibbs:
Anything?
Maurice Cherry:
Yeah.
Desiree Gibbs:
If I could do anything. So this has been how I do my freelance but, you know how Issa Rae said, "I'm rooting for everybody black."
Maurice Cherry:
Mm-hmm (affirmative).
Desiree Gibbs:
I would design for everybody black, because I'm tired of seeing these ugly club flyers on my windshield. I mean, our cultural is awesome. So, to bump it up and give it the love it deserves, I would definitely be designing for black people full time.
Maurice Cherry:
Now, would it just be flyers or were you looking-
Desiree Gibbs:
Bigger than that. Pretty much everything. I would say I would have a full stack level of designers from engineers, product designers. That would be a really cool place to work. Just the Wakanda of design.
Maurice Cherry:
I'm surprised no one has really tried to come up with that, especially since Black Panther came out.
Desiree Gibbs:
Right. You know, who's to say we don't know it exists. I know someone who-
Maurice Cherry:
That's true. That's true.
Desiree Gibbs:
Bree Moore, she's a fashion designer coordinator. She's a business woman. She's been doing something very similar with her brand. She does work for a lot of black businesses. I think she's ahead of her time really, because she's been doing that since a few years ago and she's community-based as well. So she's really giving the love back to Dallas, that it's given her.
Maurice Cherry:
Nice.
Desiree Gibbs:
Who knows? There may be a small little company out there who's doing it already. You just don't know yet.
Maurice Cherry:
Who knows? They might be listening. You never know.
Desiree Gibbs:
This is true. Keep it up, whoever you are.
Maurice Cherry:
Where do you see yourself in the next five years? It's 2025, hopefully we have blown past this current dystopia. What do you see yourself doing in the next five years?
Desiree Gibbs:
In the next five years? I hope to be the most solidified version of myself, really. I mentioned earlier that college was really stressful for me. Working an apprenticeship and a startup both at the same time was a little rough. Between being out of a job for six months, I really opened up my schedule to do some personal growth, as well as professional. So, since I'm still in like the early stages of that, in about five years I picture myself to be exactly where I'm supposed to be, wherever that is. Still figuring it out a little bit. But I know for sure it's in the world of art and design.
Desiree Gibbs:
I hope to be in my tiny house, traveling remotely, educating people, inspiring people to love the earth we live on, on top of doing whatever they love to do. That's definitely the vision I see for myself within five years, for sure.
Maurice Cherry:
Nice. I like that. Well, just to kind of wrap things up here, where can our audience find out more about you and about your work online?
Desiree Gibbs:
So which work? Not risking. So, I do a lot of things actually. Outside of a designer, I design jewelry as well. Honestly, if you can find me by that page and you can find me everywhere else. I do design through NU BLAC STUDIO. It's N-U-B-L-A-C dot studio. If you just Google that, you'll find me. That's also my website, NUBLAC STUDIO. From there, it links to my Etsy page where I sell my jewelry and my Instagram page where I showcase my jewelry. Actually, those are really the two spaces I live. Instagram and my website.
Maurice Cherry:
And you say there is a link to the Instagram on your website?
Desiree Gibbs:
Yes. From my about page it links to … Anything I do creatively it's under Dezi Unique, D-E-Z-I Unique. And that's where I do my art, like my black goth portrait series and my jewelry design, eco-friendly jewelry design, because I'm a bit of a hippie, too. And then most of my actual UI/UX design is on NUBLAC STUDIO.
Maurice Cherry:
Okay. You can't leave without not talking more about the black goth portrait series. You buried the lead here. I want to know more about it. Tell me about this.
Desiree Gibbs:
Sure, sure. So, in the beginning I mentioned I'm a UI designer. If you just met me, I would consider myself a serial entrepreneur. From a very, very personal note, I would consider myself an Afro hippie goth.
Maurice Cherry:
Okay.
Desiree Gibbs:
From there, it's pretty much me, modern hippie tree hugger, plus the goth side of myself. So the alternative side of myself. So, from there I actually designed jewelry when I was in high school, and it's grown from ear chains to jewelry I made on accident, really. I was trying to make a pyramid and it turned into these cool spike looking things that I've kind of expanded into that.
Desiree Gibbs:
And then growing into that more alternative lifestyle, I recognized that I was goth. And from there I wanted to showcase people. Black goths get a lot of crap because one, we're black already, but then two, because black people can't be goth. You hear that a lot still. Black people can't be alternative. Black people can't be nerdy.
Desiree Gibbs:
So from there I submitted for a scholarship while I was at UT Arlington to do this project, and I ended up winning. And I was able to interview some cool goth people, and I painted a portrait series of them in their cool goth outfits and their beautiful faces.
Maurice Cherry:
Nice. And that's on the website, too? NUBLAC.STUDIO?
Desiree Gibbs:
No, that's actually only on my Instagram.
Maurice Cherry:
Okay.
Desiree Gibbs:
The Dezi Unique Instagram. I have a little story that's focused on my works in progress as I'm working on it, as well as the final products. So I got six paintings, two per person for now. But that's another project that I hope to really expand on, because I didn't get to do as many people as I wanted. It's difficult to find black goth in Texas, to be honest.
Maurice Cherry:
That makes sense, yeah.
Desiree Gibbs:
The alternative scene here is very white, so I have to do my research in that.
Maurice Cherry:
Maybe if more people, they listen to this interview we can get you some more black goths to paint.
Desiree Gibbs:
That would be dope.
Maurice Cherry:
All right, well Desiree Gibbs, I want to thank you so, so much for coming on the show. I've mentioned throughout this interview that this is happening at this really interesting junction in society right now. But I think also just from hearing your story, you're at an interesting place in your career right now as well. You told me this before we started recording that this is your first full-time salary gig. And now this is happening where you've got to work from home and you're trying to adjust to that.
Maurice Cherry:
And I think your perseverance, just from what you've told me about your creative background, your creativity with this portrait series and with the jewelry designing, you certainly strike me as someone that is able to easily change to the situation. And so, I feel like we're just seeing you get started with what you can do. And granted, this time is a very weird time for everyone right now. But, I feel like you certainly have what it takes to go forward and to accomplish those dreams that you want to make happen. So, thank you so much for coming on the show. I appreciate it.
Desiree Gibbs:
Thank you. I really appreciate the way you put that. I love that.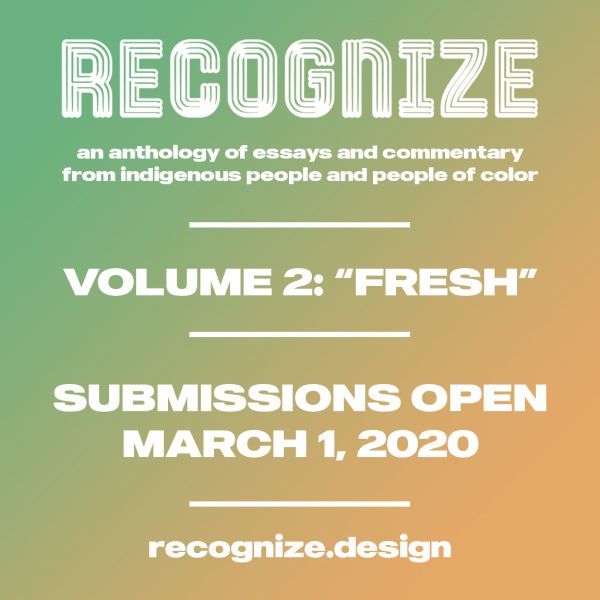 RECOGNIZE is open for essay submissions for Volume 2! The deadline is April 30 – enter today!

Sponsors
Facebook Design is a proud sponsor of Revision Path. The Facebook Design community is designing for human needs at unprecedented scale. Across Facebook's family of apps and new product platforms, multi-disciplinary teams come together to create, build and shape communication experiences in service of the essential, universal human need for connection. To learn more, please visit facebook.design.
This episode is brought to you by Abstract: design workflow management for modern design teams. Spend less time searching for design files and tracking down feedback, and spend more time focusing on innovation and collaboration. Like Glitch, but for designers, Abstract is your team's version-controlled source of truth for design work. With Abstract, you can version design files, present work, request reviews, collect feedback, and give developers direct access to all specs—all from one place. Sign your team up for a free, 30-day trial today by heading over to www.abstract.com.