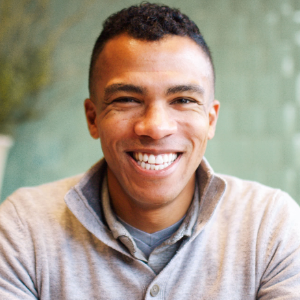 If you were a part of last week's State of Black Design conference, then you've already been introduced to this week's guest — John B. Johnson. As the principal of A Small Studio in Seattle, he leads a team of creative professionals that specialize in authentic digital design.
We spoke about how his business has changed through the pandemic, as well as his process with new projects (such as DOSE). He also talked about growing up in Cleveland, studying architecture, and how these experiences led him to start his studio and his moves until settling in Seattle. This is a really thoughtful and deep interview, and I hope John's story resonates with you all!
Transcript
Full Transcript
Maurice Cherry:
All right, so tell us who you are and what you do.
John B. Johnson:
Hey, my name is John Johnson. I am a identity architect and principal of A Small Studio, where we use our gifts of design to bring peace to people's lives.
Maurice Cherry:
How's the year going for you so far?
John B. Johnson:
Maurice, the year is going well.
Maurice Cherry:
That sounded like a loaded question. The way you sighed made it sound like that was going to be a heavy answer.
John B. Johnson:
Every time somebody asked me that question, it's always heavy because you can reflect on yesterday or you can reflect on the last 10 years that have brought you to this moment to even be ready for this year or ready for last year. And I take that deep breath because it's an opportunity for me to really intentionally answer that question. For me, man, this year has been incredible because we've grown as a company, I've grown as a man, I've grown as a husband. We've grown to six people now. This time last year, we had three so we've doubled in size in a year. If anybody knows about growing an agency, every person you add, it adds another layer of complexity.
John B. Johnson:
We've already exceeded our revenue that we made last year, this year, which is incredible. We're in three-and-a-half years in terms of our growth. But more specifically, and I'm turning 33 this year, I've been approaching this year very intentionally, because 33 is just a really incredible number for a number of reasons. Me and my wife are also planning on moving back to Cleveland, where I was born and raised, and actually building a home there, and really starting to put in some roots after being a nomad for the last nine years.
Maurice Cherry:
That's your Jesus Year as the old folks would say.
John B. Johnson:
It's my Jesus Year. That's it. You're right.
Maurice Cherry:
So growing from three people to six people, as folks know, for me, that I've done this podcast, I had a studio for nine years called Lunch. You're absolutely right, every person that you bring on, it's a different layer of complexity, it changes the culture, it just adds more to the business. Of course, you want to bring people on to help out with tasks. But it's amazing how even just bringing on one more person can really change the dynamic of everything. What inspired you to create your own studio?
John B. Johnson:
Simple answer, I realized that I had a gift for branding and I realized that the people that needed branding the most, organizations that needed branding the most had very little access to it because of how inaccessible it was through the agencies. As you know, the cost goes up really high the more people you add. I actually set out with a friend of mine, Troy Thomas, who's our creative director, and the co-founder of A Small Studio to create a agency that really made branding accessible to individuals and organizations that really were attempting to make an impact in the world. So you can say that I saw how ridiculous agency costs were to impact organizations and how inaccessible they were. And I decided that I was going to build an agency that made that work as accessible as possible.
Maurice Cherry:
Now, given the name of the business, A Small Studio, is the goal to keep it pretty small?
John B. Johnson:
Yeah. In the typical sense of the word, small, we want to make sure that we stay smaller in size as far as the team, specifically. However, we know that through technology and through our skill set of design, that we can actually reach many people with our work with products, with services, with education, so on and so forth. So we want to stay small in the physical sense of the word. We don't want that large overhead, we want to get rid of middle people, account managers, project managers, things like that. And we want to only have people in our team that are intentional about the work, and how they can use their gift to bring peace to our clients and to communities that we interact with. I can dive into that more, but we want to stay small physically so that we can make more impact externally with the resources that we will have and the resources that we can gain through that small nature.
Maurice Cherry:
You said earlier that revenues already exceeded what you've made from last year. So it sounds like business has really kind of, I guess, changed and improved over the past year or so given the state of the world.
John B. Johnson:
I don't think it's any shocker to people that technology is booming, especially when it comes to digital design. So that's what we specialize in, is authentic digital design, I want to say. With these organizations and these technology companies, startups, money is still flowing through the tech space. A lot of money, if not more money, than before. And these organizations, they need designers, they need people that can not only help them get started but also help them grow to the next level. As we built our reputation over the last three years, we're getting more and more referrals from people that we've served in the past and it's been spectacular.
Maurice Cherry:
What does your process look like when you start out with a new project?
John B. Johnson:
We always say everything starts with identity. So when I start working with a organization, first off, we want to make sure that they are a good fit to work with us and we're a good fit for them, and then we dive into who they are. I actually have started to make it a requirement for my clients to go through the Identity Architecture Workshop, which is a individual workshop to help people reflect on who they are as individuals. Say, "What makes you one in 7.8 billion?" I created this workshop to really help people reflect so they can live life on purpose or live more authentically, and align who they are with their passions and their motivations. I found that through agency, and you may be able to relate to this, Maurice, I really have no desire to work with people that are just doing their work for money or doing their work for things that really aren't eternal or aren't connected to their experiences as individuals.
John B. Johnson:
I've started to create these workshops to really start to filter out the nonsense or I like to say the clutter of the industry of the world and start to get to the core of who someone is. And that happens through the Individual Identity Architecture Workshop. And then we take the whole team through a Corporate Identity Architecture Workshop. And what that does is that gives me and my design team a authentic foundation to build off of and start designing the brand identity and everything that goes into a brand identity. And then now distributing that brand identity into the products and/or experiences that we will be designing for them.
John B. Johnson:
As of right now, one of our clients is ShearShare with Dr. Tye Caldwell and Courtney Caldwell out of Texas. They're actually in Dallas and they are building a marketplace for the beauty industry. Actually, they call themselves the HAIRbnb. They actually help stylists and barbers to find seats or chairs across the country but also help the salon owners sell their chairs and make sure that they're getting revenue from them. That is something that's unique and core to who they are as people. Well, Dr. Tye is a master barber and they want to build a community around that. So we have taken them through that exact process that I shared with you and been able to apply their authentic identity to their mobile application in the marketplace that they're building.
Maurice Cherry:
That's a really interesting way of … Because I guess, in a way, you're sort of also onboarding the client by kind of letting them see how you work and what your values are and why they're important to how you do business. I can see that being a big clarifying step. Because sometimes you'll get clients and they just want the work. They don't necessarily care about the why behind it. They just sort of need a set of hands to do the work. And it sounds like those are not the best kinds of clients for you to work with. Which makes sense, because you're spending the time to really sort of get to know them, have them get to know you and build something together.
John B. Johnson:
Exactly. That's what makes this so fulfilling for me. I'm not going to burn out by getting to know people. That's for sure.
Maurice Cherry:
Aside from working with clients, are there sort of projects that you initiate on your own through the studio?
John B. Johnson:
Yeah. Many, actually. There's been projects that have come to me, most of our business has been built through relationships that I either already had or developed as I was building the business. So we're very relational in the way that we've done business. We've actually have had maybe one client that wasn't a referral from someone. So as I mentioned before, how do we make this work more accessible? There's been many people that have come to me seeking support, thinking that they need a logo or thinking that they need a website. And I've been able to help people get through those early stages of their company or their startup or their idea because I've been able to do that myself.
John B. Johnson:
And I've gone through that process of building a startup, building a brand from scratch, building a mobile application from scratch. I not only helped them really assess what is their next step, simplify their approach, that MVP or lean startup model. But then I actually am able to spend that time coaching them, supporting them, and then use my team to maybe help them get started. Whether that's a brand identity, whether that's a website, whether that's some mock ups of a mobile application to help them get some investments. And these are typically people that have nothing but a desire to help make the world a better place. Or like I said, bring peace to people's lives.
John B. Johnson:
I've done this in the past when one of my buddies came to me saying, "Hey, I have this idea and I want to do it, I need to do it." He's actually building a marketplace to make the world more generous. And he was building a marketplace that would help people like millennials, maybe people our age, give more. And the way he thought that would happen is if he can actually allow millennials who have a lot of their money locked up in stocks, [inaudible 00:14:42] use with their corporations. I know that I'm like that with me and my wife. My wife works at Amazon so we have a lot of our wealth locked up in stocks. What if you can actually give one stock to a nonprofit that you loved, and what if you give one stock, that stock will continue to get gain value but that you don't have cash. So give that stock.
John B. Johnson:
He was changing the way that people would give. I loved the idea and I believed in him as the leader. So me and my team helped him create a brand identity for his company, and we created some mock ups. He got launched. The next year, he was already doing, I think, $30,000 a month in reoccurring revenue. He had closed his seed round. And then he came back to us for some help to build out his platform further. We did that all completely for free just because we believed in him.
John B. Johnson:
And there's been other projects that have come and gone. But we just do the work because we believe in the people not because they can pay or not pay. That's the business but we have a responsibility as designers to help these products come to life and these people launched their products to the world, especially impact driven leaders. That's something that keeps me on fire every day because what we're doing is we're building a creative studio that we can create anything with this team. Why would we ever say no when we know it's going to make a huge impact in the world?
Maurice Cherry:
One of the projects that I saw that you created was this website called Dose. And I heard that you and your team built that in four days. Can you tell me the story behind that?
John B. Johnson:
Dose is one of those projects, I don't know if you've ever had that moment, Maurice, where you just do something because it feels right. And the next thing you know, you're like, "Man, that's what we should be doing forever moving forward." That was Dose. So Dose happened I want to say beginning of June, it was shortly after George Floyd was murdered, and was publicized all over the interwebs. I actually didn't hear about George Floyd until a friend of mine called me and told me about it. He was really, really torn up about it. So I was able to be there with him in that moment because I had not seen the video yet. But then after he called me, I had to go and see the video.
John B. Johnson:
I'm sure many of us, I was nauseated. I felt a feeling in me that I don't think I ever felt before, and I had no idea what to do. So I went back to work in my bedroom, as all of us were, in June. Protests were taking place, Seattle was on fire in many ways because me and my wife live right downtown. There were people that were storming the Patagonia that is literally right across the street from my bedroom. There are people shooting guns off to break into the stores, there are people peacefully protesting, and I had no idea what to do. I wanted to go out and protest, my wife did not feel safe or comfortable so I wanted to support her and make sure she was okay. Then I also have my team to deal with on a regular basis, talking through with them.
John B. Johnson:
But there was a moment when I was on a client call and while I was on it, I lost interest completely. I want to say I'm a pretty present person, and I could not stay present. I was like, "Why am I on this call and all of this is taking place right outside my doors?" I felt so inauthentic to myself. I remember getting off that call, and I laid on my bedroom floor, which is my office, and I curled up in a ball and I started crying. I called my mom. And I'm like, "Ma, I don't know what to do." Bless her soul, she sang me a song. That's all I needed to hear at that moment. Then I went for a run, which running, for me, is my way of not only meditating but also releasing. I went for a run, and while I was on a run, I want to say I heard God tell me that, "John, you are acting inauthentic. I've given you this team to do something so use the team and do something. That's what the team is here for, is to bring peace to people's lives. Do it."
John B. Johnson:
Through, I guess my nature, I literally stopped and I called my clients and I told them, "Hey, we got to do something about this. We're shutting down the business for two weeks. If you have a problem with that, I understand. We'll do our best to accommodate. And if you don't have a problem with that, we really appreciate it because I need to do something and move this needle forward." Every one of my clients was completely understanding about it. I called my partner and told him like, "Hey, this is what we're doing." I called the team, told them, and next thing you know, we had, I think, 12 people on a call that night to figure out what we were going to do to move this needle forward. How are we going to use our gifts to bring peace to people's live. Dose came out of that.
John B. Johnson:
And one of the woman on the call, her name was Dr. Julia Garcia [inaudible 00:19:58] and she is a psychologist, she specializes in mental health. And she had a framework that really, she used with a lot of youth to help them work through how they were feeling. She calls these Doses. When we thought about that, we were like, "How do we create contents that can help people use their voice and share their perspective, share their Black perspective, and also help others listen to that perspective in an intentional way that's not just absorbing content on social media?" We worked through that whole problem that evening. And then over the next four days, we had a team of, say, 10 people, all of the small studio and then others who were there to support. It was one intern and there was actually one of our employees who was planning to join us that next week or so, and he joined us early to work on this project with us.
John B. Johnson:
Over those four days, we built out this whole platform. We built out the brand identity, just like I told you, in our process. We built out the web application, utilizing Webflow in no-code. In four days, we were launched and shared it with our community. Over that time, we got so many stories of people sharing about a time when they got pulled over by the cops and how they fear for their life. A time when they went running after Ahmaud Arbery was shot and killed in the street on a jog and how that felt afterwards. We saw this change in this shift of people being able to hear the story in a new way, but also share their story in a new way.
John B. Johnson:
Now this day, Julia Garcia, who we built it for, it's her product. It's not ours, it's hers. We built it with her, we built it for her. She now uses that in all of her presentations that she does the youth, that she does with corporate workshops. She still uses this platform to not only gather information to serve those people better, but also to allow them a space to deal with their emotions, just like I did.
Maurice Cherry:
The project is still up and running today, right?
John B. Johnson:
Yeah, the website's still live. We built it for Dr. J and she is still crafting her life's work to figure out how to use it in the best ways. So she's using it, it's still on there, giveadose.co. If you want to go on there, you can share your story or even participate in some of the activities that are on there.
Maurice Cherry:
It's amazing how many things have arose out of last summer, really. You're in Seattle, off the top of my head, I think about the Capitol Hill Autonomous Zone, and how much that was in the news in terms of the protests and people sort of creating this sort of, I guess, you could call it a safe space. I'm trying to remember from what it was during the summer, but creating this space of no police intervention and things of that nature. There's a number of different initiatives and events and things. I mean, that time, I think really woke a lot of people up. Or at the very least, I think it just exposed them to long standing issues and things, which of course, you and I, as Black men know, have always been there. But because there's no travel, there's no sports, there's no entertainment, now so many more people are forced to really confront it at face value at times when probably before they never did.
John B. Johnson:
And on top of that, I mean, I gave you a very vivid response to how I reacted to that moment. But I also did not just go and engaged in the way that everybody was doing it. I had to find and take a moment to figure out what was the way that I was going to get involved uniquely me, with my experience, with my guests, with my resources that I have in my family. And I think that that's something that everybody I hope took some time to do during that time when we didn't have all the distractions that we normally would have is say, "How can I show up uniquely in this moment?" Not to just run with the herd, but also like, "Hey, is this what I'm called to do?" If I am to protest peacefully or to go out and talk to a police officer that we know or to build them a website.
John B. Johnson:
Whatever it is, it's just that space that you talked about, it created space for me to reflect on who I was. And it brought up some really, I want to say, deep-seated things that I never dealt with because I am mixed race. My mom is Italian, my dad is Black. I never met my father. But some of the things that I shared during that time with the team that was helping me build the Dose platform was that I was a product of racial tension. And I never actually thought about that until I started to see the nation and my family and my friends and the city that I was living in start to be torn apart physically right in front of me. Because I, like many other people, may have not had to deal with it in that way.
John B. Johnson:
So I started to reflect on who I was and my story and my unique perspective. And my unique perspective was the fact that I am a product of racial tension. And how do I use that to help others start to bridge the gap between races, whether it's Black and white or mixed race and Black or whatever it is, I just use that as an opportunity. And I'm so glad that I had that opportunity because I don't know if I would have ever taken that time to reflect on that moment, not only let alone use it, to start to project me forward in a more authentic and intentional way.
Maurice Cherry:
Let's kind of switch gears here a little bit, because you've brought up your family, your mom, your dad. Tell me about where you grew up.
John B. Johnson:
I was born in Cleveland, Ohio, actually. Right on Lake Erie.
Maurice Cherry:
What was it like growing up there?
John B. Johnson:
I was born in '88. So I grew up, most of my childhood was spent during the '90s, early 2000s. Cleveland, in that time, I want to say was pretty poor. Do you know of Bone Thugs and Harmony? Which I hope you do. That was their heyday, during the '90s. Cleveland was pretty rough, I would say, especially where we grew up. We grew up on the west side of Cleveland, on West 69th in Detroit. So we were just right outside of the city. To give you some context, I actually grew up in a, I want to say, a pretty much Italian neighborhood. Actually, there was a time people there were Puerto Ricans, there were a lot of different types of cultures in Cleveland, which is why I love the city so much. But they all didn't really want to be with each other, so another part of that racial tension.
John B. Johnson:
Let alone my mom, being a single white mother. I have two older sisters and an older brother who are all mixed race also. When I was 10 years old, my brother ended up … Was involved in a gang, ended up shooting someone, and die the next day. So my brother ended up turning himself in. And he's been in prison since then. That was in 1999. He was 17 years old. That, I want to say, was a big part of my childhood. 10 years old, the only guy in my life ended up going to prison in that way. It was one of those experiences that really helped me stay away from those things, the system, the temptations, the opportunities to get into that type of trouble.
John B. Johnson:
I like to say that my brother was somewhat of a sacrifice for me to stay out of becoming a statistic in that way. One in three Black men in America will end up in prison in their lifetime. My brother ended up there and I made sure, my sisters also made sure that I didn't follow in his footsteps. So that was a big part of my childhood. And that was, I think, a good representation of Cleveland in the '90s. And I want to say that it was a great place for me to grow up outside of some of those events. I think it's a really Midwest, kind of small, big city to grow up in Cleveland. A lot of culture, a lot of experiences. But it also was a very poor and hostile environment during the '90s and early 2000s. And I'm just grateful that I was able to have a supportive family like my sisters to help me end up going to a private high school. And ultimately, one of the reasons why I got into architecture school.
Maurice Cherry:
Did you grow up in Little Italy?
John B. Johnson:
We were the little Little Italy. So we were in Little Italy that typically people know of. We were just outside of there, but they had a strong Italian hold and they would paint the fire hydrants the Italian flag and the flag poles and all of that. They had a strong culture there.
Maurice Cherry:
I know a little about Cleveland. My dad's side of the family is from Cleveland and Youngstown, in the sort of Cleveland-ish area. I've only been … How many times I've been to Cleveland? Once or twice. I want to say at least twice. I know I've been once as an adult, which was back in 2014, 2015 for an event there. Cleveland's a great city. Cleveland's a great city. I really enjoyed my time there. I like how scrappy the city is. There's a certain grit to Cleveland that … I mean, coming from Atlanta, I sort of see that same type of grit, that same type of hustle. I don't know.
Maurice Cherry:
Maybe because it's Midwest, it's sort of buttressed by the railroad industry, steam industry, coal. All of that, I guess. It's more industrious, I should say. I had a great time when I visited Cleveland. It's interesting, you also mentioned that about your brother. I'm curious with your brother, I don't mean to go too far into this or anything, but you mentioned that he was sort of this influence on you, even though he wasn't really around. Did you feel like a lot of pressure being the only man in the house?
John B. Johnson:
I want to follow up with a question with you for asking that, because I feel like you would have to understand that to really even ask that question. Yes, 100%. I felt an immense amount of pressure to not only be a man, but also to be a support to my sisters and my mother, who also had struggled with men in their life. They are all single mothers, even to this day. So not only was I watching them go through relationship after relationship, man after man, that I had to observe and watch how they would respond because I was the youngest by seven years below my brother. So that made me nine years younger than my youngest sister, and 11 years younger than my oldest sister. So I felt that a lot of pressure, 100%, to attempt to be a man.
John B. Johnson:
Which actually, ultimately, after leaving Cleveland, which I want to say that pressure was the reason why I left, was I started to find out that that pressure even existed. Because before that, I didn't know that that pressure existed on me. And I set out to only make them proud, make my sisters proud for taking care of me and being able to send me to school. Make my mom proud because I know she had a son that ended up going to prison. Even though my brother is my best friend, and I talk to him every single day, even today I talk to him every single day, because he's a big part of my life, back then, I didn't talk to him at all. I don't even know him.
John B. Johnson:
I was just the kid, the boy that had all the opportunities and talent. I was smart, I was athletic, so on and so forth. And I want to say that that was a lot of pressure but I used it, thank God, I use it in the right way. Because that's what got me through architecture school and ending up being the only Black person in my graduating class to get my master's of architecture, to get my MBA. Also, at the same time to be able to actually move out of Cleveland. Because I'm the only one in my family to ever leave Cleveland.
John B. Johnson:
That pressure is exactly what I needed I think, in that time in order to grow into the man that I am. And now I've been able to release that pressure because it was all made on me. I made it up. And now over these last nine years after being away from Cleveland, I'm now returning to Cleveland with my wife and I'm ready to be there, and to be there for that city, and to be in that city and be there for my family because now I know what it means to be a man. I had no idea what that meant back when I was 10 years old, because I had no men in my life.
Maurice Cherry:
Wow. I empathize with that largely because my older brother also … It happened when I was 14, I think, he went to prison. I guess the relationship is different from what you're mentioning with your brother in that you all are still friends. Actually, that time has completely estranged us. We are strangers to each other. He's out now. He's four years older than me. He's out now. But we are complete strangers to each other. And the reason that I asked about that pressure is because I empathize with that not just the pressure of you now being the only man in the house that has to sort of provide, in a way, but then you're also the baby, which I'm also the baby in my family, you can't be the breadwinner and the baby. You can't be both in that respect.
Maurice Cherry:
But then also going to school and being really smart and being really recognized for that … There are very few people I think, that really understand that sort of weird push-pull tension of being in school and achieving and doing really well and being recognized for that. And then you come back to this home life that is not that. You know what I mean? I don't know if I'm really articulating it properly. I think you get where I'm coming from in a nonverbal way even though we can't see each other.
Maurice Cherry:
But it's a weird particular kind of tension, because certainly, you're achieving and you're doing well but yet, you also have this societal pressure, this familial pressure to do well. It's almost in a way, like you're under a microscope. Every kind of decision that you do is scrutinized and looked over. When you said, "The pressure is why I left," I felt that I felt 100%. "The pressure is why I left." Because you want to break out from that crucible. You want to see what's out there in the world past Cook County. Cleveland's in Cook County, right?
John B. Johnson:
Cuyahoga.
Maurice Cherry:
Cuyahoga County, sorry about that. You want to break out past the county and sort of see what's out there in the world, see if the person that that society has sort of formed you to be can exist outside of that. Because I think it's one thing when you're like a kid, and you're being recognized for all your talents and things like that, but you're like, "Can you cut it outside of this sort of environment where you're being praised and lifted up? Can you really do well outside of that structure?" If that makes any sense.
John B. Johnson:
I think that you articulated well, Maurice. There's not only the pressure of the family and being the baby and knowing that you should do better than those that come before you because you should be able to learn from their mistakes. But the fact is, is that as a man, being raised by all women, I felt very alone in the way that I felt, in the way that I operate and the things that I was thinking and doing and so on and so forth. Nobody could relate to me because I was the only man in my life. The only role models that I had were all attempting to court, for lack of a better word, my sisters and my mother, and I couldn't trust them. I wanted to, but I didn't know them. I didn't know my father, I didn't know anything. So I had to find out who I was almost on my own because I had no other men in my life.
John B. Johnson:
And I think that that's a common thread in America. Especially Black America, you find our generation, the millennial generation, is one of the most … We don't have a lot of father figures and male role models that can teach us what it means to be a man. And the generation that come before us also. That's something I've had to realize, I had to get away to realize those things. I was able to use the pressure in a way of helping me accomplish and overcome a lot of barriers, which would be getting my master's degree and leaving and so on and so forth, which aren't easy things for anyone to do and I know that.
John B. Johnson:
But the biggest thing is, what do you do after you overcome and release the pressure? What do you do with that? That's where I think my journey started, was when I left Cleveland and started to actually understand who I was as John B. Johnson, and not who I was as the brother and the son and the uncle and all the other things that came with that responsibility, because I had no idea what all of that was. I didn't know.
Maurice Cherry:
Yeah, man, I feel you. I know exactly what you're talking about. It's funny, I did an interview last year and someone asked me this very, kind of the same thing I'm asking you. They were sort of like, "How did you deal with it?" And it's sort of like that, I guess, it's like a parable or a tale about the frog in boiling water. And how the frog is sitting in the water and then you continually crank the heat up, and the water gets to the point where it's boiling, the frog doesn't know that the water is boiling, they're just in the water. That's what that experience is like.
Maurice Cherry:
You know that there are all of these psychosocial factors that are affecting you at the time but you're not thinking of it in this sort of outside way, like, "I have to strive to do better and get through this." You're just getting through it. You're just having to go through life. It's something that you can look back on, I think, with reflection and introspection and hindsight. You look back and you're like, "Damn, I really went through some shit and I came out on the other side." But when you're in it, you don't really know that you're in it.
John B. Johnson:
And that's why I think it's so important for people to leave their environments, at least for a little bit, to start to see it from a different angle and a different perspective, if possible.
Maurice Cherry:
So you ended up going to Kent State, you study architecture. What was your time like there?
John B. Johnson:
Well, Kent State was the first time I was able to go and be on my own even though I was only 45 minutes away from home. I went to all boys …
Maurice Cherry:
That's far enough.
John B. Johnson:
That's far enough, exactly. It's far enough for my mom to come in and grab my laundry for me. So it was perfect. I went to an all-boys Catholic high school, Benedictine High School in Cleveland. After that, I think I wanted to rebel a little bit so when I left high school, I kind of rebranded myself, which actually is a interesting point of … I call these filtering moments throughout my life. High school and college was a filtering moment where I not only filtered the people and friends that I had, but I also filtered who I was and tried on some new John Johnson. One of those ways was just obviously being away from home. Another one was just filtering out the people that I hung out with. This was also a new phase, because I had no idea what architecture was all about when I went into it.
John B. Johnson:
I knew I was good at math, I knew that I wanted to do something in engineering and mechanical. Architecture was that balance of art and science that I found to be fascinating but I had no idea what it was truly. So when I enrolled and got accepted, I took it. I had to filter a lot of my habits because architecture, if you know, is one of the hardest Bachelors of Science degrees that you can get. It was not easy. So I filtered a lot of my habits of hanging out with friends and partying and drinking and all of these other things that attempt to be the good students and to get through the schooling, which was excruciating.
John B. Johnson:
Going from high school, which is pretty easy to me, to college was a huge shift, especially in this focus of architecture. So my first semester, I almost fell out, I got a 1.9 GPA. Thank God, I did not get kicked out but I was able to … that was a wake up call that I needed, "Hey, John, this is an opportunity that you squander," which I think happens a lot to people, especially kids going into college for the first time. So I took that as a kick in the butt and I got my GPA up to 3.5 by the time I graduated, but it was an uphill climb from there. And my whole time there was all about architecture, because that was the only way I was going to survive.
John B. Johnson:
Studying, I was in a studio, I pulled many all-nighters to do the work there. I don't think I had a very similar experience as many people might have at Kent State, which is known as being a party school in many ways. But Kent State has an incredible architecture program that is accredited and nationally ranked. So I was blessed with the opportunity to be a part of that program. And it gave me a lot of opportunities like studying abroad in Italy for my junior year. I actually got to study abroad in Florence, Italy, and that changed my whole perspective of the world. One of the reasons why I couldn't stay in Cleveland after I graduated, I knew there was so much more out there.
John B. Johnson:
I got to go to the UAE, United Arab Emirates, and actually present a project there. I go to Amsterdam. I got to see the world. And that perspective really changed my life, it changed my perspective. And it's no wonder that I'm the first one in my family to leave Cleveland, still one of the first people in my friends group to leave Cleveland because I got those incredible opportunities that I think are a privilege. I actually gave a talk about this, Maurice, before. I say that design thinking is a privileged way of thinking. And I want to say that, again, that idea of design thinking during architecture school, by going and studying in Italy, by going to UAE and seeing these different cultures and meeting with different designers across the world. And not many people get those opportunities.
John B. Johnson:
So you want to talk about pressure, I'm just thankful that I had those opportunities but I also know in my heart that my family didn't get those opportunities. My brother didn't get that opportunity. My mother, my sisters, even my nieces and nephew haven't gotten those opportunities. But I did so what am I going to do with them? That was the question I kept on asking myself after I graduated when I decided to get my master's in architecture and my MBA at the same time. Like, "What am I going to do with them?" I have a responsibility to do something special with these gifts. And I think that that's really what Kent State really set me on the path to do.
Maurice Cherry:
I almost failed out my first semester of college, too.
John B. Johnson:
We got to hang out more, man. We got to hang out more.
Maurice Cherry:
I got to Morehouse and I lost my mind. It was so different from everything that I had known and had grown up around. It was a big city. This was right after the Olympics, and Freaknik was sort of dying out. It was right after the Olympics and Atlanta, I mean, Atlanta still has a reputation of being a party city. But back then, man, I tell you, the clubs would actually send charter buses to the college, they would pick you up, take you out to the club, you'd go to the club, do whatever, and they'd bring you back to the dorm.
Maurice Cherry:
I mean, I'm surprised I got through my first semester the way I did. I mean, it was wild. So I know exactly where you got it from. But you get to college, you want to try something, try a new identity, kind of see what else is out there. Because now you're not who you are back home. For me, this is totally different state, totally different city. "I'm going to be somebody different. I'm not going to be the kid that they thought I was back in Selma. No, I'm going to be somebody different." I know exactly what that's like.
John B. Johnson:
I don't know if I would have made it at Morehouse with those stories, man. Kent State, that's all that was there. It was the university. Ma, way to get through it.
Maurice Cherry:
So you got your master's degree from Kent State, you graduated. Is the experience of Kent State and studying abroad what caused you to move out of Cleveland?
John B. Johnson:
I want to say it had a big influence on there. Also, my wife now, we went to school together at Kent State. She was a big influence on me, and I'll admit it. She ended up getting her master's degree at ASU, Arizona State University, while I was getting my master's degree at Kent. She, I want to say, was the biggest influence for me to move to Phoenix, even though I wouldn't have admitted it at the time.
Maurice Cherry:
So you get to Phoenix, and you create what is essentially your first startup called Feel Free. What drove you to create your own tech startup after spending so much time working and studying architecture?
John B. Johnson:
While I was working in architecture in Phoenix, I worked there for two years at a firm called Architekton. I had this desire to be an entrepreneur. I don't know what it was, it was just like this gut feeling of I am not good at being an employee. I had this desire to start to do my own thing. I actually got my real estate license while I was working at the architecture firm and started to use that as a way of allowing me to leave my job. I also realized that I didn't want to be an architect, in the typical sense of the word. I started to see up close the partners at my firm, and I didn't see myself as them. So I had to make a big decision to say, "Hey, architecture is not for me."
John B. Johnson:
When I realized that, I gave them 30 days notice and I left architecture. Right after I did that, my friend of mine talked to me about a project that he wanted me to design a building. And that building, long story short, ended up translating into this mobile app called Feel Free, which was a mobile app that when you walked into any built environments, you were automatically checked into that space and you will see a list of all the other people that were in that space also. And the idea was to create more organic face-to-face connections outside of the typical norm during that time, I think it was 2014, of connecting with people all over the world.
John B. Johnson:
It was taking people out of the space versus making them present to the space. Which the reason why I loved architecture so much was this ability to build the built environment, and to create the human experience within spaces. So when this idea came to life, it was like, "Wow, I could use this as a tool to enhance the experience of any built environment across the world. So it was that aspiration of using technology as a way to enhance, and I want to say multiply the impact that I could have on spaces across the world versus one building at a time. That's the typical sense of architecture. That's what inspired me to go down that path of building a tech startup.
Maurice Cherry:
So you started Feel Free, it's out there, you're helping people out. What happens?
John B. Johnson:
Well, me and my co-founder gained a lot of traction. I mean, we built a brand that expanded all the way to the UK of people that wanted Feel Free in their space for that specific reason I was just sharing with you. And me and my co-founder, this was our first time ever building a startup. We had no idea what we're doing. We were learning every day. And after a while, a number of things happened. We didn't make any money, we did not figure out how to generate cash flow for the app. We were in the process of raising capital for the mobile application. At that time, I was struggling. Remember, I left home.
John B. Johnson:
I was about to go bankrupt. I was back on my car payments, my mortgage. I was back on everything, and I needed cash. My business partner didn't need cash as much as I needed it, and it caused some friction. It honestly caused a lot of hostility in me, because I was attempting to build this company and make this influence and close the round of capital. Didn't seem like he was as eager as I was. And honestly, I would say that my ego got in the way, his ego got in the way, and we clashed. Next thing you know, we split up and everything failed. Just literally stopped right there. So that was about a year-and-a-half in. That was my first, I want to say, big failure as an entrepreneur.
Maurice Cherry:
What did that teach you?
John B. Johnson:
I learned a lot both from the failure but also from the successes of that venture. Specifically, with my co-founder, taught me the value of communication with other human being that's in the business with you, the value of, I want to say, trust. But also the value of not leaving any room for gray area. We get into trouble in business when you leave room, gray area, because it doesn't make it as black and white as it needs to be. Because the gray area is the fact that we're human beings, the business is black and white. That's just something I learned tremendously from that experience. And I will never enter into a business relationship again without a signed operating agreement, without very clear understanding of how things will happen if things happen. Things that we did not have in place when we broke up and when all that friction hit the fan. That was huge for me and it helped me have healthier business relationships moving forward from there.
John B. Johnson:
And on the flip side of that, we built an incredible brand of just a well-known brand across Phoenix. And it started building traction across the world. We built a beautiful mobile application experience. I found my passion for building those communities. Feel Free was when I realized that I had a passion for community building, and I was living that out. Even after we failed, that feedback from people saying that, "Hey, you live that community building piece that Feel Free represented." That was just a really good piece of encouragement I needed after failing in my first startup but that's what I used to drive me in all of my other endeavors. Even including A Small Studio now.
Maurice Cherry:
I mean, that's a good thing to still be able to kind of draw something from what could be, for a lot of business owners, a really bad situation. You start your own business and it doesn't work out. And you have to cash out or you have to sell it or you have to shut it down and you have to move on to what the next thing is. I know a lot of times in entrepreneurial culture, and I feel like this is probably specific or maybe endemic of Black entrepreneurs, this whole thing about having to hustle hard and grind and there's so much emphasis put on making the business work.
Maurice Cherry:
That when it doesn't work, it can really sort of cast a shadow over you and make you feel like you failed. But you drew something from that experience of the fact that, one, it showed that you know how to build a brand, which is what you've been able to use as the catalyst for A Small Studio. But then two, now you know what not to do next time, and that's a lesson that you really, unfortunately, you have to learn the hard way of what not to do.
John B. Johnson:
I mean, failure is one of those ways of learning so much. I don't even think failure is a bad thing. I think it's a really good thing. We're all going to fail at something. And I hope we do because that helps us learn just, like you just said. It just helps us learn what not to do, it helps us learn what we should do. Those opportunities to reflect are important. I want to comment on the hustle culture that you just shared, because I think it's just a culture in general, hustle, grind. And that's one of the main reasons why I want to say I failed at the beginning was I was constantly trying to get to the yes versus getting to the no.
John B. Johnson:
And that was one of the biggest things that I learned on my journey is that as I understand myself better, and I understand what I'm being called to do and what my mission is and vision and focus is, I don't have to deal with trying to work with everybody and trying to get money from everybody, to try and get everybody to download my app or whatever it is. Now, it filters a lot of the nonsense and a lot of the distractions the more intentional and the more reflective you become on your identity. And that's, obviously, a big part of my work now.
John B. Johnson:
But the more I understand myself, the less I hustle. Because I worked harder and now I work smarter, not harder. The more I understand who I am and what I'm being called to do, the less I try to get yeses from everybody. And I think what you were referencing in Black culture, what I've seen is that scarcity mindset of, "I'm not good enough so I need to show up in a way that people would think that I'm good enough and will give me the help that I need or the support I need or the money that I need." Versus, "Hey, I'm good enough. I'm everything that I need to be. Here's what I'm doing. Do you want to be a part of it with me?"
John B. Johnson:
That's what I learned, is I was trying to get help from everybody because I needed help. And honestly, I probably, now that we've talked about it, it relates back to my lack of a father, lack of a male role model. So I was trying to get help from everybody, when actually, I needed to take time to understand what was I being called to, who am I and then present that to people authentically and to see if they align with that or not. It would have saved me a lot of pain, it will save me a lot of money, would've saved me a lot of time.
Maurice Cherry:
After what happened with Feel Free, how long did you stay in Phoenix before you ended up moving to Seattle?
John B. Johnson:
We were there for about a year-and-a-half. Feel Free ended, I want to say, early 2016, and we left at the end of 2017 so about a year-and-a-half.
Maurice Cherry:
Okay. And you mentioned your wife works at Amazon. So that's sort of what prompted the move also?
John B. Johnson:
Yeah. Jeff Bezos came with his checkbook and we couldn't pass up the opportunity. She was working at PetSmart and then got the opportunity with Amazon. We actually had just bought a home and settled into our townhome, furnished it, and everything. And six months later, we were in Seattle. So we kind of uprooted everything and moved there.
Maurice Cherry:
How has Seattle been different from Phoenix?
John B. Johnson:
Seattle is much less diverse than Phoenix, even though Phoenix is much less diverse than Cleveland. Downtown Seattle is a very, very unique place. I would say that I'm one of a handful of Black people that live in downtown Seattle because of how expensive it is to live here. The property values and the way Amazon has blown up the city has been uncanny. I mean, for the longest time, Seattle had the most number of cranes out of anywhere in the world. It's blown up. Phoenix was not like that at all. Phoenix was actually the exact opposite from a density standpoint. Phoenix was much more spread out. We had Scottsdale, Phoenix, Tempe, Mesa, all these cities, but Phoenix was, I mean, Phoenix is one of the longest, I guess, largest cities per square miles out of any other city. It's massive so it's spread out. There's a lot less of, I want to say, resources in Phoenix, especially from a startup perspective. So much slower pace than Seattle.
John B. Johnson:
Seattle is a big city. I mean, it's one of the biggest cities in the country. And for me, going from Cleveland to Phoenix to Seattle, I had to change my way of showing up. To the point of like, "Hey, I'm in a much more affluent city. These people really are doing things that are on a larger level than in Phoenix." Phoenix felt like a early stage city. They want to be big but they're still trying to figure out who they are. And Seattle was a little later stage. They're a little more mature. And the dichotomy of the two was Phoenix had that welcoming, warm community feel of like, "We're all figuring it out together." Especially in the startup world.
John B. Johnson:
And then Seattle had none of that. It was like you either know people or you don't. And if you don't, good luck. There was no warm welcome. There was no place where you can go to get connected into the city, into the communities. None of that existed, which actually prompted me to build a 1 Million Cups Community here in Seattle and get into other things. Because I learned a lot from Phoenix where there they had this grassroots ecosystem of entrepreneurship and the startup experience. Seattle, there was no grassroots. It was all big players. You had Amazon, you had Costco, you have Microsoft, you have all of these huge players.
John B. Johnson:
I like to think about it from a conceptual standpoint, these are big trees. The monkeys hang out in the trees up above the ground. Phoenix was more on the ground level. They didn't have big trees down there. They didn't have any big players in Phoenix. So when I got there, I'm like, "Hey, where's everybody at? What are we doing here on the ground level? What seeds are we planting?" I mean, coming in very optimistic and also naïve, I'm like, "Let's try to plant some seeds." And I just decided to start building things. I didn't wait for people to tell me what to do or how to do it.
John B. Johnson:
I was meeting people. I've met 40 people in the first two weeks that I was there from all over the city. I learned a lot of what I learned attempting to find myself and build my career in Phoenix. I used all of that to move the momentum into Seattle and show up in a different way. I want to say that operating in Seattle has definitely matured me as a business leader. It's also matured me, I want to say, as a man, as a husband living in, in a big city, downtown Seattle like this.
Maurice Cherry:
I've heard about the infamous Seattle freeze. Sounds like that's kind of a little bit of what you experienced when you started out there.
John B. Johnson:
Unfortunately, that is something that's very relevant here. I think it's just a lack of belonging, a lack of culture, a lack of community. It's either you're in or you're out. Thank God, he gifted me with a gift of charisma and fearlessness because I broke that Seattle freeze real quick. [crosstalk 01:01:42]
Maurice Cherry:
That's interesting. I swear, Atlanta is the exact opposite of that. Everyone that comes here is welcomed, almost profusely, in some way. It's interesting that Seattle still carries that connotation.
John B. Johnson:
You can't even make eye contact on the streets when you walk down the street.
Maurice Cherry:
Really?
John B. Johnson:
When I go home to Cleveland, I'm like, "Hey." It's nice to make eye contact with strangers on the street because Seattle, people don't do that. It's wild.
Maurice Cherry:
You wouldn't get away with that in Atlanta. You try walking by somebody and not speaking and see what happens. Don't do that. As I'm talking to you, as I'm getting a sense of your body of work, identity is a key factor in pretty much everything that you've done, pretty much in who you are. Why is that so important? Why is it such an important facet in your work?
John B. Johnson:
Identity is something that is core to each individual as a person. It's only something that you can find as a human being. I think we all can agree that each and every one of us is unique in one way. We're all one in 7.8 billion. Identity is one of those things that I found to be very overlooked and I want to say written off as not that important. Specifically, in my generation, I found people attempting to go after the hustle culture, the money or the success or the fame or the girl or the guy or whatever it is, before they even think about who they are. As you so beautifully walked me through my story, Maurice, you see there's a lot of dynamic experiences in my life that have made me uniquely equipped to approach this work and help other people reflect on those experiences.
John B. Johnson:
Just like the ones I just shared with you, in order to realize, "Hey, you can use those experiences as motivation, instead of being motivated by money, instead of being motivated by success or climbing the ladder, or whatever it is." So my brother is one of my biggest motivators because he is somebody that went to prison at 17 and has inspired me in ways that I can't even comprehend. He's been in prison for 24 years. What better motivator can I find than that? That's a unique experience only I have lived through my eyes, along with my mother and my sisters, and my Cleveland experience and Italy and Feel Free and architecture and all of those things. All of those experiences give me a unique ability that no one else has in the world to show up and to impact people's lives in a powerful way.
John B. Johnson:
And I started to realize how powerful it is for people to find that little bit of light that lives inside of them or what I like to call identity. Because they can use that as a candle that will never go out, as a flame that will never go out, and motivation that's unlimited. And to use those experiences to help others, I believe that that's the purpose for our life. Identity is something that I started to realize do my work of branding. That I was helping them brand their company. But what I realized was that that who they were as people was the exact thing that they needed to focus on to stand out in the marketplace, to find the motivation to grow the company from $1 to a million, to lead authentically and powerfully their people or to be innovative.
John B. Johnson:
Whatever it is, all of that came from within them. It didn't come from outside, it never does. It always comes from within, I started to realize that. So identity architecture was a term that I came up with to utilize my $80,000 degree that I didn't make $80,000 on, but I had to put it to use somehow. I started to realize how important it was to empower individuals with this. And by empowering individuals to understand who they are, it actually starts to strengthen the communities in which they belong to and ultimately starts to reshape cultural outcomes. So for me as a Black man in America, I'm one of the few that are agency leader. I'm one of the only one in my family to ever get married, I'm the only one in my family ever leave Cleveland.
John B. Johnson:
And as I move back to Cleveland, I know that I've overcome and changed cultural outcomes just by understanding who I was better and not attempting to identify or attach myself to cultural stigmas or stereotypes or stats that would actually put me in prison. You know what I mean? Specifically for Black America, our identity has been dismantled and raped and just crumbled for a reason. I feel like identity and helping people understand and check in with themself in ways that only they can to make them one in 7.8 billion would actually be the key to us creating a better society and a better world together.
Maurice Cherry:
I wanted to kind of dive into sort of that title of identity architect. But you did a great job there of kind of just explaining it. Like other Black agency owners, I mean, I don't know sort of how it looks in Seattle in terms of other just Black businesses that you've encountered. But have you met any other Black agency owners, whether it's through networking or anything like that?
John B. Johnson:
Yeah, I've met a few. Gus Granger, he's actually down in Dallas. He works at VSA Partners now. He's an incredible guy. I met a couple others that are a little smaller agencies but it's been very, very few and far between. I didn't set out to build an agency. When I started A Small Studio, it was just something that I felt like I could do. Next thing you know, I'm building a movement in the way that I've just shared with you. So I haven't really tempted to follow the model of what an agency is, I've actually started to press into who I am uniquely as an agency leader and how I can help influence designers and creatives in a powerful way.
John B. Johnson:
It's been few and far between, honestly, Maurice. And that's actually a big part of why I found you and how I found you, how I found your work and the work that you're doing. Also, it's been a big motivator for me this year to make sure that I'm getting out there to not only find others that are just like me, that have gone through similar things, but also to make sure that others know that I exist, and that it is possible to build a million dollar agency to succeed in Seattle if you're the only one there, to be the only one in your graduating class. Only this has been a common denominator throughout my life and I want to say it's for a reason. I know that it's still being fleshed out.
Maurice Cherry:
Given where you are now in your career with the challenges that you face, with the goals that you've accomplished, et cetera, how do you navigate expectations that others might have about you?
John B. Johnson:
The only expectations that I make myself navigate are God's expectations that I hear as I continue to build my relationship with God, my wife's expectations, and I want to say my brother's. Outside of that, I think our expectations of others is something that's really hard to navigate, period, for anyone. I've learned that over the years as I shared my story with you. I'm doing my best not to have expectations of others but to only have expectations of myself and I do my best to share that with other people that perspective. I'd say that as I've grown, I'm 33 this year, as I've grown as a man, as a leader, as a husband, as a brother, as a son, all of those things, I've started to, I want to say, release those expectations from myself, and release not even, I want to say, as Jay Z's like, "I'm just dusting my shoulders off." I'm not going to carry those expectations because those expectations create that pressure.
John B. Johnson:
Now, that I'm moving back to Cleveland, we touched on this in this interview, I'm moving back to Cleveland with that lightness that I don't think I had when I left in the first place because I've released myself of those expectations. Not only were on me from my mom, my sisters, my brother, my wife's family, my friends. And I'm going back there with one intention and that's for me to have an incredible relationship with God, be a husband to my wife, and to be a citizen that cares for the city. But those expectations have come from something that are not from just people, those expectations have come from within myself as I've done a lot of reflection, a lot of growth.
Maurice Cherry:
When are you expecting to move back to Cleveland?
John B. Johnson:
May. Right after my birthday, May 5th.
Maurice Cherry:
All right. So not that far away. Given that and we're kind of wrapping up the interview here, but where do you see yourself in the next five years? I mean, besides in Cleveland, where do you see yourself? Or what kind of work would you like to be doing?
John B. Johnson:
Identity architecture is something that I feel is my calling, is the way that I live life on purpose. Actually, I see myself sharing this methodology and this philosophy with the world. In the next five years, I hope to actually be building a creative community of impact-driven designers, that specifically use identity architecture, and use this methodology in a way of being more authentic with the way that they design. Just like IDEO really coined the term design thinking, I really want to move identity architecture to the next level to be a tool that people can use to authentically represent themselves out in the world, but also I authentically represent others and serve others. In five years, A Small Studio will be thriving. I feel like we can be a community of 20,000, maybe even 50,000 creatives who focus on impact-driven design and want to use their gifts to bring peace to people's lives.
Maurice Cherry:
Well, just to wrap things up here, where can our audience find out more about you and about your work and everything online?
John B. Johnson:
Our website is asmallstudio.com. I have been very, very intentional on Instagram @johnbcreating. So you can check me out there, listen, follow along with the things that I'm doing, engage with me there. That's really the best ways of finding me.
Maurice Cherry:
All right, sounds good. Well, John B. Johnson, I want to thank you so much for coming on the show. I mean, your story, I think, is one that hopefully will inspire a lot of people not just in terms of the adversity that you've had to go through, but the lessons that you've been able to pull from those situations, and how you've been able to turn that into really doing something for the greater community. I mean, even as we were talking, I'm noticing these parallels to myself in a lot of ways. So I know that identity is something that is super important to you, and I really get the sense that like this is a calling for you. It's not just, "I just stumbled into it and I'm good at it." This is what you kind of were put here to do. So I'm excited to see what comes next for you in the next few years. Thank you so much for coming on the show. I appreciate it.
John B. Johnson:
Thank you, Maurice. It's a pleasure and an honor, brother.
Brevity & Wit is a strategy and design firm committed to designing a more inclusive and equitable world.
We accomplish this through graphic design, presentations and workshops around I-D-E-A: inclusion, diversity, equity, and accessibility.
If you're curious to learn how to combine a passion for I-D-E-A with design, check us out at brevityandwit.com.
Brevity & Wit — creative excellence without the grind.