It's time for our annual audience survey! Tell us what you think about Revision Path, and you could win a $100 Amazon.com gift card! Visit
revisionpath.com/survey
to give us your feedback. Survey ends on May 31.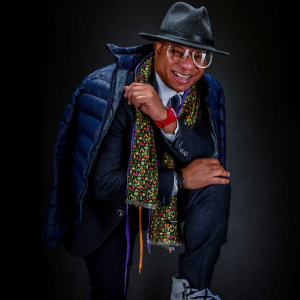 I couldn't think of a better way to start off the month than by talking with author, professor, and strategist Douglas Davis. Longtime fans of the show will remember our initial conversation from 2016, so it was good to catch up and talk and get an update over what he's been doing.
What follows is less of an interview and more of a general conversation that ranges a number of topics: creativity during the pandemic, design equity, social justice, the value of remote design education, relevance vs. belonging, AIGA, fatherhood, and a lot more. Hopefully this conversation gives you some food for thought and starts some much needed conversations around our place in this current world as designers!
Transcript
Full Transcript
Maurice Cherry:
All right. So tell us who you are and what you do.
Douglas Davis:
So, Maurice, thank you so much for having me back on Revision Path. My name is Douglas Davis, and I'm a strategist, I'm an author, I'm a professor and a for the last, about three years, I've been the chair of the B.F.A. in Communication Design at New York City College of Technology. We are the design program at the foot of the Brooklyn Bridge. And what I love about being the chairs that I've been able to make our mission an extension of my own personal mission, which is to increase the variety of voices making a living with their imagination.
Maurice Cherry:
How has 2021 been treating you so far?
Douglas Davis:
2021 has been a blur. I still remember March last year when we stopped having in-person classes. And I pulled my team together for our last in-person strategy session, where we just audited all the normal functions of a semester what had happened within this formal timeframe last year. And from there, I was able to diffuse the operations among my 15 person team so that I could focus on forecasting new systems design. And so it was a really important move because it helped me to set the tone that would bring us into a year later.
Douglas Davis:
Now we're in April of 2021, but most of that has been a blur, but that, I guess, I can say it's been a blur because of those reasons that I'm glad that we were able to pivot because I saw what the problem was, immediately, we were able to identify how we needed to redesign our own systems, communications or just how we actually carried about the normal day-to-day so that I could focus on finding the constants in this variable environment so that we could actually make decisions that would basically bring us into this point. So it's been a blur, but I will say that we have a little boy, he turned two during the quarantine. And so it's been, I think the best thing was to be here every day to see him. So I will say it's been a blur, but it's also been a joy because I would have never been able to watch my son grow in the ways that he has. So I'm grateful for that part of it.
Maurice Cherry:
In a way, it sounds like the blur has been a blessing.
Douglas Davis:
It has been. I think that's a great way to put it because not only has it allowed me to for this last year of being chair, usually, whenever you are elected chairs for three years and you decide to renew that or not, I've decided not to, but after the first two years, I had already accomplished all of my goals. So this third year in that pivot has been about reinventing what it is that we offer. And it's been difficult because usually, you can walk down the hall, you can bump into your coworkers and ask them what's going on or observe yourself. And you're there, you can watch, you can experience the environment, but I've been flying this plane blind because the only place that our offering exists is in Zoom rooms, right? So we've got to, in this year, we had to figure out what is it that we offer? Where's the value? And how do we even talk about it?
Douglas Davis:
And so we had a two year run of quite a lot of positive press releases and quite a lot of awards. And we were nominated for an Emmy twice and we won the Emmy. And I told my dean and the provost and the president not to expect any of those things from us, because I don't even know what it is that we're attracting students to.
Douglas Davis:
And so until I can figure that out by talking to literally every single person, we have about maybe 80 adjuncts and that 15 member team, I make 16, and just talking to them and asking them questions, what's working, what's not working and why in order for me to figure out, maybe even what shouldn't come back from online, what should stay there because we can still get a level of quality, but what is hurting? What is not actually what we would want if we had a choice, things like advanced studio photography, for instance, who's learning apertures and f-stops and lighting with the camera phone, right? Or things like figure drawing. If you're really about learning the aesthetics of line shape, form, space, color, value, texture, all the things that they teach you in our school traditionally, can't really do that at a distance.
Douglas Davis:
And so we've been trying to figure out how exactly we can offer our students the best value at a distance during this time the whole world is shifting in addition to the fact that right now, I like to say that the most important students are my staff, the professors, because it's almost like Thanos snapped his fingers in an instant, how exactly you went from freshmen in college the first day on the job totally changed along with what you do on that job, how you do that job.
Douglas Davis:
And so I think it's really important to invest in the people who spend the most time with the talent that we're developing for the industry. And if we are not tapped into what those shifts are, if we're not useful to our own clients in the boardroom, then what I have to teach you in the classroom, especially whenever you're attempting something that I've never done myself, like you're entering the industry, you're finishing college in a pandemic on the couch. And so I think it's just really, really important for any educators out there to really think about that, that in an instant, institution's competitive advantage that was built on an in-person experience was flattened. And any of the competitive set, I think it's arguable now, whether those go-to "schools" that most recruiters recruit from, it's arguable whether they still can produce the same level of quality when no one was prepared to make this shift.
Douglas Davis:
So I think that is a big opportunity for the challenger brands like us, but it all depends on what everybody did with their time. It's been a year, but in that year, that pivot and how you can take your resources, redesign your processes and think about what your new priorities are and then invest around those new priorities so that you can focus on that forecasting, focus on new systems design, focus on decision-making, decentralized decision-making, focus on operations. Those are, I would argue, the newest central skills as a result of the pandemic.
Maurice Cherry:
Yeah, I mean, a lot of things have changed with the pandemic, as you mentioned, I think for educational facilities, whether it's a college or even something like a bootcamp or something, it's how does that value translates? I know here where I'm at, I live near some HBCUs here, Morehouse College, Spelman, et cetera. And I know for a while they transitioned into doing only online learning. I think some of the schools have said now that I think the vaccine is out there, that people are going to start transitioning back in the fall to try to do either some sort of hybrid model or like fully on campus instruction.
Maurice Cherry:
But I think what is the tricky thing about it is people are going to have to almost be re-introduced in a way back to society. There are so many people I know that are just workers that are like, I don't know about going back into the office. I like working from home, where they've gotten used to, or they found a way to compartmentalize being able to work from home and still have a home and not feel like they live where they work and that sort of way. So there's a number of different considerations and factors that go into it. And yeah, I can definitely see for college, because it's so expensive students are like, well, what are we paying for? I mean, yes, it's the education, but we're not going to a building or sitting in a lab or using facilities, we're all at home. So should it be less expensive because of that? There's a number of questions that go into all of that.
Douglas Davis:
Well, that's the challenge. Again, I mentioned earlier that in the blink of an eye, not only did the industry change in terms of what your job is and how you do it, but how you actually enter this industry changed. We went from being the most experienced people in the room who could say, you know what? Do what I do because I've done it and I can help you do it, to I've never done this before. None of us have. You don't have any more experience than I do, I don't have any more experience than you do. We're all doing this together. And I think that's a better place to be, but only if everybody in the room can actually admit that.
Douglas Davis:
But I think that what you're pointing to started before the pandemic happened. I think that there has been price pressure on universities and colleges because of the fact that credentialing and how much tuition costs and how it's continued to go up. And as Clay Christensen, the late Professor Christensen would say, this particular category, the education space had not been disrupted in what? Three. It never, pretty much been just like this for hundreds of years. And I think that the fact that that overhead is also factored into that tuition. And again, that competitive advantage, that brand is charging you a premium, not just for the brand itself, but for the caliber of professor that they're attracting, that then is also factored into the tuition along with the network that you're around, like the people who you're going to leave with, that's factored into the tuition in addition to keeping that brand, whether it so it can continue to attract those types of people so that they can keep charging you that much money, but that is under attack.
Douglas Davis:
And it's funny because I said to my dean the other day and the provost, I said, "Wouldn't it have been interesting if the disruption would have happened in a complete different way being that, what if the experts that are online right now that teach in these very entertaining, short videos for free or for a little bit of money? What if those experts had to buy expensive real estate in order to create a physical campus? What if they had to build the buildings on that real estate? What if they had to go and get their PhDs and make sure that anybody who taught on their platforms had their PhDs? What if they had to approve their curriculum through the state? I mean, think about the decades of a headstart that traditional universities would have had. The problem is that the opposite happens.
Douglas Davis:
So right now, we've been pulled into their space. And this is a space where production value matters because we're competing for students' attention. You can't just stand there and speak your two hour lecture in person online in front of the camera. It's not going to work. You're going to be bleeding people who don't have the attention span in the first two, three minutes. And so I think as a result, that price pressure is something that I think for us, I like to say with the public path to a creative career, because even though we are about four to five times larger than our private school competition, we have a fraction of their resources and we also cost a fraction of what they cost. And yet, our students are competing for the exact same opportunities because we have an accredited BFA just like they do.
Douglas Davis:
So I think we're really well positioned, we're a commuter school, but I think, though our tuition and our revenue model is not under the same pressure as like a division one or R1 research institution that has dorms and meal plans and all that kind of stuff, it still is a competition between us as a traditional four year path into the industry and these low end disruptors that charge you a lot less money, but that offer this practical advice about entering the industry.
Douglas Davis:
And there's some really quality players out there. My friend, Chris Do, the Futur, or General Assembly, there are a lot of places that you can go to learn skills. And I'll give you one better, because if you rewind back to 1999 and you'll appreciate this because you work at a startup, but back then, if you think about it, and this is when I entered the industry with all the dot coms and digital advertising, nobody had a degree in web design, you couldn't study, it didn't exist. And what that was about was the fact that these people, whatever they studied, they got that opportunity, including myself, because we were willing to learn a new language.
Douglas Davis:
And I think that if you fast forward to right now, we're back to a point where I think in 2017, Microsoft and Apple and Google, they relaxed the requirement of having to have like a college degree in order to enter their ranks. So we're back to skills being the thing. I think the challenge, though, is that when you think about black and brown folks like us, oftentimes, we have to go to college to get the degree, to get the confidence to even apply to those places.
Douglas Davis:
And so I think overall, the challenge there becomes, we've got to understand how, oftentimes, a student will say, well, Mark Zuckerberg dropped out of Harvard. And so I don't really need a school, I'm going to drop out too. And I always have to remind them that that's not you. I don't know what family Mark Zuckerberg was born into, but maybe his mom was on the board of XYZ company and they already have the capital, they already have the connections. And if you don't have any of those things, if you don't have a network of all of those elements, it will be a mistake for you to do what Mark Zuckerberg do as a black man or a woman. And so I think overall, those are the things that have to be thought through in order for us to figure out exactly what the value is now and how we can extract what the value and the opportunities are right now.
Douglas Davis:
So it's a bigger question of the education space and how we're going to continue to compete if we all know how Blockbuster versus Netflix ended up. And so I think that if we're not careful as the traditional university space changes, if we don't think about how much we're charging, if we don't think about developing those new skills, and if frankly, our presidents rely more on their PhDs than they do their people skills, the pandemic has really required all of us to change and to develop new skills.
Douglas Davis:
And I think that presentation skills, marketing skills, the things that our clients pay us for, we are uniquely positioned as creative people to deal with these pivots. And if that PhD or the things that used to be the ticket into these exclusive spaces, if that still continues to be the yardstick with which people deem that you are smart enough to handle this problem, or if that's the thing that they keep requiring for you to be on a problem, versus just thinking about what the skills are that are needed, what is the issue and how do we deal with it, then we're going to be in trouble. And so I think some things need to shift.
Maurice Cherry:
Yeah. And I think we're already seeing some companies, honestly, I mean, I think every company is still trying to figure it out, but with some places, they're definitely trying to skip back and forth between saying one thing and something else to see what is going to work the best. So for example, last year, when the pandemic has happened and everyone was forced to go remote, a lot of positions then opened up to become remote positions because you can't go into the office to do an interview, you can't go into the office to work. So you'll have to do all your work distanced over Zoom and things like that.
Maurice Cherry:
And companies, at least companies, I know that I've encountered, we're still trying to kick the can down the road to figure out how much longer they were going to be doing this until they could get back to what it used to be. So you may apply for a position and they say it's remote, but then they'll say, oh, but when we're back in the office, you have to move here. Is that okay? And it's like, well, they're not going to offer relocation. They just expect you to pick up and move because you've got a job there, which is not realistic at all. I mean, pandemic or not, that's not realistic.
Douglas Davis:
That's the misalignment, right? Where looking backwards versus focusing forward and understanding that there's an aspect of what we used to do, walk around maskless, breathe in each other's maskless air will-nilly, shaking hands, and hugging each other and being in tight spaces and watching movies and stuff. There's an aspect of our culture that may not return. And I think that waiting to base what you're going to do based on what used to happen or how quickly we will be back to that versus focusing forward in and understanding that there are some new priorities here, I think that that's the classic thing that's going to determine who wins and who loses in this new environment.
Douglas Davis:
I think that if we're talking about companies and if we're talking about people, I think it really does boil down to two things, relevance and belonging. I think if you're an institution or if you're in a leadership position or if you're a brand, if you're a college, it doesn't even matter, but if you're not really asking yourself as a brand or a company or an institution or an employer are we relevant, if you're not asking that question and if you're not then basing your answer yes or no, based on how many people or groups can come to you and say, I belong and therefore, I'm going to stay here in this culture, then you're in trouble. That relevance, belonging metric, I like to say, it's a column response because whether you're a person, individual and you're going to a college or a certain brand to be employed, and you're in some ways asking in your everyday interactions with that company, whether they're good or bad, you're making a determination if you belong or not, you're asking, do I belong?
Douglas Davis:
And so if you end the interactions, whether that's just the culture of how things are set up or if it's customer service, if it's how you are or not invested in, if you determine in your aggregate that you don't belong because of those experiences being bad, then they're going to leave. And we've all left places because we've deduced that the way you're being treated is not what you want to continue to experience.
Douglas Davis:
And so I think, again, companies and people, or the college that you're going to, you're asking yourself, do I belong? And the way that that brand treats you is what's going to help you to arrive at your answer, but then if you're that employer, if you're that institution, if you're asking yourself, are we relevant and you're basing that on how many people can conclude that they belong, then you're in a good place.
Douglas Davis:
But if you're tone deaf or if you're looking for diverse candidates in the exact same way that you've always been doing it and you're going to the exact same schools that you've been going to and you're not really thinking about right now that the pandemic might be preventing some of the best talented people who you could have from even applying because of the new barriers that the pandemic has put into place, then you're going to miss it. You're going to miss that human potential, you're going to miss that diverse team, because you're basically looking for diversity as if I'm a black, white person. That's the only way that you can conclude that there aren't any diverse candidates or you can't find any, you're looking for black people with the same process and at the same places that you look for white people.
Maurice Cherry:
That's something that I know I've talked about in my Where Are the Black Designers presentations before, but I mean, it's something still, which is coming up, like for example, Revision Path as a job board. And we've gotten more companies that have posted to the job board, which is great, that's wonderful. But it's interesting, because then they'll turn around because maybe they don't get the response that they thought they would get from it.
Maurice Cherry:
And I don't know, it's interesting. I think just because you put a job out there doesn't necessarily mean that black and brown people will flock to it. I think a number of companies know either to post to these sorts of boards or they know that if they put these kinds of listings out there, they'll attract certain people, but I don't know, it feels like it's almost over-indexed in a way, every position you put out there is not going to have a bunch of black and brown people clamoring for it, especially if the position that you've written is written in a way that might exclude them or they may not be familiar with your company or it's not remote or like there's a number of different sorts of reasons.
Maurice Cherry:
Like I had, I'm just going to give an example, but I had a school that was in the middle of nowhere in the Midwest and they posted a position and then they came back 30 days later and they were like, well, no one applied. Can I get my money back? And I said, no. But it was also sort of like, well, how many people of color are going to live in the middle of nowhere in the Midwest to teach at your college?
Douglas Davis:
Well, that's what we're saying, it's about the culture. And I think some part of what you're identifying is that everything that employers are dealing with in terms of diversity or in terms of race or in terms of just dealing with whether it's the Asian hate that's going on right now, that terrible, despicable Asian hate, or whether it's just what black people have had to endure from the beginning, we're talking about American society's issues. And it's obvious that those issues would show up in your company, because we're talking about whether people belong or not.
Douglas Davis:
And Maurice, when you really think about this, if we're still in 2021, and I say this every year, because change is not happening fast enough, but it's 2021, and when we can continue to say the words first and black in the same sentence and we were born here, it's clear that we're not woven into this society that we are a part of. And there's still so many different barriers and I mean, that's not even to mention the barriers that COVID-19 is presenting. It used to be, hey, wear a suit to your interview. Now your bandwidth is how you present yourself, just like that suit in person. If you're going to college, because you want to change your socioeconomic situation that you were born in, but you live in the projects, you don't even choose your bandwidth because you don't actually buy your internet service.
Douglas Davis:
So again, thinking about our professors as the most important students, if I am a classic design professor and I want to show you the highest resolution image, but I don't know how to teach online. And so I've got all these high resolution hogging, bandwidth hogging images in my Zoom and I keep kicking you off because your bandwidth can't handle my presentation or my videos. This is really about making sure that the environment that you're trying to attract that diversity too, is set up to actually handle that diversity.
Douglas Davis:
And that's why I give a lot of respect to companies like Google and Microsoft. And I say that because they saw us at the foot of the Brooklyn Bridge, they see our diversity, they know that we have about 140 or 150 different languages spoken in our student body, they know that we represent about that many countries around the world, just in our student body because of the fact that there aren't any barriers to our program. And they flew out from the West Coast and they set up shop.
Douglas Davis:
Microsoft actually interviewed our students in a two-day series of either giving workshops or interviewing our students to ask them, is it our tool that makes it the barrier? And to ask that question was wonderful. They observed our classes, they embedded themselves within the department. They conducted maybe like 15 or 16, 45 minute interviews where they really did ask. They asked a highly diverse group of young creatives, is it our tool that is preventing you from coding? I mean, that question alone and flying out from the West Coast and really investing in trying to figure out what the answer was. And they went to several other schools as well, but they made it a point to come to us. And so same thing with Google and showing up at our school and sending maybe seven or eight people from their office in order to recruit. And we also had this pilot where they had a group of students from California State Northridge University, as well as our program at City Tech. They met with and sort of paired our students with Google Alert.
Douglas Davis:
And so they checked in every week. And basically what and I really love about this. This was the equity engineering team, Jason Randolph, big shout out to him out on the West Coast. But the program was to introduce our students to the same problems that you would find if you were interviewing for a job at Google. And so that's how they're reaching into the pipeline, but also making sure that the environment itself, they're asking the hard questions about their own tools and about their own decisions they're willing to listen.
Douglas Davis:
And they're willing to make sure that regardless of who you are, that they're tailoring, how exactly they come and find you. Those are the examples that I want to hold up and I have a lot of respect for them because it's not just that they're saying that diversity is important. It's not just that they're saying these things, but there are press releases or appointing very high C-suite level diversity people. And yet the numbers keep staying the same. They're really trying to do something about it. And so they earn my respect in that way.
Douglas Davis:
But again, it's not just about saying the right things or putting a posting in the right places. It's about understanding that again, I'm not a black, white person. You've got to really think about if you want me to feel comfortable in your environment, in your culture, you got to make sure that you've created a culture that we would feel comfortable.
Maurice Cherry:
Yeah. And now a couple of years ago, I know you were a co-chair for AIGA's Diversity and Inclusion Task Force. I was also on the task force several years ago. What do you remember about that experience?
Douglas Davis:
First, I want to say that Antoinette Carroll and gosh, Andrew Bass, gosh there has been so many people who were investing in the work long before me also Jacinda Walker. And so it was great to show up at the AIGA and say, I don't think you guys are actually telling the story or having the impact that you could have. And so I just offered my services as a strategist. And since I was about to have a baby, I was about to become chair. I was applying for full professors, a lot of things going on when they asked me to chair the task force, I said, yes, if I could have a co-chair. And so Phim Her was my dynamic co-chair, she's a wonderful, wonderful person. And I know you know her, but it was just really great to work with her.
Douglas Davis:
And I think that the challenge with the AIGA as an organization at that time was just that in being an organization that had been around for so long, but that was so late to the conversation about diversity, double digitally in so many ways that in communicating that to them that the belonging idea that we talked about earlier, that when people show up and they keep hearing the exact same thing over and over again. And they don't really know what the value is of the money that they're paying. They're not going to stay if their needs are not getting met. And we're not the only organization having conversations about diversity because there's so many other places where that conversation is being had and where change is happening. And just for instance, thinking about the advertising space, and again, the caveat being that in design, it's not this aggregate profession, right?
Douglas Davis:
You've got all these individual, design firms and you might do a logo for different brands or identity or websites, but in advertising, you've got holding companies and agencies that have accounts. So in a sense they've been sued as an organization, Human Rights Council of New York, making sure that black people were represented as a certain number of the population within the ranks in these holding companies, even though that hasn't happened. The point though, is that it was attempted, and it was attempted in a way where New York city was willing to sue.
Douglas Davis:
And so as a result, a lot of these C-suite level organization and titles came out of that. And so knowing the history of those things, and again I'm going through it pretty quickly, but knowing the history of where the diversity conversation was in the advertising space, I just was trying to communicate that we are aware, really arriving very, very late to this conversation, even though there've been some really amazing people who've had some progress and who've pushed the conversation forward within AIGA to then take that mantle up and try to push things forward.
Douglas Davis:
We did as much as we could do, but I think that the culture itself, there were a lot of changes and bunch of turnover and just the structure itself, I think needed some change. And so after about a calendar year, I realized that it might be more helpful if we sort of stepped aside because as much as I like to try to push things forward and really win change, it wasn't possible with that title and in that organization. So wonderful, wonderful people. I have some wonderful friends who've been able to find progress in that space. I just needed to redirect my own time and no love lost, but I didn't need to focus forward. So it was a good experience. I think that we were able to show a different way to lead, but ultimately we were not effective. That's how I remember that experience. And, I do hope that as the conversation about equity and black lives and just all the things that we're dealing with right now continues to evolve. I do hope that not only AIGA, but many other organizations and many other professions, I really hope that we can sort of look at like what places like Canada is doing-
Maurice Cherry:
Place like RGD?
Douglas Davis:
Yeah. And not just even RGD, but like also their colleges and universities out there. OCAD U there's a woman out there she's the Dean of Design name is Dr. Dori Tunstall, she's been doing some wonderful things like cluster hires of like black faculty. She was able to hire five black faculty members in a space that had no black tenured faculty for over a hundred years. And she hired five black people on tenure track lines. And she's in the middle right now of an indigenous cluster hire where they're looking for indigenous faculty members to join in that way, but she's been making some real change. And so there are far beyond the diversity and inclusion conversation that America has been sort of steeped in.
Douglas Davis:
They've moved towards anti-racism and decolonization and so I think that looking at countries and people who have moved far beyond where we're at and really taking note of what they've been doing, and then figuring out what that looks like within the American space and within our own companies or our own universities, is what our hope happens as a result of just being able to mention it and bring it up within the context of this conversation. That's where I hope we are able to go because they're further along.
Maurice Cherry:
Yeah. Even thinking about like this year, for example, I've met a lot of design educators on the show. I usually try to have a good mix of design educators and stuff, but even thinking like how you said before, how teaching has changed and how different organizations are changing. One thing that sort of struck me last summer was a lot of these different companies and such putting up black squares and saying that they now are in on all lives matter. And we're going to, I mean, that all lives matter. Sorry, all black lives matter and we're going to start celebrating Juneteenth and things like this.
Maurice Cherry:
All of that is clear virtue signaling, first of all. But I remember getting just asked from other people and such like, how long is this going to last? And I'm like, I don't know, like few months maybe like as the next extra judicial killing crosses the airways, like things happen to come at such an interesting nexus point with this pandemic and there not being any sports and not being able to travel and such where people were sort of forced to now see it in a way that I guess they had been privileged enough to ignore it for years and years and years. It's kind of astonishing to me how many people were just sort of woken up last year because of this.
Maurice Cherry:
But like even that whole habit of like black squares and such like around that time, I was also looking at old issues of Ebony and Jet magazine around the time when Dr. King was assassinated and the same types of things were happening. Companies were posting like an all black square for an ad. Like what does that accomplish except using up a lot of ink?
Douglas Davis:
Exactly. Well, I think we're in marketing, right? So the fads and trends are something that advertising agencies and design firms are going to really, I think just be attracted to because what we do harness is culture. I always like to say that creative people are the spoonful of sugar that make business and marketing objectives palatable to the public, but they can't go public without us. And so if you think about advertising and the fact that like the authors and drivers of American culture, not just black culture, American culture. And I'm saying this off the heels of last night's versus, Earth, Wind and Fire versus the Isley Brothers. So the full glory enriches of black people were on display last night for the world to see. But we're the drivers of American culture we're the authors of American culture we're the influencers of American culture and fashion.
Douglas Davis:
And again, I'm not saying that no one else does anything. I am saying that there is an outsize contribution to that from black people. And yet, if we are not represented within the same proportion of the population, there's something wrong. Because if our industry is built on crafting messages, building relationships, brand values, customer relationship management, if we're built on that, and if we're built on crafting those messages and targeting groups, if I'm excluded part of the authors and the influencers of American culture in this country, if I'm excluded in a profession that targets and craft messages and brings them to people, then it's because it's on purpose. And I think that we can sort of get caught up in the moment of like basically being embarrassed if you're not posting something that's pro-black, which I think a year later, if you look at someone's actions as an organization or a country, or even as individuals. If you look at the misalignment if you look at the mixed signals that exist in America right now, you had literal people carrying blue lives matter flags, having an insurrection on the Capitol, beating police officers with it.
Douglas Davis:
Like there's so many mixed signals within our country. There's equal justice under law on the top of the Supreme Court and yet we're watching right now, George Floyd, his character is basically on trial for his own murder right now. And so there's all these mixed signals that exist in everyday life in America. And so it makes total sense that if in the moment, if the trend is sort of pointing towards black lives and black people being in fashion and being pro-black about a specific issue, if that's in style, then of course. If we're in this profession, if we're being honest, then yeah, you'll be embarrassed if you're not about it. But if you even look at the laws that are meant to suppress voters right now in Georgia, and the fact that these companies they hire lobbyist, they knew what was in those bills before they were passed.
Douglas Davis:
They were pressed on it from black corporate leaders, as well as black employees at those places because black dollars are ones that they want. And so at the end of the day, even those companies which I'm glad that they're speaking up, but they're speaking up too late and we still are in a situation where we don't have what we need. And so I think overall, it's great to have that black square. It's amazing to have that hashtag, but that's easy. I think, again, going back to what I can say from what I've seen and what that experience has been with Google and Microsoft choosing to help us because our partnerships are how we have more impact than what our resources can produce. And so I think at the end of the day, when you have partners who understand that there's different problem in order to engage different people think about the internship sort of structure and if it's not paid, who can afford to do that? You got black and brown and talent just asking themselves, can I afford to be a designer? My work has to pay for my existence.
Douglas Davis:
And so if you can't afford to get that experience, then you're going to work somewhere, but that's not going to be a part of your career because you got needs. Whereas someone else is getting the experience that they need because they don't need the money. And so I think that being able to have that diverse team, being able to see the socioeconomic differences in attracting and retaining different groups and making sure that you can build your culture in a way that says that you're relevant because you got white people, black people, Asian people, Indian people, and gay people, trans people, you got everybody there because they do feel like they belong because you thought about how to actually have company that's not like you.
Douglas Davis:
I think that that takes work. And I think at the highest levels is going to take some incentives changing. It's going to take the laws changing, and Maurice man, it's exhausting. I can say to you that this year has been a blur because of the pivot that's been going on with the pandemic. But it's bigger than that, right? Like we've been watching ourselves get shot or hung or killed, or the mysterious circumstances where a routine interaction with police turns deadly because you're unarmed and black. And I always post on social media next time it's going to be me, one day it's to be me. My mom hates it, my family and friends hate it and they say, "God forbid." And I say, "You know what? That's exactly what George Floyd's family said God forbid. It happened to you. But it happened. We're no different."
Douglas Davis:
And so until all these things are factored in, of course, we're bringing this to work. Of course, these are all the challenges that we have to fight through in society at work. If we'd literally just now had to pass laws where you can't discriminate against me because of my hair. I've had to cut my hair to get jobs before. Who has to do that? What if a white woman had to do that to get a job? The condition is you cut your hair. That's crazy. And we don't even think about it like that because we've always had to walk in a space that wasn't designed for us. We've always had to walk in a culture that wasn't designed for us. We've always had to navigate a criminal justice system that wasn't designed to give us equality. And so I think it makes complete sense that these things show up in the companies that we are going to work for. And it also makes sense that the trends towards whether it's social justice or even just mentioning black lives matter, because you couldn't even say that for a while.
Douglas Davis:
You were look at like you just said, hail satan or something crazy. And it was like this radical sort of thing versus like, no my life should matter. And I'm so angry that I got to say that. And yet it's what we've been able to navigate because we're still here and we're going to be here and we still drive culture. And we still are the authors of American culture. And in so many ways that are very creative and just whether it's poetry or whether it's music or whether it's fashion like we still are a great source of America's competitive advantage if it would just love us back. That would be nice.
Maurice Cherry:
That would be nice. It would. Is that fair?
Douglas Davis:
Fair? Ooh. There's so many… If we were going to wait for fair Maurice and you know I'm glad we're talking about this so that people can sort of understand that this is what we have to go through. But you know what I realize is that there's two sides to what could be seen as fair. Think about the imposter syndrome. Think about all the different social issues that we just talked about and then think about how much confidence you do or don't have in doing your job. Think about all the internal turmoil that you have to deal with in addition to all the social issues that you got to walk into work with. All the barriers, all the different tests or things that were set up to give you a certain score on the SAT based on like asking you questions that have nothing to do with your culture. And some people actually believe that outward measure of what their potential was. I didn't believe it.
Douglas Davis:
I took the SAT like three times, my guidance counselor in high school didn't have one conversation with me about college. And so I said to myself if I don't go to college, I wanted it to be because I chose not to go. So I went to summer school myself. I took my extra math. I took my extra foreign language. I took the SAT three times. And you know what, after those three times I probably got like a 780, my highest score. So by that measure I'm stupid, Maurice. But if I looked at that, that number and let that number tell me what I was capable of then I wouldn't have an Emmy. I wouldn't have two master's degrees. I wouldn't have gone on to write a book, I've done anything because I'd have been too busy moping.
Douglas Davis:
But that fairness, if we're talking about fair think about how you have to be deliberate and determined in a way that white people don't have to be in order to make it. And then there's the opposite side, right? So as I mentioned, I'm chair of the program and there's about 650 students, about a hundred people on my staff. And it's one thing to have to fight through any of the imposter syndrome. Thank goodness I didn't suffer from those things but you do have to see yourself as worthy to be a leader, worthy to make decisions in order to perform in that job, you got to be focused on the fact that you are qualified and that you can do it as well as anybody else. But then there's the opposite side to that fairness. White people have to see you as a person who they can follow. They have to see you as a person whose decisions that might affect their choices as something to respect. They have to see you as somebody who they're willing to give a chance, because if they don't then no, it's not fair that the decisions that you're making with all of the training with two master's degrees, having written a book about strategy, having proven that your tactics and the way that you move in the world do well.
Douglas Davis:
Having won an Emmy, having brought all of the goals that you said that you had set out to bring, having done those things early, but still having people question whether you know what you're talking about, still having to say the same thing for a year before you're even heard. All of those things, if we're talking about fairness, it's like this double-sided coin where you have to see yourself as capable and worthy and why not you, but then even if, and when all those things are true about you and you are capable and you are worthy and you do make it. If people don't see you as worthy or capable and don't trust you or don't follow you, or they're insubordinate for the sake of being insubordinate, even with all the accolades and that's not your issue, even though you got to deal with it.
Douglas Davis:
And no, that's not fair, but that's the same issue as having that routine parking or traffic violation or traffic interaction with a cop and having those two master's degrees, being an author, being a global speaker, and yet being an unarmed black man, and having them look at you and deem that you're a threat and deciding to shoot you for no reason other than you're unarmed and you're black and you're a man. I mean, how many times have we seen that?
Douglas Davis:
So, no, it's not fair. And yes, it's exhausting and yes, we see it in American society. And yes, then we have to deal with it in the companies that we go to work for in our everyday interactions in this system that wasn't set up for us. And yet we're still bringing a level of contribution to all of it that America wouldn't be any other what it is without our contribution. So it's thankless, it's completely thankless and you're not only not wanted, but at the same time, what would America be without us? And we all know the answer to that question. And so, no, it's not fair. And no, we don't even get the equity that we put into it. And yet you can't stop us.
Douglas Davis:
If anybody had any question, I'm a dark skinned red bone on the inside. If anybody had any questions, but I do believe that things will change over time, but is it just on the surface that it changes or will we be able to as creatives, as black creators as the people that we are, will we be able to affect change and influence brands from within? Will we be able to step up to those leadership positions and make the decisions that will shift the culture or the places that had locked us out or that don't call out to people? How are you going to leave the space that you walked into? How are you going to push it forward?
Douglas Davis:
And I think that if all of us could just look at pushing it forward just a little bit. And I think lastly, I would just add onto this, that again, like a lot of the topics that we talked about are heavy, a lot of topics that we talked about proceed both of us, our grandparents and great-grandparents were talking about these same things and nothing's changed, or it hasn't changed enough that if they were still alive, they might be confused that we weren't in their time in 2021. So progress is slow, progress may not sort of shift and move into the place that we would like it to in our lifetime in our kids' lifetimes, who knows. But I think that overall, we have to also take care of ourselves, right? Who's to say that you want to actually be a part of the places that don't want you? Who's to say that those places they don't deserve you?
Douglas Davis:
And so I think that it's important for anybody listening to really understand your own worth. They need us as well. And so you can determine who benefits from your presence as well, that is within your control. And, again, we all have to balance the fact that we have to eat as well, but I think it's very important to understand how much we are worth and how much our contribution is worth. Is not just checking a box, having a black face, being able to give the company some cover to say that they are about diversity because you're there at the table. We all know that doesn't work. But I think really understanding that where things are shifting in a way that there is more control in our hands, there is more opportunity because of the internet, even though there are some barriers that come along with it. Because we can go straight to the world, straight to the public with what we have, things will and are changing.
Douglas Davis:
So again, I think about Timbaland and I think about Swiss Beats doing verses it makes total sense that that came from two musicians from us, from our culture and look at what they're doing. Look at what the D-Nice has been doing Club Quarantine like our creativity cannot be stopped. And so there's this love-hate relationship that America has with us and it can't get along without us. And yet I'm hoping that it can learn to embrace us in a way that we can unlock the potential of little black boys, little black girls, minority black, brown, queer boys and girls, so that we can really move and be and have that outlet that we're going to get out there anyway. It's going to happen anyway, that can't be stopped, but it'd be really nice if there wasn't such resistance or so many barriers to fight through. That would be fair, but stay black and die and pay taxes, right? That's it.
Maurice Cherry:
One big change and I think we've probably all heard it in the background as you've been talking, as you became a father over the past few years, as we had you on the show, how has fatherhood changed you?
Douglas Davis:
Yeah, my son, Jonathan, it's changed me in a lot of ways. And I'm sitting here smiling as I think about how exactly I can share in the amount of time that we have, how it's changed me. But it's been transformative in the way that now I understand the fear that my mom had when I would leave the house. And when I was rebellious and when the cops would harass and I was this outspoken young kid who was not about to hold my tongue, no matter what. Now I get that terror because now I have a son who is a light of our life and who is something happened to him it would be devastating. And now I know what that feels like to have so much to lose, but to have so much potential. And I guess, I'm speaking from the standpoint of how it shifted me. I think it's made me more aware that at some point my son will go from being this cute little kid that everybody looks at on social media when I post.
Douglas Davis:
At some point he's going to go from being cute to a threat. I mean Tamir Rice was a little kid, Trayvon was a little kid. And so I think the way that it's changed me is it's made me hyper aware of how blessed I was and why when at whatever point, because I didn't discriminate, but why, what, at whatever point I had a white girlfriend, my family was uncomfortable, but they still embraced that person because they loved me. And so I think that the challenge at different points is that that change is what you then become your parents. You can see from their perspective, you understand the fact that to protect your son, that you have to sacrifice in different ways that if it was just you maybe it wouldn't matter.
Douglas Davis:
And so I think the way it's changed me is that it's made me even more aware of all the things that we've been talking about. And it's made me really question whether I want him to have to go through all of this. Again, if we're going back to fair. I can't lie to you and say that we haven't thought about and really entertained leaving the country. I can't say that we haven't entertained thinking about what zip code we might want to live in so that when we call the cops they actually come. And that sucks, man. Like it's exhausting because I would much rather be focused on the fact that he loves Dora the Explorer and that he loves to say, "Yum, yum, yum, yum, yum. Delicioso." And that he's running and jumping around and we've got to tell him to stop and get off that and take that out of your mouth. Like I would love to focus on just that. And for right now we're safe, but Breonna Taylor thought she was safe too when she went home and locked the door and went to sleep.
Douglas Davis:
And so I think there's no way to escape America and the weight of America. And so it's changed me by making me even more aware of how precious life is and made me even more aware of the responsibility that we have to change things so that at some point we can just be. Because I want my son to just be, he waltz around the house, his toys everywhere just like any other kid and yet we can see him recognizing patterns and stacking his blocks in certain ways that they look like a sculpture garden as you walk through room to room to room, you know he's been there. And being able to be here in a pandemic to have the privilege of being the boss during a time when I can make the decision as to whether we are or not going to go back in person. And I can make the decision as to, you what I don't want it on my conscious that I put mixed signals out there to attract students back into a situation where they could get sick or I don't want to put my staff in harms way, or I'm not going to ask anybody to do anything that I'm not willing to do myself.
Douglas Davis:
And so, you know what, a year ago I decided we were going to be on this couch. We will be remote for the whole school year. And I'm glad that I could say that because not only did it help me to make sure that I didn't put anybody else's baby in harm's way, it allowed me to be home and actually help my wife to raise mine. And so I think this just goes back to, in some ways, the call for anybody who is thinking about leadership or taking more responsibility, I want to encourage you to take that step. And yes, it's a burden. It's very difficult and yet if you can learn operations, if you can learn new systems design, if you can learn strategy forecasting, if you can learn decision-making and negotiations, if you read Creative Strategy and the Business of Design it can help you with the strategic part of things.
Douglas Davis:
But if you learn those things and take on more responsibility you can help to create the environment and make the decisions that not only benefit the people who you will be responsible for, but it also help you to benefit your own family. It is still a sacrifice, but at least it's you making those decisions versus somebody else making those decisions for you, and we need more of that. I believe we need more of that. I'm probably the first black boss that my staff has worked for and I've worked for as many black bosses as my staff has worked for. It's crazy, right? But in some ways becoming a father has helped me to really just be more responsible with that.
Douglas Davis:
And just full disclosure and for accuracy sake I had a son when I was in Hampton I was like freshman year. So I was probably about 18. So my oldest son, his name is Douglas and he's down in South Carolina. I had a son back then though, it was a very different interaction in terms of I'm a kid and he's a kid. It's one of those things where right now is very different because I'm an adult and being in a pandemic and being able to have two sons, but just to have a little one here with me, it has changed so much. And both of my sons thank goodness are healthy, but it really does when you become a father, makes you think about what your decisions are and what the impact of those decisions are. So it transforms you, definitely does.
Maurice Cherry:
How do you define success now?
Douglas Davis:
Well, I mean, that's a really interesting question because as I mentioned I'm not going to have chosen not to continue on as chair. Because I've been able to accomplish the change in our culture and raise our visibility, win those awards, do all the things that I set out doing. And on July 1st, when I'm not chair anymore or when my term ends I won't even be 45 yet. And so in that I can say that success is not accomplishing all these things even though I've been able to accomplish those things and go to Hampton and then go to Pratt and get a master's and then go to NYU and get another master's and travel the world and write a book and speak globally and do these things. Success is keeping your word to yourself. Success is doing what you set out to do.
Douglas Davis:
And I always define success as that, because things come and go. You can be on the top of your game one day and be on the bottom the next day. And so if it's just about what you're able to accomplish or what your paycheck is, then that definition is a bad definition because it always puts you in a situation where you're always looking at the material or you're looking at what people pay you to be creative. And I need to be creative because that's how I live and breathe. I need to do that for free because that's who I am. I need an outlet because it's inside of me and it needs to come out. And so success is keeping my word to myself. Being able to say, I'm about to go do this. I don't know whether I'll be able to accomplish it. I'm scared even, but you know what, that's exactly what I'm about to go do.
Douglas Davis:
And I'm thankful that that's the way that I see it because when I went to Hampton it was great to be taught about work ethic because it continued to build on the same lessons as my grandfather or my grandma or my mom when they tell you, when you cutting the grass down south and it's real hot, you know this you got to be inside before 10:59 in the summer, you cutting that grass or else you going to be faced down in the grass. And so knowing that I was taught by people who were doing things and who had integrity and who said, if you're going to cut the grass and cut it right. If you're going to sweep the floor, sweep it right. But to know that when I went to Hampton that those foundational lessons from those people in my own family and community, to know that that was the beginning of my education in my family.
Douglas Davis:
To then go on to Hampton and be taught if they ask you for five, then do 55 and choose the best five. That lesson had already been laid. It was just built on to then go to New York and wonder whether I could compete. Even though I graduated Hampton with a resume, I had a Disney internship, also worked at Hampton University had a microgravity collaboration so I was able to work with NASA and the Smithsonian several times, but I knew I still needed more. So then when I went to Pratt, not knowing whether I could compete in New York being scared to death. I'm moving to New York and then being like I'm moving to New York, both that was excitement mixed with fear because New York has everything you've ever wanted and everything you've never wanted rolled into one.
Douglas Davis:
But knowing that, you know what, I'm going to go test myself on the biggest stage that I could find as a Southern boy from the country. Can I do it? I don't know. So let me go test, let me go see. And to know that I didn't know whether I could, but I did know that I wasn't going home. And to know that all you have to do is say that to yourself one time, but you got to spend every day meaning it and being able to keep your word to yourself despite having to fight through alcoholism and drug abuse. I think I learned the importance of what success is and how I define it because I didn't have control over my own, what I said my choices. And I knew that when I got so far into addiction that I couldn't keep my word to myself. I said, I'm not going to drink anymore. I said, I'm not going to get high. I couldn't keep that promise to myself. That's when it scared me.
Douglas Davis:
So that's when I realized that that's what success is. If you can make a promise to yourself or say something to yourself and then follow through with that, that is successful. And if you can define it that way, then you're not as a creative person looking right and left and being afraid of people who are talented as well. You're looking right and left and you're being inspired whenever you see somebody do their best, because you understand that you're competing against yourself. You're trying to be better than you were last time. You're trying to beat your best time the last time. You're trying to get higher.
Douglas Davis:
And when you know that it's you competing with you, then it's very easy to understand that that's what, in the way that I've found what success is and how to define it. It's not about what I've been able to achieve. It's not about fact that I own my home in Brooklyn, it's not the fact that I've been able to become chair and I'll be able to lay that down before I'm even 45. It's really about just being able to keep my word to myself. That's success.
Maurice Cherry:
Where do you see yourself in the next five years? Like after, hopefully this pandemic is a thing of the past and whatever sort of new world or new reality we end up coming into. Like what kind of work do you want to be doing?
Douglas Davis:
That's a good question because I think knowing that those new skills that I've been able to develop in this pivot operations, new systems design, forecasting, decision-making all of those things are a part of what I'm going to write about. Because I think on the one hand as creative people, we have to keep changing what we learn in order to keep doing the same thing. So I like to look at the timeline back in the day you learn Flash and then you could even learn ActionScript. And then now none of that is even there anymore and so I think the fact that we have to keep learning to typefaces, you got to learn how to do Basecamp, you got to learn Slack, you got to learn all these different ways to do the exact same thing. Strategy and marketing, all those skills or things that we needed to add in order to be a better creative person in my perspective, that's why I wrote the book.
Douglas Davis:
But I think that now in this new world, learning how to make decisions, my son is so funny, learning how to make those decisions, learning how to lead and developing those skills I want to write about that. I want to continue to develop a body of thought leadership around that. But I think obviously I also want to put those skills into practice. But I think just going back fundamentally, I want to turn my book back into an online class. That's how Creative Strategy and the Business of Design started, I wrote a four lesson online class for how design university is not even there anymore. But it did really, really well and so I was able to leverage that into writing a book. But now since things are shifted, I want to turn the content back into an online class because I never want to lose touch with teaching people, reaching students, whether they're professionals or whether they're pursuing some sort of credential or degree.
Douglas Davis:
So I want to always be able to say, do as I do versus do what I say, whether that's to my sons as an example, or whether that's to my students. I want to be able to reach them through reason and reach them through understanding that I'm never going to waste their time. And so in order to be useful in the boardroom, in the classroom or at home, wherever, I want to always do the things that I'm asking people to do, I want to lead from the front. I want to show them that I'm not going to ask you to do anything that I'm not willing to do, or haven't done for a client. And so I want to make sure that I can continue to be a teacher, continue to be an example. Because even though I went to Hampton, there was no black design professors when I went to Hampton University, HBCU. There was no black design professors at Pratt. There were no black strategy professors at NYU. And then I became a strategy professor. I became a design professor.
Douglas Davis:
And so I think the type of work I want to do is whatever's going to allow me to use me as an example for people who didn't see themselves. And I think that whatever that looks like is where I want to offer my skills, but I also want to make sure that wherever I'm offering my skills is a place that appreciates what I bring. And so I think I'm open to the world and really thinking about other countries and thinking about other places or I can stay right here in Brooklyn. But I think whatever I do I want to feel like I belong. I want to feel like I'm contributing to a culture that is striving to be relevant to as many people as possible and taking down those walls. So whatever that looks like that's what I'm interested in. I just don't know what that is.
Douglas Davis:
And therefore, I think in being able to be comfortable with what I've been able to achieve in such a short period of time, whether that's in my current role or whether that's just as somebody who has not even made it to 45 yet, I feel like I've been able to move in and out of spaces after being effective or as effective as possible. And being able to be comfortable with that success and then say, you know what? I don't know what the next step is. Just like I didn't know whether I could compete in New York and that fear is always mixed with excitement, but I got my own back. I believe that whatever I do, apply my skills to I'll figure it out. I'll be able to bring something to it in the way that I do.
Douglas Davis:
And so I know that there's some place that is exactly where I would thrive because in answering this question, I think I'm trying to acknowledge the fact that as the world shifts, which is where you started with the question, you can sort of find yourself misaligned, whether that's in the country you're in, based on how they actually treat children, or how they treat elders. You could find yourself misaligned in the culture you're in at your job based on how they are or not dealing with the pandemic. You can find yourself misaligned in so many different… The society that you're in based on whether they do or don't live up to the mission statement that's in the Pledge of Allegiance, right? One nation under God with liberty and justice for you all.
Douglas Davis:
I think we're in this situation where because the whole world is being rethought I think it's okay to not know what the next step is and to really sort of rethink the decisions that you had already taken for granted. Because that's what we do in our profession, right? Like we sort of have to organize that chaos and question the answers that our clients come to us with that used to work six months ago, or a year ago in our case with COVID and really rethink what was the answer before, because the environment shifted.
Douglas Davis:
And so maybe that's not the answer anymore so that we can turn, find those insights and then execute on whatever that plan is. And that's how I've been moving through teaching. That's how I've been moving through speaking, how I've been moving through writing, how I move through creating solution for my clients, but it's also how I approach my career decisions. And so I might not know what's next, but I do know that in questioning the answers, I am asking questions about things that were settled, I'm reopening areas that were given and I'm excited about that. That uncertainty excites me. Yes, it's scary, but I'm excited about it. And so I don't know what that means, but I do know that in order to keep my word to myself, in order to continue to test myself that I will be adding additional challenges. I just don't know what they are right now. And I'm comfortable with that.
Maurice Cherry:
Well, just to wrap things up, where can our audience find out more about you and your work and everything online?
Douglas Davis:
Absolutely. Well, if you check my website out, it is douglasdavis.com, but you can also find me on Twitter, I'm @DouglasQDavis, you can find me on Facebook I'm Professor Davis. You can definitely see me with my son, I'm always posting on Instagram I'm @dquejuan. So hit me on IG as well.
Maurice Cherry:
Sounds good. Well, Douglas Davis, I want to thank you again, just so much. I mean, one for taking time out to come on the show, but to really be so open and honest and candid. And I think also just thoughtful about not just the work that you do, but how it impacts the society and world around you. And really like take the time to think about just where we are in this current point in history and what that means for us as designers, what it means for you and I, and others as black people, as minorities. Thank you just so much for opening up and sharing all that, I really appreciate it.
Douglas Davis:
I appreciate you having me, Maurice. Thank you for having me back. I'm thankful, I believe in your venue, I share your posts because I believe in what you're doing. I believe in who you are, and I'm thankful that I can call you a friend. So thank you for having me.
Brevity & Wit is a strategy and design firm committed to designing a more inclusive and equitable world.
We accomplish this through graphic design, presentations and workshops around I-D-E-A: inclusion, diversity, equity, and accessibility.
If you're curious to learn how to combine a passion for I-D-E-A with design, check us out at brevityandwit.com.
Brevity & Wit — creative excellence without the grind.