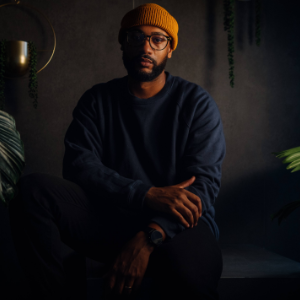 While the current creative industry tends to favor specialists, multidisciplinary creators like Reggie Perry Jr. know that being a generalist is what truly helps you stand out. He does it all — graphic design, photography, video and audio production, motion graphics and 3D, and a whole lot more!
Reggie told me about his work as a media experience designer at The Home Depot, and from there we talked about showcasing his skills through his own agency (Phox and Phoe) along with NYC-based creative and design studio The Future In Black. We also discussed some of his early career work for agencies, and he shared his tips on balancing creative work with family, as well as how he handles burnout and stays motivated to create so many self-initiated projects.
According to Reggie, with a plan and hard work, you can accomplish your creative goals. Now that's some great advice!
Interview Transcript
Maurice Cherry:
All right, so tell us who you are and what you do.
Reggie Perry Jr.:
My name is Reggie Perry. My day job is Media Experience Designer at The Home Depot, and I also have a design agency that I do a lot of my freelance work through. That work includes a lot of motion graphics and animation work, video editing, photography, things of that nature. Pretty much across the board, creativity, even sometimes music production as well. Just a lot of different things that I do and have my hands in and kind of keeps it interesting for me.
Maurice Cherry:
How's 2023 been treating you so far?
Reggie Perry Jr.:
2023 has been pretty good. A lot of good opportunities coming my way, which I'm grateful for and been working towards for several years now. So far so good and looking forward to seeing what the rest of the year brings.
Maurice Cherry:
Do you have any plans for the upcoming Summer?
Reggie Perry Jr.:
I do have some projects that are going to be released later in the Summer that I worked on earlier in the year. The people that I worked on those four, those should be coming out mid-Summer. I'm really excited to see where those go and what they do. Other than that, my day-to-day work and creating my own projects as well.
Maurice Cherry:
All right. Let's talk about your work at The Home Depot as a media experience designer. I'm not sure I've heard that title, but then again I feel like there's a lot of titles these days that are, I guess they just represent different facets of design. When I came up, it was like you were a graphic designer, web designer, web developer, et cetera. Tell me, what is a media experience designer? What do you do at The Home Depot?
Reggie Perry Jr.:
In my role, I'm within the learning department, which is under the HR umbrella. Pretty much anytime someone joins the company, whether it's in the store, whether it's on the corporate side, supply chain, pretty much across the board, they have their training. It might be the orientations, it might be how to drive a forklift, it might be how to ring up a customer. Our responsibility is to work with the SMEs and the instructional designers to create the visual aspects of that. That's photography, that can be shooting interviews, that can be motion graphics and animation, that could be creating job aids and just graphic design work. It pretty much touches on a lot of different aspects of design and just to basically support those associates across the organization.
Maurice Cherry:
Okay. We just had someone on the show a few episodes ago, I don't know if you might be familiar with them, but I think he also worked in education, Brandon Campbell-Kearns. Does that name sound familiar?
Reggie Perry Jr.:
Yeah, the name sounds familiar for sure, but I'm not completely familiar.
Maurice Cherry:
Not that I expect all black designers at The Home Depot to know each other. I was like, "Well, he's in Atlanta. He's kind of worked in education." But no, that sounds really, really interesting. So you're kind of part of this overall education that's responsible for, I guess, getting people onboarded and just learning about different parts and facets of working at Home Depot, it sounds like.
Reggie Perry Jr.:
Yeah, that as well as just ongoing learning. Whether it's compliance training or if it's a new best practice that rolls out, whether it's surveys, it could be pretty much anything. We just work with all these different aspects of the business to create the visual aspects for them.
Maurice Cherry:
What does the team look like? You mentioned there's some subject matter experts, some content people. What does that team usually look like?
Reggie Perry Jr.:
I'm a part of the media team, so basically there is four of us and we're all responsible for creating those visual assets. Then, an instructional designer or SME will come to us and say, "Hey, we have this project, we want to have these deliverables. What do you think would be best? What can it look like? What's possible?" Then we kind of work with them to figure that out. Then we'll schedule the shoots, or if I'm doing a motion graphic, it's like, okay, they'll send me the script, we'll go over the scripts, figure out what assets we need, and then I build out that motion graphic. It pretty much just depends on the ask that we get. Then once they ask us, we kind of interface with these different people to create the final deliverable.
Maurice Cherry:
It sounds like you probably have a steady stream of work that's coming in because you're doing it across the organization for a number of different initiatives or reasons or things like that,
Reggie Perry Jr.:
It also ebbs and flows. For instance, this time of the year when people start going on vacation and stuff around Christmas time, it's a little slow, and then sometimes it'll be just nonstop back to back projects. It does ebb and flow, but there's always consistent work. It's cool because we actually get to see the work that we do out in the field. If we go into a store and somebody's like, "Oh, I just did this training, you did that? That's pretty cool." Or something like that. If we should an interview in a supply chain facility, and then that's on the internal TV channel that's on in up in all the facilities, that's also cool as well. There's a lot of different ways that our work gets out there and a lot of different aspects that we touch.
Maurice Cherry:
Now you've been there for what, almost eight years now it looks like. How did you get started?
Reggie Perry Jr.:
2015. When I was working for this company called Digital Sherpa, they actually got bought out, I forget the name of the company. Yes, they're actually in Atlanta, but oh, it's CoStar. They got bought out by CoStar, so they closed down this whole section of the business. I was just looking for my next opportunity, and I had actually got into photography that Spring, so I was just shooting and shooting and shooting. Then actually my wife, who was my girlfriend at the time, her coworkers uncle was at Home Depot and they were looking for a content creator. I applied and she kind of did the introduction and then the rest is history. That's kind of how I got on board. And that was within Crown Bolt, which is a subsidiary of Home Depot. They do door hinges and handles and shelf brackets and things like that. That's where I started. Then after two and a half years I transitioned over to the learning team.
Maurice Cherry:
As a content creator, were you doing pretty similar things to what you do now?
Reggie Perry Jr.:
Basically, around that time was when there was a huge push for Home Depot to get all of their skews to have lifestyle photos and to have alternative angles for the images and to have videos on how to install these things. A lot of my work at that time was say if there was shelf brackets, here's all the shelf brackets. We actually had a wall that was built with the drywall and everything, and we'd set everything up and then I would take pictures of it and then we'd change out the brackets and take pictures of that, and those will all be up on the website under the skew so you can see different angles and closeups and how to install it and things like that. That was more of the work I was doing at that time.
Maurice Cherry:
It's a lot of, I guess now is this instructional work, because you mentioned this is on the website, so it's under different products as well. Right?
Reggie Perry Jr.:
Especially if you go to any e-commerce site and you look and they have seven or eight different images. One might be a video, one might be some of the directions, and then two or three may be different angles or different color options. I was creating those images basically.
Maurice Cherry:
Okay. Okay. I think it's good to sort of hear that this is a position that people actually do. I think when you look at different big box retail type sites, say maybe a Target or a Walmart, you might not think that all of those different photos and things like that are done in house. I think it's good that people know that this is a type of position that you can do that's still kind of in the realm of design at least.
Reggie Perry Jr.:
And even with Home Depot, there's like a facility that's south of Atlanta and pretty much most of the products that are sold in Home Depot, say it's a Samsung refrigerator, they may send one of those refrigerators down there and they have this whole studio with cameras that's going to capture images from 360 degrees. And then it's like, have you ever seen those images of where the drawers would come out or the doors were open and you can kind of rotate it? They do that kind of stuff there as well. Even with that of building out a studio and shooting these products and then make turning them into 3D models and all that kind of stuff, there's a lot of different positions and jobs around basically e-commerce and the imagery around it.
Maurice Cherry:
Yeah. Product imagery in general, I think in tech design, retail, et cetera, a lot of that is super important. And I think it's good to know that one, it's an in-house type of thing that you do, but it also sounds like it can be never ending because there's probably always new products or like you said, the work you do now filters out into education within the organization, so there's no shortage it sounds like, of work to do, which is a good thing, especially in this age of job security right now with layoffs and stuff. It sounds like you're pretty set.
Reggie Perry Jr.:
Yeah, it is never ending for sure. I remember in 2015-16, and I'm sure all the designers who are familiar with Photoshop will understand this, but it was like at that time I had to shoot every piece of plumbing hardware. If you go into Home Depot and there's an aisle and it'll have a thousand pieces of all these different just hoses and just all these different metal pieces and stuff, and I had to shoot all of those, and it was right before the AI got good enough to do the selection on its own without the pen tool. I had to go through and use the pen tool on like 2000 images/used the pen tool on 2000 images.
Maurice Cherry:
Oh my God. Wow. It also kind of entails, I guess a bit of bit of production design too, because like you said, you're doing this at a time before the tools really were sophisticated enough to be able to make this a easier type of task.
Reggie Perry Jr.:
If I did it now, I would probably just create an action or a script and just run it [inaudible 00:11:43] in an hour.
Maurice Cherry:
Speaking of which, what is the most challenging thing about what you do?
Reggie Perry Jr.:
I would say just managing expectations, honestly, because there are limitations to some of the deliverables that we do because a lot of these things will go out to stores across the country. Some might be in more rural areas and may not have the fastest internet, so we have to make sure the files are a certain size or we have to make sure you want to shoot this, but this might require a budget. You don't really have a budget, so we need to scale it back. It's just kind of figuring out and problem solving, but that's kind of what design is anyway, so we have to figure out what's the best solution for the learner that's going to get the point across in the most efficient way within the tool sets or the parameters that we have.
Maurice Cherry:
We just talked a little bit about how the tools have gotten more sophisticated. How do things say AI and machine learning and things like that, do those sorts of things factor into the work that you do?
Reggie Perry Jr.:
They do, yeah. Some of the stuff, I'm actually doing a shoot on next week that we're basically recording someone who does product videos and stuff so that we can turn them into an AI avatar. We have to record them with certain specifications and we have to do 15 minutes of video, like HD and all those kind of stuff. We're just now starting to get experimenting with it. Some of the videos that we do, they'll have AI voiceovers, things like that. For the most part it's still kind of low key right now. We're just now starting to get into it as far as Home Depot goes.
Maurice Cherry:
Yeah, I know we're recording this right now at a time where there's this big writer strike going on. WGA Union is striking and a lot of writers are striking. One of the sort of things that they want to be addressed by the industry, and I think this kind of maybe spills over into design a bit as well, I just haven't seen that many conversations about it, it's how do AI tools, et cetera, how do they reshape the work that we're doing? Is it replacing it in some way? Is it making it better? Is it making it worse? And just even what you're mentioning with this AI avatar and things like that, do you see a future where AI is going to play a more pivotal role in the work that you do?
Reggie Perry Jr.:
Honestly, it's been around for a long time and it's been in a lot of the programs that a lot of us designers are using. Anyway, a year ago I learned Unreal Engine and with the MetaHumans and doing a mesh to MetaHuman and all this stuff, that's AI, machine learning that's building all that out. You can take a picture of your face and turn yourself into a 3D avatar. There's a program that I use called Cascadeur I believe it's called, yeah. You basically set your key frames and then it will use AI to interpolate the motion in between it, but also to add the physics to it, realistic physics and things like that. Things like that to me are very, very useful. I think with as far as the image creation and everything, it's great for coming up with ideas, but I can also see that it definitely has a look to it, so everything's going to kind of start looking the same. You just got to figure out your own way to use it and make your workflow more efficient.
Maurice Cherry:
Yeah, I think certainly now with the fact that these tools are so commonplace to use a Midjourney or DALL-E or things like that, and you're starting to see larger companies kind of dip their toe into it as well. Microsoft has a tool called Microsoft Designer where you can just sort of put in a prompt and it will generate some AI images. I tried it. Not that good, to be completely honest. It wasn't that great. I was like, oh, this is trash. I wasn't expecting Rembrandt level work, but I mean, interns could do better work than this. Adobe does something similar. They have Adobe, I think it's called Adobe Firefly. Yeah, yeah, yeah, Adobe Firefly that does a similar thing. I agree with you about the look. A lot of the AI art and stuff I've seen has a specific look. Granted, I know that those looks have been cribbed off of actual artists and such, so it's not even original in that respect.
It'll be interesting to see how AI plays out with, I think things like say interface design and stuff like that, where there are more set patterns and things that you could probably create complete UI toolkits or something like that just based off of a prompt. I'm interested to see where this goes. I would love to see more of the digital design community talk about it. I haven't seen a lot of talk about it. Maybe I'm not looking in the right place, but I would love to see more talk about how this sort of influences the work that we do because I've gotten some people that I've had on the show where freelancers, for example, they'll say a client may come to them with an image or something that they created in AI and expect the human artist to change it or to make it better or to improve it in some sort of way, which is like, is that what the future's going to be? I don't know. It's still, I think, a little early to tell kind of how this will really play into the work that we do.
Reggie Perry Jr.:
Yeah, I did see a video last week, I think it might have been on Vox, and it was this AI artist, which he was doing it in a way that I thought was really cool because what he would do was he would create images, but he would do several different passes of these images and do the in painting and out painting and all this stuff. He was basically putting himself in all these different locations, like he was taking a selfie of himself. He would then take all of these images and put them in the Photoshop and he'd take different sections of them and mask stuff out and add stuff to it, and then do all the color grading. At the end of it looked like a totally different image, and I thought that was pretty cool and a very unique way to actually use it instead of just saying, "Here's some prompts, here's an image, I'm going to throw some text over it and I'm done."
Maurice Cherry:
Yeah. Right now I think we're seeing AI start to flood the workplace in different ways. I mean this will affect what we do as creatives ostensibly, but I'm just going to be interested to see how this plays out because I think the point of mainstream adoption is probably still a bit a ways away, but seeing what's happened within the past nine months around the explosion of AI in layman type tools has been just astonishing to see. It reminds me a lot of the early, early web and how those early days in, I don't know, early two thousands. Innovations were just happening left. Trying to keep up was wild. You might have been doing something now, but in two weeks that's going to be obsolete because now there's this new way to do it. It's really amazing to see how it's changing things now.
Reggie Perry Jr.:
Definitely.
Maurice Cherry:
Now, along with this full-time work that you do at the Home Depot, you have this design agency called Phox and Phoe that you started right as the pandemic started in 2020. What brought that on?
Reggie Perry Jr.:
Yeah, so basically I've always been doing some freelance work for the last 10 or 12 years, and I wanted to just create my own design agency and entity and build that up and build client lists and everything like that. Basically at the beginning of the pandemic, a few clients had hit me up. So that's kind of when I started it, just so I can have everything, my paperwork right, my bank account, all that kind of stuff. I named it after two of my kids, Phox and Phoenix, so Phox and Phoe Agency. Basically when I was going into the office, I'd be getting up at 4:45 because I live a little bit North of Atlanta, and I had to drive all the way an hour to work. So I'd just get up, go to work, come back, I'd get home at 5:30, and then I would really wouldn't really have any time.
Once the pandemic started and I was at home, I was like, oh, I'm getting back three or four hours of my day. Let me really dig into this and start to build up my portfolio and build up my client list. At the same time as well, literally probably a month before the pandemic started, I started getting into 3D design. I was like, oh, I got all this time. Let me really dig into it and build and build and build. Now, three years later, three and a half years later, there's a lot of opportunities that have come my way. There's stuff in the works that I'm working on right now that it's pretty big and it's pretty cool to see an idea that I had four or five years ago be a reality in current time. So it was just something I always wanted to do. I just wanted to have my agency and design and make music and shoot videos and photography. So I just made it happen.
Maurice Cherry:
How's that been going so far?
Reggie Perry Jr.:
It's been going pretty good. It's pretty consistent for the most part. Of course, it ebbs and flows. It's just kind of the nature of freelance. I also don't take on work just to take on work. I'm kind of intentional about the work that I do. I worked really hard over the last 10 or 12 years to be able to ask for the rates that I ask for and all of these kind of things. It's like I just don't take on any work. For the most part, it's pretty good. It's an extra stream of income, it's a good stream of income. So I have no complaints about it. I think that I'm about ownership, I'm about entrepreneurship. That's just kind of how I grew up. A lot of the people I grew up around own businesses and things like that. It's always just kind of been in me anyway.
Maurice Cherry:
Yeah, I think it's a great thing to have your own side business, especially when it's not something that you're 100% completely reliant on. You've got exactly your full-time gig, and so you can be a lot more, I guess picky is probably the best word, but you could probably be a lot more judicious with, as you mentioned, the projects you take on, the clients you work with, because you don't have to have this in order to survive. You can pick and choose the type of work that you do.
Reggie Perry Jr.:
Yeah. I've definitely been in the position before of trying to grow business and it needed to support me and I needed to survive from it. That could be a very, very stressful. I've been in positions when I had a job and my side stuff started going well, and I quit my job, and then the side stuff wasn't going so well. You know what I mean, I've done it. I've pretty much ran the gambit on all that kind of stuff. I could can pick and choose on what I work on. I still pretty much keep the same schedule when I wake up and go to sleep anyway. I don't have to commute. I don't have to get ready for work, I just walk downstairs. Instead of just sleeping in or doing whatever, I'll just work out and then sit down at my computer and use that time where I would be sitting in the car to create and work on side projects and things like that.
Maurice Cherry:
Yeah, I've definitely been there with my studio before, so I know what it's like when it has that kind of ebb and flow. In some years it's good, some years it's not. I think even with how the industry changes, I've recently kind of started getting back into doing more freelancing because I worked in tech roughly for about the past five years I've worked with different tech startups. After this last layoff, I was like, "You know what? Let me try to dip my toe back into freelancing and see what I can do." I'm still taking on some projects kind of here and there. It's a lot different now doing it in my 40s than when I did it in my twenties.
The good part about it is I can be a bit more, I guess, cautious about who I decide to work with, the types of projects I do, and really sort of what I put my name on. Because that's another thing, especially I think with Black creatives is the work that we're doing. What is it sort of speaking to in a larger sense? I'm there with you. I know exactly how you feel.
Reggie Perry Jr.:
Definitely. Definitely. Yep.
Maurice Cherry:
Yeah. I was poking around on your Instagram, and I saw this is fairly recently too. You're also a part of a agency called The Future Is Black. Tell me about that.
Reggie Perry Jr.:
A lot of the stuff that I do that's on my portfolio on my Instagram is self-initiated. I basically created a portfolio for the type of work that I want to attract and do in the future. A lot of that's just around black culture, specifically around I like the sixties a lot, Malcolm X, James Baldwin, people like that. Just kind of focusing and building around that. Then Joy, who was the owner of The Future Is Black, actually reached out to me maybe about six months ago. She's like, "Oh, I love this Malcolm X piece that you did. I would love to talk to you more. Let's kind of stay in touch. I'm building something."
She's been building this and she's actually a former makeup artist. She's done a lot of different movies and TV shows and fashion design shoots and stuff like that. She's kind of getting more into the design agency aspect of things. She reached out to me and was any clients that I have or bring on, would you want to partner with us and you do any of the 3D or motion graphic work? I'm like, yeah, sure, let's do it. She just launched about a week and a half ago and started pushing it out there, and we're going to see what's going to happen.
Maurice Cherry:
Nice. Congratulations.
Reggie Perry Jr.:
Oh, I appreciate that.
Maurice Cherry:
How do you balance all of this? You have the outside freelance work, you've got your 9:00 to 5:00, you also mentioned you have a family and kids. How are you balancing all of this?
Reggie Perry Jr.:
To be honest with you, I just really focus on learning the tools and being efficient, and then also just idea generation. James Altucher actually, I listen to his podcast a lot, just write down five ideas a day or 10 ideas a day. And the more you write them down, the better your ideas will get and the easier you'll be able to come up with ideas. I don't actually write them down, but I'm always kind of thinking of stuff, what 3D project can I do? What piece of music can I make? What graphic design or motion graphic project can I do? I'm always just kind of thinking about what would be cool to make and thinking through it. I kind of think through things in my head before I even sit down at the computer. When I sit down at the computer, because I do have limited time, because I do have a full-time job and I do have children and everything like that, it just kind of pours out.
I might be doing other things like cooking or cutting the grass and I'm thinking about it so I'm not thinking about it in front of the computer and getting frustrated. So that's kind of how I approach most of my work, to be honest with you. Also, I'm not going to just take on work for the sake of taking on work. I do want to take on good projects that I'm excited about. I'm sure you've been there, you might have taken on a project that you're not really excited about, but you just want the money or need the money. It's like second day in you're like, "God, I just want this to be over." You know what I mean?
That's another thing too. If I'm excited about the project, then the energy comes. Right? If I'm not, then it kind of drains me and I just don't want to be drained. I want to keep my energy up. I want to be working on things that I really want to be working on. That's another reason why when I mentioned about building up a portfolio of the kind of work that I want to do, that's kind of the purpose behind that. So when opportunities come my way, most of the time there'll be things that I'm actually excited about and want to do instead of things that I have to do.
Maurice Cherry:
Yeah, I have a hundred percent been there. We can talk about it after the interview, but I have definitely had some projects where it's like, look, I got to pay rent, I got to get these bills paid. I might not be excited about it and doing cartwheels in the street, but I'm like, it's work. I'll do it. Yeah, I've been there, totally. Let's switch gears here a little bit because I want to learn more about your backstory. You mentioned to me before we started recording that you're kind of right outside Atlanta. Are you from just the metro Atlanta area?
Reggie Perry Jr.:
I grew up in Hall County, so in Flory Branch, Gainesville area.
Maurice Cherry:
Okay.
Reggie Perry Jr.:
That's where from the time I was three until my twenties I was there. I lived out in LA for about three years, but then I came back. Most of my background, most of my history is here in Georgia.
Maurice Cherry:
Growing up, were you sort of a really creative kid? I mean, you're doing all this stuff now. I imagine that probably started at an early age.
Reggie Perry Jr.:
Yeah, I mean, I was always drawing and stuff, and my dad actually was into computers and stuff when I was growing up. I was on the computer since I was six, and this was before Windows, so C prompts and all that kind of stuff, running MS DOS, putting in floppy discs. I've always been into technology, into art, drawing, taking art classes pretty much my entire life, to be honest with you.
Maurice Cherry:
You went to Georgia Southern, and then after that you went to the University of North Georgia. How were your college experiences? Did it sort of help prepare you for the work that you do now?
Reggie Perry Jr.:
I would say not at all. Georgia Southern was cool. The reason why I transferred, because like you said, you're in your 40s. I just turned 40 last year, so if you remember those early 2000s days, if anything about Georgia Southern, it was known for a party school.
Maurice Cherry:
Yeah, yeah.
Reggie Perry Jr.:
I was just like, no, I got to try to focus. I was really into music back then and I was like, I just want to just focus on this and not flunk out of school. That's why I kind of transferred out. I did learn a lot about networking and meeting people and I'm just by nature an introvert. So to be in an environment where everybody's just like, Hey, what do you do? Or where are you from? And stuff, that was kind of helpful when you first go to school. Because everybody there doesn't know anybody. Then I actually linked with a bunch of different people who had similar interests and within music and art and things of that nature. That was helpful. When I went to North Georgia, it was pretty much just go to school, go to work, come home and make music every day. That's pretty much all I did.
Maurice Cherry:
Were you kind of more into music back then than design?
Reggie Perry Jr.:
Yeah, I got out of design and creating for maybe about seven or eight years. I was just focused primarily on music. Then around I want to say 2009, 2010 is when I really kind of started getting back into design and digging more into Photoshop and Illustrator and just learning the tools and trying to become more efficient at those.
Maurice Cherry:
Prior to that, you were just kind of doing music production stuff?
Reggie Perry Jr.:
Pretty much.
Maurice Cherry:
That was a, look, I was in Atlanta during that time. The music scene here was blowing up, really becoming known. I think Atlanta kind of has always been known as a big music city, particularly a big black music city. I just remember during that time there were so many artists coming out of Atlanta across all genres too. I could see how, shit I was actually a musician myself back then and I'm talking about it. I was a session musician, I played trombone, and so I would sometimes play in some clubs, play a gig here or there. I was doing this kind of alongside my day job. In 2005, I was working for the state of Georgia. Then from 2006 to 2008 I was working AT&T, but then at night I was either doing stuff for school, because I was in grad school or I was playing a gig somewhere. Just the energy in the city, I would say probably that extends out probably throughout the metro area, but certainly in the city. The energy around just the music scene here was so big back then.
Reggie Perry Jr.:
Yeah, definitely. Definitely. The conferences and then it used to be Atlantis and then eventually A3C kind of stemmed from that. Just stuff going on at Apache Cafe and the beat battles and the showcases and stuff. Those were good times for sure.
Maurice Cherry:
I played Apache a few times. Yeah, great times. I remember that. Yeah. You were kind of getting into music production, but then you said you got back into design around 2009, 2010. What sort of prompted that shift?
Reggie Perry Jr.:
Well, I mean, throughout that time when I was making music, I would need some design work or need to make a flyer or something. I would dabble here and there, but I was never really serious about it. When I started, and I know you mentioned you wanted to speak about this, anyway, so when I started Project Generation D, I started creating all of my own marketing collateral and stuff because the reason why that whole project even came about and company came about was because of 2008, I had just graduated two years before, I had a young child needed some money.
It was almost like now, everybody's getting laid off and jobs are hard to find. I had to do something so I created this company to teach kids music production, video production, graphic design, all this kind of stuff. I didn't have money to pay anybody to make my logo or marketing collateral, and I had enough knowledge to do it myself. That's how it started. Then I would start getting a few freelance clients here and there. I just kind of stuck with it and started building it. I was like, oh, this is going to be a good stream of income and a good way to build upon what I have going on with music. That's just kind of how I got more serious about it.
Maurice Cherry:
Yeah, I'm looking at the website now for Project Generation D, which is dubbed an afterschool program for children and teens, ages 12 to 17, dedicated to providing students with a positive environment to flourish in the creative digital arts. Yeah, the 2008, I think that was right when the recession happened then. I remember that year vividly because I quit my job that year and started my studio. I was working AT&T, hated it, hated it to the point I thought I had Crohn's disease or something because I would physically get sick going into that place to the point where I was like, I can't do this anymore.
Reggie Perry Jr.:
I've been there before too.
Maurice Cherry:
I quit and started. I started my studio in oh eight and we started picking up work in '09. I continued it since then, but that time was really kind of an interesting time just in terms of opportunity as well as I think particularly I think if you were working in design, it was an interesting time because so much of what was happening in the country around one Obama getting elected, well, I'd say mainly with Obama getting elected is a lot of his work, I want to say, kind of played to the fact that that great design went into it. If you were a designer kind of working in that space, not even in the political space, but just in design during that time, so many people wanted that same type of polish or execution or diversity to be completely honest around the work that they were doing because they saw what Obama was doing. And this wasn't just in politics, this was a cross design. I'm pretty sure the folks that made the Gotham font probably had dumped trucks of money because everybody wanted to use that damn thing everywhere.
Reggie Perry Jr.:
Certainly. Yeah, it was definitely an interesting time. Yeah, when times get hard, you have to do what you have to do. If you have those skills, you got to kind of lean on those skills and build what you can to survive. That's basically what I did and built upon that since that time.
Maurice Cherry:
Yeah. Now you mentioned earlier Digital Sherpa, which is where you worked in 2014. When you look back at that time, this is sort of after the Project Generation D time, what do you remember? What were you going through at that time?
Reggie Perry Jr.:
A lot. At that time, so yeah, we got laid off. It was very interesting time because I was producing music all throughout pretty much mainly until 2011, 2012. I actually had a song that blew up and it blew up overseas and had 50, 60 million views on YouTube and all this kind of stuff. it was like I had signed a publishing deal, but it's like I didn't see any checks yet or anything like that. The business basically shuttered, had $40,000 of debt, moved into an old department, was just looking for job all the time, couldn't get a job. I actually ended up getting a job at Sherpa, and then I was also tutoring at the same time. I'd go to work 8:00 to 4:00, 8:00 to 5:00, and then I would go get a snack or something or a quick meal, and then I'd go tutor from 6:00 to 9:00 PM every day.
Maurice Cherry:
Wow.
Reggie Perry Jr.:
I was kind of just doing that, just trying to build. At that same time too, is when I started really digging into After Effects as well. It's like, oh, I think this After Effects thing has some potential, if I can really figure it out and learn it, because it's a little bit, it's graphic design, but it's like motion. I like the motion aspect of it. At that time, I ended up getting that job, and it was when blogs were really, really big still. Companies were like, "I need a blog. I need a blog. I need blog posts." So basically the first position I had was, I think it was content manager. We contract out writers and then they would write blogs and I would proofread them and make sure they were good to go for all the clients that we had.
It's mostly small businesses from around the country. Then I moved over to account manager, which was just kind of interfacing with the clients and things like that. Pretty much most of my day to day was just kind of overseeing content, making sure the blogs were getting written, they were correct, and getting posted and dealing with any issues that the clients had. It was just 2014-15 was really just a time of hustle for me, to be honest with you. I had the job, but I was also tutoring and I was also trying to design more. I would come home if I wasn't tutoring at night and be trying to make art pieces and stuff and figure out Illustrator more and Photoshop more. During that time, it was kind of like a blur, but it was a hard time. It was, in retrospect, kind of a good time because it really laid the foundation for my life now 9 or 10 years later. Man,
Maurice Cherry:
Much of what you are mentioning is my story as well. I had my studio back then, but I was also teaching and I was writing and I was consulting. I was doing multiple different things to try to keep the income coming in, keep myself creatively kind of satisfied and stuff. And it was also really coming at a time where the industry was changing. I would say roughly about 10 years ago might have been the start of when we started to see so much UX. I feel like that's when we started to see UX and product really begin as a viable option for designers. Like you said, we're roughly around the same age.
In the early two thousands, even say mid to late two thousands, you were either a graphic designer, a web designer, or a web developer. Then as the industry matured and changed, you have all these different type of design that pop up. Different titles go with it. There's different titles with different companies. If I tell people I'm a designer now in 2023, they might automatically think I'm a product designer or UX designer as opposed to say a visual designer or something like that. So yeah, that time there was a lot about hustle, but the hustle came because there were just so many opportunities to do different things because that's what the industry allowed you to do. It allowed you to wear a lot of different hats in that way.
Reggie Perry Jr.:
No, I remember 2015 or so going to the general assembly open house for the UX course, I was considering that at the time. It was a very interesting time. There was a lot of different avenues that you could take. Now a lot of these positions and jobs are commonplace, but at the time it was like, "Oh, what's UX? What exactly does a product designer do?" That was where I was at at that time.
Maurice Cherry:
Now, when you look at what you're doing now compared to what you kind of did then, I'm curious how do you handle creative burnout or periods of low motivation? Because I would imagine all of this, like I said before, takes its toll. When you look back then and then you look at what you're doing now, have you managed any sort of strategies or ways to pull yourself up during these times of burnout or low motivation?
Reggie Perry Jr.:
Yeah, honestly I think that it's okay to have low motivation. You're not going to be going at a hundred percent all the time. Instead of forcing it in those moments, usually what I'll do is just step away. If I don't feel like making some 3D piece, I cook a lot. Cooking is a form of art. I'll do that or exercise, or I'll just catch up on a TV show or play some video games, and then I'll see something in a TV show or a video game, or I'll come across something and it will just spark some creativity and then I'll go back and build off of that.
At this point, after creating for so long, I just try not to force it. It's going to come in spurts. You're going to have times of very high productivity. You're going to have times where everything you make, you just want to just smash your computer because you hate it. It's just part of the game. I think that's just kind of how we are as humans. Everything we make isn't going to be great, but you just have to learn how to manage what works for you and figure out some routines or steps that you take to get out of those funks to get back to creating again.
Maurice Cherry:
That's a really good piece of advice I think for folks now that might be trying to figure out what is the best way to manage themselves through all of this. Because you know mentioned you started your agency at the beginning of the pandemic. I feel like that pandemic period, particularly with people working at home kind of unlocked something in them to say, "Oh, wait a minute, I could also do this." I think so many folks started getting on TikTok really back then, and now they're like, "Oh, well you know what? I was doing this nine to five, but I could be a content creator." Which I kind of have beef with that term in general because I feel like it glosses over so many different skills and specialties within the realm of content creation. Sometimes it can even be used as a misnomer. If you tell someone you're a content creator, they're like, "Oh, wait, so do you do a podcast? Do you do OnlyFans?" What does that mean if you say I'm a content creator? It's such a broad kind of term.
Reggie Perry Jr.:
Yeah, I mean, I'm glad you said about a pandemic, because I viewed it that way since pretty much day one. And I mean, I've told my wife, and I've told a lot of my friends as well, I'm just like, I've been waiting for a time, not for people to be sick or to pass away or anything like that, don't get me wrong, but as far as the opportunity to invest a massive amount of time into something to grow a skill, because you got to think when the pandemic started, you got to think of all the phases that people went through just on a broad level. There was GameStop and then there was Crypto, then there was the Metaverse. Now there's AI. Know what I mean? It's through all of that, I'm also, there's time and the time is really our most valuable asset. What am I going to do with this time? So I took that time and added another skill. Cause I'm all, I'm really big on a unique skill set or a skill stack.
It's just like if someone were to come to me and say, "I want to do a short animated music video or film, and they need the music for it, and I need to have the poster created and they need to cut a trailer of it and have all these different aspects." I could do all of that. That's because I utilized that time to really put in those hours. I do hear you about the content creation. It's almost like it cheapens the value of people who've spent the time to learn the craft and the skills. Right? Because I just post videos on TikTok and I'll make money off of that, whatever. It's like, what if TikTok goes away? That's not really a transferable skill, just posting on TikTok. If you can design, if you can create an application, if you can do all of these different things, you're going to be able to figure out your next move from that. That's what I wanted to use the pandemic for was I have this time, let me add more skills that's going to future-proof me moving forward.
Maurice Cherry:
Yeah. We're using TikTok as an example here. I mean, I do think that there is a skill to that, but the problem that I see is that the skill is so closely tied to the platform that it's hard, and I see this with some TikTok folks too. It's hard for them to take success that they've made on one platform because the platform locks them into a specific way of maybe delivering content that doesn't translate into a similar type of medium. For example, TikTok to Instagram or TikTok to YouTube, there are people that have millions of followers on TikTok and have 45 followers on YouTube because it just doesn't translate. I don't know if it's them not being able to transfer the skill to the platform because the skill is so tied to what the TikTok app allows you to do within its creation tools.
I remember this was back when I started my studio, my friend John, who had started a business together and he had found me through Meetup. They were like these web design meetups in the city, and he had just graduated from UGA, this white boy just graduated from UGA. We had met at a Panera Bread up in Buckhead, and I remember one of the first questions he asked me because he was like, "I'm looking to get into web design. Should I learn HTML or should I learn Dreamweaver?" I'm like, well, the language itself is probably better than learning the tool because the tool is just a tool that's like saying, should I learn carpentry or should I learn how to use a hammer? It's a difference in that.
I think sometimes with the tools like TikTok for example or things like that, you can get so locked in creation within that particular toolbox that you can't transfer it over into something else. You can't take the success that the platform or the algorithm or whatever TikTok gives you and transfer that into a magazine article, a blog, a long form video, a podcast, et cetera. The tools and the algorithm I think can sometimes lock creators into a box that is hard for them to get out of.
Reggie Perry Jr.:
I think that's why even a few years back, if you look at Desus and Mero, they were actually able to translate from Twitter to a podcast into a TV show. There's plenty of other people who were funny online or on their YouTube channels who try to make the jump to TV or the radio and just bombed. It's kind of the same concept.
Maurice Cherry:
It can be tough to make that leap, to make that jump, especially if you're just not able to transfer the skill that you have outside of the confines of the platform that you were kind of initially on.
Reggie Perry Jr.:
Definitely.
Maurice Cherry:
Yeah. I noticed that you refer to yourself as a creator over referring to yourself as a designer. Is there a specific reason behind that?
Reggie Perry Jr.:
I just like to create. Right? I wouldn't say there's a specific reason behind it, but I do a lot of things. If I make a motion graphic, for instance, I'll go create my own music for it. That's kind of, I guess where that comes from. I create meals, I'll have friends over, I have family over, and I'll be on the smoker for five hours and create an experience in that way. That's why I kind of look at it as more of a creator than just strictly a designer.
Maurice Cherry:
Yeah. Do you think it's hard to, well, I don't know what's the best way to kind of frame this question, but I notice a lot of designers now are strict specialists. The work that they do is only within a specific type of design. They can only be a product designer or a UX designer or something like that. Not pick on product or UX folks, but they can only do what they do within that particular realm. I feel like designers like us, older designers, I think because we came up during this period where there was just so much opportunity because we were learning at the same time that the industry was learning and sort of discovering new things that we know how to do a lot of shit.
Reggie Perry Jr.:
I was doing, '97, '98, I was making cash money websites on Geo City learning HTML.
Maurice Cherry:
Yeah. I remember teaching myself HTML. I remember teaching myself Photoshop off of a cracked version of Photoshop, and then going to Barnes and Noble and looking at those $50 Photoshop tips and tricks books and just taking photos and bringing them home and using them on my cracked version of Photoshop to figure out how to make that sort of pixel and pin Diamante kind of cash money design or something like that. We know how to do a lot of things because the industry and just, I think the time period we were in allowed us the opportunity to do multiple things. It's almost like now people want you to be more specialist.
Generalists and designers from our age group I would say we just know how to do a lot of stuff. You do audio editing, you do video, you do 3D, you're a photographer. All of this is kind of wrapped up into what you do as a person and as a creator. I think sometimes in the industry, that can be hard for people to understand. "What do you do?" And you're like, "I do a lot of stuff. What do you need?" You know?
Reggie Perry Jr.:
Also too, from my perspective with starting the agency, if the agency continues on a good trajectory and it continues to grow, obviously I can't do everything myself. Right? If I need to outsource, I want to know what to look for, and I want to be able to speak the language. If I'm talking to a photographer, I'm just going to be different from talking to a video editor than talking to a graphic designer. I want to be able to understand and explain and to lead and to coach and say, "Let's try this instead of that, or let's do this instead of that, or maybe we should use these file formats instead of these file formats." That's how I look at it having knowledge of all these different areas is because then in the future, when I'm working with my own team that I hope to build, I'll be able to speak their language and to be able to break it down and to communicate with them on their same level, if that makes sense.
Maurice Cherry:
Yeah, no, that makes sense. How would you say your creative style has evolved over the years?
Reggie Perry Jr.:
It's kind of hard to say because even musically over the years, I've never really had a definitive style. If it moves me or if it feels good, I like it. But I feel like over the last three or four years that it's definitely started to form into something more concrete. I just like clean design for one. Yeah, I just like clean, sophisticated, something that can draw emotion, especially with the 3D work, if it can take you into the world building those worlds and bringing the viewer into that. I would always say that the underlying aspect of all of that though, is really the storytelling. If you have the visual aspects of course, but the key parts for me is what's the story that's being told and does it evoke emotion? I think that's what I focus on is more than what it looks like. Hopefully it always looks good and people like it and I like to experiment a lot, but my style I guess, would really be more of a storyteller just using all these different mediums to tell different stories.
Maurice Cherry:
Now, you do a lot of self-initiated projects as you've mentioned. We can look on your website or your Instagram and see these little video vignettes and other things that you've done. Do you have a dream project that you would love to do one day?
Reggie Perry Jr.:
Actually, I think I'm working on it right now. I can't really discuss it right now, but yeah, I think I'm working on it right now actually.
Maurice Cherry:
Okay. We'll keep it vague so once it comes out it'll be a big surprise, but no, that's great.
Reggie Perry Jr.:
Yeah, I got to keep it vague because the NDAs and all that kind of stuff. Yeah, I feel like the work that I've done over the last three years has been definitely, like I said, I've been very intentional about the work that I create for myself to attract the kind of clients that I want to work with. So I think that since I've done that, I have actually, even The Future Is Black, that comes from me creating work that I want to do in the future. It's all been very intentional and I think that now a lot of that stuff that those dream projects and the type of people that I want to work with and the type of projects I want to work on are showing up in my inbox.
Maurice Cherry:
What keeps you motivated and inspired these days?
Reggie Perry Jr.:
Not to sound dark, but death, to be honest with you. We're not going to be here forever, so we got to use our time wisely. Last year I actually lost my dad, so that kind of just lit an extra fire under me that was already under me. As we get older and you start seeing people that you've grown up on, even to see something like Jamie Fox having a medical emergency or something, you're like, dang, we really are the middle age now. Half our life is done. It's like we have to really figure out our legacy and what we want to leave behind and that kind of motivates me to keep going and to keep getting better and just try to be the best, not just creator but human I can be in the time that I have.
Maurice Cherry:
If you could go back and talk to your college age Reggie, if you could go back and talk to him, what advice would you give him about just being a creative?
Reggie Perry Jr.:
It'd probably be the same advice that I've given myself throughout the years anyway. It's just keep going. It's going to take time, and I've always knew it would take time. People always say it takes 10 years or whatever to be an overnight success, so I always knew whatever I wanted to do would take time and I would have to have the discipline and keep motivated to get to those goals, but also just be open to the possibilities and the opportunities that come your way. You might have a specific vision in your mind of how you want things to turn out or how you want things to be, and it might not turn out that way, and when it goes in a different direction, it might actually be better than what you thought it would be. You just have to be open and you just have to keep going and stay focused on what you want to do. For sure. You got to have a plan, you got to execute that plan, but don't close yourself off to other opportunities that may open up even more doors for you.
Maurice Cherry:
Where do you see yourself in the next five years? What do you want that next chapter of your legacy to be?
Reggie Perry Jr.:
My goal right now, especially with the 3D, is to tell Black stories through a medium that is traditionally not Black.
Maurice Cherry:
Well, just to wrap things up here, where can our audience find out just more information about you, more information about your work? Where can they find that online?
Reggie Perry Jr.:
My website is reggieperryjr.com and then my Instagram is @nobodyfamous. That's pretty much it. I don't really mess with Twitter or anything else, but yeah, if you want to see some of my work, you want to connect, I guess the best place would be through my website, via email or my Instagram.
Maurice Cherry:
All right, sounds good. Reggie Perry, I want to thank you so much for coming on the show. One, I think just thank you for just kind of detailing your creative journey. I had mentioned before so much of what you mentioned has been kind of neck and neck with things that I've experienced. I really kind of know exactly where you're coming from with your thoughts on just content creation and just creation in general and using the skills that you have to put your mark on the world.
I think it's important that people see that you can have a long career in design and creativity and whatever you want to call it, as long, like you said, you sort of put in the work, stick to the plan that you have, things will kind of work themselves out. Basically, from what I can see from your work, you definitely have put in the long hours, you've done the work, you're continuing to do the work. I'm excited to see what you do next. I think certainly what you're mentioning about telling Black stories like that through maybe kind of a non-traditional medium, I see that definitely in the future happening for you. Thank you so much for coming on the show. I appreciate it.
Reggie Perry Jr.:
I appreciate you having me. Thank you very much.
Brevity & Wit is a strategy and design firm committed to designing a more inclusive and equitable world. They are always looking to expand their roster of freelance design consultants in the U.S., particularly brand strategists, copywriters, graphic designers and Web developers.
If you know how to deliver excellent creative work reliably, and enjoy the autonomy of a virtual-based, freelance life (with no non-competes), check them out at brevityandwit.com.