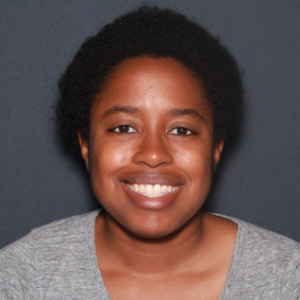 The introduction of the metaverse to the general public was one of the biggest topics in tech last year. As we all learn more about the metaverse and what it means for the future of the Internet, I thought it would be a fantastic idea this year to talk with some of the folks out there who are involved with the metaverse in some capacity.
Meet Charlene Atlas, an interaction designer for undoubtedly one of the biggest companies to stake their claim in the metaverse — Meta. We started off our conversation talking about her resolutions for this year, and she spoke about her work on the Reality Labs team. From there, we discussed the metaverse and some of Meta's plans, and Charlene shared how she became interested in technology, gaming, and eventually got into the AR/VR space.
Charlene is just one of many people who are helping to create the future of the Internet, so I hope you get inspired by her work and discover a way to chart your own course!
Transcript
Full Transcript
Maurice Cherry:
All right. So tell us who you are and what you do.
Charlene Atlas:
Hi, my name is Charlene Atlas and I am on a mission to break our content free from flat screens. As an interaction designer in Reality Labs research at Meta, formally Facebook, I work with scientists, researchers, and engineers to envision and create the far future of virtual and augmented reality.
Maurice Cherry:
Break our content free from flat screens, I like that. It's funny, I've had some folks on the show before that have done AR and VR, mixed reality. And I always keep bringing this up about, I don't know if you remember this television show in the '90s called VR Troopers.
Charlene Atlas:
No, I'm not familiar.
Maurice Cherry:
Oh, people that listen to the show are probably tired of me mentioning it. But there was this show called VR Troopers, very much in the same vein of a Power Rangers, it was very much like a Japanese like Sentai, Karate Kid show. And they were basically these kids that fought in virtual reality. It's so interesting because I think about that time and then I think about the topics that are discussed now around virtual reality and the metaverse and how that was fiction when we were kids. And now it's reality as adults, which is just wild to think of.
Charlene Atlas:
There's a lot of things that we thought in the past we couldn't do you that we can do now. And so I'm hoping that in the future too we can achieve the impossible, what we think is impossible now, for sure.
Maurice Cherry:
So we're recording this right before the new year, just so folks know. But I'm curious to know, how has 2021 been for you, any grand discoveries or anything like that?
Charlene Atlas:
Well, it's been pretty interesting for me because in late 2020, I had my first child in September.
Maurice Cherry:
Oh, congratulations.
Charlene Atlas:
Yes, thank you. So he's about 14 months old now. So it's been a pretty interesting year for my husband and I, having our first kid. And he's just changing so much every day and it's great to watch him grow. And doing that all during the pandemic has definitely been another layer of challenge and adventure. But we're doing good. Yeah, thank you.
Maurice Cherry:
Nice, nice. I guess going forward, thinking about 2022, do you have any particular plans or resolutions or anything?
Charlene Atlas:
I think the main thing for 2022 is that we really want to see our families. So none of our family has actually met our son yet. So really want to figure out all of this pandemic stuff and be able to see our families back home.
Maurice Cherry:
I can imagine that's, oh, wow, with a new baby. I'm sure your parents and other family and stuff. And then his his dad's parents also probably want to see him too because wow. Hopefully you all can make that happen.
Charlene Atlas:
Thank you. With his age, he can't get vaccinated, that kind of thing. And then you have older parents and so it's like, it's not the best combination for the current situation. But I feel hopeful that we'll get to see each other next year.
Maurice Cherry:
Fingers crossed, I hope that happens for you, I really do. So you work as an interaction designer at Meta, which, of course, most people know about as its former name, Facebook. What does interaction design mean at Meta in terms of the work that you do?
Charlene Atlas:
So I'm particularly in Reality Labs, the organization that focuses on augmented and virtual reality. And within that, I'm in the research organization. So even though I'm called an interaction designer, it's different from what you might assume of web design or 2D interface design. It's more about how are we going to interact with this new medium of virtual and augment interfaces. And so that's what I mean when I say interaction designer. My team that I work on with research design is a different field from product design, in that you're not focusing on making a product that you'll then release in a few years, it's more that you are working directly with scientists and engineers who are making completely new technologies to look at what is the user value, potential user value in the future of these technologies, what are things we could change to have more impact in the future, and maybe even what are new technologies we should invent to really meet the needs of people in the five to 10 year timeframe.
Maurice Cherry:
I can imagine it's probably really interesting to think that far out as it relates to technology and what you want to accomplish and things of that nature. What does a typical day look like for you?
Charlene Atlas:
I'm involved in a lot of different projects. And so of course there's meetings with the research teams, there's doing the usual designer things of making specifications for how an experience should be built. So we build experiences that use some of these new technologies. We often also have to build what we call time machines, so this idea of creating an experience that's simulating things that we expect will exist in the future so that we can better evaluate things that we want to create. So there's a lot of prototyping and also a lot of writing. So at Meta in general, we value writing a lot. So there's a lot of writing of what are people's future visions, what are ways to approach work. Also if you have any new ideas, you usually have to write a one pager of some kind to start getting traction around it. So it's mostly a lot of writing, making mock-ups, talking with researchers to understand what question we need to answer to really get the technology in the right direction to really make the impact we want to have in the world in the future.
Maurice Cherry:
Tell me more about Reality Labs. You mentioned a bit about what the makeup of the team is and I guess the technology that it works on. But can you just go a little bit more in depth about that?
Charlene Atlas:
So rally labs, so we have more of the product side that focuses on our current work. So things like the Meta Quest, Meta Quest 2, VR devices that we have out in the wild. But then the research side, we have a lot of different research teams inside that focus on a variety of topics like graphics. So cutting edge graphics research, optical research, display systems, perception science, like how do people perceive what they're seeing. So we really have a team for each piece of what we think will be necessary to build the future for VR and AR that can really become the next wave of technology for the world.
Charlene Atlas:
So if you think about that shift that happened from command line interfaces to the GUI, that's the level of shift that we're trying to make with AR/VR in the future. So basically we're trying to cover all of the different senses that humans have, all the different things that people might need to be able to do. We have world class researchers in each of those areas that we can work directly with and see how we can put all that together into something that can hopefully be a transformational change in the future.
Maurice Cherry:
Let's talk about the metaverse which Facebook debuted at Facebook Connects a few months back. On a high level, so our audience can understand it and also so I can understand it, what is the metaverse?
Charlene Atlas:
The metaverse, as we've talked about in the public, is an embodied internet. So this idea of connecting with people that you care about and really feeling present with them is one of the key pieces of it. And this isn't something that is limited just to my work in AR/VR, but it's really something that exists and can be accessed by lots of different devices. Just like now, we are in a call or if we're in a video call or if you're on the internet, there's lots of different ways to access the internet and lots of different ways to join a call or what have you. So it is really about putting the pieces in place so that we can move beyond where we are right now with just having these mediated surfaces right between us and instead feeling like we are together and can really engage as we would in real life.
Maurice Cherry:
So it's really just like, and then correct me if I'm wrong here, it sounds just like a natural extension or progression of say the internet that we know now.
Charlene Atlas:
If you think about the internet now even this isn't real, what we're doing now. It's being replicated, there's so many steps of audio being replicated and represented. So really we have our senses, we interpret what we receive and we feel or have a sense for what's going on. And that's the same thing with a metaverse, is just that it's something that's going to take years to build just because of the scale of what we're trying to do. But you can think of it as that next step of how do we really feel like we're together. This is a huge leap, what we're doing right now of what it was like decades ago. So that's the leap that we want to make into the future.
Maurice Cherry:
As you said, that reminded me of the scene in the matrix where Neo goes to meet the Oracle for the first time. So Neo goes to meet the Oracle and before he meets her, he has to sit in this little waiting area. There's this kid that's bending these spoons. You know what I'm talking about, this part of the movie?
Charlene Atlas:
Yes, I remember [inaudible 00:12:16].
Maurice Cherry:
And the kid picks up the spoon, he picks up the spoon and then he hands it. Well, he bends it then he hands it to Neo. The kid is like, "Don't try to bend the spoon, instead try to bend yourself and then you'll realize that there is no spoon." So for me, I'm going a little esoteric here, so bear with me, to me, the way that I think about that with the metaverse is that just like how you're saying this isn't real because of the recreation of voice across electrons and distance. We're not talking really in real time, it's like a simulation of that. So when you think about the metaverse and that extension of that, it's taking what we already know now with the internet and it's ways and culture and stuff like that, I would imagine. And thinking about what that means on just a grander scale.
Charlene Atlas:
It's helpful to think about, what are the barriers that exist now? And going back to your question before for of, how do you project that into the future? That's part of what we think about. Is like, what are the things that people have issues with now? What are the technologies that exist that are on track to land at certain points in the future? And so then now knowing those technologies are going to be in place, what can we enable for people? What are the experiences we can enable? And these are experiences that, as I said, it's not going to be that you can only access it on a particular device. It's going to be, anyone can access it on their own device, in their own way. And all of those different access points have to be available experience for people.
Maurice Cherry:
I'm glad you mentioned that about the access. Because what I remember from Connect is that most people were using the Meta Quests 2, which people know also as the Oculus Quest 2, that was its old name. But people have seen that device in terms of, oh, this is how folks are accessing it. And like you said, there's going to be different ways to do it in the future because the Meta Quests 2 is, of course, not the only device that you can use to access virtual reality and stuff. You can use a cell phone or you could use another device from another company or something like that. So it sounds like as this builds out into the future, there'll hopefully be more of a, I don't know, like democratization of technology to access it. But I don't know if that necessarily all has to stem from Meta, it sounds like.
Charlene Atlas:
Yeah, right. And as we've said, in the different releases, we're not trying to… It's not that it's like we are making the metaverse and nobody else is. We're building for the metaverse, we're getting ready, we're getting ready for us all to be at that point. Just like the internet isn't owned by any particular company.
Maurice Cherry:
I think it's helpful to think about it that way, in that Meta is building for the metaverse and that Meta is not creating the metaverse. I'm trying to make sure I get that distinction down.
Charlene Atlas:
This is like nobody is making the internet. Yeah, exactly. You've got it.
Maurice Cherry:
I get it, I get it. I've been around on the web for a long time. And I remember even in the early days of the web going from web 1.0 to web 2.0, just the big shift, especially as it related to social media and how do we communicate with each other now in these new ways that we didn't before. Because web 1.0, and I'm dating myself here, it was basically just research. All you did was just look up things and read them. Email existed back then, but it was in a very rudimentary state. And there certainly weren't a lot of social spaces unless you thought about maybe a forum or Usenet or something like that.
Maurice Cherry:
And then social media really started to take hold, let's say what, maybe in the mid 2000s or so with Facebook being one of them, but Twitter and other things. And then as those platforms and experiences grew, this whole other culture arose with it as these things grew. So I see now, it sounds like we're starting to transition from web 2.0 to web 3.0 or web 3 with the metaverse. There's going to also be that same type of culture change in a way.
Charlene Atlas:
And definitely similar to what you just described happening on the internet, is what I hope at least will happen, and what we talk about a lot at work will happen in the metaverse of creators having the chance to create new things. That's one of the reasons even that I'm a designer, is that I just love that you can put something out there and people can find new ways to use it and find new ways to express themselves. So I think it's going to be really great for giving creators that chance to find new ways to express themselves.
Maurice Cherry:
And even with that expansion and culture, there's a lot to think about in terms of just like… It's weird for me to think about it this way because I distinctly remember how the web really clicked over from one to two. And now how it's about to click over from two to three. I even from one to two, there were so many new things that were created with the advent of social media and user generated content. The whole economy around online advertising, that's a whole industry that did not really exist in 2000. And now you do Google ads or whatever. There are people that have made millions just off of advertising on the internet. Now you can think of, with the metaverse, there could be different economic opportunities like that, or how do brands get in on this? And what about intellectual property and all this stuff? Like how do you factor in all those considerations in your work?
Charlene Atlas:
Some of the things we're doing now that are a peek into the future is that Spark AR. So we do have AR that you can do face filters, that kind of thing on your phone. And we recently hit 700,000 creators on that platform. So people are already finding new ways to use these new mediums to create. As far as all these other things that we have to consider that you mentioned, something I'm really proud of that our group has done is release our responsible innovation principles that you can look up online. So we're really laying out these are the principles we're going to have as we build this new thing. Because we know that there's going to be all of these questions and we want to build out in the open and we want to address things out in the open with everyone. So there's definitely a lot to figure out and we're doing our best to make sure we do it responsibly.
Maurice Cherry:
It's so exciting to really think about the path that you all are really forging with this and to take all these considerations and things in mind. It's interesting you mentioned that about Spark AR because I just saw a tutorial on TikTok, of all places, on how someone can easily make like an AR drawing, a Spark AR drawing using Procreate. So this person had a Procreate drawing. And for people listen, Procreate is a drawing application on the iPad. Basically they took those layers and dragged them into a Spark AR thing and was able to… It looked really easy. It was a TikTok, so they illustrated it in like 60 seconds. I was like, "Oh wow, you can easily make AR things just like this?" Yeah, I can see how that economy or even that just opportunity for creators to make new things in this space will really unfold. Especially once more people start to understand the technology, are able to get their hands on it and really just understand the possibilities behind what can be done.
Charlene Atlas:
You can download Spark right now and make stuff. I was making stuff the other week, just it's pretty easy. So that's really great, what you just mentioned because you never can fully imagine all the things that people might use it for. And it's really great to watch people discover new ways, new mediums of art and expression.
Maurice Cherry:
So we've been talking about the metaverse, let's bring it back to the real world. Let's talk more about you because, of course, you're the guest for this episode. So tell me more about where are you're from, where did you grow up?
Charlene Atlas:
So I am from Maryland over on the East Coast and my family is from Haiti. So my parents are from Haiti and they met in New York and moved to Maryland and had my brother and I.
Maurice Cherry:
Growing up, were you exposed to a lot of technology?
Charlene Atlas:
I think my earliest memories are in school using a huge floppy disc to play games in the computer in the library, so there was that. My brother was really into video games and so I played a lot of games. It was through that playing games with my brother that really got me interested into technology. I really wanted to make games since I was pretty young because I just loved how much fun it was to play with him. I remember looking in the manuals back when there used to be manuals in the games, there's a list of names there and it's like, "Oh, I could do this? I could do this, make games?" So I just started a journey of trying to figure out how I could do that. And I wrote a letter to Sega asking what classes I could take all of these things. So it started me off there.
Maurice Cherry:
Did they write back to you?
Charlene Atlas:
They did. It was a really nice letter they sent. And they said take math and this and that. So when I went to high school, I actually did a science and technology magnet program that I got into for high school. So I did a lot of science and technology courses there.
Maurice Cherry:
Very cool. And of course that interest and passion eventually ended up leading you to USC, where you double majored in computer science games and East Asian languages and cultures. That sounds like quite a course load. Tell me about your time there, what was that like?
Charlene Atlas:
It was pretty interesting because… well first of all, I applied and accepted without ever visiting it. Because I was living in with Maryland and I was applying to schools. And this school, they had this computer science program that focused in games. And it wasn't even that they had it yet, it was going to be ready in a year, and so I'd have to do the regular computer science and transfer into it. But I was just so excited to be able to go to a four year university where I could learn about other things, and East Asian languages as my other passion as well, and get to focus on making games. And it's this great program, it's a joint program between the cinema school and the computer science school. So I just was like, "I have to go there."
Charlene Atlas:
Then I also was in marching band in high school and the USC Trojan Marching Band is one of the most famous bands around. I was like, "I got to be in this marching band." So I convinced my parents like, "I got to go to this school." And I went there. Something interesting is that I actually did get to go there before the school year started because I got into a program at USC for high school students for making games separately. So I went there over the summer, did the high school program, and then continued on to attend the school.
Maurice Cherry:
What was it like doing the marching band at USC? Because they're a pretty well known band, the Trojans, right?
Charlene Atlas:
Yes, Trojans. So yeah, it was definitely intense. It's a full-time job almost, especially since I was in the drum line. I was in the drum line so there's extra practices for drum line and then there's practices for band. Then you're getting up at 5:45 every Saturday before the games because you got to do practice in the morning, then you got to do the marching all the way to the stadium and doing performances on the way, then you got to do the pre-game, you got to do the halftime show, the post-game. So it was a lot of time and so it was tough doing the computer science major, the band, the East Asian languages with the focus in Japanese major. I did some part-time work to help pay for school. So it was pretty busy, but it was so fun being in the band. And I got to do all kinds of…
Charlene Atlas:
In addition to doing the Rose Bowl, going to the Rose Bowl four times in the Rose Parade four times, I was able to also do various LA gigs, since we're known as Hollywood's band. So I've been on the Grammy's, I've been on BET Awards, game shows, and stuff. So it was just a really interesting thing to be doing in college and just getting to have these experiences.
Maurice Cherry:
And then on top of that, you also even got a chance to study abroad too.
Charlene Atlas:
So I did take five years to finish because with the two majors plus I went to study abroad in Tokyo. So went to Jochi Daigaku, which in English they referred to it as Sophia University. And it was really fun. I stayed with the host family, I took my classes. The classes were pretty hard, maybe I shouldn't have studied so much, I should have traveled around. But I was like, there was a lot of classes that I was taking in addition to Japanese language. So it was fun, a great learning experience. And I assumed that I would be back, I always thought I would live in Japan long term. But it was a lot of fun and it was great to reconnect to Japan because I had also gone there in high school as well.
Maurice Cherry:
Oh, what brought you there in high school?
Charlene Atlas:
So my school in Greenbelt, Maryland, I basically had a sister school relationship with a school in Japan. And it's called Yokohama Suiryo High School. Basically there's an exchange program. So we would have exchange students come in and stay with us and we would sometimes stay over there. So basically every summer, there would be a trip to Japan. So one of the years I went. And the years that I went, one of my friends actually convinced our Japanese teacher to take us on an extra part of the trip where we would bike across the country. So there's this road called the Tokaido Road, and it's an old route and has a lot of historical significance. There's an art print series that's based on it. In any case, my teacher had done that trip with someone before because it's a trip that people just take either walking or biking. And my friend convinced him to take us on it. I don't know how he got the approvals for it, but he basically took us, a bunch of 15 year olds, across the country for two weeks on bikes, 400 miles.
Charlene Atlas:
That was really, I think, a turning point in my life because I had never biked more than a block before, then I had to bike 400 miles. So it was important for me and then also honestly to help my relationship with my father. Because my father was like, "You can't do this." After the first practice ride, I was collapsing into his car. He drove a cab at the time, so I get in the back of his cab and I'm like, "My legs." And we've only gone like four miles and he's like, "You can't go to Japan, you're going to hold people back." All of this, he's saying all this stuff.
Charlene Atlas:
But then we came back and my teacher told them how well I did. We did tons of practice rides basically before we went. So I got so much better and my teacher was like, "Hey, she really can do this." My teacher, Mr. Suison, I can't thank him enough. He really convinced my dad and showed him she can do these things. And ever since then, he's behind me 100% for anything that I do, including when I said I needed to go across the country to USC. So that was helpful.
Maurice Cherry:
Wow, that's quite an experience. I'd imagine that really builds fortitude, especially in high school.
Charlene Atlas:
And it's pretty hilly at certain parts. Have you ever seen those Japanese prints with the huge mountain? It's extreme in the picture, but we were on that thing. So it was pretty hard, but I really of tried to push through. Around that time, Eminem's Lose Yourself song was popular. And so I was just repeating that in my head like, "This is your shot. Come on, this is your opportunity." I'm just trying to get through.
Maurice Cherry:
Sounds like a Gatorade commercial or something.
Charlene Atlas:
Yeah, yeah, yeah. It's really helped me, I always feel like I can do anything.
Maurice Cherry:
And of course, as I did my research for the interview and saw you had a lot of great experiences in college. I can imagine even just doing the band is a lot, with all of the different appearances that you had to do. But studying abroad. One thing that I mentioned before we started recording is that you interned at NASA in college. I interned at two NASA facilities in college as well. What was your internship experience like there?
Charlene Atlas:
Actually my internship was during high school. So my high school, that I mentioned Ellen Roosevelt, it had, as part of the science and tech magnet program that I was in, you had to do a senior project. And you could do it either as your own project or as an internship. And fortunately, right next to my school is NASA Goddard Space Flight Center. So I was able to do a computer science internship there, that was really cool. I've always loved space, and so it was great to work there. I worked in the cryogenics lab. And basically what they do is they reduce the temperature on sensors. It's a technology for reducing temperature on sensors so that they can be sensitive enough to receive what the sensors need to receive from space. So the intention is that these things would be sent out into space and they need to be kept cold enough to do their job basically.
Charlene Atlas:
So the project was to… They had this program running their machine, their cryo machine, and it was called a, what was it called? It's a very long name, it was like adiabatic demagnetization refrigerators or something like that. They were running this program on it, but it was super slow. So my project was to rewrite it all in LabVIEW, which is this sciencey way of doing programming, a visual programming language. I think they were using, I forgot what they were using before, but… So I rewrote it and it worked a lot faster and they were so happy. It was supposed to actually get sent to space, but then all of the funding got pulled. I think something about George Bush happened and then all the funding was pulled for all of their stuff. But that almost got to go to space. But later on, a holo lens was sent into space with some of my work on it. So I feel like I've been vindicated there.
Maurice Cherry:
Oh, that's so interesting. When I interned at NASA in college, I did two internships. I did one at AMS, which is out in Moffett Field near Mountain View. What was interesting is I interned there and it was around the… I think when I got there, first of all, it was my first time in California, but I got there and I remember people on the NASA campus where buzzing about this new search engine called Google, have you heard of it? I remember all of that because it was right around, it was summer in 2000. And people were really buzzing about this new, yes, this new thing it's down in Mountain View called Google or something like that.
Maurice Cherry:
Then I did Marshall Space Flight Center in Normal, Alabama, my junior year. But then they also pulled the funding for our program because 911 happened. So they pulled it and then the funding went towards Homeland Security. So the goal initially was oh, you intern at these two places. And then when you graduate you're set up to work for NASA, that was what I was going to do. But then they pulled the funding and it's like, well, sorry, good luck. I'm trying to find something now. So that's interesting that that ended up happening or a similar thing. I don't know, maybe this might have coincided around the same time, I don't know. That's really interesting.
Charlene Atlas:
Because I graduated around, let's see, 2005 or something. So maybe, I don't know. But I think probably it's likely that projects funding gets pulled all the time maybe.
Maurice Cherry:
Yeah, that's true.
Charlene Atlas:
[crosstalk 00:31:35].
Maurice Cherry:
There's one thing that NASA is really known for, is not getting a lot of funding. So that makes sense actually. While you were in college, you got a chance to intern at a gaming company, Electronic Arts. Was that your first foray into really working on games in that way?
Charlene Atlas:
Yeah, it was great. I went down to San Francisco area, worked at Electronic Arts. And yeah, it was my first gaming company job. So I was a software quality assurance test intern. So basically testing the game, creating automation, and doing programming for testing the game and improving the quality. It was really fun, I worked on, let's see, I think I worked on SimAnimals on the Wii, and a little bit on Dante's Inferno. It was a great experience to get that chance. I guess a similar situation what you just described, they were going to hire me full time. They were saying like, "Oh, we'll come back to you and hire full time." But then they froze hiring. So it was another thing where I felt like, oh, maybe I'll work here, this will be where I work, but then it didn't work out.
Maurice Cherry:
It's interesting how that stuff ends up happening in college. And then for me, I had to scramble and find oh, well what's going to be the thing that I end up doing? Because I was in school on a certain path like, yeah, I'm going to go this way, and then you get this big curve ball thrown at you. In your case though, you ended up getting hired by a pretty big tech company right around the time you graduated is that right?
Charlene Atlas:
Microsoft came to our campus, came to what we call the game pipe laboratory in the games major and talked with us and asked me if I would come interview. So I ended up working at Microsoft as a software development engineer in test or an STET, which is a role that they don't have anymore. But basically the role, how they describe it, is that you are the last line of defense for the user in terms of the game. So working on Xbox, working on the Connect game. So connect is the first motion controller, if you remember it, of basically you could use your whole body to control the game. And so worked on the launch titles for that as my first work there.
Charlene Atlas:
And then while I was there, we started working on HoloLens. So HoloLens started and it was a pretty nascent project when I got involved, to the point that the test team was basically the only people who could run the demos. So I was involved in a lot of high level demos, just making sure things would go right and all of that. The HoloLens is basically a headset mixed reality computer. So while I was working on HoloLens, I actually switched to design, and I can get into that story if you want. But yeah, Microsoft was my first corporate gig.
Maurice Cherry:
Let's talk about that because you were there for a little over eight years. So you had a long time to really settle into the work that you were doing. But you started out, as you mentioned, in engineering, you started out in engineering and then you transitioned to design, what brought that shift about?
Charlene Atlas:
So as I mentioned, the test role was advertised as you're there to protect the consumer, you're their advocate. Then while I was on HoloLens supporting HoloLens, my test team was assigned to the studio that had a really great design design team, and I started learning more about design. Also around this time, one of the creative directors in the org started posting pages from universal principles of design in the bathrooms for some reason, in the bathroom stalls. I was like, "What is this?" This is the most interesting thing I've ever read. Because if you know that book basically each page, you can learn this whole, a principle of design and how it's shown in the real world. I was like, "This is amazing, what is it?" So a few things came together there.
Charlene Atlas:
I had also been looking into, how long do I want to stay in test? I started literally going around interviewing people who had been in the test field for 20 years to see, what are you all working on? I want to be you someday. And then after talking to them, I was like, "Oh, I don't want to do that." That's what I'm doing now, but just on a bigger scope project. So all of these things came together and I just talked to my manager and I was like, "I think I want to switch design." I talked to the creative director for the studio we were supporting about and he started giving me some tasks to do and I did well with those. I had been helping one of the designers with user tests. So having people come in and try out the application. And we started this list of metrics for how much people were enjoying it. And I really loved seeing those metrics like go up.
Charlene Atlas:
I was supposed to be in charge of putting in code into the build to collect data on how things were going, filing bugs, all of this. But I was like, "Who cares about the bugs if it's not fun?" So I realized that I cared more about, and I always have cared about experience. But apparently at this moment I was like, "Oh, design is the one, this field design is the thing that I thought I was doing or that is accomplishing the goal that I actually have of making an experience for people that matters, that they feel, and that they have fun." So they gave me a chance. And funnily enough, the creative director, he said part of the reason he gave me a chance was because I'm a musician. So he knew that I had at least some creativity.
Maurice Cherry:
Oh, interesting.
Charlene Atlas:
So I was like, "Oh, I'm glad I did that." I guess, do music my whole life. So I interviewed and then I haven't looked back. So that was back in… Basically I'd been in test for about four years and then 2015 or so is when I switched to design. So I got to work on the launch experiences for HoloLens and then go on to work on incubation projects and windows before I came to Meta.
Maurice Cherry:
That's interesting how something that you were doing as a, I don't know if I would necessarily say it's a hobby, but like another interest of yours, music, ended up being in a way this entry point for you into design. Which I think hopefully for people that are listening, illustrates how important it can be to be well rounded when it comes to the work that you do. It's one thing, of course, to focus on what it is that you know, but then if you have these other interests, they can often guide you in many different ways. Like growing up, when you mentioned the science and tech stuff, I was captain of the maths leagues in high school, I majored in math in college, and I was also a musician. You mentioned musician, I was a session musician in my 20s and stuff like that.
Maurice Cherry:
It's interesting how eventually design ended up becoming my career, because I didn't want to be a math teacher. I liked math, I didn't like it that much to go and teach it. But I certainly liked it enough to get a degree in it, which that's probably a whole other story. But it's interesting how those other parts of yourself or those other interests and things that you have contributes or can contribute to other opportunities and things that you can pursue.
Charlene Atlas:
And that's actually what I've always loved about game development because games are something where it's a mixture of art and science. So I've always wanted to make sure I had a lot of interest and things I could pull from to create in my game development. Then I also feel like both music and design are about making people feel something. My approach to design is that I think of this magic moment of, what is this feeling I want to have someone experience by using this prototype or using this thing someday when it's a product? What is that feeling I want them to have either in what they're trying to do or connecting with someone else in this? Music is like that too, where you can make someone feel something. So I think it's a really interesting connection that they have.
Maurice Cherry:
Now, what are you excited about at the moment? This is probably a vague question considering what you're doing with Meta and all of that. But what's the thing that's really exciting you right now?
Charlene Atlas:
Like the group that I'm in at work, an interaction design group that I talked about earlier, I think we really have an opportunity. And I think we're go going down some really interesting pathways as to, how do we actually move forward? Like I said at the beginning, how do we move away from how we do computing right now? So I'm really excited about some things that we've released publicly recently on our tech blog about our tenure vision for AR and about some of the things we were building such as a haptic glove for being able to actually feel virtual objects, to wrist based interfaces that can be controlled by EMG or electromyography in your wrists so that you can do very simple interactions. So I think it's just a really big opportunity we have to finally, after decades of doing things one way with computing, of keyboard and mouse and standard way of doing things, we actually have an opportunity to really improve just how we do things in general. So I'm just really excited to be a part of that.
Maurice Cherry:
Now, your career to date, just one, going through what we've discuss so far, has been super prolific working for Microsoft, working for Electronic Arts, and even all of your other activities with music and going to Japan and everything like that. As you look back at your career, who are some of the people that have like really stood out and have helped you as mentors?
Charlene Atlas:
What's interesting, I've touched on some of them in this talk, which I guess is saying something. My teacher back in high school, Mr. Suison, who took us on that trip. He didn't have to…. I assume he took on a lot of risk taking a group of teenagers across a foreign land. But that really helped develop me as a person and define me for a long time, so I really appreciate that. I mentioned that person who took a chance on me, Cameron brown. So the first creative director I had who hired me as a designer, and he really took a chance. I think there's a lot of times in our lives when people just…
Charlene Atlas:
If you make the right connections, people will give you an opportunity that if you take that opportunity, it really can change the course of your life. I really appreciate being able to do this design work from that opportunity because it really is aligned with just how I think about how I want to make an impact in this world. So I really appreciate everyone who's contributed to that. And really takes a lot of people over a long period of time to get us all to where we are right now.
Maurice Cherry:
If there's someone that's out there that's listened to your story and they want to follow in your footsteps, what advice would you give them?
Charlene Atlas:
Well, as far as following my footsteps, I think it's really important to figure out what makes you excited and what makes you feel passion for what you're doing. One of the things that got me the Microsoft job, I learned at some point, was that they really wanted me make sure I show the passion for what I'm doing. They gave me advice through the different rounds of like, "Make sure you show that your passionate for what you're doing." Because that really will drive everything you do after that, and so that's what I focus on. I just focus on wanting to make… What is the impact I want to make? And how can I do that? And how can each day go towards that?
Charlene Atlas:
As far as getting into this field, the AR/VR field it's surprisingly easy these days to really jump in and learn things. There's Unity game engine for building experiences. For example, we actually have a program called Oculus Launchpad. So promising VR creators from underrepresented backgrounds, we actually give support to them to build experiences, put their products out there. So there's a lot of resources at Meta for people to get involved. But there's also just a lot out online. Spark AR that I mentioned, build something. So like in general, I would say figure out what your passion is and then actually start just doing something, bias towards action. So if you have an idea, build that idea. If you don't know how to do it, figure out how to do it. There's just so much you learn from just trying to build something. Because if you just try to learn a topic without actually building something, you're going to be missing out on a lot.
Maurice Cherry:
What do you think you would have went into if you didn't go into tech?
Charlene Atlas:
It's interesting. I feel like depending on which point of my life we're talking about, I think it would've been different. So I've always loved space, so sometimes I think about maybe even someday in the future, working more in the space field. I just really love the idea of humans going to another planet and all that. I don't know how I would contribute necessarily at this point. But I just love that idea. Also with the interest in Japan, which stemmed from my interest in video games initially, I sometimes think about, I could have gone into, of course, with the other major, I could have gone into translation or being maybe a Japanese teacher. But probably if I was going to go down that path, I'd probably go into translation because I really loved the idea of helping people connect.
Charlene Atlas:
And that was one of the biggest things I learned from my exchange experience. Was when we would have students come visit us or we would visit them, we were all just high school students, we were all silly laughing high school students, even though we were from different countries and spoke different languages. That's something I learned really early on about people, that we're not as different as we think. So I love that idea of helping other people communicate between each other, even if they're speaking a different language. So just in general, anything that involves connecting people is something that I would go into.
Charlene Atlas:
And I'll just also say AR, VR, augmented reality, one of the things that excites me so much about it is this idea of being able to be present with people, like I talked about earlier. Basically I feel like AR, VR is the next best thing to teleportation. So I wish I could teleport to go see my family or go to places I haven't been in a long time. But I feel like I'm working on the next best thing. So I guess also if teleportation ever becomes a thing, I would definitely work on that.
Maurice Cherry:
It's interesting you mentioned that about space because one, space is super, super interesting. But like right now, I feel like there's this whole thing around governance of space. Because no one owns space, it's space, nobody owns space. But you have the international space station, you have other countries that have launched satellites and things like that. And there's tons of space junk just orbiting the planet or in the planet's fairly low orbit or something like that. And it's like there's no real governance around space or cleaning up space, I mean space in terms of just what's around the earth and stuff.
Maurice Cherry:
Because there have been some times I think this year where a couple of people were talking about, "Well, how come we can't just take all the planet's garbage and launch it into space?" I'm like, "That's ridiculous." If you think about it on a logistical level, humans create a lot of waste. Do you know how much time that's going to take, how much fuel that's going to take? And like just dumping it in space doesn't solve the problem. Anyway, space is infinitely interesting. And I do feel there are a lot of opportunities there even with the whole new Space Force thing. But from research capability, certainly with other planets and things. But if earth is our home, which it is, then our yard is filthy, there's toys and stuff, it's a mess. So maybe, I don't know, focus on that, I don't know. But that's a whole other thing.
Charlene Atlas:
I think space exploration and the work that we do on augmented reality, virtual reality relate in that there's a lot of uncharted territory. That's one of the things that make it really exciting right about space, is like, who knows what's out there? We got to get there, we got to see stuff. And that's what my group does. Is we got to go out there and figure this out. Because basically every day there's a long list of unknowns that we're dealing with and it's just a very high ambiguity space. So honestly, it can be frustrating sometimes. But it's also exciting because the potential for what we can learn is just so huge. And that's what I like about both of those areas.
Maurice Cherry:
High ambiguity spaces are a lot of fun because you then really get to carve out what you want to do and figure things out. The fact that nothing is really concrete means that you can do what you want, but also establish rules and things. So I like working in those spaces, it's really fun. Where do you see yourself in the next five years? I think just based on the work that you're doing, of course, it's going to be future focus. But if you really could look into 2026, I think two, five, six, what kind of work do you see yourself doing or what work do you want to do?
Charlene Atlas:
Like I said, we work in the five to 10 year timeframe. And so I'm hoping that five years from now, we'll be in a place where some of the things we're working on have landed or we've figured out what we shouldn't be doing. I just really want to be helping us get to that place where things are getting more defined and we've landed in a good place. So right now, I… So I'm an individual contributor, I don't manage any people, but I do drive a lot of, what we call, cross group collaborations. Like you have an idea and you can drive it with a lot of different people.
Charlene Atlas:
So I would love to keep doing that work but at a greater scope. And just really helps carve out the strategy for how are we actually going to land this thing? Because even once we've figure out a lot of things like, "oh, we figured it out," we have something in the lab that works, is great. But then it's like, okay, now we really have the work do of how do we actually transfer it to something that people could actually use? So I think five years down the line, I'd love to be a leader in the organization that's helping to find some major piece of this future we're trying to create.
Maurice Cherry:
Well, just to wrap things up here, where can our audience find out more information about you, about your work, all of that? Where can they find that online?
Charlene Atlas:
You can go to charleneatlas.com and on there you can also find the link to my LinkedIn. Definitely hit me up if you're interested in working in Reality Labs. Also the tech.fb.com, the Tech Facebook blog has a lot of our latest research information posts.
Maurice Cherry:
Sounds good. Well, Charlene Atlas, I want to thank you so, so much for coming on the show. As I was doing my research for all this, and I mentioned to you before that I'm going to this metaverse conference thing tomorrow, that I'm super excited about. But as I was putting all this together and really just digging into your background, you have accomplished so much. It's mind boggling to see the work that you're doing now, and because it's such an uncharted space. I hope that people will get a sense of your passion for this, as you've mentioned before, about people being passionate about this. I hope people get a sense of what your passion is for this. And hopefully that can fuel them to see what new possibilities might be out there for them, especially as we embark upon a new year. So thank you so much for coming on the show. I appreciate it.
Charlene Atlas:
Thank you so much, Maurice. It was great talking to you.
Brevity & Wit is a strategy and design firm committed to designing a more inclusive and equitable world.
We accomplish this through graphic design, presentations and workshops around I-D-E-A: inclusion, diversity, equity, and accessibility.
If you're curious to learn how to combine a passion for I-D-E-A with design, check us out at brevityandwit.com.
Brevity & Wit — creative excellence without the grind.