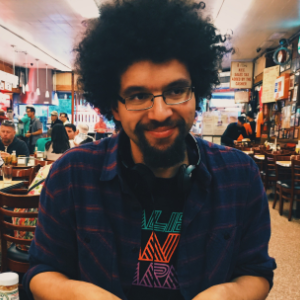 Games are an integral part of our society, and not I'm not just talking about Nintendo, Xbox, or PlayStation. Games are culture, and this week's guest — Shawn Alexander Allen — has dedicated himself to getting people to think about games as more than just a leisure activity.
Shawn and his family recently moved to Atlanta, so he spoke about getting adjusted to the new location and getting into a groove with work through his studio, NuChallenger. We also talked about his critically acclaimed video game, Treachery in Beatdown City, and Shawn shared his origin story of growing up in NYC, working at Rockstar Games, and a lot more. Shawn is ready for a revolution, and I'm interested to see what he has in store for the future!
Transcript
Full Transcript
Maurice Cherry:
All right. So tell us who you are and what you do.
Shawn Alexander Allen:
Hey, my name is Shawn Alexander Allen and I currently make video games for a living, I guess. I make a lot of things, but video games are basically what my company does.
Maurice Cherry:
How's the year been going so far?
Shawn Alexander Allen:
Yeah, it's been a wild year. A lot of stuff from the last two years just all hit in 2022. One thing being COVID, the thing that we've been trying to run away from. My wife and I got it from my kid at daycare and we have a lot of my wife's… A lot of our family lives down here. We've been basically in a bunker in this house looking at people through windows and gates and once we got COVID, it was post vaccine for us. I don't know, it pulled the bandaid off a little bit. So we go to family gatherings more and we go out more. And I've been traveling again, going to games conferences and stuff. Definitely with masks. I think I'm still being treated like I'm crazy by a lot of people. Even doctor's offices where no one's wearing masks, but still wearing masks.
And then on a better level… I mean, that was really good for mental health actually was being able to get out, see, just go back to games events, go to new games events, hang out with people who I've gotten to know better over the last two years on the internet. And finally getting to see each other in person. I got to see my business partner in person, actually both of my business partners meet one of them in person for the first time and see my other business partner who I've known for 26 years, got to come stay with me in Atlanta. That also leads to the fact that after two years of negotiation, we were able to get investment in my company, NuChallenger, which allowed me to leave my day job. And so I've just been able to focus a lot more on things that I love and less on corporate game development.
Maurice Cherry:
Well, let's jump into NuChallenger. Talk to me about your studio and talk to me about the game Treachery in Beatdown City. I know they're pretty closely linked.
Shawn Alexander Allen:
For NuChallenger, we like to say that… We say we making publish dope games and comp culture and I think younger me, I don't actually know what younger me would've wanted out of a games company, but as I get older, I started working on this game Treachery in Beatdown City 10-ish years ago, maybe earlier, and just in my thoughts trying to do an indie dev thing even probably 12 years is where my brain started really thinking about it. And so the purpose was games, but then I started looking at the industry and I started looking at just the world and… I don't know, having more space in my brain, being able to getting to meet Saul Williams' poet who I love person and talking to him about video games because he's interested in that and he's doing a comic book and all this other stuff and talking to comedians who like video games and they're interested in it.
And all these people that I really respect in other art forms, all being interested in what I do. A very formative conversation was when Saul introduced me to Vernon Reid, one of the best guitarists in the world, Living Colour. And he's like, "This is Shawn, he's a game designer with the most enthusiasm." And I'm like, "You're Saul, one of the greatest poets of the planet and you're Vernon Reid, one of the greatest guitarists, but also secretly a heavy sci-fi nerd." And the fact that we could then talk about video games after that really gave me this… A lot of these folks that I meet don't know what it takes to make video games and I don't know what it takes to make what they do. And I've wanted to make music and I write poetry from time to time and have been discouraged from doing it and doing more as an adult.
And comedy is something I love. And these are all Black art forms that there's been a whole lot of innovation in. And so what I want to do is be able to work with people from all these groups. So I think about even with Treachery in Beatdown City, one of the thing that came out before the game was a rap single for that we dropped with our launch trailer with Open Mike Eagle, like a rapper who started loving in 2015. We met at the Highline in Manhattan where Vernon Reid was actually funny enough, that was the second time I saw him in person. He was at a rap show again, that was… I kept looking at these intersections of interests and then getting to talk to Mike over years and being like, "Oh, Mike really likes video games." And it was like, "Okay. Cool. Let's see about making just a cool track that's like, it's a track, it's about a game."
Game is about more than just games because the last decade has shown me that who I am as a person isn't just as someone who plays video games. It's a lot of things. It's a game that deals with fascist police and stealing elections and all sorts of things. And so let's make a song about that and then let's release that song and let's do cool things that are transmedia I think is very important. And something that was really big in the [inaudible 00:09:08] and kind of died off, but you saw a Black Panther, they put out a Kendrick Lamar album with it and everybody loved both. So that's what we want to do with our studio. It's being led definitely by games because I don't think I want to make movies and there's no shame on just a people that are just game studios, but that's just not all that we do.
Maurice Cherry:
Well, tell me more about Treachery in Beatdown City.
Shawn Alexander Allen:
Yeah, Treachery in Beatdown City, so I'm from New York and originally biracial kid who grew up with a white mom looking different in a lot of different neighborhoods, always being harassed by people for that difference, being random person on the street, cops, whatever. And always having a lot of personal anxiety around the city in general, but also loving the city tremendously. I love New York. I love New York more than a lot of people do. There was a line from the last Black man in San Francisco where the main character says… Because people are saying, "I hate San Francisco" or something, and he says, "You can't hate a city unless you love it." And I feel that way about New York. Growing up in the city and growing up through one billionaire mayor that ran for three terms. One of them dubiously legally, fairly illegally. Or another mayor who threatened to kill the other mayor basically.
New York's just a wild place. A lot of cultures from there, a lot of cool stuff's from there. A lot of really bad stuff on corruptions there. So all in all, to say beat them up have always felt very interesting to me because they were always based in a Japanese retelling of post apocalyptic New York and other media around there. And we wanted to make our own game that was the New Yorker telling of post apocalyptic New York, which is now post Cold War New York essentially. And then, yeah, doing a funny… What if the president gets kidnapped? Except now it's based on a Black president and it's no longer complete fiction that there's a Black person as president. You get to fight these weird stand-ins for… Well, a lot of people that are just on the streets. The people that would shout at you, ask to touch your hair, all sorts of things.
You get to fight those people. It's like this catharsis that we always wanted to have. And also at the same time, again, loving comedy. I've loved Key & Peele for a very long time since both of them were on Mad TV even. And so their humor bled into the scheme. We call it a dark comedy tactical brawler in that it innovates a lot on the fighting stuff, but it also, it's dark humor, it's funny, but it's also… It's not really uplifting in a lot of ways. And that's also my way of being a comedy writer when I don't have time to do standup because I'm working on a game for 15 hours a day or more.
Maurice Cherry:
No, I know that's been the main game that you've worked on through the studio. Are there any sort of other projects that you've been working on through the studio?
Shawn Alexander Allen:
Yeah. So Treachery in Beatdown City, yeah, it started full-time, full-time when I was finally able to work on it. Because I used to work at Rockstar Games. That was my first job in the industry. Then I moved into Treachery in Beatdown City in July of 2012. And then over the last two years I've been pitching projects and pitching projects, pitching the idea of the studio just as a Black led studio that does cool culture working with the things I was saying, working with people from creators from other art forms. And so we have a two or three projects that are in various stages, but nothing that can really be talked about.
One thing is that everything that we talk while we do is NuChallenger's mission is to definitely focus on the oppressed and also focus on being able to subvert that oppression and also just to fight back. And one of the projects we're working on, I can just cryptically say it'll deal with boxing and I'm very excited about it because I love boxing games. I know lots of people do and I would love to make a really unique, but cool boxing game that makes a lot of Fight Night fans happy. Makes people who like stories happy as well.
Maurice Cherry:
Boxing game would be pretty cool.
Shawn Alexander Allen:
There's not enough. I stumbled on in the Punch-Out!! manual they talk about the dude who's with him said-
Maurice Cherry:
Doc Louis?
Shawn Alexander Allen:
Doc Louis, yeah. And they have a one sentence thing about how he was a champion or around the champion circuit in the '50s and I stopped and I was like, "Wait, wait, we need to know more about that." That really actually started making me think about just wanting to… Because, yeah, I love Punch-Out!!, I love Fight Night. Up until a certain point where the controls… Like Fight Night around three was I think the height of the games for me personally.
Maurice Cherry:
Well, I know we could definitely go more into video games and I want to definitely touch on your time at Rockstar because that sounds super interesting. But I'm curious, when you're coming up with a new game, what does that process look like?
Shawn Alexander Allen:
It's strange. It's interesting because it's a… Process is I think always different. 10 years ago I did not know what I was doing at all. And I think I had been working on this project. Actually 10 years ago, earlier in 2012, I had actually put out two smaller games with teams that were two to four people and those games were made in a weekend each, because they have these Gamejam things that are 48 hours, they could be six months long. Also, I worked on a few month long, Gamejam also once upon a time. But it really all depends who you have, what resources you have in those instances because in a Gamejam setting, you're just writing down stuff on a board and seeing what sticks and doing… I mean, I think in any game thing you want to have brainstorming, but when we are working on Treachery in Beatdown City, it was like I want to make a beat them up and playing a lot of beat them ups, writing down the things that I like, the things I didn't like.
Taking those things, putting them together, then trying to make something, make a prototype, fail, continue going. I think that's always something that no matter what you're doing with your games, you always want to try to get something that you can play to see if it's the idea that you have is working. You obviously don't want to polish something too much because if you work for months on something that you could get in within a week and in months later you've polished the thing before implementing it and then you implement it and it sucks, then you get it rid of it or you keep it because you sunken cost fallacy, you then are like, "Well, we got to keep it because we spent three months on it." Yeah, it's just all over the place. Right now, I'm sitting in Miro for one project just dragging art onto it because we're creating just a massive vision board of games, movies, people, our art styles, all sorts of things just to… And then I also cut together a hype reel that basically folks what we want the game to feel like.
And that would be something to stay internal and it would just get people hyped internally and say, "Oh, this is what you want to do. So we're working towards this." I don't know, every studio I think has their own ways of doing it. I'm always trying to learn. The next projects we're working on are the first time I'll be working on a bigger project for myself. And when I worked at Rockstar, I never got to start those games ever because they were already in process when they were handed to me. And when I worked at MLB, which I worked at for six months, a lot of stuff was usually in progress or they were such short deadlines that it's hard to even tell somebody like, "Hey, here's how you make a video game in three months", that where you already have existing tech and have to staple stuff over it. It changes constantly.
Maurice Cherry:
So it sounds like though, at least part of that beginning process is just setting the mood, setting the motif for the game. Because it sounds like, as you were saying, you're like dragging stuff in the mirror. It sounds like you're making a mood board almost.
Shawn Alexander Allen:
Yeah. It's something that a friend of mine who's designing a game, he's designing a lot of it in Muro actually. And so that's a new thing that I learned this year. I'm learning to model my stuff after studios that are successful. I have a whiteboard in the corner. Yeah, I mean, my whole thing right now is I'm working to try to get small bits of the game put together and then we're going to put them all together when we know that they're working. Especially when you're trying to pitch a project, it's all about de-risking.
It's like getting a good piece of concept art ahead of time could be better than even getting a broken build because if you could sell the game then you can make the game and that's the… I don't know, there's a chicken and egg issue sometimes. And that's actually been something that the games issue's been trying to fix is that people need money to make prototypes, but they don't want to give money to make prototypes. So that's something that's new. But yeah. And so for me, yeah, I'm just learning because I have these several projects and they're all have different paths ahead of them.
Maurice Cherry:
I'm really curious about what the process is like because I know that we've got listeners that probably have thought about making their own video games. We've had other video game designers that have been on the show. I've even had ideas for video games, but I feel like it does involve probably a lot of programming. I mean, are you doing the programming as well or do you have a team to do that?
Shawn Alexander Allen:
Yeah, I'm right now working with a team of folks doing programming. I've wanted to program, but it always puts me to sleep every time I try to learn anything. The most I really know is I can code html in notepad. That's the most code I really know.
Maurice Cherry:
Okay. No, I was just curious on what that whole process looks like. I've had an idea in my mind for a long time, probably much longer than it needs to be for… I've had a fighting game idea, but I've also recently started with a role playing game idea and I saw this artist, this guy he used to work for Buzzfeed, his name is… Oh, it's escaping me. No, his name is Adam Ellis. He started this on Instagram where he was making these character sketches for essentially a role playing game that never existed. He made these characters and these debuff items and bosses and all this sort of stuff, right? And then turned around and turned it into a book.
So the book is sort of a strategy guide, it's called Fever Knights, but the game doesn't exist. And I got the book, I was like, this is really cool. I really like how he sets the setting and the characters and the story progression or as much of a story as you can probably piece together from all those elements. But it's not a game, it's a game that doesn't exist. But I feel like it has the elements that could become a game. I don't know if it ever will be a game, but I just thought that was really cool.
Shawn Alexander Allen:
Yeah. I mean, the ways that I've been able to actually do anything is the first "lines of code" for Treachery in Beatdown City was, I was getting frustrated because the person who ended up becoming the lead programmer in the game, we were just not working for any money at the time and I kept being like, "So when are you going to start putting stuff in the game?" And one day I just said, "Screw it." And I booted up Game Maker because this was 10-ish years ago and I just put a Sprite in and you can get a Sprite walking around and animating pretty quickly in Game Maker. So if you have ideas, that's a thing you can definitely do. I had to do a ton of UI design, all those things and that was the last bit I ever did also because as soon as I did that, it got a fire under his butt to start.
I said, "Oh, if I don't start on this, then Shawn is going to just keep going without me." And I'm like, "That is absolutely not true because I would fall asleep, I think I would die under pressure of trying to code and do all the art in a fighting game." I've seen fighting games from all sorts of levels. There's a really good that requires. I mean, there's a… How I think double helix pitched killer instinct to Microsoft when they wanted to make the New Killer Instinct. They had just made one character that could play against themselves with barely any animation and they had to, but they did have to do probably a lot of code to make sure that everything felt good. They focused purely on feel. It was all gray models for on gray backgrounds. And then the hard part comes from then building out all the characters, but getting that little prototype that they had was fun.
So that was why Microsoft was like, "Oh, cool, you were able to get the feeling of killer instinct, but with 3D models." So we want to do that. That there's a famous story for Street Fighter 4 actually, where it used to not have 2D hip boxes and the team was confused why it didn't feel good and they put it in 2D hip boxes and the whole game felt better. But it took hiring people who knew better to, so even big companies can forget how to do things. Yeah, like I said, everything comes from different paths. I feel like how did you start your game from 10 different teams? You'll get 10 different answers.
Maurice Cherry:
So the process is still… I don't know, it feels a little mysterious in that way then because everyone's working from their own base of experience it sounds like.
Shawn Alexander Allen:
Yeah. I mean, even a lot of video game stuff is, it's what I always talking about how information dissemination is one of the keys to unlocking the problems of there being not enough Black and other underinvested in peoples in the games industry is that there's no information on how to do a lot of things out there. I worked at MLB, I grew into a producer role there that I was hired to do because they just needed somebody to manage some stuff and also help out with a various other things. But I'm a game designer first and foremost. I ended up becoming a designer producer, but my job was always producer and I asked, we had four or five producers and I asked all of them what being a producer was and none of them could answer be the same way. And I'm like, "We all have the same job apparently."
But some people would be like, "Oh, a producer, good producer plays the game all the time and gives no to the team." And some producer's like, "No, you really got to be good about the time." And even in Japan, the term producer is different than it is in America. So there's game planner, there's game director, there's like all these words that might mean something slightly different depending. I've had people explain job postings to me as being not as complicated as they list them. And someone tells me, "Yeah, you should apply even if you don't have this skill." And then I'd interview for their… Like, "Yeah, but you don't have that thing that we asked you for." I was like, "What is going on here?" So there is a lot of mystery there and that's I think a key thing that we need to figure out. Because you know what a best boy is, what a key grip is, what a director on a movie is, what executive producers are like.
Executive producers don't really have any weigh in on the final edit the editor does. Usually those are discrete things, but in the industry the executive producer could walk over to you and be like, I want this to be different. Yeah, I think we need more definition, more transparency. Everything's just in opaque soup over here.
Maurice Cherry:
Let's switch gears here a little bit. You mentioned when talking about Treachery in Beatdown City, that you are from New York. You grew up in New York and I see that you went to SVA and you majored in graphic design, dynamic media and 3D rendering in animation. How was your time there? Do you feel like it sort of prepped you for getting working into video games?
Shawn Alexander Allen:
Yes and no. When I was in high school I decided I wanted to be in games. I was working on comics, I'd been working on comics my whole life. I always was interested in music, but music always seemed to be a dead end where… I don't know, I just couldn't figure out how to get in or I couldn't figure out how to get over my own stage fright to try to, I played piano as a kid and then didn't get a right scholarship, so then I just stopped doing it. And comics sustained me through high school. But I remember a career person asking me, "What are you going to do in five years?" And I was like 15. I was like, "I'm going to be working on games." And they were like, "Well, what happens if you don't do that?" And I was like, "I'm going to be working on games."
And so it just locked it in my brain. And so then I guess spent a lot of time trying to figure out how to make games. And again, the information thing there… I mean, it was a lot harder to do back then. There weren't Unity and Game Maker and Construct and Scratch. There's so many engines that you could just pick up and go make something with. Now all you had back then was RPG maker on PlayStation and I ain't known a PlayStation until a PS2 in 2000. So going into SVA… Something about SVA, I think I've been doing art my whole life because I wanted to. And then I hit SVA and with all those, I clashed heavily with the pretentious art weirdos that I had a couple of friends there. But also I lived very close to school. I was very depressed from all my friends from high school going away to school elsewhere, everybody basic, like I went to Brooklyn Tech with 5,000 kids.
So my graduating class was like 1,500 people, 12,00 people, 1500 people. I think I legitimately knew 100 to 200 of those people and most of them all went away. It's a school. And so even one of my best friends from eighth grade also went to school at in Albany, New York. So I was like, "Ah, I'm all alone." The girlfriend that I followed to SVA, that's why I actually went to SVA was because she got accepted. She got actually told that Brett just didn't want her and that her work wasn't good. It was wild. So she went to SVA, I was like, "I'll do web design." So then I was like, "I'll go to graphic design, I guess I don't know what I want to do." And when I got into SVA, my creativity tanked. I stopped wanting to do anything creative whatsoever. And 2002 I finally got a job at the EB Games I'd been hanging out at and I've actually found hanging out at that store once all my friends left, I needed friends so I would be on message boards play like…
It's how I started playing Fire Pro Wrestling on the Dreamcast because it was an import. And I really got obsessed with that game, which actually then that game in turn helped me want to make video games because they actually would mod that game to make it in English, to give people new moves, all sorts of stuff. It was really cool. It was something that I was like, "Oh, you can do this even on a console." And just being at this game store meant I was always talking about game stuff and it made me think about the games that I played.
And so then I thought, "Oh, maybe I could get into games as a writer. So I started, I just kept writing and writing and writing until I started finally writing about what I liked about the games didn't like from… Which was from divorced from aesthetics, which was a bad idea at the time. But I was just like, "Do I like this part of the game? Do I not like this part of the game?" I was trying to ignore art and stuff like that, which again is hilarious since I'm an artist. But that's actually what got me more into wanting to make games, was talking to people about it daily, talking to customers about games, going home and then writing about them. That's what kept me living the idea of wanting to make games because art school made me want to not be an artist anymore.
Maurice Cherry:
I've heard that sentiment from folks before, not just specifically about SVA but about other art schools in general. They had all this promise and then there was something about the structure or the regiment or the attitude or the discrimination or whatever about the particular school that just sucked it out of them. That's what it sounds like. Sounds like that's what happened to you.
Shawn Alexander Allen:
Yeah, I think also just working, I had to work… I mean 2004, the first two years of school graphic design was a bust and I wanted to do animation, but computer animation was like, they talked about how sophomore year, which would be my 2004 because it would be my fourth year in school. But they basically made me go back a year. It actually made me go back two years in terms of what I had to learn to relearn a bunch of stuff for foundation year. And then the sophomore year they were like, "Yeah, you're going to have to take two majors on and figure out which one you want." Dynamic and 3D. So they said most people would just quit the school during that year. And this was a thing they told you in the interview and it was just like, "Yeah, you really did give me way too much work."
Classes are supposed to be three credits each so that you'd have five classes for 15 credits. In computer art they made you take three, two credit classes so that you had six credits and then a no credit class. So four classes to fit into two space of two classes to just jam. But that means you still have an extra six hours a week of class you have an extra six hours a week or 12 hours or more of homework. Yeah, just so when I'd be done working, I just want to play video games. I didn't want to do schoolwork, I just wanted to watch wrestling and stuff like that. I'd hang out with friends because also not being able to see people at school, not being able to have friends there, it was not being on a campus I think really was detrimental. But I also couldn't afford living at SVA and I lived 10 blocks away so couldn't justify it.
Maurice Cherry:
How did you get your start at Rockstar? Did that happen while you were at SVA or afterwards?
Shawn Alexander Allen:
That was interesting because I was eyeing jobs in my last year at school and there was a lot of stuff at a lot of different companies and I was like, "Oh cool", but I have this mental blocker where I can't apply for something until I know I will have the space for it. And so I waited until I graduated to start applying and everything had disappeared and then I was like, "Oh no, I'm going to be stuck as an assistant manager at GameStop." And because the games industry in New York is very small. I had a partner who had a kid, had my mom. I didn't want to move outside because outside, I had never really lived outside the city so I didn't know how to drive. I was like, I don't know how to find a games job and I'm not going to go move to somewhere with no skills or whatever to just go try to work somewhere.
So that summer I just kept refreshing all the websites. I saw PR job at Rockstar and I applied to it. I had two interviews and then nothing. And I kept asking, "Hey, what's going on?" And the guy, the first interview guy actually was like, "Yeah, I don't know either. I'm sorry, I can't help you." Turned out the whole department fell apart. I found this out after I was hired because of something that the global PR guy had said who actually he quit then that's why I couldn't get hired because the person who was supposed to hire me quit. So then Game Capture or Gameplay Capture showed up as I kept refreshing through the summer in September of 2007. And I think GTA four had just been delayed. It was supposed to come out in the fall and it had been delayed to the spring and they needed some folks to work on their trailers and they needed to fill that role quickly.
And I guess that's where I'll say the SVA thing did come in contact because I did actually have a decent thesis. I had to jury rig together this 2D slash 3D thesis, which just showed good camera use. And that was something that I think I just had inherently. Anyway, my teachers were all like, "How do you know how to do this? Other people don't really do it this well." So I don't know if Rockstar got me there, but I don't know if SVA got me to Rockstar. But it got me to make the thesis and I sent Rockstar storyboards that I had made for my… Actually because I had gotten failed in a class and I had to redo a thesis class. So I had two thesises that I had completely storyboarded out. So being able to hand over all the storyboards, the scripts that I had written, all sorts of stuff that apparently got me my job.
I interviewed for… I found out my salary at GameStop. The guy came because I was a few blocks away from Rockstar and he was able to just come down and be like, "Hey, we want to hire you, we just need to talk money." So then within a week and a half even, I think I was working at Rockstar.
Maurice Cherry:
And so if you could sum up that time, I know you were there for a good while, but I mean you helped with launching a lot of games. There are GTA 4, GTA 5, Red Dead Redemption, Max Payne 3, LA… I'm reading from your bio, if you could sum up that experience in a couple of words, how would you say it was for you?
Shawn Alexander Allen:
I mean, definitely complicated. I always say I wouldn't have stayed there if there wasn't anything good, but the amount of work you have to do wasn't tense. It was within two weeks of me working there that I was working seven days a week for a while. But I learned a lot. I didn't necessarily learn again things towards making my own video games, but I learned how to manage people better. I got to watch movies to learn better cinematography because there was a lot of good stuff there.
Also good friends, it's really cool to see those games from the inside out and know how that stuff. So if I ever get to make a AAA game at that level again, I'll be like, "Ah, I'm ready for this, because I've already worked on cut scenes of stuff that are 3D, big stuff." But it did help me, my trajectory also working at Rockstar, having Rockstar games cards, people are in awe of you for working there. Got me to have a conversation with Method Man at an E3 where he really actually, he bought a copy from Madden of Madden from me at EB Games one time and then many years later he had a show at E3. It was right after Red Dead came out and we got to talk about Red Dead Redemption, which is cool.
Maurice Cherry:
Nice. Now I had first learned about you from your Kickstarter campaign that you did for Treachery in Beatdown City back in 2014. I'd love to just know, I know you've had the genesis for the idea around that time, but I guess what drove you to start a Kickstarter campaign to try to get it off the ground?
Shawn Alexander Allen:
So the initial development of the game was built fairly off of either free time or severance/unemployment to be able to pay my bills. Because I've never existed in a space where I could just not pay myself. I needed to contribute something. Having gone to school and having student loans and everything and also having grown up in poverty, I didn't have… Savings wasn't a thing. My mom could not support me. I had been supporting my mom through my job at EB Games. Any job basically. Even after I moved out, I was still paying into internet. I got my mom internet, I got my mom, new computers, et cetera, et cetera because she could not afford any of that stuff. So I never had that luxury. That's one of those things you hear about indie games where they're like, "Ah man. And that person just worked for five years and then they put out the game and it was like, yeah, that need money to do that from somewhere."
And again, I was living with my former partner and her kid, so we all had mouths to feed still. And so leaving Rockstar, it was good because I was able to leave with some package that with some money and some unemployment because I could never just quit and leave with nothing. And then I had this PlayStation Mobile contract that there was an interest there that they had this where they were putting some money into alternative indies, I guess people who had alternative backgrounds in games. Because having a AAA background and then from Rockstar and then having this idea for this interesting beat him up was something they were interested in. It wasn't a lot of money they would give you, but it was something. And so that kicked in as my unemployment kicked out and after the six months and I was able to pay the programmer who was able to buy his own computer so that we could work together, which was a game changer in and of itself.
You know, don't think about the resources that you need. One of the game jams that we were at, we had to share a computer and that made it really hard to make a game when you had to keep handing each other the computer. So yeah, we didn't have a whole lot of resources. And PlayStation Mobile in 2014 we could tell was going belly up. I don't know, there's a lot of strife internally from what I could tell. And we knew New York just isn't a place where games are made a lot of times. It depends, it comes and goes. But I don't think I could have gotten a job in the games industry as again, a designer, non programmer. I'd have to find somebody who wanted to just hire me specifically for that.
So we had been working on this game for a while and yeah, end of December 2013, I was like, "What am I going to do?" I was really scared actually. And so I was like, "Yeah, we're going to do a Kickstarter." So I started getting to work and it was a few months of work to get the Kickstarter ready. The launch went really badly in that I didn't know they needed to vet your page.
I sent it in and then they were like, "Yeah, we'll get back to you." And I was like, "Oh no." So it threw off what your 30-day trajectory looks like. It was not even going to end during the week anymore. It's not going to end on a Saturday, which is not a good idea. I was very naive and I thought I'd built up enough of a fan base following of the game that and just of myself as a person in the games industry that we'd be able to be successful. But nothing went right. We weren't able to get videos recorded in time, we weren't able to. And I honestly should have just waited another month or so. But I was desperate. I was, again, coming from poverty, you come from a money is just constantly dripping away mindset. So I was just like, I need this money as soon as possible. And so I launched and you can tell.
Maurice Cherry:
Yeah, I was going to say, I know that the campaign wasn't successful, but I mean the way that you… And I understand where you're talking about it, I launched a Kickstarter campaign in 2011 that flopped hard. So I completely understand. I think also though just the climate around crowdfunding was not as, what's the word? I guess prevalent as it is now. When I started mine in 2011, a lot of people had no idea what Kickstarter was, what crowdfunding was, why should I give you money, that sort of thing. And I thought that I had a audience behind me that would be able to support what I was trying to do with my campaign and it just flopped. So I know what that's like. I know exactly what it is to go through that whole thing. You did end up starting another Kickstarter campaign, but I'm curious when it fell through, what was going through your mind? What drove you to keep continuing working on the game?
Shawn Alexander Allen:
I'm actually trying to remember. In video games, there were actually a bunch of successful Kickstarters. That was why we were like, "Ah, this is a place that we could go to." That was one of the burgeoning sides of it. People in my direct family still did not know how Kickstarter worked obviously, but you could see making millions of dollars on Kickstarter and I wasn't looking for that. But I think why I saw it as a possible path out and when it failed. So the last day, two days, Kickstarter were hilarious. Like I said, it got bumped to Saturday. That weekend was Game Developers Conference that year, so starting on the Monday. So it was failing on the Saturday before the Monday and the Friday before that. I never missed a plane. I missed my flight to San Francisco at 8:00 AM. I had to sit in JFK for 12 hours.
I was basically… Because I wasn't sleeping well that time either. So I basically just went to sleep in my lap and waited for my flight to finally show up. I think I went and found some food at some point and because I was fairly broke back then, I really would. I try to leverage my friend base to try to find somewhere to stay the first night or two before an event kicked off. So I didn't actually have anywhere to stay that night when I got to San Francisco. But when I landed in San Francisco and it was at night and a friend of mine was like, "Hey, you can come stay at my brother-in-law's apartment." It ended up being in a basement that had no cell reception. So it was actually perfect because I'd have to go outside to check what the internet was doing, what the Kickstarter was doing.
So I just had resided that it was going to end and I just turned on Archer on Netflix, on an Xbox and I went to sleep and I woke up and it was over. But it was really good to be there at Game Developers Conference because literally the next day there's this website, unwinnable.com where they write about games and they have all sorts of amazing great games writers there. I had written for them a couple of times. They write about personal stuff. Sometimes they just write cool music of the year lists and stuff.
But they used to rent a house for Game Developers Conference so that they could bring a bunch of writers and charge them based on how much they could pay. This is before Airbnb really. And I got to stay there the day, I think the Saturday after Saturday night after. Yeah, that was awesome because I got to just talk to these people who were like, "Oh man, I'm so sorry, I didn't know about this game was on Kickstarter, et cetera, et cetera, cetera." I just was around all these people were like, "Oh, this sounds amazing. What are you going to do?" People all very, very uplifting, very positive. It was the exact right place to be when something didn't succeed because I had so much support.
Maurice Cherry:
Yeah, it sounds like it. That's good. No, I feel like we've seen in the media over the past couple of years that game development can be a hostile environment. Do you have any thoughts about that?
Shawn Alexander Allen:
I mean, yeah, my thoughts mostly are that my wife used to work in non-profit stuff and I've seen her abused as much as I was. In terms of time and what people expect of you, it's more benign. I don't know, I think all industries suck. I always say like, "Well, let's look at the CG industry and how they farm it out to non-US countries a lot of time and then don't credit them and stiff them on money and stuff." The games industry's definitely got a lot of bad parts. It's got a lot of good parts. A lot of people want to keep focusing on the bad things and I mean there there's tons of hostility. It's absolutely true and that's why I don't give up. And I'm always trying to mentor folks on the side, introduce people, tell people who did a thing so that they can avoid that person.
I've been the victim of a lot of more, I guess insidious toxicity or just people smiling to your face and stabbing you in the back. People just not wanting to work with you after they screwed you over rather than them act or if you just complain about things, people not liking that. There's definitely an air of toxic positivity, which I think needs to be talked about a lot more because I don't know, there's an uroboros of people being like, "Why is the games industry, why are fans so toxic?" And then the industry, you look at 30 years of the industry being like, if you don't have the best form of hardware, then you're nothing. It's just like why you think, I think it's up to climate change. It's up to the big companies to really put money in to fix a lot of the stuff. I just try to do as best as I can by the people that I work with.
Maurice Cherry:
Ultimately, what do you want to accomplish as a game developer? Do you have a bigger goal or a bigger message?
Shawn Alexander Allen:
I'm an artist, so game development is the thing I use to do stuff. But yeah, I mean, I don't know, Treachery in Beatdown City is about how far will rich people go to take control over things. And it's a very timely thing. Every piece will be different. I mean, I also put out a little Twitter art piece a while ago that was being Black in America and it was using Mega Man Sprites, which evoked an interesting response from a lot of people on the internet. A lot of people being like, "Wow." And a lot of other people being like, "Well then they should just act right" and you see people showing up on themselves. Basically what I make is does exist to provoke a response a lot of the time, one way or the other. But again, I've released music with people.
I release board games, big video games, small video games. I think it's just who I am. It's how I think the term NuChallenger is funny that I stumble on it because I feel like my existence in the games industry is a challenge to the games industry. It's funny that EAAS was challenge everything and I'm like, we're one of the biggest companies in the industry. You don't challenge a whole lot of things clearly because you keep making the same matting game every year. Everything we do is going to be different, but definitely feel like something we're doing.
There was an article a long time ago that was looking for the Spike Lee of games and I don't think the article understood what the Spike Lee of games was. They were just seemingly looking for a Black person making video games. And I'm like, Spike Lee went and had to hustle a ton of people for money to make Malcolm X the movie. And it's a huge epic that has its flaws. It's an amazing, amazing movie that I'm so happy it exists. He's also made stuff that I don't ever want to see again, like BlacKkKlansman and because of its weird propaganda thing. So he's an artist. He's entitled to make Project to Project. That's how I think of myself and what we want to do.
Maurice Cherry:
So you don't think of yourself as a Spike Lee of games?
Shawn Alexander Allen:
I say I'm the Malcolm X of games.
Maurice Cherry:
Unpack that a little bit. What do you mean by that?
Shawn Alexander Allen:
Well, I mean, I don't know. I think of a lot of things, but I mean I provoke response from the games industry a lot. I mean, again, I've been fighting this fight. I think about having written that thing about having written a talk, how Urban Black and Latino cultures the next frontier of indie games nine years ago, taking months of researching and educating a ton of people in the industry about how it's very strange that if hip-hop was in parallel with video games and it's a very technical art, especially from the production standpoint, it doesn't make any sense. Actually other than that video games were so insular that it told people that they were not welcome basically to be in it. My whole thing is, and I provoke responses to people. I say things that are uncomfortable to people's faces. I'm trying to make the games industry better.
I'm trying to bring Black people together to make a bigger space for them so that people aren't always expecting Black people to make sad games about blackness. I don't know, I just want Black folks to be free in the games industry. That's a very important thing to me. I don't know about Spike Lee's intentions for movies. I know that NYU likes to parade him around. They're like, "See, we have a successful Black person who came from our program", I'm like, "Where are all the other Black directors?" I think of myself more along the… I want to work with Jordan Peele one day. I like Boots Riley. When I saw Sorry To Bother You, I was like, "Ah, this is along what I like to do. Yeah, I definitely wouldn't say I'm the Spike Lee again, but the Malcolm X or the Stokely Carmichael are more what I try to go for.
Maurice Cherry:
Okay. I was just curious. That's a powerful comparison. So I was just curious to know where that came from. For people who are listening to this who want to get into developing games, what would you recommend to them?
Shawn Alexander Allen:
It's always hard because I feel like every time I give people advice, they just want to hear advice to hear. They are hoping that the thing that they're doing is the thing that's right. And then they just move on. I've told so many parents how to do things for their kids and then they never do anything games. Well, I mean, I'd say don't be afraid because I mean, it's just like, don't take every game tutorial thing with, take a lot of them with a grain of salt. Don't sit in your head for too long. A lot of times I think trying to take a small game and just modify it. Can you turn a deck of cards into fighting game or something for the game? Corporate Vandals I worked on, it was like, can you take Tic tac toe and make that a graffiti tag warfare game?
Basically turf warfare game. And it doesn't take, It's really hard because people always tell me that I seem to have a knack for these things. And again, I guess the thing that really got me to the point that I'm at is I played a lot of games and I wrote down analysis about what I liked and did not. I feel like an opinion on things that you wouldn't have otherwise. And don't be afraid to be really harsh on big games because I feel like people tend to let big games off the hook more. And I'm like, we don't say Transformers is the pinnacle of movies. And that's what we say for video games a lot of time.
The biggest flashiest thing that makes absolutely no sense at the end of the day. And it's maybe a little ugly from an arts perspective, art design perspective, we're like, "Oh man, that gets a 10." And you're like, "What?" So look at that stuff. Look at that stuff. Look at small games, big games. See what overlaps, see what doesn't. I would say also read Rise of the Videogame Zinesters by Anna Anthropy. I really like that book a lot. And she's just very, very smart game designer.
Maurice Cherry:
What do you think you would've done if you didn't get into game development?
Shawn Alexander Allen:
That's always a hard one because like I said earlier, when I was a teenager, I decided this is what I was doing. Everyone tried to talk me out of it. It was weird. I don't know. As an artist, every time I try to think about my life without making video games, I'd come up with a blank. Because when I was working on my comics, the reason why I wanted to make games was because I wanted to have this old comic when I was 15 that I really wanted to turn into a thing where you could make real meaningful choices and then have these sprawling side things. And I had another game like that too, where I wanted to basically turn Crono, make Chrono Trigger, but make it 10 times as big. I always had these ideas about telling stories that go off in these different branching narratives, and as I make games now, I really love the mechanics of them.I mean, I think I wanted to make movies, but I had to work at a game company to learn that I liked movies. Strangely enough, I stopped liking comics. I don't know, my brain just doesn't have the attention for them anymore. I don't know why. The only comic I could read was, what was it? The Understanding Comics is the best comic that I can read. And it's funny because it's about comics and it's about sequential storytelling, but I can't read, I get bored of them. Even short comics very quickly nowadays. Even ones that I loved since I was a kid. So it's really hard. That's one of the, as someone on a funding landscape and seeing people saying, "Oh, X, Y, and Z is going to replace, X is going to make it really hard to do this, or people only want these types of games, or these people only want that and it's going to make it hard", puts me in a weird place.
And that's why I'm also very protective about the games industry as well, because I look at it as a place where art converges, I mean, I want to do hobbies when I am no longer doing a lot of this stuff in my free time. I was actually trying to gear up to do standup few years ago and then COVID happened. I've been trying to had a guitar for a while that I'm trying to learn. I want do those things, but I actually think I want to do those things and just practice them without the need to make money off of them. Because making video games for money be being a thing that I love tremendously for money and having to sell that art is very distressing in and of self. But yeah, I don't know. The path is, I hated graphic design. I mean, I love graphic design as an idea, but I hated it from a, I don't know if I could sell it because it changes so often. I guess I do apps, I have a bunch of app, I have a bunch of things, designs that I'd like to do. I'd really like to make a good dating app. But it also comes from game design.
Maurice Cherry:
Well that's where the dating apps are getting their behaviors from. I
Shawn Alexander Allen:
Think we need to onboard people in general for everything Twitter needs to onboard people. We need to have a little quest that you go on that's slightly hidden from the user so that they can somehow be tripped into learning that people are people on the internet and that they can't just be shouting at women that decide not to answer their texts and hiding messages. I don't know. All sorts of things that, as someone who met my partner on OkCupid, after a lot of digging through in A/B testing, profile pictures and length and this and that, and just figuring out what actually made people interested in me on a very quick interface. I want to make that better for other people. That's what I would do, I guess.
Maurice Cherry:
Where do you see yourself in the next five years? What work do you want to be doing?
Shawn Alexander Allen:
Really hoping that we're done with the project that I'm pitching now. I would like to be done with that before the next five years. So in the next four years I'd like to be done with that and have that in the world while making the other project that I've also been pitching. Those are the key things. I'd like to just be at home more or rather, I work from home so I'd rather be not. Because right now I'm just in this time space where I'm doing this update to treasury and beat Town city. So it's taking a lot of my time and I'd like to just be able to spend more time with my kid and my wife and hopefully have more of a feeling of Atlanta as a city since I've only been here for about less than two years now and just vibing out with musicians, maybe doing some music, doing some standup. I don't know. I just want to be able to be more creative and free I guess, if that makes sense.
Maurice Cherry:
Well, Atlanta's a good city for that. I mean in, I think you told me you were in Marietta, right? Yeah, yeah. Got to get out the suburbs, come into the city. Yeah. Yeah.
Shawn Alexander Allen:
Tickets to see Qualey Chris at 529, October. Him in push a fee like three days apart. So it's going to be, so two different experiences. I'm trying to go in as much as possible. It's exciting. But yeah, that's also the other thing is working all the time keeps me out here. I need to learn how to drive. We might need to buy another car because the car right now basically takes the baby to and from daycare, takes us to doctor's appointments and does grocery shopping and I can't drive to the city while my kid needs to be picked up. Right. We'll see. Yeah.
Maurice Cherry:
Well, just to wrap things up here, where can our audience find out more information about you and about your work and everything online?
Shawn Alexander Allen:
I have a site, it's a nuchallenger.com, N-U-C-H-A-L-L-E-N-G-E-R.com, where I'm trying to post stuff about the games. We'd love to update that more. beatdowncity.com is Treachery in Beatdown City. Twitter, ShawnDoubleA, S-H-A-W-N-D-O-U-B-L-E-A. That's where I just am on at beatdown_City on Twitter is where I do a lot of corporate ship posting. It's funny. I like it because I can actually be free there and post dumb fighting gay memes and stuff that I find funny that I don't feel uncomfortable posting to my eclectic group of artists and game important people.
I don't know. I have a strange Twitter following that. I'm like, Why do you follow me on Twitter? And I don't want to lose everybody. And also I've just been bullied so much over saying anything about being Black in games that I just stop arguing on that side. But I'm trying to get more things like this going like a podcast. I'm trying to, I want to work on a book at some point because I think it'll be important. I'm going to try to put out some video content too, because people keep telling me that I should be talking about more of these things and I'm just like, yeah, Time is the key limit there.
Maurice Cherry:
Yeah. Well, Shawn Alexander Allen, I want to thank you so much for coming on the show. Thank you for, I mean, one, just sharing your story of how you got into games and about the story with building treachery and Beat Down City. It sounds like this is something that of course you're really super committed to, of course doing this through your studio. So I'll be excited to see what comes next from you, what comes in the future. I know you mentioned before we were recording that there's a big update for Treachery in Beatdown City coming, so I'll make sure that we put links down in the show notes for the games and everything so people can check that out. But thank you so much for coming on the show. I appreciate it.
Shawn Alexander Allen:
Thank you very much.
Sponsored by Hover
Building your online brand has never been more important and that begins with your domain name. Show the online community who you are and what you're passionate about with Hover. With over 400+ domain name extensions to choose from, including all the classics and fun niche extensions, Hover is the only domain provider we use and trust.
Ready to get your own domain name? Go to hover.com/revisionpath and get 10% off your first purchase.