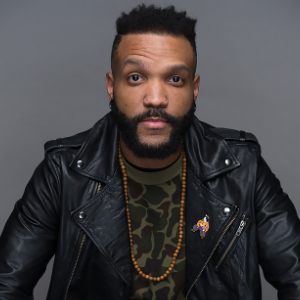 It's no secret that I'm a big fan of video games, so when I learned about Derrick Fields and Waking Oni Games from the Wholesome Direct Indie Game Showcase back in June, I had to have him on the show.
We talked about how 2021 has been going so far — a new gig and a new baby! — and he spoke on why he created his own gaming studio and gave some history behind the studio's first title: Onsen Master. Derrick also shared his inspiration behind getting into game programming, the indie gaming scene for underrepresented designers, and he gave some great advice for anyone looking to start making their own titles. If there's a video game out there that you would love to see, hopefully Derrick's story will inspire you to create it!
Transcript
Full Transcript
Maurice Cherry:
All right, so tell us who you are and what you do.
Derrick Fields:
My name is Derrick Fields. I'm the founder and studio director or game director of Waking Oni Games, also the assistant professor at Northwestern University, teaching 3D modeling and game design.
Maurice Cherry:
Nice. I'd ask how your 2021 has been so far, but I mean that sounds like a pretty big announcement right there, teaching at Northwestern. Congratulations.
Derrick Fields:
Thank you. 2021 has been a series of transitions. Formerly, before leaping into Northwestern this year, I was the lead artists over at Uplift Games which is responsible for a really popular Roblox game by the name of Adopt Me! And so it was a significant portion of my life being able to create a title that contributed to kids. But now, I get to teach some of those children in an academic setting and all the while working on games and creating projects for myself.
Maurice Cherry:
Nice. So I guess as you settle in to your new role, do you have any other plans that you might have had for the rest of this year?
Derrick Fields:
One is in the oven or I should say, I'm thinking of a pun that doesn't sound so morbid. I'm not sure like in the oven. The package is on the way. And my partner and I are expecting a little one in November and so it's been a lot of at home, nesting and preparation as we invite a small human into our lives or another small human into our lives, I should say.
Maurice Cherry:
Congratulations. Look at you.
Derrick Fields:
Thank you.
Maurice Cherry:
A new job, new human. 2021 sounds like it's your year.
Derrick Fields:
It has been my year. I am very thankful.
Maurice Cherry:
Tell me about the Northwestern gig. How did you get that?
Derrick Fields:
Sure. So through some work and prior to working at Uplift, I had always maintained doing some freelance work and working on side projects and other projects. It's like simultaneously balancing a lot of plates there. The one that came along was through a friend and colleague who was creating a grant-funded project out of Northwestern. And they were, at the time, the assistant professor who held the position. And so I have done some talks with him and his class and met some of the students to discuss aspects of game design and 3D modeling. And a little later on, this individual ended up leaving the position for another university out of state. And so I was very surprised to see an email arrived from Northwestern asking if I would be interested in interviewing for the position.
Derrick Fields:
And that's when I carried on the discussion with the same individual who was leaving the position. And he was very excited that they ended up reaching out off of this recommendation. And so from there, it was a lot of paperwork. I did a job talk which was new to me, which feels like giving a TED Talk to other teachers, faculty and students and to discuss the aspects of why I would enjoy teaching, what I hope to bring to the space and sharing bits about my past. And everything worked out for the better, so I'd be starting with them in September.
Maurice Cherry:
Nice. Is this your first foray into academia.
Derrick Fields:
I've always been on the periphery of the space doing other conversations. I've done some talks over at the University of Chicago in their Media and Arts Design Lab, I believe the name is. So yeah, always tangential to this space, but yeah, this will be the first time that I'll be responsible for my own class, my own syllabi and a handful of students in that capacity. Prior too, I am a board member of the Japanese Arts Foundation where, before we transitioned to this quarantine and pandemic state, I was teaching how to draw anime classes to people of all ages. And so education has always been a really important component. And so I've been very fortunate to be able to provide that in certain spaces and this really just became the crux of it all.
Maurice Cherry:
Very nice. That should be a really good gig. I don't know, forgive me for saying gig, I used to be a musician years ago, so I call every job a gig.
Derrick Fields:
Absolutely. I'd use that too.
Maurice Cherry:
But that should be a really good thing to settle into, especially because I remember just when I was in school 20+ years ago, goodness, this kind of stuff wasn't really taught. I didn't go to an art school. I just went to a regular liberal art school. I know now technology has allowed for so many different types of things to be taught. So it's really good that you're going to be able to teach this, because I would imagine, this is probably you passing that knowledge on from your own personal experience with 3D design.
Derrick Fields:
Absolutely, hopefully, being able to lens an avenue for students who are interested in that space and give them direct feedback based on my experience within the industry, I think is going to be really great and I'm excited to be able to share that.
Maurice Cherry:
Nice. Let's talk about Waking Oni Games. How did you decide to start your own studio? Where did that come from?
Derrick Fields:
Right. So I was, I think, definitely mid store at the beginning of some freelance work. And some years after, I'd say, I don't even know at this point, but definitely some time after, would be a more accurate description, some time after university and not finding the career placement that I wanted in games that I had grown to expect, I started mingling with other friends. And we got to brainstorming about what would it be like to create our own project and what type of experience could we get out of that just with limited resources. And at this time, it was just myself, my friend and a friend of his and so just the three of us, whom is now a very great friend of mine as well.
Derrick Fields:
The three of us, we were brainstorming, we played around and I said, "We should," so pausing real quick to rewind, just a tad, but Spirited Away, the Ghibli film directed by Hayao Miyazaki is one of my favorite movies and has left a lasting impression on me. And so I had always imagined what it might be like to play a game that takes place in an onsen or hot spring as what we might know it as. And so that was really the origin of the idea and the motivation to wanting to create something for myself. And so with that came the need to have an LLC formation and go through all the legalities to make sure that we can be eligible to receive various licenses and things like that. And so then Waking Oni Games was invented or generated.
Maurice Cherry:
So how long has it been since you started?
Derrick Fields:
It has existed, I would say, from the signing of legal documents for six or seven years and Onsen Master was a hobby project throughout that time period. And so it wasn't until two years ago, I believe, two almost three years ago that we decided to take that project and actually pursue it as something of an actual game, a game that we wanted to share with audiences, a game that we wanted to put up on Kickstarter for crowdfunding and see what the interest would be. And so very thankful that in September of the year that we did Kickstarter 2019, that it went successfully.
Maurice Cherry:
Nice.
Derrick Fields:
Thank you. Since then, we continued working, of course, maintaining full time jobs and any other commitments outside of that to get this game out to audiences that were interested in it.
Maurice Cherry:
Talk to me a little bit more about Onsen Master for those that might not be familiar with the concept, you mentioned as being hot springs. Talk to me about what the game is about.
Derrick Fields:
Sure. I'll say I can't explain it without getting past the elevator pitch part. So it's a hot spring strategy game about healing. You play as a character who has been tasked with managing their own bath house, their own hot spring. And that managing component comes by way of various customers who will arrive to your hot spring. And they each have a different ingredient that they desire. And so it is your job as the player to sort them into one of four baths that are located in the hot spring, locating the ingredient that matches to their needs and then mixing it up and tossing it in there with them. And so you play this mix and match game while moving through different environments that may change in scale or layout.
Maurice Cherry:
So it sounds like it can also be partially educational as well because I'm assuming this is based off of how onsens actually operate.
Derrick Fields:
In a very broad stroke, some details are true, some details are not. I would say there isn't the component of somebody procuring an ingredient for you and lofting out into the bath. What is true to reality is that when you go to an onsen, a hot spring is a naturally heated water and there are many towns and prefectures in Japan, across Japan that have onsen and bathhouses that are, I should say, sento. So there's a difference there. Sento or bathhouse is artificially heated and onsen or hot spring is naturally heated. And so it's like small detail. So those are the types of things that really what I hope players will get other experiences that when they play Onsen Master, I hope that it will spark interest in wanting to find out what real onsen like or what real sento are like and learn about those.
Derrick Fields:
Another component in the game that I hope will spark interest in players is, as you're playing through the game, you're visited by these spirits called yokai. And they are essentially personifications of the unexplainable. If we hear a creek in the night, we might say, "Oh, that is a creek monster that is responsible for making this noise." And so when you play Onsen Master, not only will various customers be arriving, but these various spirits that take the form of one that looks like a turtle, one that looks like a skeleton and so on will also be visiting the onsen. And they'll come bearing with a couple antics to them. One might spill water all over the place, for example, or one might try to come after you and grab you as another thing that you have to deal with while managing these different customers.
Maurice Cherry:
It definitely sounds like you put a lot of thought and care into the game and with all of these different mechanics and such. It sounds really cool.
Derrick Fields:
Thank you. It's definitely my experience in … I've spent a lot of my time learning about Japanese history and culture and mythology and so wanting to build a game that can spark that same interest and hopefully lead others to wanting to educate themselves about what yokai are, for example, is really the desire out of that.
Maurice Cherry:
I think anyone that has kids under 15 probably knows what yokai are because they've seen Yo-kai Watch or something like that. It's amazing how much, I don't even want to call it American shows because they're just Japanese shows that have been in many cases dubbed over, but there's so much anime from Japan that gets dumped over that now are, in some cases, cultural staples in this country like Pokemon, Dragon Ball Z, Sailor Moon, etcetera, but then there's a lot of newer shows like Yo-kai Watch and others that that's how people tend to find out about Japanese culture through these different shows and through videogames as well. I remember playing videogames as a kid and that's how I really learned about small things about Japanese culture. I'd probably say I got more from anime, but videogames definitely played a part in that as well, even through localization.
Derrick Fields:
And I really agree with that, we've got to say the sort of subtext to Waking Oni Games and Onsen Master and the projects that are to follow that are intended to explore specifically the intersection of Japanese and African American culture because there are many BIPOC individuals that have had their experience in childhood and through their adulthood, tangent to all sorts of pop culture and media. But mine specifically intersects a lot with Japanese culture and continues to even in my adulthood, being a board member at the Japanese Arts Foundation and teaching anime drawing classes. And so wanting to explore that and hopefully articulate that at my age now has led me to learn that there are many Black individuals that also have that sort of intersection.
Derrick Fields:
And wanting to find representation in the media that doesn't necessarily originate from our culture can be a challenge depending on the circumstance, but it has led to other outcomes. And things like when we watched Dragon Ball Z, this is why we might code Piccolo as Black. Having those shared experiences with other Black individuals is something that's very specific. And so with Onsen Master and with other projects, I would really like to continue to explore that conversation and build content that is derived of anime and the pop culture that surrounds the medium, but also insert people that look like us and be able to center that conversation a little bit more.
Maurice Cherry:
Right around this time last year on the show, we had Arthell Isom. He's a Black guy who owns an anime studio actually over in Japan called D'ART Shtajio. I don't know if you've heard of this.
Derrick Fields:
Yes, I've heard of this.
Maurice Cherry:
So a lot of what you're talking about, it's funny because this interview was literally about a year from now, a year ago from now. And what you're saying mirrors a lot of what he also said in terms of working within the culture but also working to bridge that gap and tell these stories in a way that is not only, I would say, culturally relevant but also is appealing to customers. So that makes a lot of sense.
Derrick Fields:
I was just going to say hello to Arthell in a year ago. I wish we could cross paths, but I do. I love a lot of the work that he and his studio are doing.
Maurice Cherry:
So what do you think it is that people misunderstand when it comes to being a game designer?
Derrick Fields:
Sure. I think the term game design can be a little bit obfuscated. If you aren't readily in school and learning about what the role might entail. It isn't just thinking about all how one might want to create a cool thing and just enacting on it, it can become a lot more granular than that. And there has to be, and I can explain further, but there has to be a willingness to want to pursue getting very nitty gritty about details but also hoping to drive and create certain or, I should say, elicit certain experiences out of the audience that you intend to interact with your media.
Derrick Fields:
And so taking that to a game, let's say, Mario or Final Fantasy, any of those things, everything that you do in that game that you don't necessarily notice per se, the reason why the text, the font looks a certain way or the reason why when Mario jumps, a very specific height or just help conveniently placed that height and that distance from when you jump off a ledge and land on a platform is just so far away or just close enough that it creates ease or difficulty. Those types of things are thought about by somebody else and labored over constantly to make sure that you as the player can have ease of access or have experiences in difficulty but not difficulty that's hard enough that turns you away from the game and makes you not want to play it.
Derrick Fields:
There has to be that balance in wanting to engineer an experience that maybe makes you feel just close enough to a reward that you are now driven to want to achieve it. I will say that that's one component of game design. There are many ways to create experiences and engineer outcomes in a way that you are trying to impart that on somebody. I've been trying to stray away from falling into just spouting off nothing but buzzwords, but it really is. It really is that. You're thinking about the player. You're thinking about what type of experience you would like to give them while also wanting to share entertainment and fun and cool things happening.
Derrick Fields:
And maybe it's swords, maybe it's horses, or fairies or robots, but also wanting to make sure that your vision for it all is concise among those components that you're trying to sort out.
Maurice Cherry:
It sounds like there's a lot of testing that has to happen with game design. It's not just as a simple as Mario Maker or something like that. But even that, I think also, I love how Nintendo has really abstracted a big part of the game design process when it comes to a game like Mario Maker or this new game that they have called like Game Garage or something like that. They make it seemed pretty easy because you're just dragging and dropping sprites onto a canvas, but there's so much logic and testing that has to go behind that to make sure that it's playable, it's enjoyable, hopefully that you're guiding the player along and you're making sure that they're having an enjoyable experience as well.
Derrick Fields:
Absolutely. And what I really love about both of those software is that they create accessibility to individuals who may otherwise not have the background in programming or have the background in 3D modeling or 2D art or everything else that comes along with creating a game. There's so many resources there that they can, as you said, drag and drop and immediately get a reaction on whether or not it works. And I think those types of systems are great because it allows burgeoning creators and players to be able to explore those limitations and hopefully build something out of them and test, test, test away.
Maurice Cherry:
Now, this might be a bit of a easy questions. I think anyone that's grown up in the United States in the past 30+ years has been exposed to videogames, but tell me about your history with games. Were you always into design in videogames? Tell me about that?
Derrick Fields:
Yeah. My experience in games has definitely been lifelong. I grew up with Nintendo and Sega and Sega Dreamcast and etcetera, leading all the way up to now, but wanting to contribute to games wasn't always a component that … It wasn't always something that I had considered. There was a disconnect. You bought games or you receive games as a gift. You loaded them up, you played them to the end of the credits and then you look for the next one. But I, for a long time, never really bridged the gap that somebody else was behind a computer, somebody had labored over this to give the experience that I'm now having in my bedroom or on the couch.
Derrick Fields:
When that happened, I think that's when things really, really shifted for me and wanting to envision, creating worlds that I could interact and that other people could interact and what that might be like. Prior to that, my background has always been in drawing and illustration. And so I used to always want to create comic books and create cartoons. And so I spent a lot of time drawing and imagining worlds and imagining characters. Getting into high school, I think that's when things started to transition and I understood that there was a pathway to being able to create these games that I was playing on PlayStation 1 and 2 at the time. And then I started to reengage with these worlds and imagine them as virtual spaces and seek out opportunities as we start getting into university in how I might be able to achieve that.
Maurice Cherry:
I remember, like you said, growing up in Nintendo and Sega, especially if you were a child of the '80s. I would say even like a child of the early '90s. It was inescapable. I don't even know if it's really so much now because kids have the internet to contend with and social media and stuff. But it's hard to really understate just how much of a vice grip Nintendo had over your childhood. If you were like a child of the '80s or the early '90s, there was television, there were videogames, there was breakfast cereal, there was clothes. You really could not escape it.
Maurice Cherry:
And I would say Nintendo probably more so, I'd say probably more so than Sega, but even still, as both of those systems grew in popularity, you really could not avoid the Console Wars, I should say. You really had to be in one camp or another. And games often would come out for one and then come out for the other one later. And it's just amazing how much of that really is, because of course, the foundation for what we see now in gaming, but also what it's done is it's helped to create a whole new generation now of game designers and people that want to work in games and comics and similar fields like that.
Derrick Fields:
Absolutely. And I got to ask, you mentioned the Console War, which side did you find yourself on, whether intentional or unintentional growing up?
Maurice Cherry:
So definitely Team Nintendo 100%. I had a Gameboy I had a regular. I remember when the NDS came out in '80, I think it came out in '85, I think, '85, '86 and I got it me and my brother. I have an older brother, we got it. And the cartridge was like the combination of Super Mario Brothers, Duck Hunt, so you put it in and then you choose which one you wanted to play and whatever. It was Nintendo for a long time. My cousin, I have a first cousin named Jeff and he had a Genesis. And so I got to go over his house and play a little bit of Sega. I always thought the three button controller was really weird. I didn't quite understand that like, "I'm going to go back to Nintendo where the buttons have an even amount of numbers. That makes more sense to me." I've been trying to do that. But yeah, mostly Nintendo. I think I've had every Nintendo System except the 64 and the Virtual Boy. I don't think anyone really had the Virtual Boy.
Maurice Cherry:
I remember when the Virtual Boy came out because it was around, I want to say '94, '95. And the Walmart in our town had one as a display. So I did get to play it, but I've never had one. But yeah, I was firmly, firmly Team Nintendo until probably around college and then I diverted to Dreamcast. Although, well, someone of my friends' floors had a 64 and we just play GoldenEye all the time.
Derrick Fields:
You got to play GoldenEye. Absolutely. My upbringing did find itself seeded in the Sega route and it was a bit of the opposite for me where my first cousin was the one who had the Super Nintendo and …
Maurice Cherry:
Oh, wow.
Derrick Fields:
… the Virtual Boy. And I will not spend any time just discussing how VR has been an exploratory tangent to videogames for so long with something like the Virtual Boy and seeing where it is now to a device like the Oculus. But Sega led me to Sega Dreamcast and all of those, unfortunately short-lived experiences on a very cool system. I headed down the path of PlayStation and I got to say it I probably never looked back. I've loved PlayStation ever since.
Maurice Cherry:
What was the game that hooked you into gaming?
Derrick Fields:
Final Fantasy IX. I definitely played plenty of games prior to that, but Final Fantasy IX and just the PlayStation 1 console in general, I think, is bookmarked as a significant part of my life. I think I played tons and tons of games on the PlayStation. And there were so many when you think of the time period, this is why I love PlayStation 1 and PlayStation 2 especially, but when you think of the time period of both of these consoles, there's so much development and exploration on both of the consoles from the beginning of their release to the end of their cycle when the next generation of that platform is coming out.
Derrick Fields:
And so looking at it a title that released on the beginning of PlayStation and looking at a title that released at the end of PlayStation 1's time period is significant. There's really vast differences. You find games that explored with voiceover and games that have walls and walls of text, games with sprites, games with Final Fantasy stuff, blocky 3D bodies and everything else. So it was a time. It was a time that all these different companies were trying out new things. They're always trying new things. There's always iteration and development, but something felt really cool about that transition to 3D and everybody trying to figure that out at the same time.
Maurice Cherry:
The game that hooked me into gaming, there's a few. I think if I think about what was on the regular Nintendo, the game that probably hooked me was, it's a very rare choice, there was this board game on NES called Anticipation. Have you heard of it?
Derrick Fields:
No, I haven't.
Maurice Cherry:
Look up Anticipation NES on YouTube. I'm sure there's probably videos of it, but I remember I would check that game out from what we had a Blockbuster adventure, but we had back home this little place called Movie Gallery. And I would check out Anticipation or I get my mom to check out Anticipation, let me correct that, to check out Anticipation every two weeks or so and keep playing it. And it's essentially like a, I don't know, Pictionary-style game …
Derrick Fields:
Got it.
Maurice Cherry:
… where it's like for players. You're either a trumpet, an ice cream cone, a pair of pink high-heeled shoes or teddy bear.
Derrick Fields:
I see that now.
Maurice Cherry:
And there's these different board configurations. And you roll the die and you land on a certain color. And then there's like this pencil that just starts drawing and you have to guess what it is that it's drawing. And usually like at the beginning levels, they'll give you some sort of hints like the number of letters or something. So you get a sense of it or the category, I should say, that's drawing. But then as you go up to the higher boards, there's no clues, no category. It just starts drawing and you have to figure it out and you have to get four of the different colors to proceed to the next round. And I loved that game. I think my brother hated it, but I loved that game. And that game sort of hooked me into like, "Oh, this is cool. This is like a board game, but it's on videogames." That blew my mind.
Maurice Cherry:
And then I'd say also, was this NES or SNES? So this is SNES. The SNES game that hooked me was also a Final Fantasy title. It's Final Fantasy II which is Final Fantasy IV in the Japanese line of games. But that game, it's sunk its fangs into me deep.
Derrick Fields:
Great.
Maurice Cherry:
And it is to this day, I don't know if it's my favorite Final Fantasy title, it's top two. It's top two definitely. I love that game like no other. Because that game aside from just the story aspect of it and you had the double-crossing character and all this sort of stuff. Also it's my foray into music. I really liked the music and tried to learn how to play the music. I have little keyboard or whatever. And I would record it on my little tape recorder and then go back and try to play it on my keyboard and stuff like that. But Final Fantasy II and Anticipation. Those were the two games that got me into games, just like, "Oh, man, this is such a great, great medium to tell stories in." Because Final Fantasy II, I had never run across a story like that before.
Derrick Fields:
Right.
Maurice Cherry:
And it's like on this thing and you play as these people, it's like, "What is this?" It was my first role-playing game too. It was great. Absolutely great.
Derrick Fields:
That's a really great story in it. I think that's why Final Fantasy IX sits with me so well. And again, there were plenty of games that I definitely interacted with. Leading up to that, I fondly remember playing Rocket Knight on Sega which was a really cool side scrolling, incredibly difficult game. Wow. I think a lot of us have memories with titles like Aladdin and The Lion King and Animaniacs on that system as well, but it wasn't until PlayStation and Final Fantasy IX that, again similar to what you said about for the character, the story, the very imaginative world that is being set in front of you. And it just raises the bar on, "Oh, this is what fantasy can be when …" Prior to this, it's just been Dungeons and Dragons and medieval shows and medieval fantasy, but that presented an entirely new world.
Maurice Cherry:
Or you're like Mario or Sonic, you're just playing this linear left to right, up and down sort of thing. And Final Fantasy really came along and just like, I don't even want to say it shattered expectations, it certainly shattered my perception of what can be done now with the medium. And my God, that was 1992 I think. Wow. It's amazing what they were able to accomplish with so little back then, just in terms of the technology that tells us the vast story and with such few elements. I think now with computers and with software and everything, there's no telling what you can create, even just on your own without having to do it through a big studio.
Derrick Fields:
We have so many possibilities now. And I think developers AAA all the way to indie, we continue to share and show reinvention within this space. And I love marveling at it. Every time there's a new game trailer or game event that is coming with a handful of announcements, I cannot help but tune in because I know it's going to come up with some indie game or some other studio that's revealing an experience that you just didn't imagine could happen with a controller in your hand or with something like an Oculus VR headset.
Maurice Cherry:
I'm trying to get more into Oculus. I got one fairly recently. And I've been just playing around with it, sitting on the couch or playing around the living room, but I need to get more into the VR experiences because I know there's probably some really great stuff there.
Derrick Fields:
I'm trying. I'm trying as well. And I think right now felt like a time that was okay to leap in because the space is starting to hit its stride and starting … It's hit its stride and it's definitely developing and creating all these cool experiences now that the devices have so much fidelity to them which was always limitation leading up to what we have nowadays. Now, there's three, four different pieces of hardware that you can acquire and create that experience for yourself and dedicate an entire room to VR if you wanted to. So I too have an Oculus and I'm dabbling on the store. I got to say, I'm very interested in a title called Demeo, I believe is the name where you are … Essentially, my favorite part of D&D where you have the D&D dungeon, you have your character sheet, but you have a miniature representation of your D&D dungeon in front of you and you're playing through this campaign with little figurines that are an indication of your character and your party members.
Derrick Fields:
Well, there's a VR version of that now and I got to say the way I'm passively just recruiting people to want to play that game, some handful of time from now is my side mission, but it looks very interesting.
Maurice Cherry:
Now you went to school for design. You went to Columbus College of Art and Design. You eventually graduated from Kent State. When you think back on your education studying design, how much of that has really helped you out now, as a game designer?
Derrick Fields:
I think some of it came from not getting the experience that I was hoping to have and some of it came from gaining way more than I even thought could come of it. Getting into university at that time, the discoverability of spaces that were teaching games was still new. There was, I think, a lot of advertisements around this time for the art institute and going to the Art Institute of Pittsburgh or whichever state [inaudible 00:36:35] that it had and trying to explore, "Where am I going to get that? Where am I going to get the experience? At the risk of loans and everything else, where will I find my seat in all of that?" And so it's bizarre. I remember going to the Art Institute of Chicago or sorry the Art Institute of Pittsburgh for a preview. They invited … You could register for a summer preview camp and stay there for, I think it was like three days or three or four days or something like that.
Derrick Fields:
But the idea was it was to introduce students to the campus, their experience, get them hands-on experience and playing around with game engines and tantalizing or giving the movie preview of what game development might be. Instead, what that experience for me was connecting with a bunch of very cool students, but ultimately never getting that experience. I remember distinctly we went into this game lab and the teacher who was supposed to be providing preview of education on Unreal Engine was absent. They were just gone and nobody knew where they were.
Derrick Fields:
And so the entire class just played Unreal Tournament. And that's what we did. I remember thinking, "This is cool, but this isn't what I came here for." So I was so frustrated because I thought I came in, the veil was yanked away in what I was supposed to expect when I got there. So yeah, I ultimately went to Columbus College of Art and Design. I pursued illustration. I said to myself that I'm going to find entry into games, doing concept art. I still was feeling really keen about 3D modeling and wanting to do something with that. And so I remember asking my advisor if I could switch to 3D modeling because I wanted to pursue game development. And they said, "Well, we only have 3D animation. We don't support game development here."
Derrick Fields:
And I thought it was another moment that was disillusioned and I'm going, "Oh, man, am I thinking about this wrong? There's got to be other spaces where people are really driving for this outcome that they too want to create games, that they too want to 3D model and rig characters for videogames. I love Pixar films, but that's not where I'm trying to land." And so I transferred to Shawnee State University. That is where I was introduced to this really amazing game development program that was still in its earliest stages, but the community of teachers and students really brought an experience together that continues to thrive today.
Derrick Fields:
I think, if you go to their website, they're doing all sorts of really cool in-university events to support their students and give them that experience that I think a lot of us were going for at that time. So shout outs to them. I ultimately ended up transferring yet another time and graduating out of Kent State University with a degree and I don't remember the name, but I graduated there and here we are with some gaps and other stories in between there.
Maurice Cherry:
I would say though, what you've mentioned though is actually, at least from my experience with talking with others on this show, it's pretty common because the technology in the industry changes so quickly that schools aren't really able to keep up and be able to have curriculum and stuff like that. And then, as you say, because it's so new, different schools are going to have different just types of programs. It's not really standardized. You can go to any college in the country and learn English, but you can't go to any college in the country and learn game design. Different programs are definitely going to be just better suited to what's currently in the industry. They might have a better alumni program. There could be a whole bunch of other things. There's a guy I had on the show. This was, I don't know, maybe 2017 or so. His name is Michael Hollander. Do you remember the '90s show, VR Troopers?
Derrick Fields:
Yes.
Maurice Cherry:
He was the Black guy on VR Troopers.
Derrick Fields:
Oh, cool.
Maurice Cherry:
He's a game designer now.
Derrick Fields:
Oh, wow. What a track record. That show is amazing. And there's a side note, but the genre of tokusatsu, VR Troopers, Power Rangers, Kamen Rider, all of that stuff, there's a really cool story, I think I saw it on Netflix, just the whole process of how that gets localized and arrives to us and then this relationship that we have with, I think it's the … I forgot the company that licensed Power Rangers here, but they have a specific relationship with the original source that they are allowed to take the fight scenes and reedit it to add in actors from the US and-
Maurice Cherry:
That's Haim Saban, right?
Derrick Fields:
Yes, that's the one. Thank you. If you end up watching shows like VR Troopers, shows like Kamen Rider or Power Rangers, the original content has a completely different story, but the battles will be the same in a lot of ways or they'll be … You'll recognize certain battles or certain confrontations, experience in the US version. And so cool thing there, but that's amazing. What a life to live to go from VR Troopers to game designer.
Maurice Cherry:
But a lot of what I remember him saying from that interview was about how he had to jump from place to place to really almost cobble together the skills that he knew he was going to need once he got on in the industry because one school maybe didn't have this or another school had it. So it's that process of transferring. And for him, it sounded like he just learned more working in the field as opposed to going to school to prepare to be a designer.
Derrick Fields:
I relate to that in a lot of ways that I think in that time period, when you said that there were a lot of universities trying to figure out how to do it correctly, I think similar to who you just mentioned … I'm sorry, what was the name again?
Maurice Cherry:
Michael Hollander.
Derrick Fields:
Michael. Thank you. Similar to Michael's experience, we weren't the only ones knowing that. I think we could see that universities were also trying to figure this out and we're trying to figure out where can we get the best education with limited resources as far as research goes. It's not like there's a university out here just being championed by others in the industry saying, "I graduated from here and this is the space that taught me the best." Everybody was flying by the seat of their pants. Unfortunately, for some people who are seeking education in that space, you flew by the seat at the risk of your wallet, so there's that aspect there and you landed somewhere and you said, "This is close. So maybe this is the one that I'll go with because I don't want to go through registration again."
Maurice Cherry:
He said the same thing. It can get expensive doing all that transferring from school to school, especially because it's such a specialized field.
Derrick Fields:
Absolutely.
Maurice Cherry:
So you freelanced for a few companies after you graduated from Kent State. And it looked like your first big long-term game design gig, you're at William Chyr Studio, is that right?
Derrick Fields:
That's right. And touching back to what we were just talking about, after graduating, it was still trying to find placement in the industry, trying to figure out what to do with my portfolio and learning how it stood up against other candidates that were getting positions in 3D modeling and so on. And so that process led me to having to, again, reevaluate where I was and pursue continued learning, taking to YouTube and books and everything else to continue to make sure that I'm developing content that was on par with what the industry was asking for.
Derrick Fields:
I had a lot of difficulty trying to find career placement. And so this is where I began to seek dabbling in creating my own world, playing around with engines like Unity, but constantly going to events and networking with other individuals whom were already in there and already creating and developing projects, sharing my portfolio and ultimately landing freelance gigs from time to time.
Maurice Cherry:
What do you remember most about working at that studio?
Derrick Fields:
With William Chyr and the other team members, everything was fun and it was great. We mostly communicated digitally because people were across time zones and different locations in the US. It was very just casual, "Hey, can you model this or animate this thing." And I had a lot of fun being able to contribute to manifold garden, which was the title that ended up releasing. And so my primary role there was creating a lot of environment objects. There are a lot of doors that I did the animations for and some other objects that are throughout that space.
Maurice Cherry:
Now, I know we're recording this right now at the time when there's a lot of news actually in the videogame industry, particularly around certain company known as Activision Blizzard which people may know from some of the big games that they put out like … Oh, God, I'm blanking. Like Crash Bandicoot and things of that nature. I'm curious, as a Black man that's in this industry, have you ever been privy to any discrimination just working at studios or showing your portfolio or things like that? What sort of things were you surprised about when you really started to get out in the industry?
Derrick Fields:
I think most of all, that came down to finding an entry level position, trying to weigh the quality of my work against other potential candidates for positions that I was applying for. And as an outcome to that, not finding a lot of opportunities where I felt like I was good enough to apply to a lot of spaces. I received no a lot, a lot when I was at the beginning of trying to become a 3D artist. And I would oftentimes turn to other portfolio websites, spaces like Art Station, what we have today, to look at the quality of my work and again weigh that against what other people were doing, other people in roles that I was trying to apply to.
Derrick Fields:
It just never made sense to me why I wasn't even getting past the interview phase. I tried going to job fairs and sharing portfolio and receiving very poker-faced feedback on the content that I was sharing. And then would watch peers and other people who had also exited university game positions. And it wasn't fair to myself or to them to want to go, "Well, now I got to look at their portfolio and see what did they do and what did I not do." It's never fun to have to draw those types of comparisons, but I couldn't help it at that time because I wanted so badly to be able to be in this space and really, really had this dream that I can …
Derrick Fields:
The veil has very, very much been lifted to since then, but I used to dream so much of sitting next to a colleague in a game studio and working on 3D models and discussing which piece of armor should this character have or stuff like that. Back then, it was the labor of videogames, was something that was romanticized. I, not only has that but the space in general, continue to receive their scrutiny that it should to redefine what it means to work within that space, that creating games and creating experiences should not come at the sacrifice of your time in a way that is a detriment to you by way of how individuals used to romanticize overworking themselves in videogames.
Derrick Fields:
And that is still a narrative that we're trying to separate from and relating to what you said with Activision Blizzard. The constant harassment that women and other marginalized folks experienced within these industries are other things that continue to need the scrutiny that they are receiving in order to hopefully get the change that we're all asking for.
Maurice Cherry:
I don't know if this is a good follow up for this, but I'll just throw it out there. Do you think that that is why we're starting to see so many indie developers and games out there because they're just not meshing with this AAA title, big game studio kind of culture, they're just striking out on their own and doing their own thing?
Derrick Fields:
Yeah, I think there's many layers to why indie developers create the games that they do. One is absolutely they themselves could not find placement within the industry. One is, we're not ever fairly represented within the industry. One is the experiences that were being set on store shelves, weren't the experiences that they wanted to have and that, just the word experience can mean so many different things in terms of gameplay or narrative or style and aesthetic. I think all of those things motivate indie developers to create their own games. And I think, just as you said, that's absolutely why there's so many of us out here now creating cool things.
Derrick Fields:
And now there's so many more avenues to be able to access the experiences that they are delivering with platforms like itch.io for people who just want to create something small or fairly sizable and distribute that out to their own audience. We now have publishers and platforms that vocalize their support for indies and now have a much more visible pipeline for indie developers to be able to release games on spaces like the Switch and so on. So I hope and I always had my fingers crossed that that will continue to grow in the way that it has and that more indie developers will be able to receive the support that they want.
Maurice Cherry:
What games are you currently playing right now?
Derrick Fields:
I was revisiting Final Fantasy VII Remake after purchasing it when it came out and then not touching it for a long, long time. The announcement of the, I think, it's called Intergrade DLC, was enough for me that it sparked motivation to want to return to the game and I said, "You know what? We're going to finish this." So yes, I've been casually pursuing that and I think I'm about three quarters of the way complete with it finally. But aside from that, I spend a little bit of my time streaming on Twitch various stealthy games. It's another genre of games that I just really, really take to and enjoy playing. So titles like Thief … One of my favorite games is Thief Deadly Shadows which is this older medieval fantasy stealth game replays this thief called Garrett. I almost said the main character of The Witcher, Geralt. I mixed them up there, but great game.
Derrick Fields:
Immersive sims is the genre, so other games like Hitman or Dishonored, any of those things where you're presented with a level and you have to decide how you are going to solve the level and get from point A to point B are some of my favorite types of games to play. So I'll dabble with one main game and then pursue other ones in the background. And so that's what I've been doing. How about yourself?
Maurice Cherry:
What am I playing now? That's a good question because, and I said this before we record it, I am really big on buying games and then never playing them. I'm more of a collector at this point. So the games I'm currently playing now? So on PS4, I don't know, I guess about halfway through Persona 5 Royal, I think. I think I'm halfway through. I'm in July because the game starts out in April and then it like goes to I think January or something, but Royal has a third semester. So I think I'm about maybe not half, I'm probably about a third of the way through that when I think about it because I'm in the summer. So I'm playing Persona 5 Royal.
Maurice Cherry:
And then on my Switch, I have Animal Crossing: New Horizons. I feel like I'm just tending to that, I don't know, neglected child. I've gotten my island to a point where I'm not going to change anything. My villagers are at a point where they're not moving out. So my island is just in stasis, and because Nintendo's not really rolling out a whole bunch of new content for it, I just log in every day, speak to people, dig up fossils at the islands. I just bought The Great Ace Attorney Chronicles, which I look forward to getting into that this weekend.
Derrick Fields:
Great. I've been looking forward to that one.
Maurice Cherry:
I'm looking to get into that pretty soon. And that's what I have now. I'm a big fan of puzzle games, so I also just recently bought I think it's Picross S5 I think is the latest one in the series. So I bought that. I haven't played it yet, but I know eventually I will. Picross is just one of those games you just, I don't know, you play it in the airport. You play it while you're waiting for the train or something like that. It's one of those games you can easily pick up and put down because it's a puzzle game. Have you heard of Picross before?
Derrick Fields:
I have. I've not played it. Honestly, most puzzles I usually keep to something that's like haptic, though I'm not opposed to them. They're usually not my go to, but yeah, I've heard of Picross, but I didn't know that they released a new iteration.
Maurice Cherry:
Jupiter cranks these games out every three months.
Derrick Fields:
Oh, wow.
Maurice Cherry:
And they always have 150 puzzles or more. At least 150 to 200 puzzles, they just crank them out regularly. It's insane. I think they just recently announced there's going to be a Picross with, I think Sega and Master Collection. So it's going to have Sonic sprites and things of that nature, Puyo Puyo, that kind of thing. I saw it and I was like, "Yeah, I'm going to buy that," because also the games are like 10 bucks. So they're like really cheap, they have a ton of replay value and they're long games. Each puzzle is maybe anywhere from like a few seconds to maybe an hour, depending on the size of it and putting it all together, but that's what I'm playing right now.
Maurice Cherry:
I'm looking forward to … What did I preorder? I preordered Metroid Dread. I think I pre ordered No More Heroes III. And I also pre ordered Advance Wars 1 and 2, the remakes that are coming out because I love some Advance Wars. I recently bought, not that I'm showing my age here, but I recently bought a, there's this guy on Instagram that does these custom Gameboy Advance builds.
Derrick Fields:
That's very cool.
Maurice Cherry:
They are pristine. I'm not going to say how much I paid for it. I paid too much for it, but they are pristine. And I bought one of those and I bought some games off eBay because I was like, "I love the form factor of it, plus I just love those old games. And now that Advance Wars 1 and 2 is coming out on the Switch, I was like, "Oh, yeah, I'm getting that. Absolutely. No questions asked." There's a couple of games that I don't even have to think about it. My credit card's already out like magic. I don't even have to think about it like, "Oh, yeah. I'm getting that." That's what I'm playing right now.
Derrick Fields:
Cool. Cool. Those are definitely some exciting things to look forward to. No More Heroes, especially, is one that I am a big fan of that. I'm trying to think if there's anything that I've been looking forward to for some time. It is on the tip of my tongue. Elden Ring, From Software, so the new From Software title has been one that is definitely on my list, definitely looking forward to that. And then Deathloop from Arkane Studios which again talking about how as a fan of immersive sims and games that include the option of stealth. The creators of Dishonored are releasing a new title and this one looks like a lot of fun.
Maurice Cherry:
Nice.
Derrick Fields:
So I'll be getting that one right away.
Maurice Cherry:
And of course, you're creating your own game, Onsen Master, but what videogame would you love to see developed one day?
Derrick Fields:
When it comes to the games that we experienced now, I'm just touching on the arc of indie games and how there are so many developers who have taken to their own to create experiences that they aren't seeing. I would love, love to see a game that centers just like an Afro fantasy or Black fantasy or like Afro futurist game that is at the scale of a Square Enix title. If I could play a game that feels like Final Fantasy XV or any of those titles with that sort of fidelity and story and amount of hours dedicated to creating an original world and high-fantasy narrative, but it centers on Black people and the genre of Afro futurism. I think it would be phenomenal that I would preorder that before.
Derrick Fields:
I would somehow hear about it before the studio made formal announcement and be sitting at their front door just saying, "I'm ready. Just hand me the disc whenever you're done."
Maurice Cherry:
Now, say someone's listening to this, they're hearing your story and everything and they want to become a game designer themselves. What resources or things would you tell them to check out to try to start that journey?
Derrick Fields:
So we briefly talked about things like Mario Maker and the Nintendo's, I believe it's the garage, I don't remember the full name of it, but resources like that, going back to PlayStation 1, there are games like RPG Maker and stuff like that. There are avenues to be able to create games and use systems that are available now. You may not be able to completely realize the version of the game that you are seeking, but I think it's important to remember that vision, that lofty vision that we all have for the game we dream of creating is an iterative process. We have to create the small games and the other experiences to get ourselves there. And so use these platforms, use these systems.
Derrick Fields:
Dreams is another one from Media Molecule, creators of Little Big Planet, where you can now create your own assets, your own experiences using their platform. That might be one avenue. Another one is the Unity Engine that we use for Onsen Master is free. And there are a lot of resources not only on YouTube, which I affectionately call YouTube University, but Unity itself offers courses that are available for free for individuals who have no background in either programming or creating or 3D modeling, an avenue to be able to get access to those. One of the most important things that I want to acknowledge in saying all of that is the availability of resources is not equal. It's not across the board for everybody and not everybody has the computer or the game hardware to be able to leap right into creating those things.
Derrick Fields:
I imagine that if they do, a lot of the times, they're already exploring those possibilities already, taking to Google and figuring out which one of these might be the application or software for them. And so if pencil and paper are what is available for you, creating tabletop games and board games is game design. And I always think to myself that if it works on paper, it's going to work digitally, but we just have to trade some of those paper systems for code and some of those cards or drawn assets for 3D models or 2D pictures and etcetera, but practice game design, creating board games between yourself and your family, creating card games.
Derrick Fields:
These are ways that still lead you to becoming a game designer because you're creating experiences that you're trying to elicit that from somebody else and have these sorts of fun moments with other people and design those fun moments. Use that. Use that as a platform. And so those are the things that I would say for individuals who are looking to explore game design, looking to leap into it, take one of those things and just try a little bit every day because those moments that you spend in it in doing it, that you're just getting closer and closer to it every moment and it's going to take time.
Maurice Cherry:
When you look at the work that you're doing now and you look back at your career and you think back to a young Derrick who was getting into Final Fantasy IX and was really starting to learn about game design and everything, are you where you want it to be at this stage in your life?
Derrick Fields:
I am. This is like one of those things that a … Very recently, I was all sorts of emotional about it and stuff because I was talking to my mom, whom … She is my number one hero and she has helped create an environment that has allowed me to thrive creatively and watched me evolve into the person that I am now and have the hardships and the hiccups that have led through to that. When it comes to creating games and what I would like to be doing in this space with Onsen Master on the way out and seeking to fund, our next project and most recently stepping into Northwestern University, I'd say I think I hit everything on young Derrick's checklist.
Derrick Fields:
And so the only other thing left is to make sure that everything that I've earned sustains and that I can extend it to another young Derrick or a young individual out there who has their own checklist brewing.
Maurice Cherry:
Where do you see yourself in the next five years? What kind of work do you want to be doing?
Derrick Fields:
I want to stay in education. I want to be able to continue contributing to Northwestern and hopefully help build a space that is comprehensive. Right now, I'm just one individual within the department who will be providing games education. And I would love to find ways to collaborate with other faculty and student across like interdisciplinary opportunities for faculty and students to be able to share experiences. I'll be in like the radio, TV, film department. So there's a lot of creativity that's across these spaces, but the other thing is wanting to bring in other faculty or hopefully be able to advocate for bringing in other faculty to touch on other experiences and facets of game development.
Derrick Fields:
There's music, there's narrative, there's so many other components to be considered and I think developing a space that feels conducive for all of those is really important to highlight for burgeoning creators or writers or musicians. As far as Waking Oni Games goes, Onsen Master is not the only title that I want to build and I want to develop a studio that can create games and create them sustainably. And when I say sustainably, I mean support every individual at their choice of part time or full time and not have to burden anybody with a decision of balancing life in a part-time job and a freelance gig on top of that.
Derrick Fields:
I hope that this game studio can be a space that somebody can, not only lean on for support, but feel as though they are contributing to the type of games that they want to see represented as well.
Maurice Cherry:
And just to wrap things up here, where can our audience find out more about you and your work and your studio and your game and everything? Where can they find that online?
Derrick Fields:
So for the games, that is like waking up in the morning, wakingonigames.com. I can be found as WakingOni on Twitter and those are primarily the two main spaces that you can find us interacting between. There's a Waking Oni Games Twitter as well. And I mentioned earlier that I stream on Twitch, sharing not only gameplay, but game development from time to time under the name Waking Oni.
Maurice Cherry:
Sounds good. Well, Derrick Fields, I want to thank you so much for coming on the show. Thank you for, one, sharing the work that you're already doing through your studio and the game that you're creating. I just have a soft spot in my heart for indie game designers. I just think it's so cool that you all get to do this kind of stuff. And even just the Black community around gaming is so good to see. There's developers, there's designers, there's musicians, there's artists, game artists, voiceover, etcetera. It's just so good to see all of that, but then also to really hear about your story of getting into it and the type of games that you want to see out there in the world.
Maurice Cherry:
I hope that this interview is a way to introduce what you're doing to our audience, so more people can discover what it is that you do and hopefully can help support your work. So thank you so much for coming on the show, man. I appreciate it.
Derrick Fields:
Thank you very much. It's been a pleasure to be here.

Support for Revision Path comes from Adobe MAX.
Adobe MAX is the annual global creativity conference and it's going online this year — October 26th through the 28th. This is sure to be a creative experience like no other. Plus, it's all free. Yep – 100% free!
With over 25 hours of keynotes, luminary speakers, breakout sessions, workshops, musical performances and even a few celebrity appearances, it's going to be one-stop shopping for your inspiration, goals and creative tune-ups.
Did I mention it's free?
Explore over 300 sessions across 11 tracks, hear from amazing speakers and learn new creative skills… all totally free and online this October.
To register, head to max.adobe.com.
Brevity & Wit is a strategy and design firm committed to designing a more inclusive and equitable world.
We accomplish this through graphic design, presentations and workshops around I-D-E-A: inclusion, diversity, equity, and accessibility.
If you're curious to learn how to combine a passion for I-D-E-A with design, check us out at brevityandwit.com.
Brevity & Wit — creative excellence without the grind.