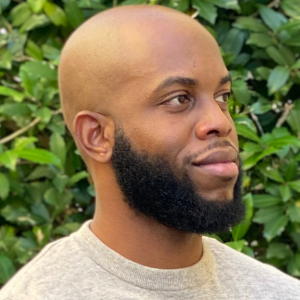 I became familiar with Gusto several months ago through my last gig, and I was so pleased with the user experience that I had to find out who some of the folks were behind it. And wouldn't you know it — one of them happens to be a former 28 Days of the Web honoree. Meet Jeff Jean-Baptiste!
After a quick check-in to see how things are going, Jeff talked about his role as a product designer and gave some info on his behind-the-scenes design work at the company. From there, Jeff shared his origin story of growing up in Miami, how anime became his gateway to art, and talked about his interest in architecture and how that drives his current design focus. He even gave some insight into the Orlando design community and talked about finding success at this point his career.
For Jeff — and for all of us, really — anything worth having is worth working hard towards. So get out there and make it happen!
Transcript
Full Transcript
Maurice Cherry:
All right. So tell us who you are and what you do?
Jeff Jean-Baptiste:
Hey, so my name is Jeff Jean-Baptiste, a designer focused on just building great thoughtfully crafted experiences for people, just software that works.
Maurice Cherry:
How has 2022 been going so far?
Jeff Jean-Baptiste:
Oh man, 2022 has been actually pretty amazing. I mean the backdrop of a lot of things happening in the world for me personally, is worked out pretty well, both professionally and in my personal life, my wife and I, we closed on a house so that's going to be our first home, so that should be done in a couple months.
So that's pretty exciting and, yeah, work it's been pretty magical. Just the things that I'm doing is pretty exciting. I'm still very much so happy at my current role, and we're doing a lot of great things that I'm looking forward to building on.
Maurice Cherry:
So what is it that you want to try to accomplish for the rest of the year? Do you have any sort of plans that you set forth at the beginning of the year that you want to try to do?
Jeff Jean-Baptiste:
Yeah, I'll talk about the two things. One on the professional side, I would say one thing I'm trying to get better at is becoming a better storyteller and I can get into more of that later as well. But yeah, that's one thing, it's a part of my goal is just can be able to tell a more cohesive and better story about when you're designing products.
There's always this the customer aspect and the pain that you're highlighting and how you're the things you're designing, how it solves their pain. So I believe that's one of the best ways people communicate and I'm a big, big movie buff. So I love stories. I've also started to read a lot lately and it's just the way that stories are told. I feel like it's an awesome communication method and I want to get better at that.
And first personally, in my life, I mentioned earlier where we're close on the house, so that should be happening soon. So yeah, just ready for that whole process to be done and then going to be booking some time to relax. So we'll be going on a cruise in a couple months and just out in the open sea. And that should be cool.
Maurice Cherry:
Nice. Take it now before the next global health scare happens, if you can try to squeeze it in there, I'm curious about this storytelling. Are there certain resources or things that you're looking at to try to help increase your storytelling skills?
Jeff Jean-Baptiste:
I haven't looked at anything specifically. I just follow certain folks that I think are great story to. There's a lot of people at my Gusto that are really great at this, and I'm actually being mentored right now by somebody internally in product who's just trying to build that muscle a little bit more. And then, yeah, I think I've taken some cues from folks internally and then as well as I think Twitter is a great place for resources.
If you follow the right folks, there's a lot of good nuggets of information there, but just trying to hone that skill a little bit more just through actually doing it myself. That's I think is the biggest part of it is as I'm presenting design work, I'm really cognizant of how I am delivering that message and trying to communicate. So I'm actively doing that work as well as taking in some of his other external information as well.
Maurice Cherry:
Let's talk about your work at Gusto. You're a product designer there and you started last year. Is that right?
Jeff Jean-Baptiste:
Yeah. Yeah. It's almost been a year now. So in September I started. Yeah. So I started last year. Yeah. I'm going to working on a zero to one team and basically just a part of Gusto that doesn't exist yet, which is specifically around HR tools and we're building things like performance management and also some other things around HR tooling for customers to help develop and retain their talent at their organizations, which is super relevant right now in this environment with recruiting and everything and layoffs.
And I'm learning in real time, just seeing everything happening and also looking at my work and how I'm trying to help other businesses to try to develop and retain being a really big piece of that, their talent and how we can support that. But Gusto has been super great. It's really great when you interview with a company and oh, you sell these mission and values and everything and you align with those things. And then after a few months at the company, you're like, "Okay, something don't match up." But I found that.
I thought that I'm still like, wow, it still makes sense. It's still relevant. And everyone is still what they sold me was true so that's always good. It's been quite the experience. I'm learning so much at this scale up and everyone around me and how we collaborate cross functionally is just awesome to work with these folks. They're super talented. And it's just an honor to work for a company. That's doing some great things with some great folks.
Maurice Cherry:
That's actually, that's really good to hear. I can tell you just from the end-user perspective, I first encountered Gusto last year at the current place where I'm working at. They use Gusto for payroll and all that sort of stuff. And the whole experience is so friendly and inviting-
Jeff Jean-Baptiste:
Yeah.
Maurice Cherry:
… which for HR software is a feat to accomplish because most of that stuff is like, "Oh, I'm only going to go in here to file time off or whatever." It's not user friendly. It doesn't spark joy to use Marie Kondo's phrase it. It doesn't give you those feelings of like, "Oh, I actually want to poke around and see what's on these other pages. The illustrations are fun. The color coordination is great." I mean, again, from the end-user perspective, I like it a lot.
Jeff Jean-Baptiste:
Yeah. That's a big part of what you're beat against those as well. It feels likely human. You talk about these friendly aspects of it. It's a delightful experience. It's easy to use. And yeah, typically HR software is not that, right? It's not sexy. It's not-
Maurice Cherry:
Yeah.
Jeff Jean-Baptiste:
… doesn't make you want use it. It's not approachable. Yeah. Design has been a big part of Gusto's DNA since the beginning that one of the first hires of Gusto and when they were a startup 10 plus years ago, it was a design hire. So design has always been a big part of Gusto's DNA.
And we're continuing that we have a big investment in design and being led by Amy, our chief design officer that speaks volumes to where, "Hey, at the highest levels we have advocacy for design." And her leadership is she's bringing that influence to conversations at those levels as well in our strategy and direction in our vision.
So we don't have to fight for that seat at the table. It's already there. It's all right now design, shows what you got let's make this happen.
Maurice Cherry:
That's really good. I think for a lot of tech startups, at least maybe it's just the ones I've been at, but certainly there's others that I've seen where design is always this afterthought. It's something that maybe they'll bring a designer on or they'll have a few freelancers.
But you can tell the focus is really on just making sure that the product works and adding new features to it. Design tends to be a bit of a… We'll get to it kind of thing. It's very utilitarian. So it's good to hear that for Gusto, that design is really at the forefront of everything that y'all try to do.
Jeff Jean-Baptiste:
Oh yeah, totally. You hit the nail around here what you said, design have this afterthought a lot of times, and it's a strategic part of building a product, thinking about design. It's not just that fresh coat of paint you do after you build something, right? It's from the beginning talking to customers, learning about those user problems, and distilling that down to the root problems and finding a thoughtful way to approach that even that is part of design way before even start putting those pixels out there and start delivering mocks to the engineers and stuff like that. So it starts really, really early on before any code is pushed. So yeah, design being like this thread that's followed throughout, even from the end of delivery of the designs. And that's what we try to practice, keeping that spirit of design, being at the forefront of everything that we do. And that's super important. It really shows in the product, right? So that experience that end-to-end experience, you can tell, "Hey, this has been designed," not like, "Hey, we just layered something on top of something that was probably just strictly technically engineering led or something."
Maurice Cherry:
Mm-hmm. Talk to me more about what the team looks like? You're on the product design team. I imagine. Is it for a specific feature of the app? Talk to me more about that.
Jeff Jean-Baptiste:
Yeah. So we broke it up in these segments and I mean, an employer segment. So we focus on all of our customers, our business owners who are using Gusto to pay their employees and ensure them and use HR tooling for performance management and all that. And my team specifically, we're working on the HR side and our mission is to help customers develop and retain their talent.
So my team is made up of myself, I'm the designer and I have a PM counterpart. He's actually a hybrid a PM engineer, which is pretty amazing. He actually was a pretty strong, strong engineering leader in our team. And he actually started this PM rotation. And now he's diving into that world and it's been awesome to work with someone that has two sides of that coin there.
And we also have about four or five other engineers supporting this team. So our team we're pretty much building those HR tools. We have that part of Gusto's space expanding, Gusto's portfolio past, just the payment and the ensuring benefits and side of things going into that HR tooling space. So yeah, we're super excited to bring that part of Gusto to our customers.
Maurice Cherry:
Now, is this your first time working remotely for a team like this?
Jeff Jean-Baptiste:
No, actually my remote professional journey actually started in my previous role at AdventHealth as a huge experience designer so that was the beginning of the pandemic. This is right around what? January 2020, somewhere around there. And a couple months into that, I was about a little bit over a year or so in that role, when I got into doing remote work for the first time, when they sent us home, they were like, "Hey, take your laptops and everything." And being a part of AdventHealth, that's a large health system.
So there was a lot of need, as you can imagine for us to deliver some digital experiences, to help with some telehealth type of things we're working on at the time. So that was a pretty accelerated, but a hyper learning time for me on both the product, working on a product side for designing those products for app health and as well as, "Hey, now we're in this remote world." How do we work, right? And just learning that you have to be really intentional about remote work to make that work. And communication is one of those big key learnings there during that experiences.
Maurice Cherry:
I think a lot of companies definitely had to come to terms with that very quickly over the past couple of years. But for me, it's been interesting. I've worked remotely since roughly about 2009, late 2008 was when-
Jeff Jean-Baptiste:
Wow.
Maurice Cherry:
… I started, but I've been working remotely because I had my own studio for a long time. And then once I got back into the quote, unquote, "workforce," at the end of 2017, every gig that I've had after that has been remote first. So even with times where you've had to still go to an office or for something like that, most I say 90% of the work that I've done over the past five years has all been remote.
And it's interesting seeing now how companies are trying to adapt to that, particularly in environments where that in person collaboration one was so key. But I would say also when it comes to looking for talents, a lot of these companies, if they're in New York or in the San Francisco, Silicon Valley, et cetera, they're used to looking for design talent right where they're at.
And now with the pandemic and people being able to work remotely as they are. I feel like that probably does a lot for decentralizing design talent. What do you think about that in this current environment?
Jeff Jean-Baptiste:
Yeah, I think just being forced at a mass level to work remotely, I think a lot of employees, right? So as I sees, we realize that, "Hey, I can still do this work from home and I'm actually enjoying all these other benefits that comes with that, right?" So obviously I don't have to commute to work. There's all that stuff eliminated. You save some time, but then also on the business side of things, you realize that there's more focus on your outcomes versus your outputs.
I feel like there's a new type of lens being put onto what are actually the employees producing, what are the actual outcomes of that experience? And I think just realizing all these different things and some of the advantages, and obviously there's some disadvantages around communication and being more intentional about that. But I think it levels the playing field in a way. Now we're looking at it from a perspective of, "Hey, I can hire anyone from anywhere in the country."
They can do that work from home, right? And then we have to think about how do we strategically compete now on this level because now that someone like myself where I'm in Florida, so Gusto in California and being able to work remotely, there's obviously a distribution now of talent across the entire country. So I think it switches the conversation a little bit less about location and proximity to some of these more bigger tech hubs in New Yorker, San Francisco.
And it's now strictly focused on the talent itself. What are they producing? What are the outcomes? What impacts that come with these specific candidates when we're talking to them? So I think, yeah, it's pretty much leveling that playing field, but now I think another shift in that is around now that it's a level, in a sense we're looking at talent, that bar is getting more competitive as well.
So I think that's an interesting dynamic that's happening, but I think it's a good one. I think on both the company and the talent side of things, everyone's looking at the things that matter more. So at the end of the day, it's about the outcomes, the impacts that you actually have as a designer, as an engineer versus your outputs. It's like, oh, I can see you doing things in the office. And generally these office of conversations and things it's easier to hide.
I feel like when you're in an office setting versus remotely like, "Hey, we're strictly measuring based on," Like, "Hey, what can you actually tangibly impact to the team in the business?" There's more of a focus on those things now. And especially in this time where we're contracting a little bit in the markets, right? So companies are doing layoffs and they're trying to save money, right? So they're looking at like, "Hey, do I have the right people to support my company for the next 10 plus years?" Where do I need to strategically invest in talent? And where is waste?
Unfortunately, there is a layout since things happening because people might have over hired, right? During previous years and didn't foresee some of this economic type of turmoil going on and everything with the market and the economics of this country. But yeah, it's being very strategic about who you're hiring and there's a more to focus on individual impact.
Maurice Cherry:
Oh, absolutely. I mean, I know that there were certainly a few companies that during the pandemic, they really became unicorns in a way. A lot of companies really leaned on them. And then now that culture is changing. As people are starting to get back out there, more travel, offices in some places are reopening, et cetera.
Now it's like, "Oh, we need to scale back because we can't support the level at which we've grown or they haven't found an effective way to, I don't know, I guess pivots to that, which is just business. That's just how business goes. But to what you said earlier around about how this new environment means that you can pull talent from anywhere, it does strip away a lot of the…
I would say trappings of work, a lot of social trappings of work before I'm saying this we're back in the old days, but it was more about showing up to work at a certain time and you hang out after work and you get to know people. And I mean, that stuff is great. But then when everyone's just reporting in a Slack team, it strips away all these ways that you try to be so overly social that it's like, "Okay." What about the work that you're doing-
Jeff Jean-Baptiste:
Right.
Maurice Cherry:
… is the output of the work? What we need? Or are you just nice to have around?
Jeff Jean-Baptiste:
Yeah.
Maurice Cherry:
That whole thing about, I feel like, and I don't know how true this is, but I feel like that whole excuse about a culture fit gets weakened a bit now, because of this new environment.
Jeff Jean-Baptiste:
Yeah. I totally agree with that. That culture fit is definitely weakened in a sense, right? One of the interesting thing, I don't know if you saw this, but with remote work as well, a lot of companies have able to become a lot more diverse. They saw Black employees have risen some of the percentages there. It's pretty interesting to see how it's that decentralization of talent, someone who's in a specific part of the country.
That's not willing to move to the west coast to work for a specific company but they're available now, right? So now I can hire that person and companies have actually become more diverse now being able to do that in remote. So there's a lot of different changing dynamics. And I think for the most part, I think it's a net good.
Maurice Cherry:
Yeah. I think so, too. What would you say is probably the most challenging part about the work that you're doing now?
Jeff Jean-Baptiste:
Oh man, the challenge that I would say the work that I'm doing now, well on one side of it, the remote side of it as well, communication, I alluded to this earlier. That's one of the keys to being super successful in a team, right? So being able to communicate effectively, but as far as the work itself, we're taking on a new challenge, right? So Gusto historically has been more on the payroll and benefit side of things and we're doing a lot of learning and talking to customers and trying to figure out what are the hardest challenges they're facing right now in trying to engage and retain employees.
And what's happening right now with folks that are doing layoffs and things like that. It's very hard to try to get ahead of that, right? In case as an employee, but also on the business side, if you're not doing layoffs, then employees who decide to leave for another company, how do you even get ahead of something like that? We talk to a lot of customers who try to understand those pains and how do you develop people internally too?
So it's a super interesting space just working. It's working in people, basically it's people management and that's a super hard thing to work in as well. Just how do you look at these relationships between companies and employees and try to help these companies retain these folks?
Maurice Cherry:
Yeah, I think now certainly with us now being roughly three years in with this, there are people I've had on the show who have started their career in a remote position. And now they're moving from remote position to remote position. And the difficulty that I see some of them with is that the job changes.
But I'm still in the same place because it's from home, they're working from home and it's like, yeah, you can set those boundaries and close that laptop and such. But that separation is just so hard to have between a physical office and your home. Everything is condensed into one space.
Jeff Jean-Baptiste:
Yeah. It's hard to make that separation for sure. And even every day I just get up and close my laptop and then I turn around and the TV's right there. I'm just like, "Okay." It doesn't really feel like you're actually disconnected sometimes. But I have done a lot of freelancing actually for a very long time since being in college and I'm actually been used to it to some degree.
So I'd have a day job as doing a design and going into an office, but then I'd also do freelance on the side where I'm actually working at home and helping folks with doing their websites or whatever at that time. So it was in a… I was prepared for this moment and I think that's why I leaned into it so heavily.
As soon as I got tasted remote, I was like, "Oh yeah, this is me." And I literally was looking after my last role. I was like, "Hey, I got to find something that was that's remote first." That's what I want. I know that's where I'd be comfortable.
Maurice Cherry:
Yeah, for me, the main way to have that separation is to… And I mean, this is a luxury, I think to even say this, but to have two separate machines, my main machine at home that I work on is a windows desktop. And my work machine is a MacBook pro.
So it's completely different for me at the end of the day, I close my laptop, I put it in the closet one, so I don't have to see it, just I don't want that visual cue, but then when I'm getting ready for the next day work is right there. So it's like, "Okay, take the laptop out, plug it in. I'm at work now."
Jeff Jean-Baptiste:
So you not only have that physical separation and actually being able to see it, but then you also have a different operating system.
Maurice Cherry:
Yeah, exactly. It's completely different operating system, different peripherals. I'm like, "Okay." I have to really separate it that way. Because back when I had my studio and I'll talk about your freelance work too. But back when I had my studio, I would tell people, "Yeah, I can work half days all the time, any 12 hours I want." I would just stay on the computer, working, working, working, because there wasn't that separation for me. I was doing work and non-work from the same machine.
Jeff Jean-Baptiste:
Yeah. I will say that. So I'm the type of person where time can run away from me. I can be working and then I can forget that I need to quote, unquote, "clock out, right?" So my wife tries to pull me my desk. It's like, "Hey, it's past five. What are you doing?" One thing I'm excited about. Like I mentioned earlier, I'm working to be getting a house soon.
So I will have a dedicated office. So right now I'm in this, it's an office/space that we used to watch TV. But when there's more of a separation there, I can intentionally walk out of here and be like, "All right, works done." Now I'm going to live my personal life.
Maurice Cherry:
Yeah. You'll love it. I'm telling you just having that separate space. That is great.
Jeff Jean-Baptiste:
Yeah. I'm looking forward to it.
Maurice Cherry:
Yeah. So let's switch gears here a little bit, learn more about you and about where you grew up. You alluded to college and studying design and I want to get there eventually, but let's go back. Tell me about your childhood were you kind exposed to a lot of art and design and stuff growing up?
Jeff Jean-Baptiste:
Yeah, I would say I have been exposed to a lot of art and design in very subtle ways. I grew up in Miami, Florida as where I was born. And at the time, I used to watch a lot of cartoons. I loved cartoons and I used to just try to redraw different cartoons. Of course, during my time, Dragon ball Z stuff like that. And I used to really do a lot of comics myself. I could try to basically create comic book series. I actually came up with one, I think in middle school. I even distributed it out and tried to sell some.
And so I was always super into drawing and art and design, and I was just always trying to find creative outlet. I was more of a house like nerd. So I'm looking into doing things on the computer. I didn't even start doing anything digitally until later, but I was very much so thinking that, "Hey, I'm going to be an artist or something like that when I grow up or whatever."
And then when I got to high school, I started looking at really, how can I really make a career out of this? And that's when I started contracting a little bit on the creativity side and looking to what actual careers are out there. And I looked at being an architect basically. So I did enrollment for architectural drafting while I was in high school, which I came out with an architectural drafting degree actually out of it.
This was basically me doing half my time in my senior and junior year at a trade school to earn that certificate. And then after that, I went to USF for college and major in architecture. And I was really convinced in that was what I was really going to do first of my life. And I tried to put myself in this box where I was like, "Hey, I can only make money doing something that's serious, right?" I have to be an architect-
Maurice Cherry:
Uh-huh.
Jeff Jean-Baptiste:
… that's the only way I can create, I can express myself creatively and I still love architecture. I still love it. But I quickly realized when doing that coursework that I was mainly interested in the purely aesthetic side of just… I know if you ever seen concepts of different buildings and things like, "Oh, if what nature was integrated into certain structures and we could live in harmony with nature and these different wacky building styles."
I was doing stuff like that and doing in that course and architecture and I was less interested in stuff like building code and stuff like that. So yeah, about halfway through that, I was like, "This is not for me." I was lost for a little bit honestly. I was like, "I don't know what I'm going to do." But I think around that time I pledged five days Sigma in college.
And one of the things that I had to do for my coming out show, well I took it by myself, was we needed a flyer and I actually made. My first flyer that I ever made was actually created in a combination of PowerPoint and Microsoft paint, so that was my first flyer, yeah. And then I was like, "You know what? That was cool. I enjoyed that."
And then I sat down for a summer and was looking like, "Hey, what's the actual industry standard tool I can use to make something like this." And that's when I taught myself Photoshop. And after that was the bullet train to just creating endeavors and doing things for people, just designing flyers that started off with that and then doing logos. And then actually guys started doing websites for people.
And that's when I started to see the light, right? I was looking like, "Oh wow, I can actually create these really cool websites for people and make them look really nice and people will pay me for it." And I was doing freelance while I was in undergrad. And then I was still searching like, "Hey, I want to do this professionally."
And that's when I started taking jobs, doing graphic design. I took a job at a local. There was a Gyros and Subs locally in Tampa, Florida. And I did all their marketing. I did their menu and I did some work on their website, their email marketing. And yeah, I took a series of jobs after that, just around design and web design and started doing marketing sites.
And yeah, then after that I actually got exposed to doing product design and UX design. When one client basically asked me, "Hey, can you do an app?" And I was like, "Sure." I will say yes to everything and just figure out with the layer. So I'm like, "Listen, I already know." And sometimes I'll tell them straight up. I was like, "I don't know how to do this, but I'm going to figure it out." Yeah. That's why I took this deep dive into learning UX myself.
And I was like, "All right, I need some formal structure around this." It's not just something I could just pick up. I have to know how to think in this way and how to solve a specific problem and approaching it from these different ways. I took this Interaction Design Foundation as this online type of classes that you can take basically different modules.
And that's where I formalized my education around UX design I was like, "Hey, how do I apply some of my creativity and get some more of this skills on the side of UX to really understand having user-centered problems and really solving it from these really thoughtful ways and using user journeys and end-to-end flows," so that was how I really started to formalize my education around it.
And from there, that's why I started taking jobs from different companies doing product design eventually got to… I feel like AdventHealth was my first true rigorous cross-functional experience. I was working with product design, but I did along the way, I've learned so much from different companies out at Sodexo for a few years, doing graphic design there. And I got a little bit of exposure to doing some product design and I just wanted more of it. So I just started to align myself more and more with doing UX. And, yeah, here I am today.
Maurice Cherry:
I mean, I think it's really worth mentioning that you cut your teeth on product design online. It wasn't through a traditional four-year course or something. It was because you already, I guess, built an interest through your natural talent and curiosity and the work that you had been doing, but to then find a program online and then use that to level up to the next stage of your career, I think is something that probably a lot of people listening can get inspired by.
Jeff Jean-Baptiste:
Yeah, I think the most beautiful thing about. I think a lot of careers in product, there's a lot of these unconventional pathways and especially in UX, I'll hear different stories, very similar to mine. You don't have to actually go to these specific design schools and stuff like that. There's other ways that you can get there. It's really just aligning your passion and just being able to apply yourself. Because if you're going to do take a path like mine, you have to really want it.
So you got to be really committed because it's not easy to pretty much teach yourself, stay focused because all this stuff was self-paced, right? It's all out of my own passion, wanting to learn more. I was hungry for that knowledge. If you have that core part of like, you can definitely chase that in these different paths. But if you need more structure, then yeah, I would definitely say, "Hey, go to design school if that's for you."
But I know for me that was… I probably would have gone to a design school and like that, but I did not even have the exposure. I even to know that was out there. So I had to make due with what I had at the time. I was like, "Okay, well I'm already three years in here at USF. I wasted a couple years doing architecture. I know I want to do design." Then I see that I can still probably get hired for doing design without having a full design degree. So I was like, "You know what?" I mean, I got a degree in information architecture, which did a lot of web design things, but that was actually supportive of it as well in my skillset.
So yeah, there's these very unconventional pathways you can take, but just find what works best for you and get after it. But I think just having that exposure earlier, the better, if I would've had that, my path would've been much different, but I found a way eventually. So it worked out.
Maurice Cherry:
Yeah. And I mean, you found a way, but also as you mentioned, you had that discipline to do it on your own. A lot of these courses they can give you or they do give you the information, they lay out a path for you, but if you're not going to actually follow it and take it, then it's for nothing.
Jeff Jean-Baptiste:
Exactly, exactly. Just have that focus. If you're going to like just be intentional about everything you do. If you know that something that you really want, just go after it and just stay focused. I think over the next few years, I think just the fact that information is so plentiful now. You imagine 15 years ago, all these resources weren't even out here and then go even further back.
It's just so democratized at this point, but now it's going to be the difference makers, the people who want it versus the people who are just doing it like, "Hey, just so nice to have. And I'm half in half out." So yeah, it's going to be… We'll see that separately time plays out so.
Maurice Cherry:
Yeah. I mean, I've been around long enough. I can imagine. I know because I was there. I remember 15 years ago. It definitely was not like this at all. I mean, hell even I would say maybe not even 10 years ago, you started to have some of the beginnings of some things you had, I think the beginnings of a general assembly or a tree house or something, but what you also really just had were things that people cobbled together of different snippets of code and things of that nature you had like, "Oh God, I'm dating myself."
But you had dynamic drive. You had W3 Schools and stuff like that in lieu of something that could be more, I guess, official like a general assembly or a tree house or something of that where you could actually go through a more formalized career thing, almost like school, because you would have an instructor of sorts or someone that's at least looking at assignments and giving you feedback in that way. It's self-governed but at least you have that expert authority to help you along the way.
Prior to that, you just put stuff together and hope for the best. You really were like. I hope this works or there was so much experimentation back then. And I don't know if the web really encompasses a lot of that now because so many things or productized and there's design systems and such that everything is pretty rigidly locked into certain systems in order to scale.
And of course, to bring in designers and engineers and writers to all work together. But one thing that the early web definitely had, was a lot of just creativity-
Jeff Jean-Baptiste:
[inaudible 00:37:35].
Maurice Cherry:
… just people experimenting, just people making things up. And I feel like that same feeling is why a lot of folks are interested in Web3 right now.
Jeff Jean-Baptiste:
Mm-hmm. I think so.
Maurice Cherry:
They want that or they're trying to get that feeling of freedom back that the early web had and granted Web3 encompasses a number of technologies. It's NFTs, it's crypto. It's a number of stuff. And I feel like a lot of what's reported out of it is largely very negative, but to be fair, it was like that when the internet first came about.
Like everyone was not hopping to get online. It was a lot of skepticism about what is an email address? Should my business be online? How do I make this happen? There was a lot of skepticism and granted, eventually people got over that hump. I think Web3 is probably a little different in this accord because of aside from just the learning curve in terms of figuring out all these different terms and stuff, which again, very similar to before, it's also just the cost. I mean, I would say back then personal computers were, I mean my God, I got my first personal computer in whoo '99, 1999 it was a Pentium 3. It was 500 megabytes. Maybe not megabytes, maybe it was 500. It probably was 500 megabytes.
Jeff Jean-Baptiste:
It probably, it might have been.
Maurice Cherry:
It might have been. Yeah, it might have been.
Jeff Jean-Baptiste:
It might have been without so much more computing power in the palm of our hands. Actually on my wrist right now, probably-
Maurice Cherry:
Right, right.
Jeff Jean-Baptiste:
… computing power.
Maurice Cherry:
Back then you could play solitaire, but now you could easily do that on your phone or something like that with an app. But I say all that to say that even that was a bit of a curve for a lot of people's like, "Can I afford a computer in order to do these things? Can I afford?" Well, there actually wasn't high speed internet back then. You had dial up, but you had two lanes, you had a slow lane and a fast lane. That's what they colloquially called it.
And then eventually you had DSL and then cable and now high speed is fiber optic, et cetera, and stuff like that. But I see a lot of those parallels. And then I notice just how design is very much following those parallels as well. So I wonder in the future how Web3 is going to impact a lot of what we know now, even typically as product design, because product design is very much within a two-dimensional space.
But it's also a lot of the interactions and the patterns and stuff are for a level of computing that we've had around roughly for the past 15 to 20-ish years. Once people start jumping into augmented reality, virtual reality, the metaverse and stuff like that brings up a whole new host of interactions and scenarios and problems as well, so-
Jeff Jean-Baptiste:
Yeah.
Maurice Cherry:
… that's interesting.
Jeff Jean-Baptiste:
I think it's a lot of unlock. Yeah. I think it's a lot of unlock that's going to happen in the next few years. I think definitely what you touched on with augmented reality. I don't know if you had Annie Jean-Baptiste here on the show but, she works at Google and I saw something recently with basically just allowing folks who deaf people, folks who can't hear like to wear these glasses essentially. And they can basically see on the glasses, the words that are being spoken, written out in the glasses from there, they can see the words, right?
So I thought that those were one of those magical things that can be done with technology. And when things that are changing with having some of this spatial computing happening with augmenting your reality with adding another layer, basically into your environment, I think that's yet another frontier that is yet to be designed for a lot of exciting things. I think as it technology matures, that'll be really cool to touch upon.
And yeah, I'm excited to see where things go. I do like experimentation just generally seeing folks going to the NFTs and doing all these different things. I think everything happens in a cycle and things have become very strict and there's a lot of rules and everything fits into a box and this might be another frontier where things are starting to expand a little bit and there's a new space to start to design for.
And there's the rules aren't set in stone yet. So until that happens, there'll be a lot of experimentation and folks are going to be going in a lot of different directions. So I'm excited to see where things go. I'm pretty optimistic about technology usually. So I'm definitely open to seeing and talking about those things too.
Maurice Cherry:
Yeah. So you're in Florida, you're in Orlando or right near Orlando. How is the design community there? Have you found a lot of that there?
Jeff Jean-Baptiste:
Oh yeah. There's a design community here. I would say basically on the UX side, there's a downtown Orlando UX. This is actually a group that my former manager at AdventHealth, he organizes that group and it's pretty small. It's pretty small. That's one of many design, little meetups that happen here. But I wouldn't say the design community is that big, but it is growing.
There's also a small VC startup community here as well. There's a lot of little startups that you might not have heard of, but then are stealth mode that are happening here. I think there's a lot of just between some of these major Florida cities. I feel like there's a lot of cross-pollination that is happening folks that are in Miami, folks that are in Tampa, folks that are Orlando.
There's a lot of networking that are happening between folks there, because I think there's a lot of little bit of proximity there, but I think there's going to be definitely just a lot bigger community of designers and folks doing product here in Orlando. I mean, especially since the people can be remote now, it's like, "Oh, well I can move to Florida." I was like, "Cool."
So Miami is super expensive, but Orlando is getting there, but they're not the worst. So this is my open invitation to folks that come to Orlando. I think it's pretty great community and it's growing. So yeah, interesting to see where that goes.
Maurice Cherry:
And you talk a bit there about that startup scene. I think we know when folks look at the south. I mean, I think they can, I don't know how much of Florida they really leave out. Well, I know for example, back in the day.
Jeff Jean-Baptiste:
But Florida is not like a south-
Maurice Cherry:
Yeah, I mean.
Jeff Jean-Baptiste:
… if you don't include Florida at all. I'm like,-
Maurice Cherry:
I know it's tricky.
Jeff Jean-Baptiste:
… "I think [inaudible 00:43:54] southern," but sure.
Maurice Cherry:
Yeah, it is tricky because I don't know. Maybe let's say from Mississippi to Georgia. Well, so all going further, let's say Mississippi to North Carolina, a lot of that, of course, people think of as the south. And then even when people think of tech or design, a lot of that gets left out unless people are thinking about Atlanta.
I remember just even 10 years ago, people would talk about what's going on in design in the south. And they wouldn't even look at Atlanta. They'd just look at Florida. They'd look at what's going on in Miami? What's going on in Orlando? And there's six states that you all are missing. They're like, "Yeah, nothing's really going on there." I guess, they thought we were just all barefoot blowing on jugs or something.
There's technology here. There's design here, which people now are taking note of, particularly as it relates to diversity. But again, the way that things are changing in just a number of different years and now with people being able to work from anywhere because they have remote work, you're starting to see, I think you're starting to see these talent centers even shifting.
I was reading today about how folks a lot of people are working out of Mexico City and the locals in Mexico City are go away. It used to be good here. And now y'all work from home. People moved here and you drove the cost up and you acted stupid like go somewhere else.
Jeff Jean-Baptiste:
The techies are ruining the scene.
Maurice Cherry:
I mean, it wouldn't be the first city, right?
Jeff Jean-Baptiste:
Right.
Maurice Cherry:
But what you're starting also to see that point of decentralized talent is now work from home means work from anywhere. There's people at my current job that, I mean, they are like jet setting. They're like, "Oh, I'm in Hungary this month. Oh, this month I'm in Memphis, Tennessee. Oh, this month I'm in Mexico City." And they can work out of those places because they can work quote, unquote, "From home," which people are taking to me from anywhere.
But I think companies now are even starting to try to restrict that because what if you work from, I don't know, what if you work from Cuba? What if you work from Russia or something? If you're working from maybe a place that's not so politically stable, what does that mean? So it's opened things up, but then I think it's also probably generated some different issues also.
Jeff Jean-Baptiste:
Yeah. I think that some of the companies are out there are finding some strategic ways to still give that flexibility with you can work from anywhere. I think Airbnb had something recently around, "Hey, you can even work at a different country for a set period of time." You're not going to be there for the whole year or something, but you can go to different countries and work from there for a month or something.
I forgot what the timeframe was, but there's different things like that. And those companies that are going to be setting some of these different policies, that'll be flexible and that they're going to make sense to folks. So when you look at them, you be like, "That makes sense." And also that's really attractive. I like that model, folks are going to start picking those companies over others.
That's a competitive advantage when you look at it from this 10,000 foot you're looking at, "Hey, what are the companies that are being super restrictive? What are the companies that are the most flexible with this? And with that fits with my way of life." I think all of this is going to be a journey of alignment. Everyone is looking for what is that company you able to do for me? And what the company is looking at for talent is like? What are these specific folks able to do for my company?
So that I think is on both sides, space, you had journey of alignment. We're trying to find that equilibrium. We're not there yet. I think everybody's learning, but there's going to be a lot of folks stumbling along the way as we've been seeing for a little bit now. And when we find that place to meet, find that middle ground to where things work, people will be making those choices. And they'll be that clear separation of folks who are doing remote well and folks who aren't doing remote well. And I think it's going to play out.
Maurice Cherry:
I think so too. I mean, even now for job seekers, that's now a consideration. It's like, "Oh, well what does the remote work policy look like? Or can I work from anywhere?" Or even if you're able to work from anywhere like some hybrid situation. Because some people do want to have that option to go into an office, but-
Jeff Jean-Baptiste:
Absolutely.
Maurice Cherry:
… it varies now. And I think companies have to try to realize that now with the pandemic, things have changed. It's not even so much that things have changed in terms of the fact that people aren't working in offices, but workers expect more flexibility now with where they work-
Jeff Jean-Baptiste:
Right.
Maurice Cherry:
… and that's something that is… That's a big paradigm shift.
Jeff Jean-Baptiste:
Yeah. It's been proven that it work can be done from anywhere and that you can still deliver product right from anywhere.
Maurice Cherry:
Right.
Jeff Jean-Baptiste:
And companies are seeing some advantages of that too. And we're just trying to find our way, I think, with some of the shortcomings of remote. So I think having that hybrid model is what's there to stay is, like some folks might still want to go to the office. They have that option. Cool. They're in proximity of some of those epicenters, the New York, California have those options, but then you'll also have that talent pool that are fully remote as well.
But I think it's still important that these teams can still come together. At Gusto, we still like find these moments that, I've only been there for about a year now, but we've already come together twice. I went to San Francisco to do an onsite with my team and I left that feeling super energized for sure, meeting my teammates for the first time and us going out and doing some activities and team building exercises and my team building, I just mean just going to have fun going have dinner, stuff like that.
But those times were pretty fun. And we're actually looking forward to in a couple months, I think in October, I'm going to go to Denver, we're going to do another onsite there. So yeah, so still coming together for those special moments with your team, I think is a good balance. If you have a fully distributed team being able to do that a couple times a year, I feel like that works pretty well in my experience right now. I feel like it's a good balance.
Everyone loves how structure is so far right now. And I think that's where companies are trying to find where that what makes sense for their company and then what also works for employee engagement. So I think everyone just finding their way with that and finding what's the right balance? What's the right cadence of meeting up together? Those are the teams they're going to win.
Maurice Cherry:
Yeah. Right now with where you are in life and in your career. How do you define success?
Jeff Jean-Baptiste:
Well, I think success is definitely going to be defined by your impact at the end of the day, you on two fronts, right? So impacting those interpersonal relationships, the folks that you're working with around you, people remember how you make them feel, right? So how they remember working with you? So I'm trying to also level up how I communicate? How I work with folks? Being able to include folks in things that we're doing on our team and then also leveraging business impact as well. I think that's another big key part.
I think of leveling up in careers in general is just being able to tie back what you're doing to the goals of the business. So I think alluded to the storytelling piece as well. I think that's another big part of that is just being able to tie that back to, "Hey, here's the story that we tell about our customers. Here's the opportunity that I'm trying to unlock with their pain and then how this translates to how the business can thrive by helping customers."
So yeah, I'm just trying to tie all these things together. Be a good person, be a good human at the same time. I think it's very much so about how as well, how you get to certain places in life and also professionally? I think those things do matter and how the impression that you leave on folks? So I'm just trying to do things sustainably and make sure that I'm having that impact along the way and growing.
I consider myself a lifelong learner as I've taught myself a lot of things, but there's a lot more that you can still learn. And I'm just trying to take in as much information and trying to level up as a designer from different avenues, even beyond design, trying to getting to learn more about product. I'm trying to understand the technical engineering side and how to work better with my engineers as well.
So it's a learning process, but I think if you're challenging yourself every time to do better and learn more, it's you don't do 1% better, you do a little bit good every single day, 1%. And you'll start looking back to a year, be like, "Wow, I made so much progress." It didn't feel it at the time, but damn I did that.
Maurice Cherry:
Yeah. What advice would you give out there to people that are listening to your story and they want to follow in your footsteps? What would you tell them?
Jeff Jean-Baptiste:
Yeah, I would say be hungry, just be hungry for learning, be hungry to solve problems for people because that's what these companies are looking for. At the end of the day is aligning your passion like, "Hey, I can do X, Y, and Z really well." And then a company's looking for that, but then also you want to align to their… You want your values and motivation to be aligned to that company as well.
So just try to make sure you have the baseline like, "Hey, I have the skills now let's look at some of these other quote, unquote, "Soft skills." Like how's my communication? How's my storytelling?" Those parts are harder to master, but with practice, you'll get there. But I think just at the end of the day, I think that talent bars is going up for designers.
And I think what's going to be a big differentiator for designers that are starting out as well, is being able to pair their design skills, being able to augment their design skills with storytelling and business strategy, because companies are really, really looking for that and making sure you can tie back what you do to those things. It's just going to be crucial.
Maurice Cherry:
That reminds me a lot of the words of Douglas Davis that we've had on the show twice now. He's the author of a book about-
Jeff Jean-Baptiste:
Business ticket of design.
Maurice Cherry:
… yeah, exactly. It's about making sure that you're able to bring those things to the table because in terms of visual design, and this is pandemic aside, your visual design skills are a dime a dozen. And honestly there's probably always going to be someone that could do it for better, cheaper or faster. If you're able to bring some advantage to the table, along with your design that's what's going to be the differentiator like you said.
Jeff Jean-Baptiste:
Yeah, yeah. I read that book and I remember that as well. That was a key unlock for me in my mind. I was like, "Wow." There's a lot of folks who have great design craft and it's great to look at it. You can look all over dribble and see all that awesome design, but none of those are solving business problems. Most of them, anyways, they're just there for aesthetic folks.
Just look at it for pleasure, but actually what does it solve when you look at business at the end of the day, that's what you're there to do. They hired you to produce these outcomes for the business. There's a goals that they're trying to attain. And I think as designers, we of heard, "Hey, design wants to see the table." All right, we're at the table now. Yeah.
Now, at the table, you got to be able to have that business speak. You have to be able to tell that story and be able to tie these things back to business outcomes. So yeah, I think Douglas Davis book is excellent read. I would definitely recommend every designer to read that. And then yeah, I've done some work as well in trying to level up my business skills and design and trying to pair that impact and was great at Gusto too, we did a workshop with designer fund as well to talk about that and learn more about how you can bring that business impact into your work and tell that story?
So it's definitely something that we think we invest in ourselves and our designers at Gusto so that tells you a lot about how important this is? The business cares about leveling up their designers to understand that so that's super important.
Maurice Cherry:
Where do you see yourself in the next five years? What kind of work do you want to be doing?
Jeff Jean-Baptiste:
You know, I'm at this crosswords where you think about a designer or any profession where you're an IC and you think the next step is logically going into management or people management. I never saw myself in people management and I'm not sure that I do, but I know I do like to be able to mentor folks, mentoring a designer, I guess.
So right now, and it's super rewarding to hear their experiences and how they're approaching network. And I'm starting to get more comfortable with that type of work. But I could as much see myself as still being an IC at a higher level in the future, as well as maybe dialing into people management, because I think there's some rewarding work. It's very different work. It's not like, "Oh, I go to people management, I'm going to get on a promotion." It's a different level of work. You're in the people business. You're there to empower the folks that report to you and help unblock them to help them to develop.
So I think that's a way of being able to be that resource for other people and just being able to pass on knowledge that you have and to help others grow. I think that's awesome. I think at the end of the day, if you have a passion for helping people as designers, that's what you're doing, but going into people management is another way to do that as well.
I'm empowering and helping someone else to help other people and help unblock them as well and guide them. So that might be a path for me, but we'll see, I'm still learning and I'm very much so in IT space right now, but we'll see what the future holds. Maybe we'll have a podcast in the future. You can ask me again.
Maurice Cherry:
All right. Well, just to wrap things up, where can our audience find more information about you, about your work and everything? Where can they find that online?
Jeff Jean-Baptiste:
Yeah, I'm on Twitter mainly. Twitter is my jam, but also I'm on LinkedIn. Those are the main two places that you can connect with me. You can reach out, you can DM if you have any questions and I'd love to talk to people. I love to chat. I'm pretty open. So yeah, just hit me up on there.
Maurice Cherry:
All right, sounds good. Well, Jeff Jean-Baptiste, I want to thank you so much for coming on the show. I think what really comes across to me as you describe your story and even the work that you're doing right now is that there's this energy and there's this passion for what you do that really, I think shines through. It's one thing, like you said, to be able to roll with the punches with the way that the current environment is going.
But the thing that sets you apart from other designers is what you're bringing to the table. And I think more so than just your design skills and your business skills, you're bringing yourself to the table. You're showing up as a very personable, energetic person. And I think people will be able to really feel that from this interview, they can get that sense of this is who you are and this is what you bring to the table. So thank you so much for coming on the show. I appreciate it.
Jeff Jean-Baptiste:
Maurice, thanks so much. I just want to say this was awesome time talking to you and yeah, I think what you're doing is well for the design community and Black designers and practitioners and engineers at large has been great. This is a show I've actually listened to way back and earlier in my career. So I would attribute a lot of my success to this podcast. So thanks.
Sponsored by Hover
Building your online brand has never been more important and that begins with your domain name. Show the online community who you are and what you're passionate about with Hover. With over 400+ domain name extensions to choose from, including all the classics and fun niche extensions, Hover is the only domain provider we use and trust.
Ready to get your own domain name? Go to hover.com/revisionpath and get 10% off your first purchase.