Design can be a powerful way to bring people together, and Tim Allen embodies that as the VP of design at Airbnb. He oversees several teams at the popular online housing marketplace, including their newest offering Airbnb Experiences, and we spent the first part of our interview talking about how Tim got started at Airbnb, as well as the company's open culture.
Tim also shared how growing up and living around the world as a military kid helped inspire his early design work, talked about attending NCSU and working his first design jobs at Interactive Magic and IBM, and spoke on the importance of design leadership and designers as business leaders. Tim truly wants to be a beacon for more Black designers to enter the industry, and he's leading by example!
(NOTE: This interview was recorded before the COVID-19 outbreak in the United States. Check out the Airbnb Newsroom to learn about how Airbnb is helping relief efforts, including providing housing for 100,000 COVID-19 responders around the world.)
Transcript
Full Transcript
Maurice Cherry:
All right, so tell us who you are and what you do.
Tim Allen:
Hi Maurice. I'm Tim Allen, VP of design at Airbnb, and I look after design functions globally across design, research, UX, writing and creative.
Maurice Cherry:
Wow, that's a lot to look over.
Tim Allen:
Yeah, it's quite a bit.
Maurice Cherry:
What's a regular day like for you at Airbnb? Does that exist?
Tim Allen:
I don't know if it does exist in terms of a regular day. It's a lot of context switching, I can tell you that. Sometimes I'll have a day where I try to avoid these, but it's just back-to-back meetings with wildly different contexts for each meeting.
Tim Allen:
But typically there's some combination of our creative culture. How do we feel that? How do we calibrate it? What does quality look like? Which leads into product. How are we impacting customers' lives through our product and maintaining quality? Again, that's a pretty constant theme.
Tim Allen:
And then creatively, how are we creating resonance with our brand? So in some variation, sometimes all three, sometimes just focusing on one, like people. I'll have one day where I'm focusing just mainly on one-on-ones and connecting with folks, making sure folks are being enabled to do the best work.
Maurice Cherry:
How did you get started at Airbnb?
Tim Allen:
I got started through a conversation. Much like many other positions I've had. I had a conversation with Alex Schleifer who is our chief design officer and we just hit it off immediately. Our sons are about the same age, so he was actually on his way to pick up his son the first time we chatted. And we started talking about our design ethos and what we believe in. And that pretty much rhymed and that was a great way to start a relationship.
Maurice Cherry:
So just had the conversation and then before you knew it, you're working at Airbnb.
Tim Allen:
Yeah.
Maurice Cherry:
That's pretty good.
Tim Allen:
It was a snowball effect.
Maurice Cherry:
What's the best thing about your job?
Tim Allen:
I guess the best thing about my job, I think it's just being creative. Just thinking orthogonally about business challenges, customer and community challenges, and then applying my own sense of tuition and background to those challenges is pretty exciting.
Maurice Cherry:
Tell me more about the team. You mentioned you are doing a lot of context switching. Talk about the teams that you oversee.
Tim Allen:
Yeah. You have experience design, which is a pretty broad function. We have generalists here, so a good range of folks that either index on visual design or interaction design. Or mostly a combination thereof, but with varying levels of capability on either side of that. You have research and insights, survey science, data science and UX writing, information architecture. There's quite a bit of variance there.
Maurice Cherry:
It's interesting that there's all those positions at a company that is… I don't know, would you call Airbnb a tech company since they're mostly deals, I would say with… I don't want to call it hospitality, but with lodging in a way?
Tim Allen:
Yeah. Yeah. Accommodations is one big part of our brand. We've recently expanded into just Airbnb experiences where you don't have to own a home or have a home in order to be a host basically.
Maurice Cherry:
Talk to me more about that.
Tim Allen:
Yeah. So Airbnb experiences is all about the best in class experiences. So when you arrive at a location you can feel like you're at home and you feel like a local as opposed to feeling like a tourist. We have different categories such as animals just launched recently to a lot of a fanfare. We have a couple of categories that are getting ready to launch soon as well. Cooking is another category that's very popular.
Tim Allen:
We also have adapted experiences too. So just in terms of inclusivity and accessibility, a lot of times people with mobility impairments or people that are disabled, have a tough time when they're traveling, being integrated into experiences. And so we have a whole host of adaptive experiences that are specifically catered towards disabled and the combinations that are required.
Maurice Cherry:
So, it's not even so much… It almost sounds like a built in almost a package in a way. Of course with Airbnb you're renting out someone else's space, but it sounds like with this it also lumps in different activities you could do, like maybe going out to eat or I don't know, seeing a play or something like that. Is that a good way of describing it?
Tim Allen:
Yeah, I mean mostly my job is about innovating around the entire consumer journey across digital and offline experiences. From the moment you think you want to go somewhere, as an inception moment through planning, through booking. Obviously through hosting is a big experience in terms of your commendation and the experiences you have while you're traveling. And so it's like how do you create the best trip possible and make it as magical as possible?
Maurice Cherry:
I never thought about it, I guess in an end-to-end sort of way like that. It's not just that you're providing lodging, you're also providing entertainment. You're providing… It's almost tourism, I guess, in a way.
Tim Allen:
Yeah. Yeah. A big part of our brand is around tourism. We have ecotourism category of experiences as well. So yeah, that's a good way to think about it.
Maurice Cherry:
Nice. Let's see. So one thing that I've heard a lot about with Airbnb, we actually have had someone from Airbnb on the show. This was years ago. I don't even know if he still works there anymore, but he talked a lot. His name is Ariem Anthony. I think he was in the production design department, but he talked a lot about Airbnb and it's very open culture. Is that something that you've experienced since you've been there?
Tim Allen:
Yes, one of the biggest things that drew me to Airbnb was my perception from the outside of the community. And then now that I'm a part of Airbnb, it's definitely rung true. That open theme is definitely there. I think it's because of the company mission is resonates so deeply with so many people. It's usually the number one reason people join or want to be a part of the company.
Tim Allen:
And company missions can be fluff sometimes. Right. But I think the actual intent of delivering on the mission of creating a world where anyone can belong anywhere, so intentionally going after that and then also having the means to deliver against that. I think those two factors create this culture that it's like a baseline understanding that people have. This shared purpose that allows people to be open in a different way.
Maurice Cherry:
I know that's something that and really I think in a lot of big tech companies, having an open culture is something that's really important because diversity and inclusion is important. They want to make sure that people can bring the notion of bringing your whole self to work. Is that something, I would imagine in your position being a VP, that's a really big deal.
Tim Allen:
Yeah. I mean, if you think about the long game, the way I think about belonging is almost synonymous with creativity. I think when you overlay the factors that add up to belonging with the factors that enable creativity, they're very similar. To a sense of safety with this fearlessness of not creating errors and the openness of communication, feeling like you can contribute. All of these things that when you feel like you belong, it's very much a way of cultivating creativity too, which is basically my job.
Maurice Cherry:
How do you help to enable that throughout your teams that you oversee?
Tim Allen:
Well, one thing I start with is just this foundational representation. I think homogenous teams usually make homogenous products based on homogenous strategies. And that's definitely not what we're aiming to do. Again, we want anyone to belong anywhere.
Tim Allen:
And when you say anyone, how can your team stretch as much as possible across the breadth of human diversity in terms of gender, race or gender identity, orientation, background, ability, disability and so forth? We've got a good range of folks. So you start to get that diverse perspective built in. We don't have it solved. I think we still have a ways to go as many organizations do but that is definitely our intent at our foundation.
Maurice Cherry:
Yeah. So let's switch gears here a little bit. Of course, people know you from that not just your work that you've done while you've been an Airbnb, but also a lot of your other design leadership positions, which we'll get into later. But let's take it all the way back. Tell me about where you grew up.
Tim Allen:
Yeah, so my father was in the military, so we moved quite a bit. I actually spent a lot of time growing up in Japan, several years in Okinawa and several years in Iwakuni. And then we moved to California, South Carolina, D.C., Northern Virginia area. And I ended up going to high school and settling in North Carolina. And yeah, went from high school to college and design school in North Carolina as well.
Maurice Cherry:
Yeah, I saw as I was doing my research, you got your undergrad and you got your graduate degree from NCSU, which we've featured on the site before. We've talked a lot about how great the program is. We've had a few NCSU alums on the show too. What was it like there for you? Paint a picture. What time period is this when you're at NCSU?
Tim Allen:
Oh man. So this was a while back, at NCSU. It was called the School of Design rather than the College of Design. It was… I want to say it was one of the top 10 design schools or so. So coming into it, for me, was a very big deal. I was so excited to get in. When I first got there, I did feel like a fish out of water though. I was like these are real designers around me. My background is airbrushing so I had my little airbrush compressor and airbrush all ready to do some design work and-
Maurice Cherry:
Wait wait, hold up hold up, back up. Airbrushing? Like how people airbrushed T-shirts or something like that?
Tim Allen:
Yeah. Yeah that's actually… So how I got into I guess design or I would say art back then was in high school. Yeah, I had my own airbrush company.
Maurice Cherry:
Oh.
Tim Allen:
Yeah, T-shirts. In sophomore year in high school, my dad got me a airbrush set as a gift because I just drew all the time. I was a big drawer and I just drew cartoons and stuff all the time. And then he was like "You should try this." And before he knew it I was making T-shirts for the basketball team and football team and all my friends. And then that blew up into cars and boats and then I started doing businesses in the area and stuff. And by the time I was a senior had just a whole portfolio of business. Which I use that as a portfolio, which I didn't even know what a portfolio was, to get into design school.
Maurice Cherry:
So you were airbrushing T-shirts in the South? I'm imagining this is probably mid '90's probably.
Tim Allen:
Yeah you're talking about mid '90's.
Maurice Cherry:
Yeah. You were cleaning up, you were cleaning up because airbrushed T-shirts were pretty big back then.
Tim Allen:
Huge, man. I had a pretty nice business man as a little high school student. It was good. I just loved doing it. I'd just stay up. Literally I'd start, I don't know, after dinner ish and just airbrush all the different, I guess clients I had until 2:00 AM or so. Get some sleep and then go to school and handout all the merch.
Maurice Cherry:
Nice. So it sounds like your parents were pretty supportive of you using your talent in this way.
Tim Allen:
Yeah, I mean even just introducing the airbrush. It was just really, really supportive of art in general. I know that's not always the case but yeah. Yeah, that definitely was the case with my family.
Maurice Cherry:
Did they introduce you to art and design at an early age or was it something you just picked up?
Tim Allen:
Well, it's interesting because both my… Well, my mother used to teach art and then my father was just a doodler. And I just would see him doodle and he's actually a really good artist and he taught me how to draw when I was super young and then I just kept doing it.
Maurice Cherry:
Wow. And then that of course inspired you to end up going to North Carolina State. So tell me about the program. Do you feel like it really helped you once you got out there in the world as a working designer?
Tim Allen:
Yeah. Yeah, I mean I'd say there was a couple of very fortuitous events that happened and some mentors that sprinkled in there that just fueled the passion I already had around art into design. And not only helping me understand what design is but also how it relates to art. I think I was very fortunate to be in a curriculum that was labeled art and design. So it was this intermix of subjective emotion and then objective problem solving and how those things relate. Still to this day is foundational in the way I approach design. But yeah, the opportunities I had really were straight coming in. One of the professors saw my airbrushing and airbrushing is very volumetric. And that was one of the things that drew me to it. It's so easy to shade and so forth.
Tim Allen:
And so he's like "You know what, 3D design and CGI is probably something you would gravitate towards because you just have this natural instinct towards objects." And I was like okay cool. And so eventually, that relationship blossomed and he got a grant from NSF to create character animation and pedagogy for what they used to call multimedia back in the day. So this is basically like CD-ROMs and stuff. And so he just paid me for a summer to learn CGI. It was these silicone graphics machines that were down in a basement and no one that knew how to use them. They were built on Unix and he was like "Crack the code on these and learn how to create 3D avatars and animate them and there you go." And so I literally again, it was sort of deja vu with the airbrush. Because the same thing I did was for the next three months I just holed away in that basement learning 3D. And then yeah, that started… That was my path of how does art relate to design?
Maurice Cherry:
Self taught.
Tim Allen:
Yeah.
Maurice Cherry:
So once you graduated from North Carolina State, what was the first design job that you had?
Tim Allen:
First design job was at this game company called Interactive Magic.
Maurice Cherry:
Okay.
Tim Allen:
And they were known for this flight simulation game called Apache and it was just… Apaches are these huge helicopters in the military. I think it's like… Well, I don't know, one of the most feared or destructive helicopters in the arsenal or whatever. So we played that up in the game and basically you got the experience of flying an Apache helicopter but we also did first person shooters and a couple other things as well.
Maurice Cherry:
And now as I was looking through your extensive LinkedIn resume, I saw that you were a product design lead at IBM for five years and this was back during a time when product design certainly wasn't as widespread as it is now in the industry. I'm curious to know, what did you take away from that experience?
Tim Allen:
Oh man, that was foundational as well. I was fortunate enough to have Chris Paul as a manager coming out of the Interactive Magic. He recruited me into the team within a year I was already managing folks just because he just believed in my capability. So not only was I learning product design at a very early time but then also learning how to manage people and so forth early in my career. Yeah, it was a pretty cool time. I was working on WebSphere, which is like a enterprise web development IDE. Yeah and a couple other projects there.
Maurice Cherry:
One thing that I saw recently, I was reading through, I think it was FastCompany. I was reading through and they were talking about this study. I don't know, you probably might've read this, the study from McKinsey about CEOs and design leadership. Do you know what I'm talking about?
Tim Allen:
Yes…yeah.
Maurice Cherry:
So you probably know where I'm going with this. So you've held down a lot of design leadership positions at a number of different companies and agencies. I mean we've mentioned IBM, of course you're now at Airbnb but I mean, Adobe, Amazon, Microsoft, RGA. That's a huge swath of experience there. And to sort of refer back to this study, the study basically was saying that CEOs don't understand design leadership at all. When you look back at your career, have you found that to be the case?
Tim Allen:
I think there's been a progression. I wouldn't say where we've reached the Nirvana yet but there has been a progression. And I could describe my early career as trying to get a seat at the table as a designer. And then as a team lead trying to get your team to have a seat at the table. You're the voice of your team, at the seat of the table. And then human centered design and design thinking. Being the voice of the customer and having the customer have a seat at the table. Table being like executive forums, decision making forums and so forth. And then I think now, if you're fortunate enough to be in a successful company, most likely there's some notion of design as a strategic asset in there.
Tim Allen:
I think the extent to which that's true probably varies. But yeah, I think we've grown. At the same time, I think designers as leaders are very rare. And I think at the point of my career that I'm in now, what spoke to me quite a bit, getting back to Airbnb a bit is the fact that the founder, two of the three founders are university grads and Brian and I have a good rapport. Brian Chesky is like a designer's designer if anything. He leads the whole company as CEO. And the way to approach problems that we learned very early on as designers is just thematic in how Airbnb just runs in general. And I find that fascinating.
Maurice Cherry:
So you just dropped a little something there I want to go back to. You said that designers as leaders are rare. Can you unpack that a little bit? What do you mean by that?
Tim Allen:
Yeah, designers as business leaders.
Maurice Cherry:
Okay.
Tim Allen:
Are rare. Yeah. I think there are very few CEOs with design backgrounds. Typically even at the executive levels, design reports into engineering. Typically there's very little design organizations that end at CEO level or report into sort of a C level position. Again, that's just representation, that's sort of quote unquote, seat at the table. So I just find that interesting. I think that at a certain level, we plateau a bit.
Maurice Cherry:
What do you think would need to happen to change that?
Tim Allen:
I think that design… Approaching design with a business lens without sacrificing the ability to be creative is one way to do that. I think there's a balance to be had there. But understanding and even building this into design curriculums at a early phase in people's development is key. Like how did decisions get made in business? And how can design play a part not only in what's delivered but how it's delivered and why it's delivered? In relation to the business and the reason why the company even exists.
Maurice Cherry:
Given your design leadership positions, have you found that designers are starting to come more into that business sense as the years go on? Are they improving, I guess? That's probably a better way to put it.
Tim Allen:
Yeah. Yeah, definitely. I think that design has just… It's been democratized by technology a lot more. So I think when we bring folks in with varied backgrounds, so folks just out of undergrad while they were going to school or even not attending undergrad, that have had their own brand agencies or have been contracting and understand-
Tim Allen:
Agencies or have been contracting and understand business at a level of basically putting the food on the table. I think it enables them to have the same, a different level of rigor in terms of how they impact decisions at work as ICs or even managers.
Maurice Cherry:
Okay. I'm curious about that, because I feel like certainly as technology has made it so more and more people can enter into design at pretty much any level. In a way it sort of forced some people to be almost more entrepreneurial and more businesslike in their design, because they may not necessarily be doing it for a business, but they have X number of clients. Say if they do a bunch of design for a marketplace website or something like that, I don't know. I'm thinking like 99designs or something to that effect where they didn't have to kind of talk to a number of different clients and weigh the business cases and not just creates for the sake of creation I guess.
Tim Allen:
Yeah. Even just bringing it back to my own story of having an airbrush business and understanding clients and briefs and however crazy they were either in high school or sort of like, "Hey, just hook me up with a T-shirt with the Wu-Tang Clan symbol on or whatever. But you still need to understand like, "Okay, what is this person's sensibility and what are you're trying to do with?" It's basically what this person's brand is. That enables a different level of … A different way of seeing the world when you hit the corporate or agency roadmap.
Maurice Cherry:
Yeah. So you've been now at Airbnb, we spoke about this before recording. You've been there for about seven or so months now. What lessons did you learn this past year? How has this new experience improved you or has it helped? How has it helped you grow?
Tim Allen:
It's been for me just refreshing to be in a company where creativity and design is an extreme asset. I mean, I think I probably took that for granted earlier in my career working with Nike at RJ and just being in sort of an agency for so long of like, your purpose or what you believe in intersecting or overlapping with your talent or kind of capability as a designer. And so I didn't understand how rare that was until after I left RJ and wasn't working on Nike.
Tim Allen:
And I think now, I've worked with a lot of companies that have great missions, but being at Airbnb, it reminds me of early in my career where it's just like a lot of people believing in something, a lot of people with extreme amounts of talent. And I think that belief mixed with the level of creativity and talent that's cultivated here is just, it's one the things that just it's really refreshing and it's a delight to be here.
Maurice Cherry:
Nice. When you look back over your career at all the places you've worked at, what are some of the biggest lessons that you've learned?
Tim Allen:
The biggest lessons I've learned I think is that in some ways I think creativity in terms of design is an act of kindness. What draws me to design the most is when that's quantified and calibrated against. What I'm saying is, I think that creativity by itself is an inservice of something. Creating a better world or impacting people's lives in a positive way can start to feel a little self-indulgent. But I think a mission like empowering every person on the planet to achieve more. When you mix that with creativity, there's kindness involved in that. I think a mission like anyone feeling like they belong anywhere, there's a notion of kindness in that. And design in the right circumstances can impact people's lives if people are committed to it.
Maurice Cherry:
What does success look like for you now?
Tim Allen:
For me it is just authentically committing to a purpose and kind of propagating that commitment among team members. So attracting people to that mission, fueling that mission, and then delivering on that mission, which is basically our products and our innovation. So I think success is all about understanding that purpose and just being a catalyst for belonging at this point.
Maurice Cherry:
Now, I know just started at Airbnb not too long ago, but I'm curious, are you happy kind of with your current work-life balance? Is it good?
Tim Allen:
Work-life balance is interesting because I don't know, I don't know if I create a binary between the two.
Maurice Cherry:
Oh, I don't know if I'd necessarily say it's a binary, I guess think of it more like a see-saw. Like the balance is where you feel it's the most balanced, so it's not necessarily taking one from the other. And I'm curious, if it's not balanced, what would that look like for you?
Tim Allen:
So I have a two-year-old now, which is a new thing that's very inspiring as well, and a five-month-old.
Maurice Cherry:
Oh, congratulations.
Tim Allen:
Thanks a lot. So I think I'm happier in my career, just in terms of where I am and the people I'm working with. I think so that makes me a better spouse, better father and so forth. I think in doing that, the balance is, I think when you're passionate about something, you're compelled to do it quite a bit and go above and beyond. So it's like how do you calibrate against responsibilities as a new father while still stimulating yourself and improving yourself? And just along that, is it just being on a journey of an improvement as a person and then, how does your career fit into that as well? Let's that being a new father, those are some new variables that I hadn't had to deal with before.
Maurice Cherry:
What keeps you motivated and inspired these days? I mean, aside from your kids, I would imagine.
Tim Allen:
Yeah, kids definitely. I would say that's probably number one. I mean, without being cliched, you see that everything is new in their eyes. You see everything that comes in comes out in some way. You see a reflection of yourself, both the best parts of yourself and sometimes the worst parts. So that's definitely an area of inspiration. I read sci-fi, I'm a sci-fi fanatic. I love Octavia Butler. So I read her stuff a lot. I think mainly it's a combination of fashion, sci-fi, and just being enamored with my kids is probably the biggest inspiration for me.
Maurice Cherry:
I mean, I heard you are quite the sneakerhead too. Somebody told me that. I mean, you let me know if I'm wrong there, but.
Tim Allen:
Yeah, I have a big, large collection of shoes from my days working with Nike and I feel like I'm a reformed sneakerhead a bit.
Maurice Cherry:
Is that possible?
Tim Allen:
I think I probably have way … I don't know, but I don't have as many as before. And so I have just a few, a smaller inventory than I did before. But I try to make them count.
Maurice Cherry:
Yeah. Like a nice warehouse set aside for them.
Tim Allen:
Yeah, [crosstalk 00:35:38].
Maurice Cherry:
Climate control. Do you feel like you're living your life's purpose right now or do you think you're still searching for it?
Tim Allen:
Oh wow. That's deep Maurice. Yeah, at times I do feel like that's the case. I love what I'm doing right now in terms of purpose. I love how it's being directed and delivered. I love the impact that I have on people's lives, or the impact I want to have on people's lives. And yeah, it's cool to be a new father. And so there's a lot of things that are in line right now. So yeah, I hadn't really thought about it like that, but yeah, I'd say I'm starting to live my purpose.
Maurice Cherry:
Is there anything that you haven't done yet that you want to do? This can be career-wise. It can be life-wise, anything in particular?
Tim Allen:
I'd want to learn how to fly, fly planes.
Maurice Cherry:
Oh?
Tim Allen:
Yeah, for one of my recent birthdays, my wife got me flying lessons and it was pretty amazing. So I just started, but I haven't been able to keep it going. But yeah, I'd love to just be I guess a novice pilot.
Maurice Cherry:
Okay. I feel like we've had someone on the show that was a pilot. Well I don't know if they were a pilot. I think they were just into flying planes, like model planes. I'm thinking of Dantley Davis. I don't remember if he told me he was into planes or if he did fly recreationally. I don't remember which it was. But I would imagine that's probably pretty well within your grasp right now?
Tim Allen:
Yeah. I mean it's just amazing to be up there and how you feel when you're actually in control of the plane, how complex it is. But in some ways it's fairly simple as well. Just seems like extremely challenging but very peaceful at the same time.
Maurice Cherry:
Will probably make your commute easier.
Tim Allen:
Oh indeed, yeah. Going from Seattle to San Francisco man, you wouldn't talk about work-life balance. That's one thing that's off balance is like, how can I make that commute less painful? So yeah.
Maurice Cherry:
How far is it? I mean, I'm assuming you're flying, but it's what, like a two hour flight?
Tim Allen:
Yeah, yeah. Sometimes a little less. And then yeah, I'm trying to make it a science to get in and out of the airport and to the office as quick as possible so I can get my day started at 10:00 AM starting from Seattle, which isn't too bad.
Maurice Cherry:
Yeah. See Airbnb needs to work on the air part. They got the bnb part down.
Tim Allen:
Yeah.
Maurice Cherry:
They get the air part down, get you a private jet or something back and forth. Make it happen.
Tim Allen:
There you go. I like the way you're thinking Maurice. We should have a transportation division as well. I got to hit them up.
Maurice Cherry:
Okay, so what is it like, I'm curious because Seattle is a pretty big tech city. I mean Microsoft is there, Amazon is there, and Nintendo is there, bunch of other probably smaller companies and stuff, but you're working in Silicon Valley. Do you feel like that's a big shift for you in any sort of way?
Tim Allen:
For me personally, no. I mean we have an office, Airbnb has an office in Seattle as well.
Maurice Cherry:
Okay.
Tim Allen:
Yeah. Yeah. So there's a office here and so I work out of the Seattle office as well as the San Francisco office. So we're quite a community here in Seattle. And I think what's interesting, really interesting in terms of the black design community here, woman by the name of Bekah Marcum has just recently just used LinkedIn to literally just knit together a community out of thin air over the last couple of years of black designers in Seattle. I just spoke at one of the events not too long ago, but being a part of the design community just at large in Seattle, it's great. And like you said, there's a ton of tech companies here. There's a ton of agencies here as well. This is a nice creative climate.
Maurice Cherry:
Talk to me more about that local Seattle design scene. Black design scene I guess if we want to put a finer point on it. What is it like for you at this stage in your career?
Tim Allen:
I like to be closer probably to the black design community or design committee in general. So fairly busy. But yeah, just being able to meet with young early in career designers and folks who've been in the game for a while as well is just super interesting. I mean, iron sharpens iron and sometimes it's just representation, like this being in a room of people that look like you, especially when that's not often the case is cathartic in and of itself. And if all those people are also within your function and are passionate about what you're passionate about as well, it's like paradise.
Maurice Cherry:
Yeah. There's something that I found interesting when I started doing live shows with Revision Path is that oftentimes just the fellowship aspect alone of being in the same room, like for attendees, for me too really. Just being in the same room with a bunch of black designers, I don't want to say that's enough. It feels like a disservice to say that's enough given sort of the dearth of spaces that are available in the design community that speak to us, that are for us, that cater to us, et cetera. But just being in the space, every time we do a live show, people are like, "When's the next one?" I'm like, "Ah, I don't know." But they love that opportunity so much and they're able to talk to people that look like them, that are in the same field as them. It's such a rarity when it does happen.
Tim Allen:
Oh my God yeah. It's so rare. I mean basically we couldn't stop talking about it. After we finished up with the event, people were just constantly remarking about how rare this is and how good it feels. And yeah, I mean just like you said, it just speaks the dearth of opportunities, places, times when we are together. And so we've got a long way to go in our industry.
Maurice Cherry:
Now you've been a design leader in this industry for a long time. You've seen designers come and go, you've seen trends come and go, et cetera. What is something that you've …
Maurice Cherry:
Seeing trends come and go, et cetera. What is something that you think most designers don't worry about but they should? I have an answer. I don't want to seed your answer but I want to listen to what you have to say.
Tim Allen:
I would say the why, I think the more senior you get, the more experienced you get, it gets better. But I've even seen more senior designers not really understand why they're making decisions and be able to articulate the rationale behind it. And it goes back to just art versus design. We're not artists necessarily. We should be artists, but our job isn't art, as a designer at least. You are solving problems, so understanding how to articulate why you've made a decision, down to every design decision. Even some of the design decisions you're probably making intuitively or instinctually, I'd love to see designers focus more on that.
Maurice Cherry:
That was actually pretty close to my answer. Yeah, I was going to say writing, but for the very same reasons of being able to articulate sort of why you made a certain design decision or why you decided to go a certain way. I mean look, I'm a designer that can sit out and vibe for hours over fonts and find what the right typeface is to get a vibe and all that. But being able to articulate the why behind it is so important because otherwise people just think you're some woo woo hippie designer just pulling stuff out of nowhere. And it's like where is … what's the rationale behind it? What's the thought process that goes into the decision? Because it feels like without that then yeah, you are an artist because artists don't necessarily have to explain that. But as a designer you're in service to the user, to the company, to the client, et cetera. So that rationale becomes paramount.
Tim Allen:
Yeah, I couldn't describe it better. I think … and then as you rise in seniority, you have this whole notion of accountability. So as you define that, you either create accountability because of those decisions or you're given accountability because of those decisions. And if you don't understand what you're being held accountable for, you can't measure it, you can't tout it, you can't … When calibration performance reviews come around, you're sort of like, well I did this, but why did you do it? How does that track against the business impact? Can you make a … I think there's several ways to use that as ammunition and one of them is through performance reviews. I also see that as an area where writing and everything we're talking about comes in handy.
Maurice Cherry:
Yeah. What advice would you give to, let's say I'm a mid career designer, I'm even loath to use that term because the middle of a designer's career, it's often a very weird nebulous period of time. You know what I mean? I mean certainly if you look at titles, you can be a junior or senior whatever, but mid career, is that three years, five years, 10 years? How long is a designer's career, et cetera. But let's say a mid career designer, say five years or so in the game, they're listening to this interview, they're looking at your work, they're looking at your resume. What advice would you give them if they want to get to the level where you are?
Tim Allen:
Sometimes I'm a little old school, I don't even know if this really still applies, I haven't thought about it as much, but when I was coming up and it was again, my father's influence, he had the whole adage of you got to be twice as good. He didn't really necessarily add the whole expect half as much thing. He just … they definitely instilled that, understand where the bar is and then just double it. So I'd say craft and just excellence. If you can just be as scary talented as you can be, I think that starts to speak for itself. And also it reflects your passion, whether that is interaction or XD or communication design, visual design, graphic design, whatever it is. Even gathering insights, just that notion of excellence and understanding where the bar is and always trying to push it is a gift.
Maurice Cherry:
So one of the things that we have for this year, for 2020 is basically a more equitable future. I mean 2020 is sort of this year that's been driven into pop culture as the future in many ways, whether it's the new show or just the notion of a repeating year of some sort where this is the future. How are you helping to use your design skills or even just kind of your station at where you're at in life, how are you helping to create a more equitable future?
Tim Allen:
One of the things we just started to do is to work with companies, like the Inneract Project, I'm sure you're familiar with the other Maurice Mo and even beyond that how can you create more awareness of design as a viable path. Not only viable but extremely lucrative in some cases, path as well, to underrepresented marginalized groups. I think that's key. I think for me, in terms of contributing to a more equitable industry and talent pool, it's just like getting folks in and then understanding the barriers there. I mean it's not just social economic but it's also cultural. I think we talked about my background where my parents were very supportive of art just as a means to … as a way of living but that's definitely not always the case. You see that all the time.
Tim Allen:
So overcoming those barriers, so awareness. I think access is another one. And then also just tilling the soil as it were, as a leader myself in propagating the understanding of representation, diversity and having a diverse population feel like they belong as well and how that puts jet fuel on creativity. There's tons of research on it, I won't go into all that, but it's tangible what happens when you get a bunch of different voices singing the same song.
Maurice Cherry:
Where do you see yourself in the next five years? It's 2025, it's even further in the future, what is Tim Allen doing? What's he working on?
Tim Allen:
Oh man. 2025 in the future, I'm probably a host of some sort. Either a super host, in terms of an experience or my home or both. I'm working on that.
Maurice Cherry:
Okay. Oh, an Airbnb host. Okay.
Tim Allen:
Yeah.
Maurice Cherry:
I don't know why my mind went straight to game show when you said that, but okay.
Tim Allen:
I could be a game show host. That could be interesting too.
Maurice Cherry:
Hey, nothing wrong with that.
Tim Allen:
Yeah. No, I feel like I would want in five years to be … to have provided some pathway of access to increase our numbers as black designers in the field. Definitely within Airbnb. But not only us racially but numbers of other underrepresented populations as well. Just being a beacon of inclusion and belonging. Yeah, I think if in five years, somehow in the orbit of what it means to create a creative team or produce creative deliverables that are inclusive and that inspire people to want to be more inclusive and host and make people feel like they belong. That's what I would want to do in five years.
Maurice Cherry:
Well just to kind of wrap things up here, where can our audience find out more about you and about your work online?
Tim Allen:
You can definitely check me out on Twitter, Tim Allen Design. Hit me up on Instagram as well. I'm just Timothy Allen there. LinkedIn is always a good route too. I've got a couple of portfolios out there, but they're super old. So take a look at those if you want to, but just to kind of see my path and some old work like-
Maurice Cherry:
Any of the airbrush shirts up there?
Tim Allen:
No, I need to put some of those up there though.
Maurice Cherry:
You should, I feel like that's making a comeback now. Fashion design comes in 20 year cycles.
Tim Allen:
True, true, true. And we're … that would be right for right now.
Maurice Cherry:
Hey look, think about it.
Tim Allen:
Okay [inaudible 00:08:44].
Maurice Cherry:
All right Tim Allen, I want to thank you so much for coming on the show. Thank you for, one, giving us kind of a peek behind the curtain at Airbnb, what it's like to kind of be at your position, but also just talking about your path, your journey as a designer, how you've come up and also really, I think it's good to have that sort of introspection once you get to a … I don't know, I think once you get to a certain level in your career to kind of see this is where I've been, this is where I'm going.
Maurice Cherry:
It's always good, I feel like to have those sorts of insights and reflective moments because not only does it help you out and help you grow as a person, but also it helps out others as well because you're able to kind of impart that knowledge on the next generation and certainly it looks like with the work you're doing at Airbnb, through your teams as well as this work that you're talking about with the black designer community in Seattle, et cetera, that you're making that happen. So thank you so much for coming on the show. I appreciate it.
Tim Allen:
Thanks for having me, Maurice. I appreciate it. It's been a pleasure.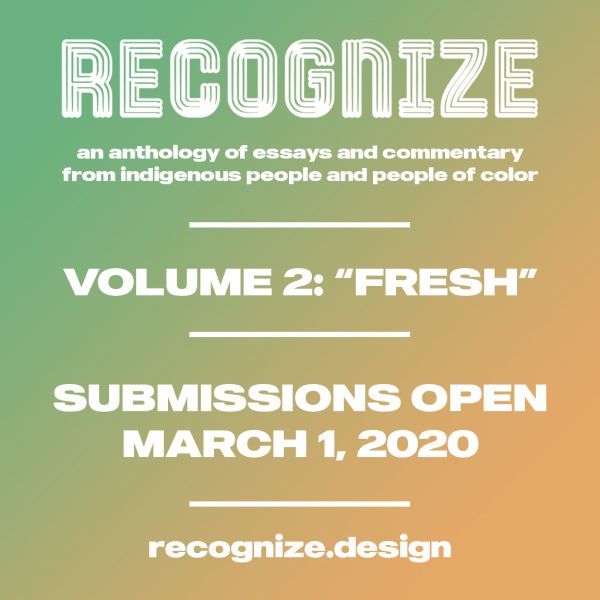 RECOGNIZE is open for essay submissions for Volume 2! The deadline is April 30 – enter today!

Sponsors
Facebook Design is a proud sponsor of Revision Path. The Facebook Design community is designing for human needs at unprecedented scale. Across Facebook's family of apps and new product platforms, multi-disciplinary teams come together to create, build and shape communication experiences in service of the essential, universal human need for connection. To learn more, please visit facebook.design.
This episode is brought to you by Abstract: design workflow management for modern design teams. Spend less time searching for design files and tracking down feedback, and spend more time focusing on innovation and collaboration. Like Glitch, but for designers, Abstract is your team's version-controlled source of truth for design work. With Abstract, you can version design files, present work, request reviews, collect feedback, and give developers direct access to all specs—all from one place. Sign your team up for a free, 30-day trial today by heading over to www.abstract.com.