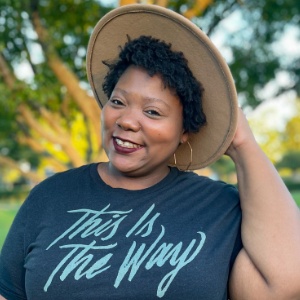 Kristina Turner is really putting Montgomery on the map when it comes to design and creativity! With over a decade of experience working for in-house agencies around Alabama, her focus on rethinking legacy brands, overseeing digital experiences, and delivering award-winning visual storytelling means she's definitely someone we need to keep an eye on.
We talked a lot about her work as senior director of marketing and storytelling at Jeremiah Program, as well as her involvement as regional director for district seven of the American Advertising Federation. Of course, we both had to share our experiences about growing up between Selma and Montgomery, volunteering for national professional organizations, and she spoke about what keeps her in Montgomery and what that affords her as a creative. Kristina is really representing for the South, and I'm excited to see what else she'll do in the future!
Interview Transcript
Maurice Cherry:
All right, so tell us who you are and what you do.
Kristina Turner:
I am Kristina Turner. I like to say I'm a creative, but at the heart, at the root of it, I really am a graphic designer. That's where I started. But I've kind of found my way into more than just graphic design. So I've been dabbling in marketing, event planning, all of the above. So yeah, that's what I've been doing. That's me.
Maurice Cherry:
Any plans for the summer? Like, how's this year been kind of treating you so far?
Kristina Turner:
This year has been good. I'm already ready for a break. It's been six months now. I'm like, is it break time? It's coming. I'm actually going to San Diego Comic Con next month. So I need to square away all of my plans for that. Actually, on the spur of the moment, yesterday or Sunday, I was like, should I do it? I was like, I bought New York Comic Con tickets, so we'll see if I actually go. And that's in October.
Maurice Cherry:
OK, you should do it. I've not been to one of those big cons like that like New York or San Francisco. But comic conventions in general are just a lot of fun.
Kristina Turner:
It is. And once you started going to just small ones, like locally, and I was like, oh, that's fun. And then I was like, venturing out. And I think New York was my first big one. And I was like, oh my. Like, this is a real like, see the celebrities. You sit on the panels. You get to watch sometimes episodes of a TV show before it. Yeah, it's everything that I could ever want.
Maurice Cherry:
Is there anything in particular that you want to try to accomplish by the end of the year?
Kristina Turner:
I have a blog and I've kind of let it lay dormant for a while. But I want to pick it back up and kind of get it more into my regular routine and updating and writing more because I do enjoy the writing. And I've also been dabbling around going, should I start a YouTube channel? Because I feel like that's what everyone says these days. And I was like, maybe I should start a YouTube channel. So one of these things, if I don't get to the YouTube, I definitely want to just be consistent with my blog.
Maurice Cherry:
Yeah, I've been hearing a lot about sort of branching out and doing some kind of video content. Whether it's YouTube or TikTok, I don't know. As an old head, I'm not quite there yet. I realize the utility of it. Like people are just watching more stuff. They're consuming more video, long or short form. But I'm not there yet. I'm almost there, but I'm not there yet.
Kristina Turner:
I don't blame you. I don't TikTok. Like, I have a TikTok and I've posted a few because at one point I was like, well, I'm going to make a reel or two and then just repost it on TikTok. It's too much effort.
Maurice Cherry:
Yeah, it's a lot one thing to kind of learn the tool itself because everything is right there in the app. But then also you're subject to the whims of the algorithm. And I think it's that way with all of social media, but particularly for video stuff, you're really subject to algorithms on whether or not anybody even sees it.
Kristina Turner:
Exactly. I think the thing is, it starts out as really fun. Like, you do it, and then, like you said, you start thinking about the algorithm, like, who's seeing it, you get addicted to those likes, and then it becomes not fun anymore because you're like, who am I making this for anymore?
Maurice Cherry:
Right. I have friends of mine that are creators, and they definitely will. They'll create something, they'll put it out there, but then they'll follow it up with saying, like, "please go and like it so the algorithm can blah, blah, blah." And it's like, are you doing it for your followers, or are you doing it for this algorithm, this faceless program that may or may not push your stuff out to a bigger audience?
Kristina Turner:
Yeah, honestly, on one of my Instagrams for my blog, I haven't posted on the grid since December because I just literally got I was over it. I was like, Why am I posting this? I'm just now starting to get back to a point where it's like, you know what? I need to just start posting for myself, not for other people. If other people like it, that's cool, but I just need to start posting for myself. So that's where I'm getting back there.
Maurice Cherry:
I hear you.
Maurice Cherry:
Let's talk about your work. You are the Senior Director of Marketing and Storytelling at Jeremiah Program. Tell me about the organization and what you do.
Kristina Turner:
Yeah, so Jeremiah Program, we're actually in our 25th year this year. What they do is it started in Minneapolis, Minnesota. And what they did was they recognized a need for single mothers who need some help, who want to finish their college degree. And so what the program does is provides a personalized coach to you to help you coach your way through college to help you finish that degree. If you have a child, we have pre K programs that they can go into as well. So it's a two generational model. Like, we want to be helping mom and child at the same time because there's just this cycle of poverty that we're trying to disrupt, basically. Right. And so I know a lot of people go like, oh, you don't need college degrees anymore, which in some cases, it actually is very true. But what we found is that all the research done, college degree is still the lever that needs to be pulled to get up in the ranks to start making more money. It hasn't been disproved as the way yet. Some people get lucky and there's influencers and all that stuff, but it's still the thing that is consistently, it still works.
And so we encourage people who want to finish that degree. If you just need that help to just finish that degree, if you just need some of the campuses. We have non campuses across the country and so some campuses have child development centers, so that's pre K programs that they go to. Some of them even provide housing. If housing is like a barrier, like, I can't get my housing and my childcare together, then like, cool, we got you. And so you focus on getting this because we don't want you to trade your dreams for something else, right? So, yeah, that's what JP does.
And so in my role, I started working there a little over a year. It's been a year and a couple of months. I actually started by working through a friend who was contract with them, doing some design work, and he was like, I could use some help. And I was like, sure, I can do some extra freelance work. And so I started doing freelance work for about six months and then I found out at the end of the year that they were looking to build their own in house team and I was like, oh, good, cool. That sounds like a cool opportunity. I like the mission. And so I didn't know that it was you build the team and do the work. And I was like, oh, okay, and literally like, kind of building from scratch. So me and another person, we started she's more of a content writer editor. So we started together and we've built this team now to five people. And so we basically handle all the marketing, like social channels and website and that kind of stuff, like the main national stuff. We handle that and then we also assist campuses in anything that they need. And so we're also like our main charge at this point is getting people brand aligned because the brand has kind of been all over the place for many years and so now it's like, we need people to understand that JP is one organization, no matter where they are.
Maurice Cherry:
Yeah, I'm looking at the website now. First of all, the website looks great. I mean, I don't know how much of that you might have had a hand in or not, but it really looks good. And I love that it's an organization that's really about helping people. It's about helping families, helping mothers, helping single mothers. I'm reading through The Commitment to Social Justice where it says "JP supports 100% women, 100% single moms experiencing poverty, and 100% parents in pursuit of a college degree with 80% of those parents identifying as black, Latinx and indigenous." Oh, I love that. That is so super important.
Kristina Turner:
Yeah, because I think a lot of people try to social justice is such like a word that people just either love it or they're, oh, social justice, I don't want anything. But I think the thing is what JP does is that they basically explain, like, you can't divorce one from the like, it is directly like this poverty issue is directly related to all these social justice issues. That's why they're in this situation, and so we don't run away from it, for sure.
Maurice Cherry:
I'm curious. You say you're having to sort of build the team and everything like that. Has that been sort of the hardest part about what you do is making sure that you've got this kind of unified team under one brand?
Kristina Turner:
My team right now is killer. I love my team. Yeah. We have five people, including me. So I have a designer on staff. I have a digital marketing person, digital strategist, someone who does like writing. And then our coordinator kind of keeps us all together. And so our hopes in the next year or two is grow a little bit bigger because we started easing our way into it, but now we're taking on more and more work. And so I've been lucky to come to a place that not everybody understands, like branding and marketing design. And I'm lucky that I have a CEO who cares about that and has invested the resources into getting it done. And so I'm so glad. That's one of the things I never had to explain, like, why is this important to my boss? Because she gets it. And so, yeah, right now, everything is good for us.
Maurice Cherry:
Now, is it a remote team or is there an office that you're reporting into?
Kristina Turner:
My team is fully remote, which is so strange to me. I've never been a fully remote person until last year, I think 2020. A lot of people went remote and then they went remote part time. But yeah, this is my first time being fully remote, and my team is fully remote. So we're all on the national team, and so we all are remote. If you live near a campus, then that could be your home base. But yeah, none of my team are by campus, so they're all remote.
Maurice Cherry:
How's that been? Sort of building and managing that.
Kristina Turner:
I was a little worried about being remote because I have been an in person person for so long. But honestly, it's been pretty good because I think the best part is I have a team that's very committed to getting the work done and putting out good work. So that's the first thing. Two, I used to be a person who hated daily meetings. Daily check in meetings or stand up meetings. We used to call them, and I started doing those. We do those almost every day. And if we don't have anything to talk about, we won't do it. But we do those every day. It's just like, let's start the day with each other just to level set the day and be like, okay, what do we got? Making sure we're on top. Is there any questions? Whatever. And it kind of helps ground us all in the day or what's happening, and then we go about our business the rest of the day. That has been the most helpful thing, I think, in managing a remote team.
Maurice Cherry:
Now, along with your work with Jeremiah Orogram, you're the regional director for AAF, District Seven. AAF, standing for the American Advertising Federation. How did you first get involved with them?
Kristina Turner:
Oh, man, how anybody gets involved, they're like, oh, the event planning. I want to do part. I'm still a part, but I was part of my local chapter in Montgomery. How I got involved was a coworker of mine was like, hey, they're looking for committee members to be on the American Advertising Awards Committee. And I was like, oh, that big party they plan? I was like, oh, yeah, I want to do that. And I didn't end up going to the meeting. And she went and she came back and she said, well, not only do they want me to join the committee, they want me to be the chair. And then I said, oh, okay, I can be on your committee. And then we let them know that I wanted to be on the committee. And then they were like, why don't you just be co chairs? And somehow I found myself on the board. And so, yeah, we did that.
That first year, it was really cool. It was just interesting and seeing all the work regionally, like the stuff that people enter, having to find judges and having to play in this awards gala. I learned a lot through the club, through that, and then I think I did that for two years, and then I kind of just moved up and started doing other positions. I really loved being education chair, and that was me just, like, connecting with all the local colleges and finding out who has design and marketing programs and how do we involve students, how do we help students. And that was a really great year for that chair. And I moved up into a diversity chair at one point because I was like, no one's doing this. There's a diversity chair. It's like, the chair, there one, skips it's okay if we don't have this one. And so that year I was like, I'll do diversity, and I learned so much about what is AF doing on that ground.
And then eventually I became president, which I didn't want, but it happened, and it was good. It was great. Honestly, I was president two years in a row. It was probably one of the best experiences I've ever had. I made a lot of connections locally, but know, around the south also because our District Seven means Alabama, Georgia, Tennessee, part of Louisiana, Mississippi. So if you have a club and whatever, you know, all like, you have this huge network in the south. I took a year, maybe like a year, year and a half, almost two years off because I was just a little burnt out. But they asked me on the district level like, hey, would you mind wanting to join the district level. And I was like, why not? And so in my job in regional, I'm just kind of like the liaison between the district and the local level. So I get assigned like maybe four or five clubs. I check in with them, just make sure they're okay. If they have questions that they can't figure out, I try to help them. And it's just kind of like a go between and help kind of guiding some clubs.
Maurice Cherry:
Yeah, I mean, it sounds like you really have taken on a lot of leadership through them. Like you said, these different chair positions. Now you're regional director. How does AAF help you as a working creative?
Kristina Turner:
I will say that when I started AAF, I was just a designer. Like at my job, my title was just designer. And I was doing a lot of the boring stuff, which letters and that kind of stuff in mail. And so it was a good creative outlet for me of like, oh, I get to do some other stuff like event planning and creating graphics for these events and playing around on social and going, what works? What's getting people's attention? I want them to come RSVP for an event and even like finding speakers and booking speakers, like ooh and me paying attention to who's out there, what names are out there, who's giving good advice. And so I was doing all of this stuff, and at the time, my boss was really supportive of me being involved in the club. I took a lot of work time sometimes to do it in middle of the day or would take off early to go do it. And one day he came to me and he was like, I see all this stuff that you're doing with AF and how you've grown the club, and it's great. Now I'm going to give you a promotion and you're going to do all that same stuff here. And I was so like, it's one of those things where it's like, okay, it did pay off for me. At the end of the day, I was learning all this leadership skills and stuff off the job and then bringing it to the job.
Maurice Cherry:
I mean, I think that's a good thing that your job recognized that you were doing this. It didn't try to step in or penalize. If anything, they were supportive of.
Kristina Turner:
Very, very supportive.
Maurice Cherry:
Now, in the last episode for folks that are listening, I was talking with Ashley Fletcher and we had a pretty rousing conversation, I think, about the role of professional design organizations and how they should kind of be more proactive on the voice of their members. We were specifically talking about AIGA, but we lumped in a couple of other orgs in there too. AAF is not a design organization. Like you said, it's for advertising. But it sounds like there's some overlap there with design and that you would have maybe like visual designers or art directors creative directors, stuff like that. I'm curious, is AAF like that? It sounds like it's been a pretty instrumental force in your career as an organization. Do you feel like they've really spoken up on behalf of creative people, of their members?
Kristina Turner:
For sure, AAF. I would say you're right. AAF is definitely all encompassing. Like, even though it says the word advertising, there's many things that go into advertising, right? You got to have a designer, you got to have a copywriter. Do you have video? People like video. You got to have that. Every spectrum of being a creative is involved in this club. You don't have to just be like the ad guy or whoever. The way it sounds like this isn't Mad Men. And so it covers the gamut. And so I would say AF. They definitely do speak up for the industry. They have a whole arm, like their whole thing. They do a lot of things, but their main mission always is like the government relations part of it. Every two years, they do a Day on the Hill. They get you to go speak to your representatives and talk about how if you start everyone's looking for money and if you start tax and advertising, this is what's going to happen. Or they're constantly reminding people, these are the things that we're pushing for right now. I just went to the national conference a couple of weeks ago, and one of the big things they were talking about was the data privacy issue, right. And how some states are even talking about creating their own laws. But what does it look like on a national level? They really get involved and really go to literally go to Congress and go, please look out for like, that is their main part of what AAF does, is, like, the lobbying and what's best for the industry, because you don't want to kill the industry because it just employs so many different types of people. And so the minute you start taxing it, that's when things start going downhill.
Maurice Cherry:
They go to Congress?
Kristina Turner:
Yes, I did Day on the Hill. It was probably about four years ago, and every year we sent someone else this past spring. But yeah, we go up there. They have a lawyers group who does the research and stuff. They fully prep you before going to talk to your representative. And if you don't actually if you're lucky, you get to actually talk to your representative. Most times it's like their staff or person, but either way, you're fully prepped. You go in, like, I get to talk about, here's how much revenue advertising brings into the state of Alabama. This is what happens if you tax it. This is how many people employs, this is how much all the good it does. And so, yeah, we literally go into that, go to DC, into their office and talk about this.
Maurice Cherry:
Wow.
Kristina Turner:
Yeah.
Maurice Cherry:
I am flabbergasted to hear…I mean, in the best way.
Kristina Turner:
Yeah.
Maurice Cherry:
And I mean, I'm saying I wish I'm not a member of AIGA. AIGA, I feel like, has kind of has been like a whipping post throughout this entire podcast that's
Kristina Turner:
You're on the board, right?
Maurice Cherry:
Oh nooooooo. No, no, no.
Kristina Turner:
Oh, I thought you were on the national board for some reason.
Maurice Cherry:
Oh no. So my involvement with AIGA…first of all, I was very skeptical about joining AIGA because — and this is prior to me doing the podcast, so we have to go back to 2013. And before, I had wanted to join, but had been told explicitly by [AIGA Atlanta] chapter members, chapter leadership, like, "oh, well, you didn't go to design school, and you have to have a design degree to be a part of AIGA." And so I didn't go to any events or anything like that. I was just like, whatever, for real. Again, this was ten plus years ago. So the thing that changed my mind about joining AIGA was I had Antoinette Carroll on the show. She's the founder of Creative Reaction Lab. And actually, when I talked with her, this was prior to her starting Creative Reaction Lab. She was a co-chair of AIGA's Diversity and Inclusion Task Force. And, like, she was talking me into joining. Like, you know, if you have these thoughts about the industry, you should join, try to be part of the solution. And I was like, "you know what? You've convinced me. I'll do it." And so I was on the Diversity and Inclusion Task Force for four years. I think three or four years. I think it was like, from 2014…it was three years, 2014 to 2017, roughly about three to four years. I was on that whole time. And what I discovered was that — and I don't know if it's this way with AAF — but what I discovered was that the organization only takes diversity seriously if the person at the top, the executive director, if they take it seriously.
Kristina Turner:
Exactly.
Maurice Cherry:
And so when I joined, Rick Grefé was the, I think, longtime executive director. He was on his way out. And Julie Anixter was coming in as an executive director, and she was all about diversity and inclusion. She would come down here to Atlanta. We would have dinner. She would be really passionate about making sure that people of color, particularly Black designers in the organization, were getting recognized and being put in positions where they could make a difference.
The problem came when… how can I put this? I think Julie had great intentions. I love Julie, still talk to Julie to this day. But I think other people in the organization were very much anti diversity, but yet they were in positions influencing diversity. So, like, we had this person, she wasn't the co chair. She was, like, the liaison between headquarters and the [Diversity and Inclusion] Task Force, this woman, and she was very racist. And it's sort of like, why would you be racist and you're over a diversity organization? I don't know.
But what I also discovered is that each chapter kind of functions independently in terms of what headquarters does or what national does. So while National may be all about diversity and inclusion, the Atlanta chapter still won't talk to me. Or like, the DC chapter is really cool, but then if I talk to a chapter in, I'm just throwing one out there, not saying I've talked to this chapter, but I talked to a chapter in, say, Minneapolis or something, and then they're not cool. And so it's like, you would think that stuff that happens at National would trickle down through the chapters, and that's so not the case.
And what I would tell people, I have folks on the show and they're like, "well, should I join AIGA?" I'm thinking about I'm like, you know, AIGA is only as strong as its weakest chapter. So if you've had a bad experience at your chapter and you feel like that's precluding you from joining AIGA, I would completely understand that, because that was my experience even when I had joined. And this is sort of the part that sort of got me is know, prior to me being, quote unquote known, the local chapter didn't want anything to do with me, wouldn't talk to me, anything. Now that I'm on the national Diversity and Inclusion Task Force and people know about Revision Path and stuff, then they're smiling in my face like, "oh, you should come and do this, you should want to do that." And then we would try to do events together, and then they wouldn't market the events. I don't know. They would say one thing, do something else. At one point, I was trying to be the chapter's VP of Diversity and Inclusion, and they were like, "well, we thought about it, but you don't have a design degree." And what does me not having a design degree have to do with anything? Clearly you see the advocacy work I'm doing in the community, the work that I'm doing talking to Black designers, the work I'm doing with National, but yet I didn't go to art school, so therefore it's just not valid. And it came to the point where I kind of really had to tell them, keep my name out your mouth. Don't talk to me. Don't put my name in conversation with anybody. As far as I'm concerned, you and I are persona non grata. Do not speak to me.
Kristina Turner:
Dang.
Maurice Cherry:
I haven't been an AIGA member since 2017. I still talk with leadership; like they recently had their first Black executive director, Bennie F. Johnson. He and I are really close. So I was there throughout his tenure, just kind of talking with him, seeing how the organization changed, but he just left at the beginning of this year. So I don't know what AIGA does. I don't really care what they do. But I think about in terms know a lot of Black designers, particularly because I'm thinking about it through the focus of this show, really found community over the pandemic by joining other events or joining other sorts of groups that had sprung up, like the HUE Design Summit or Where Are The Black Designers? Or something like that. And now, like, a few years out, they've kind of died away. Not died away. That's not the best way to put it. They're not as active, I think, as they used to be. And so I still get some designers that are like, well, they want to find community. They're trying to find it, and they look at AIGA. And they're just like, is this, like, the only game in town? Because this is not it for us as designers, because there's other issues with AIGA. Just in terms of there was a time when they didn't recognize UX designers as designers. I still don't think they're a very proactive organization at all. Like, AIGA ain't going to Congress. That ain't happening. They are not doing that.
Kristina Turner:
I think AAF, I wouldn't say they're perfect by any means. I would say that it's very similar in how each chapter kind of does its own thing, and you just hope that national stuff would trickle down into them. I think it's always dependent on where that chapter is. Or also, do you have people on your board who's going to hold them accountable to those things? Right. Like, I was diversity chair one year, and I was probably the only black person for a very long time on our board. And then as soon as I became president, I was like, where's the black people? We bringing them. And so I would go and I would literally go out to places like, we have an HBCU here. And so I would approach them. I was like, do you all have design or any kind of program? And they were like, yeah, we do. And I got them to enter our awards. This is the first year they'd enter, and they won so many awards, and the joy on their face was so awesome, right? And so I was like, it depends on the people in the chapter, if they're willing to go out and go do something about it. I don't know. I guess the national can't really hold everyone accountable. I think they try to, but I don't see them going to every chapter and going, are you doing this? Are you doing, like, there's certain things they have to do, but in terms of diversity and stuff, I think it's really on who's there.
Maurice Cherry:
Yeah, I see that. And, I mean, it's sort of the same way. Like, you know, if I didn't see Antoinette doing what she was doing with the Task Force and getting me on board was sort of the message, I wouldn't have joined. So seeing someone that looks like you, that's kind of in that position, helping to influence stuff, really does help. But it also sounds like for you, AAF has been just a positive force. I mean, it's helped you out throughout your career, you've worked in these different leadership positions. Would you say that AAF has really been instrumental in kind of getting you to where you are today?
Kristina Turner:
I would say yes, very much, 100%. I think a lot of things that it's like a continuous learning thing. Like when I wasn't going to a conference that work was paying for, I was going to these club conferences and learning all these different things. I couldn't tell you anything about data privacy before I went to any of this stuff where things outside of a normal designer would know because the more that you know and have in your tool belt, the more valuable you are, right? And so it's like I can speak on a lot of things that I never probably would have spoke on before joining AAF.
Maurice Cherry:
Now, I want to switch gears here a little bit. I don't want to just talk about design organizations and stuff. As I told you before we started recording, it's just rare to find another designer from the same area where I grew up in. So I really want to learn more about you, about growing up in Montgomery and everything. Tell me about that as a designer.
Kristina Turner:
I will say that growing up in Montgomery, it was fine, but I also was in the majority who was like, as soon as I get a chance, I'm out, I'm out, I'm going out. I don't know where it is, but I'm out. And so I thought I was, like, trying know until the reality of how much college costs hit me in the face. I was like, oh, well, I guess I'm going to school at AUM, which is local, Auburn University of Montgomery. I was like, okay, I'll go there. They have a design program. Went there. And then towards the end, when I was getting ready to graduate, I was really like, in this whole, I got to get an internship. Like, I got to get something to get a job because no job will hire you without some sort of experience, right? And so I ended up getting an internship at I think it was called Southern Progress Corporation at the time. But it was basically Time Inc. had owned Southern Living magazine and Coastal Living magazine and all these Southern magazines at the time, and it was in Birmingham.
So I moved to Birmingham up there for that. And I was like, I'm going to stay in Birmingham. Birmingham is like an hour and a half away from Montgomery and like, the nearest biggest city probably. And so I was like, okay, I'm going to Birmingham. We'll see what happens. And then it was 2008, also known as the recession, and no jobs were to be had because as I don't know if people know creative jobs were the first to go. And so there were no jobs. I was interviewing for jobs left and right. It was just like a kind of depressing time. And so at that time, I had to put it down. I had to just like, okay, I'm going to apply for the job wherever it is. And I ended up applying for a job in Montgomery. And I was like, I want to go back to Montgomery. And I went, I applied for the job. They said yes. I was like, I could save money, moved back home, save money. I took this job, and that's how I ended up back in Montgomery. And so I think for a while, I took it as a temporary pit stop, but I never would have thought that I would still be here until I started until I started kind of realizing what does design. Not just I think a lot of people, when they get out, they kind of just go, I'm going to work at this huge agency, or whatever. And there's no agencies in Montgomery. Like, for real. There's like a couple. That means everyone's competing for those same jobs. And so I worked at this place called Henig Furs, which is funny. It's a fur store in the South. And yeah, I was like, this is okay.
Maurice Cherry:
It don't get that cold down there for furs!
Kristina Turner:
You've got a good ten day window of cold that you can wear that fur. And they don't do it. And they're all in the Southeast. Like, there were stores all in the Southeast. And so they wanted an in-house designer. And I applied for the job, and I got it. And so I did that for a little over four and a half years. And so what I learned at that job was, like, I think we think of the glamorous part of being a designer when we're out of school, oh, we're just going to design all these cool things and stuff. And it's like, no, you're going to probably do some boring stuff for a while. And it was like retail design work. Like retail marketing. That's what I was doing.
And so I'm learning all of this stuff that why didn't I learn this in school? Like, the real stuff, right, is like, how back then, newspapers were still a thing. So then it was like, I was doing a lot of newspaper ad design. I was doing having to design mostly in black and white a lot of times was like, that was a learning curve for me for a while. And then we had at the time, they had a partnership with Belk, so sometimes they had like, little salons inside of Belk stores. So then it was partnering with Belk and making sure I'm adhering to Belk's Design, right? And I'm also learning how to place radio ads. I'm writing scripts for ads on TV and radio. And how do you even place an ad on TV? All these little things that you need to know how to even run some sort of design marketing kind of startup. I'm learning from this job that's like, in Montgomery, Alabama. Yeah, it's just like all this we had to read it on a website, and it was like, how do you even go about that? I had no idea, and I figured it out, because at the time, I think we were saying I remember I kept pushing. I was like, hey, I think web is where we need to go. People aren't shopping in stores anymore. And I want to say primarily, a lot of their businesses are online now.
And so, yeah, it's like, I'm learning all these things that are outside of design because they don't tell you you need to know more about stuff other than just design. And so I'm learning all these things. I stayed there a little over four and a half years, and then a job at Southern Poverty Law Center came up, and I had interviewed with them right out of college, and clearly I was rejected from that. But I interviewed again with them, and I got the job because of all this stuff that I had learned at this small shop. Yeah, they were like, oh, you know how to do this. And we're also talking about redesign a website and blah, blah, blah. And I was like, yeah, I've been doing all this scrappy work. And so that's what sold me to get this job at Southern Poverty Law Center. And that job, I love that job, and I did it for ten years. It was interesting. I don't think I've ever been in an in house of that caliber before. I think Southern Living was kind of almost a little it gave you a little bit of in house feel. But I was on the advertising side when I was an intern, so it was like those ads in the back of the magazine that no one looks like. That's the stuff I was doing. I wasn't doing the pretty editorial work. And so at Southern Poverty Law Center, we had a full in house team. Nothing in the organization got done, and it had to come through us, the creative team. That was video work, that was any ads. Like, everything, if it was going to be public facing, it had to be touched by our team. And so we were a full shop. I always wanted to work in nonprofit because just being in the retail life is just, what is this for? You start questioning your life, you're like, Why am I doing this? It was at a nonprofit, which was even better. And yeah, it was just a good experience. I did that for about ten years, and so that's why I ended up staying, because I had this job that was paying me well. It was in Montgomery. It was, like, mission driven. I was like, oh, why do I need to leave? This is great.
Maurice Cherry:
Yeah, I want to go back to…I mean, you've covered a lot of ground, but I want to go back to just like I guess well, I guess this is sort of full circle, now that I think about, know, growing up in Montgomery. Like, you said, you left, you came back, you stayed in Alabama, you stayed in Montgomery's and built your career there. Why is it important for you to stay there? As opposed to say, like, oh, I'm going know, maybe move to Atlanta or to New York or somewhere where there might be bigger opportunities. Is there more about staying in Montgomery than just the job opportunity?
Kristina Turner:
Yeah, I would say definitely not a martyr for staying in Montgomery. I would say that my number one would be cost of living. Cost of living is just compared to other places I'm okay, then, you know, if I take cost of living and stuff out of it, I would say that especially when I was doing stuff with AAF and engaging with all these designers and stuff in college and just talking to them and, what do you want to do? And I would just always tell them, like, hey, design is everywhere that you can think of it could possibly be. I don't think people even realize in house was, like, a thing. Right. And so I think for me, it's almost proven, like, you can have a good career and still be in Montgomery.
It doesn't like, I think, everyone's thoughts of what they think they should be doing. You can do it from think, but the problem is it's not as out there. Right. You have to find the opportunities. They're not just out there going here's, all these great opportunities, right. You have to find the opportunities of Montgomery. And I think that's the difference between going somewhere to a larger city or, like, Atlanta or something, right. You see opportunities galore, but you have to find them here. And I think Montgomery also has just been they've been having kind of almost like a little bit of a renaissance in the last ten years of just trying to build it up and trying to get people, encourage them to stay. Particularly this creative community that we have, a huge arts community that's blown up in the last few years. I just think there are people here who now are like, it's not just one or two. There's a lot of people who are just advocating for people to see us, like, see Montgomery and just, hey, there's stuff here. You just have to find it. It's not going to come to you.
Maurice Cherry:
Yeah. Wow. I grew up in Selma. Selma is 50 miles away from Montgomery, and just growing up, Montgomery was always the destination because Selma didn't have the things Montgomery had. Like, Selma was almost like an extended suburb in a way, because we didn't have a movie theater. So if you wanted to go to the movies, you had to drive up 80, go to Carmike Cinemas 8. If you wanted to go to a mall…Selma kind of had a mall, but it wasn't the Montgomery Mall. It wasn't that. If you wanted to see a play or something, maybe there might be something at Walton Theater, but it's like, fifth graders or whatever. If you wanted to see, like, Shakespeare, there's Alabama Shakespeare Festival, which I mean, when I first saw Alabama Shakespeare Festival as a kid, I was blown away. I think I mentioned this before we recorded. It was the first time I felt immersed in a fully designed space. I'm like, this is like a theater. And then, of course, I learned, like, it's one of the, I think, ten Shakespeare festivals in the world. And I'm like, Why? Would there be one in Alabama?
Kristina Turner:
I don't think I knew that.
Maurice Cherry:
It's so beautiful with the water. And I remember going to see plays there. Like, we would have field trips there all the time. And even then, when I was in marching band; there's no music shop in Alabama. We had to go to Art's on East Boulevard. We had to go up there to get me mouthpieces and slide oil and stuff like so, like, Montgomery to me, was always, like, the destination in a way, because there was just art and culture and museums and shows, and we didn't have a television station in Selma. Everything comes from Montgomery, WSFA, all that sort of stuff. So Hot 105, the radio station…all of that was just…Montgomery was the destination. And so it's interesting for you to talk about how it's coming up in this renaissance, because, of course, there's, like, the civil rights museum. Not a civil rights museum. It's a justice museum.
Kristina Turner:
There the EJI — Equal Justice Initiative.
Maurice Cherry:
Yeah, that museum is there. I know that there's been a lot of activity around trying to build up that Selma to Montgomery corridor. Like, I know, especially in Lowndes County, like, they have an interpretive center. They're trying to build all that stuff up and everything. Montgomery, to me, has just always been the destination. I bought my first video game in Montgomery. I went to my first big mall in Montgomery, saw my first, like, theater show, but also movie theater in I mean, to me, Montgomery was like, it I mean, Birmingham was, of course, the big, big city. Yeah, but in Selma, it was like…Montgomery is just like right there. You know?
Kristina Turner:
It's interesting to hear that perspective as someone who has been from I'm from Montgomery, and so a lot of people here like, "oh, we're too small. Nothing happens here." But then to hear you from someone who's from Selma going, everything was in Montgomery.
Maurice Cherry:
Everything was in–
Kristina Turner:
You probably need to give that talk to some other people that live here!
Maurice Cherry:
Listen, we didn't have a bookstore, so when I was trying to learn…I mean, we had a library. So, I mean, a library is not a bookstore, but the only kind of books we bought was whatever might be in Walmart. And that's like, what romance novels or something like that. Scholastic book fair. And the library. Like, there wasn't a bookstore, whereas you go to Montgomery, there's a Books-A-Million, and Waldenbooks was there. When I started learning how to code. This was like mid 90s or something like that. There were a couple of books out and stuff, and the library didn't have anything. And I remember going on a field trip and going to I think it was a Walden Books. It was either a Waldenbooks or a Books-A-Million to get my first computer book.
Kristina Turner:
Yeah, we used to have a Barnes and Noble. It probably was that.
Maurice Cherry:
Yeah. I'm curious, what high school did you go to?
Kristina Turner:
Robert E. Lee.
Maurice Cherry:
Okay. All right. I mean, Selma only had Selma High School. I mean, there's Dallas County High School, but that's different. That's the county high school.
Kristina Turner:
We have a ton of high schools. We've got Robert E. Lee–
Maurice Cherry:
Yeah, and mostly named after Confederate folks.
Kristina Turner:
Confederate people! exactly! Like, back then, I wasn't too hard about it, and I was like, yeah, Lee, that's where I go. And now it's like, oh, yeah, there was Lee. It'S a lot. Like, they're planning on renaming the schools, so that's going to be interesting.
Maurice Cherry:
Yeah, we had Selma High School, and that was just in the so, like, we had city high schools and county high schools. They were rivals of some sort. So in the city, there was only selma High School was, like, the city high school. And then outside in the county, you had Keith High School, you had Southside, and you had Dallas County High School. But then you also had I guess you could call this, like the honestly, what we called it growing up was the White School, which was Morgan Academy. And it was a private I guess private-ish school. But then that was named after a Klansman that's named after — John T. Morgan. So, like, we just didn't fool with them. Never the 'twain shall meet. Like, I think Selma's main rival was Southside, because it was just know, city versus county, that kind of yeah, yeah. No, I remember. I've marched at the stadium in–
Kristina Turner:
Crampton Bowl.
Maurice Cherry:
Crampton Bowl. I've been there. I've been to the Turkey Day Classic. All of that. All of that.
Kristina Turner:
You're bringing it all back!
Maurice Cherry:
Yeah, I've been there. Absolutely. So it's great to hear that Montgomery is kind of having this renaissance. Like, tell me more about the creative community there.
Kristina Turner:
So definitely not me, but it's spearheaded by a few other groups that have really more of the fine arts community. I have been so impressed. It started with maybe, like, throwing a couple of murals up, and now we've got a ton of murals up in the city, and then they kind of have these kind of art groups who are just there's one group, King's Canvas, that I really love, love Kevin King. He created it. His group is mainly on the West Side and where people don't that's not a thing that people think about, but he's been really advocating for creative place making, meaning community and culture can be created if you bring arts into it. And so he's been really doing a lot for the city. There's another group called 21 Dreams. They've also been doing a lot. And so it's just been a really good time. If you're like a fine artist, I would say design too, because a lot of designers are also they do fine art, but they also are mixed up in that as well. And so it's a good time to be a creative in the city if you just get involved.
Maurice Cherry:
And like you said, there's the schools that also have design programs. Like, you went to AUM, but then also Alabama State is in know, so you've got at least colleges that also have these programs too. Like, you were part of the AIGA student chapter at AUM, right?
Kristina Turner:
Yeah, we started a student chapter. I don't pretty sure that didn't last, but we had started a student chapter because there wasn't one. And the nearest AIGA chapter to us was in Birmingham. And so, yeah, we started one know, we were like, we want to be a part of a design association. And at the time, I think when I had remember hearing about AF, but I was like, I'm a designer, I need to be a design thing. Design things is what I need to be. And so we did a little bit with it, but I really don't remember a lot of the time, like, what we did. I don't think we did very much other than start the chapter. And so, yeah, I think there's opportunity wherever you can go. We even have two year colleges and stuff. We have one of those who has like a design program. It's everywhere.
Maurice Cherry:
Yeah. When you sort of look back at the span of, your know, even like your time at AUM to Henig to Southern Poverty Law Center to now with Jeremiah Program, how would you say you've evolved as a creative over the years?
Kristina Turner:
I would say that definitely for me, I love doing like I still like doing it, but I think I've definitely fallen more into creative leadership. I just love kind of like that art direction kind of stuff. And so I've also kind of realized there are people who are better than me, and I'm okay with that, right. I'm okay with getting the best people who know how to do the job, but I still have that eye for direction of where we should go and stuff. And so I follow more into creative leadership over the years and managing designers and other creative people. I really have enjoyed that part of where my career has gotten to, and I would like to keep doing more of just, like, creative leadership. I don't know, maybe far down the road teaching, maybe. But I just feel like because I just feel like at least when I remember in my college, feel like they're just not teaching you what you need to know when you get out, you know, the basics. But it's like, I need some real life application here.
Maurice Cherry:
And you don't feel like that's like.
Kristina Turner:
Being taught, at least when I was in school, it could have improved. I mean, the program has been around for a while now, and it could have improved. I just felt like when I was in school, I was having to do a lot of things on the side on my own to try to figure it out. And we had a teacher retire in the middle of my year also. And so we had a new professor came in who was just she just came from an agency. And so when she came in, I will say we saw more practical application type projects. We started doing that kind of stuff. And so, I don't know, maybe I feel like I was slighted because she didn't come in until toward the end of my year. So I'm sure she's still there. And a great friend of mine, and I will say that she probably brought a lot to the students after me, for real. But when I was in, it was like still a lot of old school teaching. And so not to say there's anything wrong with it, but it was like I needed it to evolve with where time was going.
Maurice Cherry:
Yeah, that's something with, I think, a lot of design curriculums. Like, you can teach the basics, of course, you can teach theory and composition and all that sort of stuff. But so much of design now, I think is wrapped in tech in some way, whether that's product or UX or some digital form. It's hard to be, I think, just a visual designer, maybe, because the expectation is that something you do has to be tied to a tech part, something with technology. And I don't think that's what's being really taught. They'll teach you the basics and then you're kind of on your own once you get out there.
Kristina Turner:
Yeah, I would have really appreciate now a class where they teach you Canva. Because I was like, everybody's like, Canva is going to take your job. No, Canva's not going to take my job. But Canva has a place in the world. And it's like now I'm definitely one of those designers that's like, turn my nose up at it, but I'm like, no, it has a place in the world, and we all need to adapt to it, unfortunately.
Maurice Cherry:
Now, outside of work, I see you love Disney and Marvel and all that kind, like comic geek culture stuff. Do you really ever have an opportunity to combine that with your everyday work?
Kristina Turner:
That's funny. Anytime I give a presentation, I like to let people know that that's what I'm into. If it's a presentation on something slightly boring. I always intro with hey, and it's usually like a picture of me at Avengers campus at Disneyland or it's just like, hey, I just need you to know a couple of things about me off the top. Number one, I'm a blerd. If you don't know what that is, that's a Black nerd, right? So I kind of break the ice conversations and I try to introduce it that way. I also would say that part of me starting like a blog and stuff too, was me trying to incorporate my love of design and building websites and stuff like that into trying to marry the two and my love of talking about it. I try to pour a lot of that into that. If I don't get to do it through work or they know that I'm good for them in something, even if it's just like a quick zoom meeting, they know I'm good for them in something that's going to be very nerd culture related. So I try to throw it in there as like a personality thing. But no, we're not up there making Marvel movies at work.
Maurice Cherry:
I mean, I know with like what you said with the Jeremiah Project, like the work has to do with family. So I didn't know if maybe you're able to kind of introduce some more family-friendly Marvel or Disney. I mean, Disney is family-friendly, of course, but any sort of way to sort of incorporate those two. I was just curious about that.
Kristina Turner:
No, no. We keep it professional.
Maurice Cherry:
What advice would you give out there to someone? Like they're hearing your story, they're hearing about your career, and they want to follow in your footsteps. Like, what would you tell them?
Kristina Turner:
Oh, man. I would say that opportunities won't come to you. You have to go find them, and you have to do the work to go find them. I can tell you I've spent many a time, even before out of college, leaving a little bit after, just finding opportunities and sometimes just even creating them, even when there's not there, because sometimes you creating stuff on your own will get you noticed. I think you have to find the opportunities. You can't just expect them to come to you. It's work being a creative, right? It takes a minute to get you unless you're just really good. It takes a minute for people to put that trust in you, to hire you as a creative person. Right? And so I also think being a creative is more than just your ability to make something look good on the screen. I think also too, that some of that leadership and communication style also is a big part of being a creative. Like if you can't talk about your work, if you can't defend your work, if you can't also take critique and criticism that communication is very important and sometimes even that part, they'll see that before they'll see your actual. Work that you're doing. So I just think that ultimately, you have to do the work.
Maurice Cherry:
What do you want the next chapter of your story to be? Like? I feel like you've accomplished a lot so far in your career, and especially now you're at this new nonprofit. What do you want the next chapter of your story to be? Like, what kind of work do you want to do?
Kristina Turner:
I would say career wise, I can't think of anything else that I would want to be doing other than teaching. At some point. I think I like connecting with students, and right when life hasn't slapped them in the face yet, so all their ideas are fresh and new, and you're like, yes, energize me with your energy. I would like to think I would like to eventually go that route. But personally, though, I think I just want to push myself a little bit more to learn things that I'm still not like, I, at one point was like, I should learn. UX. And then I quickly gave up on it. But I think I just want to explore. I'm getting more into video editing. I've done a little bit, and I'm getting a little bit more into that and just trying to add things to my tool belt to kind of keep me going. Because I think most people, if you're a creative, you know, you can't just stop at what you learn one time, right?
Maurice Cherry:
No, that's very true. It's very true. Just to kind of wrap things up here. I mean, we've talked about so much stuff, but where can people find out more information about you, about your work? Where can they find that online?
Kristina Turner:
You can find me on my website. It's ohheyitsmekt.com. That's also my Instagram and Twitter handle. Yeah, that's where I'm at.
Maurice Cherry:
All right, sounds good. Well, Kristina Turner, I want to thank you so, so much for coming on the show. Like I said earlier, it's just been so rare for me to find another designer that's, like, right from around the area where I grew up. So I applaud you so much for being such a badass working creative in Montgomery. And, I mean, I don't mean that just because of Montgomery being a smaller city, but the next generation, and I would say even the current generation of.
Maurice Cherry:
Designers, creatives and stuff, people need to see that.
Maurice Cherry:
They really need to see that. Because I think about myself growing up, I didn't know anything about design. I mean, I liked to draw. I couldn't really draw, but I did a lot of stuff with magazines, and I worked on my school newspaper and yearbook and stuff. And this was at a time when computers were just starting to become a thing. We're talking, like, mid to late ninety s. I graduated high school in '99, and so there were no sorts of examples for me to see of, like, oh, this is a working person doing creative stuff. I had to leave to find it, to see it somewhere else. And so I think it's super important that what you're doing, you're kind of being the symbol in a way, maybe inadvertently, but you're being the symbol for others to see that. Yeah, you can be here in Montgomery and live a fun, fulfilled creative life doing work that you love. And that is so inspirational to me. I know it's got to be inspirational to other people. And again, I just want to thank you so much for coming on the show.
Maurice Cherry:
I appreciate it.
Kristina Turner:
No, thank you for geeking out about Montgomery with me.
Brevity & Wit is a strategy and design firm committed to designing a more inclusive and equitable world. They are always looking to expand their roster of freelance design consultants in the U.S., particularly brand strategists, copywriters, graphic designers and Web developers.
If you know how to deliver excellent creative work reliably, and enjoy the autonomy of a virtual-based, freelance life (with no non-competes), check them out at brevityandwit.com.