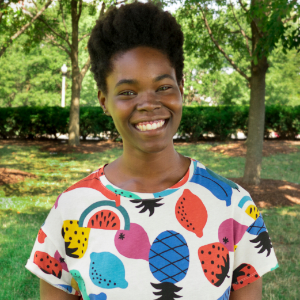 We're halfway through the year! Summer's here, and I thought it would be a great time to feature an extraordinary young designer whose work I recently discovered — Keisha Okafor. Her work is brimming with energy and vibrancy and joy — feelings we all could use a bit more of these days.
We start off talking about freelance design, and Keisha told a bit about how she helped make one of the features Google Doodles for Black History Month 2021. Keisha also spoke on her signature design style, talked about one of her dream projects, and gave some great advice on being an illustrator. Keep an eye out for Keisha — I think we'll definitely see more of her work in the future!
Transcript
Full Transcript
Maurice Cherry:
All right. So tell us who you are and what you do.
Keisha Okafor:
My name is Keisha Okafor. I'm a freelance illustrator. And I would say that my work I've been using depicts joy and celebrates people. I really like to use bright colors and bold patterns.
Maurice Cherry:
How's the year been going so far?
Keisha Okafor:
It's been going pretty great. I actually just went freelance full time. So that's the thing. But before that, I've been working full time in design as a production designer, actually for print and also doing project management. Ironically, I was managing all the print projects I was doing. So kind of like a one-woman show. So all of that was very technical and like sending client emails. And then out of work, I was doing illustrations and drawing and working with my freelance clients. So it's nice to have more time this time, but honestly, it's been going pretty well. I mean, I know the whole pandemic is still happening. In my mind, it's not even close to being over, but as a very, very heavy introvert, my day-to-day isn't really that different, I be inside. So I'm still watching Anime, still playing video games. Yeah. Outside of work is pretty normal to me because I wouldn't be outside anyway.
Maurice Cherry:
Yeah. Wow. So yeah, you just went freelance. That's a kind of scary thing to do to make that leap of faith. I mean, did you feel like you were prepared for it when you did it?
Keisha Okafor:
Yeah. I definitely did, which is surprising because years ago, would have been terrified, but I did a lot of planning, I watched so many seminars and workshops about going freelance, like what do you need to have in place before you do that? And I also saw enough clients coming in and projects coming in to where I believed like this is going to keep happening. I'm not just a Juneteenth, Martin Luther King Day illustrator. I can do this 365. So once I saw that and all the other planning I've been doing for the past several months, I wasn't as scared as I expected to be.
Maurice Cherry:
That's good. That's good. I mean, oftentimes, we'll have the designers that are here on the show that either are freelancing or they're thinking about going freelance, and making that leap can often be really scary. I mean, you said that you had some preparations in place, which is good. I mean, to know that you can step out there and have at least some sort of a foundation, so you're not necessarily going at it alone, but you have, it sounds like you had some major things already planned out before you made the jump, like clients.
Keisha Okafor:
Yeah. I also had savings. That was like my main thing. I didn't want to jump with like $25 in my account. So with all the freelance money I've been getting, luckily because I had the full-time job, I was able to save all of that pretty much by pretending that I didn't have it. I was tricking my mind, like, don't spend this, this is for your future. Like, don't wild out and buy stuff, but I'm also not naturally a big spender. My biggest splurge last year was getting Netflix, the two accounts. Yeah. I mean, I bought video games, but I would've done that anyway, but yeah, I got Netflix. So that's like an idea of something I think about, a purchase that I would think about for a while before doing so. Was able to save all that money to have bought a year's worth just in case nothing happened, which I don't believe that was going to happen, but just in case, I had enough money to live off of that.
Maurice Cherry:
That's a very smart move.
Keisha Okafor:
Thanks. I take risks, but it's very calculated because I get very scared, just the idea of going freelance is so scary. So I just wanted to make sure I have things set in place, I thought it through that I'll be good.
Maurice Cherry:
What made you decide to go freelance? You said you were working as part-time gig, did something happen or did you just feel like it was just time to go?
Keisha Okafor:
Honestly, just in general, the jobs I've had, it was a full-time job too. Boy, was I tired anyway. It was just like, no matter what job I had, it ended up being rinky-dink. And by rinky-dink, I mean, no matter how confident I am, no matter how competent I am at the job, no matter how much work I do, how fast I go, I'm still getting treated like I'm entry-level or like the level of a recent graduate in my pay, in how I'm talked to when I ask questions. And I'm just getting tired of that. And because I saw that doing freelance wasn't as intimidating as I thought, I was just like, let me better myself and make sure that I'm handling that side for myself, that I get to advocate for myself and also determine what I'm worth.
Maurice Cherry:
That is a big reason why I ended up going freelance back in 2008, the company that I was working for was treating me in that same way, like I felt like I was being undermined or belittled or patronized too, even though I've got the skills to be there and I'm cranking out top quality work, you still feel like you're almost treated like a child.
Keisha Okafor:
Yes. Oh my gosh. Yeah. This past job, the work I was doing, it took four people to do before I got there.
Maurice Cherry:
Wow.
Keisha Okafor:
Yeah. And they're not a startup company. They've been around for many years over a decade. And even taking on that work, they still saw me as a rookie. And I'm like, "Really after all of this?" So I could see that that wasn't really going to change anytime soon. They would give me compliments, but I'm like, "But my pay isn't changing." And when I say things and give suggestions, it's just going over the head and out the window. So I'm just like, "All right, I see where this is going. I'm out."
Maurice Cherry:
Yeah. What does a typical day look like for you right now? I know you just started freelancing, but have you started getting into a good rhythm?
Keisha Okafor:
Yeah. Generally, I have a Trello account, where I have all my freelance projects that I'm working on right now and just different to-do lists, broken down to all the small steps, just so I can see overall what I need to work on. So if there are any priorities or upcoming deadlines, I'll then write a list, a to-do list of like at least three things I want to get done during the day, like I want to finish this sketch or I want to finish this piece, send this email to the client, things like that. I usually start my day at around 10 o'clock. I am not a morning person at all. Also, I have a cat who only wants to be pet in the middle of the night. So from like 5:00 AM to 7:00 AM, she's crawling on my chest, like, "Pet me, pet me." And I'm like, "Let me sleep." That's why I start at 10:00 to get back some of that sleep I lost.
Keisha Okafor:
But yeah, I usually start eating cereal, see if I have any emails. I don't really get too many emails, but I'm also someone who like, I get through them. So I usually only have like three tops. And then I just start the work I'm doing. And if, and then I just keep reviewing that Trello list with my deadlines and checking things off. And if I'm like at the right pace, because I'm trying to pace myself doing a little each day to make sure I hit the deadlines early, instead of like binge doing it all in one day. So once I hit that pace for the day, if I'm done, then I'll take a break and rest for the day. Yeah. That's generally how it's been going so far.
Maurice Cherry:
Yeah. The best thing about freelancing is really setting your own schedule and then no one can tell you to change it. It's completely up to you. So if you want to stay in till 10:00 AM, till noon, you can do that. No problem.
Keisha Okafor:
Yeah. It still feels like, I feel like a kid beginning summer break, but then I'm like, "Keisha, you're an adult." Make sure you get stuff done, which I always do. But waking up at 10 o'clock and being like, "Well, time to get this started." That still feels wild to me. I'm like, "I get to do this. I planned for this and it's happening."
Maurice Cherry:
Nice. Now, I first heard about you this year from your work you did for YouTube's Black History Month campaign. I think they did four different illustrators and artists for each of the four weeks in February. Can you talk about that? How did you become a part of that project?
Keisha Okafor:
Yeah, that still blows my mind. This was like maybe a week before Christmas. I randomly get this email saying, "Hey, Keisha, I work with YouTube. Want to work on this project about Black Creativity for Black History Month?" I immediately thought it was a scam. And then I googled everyone that he mentioned just to make sure kind of just like, who are you? What the heck? His email didn't say @youtube.com. So I was just like, "Oh, I don't know about this. Let me just double check." But I googled everyone and then their LinkedIn pages were like, they're designer at Google, engineer at Google. I'm like, "Oh, okay. So he was serious." So I immediately said, "Yeah, I am available to do this. Are you kidding me?"
Keisha Okafor:
Yeah. And then probably a week or so later, I met with like a small design team at the YouTube. And they were just telling me about the initiative that they had and they want to work for artists celebrating History Month and wanted to have all the artists make art around black creativity. And that was it. They were like, "You can make that whatever you want it to be, but it just needs to be around black creativity." And they gave some keywords, like forward-thinking, hopeful, bright, like that. Literally, those were the keywords they gave. So I pretty much just took that and ran with it. But also in the back of my mind, I'm like, "Okay. Okay, Keisha, this is YouTube. You got to show up, you got to show out. So like, do it, do the thing."
Keisha Okafor:
So initially, I was planning on doing portraits of women who in math and science from the past just to celebrate them. But then they wanted something, when they said forward-thinking, that's why they gave me the idea of having children in there, like giving like a hopeful idea instead of looking to the past, wanting people to look to the future as well. And I was the one who chose math and science, just because normally when you think of creativity, I usually think of a paintbrush, like dancing and music.
Keisha Okafor:
And they also mentioned that they didn't want to hit the normal black stereotypes. So like a boombox and people doing break dance. They want it to steer away from that. So I personally like math. I still, even at my big age, I watch PBS Kids shows about math and science. So I figured that would be a fun thing to do, a fun thing to go around. And that's in that forward thinking idea, it was me having like women in STEM, showing young girls the magic in front of it. So that's where the idea came based on their feedback. That's how that idea came to pass.
Keisha Okafor:
Yeah. And once they approved it, I was just going with it. The main critique was at first, I made everyone dark skin and almost the same tone. And they were like, "Oh, can you give it some variety?" I go, "Oh yeah, no problem." And then they wanted me to use like, I was being very literal at first. So like the sky is blue, rockets are gray. And they were like, "Can you use like some of the colors that you use? Like the ones that you use." And I was just like, "Oh, okay. So you actually want me to put my spin on it." I was putting all these rules, adding all these rules to myself. This has to be very literal. If I'm drawing math, it needs to look like math. But once they said that, then that's when I went crazy with the colors, like, "This guy could be pink and yellow and purple." So yeah. Then I added my own spin to that. And that's pretty much how it turned out.
Maurice Cherry:
Well, I have to say it looks amazing. And for people that haven't seen it, we'll make sure to put a link to it in the show notes so you can definitely check it out. I mean, I get that kind of forward feeling, that forward-thinking notion from that. It's interesting enough, I had discovered an organization, I think they either left a comment or I saw it somewhere else on the web, but because your piece was centered around STEM, I had discovered this group called Black Girl MATHgic, like Black Girl Magic, but MATHgic. And I mean, I love math too. My degree is in mathematics. So I saw that, I was like, "That is so cute." That was the cutest thing I've ever seen. It's like it's a program, but then they also sell some merch for fundraising and stuff. I was like, "This is really dope teaching young black girls math fundamentals and stuff." It's pretty cool.
Keisha Okafor:
Oh, that is so amazing. I just love that so much. And the lack Girl MATHgic, Oh my gosh.
Maurice Cherry:
It sounds like you working with YouTube on this was like a really kind of collaborative process. Are those sort of the best types of clients for you to work with?
Keisha Okafor:
Yes. I would say that working with YouTube was definitely like ideal client. They were very responsive, followed the schedule, they communicated so well. And they were also really nice, like we're working with big clients, I just assumed like they were going to be very strict and we need to have it look a certain way. They want to work with people, but they want it to look a certain way, it's what I expected. But working with them, I really saw that they wanted me to show myself in there and to put my own spin. When they said, put your own spin on a theme of black creativity, they actually meant it. That's why I mentioned the thing with the colors. That was like very refreshing for me, something I really enjoy, like the great communication, being responsive, when things were delayed, they adjusted the schedule to match the delay. I was like, "You're amazing." Yeah. I really enjoyed them as a client. And those are things that seeing that it's possible, those are things that I start to look for when I'm working with people.
Maurice Cherry:
Yeah. Let's go back to freelancing just a little bit more. When you have a new client or you're approaching, let's say, a new project, what does your creative process look like?
Keisha Okafor:
Yeah. So usually, I try to get as much information from the client at the beginning as possible because a lot of people say, "Oh, just do whatever." But they actually have something in mind. So I try to ask a lot of initial questions, just to get an idea, like, do you have an idea or do you actually want me to give you my ideas? I just want that to be clear from the very beginning before I start doing research. And then I also asked like a lot of technical questions, how much do you want the resolution to be? What size? What's your timeline? Because if it's a small timeline, then I won't try to do this super complex thing. I'll make it simpler.
Keisha Okafor:
But in terms of like the creative making the thing once that's settled, I usually do a lot of research on stock websites. I like iStockphoto, just to get an idea of like composition, and if it's something I'm not familiar with, I can't just think of 35 math formulas off the top of my head. I just got f of x imprinted in my mind, but I need more. So I like to look at stock websites just to see what kinds of things are default, their body poses, body expressions, what do real people look like? Because I don't want every person I draw to have the same face, but different bodies and different hairstyles. That feels weird to me, but I like when other people do it.
Keisha Okafor:
Yeah. So I like to go on stock websites just to see if anything is giving me ideas, is it inspirational? Is it good for reference? And once I get that, I'll start sketching out different ideas, trying out different compositions, just to see like, does anything look good? Can I draw this thing? What are the hands going to look like? And then usually, that's when I start going back and forth with the client, seeing what they think of my ideas.
Keisha Okafor:
But if anything's going in the right way, usually, that's also the time I'll ask, "Do you have any other ideas once you see this, a better idea of what you're looking for kind of thing?" And then once that happens, I'll either revise it or start going with color, again, make more ideas, send that to them. And then it's usually just a back and forth, giving them the art and then getting their feedback. But as I've been working and seeing like how easily that can turn into a 100 revisions, I put limits like, okay, we're going to have two rounds of revisions. And if you want more, this is going to cost. So yeah, I say back and forth, but it's back and forth like twice just to protect my time essentially.
Maurice Cherry:
Now, even with all of this, are you also thinking a lot about, let's say, colors, like a color story or anything to go along with a new project? Or does that come naturally?
Keisha Okafor:
Sometimes it comes naturally, but I also have a Pinterest board just full of different pictures that are like, it's either a fashion outfits, stationary, graphic design branding, things like that. But if I don't have any ideas, I'll just pick from that, like, oh, let me try this, or since I'm on social media a lot and have a lot of artists I follow, there are just some artists I like the way they use color. There's an artist, her name is Olivia Fields. And one thing she likes to do is have a very monochromatic color scheme, but she uses value so well it's still very interesting to look at. So if I'm thinking about that lately, I'll like, let me try to use a monochromatic scheme just to see what it look like if I do it kind of thing. If it doesn't work, I'll just trash it. But yeah, it can either come from other artists, that Pinterest board or I'll just start off with, I want the main color to be yellow and then I'll just randomly pick colors and adjust it based on that.
Maurice Cherry:
Nice. So I want to switch gears here a little bit based on what we were talking about prior to recording. You mentioned you're from North Carolina, that's where you grew up. Tell me what it was like growing up as a creative kid in North Carolina.
Keisha Okafor:
Yeah. I will say my grew up story isn't similar to like the ones I hear on interviews. People will be like, "I drew all the time, I love drawing." I drew some of the time and I was mostly watching cartoons, animated movies, just a lot of TV, playing a lot of video games. It wasn't until I was 13 that I even decided like, oh, I want to do something art related. It was from seeing the Incredibles. I saw the behind the scenes animation thing. And I was like, "I want to be an animator." But then once I got closer to picking a college and saw what animation was, very quickly, it was like, no, I don't want to do that.
Keisha Okafor:
I want to draw because I used to draw like a little bit, when I say every once in a while, I mean like a handful of drawings per year. I wasn't really, I liked to draw, but I wasn't sitting around drawing all the time because I was just overthinking it so much, I would draw, one time, I drew the Powerpuff Girls, like just very stiff Powerpuff Girls poses and look like them. But then I took it to school for the next few days and showed everyone. I was like, "Praise me. I'm a good artist. Look at me." And then didn't draw for like the next few months.
Keisha Okafor:
That was me as a kid artist, but still very much enjoyed it. I took art classes in middle school and high school. And I would say that's where my artistic skills and sense and interests started to grow. I wasn't doing anything like extracurricular. I was just taking it as an elective. So by the time I got to college, I was like, "I don't have any other interests. I want to be an artist. And I'm hoping college will unlock the key to figure out how people actually get paid to make art."
Maurice Cherry:
And I mean, you went to North Carolina State University, which we've had several alums just here on the show that have went there. While you were there, do you feel like they really prepared you to become a working designer out in the world?
Keisha Okafor:
Now, when I look back at it now, I'm like, "Oh yeah, they actually did." But at the time, I didn't think so at all, because it just felt very vague, because I also, I majored in art and design at NC State and I thought that meant I'm going to paint, like be an artist. They attach design to it. But they really mean art, right?
Maurice Cherry:
No.
Keisha Okafor:
It was like the first week they were like, "Hey, I know you guys like to draw and paint, but we're not teaching you to be artists, we're teaching you to be designers." And in my mind, I was just like, "No, what is design? Oh, no." Looking back on it now, I see they were teaching us how to think like designers and how to problem solve. And that's something that's been so helpful. And also, with drawing, making sure you understand the foundations of drawing, that's something that I've been using a lot as well, but really that problem solving thing and also how to think like a designer, I would say that's been the most helpful in my design career. But in terms of like how to get a job, how to make a good portfolio for a job, nope. I'm just like, "I wish I did something about it." But now that I am working and have had jobs, those design fundamentals have actually been very helpful.
Maurice Cherry:
Nice. Now, after college, you ended up for a while moving out to LA, what prompted that?
Keisha Okafor:
It was actually like one of those moments of close family member passed away. So it was just very much like life is short kind of moment, let me try things that I would never do, just you never know you get this chance again. And growing up, watching a lot of TV, California always looked cool. And that was one of my bucket list thing, like I want to see what it's like to live in California. So once that chance came up, I just went for it, oh, man. So scared. I was sweating on that plane just, Ooh, oh my gosh. I was so scared. But yeah, that's how I ended up getting there.
Keisha Okafor:
And really, my goal was just to see, like, can I go there and survive? Can I do enough to make sure I don't have a flight back in three months? And I ended up staying for four and a half years, going on five years. I came back to North Carolina at the end of 2019, months before, I mean, months before COVID happened. So I am so, oh, I don't have family in California. So that's why I'm like, I am so glad I moved just in time so I could be near my family and at least know they're safe in person versus a phone call from like 3000 miles away.
Maurice Cherry:
Yeah. Now, while you were out there, did you get a chance to really experience the LA design scene?
Keisha Okafor:
I don't think so. When people say that, I'm just like, "So where's the scene at? And how do I get there?" My only experience was through the jobs I had. And comparing it to North Carolina, the main difference I noticed was that things were way more fast-paced. Yeah, that was like the biggest difference I noticed. And also like, but this is with anything. Once you see the process behind things, it takes that bale away. Things aren't as glamorous as I initially thought, like I had a job at a media buying agency, where I was editing album covers for social media posts or resizing banner ads that will be put on YouTube, like watching the YouTube video and seeing of like, oh, this looks so like, well, one it's annoying, but also seeing like a big artist with an ad, I'm like, "Ooh, fancy." But hearing the media buyers trying to get the space and make it and asking me to resize things and how crazy that process can be, I'm just like, "Okay. These are just regular people trying to just do their jobs."
Keisha Okafor:
And I would say a big thing that just in general in the workforce, I'm just like, "Man, people procrastinate so much." I thought that was like one of those warnings I got in college, like, you'll never be able to procrastinate when [inaudible 00:27:40], but adults do that all the time.
Maurice Cherry:
All the time.
Keisha Okafor:
Yes. Oh my gosh. And it happens so much. When I was working on those album covers, I was just like, "Come on guys. Just please send me the picture so I can resize it." But it did help me build up efficiency because there were such fast turnarounds. I was used to working at a fast pace. So coming back to North Carolina, that's how I ended up, when I mentioned earlier doing the work of four people, because I was used to working so fast. Like when things are slower here, it wasn't that big of a deal. It felt normal. It helped me in that sense. But yeah, you asked about the design scene. I would also love to know what the scene was like, where was the all people? Where were the people at? What do design people do? I didn't really get that question answered.
Maurice Cherry:
I mean, it's interesting because like, you mentioned earlier like, well, where is the design scene? I think designers carve out their own scene based on who they're working with or working for, who they have met or inspired by. I've been to LA only once, I went in the beginning of 2020 in February. And I found that it was just like real, it was just so spread out. I mean, Atlanta is spread out, but LA is way more spread out. I'm like, it takes forever to get anywhere. Like if you're going to go somewhere, you better hope it's on your side of town, you don't have to cross over and go down. It's so big. I was there for two weeks and I know I only saw maybe like a 10th of LA. It's so big. So big. I mean, I guess when I asked about like how the design scene was, I'm curious if it was different from maybe the design scene that you knew back home in North Carolina, like you mentioned, it was more fast-paced, but were there other differences?
Keisha Okafor:
That's a good question. I will say, like you mentioned, because everything was so separated, it was kind of like, if you weren't in that neighborhood, we're not going to meet or we're not going to meet often. So it ends up being like pockets of communities that I would notice. So I had a lot of animation friends because they lived in Glendale and Burbank and they were interested in working at Cartoon Network or Disney TV.
Keisha Okafor:
So I would meet those people in Burbank and Glendale, but then the people who were interested in more of graphic design or stationary, I talked to those people down near the beach because that's where a lot of the agencies were. It was like, I could find pockets of people in different areas, but it was so rare for them all to come together just because how long it took to go places like, like literally, Google Maps will say something is maybe 10 miles away and you think, oh, I'll get there no time. That's an hour trip one way. I'm just like, "This doesn't add up." But then you take the trip and I'm just like, "That took an hour. Oh my gosh." So it's just like people aren't going to make that. Even people who were natives, they weren't really going to make that trip on a regular basis. So it was just like pockets of communities that I would have in the different places I was at depending on where I lived and worked. That's how I ended up seeing the people.
Keisha Okafor:
But I feel like in North Carolina, everyone is in Raleigh, you're in Raleigh, I can get to the edge of Raleigh, the top, it will take like 20 minutes. So to me, compared to being in LA, I'm like, "That's not a big trip at all." So I feel like people are taking more initiative to meet up, and I'm sure that's because of COVID as well, have like a lot of meetups and groups and workshops and stuff. Whereas it would be like a once in a lifetime thing to do, I'll take this trip one time an hour for this workshop, but don't count on me to come every week.
Maurice Cherry:
And the web is going to change things too. I mean, there's events and workshops and things. A lot of stuff has come online just over the past year that before either didn't exist or it was just inaccessible because of location or something like that.
Keisha Okafor:
Yeah. Adobe MAX, the first time I attended it was last year because it was virtual. I lived in LA and it happened there every year, but I just was not about to sit there and pay for it not only, but just go there and talk designer talk. Sometimes I feel like there could be a prestige that some people might have, like, hello, I'm art designer. I integrate things together. They use all the design words and I'm not very good at that. I'm just like, "Yeah, make pictures." So being in that environment isn't something I would want to pay to do. So it was nice to be able to attend the virtual version because I never would have went otherwise. Yes, there were so many conferences and things I've never heard about that I got to hear about because it was virtual and people I got to meet because of that, which is nice to me.
Maurice Cherry:
Yeah. As I was going through your work, I saw your illustration work and your portrait work, which is beautiful, but your patterns, the patterns on your website are absolutely gorgeous. I love that you have in your bio, on your website, you mentioned that you're an artist and designer depicting joy. What does it mean for you to depict joy in your work?
Keisha Okafor:
Yeah. So in terms of people, you'll probably see that I draw a lot of black people. And one thing that makes me happy about black culture and just black people in general is just seeing us love the things that we love, however we love it. It just makes me really happy to see all the different facets and ways that black people just are. I get so excited. And I feel like when I draw that, that's where I'm trying to convey just how excited I am to see black people as they are, doing whatever they like, looking as cool or as goofy or as happy as they are. I feel like that comes through with the people.
Keisha Okafor:
And in terms of the patterns, I really like music. But when I hear music, I tend to see a lot of different shapes and colors just moving together. That's how I see the song. Like me drawing those abstract patterns, it's usually me listening to music and drawing whatever comes to mind. So just kind of like the happiness that comes from listening to music, that energy is something I'm trying to capture in the patterns. And I like for it to fit together kind of like different sounds fit together in a song, that's how it shows up in the patterns.
Maurice Cherry:
And when you're even doing these patterns, it also seems like you're drawing from nature some too. I don't know maybe if that was just the particular collection that you were doing, but I saw a lot of kind of tropical themes and leaves and stuff like that. It's just very, very stunning work.
Keisha Okafor:
Thank you. Yeah, the tropical thing is I just love the way tropical scenery looks. I also think it's nice, like all the different leaves and like patterns that you see within leaves, I think that's nice as well, but also sometimes, if I draw too many triangles and circles, I'm like, "Let me draw something that people can recognize." So it ends up just being leaves and flowers for some reason. I'm not even a big flower person, it just ends up coming out, or I'll just look up pictures of flowers. But yeah, I really love tropical weather and themes and stuff. So I just end up drawing it a lot.
Maurice Cherry:
I have not met a Nigerian that didn't like bright colors. So you're definitely onto something there.
Keisha Okafor:
[inaudible 00:35:22]. I love that. You're right. You're right.
Maurice Cherry:
How do you get your creativity back if you are feeling uninspired, like say you hit a block in a project somewhere you're working on something, what do you do to get that spark back?
Keisha Okafor:
So when I am inspired, I have a bunch of hidden Pinterest boards. And then I also have a notebook where when I'm inspired, I just write down ideas of things that I think will be cool to make. So when I am feeling blocked or uninspired, I'll look through that Pinterest board. One is just called Black, and it's just black people, just random black people that I can find on Pinterest. It used to be really hard, but I saved so many pictures and looked at it that Pinterest has realized this girl likes to look here black people. So now my homepage has that.
Keisha Okafor:
So I'll either look at that Pinterest board, just kind of seeing people do stuff or I also have some with just colors or textures or shapes. I'll just look through the Pinterest board or I'll look through that list of ideas that I have. I'll either do that or I'll just take a break. Turn the thing off, turn the computer off, turn the iPad off, watch TV, play a video game, take a nap and then come back. Yeah. And then if there's like a time crunch, I'm just like, "Well, honestly, think about the money." I'm like, "Girl, do you want to get paid?" I'm like, "Yeah." So I just do it no matter what I'm like, okay. Just loosen up. Then I'll take a five minute break, loosen up, get some water or something and then come back and just do it.
Keisha Okafor:
Or another thing I'll do, sometimes I'm not a good singer, but I love to sing. So I'll just turn on Spotify and then just force myself to sing along out loud as bad as it's going to come out, just so to get my mind not overthinking it. And then things usually come out better. If I have, like my mind is focused on me singing, even though like, what notes? What notes am I hitting? So that helps me have a bit of more energy and looseness to the art that I'm making.
Maurice Cherry:
One thing that I would do when I was working on projects is I'd always build in at least a week into the sort of like project plan, because I mean, I think the expectation, certainly, I think from clients, but oftentimes, for us as freelances, as designers, the expectation is we'll get the work and we'll just be able to knock it out, like we'll sit down and we'll know what we do because the client has brought us on for our expertise. So we have to be the expert.
Maurice Cherry:
And I mean, depending on how, if you set up a project rate or hourly rate or a day rate or whatever, sometimes clients will try to nickel and dime you to try to know like, well, how long did it take you to work on X, Y, Z, and blah, blah, blah? And I certainly early on in my freelance career, that was a mistake that I made. And then eventually, I switched things over either to like a project rate or I do like a day rate or something like that. I'd build in like a week of time because there's no telling.
Maurice Cherry:
And for me, it's almost like creative insurance, like I may need it in the future if something happens, like what if I get sick? Or what if I just am not feeling it? And I can take that time out of the bank sort of because I've built it into the project and then I can, like if I take a day off and then decide to come back later and do it, then that way I'm not impacting the project because I built that time in there. It gives me permission to not have to be a machine when it comes to like creativity because sometimes the ideas flow and sometimes they just don't.
Maurice Cherry:
And I've certainly been at that place where you're at, where you're like, you just have to think about the money, like think about what this is going to do. And then you soldier on or you push through it. But yeah, that's one thing that I would do is I just build in the time because the good thing is if you never use it, then you come out early and the client is happy. And then if you do use it, the client is still happy because you came out on time.
Keisha Okafor:
Right. That's great. Because I learned in the design world as well, especially when I was at that media buying agency, it was an open office and there were only like eight of us. So sometimes I'll work on stuff, they just be standing over my shoulder, "How long do you think it'll take?" I'm like, "Please. Oh, I think it'll take me a few hours rolling." It wouldn't. It would take me shorter than that, but I like to add in that buffer, just like you said, like if something happens, I can still turn it in when I said I could, but also giving myself that insurance, like you said, to make it.
Keisha Okafor:
But in terms of the illustration projects now, those few hours turns into a couple of extra days or maybe an extra week, like you said. Yeah. Especially when people say they have a tight turnaround, things never are as tight as people want it to be, especially with getting revisions and just getting feedback, especially if there are a lot of cooks in the kitchen. So it is way better to add in more time for that kind of stuff in the beginning, like you said.
Maurice Cherry:
Yeah. Now when you were in school, when you were back at North Carolina State, let's say, I think that was maybe probably around 10 years ago at this point, right?
Keisha Okafor:
Mm-hmm (affirmative).
Maurice Cherry:
Where did you see yourself career-wise by this age where you're at now?
Keisha Okafor:
Honestly, by the time I graduated, I was just like, "Am I cut out for this?" Honestly, because I thought, again, like when I was 18 entering college, I thought, okay, college is going to give me the roadmap. And by the time I am a senior, I'm going to know exactly what I want to do, how to get there and I'll be able to get there. But that didn't happen when I was a senior. I felt kind of similar to how I was as a freshman, like, what? Like, what am I doing? I need to find a job.
Keisha Okafor:
So I mainly, the main goal I had, I was like, Keisha, please have a job, please have a job and an apartment that you can pay for with your job. I had very, very basic goals for myself, have a job that's something related to design. Yeah, that was pretty much my only goal. I wanted, the idea of freelance sounded good, but then at that time, I had no idea how to do it. So it wasn't even, it was more like a fantasy more than like me seeing myself there.
Maurice Cherry:
I didn't go to design school, but it is something that I've thought about in terms of like, do I need this in order to have this legitimacy for myself as a designer? Because I've been self-taught and I did a little bit of work at companies, like I worked for the State of Georgia for a while, I worked at AT&T for a while. And then like, I really had just felt like, you know what? I got this, I could start my own studio and do this and really do it myself. And I've learned so much really just in the time that I had my studio doing things by myself, but they never really teach you entrepreneurship. I mean, again, I didn't go to design school, but even with the work that I was doing, by the time I started my studio, I had a bachelor's and a master's degree and still didn't know anything about freelancing. I was really either making it up as I went along or I was asking other freelances. I was really gaining this education while I was also trying to run my business.
Keisha Okafor:
Absolutely. Because in design school, in my senior year, we had this class that the description was literally, we're going to prepare you to get a job. But when we actually took the class, they were like, "You need a website. Do you know what a website is? You can make websites on Squarespace." I'm like, "Are you kidding me? This is my senior year and you're teaching us that we need a website. Of course, we do. What are you talking about? How do you get a job? Please tell me what to put on my resume and how to get the people to actually hire me."
Keisha Okafor:
Even then, like being in design school didn't make that difference. It's almost like they're out of touch with what was happening in the world. Like they got the art skills, but getting a job or even being an entrepreneur, that wasn't even close to being thought about in any of my classes. I would have had to talk to alumni who are already doing it. And kind of like you said, they were figuring it out on their own or like having outside resources to figure that out. So I definitely don't think going to design school will or not going to design school, you won't really be missing out honestly.
Maurice Cherry:
Yeah. I mean, by the time I really started figuring it out, I think I was about, I don't know, I think maybe I was about two or three years into my studio and from just talking with other freelancers and picking up, because sometimes you just have to get, unfortunately, you just have to get burned a few times in business before you learn that lesson or whatever that particular lesson is. But I think by the time I was like, by the time I hit my fifth year, I had it down pat at that point, I knew about contracts and proposals and getting things done and everything just ran smoothly, but it took some time to get there.
Maurice Cherry:
So yeah. I think now, because freelancing is an option for so many people, whether they do it either independently, like you're doing, or if they do something like working via like a design marketplace, such as ThemeForest or Envato Elements or Envato Market, whatever the thing is that Envato has with all of the different websites and stuff, Fiverr, even those kinds of things, Upwork, there's ways that you can use those tools to manage your business better, but it's still, at the end of the day, it comes down to really knowing what those fundamentals are and knowing what works best for you. I think certainly, when I was doing business, there's not an all-purpose solution for like being an entrepreneur. I wish there was. But once you learn what works for you in terms of cashflow and payments and client communication and everything, then you've cracked it, you've cracked the code pretty much.
Keisha Okafor:
Yeah. A lot of the stuff I've learned even about graphic design because NC State does have a graphic design major, but I majored in art and design, a lot of the stuff I learned about graphic design was just learning by doing. It ended up being like the jobs I had, more doing stuff for family and friends was really the stuff that prepared me for the different jobs. And I'm learning that that's the same thing that's happening with freelance as well, like the classes that I take, the people, the Instagram artists that I'll DM or Instagram friends I have, I'll DM, those things have been really helpful. And also, like you said, being burnt, having bad clients, that helps me set better boundaries for future clients, like knowing what to do. So yeah, that's definitely something I'm in the process of right now. I'm definitely looking forward to the part where everything runs itself.
Maurice Cherry:
It'll get there probably I think sooner than you expect. Before you know it, it'll just flow. It's sort of like a… I mean, you watch anime, it's like the Avatar State. Eventually, you'll be able to just invoke it and you'll be good.
Keisha Okafor:
Awesome. Avatar is one of my favorite shows. So I love that you said the Avatar State.
Maurice Cherry:
What are you obsessed with at the moment?
Keisha Okafor:
Speaking of anime, so I'm watching this anime called Fruits Basket. It's a silly premise. When it's like, if you hug someone of the opposite gender, they will turn into Zodiac animal, so like the Year of the Horse, or a cat, rat, like things like that. But you end up finding out everyone has these crazy backstories and there's this whole curse and things like that. So I've just been binge-watching that show basically, because I'm so curious to see what's happening. Other than that, I've been playing a video game called Mario & Sonic at The Olympic Games for 2020. I've just been going through the story mode. There was one, it's the triple jump and I keep getting disqualified. So I got mad and turned it off, but I still think about it because I'm like, "I'm going to win." Yeah. I would say those two things.
Keisha Okafor:
Also, I have a cat. I've never had a pet before, but I got one a few months ago, honestly, off the strength of seeing other black people on social media have cats and they seem to enjoy it. And I always wanted a cat. So I ended up getting one. So I spend a lot of time peeking over the couch, seeing what she's doing or looking for her around the house and just smiling really big. She gets annoyed, but I think she's used to it. I would say I'm pretty obsessed with her.
Maurice Cherry:
Nice. Do you have like a dream project that you would love to do one day?
Keisha Okafor:
That's a great question. I would say the only dream project I had, I got to do it last year. So I got to illustrate a deck of playing cards and I pretty much did the art direction for the whole thing. So you mentioned the tropical idea, there was a running idea I had for a long time of joining black people in the tropical space, kind of like an oasis, a place where they could freely celebrate themselves without all the isms in the world that black people carry. So I pretty much made the deck around that and got the job black people being happy or silly in that tropical environment. And that was something I really enjoy doing. If I think of like a future project, it would be a similar thing, but in a different format. I haven't figured that out yet, but definitely enjoyed doing that deck of cards, but I'm not sure if that's like a book or like a coffee book or like a storybook, but that's kind of like something that I'm juggling in my head right now.
Maurice Cherry:
What is the best advice that you've ever been given regarding what you do as an illustrator?
Keisha Okafor:
Interestingly enough, I would say the best advice I have is more of like a you as a person. So like, not finding your identity in the work that you do, you're more than the work that you do. You are enough as you are. Like those kinds of things I've seen have made the biggest difference for me. Yeah, a lot of times the artsy-fartsy, mumbo-jumbo, it just slides off of me. I'm just like, this sounds, but when I draw, what does that mean? So hearing things like, I'm more than the art that I make is very freeing for me to be able to just have fun with it and do stuff that I like. And I don't have to judge myself based on how well I drew today.
Maurice Cherry:
Okay. I can see how that, I mean, well, one, I see that is good advice just in general, like, make sure that you don't get too caught up in the work, but also realize that you put your own identity into everything that you do as well.
Keisha Okafor:
Mm-hmm (affirmative).
Maurice Cherry:
Where do you see yourself in the next like five years? Like this whole pandemic craziness is over with, it's 20, what? 2026. What kind of work do you want to be doing?
Keisha Okafor:
Honestly, I haven't thought that far ahead. I was like, "Will the world still be turning at that time?" I think it would be.
Maurice Cherry:
I hope so.
Keisha Okafor:
You're right. Me too. Honestly, I hope I'll be doing bigger projects, projects I'm really excited about. I'm enjoying the projects that I'm doing right now. So more, just like an extension of the kinds of things I'm doing right now getting to illustrate different people, doing things, really hoping to get into the Children's Book World, be able to illustrate them to children's books. That's something I'm looking forward to. And also, I want to get my patterns onto products. So one thing I'm hoping to do also in five years is to have my products on things. Yeah. More of like, just like all the different ways I can get my work out there, either on products or online in different formats. That's something I'm hoping will happen, just as I grow and do things and get better at art, have it just spread onto different formats as well.
Maurice Cherry:
Nice. Well, just to wrap things up here, where can our audience find out more about you and about your work and everything that you're doing online?
Keisha Okafor:
Yeah. So you can find my work on my website, which is keishaokafor.com, O-K-A-F-O-R. You can also find me on social media on Twitter and Instagram, mostly Instagram @keishaoak, oak as in oak tree, O-A-K. The reason why it's like that is just so you know how to pronounce Okafor. But yeah, that's pretty much where I'm at, Instagram, Twitter and my website.
Maurice Cherry:
Sounds good. Well, Keisha Okafor, I want to thank you so much for coming on the show. I have to say, I just love how joyful and colorful and vibrant your work is. Like I mentioned, when I discovered you from the work that you did at YouTube, I was just looking at your website, like, this is so fun. And I have to say that it's rare to see a designer put that sort of joy into their work, but I am really excited to see what sort of work you'll be doing after this interview, after people get a chance to really see your work, because I feel like this sort of vibrancy and joy in life is what we need right now. We need to be seeing more of this everywhere. And so I'm excited for people to really learn more about you and learn more about your work. And yeah, just thank you for coming on the show. I appreciate it.
Keisha Okafor:
Thank you for having me. I am hope, really excited for people to see my work too. And I really appreciate all your kind words. Yeah, I definitely, I'm just like, if I'm going to draw, I'm going to have fun with it and I want everyone else to have fun with it too. So definitely excited to see where it all goes.
Brevity & Wit is a strategy and design firm committed to designing a more inclusive and equitable world.
We accomplish this through graphic design, presentations and workshops around I-D-E-A: inclusion, diversity, equity, and accessibility.
If you're curious to learn how to combine a passion for I-D-E-A with design, check us out at brevityandwit.com.
Brevity & Wit — creative excellence without the grind.