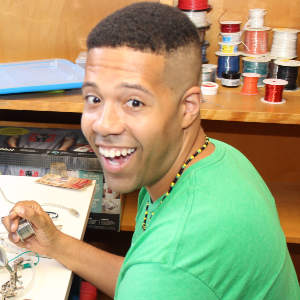 You're in for a great conversation this week with creative technologist Eric Thompson. Eric staked his claim in the Atlanta tech space through his entrepreneurial work through Georgia Tech, and is now helping support the next generation of makers and creators through his work at Spelman College.
We talked a lot about the Spelman Innovation Lab and how it functions as a third place, and Eric shared his journey from construction and mechanical engineering in New Jersey to studying user experience and human computer interaction in Atlanta. He also spoke about the thriving tech scene here, working with his partner on a food startup called Eat Unrestricted, and the lessons he's learned along the way.
This conversation is packed with deep insights, and I love how Eric is pushing the boundaries of innovation of creativity!
Interview Transcript
Maurice Cherry:
All right, so tell us who you are and what you do.
Eric Thompson:
Hi. Yes, I'm Eric Thompson. I'm the assistant director of the Spelman College Innovation Lab. And I'm the co-director of the Blackstone Launchpad at Spelman College. I'm also a strategic advisor for my partner's business, Eat Unrestricted, where we make vegan cheddar cheese sauce. And I'm also an entrepreneur and innovator in my own right.
Maurice Cherry:
That's a lot. That's a mouthful.
Eric Thompson:
Yeah. A couple things there, for sure.
Maurice Cherry:
How did last semester go at Spelman?
Eric Thompson:
It went really good. It was a whirlwind. We ran a ton of programming in the Innovation Lab last semester, including one of our signature programs from last semester was our HBCU Game Jam spearheaded by J.C. Holmes. Basically, we had a hackathon where I think we had like 23 HBCU schools sent teams to the AUC and built games over a 24-hour period. They used everything from RPG Maker to Unity to put together concepts, games, functional games over that time period. And we had a competition at the end, and it was really empowering just seeing what these students could create in such a short amount of time. Everything from story and game theory into 3D and 2D assets and putting the mechanics together in the game engines. It was really impressive. So game development is one of the verticals that we've developed in Innovation Lab that came out of the pandemic because we needed something that students could innovate and create with that wasn't an in person maker space. So that was one of the things. And then, you know, entrepreneurship has grown quite a bit at Spelman over the past few years as well. You know, I'm the advisor for the Entrepreneurs Club and our Blackstone Launchpad. We took some students to Battle of the Brains in Austin during SXSW. We had our Spel-preneur competition. We have been kicking off with the Center for Black Entrepreneurship, which is a collaboration between Morehouse and Spelman to kind of bolster all the entrepreneurship programming and ecosystem and get our students beyond just the four walls of the schools and into the community, into the broader entrepreneurship ecosystem. Just our standard kind of situation at the Innovation Lab where we have students making everything from future fashion to eco-friendly packaging for cosmetic products and students who are graphic designers and animators and everything under the sun. We're kind of like a one stop shop. That's…one stop shop is like the worst thing you can say as a designer, but we're the one stop shop for creative and innovative entrepreneurial endeavors on campus, and we try to make sure that everybody feels at home in the space. So workshops relating to everything from laser-cut business cards to building your own interactive robots, to working with emerging AI tools to further your artistic filmmaking animation journeys. So we do a lot.
Maurice Cherry:
Wow, that is a lot!
Eric Thompson:
It was an exhausting semester.
Maurice Cherry:
I mean, I feel like I have like a dozen questions that I want to ask just from that. But I'm curious really about the game jam. I mean, 23 HBCUs sent teams to Spelman. Was that the first time Spelman had done a Game Jam?
Eric Thompson:
Yeah, this was the first time the program was run. So this was kind of like the brainchild of J.C. Holmes, Dr. Volcy, and basically it's an event to kind of build the profile of what HBCUs are doing in these spaces. I think so often when people talk about gaming and HBCUs, it defaults to eSports. And don't get me wrong, especially in a place like Georgia where the entertainment industry is such a big part of the local economy, eSsports is a huge opportunity space for students, right? But we also want to make sure that our students are on the creative side of the funnel here, actually developing the games, developing the assets, writing the stories. And that's something that we've been focused on in the Innovation Lab is kind of building students up as creators, upskilling them, writing code, learning how to do 3D modeling, learning…. We even have a game theory class, you know? We have a professor who's a lifelong D&D DM and teaching game theory to students so that they understand what really are the core components of a good game — of a good interactive story. This is what the game jam was kind of raising the profile for. And we have several classes also associated with this vertical. So we have a game design class. We have a class called interactive storytelling. We have creative coding. Students use p5.JS to create interactive games and stories and experiences of all sorts. And then, like I said, the game theory class. We have a mixed reality club, which kind of works with anything from Unity to RPG Maker throughout the semester. And we have research students who work on projects that involve virtual reality training, mixed reality, even projects, you know, some of these students work on collaborative projects with other departments like literature and the creative writing department, and even experiences to tell the history of Spelman and so on, right? So we have projects with Georgia Tech. It ranges, but all things in this space, Unity being a very central software to a lot of what we do in these. So that's a big push right now in the Innovation Lab. And it fits in because, like I said, Georgia is very big into these creative industries, whether it be video games…but even, I mean, on the film side, the skills are very transferable from what we're already doing, right? So that's something that personally over this summer, I'm kind of putting together a framework for what that might look like of getting some of these same students who are doing this work in Unity, who are learning how to create these stories, who are developing these assets, how to get them more involved in the film industry locally as well. So that's something we're working on as well.
Maurice Cherry:
I have to say this as a Morehouse alum, it does not surprise me that Spelman is like light years ahead. I don't know if I could even say light years ahead of Morehouse, because I don't really know what they're doing at Morehouse, but I just know…I remember when I was a student in, yikes, 1999, Spelman was it. Spelman had the Sun Microsystems computers. I think we had some also as well. But we took all our programming classes at Spelman. I came in the summer as part of the Project S,P.A.C.E. program, which I don't even know if Morehouse still has that. But I think Spelman had it, too. It might have been called something different, but it's when if you're a STEM major, you can intern at two NASA facilities for two summers. And then afterwards, I think the goal is like, oh, you could go and work for NASA. Unfortunately for us, this happened right before 9/11, so that did not happen for me. But we took all our programming classes at Spelman, and Spelman had, like, the decked out computer lab, and I was just like, "why don't we have this at Morehouse?" It was like, going to Spelman, and it was the future, and then we would come back to Morehouse, and it's like the projects in Good Times, Like, what is happening?
Eric Thompson:
I don't know. I can't speak to it exactly. A lot of students do come into the Innovation Lab, and especially Morehouse students, the way I have the Innovation Lab structured, it's supposed to be like chairs, like the bar. Everybody knows it's a third place. That's how I organize it.
Maurice Cherry:
Right, okay.
Eric Thompson:
I want it to be a place where students feel welcome and like, they want to be rather than they're just there for a class. Right. But Morehouse students always come in. They're like, "yo, Spelman's always got the stuff."
Maurice Cherry:
Yeah.
Eric Thompson:
"How do y'all have this space and we don't?" But I have some really great colleagues over at Morehouse, obviously, Tiffany Bussey over at MIEC, the Morehouse Innovation Entrepreneurship Center, but also Brian [Lawrence, Ph.D.], who was running the Morehouse MakerSpace, they have put in a tremendous amount of effort to rebuilding their makerspace on campus. So I think that that should be ramping up this coming semester. I think they just opened at the end of last semester.
Maurice Cherry:
Okay.
Eric Thompson:
And they've come and talked with us, folks from their makerspace, who even some of their students are our regulars. Right? And they're taking a lot of notes and applying some of those same things to how they're building out their space, because traditionally, their makerspace was really focused on STEM engineering students. And, you know, as I just mentioned, the Spelman Innovation Lab functions like a third space where students of all disciplines can come in and feel like they can just hang out and have discussions at our big table, where we host our informal Innovation Lab podcast that's never recorded but always involves good conversations. So they're building out the capabilities over there. And I think that's important because we want to kind of decentralize out some of the things that we do out of the space and let some of the best practices that have worked for us go other places, even if they have to be adapted to different populations.
Maurice Cherry:
See, I didn't even know Morehouse had a makerspace. So you put me onto something there.
Eric Thompson:
Yes. The Morehouse Maker Exploration Lab. I want to say that's what it's called. But yeah, it's coming on. It's coming along. They've had it, but they're really trying to revamp it and rejuvenate it now. So I think that's good. I think it's important.
Maurice Cherry:
Okay, so you mentioned the Innovation Lab being this third place, and I absolutely love that concept, especially now as we're sort of emerging out of this pandemic, and I think we've seen a general erosion of third spaces. Why did Spelman decide to create this kind of lab?
Eric Thompson:
The initial motivation, and to be frank, I wasn't there at the very beginning when it first came online, but it's taken many iterations because it's moved. Like, this is the fourth location. It's going to be moving again soon to our new building. Okay, but the initial motivation was that interdisciplinary work is important. It was even eight years ago, it was kind of apparent that the world where a student kind of gets one career and stays in that career their whole life and retires, that is not the reality for everybody anymore. Students, especially at a liberal arts college, are already encouraged to have a broad exposure to a variety of different areas. Dr. Volcy and his colleagues in the art department and some of the STEM departments, I guess they felt like it was necessary to create the space where maker could come together and work on interdisciplinary projects no matter what their background is. I feel like it should be a natural occurrence at a liberal arts school right, where broad collaboration is already encouraged. Well, why not apply that to making and technology and innovation? So I think that was a lot of the initial, you know, obviously personalities involved are a big part of the initial kind of mandate.
So Jerry, he's obviously a creator, a maker, he's a Georgia Tech PhD and worked at Bell Labs. And so this was his natural playground, being able to take some of the stuff, know, starts and stops in the classroom, but take it out of the classroom and make it a place that students can do it in a co, curricular fashion. Yeah, I think that was a lot of the initial then, you know, when President Mary Schmidt Campbell became president of the college, that just kind of got boosted, like turbocharged, because she's coming from running the NYU Tisch School of the Arts and working with the ITP program over at NYU. So she's seeing that, okay, we have kind of this nascent innovation collective starting. Let's just put more effort into growing that, because in her mind, that's also the future. Art, technology, STEAM. It just makes sense. It's where things are going. So that was also a big help. And so she just retired last year, so she was a great advocate for our space as we tried to grow it over the years.
Maurice Cherry:
I mean, I think it's really great to see this type of expansion on curriculum, and even this expansion on just, like, interdisciplinary space for students at HBCUs. And I mean, I'm pulling from my own personal experience here. I mean, when I came in in '99, I was a dual degree major. I was computer science/computer engineering. And the only reason — well, it was two reasons. The first reason was because I wanted to be like Dwayne Wayne from A Different World. That was the first reason. But the second reason was because I had already started learning — or teaching myself, I should say teaching myself — HTML in high school. So by the time I got to college, I already knew how to make a web page. In 1999, I remember making the first Project S.P.A.C.E. website for the scholarship program. And in my mind, because I didn't know, I mean, I was 18, I'm like, "oh yeah, you do web design on a computer, so why not study computer science?" Thinking that it was just like a direct path to take. And I remember my advisor at the time, Dr. Jones, who's passed on now, but I remember him saying, "if this is what you want to do, you should probably change your major because the Internet is a fad. This isn't going to be around. If this is what you want to do, you should probably not look at computer science because that's not what we do here." But at the time, it was like programming and Assembly. It was doing a lot of, I guess you could call it hardcore computer science work, but it was doing work on SGI boxes and Java and all that sort of stuff.
Eric Thompson:
And I'm guessing this is like right after [the] dotcom crash, right?
Maurice Cherry:
Yeah, this is like the Fall of '99. Yeah, absolutely. I mean, the Fall as in the autumn, not "the fall," you know what I mean? But it's in 1999 and I did I change my major that next semester in 2000 to Math because I was like, I do really like web design, but if I'm not going to be able to pursue it in any sort of fashion, then why am I sitting in this class trying to learn C++? This is not going to get me any closer to where I want to go. Not that Math did either, but I liked Math better and I had more credits and I was like, I did the math. I literally did the math and was like, "oh, I could graduate like a semester early if I just switch over to Math." So I did and I did, but I wish that that kind of stuff was around then. Although that was really just, I think, a consequence of the fact that the Internet and technology was still in such a nascent space that you couldn't have this type of environment to learn unless you went to a more specialized school.
Eric Thompson:
And that may be also a big part of it. Right? Just kind of a realization that especially right now, I mean, it's very apparent, but where students are going is changing so much. And maybe those were lessons learned, seeing that maybe that was something that the folks at Morehouse say, like, "yo, this was a missed opportunity. We could have been ahead of the game on this. We had the infrastructure to be ahead of the game on this." There was like a secret VR research lab that was heavy in existence in the 90s at [Clark-Atlanta University]. They were doing work in VR, basically the equivalent of VR training and metaverse in the late 90s…mid and late 90s. And their lab spaces are still there, but it just hasn't been touched. But I was just saying the schools might have looked at this and been like, "hey, these are missed opportunities, and it might be helpful to have an engine on campus that is not just a space for innovation for the students, but also kind of a driver of thinking differently about where our students are going for faculty and staff on campus."
So for instance, like the Innovation Lab, it's not purely a student-facing space. It is open to staff and faculty and we actively encourage staff and faculty to come and participate. And one of the advantages is that we have staff and faculty that are experts in their own fields, but maybe not experts in everybody else's field, and there's an idea exchange among them. And then we also the people who are staffing the Innovation Lab can suggest trends and things that are informative to staff and faculty on campus. What ends up happening is the third place effect doubles, not just for students, but for faculty. And the students sometimes jog ideas to the faculty, and the faculty jog ideas to the students outside of the typical classroom context where it's a respectful but still more kind of peer-facing relationship where ideas are exchanged at the big table. And overall, the hope is that this brings people up to what's going on in the world. And this has been more very apparent now with the AI stuff or even the mixed reality stuff, because we have, for instance, that same physics professor that teaches our game theory class is using Unity to teach. He's putting together modules in Unity that will demonstrate and teach physics to students. He had never worked in Unity before. Not only is now he exposed to this game creation engine, but he'll probably expose his students to it as they're learning physics. So it becomes an engine of staying up to date with the latest actions on campus. So I think that's also kind of, it's kind of an indirect but very important effect of why these kind of spaces are necessary on campuses. Because obviously campuses are always centers of innovation, but internally even a campus can become stagnant in its approach to education and academia. And I think more than ever we need to be considerate of how technology and how cultural shifts are changing the way we teach or the way we have to teach.
Maurice Cherry:
I went to Morehouse in the late 90s and early 2000s, so I know about a stagnant…I know about what it is to be on kind of a stagnant college campus with respect to that sort of stuff. So I think it's fascinating that this place is also somewhere that staff and faculty can be a part of. So now it's almost like this forum where there's this exchange of ideas, and it's facilitated by the technology and stuff that's in there. That's fascinating.
Eric Thompson:
Yes, that's how I like it. That's what I've always wanted, that space. I've always enjoyed those spaces the most. Those are spaces that inspire me. In undergrad, we kind of had it a little bit when I was at Rowan. We had a space where it was a machine shop and a projects lab for the mechanical engineers. But it just felt like a community. We had a small class. It was only like, thirty of us. We in there making our stuff, figuring out our problems. "Hey, I don't know why this isn't working." "Here, let me show you." "Maybe re-cut this lever arm, right?" Playing music, sharing memes. It was informal, but it was good. I've always enjoyed those places. I feel like those are places that inspire me the most, and those are places where I'll spend the most time.
Maurice Cherry:
There's more stuff that I really want to touch on about the lab. But since you mentioned Rowan, let's kind of shift the conversation and learn more about you. So tell me about where you grew up.
Eric Thompson:
Yeah, so I grew up in New Jersey, central Jersey, down the street from Rutgers University, actually. Piscataway. I grew up near a college town, but it was a great place to grow up. I always describe, like when people ask you, like, describe your neighborhood growing up. I always say, like, imagine Alabama. But like, if you put Alabama in New Jersey. But Alabama in New Jersey in the middle of like Ahmedabad, India.
Maurice Cherry:
Okay.
Eric Thompson:
My neighborhood was like…it was a suburbanizing, formerly rural Black neighborhood surrounded by a lot of Indian enclaves.
Maurice Cherry:
Interesting.
Eric Thompson:
It was a very diverse ethnically and socioeconomic town, which I thought was really cool growing up. We all went to the same high school, so it created, like, I feel like there was a lot of equity there. Yeah, and it's right next to Rutgers University, which is also, like, a super diverse university. So, kind of, it puts your worldview, even in high school, you know, but even like growing up, I was always interested in inventing since I was young. I wanted to be an inventor. So I guess this is like, my keystone. It's just like, creating. [I] wanted to create and make things. And so even in high school, I took electricity and electronics class, which was a vocational technology class because it was teaching students how to become, like, electricians. But the professor, the teacher, who was one of my favorite teachers, he really taught a lot of electrical theory as well, like, stuff that most electrical engineers wouldn't learn until freshman, sophomore year of college. And so it was interesting because the class was like a weird mix of students who were really hands on vo-tech students and then honors AP Physics type students in the same class. So I took that class for three years, and then I did orchestra my fourth year. And then that was…did I sum up K-12 real quick there?
Maurice Cherry:
Yeah, I mean, it sounds like you definitely had an early interest in tech. I mean, I feel like you would have to end up going to study mechanical engineering, which is what you did at Rowan.
Eric Thompson:
Yes, and it's funny. I was talking with Jerry, my colleague the other day. We were talking about like, yeah, I did mechanical enginering. We both did mechanical engineering. He was like, "yeah, mechanical engineering is like the liberal arts of engineering field." I was like, "exactly. That's why I did it."
Maurice Cherry:
I was like, how so? How is it the liberal arts of engineering?
Eric Thompson:
Yeah, like, mechanical engineering is the broadest of the engineering fields…of the four major engineering fields, right? There's electrical, computer, right? Chemical, mechanical, and civil engineering. Mechanical engineers have to learn a little bit of all those other engineering fields, whereas you won't normally expect electrical or chemical engineers to learn mechanical design. Mechanical engineers have to learn electrical design. So we really touch on a lot of different subjects. More so. I mean, in my opinion, more so than, like, a chemical engineer, right? So mechanical engineers really can diversify into any engineering field kind of more easily than I think any other things or doing other things, like managerial positions and so on. So basically, I was trying to decide between whether I would do electrical or mechanical engineering because obviously I had this big pre kind of exposure to electrical engineering work via those classes, and I loved robotics and so on, but I was like, I can do robotics with mechanical engineering. And being, as I've always been, a person with a ton of different ideas and interests, I always pick the fields that give me the broadest array of options as far as stuff to do. I picked mechanical engineering. I was like, yeah, this will give me the most options of things I could go into. I like keeping as many options on the table for me as possible. I've always leaned into that jack-of-all-trades title, even. Like, I remember doing that on my college essays back in the day, and my mom was like, you know that's not a good thing. Right? When people say jack-of-all-trades, they usually mean, like, master of none.
Maurice Cherry:
That's the other half of that. Yeah.
Eric Thompson:
And after that point, I was like, I always thought this was, like, a good thing. I thought people liked jack-of-all-trades. And she was like, no, that's not really what it means. It's usually meant disparagingly, but I think that's changing now. Obviously. I think people are going the opposite direction of that right now. So I think maybe I was ahead of the game on that.
Maurice Cherry:
It's funny you mentioned the jack-of-all-trades thing because I've gotten that as well. Actually, one of the first writing gigs I had online, that was my like, we all had different handles that we would have, and mine was "jack-of-all-trades" or something like that. But that phrase about jack-of-all-trades, master of none, that's not even the full phrase. Like the full phrase is "a jack-of-all-trades is a master of none, but oftentimes better than a master of one."
Eric Thompson:
Ah, the secret truth comes out!
Maurice Cherry:
So being a generalist helps to have all that sort of broad body of knowledge as opposed to being specialized to maybe one particular thing.
Eric Thompson:
Yeah, exactly. And I think it goes in cycles, too. I feel like for a long time, yeah, it was valuable to be a specialist. And I remember going into college and going even up until grad school, people were still preaching specialization. It makes it easier to find jobs. It just makes it easier for you to navigate your career path. Specialization. But like I said, I think that's going back the cycle is going back the other way right now, going deeper. I just feel like humans naturally tend to be generalists. We're trained out of generalizing, but I think we naturally tend to be generalists, right? Because we're multifaceted individuals who have lots of different interests to explore. I think that's the natural state of things. We're kind of trained to ignore those and focus, and that has its place, but I don't think it's always the optimal course. So anyway, but that's why I chose mechanical engineering. This will let me continue not making decisions.
Maurice Cherry:
Yeah. Now, after you graduated, you stayed in Jersey for a while. You worked as an engineer. What ended up bringing you to Atlanta?
Eric Thompson:
I started working at a construction outfit as a capital projects engineer, which after I stopped working there, I realized this is basically the closest thing you get to R&D in the construction industry. You're basically the skunk works for that construction firm. So I got to work on all their newest cranes that they were building out, like equipment projects and so on. You know, be innovative. And it was cool. I think I just felt like because while I was doing that, I was still at home playing with Arduinos and trying to build up products and so on. And so I always kind of felt like I was probably going to go back to grad school to do something like super innovative, cutting edge technology related, even though, you know, after having a six month stint on twelve hour night shifts.
Maurice Cherry:
Ooh, that's rough.
Eric Thompson:
It was longer than six months, actually. Twelve hour night shifts. Yeah. That was also a motivating factor to do something different than what I was doing. So I still really am prideful about some of the innovative work I did as a capital products engineer. Working on some of these really famous cranes and rebuilding them. But it just wasn't, like, my passion as far as I didn't want to be pigeonholed into just doing that. So I decided I wanted to go to grad schools. And I applied to four or five, and I applied to mechanical engineering PhD programs, which I wasn't really excited about them because knowing me, right? PhD is like the ultimate pigeonhole. Like, focus on one thing. And I was like, oh, no. And then there were other programs like ITP at NYU and Georgia Tech's HCI program. The MIT Media Lab. And I tried to get into Media Lab, didn't get in. And I was looking at similar programs like the Georgia Tech program. And I was on a forum like, somebody said, oh, this is kind of similar to Media Lab. They were like, you know, if you want to do, like, user experience, like, UX. I didn't even know what user experience was at that point, right? Because I remember even searching for jobs at that time, I was like, I know what I want to like, I have a feeling, like, product development. Every time I would search product development, it would always be like the job descriptions on Indeed will always come back as, like, UX and wireframes. I'm like, what is this actually? Mechanical engineer? I'm like building things with wire and frames. I was like, what is this thing? I just was like, I don't know what this is. I don't think this is what I'm supposed to do.
Maurice Cherry:
Yeah.
Eric Thompson:
And so I got into these PhD programs. I think it was CMU and Virginia Tech. But, like, I remember looking at some of the projects coming out of the Georgia Tech program, the HCI program, particularly, like, their interactive products lab, but just projects in general. I was like, these things seem cool. I'll do that. I'm going to do that master's degree. And then I could always go into a PhD afterwards if I want. But I was like, these projects look cool. They were speaking to me; the work. I didn't really know anything about HCI or UX at all, but the projects coming out of the space were like, things that I felt like, that's the type of stuff I want to make. So I decided kind of to come down to Atlanta and Georgia Tech. It was kind of on a coin flip type of whim. I was like, let me give this a try and see how it goes. That's kind of how I ended up down here.
Maurice Cherry:
Okay. I mean, I think you came down here at a time when in terms of just, like, the tech and the startup industry and things like, I mean shit was popping down here by the time you came. And you're at Georgia Tech. Georgia Tech has the ATDC, which is the Atlanta…I forget what the acronym is for. Something Technical Development Center, but yes, technology development.
Eric Thompson:
Center, something like that. Yeah, like, the oldest accelerator in the country. Like I said, I had only ever been to, like, through the airport before. I was very much like a Northeastern kid playing in the area between New York, Philly and DC. That was kind of my comfort zone. So I didn't know I knew very little about Atlanta when I came down here. But my kind of personality is, like, whenever I go somewhere, I really try to be in that city. I want to know more about it and get involved quickly. So I came to the HCI program, and immediately I was like, this is very different from engineering school, right? There are people who are, like, artists. People coming from journalism and psychology and computer science. These are all my classmates now. And that was refreshing. I was like, this is cool because art and engineering was so separate in my experience. And to be in that space where having all these people together in these classes was really cool. And I was learning stuff that I hadn't learned before. Like the first class that they teach you, that they have you learn in Georgia Tech HCI is like, user research methods, which is basically like a psychology class. And I never took any psychology in engineering school. And so it was just new information, new personalities, people, a lot of international students. So that was nice. Nice change of pace. Kind of reminded me more of the environment I grew up in at home. And so I learned a lot of things in that program, and it was really fun. I had a really great time in grad school. And at the same time, like you said, Atlanta around 2016, 2017, things were really apparently starting to pop off. You felt like there was an energy.
Maurice Cherry:
Absolutely.
Eric Thompson:
I was like, I came here, I was like, I didn't feel this up in the Northeast. Things were really moving. And I remember one of the turning points for me being me attending, because I was at Georgia Tech and HCI program is in Tech Square. And I remember going to events at Tech Square Labs back in the day. Do you remember Tech Square labs?
Maurice Cherry:
I do, yeah.
Eric Thompson:
Being in a space where I was like, all these are Black innovators, I was like, this is something I've never been a part of before. This is cool. Yeah, this is cool. Because just by circumstance, it's not that I haven't met Black innovators before. One of my best favorite professors in undergrad was a Black innovator. But it was just like, the amount and the culture that came with it. As I mentioned before, I love those spaces that are kind of lit and innovative, right? And I was like, this is lit and innovative. I was like, this is what I want. This is it. So for me, that almost kind of sold the city on me. I was like, this is a place I need to be. It feels like a small town, but it has big city opportunities. It feels like a place where my ideas would be encouraged. I could go and try and pursue them in Real. And so, yeah, I kind of started getting involved. That was my first foray into the know, hanging out over there, going to Startup Battle.
Maurice Cherry:
Yeah.
Eric Thompson:
All the CreateX at Georgia Tech. That was kind of the start for me. So, yeah, that was what really kind of sold Atlanta to me to a point where when it came to the end of grad school and most of my peers were going to New York or the West Coast, right? I could have gone home and made a lot of money and saved some money, too, going back to Jersey. But I was like, I feel like I need to be over, you know, I feel like I need to be here for what's going on and be a part of this. That's why I decided to stay. And it wasn't always the easiest path, but I just felt know, it was what I wanted to do.
Maurice Cherry:
Tech Square Labs, co-founded by Morehouse grad Dr. Paul Judge. Yep.
Eric Thompson:
Yeah, there was a lot of people that I work with regularly or more now that I let them know, you know, that event that you put on six years ago or whatever, that was a big part of me staying around in Atlanta. So it just goes to show that you never know who you're influencing when you do these things because I feel like that encouraged me to stay and then also be a value add to the ecosystem.
Maurice Cherry:
No, the whole just like…I mean, Atlanta itself already has this really rich history of — I'm loathe to use the term "Black excellence" — but I feel like that kind of does apply with Atlanta because, I mean, one, you have this very rich history of entrepreneurship, but also like a super rich history of political activism, civic engagement, et cetera. You can see Black people at every level of social strata in Atlanta and it feels normal. It feels to a Black person, it feels right. It feels like this is a place where you could come and really make some kind of dream that you might have come true, which is probably why a lot of people move here, which is probably why now it's getting so expensive here. But certainly back then that energy was so palpable. Well, no, but I mean, that energy was so palpable, particularly in tech and within and around Georgia Tech, Tech Square Labs, et cetera, there were so many startups popping up and things of that nature. And for me, who had been like, I've been doing startup work here since 2008, it was just so great to see the city feel like it was finally starting to come into its own as a place that was not Silicon Valley, was not. Because, you know, I can tell you, for a long time, people did not look at Atlanta as any kind of a tech city. I mean, there was Georgia Tech, but they didn't look at Atlanta, the city as a whole, as like a place where we want know, start a business here or we want to open an office here. They just thought, I don't know, we were all down here barefoot, blowing on brown jugs or something like that. They just did not look at Atlanta as a city for innovation, a city for that kind of stuff. And it has grown, I want to say, gradually. And I think a lot of that is because of the infrastructure that a lot of Black people have created here, as well as just like an influx of honestly, an influx of money from tourism has really helped a lot as well to just kind of bring people here in general and then to see what opportunities are available is another thing. I talked to so many folks who just not moved here on a whim, but they came here, and then all of a sudden they're doing something else or they found another lane or avenue to venture into that might have been different from what they did back home. But because of the ecosystem here, they're able to kind of branch into something new and be successful doing that.
Eric Thompson:
Right. It's a wonderfully diverse economy, and I think that has helped it so much because it attracts a lot of talent. So people come here for work or for school like myself, because of certain hallmark industries. But then what's changed is the culture is keeping people here more so it's making it once people come, they see this is — "I see Eric down there. He seems like he's thriving. He's living, you know? I came to visit him. Oh, I didn't know it was like this. Now I want to be down here too." Right? So it's a domino effect when you have something like that. But that kind of goes back to my point, is the things that made it work and made it accelerate so fast. Pre-pandemic was a lot of grassroots ecosystem development, people doing the work on the ground to create these programs. So I feel like we have to keep that in mind, that that's a big part of what makes the place feel real and feel good. Like, tonight is one of my favorite events in the city. I haven't been to it since before the pandemic, but have you heard of Controllerise?
Maurice Cherry:
No, what's that?
Eric Thompson:
Controllerise is this event. There's a couple of offshoots now, but before the pandemic, it was like this event. And one of the first events where it was like, hey, you're into anime, you're into video games, you're into lo-fi hip-hop, you're into freestyling and DJ culture, you're into art. Come to this get together. Monday nights. And it's grown. It's huge now, but it was this place where I met a lot of people there did networking there. It was another third place where people come hang out, they play games, they get drinks and food. They have every video game set up on the side that you can imagine.
Maurice Cherry:
Wow.
Eric Thompson:
And that was kind of part of it. That was another thing. I was like, this is a place, I used to go there and network. This is the networking events that I like to go to. People freestyling, dancing. A lot of technologists would go there and hang out. So you would always inevitably run into somebody who you could collab with or give you some advice.
Maurice Cherry:
Wow. I'm looking it up now. Controller. It's like controller, like a game controller? Controllerise, yeah.
Eric Thompson:
Wow. Yeah, it's real cool. It's a really cool vibe. Happens at Monday Night Garage. But it started out small. Started out as a small thing. A couple of video games, some lo-fi hip-hop, food and drinks, maybe a vendor or two. And it's kind of grown into this force to the point where there's a lot of offshoots of it. Now there's like, Trap Sushi. There's an event called a LAG because people realize this is like Black nerd heaven.
Maurice Cherry:
You said it started at Monday Night Garage?
Eric Thompson:
It started…no, it actually started years ago. It started back, maybe 2017. 2018?
Maurice Cherry:
Okay.
Eric Thompson:
At like smaller restaurants. They eventually settled at this place called the Deep End, which used to be across the street from Ponce City Market and they were there for a while and then that place closed and they moved to Monday Night Garage. And now the event is so big that it takes up the whole gGarage. I mean, I don't know. I haven't been since the pandemic. They just started again for the first time in like two and a half years.
Maurice Cherry:
Oh, wow. Monday Night Garage is literally right around the corner from me.
Eric Thompson:
Oh, nice.
Maurice Cherry:
I had no idea. Wow. I'm going to have to check it out. Wow.
Eric Thompson:
Yeah, it's super cool, man. It's a really cool spot. Really cool vibe. The people who founded it, like I said, it started off very grassroots and now it's just kind of this very unique cultural force that's like it's very unique to Atlanta. I would bring people there from out of town and they were like, yeah, I've never even seen anything like this outside of maybe in like…Spider-verse.
Maurice Cherry:
Oh man, don't tell me that. Now I definitely got to check it out. Wow, that is amazing. So to kind of, I guess move things a little bit forward because you're talking about startups. In 2018, you started a startup called Walimu, which is around eSports tech, and now you're also part of another startup now called Eat Unrestricted. First tell me about Walimu and tell me about how you may be able to use lessons from that with Eat Unrestricted.
Eric Thompson:
So Walimu was kind of like my, you know, I was in grad school and I was creating in ways that I had never really thought to before, right? A lot of my creative work was based on inventions like physical products, right? But being in an HCI program, I was learning really more about human-centered principles and I was also away from home and my cooking skills have always been okay. I oftentimes would call my mom while I was cooking on the phone and I would have her on WhatsApp video or whatever and be like, "yo, can you walk me through?" And basically she would take the video and let me ask "hey, let me see what you're doing. I'll add this much, stop, okay, put another piece in this and that," and kind of walk me through on video through these processes, and same thing if I was doing something and I needed my pop's help and he could come on video and help me out. "Oh, water heater, let me take a look at this." And I was know, not everybody has these resources, this ability for live help. People will go on YouTube or forums or Reddit or whatever, right? But not everybody can have somebody who they can talk to in live to coach them through whatever they're trying to figure out in the moment and ask their specific questions and get encouragement, right?
So that was kind of like what the idea was born from. So I was like, this would be a live help marketplace. A marketplace where people can kind of get that mom or dad kind of type of assistance, whether they're trying to change a tire or they're braiding their hair for the first time. And so I was really into that idea. And I applied to CreateX and I applied to Ascend 2020, which was being run by Morehouse Innovation Entrepreneurship Center. And so this was my first real foray into entrepreneurship and it wasn't physical product based. I was like, this is a really compelling problem, I feel like. So I started doing that startup. But something they told me during the process of building this startup is that I needed to focus my marketplace on one particular topic area.
And so back to Controllerise. I was going to that pretty frequently and so I kind of was just like, that's why I was doing customer discovery a lot too. I was just kind of out in the field, lots of strangers, I was just asking people if I could interview them. It kind of ended up focusing on eSports coaching. I was like, "oh, you know what, let me focus on eSports coaching for this marketplace." eSports was starting to kind of get some momentum, so people were really into it. It was a trendy topic. And so I started doing eSports coaching workshops with some of these eSports houses around town. Like there's a Black-owned one 404 eSports up in Doraville. Another Black-owned one was Versus Realm or eSports Arena. So I started doing eSports coaching sessions for kids. And it was like a marketplace. And I was building a new website for people to book coaches on the platform. Basically the idea was that, hey, you can train with actual coaches and get better at the games that will allow you to become competitive in leagues or win competitions or even get scholarships, which was like a new thing, like schools are giving away eSports scholarships, right? eSports was a sanctioned sport in high school. This is all in 2018, 2019, so it was still very new that all this was out there.
So I was doing these things around town, but like around the…it was growing, but growing slowly. I think it was kind of maybe ahead of its time in a lot of ways. And once kind of the pandemic hit and I kind of got into developer snags with developing the new website, momentum for it kind of shifted. And I think a large part of that was that not momentum, just momentum on the side of things, taking their time to finish, like the website. When I made the switch from this platform that was built around helping people with whatever their needs were to eSports, I think a little bit of the passion went out of it. Not because I'm not a gamer. I do like playing video games. I'm a big fan of Civilization, okay? I love Super Smash Brothers, but it's not my passion per se. I met people, even people who I would call my friends now in that world, in that ecosystem, and you can tell when they talk about video games, their whole soul lights up. And that wasn't it for me. And I felt like I just wasn't passionate about the topic area. Coaching kids in eSports wasn't what really lit me up versus the original idea where I was kind of just helping people in a really human to human connection way, figuring out things that they may not have been taught by parents or people who are like mentors. So momentum for that kind of slowed down and then the pandemic hit and it really slowed down.
And the biggest lesson I learned, I guess, about entrepreneurship is that you really got to trust your gut. At the end of the day, a lot of it is risk taking, right? You can do customer discovery and you can minimize risk as much as you want, but I think at the end of the day, you can't predict the future. And if you feel strongly about something in your gut, you kind of have to go with it and live with the results of that decision. That's kind of like a deeper lesson that listen to your mentors, listen to advice, take it in, but then listen to yourself and make a decision. At the end of the day. It's hard to teach that, but people are always there's always going to be a million people who can give you advice. I remember somebody even told me that that concept that I was pitching was obviated. I was like, really? Because I don't see anybody else doing it. They were really like, no, you shouldn't do this. And I was like, especially later in the pandemic. I feel like if I stuck with that original idea, this would have been perfect timing for it.
Maurice Cherry:
Yeah.
Eric Thompson:
So that was kind of like a hard lesson. The other lessons I think you learn from entrepreneur. There's a lot of intangibles. Doing entrepreneurship is like one of those things where three months in, six months in, you're like you don't even realize it, but you could teach a class.
Maurice Cherry:
Oh, yeah.
Eric Thompson:
You're, like, giving people advice, and you're like, "whoa, where did that come from?" I wouldn't have known to give this it's like a business degree, but on the slick, you're learning all these things that you wouldn't have thought you were going to learn, and then all of a sudden, you can teach people how to be entrepreneurs all of a sudden, just based on the mistakes or the things that you picked up in the process. So it's hard to say a lot of specifics, but the deepest thing is that gut decision making aspect. Yeah, but there's so many things that I learned, I couldn't list them all. It's just I try to be a good advisor to my partner for Eat Unrestricted, who is my significant other, and we didn't start dating immediately, but we had met for the first time doing interviews for CreateX at Georgia Tech.
Maurice Cherry:
Oh, wow.
Eric Thompson:
Yeah, we were both there waiting for our interviews. And we like introduced…like, what are you, tell me about your company. And so that's how we met. And so she's really passionate about food and food inclusivity. That's something we kind of connected on. And we were both working on different projects during the pandemic and decided to help out. Help out as much as I can with the unrestricted that's going on. Wow. Three years now.
Maurice Cherry:
Wow. And how's it been? I mean, I looked at the Instagram, and I can see, like, you're at farmers' markets, and I think even you got some students at Spelman to taste test and everything. How's it been going?
Eric Thompson:
So, yeah, it's been going good. Basically, the food industry is harder than technology, I think, personally. Oh, I think it's harder because it's the ultimate tangible product. It doesn't just have to…you make it, and that's it. It has to taste good, and it has to commit with people emotionally. And so it comes with all the emotional struggles that a digital product consumer would go through with a digital product and all the overheads that come with an actual physical product that you make in a factory. So it's capital intensive, so it's really hard. But we've grown steadily over the three years, so that's been a positive sign that people like the product. Everybody who tastes it really enjoys it. And so, yeah, we go to farmers' markets. We're in stores, independent grocers all over the country. A couple here in Atlanta, of course, where we started out. Right. But we have stores in L.A., New York, Philadelphia that carry our product. And right now, talking about doing a lot of things, we're kind of very similar. We both overtax our schedules. Basically, my partner, she works on Eat Unrestricted, but she's also a product manager at GTRI.
Maurice Cherry:
Okay.
Eric Thompson:
And she's getting her MBA.
Maurice Cherry:
Wow.
Eric Thompson:
We realized that we can't keep cooking the cheese in the kitchen, not our kitchens at home, but in our shared kitchen. Making this product is very time intensive and energy intensive. So we're like, in the process of switching to an outside manufacturer and making the product in bulk so that we can kind of just streamline our whole supply chain and provide like…you'd be able to basically by streamlining our supply chain, we can probably get larger accounts to buy our product. So that's kind of where we're at right now and what we're trying to grow into. But things like the brand turned out really good. Shout out to Veritas for doing our branding. Like, it looks really professional, and so we feel like we're moving in a really good direction right now.
Maurice Cherry:
Nice.
Eric Thompson:
So, yeah, that's the story of Eat Unrestricted, currently.
Maurice Cherry:
Now I'm curious how you balance all of this entrepreneurial work with the work that you do at Spelman, because it sounds like the work that you're doing with the Innovation Lab — we didn't even really talk about the Blackstone Launchpad — but all this work that you're doing and then you're also doing these entrepreneurial efforts outside of, like, how do you keep all of that in some level of balance?
Eric Thompson:
Yeah. Very difficult. There's no way around that one. Life balancing is very difficult for the both of us. We just try to do our best to practice self care and just kind of run our own race because it's a marathon, not really a race. So that helps the most, I think, right now, trying to keep mental and physical health as best as we possibly can, work on that from time to time, rest, take rest, and then not worry about beating anybody to completion or to a certain milestone because that's just going to ramp up the anxiety levels too much. As far as the balance with my job, I find it has always actually been super symbiotic. So me coming into my position at Spelman with entrepreneur experience, I've been able to really help a lot with the growth of the entrepreneur programs at Spelman. Before I came, Sonya Rush had started Spelpreneur, and it had been going on for maybe a year or two, but outside of that, there was nothing for entrepreneur really on campus. Then we started getting some classes. One of some of my students in Innovation Labs started the then, you know, I was part of the committee for kind of helping figure out how to get the center for black entrepreneurship off the ground. We have an entrepreneurship minor now, now co directing the Blackstone Launchpad, which basically helps boost some of the entrepreneur stuff on campus, including what we have in the Innovation Lab, our fellowships for each of our verticals. So we have a game development fellowship, we have a maker fellowship, and then we have an entrepreneurship fellowship. And so we basically pay students to work on their own projects.
Maurice Cherry:
Wow.
Eric Thompson:
Yeah, so it's a pretty cool program. So we run that program. So basically, entrepreneurship has taken off. And one of the benefits of the personnel in the Innovation Lab, the team that I work with, is that we all bring our personal connections and networks and knowledge of the ecosystem to the students. So I think it's been very beneficial to the students. It kind of was always destined to be this kind of symbiotic thing, because, like I mentioned before, a lot of the events that really first sold me on Atlanta, I look at some of the shirts I got from those events. Morehouse Innovation Entrepreneur Center was one of the sponsoring presenters of those events. When I started working at Spelman, right? I was transitioning; I was working as a service designer prior to that, or right after. Around that same time, I was working on Walimu, and I was in a pre-accelerator called Ascend 2020, which was meeting at the Morehouse Leadership Center. So I was, like, going there weekly for meetups with the cohort, and then all of a sudden, I'm working across the street. So it all kind of worked out symbiotically. And so I think the stuff that I do on the side as far as entrepreneurship, has always felt like it's been kind of a natural benefit to what I do for work and vice versa. The things that I learn at work and the connections…sometimes the connections that I make through Spelman are beneficial to entrepreneurship endeavors. So it works out really well. I think it should be kind of a model to how I personally think we should encourage more faculty to be entrepreneur on the AUC campuses. I think it only benefits the college personally. That could be debated, but I think it definitely is a big benefit to the schools.
Maurice Cherry:
I feel like you have a lot of advice to give. I'm sure you probably give a lot of advice to students. It's clear you have done a plethora of things projects, studying engineering, now doing the Innovation Lab, et cetera. What advice would you give to somebody that's like hearing your story and they want to sort of follow in your footsteps, like, maybe they, too, are a jack-of-all-trades and being told that they're a master of none? What would you tell them to kind of keep them motivated?
Eric Thompson:
I think, man, for motivation wise, I think one of the biggest motivating factors is just that. It seems just like that's how the trends of our economy and our ecosystem are leading to valuing people who can be flexible into different roles. So for a person, I guess starting out is even though for me, I talked about not wanting to be pigeonholed and this and that, right? But part of being a jack-of-all-trades is being open to picking up all these different experiences. My girlfriend jokes about this to me, but when I was growing up with my dad, my dad worked and had a construction company and one of the things we did was we built out or helped renovate food manufacturing plants. So that was like one of my core memories. Growing up, it's like working in these manufacturing plants that make some of our favorite foods and being like, this is dirty, I'm never going to work here again. I never want to be in this situation, working in the roofs of these warehouses. And now I'm helping my girlfriend make food. Manufacture food. I've learned so much about the food industry from the manufacturer standpoint, distribution, lead times. It's a whole ecosystem. It's a whole thing. Now that's knowledge in my banks that I can share with somebody else or I can apply it to consulting or whatever, right? I have that tangible knowledge and time experience because I've been working with Erm restricted that I wouldn't have had otherwise. Right. I never thought I would be making cheese at 2:00 a.m. In the morning and the next day have to go in and critique a student's painting and then help somebody with Python code.
Maurice Cherry:
Yeah.
Eric Thompson:
That's part of what gets you these experiences, right? You're just being open to all these different worlds. So my advice with them would be be open to these weird directions that life could take you. Make sure you document where you've been and build networks wherever you go, because that also allows you to be a connector and to be that person at the nexus of all these different silos that can connect people who never probably would have been connected before. I consider myself like a nexus because I play in academia, but a lot of my friends are still heavily into the design world, whether it's service design or the local IxDA, right? So you get to play in a lot of different worlds. So it's just really about being open to different experiences and then leveraging the connections and the knowledge that you've gotten from all these different experiences to create new connections and new things. I think that's really my advice to anybody who's interested in following, I guess, my path.
Maurice Cherry:
Where do you see yourself in the next five years? What do you want the next chapter of your story to be?
Eric Thompson:
Oh, Maurice, I'm trying to figure that out, man. I'm trying to figure that out. So I'm working on a company called IO Toys and I feel like this is my first self-driven entrepreneur endeavor since Walimu. I'm excited about it because I think it's more at the core of what I like making, which is, like, crazy, interactive, cutting edge technology. So I'm working on this one product that I'm trying to do, haptic feedback for holograms. That's something that I'm really excited about. And so I want to announce it and then maybe, I don't know, try to get into some accelerators or I'm not really sure how I want to run this business. I just know that I do. I have these ideas and I want to put them out there and see where they go. I'm always going to have new ideas, but this is one of the, I think, the most core to my passion. I want to pursue and see where it goes. So right now, the way I'm kind of organizing my mental plan is I'm going to see where this IO Toys thing goes, and then after that, I might just try to get into consulting or something like that, something simple. Because I think one of the things, like, with the person with as many ideas as I have, you can always be working on something new. So you could do that forever, but it can get tiring, too.
Maurice Cherry:
Yes.
Eric Thompson:
If we're being real about it. Right. There is a limited amount of energy that you can really put into every idea that you have. So right now, I think I'm going to put my energy into seeing where this goes, and then after that, I might try to simplify a little bit while still doing things that I like. Yeah, I'm excited about this. I did a logo for it that I think came out really good. Let me paraphrase, I have never been a good visual designer, good user researcher. I think I'm good at designing customer journeys. I think I'm good at designing concepts, strategies. Visually, though. Nah. My best user interfaces that I designed were the ones that I screenshotted other user interfaces into sketch and picked them apart and made my own. And those were mid at best. But I did a logo for IoToys that I'm pretty proud of. I did incorporate somebody else's design work. I mean, I redid it and made it my own, but I'm going to cite them in the logo. Somebody off of Dribbble, but I incorporate some of the elements that they used into the logo. I'm really proud of it. I think it's, like, one of my best logos that I've ever designed.
Maurice Cherry:
Nice.
Eric Thompson:
So I'm excited. I'm excited about this.
Maurice Cherry:
Nice.
Eric Thompson:
We'll see where that goes. That'll be the next step. And then obviously see how Eat Unrestricted goes.
Maurice Cherry:
Got you.
Eric Thompson:
And then seeing how the Innovation Lab. See how all the other…a lot of irons in the fire.
Maurice Cherry:
Yeah, I was just about to say that. See how the other irons in the fire will keep going.
Eric Thompson:
Yeah. And I bought a house, so I'm like, that's a whole monster in and of itself, man.
Maurice Cherry:
Nice! Congratulations.
Eric Thompson:
Thank you. Lots of juggling going on right now. It's cool. I definitely had an exciting time in the city.
Maurice Cherry:
Well, just to wrap things up here, where can our audience find out more information about you, about your work and everything? Where can they find that online?
Eric Thompson:
I would say I'm active on LinkedIn, so I try to document the stuff I do there. It just becomes kind of a repository for me at this point of the stuff that I do. So if I ever forget, I can just go back and look through my posts. Pretty active on LinkedIn. The Spelman Innovation Lab Instagram is @SpelmanIL. So I post what we do in the lab there. I try to document a lot of the work so that people have a really good idea of the feels of the lab and the vibe and so on. My personal website is pericthompson.myportfolio.com, and you can get to that from my LinkedIn as well. Yeah, I mean, I have a personal Instagram, but it's more casual. It's @et.llamacasa. So [E-T]-L-L-A-M-A-C-A-S-A. So those are the channels that you can find me. That's pretty much where I mostly post all my stuff. I think that's it. And then @EatUnrestricted is the company, the vegan cheese company.
Maurice Cherry:
All right, I'll make sure that we put all those links and everything in the show notes. But Eric Thompson, I want to thank you so much for coming on the show. I know we had first met, like, back in 2019 doing I did a podcasting workshop, a two day workshop at Spelman through the Innovation Lab once. It's great to catch up with you again, but then I didn't know that your story was so rich, I guess is kind of the best way to put it. Like, you've done so much stuff. I feel like you're like an idea factory. Like, there's also just a lot of things that you can do, but just the fact that you're also in a position where you're giving back to not just the students at Spelman, but also to just the entire Spelman community, staff, faculty, and then continuing to do stuff here in the city. These are the kind of success stories I think more people really need to hear about, especially from people like us that are like jack-of-all-trades. You've managed to take all of your disparate interests and form them into this career and life, and it all is working for you. And so for me, that's super inspiring, and I hope for people that are listening that it's inspiring as well. So thank you for coming on the show, man. I appreciate it.
Eric Thompson:
Thank you so much. It's been a pleasure being here. And yeah, keep doing what you're doing. This podcast is great, you know, we appreciate that.
Brevity & Wit is a strategy and design firm committed to designing a more inclusive and equitable world. They are always looking to expand their roster of freelance design consultants in the U.S., particularly brand strategists, copywriters, graphic designers and Web developers.
If you know how to deliver excellent creative work reliably, and enjoy the autonomy of a virtual-based, freelance life (with no non-competes), check them out at brevityandwit.com.