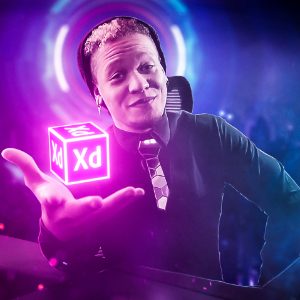 A dear friend of mine asked me to include a creative on Revision Path that could speak to building a personal brand online, and my mind went immediately to UI/UX designer Brandon Groce. I first encountered Brandon a year ago hosting an AIGA DC design event, and was impressed by his work creating content for design brands including Disney, Hilton, and LG. Did I mention he's also an Adobe Partner?
Our conversation started off with an update on what Brandon's been doing over the past year, and he talked about his current and upcoming projects, including the DesignOff Tournament. We also talked about building confidence, showcasing your work, and…the metaverse? (You'll have to listen to the end to find out!) Kudos to Brandon for being a great designer and for helping elevate the next generation of designers through his events!
Transcript
Full Transcript
Maurice Cherry:
Alright, so tell us who you are and what you do.
Brandon Groce:
Howdy-doody, Maurice. My name is Brandon Groce, yes, gross as in nasty, not spelt that way, but I am a designer and Adobe partner, and kind of can be summed up in terms of what I do, not necessarily what I am, but I create content for design brands and I throw on some highly edu-taining design events.
Maurice Cherry:
Nice. How's the year been going for you so far?
Brandon Groce:
I'm not going to lie, I love being able to be in my house and not have any outdoor obligations, my friend. My partner asked me, he's like, "Why don't you like to go outside?" And I looked back to my childhood and I was like, "I think I was always in a corner with the computer, in two sheets to cover my whereabouts." [inaudible 00:03:49] focus either playing games or learning things on the internet. Honestly, my year has been good. I absolutely love learning. It's not the same for everybody else. Everybody has a different situation, but I've been very lucky to have healthy family members and be in this situation that I'm in. So it's been good.
Maurice Cherry:
Good. What lessons did you learn over the past year? How do you think you've grown and improved?
Brandon Groce:
I'm a very anxious person. My parents are like Brandon, you need to wear that pro, I don't even know Prozac is the thing, but I don't think stress or anxiety is a negative thing. I really think it is a beautiful thing, or at least in my case, because it tells me it is literally a biological indicator of like that is just going to fuck up your day. So please fix that.
Brandon Groce:
So this year, I have learned how to effectively … or it's going to get better as I get older, how to learn what I need to quickly to put out a fire or build a raft, or learn whatever I need to, to either avoid or somehow redirect whatever catastrophe is coming my way, specifically when it comes to my business. I've only been in business for two … I can't even say two. Yes, I'm still saying one. I've had an audience for a while, but it's only been, I think, a year, last month, where I've ventured on my own and trying to figure out with the relationships and things that I've had, how to kind of go from what we're, not even taught, but how we're built to think like employees. And I'm not saying that in the derogatory sense, but there's certain brain patterns that I had that didn't help me scale what I was trying to build. And I feel like I've finally broke some of those thought patterns, which have really helped me figure out, in addition, tiring business coach, which was part of the growth, but learning how to not be in the business, but work on the business.
Brandon Groce:
I mean, there's a whole bunch of learning lessons, but essentially, me being able to, in a year where everybody was inside and where everything was becoming digital, or a lot of money was being allocated to digital events, digital this, digital that, AR/VR, being able to see a whole change in the market, in addition to finally, with the market change, seeing where I fit into it, as well as how to scale my business in that market change. Those are like the three things that have been highly, I guess, learning lessons when I'm continuing to learn and just been beautiful things in the past year.
Maurice Cherry:
Yes. And I have to say, it's good that you're learning that in your first year of business. There's a lot of businesses that don't get that until maybe year two or three after they've gone it alone and figured out that's not the best way to do it. I like that part you said about being in the business, but not really working on the business. So it's good that-
Brandon Groce:
Which is still hard because I have to be on camera [inaudible 00:07:06]
Maurice Cherry:
Well, I mean, but hey, that's your business, though, right? That's Groce media. What's a typical day like for you?
Brandon Groce:
I can tell you what I would like to have my typical day be. It's only in bouts of stress like this last week where I just throw it all away. Typically, I wake up at 6:00. I'm very structured, man. I get thrown off if you ask me to do anything outside of my routine in the morning. I don't care if I wake up at … like today, I woke up at 9:00. I must get on my little cycle, must be either 15 minutes or three miles. I listen to audio books, while I'm on the cycle. I must take a shower after that, make my coffee, and then I make a list for what needs to get done that day, and then I sit in my chair for … I honestly don't like to. If I can get all my work done before like 1:00PM because I know as soon as I eat, I'm tired. So I try to get … And this is why I went on a break last week and I'm trying to get my schedule back together, because I had a really challenging three-week, almost a month sprint where I work through the weekends, I typically don't do that.
Brandon Groce:
Yes, from 6:00-7:00, 7:00 to about 1:00, I'll probably … that's my work. That's where all my everything that must be done is done within that time. And then the rest of the day is just, what other things need to be planned, for example, one of the things I need to focus on is creating SLPs for whoever I decide needs to fill these positions that we were kind of talking about earlier. But yes, I mean, morning and till 1:00PM is kind of pretty structured after that. It just depends on what I want to do or what extra, like what would I have to be doing tomorrow that I can do today, but I am pretty regimented and I try to keep in mind that I know my brain is only probably optimal for like four or five hours of really good like no distraction related work. After that, I'm like … The bunnies and the Chipmunks they're running around my brain at that point. No way. I'm not sure that answers your question. But that's literally my typical day and Saturdays and Sundays in working is different, is typically strategizing in reading on Saturdays and Sundays. It's not sitting at a computer. I don't necessarily consider it work.
Maurice Cherry:
I mean, but you've got that structure down, which I think probably helps out from day-to-day to make sure that you stay on task.
Brandon Groce:
That's one thing that I know I'm really good at, is habits usually. And my dad is this way too. I got it from him. And people always yell at us, they're like, there's like an hour in the beginning of our days that you just can't disrupt or we even have … There's literally a calendar. Actually, I'm going to bring my dad into this. But he has a phrase like, "I don't eat cake on Tuesdays." And we're like, "Why specifically Tuesdays?" But there's a reason and he sticks to it. I'm the same way.
Maurice Cherry:
Look, we all got to have our rules. We got to have our structure that gets us through things, I think especially since this past year, people have just had to discover and develop their own kinds of habits to get through. So it's not a bad thing, I don't think. What are some projects that you're working on now?
Brandon Groce:
So with everything going digital man, do you know what virtual production is?
Maurice Cherry:
Virtual production?
Brandon Groce:
Yes.
Maurice Cherry:
Where it is?
Brandon Groce:
What it is.
Maurice Cherry:
Oh, I know what it is. Yes.
Brandon Groce:
All right. Have you seen these people on the internet with mocap suits? You've seen these … and they've been around for a while, but they're starting to pop up a little bit more. For example, you have AiAngel, CodeMiko, you have these virtual influencers, right?
Maurice Cherry:
Yes, yes. I've seen those.
Brandon Groce:
All right. So I have been studying how to do … I have a beta version of this stuff made. So I have a car, I have a city. You've probably seen it in my live streams, but I'm just getting my character made. I hired somebody to make my character and we're going to start building in the metaverse. With the tournament that we were talking about a little bit earlier, designoff.live. It's basically, think esports, but for design, and I really want that event to be almost like a virtual music concert/tournament. Do you play games Maurice?
Maurice Cherry:
I do.
Brandon Groce:
What games do you play?
Maurice Cherry:
Well, I've got a switch. So I'm not going to lie. I'm mostly playing Animal Crossing these days because-
Brandon Groce:
Oh, my God.
Maurice Cherry:
… it's just a destresser. Wait a minute, you didn't let me finish. You didn't let me finish. I mean, I'm mostly playing that. I do have a PS4 and I'm between playing Fuser and Persona 5 Royal. So it varies.
Brandon Groce:
Persona 5 brought me back. You reeled me back in. Do you watch Twitch at all? Do you watch any gamers?
Maurice Cherry:
I've seen some gamers on Twitch. I've watched a few on YouTube also. I know I've watched some people do live streams on YouTube. I've seen some gaming live streams on Twitches as well.
Brandon Groce:
Got you. I think what's really missing right now, and it's also very challenging at the moment with, everybody's on zoom calls, everybody's watching live streams of some sort. The thing is, is that, and this has always been the problem even with webinars, it's people on stage talking to audience and audience are just chatting. And yes, you can hit the clap button or the heart button or whatever, but I've been watching this one individual, her name is CodeMiko and she does the best. Her avatar and maybe the world that she has isn't necessarily to my aesthetic liking, but the fact that she's able to allow the audience … she's a developer by trade, and so the audience can input commands or purchase certain things to mess up, or make things happen to her. Either mess up the environment or make things blow up, make her dance, mute her while she's streaming. She's basically gamified her live stream experience.
Brandon Groce:
And so you're a gamer … imagine if you're watching a live stream of one of your favorite brands, or maybe even one of your friends and you just want to mess with them. And you just drop $1 or $5 and maybe even just type this code and something funny happens on stream. It's no longer a one-way street, it's a two-way street. And there's so many levels of complexity that you can make this, I mean, I really don't even think the larger brands are even doing this right. We're still at the point where we're looking at these large organizations with millions, billions of dollars, and they're still doing the side by side conferences, you know what I mean?
Maurice Cherry:
Mm-hmm (affirmative).
Brandon Groce:
With almost like zoom calls. So really what I'm looking at is how do we bring that sort of CodeMiko entertainment into design, through Design Off as a tournament, almost like, think about it as WWE is like the entertainment version of wrestling, this stuff is not saying what we're doing on stage is fake, but it's so dramatized, people get hype about it, and it's entertaining, bringing that side of things over to the design world. And it also be somewhat of a learning experience as well. So the number one thing that I'm working on, is designoff.live and other design education related events. And now I'm so far down the line. I don't remember your questions.
Maurice Cherry:
No, that was it? I mean, I was going to talk about DesignOff and you sort of mentioned what it is and everything, but I was asking, what projects are you working on? I'm really intrigued by this virtual production, so you're going to have like a virtual avatar that represents you. It's you, but it's not you. Sort of like a VTuber, I guess, right?
Brandon Groce:
A VTuber essentially except it's going to be … I wish there was like a video podcast, can you bring it up? Think VTuber, but not. VTuber is kind of like it's the concept of what I'm talking about, but it's niched into almost like the anime sort of sect, whereas kind of what I'm talking about. Think about, you've played Assassin's Creed, right?
Maurice Cherry:
Mm-hmm (affirmative).
Brandon Groce:
Or any type of dope 3D video game. Essentially, things have gotten so cheap, Maurice, I have a mocap suit. We're about to dive in. My mocap suit was only 2500. I can put on this suit and I can download any character I want from a video game, from whatever, and I can become that. It cost 2500 for that suit, the character is probably between $25 and $100. And as I put on the suit, I become that. And even the scenes are like $25. So the ability to create almost triple A level quality game. And the thing is, is like games, right? You can create your own game, except what I want to do with it, is make it more so an entertainment platform, and also a tournament. So rather than making a game, we're doing something a little bit different. We're pulling a couple things together. But yes, essentially VTuber, however, it's more so taking the thought of making a real triple A game, whether that be the latest Assassin's Creed or some other high graphic game, basically utilizing Unreal Engine in its capabilities.
Maurice Cherry:
I'm very intrigued by that. I really want to see how that will come forth in the future, especially with people have virtual reality headsets and stuff like that, like how all of this will kind of work together because I do see things going certainly more into this, I hate to say the virtual world because I'm sounding like I'm a kid in the '90s. Remember when the virtual world was like a thing in cartoons and television series? We're going to the virtual world. That's sort of what this feels like, but it's actualized. You can do it. It's in the realm now that any consumer can probably get into, it sounds like.
Brandon Groce:
Yes, man. The costs are really low. Things are going to be crazy man. At the end of this podcast, people are going to be like Brandon has his screws loose, someone get him a Home Depot set, used to call it, but yes. The way that I see things going, you were saying the virtual world, I'm making numbers up, but I really do think that there will be people that live in the virtual world. Have you seen on Netflix the Altered Carbon?
Maurice Cherry:
I've heard of it. I haven't seen it.
Brandon Groce:
I'm not going to go too much into it because I'm horrible at explaining. Everybody's going to be like, that sounds horrible. But it is a really good series guys. You should check it out. But there's people they call the real world the real. And those are the people that live like in virtual reality by choice and these people that live in the real world. I really do think that that will be a choice. You're not even a half life of your 100 years. So I really do think in the next 20, maybe 30, you have crypto coming up the ability for people to maybe not even have regular jobs, just play games for the … not even like streaming, just be able to play Pokemon Go for their income. We're going into a lot of things, but I'm just very excited about the virtual world because like I said, in this, I guess, industry what people will call the world builder, it's kind of the metaverse is what it's called. And people who create within the metaverse are people that create games, but I think video games is going to be one of the ways that we enjoy life in the future, which is interesting and weird to talk about.
Maurice Cherry:
Wow, the metaverse. That sounds like another '90s cartoon. I'm not saying that to be derisive or anything, but it sounds really cool. Don't get me wrong. That stokes the inner child in me to be like, "Oh, what is this about?" Even as you mentioned Altered Carbon and kind of, I guess, notion of being able to sort of have yourself inside of the metaverse. I don't know, it reminds me of this anime, and you've probably seen it called Serial Experiments Lain.
Brandon Groce:
Serial … No, but I'm writing it down.
Maurice Cherry:
I don't know if it's streaming on anything, and I know if Cat Small is listening, this will make I think the second time I've mentioned it on the show. I don't know if it's available to stream, but it's a 13-episode series about this girl named Lame and how she gets sucked into this online internet world. I think if you like Altered Carbon, you would like that show.
Brandon Groce:
Yes.
Maurice Cherry:
Yes. So to bring it back to the real world for a minute, I can't help but notice, of course, in your photo that people can see you for the cover art that you're holding this neon, Adobe XD logo cue, which Adobe XD appears to be your kind of main tool of choice. Talk to me about that. How did you land on Adobe XD?
Brandon Groce:
And it's not just the Adobe XD that's part of it, but it's more so about the Adobe brand in particular. I'll explain that. So Adobe XD just because … and I can't just say just because, because my main skill or my main trade is UI/UX design and being able to … there's a couple of reasons, right? Have a company that offers not just the … it offers the suite of not just what I have done that produced my income, as a UI/UX designer, XD, but they also have Photoshop, Illustrator, they also have After Effects, Premiere, they have everything at really one cost. And so the larger picture I see is, I have to be careful what I say here, because it's not necessarily true. We're moving in a space where AR and VR is going to be what UI/UX designers are as of right now.
Brandon Groce:
When COVID came through and everything started to become remote, I saw a huge uptick in the need for UI/UX designers. Why? Because everybody's at home. And the companies who have these streaming platforms and who have digital experiences, their revenue is skyrocketing because everybody's on their some sort of screen. And the next version of that is yes, we have screens now, but you have companies like Snapchat, even though their glasses technology looks a little bit funky at the moment. Did you see that release this week?
Maurice Cherry:
Of the new like specs?
Brandon Groce:
Specs. Yes.
Maurice Cherry:
Yes.
Brandon Groce:
Yes. So it looks a little funky, but that is version 0.01, that's essentially a beta version of what I think the iPhone was when it first came out. It doesn't look sexy, but the idea is there. Being able to wear a set of spectacles where your friend could decide, hey, I want to wear this pirate hat and I'm going to press this, anytime anybody has a certain type of technical optic and looks at me, they're going to see my digital outfit. So that's also the metaverse. So you could decide on your app or whatever, or you. You can be like, I want to wear X, Y, and Z. You put that in your phone and if I'm looking at you with these spectacles, I can see everything that you decided to wear in the digital space, while also in the real world. I just find that being a lot more attractive to me, just because the sky's the limit on what you can do, you're no longer limited to 1920 by 1080, you're not limited to what are the 320 by whatever 568, someone's going to be like, hey was the pixel off, right in the comments, guys.
Brandon Groce:
But yes, I think that's the next step because the sky's the limit, the only thing that you're really limited by is the hardware, but for screen experience, when we can just create experiences on the things that we look at, man, that's crazy.
Maurice Cherry:
Yes. And so tools like Adobe XD, or even like the Creative Suite really kind of play into that more.
Brandon Groce:
Yes, because you are able to use like … This is the thing. When you have things like, whether it be Figma, Sketch, whatever else is out there, you have specific tools for specific things. But when the market starts to become more complex, and you need to be able to adapt, what is their lifespan looking like? And I'm just like, that's great. They're a specialty tool. That has some market share. In the larger scheme of things where I think things are going, and also what I'm interested in, which is also a large factor, this is probably where my biases, because there's still going to be screen experiences needed. There's still people trying to get their mobile out here and their million dollar companies out here, trying to get their mobile app out.
Brandon Groce:
So yes. I just like to be on the cutting edge of things and being a part of technologies that allow flexibility and also the integration of where things are moving. So you have Adobe dimension is a 3D tool that allows designers, is also by Adobe, without really any 3D knowledge knowing how to make stuff you just need to know how to download models, change the color them and then use your brain to rearrange them in the way that you think looks best, export that, drop that in, whether that be Photoshop XD, it just makes … Adobe's tagline really does hold up or it's just like creative for all. They reduce the barrier to entry and reduce the complexity of what it takes to create something.
Maurice Cherry:
I know for a while in the design industry, there was this big, I don't know, I felt like there was this big push away from Adobe tools. I feel like it was right around the time Adobe Creative Cloud became a thing with their subscription. And lot of designers I know really pushed away from it trying to find some alternative, and they doubled down on Sketch, which is still Mac-only, or they used Figma, or they're using other tools like that. But I mean, the way that Adobe has been innovating over the past few years since they've started Creative Cloud, probably because a lot of subscription money, I'm not going to lie, but the way that they have innovated over the past three years has been nothing short of remarkable. And, I mean, I hate to say there's not really any other tools out there that can touch what Adobe is doing. This is not an Adobe sponsorship, by the way, although if you all are interested, let me know.
Maurice Cherry:
I'm just saying this because personally, I cut my teeth on Adobe. I learned Photoshop and Illustrator on my own. I just did an interview earlier today where I was talking about how I didn't start out in design, I started out doing customer service stuff after I graduated from college. And I would go to Barnes and Noble and pick up .Net magazines, and those like UK computer magazines that would always come with a CD or something, or those Photoshop tips and tricks books. I go to Barnes and Noble, get those, look through them, take pictures, take them back home, I used my pirated copy of Photoshop to try to get my design chops up and stuff. Of course, now that I'm in a position where I can pay for it, I do pay for it. But I say that to say in terms of the amount of innovation.
Maurice Cherry:
I mean, Photoshop is a verb for a reason. I mean, nobody's out here saying they're going to Figma their photos.
Brandon Groce:
No, I don't even think you can Figma a photo, sadly.
Maurice Cherry:
Look, where I work at now, I asked them for an Adobe Creative Cloud subscription because I wanted to work on some design stuff. And they were like, "But, we have Figma", and I'm like, "No, that's okay. That's all right. That's fine."
Brandon Groce:
I think there's no right or wrong. I think there's just certain … like I said, there's a market for a reason, right?
Maurice Cherry:
Yes.
Brandon Groce:
There's particular individuals that there needs really line up with Figma. They were free. They had all this stuff for free. You know what I mean?
Maurice Cherry:
Yes.
Brandon Groce:
What they had was, for a lot of people, they're like, why not? But like you said, when you find yourself in a position, and you're like, I have the resources now to allocate to a tool that allows me to do more of my best work. That's kind of the mindset that, when you have that mindset, you have the resources to actually put it towards something that makes you do your best work. For me, that just happens to be Adobe, because the type of work that I do requires a lot of cross threading.
Maurice Cherry:
That's fair. Yes. And I mean, also with these Adobe tools, I mean, they've been industry standard for a reason. Every design job I've had, I've still had to use Dreamweaver or Photoshop or something. But I can see why these other types of tools have become more popular, because they have been brought up as the industry changes. There's been a huge influx of UX/UI designers and product designers in the past, like seven years or so. And so there has to be tools then that can kind of work with that. I know, for a while, people are trying to use maybe Photoshop or Illustrator to do that, but needed something that was maybe a bit more, I don't know, exact, I guess, because Illustrators are for vectors, Photoshop is for photo manipulation, and if you're trying to do something that's more product-based, you'd need a tool that, I guess, would allow you to simulate some of those things, which of course, is why Adobe XD comes along, but then also why you have a Sketch and a Figma, or something like that.
Maurice Cherry:
The tools match what the industry is doing at the moment, so I can see that. Yes. Kind of switch gears here a little bit, I know you are located in Maryland, is that where you're originally from?
Brandon Groce:
I think so. Guys, for those of you guys who are listening, Maurice asked me before the podcast, he's like, "Brandon, where are you currently residing?" I was like, "First off reside is a too big word to even use in a sentence with me." And then I was like, "I don't even know my street address barely." But yes, Maryland is I think where I've always been. I have been to Texas though. I'd lived there for a little bit. And I love the heat over there, man. Love that it doesn't get cold. But yes, I've been in Maryland for the majority of my life span of 27 years.
Maurice Cherry:
Okay. What was it like?
Brandon Groce:
And this is also what is interesting because people ask me about life and I talk about the internet. I really didn't go outside much.
Maurice Cherry:
So growing up you were the kid that was like always in the house on the computer.
Brandon Groce:
Oh, yes. Yes. Even if you look at my Facebook profile pictures and you look at the … There was one day where I was looking at some of my high school friends and their pictures versus mine. I was like, oh, hang out with people. And so the majority of my childhood was wrestling in Brazilian jujitsu, because I was a very active, like I said, I can't really sit in the chair, I had a lot of energy. So the majority of my childhood starting at eight, up until whenever college started after high school was Brazilian jujitsu, and just teaching and training both kids and adults. I have a brown belt Brazilian jujitsu. I stopped after I moved to Texas and trained a little bit here and there on and off. Business is a lot like jujitsu, except you don't get physical ailments from it. Unless, right now I have a pinched nerve for sitting in my chair, so I'm really lying.
Maurice Cherry:
So you're like street fighter, basically.
Brandon Groce:
I mean, you can say that, but I'm definitely the first one to run. If you were with me, I have … Maurice, let me tell you this real quick. Back to my anxiety and paranoia. I'm not sure if it runs in my family, but I am the first one. We're about to go to the storm, it's an actual phrase. Let me grab my pepper spray. I don't know what it is. I was talking to somebody about this the other day. I like to be overly prepared, because I don't know what's going to go down. And I'm not saying I live in a bad area, and I think that's also from jujitsu to where is a mindset kind of came where it's the paranoid survive. And that's kind of how I operate. Some people think that's very, a chaotic way to live, but for me, it's like hey, that's the way that I operate. I try to be always overly prepared. You never know what's going to happen and you try your best to optimize what based on the situations that you're in, which is also probably why I don't leave the house a lot. There's a lot of stimuli out. I can control everything that's artificial, which is in the computer. [crosstalk 00:32:40].
Maurice Cherry:
Okay. But, I mean, even like, still to that point, I guess you were still, I'm assuming, exposed to a lot of design and tech growing up perhaps.
Brandon Groce:
A lot of art, or a lot of books. A lot of books, a lot of puzzles. Yes, that's all I did, man. Man, I was a hustler. I would resell things that I found at school back to kids, I would sell like art lessons in elementary school and make money so that I really use this money to, or the quarters my parents left in the couch, to purchase puzzles that I would put together, or my grandmother would always buy me these things called Zoids. Do you remember those?
Maurice Cherry:
Zoids?
Brandon Groce:
They're essentially like Gundams, but they're like cats, or different animals.
Maurice Cherry:
Hadn't heard of those.
Brandon Groce:
I don't remember what year they were, but they were like my thing. I would put them together without the instructions. And these things were like hundreds of pieces. And I would just figure it out. And honestly, my main superpower that I think is like, I'm just like, oh, that was the wrong hole, we got to figure the other hole out. I'm very good at putting things together. And that's why I always loved art and expressing things, but I also loved creating something that worked, which is why I really struggled at the end of high school and even moving into college where it was just, what is technology plus art? And I didn't have an internet, around the time I was 18, I was like, oh, we're just going to be a tattoo artists somehow without getting any tattoos. That wasn't going to fly because who's going to hire a tattoo artist without any tattoos? I know I wouldn't.
Maurice Cherry:
You got to start somewhere.
Brandon Groce:
Well, this is true. But I just was not … I was like, I know I mess up paper. So if somebody comes to me and was like, can I have an owl, and I just mess up one feather and somebody is not going to be happy. So like I said, I really like control and something that you can constantly tinker with. I dabbled in internships at NIH with medical illustration. I thought that was really weird. This is when I learned I really didn't like work because, and it was probably around 18, 19 at the time. And I would go there and I would want to learn so much, because these people would show me interesting things and I would spend time trying to learn how to do it. And then they would go out on three hour lunch breaks and I would always go in and ask the question, they're kicked back in their chair, and I'm like, what's going on? Nobody does any work here. And I'm not saying this is what the general workforce does, but I was just very turned off by the lack of … and it wasn't even that the other interns were like that as well, I was very turned off in that environment, that the fact that there are so many interesting things around us and nobody's asking any questions.
Brandon Groce:
Yes, so I'm a tinkerer man. Even though I call myself a designer, I'm probably more so an inventor mindset than anything else. I really like to learn how things work, we will be in Giant man. And I'll be like, I wonder how they package those raisins. I ask questions all the time and I really like to find how certain things are made, especially when things are in alignment with what I do.
Maurice Cherry:
I'm going to jump ahead a little bit here, because I feel like just based on what you're telling me, I really get the sense that you've had to work a lot to build up your confidence in order to really, one, I think showcase work that you can do and of course, to partner with Adobe and other companies and such like that. How do you build that confidence? What advice would you give out there to somebody that's listening that wants to build up that confidence to be like you?
Brandon Groce:
Well, I wouldn't say try to be like me. Let's pause right there. But I think I have a pretty good … I didn't have this story when we first talked about this in the beginning of the podcast, but it's one thing that I hold indefinitely in my head that changed things for me. So in school, school was very hard for me. The way that I was, and that I talked about NIH, was not who I was in early school at all. To be honest with everybody, I don't even know how I passed elementary school, middle school, or any. I never did any work. I have no idea. They wanted me out of the classrooms. But I never paid attention in class and mainly because I struggled with the way … now thinking back, it's a little bit clear, I didn't understand the instructions that whomever was giving me and how to do certain things. And I was like, why is it this way and not this way? And because I didn't understand the way that they were telling me, a lot of the times, I was basically the laughingstock. There was so many times where if I even just dare raise my hand in class, the class will just blow up in laughter, and that really hurt a lot.
Brandon Groce:
And so a lot of elementary school and in middle school, I just thought … we were talking a little bit earlier where the kids in the special help class programs. That was me. I think I started reading out loud, even in high school, man. Honestly, that mess sucked. But what really changed was, I would probably always get … I'm not even sure you can get D's in elementary school.
Maurice Cherry:
You can.
Brandon Groce:
I probably got them. Yes. And I just remember my mom telling me, as supportive as she could, she was like, you're different. You have ADHD. Just please try to pass. And I remember like, yes, it's not just one time, but just looking at myself in the mirror, not understanding why didn't get things. Thinking back about it, don't make me feel good. But there was just one day where I was just like, for whatever reason, I just decided on the dumbest thing ever to Maurice. It was a spelling test. So I was like, I'm going to just try and spell probably like because and I spell it because. I don't remember what it was, but I decided to stay up really late and just study 10 words probably what it was. And I got an A. I remember running home from the bus with the paper in hand to tell my mom. Damn, I can't even tell this story. Shit hurts.
Maurice Cherry:
Oh, I didn't mean to-
Brandon Groce:
No, you're good because it's a really good story, man. And then I opened the door and I said, "Mom, I got an A." And she hugged me and I remember I went upstairs after that and I was so pissed, Maurice, that I listened, for I don't know how many years, to people telling me that I was slow. Regardless of the tears dropping, it was like in that moment that I realized that I had let people tell me things about me that I accepted. I got so pissed in that moment. I was like, I will never, ever, ever allow somebody to tell me what I can and cannot do. And I probably threw a castle around in my building or in my room, something like that.
Brandon Groce:
But yes, it was a spelling test. Yes, it was something minimal. But it was like that big lesson that how, me, other people, what stories that we hold in our heads and that we apply to ourselves, and that weigh us down in terms of what we actually think is possible. And I'm not religious or anything. I found recently in the Bible, Exodus 3:14. And don't forget who asks, but they essentially ask God, what his name is, what he's called, and he says, I am.
Brandon Groce:
I was thinking about this school period or this anger, or whatever this experience that I had that made me feel less than, and I was like, why? Why would he say I am? And I was like, he's probably so woke, that he understands and doesn't even give the ability to somebody else to even label whatever he is. He just is, or whatever it is. And I was like, wow. Regardless of who said that shit, that's some powerful stuff. I am. That's something that really sticks with me because I live … this is a little bit going into talking about the imposter thing. I just understand that I'm an entity that becomes whatever I decide I would like to become. I come with a biological technology that allows me to pick up and put down whatever it is that I desire within my capabilities of operation.
Brandon Groce:
So long story, how can somebody become more so of themselves rather than like me? It takes time. I happened to find it studying 10 fucking words for a spelling bee and realizing that I was holding people's stories of me and I never crafted my own. So every day, I hold myself accountable to what story, what I like to tell the world about me. That's what's highly important. And I changed from day-to-day.
Maurice Cherry:
Wow, that's really powerful.
Brandon Groce:
I hope so. I hope it was worth the tears. It dropped in my tea.
Maurice Cherry:
No.
Brandon Groce:
I can't drink that any longer.
Maurice Cherry:
I want to keep on that same vein, not trying to make you continue to cry, but-
Brandon Groce:
Two tears, we're done. [inaudible 00:42:45]
Maurice Cherry:
As you have said, you've managed to kind of instill this confidence now within yourself where you don't take in other people's thoughts or stories about who you are. And to that end, you have this very unique personal brand, which you've taken time to craft, like I said, I've watched your videos, I've seen your photos, looked at your Instagram, etc. How can someone out there listening start to create their own personal brand? Is it more of the same process that you talked about?
Brandon Groce:
Yes, it's really getting in tune with what it is that you produce and that you want to produce. I think it's really important we produce things on autopilot. Like you by yourself, or me by myself, I'm more likely than not, I'm probably talking to myself, regardless of where I am, which probably makes what I do very natural. And that's why the acting thing probably seems natural, because I do … Man, I talk to myself in the shower. My partner's like, "Who the hell are you talking to?" And I'm like talking to Sarah, Jamil, and I'm like, "They're in my head. They're talking." We have yet to be tested for schizophrenia, but there's probably a little dose of that in there.
Brandon Groce:
But I think it's really important to know what you enjoy and what you do naturally, that is, the way you don't have to try too hard, but understand where your natural abilities and occurrences lie. It's not just that because you have to also understand what people enjoy about that. But you have to find what people like and value. For example, you could be funny to yourself, but are you funny to other people? So for example, when I was young as in high school, I was picked on a lot. And it wasn't until I started saying the dumb shit that was in my head right back at the person where other people started dying, laughing about what I said. I was like, "Oh, that's funny." And so this is when I started … when I realized I was like, "Oh, I do this naturally. Are there other people that are funny that I can study that could help me enhance what I do naturally?"
Brandon Groce:
So I've watched so much Katt Williams, man. I watch a lot of comedy to help me enhance what I'm naturally capable of and find people other … but I sound crazy, but I was about to say other avatars, other people who are built with almost somewhat of the same things that I see in me and just take what they're doing and try to evolve my skill set from what they're doing. I try to find who I would be in the future based on what I know about myself, and what I see in them and try to take what they have already done and apply it to what I'm doing today. I study … yes, I said Katt Williams, but I try to read as much as possible bibliographies because there's frameworks, these people who have lived like hundreds, thousands, I don't know how long the earth has been here. But there has been a repetition of your DNA and capabilities somewhere in the universe. Imagine if you were able to find throughout a couple of books, who you want to be or who you think you'll be sprinkled throughout books, and just in a couple paragraphs, you can take those learnings and apply them to the frameworks that you walk about life with. The reason I read is to build the character that I'd like to see.
Brandon Groce:
I think of myself as a computer, essentially. I download software through books, or through watching people, or through whatever type of input, but it's really important that I understand who I would like to become and find frameworks through multiple ways to craft said character. And I know that with the words that I'm using, some people will be like, that doesn't sound good. This goes back to that first story, I told, would you rather be told who you are, or create who you want to become, or who you are, rather? And that's just how I go about building my character?
Maurice Cherry:
What do you appreciate the most about your life right now?
Brandon Groce:
Honestly, probably my time with my partner and the freedom, that's first. And then the freedom to just think about what I want to put out into the world and have time to do that and have a community and people around me who also are trying to strive for the same things and working together and building that idea. So my relationships, my free time, and my ability to, with that free time, think about what I want to put into the world and produce and what impact that has.
Maurice Cherry:
Speaking of that, what kind of legacy do you want to leave behind? When you look at yourself, say in the next five years or so, what's the sort of work that you want to be doing?
Brandon Groce:
The impact is just possibility, man. Through this design, I'll be able to have people understand that you can learn all day. You can be on YouTube and just learn, but just through doing and having fun, and just be tinker, just tinker and build what you want. That's what makes you learn. And to facilitate that, just how Dean Kaymer has, that's something I'd like to do in addition to some, not entirely sure even what to call it, but because we are going to be getting into the metaverse and being able to produce quality 3D movies almost, but just because of our virtual setup. I would also like to do some storytelling as well. We'll see. The combination of both.
Maurice Cherry:
I can see storytelling. You got the voice for it.
Brandon Groce:
I appreciate it.
Maurice Cherry:
So just to wrap things up here, Brandon, where can our audience find out more about you and about your work and everything online?
Brandon Groce:
For sure, you guys can find me … If you just type my name into Google, you'll find me. Brandon Groce, G-R-O-C-E. If you guys want to participate in DesignOff, you guys can go to designoff.live. The majority of my stuff, you guys can find me on Instagram, that's probably where I'm most active, or you guys can join our amazing discord community with over 1,000 other creatives from all over the world and not just UI/UX designers and we have illustrators, 3D artists, we literally have, I think there's more people from other countries than where I'm at. So it's really nice to have people who are not just in one vertical, but can help each other build on top of something. So short answer, Instagram at Brandon Groce, YouTube, same thing, but if you find me on Instagram, you'll find me everywhere else.
Maurice Cherry:
All right, sounds good. Well, Brandon Groce, I definitely want to thank you so much for coming on the show. I honestly want to sharing your story and being as open and candid as you were to share it. I think it's important for people to see the path that people take to get to where they are. It's not always this straightforward, you went to this school, then this school, and then worked at this place. People come into this industry in so many different ways and I think it's really important to be able to see how you've been able to make your own place in this industry, how it's helped you build your confidence, how you've not only helped to build a community, but also help to empower so many others out there to see the possibilities for themselves that they didn't see. So, thank you so much for coming on the show, man. I appreciate it.
Brandon Groce:
Likewise, Maurice, thank you so much for having me. I appreciate it.
In honor of Juneteenth, Poster House, the only museum dedicated to posters in the United States, is pleased to offer free admission to the museum on Saturday, June 19.
Head to www.posterhouse.org and book your free ticket to visit the Museum to check out Julius Klinger: Posters for a Modern Age, and Hunter S. Thompson's run for sheriff in the exhibit Freak Power!
Remember, it's this Saturday, June 19th, and this is a free event you don't want to miss!
Brevity & Wit is a strategy and design firm committed to designing a more inclusive and equitable world.
We accomplish this through graphic design, presentations and workshops around I-D-E-A: inclusion, diversity, equity, and accessibility.
If you're curious to learn how to combine a passion for I-D-E-A with design, check us out at brevityandwit.com.
Brevity & Wit — creative excellence without the grind.