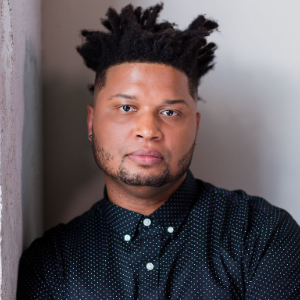 If you live here in Atlanta, or you're a fan of our hometown basketball team, then there's a good chance you've already seen David Tann's work. As the former VP, Creative Director for the Atlanta Hawks and Philips Arena, he helped establish the team's bold visual identity…one of the best in the NBA, if you ask me. Now, David heads up his own company, Tantrum Agency, where he uses his career experience with global brands to help companies find their own unique voice.
We started off talking about his recent accolade — Entrepreneur of the Year from Atlanta Business League — and he gave some behind the scenes information about running an agency and working with clients and new projects. He also talked about his time at Wake Forest University, his past brand work with companies including Kohl's and Carter's, and shared some insight on how he sees success at this stage in his career. David Tann is definitely the real deal, and I think we'll be seeing a lot more of his work for years and years to come!
Interview Transcript
Maurice Cherry:
All right. Tell us who you are and what you do.
David Tann:
I'm David Tann, the founder and CEO of Tantrum Agency located in Atlanta, Georgia. We are a boutique brand and design consultancy. I call it creative consulting. I think, for us, it's really more about the journey and the process of creating whatever it is, less so the actual physical output. I like the process of working with people and I think that's what we do really, really well. That's the part of my job that I love the most.
Maurice Cherry:
Well, before we really kind of start off with the interview, I just have to congratulate you on your recent honor.
David Tann:
Oh, man. I appreciate that.
Maurice Cherry:
Entrepreneur of the Year from Atlanta Business League.
David Tann:
Yeah. That's a big one, man. I never in a million years would have thought that that one would come across the desk, but when it did, I definitely am super, super humbled. There's a lot of titans in the history of Atlanta who have won that award, so I definitely am super humbled and honored to receive that one.
Maurice Cherry:
Yeah, man. You should really be proud of that. Congratulations.
David Tann:
Appreciate it.
Maurice Cherry:
Aside from that, how has 2023 been going so far?
David Tann:
Man, 2023 has been, I mean, we're really blessed. It's a record year as far as projects and revenue. I think we're continuing to grow. The first quarter, first half of the year has been amazing. If the second half lives up to the first, it'll be another record-breaking year for us.
Maurice Cherry:
I mean, aside from the record-breaking parts that you mentioned, how are things different for you this year than last year?
David Tann:
I think it's a lot different for us, less probably so from the outside looking in, but more … We just have more systems in place. It's taken a while to get the right people on the team and have the right people in the right roles. 2023 feels different than 2022 or any of the years prior just because it's like we actually have a solid team in place. There's a lot of things that I used to have to do that I don't have to do anymore. That's a really, really good feeling. That means that we're growing and we're moving in the right direction.
Maurice Cherry:
Any plans for the summer?
David Tann:
Summer's always my busy season, man. I think it comes from my background in retail where in the summer you're really ramping up for holiday. My summers are always … In a weird way, everyone else is going on vacation. I'll sneak a vacation, a couple of days in, here or there when I can, but usually I'm ramping up. We're pushing pretty hard in the summertime.
Maurice Cherry:
Nice. Let's talk about Tantrum, which turns five this year, right?
David Tann:
Yeah. We just turned five in February. We're a little over five now heading into the sixth year. That's a huge one because most businesses obviously don't make it that far. We feel really fortunate and blessed and thankful to get to that point.
Maurice Cherry:
Nice. Tell me more about it. I mean, you've kind of made a little bit of mention about the team structure, but talk to me more about Tantrum.
David Tann:
I started 2018 in my basement just with this idea. It was something that I had always wanted to do, and the timing of it was never right. After years in the industry, it was just like, all right, family's good. Kids are a little bit older. I have all this experience. I'm a firm believer in mental health and therapy. Talked to my therapist and she's like, "What are you waiting for?" Talked to my wife about it and she was like, "You've let me be at home with the kids and be a stay at home mom for 10 years. Now go chase it." That was the battery charge that I needed to go out and do it. I thought, worst case scenario, it's a six-month sabbatical and then I just go back and get another job.
Here we are five and a half years later, still going strong. As far as the agency goes, we do all different types of work. I say we're kind of industry agnostic. We're everywhere from education to civil engineering to healthcare, sports entertainment. We cross a variety of industries, but I think the thing that is the common thread is we have clients that really believe in what they're doing and are passionate about the work that they do, and they're willing to go on that creative journey with us. We've got some really cool clients that cross a bunch of different industries and we've done a bunch of pretty cool projects. As an agency, I think, that's kind of the thing that I'm the most proud of is the diversity and the type of work that we do.
Maurice Cherry:
What are some recent projects that you've worked on?
David Tann:
Yeah. One that I tell people that's just easy for people to see because it's just easy, is we rebranded The Atlanta Dream about three years ago. If you look at any of their marks and colors that came from our team three years ago due to the close ties and relationships that we have with the NBA, so that's an easy one. One that's really cool that we just did is we rebranded a organization formerly called Equity, it's now called Beam. They're in the cash assistance and government aid space. It's a tech company that helps people get cash assistance quickly and equitably. We rebranded them, did their website, and then we just did a big trade show booth for them at the Cities Summit of the Americas in Denver. That was a big one that we're really proud of just, because it's very comprehensive and it got the show all the different skills and abilities that we offer. That's a very different end of the spectrum.
Then as far, as you mentioned the Atlanta Business League, the day after I won the award for the Atlanta Business League, I was on the road going up to Charlotte to go speak to some high school kids. We actually have curriculum in Charlotte for digital marketing. We're rolling out curriculum for sports marketing in the fall.
I think those shows such a diaspora of the types of stuff that we do, but those are three good ones that I think I'm really proud of. I think it's really easy to get kind of caught up in some of the, I call, sexier projects, but the ones that I find the most challenging or the most rewarding are the ones that you don't expect. We worked on a brand called Genesis Health, which is a healthcare insurance company a year ago. It's like, how do you make healthcare and insurance sexy? We found a way to do it and it was cool. Those are the things that I like because I think that's the challenge of what we do from a creative standpoint.
Maurice Cherry:
I'm really glad you mentioned, I don't know, the sexiness of projects because I think particularly when designers are either looking to strike out on their own or they're, at the very least, trying to establish themselves as a brand, there's so much social proof wrapped up in doing work for very well known brands because it sounds good. If you look at your resume and it says you've done Nike and Sony and all this kind of stuff, it's great. As you've intimated, the true metal of a designer is how do you take the skills that you have and apply it to non-sexy type of things? How do you make insurance sexy? How do you make healthcare sexy? I mean sexy, of course, is a subjective kind of feeling, but how do you make it so it's interesting to people and that it still sort of puts forth what the business wants in terms of goals for working with the agency.
David Tann:
Yeah. I don't know. I think that that's just fundamental to what we do. I tell people all the time, design is not art. If you're a artist, you get to create from within and you get to create because something moves you as a person. If you're a designer, I'm not doing anything till someone comes to me with their problem. Everything I do should be solving their problem.
To me, I think that's sort of fundamental to what we do as professionals is, at the end of the day, all this other stuff is cool and it maybe gets a lot of attention and hits from a media standpoint, but when this small business or medium-sized business, or even to some degree large corporation comes through with a problem and they don't know how to articulate themselves or they can't reach their customer in the right way, then okay, cool, I got you. That gets to show off a whole other skillset. I think that that sort of separates … That's when you sort of begin to level up and separate yourself from the pack and what others are doing. To me, that's kind of what I've made my career on. I think that's the part that I'm the most proud of.
Maurice Cherry:
Has business changed over the past few years, just given the state of the world? Have you found that there's been a shift in the types of clients that you do or the types of work that you do?
David Tann:
I think it's changed for us, but it has less to do with the state of the world and more to do with just we're growing. Just being a young business, being a young entrepreneur, starting, being a couple of years into it and leveraging those personal relationships, you generally are starting off with a small project here just to kind of get your foot in the door and show what you can do. Then you do a good job on that and then someone's telling someone else and then someone's telling someone else. Our business has changed and our projects have evolved not so much because of what's happening in the world, just because we're older, more mature, more savvy, we know more what we're doing, we're more confident in who we are, and so we're going after bigger projects to have larger scope, longer lead times, bigger budgets, et cetera.
To me, that's just the natural progression of us being in business over time, less so kind of what's happening with the world and the market. I mean, we're aware of it and we obviously pay attention to it, but I've just learned, especially being an entrepreneur, there's certain things that it's like you can control and there's certain things that you can't control. The external forces of the market and the world, I'll never be able to control that. We try to keep our head down and make sure we're serving our clients to the best of our ability and let the chips fall where they may.
Maurice Cherry:
Now, as founder and CEO of the agency, are you still able to get hands on in working with clients?
David Tann:
Yes and no. I think the funnier part about it is redo creative reviews on Tuesdays and Thursdays. I was just telling my team the other day, I actually am really excited about the fact that I could be in a creative review and the team could show me something or be talking about a project and I have no idea, or they have to get me up to speed on what's happening with that client and what that project is. I think part of being a leader is putting good people in place and learning to let go and let them deal with what you've hired them to do.
To me, I love that aspect of it, but at the same time, I'm always going to be involved. I'm always going to know, at a high level, what's going on and make sure that the ship's heading in the right direction. Even if I'm not necessarily always meeting directly with the client, they know that I've been involved in that process. To me, that's very important where sometimes even if someone is emailing and it's not me, we've had a conversation about it and they can say, "I talked to David. This is kind of what we're doing. This is the thought process," et cetera, even if I'm not in every call, on every meeting, et cetera.
Maurice Cherry:
Are there particular types of clients that you would say the agency is best to work with? I know you mentioned sort of larger brands like The Atlanta Dream, et cetera, but is there a specific category or type that you find sort of the agency gravitates towards, in terms of business?
David Tann:
I think it's less about industry. To some degree, actually it's size is less of a concern too. We do a lot of work with startups and we do a lot of work with small businesses. I think that it's just part of what I consider to be goodwill is that we have a skill, we have a service, and for the most part, those young entrepreneurs or startups or whatever, they may not be able to afford our services. We carve out a couple of projects a year where we do them at discounted rates or some of them, depending on what it is, we might even do pro bono. We can't obviously do a ton of them, because we're a business and we have to keep the lights on. I do think it's important to keep connected and make sure that some of those small businesses, because I'm a small business myself, that we don't forget about them and leave those behind. We're working on all different types and sizes of companies.
I think the thing that is sort of unique regardless of where they are is I like working with people who feel like they have something to prove. I like the underdog. I think everyone on our team has a chip on their shoulder. We're a small agency. We're trying to compete with the agencies that have been around for 40, 50 years. From a client standpoint, the best clients are the ones that aren't afraid to take risks.
The best clients are the ones that, again, aren't afraid to go on that creative journey and they're not just asking me for an output. I want a logo. If you're just focusing on that output or that end result, it's probably not the best scenario for us because, generally speaking, we know where we need to head, but we're going to push you and poke and prod so that when we get to that end result, we're delivering the highest quality, telling the story in the best way, et cetera. For people who want to shortcut that process or cut those steps out of the process, those end up not being ideal clients for us. It's less about the size and scale, and more just about the mentality and the approach to the project.
Maurice Cherry:
Say a new project comes into the agency, walk me through that. What's the intake process look like? What does the creative process look like for working on the project? Tell me about that.
David Tann:
Yeah. In five years we've only had one client come off the street. Everything has been word of mouth.
Maurice Cherry:
Nice.
David Tann:
Generally there's some sort of a referral or some sort of a connection to a project that's coming into the agency. Once we kind of get beyond those initial interactions, connections, as far as establishing the relationship or how they were referred to us and we start talking about the project just at a high level. I mean if you want all the steps, it's just starting about the project. We'll initially do some sort of a touch base meeting to just sort of understand what are they trying to achieve and what their plan to scope it, the project. If they have all that stuff figured out, then they can send us the scope. If not, then we'll go back, based off of our notes, and we'll try to create some sort of a rough version of what we think the scope would be.
Then we're doing a typical statement of work, agreeing to the terms of the contract. That can go back and forth for a little bit, just depending on who they are or what the specific needs are. Once all the contracts are signed and the paperwork is done, then we'll have a formal kickoff because … Many of the times I'm already talking with the client, so I have an idea what they want, but my team hasn't been involved in that process. I like to start from square one and pretend like I know nothing. My team knows nothing. We start walking through that process of who they are, what they're trying to achieve, why they feel like they need to do this project, whatever it may be, et cetera. I step back and I let my team ask questions.
From there, we do our own discovery. We'll do our own research regardless of whatever research the client has done. We are looking at the company as a whole, we're looking at the market, we're looking at competitors, we're looking across industries. Sometimes clients think that their problems are unique, but it's really not that unique if you look across a different industry or can find something or our client or a company in a similar situation. We're doing all that research.
From a creative standpoint, we might put together some mood boards. We do a little exercise where we're talking with the client trying to understand what they like or what they love and what they hate. I don't really care about anything that's in between, that's sort of vanilla. I only care about the things that move them one way or another, because we're trying to figure out how far we can push them, where the boundaries are. If we know that they hate orange, then it doesn't make sense for us to show any concepts that have orange in it. You know what I mean? We can already cut that process … We can cut those mistakes out just by asking simple questions upfront.
Once we do that initial sort of creative touch back or touch base, like, "Hey, this is what you said, this is what we heard. This is our research. Here's a couple rough ideas that we have. What are you interested in?" Then we'll start the creative process. We try to nail it coming out the gate, but generally two rounds, three rounds tops. After that, I mean, we're rocking and rolling. Once we get the approval, then we move into production mode and then just start knocking out all the assets.
Maurice Cherry:
I mean, sounds like the process is pretty kind of straightforward.
David Tann:
I mean, the process, in and of itself, is straightforward. The thing that you kind of run into is the companies and who we're dealing with and the approval process, that's not straightforward. In some instances, we can rebrand a company in four months. In other instances, it's taken us three years. It's not that our process is changing, it's just that the number of people involved, the approvals, sometimes we are peeling back layers to the onion, as far as the company goes. You peel back one layer, which makes you think about self endow differently. It just kind of goes on and on. Our process is pretty standard and pretty vague, but what we uncover throughout that process can lead us down a whole other direction.
Maurice Cherry:
I'd say it's probably also just a testament to the team, as well, your team being able to work with the client through that process. I like that part you said about knowing the boundaries, knowing how far to push them, because sometimes the client will know what they want, in terms of the output or the end result, and sometimes it uncovers itself through those conversations and brand explorations and stuff like that. It can come out in a different way. Then it's about knowing whether or not the client is okay with that, how far you can push things creatively. It's a challenge.
David Tann:
Yeah. It definitely is a challenge, but I think that's the part of my job that's the fun. That's the part that's the most rewarding. To take something that maybe someone didn't believe in or maybe something couldn't see, and to walk them through that process. I think, at the end of the day, if we're doing this job right, we're educators too. Part of what we're doing is we might know where we need to go, but we have to slowly but surely educate the client and build confidence within them to understand why this rebrand is important, or why we need to say it this way, or why we're shifting the colors this way or whatever. We have to educate them. Sometimes that takes time. I think that that's the fun part, because once the light bulb goes off and they get it, then it's a game changer.
Maurice Cherry:
Yeah. What's your favorite project that you've worked on?
David Tann:
Oh, man. This is a super cliche answer, but I don't have one. To me, it's the next project is the favorite project, because I'm competitive, man. I'm a little bit different in the sense that I was a athlete as a kid, and so I just always have that competitive nature of me, as a creative. We had a client reference another project that we did for another client. We're working with them, like, "Hey. I really love this website that you did for so-and-so." Man, forget that website. We did it. We want to be better than that. We're trying to raise the bar on ourselves. To me, whatever the next thing is my opportunity to prove that the thing before it wasn't a fluke, and this is really what we do. To me, whatever products we did in the past, those were cool and I'm proud of them, you know what I mean, but the next one is the one where I'm like, all right, I'm going to show you. That's just my mentality. That's just the way it's always been.
Maurice Cherry:
Well, let's kind of switch gears here a little bit since you talked a little bit about you as a kid. Tell me about where you grew up.
David Tann:
I'm from Kennesaw, Georgia. For those who are familiar with the Metro Atlanta area, Kennesaw's about 45 minutes north of the city. Now it's very much considered part of Metro Atlanta. When I was growing up, it was country. You know what I mean? My high school had cows. I drove past the farm every day on the way to high school. Now, it's a skateboard park. When I was growing up, my exit was a Waffle House, a Texaco gas station, and Kennesaw College. It wasn't even a university at the time. Those were the only two things or three things that were on my exit.
I think that that framed a lot of me growing up as a kid. I think the other piece of it too, and I talked about this a little bit in my Atlanta Business League acceptance speech, is because I grew up in the country and my parents worked I had a nanny growing up. She was an elderly lady. She was a former educator in Cobb County. Her name was Jessie May Taylor. She took care of me from the time that I was nine months old until she passed away when I was nine years old. She took in foster kids, so she would babysit us during the day, but she also would take in foster kids. I would see these kids come in and out of the system on a daily, weekly basis. These kids were my friends and I played with them, and they had really tough family environments.
I think it very much molded our view of this is why we give back, this is why we feel the need to go talk to kids in Charlotte. This is why we feel the need to do the stuff that we do for minority owned, women owned businesses, et cetera, because we have a bigger purpose, outside of the creative. The business needs to be a community asset. I think that frames a lot.
As far as me, personally, I grew up playing sports; football, baseball, basketball. I was decent as a kid. I wrote a lot. I think that's how I expressed my creativity, but I can't draw, to this day. Stick figures, circles, lines, squares, triangles, that's how I sketch my ideas. I was the kid that I was always rearranging my room. You'd come in one day, the bed is on this wall, blah, blah, blah. The next this moved here, the next this is there. I would say that's how I expressed my creativity was writing, through pen, and that. At that time, late nineties, people weren't really talking about design like that. I didn't really know that this could be a career. I just kind of stumbled upon this in grad school.
Maurice Cherry:
Well, let's talk about college. You ended up going to Wake Forest University. You majored in communication. Tell me about what your time was like there.
David Tann:
Yeah. Wake was pivotal, man. I think prior to getting to Wake, I had a high school teacher who did a public speaking class. I loved that class, because she allowed us to be fun and free. That dictated what I majored in when I went to Wake. Because I had so much fun in that high school class, I was like, all right, I'll major in communication, because I kind of have an idea of what that's about. I majored in communication. Again, I was a decent writer, so that helped sort of craft that experience of being able to express ideas through written word, but also communicating with people, whether it's public speaking, small groups, et cetera. I think that helped a lot, professionally.
I think the environment at Wake, with it being such a small school, and I ended up pledging Alpha Phi Alpha fraternity. I was the guy that would make our flyers for events. In hindsight, they were horrible because this is, again, late nineties. Photoshop wasn't a household thing. I'm making flyers in Microsoft Publisher with Clip Art and these horrible default fonts. I think that they're dope, but I go back and look at them now, I was like, "What was I doing?" I think that that was sort of the beginning of me working in the graphic arts was just beginning to get that taste of it. I would say the two biggest things is just that communication degree and then also the fraternity events' flyers, et cetera.
Once I graduated from Wake, I remember going to a career fair prior to graduation and seeing all the businesses that were in there. I was like, I don't want to do any of this. None of this feels right for me. In the corner tucked away was a small table for this school called the Portfolio Center, which is now the Miami Ad School at Portfolio Center. It was called the Portfolio Center at the time. They were just like, "We're a creative school. Come here for two years and be creative." I remember telling my mom about it. Once I came home on a summer break, or I can't remember exactly what it was, I took her over to the school and walked in the door with her. She knew right away. She was like, "Yeah. This is where you need to be." I enrolled.
Because, again, I didn't know what design was, I enrolled as a writer. I grew up, like I said, as an athlete. To this day, I'll tell anyone, we can debate it to the end, but that period, nineties, early two thousands, nobody was producing better commercials better than Nike was. My thought was like, somebody's got to be writing that Nike commercial. I never thought that there was a creative director, an art director, a designer, a photographer, a set designer. I didn't know all the roles behind what I was seeing. I just thought that someone had to be writing that.
I entered school as a writer. When I got there and saw all the stuff around the building, I'm like, oh, how do you get to make that chair? Or, "Hey. This Olympic project, who's doing this?" Every time I'd ask a question … These posters, how did they get here? The answer was design. I was like, "Man. Put me in the design program." I entered as a writer. Let's say I graduated in May. School started in June. In that kind of two weeks in between switched from the writing program to the design program and just sort of never looked back.
Maurice Cherry:
There's a couple of interesting points there that you mentioned that I really want to dive into. It's so interesting that you sort of had this gateway into design via writing, which I think is sometimes different. I mean, we have all types of folks on the show, but I think you might be the first person I've had on the show that has said that their kind of gateway into this was through writing. I sort of latched onto that, personally, because I wrote a lot in high school. I wrote a lot in college. Actually, when I went to college, I wanted to major in English. My mom was like, "Nope. You have to major in something that is going to make some money. You're not going to make any money being an English major." I still wrote and everything, even though I didn't major in English.
Something that we've done through Revision Path in the past few years is really try to champion design writing. We had a whole literary anthology called Recognize. We wanted to try to help cultivate that next generation of design writing or design writers, at least, because it's one thing, of course, to be a visual designer or a UX designer or something like that, but can you articulate your ideas in words, in some way? Whether that's on a portfolio or case study, or an article, or a book or whatever, because I really wanted to try to help change the face of who we see as a design writer. I just find it super interesting that writing has kind of been your gateway into this.
David Tann:
Yeah, I mean, I think that, at the end of the day, one, that's not actually surprising for me because I think … It's not surprising for me to hear your story and understand that because to me, whether or not it's actual written word, that's what Revision Path is. We are storytellers. The podcast just happens to be the medium for this particular story that you're telling. If this was a hundred years ago, these would be books or these would be parables or these would be whatever. One, it's not surprising for me to hear that from you, but I think for me … I actually fundamentally think that the communication degree is what ultimately helped me to become successful in the design industry, in general. Because when I started at the Portfolio Center, I was in class with kids that had had advertising backgrounds, had design degrees, had marketing backgrounds, had all these sort of creative elements. I was super far behind from a technical, execution standpoint.
What I began to learn over time is let's say my technical expertise, I eventually begin to catch up. Okay, great. In a design environment, the technical expertise can actually hide a lot of flaws. I can make something look pretty and people will like it because it looks pretty, but at the end of the day, did that answer the clients … Did that solve the client's problem? When you're in a design environment, sometimes in the beginning you can get by more because of your technical expertise, because you can make something look good, how to lay something out on a page, et cetera, et cetera. You're not asking yourself, is this solving their problem? Am I doing what's right for the client, or am I just doing what I think looks good?
Once I began to put the technical expertise with that approach, which really comes from just the pure communication, how do I reach the people? How do I reach the client? How do I talk to this audience? How do I touch them in a way? What do I want them to remember when they walk away? Same kind of question that you asked me in the beginning, before we started the podcast. When people leave this, see this, interact with this, what do you want them to feel? What do you want them to say? How do you want them to engage? What do you want them to tell people about what they saw? Most designers aren't asking that question, and I was because that was my background. That, I think, helped me sort of begin to separate myself once I got the technical expertise.
Then on the flip side, now you can put me in a meeting, and even though I'm a junior level employee, my boss knows that I can communicate this idea effectively. When I write an email to someone, they know that it's going to come off a certain way. I got more leeway, they expose me more, from a leadership standpoint, as I began to progress in my career because of my ability to communicate with the people around me, not so much … I mean, obviously the work that I was doing had to be good, but the ability for me to talk with the team, the ability for me to rally the troops, the ability for me to talk to a manager, I feel like that is fundamentally what made me different. I think that that was sort of a big linchpin to the success, particularly in those early years.
Maurice Cherry:
Well, let's talk about kind of those early years. You graduated from Wake Forest. Did you go to the Portfolio Center right after you graduated?
David Tann:
Directly.
Maurice Cherry:
Directly after?
David Tann:
A month after graduation, I was in school again.
Maurice Cherry:
Wow. You didn't waste any time.
David Tann:
No time. I was super focused.
Maurice Cherry:
What was the Portfolio Center like?
David Tann:
I tell people it was like medical school for design. I think that that was an important analogy for me, because I don't think people understood the rigor of it and how much time I was putting into it. I moved back into my parents' basement to go to design school. I felt like I was failing because I had gone away to college, and then I moved back home. I'm in the basement. I'm starting from square one in design. I know nothing. I'm driving from Kennesaw to Atlanta every day to take classes. When I'm at school, I'm sleeping on the couch. I never left that building. It was super, super tough and rigorous. I think med school to me was like, it's med school for design. My line brother was in medical school at the time. That same amount of time that you're putting in into that, I'm putting into this. Our output is just different.
That was my mentality with it. Again, because I felt like I was behind. I really felt like I had to catch up with everybody. I really felt like I had something to prove. I took it seriously, man. I didn't do any partying or any of that stuff when I was in grad school. I knew that that's what I wanted to do. I went after it really, really hardcore. I was super focused. That doesn't mean that I was the best designer when I was in school because, again, I had a lot to learn.
From a technical standpoint, especially those early years, I would say that first three to four quarters, I couldn't get my ideas out. I have an idea, but I couldn't get it out on the page the way that I wanted it to. That took time. To be able to execute an idea that's the craft. I had to put the hours in to get the muscle memory to be able to execute the things the way that I was seeing them in my mind. By the end of it, I felt like I had gotten in a pretty good place. I also did a thing where I did a lot of work that was really kind of feminine in the beginning. I had a couple pieces that … One piece that was in the How International Design Annual. Those pieces were the pieces that got me the job at Hallmark. I specifically did stuff because I thought that if I walk into … Well, part of it was because of my experience in undergrad at Wake.
I was on full scholarship at Wake, academic scholarship. Wake's a small liberal arts school in the South. I remember this very vividly, but people would assume that I had to be an athlete to be at Wake and to be on scholarship, because there was no way that, as an African American male, I could have the academic acumen to be at a university like Wake Forest without being on scholarship or without playing on some team.
Maurice Cherry:
Interesting.
David Tann:
I remember that these people probably think X of me, so I need to make sure that whatever I do, from a creative standpoint, is so far beyond what their expectation of what they think that I can do, that it shakes them in a different way. I did some work that was really soft and feminine because it was like I knew that as a man of my stature and my size and the way that I look, if I walk in a room, you expect me to do X. Well, if you see this piece and you find out that it came from me, you look at me differently.
That's what happened. I was at a portfolio review in New York for the Art Directors Club. Two ladies walked up and they saw these couple pieces that I had done. They were like, "Wait, you did this?" I was like, "Yes. Yes, ma'am." They're like, "Would you ever consider coming to Kansas City?" They were like, "We work at Hallmark. This work is really emotional, and we sell emotion, that's what a greeting card is. Would you ever move out?" I said, yeah, and never looked back. That was really the start of my career.
Maurice Cherry:
Wow. That part about doing … I really try not to draw these parallels between my own design journey, but even the feminine part that you mentioned there, that's something that I did when I first started working AT&T. They gave you this design test. With the design test, they're like, "There's two things that we want you to design a website for." This was during the interview process. One was a motocross event, and the other was a bridal shop. I chose the bridal shop because I was like, "Oh, I could do that. That's not a problem."
I mean, I got the job, but I remember my manager at the time saying that you're the only man that has chosen to do a bridal shop. Why didn't you choose the motocross? I was like, "Well, I felt like I could do better on the other design." It wasn't really a gendered thing in my mind, but I liked that sort of … I don't know. I guess it was sort of disarming in a way, where the expectation is that you would do something like this, but instead you did something completely different and that impressed us.
David Tann:
Well, I think there's all kinds of lessons that you can learn in that though, Maurice, because the reality is, if you think about it, the job is for AT&T. You choosing to pick the doula Bridal shop means that you're willing to design something or work on something that may not even be of your own personal interest, which is valuable, and still deliver something at a very high level. Most people are going to pick the thing that they're interested in. It's like, okay, that's great, but does that mean that I can only give you these types of projects where you're going to give your best effort? Yeah. That's the way that I study culture. To me, it's like, of course that's why you got the job. That makes perfect sense, because you're showing that it's not about you. You're willing to design the thing for the brand. You're willing to design the thing for the client, even if that's not your personal interest. I've just made a whole career doing that.
Maurice Cherry:
Let's talk about kind of that early work at Hallmark. This was your first real, legit design gig. What was it like?
David Tann:
I think every place I picked up something different. Again, this is early 2000. Hallmark at the time was still … This is pre-social media or at the very beginning of social media. People are still sending greeting cards like crazy. I had mad people be like, "I've always dreamed of working at Hallmark." It was cool. It taught me a lot about systems and a lot about process. They had things and systems and process in place that were way ahead of it's time. I think that's the thing that I got the most out of it.
It was a very corporate environment. It was a place that nobody ever left. On the flip side, now as a parent with kids, I can understand the appeal of it because of the security, because it was a family company, et cetera. As a young kid come out of school with something to prove, I didn't like the idea that I could be there for eight years and still be a baby, because someone is having a 25th, 30th, 40th, 50th anniversary. You've just got to pay your dues, but your dues could be 10, 12 years before anyone actually really pays attention to you.
I was hungry, man. I spent about a year and a half at Hallmark. It was a great experience from that first job, because they are very nurturing and do a lot to help develop their young talent, which is what I needed. From a career standpoint, me wanting to chase things and me wanting to do stuff that was bigger and take more risks and be given more opportunities, that was never going to happen one year out of school at Hallmark, just because of the nature of the way the company was. That was about a year and a half at Hallmark, and then I went to Abercrombie. That's when the floodgates opened, because Abercrombie was going to let me do whatever I wanted as long as I could prove it.
Maurice Cherry:
Yeah. I mean, you've worked since then with a lot of super well-known retail brands, you mentioned Hallmark, Abercrombie & Fitch, but also Bath and Body Works, Kohl's, Carter's. When you look back at that time, collectively, which it looks like it was roughly about a 10-year period, that's a good chunk of a career. What do you remember the most? What stands out about that time?
David Tann:
Man, it's a blur. I think it's less about the time, it's more just like … Again, I'm a storyteller, so I'm going to give you an analogy. My grandfather was a carpenter. He couldn't read, but he could build a house, or he had a eighth grade reading level, but he could build a house from scratch. To me, all those places along the way were me mastering a different tool in my carpentry belt. Hallmark was great for process, Abercrombie was great from branding. I got to work directly with the CEO. At the time, Abercrombie was the biggest brand in the world. That experience of working directly with him and working on those teams and doing what we were doing, that was an amazing experience. Marketing, Bath and Body Works, Limited Brands, that time period, nobody was doing it better.
I left Bath and Body Works, and Kohl's specifically took a job just doing packaging. I managed packaging for 16 brands at Kohl's. Then Carter's, came back to Atlanta to actually relaunch the OshKosh B'Gosh brand. That was a brand that I wore and grew up with in the eighties, having a mom that was in retail. Then I made my way over to the Hawks. The Hawks was where I got to put it all together. It was like I had done all these things and you're amassing all these different tools. Then the Hawks is like, "Okay, cool. I can build a house now." Then the agency was like, "Okay, cool. I know how to build a house for them, but can I build my own house?" That's, to me, what the agency really was.
Maurice Cherry:
Let's talk about the Hawks. I mean, you were the VP creative director there for a good while. Was it a big difference working in sports over retail?
David Tann:
Yes and no. I think there were some things that were different just because the NBA schedule is different. When you're in season, that was one of the things that was really hard to get used to. I had always worked crazy hours because of retail, and I was used to that. I told you before, the summer is always my busy time. It was a point when I was at Bath and Body Works where my wife and kids would go away for a month, because I knew I wasn't going to be coming home from work. It's like, "Don't worry about me coming home late. You go hang out with your mom, kids can play with their grandparents, et cetera. I'm working." I was already always used to the long hours.
The NBA season, when you're in season, is brutal. You're getting up, you're working your 9:00 to 17:00, and then your 9:00 to 17:00 is done. You hang out at the office for two hours, then you walk over to the arena and the game starts at 19:00, or the game starts at 20:00. Then you're working a whole other shift, but you're making sure everything's taken care of with the fans and it's just a different type of environment. Then if you make the playoffs, then you're flipping graphics just based off of, okay, all these if-wins scenarios. If the team wins on Monday, then we play again on Wednesday. If the team loses on … If the opponent wins … There's just all these scenarios that the NBA lays out based off of what your team is doing and based off what the other team is doing. You have to be ready in all those different scenarios.
It just requires you to be on your game at the highest level. It's super, super intense, but it is insanely rewarding and really fun. It's my hometown team, so to work as a creative director for my hometown team, that's like the dream of all dreams. I had a great experience. It was fun. It was really hard. It was really challenging, but it also allowed me to see what I could do, which more than anything, I would say, with the Hawks, I always felt … Or prior to the Hawks, I had always worked in these corporate environments. I felt like in some way I was always sort of compromising some aspect of what I could do or who I was, in those corporate environments. When I got to the Hawks, it was like I could be free.
They're not going to judge me based off of what my hair looks like. They're not going to … If I want to wear this outfit to work, it's cool. It was just free. They allowed me, or they gave me the freedom to push the creativity as far as I could take it. I think, in some instances, some of the stuff that we did might have even surprised myself. I was like, "Oh snap. This is what this looks like.: Okay, cool. Yeah. It was super rewarding, but very, very intense.
Maurice Cherry:
I mean, we've had a couple of folks here on the show who have done, or they do sports design or something like that. We've had Brit Davis on the show. I know we've had a couple of others, but she mainly comes to mind, because I think she might have been the first one I've had. Yeah. I feel like that whole world is … Well, first of all, I know that that whole world is really fast-paced. I did a short stint at the Georgia World Congress Center. This is back when the Georgia Dome was still an actual building. I did a short stint from 2005 to 2006 doing some marketing work with the Falcons. I know what you mean about that kind of turnaround and having to get stuff out. Yeah. You have your 9:00 to 17:00, but then if it's a game that night, then it's sort of extends over into the evening. That's a rough schedule though.
Even when I think back during that time, it is a lot of fun. It's a lot of fun. I mean, it's a lot of work, obviously, but just that whole feeling because of the comradery of the team, not just the team you work with, but the sports team as well. It's a great thing to get swept up in.
David Tann:
Yeah. It's awesome. I think some of the things that are actually really cool about it is, let's say the team has a [inaudible 00:49:27] playoff run, and we make a really cool shirt that we give out as a giveaway, the next day after the game, you walk around and it's like everyone in the city is wearing your shirt. You're like, "Oh, this is cool." I got a sense of that when I was at Abercrombie, where it's like I could go to any city and see someone wearing a graphic that I had made for Hollister or whatever, but it's just different when it's like, this is your city, you're the representation of the city. They're wearing your graphics and they don't even know it came from you. To me, that was a cool thing.
Shout out to Britt Davis. She's a beast. Yeah. She's one of the people I've never had the opportunity to work with her directly, but when you're in the industry, you know who's who and you know who's really good at what they're doing. She's just one of those people that I've always had my eye on and just have a high, high respect for what she does and what she's able to bring to the table. She's a monster.
Maurice Cherry:
Yeah. Now you run your own agency. You were doing what you're doing at the Hawks and now you're doing your own thing.
David Tann:
Yeah. I think that's been the part that's been kind of cool and unexpected. Yes. It's been a wild ride.
Maurice Cherry:
Kind of a through line I think we've had on the show probably for the past, roughly two years now. Folks know this. I've been always kind of asking folks about their thoughts with Web 3.0 And the metaverse and AI and all this sort of stuff. We talked about this a little bit before recording. Within the past roughly nine months or so, it feels like there's been this huge explosion of AI, not only coming to the mainstream, in terms of being included in certain software products, but also a lot of talk about the ethics behind using it, whether that's for images, videos, text, et cetera. What is your opinion on the use of AI and machine learning as it relates to the work that you do?
David Tann:
I'm aware of it. I think that it's interesting to me just watching the reaction of people to it, but I'm not necessarily intimidated by it or necessarily afraid of it. We don't actively use it. I don't personally actively use it, but it doesn't strike fear in me. I'm not afraid of it. I understand it. I think it's just sort of the natural evolution. I'm also a little bit older in the game. I remember there was a moment when every photographer was freaking out because they couldn't use film anymore. People think that that's crazy now, but when I was shooting my portfolio, everything was on actual film, and then everyone had to make that switch to a digital camera. There was this, "Well, I don't know. The image quality's not going to be great, blah, blah, blah, blah, blah." Over time everything catches up.
I think a lot of the ChatGPT and all this sort of stuff that kind of is going on right now, I kind of look at it as a fad diet kind of thing. Everybody wants to get rich quick. Everybody wants to find something that's going to make things easier, faster, quicker, blah, blah, blah, blah, blah, and get the same great results as the person that put in all this work. That's what makes this so appealing is like, wait, I don't have to spend all this time writing this novel anymore. I can do it in five minutes. Okay. Cool. But you lose all the nuance of that process. To me it's like, I understand it, I get it, but I'm not really super caught up in it.
For the record, it's been here for way longer than we actually are giving it credit for. It's like when you say, "Hey, Siri," what do you think that is? Siri's been learning how you talk and how you annunciate and how you pronounce and hear … To me, it's been around longer. It's just that someone's done a really good job of packaging it up and making it digestible.
I think that there's a whole group of people where it's just like, "Oh, cool, I can do this faster." It's like, "Okay, cool." What I do, yeah, we can make some steps quicker, but I'm not taking any of the steps out. I'm not short-circuiting, because the product's not going to be as good.
Then the other thing that I think is actually really interesting is I saw a meme the other day, which I thought was brilliant in the sense that it was just like, ChatGPT is only as good as what you put into it. They were like, if you own a design firm, you have nothing to worry about, because we all know clients aren't the best at giving direction.
Maurice Cherry:
Very true. Very true.
David Tann:
If you're worried that your client is going to replace you, it's like you should eliminate that fear because if left to their own devices, what they put into it, that's not what they really want. That's so much what we do is we're asking the same question five different ways to get to the heart of what do you actually really want? What are you actually really trying to say? Until that happens, then I think that we're good. I'm not really stressing that much.
Maurice Cherry:
How would you say your creative style has evolved over the years?
David Tann:
I don't know. I think it's funny, because if you would've asked me that question a couple of years ago, I would've been very much … Again, I've told you before, design's not art. I think where it gets dicey is even though ultimately what we do is for the client, we now are beginning to make a name for ourselves and what we do. Now people are coming to us for the thing that we do. You're like, "Ooh, this is different." I think from a style standpoint, I don't really like to get caught up in that. I love that we could do something for a podcasting, women-owned company, and it looks very different than something that we do for a civil engineering firm. I think just the approach is everything that we do has a little bit of an edge to it. I think we're a lot more confident now than we were four or five years ago when I started the company.
I think that we try to have a little bit more clarity. Everything that I do, I think, leans on my experience from Abercrombie and Bath and Body works in the sense that I'm trying to make the most impactful visual with the clearest message, in the fewest words possible. I'm thinking about everything like a window display, even though window displays aren't really the thing that they used to be. I'm a kid that grew up in retail. My mom was a store manager. How do I have the most impact with the least words and the most powerful visual possible? How that actually looks, stylistically, that can change quite a bit, but the approach, I think, is what's consistent.
Maurice Cherry:
What keeps you motivated and inspired to continue this work? I get the feeling that throughout your career, especially going from retail to sports and working at the high level that you have, and now running your agency, there's probably been some periods in there of burnout and low motivation, et cetera. What keeps you going?
David Tann:
Yes, there's been quite a few of those moments. At this point, I mean, I'm not supposed to be here, man. I'm a kid from the country who's a creative director and owns a design agency, but can't draw. You know what I mean? To me, I think just every opportunity, the fact that someone is going to pay me to be … They're going to pay me for ideas, that's crazy to me. I feel super fortunate to be able to do it. I don't take that for granted. Then I also know I do a lot of work talking to kids and trying to expose them to this. It's like every kid that I talk to, once they find out what we do and see what we do, every one of those kids, they want my job.
There's people who will be listening to this podcast who are like, you're always dreaming of what the next thing is. Hopefully there's someone who's listening to this right now. I'm like, "Hey, I want to be where Tann is at. I want to have my own agency one day. I want to work with these kind of clients one day." That's not lost on me at all. To me, and I think it's part of that competitive nature, it's like I don't ever want to rest on my laurels. I'm fortunate to be where I'm at, but I know the next generation's coming. We've always got to be on our A game and not take it for granted. I think that's just the approach that we have for everything.
Maurice Cherry:
What advice would you give to somebody, like you said, they're listening to your story, they're hearing where you've came from to where you are now, they want to follow in your footsteps. What advice would you give to them if they want to start their own agency or anything like that?
David Tann:
Yeah, man. The path isn't linear. That's my big thing. The path isn't linear. I wanted to have an agency. It took me almost 20 years to do it. I think when you're in this sort of social media age, when you're looking at people's Instagram or whatever, you're only seeing the highlights. You're not seeing the journey, you're not seeing the process. No one's putting the low moments on there. No one's putting all the times that someone said no to them, the rejection. Blah, blah, blah. There's a ton of brands that told me no when I was interviewing or looking for jobs. There's a ton of clients that passed on us, or didn't give us opportunities. For me, it's just the path isn't linear. I give an analogy of if I say, "Maurice, we're trying to get from Atlanta to LA," and I'm like, "All right, here's the goal we're going to get from Atlanta to LA. Maurice, how you getting to LA?"
Maurice Cherry:
Oh. You're asking me how would I …
David Tann:
I'm asking you. Yeah. How you going to get to LA from Atlanta?
Maurice Cherry:
From Atlanta? I'd take a flight, direct.
David Tann:
That flight direct is going to take you about how much time?
Maurice Cherry:
I mean, probably four to five hours, I think.
David Tann:
All right. Four to five hours. I never gave you a time limit. I never said we had to be in LA in four hours or five hours or six hours or a day or whatever. I just said, "We're just trying to get from Atlanta to LA." You might take that direct flight. Well, for me, I road tripped it. You know what I mean? I'm like, oh, spring break. Let's drive down to Florida. Oh, taste of Chicago. Ooh. Never seen the Grand Canyon before. Ooh, Christmas in New York. That's dope. Let me go see what those lights are about. Just that journey of, oh, let's drive up to Seattle and drive down the coast to LA. We'll both end up getting there, but who's going to have better stories?
I think that to me is, fundamentally, I think that's sort of the approach to everything is we're so caught up in the destination that we don't appreciate the journey of actually getting there. To me, for any of these younger generation, it's like, yeah, it's great to know where you want to be, but be open to getting there a different way than what you expected. When you're open to doing that, then all kinds of opportunities present themselves that may put you in positions that you never even imagined or put you in rooms that you never even imagined. When you get there, you'll appreciate it a whole lot more.
Maurice Cherry:
At this stage of your career, do you have a dream project or something that you'd love to do?
David Tann:
No, I don't. I think, to me, the dream project is whatever the next project is. From a personal standpoint, if I never design again, if I never produce another piece of whatever, my career has far surpassed what I wanted to be when I was that kid out of school starting off in this industry 20 years ago, so I'm good. To me, it's less about the work and more about doing things like this that I inspire the next generation, talk to kids, bring the next group along. That's the thing that I think is the most important. The work will be the work. Whatever comes our way, we'll take it and we'll do the best job possible.
Also, I think part of me too, in just getting older and having kids is just appreciate the things that you have and not the things that you don't have. I'm appreciative of the clients that we've had and the people that have taken the risks on us. I'm not really worried about the ones that haven't come yet, because if we do what we're supposed to do and we do it in the right way and we keep our head down and whatever, those people will come. My mind doesn't process it in that way.
Maurice Cherry:
Where do you see yourself in the next five years? What do you want that next kind of chapter of your life, of your career, what do you want that to look like?
David Tann:
To me, the whole part of this with the agency is, one, I just thought when I started off, or when I had the dream of I want to have my own agency, I never imagined how many people that would be. I never imagined what that looked like from a revenue standpoint or how many years it would be in business or any of that stuff. That, to me, is less of … Again, my mind doesn't process things in that way, because that's kind of what people are asking typically when they ask that. Not to say that you are, but I think the thing that I actually think about, more than anything, is if you think about it, the time when I was coming up, there were certain cities that everyone wanted to move to, where everyone had to work in, or everyone thought that their favorite firm came out of and Atlanta was never on that list. I would talk to a bunch of people, and no one ever mentioned all the firms that were in Atlanta. No one ever talked about creative coming out of Atlanta. No one ever mentioned things in that way.
To me, I think what my goal would be over the course of whatever time that we're doing this is that when you start talking about the best branding firms in the business, you're checking for us the same way that you're checking for the other firms in the other cities. I think that if we do our job and we get to that point, then, to me, that's when the mission will be accomplished because it's just crazy to me with all the music, all the entertainment, all the culture, all the creative that comes out of this city, it's just not as recognized or at least when I started, it wasn't as recognized as to me as it should have been. We just want to be one of those top agencies and top firms that are in the city, that really begin to put this place on the map from a branding, design, creative standpoint.
Maurice Cherry:
Do you think that perception is changing?
David Tann:
I think that perception is evolving, for sure, just because of the growth of the city. I think the city has its own allure. I think from a creative standpoint … Again, I don't know, because obviously I'm older in my career now, but I want the younger people to be looking at the firms here. I want us to be on that list. Hopefully, it's changing. If we're doing what we're supposed to be doing, then I'd love for that to be changing.
Maurice Cherry:
Well, just to wrap things up here, David, where can our audience find out more information about you, about your work, about the agency? Where can they find that online?
David Tann:
Yeah. Our agency website is tantrumagency.com. You can check us out on Instagram, tantrumagency. If you want to follow me, personally, on the journey of building the agency, it's tantrum_ATL. Yeah. I think Instagram, LinkedIn are the best places to keep up to date with what we have going on. We're in the process of updating our website now, so keep your eye out for the new unveil for that over the next couple of months.
Maurice Cherry:
All right. Sounds good. David Tann, I want to thank you so, so much for coming on the show. I didn't mention this when we started because I wanted to say it before the end, but when I was first putting Revision Path together a decade ago, I had a wishlist of people that I wanted to have on the show. You were on that list. I didn't reach out then because I was like, "I'm just starting this off." I had my own studio at the time too, and I think I started Revision Path right at my five-year mark of doing my studio. I had an idea of people I wanted to reach out to, but it was, I think to your point about what it was like in Atlanta in terms of people knowing it about design, I would mention the show to folks here and it would just get these strange looks and stuff like that.
I say all of that to say, one, I'm glad to have you on the show now. Two, also just to hear your story and to realize just how much we sort of have in common. I, too, am from the country and did a lot of writing, and that was my pathway to design. I hope that people get a sense of just how much … I guess, skin in the game is probably not the best term, but you've put in the work. You have more than put in the work over the past 20 years of your career. You deserve to reap all of the success that you're getting now. Again, congratulations on your Entrepreneur of the Year Award. I'm really excited to see what you do next. I'm really glad that there are black creatives like you that are helping to put Atlanta on that design map. Thank you for coming on the show, man. I appreciate it.
David Tann:
Yeah. Thank you for having me. Before we wrap though, let me also just be clear. You have been doing this for so long and at such a high level, and I think that it's actually ironic that you didn't reach out to me, because I've been watching you for years. It's like, "Man, what am I not doing right? Maurice hasn't called." I'm telling you this more because I think that it's important for people to understand and know that sometimes your perception and this notion of reality is skewed, just based off of where you are. The grass is always greener. It's like I'm seeing all these amazing people or hearing about all these amazing people, or having friends who've been on the show. I'm also like, "Man, what am I not doing?"
When you actually reached out to me, I was like, oh, man … There's like a sense of I made it. You know what I mean? Even with all that I've done in my career, to me, being on here with you and talking with you and having this time is a really, really, really big deal. I don't think that you should take what you're doing lightly. You should know that your work is super appreciated. You're making a huge impact in the industry. I think the feeling is a hundred percent mutual. As much as you may have been watching my career, I've been definitely keeping track of you. I'm truly, truly, truly honored to be here and very appreciative that you reached out.
Maurice Cherry:
Wow. Thank you. I don't know what to say. Thank you. I really appreciate that, man. Thank you.
David Tann:
Absolutely, man.
Brevity & Wit is a strategy and design firm committed to designing a more inclusive and equitable world. They are always looking to expand their roster of freelance design consultants in the U.S., particularly brand strategists, copywriters, graphic designers and Web developers.
If you know how to deliver excellent creative work reliably, and enjoy the autonomy of a virtual-based, freelance life (with no non-competes), check them out at brevityandwit.com.