We're kicking off this month with an interview with Reggie Weaver, a young Ohio-based graphic designer and illustrator. Reggie and I talked about how he got his spark for design and illustration, not to mention what he learned from his first design gig.
We also spoke about his work with the Diversity Task Force at the Columbus College of Art and Design and how he helps promote creativity, inclusion and diversity within the LGBTQIA community.
This episode is sponsored by: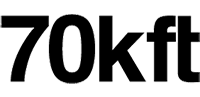 70kft: a brand communications agency that develops and deploys marketing strategies through their three practice areas: design, digital marketing, and public relations.
---
Help Support Revision Path
If you like this episode and want to support the show, visit us on Patreon and become a patron!
---
Revision Path is brought to you by MailChimp. Huge thanks to them for their support of the show! Visit them today and say thanks!