It's time for Revision Path's annual audience survey! Give us your feedback on the podcast, and you could win a $250 Amazon.com gift card from us! Head over to
revisionpath.com/survey
today. The survey closes on May 31, 2020. Thank you!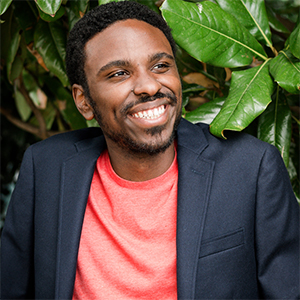 If your emotions have been up and down for the past few months, trust me…you're not alone. But I've got something to help lift your spirits — this week's interview with "human glitter bomb" Randall Parrish! We talked at an interesting point in his life too; he's fresh off of a cross-country move from DC to California and recently started a new job as an art director at Sonos, all during this crazy and unpredictable pandemic.
Randall started off with how he's holding up while getting used to the triple whammy of a new job, a new city, and working from home. From there, he spoke on his work with Sonos' design system, and also talked about his previous agency work at Publicis Sapient and WDG. Randall is also big on giving back to the community, and we talked about his volunteer work with AIGA, as well as his work with some past Revision Path guests — Dian Holton and Chanel James!
Randall's energy and enthusiasm are infectious, and I hope his story helps get your week off on the right foot!
Transcript
Full Transcript
Maurice Cherry:
All right, so tell us who you are and what you do.
Randall Parrish:
Hello there, I'm Randall Parrish, I'm an Art Director at Sonos. I work on the interactive experience team, which basically controls the mobile design application for all Sonos speaker systems.
Maurice Cherry:
Okay. Now for starters, I know you're new there, you've been there what, a month, two months now?
Randall Parrish:
I've been here about five weeks.
Maurice Cherry:
Oh, five weeks.
Randall Parrish:
I took a one way ticket on March 9th, moving 3,000 miles away from everything I've ever known. And I was in the office for about four days before the whole city shut down.
Maurice Cherry:
Wow. Well, first of all, congratulations on the new gig. I know this is probably a very unprecedented time to start a new job. So, how are you holding up?
Randall Parrish:
It's been really interesting because when I thought about just moving to California, I remember visiting in January and Santa Barbara is just this amazing simulation of just perfection. It's this beautiful beach town there's flowers everywhere, there's wineries and restaurants. And of course the second I get there, all I can do is just unpack really slowly and just take Zoom calls from my couch. So in one sense, it's amazing because you still know there's all this amazing potential out there. But the other end, you're just like, "Oh, why me? Why now?" But still very optimistic [inaudible 00:04:04], I'm still connected with the coworkers, everyone's been very friendly and everyone just understands that this is not what anyone imagined for themselves this month or this year at all.
Maurice Cherry:
Yeah.
Randall Parrish:
So [inaudible 00:04:17] just helped me throw myself into the unpacking and the work and just being acquainted and then I guess to make a bit of an itinerary for later. So now I feel a little less guilt about holding still on the weekends.
Maurice Cherry:
And you were only in the office for four days? Is that even a full work week?
Randall Parrish:
Not even a full week. Technically I was breaking in for another week, but I wasn't supposed to because I didn't have wifi at the time. Because all services are a little slower than they used to be, so there was a brief week where I had this just gigantic industrial thunder dome to myself where I was the only person in there, just playing with all the hardware really loudly. But the following week, everything was just straight up shut down. It was starting to become a bit of a risk between security, and delivery people, and regular employees. I was there for four real days before I was just completely shut out and just housebound.
Maurice Cherry:
So you mentioned that you work on the app experience of Sonos. So I know most people know Sonos as the actual physical speakers. You have the little Play:1s, you have the Play:3, which is a larger one, the Play:5 is the huge one. You've got, and I say this because I have them in my apartment, but you have the Playbase, and you have the sub, and you've got the soundbar, there's a bunch of different hardware components that go on to it and they're all tied together with this mobile app. So talk to me about what your day consists of, because it sounds like you would possibly have to interface with a lot of hardware, but unfortunately you can't because you're not at the office.
Randall Parrish:
So let me further numerate and what my title means in relation to the rest of the team. So as of right now, I believe we are about 61 designers or so, we're quite a few. I've never worked in a place that was internal, first of all. And I've never quite seen just so many different people with different ownerships of different aspects of the product. So as Art Director, I'm in this role where my role is supposed to be about owning the design system symphony. So if you know design systems, that's a little old hat, but it's still like a thing that's a bit new and a bit up and coming and still trying to be just regulated within the context of Santos.
Randall Parrish:
So the idea for my role is to be this very connective tissue between a lot of other teams. So we have a different team that handles setup, or a different team that handles different aspects or sub branches of the app. But people who are also handling some of those sub branches also work on purely hardware or other, maybe non software, angles of the app as well. So my job is to be this person who's understanding what are the needs that, one, that the app needs to do, two, how are other teams using the core design system so we have consistency across that, three, I'm going to also ask, "What are you all missing? What do you all need me to ingest in the system and also maintain and spit back out? And how can we work together to also have a thing where we can cross between all these 60 designers?" As well as while we're doing that, I'm also trying to be a connective tissue to marketing. So we're asking broad questions, like, "How can we make the app feel a bit more like the .com? How can we make the .com feel more like the app? How can you basically find consistency inside a brand voice and tonality across these different sorts of channels?"
Randall Parrish:
Because this is sa new undertaking for Sonos. Right now we're in this really amazing renaissance where we've just been on a great upward hiring tilt. And that's mostly because I think we're, a lot of organizations the last four to five years, I would say, really started to just really amp up just how seriously they're taking design. I think design is starting to really get this seat at the table. People are starting to understand the value and the ROI on design. So we're seeing all these different companies who you would have thought were very design centric, like Sonos, but hung it's hat on being this almost like the Apple of speakers. But in terms of software, they were, I think I can easily say that maybe they weren't kind of as competitive as they should have been at the time-
Maurice Cherry:
Oh no. The Sonos app used to be trash, it was really bad.
Randall Parrish:
It was super bad, but the hardware was amazing. So you forgave it, right? You know what I mean?
Randall Parrish:
That's good that you were like, "I don't care how bad this app is, it sounds so good."
Maurice Cherry:
That's true, that's true.
Randall Parrish:
I remember, it was funny, I remember when I interviewed, I outright said, I said, "I didn't think the Play:1 was a good bite until AirPlay was added," and they gave me a fun stat, turns out significantly less people use AirPlay than you might think. I was very blown away by the metric.
Maurice Cherry:
I can see that. I can see that.
Randall Parrish:
[crosstalk 00:08:26] lee than I thought.
Maurice Cherry:
Right now, I have in the living room, I've got to Play:1s and a Playbase and so I have them just connected as a surround sound thing, which is mostly how I use it for gaming. So I can get the really good sound when I'm playing PlayStation or whatever, which is great, I love it for that. And maybe this is just me, I rarely actually play music on my Sonos speakers, but I think it's because I have them hooked up to the television. Now, before I did that and I connected with the Playbase, I think I had one in the living room, no one in the living room and one in the bedroom, and I would use the app to play music to it. I wish, this was before, well, I think Chromecast was out around this time, but the ability to cast to a speaker or something like that, which Google kind of lets you do, Google Play kind of lets you cast to Sono speakers. I don't know how that all works out. Sometimes it does, sometimes it doesn't. But it didn't use to be such a great harmonious experience. So that's interesting to hear that.
Randall Parrish:
I was just thinking about just all these fun little things I know about just relations or [inaudible 00:09:36], all these different things. Sonos right now exists in this Switzerland kind of state, so you're like the Google doesn't work that well, oh boy, we got [inaudible 00:09:44].
Maurice Cherry:
Yeah.
Randall Parrish:
Yeah, because a lot of what we do is, a lot of what we pride ourselves on is being this amazing connective tissue between hundreds of services. Now some of those are the large partners like Amazon and Google and Apple, but we also have all those like small-time partners. So it's always interesting when [inaudible 00:10:02] moments where a big time partner has maybe an integration or something that isn't always working quite the way you would expect. And there are all sorts of just wild hijinks and reasons for why something is, or isn't a certain way, but it's not always up to us.
Maurice Cherry:
Yeah. So, how did you first get started at Sonos?
Randall Parrish:
So first week or how'd I get discovered? I guess how I got discovered. So yeah, let me really wind it back a bit. So I want to say it was maybe August of last year I got a ping from a recruiter I had never actually had applied to them. So initially I got a call about a creative director of mobile apps job from them. And I remember when I got the email, they were just like, "Oh, how do you feel about relocation?" And I grew up in Northern Virginia, I've lived in the Arlington, DC, Metro area, my entire life. And I remember I was just like, "Well, you caught me out this very interesting apex moment in my life," I was still very fresh off of a breakup.
Randall Parrish:
It was a very wild, just tumultuous time in my life because I thought I had this plan in my life for what I thought that my following years were going to be and I get this call and I'm just like, "Huh. You're catching it every time in my life. This is suddenly something that suddenly seems on the table." If I had gotten this call six months a year ago, I would've been like, "Oh, sorry, I can't do it." I would have let go straight to voicemail. But the timing was just impeccable for just making me really take it seriously. The other fun part was when I got in the call, I already had four Pla:1s in the house, so I didn't necessarily need coaxing that the hardware was any good or was like actually worth selling or being engaged in.
Randall Parrish:
And the other part was I was also asking myself, "Okay, what do I really want to work on?" I come from an agency background, I've done that for about the last eight years straight. And an agency is, half of the fun was you get to reset your mind pretty often, you get to try a lot of different things, you get to reset pretty frequently. But I asked myself "If I," you don't always get to choose the topic and you're not guaranteed to love whatever project you're on next and, "What if I could actually choose the thing that I could actually fall in love with? And what if I could do this and this new shiny place just do, not quite a reset, but just like a natural continuation in this very, just amazing, brave, intricate way?"
Maurice Cherry:
Mm-hmm (affirmative).
Randall Parrish:
So yeah. So I got that call in August and just a little upward from there. I can tell you stuff like interview highlights and things like that, but yeah, that's how the initial seed.
Maurice Cherry:
The fact that they sought you out is amazing, that's great.
Randall Parrish:
Mm-hmm (affirmative).
Maurice Cherry:
Clearly you were doing something worth, that was worthy of them seeking you out in that way.
Randall Parrish:
Mm-hmm (affirmative), I do pride myself because back when I left DC, I was in the top 21 designers there, on the trending metrics I think I had more followers than the Capital One design team. I love you Capital One, I have your cards. So it was just funny because I think it was… Dribble is such a funny, interesting way to generate traffic and just be seen in a city that's as, I don't want to say small, but the size that DC is, out in LA, I feel like I would have never gotten half the opportunities because I think that the density is so much higher. But in DC, I think that's just the right market for just a midsize targeting person, like me, to get picked up.
Maurice Cherry:
Mm-hmm (affirmative). So you mentioned Symphony, the design system at Sonos. Outside of that, are there other projects that you're working on or is that the main thing?
Randall Parrish:
Right now that's the main thing, mostly because there's still some other things that I might target. There's a few things have been shifted around, priorities are still being readjusted all the time, but owning Symphony is expected to be a very large, major undertaking, mostly because it touches so many aspects of what other teams are doing. So for example, it's like we have a team that operates on set or we have other teams that own other areas of the app, anytime that they have a new feature that they want to do, it has to still be ingested somewhere, still has to work within the system, and we still have to make sure that we aren't creating so much bloat within the system that we just have a million just different unique one off pieces everywhere.
Randall Parrish:
So a lot of that is just about, little bit's about managing, but it's also about trying to meet in the middle a little bit. So I see it as this great opportunity to a little bit of a negotiator between people, and another reason why I think I was chosen for the job or why I kind of stuck out was they really like how I don't ome looking at design system from a pure product design background. A lot of my background is usually about like when I went, when I was at Sapient, what I did was I worked on we'll call the digital innovation pod. So basically what we do would do is we were often doing either pitch work or much more pie in the sky type, idea generation for these big billion dollar brands.
Randall Parrish:
And what that gave me the ability to do in addition with my time at Davey DG was getting really good at just trying to figure out where do I let go of the break, where to really push something in a kind of visual design type way, well also still being held to like the same rules as something that was still had gone through rigorous UX. So I would still be working on teams to make sure that, "Oh, a financial analyst… [inaudible 00:15:00] agree that this is all sensible. This makes sense. And also like my associate creative director on UX also agreed, okay, this makes sense. This is like a good use case or a good scenario that we would present it if we were trying to ship. But also while doing this instead of a tight bubble about just making it as unique and different as possible as well to be unlike the rest of the other big billion dollar players in the market. So a lot of what I've been trying to do is I'm trying to figure out how to basically take marketing design type sensibilities and add them to a very product focused company and kind of meet in the middle to figure out where we can kind find that happy center ground between the two.
Maurice Cherry:
Mm-hmm (affirmative), and before Sonos, you were an art director at Publicis Sapient. So you already had this experience of working with these big million, dollar multimillion dollar brands. But talk to me about what your agency experience was like.
Randall Parrish:
Mm-hmm (affirmative), I initially got started at this, a very small shop in old town Alexandria now Arlington WTG. So I was there for five years. It was my first real adult job out of college while I interned at it became designer, but it was like they just couldn't.
Randall Parrish:
Out of college while I interned and became a designer it was like I… They just couldn't shake me off. And I feel like I got there at this very fortuitous time. When I got there, it was just like they were very young, very kind of startup-y. There was less than 20 people. It was like a wear your pajamas to work type place. And I think I got in there at a time where they were still very young and still finding themselves. And year over year, we all found ourselves in this more mature way, year over year. So we were just doing very, very small scale marketing sites. And every single year we had a great way of just having new challenges approach.
Randall Parrish:
So, bigger fish would call. So people like Red Cross were calling or people like the Folger Shakespeare Library were calling or people like the American Enterprise Institute. Just bigger, just names that you might actually see or catch on TV, or are just very notable in the DC area were creeping up. These kind of like AAA for the region type projects came in. And as I started to go from just being in a sort of assistive role to being someone who could kind of take ownership and really run something from conception to deployment.
Randall Parrish:
That's what I think was the best part about my time at WDG was, I don't think that I could have done anything that I'm doing today if I hadn't done my time there. But I think that's because… I think if you go somewhere small… I was one of three designers, by the way. That's what I mean when I say small, in terms of this sense, it was a very, very small, tight design team. It was just me, my career director, [Dario Tatish 00:17:22] and my counterpart, [Christina Lakeway 00:01:23].
Randall Parrish:
And it basically meant that just about anything that came through would eventually filter through me. So that meant I had to have a feeling or an answer to so many more just problems in my day to day than I think I would have had if I had gone to a very large established product company or a much bigger agency where I would have done a bit more, just like production type work. After five years or so I think that was kind of what made me decide to open up to the Sapient. They had called me first and that was the first time that I felt like I had gotten a call from a place that was so much more bigger and so much more established.
Randall Parrish:
I had gotten calls from other small agencies or people that were about our size, but it was my first time seeing a place where they had people like Audi and Marriott and like [inaudible 00:02:05], very large, incredibly established brands were just at the front face of their portfolio. And I also knew that if I stayed at WDG I would never be able to make all these other types of tactile deliverables I wanted to do. I really wanted to be able to ship an app. I really wanted to make much larger, more complex systems. I wanted it to be able to… I also just wanted to try just seeing what it was like to be on a bigger, different kind of team. I loved my team at WDG.
Randall Parrish:
I always credit a lot of my worldly success to just my old boss Dario's ability just to help me just, one develop my taste, but also help me just figure out what questions to ask when I'm trying to solve for a solution. What I love most about him and just his mentorship was he really taught me how to think for myself. He was never prescriptive whenever he was trying to help you along the way to solve a solution. He would give you just enough of a riddle that you were like, "Okay, I'll figure this out on my own." And you could feel proud and feel like it wasn't given to you, it was still something earned.
Maurice Cherry:
Nice, nice.
Randall Parrish:
Yeah. I get the call for Sapient and they're a big established brand and I'm just like, "Okay, I'll make the plunge. I'll take this risk." And luckily for me, [inaudible 00:19:09] one Metro stop away. So didn't have to change my commute much. As far as the transition over, I would say a lot of it was kind of exactly what I hoped I would be able to do. I did some work for Barclays, I did some work for just all these very kind of, incredibly different types of engagements that I just never would have been able to do at WDG. Mostly because like, part of the scale, but also because there's just a big, large mega consultancy. Right. And I also got to work with just all these other people who are just very different kinds of experts.
Randall Parrish:
So I could meet people who were masters of just finance, but also I guess it might pertain to a mobile app and just all these different types of strategists who would specialize in certain kinds of areas and topics. One of my favorite parts about Sapient was just how it was able to be such a large company, but also just had so many smart people that could just jam into a room. I really love just any kind of moment where we were pitching something or we were on this more sort of discovery type angle for a project, and we were basically just… Essentially kind of this amazing sort of design SWAT team of all these different skillsets, just really coming together in a real tight timeframe.
Maurice Cherry:
Was it a big shift then, going from the agency world at Publicis to working for Sonos, which is like this private company?
Randall Parrish:
Mm-hmm (affirmative). Yeah. It's still something that I'm very much adjusting to. I haven't worked in house, in house since ARP, when I was an intern that was like 2012. That was a full eight years ago. It's funny because I remember thinking there was a big dramatic shift between agency to agency based on scale because WDG was about 25 or so people when I left and Publicis was about 30,000 or so. They're in 39 countries, about like 30 States they're everywhere.
Randall Parrish:
Coming to Sonos was very different because as you might imagine, since we're all in house, we all worked together because the hardware, the services that is the product. That is how we make money. So what's interesting is just, there's a lot more just dependencies between departments, between people and a lot of what I've been doing for a lot of my initial onboarding, it was just meeting people, just putting names to faces and understanding what their team does and also what their team's impact is on other projects.
Randall Parrish:
So a lot of what I'm ramping up is just trying to understand this Game of Thrones type character chart between who is in charge, what do they own and how does what they own affect other parts of different kinds of hardware and software experiences. And that's the part that's been most fascinating because there is so much different kind of push and pull when you're at not just a software company, but also a company that also ships hardware. So there's so many more moving pieces that can affect one another.
Randall Parrish:
And I guess another fun part is just the total volume of designers, because I'm so used to being this almost sole practitioner type design person on any project I'm on. I've almost always been the only visual design hand on most projects I've ever done. There's maybe been like two or three total where I've ever had any kind of additional assistance. That's another thing it's kind of interesting to see just how other people can keep the thing going. I think I got used to this almost lone wolf aspect and every point in my career, I told myself I was trying to kind of let go of that. And I think this is a place where I finally can actually commit to that.
Maurice Cherry:
Nice. So let's switch gears here a little bit because we went through a lot. [inaudible 00:22:14] so far.
Randall Parrish:
I can't answer things simply.
Maurice Cherry:
And what I want to do is kind of take it back. Because I want to see where this drive and this enthusiasm comes from. So you earlier mentioned growing up in Northern Virginia. Tell me what that was like. Were you exposed to a lot of art and design growing up?
Randall Parrish:
I've always thought about just the reason why I got into design, I've had all sorts of different answers for myself. I would say I was like an upper average student, I wouldn't call myself an amazing smart bad-ass or whatever. I got like, decent honor roll when I was trying, but I remember I was always a music themed kid. I liked doing band and orchestra. I liked kind of these creative type things. And I remember I was terrible at math. I could not stand doing math or anything where an answer was very black and white. What I did love was English. I did advanced English basically from like, I don't know, third grade until 12th. As long as I could I'd always do whatever it was like the absolute most insane version of English.
Randall Parrish:
What I love most about English was I think it was, I love the idea of just doing anything where just answers weren't ever binary. It was always when you write a paper or an essay, you're as good as your argument. And I think that was kind of one of the [inaudible 00:23:20] that kind of got me really interested in graphic design later. I saw myself as a kid, as an artist light, like I couldn't draw at all, but I knew that I loved creativity. I knew I liked music. I knew I liked to engage with art, but I didn't have the means to express in a way that was good enough to be like, "Oh yeah, I would share this or I think this is actually worth doing."
Randall Parrish:
So I was very lucky because in high school we had graphic design courses and that kind of got my first taste for a design blood. Because after two years I got to design the course catalog for the school. I think every designer has a moment where they build something and they see it made real. And that's kind of like this turning point, right? To see something that just came from nothing. It was just some [inaudible 00:23:58] from your brain and suddenly it's here, it's everywhere. It's in everyone's homes and you're just, I made that happen.
Randall Parrish:
And that was just such a just amazing, just indescribable moment just to see something, just to know that it was everywhere. Even though other people wouldn't think of it as this like, they're like "Oh, it's just a catalog, whatever it;s going to collect dust, go in the bin." But to me it was my big gig at the time for 11th grade. Right. That was kind of like the big turning point.
Randall Parrish:
After that, I just went to school for graphic design and the rest is history. As far as other things about growing up. I always like to mention my aunt. She was a fashion designer. She was always a very big, just advocate for creativity. I wouldn't say anyone in my family ever was not supportive of creativity or a creative pursuit or anything. I think there probably was maybe small moments of hesitation. But my mother has always been my greatest supporter. If I told her I had plans to go to the moon, she'd be the first to give me a helmet so I can always count on her support for everything.
Maurice Cherry:
Okay. Now you've mentioned going to school for graphic design. You went to George Mason University. What was the experience like? Do you feel like it really prepared you once you went out there in the working world as a designer?
Randall Parrish:
The state of design school is fascinating. I think I also went to school at this sort of turning point in the whole planet. Because I remember when I was in school, a lot of programs focus a lot on print and very physical media type things. But, so I went to school from between 09 and 13. And I remember around the tail end there was all this talk about like, "Oh, well, if you want to make any money, you have to be a web designer, you have to learn to [inaudible 00:25:27], you have to learn how to code."
Randall Parrish:
And I was like, "I will make any decisions in my life to not have to close the div." And I have stood by that for the last nine years. If you're like, "[inaudible 00:25:38] this path involves code." I'll be, "Next!" I will take door number two every single time. But what's funny is around the tail end of my time, I think that was when the internet was really changing. I didn't have to learn flash because around 2012, 2013, [inaudible 00:25:51] was really starting to really kind of kick into full gear. I think the iPhone had been like, it was starting to mature to the point where we weren't getting mobile dot, whatever with reduced [inaudible 00:26:00] website.
Randall Parrish:
We were starting to get to this point where people are taking smartphones as a very serious platform for growth and money and all sorts of different kinds of business structures. My first internship was at ARP and this kind of coincides with that a little bit because I remember I had this kind of print background, but I knew I still wanted to do more digital. Because I remember print was cool and all, but going to the print shop, going [inaudible 00:10:21], having everything break or not being able to fix things. It was just very frustrating.
Randall Parrish:
And when I was at AARP, it was kind of around when they were really getting into digital magazines. So using things like digital publishing to basically make like an iPad edition of a magazine issue. So when I was an intern, I was kind of the initial explorer. So basically they would have a draft of the magazine and I would try to convert or try to figure out, "Okay, if we want to add some interactive pieces or do a little, some custom treatments for the iPad or make this a bit more specialized, how might we do that? What might that look like? How might that manifest? And also how can we also bring that knowledge to the rest of the team?"
Randall Parrish:
So that's around 2011, 12 or so. And so this is kind of this turning point, because at this point in my college career, we've been very told that, "Okay, you have to make print stuff. You have to make all sorts of kinds of liberals. You have to learn how to make shirts, book covers and posters." Just all sorts of stuff. Not necessarily unfocused, but just stuff that like, it was fine. But I remember I was in junior and just felt like I was just making something new all the time and not necessarily making a straight line that was going to build my skillset. Every single class just felt like, "Okay, you're going to make something different, but it's not going to build off of the prior skill you've learned.
Maurice Cherry:
Interesting.
Randall Parrish:
AARP kind of gave me just this first taste for building for screens and making a result that was only for a screen. What you saw was what you got in this really just amazing way. There was no more print shops. There was no more lines. There was no more, "Make sure it's done by 9:00 AM so you can line up at USP to go to Kinko's." It was such a different just… I love the immediacy. I love the feeling in my hands of just scrolling through something. Very basic interaction just felt amazing because it was something that I had done. The iPad one and two were so amazing when they were new and to do something on that around that age just felt so different.
Randall Parrish:
I just love the feeling of it and just, I really want to just do more of that. I think part of that was what inspired me to go to my next internship. It was ISL. They were this very cool, full service, digital marketing agency type company in DC. They were known for doing all sorts of just really kind of, very off the wall, intricate work. They would make machines that responded to [inaudible 00:28:30] check-ins, all sorts of other things that were just cool integrations with machinery and hardware and software and apps. I loved the vibe there, but what's funny is everyone always assumes that ARP would have been like a slower, more boring, whatever job. But I loved AARP. I think it was the best set up I could have had for framing my success for later.
Randall Parrish:
I say it mostly because I felt like.., I don't mean this as a diss to ISL who no longer exists, but I think it was just… I think they had a better plan there for just what to do with an intern, how to nurture an intern and build their skill set and give them the tools to move to the next thing. Whereas I felt like I was maybe just not quite understood, not having my time being prioritized, or there was no growth path for me at my second internship. And I think that's a tricky thing.
Randall Parrish:
That's the thing I always try to remind students is just, sometimes all the super cool sexy companies that look great from the outside looking in are always like, it's different once you're in there, right? It still sounds cool, cool stuff is going on. But there's not always a guarantee that it's going to help you spread your wings or help you get any smarter or stronger. So don't discount the things that you think you might not like. Because that might be where you have the greatest opportunity to grow.
Maurice Cherry:
And now also, while you were at AARP, you got to work with the one and only Dian Holton…
Randall Parrish:
I did.
Maurice Cherry:
…who's a friend to the show here. She's also been a guest on the show. Did you work really closely with her as an intern?
Randall Parrish:
I did. So there is basically… ARP has two magazines. They have the [inaudible 00:29:55]. I don't know how it is nowadays, I don't get a subscription I'm under 50. But at the time… I'm pretty sure they still have this. They had the magazine and the bulletin, they were two sub categories of magazine. The magazine's the big one, the bulletin is this more I don't know, almost reader's digest situation.
Randall Parrish:
And so, but Diana was kind of great because, she would check in regularly, she was asking "Okay, what are you up to? Here's what we should do this week." And she would provide feedback week to week. And she'd also give me side products and just check in often. And that's kind of what I mean, just going back to quality of internship is because I felt like I was actually being, one, cared for but also like I was… That she was trying to actually set me up to succeed for when I was not at ARP. That's why I always look back at my time at ARP really fondly because I think she cared to see that growth in me over time. And now here we are eight years later and it's just so funny just how things kind of turn out.
Maurice Cherry:
Yeah. So it seemed like you were pretty comfortable, well supported in the DMV area. I mean, you were at AARP, then after that WTG after that Publicis Sapient. I know you also did a little bit of work with AIGA, the DC chapter there as well. This Sonos experience must have really been something that made you stop and re-examine things it sounds like. Because that's a big jump at the stage you're at in your career to be comfortable, established in a place that you know, with people that you know. And then this other opportunity comes, it's across the country and it's almost like a pie in the sky kind of thing.
Randall Parrish:
Yeah. I will say there's definitely a bit of idealism that kind of had a feel of the whole thing. There is this perfect brew of just weirdness. I think it was just, one they called me right when I was kind of at this low point mentally. I was still trying to refind myself, trying to figure out what do I care about? What matters to me now? What do I want to do as this person who is suddenly this solo creature here and this agency life was still cool, but I was asking myself, I was like, "What do I really want to work on?" I was on a particular project for about eight months around when I was leaving Sapient. And I'll say that it was nothing that exactly made me want to get up and go to work every day or feel-
Randall Parrish:
It was not a thing that exactly made me want to get up and go to work every day or feel a great drive or a great energy in my voice. [inaudible 00:32:07] where I was just like, sure. Every client deserves good design, but it's also hard to truly give that 120% for a thing that you are only doing because you're in it for the money. And so the [inaudible 00:32:21] cause it was like, I suddenly had this chance on the table to do something that was just as much for me as it was for them. And I think that's so incredibly hard to pull off in design, to have a topic or a product or just anything you're working on where you feel just as much drive as whoever the founders might be.
Randall Parrish:
Music is a very near and dear topic to me. I grew up on music. I feel like there's so many turning points in my life where just access to music or just discovery of different types of artists has just changed my world. It just made me a better, more worldly, more rounded, more interesting person. And I really would just want to just support that kind of mission. I have this feeling that just no matter what kind of amazing design I ever make, I'll never be able to make something that's as good as a great song. I'll never be able to make a design system that makes you cry. But what I can do is help people bridge that gap so they can access things that can give them that feeling of emotion in their heart.
Randall Parrish:
So I feel like it's my way of being the bassist in the band, just being support and just driving that mission. A lot of that call was just about what do I really want to do? What do I want people to feel? What do I want for me, how do I want to feel about the work that I'm doing? I came from this background where all I wanted to do is just make something that looked cool and just make another thing that looked cool and just keep it moving. But you get to a point now, if you look at my Dribbble, I've done over 60 different clients. I've worked on a lot of different things and it gets to a point now where it's cool, it's fun, but you start to wonder, what do I really care about?
Randall Parrish:
What's actually emotionally resonant with me? What can I talk about where if no one sees the visual, they still know I care? And that kind of felt like I had this big opportunity for me, cause I was just like, God, I love the idea, just being in a place where a sound experience coming but what I want is just for everyone just to be just a happier person. And this just felt like a job where basically I feel like a lot of what I'm supposed to do is just almost create happiness, which sounds a little dorky. But when you think about just the ability for you to just access your sound, access your music, access your podcast. What I'm trying to do is just give people an objectively better day, whatever it is that they want to engage with. The mission just feels so pure, but also just, it's so close to the heart, it's hard to not love.
Maurice Cherry:
Yeah. Designers and music tend to have a very special kind of relationship, anyway, whether it's us listening to the music for inspiration or for productivity, or even just, I think, the opportunities that it allows us to have, whether that's designing a flyer or a CD cover or an album cover or a poster or something like that, there's a lot to be inspired by with music. I've always been interested in that connection between music and design, because I feel like it's a really, really powerful one. I cut my teeth learning design and Photoshop by designing CD covers. This is back in the day. I don't even know if kids still do this anymore, they probably don't. But back in the day, there used to be two types of, I guess you can call them contests. One of them was called Layer Tennis.
Randall Parrish:
Oh, I know about Layer Tennis.
Maurice Cherry:
Yeah. So you start with one thing and then one designer does, then they pass to the other one and they add onto it and it goes back and forth until it gets to a certain point. And so then that kind of tests your ability to think quickly to work with something that's unknown to you in a way, but then also somewhat familiar because you did do some work on it. So how do you work around and add to a design without stripping things away? And then the second thing, they were called blends. They're essentially just fan art, essentially. You would make blends of say, an actress and you wanted to make a computer wallpaper. So you would get three pictures of this actress from, I don't know, Getty Images or something like that.
Maurice Cherry:
And then you would cut the actress out or you would arrange them in a very artful way to make a wallpaper or something. And so then that teaches you about proportion and scale and opacity and color and a number of different things. And you'd enter these contests and you'd see who would get the best contest. Cause they'd see, okay, these are the source pictures and this is what you ended up turning it into. So it's almost like a recipe, in a way. It's like Chopped, but for design. You have these raw, basic ingredients that you have to come up with something that's greater than the sum of the parts. Right?
Randall Parrish:
Yeah. Yeah. That's funny. Chopped is actually how one of my old bosses, he described design. Cause we would get like a funny collide or just a weird thing, he would just be like, "All right, our job here is to take squid and marshmallow and make this into a nice dish. Good luck." [crosstalk 00:36:48] It feels like you're just taking these amazing disparate parts. You're trying to take a thing that sounds so unglamorous, you're just like, I'm going to find the jazz. And that was what was so fun about just working at a marketing type place.
Maurice Cherry:
So now you're in Santa Barbara. I know you haven't been out much because no one has been out right now. Have you, in any kind of way been able to link up with a design community there or other designers outside of work?
Randall Parrish:
Not just yet. What I want to do is I know that UCSB is nearby and I feel like they probably have an art program or I know we do sometimes send our people to talk there. I've always been a really huge proponent of student causes and talking to students and just letting them visit either my office or me coming to them. So that's something that I really want to be able to, I feel like once I have enough that I feel like I can really go all in on. I would love to be able to start doing that. I care a lot about student causes, cause what I remember, all the misinformation about when I was younger and just having to filter through that and find it on my own.
Randall Parrish:
But too, I think it just helps to have someone come by and just cut through all the noise and tell you straight up as a person who is doing the thing right now, here's actually what got me here. Every time I tell students that I don't know how to code, I've made websites for years, or I don't know how to do XYZ, or I did this instead and that helped me get to XYZ, they're always just like what? They get their minds just routinely blown. So I love to just let them know, the way that you might think that it is or the way your teachers might have told you, there is another way. And I like to just disparage the myths or pull back the curtain anytime that I can.
Maurice Cherry:
Now I have a question here. This is from Chanel James, who has also been on the show. She was episode 325 back in December. She asked this question, you've adjusted to big changes a couple of times over the last few years, which it definitely sounds like you have. When taking on new roles and challenges, how do you prepare for the next step? What advice do you have to someone who is looking for the next new thing?
Randall Parrish:
That's an interesting layer to wind, but my first thought is first I'm going to be a little dorky with you. So you ever seen Spider-Verse?
Maurice Cherry:
Uh-huh (affirmative). Into the Spider-Verse? Yeah.
Randall Parrish:
Yep. So for those who don't know, there's a great quote in there where he asks, "How will I know I'm ready?" And he says, "You never really know. It's a leap of faith. That's all it is." There is so much truth to that statement because anytime you get an offer for an amazing new job far away or even anything that's even in your own city, you never feel like you're going to be adequately prepared for it. I remember thinking, oh, you mean me? You're talking to me? This email's for me? [inaudible 00:39:28] turn off the imposter syndrome or assume that, am I even good enough for this kind of thing? So part of it's also just, first you've got to acknowledge, you got the call, you got the response, they're interested.
Randall Parrish:
First, you have to believe in your heart that you are actually worth the trouble and worth pursuing and worth investing in. And that's a hard thing to sometimes believe. Cause every time you do anything wrong, all you do is assume everyone else sees it. So one, you got to see yourself in the thing. As far as preparing for it and just mentally getting through it, it's interesting cause I try and remember, cause every time I've transitioned to any of these major new jobs, it's never a one to ones. I don't just do what I did two weeks before, just somewhere else. There's always going to be this amazing learning curve. I think it's just about just be willing to ask questions, be willing to be wrong, be willing to leave your ego somewhere else for a while or a very long time preferably and just be willing to work with people and just ask questions and just be vulnerable to needing to ask for help or being able to say, oh, I'm not super sure, but I want to be better.
Randall Parrish:
I want to be useful. I want to be in service of something, but I don't always know the best way to do it. I think my greatest philosophy on my whole career, honestly, is that I think I had a paralyzing fear of asking for help sometimes, probably when I needed it most. I think that I had this worry that if I asked for help, that I would be seen as this person who wasn't an expert didn't understand what was going on, maybe shouldn't have been the person tasked for the thing. But what I found, especially at [inaudible 00:08:53], we had this amazing culture of just being willing to ask for help, being willing to admit that you're wrong and presuming good intent from people who are asking questions or doing anything. Back when I was at agencies, I often felt that if I asked for help or asked a question that I was going to basically poke a hole in whatever kind of sense of rank or stature that I was trying to prop up for myself.
Randall Parrish:
And I feel like I'm trying to chip away at that, just every single year, every single interaction I'm trying just to be more willing to be wrong, be more willing to let people know that if I am wrong, I want you to let me know and I want us to be able to work on it together so that you don't think I'm trying to be wrong and loud. I would rather be wrong than right together. So a lot of it's about just all communication because if you get the call, you are already a good enough designer, but you also have to be a good enough person. That's usually the thing that we don't always focus in on.
Maurice Cherry:
What is it that keeps you motivated and inspired these days?
Randall Parrish:
Oh boy. So many things. I love just all sorts of kinds of me. I'm a big movie nerd, I'm a big music nerd, I love curating my music, I love sneakers, I love games. I love so many just different types of just entertainment, art and media, and just loving to just see all these wild, different, weird aesthetics. One of the hardest parts about moving here is there's no AMC out here. So it's really hard to be a movie nerd out here. So hard. So what I love about all these different mediums, if you go outside, if you go to museums, you go to malls, you just look at a lot of stuff, you see so many different kinds of just styles and tastes and just ways that things get done and all these really strange ways that tends to leak its way back into your design sensibilities.
Randall Parrish:
I think that one of the things that's made me versatile as a designer is just not minding looking at stuff or going places that I feel like I wouldn't ordinarily choose to. So if someone's like, oh, let's go to the mall, let's just window shop. You'll see so many different typographic treatments at the mall. If you play games, there are so many ways to deconstruct a UI and think of it for a different application. If you like shoes, there are so many wild color schemes that should not be possible that totally work. Looking at you Yeezy Wave Runners. So a lot of what I'm thinking about is just, how can I just infuse just what I'm seeing daily or what I just like to do for myself and how can I repurpose that in the frame of, okay, if I were trying to work this back into a design, how might this change my approach for something, no matter how small or big this thing is?
Maurice Cherry:
Yeah. What do you like to do in your non work time?
Randall Parrish:
I actually minored in computer game design so originally, I should have mentioned that. It's always a little thing that just kind of tucks in, cause I never did much with it. So I minored in game design. So every time you ask a recommendation, it has to be a 90 minute conversation. I'm one of those. So I love gaming. I tried to start streaming. I would like to start a podcast mostly because, as you can probably tell, I'm a big talker, I could just go forever. So I tried to figure out how to merge that love of just chitter chatter into something. I got a friend or two who's like, oh, maybe we'll start some form of podcast, we'll just do a little round table kind of thing.
Randall Parrish:
I try to be much more of an outdoorsy person out here, out east, in D.C., it's not that fun to own a bike cause the only place you're going to go to Target or is to get hit by a car. But here, it's very different, cause out here it's so amazingly picturesque and beautiful out here, you can get to the ocean in like five minutes, there's flowers and lavender everywhere. Everything smells beautiful so it's just amazing to hike and bike and just be present and outside. And I'm really looking forward to just being this different, more suntanned version of myself once things settle down.
Maurice Cherry:
I want to talk some more about this gaming because right now I feel like as we're recording this it's April 6th. We're kind of in the middle of a-
Randall Parrish:
Big dry spell?
Maurice Cherry:
Well, no, actually I was going to say we're kind of in the middle of a good bit of games right now. Well, I guess it depends on what systems you're playing. What systems do you have?
Randall Parrish:
Everything.
Maurice Cherry:
Okay, so you have a Switch?
Randall Parrish:
I have a Switch, yeah.
Maurice Cherry:
PS4?
Randall Parrish:
Yep. PC.
Maurice Cherry:
Got a Xbox One? PC?
Randall Parrish:
You don't even need the Xbox if you've got a PC.
Maurice Cherry:
Okay.
Randall Parrish:
Real talk. It is what it is, Windows 10, you know, but I feel like we go with these like amazing, weird ebbs and flows with games. I can get real dorky about this, but…
Maurice Cherry:
But we're kind of in a good time for games. I hate to say because of the pandemic, but people are at home and they want entertainment. Movies aren't out because movie theaters are closed and production is shut down. There's no new television shows unless you use Quibi, which I don't know if by the time this episode comes out, people will still be using Quibi, but there's not a lot of new stuff. And so a lot of people, I think right around the time Animal Crossing: New Horizons came out, everyone was like, yes, a distraction from the world.
Randall Parrish:
See, what's funny is one of my favorite types of games are rhythm games. Once again, just infusing that love of music. I'm the type that generally plays games to be challenged and to almost just have a hard time. I love that feeling of achievement from overcoming. I like relaxing things also. But I think the ones that I look back with my most vivid memories of are usually things that were hard. I think a lot of that also tends to temper your brain too, to being like, if something doesn't go right your way and you're used to getting your ass kicked like 80 times in a row, you're like, oh whatever. I got to make a hot take here, just say that I think Dark Souls has made me a nicer software designer.
Maurice Cherry:
Okay.
Randall Parrish:
You heard it here first, folks. So for all the nerds on the podcast, give it a whirl.
Maurice Cherry:
I saw from looking at your Instagram that you beat Persona 5.
Randall Parrish:
Oh my God, it's so long. It's 106 hours. Honestly, real talk, I think Persona 5 has some of the most amazing graphic design ever put into a video game.
Maurice Cherry:
Agreed. I agree.
Randall Parrish:
It's galaxy brain. Blew my mind. I cannot believe the things that they were able to pull off, the transitions they were able to do. Just the things that they would typography and scale and shape and color. It's so hard to describe. I'm getting all lit up about this cause it's just-
Maurice Cherry:
No they really stepped it up from Persona 4. Personas 3 and 4 kept a very similar sort of style, I would say. I think 4 was very, very much more colorful because it was just themed yellow and stuff. But they really stepped it up for 5. 5 is just so kinetic, there's so much energy in the design.
Randall Parrish:
That's also part of the reason why I feel like video games are a very underrated place to get UI and design inspiration.
Maurice Cherry:
Oh absolutely.
Randall Parrish:
A lot of people think of games as just Call of Duty or very mainstream ones that are commercial, right? But games, oftentimes have to solve very, really interesting kind of UI problems. And they also have to do it without a mouse. So they have to do all these different things to teach a player things, sometimes really extreme or advanced or multilayered concepts, but also that's sometimes all these kinds of different items, like how's the UI for a team look? How are you communicating things to the player? How are you showing data and information on something that's also very busy on the rest of the screen? There are so many different kinds of UX and UI challenges that are happening in games that I feel like just get totally thrown under the radar. Cause people see it as this hobby, whatever, blah, blah, blah. They don't understand the level of intricacy that goes with some of these things.
Randall Parrish:
… don't understand how the level of intricacy that goes with some of these things, but a lot of times, if you were like, man, we need a team page. My first thing to look for inspiration, it wouldn't just be look at other team pages on Dribbble. It would just be like, okay, how have games solve this? How have they handled different accounts for a certain amount of units that they need to show on screen? If you have a dashboard, like RTSs are strategy games, how are they showing just large chunks of information that needs to be readily viewable? How are… all these very different, just very real challenges that actually impact experience are being handled in games and have been handled for a long time. And as well, some of them are also done in a really, really visually amazing way ala Persona 5. So, I think it's another part of just finding inspiration in the things that you love and just figuring out how to basically how to pick and choose where to pull them back into the things that you are doing as well.
Maurice Cherry:
Do you plan on playing Persona 5 Royal?
Randall Parrish:
Oh, absolutely. Absolutely. It's 106 hours and whatever. I mean we're in the time of Corona. Of course I'm going to. But first I got to be God, I need to beat Doom Eternal first that's going to be a nice short one. Like what else is in my backlog Astral Chain. Typically I love narrative and very story during games, a lot of things I would like to learn from story during games, this is going to sound like a funny kind of like Agency tangent, but one of the most important things I learned from Agency World was how to tell a compelling story, and if you could play a lot of games with compelling stories that can actually get you to tear up or feel a certain way really quickly that's what a good pitch deck is all about.
Randall Parrish:
Well, it sounds like a tangent, but roll with me here for a second. So it's like, when you're doing a big pitch, someone has got to have, let's say $40 million to spend, how are you going to convince them, how are you going to make them feel in their hearts that they should feel a certain way and that you were the right choice?
Randall Parrish:
And usually you're going to tell a very well crafted, but also a convincing story, right? It's not about just laying out a bunch of facts. You can't just shovel out a bunch of stats. You got to present them in a way, in an order, and a line where they believe it, but they also feel emotionally resonant with it, and I feel like when you think of kind of the story beats of certain games that are big deals for stories. So you Last of Us, your Shadow of the Colossus, your God of War 2018s, your really big, just ones with narratively strong, what are they doing right? What order are they doing that? And, how might you kind of think about the way those beats are handled, both majorly or softly until like also, how are you to change how you tell a compelling story?
Randall Parrish:
Because half of why I think I got the job at Sonos was I feel like when I interviewed, I told a very compelling story when I interviewed because a little bit about that, I'll go back to this, but everyone I was interviewing I didn't even show work for the first 25 minutes. Yeah, I know. Right. So that sounds weird, right? First third whatever of the interview, first I wanted to kind of introduce, I felt it was weird to be basically jump in and just be like, hello, thanks for meeting me. Here's the work that you probably already saw online now. No, that seemed weird.
Randall Parrish:
So instead what I tried to do was, I was like, how am I going to kind of build this narrative upward? So it's a little bit about me. Like what motivates me? What do I like? What am I to the company? What is the company's mission to me? And how can I prove this in a way that makes you also know that I'm not just making it up. So I had a really great slide where in 2017, I bought my mother to Play Ones, and I showed the video of her pulling them open. And that was a muddy moment. That was a narrative moment where they were like, Oh, this guy. Like that was them thinking this guy isn't just some dude who bought the speaker, just whatever, he's actually a fan. He believes in the mission.
Randall Parrish:
Things that just kind of unite you to whatever is going on in that moment. Right? And, I could have just jumped in and been like, well, my work looks pretty good. I think don't you think so? I know I could have just been impersonal about it or just basically just pasted in what I would've done for the next agency, but you know, if you tailor it right, storytelling is actually going to be your most powerful argument when you're doing an interview.
Maurice Cherry:
Okay.
Randall Parrish:
So play video games. Don't worry about storytelling.
Maurice Cherry:
One question that I'm asking everyone this year, it's kind of the theme of the year is about the future. You know, we're in 2020, this is by all intents and purposes when you think about pop culture, when people talk about the future, it tends to be 2020 and above. I don't know if that's because of ABC's news show or whatever, but people tend to think of 2020 as the future. How are you helping to use your design skills to build a more equitable future?
Randall Parrish:
Oh, that's a great question. I guess that you caught me at a really timely time, because if you had asked me that a year ago, I would've been probably not at all, but now I think part of the Sonos mission is our mission is to empower listeners everywhere. And it's very broad, and that's kind of on purpose because a lot of what we're trying to do here is we're trying to basically give people an amazing listening experience no matter where they might be, whether you're in your bedroom and your living room, whether you're on your patio or you on the go, we were trying to find a way to basically kind of be with you so that you can enjoy the content that you like, however you like, whenever you like, how you like, with whomever services that you like.
Randall Parrish:
So a lot of what we're trying to do is we're trying to empower users. We're trying to give them choice. We're trying to give them more freedom, but we're also trying to provide access to things for them. So a lot about what I see as what the best parts about the job is just Sonos is in this rare position where we can actually really help kind of surface a lot of things to users that they might not have known that they wanted. I mean this in a very non advertising kind of way. Why I say this, because a lot of what, what a Sonos does is we are kind of this amazing hub for a lot of services, right?
Randall Parrish:
So you can use Amazon, Apple Music, and Spotify, and Deezer, and Pandora, and you can use so many different services on our platform. But what's great about that is that lets you also surface things that maybe are adjacent to things that you didn't know you had, for example, like if you love Fleetwood Mac, there is a potential future where if you search a podcast, maybe you'll see the Song Exploder Episode about a Fleetwood Mac song. Maybe you'll see a book about the artist, maybe you'll be able to catch more content related.
Randall Parrish:
What I love is this idea of just being able to kind of enrich people's experiences with the artists that they love, and with the content that they like, what I love is just this idea of how can we just kind of give people greater access to art, and entertainment, and just media, in these ways that are just going to make them want to do what it did for me to make them just more enriched, more well rounded, more engaged people with all sorts of different types of media.
Maurice Cherry:
Where do you see yourself in the next five years? It's 2025. What kind of work do you want to be doing? What sort of projects do you want to be working on, that sort of stuff?
Randall Parrish:
You know, my five year plan for right now is, well, if I compare what I would have said a year ago, I'm just amazed at just how much these can change. So right now my plan is I really want to be in California for a good while. Mostly because moving cross country very much sucks, do not do it. Oh my God actually it's worth it, do it. So, moving is a pain in the ass. I think I'm trying to stay in California for as long as I can, for as long as it's reasonable. [crosstalk 00:55:00] retention is amazing in the company. I have met people who have been here for 11, 8, 16 years. Those are numbers that are unfathomable at an agency. Like can not be. It was a constant going away party there.
Randall Parrish:
And I'm very excited about just the path ahead at Sonos just in terms of just the roadmap features, products, everything that we want to do and kind of that core mission, but five years now, just career wise, I would love to figure out, just, what's kind of that path towards creative director, or trying to be towards a bit more of this person who essentially empowers the team because right now, I come from this background where what I'm trying to do is I'm trying to be this kind of individual power user. I'm trying to be this amazing individual contributor. But what I love about my new boss, he is just so, what's the word, he's just so empathetic and so caring, and I just love that about him. He just has this amazing concern and care for people.
Randall Parrish:
I really want to be able to get some of that into myself as well, and just be able to just take that kind of energy and concern and care for people. And to use that to expand a team, and also while taking what I've learned from design over all the years to make them better designers, but also just make them just better, more impassioned people as well. So I'd love to figure out how to just get work my way up to that stage. Now, if at this house or somewhere else who knows.
Randall Parrish:
My rule to myself was if I was going to make any kind of large shifts, it had to be for something that I really, really, really gave a damn about. And I'm really glad that I landed at this one.
Maurice Cherry:
Nice. Well, just to kind of wrap things up here, where can our audience find out more about you and about your work online?
Randall Parrish:
Sure. You can catch me on Dribbble at Dribbble.com/rparrish. You can see just about everything reasonable I've ever done. Half of why I keep so much stuff up there is so you can just track my development and just see that, you've got to… It's an uphill battle. If you are new and you don't like what you did. You can see the stuff that I wasn't great at too. It's a process. So, go from bottom to top. It's a little journey. I don't do any writing, but I do tweet about design sometimes @randallallday, but it's mostly goofy, goofy, gobbledy garbage so you've been warned. You're welcome to follow me on Apple music. I listen to a lot of what Pitchfork likes, but except I weed out all the nonsense so, you can check what I'm listening to. So that's probably the core of it. I should get into some writing, but maybe we'll have a podcast soon, but that's all for now.
Maurice Cherry:
All right. Sounds good. Well, Randall Parrish, I want to thank you so much for coming on the show. You know, I mentioned this before we started recording that I had spoken with Diana. She gave me this really long description about the work that you've done. I think it actually was a post or something that you wrote. I want to say it was a post that you wrote about how you were just getting things together to go to Sonos. You were about to start out there, and one thing that I saw as I was doing all of my research was that you refer to yourself as a human glitter bomb.
Randall Parrish:
That's correct.
Maurice Cherry:
And I would say that, just based off of this conversation, it's very clear like you have this enthusiasm inside and out, not just for the work that you do, but also being able to make a difference in people's lives, so I can see how that would stick. Once this whole COVID-19, coronavirus, quarantine, self isolation lifts, I am really excited to see you get back to work and see what you can do with Sonos because I think this is just the beginning for you, and I'm really going to be excited to see what you do from here. So thank you so much for coming on the show. I appreciate it.
Randall Parrish:
Thank you so much for having me. I've had a total blast with you. Believe me, stay in touch and you know, Sonos discounts for everyone. Send me an email.
Sponsors
Facebook Design is a proud sponsor of Revision Path. The Facebook Design community is designing for human needs at unprecedented scale. Across Facebook's family of apps and new product platforms, multi-disciplinary teams come together to create, build and shape communication experiences in service of the essential, universal human need for connection. To learn more, please visit facebook.design.
This episode is brought to you by Abstract: design workflow management for modern design teams. Spend less time searching for design files and tracking down feedback, and spend more time focusing on innovation and collaboration. Like Glitch, but for designers, Abstract is your team's version-controlled source of truth for design work. With Abstract, you can version design files, present work, request reviews, collect feedback, and give developers direct access to all specs—all from one place. Sign your team up for a free, 30-day trial today by heading over to www.abstract.com.