Can you give the reader's a little background about yourself?
Sure! My name is Krystle Rowry, but you can call me Kriss. I create websites for fabulous women. I'm 27, and I've been in love with design for over a decade… since I was about 14. I'm self-taught, and I have my bachelor degree in Business with a concentration in Marketing.
What inspires you?
I'm inspired by everything. I feel like every day I am overcome by sensory overload and I love it. I get inspired driving around in LA. I get inspired dining out – so many restaurants here have amazing branding so menus inspire me a lot. Walking into a small boutique here… surfing the Internet… really, I am constantly surrounded by inspiration.
What made you start a design business?
For as long as I can remember I've always had an entrepreneurial sense about me. Since a young age, I've always looked at opportunities as money-generators. Having my own lemonade stand was one of my biggest dreams as a child.
When I was about 18, I realized what a graphic designer did and how that could lead to your own home business. I immediately started freelancing. I knew that one day I would start my family and I would want to work from home for them. I don't have a family of my own yet, but after being employed as senior graphic designer at revolveclothing.com for over six years, I knew it was time for me to get started on the dream, do my own thing, and make the leap. Thankfully it's worked out better than I could have ever imagined.
You are really into fashion and supporting natural hair. How do you combine both your passions with design?
Putting my passions out there with my blog, social media and KrissDidIt.com really allowed me to carve out my own niche. My clients started to come to me looking for designs that spoke to their audiences who were also into style, natural hair, fashion, and beauty. I realized early on that by creating my brand with fashion and natural hair I was positioning myself to attract my ideal client.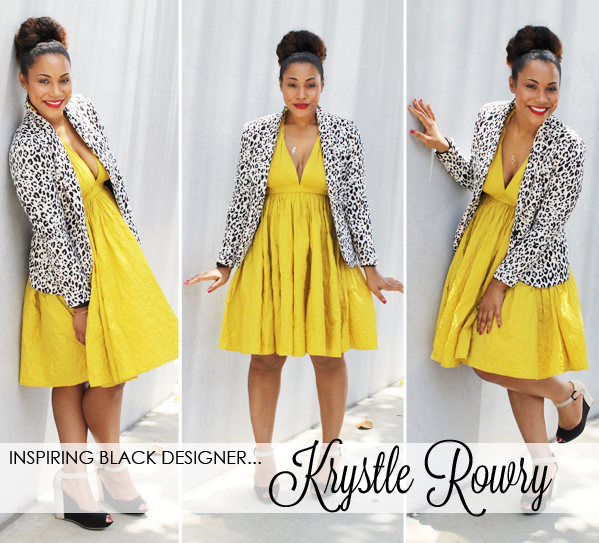 This year you've spoke at the Renegade Women's Conference 13' in Santa Monica, California. This event is known as the "
Entrepreneurial Powerhouse

". People can read about your experience here. Can you discuss your role? Also, was there an impact towards your business after being a panelist?

At the panel I spoke about how branding and design can (and should) be influenced by your personality. I definitely received at lot of interest from attendees who were interested in working with me after the event, but more importantly, branding myself as a brand style and design expert was the most valuable takeaway from speaking. I also have a deep love for female entrepreneurs and getting the opportunity to answer questions and give any advice that I could was an amazing experience.
Your website is full of personality. What advice do you have for designers who are trying to showcase their personality on their website? How beneficial has it been for you?
Thanks Siedah! One huge piece of advice I could give would be to take professional photos that are true to your own style and aesthetic. Photos are so powerful in portraying your personality. With photos you have so many options – from location, to what you're wearing, to your facial expression – to give your clients a sense of your own design style. Showing my personality on my website has really given my clients the chance to reach out to someone who is like-minded, who understands her style, and they already feel comfortable working with me before our first conversation.
Can you name a challenge you had to face in the past and how you overcame it?
I've always had a problem with saying no and sometimes that means taking on too many clients at once. Every day I receive inquiries from potential clients with such inspiring projects that I really want to collaborate with them all. But there's only one me, and I know I can't work with everyone.
I'm now in the process of creating a side business that will allow me to work with more people at once giving even more people beautifully designed online homes. And that makes my heart happy.
If you can do something differently what would it be?
Something I would do differently would be to hire out things that I don't love to do or don't have time for. I am kind of control freak and I have a certain way I like to do things. But I know that I need to give myself time to breathe and live and that's damn near impossible when you're doing everything yourself.
Now you are a B-School graduate. You said and I will quote "The One Decision That Changed the Game." What are 5 things you learned in B-school that you apply to your business today? What is Coming Up Collective? Will you be doing it again in the New Year?
I'm not sure where I'd be today without Marie Forleo's B-school. For me, it was one of those events where when you look back at your life and see that fork in the road, it's clear you took the right path.
5 most important things I learned in B-School that help me everyday in my business are:
Why profit clarity is crucial to your business
Why it's important to have an email list and capture email addresses
How to optimize my website (and my client's websites) to market to clients
How to reach out to mentors and other entrepreneurs for help – and why that's important
How to find and retain your ideal clients
The Come Up Collective was a group of women that I mentored every week as they were enrolled in B-School. I will have the CUC this year but it will be a bit different, so stay tuned. It will launch in February but you can get on my list now by clicking here to be notified by email.
You wrote a great article about promoting yourself as an artist. What do you feel holds women back in this industry?
Women are held back in every industry, but thankfully that is less and less the case as time goes on and more women are fighting for positions of power. In many ways, I've seen my gender give me an advantage in my career as a designer.
So many beauty and fashion brands I've worked with have appreciated the fact that I am a consumer of their products and possess a deeper understanding of the target they are marketing to.
What is in store for Kriss a year from now? 5‐10 years from now?
I get asked that question a lot and I never know how to answer it! To be honest, I don't know what's in store for me 5-10 years from now and I like it that way. I really like to take life as it comes and I don't like to plan too far ahead. I'm at a place now where I've reached a lot of my goals and now I'm really just trying to dream bigger and see what comes out of that. It's the start of 2014 and I've already been gifted with opportunities I never imagined would come my way. Overall, I'm very excited for the future!
Thank you for your time Kriss. You are truly an inspiration to other designer's around the world!
Thank you Siedah!
---
About Kriss: If you want to learn more about Kriss you can visit her at www.KrissDidIt.com.