Happy One Year Anniversary IBD! We've highlighted, interviewed, and collected stories for a handful of designers over the past year. So I am starting the anniversary year off with an interview: Atim Annette Oton, an inspirational woman, designer, coach, writer, and speaker.
Can you give the reader's a little background about yourself?
I was born in Nigeria of an American mother with Jamaican and Trinidadian parents and a Nigerian father, lived there and came to college in New York to study architecture and did graduate school in London before returning to work in architecture. Left architecture to work as an Associate Chair of Product Design at Parsons School of Design before leaving to set up my retail stores, by May 2014, I will have 3 in the US and 1 in Nigeria.
In the last 2 years, I have been focused on developing The Creative Side, a fashion and design incubator and training designers to run businesses so my blog became my "design" advisory space for telling the truth about what I see is happening to artists and designers.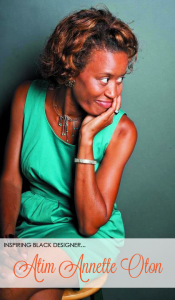 What inspires you?
The three big inspirations are People, Places and Things because they embody Creativity, Joy, Openness and Curiosity; the other two are my energy pills: Travel and Food. In people and places, the diversity, variety and sheer brilliance of people and places. In things, I would say – poetry, music and books. Might be best to read my blog post on inspiration.
How did design influence your business?
I grew up entrepreneurs and knew from the time I was a child that I would always work as an entrepreneur. I left Parsons to set up a retail business with the goal of creating a design business. Simply, designing products and clothing requires retail and I never understood it and after 5 years in retail, I slowly began to create products, first jewelry and now clothing. I am a long-term person, so I look forward and connect the dots.
You've written for many blogs & have been featured in many magazines. You are currently working on a few projects. Can you tell us more about what you are working on now?
I write for Huffington Post Black Voices on Africa, but in 2013 I took sometime to develop my own blog as I saw it as a vehicle to capture my thoughts more direct to designers. In 2014, I will be writing for Applause Africa, bringing my series, The Pulse of Africa to a new audience. With each venue, I am building audience but more importantly sharing information. My father was a journalist, so, I am his child, spreading news in so many ways.
You have over 20 years of business experience in design and retail. You are a business coach. What do you teach your clients?
Three simple things: Walk in Truth, Attack Fear, and Always Risk. To do business, you must, be true to yourself; fight fear and let it motivate you to succeed and take risk.
What advice do you have for designers who are trying to showcase their personality & telling their story on their website? How beneficial has it been for you?
Walk in truth, attack fear, and always risk. I am a natural storyteller, so I am open about my story and capture an audience who reads my blogs by speaking directly, truthfully and I do not mince words. I have a way of dealing with the issues and not covering up things, and that is hard to find. Too many people like glossing over things, hiding behind a brand and not showing their true self. The real you is more powerful than the fake you. People hire the real you.
Can you name a challenge you had to face in the past and how you overcame it?
Creating balance in my life. I am by nature a workaholic and after opening my 3rd store, I finally decided to take one day a week off and just "veg". Best thing for my soul. In 2014, I plan to add staff so I can take 2 days off. Life is about work and nurturing yourself too.
If you can do something differently what would it be?
I would have done a MBA instead of a graduate degree in architecture.
Let's get social! What is your favorite social media platform used to market yourself & your business? Why?
I am a Facebooker. It's the platform I prefer to use over LinkedIn and Twitter. Simply, I like the visual experience and have tried the rest and always come back to it.
Let's get personal. Through all your many successes – what is one thing you accomplished that impact you personally? Why?
The ability to rebuild my business after a fire in 2011. I had a choice, quit or re-open in a new location. I am a fighter, I went ahead and created 2 stores after the fire. Tragedy can stop you or build you. I always see crisis as opportunity, it gave me time to re-strategize my business and re-organize. That's how I saw the fire as not a road to failure but a road to opportunity.
What is in store for you in 5-10 years from now?
I am looking to create a factory or production house for fashion designers in Nigeria. That's the next stage of my business – it's all about growth and risk. So I am looking for finance and partners now.
Thank you for your time Atim. You are truly an inspiration to other designers in the world!
---
About Atim: Learn more and connect with Atim at her website, on Huffington Post Black Voices, on Twitter, or on Facebook.