For this week's interview, I talked with Kronda Adair, web developer, and owner of Karvel Digital. Kronda talks about her business, gives her thoughts on web development and diversity in the industry, and her involvement in the local Portland tech community. It's a really great interview!
Tell us who you are and what you do.
I'm Kronda Adair, and I'm a freelance web developer from Portland, OR. I specialize in WordPress and Drupal development. I have always liked and used computers. I was the person who ended up doing tech support for everyone on the family, but I'm actually fairly new to technology as a career.
After many years in various sectors of retail and customer service, I went back to school in 2006 and got my degree in web design and interactive media from the Art Institute of Portland. After school I worked in an agency setting for a few years which was a great learning experience, but ultimately not a good fit.
I like freelance development because it offers the opportunity to have more control of my schedule and I get to work with an endless variety of people and projects. I also like working with small business owners, because it feels like a more human scale and (hopefully) we can create a good relationship.
How do you keep motivated and inspired?
I'm motivated by everything I still have to learn. Keeping up with the changes in the web development field can feel very overwhelming, but we're all in the same boat. I enjoy going to the many technology meetups available in Portland, where I'm always sure to meet someone interesting and learn something new.
I'm inspired by the people I see around me who are not only building great technologies, but also building the kind of lives that I want for myself. Way back when I first called my local community college to inquire about enrolling, I had in the back of my mind that this was a skill I could literally do anywhere, and take anywhere.
I'm also inspired by the efforts I see happening to finally deal with some of the inequities that minorities face in the tech industry. People like Kimberly Bryant of Black Girls Code, are working to fill the pipeline with some new faces. People like Ashe Dryden are working to help employers and conference organizers bring diversity to their events, both the attendees and the speaker line up.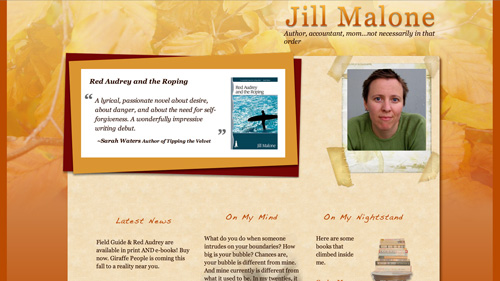 What is your office space like?
My god, it's full of cats! Really. I work from home, where I have a small office with my desk, a 27″ external monitor which I use with a 13″ MacBook Pro. I am usually accompanied by one or two of my three 'supervisors', Xander, Oz and Willow. I do a lot of 'purr programming'  (mostly they provide hair to get stuck in my keyboard, but they try).
The only thing I miss from my previous job is my standing desk, but I haven't yet upgraded my home setup.
A few times a month I get together with some other indie and remote workers and co-work together at a coffee shop. We're still looking for the perfect mix of awesome coffee, reliable Wi-Fi and power outlets.
Tell us about your involvement in the Portland Tech community.
One of the nicest things about having control of my schedule is that I now have energy to do more things in the community. In Portland, you could go to a tech event, hack night or meetup every day of the week and a lot of people are doing great things. Right now I'm a regular at the WordPress Meetups. Women Who Hack meetings and North Portland Coder Night are where I go to have time to myself to hack on whatever in good company. I'm also a volunteer and mentor with Codescouts, who's mission is to "empower women to find their place in the digital world."
What's the best way for you to find new clients?
My business is new, so the answer to this question is still in progress. I'm fortunate to have lived in the same place for most of my life and I have a large network, both personal and professional. A lot of my clients come from people I already know.
I'm also a regular at our local WordPress meetups and other tech meetups. At the WordPress meetup, there's specific space in the meeting for people to announce if they're looking for work or have work to offer.
My friends, many of whom are ex coworkers or classmates, also introduce me to new clients.
My approach to marketing is to do my best to make the clients I have happy, and also to share knowledge through my blog. That's a goal I'm still working on, but I have a lot of draft posts…
What skills do you think a web developer needs in 2013?
I think the most important skill for a web developer is the willingness and ability to learn new things and ask the right questions. Our job is to solve problems, but our clients may not be asking the right questions or solving the right problem. A developer should find out what the client's goals are and then help them achieve those goals.
One thing I don't think is expected enough of developers is communication skills. The importance of being able to write well in English, as well as Python or PHP, and also verbally express your ideas clearly and intelligently, cannot be overstated. As the industry gets more diverse, cultural competency and empathy are also vital for working successfully with a variety of different people.
What are the three most important lessons you've learned as a web developer?
A.B.L. — Always Be Learning. This industry isn't for people who don't like change. But that also keeps things fresh.
As a result of the fast pace of the industry, it's easy to feel overwhelmed trying to keep up with everything, but I've learned that most everyone feels overwhelmed so I just try to ignore it.
I try to write down everything I learn because if it's not something I use everyday I'll probably forget it. I love searching for the answer to a problem and finding it in my own notes / blog posts / code snippets.
Are there any developers out there you admire?
Jeffery Way might be the one person who is keeping up with everything happening in web development. He is a prolific instructor on NetTuts. He's got a great teaching style and his tutorials helped get me through school and I'm always learning good stuff from him.
Ashe Dryden is who I want to be when I grow up. She's made a nice career for herself freelancing without compromising her principles and she's doing some awesome work on diversity on the tech community, which she's been doing mostly for free, but she could use some funding.
What do you feel is one of the key factors affecting web development today?
The lack of diversity in web development in the U.S. is a huge problem. It makes it hard for those of us who are not straight white cis-gender males to stay in the industry long-term, and it makes it hard to recruit more diverse people into the industry.
It's been proven that diverse teams create better products and services. The users we serve come from all walks of life so why shouldn't the teams that create those products be diverse as well?
There are lots of technical issues that have a huge impact on the web, such as browser engine standards and making sure the government doesn't take over the open web. But it's comparatively easy to rally people around those causes because they can see what's in it for them.
Suggesting to those in power that they should examine their privilege and work to make tech more welcoming is a much tougher sell. But it needs to happen if women, people of color, queer and trans people are going to feel welcome in this industry in the long term.
---
About Kronda: Kronda is a freelance web developer in Portland, OR. You can find out more about her work through her company's website Karvel Digital.