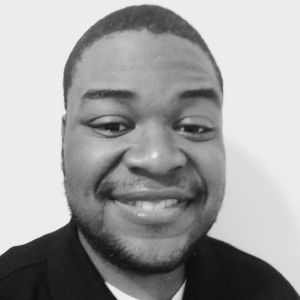 What's your name, what year are you, and what are you majoring in?
My name is Kevin Tyler and I am a first year graduate student at the Savannah College of Art and Design majoring in graphic design MFA program. I am also a graduate of Claflin University after earning a BA degree in Digital Design.

What made you want to attend Claflin University?
I actually remember participating during my middle school years in Claflin University's GEAR UP which was a program integrated during the middle school years to help prepare students for the mindset of attending college.  Even after all of that it is kind of weird as I was originally considering starting out with a technical college that had my major of choice first in Columbia, SC. However, after attending an open house tour of the art department at Claflin in 2009 my junior year in high school I honestly felt like the familiar environment in addition to the smaller classroom setting prompted my decision to ultimately attend Claflin University. My mindset was that I would have had a better chance to grow out of my shell so to speak without being just another number in a larger institute.
Did you feel supported as a student by your department (or advisor)? Why or why not?
To be honest, since starting out in the program back in 2011 the program made some great changes within the art department. Because we were a smaller department, I think it made me and my peers connect and support each other even more. When one of us needed help with something rather it was lending materials, a helping hand, a laugh, or some feedback there was at least somebody there. Essentially, the hard moments are shared at times with peers along with the positive. As far as support from the faculty, there were most definitely some connections with me and some of the department faculty that has helped me. Any support I have ever gotten from anyone in the department I greatly appreciated it. One person that comes to mind for me is one of the former chairs of the department Mr. Anthony Deiter. He along with some others really advocated for change all while including the students ideas. That is so important because the department is for the benefit of the students primarily. He was also extremely instrumental in my decision to move into this next phase in the graduate level.
What challenges did you face as a student at Claflin?
At first I struggled with what creative direction I wanted focus on my first two years or so in undergrad. The digital design program touched on several different areas from graphic design, photography, 3D modeling/animation and etc. The diversified skill set does come in handy. Looking back it was fun to be able to experiment with some those mediums. However, I think because the curriculum was so open-ended if one did decide on a particular area as I did with graphic design as my personal choice, it made it a little difficult once I narrowed down my focus. I had a desire for more classes centered on particular aspect of design some of which the department didn't offer unfortunately.  Nonetheless I didn't let that stop me because I just continued to design, research, seek guidance, and practice in the Adobe suite and other programs to continue to sharpen my skillset. It is a lot of trial and error. Towards my junior and senior year I started to find my groove a lot more as a designer I would say. I just knew I had to keep pushing through and go beyond the classroom as there is always something to learn.
How do you think Claflin could have better served your needs?
I think it would have been beneficial to have more career fairs and networking events geared towards creative fields annually. Orangeburg, South Carolina is a small town but a college town with many talented artist and designers nonetheless. Often times when a career fair was held the majority of art students felt sometimes there wouldn't be anything geared towards our creative interests or at least something related. I believe more of those types of events would help provide more opportunities for internships/jobs that could serve as a great marketing tool for the university. These opportunities give a chance for students to receive outside critiques from the employers or professionals themselves. Ironically, my first portfolio review from a creative professional came from me entering the 2013 Adobe Achievement Awards. While I wasn't a finalist, I was fortunate to be selected in their mentorship program that year. The portfolio review helped placed things in perspective for me when it came to my strengths and weaknesses.
With that being said, I'll go on record to even recommend a portfolio preparation or personal brand development course with additional software courses to be added into the current curriculum.  For me, I believe these ideas are absolutely necessary especially when preparing to apply for graduate school or venturing into the industry before graduation.
What are you doing now that you've graduated?
After graduating from Claflin last year in 2015, I applied for graduate school at Savannah College of Art and Design for MFA program in graphic design. Right now I have transitioned into a full-time MFA candidate but I am also looking to navigate my way further into the design industry to pursue some more professional experience while obtaining my degree. I am now in the beginning stages of launching "ktylerdesigns" soon hopefully sometime within 2016. This would be a more official startup of my freelance design business.
Did you had the opportunity to participate in any internships or gain any design-related work experience while at Claflin? If so, where was your internship and what did you learn?
I did get to test the waters of freelancing for a few small business owners briefly within the Orangeburg area while in undergrad. Doing this taught me a little about the business side of being a designer something that is totally different from a school setting. I also had the opportunity of working on a personal social awareness campaign that turned into the idea for my senior thesis project at Claflin. It was project a fictional organization called !LOUD Inc. (Living Out Unchained from Depression) that featured print ad campaigns that provide information around the negative stigma and stereotypes of mental illness in the African-American community. I was motivated to do the project at the time because I thought the discussion of depression in the black community was a topic that was rarely discussed. Throughout the course of this project I undertook all of the art direction, photography, copywriting, and overall brand identity. I learned so much more about research, planning, and time management.  Collaboration with my peers Jennifer Sumter, Nastaija Partee, Betty Bowman, Crystal McBride, and Antoine McCrea serving as models in the photographs for the characters in the ads was another fun experience showing me how other African-American artist/designers can come together to support each other's creative visions.
What was the most valuable thing you've learned in your program?
I think the most valuable lesson from my time at Claflin is just being willing to learn beyond what is given or in front of you. If you have the desire and passion to learn it will get you through no matter how long or how many times it takes you to get it. You don't always get things right on the first time and that is the beauty of education as there is no one method or way of doing something.  I have also learned to have faith that things work out for your greater good in the end.
What advice would you give another student of color considering Claflin for college?
These are some other  things I have learned along the way as a student that I told myself and still do even now:
Remember to put God first in all you do. This scripture has been a staple for me:  I can do all things through Christ which strengthens me. – Philippians 4:13
Don't be afraid to speak up. Rather you have an issue, questions, or want to change something don't be afraid to speak up as you never know what it might help or even lead to opportunity wise. Your education and degree is for YOU.
Support others. Do remember to support and attend exhibitions of your fellow black artist/designers at Claflin.
Find a mentor and be a mentor. Your journey doesn't have to be alone. Seek advice from someone within the department or even go outside of the department if you have to find someone who is willing to share their experiences and wisdom with you. Once you have gotten what you needed please be sure to pay it forward to your peers that may need it as well.
Work hard and remain humble. Continue to work hard at your goals no matter what your circumstances are.  There will be difficult times but remember there is always going to be sunshine eventually after the rain. Keep an open mind if someone genuinely gives constructive criticism as it's only to make you better. If you work hard, keep a positive attitude, and remain humble things will start to manifest that you couldn't have even imagined.
Create what YOU love. Whatever you love creating and doing the most, continue to do that as you have to be content with the work first. Have fun with it!