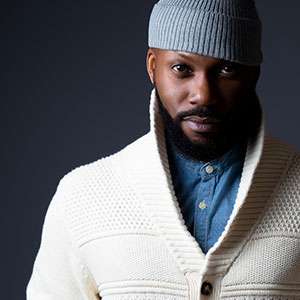 Inspiring Black Designers is all about highlighting designers who are talented.
About a month ago, I came across a piece called Culture designed by Chris on Facebook (view below) and was very impressed.
After visiting his website I was even more blown away not only by his pieces, but his consistency of this portfolio and his photography.
He was not only passionate about design but about culture, art, education, and beauty.
He is the nicest guy you would ever meet, so read on and learn why Chris is an inspiring Black designer.
Why did you become a designer?
I became a graphic designer because it seemed like a natural progression from the photography work, which I'd already been doing. I've always had a fascination for typography placement, illustration, photography, and the way all those elements can be combined to create compelling content.
I also love the marketing aspect of design and how messages are relayed using the mentioned techniques. After some years, I decided to go back to school and get a degree in graphic design in order to learn the theory, business, and practical aspects of the craft. It only made sense to combine my photography skill sets with design and utilize them both in my business plan. I haven't looked back since.
What inspires you?
I am inspired by quite a few things. I enjoy seeing clever ways to make the sometimes mundane things in life seem interesting again. I think that is a constant challenge in graphic design, figuring out what your market can relate to, but present it to them in a way that is still fresh and new.
With that said, I also enjoy and am inspired by seeing people who look like me make their mark in the national and international design scenes. People like Maurice Woods, Tony Gable, and Eddie Opara. As our contemporaries, people like them are paving the way in our field and showing that African-Americans are talented, innovative, and are more than capable of visually communicating to multiple markets.
We need to see talents like these become household names and cited in design schools at the same level as the Paula Schers and Paul Rands of the community. I am inspired by young people willing to put in the work to break the stereotypes and show that we as people of color deserve a fair shot in the competitive market as designers.
Visit Chris' Website: http://chrischarlesdesigns.com/