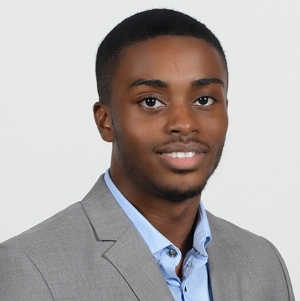 What's your name, what year are you, and what are you majoring in?
My name is Bobby Hill. I am currently a sophomore at Parsons' The New School of Design majoring in communication design.
Tell us about when you first learned about graphic design. How did you decide that it was a career path you wanted to pursue?
I was first introduced to the graphic design practice during my sophomore year at KIPP Pride High School under the instruction of Ronald Beckham. The KIPP program and Mr. Beckham supported me in my pursuit of the arts and motivated me to get where I am today. I originally began practicing fine art. However, Mr. Beckham pushed me to think practically about what I was doing if I wanted to make it my career.
Many people tried to instill doubt in me by saying that I would become a "starving artist" because I wanted to explore the art field. I did not let their negative thoughts deter me and I had the help of Mr. Beckham to uplift me. When I shifted to graphic design, I became infatuated with it because it allows me to combine both my love for fine art and design. Graphic design gives me the ability to create visual messages that transcend ideas in the public domain and work to solve problems.

What made you want to attend Parsons School of Design?
I saw it as a way to move out of an area where there was no opportunity and place myself in a city built of dreams. When the time to apply for college finally came, I knew I could not stay in my hometown in North Carolina. I applied to ten different colleges and universities, all of which were out of state, and I was accepted to all of them. Parsons stood out to me because it is located in New York and it is also ranked as the top art and design institution in the United States. After being accepted, I knew I couldn't pass up the opportunity. It was my golden ticket.
Do you feel supported as a student by your department (or advisor)?
I feel support from my institution's department and my academic advisor. I also feel that my voice is heard, and when it comes to actual design practice, I am pushed in the right direction and given a lot of control over my work.
What challenges do you face as a student at your school?
Being that I am a first-generation college student financing my own education, I do run into challenges at times, but I always work to make a way. I am currently balancing being a full-time student, working part-time, and running my own business. However, I know that success doesn't come easy and that the reward will be great in the end.
How do you think your school could better serve your needs?
Right now, my institution lacks a sense of community. Being that The New School is a private design school with around 10,000 students, I believe there needs to be more opportunities for us to network among each other. After all, the people I'm in class with are the same individuals I will be working and competing against after I graduate. I would like to see my university work to develop a better sense of community in order to prepare students with connections.
What are your goals once you graduate?
When I graduate from Parsons, I will be a budding designer and gallery owner working to help elevate the voices of the youth through art showcases. I will tear down the walls that force people out and prevent many from having equal opportunities. Once I tear down those walls, I will build doors in communities like the one that I come from, where there are no major industries and economic growth. Through business, I will not only make a profit, but I will also make an impact on a national and global scale.
Have you had the opportunity to participate in any internships or gain any design-related work experience since you've been in the program? If so, where is/was your internship and what have you learned?
Yes, I have been able to earn two internship positions while being enrolled at Parsons, and I've started my own creative business, HillsWorks LLC. I worked at the KIPP Foundation in New York as their 2016 summer creative services and marketing intern. My internship at the Foundation taught me to effectively collaborate with a team and gave me insight on marketing as it relates to design (which I have been able to use in my business).
I am also an intern at Columbia University where I serve as a graphic designer for their athletic department. One of the key areas I focus on is the football department. Here, I am able to strengthen my skills and create designs that relate to sports.
What has been the most valuable thing you've learned so far in your program?
Visual simplification. I have learned to analyze mass amounts of data and create designs that address and solve those problems. This is one of the most valuable things I've learned thus far because this is something every designer will have to keep in mind and practice during their career.
What advice would you give another student of color considering Parsons School of Design for college?
First, know that there will be times where you will question if you belong and know that you do simply because you were able to make it there. No one can take that from you other than yourself.
Also, be aware that there will be times where you are the only person of color in the room. Use that to your advantage. You will naturally stand out, so make your voice heard even more. Learn how to see the advantages and opportunities you have in front of you and seize the moment.