You might have heard that "all's fair in love and war," but what are the rules of engagement when it comes to marriage and design? In this two-part series, I talked to three creative entrepreneur couples about how they navigate the challenges of being in love and being in business.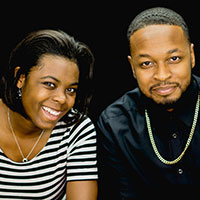 Kevin and Mary Pleasants are the owners of 21five Creative, a design and branding company based in Charlotte, NC.
These college sweethearts met about nine years ago, and have been married for three. They have been in business for a little over a year.
Jacques and Dahcia Bastien run Boogie, a digital agency headquartered in Albany, NY focused on helping lifestyle brands reach millennials. Since they met in 2009, Dahcia has been an unofficial part of the team —helping with proposals, strategy, and the building of Boogie's first office. In 2013, Dahcia officially joined Jacques in the business. They were married in 2014.
Russell and Kathy Bynum met in church about 34 years ago. Not long after they became married, Kathy joined her husband in business. Today, they are the proud owners of Bynum Marketing & Communications, Inc., a marketing and design firm based in Philadelphia, PA, which recently celebrated its 30th anniversary.

What role do each of you play in the business?
Mary: Kevin is the visionary and the designer. Anything he puts his mind to, he can do. Or in this case, create. I am the organizer. I help send out emails, organize events, and help him stay on track.
Kevin: With Mary's degree and background in marketing, she has a keen eye for what works from the consumer's perspective. Aside from myself, she is my biggest critic, and I'd have it no other way. Together, we play the role of support. This is a rollercoaster ride, and sometimes we need each other to be our biggest cheerleader too.
Russell: I serve as president and creative director, overseeing and producing graphics and client relations. Kathy oversees marketing and copywriting.
Jacques: The short answer is EVERYTHING. Officially, Dahcia is our VP of strategy. She makes sure that we're coming up with the best strategies to solve our clients' goals. I'm the CEO, and I spend my time focused on business development, talent acquisition, high level strategy, and team culture. We tend to do a little bit of each other's jobs along the way.
What prompted you to go into business together? Looking back, is there anything that you would have done differently?
Kevin: We both have entrepreneurial spirits. The challenge for me was trying to figure out what to do, how to do it, and how to maintain doing it. On our second anniversary, Mary challenged me to find that "one thing" and go after it. After prayer and some thought, it was clear that design was the choice. Because we believe that we are one flesh, we knew we'd have a part to play. Not that being married means we have to go into business together, but for us, it only made sense. We are partners, but we stay in our own lanes.
Looking back, I personally would have gone harder at reaching out to new clients with the tenacity that Mary showed. I think that we could be further along if I wasn't so timid in regard to getting from behind the Wacom.
Mary: Russell worked at another agency for over five years and picked up his own account. After working on the account for a year, the business grew. After about a year or two, we had to decide if we wanted to keep the business or not. Kathy, a business school graduate from Duquesne University, decided she would join Russell in business. We said a prayer, purchased an IBM Typewriter, and started Bynum's Advertising Service (the company's original name) from our home.
Russell: I would have hired a sales person ASAP.
Dahcia: Before Boogie I was working as a legislative aide for the New York State Assembly in Albany, NY. When it was time to renew my contract, I decided not to so I could join the company. I saw how hard Jacques was working, and while I was working my full-time job I would spend my downtime helping with Boogie. I knew that with me by his side full-time, we'd be able to do much more and grow together. Three years later, there's nothing I'd do differently—except maybe take the leap of faith sooner.
What do you believe is the key to making a business relationship work with your spouse?
Kevin and Mary: Everyone will probably say this: communication. It takes more than talking to your spouse. In fact, it takes more than listening! We believe that there is a third party involved that helps to keep us sane. We also know that we must take time to ourselves; take time to make sure that we are aligned with our personal vision, and [ensure] that our personal vision aligns with our corporate vision. From there, give and give is essential.
Jacques: That's a great question! I don't think there's one key thing, but as I look back over the last few years, there are a few things that have allowed us to make working together work. For starters, we were raised with the mentality that you work hard and make certain sacrifices for the things that you care about. This has helped us a lot because we both give this company everything that we have and we've grown closer because of it. Secondly, you need to be selfless. Any relationship where one person is more selfish than the other will eventually show itself. Last, I'd say that you need to also be mature. Maturity plays a big role here because when we leave our office at 4:45 p.m. and get in the car for our 22-minute drive home, it takes maturity to completely let go of everything that may have happened in the office and transition from co-workers to husband and wife.
While this is not on the list, from the beginning of our relationship we've had God by our side. We've never had a battle that we weren't able to handle whether it's in our business /or our home life.
Russell and Kathy: Defined Roles.
What word of advice would you offer to other designers considering going into business with someone they love?
Kevin and Mary: Know that there is sacrifice, and be clear on your roles. Check your ego at the door. Nobody cares! Get the work done, and when you sense some tension, step away and focus on what really matters. Leave the emails, calls, texts, DMs, and bills at home. Go out on a date!. Never let the love of money, power, or any other idol overrule your love for your spouse.
Jacques: There are a lot of people who get into business together before setting the foundation of their relationship and as soon as something goes wrong with the business, it affects their relationship. My advice is to make sure you're confident in your relationship before getting into business together.
Russell and Kathy: Define roles and respect each other.