Purchase Tickets to WMC Fest 5
In a little under two weeks, Revision Path will be on location at Weapons of Mass Creation Fest, a three-day event put on by our friends at Go Media!
This is the fifth year for the event, and it's going to take place in Cleveland, OH August 15-17.
Weapons of Mass Creation has been regarded as a diverse and inclusive event that supports the creative community. It's an environment where doers, dreamers, and makers can gather to network, find support, share ideas, and express their creative passion.
Check out this great highlight film from last year's event!
Purchase Tickets to WMC Fest 5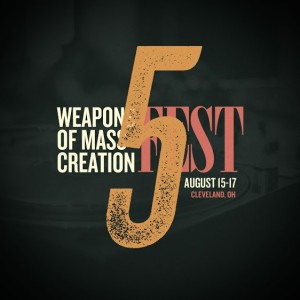 I will be on a panel titled "Weapons Declassified: Race in Design & Creativity", which will happen on Saturday, August 16. The panel will be a rousing discussion on race, culture, and diversity in the creative community with some really great people giving their viewpoints (Linda Ayala, Luis Cabrera, Antonio Garcia, Jacinda Walker, Donald Wooten). Angela Townsend, a reporter from The Plain Dealer.
I'm excited not just because this will be my first time really speaking about Revision Path to a live audience, but because Go Media and Weapons of Mass Creation Fest has been really great about reaching out to other communities and including different viewpoints within their conference's framework. Aside from the panel I'm on, there's a panel on gender and sexuality, workshops on letterpress, business, and Adobe Creative Cloud, a comedy show, and a breakdance battle! There's also going to be a ton of great designers and speakers there, including Anthony Simpson of Random Objects who we interviewed last year.
Tickets are just $100 for the entire three day event, and you can purchase single day tickets for $55. Click the button below and purchase your ticket today! I'll see you in a few weeks in Cleveland!