Vincent Scatliffe is a visual designer and strategist based in Los Angeles, California. He is the founder of Continuous Line Design Group, which focuses on building social impact brands. His latest venture incorporates all that he's learned professionally over the years while infusing his personal experiences and lessons learned along the way. Learn more about Vincent in this exclusive interview.
Tell our readers a little about your educational background and journey to becoming a designer.
My design education started at Design and Architectural Senior High School in Miami, where I majored in industrial design. I then went to Rhode Island School of Design (RISD), where I also majored in industrial design. While at RISD, I spent four months studying graphic design, global design, luxury design, and product design at Strate College in Issy Les Moulineaux, France, a small town outside of Paris. During my senior year, I spent a semester studying product design/development at MIT. After RISD, I studied product management at General Assembly in Los Angeles.
How would you describe your niche as a designer? How  has having a niche been important for your business?
I support leaders that help people succeed. My niche [focuses on] leaders in various industries, primarily within the social impact sphere. Having a niche provides focus and allows for you to develop skills in a concentrated area. It has allowed me to grow a client base that supports my interests of helping communities.
When you lived here in Atlanta, you were active with AIGA's Atlanta chapter as its past diversity chair. How do you feel about the current state of diversity in design? What can we as designers do to address it?
Diversity in design has improved over the last 10 years. However, it still has some ways to go in my opinion. It has yet to truly reflect the majority of people in the consumer market. As designers, we can be more visible and active in communities of color. We can also be intentional about building channels and providing access to aspiring designers of color. That would be a great start.
What does being a black designer mean to you? Has your ethnicity or cultural background come into play through your design aesthetic or approach to running your design practice?
Yes, it has. It means having a wealth of unique experiences that can serve useful to any creative design problem. It's given me the ability to see through a much wider lens and a fearlessness to address complex design challenges.
About a year ago, you had the opportunity to work as an apprentice with Jose Caballer and Chris Do's platform — The SKOOL. How has that experience affected your design practice?
Tremendously. What Chris and Jose are doing at The SKOOL is changing the way in which people see designers and how designers see themselves. It's giving them a framework that positions them as strategists and not just someone that has the ability to "make things pretty". I have been able to use this framework to help pivot my career from being a designer to a strategist that uses design thinking to simplify complex problems.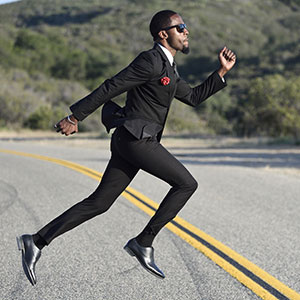 You've taken a few leaps of faith in life—first leaving your 9-to-5 while in Atlanta to start your design practice, and most recently moving that practice to Los Angeles. What advice would you give to designers who may be contemplating making the leap from employee to full-time entrepreneur?
Build your portfolio with great projects and develop your skills in the process. Create or expand your network of people and/or other resources. Join a professional organization such as AIGA. Study people, surrounding communities, and the industry you are most interested in. Tell a few people that you trust and that support you about your decision, so that they may hold you accountable.
How have the opportunities for you to build and grow your business differed between the two cities?
Atlanta allowed me to start my career as a design entrepreneur with minimal risks. Los Angeles has given me the space to grow professionally and pivot my career while increasing my potential to make more money and have a greater impact.
You recently started working on a new series of workshops, videos, and an upcoming book entitled, "Branding While Broke." Can you tell our readers more about what "Branding While Broke" is about?
Certainly. Branding While Broke is an educational platform that equips and inspires leaders that are building brands. It was born out of a time of deep introspection. Through workshops, seminars, interviews, publications, one on one strategy sessions, it's designed to highlight ways to build an authentic brand while in the space of being broke financially, emotionally, etc.
Branding While Broke e-book explores moments in time of being broke financially and emotionally. While within those moments, opportunities to build an authentic brand were found. This book offers an alternative perspective to being broke and what you can do while in that space, when building an authentic brand. Whether it's being homeless, attempts of suicide, or the loss of someone close, you will discover that there is power in the process.
Can you talk a bit about your role transition from graphic designer to strategist? Why did you make this move?
Yes. This is where my faith in God plays a significant role. I fought the idea of going from graphic designer to strategist because it was what I had been practicing for years, until recently. During a time when I was becoming complacent with what I was doing and who I was becoming, I prayed and asked God to give me clarity and direction on what my next steps were as a designer. The answer He gave pointed to strategy. After accepting the idea I noticed how over the years the role of a strategist already played a significant role in my design career. I've always enjoyed creative problem solving, hence my background in Industrial Design. Taking on the role of a strategist allows me to play an active and visible role with organizations, businesses and individuals building brands.
Who or what are some of your design influences?
People and nature. I enjoy people watching and spending time in nature such as hiking. Doing these things usually trigger ideas and influence many of my design decisions.
In addition to your design practice, you've also been actively involved in community and philanthropy, working with the Urban League, your church, and serving as a mentor. Why do you feel this is important as a designer?
This is how you stay creative and connected to the people you are ultimately designing for. Being active in the community helps you to become more aware of what's taking place in the community around you, which in turns helps you to become a more relevant designer. Muhammad Ali said it best: "your service to others is the rent you pay for your room here on earth."
What is one piece of advice you would offer to designers just starting out in their careers?
Be humble and stay eager to learn.