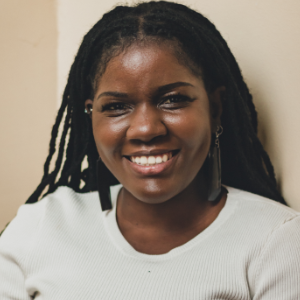 It was a real joy to connect with Fungi Dube for this week's episode of the podcast. She's a skilled brand, web, and Webflow designer in Harare, Zimbabwe, and I love how she leverages her culture in her designs to create stunning visual and digital experiences for clients around the world.
We covered a range of topics related to design and creativity. Fungi shared the importance of understanding a client's needs and goals, spoke about the creative community in Zimbabwe, and talked about how she transitioned from being a trained scientist to a talented designer. If you're looking to find inspiration from within, then this interview with Fungi will definitely bring it to you!
Interview Transcript
Maurice Cherry:
All right, so tell us who you are and what you do.
Fungi Dube:
I am Fungi Dube. I am a brand visual and Webflow web designer based in Harare, Zimbabwe. I have been designing, according to LinkedIn, for almost eight years now. So I think that's super cool. And I mostly am inspired… not mostly, largely inspired by the profound nuances that are embedded in African culture. So if you are to interact with my work or engage with my work online, you're probably going to see that a lot of it is really centered on African narratives and seeing how I can tell their stories in a really fresh and inspiring way.
Maurice Cherry:
So how has the year been going for you so far?
Fungi Dube:
The year has been good. I feel like at the very start of it, I was kind of flailing about, just trying to get everything in place and trying to organize myself personally, just getting my goals out there and that sort of thing. So it was a bit of a whirlwind, but as it has progressed, it's gotten better. I feel like I am more in control. I've regained all balance and it's been really good. I've been working on some super exciting projects that hopefully you'll see the light of day soon. But yeah, so far so good.
Maurice Cherry:
Do you have any goals in particular that you want to accomplish for the year?
Fungi Dube:
Definitely, definitely. I have a lot of sort of business-centered goals when it comes to being a solopreneur and running my own design brand, but I also have goals with regards to sort of tapping more into the design education space and seeing what I can do with that. So I do have two big, major self-initiated projects that I'm working on that I'm also funding that I'm hoping are going to work, and then I can go and ask people for money to make them bigger. But yeah, I definitely have a few things that I'm working on at the moment that I would like to see done by the end of the year.
Maurice Cherry:
Oh, nice. I mean, I'd love to learn a little bit more about them, as much as you want to go into detail about them.
Fungi Dube:
I don't want to keep it too generic, but pretty much the focus of these projects is that I feel that there's a gap, and the gap is seen in how when it comes to African design systems or African design education or African inspiration in general when it comes to design is a little bit lacking. So you are able to find references and that sort of thing on Google. You could probably go outside and have a chat with a roadside vendor or with your grandmother and find out about things and that sort of thing, but I want to be able to at least contribute towards the documentation of some of these things. So there's definitely a gap when it comes to the literature that we can read with regards to African narratives and how to implement them in design. So the project's really one which is digital and one which is actually physical or centered on being able to start this documentation process, not only for designers now, but for designers to come.
Maurice Cherry:
That sounds really interesting. I'd love to hear more about that once it's out in the world.
Fungi Dube:
Definitely. I'll definitely let you in once there's something to actually see.
Maurice Cherry:
Yeah. Now, you just earlier described yourself as a solopreneur. Tell me just kind of more in general about your design work and what you specialize in doing.
Fungi Dube:
I don't know if I should take the audience all the way back, but initially when I did start designing, I sort of was everywhere. So you could have told me to do, I don't know, to design a flyer for the most random thing ever and I would've done it because I was still learning and sort of getting my feet or dipping my toes in the water just to see what the industry was like. But I want to say probably at the four-year mark of my seven plus, almost eight year journey, it sort of clicked that I wanted to be able to work on projects that I could see myself in as a young Black, Zimbabwean female African designer.
So I made the shift and my focus since then has been seeing how I can leverage African culture, African narratives, nuances that are embedded in African cultures like textures, colors, patterns, the use of graphic symbols as a way of visual and global communication, and just seeing how I can interpret that in a fresh, modern, and inspired way and send that out to the world. So that is the base or the foundation of the work, and then the sort of disciplines that I work within would be the brand design space, the visual design space, and more recently the Webflow design space.
Maurice Cherry:
Yeah. I worked briefly, this was back from 2017 to 2020-ish, I worked for a company that was doing a lot of, not no code, low code, they really actually wanted to be more code, but we worked a lot with or kind of in congress with other companies that were doing those sort of similar things, like Webflow, basically taking the process of design and sort of democratizing it in a way where you could use a product to create things. I've used Webflow before. It's super powerful. I love how you're able to really create full, really fully functioning sites with just dragging and dropping. And if you want to get into the code you can, but I like that the code is not a hindrance in order for you to create something.
Fungi Dube:
Yeah, it's really changed my perspective on design as well, because there's just so much that you can do. So Webflow is super flexible, infinite possibilities when it comes to very unique user experiences and customizing really cool interfaces and animations and interactions. So yeah, it's been a really cool journey so far. This would be my second year in Webflow, but I'm just super excited to really learn more about it and see what I can create with it.
Maurice Cherry:
So what does a typical day look like for you?
Fungi Dube:
Goodness. Okay. So my routine has changed a little bit as the start of this year, but I used to be 5:00 AM club. I am not anymore. I have become 7:00 or 8:00 AM club, and that's perfectly fine. So that's the time that I usually wake up. I tend to have my little morning routine, so whether that's cleaning my space, making my bed, taking a shower, having some breakfast, but I will be settled at my desk around 9:00 in the morning. I like to get administrative tasks out of the way first, so I check my emails, I check my socials. I am also a brand design coach with Flux Academy, so I tend to check all of those emails as well and see what's happening in the community with the students. And then right after that, which is probably maybe an hour, an hour and a half, then I'll dive into any kind work that I could be working on.
So I tend to also like to work in little sprints throughout the day. So I'll dedicate an hour block or an hour and a half block to a certain task, and then I'll move on to the next one. But with each and every single day, I do at least make sure that I prioritize time to go to the gym. So that's usually in the late afternoon. And if I am able to, I also schedule nap and nap time because I think it's important to recharge and occasional dance breaks. It's so weird, but I have it in my schedule to be like, "Okay, I think that we need to just blast some tunes right now and just have a vibe at the desk," so that things don't get too hectic and you don't feel like you're losing your mind. So yeah, that's pretty much what a typical day looks like for me. In the evenings after gym, dinner, shower, cup of tea, I'll wind down and maybe watch something on Netflix, read something before I go to bed, and we start it all over again. But my workday is usually done around 10:00 PM in the evening.
Maurice Cherry:
I love that you have these breaks in the day scheduled for play, or I would say for non-work, but you've got them scheduled in your calendar and you don't move them around or anything. I love that.
Fungi Dube:
Yeah, I think it's super important to prioritize things such as help us to also relax as designers, because I think it's super easy for us to be at our desks plugged behind our computer screens for 16 hours a day and you actually don't realize that you've been working for so long. So I'm a strong advocate for making sure that… and balance looks different for everyone, I should add that, but just for ensuring that at least there's a little bit of me time even in the chaos and the busyness of work. So even if it's 20 minutes of just, "Hey, let's do some chair dancing, or let's take a quick nap," I'm definitely going to take it for sure.
Maurice Cherry:
And I think it's super important, especially when you're a solopreneur, because nobody's going to prompt you to do that. Nobody's going to tell you, "Hey, maybe you should take a break." You have to do it. You have to schedule it in in order to make sure that you get that done.
Fungi Dube:
Yeah. And that's the thing as well. When you're a solopreneur, you have to wear many hats. So it can get really overwhelming and you find yourself sort of feeling a lot more burnt out and that sort of thing. So I had to be very intentional about ensuring that I scheduled this into my day-to-day so that at least I can cope with everything else that I have to do, because I have to be social media manager, I have to be accountant, I have to be administrator, designer, strategist, all in one. So just having that time to yourself where you can just do nothing or where you can play really, really, really makes a difference.
Maurice Cherry:
Yeah. So let's say you're starting a new project. It can be from a new client, from a current client. What does your creative process look like?
Fungi Dube:
From the jump, I like to have a discovery call. With any potential leads, I will write to them and just find out when they're available for us to meet. I will introduce myself in this call. I will also listen to them talk about their brand/their business, their service, their product, what it is that they think they need for their brand, because sometimes you will actually find out that they may think that they need branding, but maybe they actually need a strategy first and that sort of thing. So once we've had that discovery call, then I follow that up with documentation and what this documentation is, depending on what sort of service they're after. So whether it's brand design, whether it's web design, I'm just going to send them a questionnaire where they can then put all the words that we discussed in the call onto paper just as a form of reference for the both of us so that if I need to pick up any vital information and that sort of thing, then I know that I can always refer back to that document.
It also helps me to set a project proposal, which covers all of our working terms. So issues to deal with costing, with deliverables, with turnover times, just for general terms of engagement that allow for us to be happy as you go throughout, as we work on the project and that sort of thing. And then once that's signed, sealed and delivered, then I will then start working on the project. So it's very collaborative on my end, where I tend to also include and involve my clients in the project as much as possible. And so I set up a central workspace on Notion where we can exchange ideas, where we can shorten the feedback loop, where everyone has access to everything. So at any stage of the project they can see exactly what's going on, they can see what assets are being created and that sort of thing.
So when it actually comes to the design process of it, I'm going to start off with the visual mood boarding phase, which is basically putting together or curating some reference images that capture the essence of the brand or how we are trying to get it to look like. Once that's approved, then I go into development, which will obviously be very different depending on what the project is. So it could be the logo suite and then colors type, supporting assets like iconography, brand patterns, maybe illustrations to accompany some of the assets that have been created and that sort of thing. And then, I will iterate on that of which in my project proposal I also stipulate how many rounds of revision are allowed for the project depending on the price and everything.
And then once it's happiness and joy, we've sort of worked through it, we've edited what needs to be edited, we've revised what needs to be revised, then I will hand over all the asset files to them, inclusive of all the high resolution formats, inclusive of the original source files, and obviously guidelines and that sort of thing as to how they should retain the integrity of the brand identity that we have just worked on together. And yeah, that's it. So that's sort of how I cycle through it, but it's all also very, very, very, very heavily based on research. I think that probably takes me 80% of the time and then executing everything is like 20% of the time, because I want to make sure that I am obviously creating something that is distinct, something that's memorable, something that's competitive, but something that also captures the heart and the essence of their story. So yeah.
Maurice Cherry:
Do you find that clients often want skip that research step and they just want to go right into the creation part?
Fungi Dube:
I have had instances where that has happened, but it hasn't been that often in the recent years. But if that has been the case, that's been an immediate red flag because I think the discovery call has helped me to get a sense of whether they would be open to my process or not. So if we are on the call and they're like, "Hey, you know what? Let's just skip over that. Don't really matter. Let's just design the logo and let's go," then I know almost immediately that that's not going to work because there's a lot more work that goes into the visuals or into the final outcome that people are then going to engage with. So it does happen. It has happened. It doesn't happen as often now, but I mean, we are dealing with people at the end of the day, so everyone has a different way of thinking of how things should be done, so there's that.
Maurice Cherry:
Yeah. I've often found even when clients want to skip that step, it always extends the project because what ends up happening is you're making something, you're just jumping right into it, and then you have to do X number rounds of revisions, which I like that you put in, you stipulate, "I'm only doing this many revisions." The research helps so you stick to that, so you're not kind of doing this constantly iterating process of trying to appease the client without doing the research first so you can try to get it right the first two or three times as opposed to, "Here's version 12 of what we've been working on." No one has time for that.
Fungi Dube:
Yeah, no one has time for that for sure. And what I actually wanted to add on to that is to say that when you find that you have clients who sort of jump the gun in that way or want to do that, it really takes away from the process in the sense that you're saying you definitely will find yourself maybe having to go back to V1 or after you are at V7 of the project, and it's really not going to benefit you and it's not going to benefit them either, because I think there's going to be a lot of frustration there.
Research really, really, really helps you to get to that point where also you are not designing according to your client's preference, which is another thing that we need to mention, because they are going to have their personal taste and everything like that, which is fair and fine, and we should definitely consider that, but we need to understand that when it comes to these sort of branding and visual projects, we're also designing together or to appeal towards a certain target market or audience. So that research is essential. It really ensures that, "Hey, when we push this out, are we going to be speaking to the right people and then are they going to take it the way that we intend for them to do so?" So if anyone is listening, and if your client or potential lead is like, "No, no, no, we are not going to do research. We are just going to skip through this," then I will tell you to not take that project. It's not going to be worth your peace of mind.
Maurice Cherry:
Yeah. What are the best types of clients for you to work with?
Fungi Dube:
So I have had a broad range of individuals and small businesses and corporates that I've worked with, and I can't even pin it down to who the best kind of client is because I think everyone comes with a different kind of energy and a different kind of vibe. But what I'll say is that in general, some of the projects that I've really enjoyed working on with individuals or small businesses, startups, enterprises who really value the importance of storytelling in one way or another.
So if we're on the call and off the bat they're like, "Oh, we started this in 1897 and it was because my grandmother did this and did that," and you just get this wholesome story that they just tie together and they tell you the background of why they're doing it and that sort of thing, immediately I get good vibes from that because I'm like, "Oh, this is going to be something good to work on because there's a lot more meaning and there's that strong emotional connection to what they're doing as opposed to just selling a product." So those have been that clash of individuals who come with that sort of energy and that value storytelling in one form or another have been some of the best project that I've worked on.
Maurice Cherry:
Now you're in Harare, Zimbabwe. I'd love for you to just paint a picture for the audience. I would say our audience is probably largely in the US. What does the creative industry look like there? Is it centered around Harare? Just kind of give us a window into what the industry is like there.
Fungi Dube:
So I would say that it is. We do have another major city called Bulawayo. Harare is the capitol, and a lot of what happens on the creative scene definitely happens here. And what's really exciting about this time that we're in is that we're in a season where the creative scene in Harare or in Zimbabwe in general is on the rise. So even when it comes to novel ways of expressing fashion, of expressing fine art, of expressing expressive photography, there have been some really cool live exhibitions that have happened. They've been very urban fashion and photography exhibitions and shows that have also happened in the most unlikely places as well, where you would see these sort of things. And it's just been really exciting seeing how young Zimbabwean creators are really stepping up or really stepping into their own, are really honing their craft and are really thinking of new ways of expressing the ideas. So it's on the rise. It's on the rise. I'm hoping that it infiltrates and sort of starts to penetrate crowd supporters overseas, but there's a lot, a lot, a lot of exciting things that are happening currently.
Maurice Cherry:
Have you been able to tap into a creative community where you're at?
Fungi Dube:
So I am a part of creative communities, not just here alone. I think if anything, when it comes to more of the work that I do with regards to branding web, there's definitely room for there to be something that sort of unites creatives who do the same thing that I do. But that is, it's there, but it's not there. I know that's very vague, but it makes so much sense in my head. I think there's definitely room to see where that can go and what can be done with regards to that, but in terms of just general design communities and stuff like that, I am a part of and have had the wonderful opportunities to connect with other African creatives on the continent who are based in different cities to me. So that's something that I've been able to do.
Maurice Cherry:
Well, I think if the creative scene is on the rise, like you mentioned it, it kind of I guess would make sense that there's maybe not a lot of creative groups yet because things are still, it's in that sort of burgeoning state where stuff's beginning, stuff's starting to pop off, stuff is starting to gain attention and gaining traction. So it's probably just the visibility thing I would imagine at this point because yeah, I think it might just be a visibility thing. I'm completely guessing. I have no idea what it's like in Zimbabwe, but I just know usually when I've talked with other people in other cities all across the world, when they've had those sort of small design spaces or creative spaces that are starting to pop up, the community just hasn't coalesced yet around something. So I think as the scene rises, those types of things will happen. I think you'll be able to find some community there, but it's good, like you said, that you've been able to find it elsewhere, too.
Fungi Dube:
And I agree with you. I think it's definitely a visibility thing for sure, but it's something that we're slowly breaking into. But yeah, everything in strides, I would say.
Maurice Cherry:
Yeah. Well, let's learn more about you as a person. I know you kind of gave us a hint into your kind of daily creative routine, but I'd love to hear more about you growing up. Were you really into design and art as a kid? Tell me more about that.
Fungi Dube:
So I always enjoy talking about my childhood. It's a very special, special time for me. I grew up with what I would say were liberal parents in the sense that they let me explore. So both my parents were vet surgeons and we lived in a very small town here in Zimbabwe called Norton. It's very nice, it's very peaceful there. So I say liberal in the sense that whenever my parents went out on site visits, whether it was to farms for vaccinations and that sort of thing, they sort of let me wonder often see what I could find. I don't know if that's dangerous or not, but they kind of let me do it, to the point that on one of my site visits with my dad, I sort of snuck into an ostrich pen and I saw a massive ostrich egg, and I surprised my dad when he got home and he was like, "What is that? When did that happen?" I was like, "well, listen, you kind of let me wander off, so that's what happened."
But I do find that even from that, it really sort of opened up my mind in terms of how I thought and what I did. So I spent a lot of time outside. I built a lot of sandcastles, I played with dirt, I built things with sticks. So because of that, even when I then started going to primary school, I'm not sure what you would call it, but when you're maybe six years old and you start going off to school, so we call it primary school, I found myself also taking time out to make special DIY cards for my family members at that young age for special occasions. So if my aunt had a birthday, if my cousin had a birthday, I would draw my favorite cartoon characters on the front of the card, just a blank sheet of paper, fold it in half, draw my favorite characters, color them in and give that to them as a birthday card.
So I think the creative sort of inclinations and the creative bone or creative DNA has been there from the time that I was born really, but I didn't know that I could actually sort of capitalize on it or I could really bring it in and do something with it, which is why, like you mentioned earlier, as you were talking before this, that I went on to study science instead of anything creative. So instead of anything design related. I think maybe it probably worked as well because my parents essentially would've been in the scientific field because of the veterinary surgery and all of that. So it made sense for me to also do something in line with that or try and go into the scientific field.
But yeah, I kind of realized it much later after I graduated. I was like, "Wait, okay. There's this thing called design and I could probably take it up and let's see where it goes." But again, I wouldn't say that it's something that I really thought of. It happened also in a very freakish way because after I graduated from university in 2014, I was job hunting for six months at the start of 2015, and I couldn't find anything anywhere. I put my CV in the most random corners of the world and nothing came up, and I was so frustrated and I had no idea what I was going to do.
So in order to curb my frustration, I decided that I needed to teach myself a new skill. But even how design came about, again, maybe it's divine order, maybe it's something in the universe, I don't know what it is. I was on YouTube and my top recommended video was a Photoshop tutorial. And it's so weird, Maurice, because I had never heard of Photoshop before and I had never remotely… you could be like maybe the algorithm was doing things or whatever, but I had not even searched anything that is even closely linked to anything to do with Photoshop. So it was so weird. I just kind of clicked into it and my mind was blown because I was like, "Wait, are you telling me that people can actually do this with your computers and people make money from this and it's a whole thing that you can do?" It was so bizarre to me.
So that's how it sort of started, and I started self-learning in design, and I also happened to get a full-time job that I started going to towards the middle of May in education. So I worked in education for six years with children age between 6 and 12 years old, and I was in the sports and coaching and conditioning department at the school, so in line more with the human physiology part of what I studied, but I was learning design on the side. I would go to work and come back and be like, "Wait, what can I learn today? Let me pull up another YouTube tutorial." And at the time, I had a jet engine of a laptop and I had cracked Photoshop.
So yeah, I don't know if the audience would be familiar with this, but maybe it's going to show my age, too. But it was a time of torrents as well, so you could sort of download the torrent for Photoshop. Yeah, so that's what I did, and it just kind of stuck and I loved it, and I just kept going with it, up until eventually I left my job at the end of 2020. I was like, "I'm going to be a full-time creative solopreneur," and it's been one hell of a ride ever since then.
Maurice Cherry:
Yeah, I think there's certainly going to be a good bit of our audience that relates to using a cracked version of Photoshop to start learning about how to design. That's how I started up. I was using a cracked version of Photoshop, and I was going to a local bookstore, and I mean, I'm dating myself now. This is early… not early, maybe mid-2000s or so, 2004, 2005. Because there used to be these books published about Photoshop, like Photoshop 6: Dirty Tips and Tricks, and it would show you all these different little effects that you could make. "This is how you make a metal effect. This is how you make a gold effect. This is how you make a water effect." And I didn't have the money to purchase those books because those things were $50. I was like, "I don't have $50 to buy this book, but what I can do is write down all the steps in my notebook and take it back home, or I could take a picture," because I had this little dinky point and shoot camera, and I would take a picture of the page and just go back home and download the pictures and have the picture up, and then have Photoshop up and try to mimic the steps and stuff. So I mean, that's how you learn. It's that hands-on kind of stuff. So I completely, completely understand where you're coming from there.
Fungi Dube:
Yeah. I mean, it's a real life case of trust the process.
Maurice Cherry:
Yeah. When you look back at your time in college, you were studying human anatomy, physiology, biochemistry. In hindsight, did you see any elements of design in that work?
Fungi Dube:
Yeah, actually, because now, especially when it comes to maybe my research methodology just for creative projects, I see that I borrow a lot from what I learned during that time. So even when it comes to general experiments, obviously you've got to know what sort of equipment you're going to use. You got to know what you need in order to get a certain result, you're going to have to evaluate that result. Maybe you're going to have to redo things and that sort of thing.
So that entire process of being able to design an experiment, I think is the same thing that I use now when it comes to coming up with concepts for brands. The research part of it definitely comes from there, because I can read any sort of, what may seem very boring content, especially within my line of work and my influences. I probably need to also read research papers, see what other maybe anthropologists or just historians have come up with regards to a certain topic. So that's pages and pages of just literature, and I blur through that with ease. It doesn't even feel like anything to me because I think just having been trained in a specific way when it came to my formal education really has helped a lot, and more so even when it comes to coming up with solutions and dissecting briefs and that sort of thing, I see a lot of my scientific background coming to play there. In hindsight, I'm definitely grateful for it because I think it's made me a better creative and it's also made me a better problem solver and a better thinker. So yeah, I definitely see how the two roles come together to form something quite beautiful.
Maurice Cherry:
Yeah, that's great that your scientific background influences your approach because we were talking earlier about research. If you were a doctor or you just try to diagnose someone or just jump right in without doing research, you would not be a good doctor. So similarly, it's the same way with design. You have to do that research to know, "Well, what's the best approach? How do I know the best way to tackle this particular thing?" As you mentioned that, it just reminded me of what I've went through as a math… I don't want to say a mathematician, but my degree as a math. I didn't study design professionally. I just studied as a hobby and managed to turn it into a career. And when I look back even at the times where I was drawing 3D graphs by hand on a chalkboard or trying to create certain graphs and functions in mathematical or whatever, tessellations, fractals, et cetera, there's design in those elements, too. There's a lot of design in math that I don't think probably, I don't want to say traditional designers, but I think most designers probably don't look at math that way. It's funny, I even mentioned it and folks are like, "Ugh, math, I hate math." And I mean, I like math.
Fungi Dube:
I don't blame them. I don't blame them. It's math [inaudible 00:36:14]
Maurice Cherry:
But I mean, I think what math does, and probably similarly to what you have went through studying anatomy and physiology and biochemistry, it gives you a different way to process information. So for you, it's really about making sure that you have that thorough research to execute the designs in the right way. When I think about math, math really taught me how to structure my thinking and that I've been able to use in proofs, in proposals, in any sorts of things when it comes to getting that message across succinctly to a client or something like that. So for designers out there that are like, "Ugh, the sciences," don't rule out the sciences. There's ways that you can tie these things together.
Fungi Dube:
Yeah. And it's actually so interesting, because like you're saying it really shapes your process and how you dissect creativity in general. I've had the most interesting conversations. I feel like some of the most interesting conversations I've had are obviously with you right now because this is very enlightening, but also with people who have made career pivots, so accountants who are now creatives or medical doctors, which is so crazy, who are now creatives or engineers who are now creatives. And also just looking into their process and how they do things and how even the final outcome looks. It's so interesting, because you see how based off of the different professional backgrounds or the different educational backgrounds, the process is just going to be entirely different, but the outcome is going to be just as beautiful. Sorry. So it's just really interesting just seeing how people merge all these different worlds and then just come up with this solid body of creative work. It's fascinating to me, absolutely fascinating.
Maurice Cherry:
Yeah. What do you want our audience to know about, I guess, design in Zimbabwe? What do you want them to know about, whether it's the work that you see coming out of it, other creatives that you know that are kind of on the rise? What do you want to let our audience know about that?
Fungi Dube:
Oh, gosh, there's so much. I just wish that this was a video presentation and I could show you some of the work because it's so good. But I think if anything, there's a shift. There's a shift, and I definitely want to speak on this, but not in greater detail because that's not why we are here. But I think there has been a lot of external imposition on what creative work looks like or should look like based off of history and colonization and everything that has happened.
So there's this massive shift where what we are trying to do is to decolonize design in the sense that we want to say, "Hey, design can actually look like this, and that's perfectly fine. Photography can look like this, and that's perfectly fine." So if anything, like I was referring to earlier, within the creative scene in Zimbabwe, there is definitely a lot that is coming up and on the rise, but even as you engage with the visuals, when you engage with the patterns, with the colors, with the execution, and I spoke of how you have these fashion shows that are being done in the most unlikely locations, you see that there's definitely this big drive to ensure that the work is great, but also the way that the work is executed and the way that people engage with the work is unlike anything that we've seen before.
So it's really, really exciting just seeing how more young Africans are stepping into their own really claiming and owning their identity and are just saying, "Hey, this may be a lot for people to take in. Maybe it's too African, maybe it's just too much energy, but it's fine because this is who we are and we want to be able to tell our story the way that it should be told." So yeah, it's fun times ahead, fun times ahead. Fun times ahead. Let's look into the future. Two years from now, five years from now, I believe that Zimbabwe and Zimbabwean creativity and Zimbabwean design is going to be on a whole other level.
Maurice Cherry:
What do you consider to be your biggest success in your design career so far?
Fungi Dube:
I am going to go more on the qualitative route, where I feel like my biggest success has been the chance and the opportunity to be able to connect with other creatives who are like me and have them sort of recognize themselves in the work that I do. I could easily say something like, "Oh, I worked with a client who paid me X amount, or I did this and that," but I think that just the sense of community is something that has really, really, really, really impacted me the most.
I get so much joy when I'm able to talk to, or someone who's just an up and coming designer or thinking of design, and they're based maybe in Kenya or they're based in Burundi, and they just write me a message on social. They're like, "Hey, I saw your work and I just absolutely feel really inspired that I can actually sort of tap into my own culture and see what I can come up with," and that sort of thing. And that is something that really, really, really, really, like I can wake up every day to that and not get paid a single dime and I'll be fine. So that has been my biggest success, my biggest achievement, and I want to see how I can continue to build on that and see how I can continue to hopefully inspire and encourage other young African creatives to really step up and showcase your work and showcase their heritage, their culture, your tradition, and just take that to the global market. So yeah, that's it for me.
Maurice Cherry:
Now, you've mentioned, I read this as I was sort of doing my research, you mentioned that you find inspiration from within when it comes to your work. Can you talk with me a little bit more about that? How do you build that sort of internal fortitude? How do you build that?
Fungi Dube:
So it hasn't always been there, and I should be very honest about that because I think that as we were growing up and also the public education system that we're exposed to, a lot of what we were taught doesn't really resonate with who we are. So I probably at that point knew a lot more about Western history than I did about my own history, and I think that is something that needs to be fixed. So the resolve, I guess, or the tenacity has really come from wanting to do more when it comes to that. And I sort of had my light bulb moment when I encountered a book by well known as Zimbabwean graphic designer, but he's also known in the international community. His name is Professor Saki Mafundikwa. He actually went to school in New York, I believe. So he studied there, and then he came back and he started the first graphic design school here in Zimbabwe.
He's also given a TED Talk, and in his TED Talk he talks about looking for inspiration within. So after encountering his book, which is called African Alphabets, I was completely blown away because again, it comes back to that whole issue of documentation where I didn't really know that it was possible to document African design systems in the way that he did. And it's mostly based on typography and it's absolutely fascinating stuff. So if anything, that's where the initial point of contact or inspiration came from, and it just made so much sense to me because I had sort of been lost in this design world where I was doing anything and everything. And I'm sure you can attest to this as well, when you start out, you do everything. You'll do your company profile, you'll do a brochure, you'll do a flyer, a poster, doesn't really matter what the subject matter is.
I mean, it does, don't get me wrong, because people will be like, "Hey, what kind of things were you designing?" But not in that sense. But that point gave me a sense of direction and really inspired me to be like, "Hey, actually we can flip this thing around. Let's take all of these fundamentals that we've learned and convey them into a message that I would actually want for people to engage with and a message that I would want to see myself in."
So I guess that is where that internal resolution has come from, and it's been the driving and motivating factor ever since then to be like, "What can I do today? What can I do different? How can I take this story that people may have perceived in this way or this narrative and turn it into something that's Afro-positive?" Because there are a lot of stories, there are a lot of things that I see about who we are and what we do and where we eat and where we live and that sort of thing and the world may see us a certain way, but I'm like, "No, actually, if we take power and we actually tell our story the way that it's supposed to be told, then there's so much more that we can actually get out of that."
So really the looking within is to say as much as I can go out and seek inspiration online, on Pinterest, on [inaudible 00:46:11], what is in my backyard? Because when you look at the global and historical context, even between the two of us, we may share the same skin color, but when it comes to our historical context, our global context, there's absolutely no way that you would be able to design like a designer who is in Harare, Zimbabwe, when you're in Atlanta, Georgia. It's just different.
So that's where really the looking within comes into be like, "Hey, what am I exposed to? What do I see on a daily? What sort of conversations can I have to seek inspiration? Can I go and speak to an outside vendor and find out how he weaves his basket? Can I have a conversation with my grandmother about how she designed her mud hut kitchen and all the paintings and murals that are on the outside?" Things like that really, really make a difference because you actually start to see that there's creativity in a lot of the crafts that I see around me, and how can I leverage that? What can I draw from their processes as well, and how can I turn that into this fresh thing and tell it in a different way for everyone else on the internet to interact with? So that is really where it comes from.
Maurice Cherry:
At this stage of your career, how do you define success?
Fungi Dube:
Ooh, that is a loaded question, now, isn't it?
Maurice Cherry:
Is it?
Fungi Dube:
Yeah, because I've really got to think about it. But I think at this stage, what I think is really cool and what I'm really grateful for is the fact that even in interactions where I may not be there, so whether it's physical spaces, whether it's calls, it's the fact that people are able to sort of recognize my work, and I think that's so cool.
I get humbled every single time when I go on LinkedIn and someone will maybe tag me or mention me and be like, "Hey, is this your work?" And I'll be like, "Oh, no, it's not my work, but I think that it's so cool that you think that it could be my work." So that really, really, really, really inspires me and motivates me to keep going. Just the fact that I'm in a position where people tend to think of me when it comes to a certain style or when it comes to a certain interpretation of design, I think it's super cool. So that is one of my proudest moments, I think, and I've been working hard at it, so I'm glad that it's paying off.
Maurice Cherry:
What advice would you give to any aspiring designers out there that maybe want to sort of follow in your footsteps? What would you tell them?
Fungi Dube:
This is going to sound so cliche, but I think the thing is to just go for it. I have come to learn that there are beautiful things that grow when you step outside of your comfort zone. It's not the easiest thing to do, but I think that if you put yourself in a position where you're like, "Okay, this is a little bit crazy, it's a little bit scary. I have absolutely no idea how I am going to pull this off, but I'm going to go for it," which is sort of what I had to do.
So I spoke of leaving my job, but I was sort of unsafe, like unfairly dismissed. In pandemic year in 2020 was the most heartbreaking experience ever. And I was kind of left thinking, "Whoa, what am I going to do with this thing and how am I going to make money and how am I going to take care of myself," and everything like that. But you realize that certain doors get shut and they get shut in the most uncomfortable way ever because they're sort of pushing you to get to the next thing, to start working on the next thing.
So if anything, if it feels a little bit scary, if it feels like you have absolutely no idea how you are going to do it, then I would encourage you to go for that thing because you never know what's going to come out of it. But I mean, go with it. Go in it, sorry, having a plan of sorts. It may not be something that's super solid, but at least make sure that you work on your strategy, make sure that you know what it is that you want to be doing and where you're going to be doing it and who you're going to be doing it with. Write all of that down and see if you can break it down into actionable steps and then see how far you can push it. But that really would be my advice. If you want to make a career pivot, too. I mean, former mathematician who says that he doesn't want to call himself a mathematician and former scientist-ish over here. So if you also want to transition, if you want to go over the bridge, it's never too late. You can always do that, as well.
Maurice Cherry:
Where do you see yourself in the next five years? What do you want your next chapter to look like?
Fungi Dube:
Oh, I love this. I definitely see myself in design education. So as we have been talking, I've been talking about documenting processes and that sort of thing, and I am grateful that I've already sort of started dipping my toes in design education when it comes to my mentorship and my coaching role with Flux Academy. So we work with brand… we work with students across the world to enroll for various design programs, and one of them happens to be a brand design program. So I sort of offer them support with that. I offer them feedback as they go through their modules and everything like that. It's a very diverse group of students, as young as 20, as old as 70. So it's very interesting seeing what that is like, but it really feels like sort of the next step for me because I really want to see myself more in the African design education space. So can we have more design curriculum? Can we have more design curriculum that is geared towards African creatives? Can we get more literature? Can we get more books? Can you get more additional platforms that help African students learn about design and a more African aesthetic? Things like that. So that's definitely where I would want to see myself five years from now.
Maurice Cherry:
And just to wrap things up here, where can our audience find out more information about you, about your work and everything? Where can they find that online?
Fungi Dube:
I am everywhere except for TikTok because it scares me. I have a burner account on TikTok where I just follow amazing people, but the comments section scares me there. So you can always find me on my website, so fungidube.com, or my social links are also on my website, so you can find my Behance, you can find my Twitter, you can find my Instagram. You can also find my LinkedIn there, but it's fungidube.com.
Maurice Cherry:
All right. Sounds good. Fungi Dube, I want to thank you so much for coming on the show. One, I think it's awesome that you can give us just a window into what it's like being a creative solopreneur in Africa, in Zimbabwe, giving us a sense of what that looks like. But also, just thank you for sharing your story about just determination and passion and how you've been able to really cultivate that creative engine within to create great work and showing people that you don't necessarily have to go down a specific path, no pun intended for the name of the show, but you don't have to go down a specific path in order to become a creative, be a creative, and even to leverage your own culture in the work that you do. So thank you so much for coming on the show. I appreciate it.
Fungi Dube:
Thank you so much for having me. This has been so much fun, now.
Brevity & Wit is a strategy and design firm committed to designing a more inclusive and equitable world. They are always looking to expand their roster of freelance design consultants in the U.S., particularly brand strategists, copywriters, graphic designers and Web developers.
If you know how to deliver excellent creative work reliably, and enjoy the autonomy of a virtual-based, freelance life (with no non-competes), check them out at brevityandwit.com.
Sponsored by Hover
Building your online brand has never been more important and that begins with your domain name. Show the online community who you are and what you're passionate about with Hover. With over 400+ domain name extensions to choose from, including all the classics and fun niche extensions, Hover is the only domain provider we use and trust.
Ready to get started? Go to hover.com/revisionpath and get 10% off your first purchase.