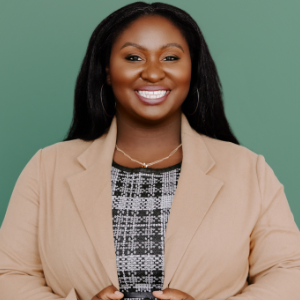 It takes a lot of hard work and determination to be a successful entrepreneur, and sometimes, you can lose yourself in your path to success. But not Monique Jenkins! As the CEO of J.kins Creative, Monique bolsters the successes of Black and brown entrepreneurs by creating holistic brand identities with thought leaders who deserve to leave their mark upon the world. And she does it be being the best person for the job — herself!
Monique talked to me about what she started her own company, and talked about the varied processes she has to ensure clients receive top-class design work. She also spoke about growing up in Baltimore, how she juggles her studio with a full-time job (and a baby on the way!), and gave some insight on the type of legacy she wants to leave in the world. According to Monique, being an authentic version of yourself is a guarantee for living your best life!
Transcript
Full Transcript
Maurice Cherry:
All right. So tell us who you are and what you do.
Monique Jenkins:
My name is Monique Jenkins and I am the CEO of a design agency called J.kins Creative, also a mentor and teacher at Towson University. And I run a non-for-profit called Ladies, Wine and Design Baltimore, which focuses on creating spaces for women and non-binary creatives and industry.
Maurice Cherry:
Nice. How has this year been going for you so far?
Monique Jenkins:
So far so good. Actually, it feels like we've lived the whole year in this first quarter going into the second quarter. I'm ready for 2023 already. The year didn't start the greatest because I caught COVID in Jamaica. That's when we initially talked, but it's been getting better since then.
Maurice Cherry:
Is there anything in particular that you want to sort of accomplish this year?
Monique Jenkins:
I think my ideas of what was going to happen this year have kind of pivoted. I have since found out that I'm going to be a mama, so that's-
Maurice Cherry:
Oh, congratulations.
Monique Jenkins:
Yeah. That's going to be my major 2022 thing as far as personal life is concerned. But in my business, one of the things that I want to get better at doing is managing life and work. I am constantly doing speaking engagements and mentoring and doing all these other things. And the tone of this year for me was really putting down some of the extracurricular activities that I was doing and really honing in on my business. Because I would like within the next two to three years to kind of take that into a more full-time stance. So that's really my focus for the year is gaining clients, understanding marketing better, understanding kind of the ebbs and flows of a couple of different things within my business and really honing on the type of clients I want to work with.
Maurice Cherry:
Yeah. Let's talk about your design studio, J.kins Creative. What was the impetus for you to start your own studio?
Monique Jenkins:
I have worked for a wide range of companies from smaller kind of startup companies and to larger fortune 500 companies. And I think in all of those respective statuses, it kind of taught me that people who look like us weren't always represented regardless of which of those organizations I was working in. But then more specifically I had read so many articles about black women in particular starting their own businesses. And I was like, oh, I see all these wonderful women starting these great things, but I don't see that the marketing and the branding is there for those companies. Or we don't get to that point until we have probably launched this business two or three years down the line. And it's important to me to help foster the information that I've learned in these respective environments in order to grow, to help people grow and sustain their business and figure out what their respective visions are and how that translates into a larger and more holistic idea of who their business is.
Maurice Cherry:
Walk me through just like a typical day. How do you sort of start out the day with J.kins Creative?
Monique Jenkins:
In a typical day, I am probably using the morning to reach out to existing clients. So if there's something that I was supposed to finish up the previous day, I usually email them early and send over files for them to review or ask questions about things that seem a little sketchy or that we can't exactly pinpoint right this second. As I'm moving throughout the day, I'm continuing to maintain those emails or phone calls from clients. Having kickoff meetings with potential new clients who are going to becoming on board. Asking them questions about what type of metrics and goals they want to hit for this project. Because generally when people start a design project, I like for them to start it from the process of like, what do you want to achieve by this? Design is pretty, but it's also supposed to be functional in some capacity. So trying to understand their motivations for their business and get a little attune with what they're doing is important to me.
Monique Jenkins:
And then after initial kickoff calls, we generally send out contracts and then we walk through those with our clients. If we've already done a kickoff call and we've already sent contracts before we kind of walk through that. And then the latter half of the day is used for actually getting work done. So designing respective assets for those clients and really just trying to putting those to the grind. And then usually by the end of the day, I connect with our front end developer who we're just walking through what she's done for the day and checking over websites and assets and things like that before we give those to our client.
Maurice Cherry:
So it sounds like you've kind of got the day pretty well structured out.
Monique Jenkins:
Yeah. Some days are easier than others. I mean, in design, nothing is certain. Some days it's more client calls and that's going to be the base of my day. Some days I don't have any client calls and I can really dig in to the design work. Some days it's more about trying to gain a better relationship with the engineer and dig into the code and understand why something isn't working or interaction patterns aren't working the way that we need them to. So, every day is a little bit different but every day is fun in some respects.
Maurice Cherry:
Yeah. What are the best types of clients for you to work with?
Monique Jenkins:
I would say clients who are a little bit more established in their business are better to work with because they kind of know that you're the expert in the situation. I would say that any client that I have probably worked with who spent under 5,000 is someone who's much more hands on. I think when you get to a specific level, you understand what your skillset is and you trust professionals to kind of do their work. So I love working with clients who are super enthusiastic about their business. I love working with people who have a strong vision for what they want and have metrics and goals that align to those visions. If someone comes to me and they aren't sure about their budget, or they're not sure about how this business is going to track or it's relatively new, like everything is new. So they're not really sure how this is all going to come together. People who have a sound idea of what their business is and what they're trying to accomplish are incredibly fun to work with.
Maurice Cherry:
I remember back from when I had my studio, it was always the cheapest clients that were the worst one to work with just in terms of, they're always on your back, they're always asking about something. That's not to say, well, maybe there is a correlation between low budget jobs and the amount of client and action that you get. But even as you said, with the higher price or the high ticket clients, sometimes they like to be hands on, maybe just in a different sort of way. But the interaction is different because like you said, they trust you as the expert. I've often found that if the client is trying to nickel and dime you, they don't trust that you know what you're doing. They don't trust why it costs what it costs, et cetera. And with a more established business, they've hopefully already done this before and they know what the value is.
Monique Jenkins:
Yeah. The way that my business coach likes to explain it to me when she's like, this is how you want to set up your price points. She's like, "If you are going to do the work, then you're going to charge a relatively okay price point." So say a project is going to be $50,000. If they're going to co-designed with you, that costs more money because it takes you more time. You're doing more iterations. If they want to do a majority of the work, then you charge them the most amount of money because what you're doing is acting as a production artist and that's not a favorable place to be.
Monique Jenkins:
So I always tell client like, "We can have as many conversations as you want. I build into my contracts now that like three iterations and then we start to charge you after that." It's just about trying to understand where a person is in their business and what they believe about their business. And I find that people who have a little bit of a lower budget, not that they can't be fun to work with. It's just that they're just a little bit more nitpicky. And I will say, I agree. Clients who have a higher budget are nitpicky, but it's just in a different way. And I think that they trust you a little bit more. They probably have experiences working with other agencies and they know that you can bear fruit for them.
Maurice Cherry:
Yeah, that's true. So when a company or an individual contacts you about a new project, like talk to me about that. What does that process look like in terms of onboarding, working with them throughout the project? Walk me through something like that.
Monique Jenkins:
Generally, what I ask people to do is to go to my website and fill out the new project form. It tells me some basic information about them, about like their name, address, or not address, email phone number, gives me a website URL if they have one existing, what type of project that says what the budget they have in mind is and what their deadline is. And then after I have that initial project form, I send them a project brief and that gets more into the specifics about metrics. So what exactly are you trying to accomplish? What are you trying to do? What are your intentions? It just starts to, and I make our clients make smart goals. It just makes sure that they understand what the accomplishment is of this thing. We are not building designs because they're pretty, we are building something that's going to be functional for you.
Monique Jenkins:
So what's the task that you want to do. Do you want more engagement on your site? Do you want more unique visitors? Do you want to promote a specific campaign or book or something? When I find that I make people start to think about why people are actually coming into their site we can help to define what should be the main CTA versus what are secondary actions that you want someone to commit. And once we go through that project brief and kind of distill that information down together, I tell them a bit more about myself, my background, help to bring in some of those validation points that clients want to know about you. I learn more about them. Hearing someone else's story is crazy, interesting. Understanding why they started their business or what they're trying to accomplish is super fun.
Monique Jenkins:
And then after we have that call, I send them over a contract, an invoice listed out with all of the things that they're telling me they want to accomplish in the timeline that they're saying they want to accomplish these things. So then we run through all of that information together. They understand what's a part of the project. What's not a part of the project. If we break timeline or add additional assets, what the price point is for those things. And then once they sign the contract, submit the deposit, we go off to the races.
Monique Jenkins:
So initial phone call, just like a kickoff call with the client. Give me whatever existing assets you have. Let's talk about creative concepts. Let's get all of those things nailed down and then we start getting the work on our end. I also might ask them depending on how clear they are with visual assets to create a Pinterest board of some websites that they love, that they want to incorporate into their own respective business as they see as a potential path to visually or stylistically how they want their website or assets to look. And then we use that as a starting post.
Maurice Cherry:
And just to be clear earlier, when you said smart goals, you mean the acronym SMART like specific, measurable, actionable, realistic, time-bound.
Monique Jenkins:
Yes.
Maurice Cherry:
Got you. Okay. Just wanted to be clear about that. I know that when people probably heard that they're thinking, yeah, I want my goals to be smart. But that it's more than just that. It's like a framework that you have to follow.
Monique Jenkins:
Yes. So specific might be like what needs to be accomplished? Who is responsible for it? What steps or actions need to be taken? Measurable kind of self explanatory, what is this going to accomplish? What are the numbers around it? Specific, like 15% of people that's what I want to drive toward this specific thing. Achievable is like, it's a reality check. Is this achievable in the timeline that you're providing? Relevant is like, how does this compare in the bigger picture of things? And then time-bound is like, this is how much time that we have to actually complete these things. So whenever we create smart goals, I just think that it helps people to really hone in on what they're asking me to do and to be incredibly realistic about what's going to happen.
Maurice Cherry:
Got you. So let's kind of switch gears here a little bit, so people can kind of learn more about the dynamic woman behind J.kins Creative. Tell me more about you. Tell me about where you grew up.
Monique Jenkins:
I am from Bridgeport, Connecticut originally. I moved to Maryland when I was 15. That sounds right. Yes. I couldn't remember because I had just gotten into high school and my parents were like, "Come on girl, we're moving to another state." But originally from Connecticut. I went to a predominantly Hispanic speaking school for almost the entirety of my adolescences. And then when I came to Maryland, that was the first time I think I went to an all African American school. I had seen that many African American people in one place that's different in Connecticut than it is here. So yeah, I will say when I was little in Connecticut, I had no idea I wanted to be a designer. I did not figure that out until I got well into college. So I always thought that I was going to be a lawyer because I'm so good at arguing with other people.
Maurice Cherry:
Let's talk about college. You mentioned that really knowing about kind of wanted to study design until you got there. You went to the Towson University and you still studied communications. Tell me about that experience.
Monique Jenkins:
Yeah. I had multiple majors and minors when I was at Towson University. I really did not… I had known for almost the majority of my life I was like a lawyer. I'm so competitive. I love arguing. I love to bring up points. I like to fact check those points. This is going to be it. And then when I got to college, I was like, well lawyers have… It's a long time. I don't know if that's exactly the right path. I don't know if I want to stay here that long. And I had really liked marketing too. This was at the time that Facebook was coming out so you were able to create your own visual graphics. And there was a lot of coding and stuff involved and different applications and social media applications that were coming out.
Monique Jenkins:
The computer was really big and I just assumed marketing and advertising was the way that I wanted to go. And I really did love marketing and advertising, but I think I love the visual components more than I liked all of the numbers behind it. So while I was in the middle of getting my communications degree, I was like, this is cool. I like this. I think I could do this forever, but I think I would like to take a more visual approach to marketing and advertising. I don't know if I want to be in that world specifically, but I think that I want to be on the edge of it or work with those type of people. So I got my undergrad in Mass Communications with a concentration in advertisement, in marketing. And then I swapped over to the university of Baltimore a couple years later and got a degree in Graphic Design.
Maurice Cherry:
Now I want to kind of talk about that, because there's a little bit of time that sort of happened between you leaving Towson University and then going to University of Baltimore. What was your early career after Towson? What was going on during that time?
Monique Jenkins:
I don't remember exactly how this happened, but when I was at Towson, I got an opportunity to become an insurance agent. So I got my property and casualty license and I was working for Liberty Mutual as an intern, reaching out to customers who had inquired about auto insurance policies. And I hated it. I really didn't, it wasn't my thing. I did not like calling people and trying to force them into something that they didn't want. I just liked cold calling people and being like, "Hey, have you thought about your auto insurance?" And people be like, "I'm at work girl. I don't have time to talk to you about this." So it really wasn't my thing. But I worked for the insurance company and there were aspects of it that I loved.
Monique Jenkins:
But it was a really great experience because all of the agents who worked in our office wildly had what I would consider incredible degrees. One of them was a microbiologist, the other one had gotten a law degree, but ultimately they all decided, I want to do that and had gotten into insurance for one purpose or another. They liked the flexibility of the schedule and they had other outside ventures. So the microbiologist was also a real estate agent. We had a bunch of properties and that had me thinking like, I don't want to waste this degree that I just got. Going into a field, that's completely irrelevant. Let me figure this out. So after I kind of did insurance for a little bit, I transitioned over to finding a position that actually utilized my degree, which is, I was a publisher intern at AOL for about a year and a half or two years where I got to work with sales professionals, which was familiar because of the experience I had at Liberty Mutual and focused on advertising campaigns and online banners.
Monique Jenkins:
And it was my responsibility to put all of our bull websites for our advertisers into tiers. So different tiers of websites get different type of ads. So if you are… What's a website that would be a D-tier. Any type of a TMZ, they're probably a perfect example. TMZ would be a tier-D website. So you probably wouldn't put Disney ads on that type of site. And then Disney is a tier A website. You probably could put a majority of the ads that you want to run on a type of site like that. So it was my responsibility to classify all of our new clients into respective tiers and then give them off to their marketing agents so that they could work more specifically with them. That was fun and I liked the coworkers. But again, I was just like, I like the looking at the websites. I like dissecting the websites. I like looking at the banner campaigns. I've been starting to develop a relationship with the designers who worked there.
Monique Jenkins:
So I was like, I missed something. I didn't get what I needed to get in college and I need to go back to get the thing that I actually want. I think I had found out about the University of Baltimore's program at the time and I was like, okay, I'm going to go back. I'm going to go back and get a Master's degree in Design because I really like that. And I feel like that's where my soul was telling me that I want to be. And again, I've been designing flyers and stuff for the church that I went to and birthday cards for friends and baby announcements and stuff like that.
Monique Jenkins:
And I was like, I think this is it. I just need a more formal education. I am certainly one of those people who's like, I can't watch YouTube videos to get it. I'm not that person. I need the structure of a classroom and a teacher being like, you have homework in order to pick up these concepts. And the weight is heavier for me. When I paid $5,000 to take a class, I'm like, girl, you going to class and you going to read this book and [inaudible 00:21:01] this stuff. When it's a free video on YouTube, I'm like, I could watch five minutes of this and then I could go watch TV for three hours and then. So I needed the structure of that environment and the University of Baltimore at the time felt like the best fit for me.
Maurice Cherry:
Yeah. It's interesting when you know that you're paying for it, that you'll sort of put more value in it because you've got skin in the game, essentially in that way.
Monique Jenkins:
That is exactly what I needed. I needed skin in the game in order to be like, okay, you have to take this seriously because college is not cheap. You spend a lot of money on this class and you will not be taking this class again because there were other people who were… It's whatever. I don't care if I have to take this again. I'm like I spend $5,000 on this class, so I'm not going to be taking it again. I got to pay another $5,000 for another class. You think I can take this class twice, no. I have to keep going. So once I had a little bit of skin in the game, then I was like, okay, Monique, you can sit down and you can focus so you can concentrate under this environment.
Maurice Cherry:
I think you also touched on something interesting there that you kind of had to get out there in the working world a little bit and discover through that, something that you didn't want to do to bring you closer to the thing that you wanted to do.
Monique Jenkins:
Yeah. I don't think that… I think that sometimes we're sold this idea that after college it's a clear path to working in the industry, but it's hard. At Towson University hadn't done any internships that were specific to my field and I think that should be a requirement for college. If you were spending all this time and money on a degree, you should at least have to take two or three internships specifically in the field that you want to work in. Because it'll help you to be like, you know what? This is not truly what I wanted, once I got into the environment. But once I started working at AOL, I was like, this is fun, this is wonderful. It's a great company. There are great coworkers. There are fun things in the office like skateboards and there are free snacks, but I'm like, something is still missing. I'm still not getting exactly what I need. So I need to think about this and change paths a little bit. So that's what worked for me at least.
Maurice Cherry:
Now what were those kind of early days of Jenkins creatives like for you because you're running your studio, but you were also working full time at a few companies, right?
Monique Jenkins:
Yeah. I remember feeling like I don't even know what, I don't even know. I didn't even know the right questions to ask. I didn't know the right people to talk to. I'm much more into networking now and facilitating relationships with other people. But at the time I was very much an introvert and I was like, I don't want to talk to nobody. I don't want nobody to talk to me. I just want to figure this out on my own. And I think that's a very hard stance to have. So it was lonely and I wasn't exactly sure what I should be doing. I was taking maybe some classes on how to run a business. But I never really felt like any of the curriculum that I was participating in, gave me a full grasp of what was necessary in order to run a business and time gave me that. It let me know what worked and what didn't work, where I should invest my resources, where I shouldn't.
Monique Jenkins:
But also in addition to time, physically meeting people out in the world and understanding how they ran their businesses and understanding what worked or didn't work for them or avenues that I could potentially go down our path, that was what was most helpful for me. Because I feel like all of the people that I worked with since the time of Liberty Mutual had some type of outside or source of revenue or income and had always put it in my head that, you can't just have a nine to five, you got to be able to do something else beyond that. What happens if you get fired tomorrow? Can you still pay your bills? Where are your additional revenue streams? And that really stuck with me about being like, okay, you work for a company who sometimes has to make a hard decision and they're not going to say, Monique has to pay her grant. So we shouldn't let her go. They're going to make the decision that's best for their organization and you have to have something to fall back on. You can't just be out there with nothing to do. And that started to help me be like, okay, I need to figure out how this businesses run.
Monique Jenkins:
So in the beginning it was a mess. I'm not going to lie. There was no website, there was nothing. It was just me randomly reaching out to people or meeting people. I have 17 different business cards. I would be redesigning those things on the weekly basis. I'd be like, this isn't good enough. No one's[inaudible 00:25:32]. Aside from me like this and all of that stuff it just didn't work in the way that I thought it was supposed to work. So it was a little bit of ebb and flow. Some things were useful and helpful for me, some things not so much. But just understanding how larger organizations worked, helped me to hone in on how I wanted to run my business and what was acceptable and not acceptable for the type of clients I work with or the type of environment I wanted to work in.
Maurice Cherry:
Yeah. I feel like with studios like that, especially when you're just starting it off by yourself, you really have to try to… You're kind of doing a lot of trial and error to figure things out on your own. And for you, it was good that you also had a full-time job kind of to back things up while you were figuring out the ins and outs of the studio. So that's a good thing.
Monique Jenkins:
Yeah. A funny story is that I made an Instagram called Trial and Error where I would… I was testing out different design methodology and things like that. And it was a way to hold myself accountable and be like, you should be designing something, you should be building your skillset. And I think I did that for a couple months and then I was like, Monique, this is so much work. But it was really just a place where I could be like, if I put my designs out there in the world, people will see them. They'll be interested and they'll potentially come to you as clients. That did not happen. I don't think I got one client from that venture, but it helped me to be like, okay, how do you build your skillset to get you to a place where you can make all of these very beautiful and extravagant thing.
Maurice Cherry:
When you look back at your work years, prior to starting your studio, what lessons do you take from that time?
Monique Jenkins:
I think the biggest lesson that I probably could take from that is that people are so kind in so many ways… When I look back at my career, I think about all of the awesome women specifically, black women and more specifically, who just had my back. Who just took me aside and gave me knowledge and information that I just did not have and could not fathom in a lot of different respects. And even when I was going to make very wild errors or I was acting emotional in the things that I was going to be doing, black women saved me every single time. They helped me to steer my direction and navigate and make better decisions because I was working at a check burning company and I dislike these I was like, this is ridiculous. I don't want to do this. And I wrote what is the nastiest probably resignation letter that anybody has ever read. This is stupid. Y'all are stupid. It just wasn't kind.
Monique Jenkins:
I was friends with the HR, director and she was like, show me your resignation letter. And we looked at it together and she ripped it up right in front of me. She was like, "You will not be giving this to anybody." And I was like, "What?" She was like, "When you work for a company, you don't want to burn bridges. These people that you think are not confident or don't know how to do their jobs, you will face these people again in other environments. So you don't do that. You don't burn bridges in that way. You can respectfully say that you did not have a good time here or you can keep your mouth shut. And you could say this was a great learning experience, which it was, it taught you that you did not want to work with these type of people and you take that on."
Monique Jenkins:
And 10 years later I got an opportunity to work with one of the same people that I worked with in that organization, loved her. She was great. Once we worked one on one, but working as the low person on the totem pole in that context, when I was really young, I was like, these people are… I don't like this. This ain't going to work for me. But her pulling me aside and having that conversation about not burning bridges was incredibly a shaping moment. And every single organization that I have worked out since I have been able to find that person who is more knowledgeable than me, who can help me navigate spaces in ways that I did not think about or think about things in ways that I just don't inherently have in me.
Monique Jenkins:
So those people incredibly wonderful. They help shape me. And then I guess the other thing that I've taken away from a lot of the organizations is the structure that I like and don't like working in, is super important. So, some of the bigger companies that I worked for I really felt like a number. I was like, these people don't know me. They don't really know anything about me. And I started to find my sweet spot and being like, I don't know if I want to work for a fortune 500 company. Maybe I want to work for smaller companies or a mid-tier company where there feels to be a little bit more of a, and I use this loosely, family structure around who you are with. Because I always think it's a red flag when someone's like, "We're family." I'm like, "No we not, we're coworkers y'all."
Maurice Cherry:
Same. A 100% same.
Monique Jenkins:
I'm like, we're not we just like each other outside of work. That's different. I have to stick with my family forever sometimes. But it really helped me to figure out like, I don't like being one of 75 designers on a team. I want to be in a smaller team where I actually get to know these people and understand their perspectives or know the other team members that I'm working with outside of the core team. And well I have never go back to working with a fortune 500 company. It depends on the salary offer. But for, right this second, like I think the sweet spot is really a smaller company where you get to know actual people and then they get to, they open up and they share things with you that I don't think they necessarily share in a larger structure with more people working at an organization. I find that people more reserved in that setting.
Maurice Cherry:
Yeah. I've worked in startups for the past, I'd say roughly the past five years. And I don't know if anyone from my current job is listening to this so I won't say what I feel about startups. But I think it's important, like you say, to have those different work experiences to know what you like, what you don't like, because once you start getting out there and I'd say, this is probably the case, even for starting your own studio and finding clients and stuff.
Monique Jenkins:
Yeah.
Maurice Cherry:
At the beginning, you'll kind of just take any work. Any work that's coming in the door, as long as it's paying, but then eventually you learn what are the best types of clients for you to work with? What are the best kind of jobs? What's the client match for that will allow you to do your best work? That takes trial and error.
Monique Jenkins:
Exactly. I always tell people that I'm mentoring specifically, because I'm been mentoring with Thinkful for new UX and UI designers that are coming out of their program. And I always tell them, "It depends on what you want to gain. So, if you're going to work for a startup, generally, you're the only designer there. You're going to do everything. You are going to have to do research on your own time. You're going to be digging into a bunch of different worlds. You're going to be learning a bunch of different things."
Monique Jenkins:
If you are like, I want the guardrails of working with other people in a structured environment that has a design system that is already established work for a bigger company, get that under your feet. You're never going to put a million dollar campaign or something out the door without any oversight. There will be guardrails there to help to protect you. And then once you understand what the structure is like, then you can transition to a mid-year company or to a startup and feel more confident. But originally coming out of college, it was probably helpful to me to work in an environment that had very rivet you know what I mean?
Maurice Cherry:
Yeah.
Monique Jenkins:
Yeah, so, because there was a design guide and I could look at that for reference when I building something and feel more confident about the thing that I was going to produce or that I was showing and at a manager. I could go to that person and be like, "Hey, what do you think about this?" The first startup that I worked at, there was no design director. I was the only person. I was on the marketing team and they are wonderful, but they're not designers. So they couldn't really give me feedback. They were more so telling me, I like this or I don't like this.
Maurice Cherry:
Yeah.
Monique Jenkins:
But that's not logical. They're telling me what their preferences are, not who our core customer is and how this design can relate to them.
Maurice Cherry:
Well said a 100%. Are there certain types of projects that you want to do in the future?
Monique Jenkins:
Yes. Recently in my business have been picking up a lot of clients in the solar energy space, which is super interesting. So I like that client. I like helping, or I like thinking that my work is going to help in a bigger way or have a bigger impact than outside of a redesign. This is for someone actually coming to gain knowledge. And I also think it's a environment that I don't think as a black person that I read enough about or know enough about, like be informational. So I like the solar energy clients. I like startups specifically. I want to help craft and create brands from the beginning and help them to discover who they are and create an entire branded existence for an organization. That seems like a super fun and challenging thing for me. I like the challenges is what it is.
Maurice Cherry:
Speaking of challenges, in a way you've kind of come full circle. You mentioned attending Towson University several years ago. Now you're a teacher at Towson University. Talk to me about that.
Monique Jenkins:
That actually happened because when I was at the University of Baltimore, I graduated with a master's degree and I went back to college, again, for a third time to get a certificate in User Experience and Interaction Design. And I got that and I was like, you know what, as I think back across the entirety of my experience in college, I don't think I've ever had a black professor. I was like, I don't remember that ever being a part of my college curriculum. And I talked to a couple friends too, and I was like, "Have you ever had a black professor? I've never. Have you?" And they were like, "Now that I think about it, I don't think I had." After I went to college for the third time, I was considering going back again to get a doctorate. And I can't remember what podcast I was listening to, but I was listening to a podcast and they were talking about validation as a black woman in spaces.
Monique Jenkins:
And I had reached out to the University of Baltimore and I had talked to the recruiting counselor there and she reached back out and she was like, "Hey, we're having open house or something and I want to make sure you can make it." And I just got real honest with her in a way that I don't think that I am with some people sometimes. I think I'm better at it now, but at the time I really wasn't. And I sent her an email that said like, "In all honesty, as a black woman, I think I've used my education as validation that my opinion belongs in the room and it validates that I'm worth listening to, to those people. And I'm trying to redevelop how I see myself and how other people should see me in the spaces that I'm in. I don't think I need the validation of another degree in order to get that. So I don't think I'm going to go on and get my doctorate right now. I think I'm just going to focus on me."
Monique Jenkins:
And this was at the time that I was just starting with Ladies, Wine & Design, Baltimore. I had just off boarded from AIGA, Baltimore. And I was just like, I don't want to do that. But I also was like, I don't want another person to go through their college experience and not have a minority be a part of that. Not have a person who looks like me or not see another woman who looks like me go through their education experience and not experience that with some of the joy that it is to have a professor who is African American in our space. So I want to teach. I want to show people that it's possible. I want people to see me and be like, "Oh, I can do that one day." And understand the path of what it takes to get there. And that's how I started teaching. Is that I thought about my own college curriculum and what would've made that situation better for me and I was like, I'm going to go and teach.
Maurice Cherry:
What do your students teach you?
Monique Jenkins:
So much. All the new latest TikTok trends. I'll tell you that. I cannot get away. I'm like, "Y'all, I don't get it. I'm a mom now. I don't understand how you're supposed to use this thing." I think what they teach me is that failure is okay. I took college incredibly seriously. When we were talking earlier, college was very much a job. I came from a family who financially could not afford for me to go to college. I took out a lot of student loans to get this degree. So college was always very heavy for me. And it was always like, you need to be doing your best self and you need to be doing your best self because your family is counting on you. You don't have the option of being lazy. You don't have the option of not doing your best. You have to put everything in this because it's a lot of money to waste.
Monique Jenkins:
So when I see them and they're interacting with me and they're interacting with the work that I'm giving them, it's okay for me to be able to tell them like, "Hey, this is not make or break. This is okay If you're not going to do your best on this one project or that you're having a hard in life, sympathizing." And I think they helped to bring back some of that humanity to me in some respects where I'm like, it's okay to be like, I don't get this or this isn't exactly where I know I want to be. Or I don't really understand these things that are concepts that you're explaining. They just help to ground me in a way that I don't think that I was ever grounded when I was in college. They give me a little bit of… And they're super honest too when they don't like stuff.
Monique Jenkins:
They provide a little bit of lightness to the world and they see things in a… They're growing up in such a different time than what I think I grew up in, which is weird because I don't feel like I'm that old, but apparently I'm getting there. They have such a different perspective on life. I always say, "You guys are considering and are interacting with concepts and things that I don't think I ever thought of in the entirety of the time that I was in college. And you're introduced to things in such a early way that I don't think that I ever explored when I was your age."
Monique Jenkins:
So they helped to shape a large part of my world. Also, they helped me to realize what's important and what's not important in some respects. They give me lots of love and lightness and sometimes drive me crazy. I try to not be the Monique who's a production person who's just working all the time, but I'm also like, you don't have time to be messing up. You're in college. So they help to ground me in a way that I don't think that I was at their age.
Maurice Cherry:
Have you had any peers or mentors that have kind of helped you out along your design journey? I feel like you alluded to one of them earlier. But I'm curious, who's helped you to get to where you are today?
Monique Jenkins:
As I said, so many women whose names that I will not remember, probably have no idea that they had such an influence on me. More recently though, for Ladies, Wine and Design, my co-host or co-partner in that venture is Davia Lilly. And she has helped me to work smarter and not harder and to explore concepts that I just have never explored in design. She is a huge part of helping me to be the best Monique that I can be. I also recently hired two different business coaches, who I've worked with recently, Jessica Langley and Michelle Gomez, who both have been incredibly influential in helping me realize my potential and all of the amazing things that I can do. Dan Brown, who's an information architect and principal designer at his company called EightShapes, who has a user experience consultancy has been incredibly helpful. They all have been helpful in so many different ways in helping me to shape who I am, where I'm going, how I want to run my business or how I don't. Yeah. They are amazing people, every single one of them and teach me amazing things every day.
Maurice Cherry:
Is this how you kind of imagined your life would look like when you were a kid?
Monique Jenkins:
Absolutely not. It is not. I was one of those kids who journaled. So I have a journal with all of the stuff that I wanted to accomplish. I remember being when I turn 18 and go to college, I want to go to NYU and I want to live in New York. And I was just imagining a Sex in the City lifestyle where everything was fabulous or moving out to LA. And I never wanted to be an actor or an actress. That is not my God-given gift. But being in those environments with those type of people. And I think I've accomplished all of the things that young Monique thought that she was going to accomplish. I purchased a house. I finally got my puppy. I'm about to start a family with my husband. And I just didn't think it was going to happen in this way. And I'm still working towards the dream of being in New York or Los Angeles.
Monique Jenkins:
I don't know if those are dreams anymore because I've been to LA and I was like, "This is congested y'all." I've been to New York and also been like, "This is all right, but I don't know about this for a full-time basis." I could get a summer home there or something. But it all worked out the way that I wanted it to. When I was young, I thought more materialistic. I wanted things. Now that I'm older, I'm like, I'm happy with my life. I'm happy with my spouse, with my family, with the interactions that we have with each other. I'm happy that I can pick up the phone right now and call my mama and be like, "Hey girl, we just got a contract for a $100,000," and have her pray for me and love on me and have such good spirits. That's the more important thing.
Monique Jenkins:
I think when I was younger, I was like, I'm going to move away from my family. I'm never going to talk to them. What do I need to talk to them for? But as I've gotten older, I've appreciated where I am now and appreciate all the things that I want to do. And every single time a major life event happens, I go back to my diary from 12 years old and I'd be like, let me add something to this because I wasn't fully thinking about these things. But by and large, I've gotten to check off a lot of the things that I thought that I was going to do when I was younger. And that is good for my soul because I'm like, at least you weren't dreaming. At least you can reference back to the dreams you had. You can check these things off, you were able to accomplish them.
Maurice Cherry:
I think that's been one of the great things for me about sort of getting older and then being able to kind of look back at the life that you've worked hard to create. Looking back at what you've built and kind of being content with it. And that's not to say that you're settling for it, because I'm sure you have other goals and aspirations that you want to do. And I'll ask you about that. But also looking and seeing where you are right now and being like, I did pretty good. That's a blessing to get to that point.
Monique Jenkins:
Pair it with some pivotal moments. I think the first $100,000 job that I got was like, oh, that's crazy. Nobody in your family has ever even thought of making this much money. And now that I reflect on that, I'm like, "Girl, you better get to two million dollar, three million dollar. You can get some more money than that." But as a kid, that number seemed so big. That just felt like an incredible task. As an adult, I'm like, well girl, a bread be costing like five dollars. But as a child, it's weird to get to this point. And it's weird for your family members.
Monique Jenkins:
I will say by and large out of my siblings and my cousins and all that stuff, my mom was like," Monique's going to be the one. It's just in her personality." She even says, "When you were a baby, you didn't even want nobody to hold your bottle. You was like, I could do this myself. I don't need you for that." And I've carried that theme through. She was like, "You have always been so self reliant. And so you set your own accomplishments." She was like, "You put yourself on punishment when you were 10 years old because you got a B on a paper and you felt embarrassed" She was like, "It was so crazy. You took your TV out of your room and everything."
Monique Jenkins:
And I was like, "Because I knew that I just had so much more in me and I wasn't giving it my all." And I feel like I do that now. I'm incredibly hard on myself, but I think that the good thing about living in the space that we are now is that I can see other black women who are like I was too. And I had to learn to balance. Being productive with sustaining a life and having a happy balance between those two. So its nice to look back and be like, all right. I know you wanted to be a lawyer who was also a doctor who was also a mechanic who was also this, but you got to this place and you are still happy. You don't have to be productive 365 days a year. You can take some days to just chill and eat Oreos on the couch, watching Netflix and you're okay.
Maurice Cherry:
Yeah. It's really something, like you said, to get to that point and realize, there's more to life than just work. That whole thing about striking a work life balance, especially when you're an entrepreneur is super tough. I know when I started out with my studio initially, I was working or I would tell people the joke about entrepreneurs can work half days, any 12 hours you want because I would just keep working because no one was there to stop me. There was nothing to stop me. I just keep going. And eventually you learn, if you don't take the break, your body will take it for you.
Monique Jenkins:
Exactly.
Maurice Cherry:
And so eventually like I learned to of not put so much of that value on to know when to take breaks and all that sort of stuff. But being able to look back on the work that you've done and feel satisfied and grateful, it's such a great place to be as an entrepreneur. Where do you see yourself in the next five years? What do you want your next chapter to be?
Monique Jenkins:
I have no idea now. I was not intending to be a mom this year. So I feel like my next four or five years will be incredibly important for the development of my child. And I'm super interested in making a bunch of Instagram videos that other moms can relate to. I think that's where my heart is right this second. Obviously, my business is incredibly important to me because I think there is a purpose behind it. The intention behind my business is personal to me because I'm one of the women who my businesses services in some respects. So I want to grow my business over the course of the next three years. I would love to get it to a place where it's same things or has the ability to pay my mortgage for my household and all that jazz because I think it's important. But also I don't want to be a mom who can't spend all the time that they can with their children. I'm sure there will become a point in that child's life where I'll be like, "A break is good. You going to daycare soon or something."
Monique Jenkins:
But I think out of the gate, at least the first four or five years of your kid's life, is incredibly important to me to be present and to be there for all of those little moments and to understand how're they are growing up and what their personality is and their expression. So dually for me, it's crafting a business that sustains itself outside of me physically having to watch over it, hiring more employees who can service the business and letting go of the reigns in some respects, because when you're a business owner you want to be a part of everything.
Monique Jenkins:
And I will say that because I said, when you have a lower budget, you want to be a part of everything. I'm the same way you all. I'm just there. And it's okay to release the reigns to another person and trust them with some aspects of what you are building because they do have your back and they are building towards the same goals and things that you want to build towards. So building my business is equal to helping facilitate a relationship with my child and obviously a relationship with my husband. My whole purpose for my business is to help my family. It's incredibly important for me to build a life where I can assist in whatever ways are helpful to the people and members of my family who have served me and continue to do so.
Maurice Cherry:
Well, just to kind to wrap things up here, where can our audience find out more information about you and about your work and everything online?
Monique Jenkins:
You can go to my website, jkinscreative.com. That is also the handle for my Facebook and Instagram, is J.Kins Creative. I'm also going to be a keynote speaker on April 30th at AIGA Baltimore's Ink & Pixels event. So I'll be talking about being prepared to get your dream job or leave your dream job depending on what you want to do. So those are the places where I'm going to be most present over the course of the next couple months.
Maurice Cherry:
Sounds good. Well, Monique Jenkins, I want to thank you so much for coming on the show. I have to say, your passion for your business and your enthusiasm for the work that you do just really, really shines through. And I'm so grateful that we're able to connect. Again, congratulations on the baby. I'm really excited to see what you do in the future. So thank you so much for coming on the show. I appreciate it.
Monique Jenkins:
Thank you for having me. I'm also excited to see what I'm going to do in the future. In this future, I'm going to go get something to eat, because that's the top priority on my mind right this second. But after that, I'm going to take over the world. I'm super excited to see all of my dreams realized and expectations grow over…what is this next phase of my life?