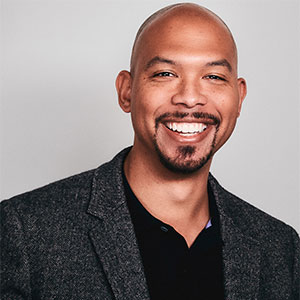 Nick Caldwell is passionate about inspiring people to get into technology. As chief product officer of Looker, he oversees the company's product, engineering and design teams, and also serves as one of the public faces of the company. (And that face is all smiles — Looker was acquired in 2019 by Google for $2.6 billion!) What does life look like on the other side of such a big buy? Well you'll just have to listen and find out!
Nick talked about how his dad's Tandy 1000 sparked his love of programming, what it was like attending MIT and interning at NASA, and even went into his years at Microsoft and Reddit before joining Looker. From here, the conversation turned towards the state of the Valley, and how he sees opportunities out there from his point of view. Nick also shared what success looks like for him at this stage of his career, and talked about how he gives back to the next generation of Black technologists. It's really an honor to share Nick's story with you all!
Links
Transcript
Full Transcript
Maurice Cherry:
All right, so tell us who you are and what you do.
Nick Caldwell:
Hey, I'm Nick Caldwell, Chief Product Officer at Looker.
Maurice Cherry:
So talk to me about your work at Looker. I'm curious, what is an average day like for you there?
Nick Caldwell:
Oh, complex question. I'm a Chief Product Officer, so that means I'm responsible for product engineering and design. I also have the security team, which I'm responsible for. My average day is honestly really hard to predict. But I can tell you what I aspire for it to be is that I've enabled all the people who work for me to get their best jobs done without my help.
Nick Caldwell:
That is to say, if I'm doing my job correctly, all of my team members know exactly what they're supposed to be doing to contribute to the overall strategy, and then I don't have to jump in and bother them about it. They can do it themselves.
Nick Caldwell:
But what that leaves for me is, in the instances when my team can't do that execution without my help, I get to jump in, get people unblocked, help solve problems. And I guess, the position I'm in, only the really juiciest most difficult problems bubble up to me.
Nick Caldwell:
And then beyond running the team in that way. The other cool thing you get to do as the Chief Product Officer is you get to be kind of a public representative for the company. So I spent a lot of time talking to customers. Just before recording this podcast, I was doing an interview with a news publication to talk about our upcoming release, Looker Seven. Just generally finding ways to represent the company publicly, not just by talking about the product but also by bringing my own personality to the mix. It is a really fun part of the job.
Maurice Cherry:
So it sounds like, one, you help with the vision being the representative of the company, but then also ensuring that the people under you can manage and do strategy and actually contribute to the overall product.
Nick Caldwell:
Yeah, for sure. We're scaling. Looker is a fast growing company. I guess I should mention, we just got acquired by Google, and that's kind of a testament to how well the business is going. But as we scale, we have to think about how does our organization handle more people who work for us?How do we handle the much larger volumes of customers that we're going to have? For me that means thinking about, obviously the product, what we're building, but in some sense, I also have to treat the organization like a product as well. It has needs that grow and develop over time as well.
Nick Caldwell:
So, trying to figure out where our next generation of leaders is going to be, trying to empower them with all the same sort of skills and techniques that I would want to apply myself. But I can't be everywhere, so we've got to have that next generation of leaders come into play. And leadership development and that sort of class of problem is really fun. I enjoy coaching folks, mentoring them and then seeing them go up notches in their career. And I've been fortunate, for the past few jobs I've had, to be in positions where I am doing a lot of that scaling and growth and people development, and get to see the fruits of that bare out in successful products. And also just seeing people get further along in their careers.
Nick Caldwell:
Yeah, it's fun. I enjoy that part of my job quite a bit.
Maurice Cherry:
Yeah. As I was doing my research, I was looking up the acquisition, $2.6 billion.
Nick Caldwell:
Yeah.
Maurice Cherry:
Wow.
Nick Caldwell:
Not bad. Not bad for a boy from PG County. Yeah, we're doing pretty-
Maurice Cherry:
I know all that money didn't go to you, of course. It went to the company, but I'm curious, how did that acquisition change your life?
Nick Caldwell:
There's a couple of different ways to answer it. I'll give you the corporate answer. I think you want the real answer. The corporate answer is the corporate answer is we're going to be … Sorry, the deal hasn't actually closed down. I think it will probably close by the time this podcast airs, but what it means from the product perspective is we're going to be able to accelerate all of the product functionality we want to build. We'll have access to greater resources. Google plus Looker enables us to really fully deliver on the vision that we have for the overall product.
Nick Caldwell:
But I think you're talking about from a personal perspective. From a personal perspective, what's happened is this opens a whole new class of problems/opportunities for me, largely around the fact that, yeah, to be blunt, we've got a lot more money. It was just the most first world problem to have because it's making me think about responsibilities that I have, back to the community or to my family. It puts me in a position to have a much greater impact than I thought I could ever have, even just a year ago.
Nick Caldwell:
Earlier, I was talking about my desire and strong passion on leadership development. Well, now I'm in a position where maybe I can take some of my good fortune and reapply that to nonprofit efforts or more larger scale ways to develop leaders. I didn't talk about this earlier, but one of the things I'm doing on the on the side now is my wife and I have started a nonprofit, which is focused on getting more people of color into technical executive leadership positions.
Nick Caldwell:
I guess even before that, I was spending increasing amounts of time with a nonprofit called /dev/color, which is around getting junior engineers of color into higher level positions within their company.
Nick Caldwell:
So starting to think a lot less about securing the bag and a lot more about legacy and what it means to help develop the next generation of leaders. And I think anyone who's been given privilege, at least in part, has to think about how they can use that privilege to help lever up other people. So I spend a lot of time thinking about that right now. I don't know if I have the right answer to it, but I certainly have an opportunity to make an impact in a way that goes well beyond building products, and into making it easier for the next generation of engineering leaders of color, making it easy for them to succeed. So I want to try and do that.
Nick Caldwell:
Where we're getting moving on it. I aspire to make a difference here and I just feel fortunate to be in a position to be able to have this as a problem.
Maurice Cherry:
How did you get started on Looker?
Nick Caldwell:
It's not too complicated. I was VP of engineering at Reddit and I had been there for a couple of years, and I was starting to think about what my next opportunity would be. As you know, in the Bay area, your typical tenure at any company is around two years. Startups move really quick. So I'd started to look around.
Nick Caldwell:
Looker, the CEO, a guy named Frank Bien, he needed someone to help them scale the product and engineering organizations. And then additionally Looker has what's called business intelligence product. And I'm in my previous roles at Microsoft, I actually built one of the world's dominant BI products.
Nick Caldwell:
So it was just very, very fortunate in terms of timing, it all came together. I was right in the mindset of exploring new opportunities, and Looker needed someone with almost my exact expertise to come in and help them scale up. So running product engineering design for a fast growing, modern approach to BI was just the right place at the right time.
Nick Caldwell:
I think three months after we joined, we started to think about potentially IPOing, and then eventually we got acquired. So I really chose the right horse to bet on.
Maurice Cherry:
What is the hardest part about what you do?
Nick Caldwell:
The hardest part about my job is that there's a large number of what you call stakeholders. There's a lot of people who depend on my organization to be successful. So if you think about what product and engineering do, we are trying to build the best possible product for our customers at any given moment. But how do we know what the best possible product to build is?
Nick Caldwell:
Well, we have to get inputs from all sorts of different sources. Existing customers, future customers, those customers can be differentiated by size, region, all sorts of different dimensions.
Nick Caldwell:
We have our customer support team who wants us to focus on existing the existing product and making sure that the known bugs are addressed rapidly. We've got input from our field sales teams, who we're discovering new requirements and new functionality. And then, I shouldn't leave out, it's important to treat your engineering organization as a customer as well. So they want us to, of course invest in better developer productivity tools, paying down technical debt, innovation projects that they may have discovered.
Nick Caldwell:
All of this is the challenge. And synthesizing all of this is the challenge. And it's my role to build an organization that can take all of this input, translate it into the best possible product roadmap or set of investments that we need to make as an organization. And not just the roadmap, but we didn't have to go and build the organization, hire the right people, make sure that we have the right managers and line everyone up. All the skills that we have at our disposal are lined up to best meet these very, very difficult product challenges.
Nick Caldwell:
So in a nutshell, synthesizing all of that is the toughest part of my job because there's so many inputs, they change all the time. And the thing that we do to meet this demand is we build an organization. That organization is constructed with people, and every person has different motivations, things that they want to accomplish with their careers, different things that excite them and things that they want to learn. All of that has to come together in the right way for us to build a successfully operating product organization. So it's complicated.
Maurice Cherry:
I can imagine, first of all, I think just with the acquisition, that changes the game for every single person that works at Looker because now you are part of this much larger, much more well known company. Of course there's more money, but then there's also, I would imagine like a merging of cultures, that probably come into play. Is that right?
Nick Caldwell:
Yeah. We haven't merged yet. We're still waiting to integrate, but it's one of the things that we do talk about as a potential concern. But the nice thing about the Looker plus Google union is we see a lot of good cultural overlap.
Nick Caldwell:
Looker's headquarters is in Santa Cruz, so we want to make sure we don't want to lose that. I don't know if you've ever been to Santa Cruz, but Santa Cruz is kind of a beach town. It's a very laid back and chilled place. We don't want to lose that kind of cultural element that makes Looker feel relaxed and so forth.
Nick Caldwell:
At the same time, we're pretty excited about, I don't want to say Google propeller hatism, but they do give out propeller head hats to every new employee. But there's a certain amount of excitement that we have around the Google technical culture and how we can integrate some of their more forward looking products, like BigQuery and so forth. How we can more directly work with those products and integrate them into Looker's product roadmap?
Nick Caldwell:
So we're pretty excited about it. From a culture perspective, I think we have a really solid understanding of what makes Looker great and successful, and then we want to take the best of that and bring it with us to Google.
Maurice Cherry:
Very nice. So you mentioned being a boy from PG County. What was it like growing up there?
Nick Caldwell:
I don't know if your audience knows where PG County is. PG County is in Maryland-
Maurice Cherry:
It's black people. They know.
Nick Caldwell:
Awesome. Yeah, PG County is like 95, 98% black County in the Southeast of DC. Growing up there, on the one hand it's super comforting. You're in the community. It feels very welcoming in that sense.
Nick Caldwell:
But I think the downside of that is … What's a way to put it? Opportunities are not equally distributed. Talent, I think, and potential is equally distributed. But opportunities are not equal distributed. So, if you grew up on the East coast or in Maryland, I think if you're going to stay in that area, you're largely going to be thinking about government jobs, things of that nature. I kind of very early on in life realized tech would be a great way to go, if you wanted to think about A, being a part of forward looking trends, and B, making money.
Nick Caldwell:
I very early on tried to think of ways that I could achieve these goals, and it became clear to me that, because opportunities are not equally distributed, that I would have to find a way to get out of PG County and go somewhere else, if I wanted to achieve my maximum potential. And I think I realized that pretty early on. I can't remember the exact moment, but it's something that is kind of born out to be true.
Nick Caldwell:
When I wanted to get the best possible education to set myself up for future success, I realized that it wasn't going to be University of Maryland or UNBC, it was going to be, I'm going to try to swing from the fences, and I really wanted to get into a school like MIT or Harvard. Early on, I decided that was going to be the goal.
Nick Caldwell:
And then from there, it kind of followed. I just kept setting this kind of personal mission to go wherever the best opportunities were, and try and take the best advantage of them. And that's played out for, I guess most of my life.
Maurice Cherry:
Sounds like tech was maybe like a big part of your growing up, like you were exposed to it at an early age. Is that correct?
Nick Caldwell:
Yeah. I think when I was a, I must have been a toddler. I was like three, four-ish. My dad brought home a Tandy 1000. These were one of the very earliest types of computer. And my dad was doing casework. He was a a lawyer and he went from doing that on paper by hand to Tandy 1000 personal computer. So I used to sit on his lap and he would let me kind of punch into the keyboard. I'm surprised I didn't break anything.
Nick Caldwell:
But yeah, he got me kind of early games to play on it. And over time, I just got fascinated with this thing. By the time I was aged 10, I was for sure hooked on video games. I was playing PC games. And he bought me a book called Learn C Plus Plus in 12 Easy Lessons. Which was a lie, you can't learn C Plus Plus in 12 easy lessons.
Nick Caldwell:
And I really just dug into that. I decided that, that was going to be the thing I spent my summer learning. And by the end of the summer, I'd taught myself C Plus Plus and I used that knowledge to start my own bulletin board system. I don't know if you remember these things, but pre-internet, you could set up your own little bulletin board systems and start your own community.
Nick Caldwell:
And I started coding extensions for that, like little video games and things like that. I was already hooked and I started to see, as a part of doing this bulletin board system that the world was so much bigger than PG County. People from across the country would like call into this bulletin board system, leave messages on it or upload files. And it gave me an opportunity to talk to people from different walks of life and different age groups, different jobs. It was kind of like I got early access to all of the potential that the internet could have. And the key realization to all this, to me was like, this is going to be a huge later on. I should learn as much as I can about how to code so I can be a part of it.
Nick Caldwell:
Unfortunately, I dropped all my other hobbies. So, I went from like your typical eighties kid, playing outside every day, riding your bike around the neighborhood. I went from doing all that to just coding and working on software plugins almost instantly.
Nick Caldwell:
So, I just immediately fell in love with it. There's just something cool about, you write software and you know, you hit run on it and the computer is doing something like in a program fashion that you told it to do that. It's just always been fascinating.
Nick Caldwell:
And the other thing which is really important, this sparked a desire to me. I really started to get hardcore academic at this point in my life. And so it wasn't just fascination with computers, it led to better academics. It led to me going to another school in Maryland which had better a computer science program, which ultimately ended up leading me to go to MIT.
Nick Caldwell:
So it had kind of a very foundational role in my life. Being so excited about computers at this early age set me up with a great foundation for future career.
Maurice Cherry:
Wow. Did you have your family support you in all of this? Because I would imagine starting out with this, and I guess I might be projecting a little bit, because this sounds so similar to me growing up.
Nick Caldwell:
Yeah.
Maurice Cherry:
we didn't have a Tandy 1000, my older brother had he had a Vtech Laser 50 computer. It was sort of like the size of a standard 10 key keyboard now. It has a one line dot matrix screen on it, and you could basically program. And I learned basic. In the library, they only had one computer book and it was on basic. I need to find that book. But it was like a green book that taught you how to program in basic. And the Laser 50 came with all these little peripherals like a cassette, like a disc drive, but it's a cassette, you know?
Nick Caldwell:
Yeah.
Maurice Cherry:
It had a little tiny dot matrix printer that you could expand memory and do all this sort of stuff with it.
Maurice Cherry:
And I remember just learning how to code on basic with that thing, and then graduating from that to like the Apple 2E in school. We were learning how to do that and work with doss and all that sort of stuff.
Maurice Cherry:
My mom probably hated it. She wanted me to be doing other stuff, like getting out there and, "Oh, you should be going outside", like you say, riding bikes and stuff like that.
Maurice Cherry:
And I was like, "No, I want to program. I want to go to the computer lab". How was your family? Would they support you in all this?
Nick Caldwell:
It was odd. My family is great in the sense that they tried to expose me to a lot of different things. My dad, jazz music, chess club, painting. They would encourage me to do all sorts of things. And programming was one where it was so clear and that it stuck with me, that I really wanted to stay with it, because I dropped all these other hobbies.
Nick Caldwell:
So they actually leaned into it with me. I think what I remember is once I expressed that I was interested in it, not only did my dad continue to take me to the bookstore … The first book I got was learn C Plus Plus. I think the next book I got, which was stunning to me at the time, it was like a $250 book on how to code video games. So that was the second or third programming book I ever bought. So I was learning how to do assembly language within about four or five months of deciding that this was interesting. And my dad was putting a lot of money into it. I was like, "Wow, 250 bucks". Oh, and also my mother like found out-
Nick Caldwell:
I think part of this was… Oh and also my mother found summer programs for me to go to where you could…A part of it would be like coding camps and things like that.
Maurice Cherry:
Mm-hmm (affirmative).
Nick Caldwell:
And to get to those things, they were not in PeeGee County. We had to drive like two counties over to participate in those things. I was fortunate that they A. recognized that I was excited about this and they were willing to tolerate my near total fixation on it. So I was really fortunate in that. But yeah, I did have a few times where my mom did show up and just kicked me out of the house and saying: Hey you need to go stop staring at the screen and go biking. That did happen one or two times, but largely speaking, they were super supportive.
Maurice Cherry:
Let's talk about MIT. You went there for undergrad. What was it like there?
Nick Caldwell:
MIT is pretty brutal. I actually, to be honest, I don't recommend most people go to it. People ask me about that a lot now because I think MIT has a great reputation as a school. You will learn a lot, you will learn how to work. It is an extremely difficult school though. And for me, it was kind of doubly difficult because it's not a very diverse school. So I was coming from PeeGee County, Maryland, which again PeeGee, my hometown is like 95% Black. Boston is none of that. Cambridge is none of that. So it was honestly like a major whiplash for me. To go up there and kind of be isolated from the community and then simultaneously… Like No one goes to MIT… When you were in high school, in order to get into MIT, you have to be pretty smart. So I was like yeah, I was a pretty smart guy in high school. You know, you build up a little bit of ego and so forth that lasts maybe three hours into MIT. I'm not exaggerating.
Nick Caldwell:
I remember the first day at MIT, they pair you up with the other first year students, right? You'd go out to lunch with them and things like that. So the first few hours of my MIT experience was: I went to go hang out with my group and when I sit down at the lunch table and I'm waiting for people show up. A little kid shows up. He sits down and a few other people show up. And we were all are kind of wondering why the little kid was there. So we asked him, Oh Hey, is your brother here or are you waiting for somebody? He was like, Oh no, I'm a first year too. I'm like, Dude, how old are you? He's like, Oh I am 12. [crosstalk 00:24:20] That's when it kind of hits you that like no matter how smart you think you, you weren't, here's a 12 year old who is probably a genius. He ended up being… A Few years later, he was teaching one of the classes and it was wild. It really forces you into a different mindset, which is no longer can kind of coast through any challenges. The challenges are going to be really hard and it gets you into a kind of a mentality that whatever life throws at you, you'll have to come up with a plan and work your way through it.
Nick Caldwell:
So in that sense, MIT was formative for me. There's really not been any challenge that I've faced professionally that has come close to what I dealt with as a black student, going to MIT, going from PeeGee County to Boston and then putting up with that very, very rigorous difficult curriculum. But at the same time it just set me up to be able to take on any sort of challenge. If you look at my career after that, I mean I take big swings at things and largely speaking of have been able to pick my way through and find success. So I'll stop there.
Nick Caldwell:
So how did the NASA internship come up?
Nick Caldwell:
Oh, that's funny that you mentioned that. So, like I was saying earlier in Maryland, you know a large number of people out there end up working at government institutes. So when I was in high school, because I could code, I had and because I had good academic record, we had the opportunity to do kind of an intern program as part of our high school curriculum. So I think this was junior year, I was able to take time off of regular school and go work with a governmental institution. I've loved the space program since a young age. I mean I think anyone from our generation probably would tell you how fascinating to watch shuttle launches and stuff. It used to be a huge deal.
Nick Caldwell:
So when the opportunity came around, it was like NASA or NSA or the FDA. I think those are the three ones that I could go to. And of course I jumped at NASA. I ended up working there as an intern for three years and working on satellite parts. Now the problem with working at a government institution like NASA is it takes a long time for that stuff to ship. Nowadays, if you're in tech like people complain about like, Oh, don't do waterfall. What they think waterfall is. It takes like three months to plan something that's nothing at NASA. I mean I was there for three years working on this satellite, high energy solar spectral imager. I believe it didn't actually launch until three years later and then it exploded when it launched. They had to redo it. So I think the from a total project length, I think it was more than eight to 10 years. So I really enjoyed being exposed to that early on because one, again, I got to learn more coding. When I was at NASA, I got to do a combination of Visual Basic, Assembly. I got to learn very how to code for very specialized pieces of hardware, which was really fun. But it also taught me that working in a government Institute was not what I wanted to do for my career. I like to be entrepreneurial. I have to be fast paced and thought to myself like maybe the answer to that, what I really want to do isn't at this NASA job no matter how cool I thought it would be, I've got to keep looking. So that kind of planted the early seeds of I want to do something entrepreneurial. Like I didn't get to sow those seeds for a very long time, but that's kind of where it started.
Maurice Cherry:
Just hear you talk about this. I'm trying not to make these parallels myself. but like, so this is probably about, I don't know, maybe 11th or 12th grade. I just wanted to like get out of my small, so I'm from Alabama, I'm from Selma, Alabama. And it's funny you mentioned that about like spacing growing up because space camps in Alabama, it's in Huntsville because we have a, Oh sorry. We have an nice facility and normal, which is near Huntsville where the space camp is and so never got to go to space camp. But space was always something that was kind of around, I felt like based on where I was going in terms of my education, like working for the government was going to kind of be the goal. So right around 11th or 12th grade I was really looking at like what are places that I would like want to intern and work at. NASA was one of them, CIA and FBI or what I was looking at like I want it to be a clandestine service agent.
Maurice Cherry:
I laugh at it now, but because I was good in math and it was sort of the thing that my, one of my teachers was trying to push me into, like you can really do this and you know, that sort of stuff.
Nick Caldwell:
yeah.
Maurice Cherry:
And so you mentioned The Challenger and I'm actually a Ronald McNair scholar, Ronald McNair, one of the astronauts on Challenger. And so that's how I ended up going to Morehouse. I got a McNair scholarship and then that's sort of fed into the NASA internship. The program that we worked on. The first year I interned, I was at aims, which is out in Moffett field, which is a near mountain view kind of South of San Francisco in the Bay. And I worked on these a Sofia projects, it's a seven 47 that they cut a hole in on the side and they put in a huge like gyroscopic telescope.
Maurice Cherry:
Sofia stands for a stratospheric observatory for infrared astronomy. So the plane like orbits the earth and like observes like magnetic fields and comets and all that sort of stuff. And so my internship was with Ames at the SOFIA Science Center. We were doing stuff like that. We were working with robotics. It was so cool. It was the coolest shit I have ever done in life. I kid you not. And I was also working with like HTML and stuff. Like I got the program, the robotics education homepage and we were teaching K through 12 students how to do programming with robotics using Lego Mindstorm kits. I'm like, this is the coolest shit ever done ever. And I go back to school and you know, studying and whatnot. And then my next internship was at Marshall Space flight Center in Huntsville and I was doing something a little different. I was working more with human… What was it called?
Nick Caldwell:
A human computer.
Maurice Cherry:
No human factors engineering. Oh that was where I saw like my first 3D printer. That was where I saw… Cause like they 3D prints nose the cone on the space shuttle because it burns up on reentry. So they use this, this hexagonal like printing filament called Markcore. And like they print out, they showed me how they print out the nose cone and so I got to work with like human factors engineering and stuff like that. Still is some of the coolest shit I had ever done and I really want it to continue on that path. And then 911 happened and they pulled, the government pulled the funding for my scholarship program and I was like fuck. I don't have anything else lined up? So I'm curious though, when you talked about like the entrepreneurial thing, once you graduated from MIT, like what was your next step?
Nick Caldwell:
I had a lot of students debt. So I want to start with this. Cause a lot of people ask me specifically like, Hey man, if you graduate from MIT, you should have gone to work for Google or Facebook. So I want to frame the timing of my graduation. Put it all in context. Google. I mean they were basically still a startup when I graduated. Facebook did not even exist or Mark Zuckerberg was still at Harvard and I had huge amounts of student debt. I really wanted to A. Be intact. The be finds the shortest possible path to like a successful, lucrative tech job. I want to pay back those loans, set myself up for success. Maybe go back to my hometown and be the big hero, help my mom pay some bills or something like that. Microsoft at that time was the biggest tech company and I decided I wanted to work there. They had a group called the natural interactive services division. It's just a fancy way of saying they work on machine learning and natural language processing, which I had become like fascinated with during my time at MIT. I was doing machine learning on during an era when it was definitely not considered cool. I remember my advisor actually told me not to pursue machine learning is that it was a dead end. You know, it took a while.
Maurice Cherry:
My advisor told me the same thing about the web. He said it was a fad. If you want to study this, you should change your major. So I did. Cause I started out computer science and changed the math.
Nick Caldwell:
Who is going to do this HTML stuff? I mean I ended up choosing Microsoft and it wasn't an entrepreneurial decision. I think during my time at Microsoft I tried to bend the experience that way. I've joined teams that did lots of internal kind of new projects and new startups. I tried to find ways to express my passion for doing new things with new technology and taking on those big sorts of challenges within the broader ecosystem of Microsoft, which was obviously a very well established business. But if you, trace my career through there, started in a team that was doing like very, very forward looking [inaudible 00:33:58] and NLP tech and then they carry through to to multiple different other teams and was able to carve out like a very successful career.
Maurice Cherry:
Nice and you were there for a long time?
Nick Caldwell:
Yes.
Maurice Cherry:
15 years over 15 years. A little over 15 years.
Nick Caldwell:
I like the emphasis you put on that. Like a long wow time.
Maurice Cherry:
It is a long time. You started in what, like 2004, 2005 or something like that?
Nick Caldwell:
My first internship there was 2001 I think.
Maurice Cherry:
That's a long time.
Nick Caldwell:
Yeah, man.
Maurice Cherry:
Well I mean I say that because you know, of course the industry has changed so much from year to year. I mean even if you think of those early times in the 2000s to now. It's like night and day. And to be at the same place, especially a company like Microsoft that we know where Microsoft's reputation was back then and then of course it, I don't want to say it's gotten maligned, but I would say like between like 06 and 2013 people were like: Yeah, we'll look at Apple. Now Microsoft has started to sort of have this great resurge. It's not just the gaming but like also with Windows 10 and with you know, devices and stuff like that. So to be at a company that long and to see it through all of that, that's a rarity in this industry.
Nick Caldwell:
Let me shortcut, because I know we want to give people advice. I mean I definitely tell people not to stay at one place for 15 years nowadays. But in my defense I was just having a really good time. Externally Microsoft was dealing with all of these sort of challenges with governmental regulation and so forth, but for me in my role, like I was just popping between really, really fun projects. My first project was I got to own the spellchecker for all the Microsoft products. That thing shipped to more than a billion people. I mean like impact, right. You know, then I got to do a bunch of machine learning and NLP projects as a part of Microsoft exchange and SharePoint like one of the cool things about it was you could ship something and it could go out to you know, millions and millions and millions of people and you could really have big impact.
Nick Caldwell:
And Microsoft also has something that early on to be blunted it had a very safe sort of understandable career path. Like you know, any big company that got like really well established job ladders and you can kind of like, particularly if you're a video gamer that's like, Oh, a ladder goals, achievements, I'm going to play that game and see how far up I can get it. So at Microsoft the game is like everyone wants to work their way up to a ladder level called partner. Right? So a partner is like considered you I guess you win the career game. So I, for a large part of my career I had this mentality that like your career was directly tied to your job title or the number of people who report it to you. And I had gotten into this mindset and you know in a big company like Microsoft, they actually do set it up so that you can if you value success in that way you can drive career in that way.
Nick Caldwell:
And I was doing like doing that quite well. I ended up becoming a general manager at Microsoft, I think after 12 years. I hit that partner goal after around 12 years, which if for folks who work at Microsoft, like going from like new employee to partner or general manager and 12 years is extremely rapid pace. I think the only person I'm aware of who did it faster was a guy named Scott Guffey who's currently the senior vice president of all of Azure. So I was having a really good time. It was long story short and I got to work on a product called power BI ended up being like the fastest growing Microsoft product in 2016 so I was having an amazing time, but I did kind of eventually realize that although I was having a great time working on new products inside a big company is not actually entrepreneurship.
Nick Caldwell:
I started to slowly realize this over time. Part of it was when I was getting toward the, I guess the last, the final few years of my career at Microsoft, I had decided to go get an MBA cause I love formal education. It's just the way that I like to absorb content and learn. Formal education forces you to be in a place and a time to learn things. And sometimes I need that discipline if I want to learn. So I decided to get an MBA and I decided I wanted to learn about entrepreneurship. So I started to fly down to Berkeley Haas school of business on the weekends to take my MBA classes and I started to get exposed to people outside of the Microsoft bubble outside of the Seattle bubble. People who were could tell me about all of the cool things that were happening in Silicon Valley.
Nick Caldwell:
And I was like, Oh wow. Like I used to not take this part of the world as seriously as I should have because I thought like, Hey, Microsoft is shaped can't it company and you know, I can spend my whole career here and be happy. But as I started to get exposed to all these other people and companies and ideas, I realized just so much more opportunity out there if I'm willing to take on a little bit more risk and get a little bit more uncomfortable and maybe trap, pursue a career that isn't just popping up job ladders and has maybe about taking a few horizontal moves or maybe have a smaller team with bigger impact because you know what I can deliver to the company matters more. So I started to think about my role in companies and how I want him to navigate my career radically differently.
Nick Caldwell:
After that, that MBA, and then I think within six months of graduating the MBA, I had a meeting with my corporate vice president at Microsoft and was like, Hey, I think it's, I think it's time for me to go. I want to go, I want to go really be part of this startup ecosystem. And he's like, where are you going to go? And I was like, well my, my friend works at Reddit and he says they're looking for a VP of engineering guy like laughed in my face. It's like, you're going to go to Reddit. What's that? So, but I really wanted to, I mean I think at that time Reddit was a series B startup. They really needed someone to help them scale the engineering team. And I was like, I've done this before. I've worked at, I've run big teams at Microsoft. I'd bet my skillset would be really, really valuable to this team. I bet I could have a huge impact, even though it's a smaller team, that the impact that I could have would be much, much bigger in effect, all of the Reddit global audience, which is hundreds of millions of people. So I started to get really excited about that.
Maurice Cherry:
And I mean you….You kind of joined Reddit in 2016 right? Like latest 2016.
Nick Caldwell:
Yeah.
Maurice Cherry:
This was at a time when like the company maybe didn't have the best reputation.
Nick Caldwell:
I mean you've said it very politely. Yes.
Maurice Cherry:
I mean to put it in context with people who are listening. This is near the time Trump got elected and there was a lot of stuff going on around Reddit in terms of just violent hate speech and things of that nature. Did you think about these things when you thought about going to Reddit or were you just kind of strictly looking at like, this is a startup, I want to do something more entrepreneurial. This is a good place to go for that?
Nick Caldwell:
No, I did consider it because, going back to what I said earlier I early on in my tech career, if you will, I was running bulletin board systems. So I understand the challenges that come with building online communities. It's just something, I was doing pre-internet. So when I looked at what the challenges are with Reddit, sorry, I kind of looked at that more like, I see the value here and the reason that they're trying to hire me is because they also recognize these problems and they need someone to help. And the pieces that I can help with have to do more with engineering and so forth. But alongside me, they were hiring all new product people. They were gearing up to really take this sort of challenge seriously. I don't know if you recall this, but the first week I had the job at Reddit, we actually went to a conference, excuse me, we went to the exec team, all went together to a conference called tech inclusion.
Nick Caldwell:
It's a conference that used to be run by Wayne Sutton.
Maurice Cherry:
Wayne Sutton, yes I know Wayne.
Nick Caldwell:
Yeah. No he is an awesome dude. But the very first week we were there, the whole exact team went and did an hour long, let's talk about how Reddit is going to address problems on the site, including things like hate speech, including like wanting more diversity on the platform. So we were taking it really head on. So I knew all those problems were there, but in all of my interaction with the exact team, all I got was like the authentic desire to try and, make things better. It was like, well I can be a part of solving that. It was super fun. I mean that whole experience, I mean getting to scale their engineering team, getting to, I think you would agree that the reputation of the site is now a lot different in the sense that they have invested heavily and cleaning up a lot of the toxic communities and the infrastructure for doing that as alignment to scale more rapidly. You know, I feel really about the work that the team did there as well as the culture that we built inside the company. I mean we had one of the most diverse I probably the most, actually I'll make a stronger claim. That was the most diverse company I've gotten to work at in my professional career. I was really proud of being a part of building that.
Speaker 1:
When you look at your career now, you look back at it, currently at Looker, slash Google, Reddit, Microsoft, etc. What is Silicon Valley like for you at this stage in your career?
Nick Caldwell:
At this stage in my career, Silicon Valley is just unlimited opportunity. I wished I had moved out here sooner. Silicon Valley, it is interesting the more… I've only been here three years if you just wall clock time.
Speaker 1:
Okay.
Nick Caldwell:
So I'm still learning about all of the different facets of how Silicon Valley works. And I'm by no means an expert. But one thing I have realized over the past, year or two, is that there is more opportunity and more money to fund ideas here than in any part of the world by far. It is an engine for connecting investment capital with bright, ambitious people. Now that's all fine and good. The negative side of that, the thing that.
Nick Caldwell:
Now, that's all fine and good. The negative side of that, the thing that as a person from P.G. County that I'm starting to realize is that, the opportunities are not equally distributed. So, although this is a place that is just phenomenal, there's no better place in the world for investment, changing the future, yadda, yadda, yadaa, that opportunity is not available as equitably as it should be. And I'm trying to find ways to help with that problem. Part of it is, can we find ways to get more underrepresented people; people of color into tech positions. So, I do see a lot of progress on that dimension here in the Bay area. There's so many bootcamps' and if you talk to startups in increasingly large companies, they're seeking out new ways to bring diverse candidates into the top of their hiring funnels.
Nick Caldwell:
I see a lot of progress happening there. But, I still think that much of the wealth opportunity sits high in higher levels of career growth. Right? So, executive levels in particular. So, one thing that I'm spending a lot of time on now is trying to think through, how do we get people who are in middle or late career, people of color into executive roles. One thing I guess you didn't ask me about Reddit was how do I even discover that opportunity? Access to executive recruiting networks, is something that I had discov- to discover effectively through word of mouth. I kind of got lucky. If I hadn't had that luck, I don't know if I would have ever been able to leave Microsoft, get introduced to the right people and start exploring different executive opportunities. So I'm going to try and make that easier for the next generation.
Nick Caldwell:
I think that having access to the right people, in the right network, is one of the largest inhibitors for people of color, to get to the next level of growth. And I want to try and invest in creating those networks. So next, I think I told you this, but next week I'm actually going to host an event where we connect. I invited a little more than a hundred people of color, mid and late career, who want to learn about how to get into tech exec roles. We're going to have them and then we're going to have a panel with more than six different executive recruiters and people of color who have made it into exec. roles and just talk about the paths and the right ways to network, the right ways to position yourself for those opportunities. How the interviews work differently than normal tech interviews.
Nick Caldwell:
I just want to spread that knowledge, as far and wide as I can into the community, to make it easier for the next, the next generation. Cause for me I had to discover all this stuff the hard way. I don't think it needs to be that hard if we just share information.
Maurice Cherry:
Yeah. How do you define success now?
Nick Caldwell:
Early on I defined success as, trying to make money. You know, I've talked about that student loan thing. The middle of my career, I think I defined success is as, having freedom; the ability to work where I show wanted to on the projects that I wanted to with the people that I wanted to. And then, I think now, I'm switching into a mode where I define success as legacy. What am I leaving behind, and will I be remembered for having made an important difference, not just from a product perspective cause products come and go, but will I leave a positive impression on the next generation of, of people of color in tech? I think that's where I'm landing, so I'll, I'll stop there.
Maurice Cherry:
Okay. How do you sort of navigate the expectations that others might have about you? I would imagine, being at this stage in your career, and you're doing all of this kind of outreach to the community, like you're saying… How do you manage those expectations that folks have?
Nick Caldwell:
Yeah, I was going to say, what do you mean? Is this a trick question? Did you have some expectations?
Maurice Cherry:
No… Do I have any expectations?
Nick Caldwell:
I'm curious what you know.
Maurice Cherry:
I mean look, I've talked to a lot of people on this show, right? I never know how people are going to react. Some people I will ask and they're like, I don't want to talk about x, y, z. I don't want to be classified, as a black blank, you know, whatever their title is or what have you. I was just curious because I know I've talked to people that are at, you know, sort of different levels of their career. Certainly ones that are at very high levels, and it seems like from the larger community, there's a big expectation of, I don't know whether it's benevolence of helping out or reaching out, reaching out or reaching back or what have you. Are those things that you even think about?
Nick Caldwell:
I don't think the larger community puts this sort of expectation or pressure on me. It's something that's like intrinsic to me. I've been a manager for a long time. I think, I could claim I was pretty good one. And one thing that I think makes for good managers is you, you care about other people. That the best managers I've ever worked for, have tried to understand where I'm trying to go with my career and my life and they're trying to line up the right opportunities, and the intersection of that is kind of the sweet spot. My personal goals and desires line up with what the business wants. We end up in the best possible place. So for me as a person who's been doing that for a long time, as a lifelong manager, it's just something that comes natural.
Nick Caldwell:
I really want to try and lift up others. So I look for opportunities to do that, and I get a lot of satisfaction out of it. But the community itself, it doesn't, it's not like people are kicking my door and I'm like, "Hey Nick, like because you're in this position, you've got to give back". That hasn't happened. It's really just more of a natural outcoming for the things that I want to do. And I, I feel like I'm very privileged in the sense that, I have access to knowledge, experiences and networks that I can make it more easily available to, to the next generation. So I guess that's my answer. I don't feel pressure for it. I get a lot of satisfaction out of it.
Maurice Cherry:
Okay. All right. If you could go back and talk to young Nick, like fresh out of MIT degree, what advice would you give him?
Nick Caldwell:
Young Nick, was not the Nick you're talking to now. I have a lot of, takes a while to recover from MIT. So I guess the first, the first thing I would say is MIT related, which is, I graduated thinking technology, could solve all problems and technology is amazing, but it turns out people solve all problems and you can't code your way to success. It's a combination of code, working with people, and that is how you solve problems. So I would say, young Nick, spend more time understanding how the broader business you're in works beyond development. Talk to PMs, talk to the testers, talk to sales, marketing, talk to all the people that it takes to bring an organization together, to build something. And it's not just coding. I think chart your own course. I think, I learned this a couple of years in, but the best opportunities just don't show up.
Nick Caldwell:
The best opportunities come from, you being proactive and sometimes that means you just going out into the organization and saying, "Hey, is there any place I can help," or "What are the big initiatives and where should I try and plug in?". Sometimes it comes from, it does come from luck, but that luck, at least in my experience, is a result of having delivered good product and done good work and network. Right? So I would tell my young self,"Spend more time, trying to, create the environment where good opportunities will come to you; not just doing good work and expecting your manager to reward you for it. But networking and understanding the broader business context so that you could, so you can understand where your time should just be spent".
Nick Caldwell:
Actually, let me talk about one that's probably the most important because you were making fun of me for working at Microsoft for 15 years. That's probably the biggest thing I would say, which is, a lot of people talk about "Imposter Syndrome". Imposter syndrome is like, "Hey, you know, I'm doing really good at, at my job, but I don't believe I'm doing it. Like I lack of self confidence maybe I feel like I'm faking it". So I hear a lot of people talk about imposter syndrome, but I think there's like a bigger problem that affects people of color, underrepresented folks. And that's what I call, "Just happy to be here syndrome" which is, for the longest time coming from P.G. County and going and having your first job be like a six figure paycheck. Right. That's a pretty big freaking difference. That's a big Delta. So for many, many years of my career I was like, well I'm just happy to be here because I'm making this amount of money and my alternative would be going back to P.G. county or something like that. I had that in my head. Just happened to be here.
Nick Caldwell:
So, no matter what my bosses would ask me for if they wanted me to come over the weekend, something in the back of my head was saying, you, you're just fortunate to be even in this situation. And I didn't realize until far too late, that you don't have to just be happy to be there. It's the fact that you've made it into tech and that you've had any success, your knowledge, skills and abilities are what you have to offer and they have their own intrinsic value and that is what your managers and your company is rewarding you for. So they should be happy to have you. If you show in any sort of skill and results, increasingly, your company should be happy to have you.
Nick Caldwell:
I think that holds a lot of people back, who are under-represented. They maybe had a big transformation in their lives, going from, where, for me it was P.G. County to Seattle and making so much more money, making more money than anyone in my family had made. But, what that blinds you from is, particularly in tech, if you're always just happy to be here, you're going to be blinded to all of the new opportunities that are around you. And in tech, as far as I can tell, there's no ceiling. There's no job I've gotten in tech where I didn't like pop my head up, look around for five minutes and there wasn't even a bigger opportunity just right over the hill. Even today, I'm chief product officer at a multibillion dollar company that just got acquired and I can tell you, there's much, much bigger things out there that I could even be doing it.
Nick Caldwell:
There's no end to it in tech. There's so much opportunity. But, when I talk to people like myself, I suffered through this as well, who are new to their careers and they're maybe not as confident of themselves or understand that they have this intrinsic value. They will pass up opportunities or, or let fear dictate like what their decisions are, and they will just be happy to have gotten the job at all. And I think the faster you can kind of get self confidence and get out of the mentality, the more you can control your own destiny, start making your own career decisions and really navigating all of the opportunities that are sitting here in tech, because they're enormous. It's much for the person who's listening to this, and you just landed your first six figure job, the opportunities to go beyond that, are there. You can do much better. I, trust me, so don't get locked into this, "Just happy to be here syndrome".
Maurice Cherry:
Wow, that's powerful. I really, I really, really liked that message. What's something that you're really proud of that's not on your resume?
Nick Caldwell:
This is not explicitly on my resume and I, and the reason I can't talk about it publicly is because we're not supposed to share these sorts of impact numbers publicly, but when I was at Reddit, one of the things I was most proud of, I alluded to it earlier, was the impact that we had on our diversity in the engineering organization. We moved the number of women in engineering, the number of people of color in engineering there by double digit figures in a very, very short amount of time. So, for me being able to have that sort of tangible impact,, at a place that like has a reputation like I don't know, you know Reddit has a reputation for not being the most diverse website, at least it did at the time I joined. But being able to come in and have that kind of sort of substantial impact, move the numbers in a real way, not just platitudes, and do it fairly quickly felt really, really good.
Nick Caldwell:
It's not something we'd get to talk about in public a lot because I think Reddit has a policy about sharing the specifics on the diversity numbers, but they're quite good internally. I think the, on a related note, many of the people that worked for me at Reddit and many of the people who I mentor during that timeframe, have since gone on to get executive level jobs. I guess the thing I am very proud of at this stage of my life, is just seeing that my time and energy that I put into people, allows them to get to the next level and achieve whatever goals that they have in mind. That, I am broadly speaking proud when that occurs. I know it's an odd way to be selfish, but I guess selfishly, I like to know that I helped other people. I guess that's a way to put it.
Maurice Cherry:
Where do you see yourself in the next five years? It's 2025, what are you working on?
Nick Caldwell:
I think, I'm going to be at Google for a while. We just got acquired, so I mean I, I'm excited about what we're going to do with Looker plus Google. So I think for a product perspective that is pretty straight forward. But I think my ambitions are increasingly, expanding beyond product. I think, there's kind of two other avenues that I'm exploring now. By the way, my wife also, is at Slacks and we both had startup exits last year. Silicon Valley standard for having a startup exit as you start to look at angel investing and you start to think about venture capital. So on one angle of what I'd like to see myself doing in five years is, I would like to have been first check to several startups founded by black starters that have, well black founders that have successfully exited. So over the last year, I think I wrote three checks to black founders last year. So, hopefully in five years we'll see them being successful. Shout out to Morocco. I love you guys.
Nick Caldwell:
The second thing that I'm thinking a lot about is how we can contribute to the next generation of people of color in leadership positions. So, I've been working on training programs and opportunities to try and give the next generation of exec talent, access to the same sort of things I was fortunate to have, that really set me a part of my career. So I was at Microsoft, I got access to proto executive training and it also had lots of training on it through my MBA program.
Nick Caldwell:
I'd like to see if there's ways we can make those sorts of trainings accessible to the next generation of executive leaders, because to be blunt, not everyone should have to go through the level of difficulty that it took me to get those opportunities. I want to shorten the gap between the very, very large and existent, up and coming generation of potential leaders. I want to shorten the gap between them and available opportunities and I think that's going to come through training and networking and just shining a light on the fact that there are all these folks who are just on deck, ready to take a swing.
Maurice Cherry:
Where can our audience find out more about you and about your work and everything online?
Nick Caldwell:
Yeah. If you want to follow me on Twitter, I think that's the way most people find me nowadays. So follow me @Nickcald, Nickcald. If you're interested in learning about engineering management or product philosophy, I've got a ton of stuff that I've been writing on medium so you can just Google that and otherwise I don't. Don't be shy. If you would like some advice. A lot of people just reach out to me on LinkedIn. I respond to almost everything, but I know a lot of people want to get coffee so I'll tell you right now so I can't have that much coffee. Like man, I would be wired nonstop, but I will always, always, if you, if you write me a thoughtful question, 99% of the time I take the time out of my day and try and give you an answer. So those are all the ways you can reach me.
Maurice Cherry:
Awesome. Well Nick Caldwell, I want to thank you so much for coming on the show. I really had, no idea how this conversation would go. I knew that as I was doing my research, I was like, "Oh we have some things in common". Like, I interned at NASA. I was looking at the time. I'm like, I felt like we were kind of right, doing things like right at the same timeframes and everything.
Maurice Cherry:
But, hearing you talk about not just you interning at NASA, but the work that you've done with Microsoft, the work you're currently doing at Looker, and really how you look at giving back to the community, in ways that I think will help set up the next generation of tech executives etc. I think is something which hopefully our audience can and learn from and get inspired by, to see ways that they can create a more equitable future. A theme that I'm running with for the year, how do we use our talents and basically the places where we're at to kind of make a better future. And I feel like you're doing it. Like you're, you're doing it, you're making it happen.
Nick Caldwell:
I'm trying man. I actually know that you mentioned this. I'll just put one more thing out there cause you asked, "What advice could you ask me? What advice could I give to a younger version of me?". I want to give advice to the older versions of me out there, because there's a lot of folks who I've come to meet that are maybe sitting on the fence and they don't know if it's okay to try and give back or, or try and do kind of social good. There's a lot of people who are in the generation ahead of us, and they're out there wondering if they should help. Now's the time to do it.
Nick Caldwell:
There's, there's never been more attention and focus on equity and diversity than now. And the numbers are starting to move. So if you're from kind of that older generation and you're, you've already made it and you're on the fence about whether or not, you should try and invest in this, do it now. Like this is the time to come out and like help the next generation. We need more heroes out there and I know you're out there. I know that there's multiple people who come from the generation before me, who can have an impact in the up and coming generation. So please, I'm begging you. Just go do that.
Maurice Cherry:
All right. Well again, Nick Caldwell, thank you for coming on the show, man. I really appreciate it.
Nick Caldwell:
Yeah, thanks for having me. I had a great time.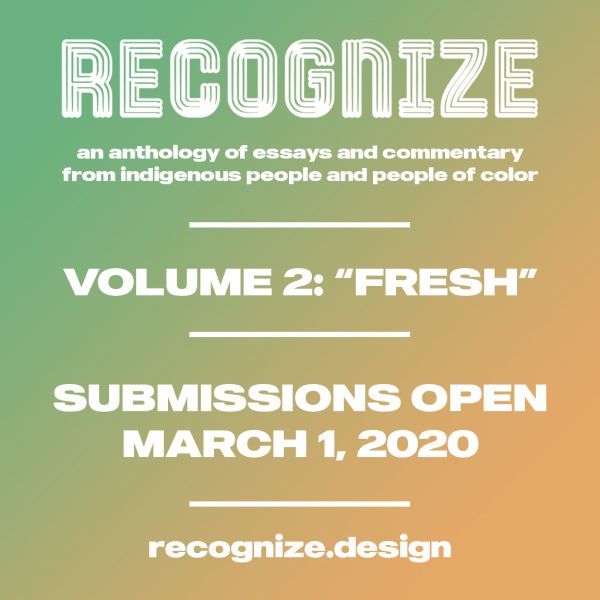 Submissions for Volume 2 of the design anthology RECOGNIZE open on March 1! For more information, visit recognize.design!

Sponsors
Facebook Design is a proud sponsor of Revision Path. The Facebook Design community is designing for human needs at unprecedented scale. Across Facebook's family of apps and new product platforms, multi-disciplinary teams come together to create, build and shape communication experiences in service of the essential, universal human need for connection. To learn more, please visit facebook.design.
This episode is brought to you by Abstract: design workflow management for modern design teams. Spend less time searching for design files and tracking down feedback, and spend more time focusing on innovation and collaboration. Like Glitch, but for designers, Abstract is your team's version-controlled source of truth for design work. With Abstract, you can version design files, present work, request reviews, collect feedback, and give developers direct access to all specs—all from one place. Sign your team up for a free, 30-day trial today by heading over to www.abstract.com.