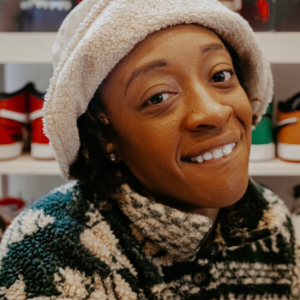 What a difference a few years makes! This is definitely the case with this week's guest, Tiffany Middleton. When I first talked to her on Revision Path, she was just starting out as a junior designer from Childersburg, Alabama working for a Texas-based sports company. Now she's a senior art director for FanDuel and has continued honing and flexing her design skills, only this time in the Big Apple!
We started off with a quick check-in, and Tiffany spoke on her interest in mentoring and helping other Black sports designers through a community she created called Trenches. She also talked about some of her favorite projects over the past few years, the experience of working for ESPN, and spoke on the confidence she's found from fully stepping into her identity and claiming it proudly. Tiffany is all about showcasing the power of the Black creative voice, and you know that's definitely something we support around here!
Transcript
Full Transcript
Maurice Cherry:
All right. So tell us who you are and what you do.
Tiffany Middleton:
Hi. So I'm Tiffany Middleton and I am currently a senior art director at FanDuel in New York City. I've been here for about six months and before FanDuel, I spent about four to five years at ESPN on the digital team and then on the social media team.
Maurice Cherry:
Wow. How's the year kind of been going so far aside from, I guess, starting this new job?
Tiffany Middleton:
Oh man. I guess I would go back to, I guess, 2020 of how it started and then where I'm at now. So like I said, before FanDuel, I was at ESPN and I think life for me there was like kind of getting to do your dream job and then coming to a point of wanting a change a little bit. I grew up on ESPN, it was everything for me, I'm a big sports fan. And when coronavirus happened, to bring it up, I feel like it kind of changed my perspective on not just my life, but also my career in a way where it just made me kind of take a pause and think about what I was doing and if that was the right direction for me. It's kind of at a point in my career where I felt like I had achieved everything that I wanted to achieve at ESPN.
Tiffany Middleton:
I feel like I learned so much there. I feel like it was one of those. I compare it to [The Warriors 00:04:11] of it's a well-oiled machine, it's so many talented designers there. There's always great work, but I guess I kind of like to put it in a sports perspective of taking a chance on myself and kind of [KD 00:04:25], leaving The Warriors and coming to Brooklyn. So that's what I feel like I did. [crosstalk 00:04:29] And I feel like a lot of that happened off of coronavirus because it paused everything, it changed it. So it's been going pretty great. It was definitely an adjustment, a different system. So it's been relearning everything I thought I knew but from [inaudible 00:04:47] perspective.
Maurice Cherry:
Now, did you take a break between leaving ESPN and starting at FanDuel, or did you just kind of go right into it?
Tiffany Middleton:
I pretty much had two days off and I was back into it.
Maurice Cherry:
Damn, you got to get yourself a break. Wow, two days and you just went right back into it.
Tiffany Middleton:
That's the thing. Ever since I've been a kid, my goal has been to be a successful designer. So it was like, I didn't know what a break was. Since the last time we talked in six years, I probably have only taken one vacation that's been more than four days. I usually go on vacation [inaudible 00:05:24] my computer. It's like I didn't know how to take a break. So it's like coronavirus made me kind of realize I needed to take a break in life. And then it also changed my perspective of design and how I can use that more for a spiritual, more people impact thing versus a success thing.
Tiffany Middleton:
I try to use my design in a way of helping other black people get into design and find different careers to kind of outside the box versus doing design to kind of build my own career in a way. I feel like I'm settled in my career and I feel like now I'm at a spot where I really interested in mentorship and helping other people out and then collaborating with other designers and also just spreading more awareness about design in general for black people.
Maurice Cherry:
I want to go back just a little bit to ESPN because, of course, during the pandemic last year, sports were kind of… Everything sort of took a pause, especially major sporting events. How did that really affect your day-to-day work at ESPN when everything is revolving around regular sporting events?
Tiffany Middleton:
So what I did at ESPN right before I left, I worked on the digital content team. So a lot of our work wasn't your day-to-day sports on TV. It was more of a very secluded market and we did a lot of stories based off of sports where they were these long form digital visual storytelling pieces. So we told a lot of stories that were kind of about sports and evolved into sport has been none of our day-to-day work revolved around the sports games. So for us, I think one of the departments that probably had a biggest impact of… We were working even more because we were doing a lot of evergreen stuff before a sport stopped. So once it stopped, it's like we started to do more work and more traffic on the site because there wasn't these live games. So I honestly started working more when the coronavirus happened, but I was at home, but I was working more. So it was a different pace, but you start to burn out a little bit quicker than you would in an office.
Maurice Cherry:
Oh, interesting. I can imagine because you're now having to work from home and I think it's something… Certainly when I had guests on the show last year, that was just a big thing for a lot of people to get over because your home is sort of your refuge away from work and now the two locations have merged and you have to kind of find a way to compartmentalize that.
Tiffany Middleton:
It's no break. And then I got a puppy, so it was just like, I never had a break. I had no space and [inaudible 00:08:15]… While I was there, they started to have layoffs during coronavirus. So it's like, I started to see the impact of it for coworkers and friends. So it started to kind of… Mentally, it became a tough situation because it's like, "There's no sports, are sports going to come back?" Eventually the coronavirus did affect our team. So right before I left, I had a couple of coworkers that did get laid off. So I think it was just a lot happening at once. And then you see it so close up of the effects of people. Luckily I personally wasn't laid off, but just having people that I've worked with for four and five years lose their jobs, it takes a mental toll on you.
Maurice Cherry:
I know exactly what that's like. I mean, I was working at a startup last year going into the pandemic and I think it was maybe about two months… Actually, it was right around this time that we're recording, right around this time. Right around Memorial Day that they laid off my entire department, just gone and it does take a toll on you because you say that part about having to learn how to take a break. I had to learn how to take a break really quickly because I went from this kind of go, go, go, rush, rush, rush all the time, traveling with work, to now just you're at home. And granted, I'm in Atlanta and there wasn't really that much of a lockdown period, but still, it takes a toll on you. It really does.
Tiffany Middleton:
Yeah. And see, I was in Connecticut, so it was already feeling like a lockdown place. [crosstalk 00:09:50] coronavirus [inaudible 00:09:50], it was a complete lockdown.
Maurice Cherry:
Wow. Let's fast forward to kind of what you're doing now. You mentioned you're a senior art director at FanDuel. What does a typical day look like for you?
Tiffany Middleton:
So my role at ESPN was more so hands-on, building websites and working with developers and kind of taking about a month or two per project, whereas at FanDuel, not only am I managing a team, so I'm responsible for everything FanDuel Fantasy and [TVG 00:10:23] products and FanDuel Racing. And then just overseeing the designers on my team, approving work and then also creating work myself and then figuring out different systems and trying to rearrange systems that they have in place currently and just figure out new processes. So I went from kind of 90% designed to 50% design and then 50% emails, people managing, processing, strategy. I'm definitely enjoying it, it's definitely a different role. So it's just making me see things in a different light and understanding the intricacies of having a great system.
Maurice Cherry:
Is it different going from a media company to… Well, FanDuel is what? Entertainment slash gambling sort of, right?
Tiffany Middleton:
Yeah.
Maurice Cherry:
Maybe gambling is not the right word to use there.
Tiffany Middleton:
I don't know if that's the word we want to use, but essentially, I would say more of… Because I've been playing fantasies, I'll say it's kind of like a getaway for sports of people still watch sports but I think, especially with social media and Instagram and things like that, something that I did notice at ESPN was people were less likely watching TV. [inaudible 00:11:41] I think they started to do with a lot of cord cutting where I feel like at a company like FanDuel, adding an incentive of betting or a fantasy or just being able to play with your friends and kind of watch a game with a little bit more invested into it, makes it more longevity with [inaudible 00:12:00] sports.
Maurice Cherry:
Mm-hmm (affirmative).
Tiffany Middleton:
But you're competing with everything else on social media these days. So making that switch from essentially storytelling and it's very Print style Magazine type of foundational design to more we do a lot of marketing assets on this end. It's a faster pace, a different type of strategy, a different audience that you're looking at. Also at ESPN, I was kind of working on user experience and UX and UI. So going from a UX and UI back to kind of marketing design, it definitely took some adjusting to do.
Maurice Cherry:
Oh, yeah. Going from that sort of product based work to more, I guess kind of print and web sort of almost, it's a big shift.
Tiffany Middleton:
Yeah. I was using Figma and Sketch at ESPN for my last three years and [inaudible 00:12:53] Photoshop. So it's like I'm having to almost go back to college. The product world is very much different than marketing, like I said, it's a whole different thought process.
Maurice Cherry:
What does the design team at FanDuel look like?
Tiffany Middleton:
So we have a ACD above me, so he manages our whole department and so it's him and then it's me and my counterpart. And so I oversee half the house and my counterpart oversees the other half of the house. Like I said, I do fantasy and racing. So racing includes TVG, which is a horse racing product. And then FanDuel Racing, which is our in-house horse racing product. And then my counterpart, he does FanDuel SportsBook and then FanDuel Casino. And then under us, it's senior and junior and regular designers. And then we have a copywriting team that we work counter with. And then we have a project managing team that we work with. So it's a bigger team than… Well, not bigger, but a little bit more diverse as far as the copywriters, editors and designers on our team as a whole. When we're on meetings, we're all together versus at ESPN, a lot of our meetings were more just in the design department. I did work with a lot of writers, but not as closely as we work with our copywriters and project managers at FanDuel.
Maurice Cherry:
Have you all started to kind of go back into the office yet? Or is it still remote?
Tiffany Middleton:
We're still remote, so I haven't met any of my coworkers in person. I've only seen them on Zoom.
Maurice Cherry:
And you've been there now, like you said, for just a couple of months now.
Tiffany Middleton:
Yeah.
Maurice Cherry:
Okay. All right. Well, hopefully soon once these mandates lift, I feel like there's already this rush to get back to normal. I'm using the air quotes over here. So that'll probably happen sooner rather than later. When it comes to working on new projects, what does the creative process look like? Because like you said, the team is pretty varied in the structure and even the type of designers that you have.
Tiffany Middleton:
So I think the biggest difference, especially from ESPN to this job is that at ESPN, a lot of the projects, it was a free range of the imagery you can use as far as the athletes. Whereas at FanDuel, we have to use a lot of stock imagery or more your foundational design stuff.
Maurice Cherry:
Okay.
Tiffany Middleton:
So when we're concepting, it's like, you really have to rely on your design skills versus at ESPN, I felt like if you have a nice photo of LeBron and great typography, it's a pretty solid design. Whereas here you have to really work to kind of use what you have.
Maurice Cherry:
And that's because you're not necessarily working directly with the teams or with the photographers [crosstalk 00:15:43], you have to kind of sell the concept of sports without the actual athletes in that way.
Tiffany Middleton:
Exactly. So it is a different task.
Maurice Cherry:
When you look back at some of the work that you've done over the past five to six years, it could be stuff at FanDuel, it can be stuff at ESPN or whatever, what have been some of your favorite projects?
Tiffany Middleton:
Ooh, that is a very hard one. I think my favorite project is going to be a project I did right before LeBron's time with the Lakers. So we hired an artist from every state where every NBA team is and did these LeBron billboards, which is a pretty cool project. It took a lot of time just finding the right artist in the right states and then collecting their work. And then we did kind of a website part to it. But just seeing the different artists come up with these different concepts that are very true to their states and very true to the teams that they were trying to get LeBron to come to, was probably my hands down favorite project. I mean, it became a big deal of in Louisiana, I think they actually put up some of the billboard.
Tiffany Middleton:
Somebody purchased the art and they put a billboard in Louisiana and then the LA one was pretty great, which the artist who did that ended up putting those on a t-shirt and I had one. So it was just one of those projects that you don't really get a lot of chances to work on. So I was very grateful to have been assigned that project, but it also took a whole lot of work because I was excited for it to be done with, but still when I look back, I think that's probably one of the funnest projects that I worked on throughout my career.
Maurice Cherry:
Now, when I had you back on the show, back in 2016, you were in Dallas, you were just starting out at Panini America, I remember it's a company. I think they make trading cards, right?
Tiffany Middleton:
Yeah.
Maurice Cherry:
It's sports trading cards. How did you end up getting connected with ESPN and eventually making it to New York?
Tiffany Middleton:
So super funny, but Twitter. Twitter is the funniest thing. So right when we probably were chatting maybe two months before that, I actually had applied for a job at ESPN. They flew me out. I met one of the creative directors there via Twitter and he connected me with a potential job. I went to Connecticut and I end up not getting the job and I was devastated, super sad, but then a month or two later, I end up getting a job in Panini America. And probably two months after we talked, if not sooner, I got an email from the same creative director, and he reached out about a potential part-time job with ESPN, working on Snapchat, at the time Snapchat Discover was not a thing, but that's kind of how I started. So I was working at Panini America full-time and then I started working with ESPN part-time and within a year, they offered me a part-time position in Connecticut, but I was hesitant to kind of move for a part-time position, but they made things work to where it worked out logistically for me.
Tiffany Middleton:
So I end up leaving the job in Dallas after a year, moving to Connecticut, working part-time for a couple of months. And then I end up getting an opportunity to work full-time, which I switched from the social media team to the digital content team. So it was kind of this blessing in disguise that I didn't even know. Like I said before we talked, I had gotten denied from ESPN and I was devastated. And then within a year, I was in Connecticut, working there and it was a full circle moment.
Maurice Cherry:
Mm-hmm (affirmative). How was it adjusting to the city and everything?
Tiffany Middleton:
I moved from Dallas to Connecticut. So I've been in Connecticut pretty much the last five years or so. And [crosstalk 00:19:36] I met friends in Connecticut and we would spend a lot of time in New York City. And so eventually I was like, I need to move to New York because I'm going [inaudible 00:19:45] Connecticut, but it's not a lot to do there. Especially [inaudible 00:19:49] Dallas or New York, it's nothing to do there except for work. So I always moved to Connecticut envisioning that I will live in New York City. I just didn't think I would be in Connecticut that long. So coming to New York has been a big adjustment, but I don't think I've really experienced New York because coronavirus.
Maurice Cherry:
Oh, yeah. That makes sense.
Tiffany Middleton:
[crosstalk 00:20:10] living here, I've been here on the weekends, but I haven't lived here when it wasn't coronavirus, but it's starting to pick back up. But just being here for five or six months, the amount of black creatives that I've been able to meet compared to living in Connecticut or even Dallas is 10 times twofold.
Maurice Cherry:
Oh really? Okay.
Tiffany Middleton:
So many more black creatives, just different people that I would not have crossed paths with in life if I hadn't lived in New York and especially within Brooklyn itself.
Maurice Cherry:
Now are these other black designers in the sports and entertainment industry or just black designers in general?
Tiffany Middleton:
So some, a handful are probably in sports entertainment and then some are just within the industry of just creative and fashion. But actually at ESPN, I did meet a lot of black creatives, some weren't designers, but photographers, videographers, producers, just a wide range. So it's like, ESPN was very much majority white, but I did meet a lot of black people that were creative, just within smaller groups.
Maurice Cherry:
Nice. That's good to know. I mean, I would imagine, like you said, with the pandemic, that does make it difficult now to really meet folks. I can't wait to go back to New York. When I used to work for a company in New York, I didn't like it because I would go to New York and I'd think, "Oh, work." But before then, I loved going to New York. So I'm looking forward to going back up there when I don't have to work. And just kind of experiencing the city, New York is fun. It's fun. I don't know if I could ever live there, so props to you for that, but it's a great city, especially for, like you said, meeting other black creatives and stuff. That's pretty cool.
Tiffany Middleton:
Yeah.
Maurice Cherry:
Did it take a lot to kind of adjust to the city?
Tiffany Middleton:
I think because the last two years I've been back and forth… I kind [inaudible 00:22:04] neighborhood, I have friends that lives pretty close, so it's like I got here, everything kind of just centered around me. I already kind of had people that I knew, I already had spots that I knew, but I think it's definitely different than Connecticut because it moves very fast. There's a lot going on. And me growing up in the South, every time my family comes up to New York, they absolutely hate it after [inaudible 00:22:29]. [inaudible 00:22:33] overload of people, overload of things, it's just a overload. So [crosstalk 00:22:39] sometimes it can be tiring, but I also live in Brooklyn. I feel like Brooklyn is more like a neighborhood versus if you go to Manhattan, it's more of that New York City vibe, whereas Brooklyn just… It's chill, but you never really know what you're going to get when you walk outside.
Maurice Cherry:
Yeah. I mean, certainly, I mean there's parts of Brooklyn that are like that. Most places that I've been to in Manhattan… Unless you're going further up like near Harlem or Washington Heights or something, or at least to me, it hasn't felt as claustrophobic as if you're down in say the Financial District or something like that. But no, Brooklyn is fun. Brooklyn's a fun time.
Tiffany Middleton:
Yeah. No, it's very fun. It's very quiet. It's also very small once you get used to it.
Maurice Cherry:
Yeah. Nice. That's really nice. So let's talk about Trenches. Now I remember when I had you back on the show you were talking about In The Trenches, which was this site that you had created to kind of talk about black designers and the sports and entertainment industry. Has Trenches kind of evolved from that concept?
Tiffany Middleton:
I think it's evolved as I've evolved, right? Like I said, early on in my career, very focused on just design, design, design. And I think the older I got, the more I really started to look at the spaces that I was in work wise and realizing that, "Why am I the only black designer?" And then looking into sports in general and like, "Why is there only 10 of us?" Feeling like you're in a box that you can't quite get out of. And so for me, Trenches kind of started to evolve around just black creatives in general. So I'm kind of still in this in-between of it's sports, but I'm also trying to break it out more into culture and music. Because I feel like sports is very black on the field, but within the front offices, it's usually very non-black. I've tried really hard to focus on black designers in the sports industry, but you just start to kind of run into the same people because it's hard to let us in.
Tiffany Middleton:
So I've been working with a mentee and she got a job in the sports industry and working at NFL. And I was really proud of that, but it's like, we're still just fighting just to get in. Last year, I ended up teaming up with some of my friends who some worked at ESPN, some worked at the NBA, they're all black women and we did a Zoom conference where it was just black women in the sports industry. And it was just designers, editors, social media managers. And that for me kind of changed the wheel again because it was something near and dear to me. Being a black woman, seeing that many black people that were kind of experiencing the same thing I was experiencing, it made it feel more true to me. So that's kind of where Trenches have evolved, is going from sports and design to more just our experiences as black women or black creatives in this industry.
Tiffany Middleton:
We sometimes don't seem to exist or even when we get there, we're dealing with issues that a lot of our counterparts aren't dealing with, or even when I think sports is on a general, it's so hard to get into. And a lot of times people break into it by doing these free internships. But the reality is there's not a lot of people of color, especially black people that can kind of afford to take this free job and have their parents take care of them for a year or so without getting an income. And I think sometimes that pushes us behind and then sometimes I've seen where people, essentially hire people that are the same as them.
Tiffany Middleton:
So it just started to seem like a lot of different obstacles that were coming up for black people to be in the sports industry. So it's something I'm still fighting for, but it's evolving more into a culture thing because I feel like black people have more space to kind of own their own thing in culture and music versus in sports. It just seems like until the gatekeepers really focus on bringing in black creatives in the sports industry, it's always going to be a tooth and nails fight.
Maurice Cherry:
Interesting. I didn't even think of how maybe these specific kind of niches of design would still unfortunately really have this big diversity problem. And the reason I'm saying this is because over the past few years, as I've done the show, I mean, there has been an influx of black designers in product and UX like crazy. And I don't know if it's because of bootcamps or because of other programs or stuff, but you can go in a major city and swing your bag around and hit a dozen black UX folks. It's kind of astonishing in a way. I didn't even think about how in something like sports and entertainment that there's not that many black designers that are kind of making the graphics and stuff like that. Why do you think that's the case? Is it because of the kind of old boys' network?
Tiffany Middleton:
I think it's a old boys' network and I'll be honest, I think for me, I started to notice it with Trenches because once I started Tweeting out stuff about Black Lives Matter and black designers… The more I started Tweeting about black people, the less interaction I started to get because I have ran Trenches as if it was this well-oiled company. And I had kept it very corporate and not really personal. And last year when the George Floyd thing happened, it became more personal to me. That's when I really, really started to realize, "Oh, they're not interacting that much." And I think that kind of made me switch it up because I just felt like for years there are a lot of followers that I could kind of name off the top of my head.
Tiffany Middleton:
People were very into Trenches, but when it became about humans, it was less support. It was less interaction. It was losing followers. So me being a black queer woman, I couldn't fake the funk anymore. It wasn't as important to me as livelihood was, I wanted to more so create a platform and a space for people like me that weren't really included in those rooms versus people that had always kind of been entitled to that room. So I felt like Trenches was becoming something where even I wasn't being accepted in it as I was.
Maurice Cherry:
You said something really interesting there, I want to kind of draw out a little bit where you said once you started talking about humans, humans play sports too. And I'm not saying that in a bad way as how you say it, but I know there seems to be… And this is probably gone back we're talking decades, probably OJ and even past them. But there's something about America and seeing black athletes, they just don't want politics in their sports. They want sports to be this idyllic… I don't necessarily want to say lily-white, but they want it to be this idyllic problem free environments that's just about the game. And that's not the case, especially when you have black people that are the majority of the players.
Tiffany Middleton:
Yeah. I mean, we could talk about this all day, but [inaudible 00:30:08] it's a system, right? Because the real thing for me is, like I said, I grew up on ESPN, I loved it to death. I grew up on Slam Magazine, but something I didn't realize up until recently was it was not those companies that I was in love with or that I loved, it was that the guys on the field, the women on the field, they reminded me of the people I grew up with. I was able to see people that looked like us on the big screen and that's what I was attracted to. So I think once I got to those companies, I started to realize that the people on TV aren't the people I'm working with. So it's like they controlled our narrative. And I started to really realize that they control our narrative.
Tiffany Middleton:
And I think what I like about LeBron so much is that he was one of the first players that I feel like truly started to own his own narrative. I love Michael Jordan to death. I think he's the greatest athlete ever. But if you really think about Michael Jordan, the executives at Nike owned the narrative of who he was supposed to be and who they wanted him to be and who they [inaudible 00:31:13] be. And so I think when designers are designing these graphics, they're just essentially using these basketball players and football players that are essentially characters with the tattoos and the dreadlocks and the braids, and they're looking cool on these graphics. But if they walked into a store at their homes and they didn't have those big names, they might call the cops on them. And that's why I said humans of… Once I started talking about real heart to heart stuff of things that we have to deal with as black people, nobody wanted to entertain it.
Tiffany Middleton:
I don't want to be like an athlete that's just like, "Shut up and dribble." When I'm shutting up and Tweeting what you want to see, you're cool with it. But when I Tweet something that's serious, nobody wants to talk about it. Or when I Tweet about, "You guys should hire more black designers." "Well, they're not qualified." Well, why aren't they qualified? Is it that they can't afford to be in these schools? Or is it that they have the talent, but it's not what you're looking for? Because for me, I've always thought art is [inaudible 00:32:11]. So I think there is good design and there's bad design, but there is a lot in between, as I've seen a lot of black designers get passed up on roles just because their work wasn't the way a white designers' is. So I also realized that a lot of people were getting hired from roles where people whose work I would be Tweeting out. So I just started to feel like I was supporting more non-black designers than I was black designers.
Tiffany Middleton:
And that just sit right for me, because I feel like it took me a while to just get my foot into the industry. And I think the people that did let me into those doors, they were all people of color. They were either people of color or white men who weren't from America. So my boss at ESPN, he is from London. So it just was something that, it just was so apparent that I couldn't not notice it. So that's kind of why I kind of stepped away from the sports design thing and just started to focus more on black creators.
Tiffany Middleton:
Because I would find a lot of beautiful art in Brooklyn or beautiful photographers or things like that. But their work wouldn't be sports center, but I just felt like it still needed to be shown and talked about, especially because once I did start speaking about black lives, or I put out the Protect Black Women shirts, 90% of my sales, 90% of the interactions was all black people. It just changed the perspective of I don't want to be a sellout and it just felt like I was at that moment without realizing it.
Maurice Cherry:
Interesting. I have to say, even coming to that realization shows, I think, your growth as a person and as a designer to be able to really survey the field and see that, that sort of what's happening and how you can help to counteract that. One of the things that I present when I talk about Revision Path, I tell people to not just be an observer of the problem, but to work to try to be the solution because it can be real easy to just look at the landscape and see that things are messed up. And that's all you talk about is how messed up it is. But you're not doing anything to counteract that or to be actively against that. So no, I think that what you're doing with taking Trenches in that direction is a great thing. And I can tell you, even just from doing this show for however… 400 plus episodes, the tide is turning in some ways, but it's interesting to see how even in industries like sports and entertainment, particularly in sports, that that's not the case.
Tiffany Middleton:
Yeah. It is definitely not the case.
Maurice Cherry:
Wow. So aside from Trenches, you mentioned this Protect Black Women shirt. Are there any other projects that you're working on?
Tiffany Middleton:
That was the last one out, I do you want to relaunch it because I feel like it has more legs and I have some stuff planned for the upcoming year, but I'm trying to figure out all the logistics, so just stay tuned for it.
Maurice Cherry:
The way that the year is going now, it's of course so different from last year. It's like, you're kind of trying to get your rhythm back in a way after a year of not really being able to do what you do, you kind of have to sort of ease back into it a bit. I'm trying to think of what other stuff I would want to do creatively this year. And I don't know, I need time to think about that. So that makes sense. Now back when I had you on the show, I keep mentioning our old interview, but you told me then that your dream project would be working with Nike. Is that something that's still on your design bucket list?
Tiffany Middleton:
That has changed completely. So I think for me, the difference between me six years ago and me now is going back to what I just said about just fully stepping into my blackness and understanding that every room I walk into, people are going to see my color first. And I don't ever want to take a job where I feel like I might have to lose a part of my culture in the surroundings of where I'll be. So for me, A is I visited Portland, I'd never visited before, but I went there last year, right before coronavirus and my time at ESPN was great. It changed my life, it was a great experience, but I would probably not want to live in a place where the population is less than 20% black and very not diverse. And so A, I would just not want to live in Portland.
Tiffany Middleton:
And then B, I think again, kind of going back to growing up on ESPN, especially growing up on Nike, I mean, every shoe I own is pretty much a Nike shoe except for Adidas. But realizing that all of these companies, the one thing they have in common that I gravitate a lot towards to, is black culture. And I think for me now, it's like, I'm realizing that I have what I was looking for and I can kind of do my own thing with it. And I also feel like, not to take anything at Nike or any other company, but sometimes it just feels like it's capitalizing on black culture, especially when it's such a big brand. And that's kind of changed my thoughts about it because like I said, six years ago, I'm just thinking logistical design stuff, not thinking about any culture perspective or from a person to person perspective.
Tiffany Middleton:
And now it's like the older I get, I'm like, I would love to work at Nike. I think they do great design, but I also wouldn't want to take a job where I feel like my mental health or my ability to be around my culture might be limited in a way or capitalizing on black culture and not really giving back to it. I think I've turned into this humanitarian type of person. So I would love to work with Nike. I would love to collaborate with Nike, but working at Nike, as an in-house designer, those thoughts are a little bit less now.
Maurice Cherry:
I have what I was looking for. That is such a powerful statement to say. And you're right about how these companies… Particularly Nike, I mean leans on blackness a lot. I mean, look at their marketing. I mean, look at Kaepernick.
Tiffany Middleton:
Yeah, exactly. And I mean, I think they do great work, but if we're being in real and you look in the front office, they may not have a lot of black executives. And I'm one of those people, it might be contradictory or people might disagree with this, but I want to see black people in roles that aren't diversity and inclusion or HR roles. I want to see a black design manager. I want to see black people in those roles at Nike where they're doing the same jobs as white counterparts, but they just happen to be black. Not that they're roles where it's a role made for a black person. I just feel like they can add more diversity to the office side
Maurice Cherry:
In one of your recent Tweets, you said, "The older I get, the more I simplify." How have you simplified your life over the past few years?
Tiffany Middleton:
Oh gosh. Let's see. I think decluttered is the number one word. Not just decluttered my home, decluttered my mind, decluttered my thoughts, but I've decluttered my design process a lot. I think younger me is more into, "What's the coolest design I can come up with?" Versus now it's, "What is the most practical design I can come up with? What design can I create that isn't going to cause any issues with legibility, any confusion?" Very being into simple. I love fashion, so I have to use Kanye as an example. Kanye from Graduation was wearing backpacks and polo outfits and lots of colors and stuff like that.
Tiffany Middleton:
And now [inaudible 00:40:19] Kanye seems like he wears the same thing every day, but he's reserving his energy more so he can be more creative. And I start to realize that if I'm trying to do the best design every single design I do, I'm exhausting my energy and it's causing me to be less creative. So now I'm being more intentional on textures, backgrounds, fonts, the foundational thing is that I can kind of switch up. So it's kind of making this toolkit of accessories or design tools that I use and I kind of switch up and change around. So I still am able to be creative, but I'm also boxing myself in to where I'm not exhausting my creative energy.
Maurice Cherry:
Kanye also got four kids. So I would imagine that cuts down a lot on his own style. Just like, "Look, give me something simple."
Tiffany Middleton:
I was going to say, he's also a [inaudible 00:41:15] billionaire, so kids is… I'm sure he has people to take care of them to-
Maurice Cherry:
That's true.
Tiffany Middleton:
[inaudible 00:41:20] creativity.
Maurice Cherry:
What keeps you motivated and inspired these days?
Tiffany Middleton:
Oh, let's see. I think black culture does. I'm big into music. So I think back in my day… I'm not even that old, but I feel like back in the day, Lil Wayne, Missy Elliott, their music videos, they used to get me so excited. The conceptual stories behind it, the creativity, still feeling like true to nature, but seeing it on the big screen, those type of things get me excited. So music is continually being my inspiration for just motivated with design and then motivated on side projects or just motivated to do things that can potentially make a small change in this big world.
Maurice Cherry:
At this point in your career, how do you define success?
Tiffany Middleton:
I would say success for me is a peace of mind. Obviously a peace of mind, which seems very simple, but you know how sometimes you get the job that you love, but you never get any sleep, you're always tired, you're always stressed out, you are just running raggedy? So I think for me it's like success has nothing to do with money, has nothing to do with awards and things like that. I think it's what gives me gratification, what gives me peace, what makes me feel like I've done what I need to do, but it just doesn't cause me regret or cause me a lot of problems. I just feel peace, especially with everything going on, that is what I define as success. Being able to do what I want to do when I want to do, how I can do it without having somebody control that in a way.
Maurice Cherry:
That's the thing that I really love about kind of always having some sort of a side project or something. No matter where I work or what I do, I know I'm always going to have something on the side that's just mine that I can do 100%, no outside input or anything like that. So I feel you on that. I actually asked this question in the last interview, I said, "What advice would you give your teenage self?" But what advice would you give 2015 Tiffany to help prep her for the future?
Tiffany Middleton:
Oh man. Patience. Just be patient because things are going to come and they're going to come when they're supposed to come, not when you want them to come. And that every day may seem like a long day, but when you look back, they're short days, but to do something every day that will impact the next day.
Maurice Cherry:
Now, what would you like the next chapter of your story to be like, when you look at, let's say the next five years, what kind of work do you want to be doing? Where do you want to be? All that sort of stuff.
Tiffany Middleton:
I think New York is my home for the next five years, at least. So I would definitely like to still be in New York, I would like to do more community events like art shows, maybe do some school programs. Just do more awareness for black designers within sports and just black designers in general. And then I'll also probably like to hop my foot back into the product world because I really loved the thought process about that. So just more community events, probably bring Trenches outside the computer and have a outside event and maybe dabble back into product eventually.
Maurice Cherry:
I think that would be a great idea to do, like a little summer meetup or something like that.
Tiffany Middleton:
Yeah.
Maurice Cherry:
It'd would be great. When I started doing live shows for Revision Path… What's funny, when we had our interview, I wasn't even thinking about taking this offline. I was like, "This is just going to stay a podcast." But I started doing live shows in 2017. And the great thing about doing a live in-person event for black designers is the actual space and community that it creates. It's not so much that you're like, "Oh, where people in a place listen to someone," or something like that. What it's doing is it's bringing folks together around a common theme that they may never have found a way to interact with each other in any other sort of way. So the fact that they've managed to come together in this one space that you've made of a meetup or something like that. We've done live shows where people will be hanging around an hour after we're done, two hours after we're done.
Maurice Cherry:
They've closed down the venue, people are still standing outside talking and it makes me wonder what connections have been made from those kinds of events. And if those connections would have even happened, if the event never happened. So I definitely love the idea of doing some live in-person stuff. I mean, I was starting to do a tour in 2020 before the pandemic. We did a live show out in Los Angeles, that was great. Actually we did our 300th episode in New York. That was 2019. I don't want to get into that story, but that was a whole other thing. But if you think about doing live events, even just a small 20 person thing or something like that, socially distance, do it, it is such a good time. Not just for you as the host of it, but just for the community that you'll be able to bring together around a common cause.
Tiffany Middleton:
Yeah. No, it's actually something I'm kind of working on right now. So we may have to connect later, but yes, it's something I was talking about with the team that I worked on, the Zoom conference with. And then coronavirus happened and it was just not working, but now that people are being outside again, it's definitely something that's in the works for me.
Maurice Cherry:
Nice. Well, just to kind of wrap things up here, Tiffany, where can our audience find out more about you and about your work and everything online?
Tiffany Middleton:
So I'm big on Twitter. I love to Tweet, so you can follow my personal page, it's Tiggatip. So T-I-G-G-A tip on Twitter and then also Trenches, just Trenches_ on Twitter and I'm also on Instagram and not Facebook, but Instagram and Twitter. So @Tiggatip, personal, and then Trenches for Instagram and Twitter.
Maurice Cherry:
All right. Sounds good. Well, Tiffany Middleton, I want to thank you so much for coming on the show, coming back on the show, really. It's been so great to hear your story of how you have leveled up since I first had you on the show. Back when I had you on back then, I remember saying how fun it was, how much of a treat it was to just talk with you and get a sense of what you're doing. And I can hear the maturity and how much you've grown over the past six years just from this conversation. So I'm excited to see what comes next for you. So thank you so much for coming on the show. I really appreciate it.
Tiffany Middleton:
Thanks for having me.
If you are in NYC, head to Poster House in the Flatiron District to check out Julius Klinger: Posters for a Modern Age, an exhibition Steven Heller from PRINT Magazine calls "a trove of modern design innovation," and Freak Power, an exhibition about Hunter S. Thompson's run for sheriff described as "visually striking" by The New York Times.
Head to www.posterhouse.org and book your ticket today!
Brevity & Wit is a strategy and design firm committed to designing a more inclusive and equitable world.
We accomplish this through graphic design, presentations and workshops around I-D-E-A: inclusion, diversity, equity, and accessibility.
If you're curious to learn how to combine a passion for I-D-E-A with design, check us out at brevityandwit.com.
Brevity & Wit — creative excellence without the grind.