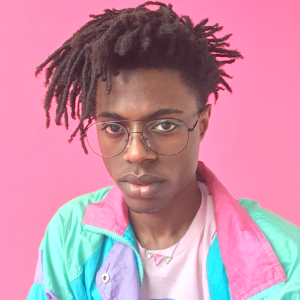 You may have been scolded as a kid for playing with your food, but with Tj Hughes' new game Nour: Play With Your Food, that's the primary objective! I had a chance to speak with Tj, the creative lead behind Nour, fresh off of the game's release on PlayStation, Steam, and Epic Games.
We spoke a lot about the intersection of art and game development, and Tj shared how teaching himself and gaining knowledge working with a studio helped shape his perspective as a creative. Tj also talked about creating Nour's unique gaming experience, the challenges and rewards of indie game development, experimentation, and what he wants to do next now that Nour's been released. If you want to create something truly special, then be like Tj and think outside the box!
Interview Transcript
Maurice Cherry:
All right, so tell us who you are and what you do.
Tj Hughes:
Hi, I'm Tj Hughes, and I am the creative lead on Nour: Play With Your Food, which recently launched on PlayStation 5, PC, a few other platforms as well. Yeah, I just make 3D art and shaders and just colorful stuff on the computer. That's it.
Maurice Cherry:
Nice. And I definitely want to talk about the game; we'll get into that in a minute. But first of all, congratulations on the launch of the game! I know that the game dev process is arduous. It is often not linear. So congratulations on publishing.
Tj Hughes:
Thank you so much. I really appreciate it. It's been a crazy and very long journey. It's wild to see it just finished. Yeah, it's hard to process and wrap my head around and also figure out next steps.
Maurice Cherry:
What's the reception been like so far?
Tj Hughes:
Mixed, which I fully expected. Honestly, it's a weird game. It's a weird game and it's a weird format for consoles, but I'm still confident in it because it works so well at events and stuff. Like, I've seen many people enjoying the game. I've seen when I was at PAX last this last month, it was super well received. Like, folks were really enjoying it and commenting on it. There was, like, sort of a crowd around it at the time at one point. The Panic booth was really cool and like really fun to be at.
Spaces like that, it really works. But the whole time I was making the game, I kind of feared, like, "oh, once it's an at home experience that people can run on their consoles, folks might not get it" or they might not see the appeal, or they might have just, like, a different experience with it. Yeah, that kind of turned out to be the case.
We tried to do as much as we could to, design wise to, sort of curve that, but, yeah, it still kind of came across as just like, "oh, what is going on?" But then again, there were other folks…like, there were streamers that played it on stream to a Discord call or while having the chat open and they had a good time with it. And so it's weird. It's the kind of game where I feel like in a crowd of folks, it's a really fun experience. It was an experiment, for sure. It got received like an experiment kind of would.
Maurice Cherry:
Well, I feel like all games are kind of like that, right? Like you hope that the story and the gameplay and everything that you've envisioned as a developer and as part of the creative team, you hope that that's going to be received on the other end by the player. Sometimes it is; sometimes it's not.
Tj Hughes:
Yeah, it's such an exercise in communication of just, like, how well do the concepts in this game communicate? Does it resonate with people? Do they enjoy it? And so, yeah, it's an interesting thing because games are just such a weird medium in that just two people's experience can be so different just because of how much is possible in games. There's just infinite permutations of your setup or what you can do in the game. And so, yeah, it's just really interesting to see that see folks kind of rate that experience because one person will have the best time ever and then another person is just like, what's going on?
Maurice Cherry:
Yeah, that's the way for a lot of games, I think. I watch streamers kind of play modern games versus retro games and things like that, and it's funny how even I think the language in which people talk about games has changed a lot. I'm in my forties; I am a first generation gamer — I guess that's kind of a good way to put it. And the way that we talked about video games, like when I was a teenager or in my twenties is totally different than how people talk about it now. People are obsessed about framerates and DPS — they're spitting out all these terms and stuff and it's like, "how about you just get immersed in the game and not try to technically pick it apart?"
Tj Hughes:
Yeah, and there's a lot of focus these days on bugs, too, and how finished the game feels and all that, which I understand, to an extent. Folks are looking out for their value and making sure that folks aren't trying to penny pinch and whatever. But, yeah, I feel like that has kind of gone overboard and led to folks really technically picking apart a game where that's not what it originally ever was about.
Maurice Cherry:
Yeah, I just finished playing and beating two other Kickstarter-backed games. They're both RPGs. One is called Chained Echoes and the other one is called Sea of Stars. And maybe this is my fault — I went on Reddit to kind of see what the discourse was, which…I went on Reddit. But it's so amazing, like the spectrum of how some people love the game or how some people are picking little things apart. And some people love the music. Some people hate the music. "Why is the plot like this? Why are the characters like that?" It's like…just play the game. If you don't like it, don't play it. Just put it down. Play something that you like. Maybe I'm looking at it too simplistically. I don't know.
Tj Hughes:
Yeah, I feel that sometimes where it feels like the energy spent hating on certain games could be redirected to games that that person actually enjoys. Yeah, I don't really know what that's about. I think it kind of satisfies a lot of folks to kind of just, like, I don't know, just heavily criticize stuff like that. Yeah, I don't know. I don't know if it's something unique to the game space or not, but yeah, it surprises me too when it's like an indie game that's being picked apart where it's just like, "hey, a dude made this in his free time. Maybe not fair to compare it to the game that's made by a team of hundreds of people."
Maurice Cherry:
Yeah, like indie developer versus AAA studio. Of course there's going to be a big disconnect in a lot of things just because of that, because of resources.
Tj Hughes:
Yeah, just the medium of Reddit and Twitter kind of connects folks directly with the developer, which can be a double edged sword. I've received a lot of support and a little bit of hate as well, so that's been interesting.
Maurice Cherry:
Yeah, I think that's like a media thing in general. Whether you're a developer, if you're a musician, if you have a television show, a movie, a podcast. I mean, in the early days when I did this, I would get so much hate on Twitter and it's like…if the show is not for you, then don't listen. People would call me a racist because I only have Black guests and I'm like, "what's racist about that? It's the focus of the show. Like, did you not know that's what the show was about?" It's crazy.
Tj Hughes:
Yeah, that's wild. It's not like you weren't warned.
Maurice Cherry:
Right? And also we're not trashing anyone. I can understand it. Maybe if it was like a hate-filled kind of show or something like that, but that's not the case.
People find fault in what they want to find fault in. I find — and the Internet and social media really particularly, I don't want to put this all on just the Internet — but social media tends to just exacerbate that because it's given people the illusion that their voice matters.
Well, let me walk that back. It doesn't necessarily give them the illusion that their voice matters. It gives them the illusion that it's sort of like "the customer is always right."
Oh yeah, that's not always the case. I don't know who came up with that, but that's not always the case. Just because you feel away about it and you express it doesn't make it like law or anything.
Tj Hughes:
Yeah, exactly. That's exactly how I'd put it.
Maurice Cherry:
Yeah, it's a delicate thing. I mean, a lot of creatives I know have sort of even walked back from social media because of that. It's like, yeah, it can be a great thing for telling people about your work, but then the feedback you get can be just so caustic.
Tj Hughes:
Yeah, I've experienced that. And also, just, no folks who have experienced that firsthand, I completely understand it. It's not for everyone. You do have to develop a thick skin about it. Just kind of learn how to not react to certain things.
Maurice Cherry:
We'll get more into the game, but now that it's out, do you have anything else that you want to try to accomplish before the year ends? I'm pretty sure a lot of this year might have been just all leading up to this launch date.
Tj Hughes:
Yeah, pretty much all of this year. And I've been working on this full time. And that, first of all, is just really cool that I've been able to work on a passion project for this long because not everyone gets that opportunity [to] just sit down and just make what they want to make all day. And so that's something about this project I've been super grateful about. It was able to be funded long enough for me to do that. It's been awesome. But yeah, this year has been just leading up to just the launch of Nour and yeah, now that it's out, I kind of told myself I was going to rest for a while and so that's what I'm in the middle of kind of trying to do is just kind of take it easy. And of course we're updating the game, like fixing bugs and stuff like that, but just in between that, I'm trying to just relax, take it easy as much as I can.
Also kind of let the next steps kind of naturally come to me because this project started out of just me messing around, having fun with a different kind of art medium. I think my best work kind of comes out that way, so I just want to kind of make sure I nurture that a bit.
Maurice Cherry:
Well, you earned a break. You definitely have earned a break. So if you get a chance to take some just R&R, please do that because you definitely have earned it.
Tj Hughes:
I appreciate that. I really appreciate that. Yeah, it's hard in game dev to just tell yourself to take a break because it's just like, oh, wait, but there's so much I could be doing, could be updating the game, could be pushing out this and that. It's easy to just kind of let it run your life. Yeah, I'm just trying to get away from that habit.
Maurice Cherry:
Well, let's go more into the game. Like we mentioned, it just launched in September. We'll put a link to the game website as well as the trailer in the notes. I've played the game. I have it on PS5. I love that it starts off with your face so people know it's from you. It's from a Black person. I love that. I love that when you start it up, you've got that little…it's like a 3D model of you with the terrifying jellyfish.
Tj Hughes:
Yeah, it's photogrammetry.
Maurice Cherry:
Yeah. So much of the game reminds me of, like, Katamari Damacy from Keita Takahashi. It's kind of this unfettered play. There's some ambiguity to it. You kind of just have to figure it out as you go along. I mean, granted, the subtitle of the game is "play with your food." So that's the premise. You play with your food, and you have a number of different sort of food-related scenarios that you can work through.
What was the idea behind that? What was the idea behind the game in general?
Tj Hughes:
The game didn't start off as a game idea, necessarily. It's kind of interesting how it came about. It was a very just, like, nonlinear path towards making a game. So Nour kind of started out as an art test. I was basically figuring out how to make shaders for the first time ever and just, like, practicing being a tech artist. And I needed a subject for testing out these new art techniques and whatever. I looked at food immediately because I just recently had started branching out as far as food goes.
I was traveling. I went to my first GDC. I had discovered bubble tea, and I was like, "oh, this stuff is great. I love this." And, yeah, it was just the perfect subject because it was colorful, it was playful, it had all these different elements that had a kind of physical component to it. I was just like, "oh, I can make this in 3D, like, using 3D models." And in doing that, part of my inspiration was also anime food and how lovingly food is rendered in 2D by animators and how, say, with Ghibli movies, like, how the food looks so good, you want to eat it, you just want to eat it. Makes you hungry. And so, yeah, I was just hoping that video games as a medium could give the same kind of love to food.
Because food is usually a background prop in video games. It's usually this low poly thing that an artist spends maybe a little bit of time on. It's not the focus. I always thought that was really interesting. And also shout out to the low poly grapes in Final Fantasy XIV, I believe it is. But yeah, to the point of them even becoming a meme is just, like, low poly background food in video games. And so I just kind of wanted to do the opposite. I wanted to be like, okay, what if it was just, like, high fidelity, super detailed, foreground food where just, like, everything's, like, way too many polygons and just, like, HD and so, yeah, that's kind of how it started.
It was me just making 3D models with different effects on them, different shaders and stuff, and as detailed as possible, and then just taking a screenshot and putting it on Twitter. And folks were super into it. The response was immediately just like, "oh man, that makes me hungry. That looks so good. Wow, that's great." Yeah, just super positive responses about it. And eventually I got to a point where some local friends of mine wanted to show…they wanted to show the art at an event, at an event about just, like, interactive art. Just saying anything that's like art plus tech.
And I was like, okay, it's not interactive, so it probably wouldn't work at this exhibit. Not exhibit, but like, event, but I'll see what I can do. And so I just hooked it up to some controls. Pressing a button on a keyboard just makes a food appear and fall down from the top of the screen. And that's it. That's all it started out as. The response was great. Folks were super into it, they were having a lot of fun with it.
That was kind of my moment where I was just like, oh, this is something. I'm onto something. And my background was already making video games, but I kind of didn't expect this to really be a game. I was just like making stuff because it was pretty and just putting it out there. The game itself kind of evolved from folks, like sharing feedback, just being like, "oh, it would be cool if this food was in it", or "what if this button did this? This button made the food fly up", or like, "hey, you should add a meat grinder", or whatever different things folks would say about the game. And then I would just be like, "oh, that's great". And I would kind of like, add it and then see how folks reacted at the next event. I was doing a lot of events and so it was this kind of back and forth of just like, I could directly talk to the folks who were playing the game and get immediate feedback about what folks really wanted in it.
And so, yeah, it was just like a really fun process and yeah, just like a weird way to make a game because I didn't really start off with a premise or like a concept. I just started just making it from scratch, like no game design document or anything, just directly from my brain into the game engine.
Maurice Cherry:
So there wasn't really like a story that you were trying to tell. It was just an experience you wanted people to have, it sounds like.
Tj Hughes:
Yeah, I had some visuals that I really wanted to make and I just wanted folks to kind of appreciate that without really needing a ton of context. Yeah, there wasn't really much set up or anything like that. I was just kind of like, "hey, this is a really pretty food. Look at what games can kind of be and look like. You can use this medium to do a lot of crazy stuff. What if we just appreciated the visuals and textures of food?" So, yeah, it was just like an art exercise that was just really heavy on the visuals. That was really what I wanted to accomplish. It was just getting folks to kind of appreciate that side of things.
Maurice Cherry:
Now, is there an optimal way that you suggest people play the game? Because I played it on PS5 and I'll admit that it felt like the controller was holding me back. I think there are certainly parts where if you, I think, pull a trigger, like a magnet will happen. Or if you press a button, it can change the color of the food or it can change the rate at which the food drops or something like that. It almost felt like, I don't know if a controller is the right way to play this, and then I've seen videos of you playing it and you're playing on this almost like 16 button, like MIDI controller almost. So I'm curious if there's like an optimal way that you think people should play the game.
Tj Hughes:
The original version of the game played with a MIDI controller. The first first version was just like…keyboard, but then after that I started getting into MIDI controllers and just like music production and stuff like that. And I hooked up a MIDI controller to the game just for the fun of it. And it's the Midi Fighter which is this board of 16 buttons and they're like, arcade-like, fight stick buttons. So it was trying to be like kind of a reference to fighting games, but repurposed for music production. But then I'm kind of like taking it back into video games, which is sort of funny. That was originally how I presented it at museums and stuff. I would just bring out this controller and yeah, it was a really good way to play because it was just the satisfying nature of pressing a button and then seeing a really high-quality visual appear or being able to interact with it in some way.
It was a really satisfying thing. The initial release. We don't have MIDI support in the current version of the game, but it's something that we've been meaning to put back in because trying to support consoles and stuff, I couldn't really have it, the MIDI tech back end, in there. But yeah, we're trying to put it back in. It kind of just got broken along the way of making the game. Yeah, that's something that we're trying to get back to the roots of. It's just like, okay, this game has been shown at a few exhibits with this controller. It would be great if folks could plug in kind of any controller of that sort and just play the game and just see what happens.
Maurice Cherry:
Yeah, I like that experience, though, because it sort of reminds me of sort of like early gaming in the 90s, where I think developers were experimenting with a bunch of different types of input styles. I mean, of course, you had Nintendo with their standard controller. Sega had the same thing. But then Nintendo eventually also had R.O.B. the Robot, and there were like two games that you could use with the robot and then the Zapper. I think the Zapper came with when I got my Nintendo in '85, I think it came with a Zapper. So it was like a combination [Super] Mario Bros./Duck Hunt, and so that's an alternate way that you can play the game.
And then with Super Nintendo, you've got [the] Super Scope Six or whatever. And so there were all these sort of, like, alternate controllers for different games that you could play the games with. So I like that. This kind of harkened back to that for me because now everything is either Xbox, PlayStation, Switch, PC, like, it's one of those four things and it doesn't really give you a lot of variety onto how you play. It just the platform that you play it on.
Tj Hughes:
Yeah, and the folks would call all that stuff, like, gimmicky back in the day. And I always thought it was pretty fun, like, Nintendo would always try to be the ones to use those really alternative controllers. Yeah, I miss it. I genuinely miss that kind of stuff.
Maurice Cherry:
I mean, this game, to me, like I said, it really kind of harkens back to that and I think it opens up creativity for the gamer in a different way that's not just — it's pressing buttons, but it's not in like a standard type of controller-esque format. It feels like to me, when you mentioned that sort of 16-button thing, that almost kind of feels like a good way to play it, especially because you were play testing this at exhibits. So you weren't like play testing this in a play lab or something like that. You were out in open spaces and mixed spaces with people, so people could really interact with it any way they wanted to.
Tj Hughes:
Yeah, and even though we were kind of just siloed off to controllers with the console release of this, we tried to do as much as we could with it as well. So with a DualSense controller, we're just like, okay, even though you're just controlling the game in a regular way, we still want to find alternative ways to interact with the game. So we use the microphone for that. And in the game, you can blow into your controller and that will blow all of your food away. Or if you make a slurp sound that'll suck all the food towards you. And then if you whistle or in pitch with a song that's currently playing in the game, all your food will kind of levitate. And so we just wanted to just whatever way you're interacting with the game. We wanted to make it to where you just had options that were just kind of weird to kind of complement the MIDI controller back in the day. It was just like, okay, so at least with this controller, there's something special that you can do that you couldn't even do on the MIDI controller.
Maurice Cherry:
I mean, I could see certainly something like this doing well on VR or even something like I know you mentioned like, Nintendo with these different controller things. I mean, like the Switch controllers, you can kind of have each joy con in your hand or something like that. I could see definitely a future of don't. Like, maybe I'm putting idea in your head, I don't know, but I could see a future where you're using that as the inputs as opposed to like button presses with some stuff. And that could be another way to unlock more gameplay for people, more appeal.
Tj Hughes:
Oh, yeah, VR is an idea I've had for a while. I would still love to do it.
Maurice Cherry:
Let's talk more about sort of the team and the game dev process because I know that the process can be long. You raised money on this via Kickstarter and you had a team behind you as well as you also worked with Panic for kind of helping to distribute the game. Talk to me about that.
Tj Hughes:
So it's a fairly small team that we're working with. So there's Me. There's Joey. He does programming. There's Maximilian. He helps with initially music, but now it's kind of just everything that he helps out with. Just programming just so much. He's come a huge contribution to the game as well as James.
Also, like, on the music, we had like a two man music team who just kind of became developers over time. We have Mark who is on sound design and sound effects. So any of the foley or just kind of ASMR sounds that you hear throughout the game, that's him. And so, yeah, just like small team of five folks just kind of making this over discord, basically. I'm kind of like leading the pack on that. It's a really interesting process. Yeah, just like especially on a weird game like this, it's kind of like anything goes type thing where there's been just weird ideas presented to me, where I've just been like, yeah, send it, let's do it. That's how multiple things got into the game.
Like the jellyfish idea, just like having this character that comes and steals your food. When you say nonlinear, that describes everything about this game's process from the funding to the idea, to its actual technical development. Yeah, it's just completely nonlinear. But it's been cool though. It's been a really cool way to kind of make something because it truly felt like we're just kind of playing around, really. And just like, any idea that sounds cool, we're just like, yeah, let's do it.
Maurice Cherry:
Yeah, I mean, we. Talked about this a little bit before recording. The game development process can be long, especially if you're raising funds through a crowdfunding medium like Kickstarter. There's been video games that I have helped to fund in the past that just took much longer, I think, than the developer originally might have thought of for it to come out. Like, we talked about Omori, for example. This was a game by an independent developer, Omocat. They got funding for it through Kickstarter in 2015. And I want to say it didn't start coming out on consoles until like…I know it came out on the Switch in 2020. It might have been out on Steam in 2019, but it was years past when they initially said this is when the game is coming out. And Kickstarter, and you can probably attest to this, Kickstarter is a bit of a double-edged sword. Like, yes, you have people's funding, but the people that fund it can be real assholes when it comes to, like, "where's my game? Why don't you have it now? You said it would be here by this date, I want my money back", blah, blah, blah. Tell me about that, because I feel like the game dev process and then having to answer to backers kind of might have been a source of contention throughout this process.
Tj Hughes:
Yeah, it's always tough dealing with folks who just really want the product. I luckily feel like I found a really nice corner of the Internet who backed this game because folks have been, for the most part, just super patient with it. It's actually crazy because, yeah, we're talking about Omori, but I think we took even longer as far as when the Kickstarter started versus when the game actually came out. It's such a long process and through so much of it, I felt bad. I was just like, "oh, dang, folks are looking for this." And I've definitely had folks kind of reach out when things were more silent because we're just really heads down on the game and trying to make it happen. So folks have been super nice and super patient for the most part, but there are definitely a few standout folks that reached out and just weren't so nice. I definitely had just like a few folks get in the Twitter mentions and it wouldn't be like a majority by any means. It's maybe like five people, but we kind of, as humans, remember negative experiences way more than positive ones. And so it was just really stand out how someone called it vaporware or something like that.
Maurice Cherry:
Oh no…
Tj Hughes:
I was just like, "okay, you don't even have the game yet, so that's an early judgment." Yeah, just certain folks, someone got really extreme with it, but luckily we have what's called the block button, and so that is a fantastic tool to curb these kinds of responses. But yeah, I don't know. I'm super grateful to have found just like a really supportive fan base and backer base. It's a hard thing because you kind of can't predict how development is going to go. Because straight up, I thought this game would be wrapped up by 2020, and then 2020 comes around, boom, hit with a pandemic, right? And I was just like, "oh, okay." So this is kind of a great time for games in general, but terrible time for [the] mental health of tiny teams working on very ambitious projects. That was an interesting hurdle that no one was prepared for. But it's hard to make such an ambitious project around such an unpredictable hurdle, right?
Maurice Cherry:
For people that are listening, Kickstarter is not a store. If you pledge something and you get your pledge rewards, that's great. Sometimes it doesn't work out, and I'm not going to spend time on it on this podcast, but there are a lot of campaigns that I have helped crowdfund. Where the money? I'll never see that money again. The developer or the creator, whomever, has just took off with the church's money, as they would say, you don't know where they're at.
I think one campaign I did, the person…it was for tea, of all things, this guy had a tea company and he was trying to raise some money for new blends, and then he just never sold the tea. And then he used the money to come out with an LP because he was starting his music career. It was so stupid.
You have to kind of vet, of course, how this goes. I tend to vet more projects where I can see the people have had some track record of success. But it's tricky. I mean, I think whenever you're crowdfunding, it can be kind of tricky, but just realize there are real people behind this. There's real people behind this. And that if stuff happens, stuff happens. But curb it a bit. Don't get all in people's faces about it.
Tj Hughes:
Yeah, I think it's very fair to be like, "hey, we'd like some communication about this" and all that. When it veers into the realm of harassment, of just, you don't need to attack their character. I don't know. You don't need to send a death threat.
Maurice Cherry:
It was never that serious, especially for video games. It's a video game! What are you getting that riled up about? It's a game.
Tj Hughes:
Yeah, it's a game, not a therapy session. It's interesting. Also, he made an LP with the money?
Maurice Cherry:
I'm not going to shout out the name of the company, but they were making tea blends. I had gotten some of their tea before. I'm a tea aficionado and I really like tea. And so I was like, "yeah, I've had some of their tea before", sure. And I think they raised maybe like $8,000. And then we just never heard from the person again. And you know how on Kickstarter you can see the person's profile is sometimes connected to a Facebook page or like their Facebook profile. And so basically people in the comments had clicked through and was like, "wait a minute, he's making music now?" Like, wait a minute. What? So we're just never going to see that tea again because now he thinks he's a singer?
Tj Hughes:
Okay, for a second I thought they posted their own backer update and was just like, "Actually…"
Maurice Cherry:
Oh no, they never updated or anything! They just went completely radio silent.
Tj Hughes:
Oh, okay. And people just kind of put it together. Okay, for a second I was about to say, that is so bold, bro.
Maurice Cherry:
Let's kind know switch up a little bit here. We've talked about the game and we've talked about development and stuff. Let's talk more about you so people know more about just kind of your background and how you got to where you are now. You're in St. Louis, Missouri now. Is that where you're from originally?
Tj Hughes:
Yes. Yeah, I lived here my entire life, bro.
Maurice Cherry:
Yeah. Did you sort of get exposed to a lot of creativity and design and stuff growing up? I'm guessing that you probably have.
Tj Hughes:
Yeah. So my mom is a traditional artist. She does like acrylic and whatever medium she can get her hands on, really. And my dad was a jazz musician. Kind of just naturally got exposed to art super early on because of that. It was interesting because no one was really trying to push me in the direction of art. It just kind of happened just like naturally. And my dad was also really into tech and would have just like random trinkets and synthesizers and circuit boards just strewn throughout the house and yeah, I just kind of had this subconscious interest in tech that I never really noticed as being weird or different until later on when I just kind of said it all at once.
I was like, "oh yeah, I was kind of exposed to this stuff from way back in the day."
Maurice Cherry:
That's awesome.
Tj Hughes:
I grew up just like drawing comic books and stuff. Not to expose my brother and I, but we had our own Sonic characters and stuff. That's how we started out. We just draw our own Sonic characters and that was huge for us. We would just make these comic books. That was kind of just the early influence. And then, I don't know, just as the Internet was a thing, we started playing more video games. I was just interested in both those things at the same time.
And as a kid I would just always be like, "oh, I want to be a game designer when I grow up." I said that without any kind of confidence at all. It was just kind of like a kid's dream sort of thing. And I remember the moment where I kind of really questioned it, where I was just like, "oh snap, I'm not good at Math. How am I ever going to make video games? This is going to be so difficult."
But then fast forward to when I was 13. I discovered Unity while procrastinating some homework. One day, I was like, "oh, what is this? It's an engine that anyone can download. That's crazy. Let me go and do that." And, yeah, I just started going through these PDF tutorials on how to make an FPS game. I made this really crappy little first person shooter project, but I was learning the engine, and it was before I was even realizing it, I was just like, "yo, wait, I'm actually doing this. It kind of makes sense. It's just like, logic." Yeah, that's when I kind of realized, like, "oh, snap. I have a really self-learning oriented brain" because I wasn't particularly good at school. I wasn't really good at Math, but just figuring things out and putting things together and disassembling them, I was just like, "wow, I'm great at this." And so, yeah, it just kind of really worked for me. Just, like, teaching myself the video games and how to make them and how to make my own art really.
Yeah, that kind of just worked out.
Maurice Cherry:
First of all, I have to say that's excellent that you were picking that up so young and that it was available for you and you were in an environment where I'm guessing it didn't sound like your parents at all were trying to hold you back from doing that.
Tj Hughes:
Yeah, that's something I've always realized I'm super lucky about was like, they've always pushed me in this kind of direction or just been supportive when they learned what I was making. Yeah, they're just like, "wow, that's really cool." They've always been okay with me going into art because they did it themselves. And anytime I would show them something, they'd be like, "wow, that's really cool." Even if my mom didn't really understand it, to this day she's like, "what do you do? You do, like, the computer thingy?" But she's still really supportive. She set the donut from my game that's her wallpaper on her phone. I'm just like, "okay, that's really cute." I feel really honestly supported.
The only hard part was when I decided to not go to college for any of this. That was something that was very controversial for a lot of the adults in my life. They were just like, "no, you need to go to college. You got to get a degree. You had to have a fallback, and you had to get the proper education", blah, blah, blah. But it was also just like, "yo, we can't afford that. Student loans and all that. I don't want to do that. I don't want to have debt. I just want to make money and also create cool stuff."
That was really hard. Part of it was just, like, convincing folks that, hey, I know how it looks, but I have a plan. Yeah, I think I can say that it's worked out and that school wasn't exactly necessary for this kind of work, but I know it is helpful for a lot of people to have a curriculum and go through that path. And so, yeah, I'm not knocking it by any means. Just with my set of circumstances, I don't think it would have been the best move.
Maurice Cherry:
Yeah, that's something that the prior generation, I think, is always going to try to impress upon the younger generation. Not necessarily so much the value of education because you were teaching yourself, so you were getting your own education. You were learning about this at a young age prior to college, you were creating projects. I mean, a lot of that is honestly stuff that you would do in college anyway, just with a price tag attached to it. But I think specifically for game development, that's such a different type of field than say, being a doctor or an engineer or something like that. I mean, game development as we know it is still a very young field and so the ways that you get into it are not necessarily through a four-year institution.
Tj Hughes:
Yeah. Another part of it is that things change so fast that by the time you get through your curriculum, it's just like, boom, everything's different. There's a new tool that everyone uses. Everyone stops using this engine because of the weird PR or whatever. There's so much that can change so rapidly. I think it really lends itself to self teaching because then you can just find all the latest, most up to date stuff and yeah, people make tutorials out. People make plenty of tutorials nowadays. Even when I got started, there was a lot of stuff, but I can't even imagine having access to the amount of content there's out there now. Yeah, I feel like you can kind of make anything nowadays.
Maurice Cherry:
Yeah, everything you mentioned is 100% like it was in the days of the early web. I'm talking like maybe 98 to from 1998 to 2008 was such a huge jump in web development because the browser went from being this tool of presentation to now a tool for development. And so you started having people developing tools in the browser, using the browser not just as a viewport, but also as your development environment and everything. And there were no programs back then to really teach web design. Like, I went to school and majored in computer science initially because my dumb ass was like, oh, if I'm a computer science major, that means I can be a web designer. Wrong. Absolutely wrong. Everything I learned about web design has been self taught because back then there were no courses unless you went to like an art institute or something like that.
And even then, as you mentioned, the technology changes so fast that the curriculum is out to date. It's out of date as you're learning it. So it sounds very similar to the early days of the web, is what you're mentioning with game development. So it seems like you certainly went in the right. I mean, look, you have a video game that's out now on PlayStation Steam. You're doing something right. So I think the way that you went certainly is what's worked for you, which is all you can ask for, really.
Tj Hughes:
Yeah. Super grateful it's worked out this way so far. It was also great just being like, "oh, hey, this is a possible route. You don't have to fork over just like a bunch of debt just to get into this field and make stuff that you care about."
Maurice Cherry:
Yeah. Now, you did start your early career at a studio. You were at Happy Badger Studio. How did you get started there? How did you find out about them?
Tj Hughes:
Once again, through Twitter. Weirdly. Everything in my career has happened through Twitter. Both getting this game out there, getting hired there. Yeah, it was a similar sort of thing. I discovered Unity when I was 13 and kind of just throughout the rest of high school, I've just been just making little experiments and learning. Every now and then, I would do a game jam. I would do the Ludum Dare 48 hour game jam a few times. I would just make things to show my friends and I would take screenshots of what I'm making and put it on Twitter. I had a bunch of projects that were way too big that I was never going to complete, if I'm being completely honest. But I was just like a kid in middle and high school, so I didn't know what I was doing. But it was still really fun stuff to make and it was still really pretty — the different kinds of projects I was making just from those screenshots and stuff.
I would show off this company, Happy Badger Studio, they saw my work on Twitter and they hit me up. They're just like, "hey, who are you? Want to come by our studio and just hang out because your stuff is crazy." And so, yeah, we did that. And they offered me a contractor position and me being fresh out of high school, this was right after I graduated, I was like, "this is really cool. This is a dream job." Like, exactly the kind of stuff I want to be doing. Yeah, absolutely. And so, yeah, I worked with them for a bit and then became a full-time employee there after a few years. It was just really fun. I got to do the exact part of game dev that I wanted to do, which is technical art. I really just like the art pipeline, the art side of things.
And so, yeah, that was just like a really good situation. And there we made SmuggleCraft, which is a hovercraft racing game with procedurally generated tracks and customizable ships. And yeah, it was a super fun project to work on and [it] really got me started with tech art. And I got to really control the art in the game, which was super fun. Like, all the colors and particle effects, that was all my domain. And so, yeah, that was just, like, super fun and a really good experience. I feel like that was honestly my college course.
Maurice Cherry:
I'd say that was your college course, your first real job…I mean, that kind of work right out of high school? I mean, that's the dream. That's the dream. Like, if you've been doing it, especially as a kid and you're able to go right into working, I mean, that's the best kind of education. Especially like, as you said, you learn by doing, so that's perfect. That's perfect for you.
Tj Hughes:
Yeah, it was a really good situation. That's actually where I met Joey, who's on my team as well. And he taught me so much of what I know about programming because we just have sessions of C# just sitting down and he just tells me that he's a wizard programmer. He knows so much. I know just enough to get by and actually make a game, but he's who I go to when I'm just like, "okay, I need to do this very specific thing. How?
Maurice Cherry:
What's in the future for Terrifying Jellyfish? I mean, we've talked about the game coming out. We've talked about sort of how you've gotten here and everything. And now that the game is out and it's getting that reception and you're in this sort of rest period, I should say, what do you want to do in the future? What's next?
Tj Hughes:
I've been thinking about this. It's hard to say. I don't really know. I definitely have ideas for projects, but I definitely need to take some time to think about how I would make them happen. Like what the ideal setup is, whether I have a publisher yeah, just what the setup would be. But right now I'm focusing on just kind of resting up and just taking a break and letting what happens next come naturally. I don't really want to force a project. I want to make something that folks are actually genuinely interested in.
I think I'll do a lot of what I did for Nour. I think I'm going to just kind of mess around a bit for fun and try to fund that as much as possible, but just mess around with a few different art projects, put it out there, show folks, see what they like the most, and then just see it evolve from there. I think that's kind of my formula now, is not just taking bets on what I, as my ego thinking, is the best idea possible. I want to actually get feedback in real time of just like, "oh, folks other than me actually like this. I'm going to pursue this idea now." I think that's kind of going to be my approach. So, yeah, my plan is just mess around a bit, throw a bunch of stuff at the wall, see what sticks.
Maurice Cherry:
Basically that's a good strategy. I like that. I mean, it's certainly different from what you would see maybe, like, a bigger studio might do, where they might make — and I don't necessarily mean a game studio, but like, say a television studio — might make a bunch of pilots and then they will do testing on them and then they'll sort of go and see, "okay, this is the first one" where instead maybe they could put all the pilots out on YouTube and let people sort of see which one they respond to instead of going with what the studio might think. So I think that's a good tactic.
Tj Hughes:
I like that, yeah, thanks. Also, like something I've been talking about because I want to put the seed out there. I feel like if I talk about it, that's an easier chance of kind of manifesting it. I want to do more museum games because Nour started out as a museum game, just being installed somewhere with a controller and then folks can walk up and interact with it at an event or something like that. I really love that format of game. I kind of feel like I can do whatever I want. I don't have to worry about the tech of it all. I don't have to worry about performance and optimization.
I'm just like, "okay, it runs on the computer and it's interesting and it's wacky and attention grabbing" and that's all I had to worry about. I love making stuff like and also I got to travel to a lot of really cool places with this project as well. I got to go to South Korea, Amsterdam, like South Africa, just bringing this game to different exhibits and stuff. And so yeah, I would just love to do more of that. I don't know how much of that it's going on post pandemic, but yeah, any events like that I would love to be a part of again and they would just kind of find me as well. I have no idea how these opportunities were kind of come to me, but definitely want to do more stuff like that.
Maurice Cherry:
I think that's awesome. I mean, I can certainly see this kind of thing being done in design museums. Like Atlanta has a museum of design. Atlanta. I think they just had a gaming exhibit earlier this year where they I think it was called Pixels and Code. I don't recall it, but I could think like design museums, that would work. Conferences could work. There is a conference and it doesn't go on anymore; maybe it will in the future, but there's this conference in Portland called XOXO….
Tj Hughes:
Yeah, Nour was actually there one year. I think it was like 2018 or 2019.
Maurice Cherry:
Oh wow, okay. I was there in 2018. My team was there in 2019. The startup I was working at at the time, we did an event in 2018. We did like this art and code event, but they had this game expo that's where I played, like, Hair Naw and a couple of other games. I assume they probably had it the next year, so if it was 2019, I wasn't there, but members of my team were there. That's cool. I could see it being done in something like that where people can really interact with it in an open space.
Tj Hughes:
Yeah, it was a really cool setting for it because the screen that they got, I guess it was a projector, it was gigantic. They really knew how to present the game. And so I thought that was great, seeing just this HD food up on this big, giant screen. And so, yeah, just more things like that. I just loved how just wacky and just different that convention was.
Maurice Cherry:
Yeah.
Tj Hughes:
I just hope more things like that exist, like post pandemic.
Maurice Cherry:
So for people that are hearing your story, they're listening to you, how you came up in terms of learning about game dev, and now you have your own game out there. What would you recommend to them? If they're looking to create their own game, what kind of advice would you give them?
Tj Hughes:
I would say just use what resources you have and go for it. It's completely okay to just google everything. That's basically what I did. I just googled my way into a career. I have no formal education about any of this. And so use your confidence and ask people as well. Ask people who've done it before. There are so many folks that are more than willing to share expertise.
Mentorship is kind of how I really got through most of this. Just folks from Happy Badger Studio just being like, "oh, here's how you do this. Here's how you start an LLC and get your business organized. You want to start your own bank account as, like, that's separate from your personal funds." There's just, like, a lot of little pieces of knowledge that aren't actually hard to execute, but once you know them, it just sets you up. Yeah, I don't know. Just like tax organization. Don't ignore that stuff.
Like, taxes. This is if you're making it commercially, like, if you're actually trying to make money from it, I would say the biggest thing is start small and ramp up incrementally. Think of it, I guess, like. working out. [That] sort of thing. You don't go right to 300 pounds on your first deadlift or whatever. You want to work your way up there because you don't want to tear a muscle. You don't want to burn out. You want to do what you're capable of. That was something that I really had to just learn.
It had to just be nailed in me because, yeah, starting out, I wanted to make the biggest FPS project ever. I wanted it to be multiplayer and have, I don't know, like, be an MMO at the same time. Just a ton of players on the same server, zombies everywhere. It was just like I was in way over my head. I was never going to do that. But still fun to start out and mess around with.
Then I scaled it back and my first game, Feesh, that's when I made that. I made that during a Ludum Dare game jam, like in 48 hours. That was the tiniest possible little arcade game. I released it on Steam for like 99 cents and with no marketing; folks bought it. That was a great experience. And so I think there really is something to keeping it simple, scaling it back and cutting things. If you have an idea for a feature, just imagine the game without it. I can't stress that you can never cut too much from a game.
Just actually done is so much better than having it be perfect.
Maurice Cherry:
Nice. Well, just to kind of wrap things up here, where can our audience find out more information about you, about your work, about Nour, about the game? Where can they find that information online?
Tj Hughes:
Terrifyingjellyfish.com is the main spot, but social media-wise, Instagram is the most active — @terrifyingjellyfish on there. I post anything I'm working on to there. I'm on Twitter, X, or whatever the heck you want to call it, at terrify– @jellyoccult or at @_Teejay5 online, everywhere. Food.game, if you just want to look up Nour and buy that game. Yeah, everything's linked. So if you just look up "terrifying jellyfish", you'll kind of find everything all right.
Maurice Cherry:
Sounds good. Tj Hughes, I want to thank you so much for coming on the show. Thank you, one, for just…I mean, you're such a creative force. I mean, I feel like I've learned a lot just from hearing your story and hearing you talk about game development and your process. I think what you embody is kind of the core thing that I try to put forth with Revision Path is to let people know that there's more than one way to get to what your definition of success is. And I love that for you. You're really creating what you want to see in the world. It's coming from this really pure place and I'm really going to be excited to see what you do in the future.
But yeah, definitely take your rest now, but in the future I'm going to be so excited to see what you accomplish. So thank you so much for coming on the show. I appreciate it.
Tj Hughes:
Yeah, thanks for having me on here. Yeah, it's been really fun talking about games and through the whole process.
Brevity & Wit is a strategy and design firm committed to designing a more inclusive and equitable world. They are always looking to expand their roster of freelance design consultants in the U.S., particularly brand strategists, copywriters, graphic designers and Web developers.
If you know how to deliver excellent creative work reliably, and enjoy the autonomy of a virtual-based, freelance life (with no non-competes), check them out at brevityandwit.com.

The BFA Design program at the School of Visual Arts consistently produces innovative and acclaimed work that is rooted in a strong foundational understanding of visual communication. It encourages creativity through cutting-edge tools, visionary design techniques, and offers burgeoning creatives a space to find their voice.
Students in BFA Advertising are prepared for success in the dynamic advertising industry in a program led by faculty from New York's top ad agencies. Situated at the center of the advertising capital of the world, the program inspires the next generation of creative thinkers and elite professionals to design the future.
School of Visual Arts has been a leader in the education of artists, designers and creative professionals for over seven decades. Comprising 7,000 students at its Manhattan campus and more than 41,000 alumni from 128 countries, SVA also represents one of the most influential artistic communities in the world. For information about the College's 30 undergraduate and graduate degree programs, visit sva.edu.