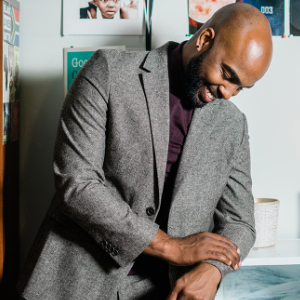 February is our anniversary month, and we're kicking things off with an interview with design educator and researcher Omari Souza. Longtime listeners of the show may remember Omari's first appearance on Revision Path back in 2017, and let me tell you, a lot has changed in four years!
We start off talking about Omari's latest venture, the State of Black Design conference, and he went into the ins and outs of organizing it, and even gave a sneak peek on what to expect from this year's event. He also spoke about teaching at Texas State University, his latest research focus, and the state of design education and how he's grown as a designer. Revision Path is proud to work with State of Black Design, so you can definitely expect to see more of Omari's contributions in the future!
Transcript
Full Transcript
Maurice Cherry:
All right. So tell us who you are and what you do.
Omari Souza:
Hey everybody. My name is Omari Souza. I am a professor of design and design research at Texas State University. And I also organized the State of Black Design conference.
Maurice Cherry:
Now, you've been on the show before the first time you came on the show was back in 2017. How's the year been going for you so far? This is 2022.
Omari Souza:
Man. To be completely honest with you with being in the middle of COVID these past three years all feel like one extended year. So it doesn't even feel like I've started a new year yet. It just feels like I'm still ending 2019.
Maurice Cherry:
Yeah, I guess it all has blurred together. I was online earlier today and I saw where people were making these comparisons, like January 2020 to January 2022, like how people were first starting to talk about the coronavirus and all that sort of stuff. But it does feel that way. I know a lot of folks now that are just trying to get their bearings so far. At the beginning of the year.
Omari Souza:
Yeah. That's exactly what it feels like. It's just being up and down, well, being up and down in terms of figuring out how you're maneuvering through COVID and educating and working. Whether you're at home whether you're allowed to wear a mask or not wear a mask based off of how the population is doing with COVID at the moment, it's all pretty tough.
Omari Souza:
And granted, I say that living in Texas, I know in some other cities and states that have taken it far more serious in the state that I'm in, things have been a bit more constant in terms of mask wearing and some of those other things, but it's been a lot to adapt to.
Maurice Cherry:
Yeah. And I know you've got a lot on your plate now because you're also organizing an event while you're doing all of this. You're organizing this year's State of Black Design, which begins next month. Tell me about how this event started and where you got the idea for it from.
Omari Souza:
It started in a lot of places in all honesty. I normally tell people that it started as a response to the George Floyd murder. There was a lot of civil unrest at the time and a lot of people wanted to have these conversations about race and the intersectionality of race with practice, regardless of what that practice was.
Omari Souza:
But also at that same time period and before there were a lot of designers in the BIPOC community that felt that they weren't being represented at the majority of design related conferences. Whether it be HOW, or HOW Conference or several others, you would look at entire like 20, 30 person lineups, and maybe not see any person of color in that lineup, or maybe one or two, when in reality there was so much talent out there doing so much amazing things.
Omari Souza:
So this moment after George Floyd's murder ended up being this huge boiling pot of emotion, a lot of the designers feeling like they didn't have a space to be heard or to be seen, or that their contributions to the industry and to the field weren't being recognized or appreciated. And there being this overall desire to learn more about how race is impacting these different pockets of society. So initial, I took that as an opportunity to hold something on my campus.
Omari Souza:
So what I thought was going to be on my campus, I created an Eventbrite page, hired a student to do some of the marketing material for us and anticipated we may only get a 100, 200 students that attended our program. Low and behold, we ended up getting roughly 4,000 people who registered for the event. And we've just been continuing since after realizing that there was a demand and really a need to have some of these conversations that weren't happening prior.
Maurice Cherry:
That's interesting about… Well, one, I guess the timing of all this came about in an interesting way, because one, it did, as you said happen, because you were hearing from so many people that there's a lack of events around Black designers. And then of course the summer of 2020 was this big racial reckoning, so to speak, which I guess for a lot of people activated them into doing something and for you, this was one of those things.
Omari Souza:
Yeah. And it really felt nerve wracking but gratifying is actually put together. You were one of the folks that actually came out and spoke with the initial one. And wanted to make sure I take my time to thank you for that, because I know that you're super busy and you sacrificed your time to speak at the events. But one thing that we all spoke about afterwards was the response that we got on Twitter from it.
Omari Souza:
There were studios that tuned in live and actually created visual graphics of what was being discussed. There were people that tweeted and sent personal messages about how they never felt so seen or heard in the field itself. There was just such heartwarming messages that were coming in response to this at a time period where there was so much anger and anguish. So it felt really good to put that together.
Maurice Cherry:
Yeah. I remember seeing, I know Webflow was one company that did these sketch notes right along with it. And for those that are interested the 2020 event, I think it's on YouTube, right?
Omari Souza:
Yeah. It's on YouTube.
Maurice Cherry:
Yeah. And it was myself, it was Renee Reed, a couple other folks who had been on the Revision Path Podcast, but that was a really great event. It was just this one day thing that we all came together and spoke and it was a lot of fun. And I'm glad to see that you got that kind of feedback from it.
Omari Souza:
Yeah. I needed that as well. Timothy Brad Levis who's also been on the show, spoke with me before programming, before I began planning the second event and he said to me planning a conference you typically do it in four stages. The first stage is, oh my God, I'm so excited. I can't wait to do this second stage. Oh man, this is so much harder than I thought it was going to be.
Omari Souza:
The third stage is I can't believe I agreed to do this. I'm never doing this again. What was I thinking? Then the fourth stage, once you start getting the response says, "You know what? It wasn't that bad. I can do that again." All the positive messages that I got at the time period, put the battery in my back to be able to do it again, the following year.
Maurice Cherry:
So given the popularity of the 2020 event, what can we expect from state of State of Black Design this year? Because you're putting it on again.
Omari Souza:
So there are a couple of things that I am trying to do differently that I think people can be really excited about. The initial event was really my attempt to give people a space and a platform and not necessarily do so in a manner that felt control or contrived. I really wanted everyone to be able to speak their truth and talk in a way that other conferences haven't allowed them to.
Omari Souza:
And I think that was a part of the success of the initial event. The sheer rawness of some of the discussions, the second event was really making an attempt to continue that on. But part of the response that I was getting was really from companies that were trying to figure out how do we then create this pipeline for designers of color, into industry that we are struggling to fund. So I used this event as a mechanism to create this pipeline.
Omari Souza:
I was going to use donations and sponsorships to keep the cost of the event free to students, but then leverage that money to pay our speakers as well as make attempts, to offer scholarships to students that are studying design as well. So for this event, the conversation that I had with a number of the sponsors and stakeholders was really along the lines of what are some of the areas that our participants can be best served going forward.
Omari Souza:
And one of the things we talked about is it's great to have these avenues open up where they can interview then IBM, if they'd like to, or an Argodesign or materials or PayPal, Adobe, and everyone else that sponsored the event. However, especially considering that a lot of these participants are coming from programs that may not have the funding to give the same level of education within design and some other institutions or some folks are participating that are self-taught, it would be amazing to give some professional development opportunities.
Omari Souza:
So this year I've been speaking to a lot of folks about hosting workshops in order to teach the people that are tuning in some new skill sets that they can use to improve their portfolios or to add new weapons to their utility belt. When not to make a comic book fund to improve their skill sets on a day to day basis, something else that they can pull on to solve complex problems. Additionally, we're speaking about hosting projects that can be worked on with particular employers to gain exposure to what particular assignments are like.
Omari Souza:
So not only can you interview, let's say for example, with an NBC Universal, whom will also be a sponsor of the events, but they will also be giving competitions where you can design a movie poster for a film that doesn't exist, but it then becomes an opportunity for you to engage with art directors in this particular industry and talk about potential internships or ways that you can improve that work. We're also making steps to expand our target base.
Omari Souza:
And we're beginning to invite and have additional programming for high school juniors and seniors. So if you are getting ready to go into a college and your visual creative in your high school, K through 12 education, which you don't know what a career will look like as a designer. How to begin it, how to start searching for a community on campus or even the right campus or program to go to. We're beginning this process of attempting to educate some of those students as well, to try to set folks up for the success that they're looking for.
Maurice Cherry:
So it sounds like this expanding almost into this career fair. I mean, of course there's going to be the different talks and stuff, but you're doing also a lot around making sure students are set up with interviews and other opportunities to network with companies.
Omari Souza:
Yeah. I really want… I'm sorry. I'm backtracking. After the initial event, there were a lot of companies that, as I mentioned prior that were looking to find ways to diversify their workforce. And if that's a discussion that they're having, I want to be able to bring people to them, especially when a lot of the participants of these events are also saying that they would love to work for some of these fortune 500 companies.
Omari Souza:
However, I also want to make sure that I'm providing an avenue by which they can continue to improve the skillsets that they have in between this, the attending our conferences and in between their potential interviews for one position to the other. So, my hope is if a student who begins to attend from their junior year of high school takes advantage of some of the workshops that are there.
Omari Souza:
If they continues to attend these workshops and listen to these panels and interview with these companies that have been sponsoring their exposure and the connections that they would've made by the time they've graduated would put them further ahead than it would have if they've never attended and never worked on anything outside of what was in their classroom.
Maurice Cherry:
Who are some of the speakers for this year?
Omari Souza:
Man, we have a ton of great speakers this year. This year, we will be headlined by Nikki Giovanni, which I'm super excited about. We will also have Jelani Cobb who will be speaking. We will also have Anne Barry fellow Kent alum. That will be there. We will have Regina Gilbert, Lacey Jordan will be there.
Omari Souza:
Theresa Moses, Silus Monroe, Maryam Moma, Mike Nichols, Kalina Sales, Roberta Sampson, Raja Shaa, Trey Seals will be giving a workshop on type design. We will have Jennifer White Johnson. That'll be hosting a panel on disability design. Kelly Waters will be there. Shelby Zinc from Microsoft will also be there as well, and this is just to name a few. The list is really extensive this year.
Maurice Cherry:
I was going to say, that's a lot already.
Omari Souza:
Yeah, it's an amazing list of people. And I I'm really fortunate that they have all been willing to participate in this.
Maurice Cherry:
It's interesting, we talked about 2020 just earlier. One thing among many things that stuck out for me that year was just seeing how many Black designers found community online that year. I think because of events like State of Black Design and so many others that started that year. Black designers came around these events and really formed this sense of community. Have you felt that since the State of Black Design?
Omari Souza:
I feel like the year of the State of Black Design, there were so many things happening within the community and people attempting to build their own table. That I think that year in general, when the first State of Black Design happened, we also had Where Are The Black Designers hosted by Mitzi. Black Ignite, which was hosted just a couple months after that, by Heather Lee. Hughe also had their events as well as myself, which I believe was the last event of the year.
Omari Souza:
We were all in communication with one another, especially after our initial events happened. And we've all leveraged one another in order to keep everyone going. We each serve a different role, but have each come together as a family, just to keep things going. So for the second events, I know we had Jasmine Kent from HOW, Heather Lee from Black Ignite and Mitzi all sit on a panel together.
Omari Souza:
I've consulted with Mitzi and Heather Lee on a number of things that I was doing for Black Ignite Heather Lee brought me on to give a keynote. And I say all of this to say, there's not only been a community in terms of the following, but the folks that have been attempting to lead these separate initiatives have also been coming together to assist one another. So it's a fight and champion for the things that they view as important.
Omari Souza:
And I feel like that's something that's been extremely beautiful and powerful when considering three, four years ago, a lot of these spaces weren't available. There was no State of Black Design or Black Ignite or Where Are The Black Designers and the followings for each have been extremely impressive.
Maurice Cherry:
Yeah. They really have. I mean, of course, for folks that have been following Revision Path around that time, I talked all about Where Are The Black Designers had Mitzi on the show and everything, but yeah, it is interesting seeing how all of that has… And I mean, I have to say it has come together very quickly. Even from my somewhat limited perspective of looking at the landscape of the design industry from 2013 to now and seeing how few events and things there were around black designers.
Maurice Cherry:
Even just media, like when I started Revision Path there was not any other podcast that were talking to Black designers about the work that they've done. And now of course, nine years later, there's several others besides myself. But just to see how things have grown in such a very short period of time, I'm curious to know, why do you think these other events just don't get it?
Maurice Cherry:
Because what I find interesting aside from the speed of all of this is how I don't want to say how limited the resources have been, but y'all really pulled all this together from nothing. You put out a webpage or you put out a call on Instagram or something and you have thousands of people flocking to you registering, signing up for your event, spreading the word fostering community. And you see a larger slash other design competitions or events and things like that don't even come close to that. Why do you think that's the case?
Omari Souza:
I think it's a number of reasons. Going back to my thesis research that I know we talked about in the initial interview, they're a large percentage of Black college students that end up going to these. So they end up going to social serving programs because based off of the research I did in my graduate year of college, there are a lot of students that when choosing a major will choose majors that help them either contextualize things they've experienced or choose majors that help them advocate for others. And I think that advocacy piece for a lot of people comes off as being politic. I think with design, while it can be a tool that's used for advocacy, it's often communicated solely as a tool of luxury.
Omari Souza:
So even in terms of how conferences typically communicate themselves. So if you go to, not picking at any conference in particular, but if you visit Hughes site, it's really all about how to learn the latest and greatest in designing for a fortune 500 company or a major firm that's dealing with a fortune 500 company, but it's never articulated.
Omari Souza:
It's never really given any attention to areas that maybe of concern for people of color. And the reason being is that design always wants to come off as being apolitical. In my thesis research, I voted Melissa Harris Perry in her book Citizen.
Omari Souza:
She had the segment where she talks about whenever people think of politics. They're often thinking about Democrats or Republicans when in reality, the art or of being political is really attempting to pull one person's attention from one thing to something else. So if I'm trying to get you to look somewhere that you're not currently looking, that happens to be political.
Omari Souza:
And then she then makes the argument that being Black in America is really a political act within itself because you're consistently attempting to get people to recognize your humanity, so the discussions that we have at a lot of these events are not just about being a better designer or what you can do in the workspace, but it's really these difficult discussions around the nuances of being marginalized.
Omari Souza:
How do you exist in a space being a Black person where you might be microagressed or the racism that you experience may not be as subtle all the time. It can be subtle, and sometimes it can be very direct, what can you do to protect yourself mentally, emotionally, and physically? What are the courses? How can other people be there for you to support you through these types of things? And in many cases, these are conversations that aren't really had in your traditional conferences, but their topics of discussion.
Omari Souza:
And there there're things that Black signers are speaking about whether or not these conferences are including them and not to mention traditional design programs typically tend to keep things very Eurocentric, and they don't typically provide much room for cultural relativity or exploration into the cultures that a lot of people of they come from.
Omari Souza:
So if you now have workshops that are being done. So for example, Trace Seals will be giving his workshop. A lot of his work is predicated on designing typefaces of marginalized audiences. That's not something that would traditionally be taught at a design school currently, but if it's something that's being provided at a workshop, it now becomes something that deals in that nuance and becomes interesting to people that have been marginalized.
Omari Souza:
That want to know more about that history but also how do I leverage that history and culture into my professional practice. Black Ignite, HOW Design, Where Are The Black Designers and the State of Black Design each give you an opportunity to have that conversation safely, and also learn to explore visually things that you may not see traditionally in the classroom.
Maurice Cherry:
Yeah, I will say each of those events also are very different. Like State of Black Design is this conference slash career fair Hughe is like a family reunion kind of feel almost Ignite, at least from what I've seen from Ignite is just a bunch of straight up short talks, almost like a, I forget the name of it. What's it called PechaKucha. I might be mispronouncing that I'm…
Maurice Cherry:
But it's sort of a series of short talks and things like that. And then you may have a conference that's got more longer, more didactic talks or something. But no, I like that each of these events also has their own flavor. They all feed on each other. They work in concert, at least from what I see with other Black design events that are out there.
Maurice Cherry:
Like, of course the four that you mentioned, which are fairly new, that doesn't preclude also the existence of Black In Design, which takes place at Harvard University or Creative Control Fest, which takes place in Columbus or it doesn't shy away from those events. Or try to pit one against the other, it's all one community, or at least it's all one shared community. I should say. If you're a black designer now this is probably the best time in history for you to attend events that specifically speak to you as a Black designer, like it hasn't ever been, I think this good in terms of variety.
Omari Souza:
Yeah. At least not that I can recall. And yeah, I feel that wholeheartedly. It's really interesting, the entire idea of these separate organizations that really are in support of one another. And aren't looking to pit anyone against anybody.
Omari Souza:
Like no, one's asking attendees of one, not to go to the other. And in fact, we're usually co-promoting whenever Where Are The Black Designers, HOW or Black Ignite has something if they send it to me, I'm always promoting and pushing people to attend. And they've done the same thing for me. And it's really been appreciated.
Maurice Cherry:
Now, you're juggling State of Black Design, of course, with teaching. You're a design educator. You're an assistant professor at Texas State University in Austin. When you were back on the show, the first time you were teaching at Laroche College, which is in Pittsburgh, what is it like teaching at Texas State? Tell me about your classes, your students, how is it?
Omari Souza:
Texas state is a really interesting place. It's about 30, 40 minutes South of Austin, and also about 30, 40 minutes in north of San Antonio. So it's sandwiched between these two major cities and in terms of diversity, it's probably the most diverse institution in terms of student base that I've ever taught at.
Omari Souza:
And it's really beautiful to see in terms of things that I I've taught there. I typically teach a few design research classes, both at the graduate and undergraduate level, and I've also taught foundations and typography, but I consider myself more to be a design researcher. So I'm always happier teaching the former than the latter courses.
Maurice Cherry:
And now, do you have a specific focus of your design research while you're at Texas State?
Omari Souza:
I would say yes and no. So at the graduate level, in the past, I've taught a class called communication seminar, which is an introduction to design research methods that students can use for their thesis. So I begin educating students on research methodologies, like quantitative research methods, literature reviews, so forth and so forth. How do you build your design direction, map out plans, constructing logic models, so forth and so forth. Identifying stakeholders, yada yada yada.
Omari Souza:
I teach a class called design for experience as well, where I typically tend to leverage some of my own graduate based research around using design not only to using design classroom, not only is a space to develop new skill sets, but also expand considerations on what things could be applicable for. So I'll teach design research methods and some UX techniques, but rather than using them for digital artifact, I ask students to expand their thought process on what an interface is.
Omari Souza:
It doesn't necessarily have to be strictly digital, but it's anything that anybody interacts with. So if we're designing for behavior purposes, how could we use these research methodologies in order to bring about a particular behavioral change versus doing it strictly for additional clicks or site visits or things of that nature? Sometimes we will work in collaboration with other organizations. One summer, I saw the course, we worked in collaboration with Kyahokas Municipality Housing Authority. They were applying for 50 million grant to improve the quality of life for residents in a lower income community.
Omari Souza:
And we asked to be a part of the project. So we jumped in while they were performing the research and began asking questions to identify certain things that were happening in the community that design could be used to leverage as a solution to improve quality of life. One of the problems that we ended up finding was given the conditions that folks are living in.
Omari Souza:
One thing that they definitely were missing was adequate opportunities to build community with one another and communicate with one another while also bottlenecks around communicating with the leasing office and people that managed the property.
Omari Souza:
So we proposed a number of solutions that had nothing to do with digital components, but were more so interfaces that we can build on the community grounds themselves to improve that person to person and person to business interaction on these grounds in order to change some of the cultural issues that were happening within that particular space.
Omari Souza:
This year, there were a few projects that we're going to be working on as well, that are all about community engagement, interacting with a group of people, but then attempting to solve a problem for behavioral change while using design as the so, and for me, I find this a lot more interesting than working along the lines of an arbitrary design brief, because I feel like the strictly giving students a brief, doesn't give them an opportunity to meet people and expand their thought processes.
Omari Souza:
And if, as designers we're supposed to be this empathetic group, but we never get an opportunity to meet or engage with the people that we're designing for. We're strictly designing within our own locked in biases. And that can also be very dangerous for marginalized audiences.
Omari Souza:
So putting them in a position where they have to get out of the classroom and interact with an audience, puts them in a space where they're challenging their own perceptions and what a problem is. And if they're designing with this audience and as they're working, as they're meeting them, as they're engaging them, it puts them in a, in a process of thinking, my best results or realizing that my best results can come at hand when I'm working directly with the person who the solution is for versus working behind a desk without ever having to engage with them.
Maurice Cherry:
I'm curious, you've been there now for about three years. How would you say things have changed since when you first started there? Because it sounds like what you are doing right now is something you maybe have to work up to getting to.
Omari Souza:
I'm still at a point where I'm attempting to recommend changes and then get buy-in around those changes, which isn't a slight against Texas State. I think the reality is I'm an extremely young professor. I'm only 35 years old. And many of the professors around me have been teaching for just as long as I've been living in some cases.
Omari Souza:
So for me to be this young and come and make attempts to challenge the way that certain things are being done, even if I'm citing that in new research or things of that nature for any program would be a lot to take in because that whether directly indirectly illuminates that for potential changes to come they'll need structural pedagogical changes as well to make room for some of these changes. So I think, for myself there's still this need to get buy in or to prove the benefit of particular things that other folks may not be too familiar with.
Maurice Cherry:
How would you say you've grown as an educator since you first started teaching?
Omari Souza:
I think there's a number of different things. I think naivete is something that I've shed a lot. Have you ever seen the… There was a documentary on charter schools? It was called Waiting On Superman.
Maurice Cherry:
Yeah. I saw that.
Omari Souza:
Yeah. I've watched it again recently. There's a section of the documentary. One of the educators who started a charter school in Harlem was talking about how he went to get his degree at Howard and he'd learnt so much and felt like as soon as he got out, he'd be able to change and improve the entire education system within two years, three years, if he was being lazy, but he had all the information necessary and he was going to get in there and make all those changes. I think that's where I was when I first started teaching, I was really enthusiastic about the education that I got.
Omari Souza:
I felt super empowered about it, and I immediately felt like I'm going to jump in and make all of these changes. The longer I've been teaching, the more I've realized that it's never an immediate change. You can never change the flow of the river that you're in, but you can disrupt the water.
Omari Souza:
And if you make these minor disruptions over time, you can make an immediate impact. Well, not immediate, but you can make this impact for that immediate space, but you might not be able to change the flow of the water that you're currently in. And I think that's something that I've had to sit with and I guess be more strategic about what impact can I have and what impact will I be okay with having, if I can't change the entire flow of the rigor itself?
Maurice Cherry:
What do you think about this state of design education now as it relates to diversity? Because I'd imagine with the years that you've put on this conference now and even changing to different schools that maybe you have gathered a bit of a reputation, a good reputation, I mean, but from your perspective, how do you see design education?
Omari Souza:
I think design education is at this really interesting spot. I think there are topics about decolonizing design practice and there are a lot of people that are doing a lot of work on plural versatile approaches professors such as Leslie and Noel that continue to do amazing things and encourage me in a lot of the stuff that I do.
Omari Souza:
I think there are a lot of folks like Cheryl Miller and her collaborations with designers off of the continent of America and working with Afro based designers and attempting to bring their aesthetic and their design language onto the forefront, I think is also something that's really interesting from an institution standpoint and a university standpoint. I think a lot of the difficulty ends up being in people being threatened by that change or being uncertain, how to handle the new wave of demands that are coming for design institutions and programs, especially as the student populist becomes browner from one generation to the next.
Omari Souza:
I think in a lot of ways, it's an exciting time to be a student. And it's an exciting time to be a professor and see universities make room for these things to happen. I would imagine a difficult time for those that have no idea what steps to take next. Like if I've never had to consider anything other than Swiss design or anything other than the Bowhouse.
Omari Souza:
And now you're saying that there are all of these other visual languages or aesthetical approaches or cultures that I should include in my curriculum and give equal amounts of respect to this one thing that I've made my bread and butter over the last 30 to 40 years. I can imagine that there's a lot of anxiety, but still it's necessary. And anxiety is never a reason to be paralyzed by anything.
Maurice Cherry:
Have you encountered any of that? Like from other educators?
Omari Souza:
Yeah. All the time. It's usually not as direct as this makes me feel nervous or I don't necessarily know how I can stack up to attempting to do this, but a lot of times it may come off in passive aggressive terms of we've done it this way for so long. And maybe you should just learn how to do it the way that we've been doing it before you make re for changes.
Omari Souza:
Yeah. I don't think people ever come out and say that, "Hey, this makes me feel uncomfortable or insecure about approaching this particular subject matter. Can I work with you on this?" It's usually this attempt to stopping the clock or slowing down change. And that's not necessarily me saying a Texas State thing. I think that's something that that's happening in a lot of places within the industry.
Maurice Cherry:
Yeah. I've had a few other design educators on the show particularly last year that spoke to that as well. And also speaking to how, I guess students are looking for more from their design curriculum. They're looking for more from their design educators in terms of how they see the world now and the work that they're doing, they want to know how can they be more, I guess, involved in different causes and stuff like that. From your perspective, have you seen a similar kind of change over the years from your students?
Omari Souza:
Yeah, definitely. So my graduate research, when I was at Kent State University, there were a few interviews that I did where I asked students how they ended up choosing their majors. And there were a number of students that ended up choosing a major just because some of the course material was interesting to them. So there was one student in particular, the group in a predominantly white neighborhood, but that a student was Black.
Omari Souza:
So that student felt that there wasn't enough access that he had to finding out more information about people that looked like him within the city and neighborhood he lived in. So he ended up taking a few African American history courses, and then that ended up becoming his major because he fell in love with the subject matter. I feel like there are a number of visual students that I've taught that have been a part of design programs, both at Texas State and Laroche.
Omari Souza:
And Tri-C when I taught there. And also at Kent State when I was a graduate assistant and there's this interest in exploring visual languages that relate to them culturally, that they can see themselves in. And I think it's really amazing for them when they find that, but it does create a space of pedagogical opportunities for professors. If we're willing to bravely lean into it. One conversation I had with a few of my cohorts recently, especially considering that Texas and the university is within the Southwest of the nation.
Omari Souza:
I mentioned, I think it would be a really good idea to start doing research and creating coursework and materials around the influence of San Marcos has a huge Mexican population as is Texas in general, but trying to do this course on the influence of Mexican and Southern American aesthetics on the design language of the Southwest, I feel like you teach a course like that to some of our students that are looking for something different than Swiss and Bowhouse design or your ecentric perspectives on things.
Omari Souza:
I think that's also another opportunity where you can then teach something that allows a student to have a greater appreciation for a culture outside of themselves. Or give a student an opportunity to further contextualize their own identity and have a greater appreciation for some of the things that they were exposed to without having full knowledge of what the richness of these things were
Maurice Cherry:
Now, along with those kinds of opportunities. You've also managed to network with and meet a lot of other Black design educators. Tell me how that's been.
Omari Souza:
It's been amazing to be completely honest with you. I've been able since the first State of Black Design to meet a number of people and try to find ways to collaborate and or talk about new pedagogical approaches or projects that are being offered in classrooms. I've met consistently with Kalina Sales, Dr. Perry sweeper and Dr. Oji in our biweekly DFA meetings and some of the stuff that they're working on.
Omari Souza:
And some of the insights that they share with me are super invaluable in terms of my growth as a professor, I meet consistently with Teresa Moses, she and I are curating a State of Black Design book. And of course, during these meetings where we're talking about the book assignments, they're consistent topics or the discussion points around what's being done in our classroom, Dr. Leslie Noel and I are working on a book called Restorative Design.
Omari Souza:
I'm learning a lot about her practice, not just through writing with her, but even some of the experiences she shares and what we've been writing, all of which enriches me in a lot of ways that I may not say to them consistently, but it's been an amazing opportunity to see and hear other people that look like me that are dealing with students similar to who I'm dealing with, give me some of their master tips, or even seeing some of them just blow up and shine in their own career. Professors like Jennifer White Johnson, every time I look up, she's doing something else amazing. And the community that she advocates for and the work that she's been getting has been amazing to sit back and watch.
Maurice Cherry:
What do you want to see this year? Is there anything you want to accomplish outside of course, of State of Black Design, but what do you want to see this year?
Omari Souza:
I think the thing that I want to see this year, that I'm hoping that I can pull off is really this professional development. Well, not really professional development. I'm hoping that these tables that we build, whether it be Where Are The Black Designers, Black Ignite, [HUE] and the State of Black Design, that we find a way to continue to pouring into our collective audiences, outside our annual conferences.
Omari Souza:
I know where the black designers has a really good community. They keep in touch via Slack, but trying to find a way to continue growing people in their own personal endeavors, not just through professional development methods, but also just through personal artistic explorations.
Omari Souza:
I think having a space where we allow other creatives to learn more about what it is that they want to do, but make it give room for people to explore new avenues and develop aesthetics and techniques in their own visual approaches would be something that I would love. And I think it's something that we need currently as well.
Maurice Cherry:
And also you teased this book idea a little bit earlier. Tell me about that.
Omari Souza:
Yeah. So after the first State of Black Design, we did a CFP called proposal for essays, from anybody who was interested in contributing. We've gotten the number so far and a commitment to print from Intellect Publishing. So currently Theresa and I are reading through it and making attempts to decide what changes need to be made if there are essays that need to be lengthened and things of that nature, but we're hoping that'll be published by next year.
Maurice Cherry:
Nice. Congratulations on that.
Omari Souza:
Thank you kindly.
Maurice Cherry:
So overall, and this may be a tall order from where you're at now, but aside from this year where do you see yourself in the future five years from now? What sort of work do you want to be doing?
Omari Souza:
Five years from now. I'm hoping I have tenure, but the work I'd like to do, I think it's similar to what I was hoping to do in my initial interview. I would to begin a design for social good innovation practice that I do alongside my teaching. I'm hoping that the traditional classes that I'm allowed to teach that over time, I'm given room to change them slightly.
Omari Souza:
So it's not just commercial focus, but we're giving them techniques and tools that they can use for commercial entities if they choose to, but also allowing them to advocate or contextualize their own experiences through these methodologies as well. I'm hoping that I can continue to write these books. I'm hoping that yeah, five years down line, all of these books that I'm working on currently are published, that I can continue to evolve the State of Black Design to meet the needs of its audience.
Maurice Cherry:
Sounds good. Well, just to wrap things up here, where can our audience find out more about you, about State of Black Design, about everything you're working on? Where can they find that information?
Omari Souza:
You guys can find me on LinkedIn. I'm pretty active there. I do have a site omarisouza.com, and finally, I'm, I'm pretty active on Instagram, which is just Omari.Souza.
Maurice Cherry:
And the event?
Omari Souza:
The event is stateofblackdesign.com.
Maurice Cherry:
All right. And by the time this comes out, tickets will be available so people can register to sign up, correct?
Omari Souza:
Yes, sir. Please register. We'd love to see you guys there.
Maurice Cherry:
All right. Sounds good. Well, Omari Souza, I want to thank you so much for coming back on show. We've kept in touch since we have done that interview back in 2017. So it's been amazing to just see your growth as an educator, as a researcher, and really getting more involved in doing community work with what you're doing with State of Black Design. So I'm excited to see what is going to come next for you in the future. And of course, I'll definitely be tuned in for this year's event. Hopefully, People that are listen will tune in as well. So thank you so much for coming on the show. I appreciate it.
Omari Souza:
No problem at all. I appreciate you as well for having me and all the advice that you've given me as well since 2017.
Brevity & Wit is a strategy and design firm committed to designing a more inclusive and equitable world.
We accomplish this through graphic design, presentations and workshops around I-D-E-A: inclusion, diversity, equity, and accessibility.
If you're curious to learn how to combine a passion for I-D-E-A with design, check us out at brevityandwit.com.
Brevity & Wit — creative excellence without the grind.

Texas State University's Communication Design Program is excited to announce The State of Black Design Conference, a three day virtual event March 4-6, 2022.
This year's theme is "family reunion", and there will be over 50 amazing speakers, including author and educator Jelani Cobb, and world-renowned poet, activist, and educator Nikki Giovanni.
This year debuts the State of Black Design's Resume Book initiative, so if you're a Black design student, or you're a Black designer looking for your next role, then listen up!
You will be able to submit your resume and your portfolio to the Resume Book, along with your institution of study and major if you're a student, and recruiters and employers will have access to it before the event. If you're interested and you want to be included in the Resume Book, send your info to blackdesign@txstate.edu with the subject line "Resume Book". You have until March 3, 2022 to submit.
The State of Black Design Conference is brought to you with the support of the University of Texas at Austin, Universal Pictures Home Entertainment, Microsoft, General Motors, Design for America, Civilla, IDSA, AIGA, and Revision Path.
Visit The State of Black Design Conference website for tickets. Hope to see you there!