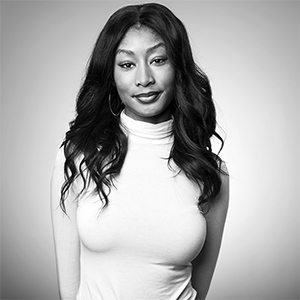 Black history isn't just confined to February, as this week's guest Ashley Bozeman clearly indicates. As the first Black woman art director at The Martin Agency, Ashley brings years of professional experience to the table to help some of the most well-known brands in the world get their message across to their customers.
We talked shop about the day to day grind of working in advertising, and Ashley shared how her time at Hampton University and at The Creative Circus helped prepare her for the work she does today. She also gave some great advice for those looking to become art directors, and even spoke on how she finds time for joy in these current unprecedented times. Whether she's putting together briefs or working on comps, Ashley is poised to become a top talent in the advertising industry. Keep your eyes on her!
Transcript
Full Transcript
Maurice Cherry:
All right, so tell us who you are and what you do.
Ashley Bozeman:
Hi. So my name is Ashley Bozeman. I am an art director here at the Martin Agency, which is located in Richmond, Virginia. So as far as the title of my actual role, so basically I work in the creative department at a creative ad agency. I'm usually paired with a copywriter and together we are the ones who are briefed and tasked to basically come up with ideas for campaigns, commercials, social posts, really anything you can think of. It's our job to basically come up with that creative idea. And then specifically as an art director, it's my job to bring that to life visually. So how does that look? Who is being represented? What are the color choices? What are the style choices? Cinematography, … working with directors and things like that, but we basically just, we're the ones who control how everything looks. Whereas our partners are copywriters, they are the ones who control the tone of voice and what that sounds like and the scripts and things like that. So together we're the ones, kind of the big brains behind a lot of the things you'll see on TV as far as commercials and things like that.
Maurice Cherry:
It sounds like your work is a lot of, I guess meetings and sort of heads down work sessions. Is that true?
Ashley Bozeman:
Yeah. Yes, definitely a lot of meetings, but it's also a lot of concepting. So it's a lot of just, I was briefed earlier today, we'll get a brief and then we'll look at our calendars, "Hey when you have some time." We'll put two or three hours on our schedules and then we'll just find a room in the office and literally just sit and come up with ideas. Ideas that are large and kind of lofty that we're not sure if the clients would ever even buy or do. And then ideas that also fit the brief exactly. So we basically, we'll just kind of get together and just kind of brainstorm of different ways we can kind of find the best solution for that problem in the brief to be solved or for something to be showcased in the best way possible.
Maurice Cherry:
And now this brief document that you get, this is coming? I'm assuming this is coming from the client or is this someone else is kind of putting this information together for you?
Ashley Bozeman:
Yeah, so internally we have our strategists, so our strategists are the ones who had to work with a client and then they come and work on their own research and insights. So, basically develop a kind of, just kind of a brief, so it just, it'll give us insights. It'll have the actual problem they're trying to solve. It'll have a target demographic about when we're trying to do said thing, have a timeline, maybe important events that are happening around that time too. That then they kind of all compile it together to kind of create this kind of, it's usually about five or six page long document that we can also then use to kind of go back to, to kind of make sure that whatever ideas we do come up that they fit the brief and they fit that target … clients. And they fit the platform that they asked us to create on. Yeah, it's kind of a mix. A lot of it does come internally, but they definitely have to use findings and have these conversations with the clients to make sure that it's good to go.
Maurice Cherry:
Now, from what I heard, you were the first black woman hired there as a creative in the history of the agency. Is that true?
Ashley Bozeman:
Yes. So that's actually pretty crazy. It's pretty crazy considering I started in 2018, in the beginning of 2018. And I think I didn't find that out probably at least a year and a half? A Year and a half maybe into my career here. But so it was kind of a shock. But I think also too, it was something that was also still really exciting. And I think that my friends and my parents, especially my mom, was trying to hype me up about, where initially I felt kind of scared. You know? You kind of feel worried like, "Oh okay, I don't know if I really asked to be the first." But something my mom always says is, "Well somebody has to be the first, so why can't it be you?" So I think that things like that are also just so important when it comes to just kind of remembering your place. And then again, not take it as a negative, but just to know that like, "Hey, this is pretty exciting. We're starting new things and somebody has to do it." And all of us are more than capable in being that person.
Maurice Cherry:
Who are some of the brands or clients that you've been able to work with?
Ashley Bozeman:
When I first started out I primarily was working on Land O'Lakes Butter. So I know a lot of unnecessary facts about butter. Which is so funny with creatives and that's why I love creatives, especially in the ad industry. Because everybody knows wild things about wild things, random things. It's just so interesting. So I know a lot of things about butter, I worked on butter for almost a year. And then last year I did a lot of work for Discover Card, I'm a little knowledgeable actually in credit cards. So that's kind of exciting. This year and at the end of last year too, I've been on more Oreo work, which has been fun and exciting. And then a lot of different other things. As we were pitching for Old Navy, I helped out with that some and that was really fun. And so many that they literally just have us go back and forth. I'm working on Penske now. I've done UPS. I've done Ritz Crackers, I've worked on that for a while.
Ashley Bozeman:
So, there's definitely a lot of brands that I've had the opportunity to touch here, which has been fantastic. But then also too, we also just have a lot of cool brands too that I'm excited to hopefully touch this year, DoorDash and CarMax and things like that. So yeah, it just kind of changes and it's nice because I'm never just on one thing. I'm usually on a few different things, so that, and I think especially when you have a mind that's literally all over the place, it's nice to be able to divert your energy into other paths rather than just one.
Maurice Cherry:
Is there a specific type of client that you enjoy working with? Because I would imagine in an ad agency you're working with, like you just mentioned all these different clients, they're in all these different industries. There's a lot of variety there.
Ashley Bozeman:
Yeah, there are. Yeah, there is. It's interesting too because I think I find that, that almost changes sometimes. I think there's been parts of every client that I've worked on so far that I really, really have enjoyed and I really, really liked. I think Oreo is really fun because they are kind of design heavy and I do love design and they also really love big ideas. So that's kind of a really fun place to kind of come up with these larger ideas. But I think also too, I really love projects that use their platform to kind of spread a larger message. And I think that that's something that's really nice because it's kind of few and far between. A lot of times people just want to make sure that their brand or their product is put, placed first, which I totally understand. But I think at the same time, I also love, love, love when a client can tap into an issue that is relatable for them and appropriate for them and they want to do something about it. And I think that that's really fun and I think that's what gets me most excited when I get, on [inaudible 00:08:52] like that.
Maurice Cherry:
Now, I have to ask this question because you've spent a lot of time talking about really sort of kind of the great things about your job and what it is that you do, but what's the worst thing about being an art director in an agency?
Ashley Bozeman:
I would say the worst thing would probably, honestly and I think you can ask any art director this, I'm pretty sure they'll say the same thing. I think the death of every art director is making comps and making comps is literally just the art of basically intense hours of photoshopping and searching for images. And let's say you've come up with this grand idea, you said, "Okay, we want to make a truck that has a slide on the back of it." And of course every client is just like, "Okay, I don't know what that means. Can we see what that looks like?" So again, that's our job so now we have to find a truck, I'm going on Getty and search all these things and find the perfect truck then photoshop that truck to make it Oreo branded, let's say. And then put a giant, and then find another image of a slide that still fits and then still have it look somewhat realistic.
Ashley Bozeman:
So, I think that part can just be just such a time consuming thing because you can search for pictures for hours and you can get stuck in this hole for hours. And so I think that that might be the most difficult part, because how can you move fast but then also make something look as nice. So I think that that's something I've really been working on this year too, is just my speed but then also to my craft and making sure that those two things go together. So, that can just be a little time consuming. But like I said, I think a lot of art directors can feel my pain when it comes to making comps.
Maurice Cherry:
So when you're working together with the copywriter, are there, it sounds like you're also kind of the designer too. There's not designers that are in house that are helping out or you're kind of?
Ashley Bozeman:
Yes. We definitely, we have a whole super, super talented design team and we also have a very super, super talented studio art team. The studio art, so that's a group of people that will more so be the ones to kind of help us with those comps and kind of help us get things together and make sure the images are perfect and the files are perfect before they send them off to be shipped to whomever. And then our designers are more so, they'll kind of sit in concept with us sometimes. So sometimes they'll even be in the brief if it's big enough, they'll be in the brief with us and so then they know that they're kind of concepting and thinking about it design-wise. Whereas we're kind of focused on still the imagery, but also too the core of the idea. That's still a big part of our job description as well. So we still have people who can help us out, but nine times out of 10 they have to kind of, they still have plenty of things they have to do on their own. So it's just, I think as an art director you kind of have to be multifaceted. But I think a great art director is also a great designer and vice versa. So, it's an interesting role because it kind of dips into a bunch of different things.
Maurice Cherry:
Was design kind of a big part of your childhood? Growing up, you grew up in Milwaukee from what you told me before we started recording. Was design kind of a big part of you growing up?
Ashley Bozeman:
So, you know what? Not necessarily design but more so just art. It's interesting because, so I'm the oldest of five and both of my parents are super smart. My dad is an engineer. My mom has always been great at math and science and so I feel I came out and I was just this little, "Hey, let's draw." I just always felt, "Wait, what happened? How did I not get that gene?" But it's fine. I think what's interesting too is, now that I actually sitting here and talking about it, I think because of my dad's job, we moved around quite a bit. And by moving around, we've probably moved around almost every three years. So, I was constantly going to new schools in new states and trying to, I was always the new kid, but I think I found comfort in art. I think that was something that wasn't reliant upon somebody else. So if I were to move that summer or something, I could still draw, it was something that still keep me occupied. It was something that I really enjoyed, seeing a picture and then trying to, then bring it.
Ashley Bozeman:
Seeing a picture and then trying to then bring it to paper. So that was something I think kind of like that all kids do. But then I noticed that that was one thing that I really kept with. So I kept with it throughout middle school, I kept with it throughout high school, I even kept with it through, actually, through college, which I had then realized like, "Oh, maybe I should have majored in art. Maybe this should've been a thing." But I still took, like I literally took an art class every single semester and there's only one semester I did it and I literally could feel the difference. I just didn't feel the same. So that's when I realized, "Okay, like this is probably going to be a part of me forever."
Maurice Cherry:
Yeah.
Ashley Bozeman:
So yeah.
Maurice Cherry:
Were your parents kind of really supportive of you going into art, like that?
Ashley Bozeman:
They were. They were and I thank them all the time and I'm just so appreciative. They've always been super understanding. They've always been very supportive in that, and so I always say it. Before I left or right after I had graduated from Hampton, I had gotten a degree in Public Relations, which I still really liked. But you know, I just, I don't know, there was something about it where I was just like, "Okay," I basically made a deal with myself. I said, "Okay, so I'm job hunting. You know, I'm looking for a PR job but I'm going to take art classes on the side because I think that that's something really important to me." So I was looking for jobs in different cities and I lived in Atlanta and so, of course, I was probably looking up the art schools before I was looking up the jobs, but … so that tells you a lot right there but …
Ashley Bozeman:
I found through a Google search, I was like looking through like art school and then up popped up two different things. It was the Portfolio Center and then the Creative Circus. And I remember reading through, because as I was doing like the job search or like as I was looking at like descriptions for the PR jobs, it was interesting because art director would never be that far because it's still all in communications. And so I would always see that job position, that job role and I was just like, "Wow, that sounds so cool. It literally sounds right up my alley, but I don't know how would I become an art director? That doesn't make any sense." And like, "That's really cool. I don't know how people get into it, but whatever." Once I found the Circus I was looking through and it was basically, I was just like, "Oh, so this is a two year program where I could learn how to be an art director."
Ashley Bozeman:
I said, "That sounds lit. That's exactly what I want to do," and so I remember I had like, I found it, I thought about it, like I prayed on it and I sent my parents this really long text one morning. I was just like, "Hey, I found this school. I know I wasn't planning to go right back to school, but I found this school. I'm in Atlanta and I can study as an art director there. And I think that like, I think it's legit. Like I think this is something I really want to do. It's something I'm really interested in. What do you guys think basically?" And they were just like, I mean, "Okay, crazy girl." They're just like, that's fine." They're like, "Okay."
Ashley Bozeman:
So like I was like, I was the one who was like really stressed, like, "I don't know, like hopefully they'll be okay with it. X, Y, and Z." They were like, "Yeah, that's fine. Like, sure why not?" And so for that, I'm very thankful because I just know it's hard. I think it's hard really for anyone to kind of tell like their parents and stuff, especially after we just spent all this money at a four year university that, "Hey, I want to go to a portfolio school where, you know, also mind you, you don't get a degree in."
Maurice Cherry:
Yeah.
Ashley Bozeman:
"You, more so, just get a certificate," and it's kind of crazy. It's like, "Okay, so we're about to put some more money back into schooling that you technically don't get another degree in." But I was trying to explain the importance. I was just like, "Well, look, like still like there's like a 99% placement, 95, 99% placement rate after graduation. I think it'll be great." So yeah, they helped ride that wave with me ever since then and even before and still now. So for that, I'm very grateful. I know that that's very much so a privileged that I don't take lightly.
Maurice Cherry:
So I want to go back to the Creative Circus, but even before then you kind of glossed a little bit over the fact that you went to such a prestigious HBCU for undergrad. You went to Hampton University.
Ashley Bozeman:
Yeah. Those were some of the best years of my life so far. I think that's where Ashley came to be Ashley. I think I had grown up in predominantly white institutions and places and schools. My mom was the one who actually really pushed for that. She was very adamant and "Hey, I know that, like, obviously, like we couldn't help like by school district with so much like while you were in high school and stuff," but she was like, "If you decide to go to HBCU, just know that this is probably one of the only times in your life you'll be surrounded by so many beautifully educated brown and black people who look just like you and you just won't necessarily get that opportunity anywhere else." And the more I thought about it, it was interesting. I was a little nervous because I was actually going into the Hampton, I was worried that maybe I wasn't "black enough."
Ashley Bozeman:
You know, I didn't necessarily have a lot of black friends growing up and I technically wasn't in all those spaces and necessarily didn't know all the music and things like that. Of course, I was still like with my family and stuff, but you know, it's still not the same if you don't have like a core group of friends and stuff in high school and things like that. So it just wasn't the same. And so I was a little worried about that, but honestly it turned out that there were a lot of Ashleys at Hampton and it was fantastic. And I think I wasn't the only one who felt that way, but that fear was just a projected fear that I had. It was never anything that actually happened. There was still a place for me as there was a place to someone who grew up in all black schools their entire life.
Ashley Bozeman:
I feel like that kind of flowing into Hampton was more, way more seamless than I thought it would be. But yeah, Hampton was an incredible experience. I have lifelong friends from there. I have bridesmaids, I have probably maid of honors, like I just have some of my best friends I'll have for the rest of my life. I just love also, too, I think also, too, I came into terms of also celebrating just who I am and also being black and like how much, like how much power there is in that. And so Hampton taught me a lot of that as well. And so that's really exciting and it's interesting, too, it even transcended into some of my art, too. I notice growing up I actually drew more white women, more people who probably weren't of a black ethnicity. It was interesting to kind of see how my sketchbooks have changed, too, by just being introduced into that.
Ashley Bozeman:
And then also like again, it's important to know like … Well, it's important as a child, even just growing up as a teenager, what you see and what your perception is on things and how much that affects you. But it was crazy how that was affecting my art and how I never really drew girls that necessarily looked like me, but now like if you asked me today like that's all I do.
Maurice Cherry:
Wow.
Ashley Bozeman:
So it's very, very, very interesting to see how just that influence that I think that I had [inaudible 00:06:55]. I think that that was probably the best decision I could've made. And that's one of the best decisions I've made. Like flat out, in my 26 years or so.
Maurice Cherry:
You make an interesting point there about HBCUs. I mean, so I went to an HBCU also. I went to Morehouse and HBCUs in general are … I mean maybe this is just us speaking as black people, like they're very warm, comforting open spaces for everyone.
Ashley Bozeman:
Yeah, yeah.
Maurice Cherry:
I don't know if people that maybe don't know the HBCU experience or just aren't familiar with HBCUs in general really see that. But like it's such a unique sort of family thing. I think one just among students and alums at a particular school, but also between HBCU graduate students and alums of other schools. Like we see like a certain kinship in other people that have went to HBCU. I don't know if that, if that kind of makes sense or not, but, no. Essentially because you said your mom kind of really wanted you to go there to sort of soak up that culture. I'm curious to know like because Hampton has such a well known design program, I mean we've had several people on the show who have graduated from Hampton that went on to graduate school. Actually, you mentioned the Creative Circus, nikita Pope, she's a Hampton grad. What was the program like there for you? Like did you feel like it really prepared you once you got out there as a working art director? As a working designer?
Ashley Bozeman:
Yeah, so I think what's interesting is I think as most … Well, I was 17, 18 year old going into college, I think I knew that I wanted to be kind of creative. I knew I liked things that were more like thinking based than creation based, but I don't think I ever really knew how to fully get into it. And so with that being said, I think some of that, it was also, too, of my own misunderstanding and kind of almost like canceling it out completely. Whereas I think maybe I probably in those four years, I look back now and I'm just like, "Man, I wish I would've learned Photoshop and Illustrator and Adobe Suite during Hampton rather than trying to learn it at the Circus." And so I think that was almost kind of my misstep in like not maybe taking full advantage of all the programs that were there currently in Hampton as I was kind of more so just focused on like just fine art and just drawing and painting and things like that.
Ashley Bozeman:
So looking back I'm just kind of like, "Man, if I would have only really known that like I could have done this and then went here and then that would've made sense then I think I absolutely would've set it up that way." But I think, I know it's not just me. I know it's a lot of people. I think it's just like you realize and you're just like, "Oh, shoot, this was an option and this was a path." And like looking back I definitely would have done some things differently as far as like my track and kind of like my major, definitely my minor. I think that they have a great solid program and I do have friends and I do know people who have successfully gone through the program, but they're doing great now still, too. I just think I just wasn't like for sure, for sure just yet, while I was at Hampton. It just wasn't able to fully tap into all the resources.
Maurice Cherry:
Yeah, I think that's probably like, I don't want to say a regret, but I feel like that's a regret for … Sometimes I think for people that are at schools, they don't feel like they've gotten a chance to really utilize all the resources. It's sort of one of those, you know, hindsight, this 20-20 kind of things. You look back and realize how good you had it in a way. But I mean what you learned at Hampton though at least kind of propelled you forward to then go to the Creative Circus.
Ashley Bozeman:
Oh, yeah, absolutely. And I think also through Hampton, I think that also, one of big … Well, a really big takeaway that I got from Hampton is learning how to just work with people and learning to really come into your own. I think I feel like that that was almost like, I think college in general, it just, it comes at the right time and then always feels like it ends too early. But I'm sure that it ends right on time, but it definitely prepared me to work with people and professionalism and kind of again, like you were mentioning earlier about that sense of community that now I carry into when it comes to, here amongst all the employees here, Martin, but also especially our black employee network.
Maurice Cherry:
Yeah.
Ashley Bozeman:
And that's something that I really lean into hard because I think it reminds me so much of Hampton. So it's something that I really kind of latch onto and really try to kind of just, I don't know, just really attach myself to, because it really feels like home.
Maurice Cherry:
Yeah. So when you ended up going to the Circus and you were here in Atlanta, I'm curious like what was that time like for you? Because Creative Circus, I'm thinking, I'm sort of trying to line it up. So this is like between 2015 to 2017 what was that time like in Atlanta for you?
Ashley Bozeman:
Atlanta was a great time. So it was interesting because Atlanta necessarily wasn't in one of my cities to live necessarily. But I realized that I had really made a home out of Atlanta by the time I … like those two years were up and I miss it almost every day. But I think my time there was just such a whirlwind, was probably the best way to explain it? It was like anything I've never, like I've ever experienced before. It was just, I just call it, it was just like this crazy two-year bootcamp, I felt like.
Maurice Cherry:
Yeah.
Ashley Bozeman:
Because the Circus is also set up by quarters, so it's pretty much year round, and so that was something new. I think also too, that's the biggest city that I lived in and I lived in my own. Also, too, kind of just going off a whim and doing something that I personally did never knew of anybody doing before and kind of leaping out to take that chance was also really scary. And so I think, what I was like 22, I think I'd just turned 23 the day before my first day of class. And it was just a crazy time. But again, like that was just another time where I learned so much and I got to be just so creative and that's something else, too, that I miss. There were like, there were barely any restrict
Ashley Bozeman:
… that's something also too that I missed. There were barely any restrictions. There were barely any like, "Oh we can't do that or you can't use those colors. You can do that." Like everything was open for grabs. There was time to actually do things and even as rushed and as stressed and as busy as we were because we were all those things all the time for those whole two years. At the same time, I think that I still made incredible, incredible friendships and experiences that like, again, kind of like the Hampton, I think that that play in my life will stay with me forever too. I think that that was such a big, important time as far as my career development and also my development as a creative.
Ashley Bozeman:
I really think that that was also the time that I really fell in love with design and digital design and graphic design and digital art and how to transfer my traditional skills and kind of put it more into like this modern day age. So it was like this big squirrel, but it was fantastic. And again, I think that that was also a great choice that I'm very happy I did.
Maurice Cherry:
Nice.
Ashley Bozeman:
Yeah.
Maurice Cherry:
Now when you look back over your career, look back over your education et cetera. Who are some of the people that have really helped motivate and inspire you throughout the years?
Ashley Bozeman:
Yeah. So I think a lot of times when I think about those people, a lot of times they are just people who have just been just kind. And a lot of times it's friends, it's family, everybody in between. So I would say that first off, of course my family is always super supportive, always have been day one, very thankful. Then I feel like I had my Hampton core group friends, they were always so supportive. I would call them in tears or super stressed out about a project and they would always pick up the phone, always be encouraging like, "Hey, we don't really understand 100% but we know that you're doing the right thing. So just keep going."
Ashley Bozeman:
And then as I got to the circumstance stuff, I've met amazing creatives who are just all like just fantastic. And so I'm learning from them every day. And it's really nice to also go through this journey at the same time with them and hearing similar stories. And I think that that's something that's more empowering that I think people may not realize, but having a group of people who are doing similar or pretty much the same thing as you but different places, it's really cool to see us all grow all over the country. I have some really fantastic, fantastic coworkers who have now turned to friends who have now turned to family. And a lot of those people here at Martin, they are like brothers and sisters. They are like big brothers and sisters. They're mentors. And I just am so thankful for all of them and I think that they are really single-handedly helping me navigate my career, which is priceless.
Ashley Bozeman:
I just learned so much from each and every one of them and I'm so thankful for their presence. But I think it takes a village and it's been taken a village. So there's a ton of people that I feel like I've been blessed with that can help me out with that.
Maurice Cherry:
Do you have a dream project that you'd love to work on one day?
Ashley Bozeman:
Yes, I feel like I'm not 100% sure what that is, but as far as like a name, I think my dream project would be visually stunning, very well designed. And then also too it would be for a bigger cause. It would either be for like a nonprofit, it would be either some kind of announcement. I've also always dreamed in maybe doing design or art direction for an art museum. Even like I've also been watching a lot of music videos lately. Low key I would love to art direct a music video. And then two, I think also my dream is to work on a movie one day.
Ashley Bozeman:
It kind of like it spans, it can be anything from like a book, like a very beautifully like well art directed well laid out books all the way to helping out to say that I was able to help out with even like a Pixar film if I could. Like be in the room to help out with like art direction or color or things like that. Things like that just really get me excited and those kind of projects too I think would help also to remind me of why I love my job in the first place and it all comes back to being able to make something and I think that that's what I love the most is just physically making something and that's why I love being an art director. I love coming up with ideas but also really, really love making things. Yeah.
Maurice Cherry:
I have to ask since you mentioned a music video, which artist would you work with?
Ashley Bozeman:
I mean obviously I love Beyoncé. I would do anything she would ever ask me to do. In drop of a dime if she called me right now, I would run to LA or wherever she's at, but there are some really, really, really cool artists out here that I really love. So I recently watched … I believe her name is Victoria Monét. She just had a music video drop for her new song Moment and visually it's beautiful. She did such an amazing job. Her art direction is fantastic. Like things like that I would absolutely work with her in a heartbeat.
Ashley Bozeman:
And also too, I've been watching a lot of Brent Faiyaz. He also has some really cool artsy and kind of grungy art direction, which I would also be very into. And obviously Solange also does a great job. There's just a few different ones. And then even too, people I would also say don't sleep on even some of the rappers like Playboi Carti, he also does a great job as far as like his editing team, kind of like I love the effort that's being put behind a lot of these music videos. They're just so visually engaging.
Ashley Bozeman:
And it's just interesting because we don't necessarily have that like 106 apart or MTV playing music videos all the time. You kind of have to go out of your way to kind of watch them. But I love that we're still putting the effort behind them even if we're not being watched all the time. You think that that would kind of die off, and in some aspects it has. And I think people that's why maybe we don't even have as many music videos on a consistent basis than we think we should. But I think I love music so much. And so to be able to tell a story within a song, I think that that would just be such a fun challenge and you can take that story so many different ways as people do and find meaning and find purpose for everything. But I think that that would be something really, really fun to do.
Maurice Cherry:
I am seeing how the music videos now for certain artists are certainly, it's bringing me back to like the Heyday of the 90s when we had like Hype Williams video that you had like really dope videos by Missy and everything and it's like you get so in throbbing. Of course you love the song, but then visuals along with the song, it makes each video like an event of sorts.
Maurice Cherry:
I feel like we have to really give it up to Michael Jackson for making videos releases and events like a prime time of it that people used to tune into. I remember as a kid tuning into watch Black or White or tuning into watch Remember The Time, but like yeah, now you really kind of don't see that. It feels like the big thing now is the surprise drop. I mean like Beyoncé did it of course. And now everyone else is trying to find some way to get your attention really quickly. So it's not only, yes, we want you to look at the video and consume the music. But it's really about gathering your attention for a period of time.
Ashley Bozeman:
Yeah. And similar to how you felt like that. That's how I felt in Atlanta when she dropped Lemonade. I vividly remember that night and I went over to my friend's house saw that at HBO, we'd all brought stuff to eat and watch and I just remember just texting my mom like, "Oh my God, do you see this?" I think that that was fantastic. I think that also just goes to show the true craft and then like again that wanting to make something. Again, this is nothing she ever like necessarily had to do, but I think a lot of it for her and just like Michael, I think it's that wanting to tell that story and go that extra step.
Ashley Bozeman:
Like yes, I made the song and yes I made the lyrics and I have to sing and perform it, but now it's just like I want to bring it to life visually. And I think that that's really, really exciting. And I think you don't see that necessarily all the time. But all that to say too is like Lemonade, like that was an event and I just don't remember the last music video since then. That has really felt like an event. I don't know. Like I feel like my memory might be a little jog right now.
Maurice Cherry:
No, I think you might be right. Videos come out all the time, but it's like they get shared on Twitter or something and you watch a vivo link, and you're like, okay, then you go about your day. Like it's not really something that you really are tuned in for or anticipated seeing. Because for the artists they want to surprise you with it. It's like, "Oh, surprise. I put out a new music video." And you're like, "Oh, okay." And you watch it and then that's it.
Ashley Bozeman:
Yeah, I know. I know. And that's why I think her idea of like a visual album was fantastic. And then to also see all the songs coming to life from one bigger story, which I think also too, a lot of that just goes back to storytelling and the art of doing that, which is really fun. Whether you're telling your own story or you're entrusted to share someone else's story. I think there's a lot of power and there's a lot of connectiveness that comes in being able to kind of bring those words and those experiences to life.
Maurice Cherry:
And I think we're also fortunate to be at a time where the technology is also accessible enough where you don't necessarily have to have the huge studio and the crew and everything. I mean people are shooting great music videos on iPhones with gimbals, like the tech and the hardware, I should say, has gotten a lot more accessible for more people to really kind of get into it.
Ashley Bozeman:
Right. Yeah, exactly. It is really cool to see how quickly things move every day. And I know people talk about that all the time, but really things move so fast and so it's just like you're just trying to ride away. I would say 15 seconds, but I feel like it's less than that.
Maurice Cherry:
It is now. I mean you're starting to see artists that are like … Actually I read this article and I'm sort of plugging work here for a minute, but I read this article on Glimmer, which is my employer's glitch, but we have a lifestyle publication called Glimmer and one of the recent articles is about how artists manipulates their songs and their DJ system makes sure that they're getting like the maximum out of streams and everything like that. So it almost feels like the music is not in as much about expression as much as it is about just charting or getting numbers, reaching some like arbitrary success metric.
Maurice Cherry:
And it's good that you have the artists that are sort of outside of that, that are more interested in creating experiences. Like you mentioned Solange, you mentioned Beyoncé, I think Janelle Monáe is like another artist that tries to do that. Like just tries to elevate what she's doing past just a track or an EP. She wants to make it like an experience.
Ashley Bozeman:
Exactly. It's artists like that I really latch onto and I really respect them and their path because I think that that's just like the definition of a true artist. Like you just legitimately want to make something for the sake of making it and expressing yourself. And I think that that's so exciting. And also too, especially when you do a despite, maybe low views, may or may not help streams or whatever. I feel like in this day and age, if you're really taking the time for music videos, a lot of times you're just doing it out of artistry, which I respect. Especially really, really nicely well. Not just also like we're just blowing this giant budget we have, getting this quarter of a million, million dollar budget. But outside of that we're actually using it to actually sit down and craft a story. Those are the artists I respect the most.
Maurice Cherry:
What do you wish you would've been told about the advertising industry when you first started?
Ashley Bozeman:
I wish I would've known how quickly things move. And how things, things as far as like projects almost do like making me here today and gone tomorrow. It's such an interesting thing and it's such an interesting career choice because you are investing yourself. So like creatively and kind of like emotionally a little bit and mentally can be very straining and physically you can be very tired. So you're just putting in all this energy-
Ashley Bozeman:
Basically you can be very tired, so you're just putting in all this energy, and then into a thing that's not even necessarily always for certain. So projects can still fall through. [inaudible 00:39:12] can be like, "Oh, we're not going to do this." Or they can be like, "Oh, we're going to hold this for later. Oh, well, we don't have the resources to do that right now, so we're going to go ahead and table it." There's just so many factors that go into everything and way more factors than I think that people realize.
Ashley Bozeman:
Every time you see a really good commercial on TV now, I actually applaud it and I respect it because there are just so many factors that played into having great work get out there. So it's just kind of hard. But that's something I really respect.
Maurice Cherry:
How do you make time for joy?
Ashley Bozeman:
I make time for joy by, I think keeping to the things that I still want to do, regardless. I've learned that this job can be very stressful and there can be a lot of projected stress. It can be very rush, rush, rush, this, this, this. But I think what gives me joy at the end of the day, and when I go home and I go to sleep, is just my relationships with people and my friendships with people, and knowing how much those matter to me.
Ashley Bozeman:
So what brings me joy, I think, is doing whatever I can to maintain those, and to commit myself or be committed to still honoring the things that I still love to do on the side and actively making time for those things. So it can be kind of tough when you feel like you're super swamped, and you have a lot of things going on, and a lot of projects, but I think it's possible just with a little planning. A lot of things are possible with just like, "Okay, well let me move these things around so I can have some space."
Ashley Bozeman:
And I also too, I think what I've been realizing lately, is just sometimes it's solitude and sometimes it's also just taking a step back and just finding joy and peace in also replenishing yourself. I think a lot of times too, we weigh outcomes, we define ourselves by the outcomes of our project. A lot of times, a lot, a lot, a lot of times, it's because something fell through. A lot of times it's not our fault, it's just external factors. So I think it's important for me to also find your way into other things, that I feel like maybe I do find more control in and putting more of my, some of that same, maybe not more, but at least some of that same energy that I put into for work things, that I will still put in for things like my side project, or if I want to just have a, I call them paint parties. My paint parties, it's just me painting on my floor by myself.
Ashley Bozeman:
So overall though, I really do think that there's joy all around us. I think it's just our … Sometimes it can kind of feel scheduled or kind of like a responsibility. But in living in a world where things are so crazy, and things do move around so fast, and things get rescheduled, and this, that, [inaudible 00:02:58], you're trying to keep up with things, I just feel like, "Well, hey, if I have to schedule time for me to [inaudible 00:42:03]." And if I put on my calendar, 'Go have fun' then that's what I'll do. But I find joy in my friends, and also, I find a lot of joy going to concerts too.
Maurice Cherry:
Nice.
Ashley Bozeman:
I love seeing live music, so that's something that I don't think I'll ever get tired of, so I'm always at somebody's concert. That's something I plan to keep up.
Maurice Cherry:
What advice would you give to somebody that wants to break into the ad industry today?
Ashley Bozeman:
I would say, "Okay, cool. I'm glad that … I'm so happy that you've seen and considered this as an option." I think that there are resources, and I think also too, it's interesting now because I feel like the game is really changing as far as the way that recruiting is going. I think agencies, even Martin, is researching and finding new ways to recruit and find talent. It's interesting, a lot of times it almost always felt like this secret almost. It's just like, "How do you get into that? How do you do it?" But I think agencies are now trying harder to be more present, be more present at places like HBCUs, to go to more to a whole plethora of high schools and middle schools, to career fairs, which I've been to both and I'm helping with those efforts. Something that I'm also very passionate about.
Ashley Bozeman:
But I think that it's definitely possible. I think if able, I think portfolio schools are a great, great, great in, a great in to the ad agency life. They really are a great pipeline to get in the door. But outside of that, just really tapping into those creative strengths, working on your craft and your skill, and then just feeling confident in concepting and coming up with ideas.
Ashley Bozeman:
But what's lovely about ad agencies too, is what we tell everybody, is that there is usually a place for every type of person here, even if it's not in creative. There's usually some kind of space that everyone fits into. And so with that being said, I think it's just so viable and it's just, again, even if you're not in [inaudible 00:44:10] department, I think there's something to be said to be around so much creative energy and be in such a flexible environment. I really truly think, and I know a lot of people out there to feel the same way.
Ashley Bozeman:
But I feel like this is legitimately what I need. I feel like … I always tell people too, "In your heart of hearts, if you feel like you're meant to do something, you might as well just start now because you're going to end up doing it anyways because it's not going to go away." So, it's just like, "All right, well if I'm able to start now, let's just start now." So yeah, but there's a place literally for everyone and I think that's what I love most about my job. Nobody, no two people, come from the same background or the same [inaudible 00:44:51]. It's just different. But there's all these different people but they all have a space, and so I think that that's something to be said.
Maurice Cherry:
Where do you see yourself in the next five years? Like it's 2025, what kind of work are you doing or working on?
Ashley Bozeman:
2025, at that point I feel like there's probably a good chance I'll probably be either in New York or LA. I would be working on some really, really cool, potentially lifestyle-esque brands. Whether that be like a Target, or do an interesting media company, like a Refinery29, or potentially even maybe even trying out what it's like to be an art director at a magazine company like Elle or Ebony or any of those. And am I able to still empower people there too?
Ashley Bozeman:
I'm excited because I think by then my creativity will have branched out to something that's still art direction, but I think might be a little different. And so that's what I'm trying to figure out now, is what is it? I know I love creating, I know I love making things, but what are other ways I can also explore that too? And I also too, maybe I'll have a side project by then that'll just blow up, and then I can just be an entrepreneur for the rest of my life. You just never know and it's just really exciting. But there's so many opportunities to be creative but in different ways. So I'm excited to really explore those out in the next five years.
Maurice Cherry:
Nice. Well, just to wrap things up here, where can our audience find out more about you and about your work online?
Ashley Bozeman:
My portfolio, which I'm working on updating currently, my portfolio is ashleybozeman.com. So A-S-H-L-E-Y B-O-Z-E-M-A-N.com. And then my Instagram is @AshleyCierraa. So A-S-H-L-E-Y C-I-E-R-R-A-A. So those are the two places that I am the most, especially Instagram, but I'm usually always around.
Ashley Bozeman:
I'm always down, I always answer almost every DM. Or if anybody who ever wants to chat or has any questions too about just getting started, that's something I love to do. And I love to get people excited and just talk about it as a career. But I love to help out in any way that I can. I think that it's so important to still reach back. And I know that I've only been doing this for two years, but if there's some way I can help, I definitely will.
Maurice Cherry:
Nice. All right, well Ashley Bozeman, I want to thank you so much for coming on the show. Thank you really for sharing your story about what it's like being a young black woman working in the advertising industry, and then also sharing the things that inspire you. We have people, I think really of all ages, that are listening to this show. We've got students, we've got captains of industry, et cetera, and we try to hit just a lot of different points of creativity and design and everything. So it's always good to hear from the perspective of someone that's, I wouldn't say just starting out in it, but you've been in it for a while now.
Ashley Bozeman:
Yeah. But basically, yeah.
Maurice Cherry:
Yeah, but I mean to get the perspective of what is it like for you now at this stage? I mean, 2020 for all intents and purposes, is the future, in a lot of ways.
Ashley Bozeman:
Yeah, I know. It's scary.
Maurice Cherry:
Yeah, and I mean it's good to know that you're at a position where you're able to craft the images that a lot of people see when it comes to representation for a number of different brands and companies, et cetera. That's a really big mantle to hold. So it sounds like definitely you have the creativity and the skills to make it happen, and I'm going to be really interested to see what you work on in the future. So thank you for coming on the show. I appreciate it.
Ashley Bozeman:
Oh, my God. Thank you so much for having me. This has been fantastic. It was lovely to talk to you and yeah, just thank you so much for having me on this platform, and hopefully that this'll help or inspire someone else.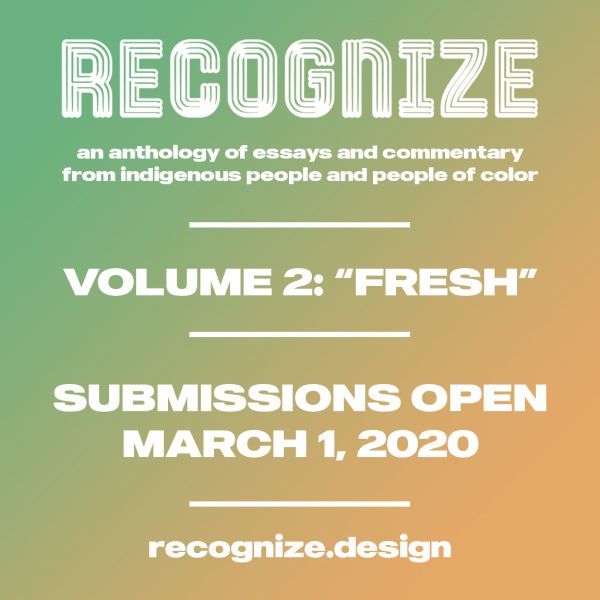 RECOGNIZE is open for essay submissions for Volume 2! The deadline is April 30 – enter today!

Sponsors
Facebook Design is a proud sponsor of Revision Path. The Facebook Design community is designing for human needs at unprecedented scale. Across Facebook's family of apps and new product platforms, multi-disciplinary teams come together to create, build and shape communication experiences in service of the essential, universal human need for connection. To learn more, please visit facebook.design.
This episode is brought to you by Abstract: design workflow management for modern design teams. Spend less time searching for design files and tracking down feedback, and spend more time focusing on innovation and collaboration. Like Glitch, but for designers, Abstract is your team's version-controlled source of truth for design work. With Abstract, you can version design files, present work, request reviews, collect feedback, and give developers direct access to all specs—all from one place. Sign your team up for a free, 30-day trial today by heading over to www.abstract.com.