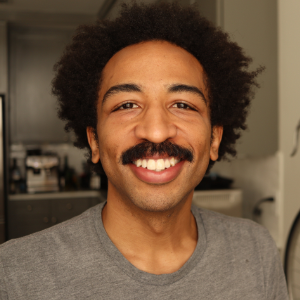 There are so many options these days when it comes to learning how to code, but which is the best one for you? We all learn in different ways, and software engineer and educator Brandon Campbell-Kearns is just the person to help unlock what you need to succeed!
We spent the first part of our conversation on his business Quarterly Learnings, including his current web development course through Atlanta nonprofit City of Refuge. Brandon also talked to me about how first got into tech, and about how his stints teaching in Guatemala and Korea, as well as here in Atlanta at General Assembly and The Home Depot, helped guide him towards his current work. He even shared some great advice about breaking away from tying a job to your self-worth — something I think a lot of people can learn from during this current time.
For Brandon, understanding what lights him up has given him the drive to succeed. (Well, that and some lion's mane mushrooms.) I hope this interview helps get you on the right track to finding your spark!
Interview Transcript
Maurice Cherry:
All right. So tell us who you are and what you do.
Brandon Campbell-Kearns:
My name is Brandon Campbell-Kearns, and I really like to teach. And mostly software engineering. That's what I've been doing lately, so that's what I am. I'm an educator and a software engineer, a hybrid.
Maurice Cherry:
Oh, nice. How has this year been going for you So far?
Brandon Campbell-Kearns:
So far so good. Coming up on halfway, feeling good about it, learning a lot about myself through this year, but for sure, really, really enjoying 2023.
Maurice Cherry:
How would you say, when you look back at this time last year, how would you say that you've maybe grown and improved? Have you noticed anything?
Brandon Campbell-Kearns:
Yeah, I think so. A lot of change has taken place. I think the biggest thing is self-reliance. And that does not mean a hyper independence where I don't need anyone else, but more so jettisoning, previous dependencies that were helpful but not necessarily required in order for me to thrive and be my best self.
Maurice Cherry:
Jettisoning dependency, it sounds very much like what a software engineer would say.
Brandon Campbell-Kearns:
Right, I totally outed myself, didn't I? Yeah. It's either like, yeah, I'm a software engineer or a pilot, right?
Maurice Cherry:
If you don't mind me diving into that, what are some of those things you've kind of like jettisoned?
Brandon Campbell-Kearns:
Totally. So I'm going to zoom out just a little bit to answer that. So growing up, I was a pleasure to have in class, as they say, you know what I mean? So a lot of my self-worth, I've outsourced into that progress report comment like, "Oh, how is he doing over this past nine weeks?" This is not unique to me. I think a lot of us had that experience, and then it's like, okay, so my whole identity is being a good student at that point.
When I got into the workforce, it just became a paid version of that. So it's like, oh, a pleasure to have in class turned into 2.5% increase or 3% increase and some shares or whatever it is. Now, am I upset about the incentives for working? Not at all. It's just that for me, I knew that I was following that same trajectory that had already been blazed in grade school, and I needed to divorce myself from that cycle unless the entirety of my self-worth be wrapped up in my salary, and I did not want that feeling, and I did not like that feeling.
So this is something that I don't tend to make very rash choices. I think about things for a long time, and I observe them for a long time to make sure that the patterns I'm observing are in fact correlated and not causations or the other way around causations and not correlations. So saying all that to say, in the past year, I left a job that was on paper, a great job, and even in practice a great job, but it was thus far, the zenith, the peak of that pattern that I was talking about of tying my self-worth to the prestige and the title and the salary.
Obviously, well, it's not obvious, but to me it's obvious. I was enjoying the work, but I wasn't enjoying how I was viewing myself through the work. So I left the job in order to create my own thing. I got a little tired, Maurice, of getting paid the same no matter what I did. And I understand people hearing this, might think that that is an ungrateful thing to say or a privileged thing to say, but for me, I know what I'm working with and it's like already having that foundation of maybe a bit of entitlement that I wanted to work through. So I'm actually using my career as a means of working through that. Because I mean, there's nothing else. Not like there's some other part of my life. My career is a part of my life, so there's no way it doesn't affect those cycles, if that makes sense.
Maurice Cherry:
When did you decide to leave your job? Was this last year?
Brandon Campbell-Kearns:
Yes. It was May 13th of 2022.
Maurice Cherry:
Oh, wow.
Brandon Campbell-Kearns:
So to circle back, those are the dependencies I was referencing, the sort of emotional dependencies that I'm jettisoning. And now it's depending on me, my output. So currently, if I don't have a contract after June, I won't have money after June, and that is definitely much harder. But it's also, it's exciting to me.
Maurice Cherry:
It gives you something to strive for.
Brandon Campbell-Kearns:
Correct. Instead of waiting on a cycle that is outside of me.
Maurice Cherry:
Well, let's talk about what you're doing now, which you know said you started your own company. It's called Quarterly Learnings. Talk to me about that.
Brandon Campbell-Kearns:
Yeah, Quarterly Learnings. Yeah, so it's for sure a play on the… Very much related now that I think about it to what I was just talking about. So the idea of a quarterly earnings report or call that companies have, there's one angle there, but it's meant to be an appeal to that way of thinking. But we should now think about what we're learning every quarter, what new capabilities do we have as an organization or also as an individual. And I think we should put just as much energy, I could even argue for more into learning in our organization as we do into the finances and the financial reports, et cetera.
So I created Quarterly Learnings because I've spent a lot of time with various organizations building out either internal learning organizations or actually just hosting and teaching workshops there. So I figured that I would create a business to wrap the freelance work that I do there around. So that's what Quarterly Learnings is all about. For me it is a personal thing because it's related to that, those cycles I talked to you about before, but also I know it can have an impact because I've seen it happen with the dozens of workshops that I've run at across organizations in industry.
Maurice Cherry:
How has business been going?
Brandon Campbell-Kearns:
Just getting started. Really good for just getting started. Currently teaching a class at a nonprofit here in Atlanta, which is really fun. So so far, business really just kind of looks exactly like the work I was doing before, meaning still teaching, but doing it in a company, with a big difference being now I have to send invoices and everything I do is representative of the business. There's no one I can point to for like, "Hey, this is your fault." Or, "I would like to have this." It's really, everything's on me. The next client that I get will be because of either my past work or something I did to get them. So of course that's a challenge.
But so far, so far it's been good. I've also, with the name Quarterly Learnings and also just by choice, I've been able to also have a bit of a consulting arm. For example, there's one client I have who wants to learn a little bit more about how to modernize an organization he's working with. So I'm putting that under the same umbrella. So it's not just teaching on a workshop level. It's also a consulting component for me.
Maurice Cherry:
So you mentioned this nonprofit and this other business. What are the best kinds of businesses or clients for you to work with?
Brandon Campbell-Kearns:
Yeah, that's a good question. I really like the idea of working with this very small organization who needs to have someone in their organization be multi-dimensional. For example, we could take the example of Home Depot. I know we haven't quite gotten to talking about OrangeMethod yet, but that pattern is something I'd want to scale. For example, someone works at let's say a retail store or a call center, and that person or that department may be about to undergo a reorganization or a restructure in layman's terms, people are going to lose their jobs, but if they re-skill or have a new skill, then the value that they can provide to the organization evolves with their skills. So I like being able to stand in that gap and imbue those people who might otherwise not be useful to the company with a new set of skills that they can use to add value to their lives and also the company.
So for me, an ideal client is someone who has that problem, whether that is a large organization or just for example, a local law firm that has a few, let's say, paralegals that they don't need, but they do need some technology infrastructure to be built out. So let's teach those paralegals then how to do that. Now they have both skills and the job that they may not have had since the organization needed to reallocate its capital.
Maurice Cherry:
I'm looking around on your website now. I see you're on YouTube, you're on TikTok. You have a podcast, and I want to get into the social media part in a bit, but tell me about the podcast. How does that sort of work along with what you're doing?
Brandon Campbell-Kearns:
Yeah, totally. So the Quarterly Learnings Podcast. A lot of people ask me, what do you like to do outside of work? But I really honestly am obsessed with the idea of learning a new skill, mostly because I think, or I know that learning how to code changed my life, and I did not have experience with software prior to learning. So I really like preaching that gospel and talking about that so that others can maybe have a similar experience.
So so far, I've interviewed people either about learning or organizations that they've been in who have learning as a primary focus. What I'm doing now is starting to interview my students, a couple of my students in the class so that I can hear about their actual day-to-day learning experience with me as an instructor. That's not necessarily the focus, but it is interesting to me to see.
I think that especially with technology, it's not the same instructor learner relationship that we're used to in, I would say, traditional education. So I really like being able to have conversations with my students that may not focus specifically on the technical components, but more on the emotional work that's required to learn a new skill like software engineering. So yeah, that's where I see the podcast going. We're still in early days, but it's so much fun. Shout out to you for doing this for so long. It's so much work. Especially, I'm pretty sure starting out you were kind of doing everything and that's where I'm at now. Soon I'll have a team like you.
Maurice Cherry:
Yeah, starting out, I mean, I think it's a lot different to start a podcast now than it was 10 years ago. I'll just put it that way.
Brandon Campbell-Kearns:
That's so true.
Maurice Cherry:
I think you're on anchor, right? You're using Anchor?
Brandon Campbell-Kearns:
Yes.
Maurice Cherry:
Yeah, Anchor didn't exist back then. If you started a podcast, you put it out and there were a handful of audio hosts. I think I've been using the same audio host for 10 years now, Simplecast, but there were a handful of audio hosts. But the learning curve now. To start your own show is really easy. I think as long as you have a Spotify account, you can start a podcast. It's not a big step to start making your own content that way.
Brandon Campbell-Kearns:
That's true. Yeah, exactly. And for me, the biggest step was, to your point, not at all the technical stuff with, any of the hosting or logistics. It was completely behavioral. Like, yep. Just do it. You know the ideas. You've even written out the scripts. You have some guests, all right, let's send some emails.
Maurice Cherry:
Send emails, and then get the timing together. And it takes a while at least, I think when I did it took a while to finally get into a good rhythm.
Brandon Campbell-Kearns:
Yeah.
Maurice Cherry:
Because the industry matured as my show went on. And so there were always new microphones, new scheduling tools, new this, new that, and you just try to find what works for your schedule because it's so easy to just try to hop on whatever the newest thing is. I've used roughly the same setup for the past, I want to say five years. I haven't really changed it a whole lot. Because I finally found something that was like, this is bulletproof whether I'm at home, on the road, whatever, this is what I'm going to use. Because there's newer things that have come out, but I'm just like, no, but this works, so I'm going to use what works.
Brandon Campbell-Kearns:
Are you talking from an equipment standpoint or from hosting or just all of it?
Maurice Cherry:
All of it. All of it.
Brandon Campbell-Kearns:
I love that. You know why I love that? Because it's so easy to get caught up in the hype cycle of having the latest, and I think I observe this a lot with my students. Like, "I have to learn the latest framework." Or even in life, like, "Oh, I need the latest car or a pair of shoes or whatever." And it's like, maybe, maybe.
But it's more important to me, I like to think about this idea of levels versus resonance, so kind of like a scaler scale up and down compared to one that's rooted in a frequency that aligns with you. Because one suggests you have to get to the next level, and, maybe, but it's usually those levels are externally defined, I found for most people. But if you're thinking about resonance, then it's like wherever you are, whatever the actual value is, you can resonate at that place as long as you accept what's happening. So it's like, okay, this equipment is working for me. What would be the point to change it? Unless I was trying to keep up with something outside of me, but you're not, you're running your own race.
Maurice Cherry:
Yeah. That's one thing, and we'll get to talking more about you and your work, but yeah, that's one thing where especially doing a podcast, because there are so many podcasts out there now, you try to do what you think other people want. You try to model your show and you try to maybe do a certain release schedule or do a certain social media push or something to try to attract the audience that you think you want to have. Instead, you have to focus on the audience that you already have and making those your rabid fans because those are going to be the ones that will talk about your show on your behalf when you're not there.
In my early days, I know I spent a lot of time trying to do, and that's not to say this is a bad thing to do, I think it is still a good thing to do for beginning podcasters, but I remember reaching out to a lot of podcasters in the beginning, particularly other design podcasters and getting nothing, no response or getting a negative response. Because also I'm Black doing this and there's not many, I don't think I was the only Black person, but I certainly was one of few. So I was not getting a lot of good feedback from trying to reach out to other people to collaborate or maybe exchange guests or stuff like that.
It just wasn't happening because of the one, I think because of the purpose of the show, and two, it was just a different time back then. I don't think people realize back in 2015 how vehemently racist it was in the tech industry. Especially with trying to do something along with tech media. It was just people are like, "Why are you talking? Why are you even saying anything?" And I guess you would say now it's a different story, but I don't know, culture changes and society changes in such interesting ways. I feel like in a way there's a bit of regression over the past year as it relates to some DEI. I'm using that in air quotes, but that sort of stuff. It's been interesting. But yeah, it's easy to try to model what you think is going to be the thing that will make you big as opposed to just focusing on getting better at exactly what it is that you're already doing.
Brandon Campbell-Kearns:
Right. Dialing in. Dialing in on your own deal. Yeah. That's good. I like that a lot.
Maurice Cherry:
How has social media helped with your business? I know you're, like you said, doing the podcast, but you're also on YouTube, you're streaming on Twitch. You're on TikTok. How does social media help out with your business?
Brandon Campbell-Kearns:
Right now, to be upfront, I haven't gotten any direct leads from social media, but that doesn't mean that it hasn't helped with the business because in this case, as of right now, I am the business. So any sort of either validation or feedback or engagement I get with anything I put out online is helpful to me because I use it as input.
So for example, on my Twitch stream, I've gotten feedback about very tiny things like, "Hey, this audio sounds weird," or "The way this is laid out makes it hard to see." And even one of my students last week told me about how I had my OBS scene laid out and how it would be better if I had a smaller headshot of myself so they could see more of the code and they would also like to see what is happening there. So those sort of things are helpful because that really is the work. It's presenting information. So any feedback around that is really helpful.
So those are auxiliary pieces of feedback that lend themselves to the point when someone will see a piece of content I've put out and say, "Hey, oh, okay, yeah, we could use that. We'd like to work with you to have a workshop on X, Y, Z." Let's say React for example, or how to do Flexbox in our layouts.
By the way, I'm not at all threatened by the prospect of them being able to just ask an AI assistant or chatbot or anything like that about how to do that, because that's very possible these days and I think it's a great thing. The thing that I provide is context within the given work stream. In other words, I can create a custom either curriculum or build out a prototype with a team that sure, an AI could do, but it requires a lot more custom work and inputs to the chatbots to make this work. It's really difficult to replicate the in-class instruction experience.
Maurice Cherry:
And I'm curious about that because we've seen AI really, I think, enter the mainstream over these past nine months. And one application that I've seen a lot of people using it for is for coding. You can tell ChatGPT to write you a function or write a program, and the code that it spits out is decent, I guess. I'm not a coder, but from what I've seen, the code looks decent. Have you found that to be an impediment to teaching, or does that help out with what you're doing?
Brandon Campbell-Kearns:
It really depends on the student. So I saw someone in my class using ChatGPT, and I love it except for the fact that they were using it to kind of check the box to paste like, "Oh, I asked it how to do this and it did it. I'll paste it in and submit my homework." That is not the best way for a human to use ChatGPT to learn something. If you just needed that capability, that's exactly what you should do. Okay, it does what I want to do, but this person, they're in the classroom to gain the capability themselves. So in that instance, still ChatGPT is not a threat to me, it's a tool that I can use to help this person best navigate the information. So you still have to know where to put the things.
So for example, if we were carpenters, it's true that here's all this wood, here's some nails, here's some hammers, and here's a saw. Let's say those are the raw materials. That's everything you need to build, for example, an Adirondack chair. I don't know why I'm thinking of those, but if you don't know either A, what that is, or B, anything about let's say perspective or what the actual client wants and how to turn a set of requirements into an output, then having all that information or that raw material is not going to be as helpful to you. And then of course I have other students who use it well. Like, "Hey, introduce me to this new concept, this new framework that I understand the," let's say, CSS, for example, "I understand CSS, but I don't quite know how to use Tailwind as an example." ChatGPT can help you get there to remove some of the, let's say, boilerplate and get you right to being able to interpret what its output is.
Maurice Cherry:
So it's like a good partner almost, but not a replacement.
Brandon Campbell-Kearns:
Exactly. It's your partner. It's your, truly an assistant is how I'm seeing it. Now, is it true that there are some who might have overvalued the commodity of writing particular pieces of software? Yeah. So to me, software is a very much a humanistic in person to person game, and I understand that that might seem counterintuitive because it happens on the computer, but usually we build software with other people and for other people. So if there's not a human input, there's not going to be a very humanistic output.
Maurice Cherry:
Gotcha. Now you're teaching both online and offline. I saw that you started back teaching in person in February this year. Tell me more about that. You said it's with an Atlanta nonprofit?
Brandon Campbell-Kearns:
Yeah, so it's with this nonprofit in Bankhead called City of Refuge. And what I'm doing now is in the middle, we're about halfway through a 16-week cohort folks who don't have any software experience at all, and they are, through a Department of Labor grant, able to attend this course at no out-of-pocket cost to them for 16 weeks every day, Monday through Friday, nine to four, and we'll build four projects. The traditional bootcamp model, we'll build a few projects, they'll have the skills. As you may know, there's no tests or anything to take for software engineering. So I'm viewing it as, of course there's the skills component, but you also have to know how to market yourself in order to be successful.
It's a good course, a good group of people. I've got about 18, 19 students right now, which is sort of a big class, but I've got two TAs who are fantastic, so they're really helpful as well, and it's just really fun to be back in my zone. I've taught online before, and it's good because it's easy to put people into breakout rooms. I have a little mini keyboard here that I can play in the meantime where we're having transitions or if I want some sound effects. That's really fun. Having said that, it does require me to be in this room or some room for an extended period of time, eight hours. That's also true in person, but at least I can walk around the room, see what folks are doing, interact with folks, smell breath, that kind of thing.
Maurice Cherry:
Not smell breath.
Brandon Campbell-Kearns:
It's an important part of the experience.
Maurice Cherry:
What do your students teach you?
Brandon Campbell-Kearns:
I think they don't believe me when I tell them that I'm consistently learning. Even though I've been doing this for a little bit of time, coming up on eight years, I learn every single lesson, whether it's a tiny nuance in the code or whether it's some perspective about the code that they have that I just don't, always learn it from them.
One of the biggest things I think is every single person has a different proclivity to dealing with discomfort. Some people have a hunger for it. Some people have an immense aversion to it. Some people are neutral. They're like, no, it's uncomfortable, but they don't want to do anything about the discomfort. It's fascinating for every single person that, let's say, coefficient or that value is different. So for me, the fun part is seeing the different ways to navigate that, because regardless of the person, there's for sure a moment where you have to face the feeling of, I don't know what is going on here. This is such a new thing to me that I don't know what it is. So dealing with that is fascinating to observe.
So I get to see different perspectives on how to deal with, in some senses, it's conflict. In some senses, it's like, I don't want to use the word inadequacy because it has a risk of sounding like they're inadequate, but the feeling of, I don't know this and I want to, could be handled in infinite number of ways. That's the thing I learned. It's the different approaches to that and where I fall on that spectrum within things.
Maurice Cherry:
Let's kind of switch gears here a little bit and kind of learn more about you. I feel like we're of course learning more just through you talking about how you teach, but I'm curious to get your origin story. Are you originally from Atlanta?
Brandon Campbell-Kearns:
No, I am from North Carolina. I was born in Fayetteville, North Carolina, near what some people might recognize, Fayetteville for Fort Bragg, and then I moved to Charlotte, North Carolina when I was five, and then spent my whole childhood in North Carolina.
Maurice Cherry:
Were you interested in tech as a kid? Was that something your parents have tried to get you into?
Brandon Campbell-Kearns:
I had an interest for sure. So my grandma used to take me to computer expos as a kid. She was also my first AIM buddy. It's really wild. She's way ahead of the curve. So that's what really got me interested in the idea of gadgets as a toy. Just learning about really just the interfaces. Wow, you can do this from nothing. It was really a whole new way to be interactive. Because up until then, it was just the TV and the radio and maybe let's say an Etch A Sketch or a Lite-Brite for interfaces that you could modify and having something different happen.
So the computer was nuts to me because it's like you get online, you click on something and then there's some other information, and then when Limewire was popping, it's like, oh, I can get music. So that was always really an interesting thing to me, but I was never a practitioner. I was always kind of a power user. When I tell people that I didn't have any tech experience before I learned how to code, it's true. But I was very, very familiar with the interface, like the computer itself. Itself was not foreign to me.
Maurice Cherry:
Now you eventually went to college at UNC Chapel Hill. What was your time like when you were there?
Brandon Campbell-Kearns:
Yeah, it was good. No, still no coding. I took a little visual basic class in high school, but at the time, honestly, I got turned off from the profession because, it wasn't the work, it just didn't feel like it was for me. You know what I'm saying? It just didn't line up. I didn't see anybody who I felt was cool doing it. Not to disparage anyone, but there was a lot of neck beard energy, if you get what I'm saying.
Maurice Cherry:
I get what you're saying.
Brandon Campbell-Kearns:
And it just didn't feel like it was for me. So I took a long, long hiatus, pivoting to college. I did nothing related to software there. I studied political science and Hispanic studies. That period of four years was, for me, I was continuing to chase prestige that I alluded to earlier. So I went from everything from a major standpoint, I transitioned all over the place.
First I wanted to be a business student, then I wanted to be pre-med. Then I wanted to do the pre-law thing. Really what I wanted was prestige. I wanted a good answer to, "What do you do?" And by good, I was not defining what good was. I was letting that be something that I perceived other people would say is good. I'm saying all this to let folks know that that's not a good carrot to chase in my view, in my experience. Chasing after prestige in how other people might respond to what your job is a bad, bad journey. In my opinion. I'm sure there's people who have done it and are doing it and it's working out for. I'm just after a different thing, that internal resonance more so than external comparisons and validations.
Maurice Cherry:
No, it's bad. It's bad. I can say that. No, I mean, and the reason that I say that is because, and you probably have seen this too, there was certainly a time, I would say this time maybe is still going on, but certainly I think within the past 10 years, there has been this really big push to try to get kids to learn how to code. And that's not to say these are bad programs. Shout out to Sure. Black Girls Code. I think there's a Black Boys Code, all this stuff too. But those are good platforms because what it does is it at least gives them exposure to it to see if this is something that they would like to do or they would like to go into.
But the problem comes when it gets pushed on them to this point where it's like you have to do this as a means of improving your life, getting generational wealth, uplifting the race. I'm probably taking a little bit too far by saying that, but these were the kinds of arguments at some point that a lot of people were pushing towards getting into tech. It was less about, "Oh, I'm doing this because I love programming, or I love building things," but it's like, "I'm doing this to be the next mega capitalist or something."
Brandon Campbell-Kearns:
That's exactly correct. I agree with you big time. I am team learn about software and technology and computing because it helps you to think and because it helps you to navigate the world that we're in. It's almost like if you're a fisherman, you better understand at least a little bit about fluid dynamics because the way the water works and is this saltwater, is this freshwater? How are the fish going to behave? You can't become a fish, but you can understand as much as you can about the environment that you're trying to navigate in.
To me, software is like that, and I agree about the pressure that we might be putting on some kids. It just changes from, let's say, oh, nuts that I'm old enough to say generation to generation and be able to reflect on another one. But when I was coming up, it was kind of similar, like, oh, he's smart. People would love to be like, "Oh, I'm living with you when I get older." And it's like, can I get a place first? So, yeah, I 100% feel you about the pressure we might be putting on kids to learn to code as a means of changing the narrative.
Now, it's true that it's possible, but to me it's way more interesting to look internally and see how we might be able to change our own personal narrative. And then what actually resonates with people is seeing someone who's operating in their own frequency, who's in their lane, that's attractive, and then you're marketable.
Maurice Cherry:
Yeah. So while you were in school, you mentioned sort of bopping around and trying out these different sort of fields. I saw that you talked for a bit in Guatemala while you were in school. What was that like?
Brandon Campbell-Kearns:
Yeah. Totally. It was cool. Just a short little two week trip. So I knew Spanish and this organization called Safe Passage, where the first week it was just immersive doubling down on our language learning. So I knew the language, but not in a native tongue way. So worked with the tutor for a week, and then the next week we were at a school, an organization called Safe Passage, like I said, had a school in this neighborhood that we would go to and teach the kids daily. It was really nice.
I think that was one of my early formal teaching experiences, and I kind of fell in love with the idea of it being an impactful thing. I think it's pretty clear that teaching is something that has the opportunity to really impact someone's life, but in that case, and especially with it being my first introduction to it, to me that became the primary reason to teach. It was because I knew that I was having, while it was very short and only a week long, I knew for sure that I was having an impact on these kids' lives. Well, mostly because by the end of the week, they were crying that I had, that we were leaving.
Maurice Cherry:
Oh.
Brandon Campbell-Kearns:
Yeah. So that to me, shifted what education mean or what meant, or what being a teacher meant. It's like, you're not just up there passing the time. You're having a big impact on this person's life.
And I still bring that with me today, which is why I think it's especially what I do on a day-to-day basis, teaching folks how to write software. The information's out there. It's not about me telling you what to do. It's more about me observing you on this journey and get using my experience to say, "Hey, the way you're approaching this might not be sustainable for your continued learning." Or usually it will be some sort of a technical thing. But to me, I over-index on the, what some might call the soft skills or the emotional components of learning. But Guatemala was great, so I get a little excited when we start to talk about teaching because I go right to that. But to answer your question, Guatemala is a fantastic time. Would love to go back. Anybody's going, I recommend visiting Lake Atitlan, and there's a volcano not far called Volcan Pacaya, lovely. Walking next to lava, just underneath your feet. Absolutely crazy.
Maurice Cherry:
Lava underneath your feet. Not actual molten lava?
Brandon Campbell-Kearns:
Actual lava to where you can't touch it. To where my little hiking shoes were getting warm.
Maurice Cherry:
Oh my God.
Brandon Campbell-Kearns:
Yeah. It was a little nuts.
Maurice Cherry:
Yeah, that's a little nuts.
Brandon Campbell-Kearns:
But it was a big exercise in trust. Because the people who were taking us up, I saw people coming down. I saw people going up. So I'm like, all right, if hope it works out. It's cool when they do it's a problem when I do it situation.
Maurice Cherry:
Now, after you graduated, you also taught in Korea for a year?
Brandon Campbell-Kearns:
I did.
Maurice Cherry:
So how was that experience? Was it sort of similar to Guatemala?
Brandon Campbell-Kearns:
Yeah, it was very different from Guatemala. For me, I thought it would be easy because I was teaching English, and I knew and still know English. I like to think I speak English pretty well, but teaching English is not the same as speaking English I learned real fast. Because my students, they were kind of like expert students, if I can be honest. They were in school all day, probably similar hours to our students here. And then after that, I worked at what's called the Hagwon, which is a private academy.
So from 4:00 PM to 10:00 PM I had students. So in three hour sessions, four to seven was the what would be equivalent to elementary school over here, students, and then 7 to 10 were the high school students that I had. So they were used to having those Hagwons after school every day, the private academies, whether it's math or maybe software engineering or computer science or English in my case, or there's physical fitness ones as well. So they knew what they wanted out of an instructor, and they knew how to be model students. So they also shared that information with me. Very critical of the teaching.
Not in a bad way. At first, it kind of rubbed me the wrong way, but then I realized, oh, this is feedback to use and grow from. Just because they're 11 years old doesn't mean that you can't listen and learn from what they're saying. I wasn't thinking this then, but in hindsight, they're customers that are giving me feedback about the product, which is my countenance in class. So it was very hard.
But since I had a year, it allowed me to have periods where I could reflect on my growth. I was not as self-aware then as I am now. And I think there'll be a point in the future where I will be more self-aware than I am now. So at the time, I wasn't able to clearly reflect on it as I can now, but I do know that I was able to, since I had a year, use that period as a time for growth. Even if I wasn't aware of the growth, it's still happening.
Maurice Cherry:
We've actually had a couple of people on the show that have taught English in Korea. I think the last person I had on the show was, I'm going to butcher her name…Matshoshi [Matsafu]. I'm going to butcher her name. But I did have someone on the show last year.
Brandon Campbell-Kearns:
A few episodes back?
Maurice Cherry:
Yeah, a few episodes back that she's currently at Microsoft and lives in Minneapolis, I want to say. But she taught English in Korea as well. Did you want to stay after you had done your year? Did you want to stay there?
Brandon Campbell-Kearns:
Yeah, I did. I even considered going back once I came home. But here's the reality. I've never said this out loud. I don't know what happened, but I got fired at the very, very end of my contract.
Maurice Cherry:
Oh.
Brandon Campbell-Kearns:
Which, if I could just have a brief aside, I'm so hyped for myself that I felt feel comfortable just saying that without hiding it. Because I really still have no idea. And even, I wish I could know, it was 10 years ago, it was like a week or so before my contract, and they fired me. I have no idea why. I later found out some maybe not great things were happening at the Hagwon I was working at, that particular location, but I don't have any ill will towards any of them. I'm just answering the question. I did want to stay and even considered going back, but once I got here to Atlanta, it was like, oh, well, maybe we could do something else. Let's actually get a set of skills that's a little more concrete. Let's add to this.
Maurice Cherry:
So you left Korea, came back here.
Brandon Campbell-Kearns:
Was kicked out of Korea.
Maurice Cherry:
Was kicked out of Korea, sorry. What brought you to Atlanta? Why I go back to North Carolina?
Brandon Campbell-Kearns:
Right, totally. Okay. So here's the true story. I was looking to for flights back, and the flight back to LaGuardia was something like $60 less than the one back to Raleigh in North Carolina. So I had an aunt that lived there, so I just called her. I was like, "Hey, I don't want to go right back to North Carolina. Can I just kick it with you for a while?" So I lived with her for a year in the tri-state area, in Bergen County, New Jersey. And from the outside, that period would look like I wasn't doing anything. For me, a lot was taking place.
Up until then, my identity was, like we talked about before, was being a student. My identity was that cyclical nine week he's a pleasure to have in class a feedback loop. And I didn't know what life was like outside of that. And even as a teacher in Korea, it was about giving that feedback, "Oh, they're doing great." And then experiencing life inside of an institution. That's really what it was. Not to say to disparage that idea, I think the word institution might be loaded, but it's the truth. I was still a part of a school.
So I needed a period of time where I was not that. I needed a break from that, and I really just needed nothing going on. So that's what that year was for me. I was working in a restaurant, just trying to figure things out, become an adult. It's my first time other than Korea being on my own, but also outside of, like I said before, an institution. Good year. For me that year is probably about detaching from needing others for every single thing. More about learning how to be independent.
Maurice Cherry:
So why Atlanta?
Brandon Campbell-Kearns:
I came to Atlanta because my sister lived here and still does. And I realized that I hadn't spent that much time with my niece and nephew, and they were, let's see, they were five and eight at the time. So made another phone call after a year in New Jersey and was like, "Hey, thinking of moving down to Atlanta, can I stay with you?" So she was like, "Yes." She was on board. So I'm so so grateful for her for that year. I lived with her for about a year, and during that time I got a job teaching English online to Koreans. Not the same group, but this time it was online. So it's on the phone 10 minutes at a time.
And that was when I said, "Wait a minute, I'm spending a lot of time online. Why can't I be a person who is responsible for creating experiences online? What would that look like?" Because sometimes you visit a website and it makes you feel stuff, which is nuts to think about. I was like, oh, I want to be a purveyor of those emotions, or at least have the skills to do so. So I started to try to teach myself how to code through Code Academy and other things. I even have a notebook that I try to take notes in, but I quickly learned it's not a humanities profession. You have to actually learn by doing, I should say. And after being a little bit frustrated with the experience for me working in restaurants and kind of wanted my own place and all these sorts of things, I finally decided to enroll in a bootcamp called General Assembly. And that's when I finally had a career that I felt empowered by.
Maurice Cherry:
You were at General Assembly for a while, the one down at Ponce City Market, right?
Brandon Campbell-Kearns:
At Ponce, yeah. So I took the course for a year, the boot camp, excuse me, not for a year, for 12 weeks at the boot camp. And then I almost immediately started working there as a TA for the front end web development course because, one, I knew I had teaching experience and I had the suspicion that teaching web development would make me better at it, and I was correct. So yeah, I did work there for a couple years on and off doing sessions even after I had already started working at Home Depot.
Which I was talking about this with one of my current students last week, and they were like, "Well, why did you keep working when you had already gotten your software engineering job? Why were you working two jobs?" And in some senses the answer is, well, that's what I was used to. Having to work two jobs in order to keep things going. So that was still part of my psyche, my DNA, of like, okay, well, we got to keep working. That wasn't the case from a need standpoint, I would say there wasn't a financial gap, but it's just what I liked to do. That's how it became clear to me, oh, you just like teaching. That's why you're doing it even when you don't need to do it.
And even my manager at the time was like, "You don't need this job. Why are you doing six extra hours a week in person of teaching?". But it's really because I liked it and at the time, it wasn't obvious obvious to me, but it's clear to me now that this is really what I'm about. Especially when I'm teaching in person, when I'm engaged with a person, and at any point on their learning journey, I get so excited because it really is like, you know how you see people on stage like a hypnotist and they're watching somebody's brain just evolve and their physical behavior and all that changes because of what that person is talking to them about or navigating them through? That's how it feels for me. Like I am watching a state change in somebody's brain take place in real time, and it's fascinating.
Maurice Cherry:
Nice, nice. So after your time at General Assembly, you went on to work for The Home Depot for a few years, and you taught there as well. You were a founding instructor for their kind of internal employee education resource called OrangeMethod. Is that right?
Brandon Campbell-Kearns:
That's right. Yeah. OrangeMethod was great. It's still there. I think they're doing a slightly different thing, but very much in the same vein, I had gotten a reputation for being someone who shared knowledge on my team, which was surprising to me. Coming out of a bootcamp, I thought, and this was the case, but I thought I would be doing most of the learning. That was for sure true, but I definitely didn't expect that I'd have any knowledge to share. It turned out that that was the case. And I always tell my students that also. Software, it's not 100% about the technical aspects because we're building software for human beings most of the time. So one's human experience is something to have as input into how the software's created.
But anyway, I had garnered that reputation for sharing knowledge that I had. And one day someone DMed me on Slack and was like, "Hey, what would it look like if we tried to scale the work you've been doing on your team across the organization?" So I was like, "Oh, I don't know." Maybe for me, a starting point was, well, maybe we could have a similar structure as the bootcamp I experienced, but make it custom to what outcome we want those folks having. So I started with that and I put together a little pitch deck for the director who messaged me and presented it to him about a week later. And then about a year later, everything that was on that pitch deck became a reality. They actually built out a physical space, I think four or five, maybe six classrooms, built out a team and actually started a cohort in, I think 2017, early 2017. So that was fantastic.
Started out with folks who worked in stores. Actually, no, first we started out with folks who were internally already at the store support center, which is the corporate headquarters, and who already knew the internals of more or less a corporate environment and then gave them the skills. And then from there, we moved on to having store associate cohorts, which that was a lot more fun because it was also learning the corporate environment for them, and also things like they didn't spend much of their day writing emails, but now a lot of the way to communicate is written as opposed to in the store it's a lot more verbal communication. So overall a good experience, really glad to have worked there. It's a great place to work.
Maurice Cherry:
I mean, I've heard really great things from people that do work there. And I don't know if this might have been the case for you, but I've heard that there is sort of this pipeline from General Assembly to The Home Depot in terms of graduates ended up working there. Is that what happened in your case?
Brandon Campbell-Kearns:
Yeah, I was actually Home Depot's first boot camp hire.
Maurice Cherry:
Wow, look at that. Making history.
Brandon Campbell-Kearns:
From a software engineering standpoint, they might have had some other designers, but I was the first person in the full site cohort to get hired there. And then from there, I definitely referred to a lot of people. So I'm really happy that they continue to believe in the prospect of having someone without, for let's say, collegiate experience as a software engineer and having that be a thing going forward.
Maurice Cherry:
Cool. What have you learned about yourself through this whole process? I mean, it sounds like you really sort of caught the teaching bug first in college, and then you've continued to do it not just internationally, but then also here in the States as well. As you've been doing all this, and even now as you're building your business, what have you really learned about yourself?
Brandon Campbell-Kearns:
Lately, what I'm thinking about is I've talked about the idea of chasing prestige before, and I'm still at risk for that. So the big thing that I've learned is that realizing a tendency or a particular behavior pattern is not the same as addressing it. So I still know that I have the tendency to seek prestige, and this usually manifests itself in doubting the path of really doubling down and tripling down into teaching and education, because I feel like maybe I should, in quotes, be a practitioner, someone on the field, and it's a false choice. I don't have to choose one or the other. I can be both, probably not at the same time, but I just have to get to a place and I'm getting there where I'm comfortable with the cycles.
In other words, okay, right now I'm in a teaching phase. There's nothing stopping me from finding a contract position to learn more stuff or practice more stuff or build more stuff and then cycle back out into a teaching phase. So the big lesson there for me is self-awareness and accepting what you become aware of about yourself rather than, again, looking outward for my validation or confirmation that the steps I'm making are for me. Because I know they are.
Maurice Cherry:
Yeah, you'll find the more that you get into your business, I mean, it is, I'd say for every person that starts a business, it's an extension of their cell themselves. And as you build the business, you're building yourself, you're learning more about your ins and outs and how you do things. Especially I think once you build a team too, you really start to learn more about that. Because then, I mean, it's not about you in terms of you having to be responsible for everything, but you now have other people that you're responsible for in terms of getting other parts of the business done. So you have to learn how to delegate and how to manage, and it's a whole thing.
Brandon Campbell-Kearns:
Totally. In your case, do you find your business actually behaves like you do? Like is it a scaled out version of you, or is it a part of you or something else?
Maurice Cherry:
That's a great question. It's a part of me. I'll say that because I can be very, I guess eccentric is probably a good way to put it. I can be kind of like a little hippy dippy, a little woo woo, that kind of stuff, right? But then when it comes to business, I am the exact opposite. I am serious documentation processes, and that can be a conflict for people, I think, because they may know me personally and they're like, "Oh yeah, Maurice is cool, da da da da." But then when it comes down to business, I'm like, "Why isn't this done?" And they're like, "Oh, you're different."
So I'd say it's a part of me because I do take that stuff very seriously. I mean, one because it's my livelihood, so I have to take it seriously. I mean, that's not to say that I don't inject some levity into business. It's not a complete Dr. Jekyll Mr. Hyde transformation. But when it's business, I'm about business. And when it's not about business, people that have worked with me and know me know that sometimes it's flipping a switch. It's like, oh, workday's over. Cool, let's go out. But when we have to get work done, we have to get work done. Because to me, one feeds the other.
So for me, it's a part of me. It's not a hundred percent me. I'd say probably when it comes to some marketing and even some communication and stuff, I can be probably a bit more lax than I would say be more serious. But when it comes to the actual invoicing and business and some communication stuff, I tend to be pretty strict and rigid. It has to this way. So it's an extension. It's an extension, certainly.
Brandon Campbell-Kearns:
That's really interesting. Really interesting. Are you Gemini? No, right?
Maurice Cherry:
Pisces.
Brandon Campbell-Kearns:
Got it.
Maurice Cherry:
Pisces, sun, Virgo, moon. It's the duality.
Brandon Campbell-Kearns:
[inaudible 00:55:24].
Maurice Cherry:
Yeah. So I can be very definitely creative, right brain, all that stuff. But then I'm also, when it comes to the business stuff, very logical, systematized, even to this podcast.
Brandon Campbell-Kearns:
You guys have systems in place.
Maurice Cherry:
These conversations are lax because there's a tight system behind it. Right.
Brandon Campbell-Kearns:
Yeah, buddy. It's lovely. I was loving all that. It's fantastic.
Maurice Cherry:
Now, aside from your business, what are you obsessed with lately? And I'm asking this because you mentioned earlier something about Lion's Mane, and so I'd love to hear more about that.
Brandon Campbell-Kearns:
Almost everybody that I meet and that I know I'm going to be around for an extended period, within the first day or week of knowing me. I'm probably going to pull up on you with a packet of Lion's Mane and tell you to put it in your coffee or have it as a tea. Lion's Mane is a mushroom. It is a legal mushroom. It is sold at the store. You can go to Whole Foods and buy some Lion's Mane. You could go to GIAS Wholesale in East Point and buy some Lion's Mane, local, Black-owned business plug.
And the thing about it is it has what they call it neuro-regenerative properties. So they used to think that if you lost brain cells, that was it. And side note, do your own research. I'm not a neurologist, but with Lion's Mane, it has been found that it promotes new neural connections, which is really sick. It's really important for learning too. And that's all really learning is just making new neural connections. So I have it every single day since about 2015 I have it. And the way I describe it anecdotally to people is having a cup of coffee is like turning up the volume where having Lion's Mane is increasing the brightness, getting a lot more clarity on just the lived experience.
Maurice Cherry:
I've seen people eat Lion's Mane. I've seen them prepare it like a steak or something. I haven't heard of it in a powdered form that you would drink though.
Brandon Campbell-Kearns:
Totally. Yeah. I've actually have cooked it earlier this year. Cooked it a few times, learning a lot about cooking mushrooms. You don't need to put oil on them at first. You let them saute out. Because they already are full of water. I was messing up big time to start out. So you let them saute out, get the juices out, and then you go in.
But yeah, you can definitely eat them. I found out about this company called Four Sigmatic that makes a powder, but there's lots of companies now that are doing this. The important thing is how it's grown and whether or not you're getting the fruiting body or the mycelium. I think so. And however, Four Sigmatic does it's the way I like it. I don't know which way it is, but how they do it is good for me. Because it doesn't cake up in the liquid or whatever you're trying to drink it out of, but a lot of the other ones get a little doughy at the bottom. You know how when you drink a mocha or something, the very last sip is just all the chocolate, it gets like that.
Maurice Cherry:
Yeah. It doesn't dissolve fully or something.
Brandon Campbell-Kearns:
Correct. Exactly. But the Four Sigmatic one does.
Maurice Cherry:
I'm going to have to check it out. I don't drink coffee.
Brandon Campbell-Kearns:
Those are my favorite words. When someone, "Oh, I'll look into it."
Maurice Cherry:
No, no, no.
Brandon Campbell-Kearns:
No, I'm serious. Because you're going to hit me up like, "Whoa, this is really working." I live for that moment.
Maurice Cherry:
No, because I drink tea. I think people that know me for as long as I've done this podcast know I'm a very huge tea drinker. Actually had a tea podcast back in 2015 at a daily tea podcast called The Year of Tea. So I drink tea every day at least two or three times a day. And the one I have in the morning is this mix of, it's black tea, I think it's like an Assam black tea and roasted yerba mate, and I'll, I'll have that together. It's called Morning Thunder. And that'll get me going probably for most of the day, probably at least until after lunch. It'll get me going. Then afternoon I may have a different yerba mate tea or something like that. But no, I'm curious about the mushrooms. Because I mean, I really like mushrooms. I like eating mushrooms. I haven't drank mushrooms. I've not had them even in the illegal sense, but curious about the Lion's Mane, certainly if it's anything that's going to help with brain function and stuff. I'm down to try it. Certainly. And it's organic too. Yeah, I'm down to try it. Sure.
Brandon Campbell-Kearns:
Yeah, you give it a shot, the brand, I'll shoot you a link, but the brand I like is Four Sigmatic. They're not paying me. Maybe they should, but they're not. Four Sigmatic. Really good.
Maurice Cherry:
Have you had any mentors that have helped you out along the way? I mean, I feel like this teaching journey isn't one that you've walked alone.
Brandon Campbell-Kearns:
So it turns out that teaching is a part of my lineage. My, I think it's great great, maybe three greats, grandfather was a teacher and moved from, let's say, migrated from Barbados to North Carolina, if I'm not mistaken, and started a school or was one of the founding people for a school. So that's kind of cool. I did not know this man, but he's like a mentor in my lineage, which I'm using as validation for the possibility. In other words, not only is he another person who's done the teaching, but he's in my lineage, so it's that much closer. And not only do I know it's possible, I know it's possible with someone who has closer DNA to me than statistically everyone on earth. So I would say that story.
And then of course there's lots of teachers down the line in my family. My grandma's a teacher, my mom's a nurse, which is not teaching, but it is still like hand-to-hand combat with let's not use combat, hand-to-hand interaction with people. So I am really inspired by people who are good at that. My dad's also great at that. He's got a funeral home and a lot of that work is just hand-to-hand, face-to-face with people. That's the work that's required. So I know that I am for sure a product of those personalities and those experiences.
From a professional standpoint, that's actually something I struggle with, Maurice, is I really feel like I'm on a journey for which it's difficult to find comps. I also don't think that's a prerequisite for a mentor that they want to do the same exact thing you're doing or you're on the same path. But I've honestly struggled with finding someone with a path that I'd necessarily like to follow. So that might be a weakness of mine honestly, is reaching out and finding day-to-day help. And I don't think I need somebody to say, "Hey, this is what you should do." It's more like, I like talking through what I'm doing, which is why I'm really enjoying this. It's not even bouncing ideas, just verbalizing what I'm up to really helps to clarify it for me. So that's probably my biggest need. And if that's called a mentor, then I need one if anybody's listening wants to hold me accountable.
Maurice Cherry:
I'm curious about this because we talked a little bit about this before we started recording because I mentioned that I asked you where you lived and you're like, "I live in Atlanta." And I was like, "Oh, I don't really get to have that many guests that are on in Atlanta." Outside of your students and I guess maybe some ex-coworkers or something, have you found that support locally? Have you been able to tap into some networks or something?
Brandon Campbell-Kearns:
In terms of just having a sounding board and that sort of thing?
Maurice Cherry:
Yeah, yeah.
Brandon Campbell-Kearns:
Yeah. So what I think happened, Maurice, is Covid turned all of the connection for me. It made me put it all in the one box, my professional box, and I did not really do a good job of nurturing a network of people to fellowship with about whatever it is. But I think it's there and I think that I need to just put in energy into, I need to actually make an effort to reach out and create or build or find community in the area. Because I know it's here, but for me, I just find often the motivation is kind of to the earlier point you were making, but kind of an adult version, often the motivation is like, let's get this money, which is fine, right?
Maurice Cherry:
Atlanta's very much a let's get this money city, so I get it.
Brandon Campbell-Kearns:
Which okay, I'm on board, let's get to it, right? But I think there's so many more needs than that that people have. It's not just like, okay, good. What if you've gotten to the money and you're like, okay, now let's sustain ourselves. Why aren't there songs about that? So I guess the answer to your question is not yet.
Maurice Cherry:
I gotcha. What advice do you have for somebody that wants to follow in your footsteps? They're hearing about your journey and they want to do that too?
Brandon Campbell-Kearns:
I'd like to think my journey is one that reflects and represents awareness of self. So I'll answer it that way. But first, if there is anybody who particularly wants to follow in the actual steps, it's important. If I'm looking back on my professional career so far, it's important to understand what lights you up. If I wasn't listening enough to myself to know that I really am enliven and fulfilled by teaching, then I probably would've stopped doing it because I would've been chasing again that prestige. So that's the internal battle for me, like prestige versus fulfillment. It seems so obvious which one's more important, fulfillment, but I still struggle with like, oh, that would be nice. People would love it if I said this right? And I think we all have to some extent a level of that. So for me, the journey has been about understanding and managing that.
And even specifically in my case, if somebody is learning how to write code right now and they really love, this is the first thing that's coming to mind, let's say fly-fishing, then you should be thinking about how to make connections or what are the metaphors or analogies between fly-fishing and software engineering that you can see from your perspective such that it becomes ingrained in your being so that you can sustain it long enough to make something out of it.
And I think that particular piece of advice I'm giving might seem antithetical to the idea of work life-balance, but I actually think that it's more important to have an integration like a work-life integration because you, there's no avoiding the fact that we have to work. You have to feed yourself, you have to bring some money to the table. But it's going to be much easier to do that if what you're doing is something that you enjoy.
So first, find what lights you up, then incorporate your skill into that thing. It might be that software engineering for example, or designing or whatever the actual competency is. It might be that thing lights you up maybe, but it's so much better, I feel, if you can attach it to another thing that you can apply to multiple things. So I could teach English, I could teach software engineering, I could teach someone how to do a workout that I just learned. So for me, the [inaudible 01:07:28] is the vessel and what I put in it is up to me. So currently professionally, it's software engineering, and that's how I get paid. So that's the advice. Find something that lights you up and add the skill inside of it.
Maurice Cherry:
Where do you see yourself in the next five years? Where do you want the next chapter of your story to be?
Brandon Campbell-Kearns:
I have no idea how it's going to look. What I'd like to happen in the next short term period is I'm really loving in-person instruction and I'd love for that to take me overseas somewhere to a place I haven't been because I just love people. I'm a big fan of people and learning about them. So to me it's just an exchange.
So in the next five years, I hope to continue exchanging my energy with other people and using my energy to bring folks along, learning paths and journeys that they want to go on. And so far that's been through software, but I wouldn't be surprised if at some point there were other competencies or skills I found myself sharing with others to the end of doing something. So next five years, I hope to continue to be doing that and maybe traveling as an instructor to different places. Let's do some live manifesting in two years. I'm so excited to meet everybody at the class in Morocco where we're learning about building web apps using some framework that doesn't exist yet. So I can't wait to meet everybody in Morocco.
Maurice Cherry:
I like that.
Brandon Campbell-Kearns:
You like that?
Maurice Cherry:
Yeah. Well, just to wrap things up here, where can our audience find out more information about you, about your business and everything? Where can they find that online?
Brandon Campbell-Kearns:
Yeah, for sure. So available on LinkedIn at Brandon Campbell-Kearns. I'm on TikTok as Quarterly Learnings, and you can also hear about the podcast on quarterlylearnings.com. The name of the podcast is Quarterly Learnings, any of those places. I'm also on Twitter @campbellkearns_, and I'd love to chat about anything you want to related to learning, and especially if you have a group of people at the place you work that need to have a particular skill, I'd love to offer a workshop for them, whether that's a small group or a medium-sized group. That is something that I really love doing in person or online, but I'd really love to meet you in person.
Maurice Cherry:
Sounds good. Well, Brandon Campbell-Kearns, I want to thank you so much for coming on the show. I think what you really had to say about kind of breaking out of these expectations to really discover what it is that you want to do, that's a super important lesson for a lot of us to learn.
I would say probably now within this past year or so, it's really important as people's relationship to work has changed. Whether that's been from leaving a job voluntarily, leaving a job involuntarily. I think a lot of people right now are trying to discover what's next for them as they look at kind of this vast landscape of where things are going. And it sounds like you've really been able to tap into what speaks to you on a molecular level and use that to kind of put your gifts out there in the world, which I think is something that a lot of people are trying to find. And I'm really glad to have had you on the show to share your journey and to let people know about what it is you're doing. So thank you for coming on the show. I appreciate it.
Brandon Campbell-Kearns:
Yeah, thank you so much, Maurice, for having me, and I appreciate you synthesizing my thoughts back to me. That gives me even more perspective. You're good at what you do. You know this.
Brevity & Wit is a strategy and design firm committed to designing a more inclusive and equitable world. They are always looking to expand their roster of freelance design consultants in the U.S., particularly brand strategists, copywriters, graphic designers and Web developers.
If you know how to deliver excellent creative work reliably, and enjoy the autonomy of a virtual-based, freelance life (with no non-competes), check them out at brevityandwit.com.