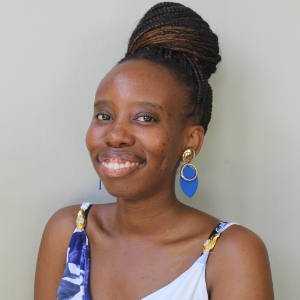 We're going international this week to talk with a super talented visual designer — Elsa Amri. I first learned about Elsa via an Adobe Live presentation, and I had to reach out and learn more about her and have her share her story and her message with Revision Path!
Elsa talked about how she's grown over the past year, including doing work with Adobe, and she spoke about growing up in Tanzania and studying abroad in the United Kingdom and discovering design. We also talked about her time teaching English in Japan, returning to Tanzania, the Tanzanian design scene in Dar es Salaam, and the power of networking over the Internet (and how it has helped boost her design career). I love how Elsa's ingenuity, drive, and determination have contributed to her design success!
Transcript
Full Transcript
Maurice Cherry:
All right. So tell us who you are and what you do?
Elsa Amri:
Yes. My name is Elsa Amri. I am a visual designer from Tanzania and currently I work as a junior visual brand identity designer with an agency in Canada, actually. So more of a remote role, but I also do freelance work as a visual designer with clients here in TZ and also a few outside of TZ, so more international clients. I was until recently a student at Humber College, a school in Canada studying user experience design, but I graduated, technically I completed my course. So up until recently, that's what I've been doing education-wise and now primarily I kind of just work as a freelancer and designer with a company in Canada, but that's a bit about me and what I'm doing right now.
Maurice Cherry:
Congratulations on your recent graduation.
Elsa Amri:
Thank you.
Maurice Cherry:
I'm curious, what's been on your mind lately? How are things going in general?
Elsa Amri:
It's definitely been a bit of a switch up. I was doing the course since January. So I kind of got used to the whole schedule of learning for a couple of hours, kind of working on group assignments and now it's like I have all this free time. I technically still have work, but it's a lot more free time than I was used to for several months. So I think I'm still in the process of trying to adapt to all this extra time I have and trying to use it more productively, building myself up more as a designer. But it's kind of a limbo period for me right now that I guess will go away soon, but that's kind of how I'm feeling.
Maurice Cherry:
Okay. I'd say maybe aside from you just graduating, how have things changed over the past year? Have you grown and improved in any ways? What's been a big change from this year to last year or from last year to this year, I should say?
Elsa Amri:
I definitely would say that I have grown and improved because at the start of the year, I told myself that I wanted to really push myself in terms of promoting my work and creating more work. So actually creating content that I can promote and just really putting myself out there in ways that I didn't do last year. And I've seen kind of the outcome of actually doing that and taking on that challenge.
Elsa Amri:
So there have been opportunities and roles I've gotten that I would've never thought I'd get to do at this point in my career, but I have been able to do simply because I was a lot more open and a lot more forward in terms of really reaching out to people, connecting with people and just sharing my content and not being afraid to do that. So I'd say this year I've been a lot bolder in that sense and I've seen that it's paid off in a lot of different ways, which has been pretty awesome. And I'm just hoping to keep that up and do even more as the year goes on as well.
Maurice Cherry:
That is awesome. One of my favorite sayings is, fortune favors the bold. And you have to shoot those shots. You have to be bold and forward because the worst thing that anybody's going to say is no. So you kind of have to, especially if you're, I think just starting out as a designer or you're starting to get your footing as a freelancer, you have to take those big wild shots in order to even grow and progress. Because no one's going to hold your hand and tell you which way to go or anything like that.
Elsa Amri:
Exactly. No, I agree with that. You have to kind of put yourself outside of your comfort zone, which can be scary, but likely you're going to benefit from it in some way. You just kind of have to take that first step.
Maurice Cherry:
Yeah. And speaking to those big opportunities and we talked about this before we started the recording. You've been doing some presentations with Adobe over the past few months or so. How did you first get involved with them?
Elsa Amri:
Oh gosh. Let me try to think back. I think Adobe, the main design program I use for interface design for website or app design is Adobe XD and that's kind of been my go-to for a while. So I was always using the product and over time, I guess you could say around last year or maybe even end of 2019, I became more involved in the actual community. So on Discord and stuff, they have challenges and they have these different channels that you can participate in. So I started becoming a lot more active within the community and even though they didn't help directly, I think it kind of put me on a path towards, like you said, doing the Adobe stuff that I've been able to do this year.
Elsa Amri:
So around the start of this year, like I mentioned previously, I decided to kind of put my content out there more. And I made a Twitter specifically for my design stuff, which was kind of an interesting decision because I didn't think Twitter would be effective at all. I had a personal Twitter but I didn't tweet at all. So I didn't even have any followers or anything. I kind of just used it to catch up with what other people were saying but somebody recommended to create a design Twitter. And I was like, "Okay, cool. Let's try this out." Apparently the design community is pretty awesome, which it is. I ended up discovering, but I would share a lot of my content on Twitter and I would follow all these other accounts, also Adobe accounts as well and particular designers within Adobe that I admired and look up to.
Elsa Amri:
And in terms of the Adobe Live opportunity, that really came by chance. I can't even say that it was directly me. It was more like I posted something cool or what other people thought was cool. And it got a lot of reach and engagement and then somebody tagged one of the senior designers in Adobe. So his name is Howard Pinsky, to check my content out and he did and he liked it. And then that same person recommended that I should be an Adobe Live. And for some reason that was more than enough because Howard asked me if I wanted to be an Adobe Live after that. And I said, "Yes, I definitely want to be on Adobe Live." So that's kind of how that happened. So it kind of by chance, but I think it wouldn't have happened at all if I didn't obviously create a Twitter and put more of my content out there.
Maurice Cherry:
Yeah. I mean, it sounds like initially you found a way to kind of get on Adobe's radar by doing things that are in the community properties that they manage and things of that nature but then also you had this separate Twitter. So you were really doing a lot of brand marketing with getting your name out there and getting your work out there, which I think that's a really smart thing to do. I've worked for some SaaS companies that they try to do community, not in the best way, but it's interesting the way that people get on our radar or the way that we know who our fans are or who other people that really like the work, is through the community stuff.
Maurice Cherry:
I mean, especially if you're using something where all your users are just usernames and they don't have profiles or anything like that, it's hard to really kind of know, well, who are these people? You just sort of see them as this aggregate set, but if you're participating in our support forums, if you're on a Discord, like you said, or even Twitter or something like that, that's how we ended up finding like, "oOh, these are the people that really like the work that we do. They're tagging us, they're talking to us."
Maurice Cherry:
So I would, for designers that are listening that want to sort of, I would say get in the good graces or get on the radar of companies that they admire, reach out to them through their community efforts and platforms. That's really the best way to do it. Not just to complain. A lot of people complain about Adobe, of course, but if you're doing work with that platform and you want them to just kind of know about it, that's the best and easiest way to kind of get noticed and seen. So that's really cool.
Elsa Amri:
Yeah. I agree. Because you might be surprised how many brands do appreciate that and we'll respond in some way. So there's another brand as well called Voiceflow, I don't know how many people have heard of, but it's kind of a platform where you can implement voice features in whatever product you've designed. And I made something that included their product with one of my class projects and I posted it and I tagged them and they were so, I don't know if grateful is the right word, but they responded so positively. They shared what I said. They followed me. They promoted the post that I published. So a lot of brands do respond positively to you tagging them or sharing your content with them, telling people, "Oh, I made this with this particular program." It's typically seen in a positive light. So people should always kind of be forward and doing that kind of thing.
Maurice Cherry:
Yeah. They really should. And I'm telling you from the company that's worked in those marketing departments, it makes our job so much easier. And we can see the community talking back to us and letting us know because then we don't have to try to hunt and find down, well, who are the people that we should focus on and spotlight on? Especially, especially people of color and especially women. It makes all the difference if you're reaching out to the company and letting them know about this kind of stuff that you're doing because it makes our job easier. And it helps us help you because a lot of these companies are really, especially software companies, and I'm kind of giving a bit of inside baseball here, but a lot of software companies have zero idea how to approach community, zero.
Maurice Cherry:
The most that they will do is put up a Twitter account, maybe a Discord account or Discord about something, that's about it. They're really depending on people to talk to them because these are generally, and I'm generalizing here, these are software developers that do not have social skills. I'm being completely honest here. It is so, so, so beneficial to just reach out to us and let us know what you're doing because there's a saying, closed mouths don't get fed. A lot of these companies that have these community efforts are struggling to find ways to do things better for their users because they want their users to be rabid fans. They want this tool that they've spent hours, weeks, months, years building to take off and be really profitable. And the way that that happens is if they have a community of people behind them that love the tool and the product. So reach out, talk to them. Trust me, they want to hear from you because otherwise they really don't have much to go off of. I'm just being totally honest there.
Elsa Amri:
I agree completely. We've got [inaudible 00:14:45] inside from you.
Maurice Cherry:
So I see on Instagram, you've been doing this little personal series called, Introverts Talk. Tell me about that?
Elsa Amri:
Yeah. And also a good reminder that I need to kind of create a new post to that series that I started it initially because I do describe myself as an introvert. Typically, because I do like my own space and my own me time, which is, I guess, your typical introvert and I thought, "Oh, okay. So I'm an introvert and I work in design, which typically is a collaborative kind of environment." You're working with other people, other designers, sometimes people in different roles, engineers, et cetera. So you do kind of have to know how to work with people in different ways and accommodate yourself to their situation or vice versa. And I thought, "Okay, this is interesting. I'm in this industry, I'm working as a designer, but I'm also an introvert. So what are some things about both those aspects of my profession or aspects of my personality that would be interesting to talk about?"
Elsa Amri:
Because I knew other introverted designers, but I had never really come across content from the perspective of an introvert designer. So I was like, "Okay, why not share my perspective, my stories, kind of what I'm experiencing on a day-to-day basis and maybe other people would relate to it in some way." So initially that's kind of why I started it. It was more of a personal thing. I wanted to take a bit of a break from just typical design stuff and put out more personal content. And a lot of people did resonate with it, which was extremely surprising more than I thought would, but it was reassuring to kind of see that all these people were in somewhat similar situations and related to some of the points that I mentioned. I was like, "Okay, there are a lot of us and a lot of us kind of have those similar experiences and we should definitely talk about it more." I feel like that's not talked about enough except occasionally, but it should be a point of discussion a lot more often in the design industry.
Maurice Cherry:
Yeah. I agree with that. I mean, one of the interesting things about sort of what this past, gosh, I'd say two years now has done, even with this pandemic is, it's in a lot of ways kind of flattened communication across different parts of the design industry. I know prior to all of this, the people that really were out there that were getting seen and doing stuff were the folks that were always at conferences and doing podcasts and they were outs being visual, not being visual, they were out really in a very big way in the community, you could see who they were. And now that everything has kind of been condensed to online, it's made people that maybe aren't as social or don't want to be a social for whatever reason, have an avenue to also now be seen and talk about their work in a way that maybe prior to this they wouldn't have, because it would involve stepping outside of their comfort zone in that way.
Elsa Amri:
Yeah, exactly.
Maurice Cherry:
Now you are in Tanzania, which I don't know how much of our audience really knows a ton about Tanzania. Is that where you grew up?
Elsa Amri:
Yeah. That is where I grew up. I moved right before I started uni. So essentially 99% of my life has been here in TZ and that's kind of where I am now as well, but that's totally where I grew up.
Maurice Cherry:
Were you exposed a lot to art and design growing up through your family or anything?
Elsa Amri:
No. I actually wasn't. The only exposure I had to, let's say in art, was learning art in school and that kind of art was either music. So growing up, I did play the piano or it was drawing. So the typical painting classes that you would have at school. And that was kind of what I did, but neither of those were stuff that I thought I was great at. I was decent at the piano but it wasn't something that I wanted to do full-time or anything like that. And when it came to literal arts or drawing and that kind of thing, I never thought I was that good at it. So growing up, eventually going through high school, I kind of lost interest in both those things.
Elsa Amri:
When it actually came to the type of design I do today, so graphic design or website design, app design, we didn't do that at school at all. So it was never something growing up that I was like, "Oh yeah, this is interesting. I want to do this." But I also think back then it was also just not popular or not a thing yet. Graphic design, maybe to a certain extent, but definitely not user experience or user interface design at all. So my path to actually becoming a designer started way later. So towards the end of university, because I didn't really have that exposure to art or a similar kind of art growing up.
Maurice Cherry:
Okay. Well, let's talk about university. You went to the University of Leeds and you majored in communication and media studies. What was your time like there?
Elsa Amri:
Leads was awesome. I was there for three years. Yeah, three years and it was such a great experience. Whenever I think back to it. I'm always like, "Yeah, I'm definitely glad I went to Leeds." Because it's interesting, when I applied to go there, I didn't know what I wanted to do like I'm assuming most high school graduates. You don't really have an idea of what you want to do as a career for the rest of your life. It's a lot of pressure to kind of figure that out at such a young age. So when I did apply to Leeds and a couple of other schools, I didn't have a solid idea, but I thought, "Okay, I like media." And at the time I liked studying media representations, I thought that was interesting. So I was like, "Okay, let's apply for communication media at the university of Leeds." And that's what I ended up going to do.
Elsa Amri:
In terms of my actual experience at the university, the course itself was very theoretical. So not what I wanted exactly or what I learned, I didn't want to do. I didn't want to be writing essays and doing research for the rest of my life, but everything else outside of it was an experience that I think really helped me grow as a person. So the city itself, I fell in love with. I think, Leeds is an awesome city. I guess you could say not super busy if you compare it to places like London, but also not boring. There's a ton of stuff to do. So I found that I became a lot more outgoing and a lot more open and social during my time there because it was such a new experience, very different from the city I grew up in. And I was able to kind of do a lot more stuff that I never had the chance to do.
Elsa Amri:
The university was huge. There were so many, societies is what they were called, I guess maybe in the states you might call them clubs, after school activity type things, that you could engage in and participate in and I did so much. So I felt like during my three years there, I picked up all these new skills and met all these great people and it just helped me grow and develop as a person. So I kind of always looked back on it as, "Okay, it was an awesome experience." Maybe in terms of the course I took, it wasn't the best but everything else outside of that was awesome. It kind of helped me grow.
Maurice Cherry:
And Leads is kind of, I mean, here in the states we call it a college town, but it's a town that has several universities. So you always have kind of this vibrant throng of students and culture and everything that comes through, I think every year.
Elsa Amri:
Yeah. You would always run into young people or you said students, there were quite a few universities there. So exactly, it always felt vibrant. There was always something going on, something that you could do. So in that sense, it was just such a great city to really kind of branch out in.
Maurice Cherry:
Nice. And so while you were at Leeds, this is when you kind of first saw and looked at design as something that you wanted to do, is that right?
Elsa Amri:
Yeah. I guess you could say kind of. So in my final year I took an optional course where, it was called mobile design and it was mostly theory. So studying concepts about mobile design, but we had an optional assignment where you could actually design a mobile product. And I remember I took the option of doing that assignment because I thought it might be interesting to kind of do more of a practical concept piece. That I would say is the first time that I really designed anything at all. And that whole experience was new to me, but also exciting because it was the first time I was doing a school assignment and I wasn't bored. I was actually interested in what I was creating. I didn't mind spending hours and hours and hours of my time building this product.
Elsa Amri:
I even remember back then I was using Sketch, I believe, that was the first UI/UX design software that I came across and I downloaded it and I used it to build that app. Looking back on it now it was not a very well-designed app, but at the time I thought, "Wow, this is amazing. I'm really good at this." But the whole point was it really ignited something in me for the first time and really made me think, "Oh, okay, this is interesting. I kind of really liked doing this. Maybe I should look into what kind of career might involve this type of work more."
Maurice Cherry:
Let's go a little bit deeper into that. When you describe that feeling, how did it fulfill you? In what ways do you feel like doing that project sort of made design really click for you in your brain?
Elsa Amri:
I think it was because I enjoyed every single moment of it. So we had a problem that was presented to us and had to come up with a solution. So obviously involving brainstorming and then actually creating that solution. So ideating building a prototype or a design or a sketch, and then having your final product that you then presented. And it was the first time that kind of, I enjoyed each and every single step involved in the whole process. I think with previous things I had done it was more about the final product. Like let's just do this, get all this out the way and create something that we can then submit and be done with it, but there wasn't any sense of attachment to what I've actually created.
Elsa Amri:
That was the first time that I did feel attached to what I made and I felt proud of what I've made and it was a feeling that I wanted again. I wanted to be able to create and design products at the time, really. I just wanted to design more apps because I thought the process was fun and also I was proud of what I kind of was able to come up with in the end. So it was that kind of pride. I don't know how you'd describe it. Maybe I've described it well and you kind of understand what I mean, but it was that feeling that I had.
Maurice Cherry:
Yeah. I think Pride is a good way to describe it because sort of as you alluded to earlier, when you're in those young ages, let's I say, 17, 18, 19, et cetera, and you're going off to school, there is this really strong expectation, I would say, particularly among black folks. There's a strong expectation to really kind of figure out what it is that you're going to do, especially if your family isn't really supportive of the arts, that it's something that will make money. They want to make sure that you're going to be doing something that will provide for you and that you're not necessarily just kind of like chasing up a hobby, I would say. I don't know, maybe it's different in different cultures throughout the diaspora, but I think once you find that thing that you get really excited about it and you feel proud about that's a feeling that inevitably you continue chasing because that is what will fuel you and kind of guide you through your career.
Elsa Amri:
Yeah. No, I agree completely. Growing up my parents have always been supportive regardless of what I wanted to do. They just kind of wanted me to figure out what I wanted to do because for a long time I didn't know. But like you said, there is that pressure that whatever it is that you decide to do, you want it to be something that you can use to support yourself in the future. You don't want to be completely reliant on your parents forever. So there is a pressure and that expectation. And at the time when I was building that project for the class assignment and I had that feeling, I wasn't even thinking about, "Oh, I can earn a lot of money from this." I didn't know how much designers earn from designing products at the time. It was just more of, this is something that I think I love doing and that's the first time I felt that way, so why not explore that field?
Maurice Cherry:
Yeah. That makes a lot of sense. Yeah. So you finished up at Leeds. What was sort of your early career once you graduated? So you've gotten this feeling like, "Oh, I designed this mobile project. I love it. I want to keep doing stuff like this." What were sort of your first early career experiences after that?
Elsa Amri:
Yeah. So I graduated from Leeds and initially it's very, not necessarily complicated, but in direct pathway to what I'm doing right now, but initially I wanted to go for my masters and I wanted to study front-end development, which is a bit different, but at the time I thought, "Okay, I like design." So I like the visual aspect of designing something, but also I had taken a class on coding and I kind of liked that too. So I thought, why not pursue front-end development and see if that's something that I'd want to do, but that didn't end up working out.
Elsa Amri:
So plan B was to find a role in like marketing or PR in Leeds, more of a temporary type position that I do while I figured out everything else, which also didn't end up working out. So I went to plan C, which is very left field and that was going to teach English in Japan. So my first job outside of university wasn't anything design-related. I was in Japan for a year and it was teaching English, but it was awesome and amazing. And I think that's also where I also kind of built my interest in design more on the side, but that's kind of what I started out with first.
Maurice Cherry:
Talk to me about what it was like teaching English in Japan?
Elsa Amri:
It was amazing. I would definitely say of all the places that I wish I could go back to most Japan is number one and probably will remain number one forever. It was just such a different experience. Before going to Japan, it was on my list of places I wanted to visit. I'd met a couple of Japanese students while I was at lead, so exchange students, and gotten to know them really well and become good friends. So the whole experience for me was, for one thing, I could reconnect with those people and link up with them again, but also I could explore this country that I'd been wanting to visit for such a long time. And for me for the entire year that I was there, initially I knew it would be very new and very different from anything else I had before. So putting aside the language barrier, just adapting to a whole different culture, but it wasn't as hard as I thought it would be. I wouldn't even say it was hard as all.
Elsa Amri:
Right from when I first arrived, I stayed with a friend for a couple of days and then eventually I kind of started orientation for my job and everything, but it felt so smooth and easy. And everyone I had met both internationals on my program but also local people, were just really nice and accommodating. One thing I'll always say is that the Japanese people, well, actually it wouldn't be right to generalize, but everyone I met while I was there was very accommodating and very polite and very helpful in a way that was so different from anything else I'd experienced. People would go out of their way to help you in any way possible.
Elsa Amri:
So it was just so surprising to kind of be met with that politeness and be met with that type of sincerity and people's actions and the community that I lived in. So I lived in a small town that was kind of near Kyoto and Osaka and it was a really small town, but community-wise, the people I met there were just so, they brought me into their community in ways that I initially wasn't expecting. So I'm Christian. So I went to church even while I was there and the church community in particular, I guess you could say even adopted me.
Elsa Amri:
They were just so accommodating and so helpful and so nice and really went out of the way to include me. Because it is easy to feel alone and to feel like you don't really have anyone, especially in a small town way out in Japan, super far from Tanzania, but the community in particular was just, they went out of their way to really make you feel like you were at home and you were with people that cared about you. So that was something that I really grew to appreciate during my year there. Just getting to know different people and learn more about them and feel accepted by them. And that's something that I miss as well from my time there.
Maurice Cherry:
Very cool. I'm curious, what's the one thing that you really kind of remember that sticks out aside from the anecdote that you just mentioned, but is there a food or a piece of culture or art or anything that really sticks out to you when you think back to that time?
Elsa Amri:
I would say, I'm trying to trace my memories of the very many things that stick out. I would say, I will mention a couple. So for one, just how much you could do, which sounds a bit weird, but where I live now, so TZ or the specific the city I live in, it's great. There's a lot to do, but in comparison to Japan, obviously not in any way comparable. So living in Japan just really put me in a situation where you can be like, "Oh, this weekend, I'm going to go to Kyoto and I'm going to do X, Y, and Z." I remember I went to Kyoto for new years on my own for just a couple of days, exploring different temples and stuff like that to celebrate new year's or next week and you can be like, "Oh, I want to go to Osaka and I want to go to USJ and go on all these rollercoasters."
Elsa Amri:
So it was such a new experience in terms of being able to do anything and everything whenever you wanted and that really allowed you to have a wealth of experiences in such a short amount of time. So that's one thing that I really remember, having the opportunity to have all those different experiences. And the second I would say the food, I loved the Japanese food a lot. I would say my favorite was sushi. That was number one. The first time I had sushi in Japan and it was amazing. And then a couple of others that I really grew to love takoyaki which is, oh I forgot what even it is.
Maurice Cherry:
Octopus. Yeah.
Elsa Amri:
Yeah.
Maurice Cherry:
Yeah. Yeah.
Elsa Amri:
I didn't think I would like it at first, but [inaudible 00:32:14] one of my favorites. I absolutely loved it. I mean also Okonomiyaki, was one of my favorite stew. I ate that a lot. So I really grew to like the food as well. I didn't pick up any recipes, sadly. I wish I could. I would have been making them here. So the food and also just the opportunity to have different experiences were the two things that stood out for me.
Maurice Cherry:
Very cool. So you finished up teaching English in Japan. Did you then go back to Leeds or did you go back to Tanzania?
Elsa Amri:
After I was done in Japan, I finished end of 2019 and I actually came back to TZ. So the plan was to go back to school and do my masters. And at the time it was because as much as I liked teaching in Japan, teaching wasn't something I wanted to do as a career forever. I always knew that I wanted to go back to design. So I thought the best way of doing that would be to go back to school. At the time, that was kind of my thought process. Go back to school, get another degree, and then you'll become a designer and that was kind of my plan coming back home. So that's kind of what I immediately worked towards applying for different schools and eventually I went to Humber College.
Maurice Cherry:
Okay. And you mentioned just now that you just finished up there. Can you tell me about what you were studying and kind of how the program was?
Elsa Amri:
Yeah. It was a short program. So technically a year, more under a year, and I was studying user experience design. So it was a pretty comprehensive course in the sense that we got to learn about UX research methods, which is great, but also practice actual visual design skills and visual design processes. So it was a good combination of both aspects, the UI and the UX part of it. And I would say that the professors we had and the projects that we did, really helped me kind of grow and refine my skills as a designer. So when I came back from Japan, I was applying to school but in the meantime I was also working. So I had these jobs as a graphic designer and as a junior art director at different companies. So even before I started my course, I had design experience from these different jobs that I have, but actually taking the course helped me really develop the research aspect of my skills. So how do you conduct UX research? How do you become an empathetic designer, which is something that people do talk about a lot?
Elsa Amri:
So it was a really good course in terms of developing those kinds of skills and the great thing is that we also had an internship that we were supposed to do after you were done with your study. So right now I'm completing my internship. I'm done with my classes, but I'm finishing up the actual design internship that I'm doing and then I'll technically be completely done with school. But overall it was a really great course, not that long and I managed to learn a lot. Everyone I studied with, I think helped me learn and grow in some way as well. I worked in some really dope projects, one of which I'm working to add to my portfolio right now, but yeah, it was overall a really great experience.
Maurice Cherry:
How do you think your prior experiences, both teaching in Japan as well as studying in the UK, how do you think those things helped you out as you were studying UX at Humber?
Elsa Amri:
I think they kind of helped me become quick to adapt in terms of working with different people. So our course had a lot of group assignments. Most of our assignments were group assignments. We're working on projects with different people. And that was really easy for me because both during my time at Leeds and in Japan to a certain extent, I was working with a lot of different people from a lot of different backgrounds. And I would say for anyone in that kind of environment, you have to be patient and you have to be flexible in a lot of different ways. And I felt like doing this course, it was a lot easier for me because I did have that experience, even in terms of time zone.
Elsa Amri:
So a lot of the people that I was working with, so the other students on my course, lived in Canada. Canada is seven hours behind my time, I think. So even in terms of adapting to working in the evening or late at night, my time, which was easier for them because that was early in the day for them, was just something I adapted to as well. So I think it just made me a lot flexible in terms of just working with whatever it is that was working with and bringing out each other's strengths and just kind of working collaboratively to achieve the same outcome. It just made it a lot easier for me.
Maurice Cherry:
Nice. Overall, what appeals to you? What about UX design really appeals to you?
Elsa Amri:
I think for me it's about kind of creating a solution that benefits people in some way, except it's more of a tangible solution or a solution driven by technology. So I always had an interest in technology, but when it came to UX, it helped me look at it in a new kind of light. So we're not just building products for the sake of building products, like designing a website just because you want to or building an app just because you think, "Oh, it'll be fun." It's about kind of building these products in order to address a problem from an innovative point of view and I thought that was always really cool.
Elsa Amri:
And after I started my course in Humber, it was more about learning, how is this process driven by looking at users and looking what problems they're experiencing from an empathetic point of view and really trying to put yourself in their shoes and understand what it is they need or what it is they expect from this solution, from this product, from this service, and really trying to frame your mindset and frame your thinking as a designer in that kind of way. So I always thought that was really interesting. That's kind of the designer I want to be. I want to be someone that can take on these issues, working in a team to address these issues in ways that helps a specific user base in some manner. And that's something that I'm also still working towards, but ultimately that kind of became a goal of mine and really is what solidified my interest in UX design.
Maurice Cherry:
Now, throughout your both educational as well as professional journey, who are some of the mentors or people that have really helped you out along the way?
Elsa Amri:
Yeah. Well, I always say my first mentors are my parents, not from a technical perspective, obviously they're not designers, but more from an emotional and supportive perspective. I think I mentioned a bit earlier, they've always been very supportive in terms of whatever I wanted to do. And there have been times when things have not been going well or I felt that this wasn't a career path that I would be good at and they've really been the main people kind of holding me up and pushing me forwards. So I always kind of label them as my first mentor, so to speak in terms of life lessons in general.
Elsa Amri:
In terms of this design industry, I have a few mentors that have really guided me in my path up to where I am now. So the first is a designer based here. Her name is Lillian and she's kind of head of design at an agency here called AIM Group. And she was my first official design mentor. She actually ended up becoming my mentor because I applied for a role at her company and I didn't get it, but I guess here's also another tip, I didn't kind of let that be. I reached out a couple of weeks later and I was like, "I know I didn't get the role, but I would kind of love your feedback on my portfolio or on a specific case study and see what I could improve." And she was completely for it.
Elsa Amri:
So that was kind of my first experience getting insightful feedback from someone in the industry. And she kind of became a mentor for me and still is. So she's just somebody that I always go to for advice whenever kind of different things in my life happen in terms of my career. So she would be my first mentor and a mentor that I still have, and I've managed to acquire a couple more mentors.
Elsa Amri:
So there's a platform called ADPList that I've recently became an ambassador of and that I use often. And that's really made it a lot easier to find mentors in different companies all over the world. So through ADPList I've managed to connect with mentors like Rihanna, who is a designer in the states. And she's been helping me a lot in terms of really refining my portfolio and adapting it to improve. And it's just kind of been a really great way to talk to people and a lot of different companies and learn more about what they expect from hiring designers and getting their feedback and getting their insights.
Elsa Amri:
In terms of people that maybe I haven't spoken to as much directly so on a one-on-one basis but I still credit as inspiring me when I was younger. One I've already mentioned Howard Pinsky, who is a designer at Adobe. I would always watch his videos and kind of be inspired by his design work. Andrea as well. He used to be Creative Resident at Adobe, was also somebody that inspired me a lot. Others, Brandon, who is, I think, what is this exact role? There's so many different roles, but I think he also kind of works in collaboration with Adobe and has his own community. I remember when I joined his community, that kind of really motivated my desire to design, not just from a professional perspective, but also just for fun as well. So those are a couple of people that I've learned from in different ways over time.
Maurice Cherry:
When you said Brandon, do you mean Brandon Gross?
Elsa Amri:
Yes.
Maurice Cherry:
Oh, wow. I had Brandon on the show a couple of months ago, actually. Look at that, small world.
Elsa Amri:
He's always awesome. Yeah, I know. Joining his community was just so awesome. I've never experienced something like that before, but he's great.
Maurice Cherry:
Now people here in the states may not know a lot about Tanzania just as a country. When I think of Tanzania, I know it's, and honestly this is mostly coming from my grade school education, from watching, Where in the World Is Carmen Sandiego? But I know it's a country near the equator. I know it's between Kenya and Mozambique and the Serengeti is there and Mount Kilimanjaro and you have the island of Zanzibar. If you were to sell or I guess just speak simply about Tanzania, how would you describe it to folks?
Elsa Amri:
I would say it's a place brimming with culture and experiences that are probably unlike anything you've experienced, if you've, for example, if you've lived in the states and had a chance to visit. From a cultural perspective, it's really a place where you can really kind of learn a lot of different things in terms of different cultures and different practices and traditions. So I know sometimes people, that's kind of one thing that they really look for in visiting new places, learning more about the culture, and there are a lot of ways that you can do that here.
Elsa Amri:
So obviously there's one aspect in terms of the wildlife, which is great. Serengeti, all that stuff that you can definitely do. You can also kind of immerse yourself more in specific local cultures. So something a lot of people do is kind of embrace themselves or other immerse themselves in the Maasai cultures, actually living within these communities for a certain amount of time and just kind of experiencing their different traditions and customs or even if you were kind of just visiting more of the mainline area.
Elsa Amri:
So for example, the city I live in Dar es Salaam, there are a lot of different ways that you can really kind of just have a different experience from what you're used to. Walking along the street, kind of looking at different artistic products that people have created, sculptures, paintings, handsewn objects, all that kind of stuff. And really just getting to learn more about what it is that they've created. Taking the initiative to kind of take those products for yourself as well as mementos. In terms of food as well. Just kind of getting to walk around and experience the culture in some way.
Elsa Amri:
I think for me, the one thing that I really do like about TZ and that I missed when I was abroad is how chill it is. And I think that's something that a lot of people will say that it's just a very laid back place. Some might say too laid back at times, but I think sometimes when you compare it to other places that are extremely high paced and stressful, when you come back to Dar es Salaam or come back to TZ, everything slows down a bit. People aren't in so much of a rush. There isn't that feeling that's around you all the time. So that's something that I do appreciate a lot that it does feel laid back and it does feel a lot more relaxed. And that's something that growing up I became used to and when I'm away from TZ that I missed a lot. Just a very relaxed, accommodating, welcoming place whenever anyone would like to visit.
Maurice Cherry:
Before we started recording, I had sort of incorrectly said that, "Oh, you live in the capital." Dar es Salaam is not the capital of Tanzania is-
Elsa Amri:
A lot of people think that.
Maurice Cherry:
… it's the largest city though.
Elsa Amri:
Yeah. Dodoma is the capita.
Maurice Cherry:
Dodoma, okay.
Elsa Amri:
Yeah. I live in Dar es Salaam.
Maurice Cherry:
What would you say is like… Are there specific elements to Tanzania in design? If you had to sell, I'm asking you to sell the country, but if you have to sell when you think of Tanzania and design, what jumps out to you?
Elsa Amri:
I would say maybe the uniqueness to it and that might be something that's maybe applicable for a lot of different countries. But when you do purchase a product from here made by people local to here, there's a certain uniqueness to the design. So whether it's a sculpture or a painting, there's this essence to it that feels very Tanzania or feels very, at least for me, it feels very home and so that's something that I think stands out for me. It can be something as simple as a small sculpture of a man, but a lot of times tells a story from whatever it is that the sculpture is taking inspiration from.
Elsa Amri:
And I think that a lot of artists here are able to convey those stories and convey those emotions within whatever it is that they create. So there's a lot of homeness to what's created here, which I guess maybe is a perspective unique to me or unique to people who are from here that maybe people not from here might not get to experience. But I do think that a lot of the stories and a lot of those emotions and feelings are conveyed in the art that people make.
Maurice Cherry:
I was doing a little bit of research earlier and I saw there's this unique kind of painting style to Tanzania called Tingatinga?
Elsa Amri:
Yeah.
Maurice Cherry:
Can you talk about that a little bit, as much as you might know about it?
Elsa Amri:
Yeah. We actually have, I think there's an arts museum as well, close to where I live, Tingatinga Arts Museum, but that's kind of an example of the kind of work that I think people make that does convey a story or convey some kind of idea in a colorful and unique way. And for me, Tingatinga products aren't something that I bought a lot growing up just because I feel like when you live someplace you kind of tend to neglect embracing the art of where you live as much as you should in comparison to where you travel elsewhere. But for me Tingatinga has always kind of just been an art style that is unique and that is able to kind of convey those different stories in really dynamic and colorful ways.
Maurice Cherry:
Are there any Tanzanian designers that you know of that maybe we should know about or we should be on the lookout for aside from you, of course, are there any that you though of?
Elsa Amri:
Yeah. There are a couple that I do typically follow and that I do, I guess you can say, quote unquote, admire or their design work inspires me in some way. Most of them are if not product designers, it's graphic designers, because that's more of the area that I'm involved in, but a couple that I'll name, I guess. There's one called Rafael. He is a brand identity designer. He designs a lot of brand identities and logos for clients and he's someone whose work that I've seen a lot, even before I actually started working as a designer, I would see his work often and I still find myself being inspired by his work every day. Even though I don't typically want to become a brand identity designer, but what I admire is how he's able to kind of take what the client is asking for or expecting and really create these unique identities for these clients. So I think his logo work, his identity design work is awesome. He's somebody that I found that I learned from a lot.
Elsa Amri:
Another designer is a female designer, her name's Edna. She's actually an animator, but we connected on LinkedIn. And occasionally I see her work on my feed and I'm always a big fan of coming across other female designers or female creatives who are from where I'm from, because it isn't something that's super popular or that you come across often here, unfortunately hopefully that changes over time. And that's an example of somebody whose work that I genuinely do appreciate whenever I come across it. I'm not super great at animation and motion graphics. So it's just always really great to see somebody who is and see some of the great concepts that they're able to come up with.
Elsa Amri:
In terms of another person, I guess I would say Jackson is one. He is a director at a company that I can't quite remember the name of, but I'm inspired by some of the work he recently shared. It's more of creative work created for a specific company located here, but I kind of just thought it was a really creative interpretation of the idea they had. So it was kind of this connection between a telecom company here but branding it from the perspective of something ecological or it was more of a sustainable type of project. And I found that the creative products that he was able to create were really unique.
Elsa Amri:
And as somebody who has worked in that environment before, so junior art director at an agency, I know how hard it is sometimes to really come up with creative executions and concepts that the client actually likes and wants to move forward with. So I kind of just thought that his work was really dope. I mean, it's something that I should learn from as well. So those are just a couple of names, but there are definitely a lot of designers out there within the industry with different roles that I've gotten to know a lot this year in particular. So I'm super grateful to always be learning from them.
Maurice Cherry:
What advice would you give to any designers that are listening that want to get more into UX design in general?
Elsa Amri:
I would say a couple of tips. The first one being, I kind of already talked about this, but putting yourself out there. I know in the beginning in particular, you are so much more self-conscious about your work and what you're putting out there because you think it's not good enough. And we live in a day and age where people are always sharing their work online. We have so many different platforms dedicated for that kind of thing, especially from a creative point of view. There's Behance, there's Dribbble, there's Instagram. There's so many different platforms where people are sharing awesome work and it's easy to feel intimidated by that and feel like what you've made is not good enough.
Elsa Amri:
But I'd always say regardless of what stage you are at in terms of your career or your progress towards becoming a designer, don't be afraid to put your work out there and share it and people are more than likely going to provide positive feedback in some way or form. I think there are very few people out there that are going to see something you've made and judge it harshly. People tend to be very accommodating, very welcoming, especially for newer designers. I'd say Twitter is one of the best platforms for that kind of thing. So first step is to put your work out there.
Elsa Amri:
Second tip would be to always find ways to learn. So my ways of learning was to take a post-grad course in UX design, but you don't have to do that. I mean, you can learn a lot of different ways. I think with online platforms these days, there are so many different ways that you can really pick up new skills. So there's YouTube, but there's Skillshare, there's Udemy. There are a lot of different platforms where you can take actual courses that will teach you specific skills or alternatively, you can just learn by involving yourself in different communities. There's Design Buddies, there's the Adobe creative community, there's Brandon's community. There's so many different design communities out there that you can really become involved in and that's a great way of really learning to become a designer, but also building friendships and building relationships with these different people that can help you on your path.
Elsa Amri:
And then my last tip would be I guess, to kind of find what your motivation is. I think, especially when you are transitioning from a different field, that's something that a lot of people have been doing lately, which is awesome, but sometimes it's really easy to lose sight of what's motivating you to pursue this path as a designer. For me, my motivation was I wanted to build solutions that would help people, especially on a community level. That was kind of the main thing that kept me focused on my goal up until this point. So I think for anyone at the start of their career that's something that you need to identify so that when things do get tough and when they do get hard, especially when you are applying for full-time roles, it's not easy at all. For most of us, you do need to have that source of motivation that keeps you going regardless and that you can hold onto even during those tough times. But those are kind of three main tips I'd give to people.
Maurice Cherry:
What would you say you are obsessed with lately?
Elsa Amri:
Obsessed with Netflix.
Maurice Cherry:
Okay.
Elsa Amri:
No, not Netflix. I think my obsessions haven't changed in the past few years. My main obsession, I think is anime and manga. That's kind of, if I'm not designing, that's typically what I'm consuming in some way.
Maurice Cherry:
What shows or what titles are you checking out?
Elsa Amri:
A lot of them, I guess, mainstream ones that most people are. So like My Hero Academia or the slime, one whose title, I can't remember. It's way too long. Haikyu, the volleyball one. So typically I've been watching anime and reading manga since I was in high school. So quite a few years now. And it's just something that I always go back to because there's never a shortage of good content, ever. There's always some things that will peak your interest in a lot of different genres, really any kind of content. So up until this point, I kind of have kept going with that and that's typically what I use for entertainment, I guess you could say.
Maurice Cherry:
Okay. Have you seen Cowboy Bebop?
Elsa Amri:
I've seen episode one of Cowboy Bebop.
Maurice Cherry:
Okay. I was going to ask if you had heard about the live action. I think it's a movie or a show that's coming to Netflix.
Elsa Amri:
Oh, yeah. I have heard of it. Yes. I have heard it looks good, is what I think people are saying.
Maurice Cherry:
I'm interested to see what it is. I'm always a little wary about live action adaptations of anime because it's one thing to convert from animations to alive action but there's so many cultural things about animated that are intrinsically Japanese, that when you are converting it to English and English speaking audiences and cultures, it just doesn't mesh well for some reason.
Elsa Amri:
Yeah.
Maurice Cherry:
I'm thinking specifically about the Ace Attorney series from CAPCOM. It's this lawyer, Phoenix Wright, that's what the American title is, but the Japanese title is Naruhodō something, I forget his last name, but anyway, there's certain very Japanese things that they try to convert over to American. Like instead of them eating ramen they eat hamburgers and the fan community calls the city that they live in Japan Angeles, because it's supposed to be in Tokyo but they're actually in Los Angeles in the US or whatever. The Cowboy Bebop, I'm interested to see what that's going to look like in live action. The cast looks great. I wonder how they're going to really capture that feeling. I remember reading an interview with John Cho and he was saying that he wasn't going to sign on unless Yoko Kanno, who's the composer of the theme and much of the music throughout the series. He's like, "If she's not on board, I'm not on board." So that gives me hope that it's going to be good, but we'll see, we'll see.
Elsa Amri:
I see what you mean. Live action adaptations do not have a good rep at all. I don't know what the good ones are. A lot of them people typically say suck. The most common example, so I don't think Avatar is necessarily anime, but people always trash the live action of Avatar because it's awful. So I personally haven't seen any live action adaptations yet, but if the Cowboy Bebop one is good, I might just have to.
Maurice Cherry:
I hope so. I think anime fans everywhere wants, I think they want it to be good. I mean, no one wants to go into seeing these things and they hope that it fails because there's such a rabid fan base behind it. So they want it to be successful, but what the fans want and what Hollywood gives you are two different things, two entirely different things.
Elsa Amri:
Yeah.
Maurice Cherry:
Yeah. Where do you see yourself in the next five years? What kind of work do you want to be doing?
Elsa Amri:
Well, I hope I am working in a company as a full time product designer, just because that's something I haven't gotten an experience of doing so yet. So I've been working as a freelancer for quite a while now. And although that's great and has its merits, there's also a lot of value in what you can learn working in a company environment or even working in an agency. So right now I do work with an agency but more of on a part-time basis. So I definitely see myself kind of working as a full-time product designer, hopefully even in a senior role as well.
Elsa Amri:
I think I have high expectations for myself in terms of kind of how I want to improve and progress career-wise. So I don't want to be stuck in the same position I'm in right now a year down the line. I want to be able to look back and see, "Oh, okay. I went up this many levels, figurative levels." So I kind of see myself, yes working as a product designer, but hopefully in a more senior role too, I want to kind of be at that point, but I also want to be able to look back and really feel like I've made an impact in some way.
Elsa Amri:
So I talked about this a bit before, but I'm really interested in kind of how you can create solutions for the communities you belong to. And there are a couple of projects that I have in mind for my own community. Just kind of based on my experience, being back in TZ since 2019 and what I've experienced here so far. And there are a couple of things that I really look at and I feel like we could have a solution for this, but we don't yet. Why is that? And how do you approach those problems to create solutions for those problems?
Elsa Amri:
So I hope several years down the line that I have participated in creating solutions for some of those problems as well on a community level. I think that's something that I really strive towards creating as a designer as well. Yes, you are a designer and you have successfully worked on this many global projects, but also what impact have you had on your own community? I think that's something important for me too.
Maurice Cherry:
Nice. Well, just to wrap things up here, where can our audience find out more about you and about your work online?
Elsa Amri:
Yeah. I'm on a lot of platforms. So the main ones that I use Twitter, @elsaaamri, so that's a bit confusing. It's Elsa and then another A and then Amri, so three A's in the middle. I'm also on Instagram, @elsaedwardamri. I'm on LinkedIn a lot too. You can find me there. My name is Elsa Amri, so same as always. Am on Behance as well. I always love following other creatives on Behance and checking out the cool work that they do. My username there is also Elsa Edward Amri. So you can find me in all those different platforms. I also have a portfolio website, elsaamri.com that you can check out and all my social media contacts are there as well. So that makes it a lot easier if you want to find me on a different social media platform too.
Maurice Cherry:
Sounds good. Well, Elsa Amri, I want to thank you so much for coming on the show. Thank you for really sharing your journey as a designer and how you really kind of came into your own and really were able to use the experiences around you from going to school in the UK, teaching in Japan and really bringing that to your work. I really hope that this interview will help more people not just learn about you and about Tanzanian designers, but also just about the ways that they can put themselves out there and really be seen and be recognized for the work that they do. Because I think what you've done, certainly just from what you've described and from what I've seen has been something that I would love to see more designers do to try and make a name for themselves. So thank you so much for coming on the show. I appreciate it.
Elsa Amri:
No, thank you so much for inviting me. This was super fun. I've never done something like this before. So I was kind of nervous going into it, but it was really fun to just kind of talk about my experiences and for anyone who does listen and if they do learn something from my own experience so far, that's awesome and that's really all I could ask for, but it's been super fun as well.

Support for Revision Path comes from Adobe MAX.
Adobe MAX is the annual global creativity conference and it's going online this year — October 26th through the 28th. This is sure to be a creative experience like no other. Plus, it's all free. Yep – 100% free!
With over 25 hours of keynotes, luminary speakers, breakout sessions, workshops, musical performances and even a few celebrity appearances, it's going to be one-stop shopping for your inspiration, goals and creative tune-ups.
Did I mention it's free?
Explore over 300 sessions across 11 tracks, hear from amazing speakers and learn new creative skills…all totally free and online this October.
To register, head to max.adobe.com.

On the weekend of October 8-10th, join the Harvard Graduate School of Design virtually for the Black in Design 2021 Conference!
This year's theme, Black Matter, is a celebration of Black space and creativity from the magical to the mundane. Our speakers, performers, and panelists will bring nuance to the trope of Black excellence and acknowledge the urgent political, spatial, and ecological crises facing Black communities across the diaspora. You don't want to miss out on this weekend of learning, community, and connection!
Visit them online at blackmatter.tv to learn more and be a part of the event.
Brevity & Wit is a strategy and design firm committed to designing a more inclusive and equitable world.
We accomplish this through graphic design, presentations and workshops around I-D-E-A: inclusion, diversity, equity, and accessibility.
If you're curious to learn how to combine a passion for I-D-E-A with design, check us out at brevityandwit.com.
Brevity & Wit — creative excellence without the grind.