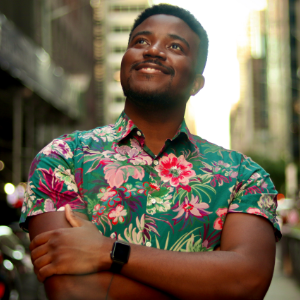 The good thing about design is that if you have access to the right opportunities, your talent can really take you places. Take this week's guest, Kevin Hawkins, for example. While he cut his teeth in the Washington DC design scene, for the past few years he's been working in Europe, including his current role as global UX director for Glovo in Barcelona, Spain.
Our conversation started off with learning more about Glovo, and Kevin shared some of the rewarding bits and some of the challenges of his work. He also spoke about how his parents inspired him to be an entrepreneur, designing in DC and San Francisco, and how a trip to The Netherlands influenced his decision to work in Europe. Kevin's story is a great example that when you take a chance on yourself, you will never lose!
Transcript
Full Transcript
Maurice Cherry:
All right, so tell us who you are and what you do.
Kevin Hawkins:
Hello, I am Kevin Hawkins. I am the global UX director at Glovo in Barcelona, Spain. I manage a team of designers, researchers, operation specialists, content writers, and it's about a 90-person team working on global food, grocery and everything delivery, in about 25 countries.
Maurice Cherry:
And I should also mention that you also live in Spain. You're not just working remotely because of the pandemic.
Kevin Hawkins:
Correct, yes. I've lived in Barcelona now for just over six months. I moved for this job, and it's been going really well.
Maurice Cherry:
Oh, nice. How's Barcelona?
Kevin Hawkins:
Super hot. The heat wave has been roasting Barcelona, but it's also the time of year where they have neighborhood festivals. So it's been super nice to get to know the city and see it come alive, but also see all the tourists sweat in the sun.
Maurice Cherry:
So aside from this move, how's the year been going in general?
Kevin Hawkins:
The year's been going really well. A lot of unexpected changes. I was previously living in Amsterdam, so it's been a lot of big changes; another move for me, a new job, a new house, a new language. So it's been a year of change.
Maurice Cherry:
Let's talk about the work that you're doing at Glovo, where you mentioned you're their global UX director. Talk to me about Glovo.
Kevin Hawkins:
Yeah, so Glovo, if people don't know, it's really big in Europe, Northern Africa and Western Asia. We don't have a presence in North America, but we used to have a presence in South America. It is essentially if you were to combine DoorDash plus Uber Eats plus a little bit of FedEx. We are a delivery logistics company that started out doing food. We do groceries, we do appliances. We've started doing COVID tests. Essentially if you want anything in the city, we deliver it, we schedule it, we get it to your door. And we operate in 25 countries and just recently merged with a big group. So now we have about, let's say, total, a couple billion orders a year that we handle as part of Delivery Hero.
Maurice Cherry:
Wow. How has business been going during the pandemic? I'd imagine probably pretty well.
Kevin Hawkins:
Yeah. This is one of the kind of outlier industries that did really, really well. As everyone started ordering from home, we ramped up. We were one of the first in Europe to start scheduling at-home COVID tests, because we could deliver you the test, but we can also deliver you the test with a nurse or someone to actually administer the test. So it was a really good time for us to launch new features. I only joined in February, so I came in on the high wave of all this growth, really trying to use that extra momentum and the profit margin that came with it to really invest in big things to keep that momentum going as people go back into the world and things open back up.
Maurice Cherry:
Tell me more about the team that you're overseeing.
Kevin Hawkins:
The team is my favorite part of this job and favorite part about the entire company, honestly. So Barcelona is the capital of Catalonia, which if you know anything about Spain, the different groups and factions, they fought for a while. There's distinct cultures, so it's different than Madrid, it's different than Valencia or other areas of Spain. Very humble, very sweet, very down to earth people. The founders are both from this region, and it's very much seen in the culture of the company. And so I really love the people. The roles that end up reporting into me are typically design and research, but also design ops, research ops, localization and internationalization teams that handle our translations and cultural differences, as well as the content writers and little bit of program management.
Maurice Cherry:
What does a sort of typical day look like for you?
Kevin Hawkins:
There is no typical day, I will tell you. So I am the highest ranked design person at Glovo. I report directly in to the chief product officer. So my typical day is a mixture of diversity and inclusion and hiring practices, meetings, making sure that research plans are adapted to different countries, dialects and languages. I have one-on-ones with five different heads of UX. Generally, I'm talking to a software account manager about renewals or new feature development, planning a research trip, or as part of my work with an employee resource group, we are planning an event or sharing new guidelines or new fact sheets to inspire the company to be more inclusive.
Maurice Cherry:
I was just about to ask you about that. You head up this ERG called Colours at Glovo. Tell me about that.
Kevin Hawkins:
Yeah, Colours of Glovo is a really fun part of the work I do. So the employee resource group is dedicated to diversity and inclusion as well as cultural differences related to ethnicity, race, and a lot of the nuances that happens within countries or within cultures. So generally speaking, we have ERGs dedicated to Pride and women's inclusion and disabilities, but our ERG tackles all of the gray areas, the really specific things regarding operating as a company that has a bunch of gig workers. How do you handle the issues felt by the couriers, who are often immigrants? How to be adapt the product to be mindful of cultural differences and sensitivities in Western Asia and the Middle East and Northern Africa and Islamic countries? How do we modify for language, a number of things, delivery to women in homes where a man can't enter the home? The number of things that comes through the ERG is super fascinating, and we help the company navigate these kind of differences and choices.
Maurice Cherry:
Do you think Glovo will take off in the US? Is that a plan, to expand into this market?
Kevin Hawkins:
As someone who was born in America, I definitely think about this a lot. I don't think we will. We have a really successful strategy, which is based on being number one or number two in all the markets we operate in. Given the intense competition of Uber and DoorDash and everyone in the US, I think it would take a very dedicated expensive effort to come in and be number one or number two very quickly. So I don't see it happening in the near future. But now that we are part of Delivery Hero group, we are in the top three delivery companies globally.
Maurice Cherry:
Yeah, I would imagine if Glovo were to expand into the US, you'd have to contend with Amazon. And they're just everywhere, I mean, ubiquitous. I'm surprised, I know they used to do food delivery. It's funny, they used to have Amazon restaurants or something, but I guess they just decided to give that up. And now they just do, of course, package deliveries, they do grocery deliveries, et cetera. But for what you're mentioning with Glovo, it sounds like this FedEx, Door Dash, Uber Eats kind of hybrid sort of probably covers some gaps that maybe something like an Amazon wouldn't cover.
Kevin Hawkins:
Yeah, we have a couple of things people don't expect. There's a really famous feature from the very beginning of the history of Glovo called Anything Picture, or in Spanish, [Spanish 00:09:21], which is you actually describe what you want to receive and the courier will go out and get it. And that means you could say, "Hey, I need two pillow cases and a pillow from Zara home." Zara Home isn't a partner of Glovo, but this courier has a credit card and can go into the store, buy it, expense it to you and bring it to your house within 25 minutes.
Maurice Cherry:
Wow, that's pretty good. That's pretty good. That reminds me of … Oh my God, I'm trying to think of … Do you remember Webvan?
Kevin Hawkins:
Yes.
Maurice Cherry:
Oh my god, it reminds me a little bit of Webvan, from back in the day. I don't know if they were that exacting, but I like that feature. That sounds really cool.
Kevin Hawkins:
Yeah, there were a couple concierge apps that came out back around then. It was like Cleveroad, and there's some older ones that are no longer existent, because the margins were terrible. And trying to accommodate random requests at random times always became very challenging. But it's cool because we still have that part of the app, because it's the oldest feature, people love it. And when it works really well, I mean, it's a moment of absolute customer delight.
Maurice Cherry:
Yeah. We have a place here in Atlanta called Zifty. And Zifty has been around probably since, oh my God, maybe 2003 or something like that. They're like the pre-Uber Eats or pre-DoorDash or something. If you wanted to get something from a local restaurant, depending on where your zip code was, they could get it for you. But also, they had a little grocery store. So if you needed to get toiletries or aspirin or whatever, you could get that along with your food, and they'd sort of bring it all together. I think they might have taken a bit of a stumble during the pandemic.
Well, one, services Uber Eats and such came about, so now you didn't have to use Zifty. You could use any of these other services, which were cheaper. But the thing with Zifty is they were really good about trying to make sure that all the drivers were paid a livable wage, all that sort of stuff. They weren't trying to undercut your own tips or anything like that, as maybe a similar type service might do; not naming any names, but you know what I mean. They might not try to undercut them on that sort of stuff. I don't know how well they're faring during the pandemic, because they stopped doing the grocery stuff, because I think just the possibility of transmission of COVID. And so now it's just restaurants. But they've expanded into a mobile app.
I'm curious to see how they weather it through, because they'll be coming up on 20 years next year. And it's amazing how they've managed to weather the storm as society has changed. Because I think in the beginning people were like, "Wait a minute, the only thing I really would order delivery would be pizza or maybe Chinese food." And now you can get pho, you can get sushi, you can get pillows, like you mentioned. You can get anything now via delivery.
Kevin Hawkins:
Yes, exactly. The thing that we saw really spike during COVID was what we call quick commerce. So it was these brands like Gorillas or Getir, in some cases even grocery stores, directly offering what was 10-minute delivery for things. And this is what led to the same rat race that Amazon triggered when they launched one-day delivery. All the retailers have tried to scramble to get three day, two day, one day, same day, few hour delivery, sparked by this kind of, "Oh, that's possible." So then people find use cases they didn't normally have.
In our space, it was quite literally the grocery store companies and these quick commerce companies pushing food, because food was always, "We get it to you." You have companies that have couriers like us, and then you have some restaurants that have their own drivers, like notoriously Domino's. And we merged them together.
But then you had products that were committing to $10 or a 10-minute guarantee and you get your money back, which is significant pressure on the logistics company, because you don't have staff. People are volunteering. They get online when they want to get online. It can rain. You might be in a hilly city like San Francisco. The number of variables were endless, let alone things being out of stock. So we had to contend with this really, really heated race. Getir raised a billion dollars almost in funding, which is an unheard of number for a company that just started. So it was a really fun time for the industry.
Maurice Cherry:
It also sounds like, I think you mentioned this earlier, but you are also delivering COVID tests too. I don't know of any other services really doing that.
Kevin Hawkins:
Yeah, I think it took a long time, but I think Uber eventually decided to start letting you schedule COVID tests with CVS, and then perfectly scheduling to pick up and drop off. But that was the closest I've seen on the large scale. We were actually delivering tests and then also delivering practitioners who could administer the tests, because it was just a perfect remedy. We started doing supply-based delivery. So if you were ordering an appliance, we'd have an installer; you're buying a TV, we have an installer. Imagine everything from Best Buy, they have that service called Geek Squad where they come and install things. It's just timing and scheduling of a person to arrive with goods. So we were like, "We sell goods, we deliver them on time, why couldn't we deliver a person with them?"
Maurice Cherry:
Nice. So it's sort of also like a TaskRabbit in there too.
Kevin Hawkins:
Yeah, a little bit, as long as we could estimate the cost before, because TaskRabbit, there could be overage. We didn't really get into that. We have a single transaction, single promise, single sale. It was applicable to many, many things.
Maurice Cherry:
Yeah. Now you mentioned the team being the best part about what you do. What would you say is the most difficult part?
Kevin Hawkins:
I mean, it's also the size, the scale. The differences within the markets that we operate in is probably the difficult part. Whenever you come up with what you think is a simple solution or that makes sense, it is never going to apply equally in Portugal as it will in Kurdistan. It never really makes sense the same in rural Nigeria or rural Kenya as it does in downtown Barcelona or in a very dense three-city country like Poland. When you have urban sprawl, when you have a six-language barrier, when the couriers or the partners speak completely different languages than the average customer, these complications, these nuances, these details makes the work for the team really complicated and also makes funding and prioritizing research … I would say fun, some would say complex.
Maurice Cherry:
Yeah. Now, you've served at a number of different companies. You've even worked internationally before, which we'll get into a little bit later. I want to take things back to the beginning and sort of talk about your origin story. Tell me about where you grew up.
Kevin Hawkins:
Yeah, I don't get to talk about this too much, but I'm originally from the Washington, D.C area. So my first home was in the city, and then we moved back and forth between Rockville, Maryland, Silver Spring, Maryland, and back into the capital. And I spent pretty much all my time in D.C., with a lot of travel with my dad, who is from the military, and then my mom's family, which is African, from Liberia. So we spent time flying back between the two continents, but also just around the US at different military basis.
Maurice Cherry:
Oh, nice. First generation. I like that.
Kevin Hawkins:
Yeah, exactly.
Maurice Cherry:
Did you have a lot of exposure to art and design and stuff growing up?
Kevin Hawkins:
Yeah, so my mom was a nurse and then broke away from the family expectations going into medical because she wasn't happy, and became a fashion designer. And that was a big inspiration for my ability to problem-solve and really understanding when people say they want certain things but what they really want is something else, which is of course a big skill for designers. And then my dad was in the military but then left and became a labor rights attorney, and was really working with a lot of politics and advisory, and also had his own business. And so I was always surrounded by creative thinking, problem solving, a lot of politics, a lot of public relations. And it always made me think about, what if I did something similar to this? And I ended up helping them build their websites and their marketing collateral. And that's really how I got started.
Maurice Cherry:
When did you of know that this was something you really wanted to study and go into, as a kid?
Kevin Hawkins:
So, that happened really early. I think it was probably as early as 10. So when I was super young, this is like seven or eight, if you went to school in the States especially, you know had to get a book cover and you had to get a binder cover sometimes, because you had even and odd days in middle school. And all your textbooks were either rented or they were really expensive, so you wanted to cover them to protect them, maybe sell them back later on in the year.
And my mom and I came up with the scheme of making the coolest covers. And so we had a little business called Cover Me Cool. And I essentially would be the model at school, and people would ask questions, and then you would sell them. And that got really big, and we ended up going to a trade show. We talked to me to Mead and Five Star, we got a patent attorney involved. It was my first [inaudible 00:18:29] really getting involved in business. So by 10, I had sold a company and had understood a bit of the politics of trademark law and copyright law, and decided I wanted to be more on the creative side of business. But definitely my teeth wet, and was really excited to do more independent design work.
Maurice Cherry:
So you had your own business and sold it by the time you were 10?
Kevin Hawkins:
Yeah, I would say sold is a nicer version of this. Ultimately, we couldn't afford to scale and license NFL prints and everything. And someone [inaudible 00:19:06] buy from us. And we said, "Obviously, that sounds great." So we sold. Sometimes I think about what would happen if I hadn't, but I think ultimately, it was a great learning lesson.
Maurice Cherry:
Yeah. I mean, look, an exit is an exit. And the fact that you were able to sell off the business and still keep going, that's a great thing. I say this of course as you are a child, but that's great that you are able to have that experience really early on that way. So given that, did that sort of put in your mind, this is something that you really wanted to do as a business, was design?
Kevin Hawkins:
Yes. I still wasn't sure what discipline within design, so this is when I started looking at school differently. I used to be very anti-school. I was very good at primary school. I really hated tests, so I didn't really the process of going to college. But then I was like, "Maybe I can be excited by the idea of web design," and what they were calling new media back then, because I was like, "Oh, this is not traditional. This is not just marketing collateral. This could be service design. This is marketing automation. This is branding." It always had a bit more to do with the business than just the service provided. And I liked that, and that's how I got started.
Maurice Cherry:
And now speaking of school, you did end up going to the Art Institutes for a while. You studied web design and interactive media. What was that time like?
Kevin Hawkins:
It was really intense. So my family, I'm the child of divorced parents, and so money wasn't always consistent. So me having these jobs where I was doing websites and making templates on WordPress and stuff like ThemeForest and all this was a great revenue source for my mom and our household. And so when I went to school, I had a job already, and I was still working full-time doing marketing and creative service stuff for nonprofits in Washington, D.C. And I was like, "Oh, okay. So I really like my job, but I should go get certified and get a degree and get some kind of accreditation for it." Ultimately, I ended up learning more from my job than I did from school, and that's ultimately why I ended up leaving school.
Maurice Cherry:
I feel like that's a lot of the case when it comes to design, I think particularly design … And I'm just sort trying to place this in terms of timeframe. If you did this anywhere in the early 2000s, I feel like that was totally okay, because a lot of schools didn't really have curriculum that spoke to web design, visual design. Maybe they had advertising or communication design, or you went to a for-profit school like the Art Institutes and you learned stuff there. But a lot of what you learned, because of how the industry was moving, was just being hands-on. You learned through working.
Kevin Hawkins:
Yeah, certainly. I learned a lot more always from learning from people I looked up to, people who wrote books or spoke or were generous with their time, or just people at the workplace who were willing to teach me or delegated work they didn't want to do. Whatever way it came to me, I was able to take these opportunities and find a way to make myself passionate about it.
Maurice Cherry:
And now after you left the Art Institutes, you worked at a lot of different places. And I won't go into all of them, but I'll list off just a few of the more prominent places where you've worked, which is Chase. You've worked at Capital One, Gap, the Brookings Institution, PwC, EY, many others. When you sort look back at that time, because you were sort of contracting from place to place, talk to me about who that Kevin Hawkins was. Who was he? What was he thinking? What was he trying to accomplish back then?
Kevin Hawkins:
I never intended to go to any of these companies and leave. I think that's one of the things that millennials get blamed for, the whole job hopping fad. I ultimately always wanted to stay, but I just had a lot of, let's say, self worth from my mom and the way she raised me. And whenever I dealt with workplace discrimination, ageism, racism, any of these things in the workplace, I always said it would be better for myself and my career for me to be happy at work than to … I never saw going through discrimination and oppression as earning my dues. So I found new places or I worked on startups or I made enough money making websites for people to give me a month or two to find a new job.
Maurice Cherry:
That's a powerful statement there, and I think it's something that … I don't know, it's interesting, when you think about people in their early careers, is that whole pay your dues sort of bit. I get that. Look, I got a Black mama too. And she certainly was like, "Sometimes there's things that you have to do that you don't want to do to get where you have to be." And I understand that to a fault. I get that there may be some things where you just have to learn it, this is how you learn it. But if it's like you've said what you're putting up with these pervasive isms at work, racism, sexism, et cetera, why stay? You're not winning any awards by staying, you know what I mean?
Kevin Hawkins:
No, exactly. And that wasn't always the reason why I left. Sometimes new opportunities come, sometimes you start to stagnate or you stop learning. I always say either you're there to learn or to earn, and sometimes there's other motivations like a passion or a mission that aligns with you. But when you're not learning, when you realize the industry is getting bigger, it's getting very profitable, the work is extremely valuable, it's being tied to massive growth and revenue, you also want to start earning more. And because I came in without a degree, I was originally second-guessing myself. So my whole tactic was I'm always more valuable in the interview phase than I am two years into a company. So if I want to make up for the money than I'm not earning by not having that degree, it makes more sense for me to take opportunities when people present them to me, than to trudge through the interview process and promotion panels, with the people I've been working with for two and a half, three years.
Maurice Cherry:
Okay, you just raised something interesting there I want to touch on. So you did go to the Art Institute, you got an associate's degree, right?
Kevin Hawkins:
Yeah.
Maurice Cherry:
So even though you had that degree from an institution that someone could look at and say, "Oh, you must be a designer," did that still not help you throughout your career to have that as sort of a … I almost want to say a status symbol of sorts?
Kevin Hawkins:
No, honestly it wasn't looked at the same way. The Art Institute doesn't have the prestige of a Corcoran or a SCAD or a RISD. In addition, I got into web design and I was doing a lot of user experience, information architecture, HCI work. So they didn't see it as directly relevant. I got a two-year degree but I didn't take the final exam and do the official ceremony. So I always had to send in transcripts versus the official diploma letter that comes from the university office. And I didn't really care. I was really happy that I made that choice to leave, and the work spoke for itself, more often than not. But then there would be companies, especially as I got higher up in D.C. or in New York that just would look at nothing else. And California and Europe started getting more and more attractive.
Maurice Cherry:
Interesting. I'm just curious about that, because for example, I don't have a design degree. I did go to college, got a degree in math, and then started out as a designer, even though I just picked up design in my spare time. And even now at this stage in my career, I'm at least 20 years out from my first design position, me not having a design degree I think is still looked at some places as like, "Oh, well, you're not really a designer," despite the fact that I've run my own studio, have all this design experience in other companies. They're like, "Yeah, but you don't have the degree." And I feel like companies sometimes still place way too much emphasis on that.
Kevin Hawkins:
Certainly. I mean, I can tell you the number of jobs where I actually got to the final round … I even have jobs where I was given the offer, and then it was rescinded because they hadn't checked which degree I had.
Maurice Cherry:
Oh, man.
Kevin Hawkins:
And I thought that was insane. Some of these companies had public stances on articles and in Forbes, "We don't look at degrees anymore. Degrees are not a requirement for most of our jobs." But the second design started getting a seat at the table, design was informing P&L, it was informing business strategy partnerships, they started really looking at designers, especially when you go into UX, as part of the business organization. Sometimes you reported in to COOs or CMOs. And they ultimately saw it as flywheel effect, that you invest in UX, you get customers happy, they buy more, you have more customers, which is great. But at the same time, we're still always interviewed based on portfolios, you're based on references, you're based on the work you've done in your past. So why is the degree so important, when you spend 80% of the interview looking at work done?
Maurice Cherry:
Right. No, that's true. That's very true. I remember vividly when I got … it wasn't my first design job, but I was working at AT&T as a senior designer. And it was one of the campuses here in Atlanta. And pretty much everyone else on the design team not only had a design degree from the Art Institutes, but they kind of all went to the same classes and stuff together. It was very much a pipeline from this school to this company, which I think may be why some companies look at that, and think, "Oh, well, if you've come from this school and you have this degree, then you can automatically meet maybe this baseline level of work."
But when I tell you I was designing circles around those jokers at AT&T … and a lot of them paid me dust because I didn't have a design degree … and these would be other Black designers too, wouldn't even talk to me. And so when it was time for me to leave, I was like, "I'm out, I'm out. I'm gone. Peace."
Kevin Hawkins:
Exactly.
Maurice Cherry:
And so I 100% understand the want to get at a company and you want to be there, and it just doesn't work out. And it's not anything that has to do with you. It's company culture stuff, it's all kind of other stuff. And it's like if you don't feel happy here, why stay?
Kevin Hawkins:
Exactly, exactly.
Maurice Cherry:
And what I noticed from just doing research, you also had your own things that you were doing throughout this time. So you weren't relying just on working at these companies to, I guess, fulfill this creative want that you had. You founded other companies, Pipevine, QReview, BravoScore. Talk to me about those. It sounds like you were pretty busy.
Kevin Hawkins:
Yeah, I've always had this, and I think it's probably from watching my parents be in jobs they weren't super happy about and then watching them start their businesses parallel to their work, so I always thought, "Oh, that's a thing you can do." It isn't like you have some contract where you are enslaved to one employer and you need to tell the employer you're going to leave before you do work for a new employer. I always saw that small businesses are often started alongside full-time jobs.
And I said, "I do like what I do for a living, and ultimately, I see myself advising business. I see myself advising product directors and program managers. And this is what they use to determine budgets and this is what they use to determine expansions and launch strategy. I can do that. Why shouldn't I launch something as a UX designer with the background that has worked also in research? I can validate a problem. I can talk about size of the market. I can talk about who is addressable within the first version of the product that we release. I could do a pitch. I can definitely do this."
And I started looking of course more and more at San Francisco and startup companies and how they got their start. And you're like, "Cool." Designers, I personally think … this is even before Brian Chesky and Airbnb … because designers, I think, are better startup CEOs. They pitch things, and you want to listen; they're beautiful, if they do their job with communications design very well.
And I said, "Let's start some companies." And I had no idea where to look. And I ultimately looked to people who were already that passionate founder visionary type, and they didn't know how to build great user experience. They didn't know how to collect email and newsletters and do a landing page and build up momentum before it launched. And I partnered with them as their technical co-founder because I knew enough code, enough front end, enough design to be dangerous. And they were the business, finance people.
Maurice Cherry:
So you really got your own business education in a way, too, by running these businesses and working with them.
Kevin Hawkins:
Yeah, certainly.
Maurice Cherry:
I like that. I definitely can empathize with that. I've always had my own thing on the side, wherever it is I was working. And I'll tell you what's interesting, some of these new startups, and I know this just from working in startups in the past five years … And I don't know if a lot of them have them, but the ones that I worked in always had a clause that you had to disclose anything else that you were doing outside of work that might … I don't know if it might conflict or whatever, but they just wanted to know that, "Well, what else are you working on that's not the 9:00 to 5:00 job?"
And sometimes I would answer and sometimes I wouldn't, because it's really none of their business, because none of the places I worked for had any sort of relation to what I was doing, which was this podcast. But I find it interesting now that companies are like, "Yeah, what else are you doing to try to, I guess, I don't know, capitalize on your time?" I know there's this whole thing now about quiet quitting. And I hate that term so bad because it's really just about setting boundaries at work. It's not, whatever, I don't know, 19th century Industrial Revolution thing you might be thinking about with quiet quitting. I just hear that just, I hate that term.
Kevin Hawkins:
It does hurt me, honestly. It's like, okay, either it's disengagement or it's just the phase before someone gets fed up. But it's not disingenuous to be tired of bad conditions or being undervalued or underpaid or outgrowing opportunity. If you feel like life is taking you a different direction than your current employer, there is always going to be the phase before you quit. And that isn't called quiet quitting, in my opinion. That's just called really assessing your worth, your value, and your future.
Maurice Cherry:
I might get in trouble by saying this. Part of me feels like that the media is a little bit complicit in this, because I really am only hearing this from Business Insider, Wall Street Journal, stuff like that, that are talking about quiet quitting. But I feel like it's also retaliation to a lot of workers, at least here in the States, now realizing the power that they have with unionizing. And so they're cutting down on this whole quiet quitting thing, because I mean, at least in some of the places I worked, that quiet quitting, I'm using air quotes here, were the seeds to start unionizing. That was the fertile ground for people to start thinking about, how can we campaign for having better work conditions, et cetera? And they talked to a union rep, and now we got a union. Like I worked at Glitch, and we unionized, shortly before they laid most of us off, but we did at least have that happen. And I want to say that the fertile ground for that was a lot of people just being sort of fed up with how certain conditions were.
Kevin Hawkins:
Yeah. And honestly, businesses will always have, let's say, a fiduciary interest in not wanting people to unionize, because it's easier to manipulate and get what you want as a business, for your shareholders, or even for yourself, when you are dealing with individuals. It's also why the whole idea of people knowing what everyone makes is dangerous to businesses, because then you know if you're getting paid less, and you know if they value that same work at a higher value. Some of these things are solved in some places in Europe, and it's still the same battle. I have to deal with lots of cultural differences, and this is one of them. A lot of the teams and companies I work with and some of my peers in Spain and Portugal deal with this, which is, I think it's quite positive, but it is tricky, that our employees talk to each other about how much they make. If we do a market adjustment and someone was adjusted more than someone else, it definitely comes up much quicker than you think it will.
Maurice Cherry:
Yeah. So you were running these businesses, you were working at these different places. It sounds like you were doing a lot here in the States, between all of that stuff. But eventually you ended up moving, you moved to Amsterdam. What was behind the decision to do that?
Kevin Hawkins:
Yeah. So I moved to San Francisco for four and a half years, and I was really happy out there, but I really couldn't see myself building life in terms of buying a house, starting a family, with just the cost, the income disparity, the homelessness crisis, and really just it's quite out of touch, if you stay in certain bubbles. And I always had a really good balance. My family is quite mixed, African, Filipino, American. I see different classes within America and other countries on a regular basis. And so to juxtapose the comments and things you would hear in Silicon Valley with the reality of most of the world became a bit frustrating. And I said, "Am I really doing myself a service, spending all of my money, all of my energy just trying to survive in this city, or maybe I go back to D.C., or maybe I finally go and try out Europe?"
Maurice Cherry:
And Europe ended up winning.
Kevin Hawkins:
Europe ended up winning; winning at a very interesting time, who got elected-
Maurice Cherry:
Yeah, that's true. That's true. Yeah.
Kevin Hawkins:
… safety of Black people in America. I mean, a number of things, right? And so I was really happy to be able to go and visit. And then once I was able to secure a job that was able to sponsor me and keep me there, it was a big sigh of relief that I exhaled, because it was just such a significant upgrade on my quality of life.
Maurice Cherry:
Yeah. So you ended up working in Amsterdam, you were working at booking.com. And then now you're here in Barcelona working at Glovo. I'm just curious, I mean, this is from the dumb American perspective, so forgive me here, but is it easy moving between countries like that in Europe?
Kevin Hawkins:
No.
Maurice Cherry:
Oh, okay.
Kevin Hawkins:
No. I really wish it was simpler. Honestly, the visas don't transfer between countries. So we were just talking about the whole degree thing. And I won't talk too badly about my new home country, but I had a high qualified migrant visa in the Netherlands because I worked in tech, and they wanted more tech workers. And I made good money and I brought lots of job opportunities and revenue by having a high-funded, well-run company be headquartered in your country. But that same visa wouldn't transfer to Spain, so I had to requalify, do background checks in America and in the Netherlands, do fingerprinting, do a degree certificate, all these things all over again, as if I hadn't just lived four years in Netherlands and bought a house. I considered myself European at that point, but that's not how it works.
Maurice Cherry:
Wow. And you've been now in Barcelona you said for about six months?
Kevin Hawkins:
Yep, about six months.
Maurice Cherry:
What is the design scene like there? Have you sought it out or have you found it there?
Kevin Hawkins:
So there are probably around like 2,500 startups. Glovo isn't definitely in that top group of the biggest. We're a unicorn. But the design scene isn't as large, of course, as a London, which is massive, or as an Amsterdam, which is definitely a tech hub, but it's very warm, I would say. The UX community in Barcelona has big players like HP and Amazon who are directly our neighbors. As Glovo, we're in a neighborhood called Poblenou, which is the tech hub. But then you also just have to factor in the culture.
There's a lot of illustration and animation in the UX and design community within Barcelona, just because of the culture is so rich in architecture and detail and craft. The community is very warm because the city is very warm, and people are generally happier, in my opinion. And they have beach meetups, and there's a thriving tech scene that's definitely growing. And it's really fun to be there at the moment where it's blossoming. It's definitely going to surpass, in my opinion, some of the bigger cities. The only key difference is that pay in the south is lower than in northern Europe, which models very similarly to pay in the South of the US versus New York, for example.
Maurice Cherry:
Interesting. How would you compare the design community to, say, the one in Amsterdam or in D.C.? Was that something that you thought about as you went to these different places?
Kevin Hawkins:
Yeah, certainly. I think that I always think about diversity of groups and communities. And D.C.'s definitely a melting pot. Amsterdam's a melting pot. Barcelona is one of the largest cities in a region of Spain, and therefore it's not Madrid, it's not the capital. The tech that's there isn't one industry, like the military or government or FinTech. And so it's a lot of people from completely different backgrounds, a lot of immigrants from other Spanish-speaking countries or from Latin America or Hispanic America, like Brazil and Argentina. And so, there is this really interesting new kind of perspective that you get. A lot of the competition or comps we talk about at work like Roppy and companies that don't even operate on the continent, because of the backgrounds people have and the different kind of work they've been doing. And it's really cool. I still do all of my work in English. And I'm still able to navigate the community, and the community's very open and friendly to expats. They often speak three languages. And it's a very vibrant, different community, but I really enjoy it.
Maurice Cherry:
That's good to hear that they're friendly to expats. I had always been curious about that sort of thing. I mean, I've been considering … at this stage where I'm at right now, as we're recording this, I am currently, we'll say, between opportunities at the moment. And look, I've been in the US for a long time. I'm from here, whatever. But I also know that the skills that I have, I'll look for the types of positions that I do, and most of them are in Europe. None of them are in the US. And I've thought about possibly maybe doing it, like, oh, just visiting or something. Part of me is like, maybe I'm a little too old to do that. Also, I'm close to my family that's close to where I live here, and I don't want to put an ocean between us. But it really sort of sounds like you've found a way for yourself throughout your entire career. You didn't have one set path that you really were trying to follow. You just of went where your passions led you.
Kevin Hawkins:
Yeah, I think the only thing that's been consistent has been I wanted to be a C-suite executive. I think that's something that my family makes fun of me for, from being a kid. I used to be called the governor. I probably am still called the governor [inaudible 00:42:23] family because I always projected these long-term visions, five-year plans, "We're going to do this." I was always rallying people towards a mission or a goal. And so I've always known I wanted to be in a leadership position, but as I got into design, I didn't really see one. So I was always trying to navigate my way into learning new skills, because I wasn't in the business area, I wasn't in operations, I wasn't in marketing, I wasn't in the area that had C-suite positions.
And I said to myself, "If I'm ever going to get there, it has to be the story of the receptionist who learns all the skills by being around all the people in the business and eventually become COO and then CEO." So I told myself, "I'm in design, there's no direct ladder to that role, so I'm going to have to get close to the marketers and close to the engineers and close to sales and close to legal, and really understand the in and out of every business I worked for."
Maurice Cherry:
And now you're in the C-suite now. Would you say that's sort where you're at now with Glovo?
Kevin Hawkins:
Almost, yeah. I mean, no one else above me does design work. I report to the chief product officer, but I am solely responsible for all the budget for design research, content. It's about a 90-person team and growing. And so it does feel like I'm almost there. I think the one thing that would get me there would be a VP of experience position or, very few companies have these, but a chief design officer.
Maurice Cherry:
How have you worked to stay your authentic self throughout your career?
Kevin Hawkins:
It actually is easier to answer than I thought it would be. It has been teaching. So I never did it with the intention of keeping myself grounded, but I always felt and was making time to mentor people into the industry. I have some close friends now who came from program manager jobs at NASA or were teachers or bankers, and now they're in UX or in different areas of tech. And I always found it really, I don't know, just thrilling to show them how transferable their skills were or show them that you have a passion to make apps, and yes, app companies and companies in general fail at the 90% mark, but these are the skills you need to be able to validate your assumptions and listen to customer feedback and iterate quickly and fail fast, and get them into positions where they either were launching their own companies or working in UX or in different tech roles. And that is what led me to eventually teach a class on data visualization at Georgetown University and then start teaching in general UX courses, design thinking courses, sort of about six years of me teaching now.
Maurice Cherry:
Oh, nice. So you're teaching. Is that something you're also doing now in Barcelona, or are you're just working at Glovo?
Kevin Hawkins:
I am just working at Glovo. I was working with a bootcamp in Amsterdam called Growth Tribe, but now that I'm in Barcelona, I'm looking for new opportunities, mostly by partnering with the department with local universities, Ironhack in Barcelona, building an apprenticeship program, which I feel like is really missing in the industry; when we talk about not enough junior positions, at the very least, people should be teaching and bringing in people who are early career programs and apprenticeship programs to build that pipeline for juniors.
Maurice Cherry:
Yeah, I find a lot of companies now don't really want to talk to people. When it comes to positions and stuff, they'll make sure that the, I don't know, applicant tracking system does all the work. They don't really want to talk to you or interview or get to know you unless you pass through those hurdles and stuff. But that apprenticeship part certainly is something that's missing. I feel like that's something that has been identified throughout the years, and a lot of companies just haven't tried to make that a part of what they do. I mean, they still have take-home tests within interview processes, so I feel like having an apprenticeship, it might be a little bit too much for them to handle at the moment, but I would like to see more of that kind of stuff too.
Kevin Hawkins:
Yeah, I think there's always a scapegoat, whether it be time or team maturity. But having an intern, having an apprentice, having a really early junior requires that same level of consistency with how the department or organization is run, with also there being clear career paths. But then in addition, having someone actually be responsible and given credit for molding the mind and techniques of a new person in the industry. And I think because of the number of operational admin and HR-related aspects of this that are not in place at most companies or are always in some state of shift, they always want to say, "Oh, we just won't do it," but then at the same time will complain about why it's so expensive to only hire seniors or why the [inaudible 00:47:06] maturity isn't great when none of your team has any experience mentoring people.
Maurice Cherry:
I know I certainly hear it from … I've heard of that, companies I've worked for, where they're like, "Oh, we can't find any good candidates," or they'll put out a listing and get 300 resumes and then not look at any of them. I don't know. Hiring in itself is broken. And I may be speaking from a bit of a jaded place at the moment, because I'm looking for work. But that's something I've noticed though throughout my career at places I've worked, where designers, it really is that thing about you have to know someone. It's really hard to just come in right off the ground floor to get into some companies. But that's pretty sad.
Kevin Hawkins:
Yeah, I would agree. Design is becoming like real estate. Everyone has to get some comfortable shoes and go door-knocking and cold-,calling and there's tons of doors being slammed and phone calls being hung up on. And especially with any kind of recession, it gets really tricky. The majority of my career, I would say, post- the engineering marketing design stuff I was doing, was in 2008, 2009. And obviously, it was the worst time. But I came in super humble, obviously didn't need a ton of money. In terms of what people were expecting for the top of the band for certain positions, I was undercutting them, because I was there to learn. At the same time, I also was keeping all of my expenses super, super low. That is impossible anymore. The market is insane. The cost of inflation has gone up just for living in places. And we've all talked about this ad nauseum at this point, about whether people should be paid living wages or not, which is an obvious answer.
And design has, and tech in general has been such a savior for some people because it has been rapidly growing in income, and people are making great salaries and new positions are being formed in leadership, and there's career paths. But then when it doesn't have respect at companies, you can look at Fannie Mae for example, you see whole divisions being cut or companies no longer investing in UX. And it really shows you that we have to, not just because we find it interesting, you have to develop these other skills, you have to develop these networks. And that awkward phone call or email or walking up to a random person at a conference feels like a luxury we can ignore for a lot of the time. But when it comes down to it, those are the people and the connections that have saved me most at times when I didn't have a job or went to a new country or got laid off or in one instance got fired.
Maurice Cherry:
What's the best piece of advice that you'd give to someone that they're hearing your story and they want to follow in your footsteps? What would you tell them?
Kevin Hawkins:
I would say, and this is going to be a quote, because I love quotes … I want to get this quote correct. "So it is literally true that you can succeed best and quickest by helping others to succeed," which is a quote by Napoleon Hill. And it's just me being generous with my time. It's me taking random phone calls for Brazilian graphic design students at 12:00 PM when it's their 5:00 PM, so that they can ask questions, how to go from graphic design into UX. It's me going to a Lesbians Who Tech drink in D.C. randomly to see if anybody's there because they're looking for a technical co-founder or they don't know how to do something. It's just me volunteering at design critiques or UX speed dating, where you're giving people advice quickly or you're answering questions in a Q&A.
I think these things are the things that we can always make time for. Ultimately in the moments when I didn't have a job, I did more of them, because they build connections and there is a bit of a bias or an interest for me to make connections. At the same time, it's what keeps me motivated and inspired and keeps my spirits high in the lowest moments, is the people who I've helped or the people who use me as a reference or call me when something has shattered their world. But for me, it's something I've done 10, 15, 20 times, and can easily walk them through how to navigate it.
Maurice Cherry:
Do you feel satisfied creatively?
Kevin Hawkins:
In my current role, yes. I think I haven't been for a little bit of time. I've been a director now for three years. I was a director at a small company and then I was in management but not a director at Booking. And at Booking, I was extremely, extremely happy. And then the recession hit, and that was ultimately why everything fell apart and I left. And I was looking for about a year and a half, almost two years for another place where I could see myself being home. And Glovo definitely is that. But the director role is less about designing mock-ups. It's more about designing career paths, designing a culture, designing product marketing and employer brand.
I'm building the team I wish I was on, I'm building the kind of company culture, onboarding practices, promotion processes that I wish I had in my career. And then I'm also building myself up to hopefully be an inspiring speaker and leader and even better teacher. And I look up to people like Bozoma Saint John, who was the former CMO of Netflix, and in that kind of realm, always looking to share more knowledge, invite more people into the room at a seat at the table, and just constantly question the norms we see.
Maurice Cherry:
I would say you'd make a great public speaker. Have you been looking into doing some more of that?
Kevin Hawkins:
Yes, every chance I can get.
Maurice Cherry:
Okay. Where do you see yourself in the next, let's say, five years or so? What do you want the next chapter of the Kevin Hawkins story to look like?
Kevin Hawkins:
This has gotten trickier ever since I moved to Europe, because I think the answer used to always be some version of fame or being CXO, chief experience officer, at a thing or a really notable household name globally. But now it really has to do with about being … like I'd rather be really, really important at a small company for people who really need our services than to be just another person in a role at a very large company with customers who don't really feel any passion towards our product.
Maurice Cherry:
And just to sort of wrap things up here, where can our audience find out more information about you, about your work and everything? Where can they find that online?
Kevin Hawkins:
Yeah, so I'm most active for work things on Twitter, which is @KevinHawkinsDC. And then on Instagram, @KevinHawkinsDesign. Same thing on LinkedIn, Kevin Hawkins Design. I'm often posting about work we're doing, public events. I do quite a bit of public speaking both in the US and in Europe, so I have several talks coming up this fall, but I'm mostly sharing work-related things, things tied to my business, and how I'm developing myself and my team on Twitter and LinkedIn.
Maurice Cherry:
All right, sounds good. Well, Kevin Hawkins, I want to thank you so much for coming on the show. Sort of like I alluded to earlier in the interview, I can really tell that you're someone that has continually throughout your career, throughout your life probably, really taken a chance on yourself. You know the skills that you're able to bring to the table, you know what you're able to do. And instead of waiting for an opportunity to come to you, whether it's starting your own business or moving to another country, you are taking the chance on yourself to further your own career and further where you are in life. And I think that's something that's super inspiring for anyone right now to really hear. So thank you so much for coming on the show. I appreciate it.
Kevin Hawkins:
I really appreciate the time. I really love the show. Big fan. I think that everyone should reach out to whoever they want to talk to and learn from. And like you said, take a chance on yourself. And you'd be surprised, the odds are in your favor.
Sponsored by Hover
Building your online brand has never been more important and that begins with your domain name. Show the online community who you are and what you're passionate about with Hover. With over 400+ domain name extensions to choose from, including all the classics and fun niche extensions, Hover is the only domain provider we use and trust.
Ready to get your own domain name? Go to hover.com/revisionpath and get 10% off your first purchase.