It's time for our annual audience survey! Tell us what you think about Revision Path, and you could win a $100 Amazon.com gift card! Visit
revisionpath.com/survey
to give us your feedback. Survey ends on May 31.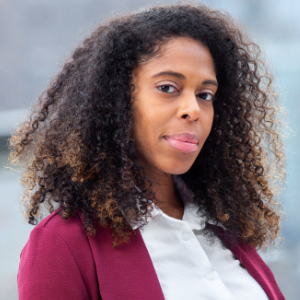 Summer is here, and we're closing out the month with a conversation with designer and design educator Sabrina Hall. As a senior product design manager at Justworks, Sabrina oversees a creative team dedicated to helping improve the payroll, benefits, and other human resources tasks for a number of businesses.
We started off with Sabrina sharing starting at a new company during a pandemic, as well as some of the intricacies of her role (such as the overlap with strategy). She also talked about growing up in New York City, attending SVA, and her shift from editorial and print design into product. We also discussed teaching, as well as the importance of writing as a designer, and spoke on how she views success at this stage in her career. Thank you Sabrina for helping to usher in the next generation of designers!
Transcript
Full Transcript
Maurice Cherry:
All right, so tell us who you are and what you do.
Sabrina Hall:
Hi, I am Sabrina Hall. I'm a senior product design manager at Justworks here in New York City.
Maurice Cherry:
Nice. How has 2021 been for you so far?
Sabrina Hall:
2021 has been a year of challenges and gratefulness. It's truly been a year with so many new opportunities, but also just one filled with collective and community grief and finding a balance between that and self care for the past year. So, it's been complicated.
Maurice Cherry:
Yeah. What lessons did you learn this past year? How would you say you've grown and improved over the last year or so?
Sabrina Hall:
Yeah. Over the last year, a few of the lessons that have really stayed with me is community care and how it's so important during a time like this in the pandemic, particularly I was able to really actively advocate and be a part of mutual aid funds and understanding how to give directly to the community and support that. Some of the lessons for me were also identifying where I needed to set boundaries for my own self care, with the idea of putting my oxygen mask on first and being able to then care for others, really continuing to be grateful for my space and for safety and for help, and really seeing how the pandemic impacted so many marginalized communities.
Sabrina Hall:
Then also, really just making space for deeper understanding and deeper compassion for folks's experiences, as there's just been so much collective grief, and so many folks that I know have really gone through a lot of loss in the past year.
Maurice Cherry:
Yeah, it's so interesting how, with this past year being as honestly as traumatic as it's, how much of a rush there is now to almost forget the last year. Not memorialize it or remember it in a way that sort of holds all the loss that we've held, that we've experienced in a sacred place, but just to "get back to normal." I'm not comfortable with how quickly the push is to make that happen without recognizing what we've been through.
Sabrina Hall:
I really think the concept of getting back to normal is for me, one that I don't identify with, because normal was already, in some ways, quite challenging and possibly problematic with just some of the systems, not possibly, but problematic with some of the systems we had in place already, particularly around healthcare, particularly around flexibility from work and working remotely. I don't want to go back to a normal. I would like to look forward on creating new futures in new ideas of what a normal even means, and whether that's more flexibility, whether that's continuing to think inclusively about how we work together and the experiences there for myself.
Sabrina Hall:
I was able to get together with folks who normally I might not have been able to, because it was only in-person activities. I was able to grow a community in a way that I would not have been able to if we were in a normal time and would love to continue doing that work. I think that well, for some folks, they may find comfort in normal. Their normal really just doesn't acknowledge or make the space for addressing a lot of the issues of why we were in this space with our work schedules, with health, and I think going back to normal is not really the way I want to go.
Maurice Cherry:
Yeah. Normal, I think, as we've all seen and experienced through this time, is highly subjective. One person's normal is another person's, I don't know, paradise in some ways, because we've all had to deal with some level of loss or just a curtailing of our regular activities through all of this.
Sabrina Hall:
Yes, absolutely. Yes, exactly. That is quite subjective, and really understanding, how do we look to a new normal versus a past normal?
Maurice Cherry:
Yeah. Now, one of the things you kind of talk about creating new futures, you kind of created your own new future. You started a new job during all of this. How has that been?
Sabrina Hall:
It's been such an exciting time. I got a new job in the midst of the pandemic, so last year I started in August. It was quite a different process, starting remotely, getting to know the team remotely, as there not a remote based company, and understanding, how do I set boundaries as well with working at home? How do I get comfortable and have a space where I can really be productive on a day-to-day basis? Then just building partnerships and relationships remotely, which takes a different type of effort versus running into someone in sort of the, in the kitchen or different communal workspaces, where now it's like, okay, intentionally setting up that 20 minute Zoom call to introduce myself to folks.
Maurice Cherry:
Yeah. It's interesting with the way companies are still, I think, adjusting to it. You mentioned, like with Justworks, it sort of not being a remote-first company. Is it changing now that I guess we're sort of starting to emerge from the pandemic, even in just a small way?
Sabrina Hall:
Yes. There've been several changes. I would say that around the onboarding and hiring process, we come on as a cohort. So, everyone starts on one day to really make it a streamlined process, thinking about how we share documentation and artifacts and really distributing that in a way that's easier and more accessible remotely. Then, also going into the future, how can we be flexible? I believe that currently, they're looking at a way to keep partial work from home while still having folks back in the office as well.
Maurice Cherry:
Oh, that's nice. That's good to hear. What is a typical day like for you?
Sabrina Hall:
Yes, a typical day ranges throughout the week. My day on a Monday, like today, is really focused on kicking off our weekly sprint with various groups. I focus on, and I'm the design, senior design manager for the benefits cluster, which is a large group that focuses on the benefits part of our product and then the growth part as well. My day begins with weekly's and kicking off with our sprints meeting with my design team and having those one-on-ones to really identify the unblocked hours for the week and how to best set them up for success. Right now, we're in the middle of fiscal year and planning, and attending that with some of my partners, senior product managers, group product managers, working with engineering managers.
Sabrina Hall:
My day is a combination of relationship building, mostly meetings around our next product steps, and then also connecting with the design team through feedback workshops and with my fellow managers and our director as well, looking at our goals for the design team as well.
Maurice Cherry:
Tell me a little bit more about your team. You mentioned designers. Do you have other types of people that are working under you, like researchers or strategists or anything like that?
Sabrina Hall:
Yeah, absolutely. Currently, we have a larger design team. I have three direct reports, one senior designer and two product designers. Currently, their skill sets are really expanding and we focus on, not only the user research, which they lead, but also the visual design and the UI work involved with that as well. So, our designers are very closely working on research, also working on the user experience and partnering with engineers along the way, too.
Maurice Cherry:
What would you say is the best part about what you do now?
Sabrina Hall:
The best part about what I do now is partnering with the designers to continue unlocking and advocating for them to reach their highest potential. That is so important because it's something that impacts everything, the business, the future of a product, their career growth, their ability to focus as designers, and it really is something that I enjoy and I learn so much from every week.
Maurice Cherry:
I remember back when I was leading teams at … This was another place I used to work at. I mean, I just remember, first of all, there was always meetings. There were so many meetings, whether there were one-on-ones or leadership meetings, or this, that, and the other, and it never felt like I really got to work on stuff. It was more like I was working, I mean, I don't want to say stuff, but I wasn't working on the product. It felt like I was just more working with people. It was very much a people management kind of thing. Do you still sort of have the opportunity to work hands-on with the product in any way?
Sabrina Hall:
Yeah, there are opportunities to. While I enjoy it, I definitely rely on the experts of our product design team. I believe that the way I work with the product now just differs from the angle of the approach. While I may not be necessarily working very closely on a user flow, I am thinking about it strategically and how best to set our product up for success, thinking of approaches to research, trying to identify inter-department connections that we have, interdependencies. So, it's definitely still working on the product, but yes, a little differently than before.
Maurice Cherry:
Gotcha. So, you're sort of making sure that the team is in the right place to do the actual hands-on work on the product, but you're shepherding the team. You're, like you said, removing barriers and making sure that they can do the best work that they can do without any sort of obstructions or interruptions.
Sabrina Hall:
Yes.
Maurice Cherry:
Nice. Gotcha. Now, before this, you were an art director at Scholastic. How is this role at Justworks different from that one?
Sabrina Hall:
My role at Scholastic was quite similar. At Scholastic, the structure of titles was very different there as a company that was focused in the print space and then expanded to digital. So, there are many overlapping part, whether it was managing our team, focusing on the lead of a product, really doing a lot more hands-on work. That was definitely one of the big differences with regards to day-to-day being in the design process. Some of the other differences have been really getting more time and space to be focused on the strategy while not having to also do the IC work.
Sabrina Hall:
But so much of it was also really focused on, what are the two sides of an experience? So, at Scholastic, it was really thinking about the students using the product and the teachers using the product while the school is making the purchase of the product, and similar to some of the work I do now, we think about the admins who are working with Justworks and the employees who use the product as well.
Maurice Cherry:
Now, just to kind of switch gears here a little bit, I saw when I was looking at your website, you mentioned that you were born and raised in New York City.
Sabrina Hall:
Yes.
Maurice Cherry:
Tell me about kind of your early intro to design.
Sabrina Hall:
Yeah, absolutely. I was born and raised in the Bronx. My intro to design started in high school. I went to the Bronx High School of Science. I really enjoyed writing. I was convinced I was going to go to Fordham and study journalism. That was one of the first things I wanted to focus on, but I loved art, I've always loved art. Probably just, yeah, as far as I can remember, when I was applying to go to junior high school, I went to Eastside Middle School, I had to take off my shoe and draw it as part of an entry for that school, so I've always loved art. Yeah, I was like, this has got to get me in, and it was such a good experience.
Sabrina Hall:
Then, at Bronx Science, I recall enrolling in AP art, and the teacher at the time, Ms. Ash, I remember enjoying it so much. I was doing collage work and I was just enjoying every part of AP art. And she was like, "This is something you can do as a career." I was like, "What do you mean? I don't understand this at all." At the time I remember also loving things like Write On, Word Up magazine, and that was the space that I was just really in. And she was like, "All these magazines that you enjoy, there is a graphic designer doing this and it is something that you can have a career from." I was completely shook. I was like, "What do you mean? How do I do this?" That shifted everything.
Sabrina Hall:
I made portfolios, I gathered work. I was really fortunate to have parents who supported me at the time. They were not aware of graphic design as a career, and regardless, they were like, okay, if you believe you can do this, we're supporting you, and applied to several schools and ended up going to the School of Visual Arts in New York.
Maurice Cherry:
That's interesting that it's magazines that were kind of an entry point. That was like that for me as well. I grew up in the deep south. Getting Vibe Magazine and YSP, I'm dating myself now, but YSB and Emerge and seeing all of this, and one, these positive representations of blackness, but then two, to know that there were black people behind it that were designing it, was really something that brought me more into the space. Although it was much later, I don't want to say much later in my career, but certainly it wasn't something I went to school for. Now, you did go to school for design. You went to SVA. What was your time like there?
Sabrina Hall:
My time there was an overall positive experience. I was exposed to just so many different things in the art industry, understanding the challenges within being in that space, understanding being one of few in that space, but I learned so much. I graduated with a bachelor's in fine arts with a focus in graphic design, and really understood that this was something that I enjoyed doing and could really thrive at and would be able to … At the time, really was thinking about how I can put my own mark on design and using it. So, that was one of the biggest learning experiences from it.
Maurice Cherry:
Now, SVA, of course, is a well-known school. We've had several SVA alum here on the show. If you could sort of just, I don't know, give an endorsement for the school in a way, in what ways did SVA sort of really prepare you for a career as a designer?
Sabrina Hall:
I would say that SVA prepared me for some of the challenges in design around it being a very homogenous industry, but also realistically, it exposed me in the same hand to folks in the industry who had certain networks were able to really identify what the industry is looking for and really empowered me to begin, just the beginning stages of understanding how I could use this as a career. I think, even throughout the process, it was very clear that this was something that I could do as a job, was really important to me with then graduating from any college.
Maurice Cherry:
Now, at first, your design career dealt with a lot of print work. When did you sort of make this transition more into digital design?
Sabrina Hall:
Yeah. I joke sometimes, possibly aging myself here, that I feel like I'm one of the last folks who graduated with a print portfolio that sort of like flew in [inaudible 00:20:50] one of these larger pieces. What I find for myself, as I started to enter the industry, was I loved editorial, gravitated towards that space. Was doing a lot of print work and branding and corporate, but found that things were changing, and things were changing rapidly. From being in a print space, I've always been someone who loves learning and I'm excited by change. I realized, okay, print is changing, particularly within the editorial space.
Sabrina Hall:
Things started moving towards e-publications and understanding how to design for that, and I think at the time, in-design had an add on, I don't know what it's called now, that was made specifically for EPUB, and I went in and tried to learn that as much as I could and experimented there. From there, I then also started to teach myself to code, because I felt like so much was moving in that direction with regards to creating blog. There was a specific time where everything was about blogs and wanting to understand that and engage in that space.
Sabrina Hall:
I would say that probably came maybe around 2010, was when that shift started to happen, so I had always begun to like dabble in that space, but then really focused in earnest when I was at the end parts of focusing on editorial and then moving into digital spaces. So, I started building websites in WordPress, started doing my own little front-end work here and there, and then really learning to expand upon that and moving into a focused lens with product design.
Maurice Cherry:
Now, with all of this sort of change in focus, I'm trying to remember, I know back then on the web, certainly there was this big shift from more, almost print-based design, I guess that's the sort of the best way I can put it, because we were designing with tables, and then there was the shift from tables to CSS. Then even with CSS, there were shifts into pre-processors, into Flexbox, and all that stuff that sort of came later on. It felt like that change really shifted a lot more people into design. I just remember how hard it was to design around tables back in the day.
Maurice Cherry:
Largely, it was just based off a print. I mean, even some of the terms that we use for some of the tags are from print terms, like break lines and anchors and things like that. So, it's really interesting how those shifts sort of precipitate kind of changes in the industry. Now, sort of in this time, right around then you also started your own design studio kind of alongside your full-time work. What inspired you to sort of branch out in that way?
Sabrina Hall:
Yes. I was in a space where I really wanted to continue learning and do a wider breadth of work. I felt like, while I was focused on editorial, I really wanted to try new things, and I started moonlighting with a few folks after hours and on the weekends, working on projects from like, okay, I'll build out your WordPress site with a full branding to logo design, to your setting up an app. How can I just help you with the first stage of low fidelity? What I've found during that time was that slowly, it went from my own moonlighting schedule to then word of mouth, that I then realized, I could do this full time.
Sabrina Hall:
It was quite a process. I learned so much in making and working for myself with regards to everything from taxes, hiring folks, partnering, distributing work, and then really understanding how to pitch the work that I do, the value of what I could bring to individuals and companies, and understanding that I was really enjoying the process of solving a business problem together with a small business, or one person who was like, I'm starting my own website for a book I'm coming out with, how can you help? That was what really drew me to doing that for so long.
Maurice Cherry:
I love how with studios, you really get to have that flexibility, not just on like, who you may decide to take on, but also just the kind of work that you do, and even the level of specificity that you want to take on with the project. It's funny that you call it moonlighting. I haven't heard someone say that in so long, but I get what you mean, just in terms of doing stuff. Now, what? Side projects is the new moonlighting, I guess?
Sabrina Hall:
I think so. Yeah. [crosstalk 00:25:24].
Maurice Cherry:
I get what you mean. You're kind of working on other stuff during off hours that you probably should be relaxing or whatever, but it's such a good way when you have your studio to do that, because you can really dabble in different things, and you can decide sort of the direction you want to go into. You can really be a specialist at stuff if you want to, as opposed to maybe being more of a generalist with things. Studio stuff is great, but yeah, the part about getting really the nuts and bolts stuff down with taxes and accounting and all of that.
Maurice Cherry:
I tell entrepreneurs all the time or designers that want to be entrepreneurs like, get an accountant. That's the first thing you should do is try to get somebody that's going to handle the money so you can focus more on the creative stuff, because that other stuff just bogs you down.
Sabrina Hall:
Yes. I did not get an accountant for quite a long time. It was definitely lessons learned there and so many other things, even with regards to setting up proposals, understanding how to reply to RFPs, the competition in the market, and then just also understanding the industry where there were years that while I was working on various projects, that I made significant gains and significant losses as well and just really understanding that holistically for running a business and what it meant in my own work-life balance as well.
Maurice Cherry:
Yeah. Now, like a few other people that we've had here on the show before, you're also a teacher at City Tech, you're an adjunct professor there. What made you decide to start teaching?
Sabrina Hall:
Yes, so I'm going to give a very explicit shout out to Douglas. I had always had an interest in teaching. It is connected for me through, for several years, I was a mentor in the AIGA mentoring program, and for several years after that, co-chaired it with one of my closest friends Anjali Menon. Throughout that time, I had always enjoyed partnering with folks who were interested in design community, equity, and really enjoy that space. I had been invited by Douglas to join for a panel event. In having those conversations, he was like, "There's an opportunity here at City Tech. I really think this would be something that would be fantastic."
Sabrina Hall:
I was like, "Well, I don't know." I had only done a couple of lectures at that point in time and hadn't been fully situated. I was very nervous. How can I teach? In reflecting and saying on this now, I know that it was possibly ingrained, because my mom's a teacher, my husband's a teacher, so I'm surrounded by teachers. True to form, I was like, okay, sink or swim. This is the opportunity. Douglas had mentioned it, then a few months later, he was like, "Here's the role?" And I was like, "Well, Douglas, I don't know about the hours." "Here's the perfect hours." "I don't know about the day." "Here's the perfect day."
Sabrina Hall:
Everything lined up, and I was like, "All right, let's do it." It has been such a humbling experience, a wonderful experience, and an opportunity to really, I think, disrupt the design industry from a perspective I hadn't always considered.
Maurice Cherry:
What do your students teach you?
Sabrina Hall:
My students teach me how compassion is important. My students remind me that kindness is important and that you can learn with this as a structure. My students teach me that the industry is very subjective in so many ways and very challenging and continues to be challenging for folks to enter into. My students teach me that sometimes, and many times I don't know the answer, and my role is to help them figure it out and for myself to learn alongside with them. Yeah.
Maurice Cherry:
Do you find that with, I guess the pandemic and how that may have distanced you from it, has that changed the way that you teach?
Sabrina Hall:
The pandemic really impacted the way I taught, I believe for the better. One of the things that I felt very strongly about in supporting my students throughout the pandemic is removing the requirement for cameras. City Tech has always been really great about that, but in various educational circles, I've been reading and seeing how some professors are making it mandatory and really just understanding what true engagement means, and that doesn't mean someone having a camera on in Zoom. Another thing it has really identified is clarity around teaching, specifically with increased documentation, increased expectations, and then also identifying the boundaries of that as well, particularly with being home and understanding, do I need to be engaged on this email right now after having taught for three hours or can it wait till tomorrow? And resetting the time I need to reset as well.
Maurice Cherry:
What would you say that you're obsessed with lately?
Sabrina Hall:
Oh, this is such a delightful question. Okay, I'm currently obsessed with the natural sciences. I have been in this really particular space. I had just finished rereading Emergent Strategy, and just am so intrigued by how the natural sciences and plants and birds and the biomimicry of things and how we can learn from that. I particularly I'm really into how certain trees grow together and support one another, and how that could be paralleled into team structures. I'm also really into birds right now. I'm just enjoying seeing documentaries about birds and how they build things, and just again, learning from the natural sciences is my like head space currently.
Maurice Cherry:
We had a designer, oh God, when was he on the show? We had a designer on the show last year. I think it was right around April or May, or so, but it's episode 340 with Billy Almon. Billy is … He called himself a biology inspired storyteller and designer. I mean, a lot of the work that he does is around the natural sciences, like a lot of his design work and such. I first met Billy at Harvard. This was at the Black and Design Conference in 2019. He was on one of the panels there, and he was really talking about how, like you mentioned biomimicry, and that's what sort of stuck out to me, is that he really sort of does a lot of what you're talking about.
Maurice Cherry:
He looks at how the natural sciences work in other ways and other applications, and he gave this really great example about ants and how the way that ants build their anthills and stuff, how that social structure can go forth in societies. It was super fascinating, episode 340, if anyone's listening and want to check it out with Billy Almon, but it was a really, really great interview. It just sort of got me to thinking about that when you said natural sciences and biomimicry.
Sabrina Hall:
I just made a note of it, and I too will be listening to 340, so I will be following up and anyone else who cares to listen, happy to have that Twitter conversation in regards.
Maurice Cherry:
Yeah. Because the theme, so to go back to, I guess that conference, the whole theme was around creating more equitable futures. Now that I think about it, it's the last conference I went to in person prior to the whole pandemic, but the conversations there were around, how can designers use all sorts of things to create more equitable futures? With Billy, it was about like using nature for design and for technology to make equitable futures, like looking at nature and seeing how nature heals and fixes itself and structures itself and think, how can we take that and just apply it to design or apply it to tech, or apply it to social issues or things of that nature. It's really, really interesting stuff.
Sabrina Hall:
I am so intrigued. This sounds like really in alignment with what I'm interested in right now, and I definitely cannot wait to check this out.
Maurice Cherry:
Now. I love that you have, in your bio, that you are a writer. What does writing do for you as a designer? What does that sort of tap into?
Sabrina Hall:
Yes. Ooh, writing for me as a designer taps into so many different things. For me, it's accountability in a way that I hadn't expected, and where I find I'm able to share information and hold myself accountable for some of the processes that I'm thinking through for documenting and finding ways to explain myself and continue to practice that as a skillset overall. Also, writing has been really helpful for me with regards to understanding how to build connections and relationships. What I mean by that is something like introducing yourself to a client, writing a proposal, understanding the perspective to take there.
Sabrina Hall:
Additionally, writing has been a space also where I've learned so much about my own process with regards to how write out the stories for my portfolio to reflecting on growing as a designer who is introverted and what that meant for social media and understanding that I can write these things down, look at them, reflect, learn from them, and sometimes I almost think of writing as just another version of design in terms of like getting all of the information put into a space that I can then use for reference or share, or just document for my own journey.
Maurice Cherry:
Writing as another version of design. I like that. I like that. I was explaining to someone recently about, they had asked me when was the last time that I had designed something, because I mean, people know that I do this show, and then like for my actual day job, I also do some work dabbling in audio, even though I'm a creative strategist, and they just sort of asked me like, when's the last time you designed something? I got what they meant. They meant, when was the last time you sort of, I guess, sat down in Illustrator or Photoshop and visually designed something. But I told them that a lot of what I do now, these days is more along sort of designing processes and designing systems, and I do a fair amount of writing as well. I don't know how many designers would consider writing as an element of design, but it totally is. It absolutely is.
Sabrina Hall:
Yeah. Even now, this show has designed the organization of how this is put together, the outcome, the way that work has been set up in terms of the research that's done. I think of design is now moving out of a space of just like being just that artifact of a product or something in Photoshop or Figma, but more how we can also just apply it to various things with regards to that problem-solving lens and experimenting lens as well.
Maurice Cherry:
How do you think we can encourage more designers, specifically more black designers or designers of color? How can we encourage them to write more?
Sabrina Hall:
What I have found that encourages me to write as a black designer is the importance and impact of my voice to everything else that is also out there. What I mean by that is, as an industry, there are always articles that tend to be very popular and are written from specifically, which tends to be the case, the majority, a cis white hetero male perspective, and that is one perspective. I have found that in many situations, I'm unable to find that material fully helpful because of the inability to just relate. By adding my own voice. It really gives a different perspective. I hold myself accountable to that perspective to say, here is my approach to it, and here are the things that I would consider.
Sabrina Hall:
I encourage other folk to share their voice in a way that they feel best identify with their goals and the outcomes that they are looking towards, and really just saying design has many folks and many perspectives and many faces.
Maurice Cherry:
I usually also try to, I mean, when I'm talking to designers and trying to impart the importance of writing, I try to show it to them in a historical sense. Like, say you go into a bookstore, like a Barnes & Noble or something, and you go to the design section, I guess there's … I haven't been in a bookstore in like a year or so because of the pandemic, so I don't really remember, but I'm sure there is a arts and design section. I sound like an old person, but I'm sure that section exists, and you go there and you're looking for books, and you'll probably notice that most of the books there are not by or from people of color. The importance I see to writing is to put your own words out there to be a part of the historical design corporates.
Maurice Cherry:
That may not necessarily be a book. It could be an article, a series of articles. It could be, and even I'm saying writing in terms of the physical act, but it could be a podcast, it could be videos, it could be Instagram live videos, whatever, but finding another outlet to sort of transmute your thoughts from your head into a medium that other people can enjoy it. I think writing certainly is one way to do that and I think a big way to really spread your words out there more so people can know what it is that you think and what you feel, and the thoughts behind the work that you do, or even just the thoughts about this industry.
Maurice Cherry:
I see so many people writing up a storm about stuff on Twitter. I am a very sporadic Twitter user. I really kind of only use it as a highlight reel, and I try to save all the stuff that I really want to sort of get out there. Either I make it into a presentation. I'll talk about it in the show or I'll write about it. I feel like that way, my words can sort of live longer, because tweets are such an ephemeral thing. No matter how many prolific tweet threads you might have, is that really going to like be around in a week or a month or a year or five years.
Maurice Cherry:
Thinking about it in the historical sense of that, your words carry weight, your words are your thoughts in this other form, and it's a way that it can sort of live on past whatever experiences you might have or anything of that nature. It can be just sort of a historical reference in many ways.
Sabrina Hall:
Yeah, absolutely. I even found that, I forgot, probably a few years ago, I was just looking to write about black designers and found such limited material on the surface level. There was definitely material, but on the surface level of like a half-hour Google search. There was not much. What the impact of that was, was like, okay, so this is not something that is easily accessible, how can it become more accessible and part of the entire canon or design history as well? So, I absolutely hear you.
Maurice Cherry:
Yeah. Who are some of the design mentors or anyone that have really helped you out along your way.
Sabrina Hall:
I have been really fortunate to have some great folks along the way. When I was doing a lot of consultancy work, there was a creative director named John Herr, who really, at the time, continued to create space for me to just grow and advocated for me to lead on different projects. When I was much younger and working in an agency space, there was a professor of mine who was then also our creative director, Terry Koppel, who influenced and impacted my career trajectory. Then a lot of the non-design folk, and what I mean by that are community members with regards to folks who work within the community of design, and that can be folks in research, folks really in creating community spaces, and then a lot of my peers, I would say, have been mentors, probably not actively.
Sabrina Hall:
I don't know if they would give themselves those titles, but a lot of my peers have pushed the way I've thought have provided so much advice, insights, clarity, and just space for me to ask questions as well.
Maurice Cherry:
Going back to the writing again, if you had to write a book, what would you write about?
Sabrina Hall:
I have been thinking about writing a book and maybe piecing together the concept of writing a book. A couple of topics that come to mind are that connection between the natural sciences and design organizations. I'm also very interested in sharing about the experiences, my own experiences within the design industry when there is, I feel the time and space to put that together. I'm also really interested in writing about design education as well and the design of that industry in terms of the funnel of that and how we think about entry points of design and think about design education overall.
Maurice Cherry:
Can you, I don't know, dive into that a little more about design education? Because you are a design educator yourself, like what would you want to sort of explore there?
Sabrina Hall:
Yeah. I believe that a lot of our design education in New York and my own experience that I've had, I can't speak to other experiences, but to my own experience, has been very Eurocentric. And there has been so much erasure of the work of other folks who are not Eurocentric, without the Eurocentric lens. What that means is that a lot of work and a lot of the things that I experienced coming into the industry was, I used to really be someone who focused on Swiss design, and that was the aesthetic I went towards. And learning later on that, was that really nature or nurture, from the perspective of like, that was all I was told, yet when I brought about a different design style, that was much more colorful and focused on patterns. It was like that wasn't graphic design at the time, that wasn't qualified by my teachers in some cases as being like a strong enough graphic design.
Sabrina Hall:
I realized part of that education is because we're so limited with regards to only learning about certain names and only learning about certain folks as like the most important folks within this design, and that just continues to perpetuate those norms into the industry, into how we consider what "good versus bad" work is. I put those in quotes because that, it's just a simple binary of good versus bad, but it's not … The nuances and the gray area. Then also really understanding how that impacts all the way up to who gets hired, who gets access to design education, why is it that design school is so expensive and that the cost for entry is so high? What happens to folks who don't have the access, but have every interest in skillset? And just yeah, wanting to dig into that a little deeper.
Maurice Cherry:
I mean, that sounds fascinating. I would love to read a book about that. Certainly, it's an interesting reflection on sort of where we're seeing, at least what I'm seeing from black design educators, how now they're really starting to bring in other sources to, I want to use the word decolonize, only because that's the word that sort of has been attached to these conversations, but they're really, I think diversifying their sources of just like, where other students can learn about design and it's not just from, like you said, the Bauhaus or Swiss style, or German style, and a lot of these are like events, there are conferences, there's so much stuff now.
Maurice Cherry:
Honestly, even from, before when I started this podcast, there were so many more events and opportunities and ways to learn about the history of black people in design now than there were 10 years ago. It's amazing. I really want to see where it goes from here.
Sabrina Hall:
Yeah. I think it's an exciting time. I believe that it's really beginning to open up just so many different perspectives with regards to also who teaches design, also, to your point, how we learn about design. So, from your podcast to events where all the black designers, to various slack groups that have come up, to just how there are these micro communities, even through social media as well, where folks are asking one another questions, having conversations about the industry and their employer. And really, I believe also, there is the business side of it. We're hand in hand with all of the civic unrest and the specificity of the murder of George Floyd. How that, how all of a sudden, everyone's like, oh, we're being held accountable as companies, and everyone's looking at your board of directors and looking at your staff, at least I am.
Sabrina Hall:
I can't speak for everyone, but starting to look at that even closer than I was previously and understanding and seeing, okay, how are these companies defining for or working around it? Because it's also aligning with what a lot of folks are asking for, too, for themselves in the industry, I think.
Maurice Cherry:
Yeah. I know when, unfortunately, when his murder occurred last year, and how that one really drove people out into the streets to protest, but it was amazing how so many people were calling on companies, because companies were doing this thing, where they're like posting the black squares and saying they stand for racial justice, and everyone else was like, uh-uh, but what about in your industry? Or like, what about this industry? You had so many people that were starting to turn it around and say, well, if you're really committed, then why does the industry look like this?
Maurice Cherry:
Why does the industry function in this way? What are the real steps that you're taking besides just posting a black square? I have been telling folks this year, I was like, Juneteenth is going to be crazy this year, which is on a Saturday. I know last year there were a lot of companies that were saying, yes, we're going to make this a day off and we're going to start to observe it. I guess maybe they'll observe it on Friday now, so three-day weekend in June, I guess. I don't know. I'm assuming that's going to pick up.
Sabrina Hall:
I guess we'll see. I think that, for myself, these are some questions I had been asking before, but probably just more so in private. I think that with these conversations happening, there's much more room for conversations publicly, not always, but just a little bit more and really understanding and also learning what's best for folks. There's pros and cons for so many aspects to it, but what are the ways in which it can help folks?
Maurice Cherry:
Yeah. When you look at where you're at now, is this how you imagined yourself when you were a kid?
Sabrina Hall:
Oh, no, I don't think so. I feel like I would not have imagined this per se. Likely, I thought of myself in some way of doing something creative, but I would not have imagined the ability to, or just the immediate, yeah, the immediate ability to lead a team, to work through teams, to run my own business. I don't think I would've necessarily imagined this, but probably felt like I could try different things. I think I've always just had that curiosity, but yeah, I don't think I would have imagined this to this, and I wouldn't, yeah, I wouldn't change it anyway.
Maurice Cherry:
At this point, like where you're at in your career with teaching, with what you're doing at Justworks, with your writing and everything, how do you now define success?
Sabrina Hall:
I would define success as a few things. The ability to make decisions that I feel much more confident about. I would define success as the impact of continuing to advocate for others and continuing to make space for community work. I would define success as the recognition and understanding of my time and value, and not settling as well. I define success as being able to set boundaries and be able to say no to things as well.
Maurice Cherry:
Nice. It's a very layered definition of success.
Sabrina Hall:
Yeah.
Maurice Cherry:
Where do you see yourself in five years, like it's 2026, what kind of work do you want to be doing?
Sabrina Hall:
I would like to be working on projects that care, just continues to care about people in the future, whether that's through AR, VR, sound design and interactions there. I think in five years, the mediums and tools that we use will continue to change and being able to be a strategic partner for those things. I could see myself going back to running my own business as it's something that I do enjoy and/or continuing to just partnering in the education space as well, and always being able to make a bridge to continue to increase access.
Maurice Cherry:
Well, just to wrap things up here, where can our audience find out more about you and about your work and everything online?
Sabrina Hall:
Yeah, absolutely. You can find me at sabrinahalldesigns.com, or on Twitter @SabrinaHallNYC.
Maurice Cherry:
All right. Sounds good. Well, Sabrina Hall, I want to thank you so much for coming on the show. One, for just sharing your story and talking about the work that you're doing, but also really impressing upon, I think, not just me, but also to the audience, the importance of writing, the importance of really also just like checking in with yourself. Like you said, being able to set those boundaries and using that work to, of course, make yourself better and to make your community better. So, thank you so much for coming on the show. I appreciate it.
Sabrina Hall:
Thank you, Maurice. Thank you for having me.
Brevity & Wit is a strategy and design firm committed to designing a more inclusive and equitable world.
We accomplish this through graphic design, presentations and workshops around I-D-E-A: inclusion, diversity, equity, and accessibility.
If you're curious to learn how to combine a passion for I-D-E-A with design, check us out at brevityandwit.com.
Brevity & Wit — creative excellence without the grind.