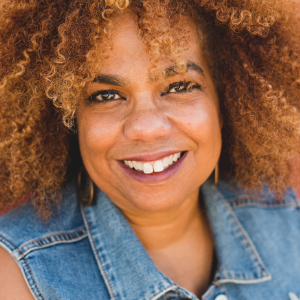 We're keeping the content strategy train rolling this week and chatting it up with Natalie Marie Dunbar, a UX-focused content strategist with a unique blend of skills as a journalist, writer, and researcher. She's also the author of From Solo to Scaled: Building a Sustainable Content Strategy Practice. Very impressive!
We started off discussing the inspiration behind the book, and Natalie shared her thoughts on the changing meaning of "content creation," and on what it takes to maintain a strong content strategy in this current tech landscape. She also talked about her early career working with huge brands Kaiser Permanente and the Food and Drug Administration, and spoke on the importance of prioritizing her own well-being through yoga. Natalie is a true content strategy maven, and I think you'll walk away from this interview with a new understanding on its importance.
Big thanks to Louis Rosenfeld of Rosenfeld Media for the introduction!
Interview Transcript
Maurice Cherry:
All right. So tell us who you are and what you do.
Natalie Marie Dunbar:
Hi. I am Natalie Marie Dunbar. By day, I am a senior manager, content design, UX content design with Walmart, and by night and weekends, I am an author, a speaker, workshop facilitator, and sometime yoga teacher.
Maurice Cherry:
Wow, that's a lot.
Natalie Marie Dunbar:
Yes.
Maurice Cherry:
How's the year been going so far?
Natalie Marie Dunbar:
It has been full of travel. I think I'm making up for lost time during the pandemic. I've been on a plane every month since last September with the exception of October and February. I did do a road trip in February, but was not by plane. I have been traveling for speaking and work. So it's been a very busy year.
Maurice Cherry:
Nice. So aside from the travel, I'm curious, how has 2023 been different for you than say last year?
Natalie Marie Dunbar:
2023 has been, aside from the travel but because of the travel, things have been opening up more. I'm finding that whether, for work or for conferences and things, there's a lot more in-person appearances happening again, a lot more in-person just interaction, which I definitely have missed, but I think my battery for my energy, I have a different level where I'm able to withstand what I call peopling. After a while, it's like usually I can be out and about for hours, I can work a full day and then go to a conference or go to a meetup or go to a social event, and I'd be fine.
Nowadays, I have to think what time does it start, how long do I need to be there, and when do I need to shut down so I can take care of myself. So that's definitely been a highlight of this year, especially with all the travel.
Maurice Cherry:
I just started back traveling, doing speaking stuff last year in October, and I 100% understand what you mean. Prior to the pandemic, I was traveling for work. I would be in a different city or something every month, and it was just, I don't know, I guess I just had that rhythm, but because of the pandemic, I've really lost that. I think some of it is stamina and some of it is also-
Natalie Marie Dunbar:
Innate.
Maurice Cherry:
… just we've all gotten comfortable for the most part at home and breaching that to go into the outside world, you're like, "I want to go back home now."
Natalie Marie Dunbar:
Exactly. Exactly that. I can relate.
Maurice Cherry:
So do you have any plans for the summer? You're doing more traveling?
Natalie Marie Dunbar:
I definitely want to connect with family. I'm in California. Most of my family's in Texas area, Louisiana, some in Tennessee. So I'd love to be able to reconnect with family members that I haven't had a chance to see since the traveling and everything started up again, and I would like to actually take a trip that does not involve business or any type of work. I haven't figured out what that is yet, but we'll see.
Maurice Cherry:
I think you can work something in, especially if it's going to be in the way, not in the way, but in the path of family or something. Maybe, I don't know, go to New Orleans or something like that. Who knows?
Natalie Marie Dunbar:
Definitely. My sister and I got together last year in August after not being able to visit for a while, and we have this plan. We haven't implemented it yet, but we are wanting to go to Cape Verde off the western coast of Africa and just really immerse ourselves in the culture there. So hopefully that'll be something. I don't think it'll happen this year, but I think looking forward, maybe in 2024.
Maurice Cherry:
That'll be fun. That sounds like a fun trip. So with everything you're doing, you mentioned you're working, you mentioned this book that we will talk about in a little bit. What does a typical day look like for you?
Natalie Marie Dunbar:
Oh, wow. I have my day job. I am in a lot of meetings. I set aside quiet time for myself to actually be heads down to actually do content work. I think the meeting thing is just part of that is working virtually or remote and just trying to get all the meetings in, especially across time zones. We're lucky enough to have very talented team that works from all points of the US. So that's a thing, but sometimes there's the occasional 7:30 in the morning meeting. For me, I've had them, well, not in my current work, but at a past job, I remember being on calls at 6:00 in the morning, not always though, thank goodness, but yeah.
Then after that, I try to take a break, whether I'm taking a walk outside or just hanging out with my pups, connecting with family here in the house, regrouping, touching down on the stuff that makes you human. Then I usually spend an hour or two doing something having to do with the book by extension, maybe looking at speaking opportunities, calendaring, trying to figure out, "Oh, is it time for me to send out my newsletter?" which I need to write myself a note because it actually is note to self.
There are days sometimes though I'll tell you that I'll start with the day job at 8:00, 8:30, 9:00 and I'm still going at 9:00 at night on my other stuff. I close one laptop and then open the other. Just depends. I've had to put a limit on how many meetups and different things that I sign up for because there's so much good knowledge out there and so many different organizations that I've found as a result of the pandemic. I'm able to attend the meetup that's hosted in Australia because I can do it on my computer, but I have tended to overextend myself, so I have to take a moment and walk away and have that quiet time.
Maurice Cherry:
The pandemic has really opened up these opportunities to do, I guess, distance meetups or distance talks or things like that, but in that same vein, it can be super easy to just take on a lot of stuff and then at the end of the day, you're just completely spent because there was this whole thing, I want to say, maybe earlier around in the pandemic about Zoom fatigue, which I think people still have now. One is the frequency of just doing a bunch of different video calls and stuff, but also, it just takes a lot of stamina to be on camera and paying attention and being active that day in, day out for hours at a time, whether you're giving a talk or you're doing work stuff. It can really wear you down.
Natalie Marie Dunbar:
So true. That's where just protecting my wellness and taking screen break. At any given moment, I may have two laptops and a large screen going, plus the cellphone and occasionally the iPad. So I try to definitely take that time to just be like, "Okay. I need to walk away from all this blue light," and the tendency is to want to go turn on the TV, and I'm like, "No, that's a screen too." I'm still a person who really enjoys reading actual physical books even though I do have a Kindle. So if I'm in that mode, I'll try to read a book or like, I said, play with my pup. That usually gets me outside, get out in the front yard even if I'm just sitting out front and just enjoying folks walking by and saying hello and making a little bit of contact that way, but yeah, really trying to be purposeful about not staring at screens all day.
Maurice Cherry:
I'm the same way too. One thing that I'll do, especially for meetings, I will ask upfront, "Does this need to be a video call or can this be a phone call?" because if it's a phone call, then I don't have to look at a screen. I'll probably be more likely to take that meeting because then I can do it … Like you said, if you're outside, if you're taking a walk or something, where I don't have to be on. I don't know what your setup is at home, but for me, I have a light on my desk and then I turn on all the lights in my room. So it's almost like a little mini sound stage. I'm like, "It's bright in here. It's hot. I have to be on camera and stuff." So if it could be a phone call, I'll do a phone call.
Also, it is just about pacing myself. I'll get to a certain time of night if I'm working until 8:00 or 9:00, and I'll just stop because I'm like, "I'm not getting a medal for trying to finish this tonight. If I finish this in the morning, it'll be just as done then as if I were to try to do it now. Let me go to bed. Let me get some rest. Let me get some sleep or something." So yeah, trying to strike that balance, especially when you're doing things on your own or off the clock or something like that, it can be a lot to try to handle.
Natalie Marie Dunbar:
Absolutely.
Maurice Cherry:
Let's talk about your book, Solo to Scaled: Building a Sustainable Content Strategy Practice. Now, for those that are listening, we'll put a link to it in the show notes. We'll also have a discount code for you so you can get 20% off, bit for those listening who might not have heard about it, can you give them a brief synopsis of what the book's about?
Natalie Marie Dunbar:
Yeah. Unlike so many great books out there that are about how to do content strategy, what it is and how to do it, this is not that. This is more about how do you assemble a team or act as a team of one to create a dedicated, UX focused, in my world, the user experience focused content strategy practice. I'm a purist. I still use the phrase content strategy. There are folks who … Actually, my day job title is now content designer. We could have a whole separate conversation about if there's a difference and if so, what is it, but I'm talking about building a content strategy practice where all the flavors of UX and content can come together and support an agency or organization in, number one, identifying the importance of content as an asset to every business of any size, and then how do you build and sustain a practice where it coexist either, say, with a design op team or a UX team or within an agency if they have a dedicated digital experience team. That's basically the synopsis of what it's about.
Maurice Cherry:
So you mentioned content designer. To you, what's the difference between a content designer and a writer or a copywriter?
Natalie Marie Dunbar:
Oh, boy, I'm going to get in trouble now. So again, I always lead with UX because I'm a user experience fanatic, I would say, but user experience and focusing on the human centeredness of the digital experiences that we create that are more focused on the user interface with a digital experience and helping them with things like wayfinding and achieving whatever their top task is, whether it's on an app or a website. I'm not so much interested in my writing about selling you on a brand or product. I'm more interested in helping you get the product or service that you came to the website or the app for.
So that's the difference between, say, marketing copywriting for digital spaces versus the UX content strategy and content design that I'm talking about. There's also content marketing strategy, which is more, I'm going to oversimplify, but that's more about, say, content that is created by a brand that you then will disseminate to third parties, whether it be through social media or a guest blog post or … That is all a part of a larger content strategy, but that more focuses, again, on marketing and selling someone on a brand or getting them to buy a product versus, again, how do we help them navigate in a digital space. Hopefully that was clear.
Maurice Cherry:
That was pretty clear. I think so.
Natalie Marie Dunbar:
For content strategy and content design, we're still having conversations about what is different. Content strategy has evolved. There were a few folks before Kristina Halvorson, but her book tends to be the one, Content Strategy for the Web, that everyone remembers, the red book that came out that was like, "Oh, my gosh, that's what we're doing," so where you have content people working with UX designers, interaction designers back in the day, human factors engineers that were designing interactions.
So content strategy looks across an experience end to end, but a content strategy life cycle is actually a circular thing where you're constantly, you're doing your discovery work to figure out what's out there. You're finding out where your gaps are in content, what you might need to create. You're getting rid of content that might be outdated or stale, and then you're launching with whatever new content and, by the way, some content strategists also write the content and some don't. They hand off to another team who does that. Could UI/UX writers. Could also be content designers. It depends on the organization.
Then the good old optimization, optimizing, testing, and then going through that cycle again and again. So the content strategy work, I always get asked, "When's the content strategy going to be done?" and people cringe when I say never because it should never be done. It should be something that's cyclical that you're always going back to make sure that your content is measuring up to whatever your goals are.
Within that, content design has emerged as content that's created. I've heard it referred to as product content design, where your product may be an actual something that you could buy on an e-commerce site, but it may well be an actual service, say, per bank or financial institution, FinTech, but there's some product or service that you're selling. So content design tends to focus on helping users transact by the thing, make the bank transaction, whatever it is that, again, their top tasks that they're doing, but they're all related.
Like I said, there's a lot happening within the industry where we're still trying to not carve out, well, it could be carve out a niche, but it's just to better articulate what do we mean when we say content strategy, what do we mean when we say content design, so on and so forth. So hopefully that didn't confuse people. Hopefully it gave them more to think about and go look up and see what you find.
Maurice Cherry:
It's amazing how I would say maybe within the past, I'd say roughly about 10 years, how content has started to become more included on design teams. I distinctly remember when content really used to be more of a marketing domain and design was more visual. Well, it's still visual, but design was visual in that they didn't have non-designers or non-visual designers on their team, and now we're seeing team structures where there's a content designer or a content strategist or they're included along with designers on these multimodal teams, which I think is pretty interesting.
Natalie Marie Dunbar:
If you look at places where Agile is practiced, Agile software development, you will find in some places, especially larger enterprises where you have scrum teams, for example, that might be for a business unit or it might be several within one business unit or whatever it is, but you'll have a UX designer, UI/UX designer, interaction designer, a program, sorry, a project and a product manager, and the content strategist or content designer on those scrum teams that are embedded in those teams or you may have within certain product areas where you'll have, like what you just talked about, content designer embedded in those teams or there's the model where it's content more as a service to an organization where you're your own team and then you send folks out as work comes in, whatever resources are available. You could be writing a white paper, you could be writing video script, you could be writing anything, and you create content for anything.
From a strategic point of view, you're looking across experiences though to make sure that the content that you're creating is consistent, that your voice and tone is consistent, that if you call a thing [inaudible 00:20:21] over here, that you're calling it the same thing over there kind of thing. So that's where your strategy starts to come into play, where you're looking across experiences and across channels to make sure that even if your team and your work as a UX-focused content strategist is not to create, say, the accompanying marketing pieces for a particular product or service, you still want them to be aware of how they're describing things because you may need to incorporate some of that copy or content into your work as well.
I find that I do that often at my work. I have marketing counterparts that I work with so that … Think of a handoff. If you think about a marketing funnel where at the top you have people that are curious about a product or service, and then, say, they're shoppers, and then they start to go through the funnel and maybe there's conversion where you want them to sign up for loyalty program, there's a natural handoff that happens in that space where you're not so much marketing to them anymore. Now, you're helping them way find and get what they need, but they don't need to know that that's a separate handoff. So you need to have that constant communication with your marketing and other departmental partners that create copy so that the experience for the user is seamless.
Maurice Cherry:
How have you seen content online change since you, I guess, started working as a content strategist? You've been working with content now for a very long time since the early days of the internet. How have you seen just content in general change?
Natalie Marie Dunbar:
Everything when I was really getting into digital content, it was SEO, SEO, SEO, keywords, keywords, keywords. We were not doing questionable practices like keyword stopping and all that stuff, but that was the big focus when I got into this work. The content was longer form, even contextual help content, which we now often will classify more of your UX writing, and UI/UX writing is that wayfinding content that helps you get from one part of the experience to the next.
Back in the day, it was long help pages and FAQs. We weren't thinking about necessarily the fact that maybe if we create the digital experience in a way where FAQs and things like that aren't needed, then we're looking at less content and fewer words and getting out of the way of the user. So I think we had to evolve through that space. I think that's one of the places where content partners, well, with user experience researchers, because we can put that, put content in front of people and talk with them in realtime using prototypes and sometimes even stuff that's out there in the wild and understand what it is that people really want and need because there's a tendency still for some that think that the more content, the better. We want to have everything so everybody can find all the stuff, but the problem with that is that it becomes so cluttered that people get frustrated and maybe the better is to help them with the wayfinding. Maybe it's the IA, the information architecture, that needs to be more intuitive.
So we're helping, "Where would you go to find this thing? Where would you go to find that thing?" and understanding that behavior more than just throwing big chunks of content at people and wanting them to consume all of that. We know that, well, there's still the camp that people don't read, especially on mobile screens, but I think people do, but their attention goes to finding the thing that they want, and they will read that. If we give them too much, then we're overwhelming them. So I think the TLDR is that content has gotten shorter and more concise and to the point of what the user has come to the experience for in the first place.
Maurice Cherry:
Now, there's this flood of content I feel now. We're still in the web 2.0 age, which is user-generated content. I remember a web before there was user-generated content, but now, of course, you have tweets and blogs and TikTok, and videos, and all this stuff. Now, you have AI in the mix, so there's a lot of AI-generated content that's out there. In your opinion, what does it take now to really maintain a strong content strategy?
Natalie Marie Dunbar:
It takes people. I have only scratched the surface of the whole AI. It's overwhelming to me. In the environment that we're in right now, so spring 2023, there's been so many folks, particularly in the content design, content strategy space that have been laid off partially due because we think that some of this AI technology can take the place of a content strategy or content design. I think what people are finding out is that it could be assistive, but it's not to be relied on. You still need that system of checks and balances. You still need that human touch and human voice to help an experience be engaging and relatable to the human that's on the other side of it. Yes, things like AI and chatbots and all that, those things are getting more sophisticated, but I would argue that in order to establish and maintain a robust and relevant content strategy, that you need people to do that.
Maurice Cherry:
I'm glad you mentioned people because we are recording this right now. It's May 18th when we're recording this just so people know. I just saw, I think it was maybe yesterday, maybe today, that BuzzFeed, which just shuttered their news department, et cetera, had been talking about how they are going to start using AI to help generate … I guess the best way to put it would be to generate affinity content. I don't know if affinity is really even the best term for it, but essentially, he was telling investors, Jonah Peretti, the guy who created BuzzFeed, was telling investors that they're going to use AI to generate content, headlines, infinite quizzes, and develop Black, Asian, Latino identity-based content to help corporate brands tap in authentic voice to sell products. That sounds sinister.
Natalie Marie Dunbar:
Yeah, it does.
Maurice Cherry:
So you're going to get AI to try to not only just replicate humans, but also replicate Black, Latino, Asian, and then have the nerve to call it authentic, but I see companies try to do that though. I'm seeing brands that are looking at how they can tap into AI so they can do that to generate more content.
Natalie Marie Dunbar:
I'd heard that BuzzFeed had shut down their news division, which was shocking but not. This is news to me and the fact that the word authentic … Is that what you said, authentic?
Maurice Cherry:
Yeah. It's in the transcript that he said.
Natalie Marie Dunbar:
I got to go find that. I'm going to go find that. I have lots of thoughts, but there is no authenticity without tapping into humanity. I don't care how many eyeballs are on AI and how … We've all heard, I hope, the stories of the people who sit in Africa and other countries who are having to look at some of the worst content. I even hesitate to call it that on the internet to help filter the bad stuff out, but that's only one aspect. Again, we need humans. So all of that still has a human element to it for better or for worse, but there's no way that my lived experience as a Black woman of color … Well, that was redundant. In the digital space, in technology, you're not going to find AI-generated anything that's going to be able to relate my story the way that I can or the way that maybe one of my Asian American counterparts can share their stories and their lived experiences. I mean good on them for being upfront about it, but hey. Wow, that gave me chills. I'm like, "Really?"
Maurice Cherry:
That like some Black mirror shit.
Natalie Marie Dunbar:
[inaudible 00:29:19]
Maurice Cherry:
It's very sinister been. I've seen some stories, and we'll get back to talking more about your work and everything, but I've seen some stories where, say, an influencer will train a ChatGPT model on tweets or any long form content and then use that in lieu of themselves almost like a digital twin to generate content for them. I'm wondering, and I don't know, let me not even say that. I don't even want to put that out in the ether, but I feel like I could see a future where companies are trying to mine content that's currently online, like what ChatGPT does now, and use that in some weird regenerative fashion, as Peretti was saying here, to create, quote, unquote, "an authentic voice."
Natalie Marie Dunbar:
Good luck with that, Peretti. I think the thing that comes to mind too and, again, I have stayed out of the … I can't ignore the AI conversation completely because it's coming after my work, not my work at my job. Let me just say that. Not my work, but just my discipline, the thing that I'm most passionate about. You just can't get that authenticity. At that point, then just insert a chip into my brain and let's call it done. That's scary for me.
The thing is too that I'm hearing is that a lot of what, I guess, people are finding from ChatGPT or whatever other services there are out there is that there's still a lot of what is generated that's not accurate, attribution to … I have not gone out and said, "Hey, ChatGPT, who's Natalie Marie Dunbar? What do they do?" or whatever. I know people have done that and been served up some very interesting information about things that they've never done in their life. So there's that. So you still need batch checkers. You still need human validation, and that's what I'll say about that.
Maurice Cherry:
You mentioned there are these contractors that are working in Africa and in overseas, places that are being paid pennies on the dollar, basically, to be that human check, to be that moderation, which is, I don't know, it's all just really sinister to think about the fact that content is starting to go down that route.
Natalie Marie Dunbar:
Yeah, but we're going to keep fighting to pull it back.
Maurice Cherry:
Oh, yeah. I think so.
Natalie Marie Dunbar:
I think this is cyclical. I think this is the flavor of the season, and folks are excited about it. I think there's a lot to be, I don't want to say afraid. I would hesitate to think that this is the end all be all to we're going to save a whole bunch of money and not have to have a bunch of content folks because we could just generate it from this thing. I think there's a lot of danger in that, but I think that also has to come to fruition hopefully in not a horrible way, but yeah.
Maurice Cherry:
So let's switch gears here a little bit and learn more about you and your backstory and how you came to be this content strategy maven. You're currently in Pasadena, California. Is that where you're from originally?
Natalie Marie Dunbar:
Nope. I was born in Texas in a town called Port Arthur, if that's familiar to anyone. Janis Joplin was born there too. Any Janis Joplin fans out there? I grew up on the East Coast, in New York and New Jersey. We traveled. My father was by day of pharmacist and by night a jazz musician.
Maurice Cherry:
Oh, nice.
Natalie Marie Dunbar:
When the jazz took over, that's when we moved east so he could be proximal to all the amazing jazz clubs in New York City, which I will say back in the day, you could actually take your small child to one of those gigs and sit her over in a corner, this may or may not have happened to me, and they could listen to the music and be served french fries and a cola. That was my life. It was great. In the summer, I would go with my dad sometimes to some of his gigs, and it was amazing.
Maurice Cherry:
Nice. What did your dad play?
Natalie Marie Dunbar:
He played jazz guitar.
Maurice Cherry:
Nice.
Natalie Marie Dunbar:
I was lucky enough to see Herbie Hancock. Well, that's the one that comes to mind because I remember we were at the Village Vanguard, and I remember my dad sitting in on a set, and I always loved Herbie Hancock's music even as a kid, and just sitting there just eyes wide open like, "This is amazing," and going to … My dad recorded a bunch of albums of his own, but also as a session guy with other musicians and being able to go to recording sessions, which were painfully long, not like it is today, no computers, but yeah, and I was just a normal kid going to school, always, always, always, always reading or writing though from the age that I could do it. So that's been a theme throughout my life is writing.
Maurice Cherry:
So knowing that, was that something that you really wanted to focus on when you went to high school, went to college? Is that what you ended up focusing on?
Natalie Marie Dunbar:
Yes and no. So I knew you that I wanted to be … At some point, I refined. It's like, "I want to be a writer," became, "I want to be a journalist." I wanted to write for newspapers and magazine. That was my jam. Then I went to college and majored in sociology and criminal justice. I don't know what happened. I took a sociology class and I was just like, "I really like this. This is really cool." Definitely related, the study of social science because how else can we understand the masses of people. I remember when … Oh, this is going to date me and age me, but the area of study in college at that time was mass communications. So we didn't have all the many channels of mass communications that we have now, but that was the thing that I knew that I wanted to somehow insert myself into that space.
I got sidetracked by sociology and fell in love with criminology and criminal justice. Somewhere along the way I was like, "I'm going to be a lawyer." That never happened. I had a few friends that graduated a couple years before me, and we were all on that same path. We were very creative people, definitely into … Any class that allowed writing essays and all that stuff, I was all for it. It's like, "Don't give me any tests and make me write 10 papers. I'm good."
I had a few friends that went on to law school and they said, "Don't do it. Here's why." I think for me, I think I had some health issues in my last year or so of college. So that delayed me from taking LSAT and all that stuff. I did a reassessment and then I went and did something. I did nothing with my degree for a while. I did nothing with really anything. I graduated college and then ended up working managerial retail for a while, but I was still writing on the side, not very good. I was trying to take a class here and there and everything. I went a very, very, very roundabout way to land in becoming a writer, really becoming a writer.
By the time I did, I ended up in marketing communications at Farmers Insurance. The way that I got there was I had been writing. I was in a completely different department. I was actually in our real estate owns and property management, but I was a volunteer for all different kinds of things. We did things with the March of Dimes and Easterseals, and I would write for the employee publication and do a little article about those kinds of things.
Eventually, I started getting clips together. Then I had people outside of my full-time job saying, "Oh, I heard that you write. I've got this friend. She's got an independent magazine," so on and so forth. So I started amassing this collection of clips as we called them back in the day. Eventually, I felt like I had enough to start actually applying internally for marketing communications jobs, and I finally got one. So I started in marcomm. I did this really backwards. I started in marcomm, left that world, ended up being a newspaper journalist for Pasadena Weekly, and then got back into digital and jumped right into the user experience space. So that's my crazy background.
Maurice Cherry:
So you had a roundabout way of coming back to it, but I'm curious, during those times when you weren't, I guess, you weren't professionally writing in that it was your main thing, but you said you were working in retail and stuff like that. I feel like those experiences are still important, especially right out of school, particularly if you went right from high school to college with no break. Sometimes you need a break. That's not to say that it has to be something that you really have to do, but I'm thinking of myself. When I graduated, I didn't really get into design until I think maybe three years after I graduated. I was selling tickets at the symphony. I think I worked at Autotrader for a while. I got fired from Autotrader. I had a math degree, and I didn't want to go to grad school because I was just tired of school, but I had been doing design on the side like how you were writing on the side. I was still designing and doing things like that, but had eventually, also like you, amassed enough work and built a portfolio to the point where I could start actually getting design jobs, real design jobs.
Natalie Marie Dunbar:
Exactly.
Maurice Cherry:
I think that's a good thing, that stuff. I'm going to sound old by saying this, but I feel like it builds character. That stuff builds character.
Natalie Marie Dunbar:
It does. It builds character. As I'm listening to you talk, I realized that maybe I've been telling my story a little bit wrong. I think what it does too is help you in the content world, in the writing world find your voice. I know my father used to tell me, "You will find writing work when you know the story you want to tell and you have something to say," or something along those lines, and I was like, "Okay. That's deep. I'm going to go think about that for about three or four years." [inaudible 00:40:18]
I think from a design, especially visual design, I think you're learning your aesthetic, it's the way I want to say it, is seeing the things that make you react, seeing in bad or good ways and honing in on figuring out what your own style is. I definitely have a way when I write long that's different from the microcopy that I write day-to-day work because sometimes it's just not appropriate because I definitely have an edge to the way that I tend to write, especially articles. I still dabble in writing long little form articles for blogs and things these days, but yeah, I think I was just learning and refining my own voice in the way that you would learn and refine your own aesthetic. All of the things are valuable. All of the experiences that we have make us the designers and writers that we've become.
Maurice Cherry:
Yeah, because I think what it also does is it gives that perspective of what it's like to be … I guess you could say, quote, unquote, "a user" as opposed to being the practitioner. Even now when I think about working at the symphony and working at Autotrader and these other places, yeah, I wasn't doing design. I was answering phones and picking out tickets on seating charts and stuff like that. It wasn't design, it wasn't math either, but what it did do is just give me a general education about what it means to talk to people, to help people out, to find out, "Well, why is this thing confusing? Oh, I see why it's confusing. It's confusing to me, so of course it's confusing to you." If you're the person that maybe designed the process or the thing, you may not even see that because you've got your blinders on to how it was built as opposed to how it's being used.
Natalie Marie Dunbar:
Oh, my goodness, yes. That just reminded me of … I might be jumping ahead a bit, but in that crazy circular route that I took, no, it was more of a zigzag to get to the work that I do now, even after getting into digital experience, consumer experience, user experience because it had all those names back in the day, I actually started in content and then I was like, "What if I became a product manager?" and I did that for a little bit. Mind you, the product that I own was user-generated content, so I was never very far from content.
Then I was like, "Well, okay, what do user researchers do?" and that was when I was like, "I am finally going to use my sociology degree," and I put on the user researcher's hat for a while, and I did use research. The reason why that came to mind is that there was nothing more compelling than sitting on the other side of the double mirror that we had in our usability lab watching people struggle with something that we thought was so straightforward.
It was like, "Oh, people are going to be able to use this watch. They're just going to come in. They're going to do this." We would have the engineers in there. We would have product people, anybody that wanted to come and observe all the way to the CEO, "You should come and watch people try to use this thing that you wanted us to build, and we're telling you it's not going to work the way that you think it is and go through that usability testing," and they're like, "No. I don't think this works the way you think it does."
Then relating that back to what you were saying about working at the sympathy, and then I'm going to use a word that rhymes, empathy. I've built that, and I'm sure you have through those experiences, those very analog experiences, actually, where we're not using computers and different things to help people and now we're expecting folks to pick up a digital device of some sort and be able to find their way with beautiful designs and very little words. It's like, "So how do we make that happen?" and that's that building that user empathy. I think working with the public, that should almost be a prerequisite. Don't tell anybody I said that, everybody that's listening. That's amazing.
Maurice Cherry:
Now, you worked for a while for yellowpages.com. You were doing content strategy, you were a UX product manager, and folks that know that listen to the show, I worked there as well for two years. It was AT&T, but it was yellow pages.com doing website designs and doing … Oh, God. What were those little graphic tiles? XMEGs and X tiles and all that stuff for the yellowpages.com website, essentially those little tiles that would pop up that people could click on. That was what our department was doing, and making a ton of webpages, one page sites, three page sites, five page sites.
In hindsight, I liked the experience. It was a good experience because it just taught me how to design quicker in that way. You have to take the information. Basically, you go into … Oh, what was the thing called? Ice Blue, I think, was the name of the software that we used. You go into Ice Blue, you pick the company you're doing it for, you have to go and pull a physical packet of where the salesperson has talked to the business.
Natalie Marie Dunbar:
I remember that.
Maurice Cherry:
There's a physical packet of the text that you have to put in and maybe their logo that you have to scan. Our department had one scanner for 30 designers, and you had to scan the logo so you could use that, maybe trace an illustrator, and you'd have to put all this together into a website usually within a matter of hours.
Natalie Marie Dunbar:
Wow.
Maurice Cherry:
One page sites, I think the limit that they had us at was three hours, and then five page sites … No. One page sites were three hours, three page sites were five hours, and then if it was five or more pages, basically the whole day, but you were not meant to spend more than one day on building a site. So because of that, even with a team of 30 designers, we were always behind.
Natalie Marie Dunbar:
Oh, wow.
Maurice Cherry:
The managers were always yelling at us, "Why aren't you all getting more work done?" It's like we're designing three webpages, full-fledged webpages a day, design content, all that stuff, putting it together.
Natalie Marie Dunbar:
Wow.
Maurice Cherry:
It was a harrowing time, but I look back on it fondly because it did teach me, I think, the utility of just shortcuts and working fast and not really having time to mull on a decision for something. You just have to put it out there and do it. I feel like some of my best designs were just shot from the hip because it was like, "I don't have time to think about how this might look. I just have to do it."
Natalie Marie Dunbar:
Exactly.
Maurice Cherry:
"Brand colors? Okay, we'll work with this," blah, blah, blah. How was your experience working with yellowpages.com?
Natalie Marie Dunbar:
So as you're talking about this, I'm remembering when that push came, when those sites were being built for the folks that had listings and they had more than the free listing. So my experience was the site that held all the listings, we didn't really touch the listings that much except for when we would add features like these websites. So we had to determine if there was going to be a button or link that was going to … how do we get people from the main yellowpages.com listing site to go into the listing and how do we organize that information on the listing page.
Beyond that, we impacted everything from the homepage to the … We used to have city guide pages. Eventually, we had some product pages. We started adding articles and different things to the website to the yp.com main website. When I joined, I still have images of this on a laptop somewhere, which is our yellowpages.com branding. At the time it was … Oh, what was it? I forget the tagline. I thought I had it and I don't, but meet something. That's how far back I go.
Then we had a bunch of just links. There was very little imagery on the homepage and it was links. Again, that was that SEO, which is like, "We have city guide links. What are the most popular cities that people are looking for? Okay. What is our data telling us? Well, we should have this link. Okay. Well, if we're going to have that link, then what's going to happen when people click on it? Oh, we should have a rich content-driven city page," and that was stuff that I wrote about Jacksonville, Florida and Orlando and Los Angeles and so on and so forth, whatever the … I think it was the top 25 cities that people would search for we had the most robust content for.
Eventually, we built that out, and that was when content strategies started to be a thing in the back of my mind. It's like, "Oh, well, we're not just saying, 'Oh, we're just going to have this whole bunch of content and we're just going to have SEO value,' but now we're going to think about, 'How are people going to interact with that content? What are some of the ways that we can expand on this?'" So eventually we started thinking about other sites that had UGC, user-generated content, because when I joined, ratings and reviews were not a thing yet. That was the big, big thing beyond SEO. We were looking for that organic SEO from user-generated content, but people weren't writing reviews on yellowpages.com. It really took time to get some traction around that, and then eventually we did.
Back in the day, you could make a deal with different third parties to bring their reviews onto the site to get critical mass, and then digging into, what is that experience like? How do we discern what is a yellowpages.com original review versus one that we might get from a third party? So all of that is now we're talking about content strategy. Now, we're talking about not only what does it say, but what does that experience look like because content is not just words. Content is an aggregate of all elements, whether it's images, video, whatever it is. All of that is content, but how do you put it together to tell a compelling story and to help people get to what they need? That was the thing.
So that's full circle, but yellowpages.com is where I wore the hat of editorial producer, which is what I was called back in the day. Then I went to product management, then I was a user researcher, and then right before I left, I was still dealing with the user researcher stuff, but I was also getting back into content because we started doing articles and things like that. I tell people I cut my teeth in all things digital. I did everything but code.
Maurice Cherry:
Well, I remember my time at Yellow Page. I feel like I did, and this was at a time when … For folks that are listening, it was the transition from table -based websites to CSS websites.
Natalie Marie Dunbar:
Oh, yeah.
Maurice Cherry:
So not only were we having to create these new sites, in some cases, we had to convert sites. We had to take table sites that maybe another designer a few years ago, maybe that doesn't work there anymore, we had to take those sites and then change them to CSS. I remember I had written a CSS framework called Slats, and I was trying to get my team on board, get my team lead on board because I was like, "This will help cut down on the time it takes because now all you have to do is just go in and choose a CSS variable, it'll automatically float to the left, float to the right." We're dating ourselves. They were like, "This was still when IE6 was a thing, and cross-browser compatibility was tough."
Natalie Marie Dunbar:
It was.
Maurice Cherry:
I remember writing it and I sent it to my team lead and she was mentioning, "Well, we're not sure about if we're going to use CSS for layouts because of different people's browsers and maybe they have Internet Explorer, maybe they have Firefox, maybe they have Opera." It ended up not being used. Even for web audio, we were using Java applets. This was a long time ago.
Natalie Marie Dunbar:
Oh, wow.
Maurice Cherry:
The cut your teeth part, I totally get that because the time it takes to put that stuff together, at least on our end, was we didn't have time to really talk to the client or talk to the business about what it is they need. It's like you get whatever's in that packet and you just have to make it work.
Natalie Marie Dunbar:
Exactly.
Maurice Cherry:
It almost felt like a reality show design challenge. You're presented with such limited information, then you have to throw it together, and then it gets sent over to QA, and once it's out of my hands, I'm onto the next because it was basically just a never-ending stream of sites. Honestly, the time that I spent there is what inspired me to quit and start my own studio because I was like, "Wait a minute. I can do these websites like the back of my hand. I'm going to take this little framework that I created and I'm going to go and try to serve some clients," which is what I ended up doing.
Natalie Marie Dunbar:
Excellent. Yeah, that's awesome.
Maurice Cherry:
Now, you've worked with numerous brands over your career. Just to name a few, the Food and Drug Administration, Anthem, Kaiser Permanente, et cetera. When you look back at those experiences, what really sticks out to you the most?
Natalie Marie Dunbar:
That's a favorite question of mine because what I find that is the common thread between government agencies like FDA and CTP, Center for Tobacco products, et cetera, and places like yellowpages.com, which was owned by AT&T and Anthem, highly regulated. They were all highly regulated. You've got your yellowpages.com owned by AT&T, so we had telecom regulation. They got your healthcare, which is a whole another ball of wax as far as regulatory compliance. You've got your different government agencies that have their own compliant from agency to agency. I think that's been a common theme for me up until … Well, I don't want to say up until now because the e-comm definitely has its own regulatory exposure as well.
I think those experiences helped me learn to balance business goals, user needs, voice and tone all while being very mindful of steering clear of violating any regulatory compliance issues. I think that's the common thread. I didn't go seeking them, but I think that's explains the trajectory a little bit where there's a common thread for me.
Maurice Cherry:
Now, you mentioned earlier in this interview about how you're doing all this traveling and stuff. Of course, you're promoting the book and everything. You're doing your day job and you're really big about prioritizing your own wellbeing alongside your work. You do yoga. You're a yoga teacher, is that right? Yoga instructor?
Natalie Marie Dunbar:
That is right. I'm on hiatus right now because of the book thing. I've been a little busy traveling, but yeah. Somewhere back in 2005, I decided that it would be a really fun experience to do a half marathon, and you may say, "What the heck does that have to do with yoga and wellness?" Well, a lot because I was going to do one-half marathon, I was going to walk that thing and I was going to be done and I was raising money for charity. 10, 11 years later, I was still doing it, and I had become a marathon coach. It was a side thing. I was [inaudible 00:56:17] for a volunteer organization, but what I found was I was not only coaching, I was also, I use the term racing very loosely, but I did finish every marathon or half marathon that I ever started, and that number is somewhere around 25 or 30 now.
The knees start to hurt and hips start to hurt. Someone said, "You should try yoga," and I'm like, "But I did and I didn't like it." I was in somebody's living room trying to pretzel my body into a pose and there was no instructor because we were watching a video and I had a really bad experience with it. So I went and I took a couple of classes because I had my coaches telling me, "This might help you. Just go check it out," and I'm like, "Oh, this is different when you have an actual instructor," but I'm a person who lives in a larger, curvier body. What I found was that there were instructors that did not know how to teach me yoga. They would just say, "Well, if this is too difficult for you, you could just [inaudible 00:57:16] in child's pose." I'm like, "Holy. Okay." I would walk into studios after doing a training walk or run because eventually I did start running more of 15 miles that I would have a yoga teacher literally look me from toe to head and go, "You know this is going to be hard, right?"
So yes, it's a little plug for a little bit of body positivity and awareness. So I started looking for yoga for people like me, and cheesy as it sounds, I figured out I had to become the yoga teacher that I wanted to see. During a time where I had gotten laid off from a job and I was only marathon coaching and doing two weeks here, one month there content work, someone said to me, "Have you ever thought about …" I had a dance background when I was a kid. "Have you ever taught about teaching dance again?" I'm like, "I don't know." I started seeing online material from a yoga teacher that was Bates at the time in Nashville, and she had created this platform called Curvy Yoga. Hello. One thing led to another, and I was consuming her content and practicing along on her website.
I remember getting an email saying, "I'm going to open up yoga teacher training in the coming months, and if you're interested, send an email." I sat there and I thought about it and I'm like, "Well, this is probably not going to be my career career, but I'm already doing the marathon coaching thing." Ironically, one of the ways that I would try to help people, quote, unquote, "get into their bodies more for marathoning," I bought a yoga anatomy book because it makes sense to me.
Lo and behold, that was one of the books that I had to buy because I did sign up for that yoga teacher training. I did my 200-hour training, and it helped me to be not only a better marathon coach, but when I got back into the corporate world, it made me aware of the fact that working 10, 12, 14-hour days was not doing my body any justice. It was not psychologically safe. It was not tenable for years and years at a time. I'm still good for a 17-hour launch because sometimes it'll take that long.
I just started to be more and more aware of how I wasn't being kind to my body and still expecting to put out the hours of work that I was doing from week to week and day to day. So yeah, so that focus now. Ironically, as I am going out and speaking about my book and talking about the importance of content as an asset and that kind of thing, the talks that I'm doing now are more focused on a chapter that I talk about maintenance and specifically what it takes to keep a strong practice core, focusing on the health and wellness of the practitioners who make the practice what it is.
The thing about content strategy is there's a part in the book where I'm talking about, I think I call it three persistent principles. One of those things is always be educating. You're always going to be explaining to whether it's a new designer, a new product manager, a person in senior leadership, the importance of content as an asset, the importance of content strategy and content design. I can lament for days with other content practitioners, don't even have to be a manager or leader. Somebody always has that one deck that explains, "Okay. This is what content strategy is. This is what it's not. This is what we do. This is what we don't do. This is how you engage us," and so on and so forth.
As much as it sounds like I can repeat that from rote and it's not taxing, it actually is because you're always advocating, always. I don't know why, but it is a thing where we're always having to advocate for the importance of content as an asset and having the people on board to get that work done, which is why I wrote the book because people often ask me, "How do I find people like you? How do I build a content strategy practice? What does that even mean, and do I actually need one?" So full circle, yoga and book, there we go.
Maurice Cherry:
I think it's really smart that you were able to pull that insight out of something that, just as we spoke about earlier, pulling insight out of something that may not be directly related to the work that you do but you're still able to apply it. So even as you're going through this with yoga, you're finding out, "Oh, this is analogous to something I can use to talk about content strategy."
Natalie Marie Dunbar:
My first talk that I pitched to Confab, which is Brain Traffic, Kristina Halvorson's big content strategy conference. We actually just celebrated the last one a few weeks ago, but a couple of years back, I pitched a talk called Yoga, UX, and Content Strategy. It still continues to be my most requested talk.
Maurice Cherry:
Nice.
Natalie Marie Dunbar:
I married the two because I was so passionate about both of them. In that talk, I talk about creating safe and accessible spaces. In the same way that we do in a yoga studio for people of differently abled bodies, we also want to be able to bring that same approach to the digital information spaces that we create in. I was trying to keep the two separate and then somehow they got conflated and I was like, "Well, let's just run with it." That's dope.
Maurice Cherry:
Those are the best talks though too when you can really make an analogy between two disparate things. For some reason, those really seem to click with audiences. So good on you for that.
Natalie Marie Dunbar:
Yeah, thank you.
Maurice Cherry:
What does success look like for you now at this stage in your career?
Natalie Marie Dunbar:
I don't want to describe myself as necessarily a late bloomer because I've been over here blooming for a bit, but I think the book has elevated things. I started getting into more public speaking literally weeks before the lockdown happened. I spoke at the local World IA Day conference, which the LA chapter actually met or the LA version happened here in Pasadena because we're just north of LA, and that was one of those places where I did a talk and it was about information architecture and content strategy, another mashup, because I did a play on … What is it? Does it spark joy? The Marie Kondo whole bit about creating nice spaces. Now, things are escaping my brain.
Anyway, that was another mashup talk that I did. I'm not an IA. Even though I do dabble in information architect, I wouldn't self-describe myself in that way, but we're often joined at the hit with IA and content strategy. So I was trying to show the places where we overlap and how we support each other. That was one of those places where somebody was like, "Oh, my God, that talk was so great. How do I find somebody like you? How do I go a practice?" that kind of thing.
Then two weeks later, lockdown. I started looking at places where I could … All of a sudden there's like, "I can't go to that conference in Vancouver, British Columbia, but it's going to be online, I could probably pitch a talk." I started pitching talks. Then somewhere along the way, I belong to an organization called Women Talk Design, so women and non-binary folks. It's like a speakers bureau and training place for folks who are in this design space who are maybe underrepresented as speakers and facilitators and that kind of thing.
I think that's where Lou Rosenfeld encountered some of my talks and articles that I had been doing, and he asked to be introduced to me, and I kid you not, I was like, "Oh, he must want me to speak at the conference because that's what I had been doing." I tell the story all the time, but I'm going to tell it again. 25 minutes into a 30-minute conversation was when it was like, "Oh, he's wanting me to maybe write a book. Okay. That's different." He's like, "Maybe we should schedule more time," and I'm like, "Yeah, let's do that," and here we are. That was pretty phenomenal and very unexpected, but if you're going to write a book, I would say doing it during a pandemic was not a bad thing. I had something to do with my time.
Maurice Cherry:
What is it that sort of keeps you motivated and inspired now to continue this work?
Natalie Marie Dunbar:
I am accepting my place as … You used the word maven earlier, and that's one of my favorites now. Accepting my place with humility and grace, but also, I'm reminded often by my son, I did not get here by being lucky, that I put the work in. So now, I'm wondering where does that take me. I love the work that I'm doing. I love the team that I'm on. Design and particularly content design is elevated as much as research and visual design, and I have a lot of respect for the leaders of our org where I work at Walmart.
Beyond that, I want to continue to motivate others, whether that be through some type of coaching. I was at the last Confab a couple weeks ago, and just seeing … Particularly, there was a time when, again, identifying myself as a woman of color in the tech space in content where I was the only one in the room, and to be at Confab and to have more than a dozen people who look like me coming up and saying, "How'd you do it?" or, "Thank you for doing it," or just being motivated by their excitement of being in these spaces that weren't necessarily paths that we could see ourselves in, and just reaching out and really just … When people ping me on LinkedIn and they're like, "Can I bend your ear for a few minutes? I'm curious about this or that." Yeah, just wanting to be able to talk to people and, again, wave the flag of the importance of content as an asset. I think I've said that 20 times now if your listeners accounting.
I think eventually helping people who may read the book and still say, "I'm only a team of one and I need help, and can you come help us build this team?" maybe that's in my future as a consultant, but right now, I'm happy with what I'm doing and there may be another book in me. I don't know. I like writing long. I enjoy it.
Maurice Cherry:
So as we get to the end of this, I'm curious, what do you want the next chapter of your story to be? Where do you see yourself in the next five years or so?
Natalie Marie Dunbar:
I have been lucky enough to be included in a group of peers that are leading in the content strategy and content design space, whether it's authors or leaders at certain large companies. I was trying to think of the word enterprises and it just went out of my head. We've recently published Content Design Manifesto. If you Google it, you'll find it. Literally, it came out a week or two ago. There was a gathering of a small group of leaders in the space who came together to actually think about, "What is the work that we're doing now? How do we define it? Where do we want it to go?"
So in similar ways to the Agile Manifesto, we got together and did this. We framed the document, the purpose, and the whole thing, and released it out into the wild. I can't even remember how many hundreds of people have signed this thing to say, "Yes, we're on board." So I think for me, helping to not direct, but just contributing to what this discipline can still become. Aside from ChatGPT and all that stuff aside, when folks come back and go, "Yes, we actually do need content people," being ready for that and helping people ramp up again.
I've done that in my career already, probably twice now. There's been some waves where it's like, "Eh, we don't really … We've got content. It's good. We don't really need a full practice or a full team," only to find in a couple of years later, "Actually, yes, we do. We've got way more content than one person can handle or that no person can handle, and we really need someone who's adept at getting this done." So I see myself as being a part of the folks who collectively have a voice in guiding and mentoring the direction of where the practice of content strategy and content design are going to take us.
Maurice Cherry:
Well, just to wrap things up here, where can our audience find out more information about you, about your work, about the book? Where can they find that online?
Natalie Marie Dunbar:
Oh, my goodness. I am still on Twitter. My handle is TheLiterati, T-H-E-L-I-T-E-R-A-T-I. I have same handle on Instagram. I do try to keep things updated with where I'm speaking, teaching, not yoga, but content strategy stuff. I'm on LinkedIn. I do welcome people to reach out. Just look up Natalie Marie Dunbar. By the way, there is a Natalie Dunbar who is an author who writes romance novels. She is a woman of color. When I had the very fortunate problem of how do I disambiguate, that's why I used my middle name because that was one of the things I asked, the first thing I asked Lou Rosenfeld. I'm like, "I never thought I would be able to ask this question of a publisher, but now that I have one, how do I do that?" and he's like, "Use your middle name." I'm like, "Duh."
So I'm out there, and all of those, LinkedIn, Instagram, all of those will link you to my … I have a website. On that website, you can sign up for my newsletter. I always tweet a link to my newsletter. I put it on a monthly-ish. Again, I'm late so I need to get on that within the next couple of days and that'll tell you where I'm speaking and all those good things. So I welcome folks to follow along in my adventures.
Maurice Cherry:
All right. Sounds good. Well, Natalie Marie Dunbar, I want to thank you so, so much for coming on the show. I think if there's anything that people can get from this is that you have such a passion and a curiosity for content strategy and how it just works within not only the digital world, but in our world at large, and that's something that, especially as more and more content gets created … We talked about AI and all that sort of stuff. As more and more content gets created, I am drawn back to what you said about it still is going to need humans. It's still going to need people in order for content to really thrive and to have good content strategy. I hope that people get a chance to pick up the book. Like I said, we'll put it in the show notes, but I'm so glad that we have you to be someone that is a practitioner of this to help steer us all in the right way. So thank you so much for coming on the show. I appreciate it.
Natalie Marie Dunbar:
Thank you. Thank you so much. I appreciate it being here and chatting with you.
Brevity & Wit is a strategy and design firm committed to designing a more inclusive and equitable world. They are always looking to expand their roster of freelance design consultants in the U.S., particularly brand strategists, copywriters, graphic designers and Web developers.
If you know how to deliver excellent creative work reliably, and enjoy the autonomy of a virtual-based, freelance life (with no non-competes), check them out at brevityandwit.com.