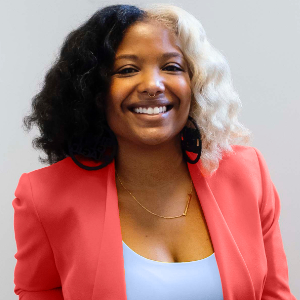 Several past guests have told me that I needed to interview Terresa Moses for the podcast — well, that day has finally come! If you've attended any design events over the past couple of years, then you know that Terresa is all about liberating Black and brown people through art and design. Wait until you hear her story!
We started off talking about her teaching work as an assistant professor at the University of Minnesota, including her position as the director of design justice. We also went a bit into her work as a creative director at Blackbird Revolt, her current PhD studies in social justice education at the University of Toronto, and her recent solo exhibition Umbra. Terresa also talked about what keeps her motivated and inspired these days, living her life's purpose, and what it means to her to be a designer today. Sit back and get ready for a fascinating interview with one of the most dynamic design educators working today!
Blackbird Revolt
Other Links
Transcript
Full Transcript
Maurice Cherry:
All right, so tell us who you are and what you do.
Terresa Moses:
My name is Terresa Moses. I also go by Terri, she/her pronouns and I am a designer. I'm an educator and an organizer. I'm an assistant professor of Graphic Design at the University of Minnesota, as well as the Director of Design Justice for the College of Design, and then, I own a studio called Blackbird Revolt, in which I work on a lot of creative projects for justice oriented, anti-racist projects and I also am heavily involved in community work, so yeah.
Maurice Cherry:
So like with all of that going on, I have to imagine you've had probably quite a year so far, like how things have been going?
Terresa Moses:
I would say the most interesting thing is starting my position at the Twin Cities campus because I was at the Duluth campus, teaching and so starting last year, in the middle of a pandemic, moving and all of that has been a little weird and it's like you meet your colleagues online and then they see you in person, and they have masks on and they all know each other, and I don't know them but they know who I am, because I'm like, the only black person. So they like come up and talk to me and I'm just like, "Ah, you know," and not really knowing who they are. So that's like the really interesting part. I kind of get nervous around it. I mean, it's like some social anxiety stuff, so that's been a really interesting part, but I would say the year overall has been okay, considering like the world in which we live in.
Terresa Moses:
I think there was definitely a lot of, I guess, turmoil in the city. I'm in Minneapolis here, so Daunte Wright is another black man shot by the cops in Brooklyn Center, around April, May, June, we were just out there, doing what we could to protest that injustice. So it's been eventful and that's like to say the least, and then on top of that, I'm working on my PhD right now.
Maurice Cherry:
Yeah, I didn't consider that yeah, you're in Minneapolis. That's really kind of the epicenter, certainly of everything that has went on regarding George Floyd and the protests and everything like that. How's the city now? As we're … I mean, we're recording this right now, kind of at the beginning of October 2021, like how's the city now?
Terresa Moses:
I want to say like the city is the same. There's definitely not the heightened presence of like National Guard and police everywhere. However, the city is still hurting, and we still haven't got the demands for justice that we wanted with George Floyd. I mean, I would say the city is still … we're waiting for justice, I think we're just kind of there, and then, I think also, one of the things I think about is kind of the performative allyship that showed up last year, and how it's so much different now. They are just … I own my studio and it was like, everybody has to do business with black people now and it was like, I had just started to exist or something last year and now, it's kind of dying back off again, so you just can feel like the fickleness of, especially folks that have the power in the city.
Maurice Cherry:
Yeah, that's a common thing with a lot of people that I've had on the show within the past years, like you mentioned that performative allyship is real strong and then it's sort of just died off. In some ways, it's died off gradually and in some, it's been, like a pretty abrupt shift away from it. One thing that I thought was interesting, and I talked about this in my interview with Joseph Cuillier, who runs The Black School, we were talking about how … I think it was last year and maybe, probably a year or so before that, everything was like, Black Lives Matter, Black Lives Matter and how now it's just shortened to like, BLM.
Terresa Moses:
Yeah, and I feel like that is like an absolute mirror of society. It's like, when people are talking about black people, but they say POC and it's like, "No, let's actually be specific about what we mean here," and I think it just allows white denial to continue to exist. If we don't have to actually say black and we don't have to say lives, then we don't have to reconcile with the fact that black people are dying.
Maurice Cherry:
Yeah, I mean, even the, almost meteoric kind of rise of BIPOC as an acronym, I swear, they came out of nowhere.
Terresa Moses:
Mm-hmm (affirmative).
Maurice Cherry:
It was POC for a long time and then last year, everything was like BIPOC, BIPOC, BIPOC, where did this come from?
Terresa Moses:
Yeah, I mean, it did pop out but I'm one of the people who actually really appreciate it, because black people, our experience is so much different from other POC and there's so much anti-blackness in other POC communities. So I appreciate that we get to kind of differentiate those experiences, and indigenous folks who have been here from the start and have really been harmed by white supremacy. So I really appreciate the differentiation, for sure.
Maurice Cherry:
Now, let's talk about teaching. You mentioned being an assistant professor of Graphic Design at the University of Minnesota, and you're the Director of Design Justice there. Talk to me more about those roles, particularly about the Director of Design Justice, because I feel like that's the first time I've heard about that out of college.
Terresa Moses:
Sure. So, I'm an assistant professor, a tenure track, kind of same run of the mill position but I was hired on, in this sort of partial position. So kind of like, I want to say half and half type of thing. So I'm a professor in some areas, and then I am the Director of Design Justice. What I was originally hired for was to be the Director of the Diversity Network. That's what it was called, and when they were like, negotiating with me, I was like … when I actually get in this position like, "Can I change some of these names," because I absolutely hate the word diversity. I think it is a, I don't know, coddling term to help folks not talk about the fact that white supremacy allows there to be no black people in your whole college. I think that that's wild. So I hate that word.
Terresa Moses:
So I was like, "Can I come in and change that up?" So in doing my research, looking for, okay, I really liked this word, justice and looking for other terms and other ways folks talk about justice, especially in the realm of design. I was like, "This totally makes sense, Design Justice." In this role, I kind of work on issues, particularly related to how can we make our campus climate more equitable, more inclusive, those types of language, those types of words. So some things that I'm working on right now that are great but also very stressful and exhausting, is the first thing being the cluster hire. We are working … I'm leading this initiative with our head of HR to hire on four faculty members that are focused on Design Justice, with a preferred qualification in anti-racism.
Terresa Moses:
This will be in four areas, architecture, product design, interior design and graphic design and I'm hoping that they come on and work with me to be able to basically take the small, the bit of power that's been given to me and disperse that amongst their specific areas and really just kind of increase, what I call the design justice collective. So what that is, is like, it's not a committee, per se because committees are more like you have to have someone who represents fashion merchandising who sits on this committee. That's not what the collective is about. The collective is who's doing the work, and then how can we show up together in space and support one another in that work? I'm not looking to have spaces where it's like, "Oh, Racism 101, like let's talk about how you perpetuate racism?"
Terresa Moses:
No, that's not what the collective is about. It's about who's already doing the work and how can we support one another. So that's one of the things that I'm working on right now, as the Director of Design Justice. Some of the other initiatives that I do is hold affinity spaces for students of color. I also hold space for queer students and I'm going to have some other colleagues work on affinity spaces for allied students. Some other things that we're working on is a fellowship program. I'm really trying to address the fact that there are not any black people, especially from our community that have infiltrated the design industry like they should, white supremacy and all. So the fellowship program is supposed to be like an intensive 12 to 15 week course in the summer, that students of color can apply to and these students don't necessarily have to be students of our university.
Terresa Moses:
They can be between the ages of 17 and 23, and we're working with community organizations as well to recruit some of those students but it'll be a cohort of 20s, when I'm hoping that we can pay and stipend them to be able to go through this program, and then be offered some options at the end of this program. So things like an internship, a full on job opportunity, two year program or a four year program at a college or university and we're working right now with the organizations that are here in Minneapolis, so people like Target, Best Buy, 3M, US banks, so some really big names of corporations who would have positions available and then also, we're working with other organizations that we can provide mentorship as well. What the issue is with the fellowship program for me is that as I'm looking at these other organizations, they don't have any people of color that work as designers.
Terresa Moses:
So how am I supposed to recommend that they help mentor these students of color that are coming in? It just doesn't sit right with me. They have to have people that look like them. So right now, we're working with other small graphic design firms and studios to see what we can do to kind of partner for that mentorship aspect of things. So that's another big project we're working on to help increase BIPOC representation, and the design industry. So those are some of the things that … those are some of the big things we work on. Another thing that … as the Director of Design Justice that I'm working on is creating a course where we get distinguished design lecturers to come in and teach a class on design justice. So I'm personally hoping that once the course gets approved, and it is something that is required of all design students, that they have to take this course in order to get their degrees.
Maurice Cherry:
I'm curious, and I'm sure people in our audience want to know as well, what does it look like to teach a designer about design justice? What does that look like?
Terresa Moses:
I can tell you what it starts off like, how about that? It will start off by trying to do as much introspective work as we can, and what this does is it informs the students, how their identity and their positionality, especially in the context of racism and other systems of oppression, will affect their design outputs. It will affect how they show up in the design world. It will affect what they're even interested in. It will affect their relationships with their colleagues. We always talk about like empathy being like this first step of the design research process and it's like, if we wait until everyone has empathy with black people, we will never solve racism, right? So how do we talk about this? Well, let's talk about you first and let's talk about the decisions that you can make to help further a system where there is no … there isn't or there is less oppression.
Terresa Moses:
So I think for me, I'm always going to start off with doing some social identity exercises, where students get to think about how it is that they realize or how it is that they develop biases and then, we'll go from there, we have a lot of these like, kind of onboarding activities is what I like to call them and yeah, they're able to really dive into, like I said, in an introspective way, their own positionality and then look at who taught me that? What institutions were developing that character or that social construct, so that I understood people to be a certain way. So it really is like, revolutionary for the students because they're sitting here like, "I didn't even understand that I even thought this way until doing some of these exercises."
Terresa Moses:
So, if I can teach them that they impact in whatever place they're at in the industry, even when you first graduate, and you get that really crappy entry level job, that you still have power to change the climate within your institution or you get the power to actually make some recommendations on some of the outputs that maybe your company is going to be putting forth, I think that that's super important. I've kind of done my job, so yeah.
Maurice Cherry:
Now, has this been done at the college before or are you just kind of spearheading this right now?
Terresa Moses:
Definitely spearheading. So one of the things that I do as its director as pedagogy audits and what I'll have faculty do is meet with me, and we'll go over what does your syllabus look like? What do your projects look like and how can we make those projects begin to talk about the ways systems show up for different groups of people? So, when we're able to break that down, I think it will add to a more inclusive environment, of course, in our classrooms, but has it been done before? I think the resources are there. Are faculty necessarily motivated enough to do this? Are they being reprimanded if they don't? Absolutely not, and so the education, like the institution of education itself is one that I'm often questioning like, can I even be here for definitely not … like for the rest of my life? What does this look like for me in the future? I'm not sure because I definitely know this is not where the revolution happens.
Terresa Moses:
It's not where radical change can happen, and so hasn't been done before? Like I said, the resources are out there. I think that faculty are too lazy to look it up, to be honest.
Maurice Cherry:
Okay, shots fired. I had Dr. Kristina Harrington on the show a couple of weeks ago, and I remember was asking her about like, what does it mean for you to be a black woman at this level, doing design, research and being a design PhD. I've also had Dori Tunstall on the show, but that was years ago. I need to try to have her back on the show, but it is interesting, like you say, the revolution is not going to be done here at the school, at least you're able to kind of do the work that you can here to show that it can be done.
Terresa Moses:
Yeah, I mean, man being a black woman-
Maurice Cherry:
That was a deep sigh.
Terresa Moses:
Because I was really thinking like, how many times do institutions, not even just higher ed but institutions in general, bring in black women to clean up after they have completely … can I cuss on this show?
Maurice Cherry:
Yes.
Terresa Moses:
Completely fucked over a whole system, and I was having this talk last week, because it's like, you all have used the system of white supremacy to allow only white people to be in power. Then, when you look around and you see that there are only white people in power, it's like, we need to bring black people in here to help us clean it up. I don't know that that extra … that cultural taxation is like more than exhausting. Then, on top of that, it's not like you're compensated for that. It's not like they say, "You know what, we want more black people to come and teach at our college in Ann Arbor, Michigan." It's not like they're going to say, "You know what, we're going to pay for you to go in two trips to like a black city or go visit your black family, because we know there's no black people here in this city."
Terresa Moses:
So because of systemic oppression, you all have basically red lined this out of certain parts of the country, and then you want us to just import ourselves and somehow feel okay in that city? It's irritating, and it's so … I don't know, like it's so short-sighted. I mean, I can't even think of the word but I think it's very shallow for them to think we're going to offer you the same exact package as this other white faculty, but expect more from us. I think it is insane.
Maurice Cherry:
Yeah, you said a lot there. I mean, I've certainly talked to educators before where they've kind of told me about how they have to do so much with such little resources because one, yes, they have to teach the specific courses that they were hired to do but then, there's so much more that it feels like university expects out of them, as you say, on this kind of diversity level with outreach and research and all these other things, and it's like, if you're not compensating someone to do all of that, it's just so much more undue labor, especially on top of just what it means to be black in academia, in general, aside from all of this like, yeah, that can be really taxing, I'm sure.
Terresa Moses:
Absolutely, and when you just said black in academia, I'm thinking as I'm sitting here doing the work in community, like when Daunte Wright was shot and killed by police officer, Amy Porter, I was like … I had this brilliant idea of trying to clothe all the protesters, me being one of them but it was cold. Sometimes it was snowing, sometimes it was raining, it was freezing. We were getting like supplies out to protesters, but I was like, let's unify our message and so, you might see this design that I created called stop … It says, "Stop killing black people," and it's in this typography that I created inside … I was making a whole bunch of messaging to help unify our message, so that was one of them, "Stop killing black people, people over property, abolish the police," of course, "black lives matter." So I was creating all of these kind of like slogans for the movement for the protests that were happening.
Terresa Moses:
So that's some awesome and amazing community work. I got to work with a lot of organizers, a lot of friends who were coming out, help me pass out stuff, we pass out so many things to protesters and we raised like 30,000 to be able to print all of these things for folks. Then, as a black academic, I can't just insert that into my portfolio and be like, "Look at all this amazing work that I did." I now have to kind of code switch my work and be like, "All right, now I have to write about it in an academic way and talk about the impoverished neighborhoods of Brooklyn center, and how violence …" I mean, it's gross and it's like, you not only want me to do the work, you recognized that I'm a community engaged scholar but you still want me to form my work into this small little funnel, and put it into something that makes sense for you all, that you've been doing for years, that is totally and completely based off white supremacy.
Terresa Moses:
So you don't want this new work, you want it just repackaged. You want me to continue doing the stuff that I'm doing, but also repackage it for your sake. I mean, that's the kind of exhaustion that I'm talking about. It's basically doing double the work. You not only want me because like other academics, they just theorize about this stuff. They don't actually go out in the street and do it. I'm actually in the street doing it and then I have to go and write about me being in the street and doing it, like what?
Maurice Cherry:
Yeah, that's … the main thing I can think of as you're talking about this, is that I know, this is not the only thing that you're doing. On top of this, you're also a creative director at Blackbird Revolt. You mentioned you're pursuing your PhD in Social Justice Education, I feel like this is kind of a weird question to ask, but how do you manage all of this?
Terresa Moses:
So managing all of it, honestly, I was like … the reason I started getting my PhD is one, to turn the system kind of like on its head and use the system for my benefit, because this whole time, my whole lifetime, the system has been working me into death. So I'm like, all right, I'm going to be in these rooms with all of these white people who are always questioning my expertise, I don't have a PhD, which is in academia is, I don't know, the golden ticket to do whatever the hell you want and I don't get respect from any of these people. They're always questioning everything I have to say and do whether I'm on the boots on the ground or not. So I was like, "I'm going to get my PhD and the work that I'm already doing is going to account for that PhD." So that's exactly what I'm doing. I'm having stuff overlap. There's a ton of overlap in all of my work. The stuff that I'm doing in my design studio, I can apply for awards for and make that work in my tenure dossier.
Terresa Moses:
I am doing a lot like. I'm not trying to minimize what I do at all, because it is a lot. However, there is so much overlap in the work that I do, that it's not like I have to completely get out of my mindset in order to do the next thing. So one of the things that I work on with a colleague of mine, Lisa Mercer is called Racism Untaught. Racism Untaught is this framework for educators to be able to use the design research process to create anti-racist design approaches. It also is to help students be able to walk through that process as well. Now, we're working with a lot of big organizations and corporations by some of the ones that I had mentioned earlier. So that project right there helped me to set off me applying for my PhD. Okay, I want to now apply for my PhD and talk about how we integrate, really integrate Black Liberation into the foundations of graphic design.
Terresa Moses:
How can you start to bring in a student into this design area and begin to open up their mind to systemic oppression in a way that is so directed at their field? How do we talk about the inaccessibility of design in a way that talks about why there's no black people here? Why there are people of lower class who are left out because they can't afford the technology to be here? So how do we do that? So that's what I'm doing in my PhD. It's also what I'm trying to tackle when I'm doing things like the fellowship program. I'm trying to integrate and bring more people of color, more racially diverse people into the institution, into the industry. So I'm kind of tackling both of those things at the same time. So while I said, it is still a lot of work, there's a lot of overlap there, so I'm super excited about all the stuff that I'm doing.
Maurice Cherry:
It all works together in that way. That's good.
Terresa Moses:
Yeah.
Maurice Cherry:
What does a regular day look like for you?
Terresa Moses:
A regular day, so my calendar is like always up to date. People always like, "Oh, can I schedule a meeting with you?" I'm like, "Yeah, my calender is up to date. Look at my calendar." I schedule out time to work on certain things. So industry wise, if I have a client, I know some things do, I'm going to block off time for that, to get that thing done but what has been super important to me, especially since the pandemic? The pandemic has really slowed me down and I know it's like, how you slow down with all this stuff that you're doing but I used to really not have any free time, like zero whatsoever. I probably couldn't even schedule this podcast interview with you because I would be like, "Oh no, sorry. I have an NAACP meeting. Oh no, sorry. I haven't AIGA meeting. Oh no …" so my calendar looks like, okay, nine sometimes maybe eight to 6:00, that is my work time and then in between that, I might even take a nap if I'm feeling kind of fancy.
Terresa Moses:
Between nine and six, that's my work time and then, after that, it's only if I have like … I'm like crucial, I was procrastinating on some deadline, which really isn't often, that's not really how I work. After that, okay, we're about to do something. I'm about to go to the dog park with my dog. I'm about to go rollerskating. I'm about to really try and celebrate Black Joy. When the pandemic started and of course, it's like, all this George Floyd stuff happened and we're really trying to organize four black liberation, one of the things that I realized is that, if I really want to organize four black liberation, if I really want to try and embolden and empower my community, I need to stop trying to teach white people. When I shifted my mindset from providing tools for white people to understand racism, to let me provide tools for mutual aid funds or for us to think about what does racial trauma and healing look like?
Terresa Moses:
What happens if we bring in a therapist to talk to our community and we go through exercises, and we go through meditation together? When I started changing my organizing skills and my focus to that, it became so much more fulfilling. I feel like, I was so exhausted before and it was because I feel like I was always beating myself over the head, am I not explaining it right? Why are these people not getting it? Once I realized, it's not my duty to make them get it. My duty is to my community and to build us up and so what does that entail? So that's when I shifted my view and it became so much more easy for me to do all these things that I do. So now, when I'm looking at my schedule, when I'm saying yes or no to things and I'm planning things out for the day, sometimes I have to think like, is this going to help my liberation? Is it going to help my community's liberation?
Terresa Moses:
If it's not, why do I want to do it? So really being able to like ask those questions about certain things. I mean, and it goes out pretty quick in your head but I'd say, I wasn't thinking about that before and now, that I intentionally am, it makes my day so much easier. So yes, some days I'm working on my business. Some days, I'm working on doing stuff for the U. I'm doing stuff for the U, mostly everyday, except the weekends but it's all very fulfilling, because I've decided, this thing that I decided to do it aligns with my passion, it aligns with black liberation for me.
Maurice Cherry:
Nice. So you've kind of found a way to make it work within, I guess, kind of the confines of what the pandemic has done around like travel and things like that too.
Terresa Moses:
Absolutely.
Maurice Cherry:
Yeah, I feel you on that sort of always like working in the entirety of the pandemic. In a way, it did slow me down as well, mainly because I was traveling a lot for work, but also just because of how it's affected so many other things like events, and just stuff like that. So it has, yeah, for me in a way, slowed things down and then in some ways, I don't know, especially this year, there's been this rush to kind of get back to normal with so many things and I feel like I'm not there yet and I don't know if I want to go back there.
Terresa Moses:
No, absolutely not. I'm totally with you. People are like scheduling like meetings or whatever.
Maurice Cherry:
Yeah.
Terresa Moses:
Sometimes they're like, "Okay, do you want to meet on …" No, I don't. [inaudible 00:28:52]. The only reason I'm campus is to teach the class and then, I leave. I'm actually kind of upset that I paid for a parking permit because I don't even be there that much, like I always love … I nested. I got my little condo setup. I'm trying to be in my cute little ass condo and not be around all these white people, aggravating the hell out of me. I love being safe here in this little environment, and when I decide to go out, it's with all my black people and I'm feeling good and it's supporting my black joy and my liberation. So I am with you, I do not want things to go back to normal. I feel like people are rushing for that and I really don't know why.
Maurice Cherry:
Yeah, I completely understand where you're coming from, 100%. So I want to go more into your background. I mean, certainly … I mean, we spend a lot of time now in the present going over what you're doing now, but I want to know where this spark came from. So can you tell me like where you grew up?
Terresa Moses:
Sure. So this is like a complicated answer. Mainly Texas, but I'm an army brat, so I was born in Panama, Central America and we move around a lot. I lived in Washington State. I lived in Germany for a few years but then moved back to the States, lived in Pennsylvania for a minute, and Texas was definitely the longest place that I have lived, middle school and high school, and then after that, moved up to … so I was in Central Texas beforehand and then after that moved up to the Dallas area to go to college.
Maurice Cherry:
Did you have a lot of exposure to design growing up?
Terresa Moses:
No, I did not. Now, I had a lot of exposure to fashion. Did I understand that it was design? No. I was really, I think like a lot of black kids and I feel like people are just kind of getting out of their shell and talking about how they were really into anime. I was super into anime in middle school and high school and I thought the extent of my creativity was going to go to like drawing anime. I thought that was pretty much it. So, that was probably my first experience with like, "Oh, I can actually do some art." I was into music as well. I've always been a pretty creative person, but thinking about design as a career, like my family was not about to support that. My family, of course, supports it now because they're like, "Oh, she's making a check now."
Terresa Moses:
When I was going into school, like I remember him. I remember, I was majoring in fashion design, and minoring in African American Studies, and my mom would introduce me to like some of her colleagues or something and say, "She's minoring in African-American studies." She wouldn't even say my major and I was like, "What?" Sh was just like … I was just so worried. I talked about it to her, this year. She was like, I was just so worried that you weren't going to make any money. No, I really did not have … I definitely know what graphic design was. Are you kidding me? I did not even in my mind, think about, "Oh, there's signs on the road, someone had to design those. This pamphlet that I'm looking at someone have to design that," and I definitely was not introduced to that at all and it might have been … I mean, there's a whole host of reasons but I think that not having my family really support arts type careers, really was the foundation for me not really even investigating the world of design.
Maurice Cherry:
When did that moment sort of come to you that this was something you wanted to pursue?
Terresa Moses:
I originally started in fashion design. I got my BFA in that and I would say, what happened was is I went to college first to pursue my career as a musician, a clarinetist. When I got there, these students were walking around with their reeds in their mouth and they always had their instrument and I was like, "I will not love the clarinet like that. It's not my jam." So then I was like, what do I like to do? I like I love to draw. I was really into drawing the outfits of anime characters. I was like, "Man, I want to do fashion design." I always love like dressing up and stuff. So, this is great for me, so I majored in fashion design, got out in 2008, which was the most horrible time to get out of college because I could not get a job. So I lived in Dallas. I always wanted to work at JC Penney because they had this huge corporate office there in the Dallas area and could not … they just laid off 400 people, when I graduated.
Terresa Moses:
I was like, "Okay, well, I'm not getting a job there." So I worked as a salesperson in sales for a year before I could get a position making 28,000 as a designer at a very small firm that did like wholesale clothing. So we did a lot of sports wear and they hold licenses and whatnot. It was a pretty horrible experience, I'll say like, I left there after working there almost seven years. I left there, still making 32,000. Yeah, so pretty horrible. As I was working there though, probably five years into it, maybe four or five years into it. I was like, "You know what, I could really teach an Illustrator class," because not only was I doing fashion design, at the place I was working at, but I also started doing their web design and I started doing their POPs, which is their point of purchase for all of their retailers.
Terresa Moses:
I started doing their catalogs, so all the stuff I was learning on the job and realizing like, "Hey, like I could do this, right?" So, also what I need to be able to teach this at college because I want to deal with nobody's snotty nose kid. Sorry. So, really what it was, is that I want to have the banter and I didn't even understand how all of my degrees would begin to align, but they just did. I was like, I want to have the banter. I want to have like deep conversations about life. I really still didn't understand what that meant. At that time, I still wasn't like an organizer like I am now. I was in community but it was through religious ways and so not really in the equitable way that I would say now. So I went back to school, got my MFA because I realized that this is what I needed to get my degree. As I was getting my degree, I started to realize what my degree was.
Terresa Moses:
It was a degree in design research and to be honest, I started it and did not know a thing about it and design research is still pretty new. So I started that degree figured out what it was started doing research on black women, black hair, started Project Naptural and graduated and was looking for jobs across the country, and that's why I ended up in Minnesota.
Maurice Cherry:
Talk to me about Project Naptural.
Terresa Moses:
Okay, so Project Naptural was really like a self introspective project. I did it during one semester. I can't remember what the class was called, but I think we were learning about like design research methods. I was like, "Okay, I'm going to use natural hair and interview the black women in my family, interview some of my black friends and talk about natural hair from an ethnographic stance." So I did video interviews and things like that and it really became this really cool project that it was like, okay, as you're looking for thesis topics, you're … and even dissertation topics, you're trying to fill a hole, fill a gap in academia that isn't filled yet with that information. So how many studies had there been at the time that I did my thesis project on natural hair? Zero in design, for sure but very, very few in even the social sciences. So I continued on with this project as my thesis project, which I didn't even think that my professors who were white men thought was serious enough to continue.
Terresa Moses:
Fortunately, as woke as they could be and was like, "You need to do this." They were very encouraging at me to really dive into this. So I continued on with the project and it turned out to be this huge exhibition. It turned out to be, me making and creating space for black women that come together, to learn from each other, to educated about their natural hair, about natural hair processes, how we can make our own products, how we can sell our hair, because it was something that was … practices that were stolen from us in slavery. So, being able to kind of reunite the practices with the people is really awesome. What I hope to do with this project as it continues, it kind of pause again, because of the pandemic, but I want to take a trip to West Africa and visit some countries, really studying natural hair practices and then come back and be able to disseminate that in a really beautiful educational, but fulfilling communicative, community building way.
Terresa Moses:
So that's what I hope to do and to continue with the project and really hold some larger symposiums to have folks learn how to do hair tutorials and learn from the workbooks that I'll create and build community with one another.
Maurice Cherry:
Now, will you try to weave this into some of your educational work or do you want to keep this as like a separate project from all that?
Terresa Moses:
I would say that this is part of my educational work, like I was seeing all that overlap. So when I'm doing the symposiums, the natural hair symposiums, I'll do a new release of illustrations of natural hair. I mean, if you're interested in looking at what those look like, you can go to projectnaptural.com but I'll do a new release, so right now I have 30 pieces that I've illustrated and not only do they have this beautiful illustrations, but oftentimes they have quotes on them from the black woman that I've interviewed. So really trying to build across empathy and have folks know that they're not alone in their journey on natural hair, and then I also have educational materials. So I'm essentially teaching classes, while I have these symposiums, I'm also bringing in other instructors. So it is part of my educational work and a part of my dossier for tenure because of the community engaged scholarship portion of that projects.
Maurice Cherry:
Now, along with that, I think you recently had a solo exhibition called Umbra, which I think really to call it an exhibition is kind of a bit of a misnomer, because it was more like a … almost like an event of sorts, because you had sort of talks and there were sort of some interactive forms, can you talk a little bit more about that?
Terresa Moses:
Yes. So I love that you're talking about it like that because it was like an experience. That's what I hope to create. So Umbra was really birthed out of living in Duluth, Minnesota, which is 1.9% black, living there for the three and a half to four years that I had been there before I moved, it was isolating to say the least. It's interesting because the state of Minnesota is this like blue state. It's very liberal, but it's not liberal because of anti-racism. In this exhibition, I was like, "Well, I'm going to talk about that." If as a designer, I have to be super intentional with what I say, as an artist I'm about to fuck some shit up. That's what I really was, what I was thinking on my mind. So I have these themes. As I started to build out the pieces, the pieces were really just me expressing my frustration and as I started to build up the pieces, I started to begin to find similar themes within the exhibition. So I have six themes overall.
Terresa Moses:
The first theme that I had designed for actually was the Danger/Anger theme and it wasn't the middle fingers if folks are interested. It was actually the pregnant woman, and what she's holding in her belly is grenade, and the grenades pin is being pulled by this white hand, and what that speaks to is the trauma that black women have to birth. We also have to hold while on pregnancy, and then, also that we're four times more likely to die during giving birth because white doctors don't believe that we're in pain. So really being able to talk about systemic issues that are intersectional was the point of this exhibition. It was to talk about black women, and I think I did that pretty well, and what I was excited about is that not only do I have these beautiful pieces that have been shown in a variety of places, but I also created experiential pieces that went with each theme.
Terresa Moses:
So on the one … this theme that I'm talking about Danger/Anger, it was a piece where you could pick up headphones and basically hear me yelling out the description of one of these pieces. While the liberation theme, I had like Legos that match the color of that screenprints and people were supposed to build what they thought liberation would look like for black women. So, I had a lot of really cool interactional pieces as well. Then, I also had a zine. This zine was like, you could flip it. So, if you were a black woman, you look at one side and you got to grab a permanent marker and add to the zine, while if you were anyone else, like every single person who was not a black woman, flip to the other side and all you were supposed to do is read. You're supposed to take in the information because black women were experiencing … I wanted them to be able to express that thing.
Terresa Moses:
A lot of them … It was like a very emotional night, like a lot of black women were crying, laughing. There were so many emotions happening, and that's what I wanted. I wanted black women to feel validated. I wanted everyone else who wasn't a black woman to understand how they can either add to our harm or add to our healing. So that's what that exhibition was, was it was birthed out of frustration, but I'm hoping that it kind of … again, I don't think I can get away from being an educator, because that's what it was doing. It was validating these black men but also educating everyone else as to how they're affecting our experiences.
Maurice Cherry:
Do you plan on trying to bring the exhibition to other cities?
Terresa Moses:
I've had a couple of pieces from the show, actually been shown in other places, in other museums and galleries and whatnot. I would be happy to bring this anywhere. I actually have on my website, how you can bring it there, to your gallery. So that's umbraexhibit.com, but absolutely, I would love for it to be a traveling show that spoke to other communities of black women in the way that it spoke to me and that I was able to release in that way. So I'm hoping it's kind of a release for other black women.
Maurice Cherry:
So you have put on your own solo exhibition, you created Project Naptural, you're teaching, you have the studio, you're pursuing your PhD and I don't know if these other two things I'm about to mention happen kind of with all of that as well or if … I'm kind of trying to track the chronology of it, but you volunteered for a few years with AIGA, Minnesota and at the same time, you're the second vice president at Duluth's local NAACP chapter. Did you find that those experiences kind of helped out with any of the other work that you were doing? Did they inform any sort of things from like a social level?
Terresa Moses:
I would say volunteering … Okay, I only want to talk about their cons right now, and I don't know if that's just the trauma that has happened in these organizing spaces. I would say AIGA definitely has its issues, for sure. I would say being brought in as the Director of Diversity Inclusion for the AIGA Minnesota branch, it was exhausting in the same way that all the other things that I talked about, had been exhausting, like the challenge of racism is now on this black woman who basically feels not only racism, but sexism and because I'm queer, also homophobia. So I'm not really sure how much of an impact you can have on an institution that was founded when segregation was still a thing, when women still couldn't vote. It's funny how these old organizations will brag about that.
Terresa Moses:
They'll be like, "Oh, we've been around since blah, blah, blah. Okay, you've been around since Jim Crow." Things like that, still permeate throughout the organization and they sit around, they look up and then, they're just like, "Well, where are all the black designers? They must not be interested in design." So then like, I'm sitting there trying to convince these white people that sit in this organization that we are interested in design. We just don't want to be in spaces with you if we don't have to be. So, it's difficult, it's very difficult and I think there's only so much you can do, so much of the needle that you can then move. At some point, you got to say … what I've been saying, which is like, when is this helping my black joy and my black liberation and if it's not, we got to cut it off. Their life is really … it really is too short for us to be sitting here, exhausting ourselves trying to teach white people why racism is wrong.
Terresa Moses:
So with the NAACP, there is definitely some movement that happened. I will say the legalism of the NAACP is what will stop progress from the NAACP. I think that the NAACP is hesitant to change, especially like progressive, inclusive change, like they're for black people but not all black people. I mean, you can't really talk about queerness in those spaces. You can't really talk about sexism in those spaces. You can't even really talk about being an atheist or not being a Christian in those spaces. So while there is some good that some of these organizations have done, I would say, if I have my choice, which I do to be in those organizations or not, do I want to continue to be hated on for just existing? Absolutely not. So I don't think I'm going to be a part of some of those spaces anymore if I don't have to.
Terresa Moses:
So while I did amazing work, because my ancestors and I got that black magic, I would say that there are still some things that I think internally they need to work on, and I can't necessarily solve those. It's not something I had the power to adjust for them.
Maurice Cherry:
Yeah. I mean, I think when you're also volunteering for two organizations like that at the time, aside from just the actual time and energy it takes, it feels like you're going back and forth between AIGA, which seems to be more of a predominantly white space and then NAACP being a predominantly black space, but then each having their own issues that are kind of isolated from that, if that makes any sense.
Terresa Moses:
Absolutely. Yeah. So I'm looking at AIGA. AIGA is dealing with like racism as a whole and anti-blackness as a whole. Then, I go into this NAACP space, and it's like, they're also dealing with anti-blackness like within our own internalized racism that's happening within that community. So, it's just showing up like … because we have all been socialized under the same exact system, it shows up differently, depending on what community brand but yeah, you're dealing with just a different side … you're just dealing with a different side of the oppression.
Maurice Cherry:
Yeah.
Terresa Moses:
It's still oppression, cut and dry.
Maurice Cherry:
I don't want to get on here and bash AIGA. I mean, I'll bash my local chapter, because they've … you mentioned that about the diversity thing. I remember this was years and years ago, I had … I think they wanted me to do something with the chapter around diversity but they didn't want to give me a director level. They wanted it to be like, a chair level or co-chair or something like that. I was telling them that like, diversity affects the chapter at all levels, it affects membership, it affects our student groups and things like that. Secondly, I kind of told him this flat out like, we live in Atlanta and I'm not about to be your Negro whisperer because you don't want to talk to black students and black design professionals. I'm not going to be that person. You've been around in the city long enough and folks that are affiliated with the chapter here know that it caters to SCAD students, Arts Institute of Atlanta students.
Maurice Cherry:
Maybe if you're an art major at like Georgia Tech or Georgia State or something like that, don't go to one of these HBCUs, AIGA Atlanta ain't got nothing for you, sorry. They got nothing for you. I was like, "Look, just because you don't want to talk to the black people that live past Highway 20, that's not going to be me. I'm not going to be the translator."
Terresa Moses:
Yeah, yeah.
Maurice Cherry:
I mean, eventually, they have gotten someone in to do a black woman, like you mentioned about black woman kind of coming in to clean up these messes, and I don't know her, so I'm not going to speak ill of her. They've historically had black women in that position to kind of help out with diversity with the chapter. I wish them well. That's all I can do.
Terresa Moses:
Yeah. I don't know who this individual is. I'll just speak from the perspective that I was a black woman who was brought in to help clean up this mess, that is diversity inclusion and it's not something that is our responsibility to clean up, and also, what bothered me when you were talking about the groups that AIGA caters to, it's like, we as black people had to navigate white spaces since we were children and I cannot … and it irks the crap out of me, when white people say that they don't know any black people or that like, how can we network with some of these people, organization. I'm Just like, the privilege, the entitlement to have people come and work for your organization, but you don't know a single black person in your network is … that should make you feel gross, that should make you disappointed in yourself that you don't have any other substantial relationships with people of color in your city.
Terresa Moses:
I just find that to be disgusting and you have like the top of privilege to be able to do that because let me tell you, I know a ton of white people, because I have to know a ton of white people and it's like you all can't even bother yourselves with like me being, able to name five black people that are not Maurice Cherry, and who are not answering at Carol, who else might know it's a black … you know what I'm saying?
Maurice Cherry:
Yeah.
Terresa Moses:
It's so lazy and it just irks the crap out of me because we are the ones with the stereotype of laziness, right?
Maurice Cherry:
Mm-hmm (affirmative). Don't get me talking over here. You have this very unique and I think, of course, very informed perspective around the design community and everything I just want to know to you like, what does it mean to be a designer today?
Terresa Moses:
I think because my perspective is really been shifted to black liberation, I think that being a designer, we should be striving to use our talents and our creative abilities to provide opportunities and to right wrongs that had been shown to us historically. I think, understanding that as a designer in itself, that title has so much power. We are the ones to set out what experiences are for people walking through airports, like that is a whole lot of power and if we can make it so that people are starting to see black people in airports more somehow, using some creative exhibition, like that's just a very tiny little thing, but I think that we, as a designer, we have to be able to recognize problems, be able to talk about those problems without being all nervous and uncomfortable, because you're white and you don't want to talk about race, understand that problem, and then be able to say, "Okay, what am I doing to perpetuate that issue?"
Terresa Moses:
"What can I do to change the ways that I am to help bring healing to an issue or closer to that issue?" Whatever it is. So I think that, as designers, it really is about … I don't want to say critical thinking, but it's really about thinking critically about the world around us, to be able to recognize problems and be able to create approaches that's going to help everyone and I do mean everyone who was sitting in the margins of the margins.
Maurice Cherry:
What is it that keeps you motivated and inspired to continue this? I mean, I think, certainly for anyone that's listening through this far, they can tell that you have a lot of passion behind it. Where does the motivation and inspiration to keep going come from?
Terresa Moses:
You know that quote about, I am my wildest … my ancestors wildest dream?
Maurice Cherry:
Mm-hmm (affirmative).
Terresa Moses:
As I've been on my own healing journey this year, if that's the case, if I am what my ancestors were dreaming of, how can I make them proud? How can I use this opportunity to build up our community in a way that's like going to most positively impact us? That's where I find that passion. My passion is, what can I do that's going to be good for us? What can I do that's like, "Okay, I know I've made it in a sense, like quote, unquote, I'm not like some rich person or anything, but I'm an educator, a professor and I make enough money to have a disposable income so what can I do with my money? What can I do with my skills? What can I do to give back to community?" If I can do that … not only just like being in the streets at a protest but I can do that, by being the angry black woman at a meeting, at my institute of higher education, I'm going to do that.
Terresa Moses:
If my ancestors thought that I should be here in this space at this time, it must be for reason, it must not be for me to sit back and have my mouth shut when stuff is going wrong and when people are being hurt, and when people are being oppressed. If I can do something about that and shut some white folks down and put more black people and more people of color in power, I'm going to do that, and that's what the passion. The passion is, my ancestors came this far. If this is where I'm at, how can I take that baton that they've passed to me and keep running and pass it to the next person?
Maurice Cherry:
To that end, who are some of the mentors and colleagues that have really helped you get to this place in your career?
Terresa Moses:
Well, it's funny that I mentioned Antonette because I really appreciate her work, especially when I was looking into AIGA, I know she's not a part of it now and good, but when I was looking into these organizations and everything, she was really inspiring to me and I've just been very glad to have her in my life. Emory Douglas is the person that I'm always going to be like … when I first learned about Emory, it was like … I think it was in grad school because I wasn't into graphic design, I was into fashion earlier. So in grad school, I learned about a lot of black designers, Emory was somebody who I really admired because I was like, that is a perfect example of taking a passion about community and a passion for organizing and activism, and using design directly to relate to that. So Emory Douglas is definitely somebody who I look up to. Someone who I brought to campus. Someone who I met. Who I have had conversations with, who I keep in touch with. That is just an awesome relationship to have. Absolutely.
Terresa Moses:
Then there are also other people like on my campus, who look out for me, that I consider mentors of mine, that I check in with who are not just like helping me with my tenure dossier and saying, "Oh, girl, don't do this, do that." There's a lot of people on that campus who are doing some amazing things for me, and I really appreciate that. Then, I probably … the number one person in my life, who I look up to, would be my mom. She is an amazing individual. She had gone through so much and now, looking back at like all the stuff that was going on in childhood and you don't really notice all of the things that are happening until you're like outside of it and you're like, "Mom, what was this?" Realizing all that stuff. So she just continues to inspire me every day, that I think about, some of the things that she had us through and really was like protecting us. So I just thank her for that.
Maurice Cherry:
Where do you see yourself in the next five years? What kind of work do you want to be doing or do you see yourself doing at that point?
Terresa Moses:
Man, I think this question, I had to think about it in a way like … it's like, am I thinking wildest dream or am I thinking, practicality? Practicality, I would probably still be an educator, maybe I might be thinking about education in a different frame? Is it in higher education? Is it maybe my own institution that I've created? Maybe it's something like that. I don't know. Maybe in my dreams, I would be working for some organization or maybe I'd create some organization that centers black liberation in everything that it does. I am helping to transform and bring about black artists and designers, giving them what they need to organize and create policy shifts and things like that for our community.
Terresa Moses:
I feel like there's organizations who might do some of those things. So maybe it's just like a need to collaborate those organizations or bring them together in some way using design. I don't know. I mean, that's what I see my focus being, is really, again, shifting from here … because I still think I'm still teaching white folks. I think that's still the thing that I'm doing, especially in higher ed but in five years, can I really be focused on black liberation and black liberation only? That would be my dreams.
Maurice Cherry:
Well, just to wrap things up here, where can our audience find out more about you and about your work and all your projects and everything online?
Terresa Moses:
Sure. So folks can find more about me at my website, terresamoses.com. They can also find me on social media, at my personal addresses, which is at Project Naptural or they can find my studio at Blackbird Revolt, which is doing some amazing things in community. So that's where folks can find me. If you go to any one of those sites, you'll be able to link to anything and find me at all places.
Maurice Cherry:
I'll make sure that we have links in the show notes too for umbra, as well as for Project Naptural also.
Terresa Moses:
Awesome.
Maurice Cherry:
Cool. Well, Teresa Moses, I want to thank you so much for coming on the show. As I mentioned, before, we started recording, several folks who we've had on the show have been like, "You got to get her on the show. You got to get her on the show," and I've heard you speak at several events before and I was like, I got to get her on the show. So I'm glad for that one, to make sure that you're on the show to share your story, but I mean, you are doing so much. I mean, I think when I think of who is a catalyst in the community that's really like making things happen, like talking the talk and walking the walk. It's you. It's you. I mean.
Terresa Moses:
That's so nice. My love language is words of affirmation, so you're just hitting all the right spots right now, Maurice. Thank you for the affirmation.
Maurice Cherry:
No, I mean, I think … I hope that our audience can engage with your work and find a way to support you and really kind of help you move closer to this goal around making sure that designers are using their gifts for black liberation because that's the goal, that's what you are putting all of your energy and time forward to, to make sure that that happens. So I hope that one day soon that that happens and that this interview is just a stepping stone to make that happen, so thank you so much for coming on the show. I appreciate it.
Terresa Moses:
Awesome. Thank you so much for having me Maurice. It was a pleasure.
Brevity & Wit is a strategy and design firm committed to designing a more inclusive and equitable world.
We accomplish this through graphic design, presentations and workshops around I-D-E-A: inclusion, diversity, equity, and accessibility.
If you're curious to learn how to combine a passion for I-D-E-A with design, check us out at brevityandwit.com.
Brevity & Wit — creative excellence without the grind.