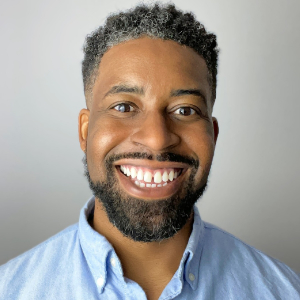 How are your plans for this year going? Good? Not so good? Luckily, it's not too late to reset, break any unhealthy patterns, and get on track so you can live a life rooted in passion and purpose. And guess what? This week's guest, Justin Shiels, is just the person to help you make that happen.
We talked about his theme for this year — intentional growth — and Justin spoke about the big life change that inspired him to not only take a break, but to write a book to help others experience their own breakthrough. Justin also shared what it was like coming of age in New Orleans, how his stint as a creative director in the advertising agency shaped his current work, and talked about how he finds joy and maintains his creativity. Justin is a real ray of sunshine, and his energy for changing hearts and minds is what we need more of in this world!
Interview Transcript
Maurice Cherry:
All right, so tell us who you are and what you do.
Justin Shiels:
Hey there. My name is Justin Shiels and I'm a creative consultant, a speaker and an author. Honestly, what I love is solving complex problems using the lens of emotional intelligence. And so a lot of my focus is on how to use empathy and design and illustration to create cultural moments.
Maurice Cherry:
How's the year been going for you so far?
Justin Shiels:
Ooh, 2023 is a good year so far. I feel like 2022 for me was my year of the pivot. There were just a lot of changes. I got a book deal, I switched to a new job in marketing, and I feel like through that time of working on the book, finishing the book, writing and illustrating, I changed as a person. And so 2023, I stepped into this new year focused on intentional growth. That's kind of my theme of this year. How can I be centered in my vision as a creative professional and continue to grow in a sustainable way?
Maurice Cherry:
In what way does that intentional growth look like?
Justin Shiels:
Intentional growth for me is really focusing on delivering incredible content via social media platforms. This was my year of embracing video and not being afraid to show my face on camera. That has always been a little bit of a scary part of my creative process. It's been opening myself up to new speaking opportunities, and it's been teaching workshops around emotional intelligence and how to reset your life as well as how to be a better creative professional.
Maurice Cherry:
And so let's talk about this book deal that you mentioned. The book's coming out later this year, right?
Justin Shiels:
Yes, that's correct. In December 2023, my upcoming title, The Reset Workbook will come out with Spruce Books, which is an imprint of Penguin Random House.
Maurice Cherry:
Can you tell us a little bit about it?
Justin Shiels:
Yes.
Maurice Cherry:
I mean, as much as you can. I mean, we want people to buy it, of course, but tell us a bit about it.
Justin Shiels:
The Reset Workbook is a guided journal that utilizes emotional intelligence to help readers discover their inner magic. It includes some original content created by me, lots of beautiful illustrations and really meaningful questions that help you on your self-reflection journey. I like to say that the book really came from my experience of having a total life reset.
In 2016, I went through a really intense breakup, and that breakup was profound for a number of reasons, but the reason that I think it changed my life is that it opened me up to the idea of going to therapy for the first time, and therapy for me was transformational. Reading books, journaling, creating new habits around how to be a healthier person all came through this experience, this transformational life experience, and I wanted to take the things that I learned along the way in that journey and build it into something that is meaningful and useful for people.
Maurice Cherry:
So with that in mind, what do you want readers to take away from the book?
Justin Shiels:
The biggest thing that anyone should take from The Reset Workbook is that you can break free of unhelpful patterns and live with more passion and purpose. I like to think of this as a gateway for people that maybe aren't used to journaling regularly, that want to do some internal reflection and some self-discovery and learn more about themselves. And for some people that end up purchasing the book, my hope is that this is your gateway to trying therapy. I know that in my past experience and especially with my family, the idea of going to therapy was controversial, and I'm trying to normalize the idea that mental health and mental wellness is important specifically in the Black community, in the LGBT community, and it's a tool, a useful tool for us to grow and change and develop.
Maurice Cherry:
I feel like a lot of conversations around therapy now are, I think they're starting to become a lot more commonplace. I hear about it in videos and podcasts, et cetera. It's starting to become, I should say, a pretty common talking point from what I hear that folks are like, "Are you in therapy? Are you going to therapy? You need to go to therapy," that kind of thing. So it sounds like your book is going to help really facilitate that. That's good.
Justin Shiels:
Oh, 100%. I feel like millennials we're much more open to doing that deep reflection and understanding how we can grow and change. I still feel like there's the opportunity for more people to explore therapy, and I am very thankful to be an advocate in this space, encouraging people to step outside their comfort zones and open themselves up to some new opportunities.
Maurice Cherry:
Now the book comes out in December. Do you have some things that you're doing leading up to that?
Justin Shiels:
Yes, absolutely. Leading up to the book launch, I'm hosting a number of workshops and doing speaking engagements with the variety of organizations, and my hope is really to just spread inspirational stories, give encouragement and also to teach people how to make meaningful change in their lives.
Maurice Cherry:
Let's talk about your overall work. You said something earlier about last year kind of being this pivot, and part of that was going into marketing and how this whole process of doing that with the book changed you, and it sounds like one of the outcomes of this was creating your own company, your media company called SoCurious. And you wear a lot of hats in that. You're a creative consultant, you're a speaker, you're an author as you mentioned, you're a coach. Tell me more about that transition.
Justin Shiels:
Yeah. I think so much of being a creative is learning how to wear many hats. For me, my creative journey started in advertising, and so I started as a graphic designer at an ad agency and was able to work my way up to being a creative director at an ad agency. That was an incredible experience, very, very stressful, very, very intense. But what was beautiful about it was that I learned how to become an incredible storyteller as well as have the capacity to work under intense pressure. It also was useful in learning how to manage teams and how to be an advocate for my employees. I feel like working in advertising was really my first step in learning emotional intelligence. So I transitioned from my position at the ad agency and started a job as a creative director for a tech company.
What was different about this experience was that it was much more of a marketing role, and so my focus instead of just coming up with the creative concepts, I did that as well as ran the ad campaigns or utilized agency partners to run ad campaigns and other freelancers, and it's like the culmination of all these skills come together to kind of help me become the person that I am today, someone that loves storytelling, that loves to create, and that also loves marketing. And so I'm using all of those skills now trying to spread this idea that emotional intelligence matters and that we can reflect and grow and change.
Maurice Cherry:
It sounds like from the name of the company, curiosity is a big part of the work that you do.
Justin Shiels:
Yes, 100% curiosity has followed me at every step of my journey. As a kid, I stayed in the library. I love reading books, and I as a child would just sit and read and read about anything that I could. Similarly, I feel like creativity has always been at the heart of the work that I do. So learning to draw as a young person, focusing my attention on learning skills like Photoshop and other animation programs, it's all been a part of who I am as a person from the very start.
Maurice Cherry:
Now, you mentioned with your time being a creative director in the advertising field, how that taught you certain skills with running a team, et cetera. What are some important lessons you've learned on this leg of your creative journey, creating this inspirational content for curious and thoughtful people?
Justin Shiels:
Yeah. I feel like we live in a time where people are overwhelmed by the amount of information that we get in the day, and specifically, we receive so much negative information in our day, primarily from the news, sometimes from our social feeds. It just comes from a variety of ways, and I wanted to focus my energy and my intention on creating positive content that encourages people. My focus with everything that I do is how can I give just a tiny little spark of joy to someone's day and encourage them to think about the deeper questions of what it means to be a human being in this world.
Maurice Cherry:
So you're currently in Austin, right? Austin, Texas?
Justin Shiels:
Yes, that's correct.
Maurice Cherry:
Tell me what it's like there for you. Are you tapped into the creative community there?
Justin Shiels:
Now, I'll tell you one thing that I am loving about my experience in Austin is that it is a wonderful city that has encouraged me to get outside and do things. I have never been an outdoor person at any point in my life, and I moved here and now I'm going on hikes and exploring new outdoor terrain in ways that I have never done. It's actually pretty incredible. Another really great benefit of living in Austin for me is the people here are genuinely incredible, and I've been able to connect with a lot of like-minded Black creatives primarily that work in tech, but that also are doing their own set of interesting projects. And so being able to cultivate a community in a new city, I've only been here three years, it has been great, and I feel actually pretty proud that I was able to do that, especially with the constraints around living through the kind of strange and unusual times of the past few years.
Maurice Cherry:
Yeah, the pandemic, I feel like really threw a wrench in a lot of people's just general social activities, but we're starting to get out there and do things again. I haven't been to Austin since… God, when was the last time I was in Austin, Texas? It was for SXSW, I know that. It might have been. Yeah, that was the last time. It was 2015 was the last time. I was supposed to go in 2020. The company that I was working for at the time, we had a presence at SX [South By] and we were going to go, but then Coronavirus.
So then all of that got canceled and we were all waiting to see if it was going to happen. I already had my tickets and everything and then just all got canceled and shut down, so I need to try to make it back. Austin's a lot of fun. It's a lot of fun, especially during SXSW, but then there's just so many folks and it's just mad crowded. I think it came back last year. Right? Last year was the first time it was in person for a couple of years.
Justin Shiels:
It did come back last year. And you are 100% correct. It gets so crowded here in Austin during SXSW. It is packed, but definitely make your way down. You got to come back and enjoy some of this music and food and just some of these outdoor experiences I was telling you about.
Maurice Cherry:
Yeah, I need to come during the non-SXSW season. It's a nice conference. I mean, I used to go really back in its heyday when it was really something, but now I'm just like, I'm old. There's too many people. Like y'all need to. It's a lot, but I need to come during the off season. So you've been in Austin for three years, that's not where you're from originally I would take it.
Justin Shiels:
No, I'm actually from Memphis, Tennessee originally. Grew up 901 proud, but I left when I turned 18 to go to college in New Orleans. I went to Loyola University, a Jesuit institution, and I ended up staying in New Orleans after I graduated for 16 years. And so New Orleans is one of those places that just is still very, very near and dear to my heart. I literally just got back from a wonderful one week vacation there where I got to catch up with all of my old friends.
I'm not going to lie, I miss New Orleans. I miss New Orleans a lot, but I feel like a lot of the significant life changes occurred because I was confident enough to move away. Honestly, I feel like stepping outside of my comfort zone pushed me to become a better creative and encouraged me to push myself in some new and exciting ways.
Maurice Cherry:
Well, taking it back to Memphis for a second, I mean, you grew up there. You went to high school and everything there. Were you really a creative kid into design and illustration back then?
Justin Shiels:
I've always been a super creative person for sure. I learned to illustrate very, very young, and as a kid, my mom got us a computer. I think I was in the fourth or fifth grade, and that computer was incredible. I don't know if you remember AOL days.
Maurice Cherry:
Oh, yeah.
Justin Shiels:
We got that CD in the mail with AOL, and it opened my mind up because it went from, oh my gosh, my entire world is Memphis to, oh my gosh, my entire world is the world. And so way back then I started an email newsletter before email newsletters were a thing. It was called Iconoclast. That was the very first kind of side hustle project that I had as a little person sending out this monthly email about art. And so creativity, developing content and doing storytelling has been a big part of my life. In high school, my focus was really on visual art. I did a little bit of theater, but I feel like the computer was really their turning point because I loved Photoshop and building little tiny animations during that time period, too.
Maurice Cherry:
So you were a real pioneer back then, sounds like.
Justin Shiels:
I don't know if I would've thought of myself as a pioneer, but I feel like the ideas around communication and media have always been central to my identity.
Maurice Cherry:
So like you said, you ended up moving from Memphis, going to New Orleans, went to Loyola, like you said, studied graphic design, but then later after that you went to the University of New Orleans and that's where you got your master's degree. When you look back at those times, what do you remember the most? What stands out to you?
Justin Shiels:
Yeah. What I think is beautiful about the city of New Orleans is there are no barriers of entry. Every single person in this city is one degree of separation from the mayor probably.
Maurice Cherry:
Really?
Justin Shiels:
So if you have an idea, you can start it. There is nothing that will stop you from starting it. During my time in New Orleans, a lot of my core focus was on building brands around culture. So I ran an online magazine called InvadeNOLA for six years. That was a passion project of passion projects, and it kind of came from, there was an article in a local magazine that said that all these invaders had come and they were ruining New Orleans, and I was a transplant to the city that fell in love with the city.
I moved to New Orleans before Katrina. I of course evacuated but came back after Katrina and stayed, chose that place as my new home. And so I felt really passionately about the local culture as well as our capacity as transplants to create positive change. So I focused my content on the millennials living in the city, doing creative projects that were interesting, and I was able to build it into a pretty popular and successful organization, writing regular content, sending out lots of email newsletters and publishing a few printed books and magazine issues.
Maurice Cherry:
Wow, look at that. So what's you're describing with InvadeNOLA… That's what it was called? Invade New Orleans?
Justin Shiels:
Yes.
Maurice Cherry:
Yeah, it sounds a lot like, and I don't know if this even still exists, but do you remember, or does the phrase Not For Tourists sound familiar?
Justin Shiels:
Oh, yeah. Yes, yes, yes.
Maurice Cherry:
Yeah. Not For Tourists had something like that in some major cities where they would… It was almost like a guide to that city in every city, almost like Frommer's, which I guess is old school. I don't know if they still make those, but they're like these city guides, but it's written by the people that lived there, the locals, so they can tell you what's good, what's bad, do this, don't do that, that kind of thing.
Justin Shiels:
Yes. Actually, the book that I published during that time period was called The Invader's Guide to New Orleans, which was a tourist guide for under the radar things to do in the City.
Maurice Cherry:
Oh, nice. So you were, again, another pioneer in publishing, email, books, magazines. And just to give a sense of when this is, so people know, this was what, mid 2000s?
Justin Shiels:
Yes. This would've been, I think I started the publication in 2010.
Maurice Cherry:
Okay.
Justin Shiels:
Actually, it would've been 2009 to 2015-ish. That should be the right timeframe.
Maurice Cherry:
Okay. All right. Yeah, no, that's thinking of what all else was going along culturally during that time. So after you graduated, you're big in this project, Invade was one of them. Another one that you created was called Venture Pop, right?
Justin Shiels:
Yes. So actually as I decided that I wanted to step away from the event culture, I as the founder of Invade, I ended up having to do so many local events, and a part of it was that I wanted to cover it for the magazine. A part of it was because I had made all these great connections and friends and wanted to support them, but it was actually taxing, right? I was going out almost every single night, and that just was not a sustainable lifestyle, especially because even though I'm an extrovert, I need a lot of time to recuperate, and my favorite way to recuperate is through my creative practice.
And so I was like, I really want to lean into my creativity more, and it was just the perfect confluence of events. I went to a conference in Texas and ran into a woman that I knew from New Orleans at that conference, and we spent that weekend together going to all these really great speakers and seeing these really incredible workshops. I was so encouraged by that experience that I was like, we need to have this in New Orleans. And so I partnered with two women to start Venture Pop, and we successfully held three live conferences. They ended up being regional conferences that invited a lot of incredible creative talent to the city of New Orleans, and they were fun informational experiences that allowed people to grow in their creative journeys.
Maurice Cherry:
It sounds like there used to be this conference in Ohio in Cleveland called Weapons of Mass Creation Fest. It sounds like it was similar in scope to that where it's not necessarily a design conference, it's more like a creative conference, so it's people of all kinds of creative stripes coming together and learning from each other and networking and fellowshipping and stuff like that.
Justin Shiels:
Yes, that is 100% true. While my experience has been in graphic design and web design and then advertising, I think instead of having it focus on any one specific discipline, a big part of our goal with Venture Pop was to create experiences that allowed people to push their creativity to its limits, to learn new skills, to create new things. In many ways, we were kind of a part of that content creator movement that we're living in right now.
Maurice Cherry:
In what way?
Justin Shiels:
I think in many ways we were bolstering the idea that in order to become an incredible creator, you have to find and define your own creative voice and share that message with the world. I feel like that actually encouraged me on my journey of having a public facing persona that spreads positive messages on the internet.
Maurice Cherry:
Now, you've worked for some agencies as well. You alluded earlier that you were a creative director in the advertising industry, so you've worked for FSC Interactive, you worked for Springbox, you worked for Fragment Media Group, and we don't have to spend a lot of time talking about them because that was in your past, but when you look back at those experiences, when you think about them, what did they kind of teach you that you really still carry with you to this day?
Justin Shiels:
Through my time working in advertising, I had the opportunity to work with a variety of incredible clients in New Orleans. I actually was fortunate enough to do a rebranding of the City of New Orleans, the New Orleans Tourism Focus campaign where we did a full rebranding of the visual identity as well as creating commercials. I also had the opportunity to run the social channels for Visit New Orleans and here in Austin as a creative director, I worked with really awesome B2B clients, the most notable one, being Amazon Business.
As a full-time creative director, a lot of my focus was on how do you tell a compelling story through advertising and how do you communicate that information effectively? But the value of that experience more than anything is that it really exposed me to emotional intelligence. Naturally, I am kind of a chill guy. I have resting smiley face. I tend to be a little bit of a people pleaser. And so the experience of being a manager of people challenged me to learn about myself and grow. I had to recognize, understand, and manage my own emotions, but then I needed to also do that for other people, and that's the heart of emotional intelligence. I really had to focus a lot on building my own self-awareness so that I was prepared for the relationship management that goes into managing a team of people.
Maurice Cherry:
I can imagine just in the advertising industry, having to do all of that on top of working with multiple clients and deadlines and changes, that's a lot to pile on.
Justin Shiels:
It is so much hard work to create consistently under those circumstances, but it also is incredibly profound and awesome. I became a creative director, and this is crazy to say, because I saw the movie Boomerang. Have you seen this movie with Eddie Murphy?
Maurice Cherry:
Of course. Of course. Of course. It has been a constant… I mean, for me, it's been a constant inspiration, but there's so many people I've had on the show, and I plan to write an article about this one day about the impact of that movie in the Black creative industry. But no, go ahead. Go ahead, go on.
Justin Shiels:
Well, I mean, on rewatching, it's incredibly problematic for a number of reasons. But eight-year-old Justin saw Boomerang, and I knew that I wanted to be a creative director before I knew what a creative director actually did for a living. I only knew if I can learn how to do the art for commercials, I can become a leader of teams. And so it put that bug in my ear that it was possible for someone like me, a Black man in America, to be able to lead advertising campaigns for big companies.
Maurice Cherry:
But of course not to be a Marcus Graham type.
Justin Shiels:
I am definitely not a Marcus Graham type at all, but it was such an influential movie because it just exposed me to the idea that that was even possible.
Maurice Cherry:
Yeah. How have you seen the creative industry evolve over the years?
Justin Shiels:
I feel like the biggest thing that has shifted and changed is the way that we disseminate information. I feel like early in my career, it was heavily focused on TV commercials. TV commercials, and print media were at their height when I graduated school in 2007, and then by 2008, the magazine industry was essentially shuddering because of the proliferation of internet media, new blogs, as well as the introduction of social media. So early in my career, I was like, there's something special about social media, and I worked to be a part of that early on. So I'm signing up for all the services, making sure that I'm regularly posting content, and made that a big part of how I grew InvadeNOLA and how we worked with Venture Pop. I think the biggest change that we've seen over the course of the past few years is that it went from very few voices being able to control the narrative, to now it's literally endless voices controlling the narrative.
Now, with that, I feel like there are some interesting challenges that have popped up. And so for example, when you look at how Instagram was five or six years ago versus how Instagram is now, not many people see the content that an individual produces. It's just like, you can have, like me, nearly 10,000 followers and you'll have a video that only a hundred people actually get to see. That is insane to me. It kind of takes away from the beauty of that platform, but I feel as though there is still this democratization of information, and in many ways it feels like everyone can have a voice and share their message to the world, even if it is being slightly dampened by these kind of changing norms on the platforms.
Maurice Cherry:
First of all, let me step back from what I was about to say. I hate how these different creative fields have been condensed into the term content creator. I hate that so much, but I say all that to say I see so many creators, and by creators I do mean podcasters, folks that make TikTok videos, et cetera, expressly saying that they're doing what they're doing or that the pitch that they're doing for their audience is to appease the algorithm.
If you watch YouTube videos, it's like, "Make sure you subscribe and hit the bell to get notifications," or if you're on TikTok, they're like, "Could you please comment? Because I've been shadow banned." It absolutely sucks how telecommunications has evolved to the point where we can take a message, broadcast it across the world, and yet we're still beholden to these weird algorithmic things to get the message out to people. I mean, I understand it. I just don't like it.
Justin Shiels:
Yeah. I think at the heart of that is we are always in a consistent battle between humanity and technology. I think as we continue to develop and grow, I'm obsessed with artificial intelligence right now, partially because I think it has the potential to upend the creative industry in many ways. But the only solace that I have is that people want to connect with people. They don't want just information. And so it's how can I be a real human being that shares parts of myself with the world as a way to connect with the people in my audience?
Maurice Cherry:
What I'm starting to see now, especially on some of these platforms that people have built, I wouldn't necessarily say built content on, but certainly have built a following off of are starting to erode. Facebook ain't what it used to be. Twitter for damn sure ain't what it used to be. And so now people are having to go back to email, hey, there you go, go back to email or live events or other ways to try to connect with folks, because as you said earlier, there's just so much information out there and it's hard, I think, for people to try to really, I don't know, grasp all of that, but I also think a lot of that information is pushed to us. There's certainly information that we go out there and see and obtain on our own, but so much of information… I don't even want to say gathering. A lot of stuff is just pushed to us.
I think I noticed this particularly this year. I mean, it's not a new phenomenon, but I've started turning off my phone on Sundays. Saturday night before I go to bed, turn my phone off, I turn it back on Monday morning when I wake up, and that Sunday is so peaceful. I get stuff done, I cook, I catch up on a show. It is so peaceful. But it reminds me of how much information is constantly pushed to you and notifications and Twitter feeds and Instagram feeds, and so much stuff is coming at you in a way where you're like, it's relentless. You're kind of bombarded with it.
Justin Shiels:
Yes. I feel like so many of us are addicted to doomscrolling, sitting on our couches and just absorbing information, absorbing information, absorbing information. I feel like so many of us actually need opportunities to create, and I tend to believe that everyone is creative. Sometimes that can be a controversial statement because many people are like, oh, I'm not creative. I work in accounting, or I work in tech and I don't know how to be creative. But to me, creativity is using the skills that you have to come up with interesting solutions for problems. You can be creative while cooking or cleaning your home, or you can do it in the traditional forms like writing or illustrating or simply doing tiny doodles on the edges of your notebooks. That creativity is the impulse that I think we need to bolster in order to have a more beautiful world. That's why I'm doing the work that I'm doing.
Maurice Cherry:
I imagine you're also going to continue to explore that in the book that's coming out.
Justin Shiels:
Absolutely. Right.
Maurice Cherry:
See how I tie that together? See how?
Justin Shiels:
I feel like so much of why I published The Reset Workbook was around how can we go through these life changes that we've had and come out of the other side with hope and inspiration. I think it's really about pushing people to find new inspirations, pushing people to step outside their comfort zone, and really it's focused on how can you design a life that you love.
Maurice Cherry:
Now, you've mentioned though a lot of your journey as a creative and even I think growing up and always being into drawing an illustration how that's really shaped your current path. What do you find to be the most rewarding part about what you do?
Justin Shiels:
The most rewarding part of what I do in my career and in my communications online is that I'm able to connect with real human beings by sharing parts of my story with the world. There is nothing more profound or interesting to me than to say something that feels like is totally niche and just me and have somebody connect with that on a really, really deep level and reach out to me via DM and message me saying, "Oh my God, you mentioned that you love Christmas movies on the Hallmark Channel because you can fall asleep during them and wake up and still know what was happening." I always do that. That's why I love them so much.
It's like that kind of direct connection with people is just so profound and interesting to me. I would say though, the thing that is underscored throughout my career and specifically my persona online is that we are empowered to change our lives as frequently as we want. We can all have resets whenever we see fit. And I really want to underscore that idea that change is possible and it's a good thing. It's okay to embrace change, it's okay to learn new things, and your life doesn't have to be in total shambles to kind of need to reevaluate where you are in order to continue to be on a path of joy.
Maurice Cherry:
Speaking of that, how do you stay creative and inspired in your work so you can keep on that path?
Justin Shiels:
I am incredibly disciplined when it comes to my creativity. I try to either write or draw every single day no matter what. I have been doing this for the majority of my career, and so it started very early on. I would wake up before work and spend one hour of just creating for creativity's sake. That has continued for years and years and years. Now that I'm working for myself, I don't have to wake up as early. I can wake up at 7:00 and kind of get going, but the very first thing that I do every day is I journal. While I'm drinking my coffee, I read a little bit, and then based on what I read, I either write a reflection on what I read or I will create a piece of art related to how I'm feeling that morning. And that practice has been transformational in that it allows me to come up with new ideas and it serves as kind of the impetus for the content that I ultimately post on my social feeds.
Maurice Cherry:
So for people that are listening and they aspire to become creative professionals like you, what you're doing, what advice would you give to them?
Justin Shiels:
If you want to be a creative person, you have to invest in the actual activity of creating. That's all. It's really that simple. If I see myself as a writer, all I have to do is write and I am a writer. The hard part is you have to figure out how writing fits into your schedule. We all are busy, busier than we've ever been and everything in our life is competing with our creativity. In order to commit to your creativity, you have to be willing to practice. And so that practice should be daily. If you can't do daily, it should be every other day. If you can't do every other day, it should be once a week. If you can't do every week, it should be once a month. But the more that you flex those muscles and commit to practicing, the better you get. A part of getting better in my journey, at least, it's being confident enough to share my work. And so you make regularly, you share regularly, and then through the course of that, you become the thing that you say that you've always wanted to be.
Maurice Cherry:
It sounds like it's just this continual process of working till you get to that point. I mean, I don't want to say fake it till you make it, but you're kind of continually pushing yourself forward towards that goal.
Justin Shiels:
Yeah. I mean, it's really a question of outcomes versus inputs. In many ways, when we're setting a goal for our life, we always will focus only on the outcome of the goal as opposed to the things that we need to do in order to achieve the goal. And so following that same realm of as a creative professional or as a person that aspires to be, in this case, a visual artist, how do I become a visual artist? Well, the only way that you become a visual artist is by painting every day. When you paint every day, suddenly you are a visual artist.
Maurice Cherry:
It kind of sounds a little bit like the old, well, it's not old, but the whole 10,000 hours thing that sometimes gets kind of tossed around. You have to do something continually to kind of build up to that.
Justin Shiels:
Yes, yes. I love that concept that if you're willing to put 10,000 hours of effort into something, you will become an expert in that. It's interesting because I don't know that it… 10,000 hours seems arbitrary of course.
Maurice Cherry:
Yeah.
Justin Shiels:
It's sticky. That's why it's so popular, but that's arbitrary. I think it's committing to daily practice, putting it out there regularly, and then through that process, growing and developing and changing. I feel like even over the course of my own career, I have had moments where I was creating things that I liked but I didn't love, and I'm finally in a stage in my creative process where I'm like, "Wait, the things that I make are pretty dope, and I came up with this myself. It came from my brain specifically." That has not always been the case, but I think it's because I'm willing to put in the daily effort to continue to maximize my skillset, find my own voice, and also to just regularly develop new takes on things that I've made before.
Maurice Cherry:
Where do you see yourself in the next five years? What kind of work do you want to be doing?
Justin Shiels:
At my core, I am an artist and I am a teacher. Those are the two most important parts of my year of intentional growth, and so my focus is to continue to make great content to come out with a bestselling book, The Reset Workbook coming out in December, 2023. And I want to continue to teach both through workshops and through speaking engagements where I can help people amplify their lives, find joy, find peace, and encourage people to step into building their own version of happy.
Maurice Cherry:
Well, just to kind of wrap things up here, where can our audience find out more information about you, your work? Where can they find that online?
Justin Shiels:
You can find me online on most platforms at justinmadethat or at Justin Shiels, but the best way to connect is really to visit socurious.co. That's socurious.co. From there, you can see many of the articles that I've written and you can sign up for my newsletter that I've been sending out since 2019 called The Weekly Reset. It helps people live a more intentional life, and it kind of pairs my personal philosophy with illustrations that I've created that give you a little bit of a pep talk during the week.
Maurice Cherry:
And the man writes some email newsletters. He's been doing it since he was a teenager, so you know it's good. You know it's good. Justin Shiels, I just want to thank you so much for coming on the show. Thank you for just sharing your authenticity. I mean, I can really sense and feel the passion that you have for this behind your work, and I think that certainly in this time that we're in, I'm sort of waving my arms about here, but with all the stuff that's going on in the world right now, it's good to have some sort of a way to know that while things may feel out of control, at the end of the day, what you can control is how you react to them. So whether that's having that life reset or breaking unhealthy patterns, I think it's really important to always know that, and I'm glad that the work that you're doing is helping to get that message out to more people. Thank you so much for coming on the show. I appreciate it.
Justin Shiels:
Maurice, thank you so much. I really appreciate this opportunity.
We are raising money for Selma Tornado Relief through United Way of Central Alabama to help serve victims of the tornado that tore through Selma, Alabama on Thursday, January 12th. Donate now, or text SELMA to 62644. Send us proof of your donation, and we will match it 100% (up to the first $1,000 donated).
Thank you for helping fund Selma's recovery!
Sponsored by Hover
Building your online brand has never been more important and that begins with your domain name. Show the online community who you are and what you're passionate about with Hover. With over 400+ domain name extensions to choose from, including all the classics and fun niche extensions, Hover is the only domain provider we use and trust.
Ready to get started? Go to hover.com/revisionpath and get 10% off your first purchase.