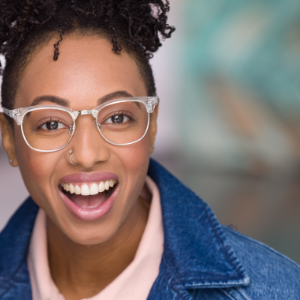 Summer is over, y'all. As we head into a new season, it's a perfect time to pause and reflect, gain some clarity, and reassure yourself about your purpose. That's exactly what this week's guest Janessa Robinson is doing, particularly now that she's at the beginning of a new adventure — moving to Los Angeles!
Our conversation began with Janessa talking about the recent move, and she spoke a bit about her day job as a content creator. We also dived into the backstory behind her company Artistry Land, and Janessa discussed how she works as a creative with Asperger's, and how she cleverly uses design thinking as a way to manifest success in her life. Big thanks to Steven Wakabayashi of QTBIPOC Design for the introduction!
Transcript
Full Transcript
Maurice Cherry:
All right. So tell us who you are and what you do.
Janessa Robinson:
I am Janessa Robinson and I'm an artist and an entertainer.
Maurice Cherry:
So how are things going for you right now? What's on your mind?
Janessa Robinson:
Oh, well, things are going great. I just moved to Los Angeles a month ago, actually drove down here from San Francisco.
Maurice Cherry:
Okay.
Janessa Robinson:
It was an interesting experience. That's the first road trip that I've taken by myself before. It was amazing because as I pulled into Los Angeles, it really hit me that I live here, that I'm moving here as a resident. Each other time that I came to LA, it was to visit. I stayed with a cousin once who lived in east LA, she's a screenwriter. Every time before that, it was like I came through LAX Airport on my way somewhere else. So I just wanted to stay. I'm very happy that I'm here. It's a very significant change for me because I spent three years living in San Francisco. And ever since I was a small child, I've always wanted to live here, and not just live here, but be a leader in the community here to contribute something. I just saw that my life is here. So it's an amazing experience.
Maurice Cherry:
Nice. It sounds like you've had a pretty transformative year then, especially with this move.
Janessa Robinson:
I would say COVID is interesting. There's a lot of change for everyone. For me, I went from, oh gosh, spending four hours in traffic, just commuting between San Francisco and Santa Clara to staying at home. And me being like, okay, great. Well, now I can spend all the time I want on my art because we were essentially confined to our homes in the beginning. I decided that I would start dancing every day. I was recording myself and posting these videos on Instagram. I actually made a very intentional decision that I would turn my Instagram page into like a television channel. It's like a show. It's like an entertainment show. I called it Variety Nessa. [inaudible 00:06:08] dancing and rapping and singing and just shooting really interesting content in ways that would engage people since we were at home. I was like, "Hey, check this out."
Janessa Robinson:
That led me into doing music actually. I was producing, writing, singing, taking singing and song arrangement lessons, piano lessons, mixing and mastering my own music. I used an algorithm actually to master my music. Yeah, it was really interesting. And sharing it on Bandcamp. My first project, I actually worked with a producing partner where he did the mixes and masters. So I just spent the last year growing tremendously, artistically, getting in FTs and graphic design, just blossoming, just honestly blossoming. It's an amazing, amazing year.
Maurice Cherry:
And now you're also breaking a bin into Hollywood too, right?
Janessa Robinson:
Yes. Yeah. I actually literally live in Hollywood. That's my community.
Maurice Cherry:
Nice.
Janessa Robinson:
That's where my home is located, which is really cool. Yeah, I am training at two Hollywood acting studios right now. One is Shari Shaw Studio, which is physically located in Hollywood, although I haven't gone there yet because of COVID. And then the other is Leslie Kahn & Co. Both of these studios are very special to me. The instructors there, my classmates, the energy and the way that we all invest into each other, it's just very special to me. Then I'm very happy because for me, Hollywood, physically, and more metaphorically, the Hollywood community, which is spread out across the world. There's Hollywood the location, and then there's Hollywood the industry, which is just, it's a bunch of us who are very, very fond of entertaining and see a lot of value in it.
Janessa Robinson:
For me, something that over the last year I was really reminded of is my family history in Hollywood. I have a great, great grandmother named Eva Wheatley Jones who danced with Josephine Baker. She's one of the first "tan girls." Meaning that she's light-skin, brown, but not dark-skin brown, but at that time it was considered progress, I suppose.
Maurice Cherry:
Yeah. I guess they all just call it colored back then, right?
Janessa Robinson:
Yeah. Yeah, I guess so. I think that didn't even come on mind. Yeah. She's one of the first tan girls to dance with Josephine Baker. She is married to a comedian and he was a part of a comedy dance duo, same as Butter Beans. Then I have a great uncle, Arthur, who played in a jazz band for Al Capone at the Copacabana in Chicago. There's just a lot of people in my family that have really contributed to make the Hollywood entertainment industry what it is today. The inclinations that I have for all of these different forms of art, I just love art, I just love design. For me, it's about the process and the experience. Whatever the tools are, I'll just use them to just make something magnificent. I don't really care what the tools are. I want to do cool stuff.
Janessa Robinson:
It occurred to me when my mom was sharing all this information with me, that was shared with me in my childhood, but this is now, I'm in my adulthood, and now it resonates more to understand, oh, I see. These are the giftings that my family, that my ancestors, recent and much further back, that they've bestowed on me. So I feel very, very blessed and very grateful and appreciative to be in the position, to know that, to see that, and to activate on what it is that they have deposited into me.
Maurice Cherry:
Wow. It sounds like it's literally in your blood to be an entertainer. You come from that lineage. That's great.
Janessa Robinson:
Yeah. It is. It's in my blood. That's what my mom says. She goes, "This is who you are. This is in your DNA. These are your genes." That's what she tells me.
Maurice Cherry:
So let's talk about one of the things that you're currently doing. You're a content creator for a company called News Break. Talk to me about that.
Janessa Robinson:
Yeah. It's interesting. So, News Break is a news publication that is available as a website, newsbreak.com, and as a downloadable mobile application. So people can go visit their App Stores or Google Play Store and download News Break. It is interesting because it solves a problem. It solves the problem of gathering local news over, gosh, I don't know, the last, you could say 20, 30, 40 years. It depends on how far you want to go back. But we know that for some time, there's been a trend of investment into local news dwindling. News Break prioritizes local news on the app and the website based on the geolocation of the user. It also pulls in national news. But the thing is that national news, it's pretty repetitive. [crosstalk 00:11:37] the news wires. So it's the same story over and over. It just has a slightly different, it depends if. It's a news wire, it's just going to be the exact same thing.
Janessa Robinson:
But in most cases, it might be a slightly different tone based on the writer's style or it just has a different mass head that it's under. But national news, now that we have Twitter and YouTube and all these things that help us communicate one story to billions of people instantaneously, it's just pretty repetitive. So local news is pretty cool because it's specific to what's happening in your community, in your neighborhood. Like what's going on. I first started writing for News Break just as I was leaving San Francisco. I was writing stories there, and then as I moved here, I switched to writing local stories about Los Angeles. Honestly, I like to report on really interesting people, local businesses. I love reporting on food. I'm a pescatarian and I'm allergic to dairy. So I like to go out and see, well, where are the best seafood tacos? Because I love seafood food tacos. Where can I get a really good salmon sandwich? Just write about that. Also, I like to eat those things.
Janessa Robinson:
I like to be in that moment and just allow my palette to be dazzled and then take all of that energy in and write about that so that I can recommend to people where to go. I'll say that LA is LA. There's no place like Los Angeles. Reporting here has been very interesting. I just did a story on a luxury experience service company called the [inaudible 00:13:27]. I hope that people do not, the French people do not criticize French accent, but I do speak a bit of French. I'm sure it's mostly accurate, but yeah, I got to report on this luxury experience company and meet the owner who's a very private person. So I'll respect his privacy.
Janessa Robinson:
But it's the fact that I'm talking about luxury experience company that we will, if I say, Hey, I wanna fly to Monaco for a private shopping trip tomorrow, they'll put that together right now. They'll have a driver come pick me up. They'll have a private jet waiting for me. There'll be food, snacks that are on the way, all these things. It's just this amazing company that in comparison to my time in San Francisco, it's not to say that that doesn't exist there, it's just maybe not as ingrained into the culture like in San Francisco. It's more like, where's the best vegan place to eat or what's a really good mountain to climb, is what draws people there more so than LA, which is how fabulous can I live?
Maurice Cherry:
That sounds very LA, something like that.
Janessa Robinson:
Yeah, I think so.
Maurice Cherry:
LA was the last city that I visited before all this pandemic stuff. We did a live show there back in Jan… Well, it was January or February. It was February. Yeah, it was February of 2020. We did a live show down in Leimert Park. That was pretty good. I didn't get to see a ton of LA. I just remember LA being so big. I stayed in Koreatown and the event that we did was in Leimert Park. Then I was in another part of town, not too far from Koreatown. Because I was also there for a work conference. People that were there were like, "Oh, you should go to the beach." And they're like, "Oh, but it's going to take about an hour to get there." I'm like, "Well, that doesn't really sound like something I want to do if it's going to take that long to get there." It's still in the city, I guess I didn't realize the enormity of Los Angeles until I actually got there and was like, this place is huge, really spread out.
Janessa Robinson:
It is, it is very large, honestly. First of all, I hope that you come, that you return to LA and do another live show so that I can be on it. What I was going to say is that before I moved here, the last time I visited was just before the pandemic. I don't know if it was around the same time that you were here, but it was just before the pandemic, where the Los Angeles Clippers flew me out here for an interview. I was interviewing for a job there and they flew me down from San Francisco. And oh my gosh, when I got to LAX, I had about, I think like maybe 45 minutes or an hour between landing and the time of my interview. I was like, oh, that's plenty of time [inaudible 00:16:27]. I was like, oh my God, am I going to make it? What is going on?
Maurice Cherry:
Yeah.
Janessa Robinson:
It was just so stressful and I almost missed my flight on the way back. Because I was in those interviews all day and then I was like, I don't think they know what time my flight [inaudible 00:16:47]. No one's paying attention. So apparently I have to tell them, "Hey, I have to go catch this flight." I almost missed it. When I was in the process of traveling back to San Francisco, I was like, wow. Yeah, it's been a long time since I've lived in a city that's really large. I'm from Chicago. I lived in New York for a bit. Then I started to wonder, I was like, a city with eight million people? LA, do I want to do that? I don't know. But then I do. I was like, I don't care. I'll deal with it.
Maurice Cherry:
Right, right.
Janessa Robinson:
So now it's like, sure, it'll take an hour to get to Santa Monica. That's fine. I'll just listen to some good music and chill in the car. It's no big deal.
Maurice Cherry:
I was surprised by how much traffic there was. I live in Atlanta, which is notorious for traffic, but Los Angeles has Atlanta beat it hands down. The traffic that I would see, or that actually was stuck in on the one on one was hellish. It was ridiculous.
Janessa Robinson:
Yeah, it's tough. I'll say, I don't have my only comparison points for being in traffic or me being a passenger because this is the first time in my life that I've ever driven regularly. This is the first car that I've ever owned. [inaudible 00:18:03]. I don't know. When I was growing up, everyone drove me around for the most part. Even when I got a license, that was still the case. And then when I graduated high school, I went to undergrad. I studied at St. John's University in New York, where very few people drove regularly around there.
Janessa Robinson:
Then by the time, I transferred and graduated from Tulane University in New Orleans, so by the time I did that, Uber was a thing. It was not yet an app, it's text-based, but you could just text this number and a black car would pull up. I thought it was sketchy at first. I was like, [inaudible 00:18:47] kidnap me. Who's in the car? But yeah, so then I just Ubered around for almost eight years. Now I own a car and I'm like, oh, traffic, this is what it's like to drive in traffic. So yeah, it's interesting.
Maurice Cherry:
I missed those early days of Uber when they just had the black cars. But for what I remember, I would take them in different cities, but the one thing that I remember is how much the drivers hated it. Because for them, they're used to, I guess if you're a black car driver, like a Lincolnton car or something like that, there's a certain, I think, clientele that you're used to in terms of decorum and all that stuff. Now they're picking up drunk kids at the bar and driving them three blocks and then having to clean up vomit from the back seat.
Maurice Cherry:
I remember talking to, I did it for an article, this was back in the Atlanta Journal Constitution. Jesus, maybe 10 years ago, I think. God, wow, [inaudible 00:19:48] services have been around that long. But I remember talking to some drivers and them being like, "Yeah, I hate it. I don't know what this Uber thing is, but it's some extra money. But I don't like the fact that we have to pick up these folks and they give us attitude. And it's just a different thing." Now of course, ride sharing is a pretty, I think, common thing because now folks can even use their own cars. But I remember in the beginning though, just taking those black cars and it just felt so official. Like, oh, this is nice. I felt wealthy.
Janessa Robinson:
Yeah, it is. I would agree. I'm sure they're used to a very specific persona for clientele. I remember when I was in D.C., I was out with some friends and we ordered, this is when Uber was an app, but I think we got Uber black, because it was so many of us and we're like, "Let's get a SUV or whatever." I had this friend who was giving the Uber driver directions, which is already like, I don't know why you're doing this, he has a map, what are you doing? He tells the driver, he was like, "Yeah, bang a right right here." And the driver drove straight through the intersection.
Maurice Cherry:
Whoa.
Janessa Robinson:
He doesn't know what bang a right means. He was like, "I don't know what that is." He was like, "Bang a right, what is this?" And just kept going straight. I think also, he maybe didn't like that this guy was leaning over the seat, giving him directions. But yeah, there was some clear maybe mismatch of energy there. So, those funny.
Maurice Cherry:
I want to talk to you about this term, content creator, because it's certainly one that I think has popped up, I don't know, maybe with over the past two years or so. We've been seeing this generalization of people that maybe before have done specialized stuff, like they've been writers or illustrators or whatever. Now it's just this generic term, content creator. When I hear it, I feel like it's mostly associated with video. But I'm curious, when you hear that phrase, content creator, what does that mean to you?
Janessa Robinson:
Honestly, I don't know what… I don't know. It could be in a lot of things. I have Asperger's. One of the characteristics of that is a person might see a word or a phrase and their mind starts to run through the multiple meanings or ways that it could be used, the etymology, at least for me because I'm a linguist. Honestly for me, it's like a placeholder, just some words, just some letters, some syllables that go there to describe the way that someone moves through the world. It's used in a lot of ways, I agree. Like sometimes it's used for writers, sometimes it's used for people who run podcasts, sometimes it's for video people. I think in the context of News Break, it's [inaudible 00:22:45]. I think it's because they use content creator because in a lot of cases, they're looking for someone who's more than a writer.
Janessa Robinson:
Being a writer is great. It's an excellent skill. But in the digital space, when you're developing articles, unless you have a full editorial staff where you have photographers and art directors and video producers that are their own individual team, then the writer, the journalist becomes the person who wears all those hats. So I'm that person. I do interview people. I develop sources and relationships, I interview them. I shoot photography, I edit photography, I shoot video, I edit video and I polish it all up and I drop there. So for me, I guess that's what I associate with now, is if I'm a content creator, I'm someone who I create any kind of content.
Janessa Robinson:
It's like the same thing where I'm like, yeah, I can make my own music from end to end. Whatever the content is, it's something I can create. It's [inaudible 00:23:48] the way that I see it, but I don't know. I think it can be one, is that now going to be the expectation. Our specialties no longer going to be as prized being a really excellent writer. I think for some people that might be maybe all they want or maybe they only want to do photography. I don't know. I feel good about it because I can do all those things and I like doing all those things, but what about someone who doesn't want to do all those things? But if they have a very strong interest in one area, I hope there's still space for those people.
Maurice Cherry:
Yeah. It sounds like it's a new way of looking at Jack of all trades. That's how, I guess, it used to be called, where you did a lot of different things. You just brought a lot of different skills to the table. I had a friend that, actually, he really explained it to me in a way that made sense. It's like, he says, "Content these days is water and whatever the medium is or the platform is the container that content can fill." So for example, let's say, oh, so there's this guy, he's a chef. His name is chef John Kung. He was mostly doing stuff on TikTok, I think. But the concept is him cooking, which can be extrapolated to any number of different platforms because he's using video.
Maurice Cherry:
So in that video format, yes, it could go on TikTok, but it could also go on Instagram. It could also go on YouTube, but you could see how these different platforms would have different audiences, different levels of engagement, et cetera. But someone could also take that and take the video out, and now you just have the audio and that could be a podcast. Or someone could transcribe that audio, and now that's an article. Or someone can take that article and make images of it, and now it's an infographic.
Maurice Cherry:
So content ends up being this, it's the idea and then whatever that medium or platform is, is how it can trickle down and filter down. But yeah, that's if you want to do all of that stuff. For example, I consider myself a podcaster, but I have had people call me a content creator because I can do video dah, dah, dah, dah. I mostly just do podcasting because that's what form this particular idea is in. But yeah, Revision Path could be video and articles and all this stuff. I choose for it not to be, but it could be. I hear that term, content creator, and it's like, I was bristle at it a little bit because I'm like, be specific. But then maybe that's just me being older thinking it has to be in one of these finite categories or whatever.
Janessa Robinson:
That's interesting. I think I like it because it is flexible and broad. For me, today I might want to write articles, tomorrow I might want to shoot a film. I don't like figuring out the way to label myself in regards to the way that I contribute artistically. I don't know. I end up with a lot of words. If you go to my website right on Janessarobinson.com or artistryland.space, there's an area in both places to read my bio. And it says Janessa Robinson is a publish journalist, a writer, an actor, a photographer, a this, a that. There's so many, what would I call this? I was like, I don't know what to… I like when there's something that's flexible or broad enough. The word artist, I love it because you could be a performance artist, you could be a singer, you could be a poet.
Janessa Robinson:
It's flexible enough in a way where someone who creates art at this point is not just a singer or not just a poet. If you're an artist, it means that you have a particular artistic vision, artistic gaze and artistic process and you apply that to whatever medium. The medium at that point isn't as relevant as it is to maybe whatever the message is that you want to communicate. The question that becomes, is this the best medium or is this the proper medium or the best way to reach people? What's the goal? So with content creator, I like it because otherwise, it's like, well, am I a writer, video producer or this? And it's like, it becomes this long list. In Hollywood when someone is multi talented that way, we used to call it a triple threat. Like Jamie Foxx, he'll sing, he'll act, he'll produce like comedy, whatever. You call this person a triple threat. Today, we call it a multi hyphenate because triple is not true.
Janessa Robinson:
At that point, it's less about the specific activities, like what it is that someone's doing and more about who they are and what they bring to whatever they touch. That's how I identify. It's like if you give me a camera, I'm going to start shooting things. If you give me a microphone, I'm going to start singing. It's more this artistic energy. So with content creation, I feel very similar. Whereas my content creation might be NFTs and graphic design today. It might be videos and editing, cutting together audio the next day. I like that.
Janessa Robinson:
When I formed my company, Artistry Land, you have to fill out this business paperwork and articulate, well, what are the products of the services? One of the things that I put is digital and physical content. Then I put some examples. I said, including but not limited to, because it's Artistry Land, it's a land of art. It's just going to be whatever I need it to be. I don't know, I'm figuring that out every day. I love that exploration. I think that's amazing. I get to learn a lot and connect with people in ways that are relevant and timely to the present.
Maurice Cherry:
Let's talk about Artistry Land. This is a company that you started a few years ago. Tell me more about it. What are some of the projects and things that you've done through Artistry Land?
Janessa Robinson:
Yeah. I was already operating as an entrepreneur since maybe 2014. I began freelance writing and I was gaining all of these opportunities to be published in really great sources and publications like Huffington Post and Salon and Ebony and WAC, [inaudible 00:30:21], The Crisis Magazine and The Guardian. I just thought that was a cool thing to do on the side. And then maybe two years ago, I think, it was occurring to me that I could formalize this business. I could formalize this business into something that grows beyond just freelance writing. My father is an entrepreneur. He's been an entrepreneur for a long, long time. He actually is a former professional basketball player. He was drafted to the Utah Jazz and then he went to play in Europe for about eight years.
Maurice Cherry:
Okay.
Janessa Robinson:
Yeah. Then when he came back, he did some sales stuff while he still had entrepreneurial things going on, and then I just grew up with watching him build businesses. So I thought to myself, well, you know what I really like about my dad's entrepreneurship, that it allows him to live, to be fully human, to not be tied to someone else's schedule, to make his own decisions about where he needs to be, and when particularly as it relates to him living his purpose. So with Artistry Land, I did these brainstorm exercises and I was like, well, what is my business? What does it do? Who does it serve? Before I came to a name, by the time I went through my research, I was like, okay, well, who's Janessa? Janessa does love to write, but Janessa is so much more than that. Here I was dancing on Instagram and I was like, yeah.
Janessa Robinson:
At this point I had also had a short film. It's a 30 second film featured in Time Magazine and Ava DuVernay's Optimist issue, [inaudible 00:32:10] Optimist issue video project. I was like, I do love film. I studied cinema and I grew up in theater and I did do some acting classes in college. I was like, here I am, I want to do music. I was like, well, what is this company? So I just formalized it into Artistry Land as I developed my own artistry. I operate a blog at artistryland.space, where I do produce content. It's mostly written, something I started doing. But this year, I think in the summer, was just highlighting artists because Artistry Land is really focused on the intersection of art and wellness. I see these things as so intrinsically tied together. I don't know a single artist whose mental health or physical or otherwise holistic health isn't impacted by their art or their ability to produce their art or the reception of it.
Janessa Robinson:
Every artist I know has some health related experience to practicing their art. And for many of us, I'll speak for myself, art is healing. I love the idea of artists who are doing well and living well. And that's exploring what that means, what it means to do well for yourself and to do good in the world and to live well. What are the practices that you do that cultivate that experience? I've begun interviewing artists who do good in the world and they live well. I ask them questions about what artistic projects are most meaningful to them, what art they practice?
Janessa Robinson:
I interviewed a friend of mine who's an opera singer. She lives Japan. She's a black woman. She's an opera singer. It's the year 2021 and she lives in Japan. She's a rarity by definition. She talks about her time studying Buddhism, particularly while living in Japan. For just discussing how important it is for her to be a black woman, opera singer in this very old, traditional art form, I get to learn a lot. I think it's really important that artists continue to learn from each other. There's a lot of folks who talk about the need for artists to support each other, which I agree 100%. I just find that it is maybe more motivating if it's clear in terms of what we're learning from each other. If I'm learning something, I'm going to show up. If you just go, "Hey man, you should support me." I'm going to be like, "I would like to, but this is like you're asking me to hug a porcupine right now. You're not being super endearing about this." So if you go, Hey, this is what we're learning together, then I'm very motivated to show up.
Janessa Robinson:
That's my approach with Artistry Land, is to say, well, I want to learn from you. I hope that people, by reading your interview and being introduced to your art, by following you on Instagram or Twitter, or checking out your website, that they learn from you as well. I think that's what's really important. Something else that I've done with Artistry Land is I'm developing relationships with clients. I do design work under Artistry Land. Graphic design, brand strategy, brand design work. So I have some business to business clients. One of them is called, Where is My Meeting, which is a digital video production company. I think most recently they ran a press conference for Muriel Bowser in D.C. about COVID and vaccinations. But they also did, I partner with them on this, it's like a virtual talent show in February, which feels like a really long time ago. I was like, is that last year? It was definitely [inaudible 00:36:07]. It is called Celebrate Black Voices Talent Show. Where is My Meeting did the video production for, and we gathered all of these black artists to spotlight. So there's poetry and there's rap.
Janessa Robinson:
I shot and edited my own music video and aired it in that talent show, which is really cool. Then I also, I've just been searching for organizations to partner with and invest in. One of them is, oh, you probably know this, it's the Queer BiPAP Design.
Maurice Cherry:
Yeah. [inaudible 00:36:47].
Janessa Robinson:
Exactly. I saw what they're doing in terms of promoting design, thinking, empowering queer BiPAP people with resources to be designers professionally. And I said, "Oh, I would love to contribute." So I decided to donate after our call that I had with Steve to just learn more about who they're serving, how they're serving people, what the offerings are. And then another organization that I decided to donate to is one that I used to, it's a theater that I used to train at when I was in Chicago, it was called the Chicago Beverly Arts Center.
Janessa Robinson:
When I was in high school at Morgan Park High School, I participated in an off-campus drama program at the Sphere. Because every Thursday, I was done with classes, maybe like, I think halfway through the day. Then I would go to the theater and we'd be in class all afternoon to the evening. It was me and a small group of students. The staff at the Beverly Arts Center trained us one theater. They took us into the theater onto the stage, which is not the first time I'd been on stage because I did do stage plays in elementary school. But they go, "This is downstage. This is upstage. This is what happens behind the curtains." And then we went and we started to replays and then they had us write our own play, produce it. Do costume design, then we get to act in it.
Janessa Robinson:
It was the most amazing experience ever. I called the Beverly Arts Center a few weeks ago and I said, "Hey, do you still have this partnership with Morgan Park High School?" The artistic director at the time said, "Yeah, I actually need to write a grant for scholarships." I said, "Okay." So I donated some money for that purpose so that students there would have a scholarship to help cover their classes at the Beverly Arts Center, because it now dawns on me that someone did that for me at some point. I didn't know. I just was there having fun, but I didn't know that someone paid for it. Now something that I'm exploring with the Beverly Arts Center is as someone who has Asperger's and has learned in my adult life in the last maybe year and a half, two years about it.
Janessa Robinson:
When I look back, I see how much growing up in theater camp and drama class really helped me understand social settings, social norms and expectations and experiences. Because when you're reading a play, whether it's a table reading or you're performing, you could be off book, whatever, you have this concept of setting and characters and relationship and subtexts under the dialogue and action. It just broke down things to me that were somewhat confusing. So I thought, Hey, maybe I can talk to the Beverly Arts Center and see if they're interested in doing something that focuses on empowering people on the autism spectrum through this particular medium, through theater and acting.
Janessa Robinson:
It's something we're having a conversation about. It's something we're exploring. I hope that we're able to come up with something because I just know the impact of that on my life. People have all these conceptions about, if they're aware of autism or Asperger's to begin with, then they might have conceptions about the way that it presents itself or what the person looks like. Generally speaking, people seem to think that I don't "look like someone with Asperger's," which is like, whatever. [crosstalk 00:40:32]
Maurice Cherry:
Yeah, what does that mean?
Janessa Robinson:
I don't know. I cringe, but then I'm like, I just listen. Thanks for sharing that. Thanks for being open and honest, but I agree. There's not a look. And then the second thing they'll say is, well, also I can't tell. You don't seem awkward or whatever. And I'm like, "Oh, that's interesting. Because, one, I studied communication. I work in that field. So I was like, this is a very intentional set of choices of media. And two, I've spent my life in acting and theater and speech class and all these things that I guess at this point, people, they have no idea. But when I was a child, I remember being sent home a lot because I would go play with friends and then something would happen.
Janessa Robinson:
I don't really know what it is, but they would send me home and be like, "I don't know, sometimes she's not getting along with the children. She won't apologize." And I'm like, "What would I be apologizing for?" I just didn't understand. They're like, "Are you sorry?" I'm like, "No." And they're like, "You're supposed to say you're sorry." I was like, "Why would I say something I don't mean?" It's not that I don't have a problem with remorse or regret. I'm a human. It's just that whatever the social norm or expectation that I broke, I didn't understand the concept of it. I was like, what is it that you're expecting? Because you haven't stated it directly to me. And if you haven't expressed it verbally to me or in writing, that's preferable. If you put it in writing, then I don't know what's going on. I was like, I just don't…
Janessa Robinson:
Simple things like… A friend was mentioning to me the other day, he knew a child on the spectrum and he sat down as a child on the sofa and started talking to him and the kid was just locked gazed on the television and wouldn't look my friend in the eye. And I was like, even that, I don't get that. If you came over to sit down next to me and I'm watching television, you're now disrupting me. I was like, [inaudible 00:42:38]. I don't understand. So anyway, I like Artistry Land because it gets to explore these different aspects of art in the way that it shows up in people's lives. It's typically connected to someone's early childhood experience or some transformative life change that they've made in their adulthood, but people that I talk to feel drawn to it.
Janessa Robinson:
I see Artistry Land as a publication by an artists for artists and also this house, this art house of content that I am developing as I grow my business. At some point I want to hire people. I'm just trying to figure out how to go about that. The whole thing about being a business owner with employees, that seems intimidating, but it's really important because I want to employ artists. So I'm figuring it out along the way.
Maurice Cherry:
Well, I think LA certainly is going to be a great city for that. To me, I always see it as this destination location for people that are trying to strike out on their own. I think that's just part of the, how am I going to say part of the American story of moving out west, manifest destiny, going into parts unknown and that sort of thing? But LA in particular, when it comes to creativity, it's one of the few cities people really look to make a name for themselves. They'll do that in LA or they'll do it in New York. It's one of those two places.
Janessa Robinson:
I agree, 100% agree. So funny you say that because what led me out here at this point in my life is a series of very mystical metaphysical experiences that drew me to say, I was working in policy in Washington, D.C. at the time, which is if you work in DC, you pretty much work in policy. What else are you going to do there? Yeah, I enjoyed the work in that it's so impactful. I worked with an environmentalist organization, human rights organization. I met community leaders and organizers from Guatemala, from Brazil. People were literally fighting for their land rights, for their homes, for their access to food and water. Yet as an artist, I was not being fed. I don't know what the bounds are of this podcast, but I'll just mention that I did [shrooms 00:44:59].
Maurice Cherry:
Okay.
Janessa Robinson:
Okay. It was a very, very interesting experience that led me to being reconnected with these aspects of myself that weren't being fed. So art and being an artist is one of those things. I had all of these moments in meditation, where I saw myself living in Los Angeles as an artist and doing so in a way that's incredibly meaningful. Because I had built up all of this awareness about politics and the intersection of race, gender class. And these are all things that I was writing about. Yet we were looking at Hollywood at that time like, why is it not getting what's going on in the world? Why does Hollywood not understand that some of these pictures are not going to do well or that some of these narratives are no longer acceptable?
Janessa Robinson:
Basically, it just came to me that I'm going to be moving here and I'll be someone to contribute something of significance in the area of progress. It all happened very quickly. I found myself quitting my job. I was in a relationship, breaking up with my boyfriend, breaking my lease and just all in two weeks, everything changed. I actually traveled around the country for a bit at that time. I visited LA, where I stayed with my cousin in east LA and I spent time walking around. I visited Vegas and Arizona and I went to concerts and then I spent all my money and I had to go back to Chicago.
Janessa Robinson:
I had to go back to Chicago. I actually went to take care of my grandfather because he was in his late age at the time. And then I worked at my father's basketball program called In the Paint Basketball. I had to go back to Chicago, not just because I ran out of money, because I had $70,000 in student loan debt at the time. So I needed a lot of money, and that's where I rebuilt myself. I spent about eight hours in meditation per day just getting to understand what most fulfills me and allowing my subconscious to open itself up to my super conscious mind so that it became very clear to me about what to do and how to do it. So I went through the process of job seeking. I did some temp work for a little bit and I was interviewing.
Janessa Robinson:
Then I landed a job at Greater Good Studio in Logan Square on the north side of Chicago. It was a really amazing experience because when I got there, I was introduced to design thinking. I had been curious about it, heard about it, but when I got there and I learned about design thinking, I learned that there are some elements of it that I had already been using, which helped me find that job, like this idea of developing product features. So sometimes designers will write whatever product is or what it's meant to do at the top of a page or they'll use a board and use post-its or whatever. And then they'll write down its features. Like what does the product do? How it does it feel like physically? What color is it? If it makes sounds, what are the sounds it makes, what do those sounds indicate? Where's the product use?
Janessa Robinson:
You have to think about designing this. And it could be a physical product or it could be software, it could be artistic project. But I was stunned because I had already written down on a sheet of, excuse me. I had already written down on a sheet of paper, "Janessa's ideal work environment and Janessa's ideal job." Then I wrote down all these characteristics, which as a writer, is the word that [inaudible 00:48:55]. Like these are the characteristics that make up this experience. As a designer, you go, these are the features. I wrote down that it has to have sunlight and people were really kind. I wanted something that had an industrial feel and it was open air and I needed it to be near places I could eat at. So when I showed up for my interview at Greater Good Studio, I was like, this open air office with exposed brick had these huge windows and across the street is this vegan place. I was like, "Oh my God, this is the place. This is so cool."
Janessa Robinson:
I got to work with people that were very artistically and creatively inclined, as well as people that are very research driven. I worked on a project where our client was the Robert Wood Johnson Foundation. And the name of the project is called Raising Places. It's basically a community design project where we went to communities across the United States, those six communities from the west coast to the east coast, and we taught them the process of design. So we had workshops and design sprints and research fronts. We just helped them map their community challenges. Some of the challenges that came up were street lighting and safety, safety for bikers on the streets, like people who are bicycling across the road and they want to feel that there's enough space for them, food security.
Janessa Robinson:
I spent time on a native American reservation, it's Crow Nation, reservation in Montana, and they have one grocery store on the reservation and it didn't carry very many fresh foods and vegetables. And there are so many systemic reasons about what created those conditions. We could look at policy, we could look at legislation, we could look at the land grabs from native Americans, colonization overall. These were very, very heavy, serious conversations. Yet there was a lot of fun because the people are, they're just families, they're just people.
Janessa Robinson:
We got to get to know people and share a bit about ourselves and do as best as we can to empower them through that process. It was a very good experience. It was a lot of traveling, is what I'll say. I did 18 trips in six months across the country. Some of those flights were from Jersey to LAX or [inaudible 00:51:35]. And it was like, when I got on the plane, I was eating dinner. When I got off the plane, I was like, should I eat breakfast? Because I don't know if my food is digested. It was very confusing. It was just [inaudible 00:51:49], but it was an amazing experience. I hope that there is some lasting impact overall that really improves the conditions that people experience.
Maurice Cherry:
There's a post that you had up on Artistry Land, where you wrote about using design thinking to help manifest. I'm curious, how has that practice helped you as a creative? Because I'm pretty sure our listeners might be able to learn about how they can do that themselves.
Janessa Robinson:
Yeah, it's interesting. Some of that gets into the example I gave with Greater Good Studio, where I was as a writer, writing down characteristics. I was like, oh, Janessa really loves politics and photography and writing and she loves traveling. I was just writing down all of these lists of things about myself. I was doing that as a manifestation tool. So I meditate in a space that's very open and honest and vulnerable. That might be physically, it could be anywhere. I just mostly sat on the bed or laid on my bed or sat on a yoga mat. But when I closed my eyes and began to breathe very intently, I did so with the intention of being vulnerable and being honest and being true to myself. Because previously living in Washington, D.C., I ended up there because I basically decided not to go to law school.
Janessa Robinson:
I'd spend all this time applying to law school again and got in to Loyola in Chicago, decided not to go and move to DC. Wasn't really happy with my life there, and it's because I wasn't being honest with myself. I didn't really want to go to law school either. I wasn't being honest with myself. So I had to sit down and go, what do I want? And find this intersection of what do I want with what is very meaningful to contribute to the world? Because the thing about manifestation is sure, people can manifest objects or experiences. However, I believe that the point at least for me, is to do so in a way that is contributing to my purpose. So I've come here with a life assignment. So I would just visualize what is most meaningful to me. I have allowed these visions to pour into me.
Janessa Robinson:
Sometimes they're very sharp and clear and sometimes it was like a little bit of light in a room full of darkness. And in any case, I'll be come out of meditation and then go and write those things down on a sheet of paper. Then as I was job searching or apartment hunting or meeting strangers, I just found that the things that I have written down on a sheet of paper with a pen, it's not like, no one can see this, just me, just me in the universe. Those things manifested before me. It just happened. So there's a particular frequency that I was operating on that is beyond myself though. I think that's really important to say that the intention for me was to move beyond my own ego. Because if it was just ego, it would have been like, I probably would have gone to law school because lawyers make a lot of money. [inaudible 00:55:01].
Maurice Cherry:
Pay up those student loans. Yeah.
Janessa Robinson:
Yeah, done. But that would have made me happy. I think the issue with that is that it not making me happy means that my contribution to the world wouldn't have been from a place of love. So even as an attorney, I may have thought that I would have been helping people, but how much would I have been helping people if I wasn't operating from a place of love and compassion because I wasn't being loving and compassionate to myself? So finding some balance between, this makes Janessa happy and this is what Janessa contributes that also makes people happy and is compassionate. So it decreases their suffering. There has to be balance there. So yeah, the design studio, I became more trained in design and I've since worked in Silicon Valley and completed a product design bootcamp in addition to that. Now I use design thinking and manifestation. I don't know, they're the same thing to me at this point.
Janessa Robinson:
What I do is I'll write at the top of a page the year, like 2021, and then I'll sketch things that come to me. At one point I sketched a studio, and in the studio there's a microphone and a camera and a whole desk set up. Then maybe nine months later, I realized that I was living in a place that I sketched on that book. And I didn't even [inaudible 00:56:30]. I didn't go out and say, oh, let me match this sketch. It was just, it happened. So I think that when it comes to design thinking, design thinking is about understanding a problem and you apply these phases of design thinking to the process. So there's a point where you're only focused on the problem. And for me, that was, well, I just blew my life up. I was like, I really need to understand what's going on here.
Janessa Robinson:
So I spent months just focusing on that. It doesn't have to be months, but you do have to focus on the problem so that you can be clear about what solutions you can develop. My solutions were, it's pretty simple, what area of my life do I want to focus on? Personal life, family relationships, intimate relationships, career, home. I can find solutions in these three areas. And those solutions would be, well, what is that balance between Janessa's happiness and increasing happiness in the world? Going to work in a design studio is one of those things. Because I knew I'd learn a lot of things that I could use in other aspects. Moving to Los Angeles, moving to California in general, it's very sunny and there's a lot of nature and I'm surrounded by people who also value those things.
Janessa Robinson:
Then also, it is important to me to have economic security and to develop wealth because in order to do the things that I see myself doing, where I see myself contributing, I have to have some resources. So for me to say, Hey, I want to donate to the Beverley Arts Center because that place helped make me who I am, I have to have money to do that. I can donate my time too, that's a thing. But I was specifically wanted to donate money because that's what got me the time to be there in the first place when I was in high school. Well, someone somewhere got a grant or developed a relationship with a funder, and that pulled me to the Beverly Arts Center. So for me, it is really important to look at the intention behind whatever is desired to manifest and to be very clear and honorable in that intention.
Janessa Robinson:
Once there's clarity about that intention, I use design thinking as a way to align my physical reality with my metaphysical reality. I think sometimes with manifestation, I've learned that someone might be seeking to manifest something and they've created, say a vision board. Maybe they stop there. So they've gone to the metaphysical reality by using intention and finding things that represent these experiences or objects they desire. And in the physical world, they've gathered magazines or cut them out. But then they stopped. Where I think it's important to look at is to say, well, how do you continue to align your present physical reality with the metaphysical? And metaphysically, all things exist simultaneously. But the way that we experience them in a physical reality is a bit different. We have this perception of time or limitation. Metaphysically, there are no limitations. Everything is infinite.
Janessa Robinson:
Yeah, sure. In infinity somewhere, there might be a version of you that has whatever you put on this vision board and this reality, what are you going to do? What steps are you going to take to actualize that? Now, design thinking can say, let's research it. If you want to manifest a trip to Paris, well, let's research that. What does it take to get to Paris? I would add, and this is my secret sauce in manifestation and design thinking, is who do I need to be? Who is that version of me that's living in Paris? What am I doing there? Who am I meant to meet? Whose life am I meant to contribute to? What lessons do I bring back with me? Those are the things that make it very clear about what I meant to do. If I know that I'm living in Paris one day and I'm there as a filmmaker, and I'm telling the stories of people who otherwise might go unheard, then I know, okay, I need to be someone who is somewhere contributing to a community that needs me. Otherwise, I don't become that person.
Janessa Robinson:
So, design thinking can say, okay, let's research it and let's ask questions about, well, if it could be very basic, what do you need to get to Paris? Passport, all these things. But what types of people visit Paris? What are the choices those people make? What are the problems they're looking to solve or the solutions they bring if they're business people? What person might be an expert there? How do I become that type of person? What version of myself is that? And it becomes very clear once you're doing persona-based work, what the decisions are that someone's making, but it's important to be clear about the desired outcomes.
Janessa Robinson:
So is it just to live in Paris? Oh yeah, I would love to live in Paris. Is it to cultivate a sense of culture there so that I can translate? Because I do speak French and I want, personally, I'd like to increase my proficiency so that I could be a translator in a way that's very diplomatic and I can particularly communicate amongst French-speaking countries and English-speaking countries across the world. I think it's really important to think big and to be specific about what can I do for where I am right now? So if I want to be a translator, a diplomat who translates and deals with issues and builds alliances between French-speaking and English-speaking countries, well, where can I learn more about French-speaking countries? I can research that for my computer. It doesn't stop me from doing that. That's simple.
Janessa Robinson:
It's something that I use in a way that at this point it's very intertwined. I think I need to find my own name for this approach because design thinking is a very specific thing and manifestation can show up in a lot of different ways. There are folks who do have approaches and particular rituals and ceremonies that they use. A vision board is a great example. It's just that it has a title and I don't have a title for my process yet. So I'll add that to my list of things to do.
Maurice Cherry:
Okay. Where do you see yourself in the next five years? I know you're, it seems like throughout your creative career, you've been on this never ending Odyssey in a way. And now you're here in Los Angeles, you're about to start off with this new, really this new chapter of your life. Where do you see yourself in the next five years? What do you want to accomplish?
Janessa Robinson:
I see myself as continuing to lead innovation. I don't just mean from a technical standpoint or innovation and business. Innovation and business, of course, innovation in the way that we experience our human lives. That would be leading in Hollywood in the area of diversity, inclusion, equity. I'm looking at things that would create system change and practices change, particularly when it comes to people on the autism spectrum. But also people generally, that identify to have disabilities, people of color, queer people and women. Because when I was in Silicon Valley, I got to lead, I got to advocate for and develop the existence of employee resource groups at a publicly traded company. And then I became the co-chair of a specific employee resource group or employee belonging group is what they call it there. So I want to apply those learnings to Hollywood and develop ways of working with people to grow our consciousness awareness and to shift our habits and behaviors to reflect our values.
Janessa Robinson:
Then simultaneously, I see myself continuing to build relationships more broadly across the business to make it more collaborative and to make it more reflective of a community oriented mindset. That may be the millennial in me, where for me what's really important is to collaborate with people and yes, be inclusive. I think that competition is somewhat innate to us as humans, as human beings. There is some sense of an animalistic side where there's competition. I don't think that we need to over-rotate on that, particularly given the circumstances of climate change or a public health pandemic. I don't think that we need to over-rotate on being competitive. I think it's a time where it actually behooves us to be more collaborative. That's something I see myself approaching through content development, through my choices in who I partner with business-wise, through working with different organizations to see how do we embed those values into the way that we practice our work, whatever that is?
Janessa Robinson:
I'm interested in seeing Hollywood be more dynamic in the stories that we tell and how we tell and what we do with those results. And when I say results, I mean monetary results in this sense. I would like to see that Hollywood is contributing to the communities of the stories that we're telling and that we're telling stories that are broad enough to represent all communities because people show up. Well, most of theaters are closed or limited, but people show up to the theater to watch stories. They're watching those stories either in their own community or in a community that's adjacent to them, but someone across the world or across the country might've produced that picture. I would like to see that all of the parties that are participating and contributing to that picture are compensated well. Additionally, that the communities, it's not enough basically to have black folks in your movies. That's what I'm saying.
Janessa Robinson:
I want to see that these communities who are having their stories told are, one, having those stories told in a way that's justified and respectful. And two, that they get to benefit in some way economically from having their stories told. I don't know exactly what that looks like, but basically it's to say it's not enough to commodify someone's story and be like, oh, but I told your story. It was like, okay, yeah, you walked away with all of the material benefits of that. I want to see that communities are being reinvested into, and that people have the chance to develop their own content and their own stories. And that the way that the system operates is in a way that's more integrated and collaborative. That may be, I don't know, I don't know if that's a new idea or a repackaged idea. I'm not sure.
Maurice Cherry:
Well, just to wrap things up here, where can our audience find out more about you and about your work online?
Janessa Robinson:
The audience can find out more about me at janessarobinson.com. They can find out more about me also on social media. So on Instagram @JanessaE.Robinson, it's here I'm often hanging out, is on Instagram. And then folks can also find out more about Artistry Land at www.artistryland.space.
Maurice Cherry:
All right. Sounds good. Well, Janessa Robinson, I want to thank you so much for coming on the show. Thank you for really, one, describing where you're at right now in embarking on this new journey in your creative career, But also really diving deep into how the sum total of your other experiences, whether it's been traveling or working in other industries and such have brought you to where you are right now. I hope that when people listen to this, they take away that they can have these divergent paths that can lead them towards what their goals are, Because it certainly seems like you're doing that for yourself. So, thank you so much for coming on the show. I appreciate it.
Janessa Robinson:
Thank you for having me, Maurice. Thank you. I love your show. I love the work that you're doing and I'm very excited to be a part of it.

Support for Revision Path comes from Adobe MAX.
Adobe MAX is the annual global creativity conference and it's going online this year — October 26th through the 28th. This is sure to be a creative experience like no other. Plus, it's all free. Yep – 100% free!
With over 25 hours of keynotes, luminary speakers, breakout sessions, workshops, musical performances and even a few celebrity appearances, it's going to be one-stop shopping for your inspiration, goals and creative tune-ups.
Did I mention it's free?
Explore over 300 sessions across 11 tracks, hear from amazing speakers and learn new creative skills…all totally free and online this October.
To register, head to max.adobe.com.

On the weekend of October 8-10th, join the Harvard Graduate School of Design virtually for the Black in Design 2021 Conference!
This year's theme, Black Matter, is a celebration of Black space and creativity from the magical to the mundane. Our speakers, performers, and panelists will bring nuance to the trope of Black excellence and acknowledge the urgent political, spatial, and ecological crises facing Black communities across the diaspora. You don't want to miss out on this weekend of learning, community, and connection!
Visit them online at blackmatter.tv to learn more and be a part of the event.
Brevity & Wit is a strategy and design firm committed to designing a more inclusive and equitable world.
We accomplish this through graphic design, presentations and workshops around I-D-E-A: inclusion, diversity, equity, and accessibility.
If you're curious to learn how to combine a passion for I-D-E-A with design, check us out at brevityandwit.com.
Brevity & Wit — creative excellence without the grind.