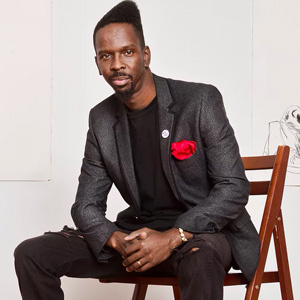 Fahamu Pecou and his art push boundaries, challenge classic representations, and have solidified his place as one of the most important contemporary artists of the 21st century. His work combines observations on hip-hop, the fine art world, and pop culture, and this is expressed through paintings, performance art, and academic work as well. I was really lucky to get a chance to talk with Fahamu fresh off his most recent accomplishment — earning his PhD from Emory University!
Our conversation started with Fahamu giving a retrospective on his work, and talked about his multidisciplinary practice and hinted at his next project. Fahamu also talked about his journey to Atlanta, how the city helped shape him as an artist, and how he sees Atlanta as a city for the arts. I also asked how his work has been perceived as his public profile has grown, and I think you'll definitely want to hear Fahamu's answer about that. If you haven't heard of Fahamu Pecou before now, I guarantee you'll come away from this interview with a good idea about who he is and what he represents for the culture!
---
Did you like this episode? Get special behind-the-scenes access for just $5/month!
---